All the news for Saturday 6 October 2018

2018 Indoor Test Matches: RSA v NAM (W) - 2nd & 3rd Tests
Durban

5 Oct 2018 RSA v NAM     2 - 1 (1 - 1)
5 Oct 2018 RSA v NAM     3 - 3 (0 - 1)    

FIH Match Centre


---

Four-star Arminen pick off Grange to get off to flying Pool A start



©: Frank Uijlenbroek / World Sport Pics

Pool A: SV Arminen 4 (A Bele 2, Philip Schmidt, Patrick Schmidt) Grange 1 (J Tweedie)
SV Arminen picked off Grange with a dominant performance to start their EHL campaign in brilliant fashion, beating the Scots with something to spare.

It was built around three first half goals with Philip Schmidt's corner deflection from a Patrick Schmidt drag-flick got them in front with just four minutes played of the tie.

Grange almost had an instant response when Cammy Fraser went inches wide while a corner shot hit the cross-bar and Dylan Bean's innovative flick looped just over.

Alexander Bele then took over, the stylish attacker latching onto a reverse-stick cross and then produced some lovely stickwork before unleashing a reverse into the goal, 2-0 after 16 minutes.

Bele was at it again just before half-time as Arminen got a lot of joy from long passes that caught Grange on their heels. Michael Minar's long overheads were a feature one made it through to Bele one-on-one which he applied a delightful lobbed finish to.

After half-time, it was Patrick Schmidt's turn to race in behind the last defender and slap in by the out-rushing Douglas Gourlay. That made it 4-0 three minutes into the second half.

The Scottish side fought back with 17-year-old Jacob Tweedie getting a nice touch to Bean's cross to pull one goal back.

Arminen missed out on the chance to move further ahead when Patrick Schmidt's penalty stroke hit the inside of the post and bounced out but they were well clear and recorded a strong win to start their weekend.

Euro Hockey League media release


---

Wimbledon's cracking first half sets up win over Elektrostal



©: Frank Uijlenbroek / World Sport Pics

Pool B: Wimbledon 5 (E Malthouse, I Lewers, J Codling, I Sloan, P Roper) Dinamo Elektrostal 2 (N Dvoretskii, M Proskuriakov)
Wimbledon produced an exceptional first half performance to beat Dinamo Elektrostal and set up a potential group decider with Mannheimer HC.

Eugene Malthouse set them on their way with a lovely turn and shot in the seventh minute to break the deadlock. Dinamo looked dangerous on the break in the second quarter but once they went two goals behind, they fell apart to a certain extent.

It came from an Iain Lewers penalty stroke after a corner ended up hitting a body on the line. From there, Wimbledon were able to pick apart the Russians with their superior speed on the move.

Jonathan Codling got the third when he tipped in at the near post and Ian Sloan cleaned up a mid-circle chance which Dinamo were unable to clear.

Phil Roper got a beautiful fifth goal when he intercepted a crossfield overheard, not waiting for the ball to full drop as he volleyed home a glorious shot for 5-0.

Nikita Dvoretskii scrambled one in just before half-time but it already looked like the result was beyond Elektrostal. The third quarter saw a stalemate with the score remaining 5-1 into the final quarter.

And they got another back with 10 minutes to go with Mikhail Proskuriakov cutting in from the left and sneaking a shot past James Bailey's stick side but the unlikely comeback was too far away from becoming a reality.

Euro Hockey League media release


---

Grunwald make experience count to beat HC Minsk



©: Frank Uijlenbroek / World Sport Pics

POOL C: HC Minsk 1 (U Kochkin) WKS Grunwald Poznan 2 (M Hulboj, A Mikula)
WKS Grunwald Poznan gave themselves a perfect start to their EHL ROUND1 campaign as their experience told against newcomers HC Minsk in the opening match in Barcelona.

Mateusz Hulboj's early goal was finally supplemented by Artur Mikula's effort in the last quarter and while Uladizislau Kochkin got one back, Grunwald held on for the victory.

Grunwald made the early inroads, forcing a save off the line from Dmtryo Luppa before Hulboj opened the scoring. He took in a superb right to left pass from Michal Kasprzyk which he rounded on and fired home in the 12th minute.

Minsk had plenty of chances through the second quarter a couple of corner chances slipping by while Ivan Liakh went close, leaving the narrow 1-0 difference in place.

It continued in a similar manner in the third quarter with Minsk enjoying more of the openings, forcing Mateusz Popiolkowski making one incredible save at close quarters with his stick.

But, as they pushed on, they got more ragged in their tackling and gaps appeared at the back, particularly when Aliaksandr Korsik was shown a yellow card.

In his absence, Grunwald pounced with Mikula finding space on the right of the circle to arrow home a shot. That was with just four minutes to go but Minsk rallied to get a great goal back via Kochkin on his reverse, bringing it back to 2-1.

There was not enough time, though, to complete the comeback and Grunwald had the win to take into their tie with Royal Leopold on Saturday morning.

Euro Hockey League media release

---

Three Rock Rovers hit Racing for six in biggest win for Irish club in the EHL



©: Frank Uijlenbroek / World Sport Pics

Pool D: Three Rock Rovers 6 (M Darling 2, C Empey, D Walsh, M English, R Canning) Racing Club de France 0
Three Rock Rovers produced the biggest win by an Irish club in Euro Hockey League history as they smashed Racing Club de France 6-0, giving them a great shot at reaching the KO16.

It was tighter, though, than the scoreline suggests as Rovers edged into a 1-0 half-time lead thanks to Conor Empey's accurate shot.

Daragh Walsh's corner deflection gave them some breathing room before they ran riot in the last quarter with Mitch Darling adding a double with Mark English and Ross Canning scoring in the last five minutes.

It means a win against Spanish hosts Junior FC on Saturday afternoon will see Rovers through to the knock-out KO16 rounds next Easter.

"The late goals probably sugar-coated it a little," Darling said after the win. "It was a tight enough affair but it does give us extra confidence going into tomorrow. It's all guns blazing now.

"We have been playing good hockey in the Irish league but the finishing touch hasn't been there. It was today and what a stage to do it."

Euro Hockey League media release


---

Defeat for Grange in opening EHL match




Grange lost their opening EHL Round 1 match in a 4-1 defeat against SV Arminen in Barcelona. The Edinburgh side will face HC Oranje-Rood tomorrow and only a win will give the Scots a chance of qualifying for the next stage.

There was an early goal for the Austrians as they put Grange on the back foot from the whistle. A penalty corner was awarded for a poor tackle outside the D and a deflection in front of the goalkeeper by Philip Schmidt saw the ball hit the net for 1-0.

There was a good response by Grange and they almost equalised immediately but a far post shot from a penalty corner went just wide of the post.

Grange came close again from another penalty corner. Frank Ryan struck the post and the follow up was deflected at the near post just over the bar.

The second quarter brought another poor start for Grange when Alexander Bele scored a reverse stick shot from the top of the D to make it 2-0.

As half time approached it went to 3-0 when Bele grabbed his second of the match to round off a strong half for Arminen.

Early pattern of goals for Arminen continued into the third quarter when Schmidt bagged his second of the match with a low finish one-on-one with the goalkeeper. 4-0.

Jacob Tweedie scored an excellent goal for Grange with a lovely deflection across the goalkeeper to pull it back to 4-1.

The Austrians could have had a fifth in the final quarter but Daniel Frohlich struck the post with a penalty.

Coach David Knipe gambled by replacing his keeper with an additional outfield player, but that was somewhat negated by a sin bin visit by Grange`s Clemens Rusnjak.

Knipe will pick up his charges to face Dutch side Oranje-Rood, a huge challenge against one of the favourites for the trophy.

Scottish Hockey Union media release


---

Rovers run up biggest Irish win in the EHL



Conor Empey celebrates. Pic: Frank Uijlenbroek/World Sport Pics

Three Rock Rovers produced the biggest win by an Irish club in Euro Hockey League history as they smashed Racing Club de France 6-0, giving them a great shot at reaching the KO16 in Barcelona.

It was tighter, though, than the scoreline suggests as Rovers edged into a 1-0 half-time lead thanks to Conor Empey's accurate shot.

Daragh Walsh's corner deflection gave them some breathing room before they ran riot in the last quarter with Mitch Darling adding a double with Mark English and Ross Canning scoring in the last five minutes.

It means a win against Spanish hosts Junior FC on Saturday afternoon will see Rovers through to the knock-out KO16 rounds next Easter.

"The late goals probably sugar-coated it a little," Darling said after the win. "It was a tight enough affair but it does give us extra confidence going into tomorrow. It's all guns blazing now.

"We have been playing good hockey but the finishing touch hasn't been there. It was today and what a stage to do it."

Euro Hockey League
Pool D: Three Rock Rovers 6 (M Darling 2, C Empey, D Walsh, M English, R Canning) Racing Club de France 0

Three Rock Rovers: J Carr, R Nair, R Canning, M Darling, L Madeley, D Walsh, K Mullins, H Morris, J Hosking, K McAlister, H MacMahon
Subs: C Empey, J Mullins, B Walker, M English, A Flynn, B McCrea, S O'Brien

Racing Club de France: A Croutte, N Martin-Brisac, D Dominik, B Lahaut, A Haughton, J Francotte, C Peters-Deutz, A Turull, C Duchesne, A Coffigniez, A Bellenger
Subs: B Gosset, O Poulain, J Summers, K-V Merle, C Fremaut, T Fouquet

Umpires: S Edwards, L Zupancic

The Hook


---

Buenos Aires 2018 Youth Olympic Games begins Sunday



Teams are making final preparations ahead of Sunday's opening matches Photo: Buenos Aires 2018/IOC

The men's and women's hockey events at the Buenos Aires 2018 Youth Olympic Games get underway this Sunday, 7 October, in Argentina's capital city.

In the women's event, hosts Argentina will be joined by Australia, Austria, China, India, Mexico, Namibia, Poland, South Africa, Uruguay, Vanuatu and Zimbabwe.

The men's event will see Argentina welcome Australia, Austria, Bangladesh, Canada, India, Kenya, Malaysia, Mexico, Poland, Vanuatu and Zambia.

The opening match of the men's event is a Pool A clash between Mexico and Poland while India and Austria open the women's competition.



Teams have been training at the new facilities in Youth Olympic Park Photo: Buenos Aires 2018/IOC

The Hockey5s events run until Sunday 14 October, with the gold medal matches taking place at 15:00 (men) and 16:30 (women) on the final day (all times Argentina Standard Time - GMT/UTC -3).

For the 12 men's teams and 12 women's teams competing, it is the first steps to realising a dream. The Youth Olympic Games provides the platform from which promising young athletes aged between 15 and 18 can launch spectacular international careers in their chosen sport.

The 216 athletes playing in the men's and women's hockey events at the Buenos Aires 2018 Youth Olympic Games couldn't have wished for a better place to become a young Olympian. Argentina is a country that is passionate about hockey and the packed stands will be full of fanatical and knowledgeable hockey spectators.

One athlete who knows all about playing on the biggest stage is India women's Lalremsiami. Winner of the Under-21 Rising Star at the 2018 Asian Champions Trophy in Korea, the prolific striker made her senior team debut in 2017. Earlier this year she was one of India's star players at the Vitality Hockey Women's World Cup in London. With India women making their debut at these Games, a medal would be a nice entry point to the competition.

Hockey is well-known for its family values, with young players being introduced to the game by their hockey-playing parents. At the third Youth Olympic Games, those family ties are very much in evidence. Brothers Tomasz and Eryk Bembenek will be hoping to bring home a medal and shine the spotlight on hockey in Poland.

Austria's Isabella Klausbruckner will be very conscious of following her coach's instructions, because Head Coach Heinz is her father. Hockey heritage runs deep in the Klausbruckner household with mother Sandra playing for Austria in the 2011 Indoor World Cup.

Brothers Brad and Craig Marais are just two of the Australian team that are looking to continue Australia's unbeaten run at this event. The team won gold in 2010 and 2014 and will be looking to repeat that feat this year. The Australia team has a number of multi-talented sportspeople. Christian Starkie is also a talented squash player while James Collins is a promising cricketer.



Argentina training at the Hockey5s venue at Youth Olympic Park Photo: Buenos Aires 2018/IOC

Reigning women's champions China will be looking to repeat their win from 2014. In Nanjing 2014, the China team beat the Netherlands in a highly competitive final – it finished 5-5 and China went on to win the shoot-out.

This year, competition will be fierce however, and no team will be searching for gold more determinedly than the young Leonas of Argentina.

At their helm is a Head Coach who knows all about winning. Carlos Retegui led the Argentina men's team to a gold medal at the Rio 2016 Olympic Games. He also won bronze with both the men's and women's teams at the 2014 World Cup. 'Chapa' as he is also known, is now hoping to better that performance by leading both the men's and women's teams to gold medals at the Youth Olympic Games in his homeland.

Five continents are represented at the Games and the inclusion of debutant teams such as Zimbabwe – whose women's team remain the only African side to win a medal at an Olympic Games when they took gold in 1980 – is a demonstration of the increasing global reach of the game.

Another African nation, Zambia, has called on youth as well as experience. Their men's coach is Samuel Tagwireyi, who competed in the 2014 Youth Olympic Games.

To keep up to date with all the Hockey5s action from the Youth Olympic Games, click here.




Fans wanting to attend the Buenos Aires 2018 Youth Olympic Games can now apply for free access to all events via the official website. For more information, click here.

#YOG2018

FIH site


---

Hockey 5s 'is like rugby sevens' and will light up Youth Olympics



FIH hope Hockey 5s will attract new audience PIC: Buenos Aires 2018

The Hockey Paper runs the rule over Hockey 5s at the Youth Olympics, which starts this weekend in Argentina

5s is hockey's drive

The Youth Olympics in Buenos Aires, Argentina will feature the quick-paced Hockey 5s version, played on a condensed 50×40 metres surface and surrounded by low level boards.

In the women's event, hosts Argentina will be joined by Australia, Austria, China, India, Mexico, Namibia, Poland, South Africa, Uruguay, Vanuatu and Zimbabwe.

The men's event will see Argentina welcome Australia, Austria, Bangladesh, Canada, India, Kenya, Malaysia, Mexico, Poland, Vanuatu and Zambia.

Growing the game

Brendan Guraliuk and Rowan Childs will represent Canada in Buenos Aires after getting their first Hockey 5s taste at the Pan American Zone qualifying event in Mexico last year where Canada finished third behind Argentina.

The duo are relishing the Games and believe Hockey 5s can open up the sport to a new audience in nations where hockey is not seen as a majority sport.

"When you think about it, it's kind of like rugby sevens. We play 10 minute halves and the games are done in 20 minutes," Guraliuk told the Delta Optimist. "We got selected for the team last March and played it for the very first time when we got to Mexico. It helped that we have ice hockey backgrounds. We had super quick shifts and that was different too."

"I loved it," added Childs. "Especially growing up with ice hockey here our entire lives and having the boards all around you. They are trying to grow the game and this is a really exciting version of it."

Young Leonas tough to beat as hosts

Head coach Carlos Retegui led the Argentina men's team to a gold medal at the Rio 2016 Olympic Games. He also won bronze with both the men's and women's teams at the 2014 World Cup. 'Chapa' as he is also known, is now hoping to better that performance by leading both the men's and women's teams to gold medals at the Youth Olympic Games in his homeland. (FIH)

Ones to watch

Ben White (Australia)

At just 17 years old, White co-captained his side to Buenos Aires 2018 Youth Olympic Games (YOG) qualification, took out leading goal scorer at 28 goals and also bagged player of the tournament at the Oceania Youth Olympic qualifiers in Port Moresby, PNG. Now, the Victorian will lead the men's Hockey 5s in their quest for their third Youth Olympic Games gold medal.



Nations qualified via continental Hockey 5s tournaments

"Coming into the YOG as defending champs adds a little bit of pressure, but it's more exciting," White told Olympics.com.au. "We have a drive that no other team will have, in trying to defend the trophies we won at the last two YOG's.

Vivek Sagar Prasad (India)

Vivek Sagar Prasad will lead India's hockey5s team in Buenos Aires, with the 18-year-old being hailed as a future star in his homeland. In January this year, the midfielder became the second youngest player ever to debut for India's senior men's team at just 17 years, 10 months and 22 days, and he has already played a key role in two major international tournaments.

In April, he was a member of the Indian squad that finished fourth at the 2018 Commonwealth Games on the Gold Coast, and then in June he scored the equalising goal in the final of the 2018 Champions Trophy, before India were eventually beaten 3-1 on penalties by Australia. Having already shown his skills at elite senior level, all eyes will be on Prasad in Buenos Aires to see if he can deliver a much sought-after medal for hockey-mad India.

Source: Olympic.org

What happened in 2014

What they say

"The feeling of being selected for the youth Olympic team was one I could never put in words," Hockeyroo Naomi Duncan told The Women's Game. "I have been fortunate enough to have made my debut for Australia earlier this year whilst at the qualifying tournament in Papua New Guinea for the hockey 5s, but the reality of being able to perform at an Olympic level in less than a month has yet to properly sink in, that my childhood dreams are coming true."

Samuel Tagwireyi was a player for Zambia in 2014 as the team reached the last eight. This year, he has made the transition to coach.

"I woke up every day in 2014 with a smile on my face," he said. "It was the most beautiful thing to be part of the Games and learn and share with fellow players from so many different countries. It was amazing because I also learned much about life outside sport. My advice to my players this year will be to make the most of their opportunities at the YOG. It is perhaps only once in their lives they will have this chance to interact with so many diverse people in this environment."

The Hockey Paper


---

Australia's Youth Olympics Hockey Campaign Starts On Monday Morning

Ben Somerford




Australia's male and female Hockey teams will begin their 2018 Youth Olympic Games campaigns in the early hours of Monday (AEST) in Buenos Aires.

The Australian Youth Olympic Team arrived in Argentina midway through this week for the Games which officially commence on Saturday 6 October running through to Thursday 18 October.

Taking place in the Youth Olympic Park in the southern area of the city, the Hockey5s events are set to take centre stage with hosts Argentina expected to attract large numbers of local fans, renowned for their passionate support of the sport.

Australia's men's Hockey team, who are the reigning gold medallists, begin against Kenya from 12am (AEST) Monday morning.

Australia's women's Hockey team take on Zimbabwe in their opener from 2:30am (AEST) Monday morning.

In the women's competition, Australia are in Pool B against China, Mexico, Namibia, Poland and Zimbabwe.

In the men's event, Australia are also in Pool B up against Austria, Bangladesh, Canada, India and Kenya.

The medal matches take place on Sunday 14 October, which equates to the early hours of Monday 15 October (AEST).

For the first time ever, there will be 24/7 streaming Youth Olympic Games coverage through www.olympics.com.au/live-stream.

Australian Schedule (all times AEST):
Men's Hockey
Monday 8 October 12am – Australia v Kenya
Tuesday 9 October 3am – Australia v Bangladesh
Wednesday 10 October 12am – Australia v Canada
Thursday 11 October 6:45am – Australia v India
Friday 12 October 12:45am – Australia v Austria

Women's Hockey
Monday 8 October 2:30am – Australia v Zimbabwe
Tuesday 9 October 12am – Australia v Namibia
Wednesday 10 October 4:30am – Australia v Poland
Wednesday 10 October 11:15pm – Australia v China
Friday 12 October 4:30am – Australia v Mexico

Selected Australian Teams:
Men's Hockey
Lain Carr (18), Matcham, NSW
James Collins (18), Perth, WA
Miles Davis (17), Sydney NSW
Brad Marais (18), Melbourne VIC
Craig Marais (16), Melbourne, VIC
Alistair Murray (18), Tincurrin, WA
Jed Snowden (16), Melbourne, VIC
Christian Starkie (17), Perth, WA
Ben White (18), Blackburn, VIC

Women's Hockey
Caitlin Cooper (17), Perth, WA
Naomi Duncan (16), Sydney, NSW
Amy Lawton (16), Emerald, VIC
Morgan Mathison (18), Gold Coast, QLD
Indianna Robertson (18), Bentleigh, VIC
Courtney Schonell (17), Narellan Vale, NSW
Jolie Sertorio (16), Peppermint Grove, WA
Maddison Smith (18), Albion Park, NSW
Grace Young (15), Yowie Bay, NSW

Hockey Australia media release


---

Turning a hobby-career into a passion; umpiring at the international level

Margaux Brand represents Canada on the 'third team' at the 2018 Youth Olympic Games




It isn't entirely uncommon for international athletes to have familial lineage in the sport of their excellence. It is rare, however, to see a third-generation umpire excel in officiating just as her mother did and her mother's mother before that. Margaux Brand never met her grandmother, but they share a special on-field connection that not many can replicate.

Brand is currently in Buenos Aires, Argentina as the only Canadian representation on the umpire and official staff at the 2018 Youth Olympic Games. The North Vancouver, BC, resident feels a great source of pride in representing the red and white on the "Third Team."

"I didn't quite realize that I was the only Canadian official until a little while ago. It's actually really special to be the only one from Canada, representing the flag."

A native to South Africa, Brand moved to British Columbia when she was 11 years old. Two years later, at her mother's behest, she started umpiring in West Vancouver. What started as a part-time gig to make a bit of extra money in high school became a passion. In those early years, it wouldn't be uncommon to see Brand and her mother, Margaret, umpiring the same game in the West Vancouver women's league.

"My mom really mentored me and encouraged me when I was younger. She always said that her mom [Elise Slabbert] would be so proud to see that I have come this far in umpiring," Brand said and noted with a laugh, "she always takes credit for my umpiring success…as she should, being a mom."

As Brand progressed through the umpiring pathway, obtaining her provincial, regional and Canadian ratings, she turned to other umpires in the community for guidance and support. Gavin Caldecott, a veteran West Vancouver umpire lent his support as a mentor. Caldecott, originally from Zimbabwe, moved to Canada in 2002 and quickly took up umpiring. He has represented Canada at the Commonwealth Games 2014 and Pan Am Games in 2015. Caldecott took immediate notice to Brand's attitude and demeaner on the field.

"For such a young umpire, she showed a lot of promise and growth in a short amount of time," he said. "I could see her actively trying to improve, trying to get better."

Caldecott has been working with Brand for several years in West Vancouver and recalls offering advice and support along the way. He said he's been very impressed and proud watching her develop and progress. According to Caldecott, Brand brings her own unique style of umpiring to every game. He said she has a terrific on-field demeanour and her background as a player has allowed her to understand the game from a player's perspective.

"She's a player's umpire, she has great sense of the game," he said. "She doesn't get flustered very easily at all. She stays cool, calm and collected. On top of that, it's clear she's enjoying herself, she does it all with a smile on her face."
Brand (top middle) posing with the U18 National Championship officials crew in Toronto, ON.
Patience and dedication pays off

From umpiring U13 kids' games at Ambleside Park to stepping out on the Youth Olympic Games hockey pitch, it's not hard to see a tremendous progression in the last 12 years. Brand prides herself on her ability to stay focused and composed on the field. No matter what the venue, umpires don't have the luxury of home-field advantage or fan-support. In fact, in many cases, it's the opposite. Despite the circumstances, Brand enjoys the challenge and doesn't let the game get to her.

"Over the years, I have built up a thick skin. I've taught myself to tune out anything from outside of the field and I've also learned to not take anything personally," she said. "If I'm calm, if I'm collected and confident, the players will feed off that. When umpires get frustrated and riled up, the players feed off that too."

When Brand isn't umpiring, playing or coaching field hockey, she works part-time with people with developmental disabilities as a support worker and is preparing to go into nursing in January at Kwantlen Polytechnic in BC. Despite a busy schedule, she stays dedicated and motivated to what she calls her "hobby career" of umpiring.

Brand received her international umpiring badge last November in Jamaica at the Central America & Caribbean Games qualifiers. On the final day of competition, Brand was assigned to the gold medal match. Having her assessment and receiving her badge afterwards was a special moment for Brand and validated a lot of hard work and dedication.

"When I was appointed the gold medal, game, I kind of knew I would probably going to receive my badge, but it was still really nice to sit down with the tournament director and umpire manager and get the piece of paper and see that I achieved the grade that I wanted."

"At this point, I just want to get as much experience as possible and get involved in as many high-level tournaments as possible," she said. "I want to build up my experience and hopefully one day be going to World Cups and Olympics. It could be very far away. But if I am committed and love what I'm doing, it's achievable."

With her international rating complete, Brand was shortly thereafter appointed to the Youth Olympic Games officials roster. This marks her first major international multisport games appointment and she couldn't be more thrilled.

2018 Youth Olympic Games and Future International Appointments

"Going to the Youth Olympics is a huge milestone for me in my career," she said. "I am really looking forward to meeting all the other umpires. There will be so many faces from all over the world and I think it's really cool to learn people's backstories."

"I'm especially looking forward to the Youth Olympic atmosphere. There will be big crowds and lots of hype built around the competition. Walking out onto the pitch and seeing the crowd will be pretty special," Brand said.

According to Brand, it is her dream to one-day be going to the top competitions in the world. But with the same level-head and composure that she shows on the field, she knows she will have to work hard and improve in order to get there.

"At this point, I just want to get as much experience as possible and get involved in as many high-level tournaments as possible," she said. "I want to build up my experience and hopefully one day be going to World Cups and Olympics. It could be very far away. But if I am committed and love what I'm doing, it's achievable."

Margaux Brand is Canada's lone official at the Youth Olympic Games. She said she hopes to see more Canadian officials get their ratings and progress through the pathway. In parting, she offers some advice to young aspiring officials:

"Don't be afraid questions and ask for feedback. Without getting support and feedback from higher up officials, you aren't going to improve. If you have a good relationship with older officials, it's easier to get feedback and help."

Field Hockey Canada media release


---

India and Australia favourites for Sultan of Johor Cup

KUALA LUMPUR: World junior champions India and defending champions Australia will be the favourites in the eighth edition of the Sultan of Johor Cup as they each chase a unique treble of titles.

The six-nation Under-21 invitational tournament, which begins today at the Taman Daya Hockey Stadium will showcase skills of some of the top juniors in the world.

The other teams in the fray are Japan, New Zealand, former champions Britain and Malaysia.

India were finalists on four occasions from 2012 to 2015, winning it in 2013 and 2014.

Australia on the other hand won their titles in 2016 and 2017. They also made the final in the inaugural year in 2011 but lost to Malaysia.

This year, a younger set of players are expected to be fielded by teams as they look towards the Junior World Cup qualifiers over the next two years.

Some of the teams have also lost key players to the Youth Olympics challenge in Buenos Aires, Argentina, from Oct 6-18.

National junior chief coach Nor Saiful Zaini Nasiruddin said they are looking forward to a top four finish this year. They were fourth last year as well.

"It is going to be a tough week looking at the quality of teams that are here. We played two friendly matches against Australia (lost 1-0) and Britain (drew 0-0) and our problems in the forward line was evident. We need to score to win matches," said the former international.

"Overall I am happy with the approach and attitude, but I'm afraid their lack of confidence is a factor to be considered."

Indian coach Jude Felix said losing some of his key players for Youth Olympics may affect the team.

"We lost several players but I believe there is enough depth in the squad to overcome it. We need to be consistent and therein lies the problem. It is never easy for any team to play six matches over eight days and remain consistent," said Jude.

The Australians can become the first team to win the back-to-back title three times.

Australian coach Chris O Reilly said that they do have an experienced team although their preparations have not been that thorough.

"We have a good blend of players, both young and experienced and we hope to do well. We have eight players that played last year and so much will depend on how they perform.

"Our preparations have not been that great honestly. We only got together as a team on Monday in Johor Baru and have been working hard to put things together," he said.

The Star of Malaysia


---

India to face Malaysia in opening match of Sultan of Johor Cup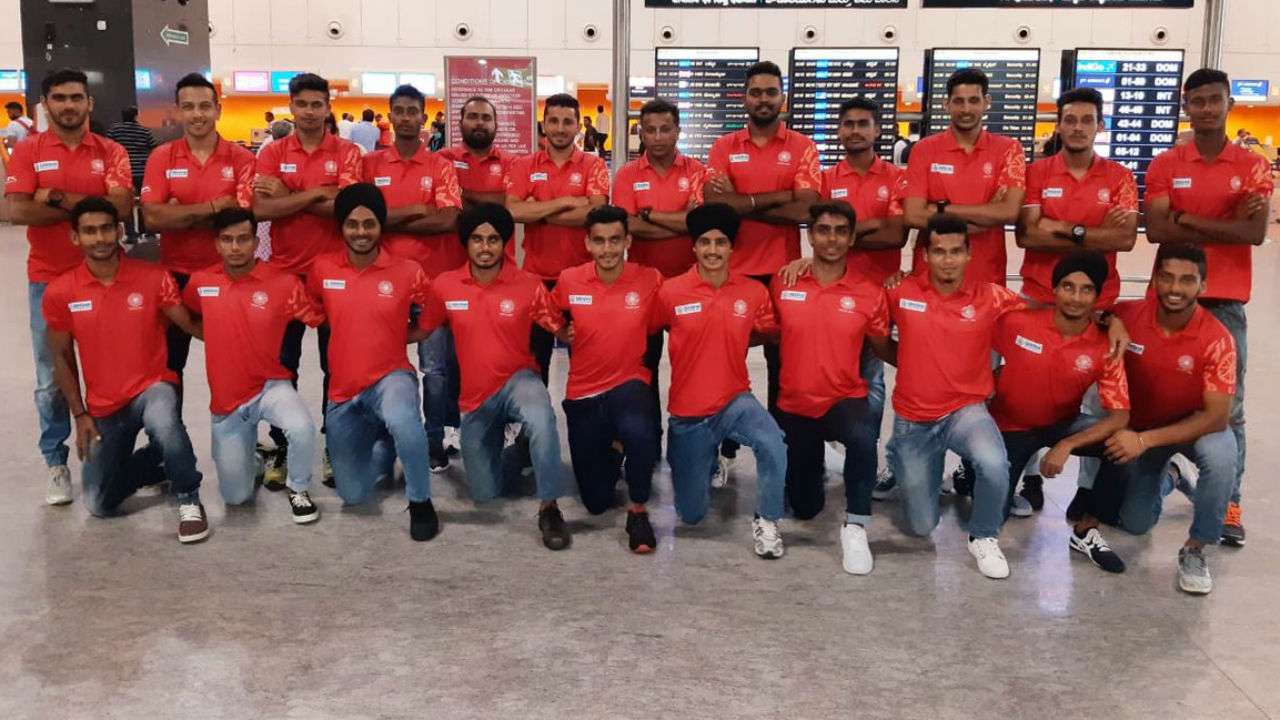 Indian team for Sultan of Johor Cup , Twitter @TheHockeyIndia

Eyes firmly set on gold, last year's bronze medallist India will take on hosts Malaysia in the opening match of the eighth Sultan of Johor Cup junior hockey tournament on Saturday.

The team led by the talented Mandeep Mor will look to start the prestigious tournament on a winning note.

"It is always important to begin the tournament with a win as it boosts the confidence and motivates the team to build on their performance as the event progresses," said coach Jude Felix.

"But having said that, many players will also be playing their first international match and they must shake off the initial jitters to play their natural game." In the previous edition, India had beaten Malaysia 2-1 in a closely fought round-robin match.

But in the bronze medal clash, India had improved their performance by leaps and bounds to beat the hosts convincingly by a 4-0 margin.

"Playing the hosts in the first match is never easy because of the home support. But I am confident if these boys play their natural game, we should do well," said a confident Felix.

After Malaysia, India will play New Zealand on Sunday and Japan on October 9 before clashing with defending champions Australia on October 10 and Great Britain on October 12.

"According to me it's never about who we play but how well we play and we will go into the tournament with the mind set to play our best hockey," Felix said.

"We have prepared well for this tournament and the players are certainly looking forward to the first match, from there on we will take one match at a time," he added.

Daily News & Analysis


---

Kitty van Male says goodbye to Oranje as Holland set out FIH Pro League path

By The Hockey Paper




Kitty van Male, the World Cup's top scorer, has announced her retirement aged 30.

The fearsome striker netted eight times in London as Holland won an eighth World Cup – after being overlooked for the previous two editions.

But despite her form for the Dutch, after 116 matches, 39 goals and nearly 10 years in the side she admitted that it was time to stop.

"I had a fantastic time in Orange, now it's time for a new life", Van Male told hockey.nl.

The Amsterdam player won Olympic gold at London 2012 and silver in Rio alongside her EuroHockey and world title memories.

She will now follow a career path in social pedagogy after admitting that she had made her mind up on retiring before the summer's World Cup.

She had previously been unsure over her future role with the Oranje ahead of Tokyo 2020.

She said: "During my internship, I was asked to reflect on my own actions, and I had discussions with my supervisor, a kind of mental coach, in which I came to the conclusion that I want to focus more and more on my social career."

For now Van Male will still play Hoofdklasse hockey with Amsterdam.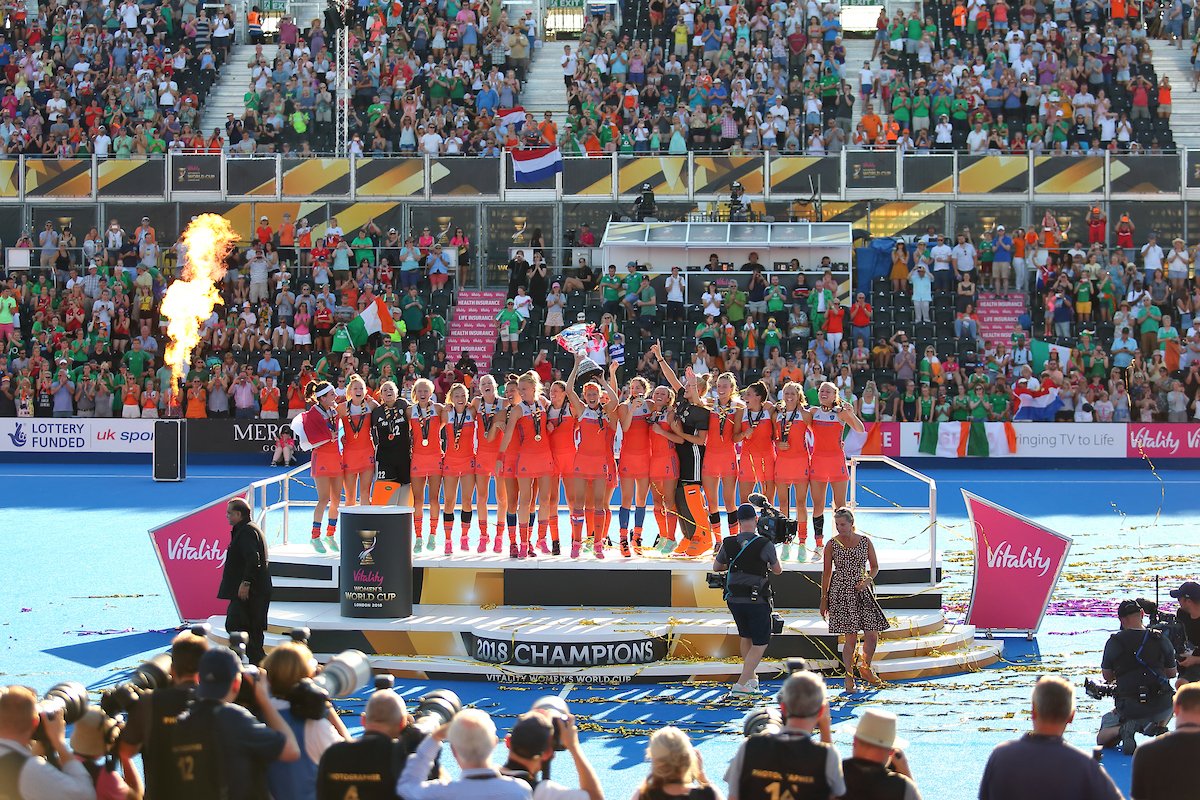 Holland celebrate successful defence PIC: England Hockey

She added: "I do not know how long I will stay in the big league, but I will look at the season and see if I want to continue for another year."

Van Male was this week omitted from Alyson Annan's 45-strong Oranje training squad ahead of the Champions Trophy.

With 39 players and six goalkeepers, Annan will whittle down the squad to 32 for the FIH Pro League where Holland will play 16 matches across nine countries.

As The Hockey Paper has previously revealed, Annan will rotate the squad, meaning that a second string team devoid of its stars could play at away matches.

"To find a good balance between the programme of the Dutch Team and the games in the main class, the composition of the group will rotate per trip," Annan said.

The Hockey Paper


---

Southern players paid the price in the interests of hockey unity

As in rugby, the Troubles had a profound effect on the sport within Ireland

Johnny Watterson



Paul Gleghorne of Ireland played against his brother, Mark, who lined out for Great Britain. Photograph: Jan Kruger/Getty Images

'Shoulder to Shoulder,' a new BT Sport documentary fronted by former Ireland rugby captain Brian O'Driscoll, explores rugby's relationship with The Troubles.

It tracks the experiences of players north and south, with many of them similar to what Irish hockey players also experienced during that time.

Rugby survived those decades and hockey did two. Both emerged in different ways scarred but in hockey's case the sport was almost split in two.

In 1980 a number of countries had boycotted the Moscow Olympics because of the war in Afghanistan. In short the US and their allies pulled out of the Moscow Games following the Soviet invasion. It would be followed four years later by a reprisal boycott of the Los Angeles Games in the Unites States.

Because of the disruption, Moscow was faced with the withdrawal of a number of countries and Ireland was invited to be a standby competitor.

The Irish Hockey Union (IHU), however, declined the invitation, citing financial reasons and a heavy international program (what program could be more important than the Olympic Games).

But the febrile Irish political situation at the time was also a player in the decision. In fact it was the player.

The then Ireland team manager Con Lynch made it known he was unhappy with the decision not to compete believing, as many players did, that everyone deserved in principle to have equal opportunity to aspire to participate in the Olympic Games.

Lynch subsequently resigned over the matter. When the question arose at a special meeting the following year and a proposal was forwarded that Ireland participate in the 1984 Olympic Games in LA ,Ulster strongly opposed the motion. Anthems, loyalties and flags were the order of the day.
Secret ballot

A secret ballot was taken and the proposal to compete in LA was defeated – evidently supported by branches from south of the border. Irish hockey pulled away from the Olympics not to return for many years.
 
Then in a sequel the IHU gave permission for all eligible players to be considered for Great Britain for the LA Olympics.

In short, players south of the border were denied any possibility of competing in an Olympic Games, while players from the Ulster Branch and those who could obtain a British passport were encouraged to play for GB.

As a result of that action, Jimmy Kirkwood, Stephen Martin and Billy McConnell would go on to win gold and bronze medals with GB in LA and later Seoul in 1988.

The union held together but sacrificed the aspirations of its southern-based players to play in the Olympic Games and lost a team manager in Lynch. It was a costly decision and there was a lot of anger that individual Irish players had been burned in order to keep the sport together.

It took until 2016 for an Ireland team to have another chance to compete in an Olympic Games. Along the way brothers Mark and Paul Gleghorne from Ulster played against each other, Paul for Ireland, Mark for England. That's how it works now. Choice. Hockey remains intact but not without some speed bumps along the way.

Saturday

EY Irish Hockey League – C of I v YMCA, Garryduff, 300pm; Lisnagarvey v Banbridge, Hillsborough 3.00pm; Cookstown v Glenanne, Cookstown 4.00pm; Pembroke v Annadale, Serpentine Avenue 4.00pm.

The Irish Times


---

Over to you, Oltmans




Holland's Roelant Oltmans, with his vast experience, has been appointed as the coach of the Malaysian men's hockey team. The 64-year-old has been hired to help the national team qualify for the 2020 Tokyo Olympics. Oltmans spoke to StarSport's AFTAR SINGH on his new role.

StarSport: How long have you been coaching?

A: I have 29 years of coaching experience. I have been the national Dutch women coach since 1989 and guided the team to win the 1990 World Cup in Sydney.

I then coached the Dutch men's team and guided them to win the 1996 Atlanta Olympics and the 1998 World Cup in Utrecht, Holland.

Later, I coached the Pakistan men's team from 2003 to 2004 before I was initially appointed as the high-performance director by Hockey India in 2013. I eventually took over as the head coach in 2015 until the end of last year. I had a short stint as the Pakistan coach from March this year until the Asian Games in Jakarta last month.

StarSport: What is your first impression of the Malaysian men's team?

A: Malaysian men's hockey team are a team with lots of quality and there is no doubt about it. But just quality on its own is not good enough to win big tournaments. You need more and there has to be awareness, the execution of the game plan, game management, tournament management and all other aspects that are important for the team. If I look at the national team, I am impressed with the team but if you look at game situations, there are players who are not involved enough. That is one important aspect that you need to do – get every individual player to be involved in matches.

StarSport: Are there any target set for your first assignment – the Asian Champions Trophy (ACT) tournament in Muscat, Oman, from Oct 18-28?

A: We don't have a target for the ACT meet to win the gold, silver or the bronze medal. If you go for a tournament, you always want to win every single match. Even if you play a game of chess, you want to win. But we are using the ACT meet as part of our preparation for the World Cup (in Bhubaneswar, India from Nov 28 to Dec 16).

Our most important target is to improve ourselves towards the World Cup. The World Cup is the tournament where we want to peak as we will face the top teams in the world. The World Cup is also part of our preparation to qualify for the 2020 Tokyo Olympics.

StarSport: What are things the national players need to improve on?

A: In every area, you can always make improvement and that is clear. Physically the team has made an improvement over the past year. We will do a fitness test on the players next week to see where we are actually. But we will keep on improving the fitness of the players. Fitness level is so important nowadays that hockey has become a power sport and the game is played on such a high speed. The Malaysian players need to showcase their skills and speed at the highest level. It is not only the fitness you need to work on but also the combination of fitness and skills execution and tactical awareness.

What is far more important is that the players must show improvement towards the World Cup.

StarSport: Any changes you will make for the ACT tournament?.

A: I only had about few training sessions with the team since Tuesday and I am still working on their condition and other aspects of the game. But there will be a few changes that I will make for the ACT tournament as few players like defender Muhd Razie (Abdul Rahim) will not be available due to a hamstring injury. There will be someone else to take over his place. I will also need to check the fitness and injuries of the other players. And some young players will get the opportunity to play in the ACT meet.

The Star of Malaysia


---

Pakistan hockey players submit visa applications for World Cup in India

By MIAN ASGHAR SALEEMI



PHOTO: AFP

LAHORE: Pakistan hockey team and its officials submitted their applications for visas in the Indian embassy in order to attain permission to participate in the Hockey World Cup, starting from November 28.

According to sources, 25 players and five officials submitted their applications.

The development holds importance after India disallowed Pakistan junior team to visit the country for the Junior World Cup, citing late submission of applications as the reason.

Due to the above reason Pakistan team submitted their applications well before time to avoid any inconvenience.

The World Cup starts on November 28 and continues till December 16 and will be played in the Kalinga Stadium, Bhubaneswar.

The tournament consists of 16 teams which are divided into four groups.

Argentina, New Zealand, Spain and France are in pool A, while pool B includes Australia, England, Ireland and China.

Pool C will have Belgium, India, Canada and South Africa, while Pakistan are placed in Pool D and will play Netherlands, Germany and Malaysia.

Pakistan will play their first match on December 1 against Germany. They will face Malaysia in their second match on December, while Men in Green will play their last pool match on December 9 against Netherlands.

The Express Tribune


---

No drawn matches and PumpPlays: Hockey Australia aims fan-centric

By Richard Bright




Is change always a good thing? In sport or business it will always divide opinion. The latest in hockey comes via Hockey Australia as it aims to create more 'celebratory moments' this month and find more fans to engage before a revamped league next year.

The 2018 Australian Hockey League (AHL) starts this weekend and will include several rule innovations and game modifications leading up to the AHL Finals on the Gold Coast between October 25-28.

Earlier this year, Hockey Australia confirmed it would establish an ambitious reimagined franchise-style Hockey league in 2019, with this year's last-ever AHL to be used as a pilot.

The 2018 AHL begins on Saturday with matches between NSW and Queenland in Sydney and Tasmania and ACT in Hobart, followed by SA-WA in Adelaide and NT-Victoria in Darwin.

Among the rules are the introduction of two five-minute PumpPlays, field goal conversions and penalty shootouts for drawn games.

The modifications received some negative reaction on social media ahead of the opening weekend.

HA understands the rule innovations and game modifications are a change from traditional Hockey but introduced with a view to creating more 'celebratory moments' and excitement for the fans, and also to pilot them before the new league is launched next year.

Feedback will be sought from players, coaches, officials and fans throughout and following the 2018 AHL about the rule innovations and game modifications.

HA chief executive Matt Favier said: "We want to celebrate what will be the final running of the current, traditional AHL but also test and trial some of the new game innovations that we intend to include in the revised league model for 2019."

THE AHL RULES

A field goal conversion

When a field goal is scored the same athlete will have an automatic one-on-one shootout with the goalkeeper for an extra goal.

2 x 5-minute PumpPlays

Each team possesses a five-minute PumpPlay to use at the end of either the second or fourth quarters, when teams are reduced to nine players each and where that team's goals are worth double (conversions remain worth only one goal).

The allocation of PumpPlays will be decided by the team which wins a pre-game coin toss. For example, if the coin toss winner elects to take their PumpPlay at end of the fourth quarter, the opposition must use at theirs at the end of the second quarter.

In the second and fourth quarters, the clock is initially set for 10 minutes, then re-set for a further five minutes for the PumpPlay. Play will re-commence with a centre pass taken by the team in possession of the PumpPlay.

No drawn matches

All matches must have an outright result so drawn matches will be decided in a penalty shootout. Match points will be as follows:

5 points for a win,
2 points to each team in the event of a draw,
A shootout will occur to determine the outright winner,
1 point will be awarded to the winner of the shoot-out,
0 points to the loser of the match.

The Hockey Paper


---

Chief of Naval Staff Hockey Championship semifinals today

LAHORE: Sui Northern Gas Pipelines Limited (SNGPL) will take on Pakistan WAPDA while National Bank of Pakistan will clash with Sui Southern Gas Company (SSGC) in the semi-finals of the 2nd Chief of Naval Staff All-Pakistan Hockey Championship at the National Hockey Stadium here on Saturday (today).

On Thursday, the last day of the group stage, three matches were held and the most important of them was the clash between SNGPL and Pakistan Navy as either of them could reach the last-four stage.

SNGPL defeated hosts Navy 3-1 to qualify for the semis.

In a well-contested first quarter, both teams entered the opposing circle quite a few times, occasionally testing the net and each side earned a penalty corner. Navy couldn't avail while the SNGPL made their count. Mohibullah sounded the board. Navy completely dominated the first seven minutes of the second quarter, and had a number of circle penetrations but couldn't turned them into success.

With most of the Navy men up front, SNGPL availed two opportunities: first resulted in a penalty corner in the 23rd minute while in second a deceptive drill saw the ball reaching Suleman in the mid circle who doubled the lead.

Two minutes later, Imran received a fine pass near the circle and found only goalkeeper was ahead. He took some time before finding the target making 3-0 at the half time.

In the second half, Navy began the rescue job with a huge target of scoring four goals without conceding anymore to make the semifinal, but could record only one through Asif Ali (32nd minute).

In other matches, having no bearing on the semi-final lineup, WAPDA defeated SSGC 3-0 as Mohammad Irfan, Ajaz Ahmed and Shajeeh scored.

The match between Pakistan Air Force and Pakistan Police ended in a 2-2 draw. Mushtaq and Amjad Rahman scored a goal each for PAF while Atif and Murtaza Yaqoob were the scorers for Police.

The Daily Times


---

Hockey legend Balbir Singh Senior's condition remains critical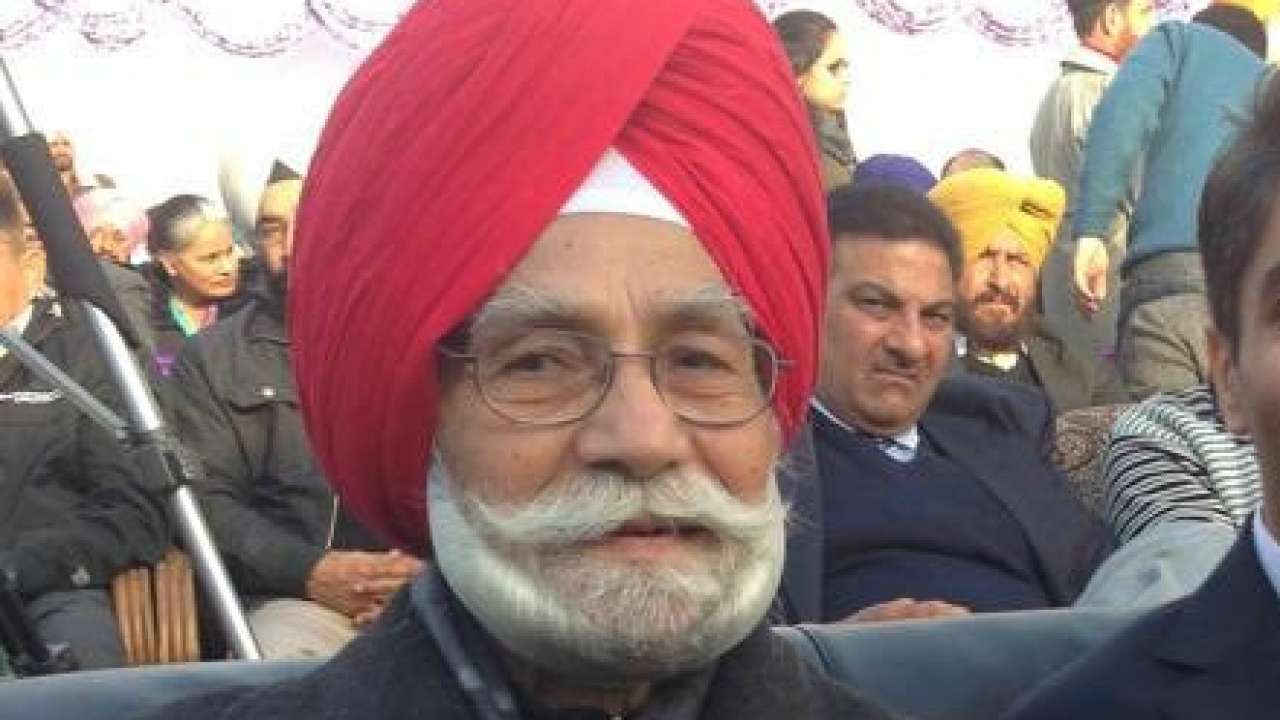 Balbir Singh Senior - File Photo, Twitter (@BalbirSenior)

There was no change in the condition of hockey legend Balbir Singh Senior who has been kept on ventilator for the past two days after being admitted to a hospital in Chandigarh due to difficulty in breathing.

The three-time Olympic gold medal winner continued to remain critical on Friday and he was under constant observation of the doctors at Post-Graduate Institute of Medical Education and Research (PGIMER) in Chandigarh. Singh is currently undergoing treatment for acute bronchitis. He was admitted to PGIMER on Tuesday after he complained of difficulty in breathing.

"His condition continues to be critical and he remains on ventilator," a PGIMER official said on Friday. The legendary centre-forward, who is 94, is being treated at the Respiratory Intensive Care Unit (RICU) of the hospital.

A senior doctor had earlier told PTI that Singh has been kept under constant observation. "We are monitoring him regularly," he said. Singh has been having acute bronchitis and fluctuations in blood pressure, according to the doctors.

Sports Minister Rajyavardhan Rathore had on Thursday wished the legendary player a speedy recovery. "Wishing the pride of our nation, our hockey legend Shri Balbir Singh Sr. a speedy recovery and good health. Get well soon, sir," Rathore had tweeted.

Punjab Sports Minister Rana Gurmeet Singh on Friday visited the hospital to inquire about the condition of the legendary player. He said the state government would extend any help required by the family. "We are with the family (of Singh) at this hour of crisis," Gurmeet said.

Singh, a former captain, currently lives in Chandigarh with his daughter Sushbir Kaur and maternal grandson Kabir. He fell ill at his home a few days back. As complications grew, he was admitted to the hospital on Tuesday and his condition deteriorated since Wednesday.

One of the country's tallest athletes, Singh became the only Indian among 16 legends chosen by the International Olympic Committee across the modern Olympic history. His world record for most goals scored by an individual in the men's hockey final of the Olympics still remains unbeaten. He had scored five goals in India's 6-1 victory over the Netherlands in the gold medal match of the 1952 Helsinki Games. He was conferred with the Padma Shri in 1957 and was also the manager of India's World Cup-winning team in 1975.

Less than two months ago, Singh attended a function at Chandigarh Press Club on the occasion of 70 years of India's first Olympic hockey victory in London in 1948. He went down the memory lane and said he was overwhelmed by a sense of patriotism after that triumph. Singh was a member of three Olympic gold medal winning teams in London (1948), Helsinki (1952), and Melbourne (1956 as captain).

Daily News & Analysis


---

Big Saturday Of Men's Masters Deciders On Its Way

Ben Somerford




The gold medal matches at the 2018 Men's Masters Australian Championships in Lismore and Ballina will take place on Saturday.

Previously the 35+ to 45+ divisions wrapped up last weekend but a further nine divisions have been competing all week ahead of the deciders on Saturday. Several bronze medal matches were also played on Friday.

In the 50+ Division, Queensland will play WA in the gold medal match at 3:15pm (AEST) on Lismore 1. On Friday, Victoria beat NSW 5-0 to claim bronze.

In the 55+ Division, the same two states will meet in the decider from 1pm (AEST) on Lismore 2. On Friday, WA Country knocked off NSW 1 2-0 to secure bronze.

In the 60+ Division, another WA side will compete in the final against NSW from 11:15am (AEST) on Lismore 1. Queensland were due to play ACT on Friday night for bronze.

In the 65+ Division, Queensland and hosts NSW will meet in the decider from 9am (AEST) on Lismore 2. Victoria beat WA 3-2 in Friday's bronze medal match.

In the 70+ Division, SA and Victoria will meet in the gold medal match from 1:15pm (AEST) on Lismore 1. Queensland beat WA 1-0 for bronze.

In the 75+ Division, top two NSW will play WA in the final match from 11am (AEST) on Lismore 2. Queensland beat Victoria 3-1 in a shootout for bronze.

Meanwhile in the 50+/2 Division, Queensland 1 beat NSW 2-0 in the gold medal match, while Victoria took bronze with a 2-0 win over Queensland 2 on Friday.

Also in the 55+ /2 Division, Victoria will play NSW in the final from 9:15am (AEST).

Finally in the 60+ /2 Division, NSW triumphed with a perfect record and a 4-1 win over Queensland 1 on Friday sealing the deal.

Follow the scores via www.hockeyaustralia.altiusrt.com or @HockeyAustralia on Twitter.

Hockey Australia media release


---

Ulster classico the men's EYHL highlight

John Flack

Banbridge and Lisnagarvey clash head-on at Comber Road in the most intriguing tie in round three of the EY Irish Hockey League on Saturday.

Banbridge will be aiming to make it three wins in a row to consolidate their position at the top of the table while Lisnagavery will be out to secure a second successive victory.

It promises to be a cracking game between two teams who won the regulation season in years one and two of the expanded national league format. Banbridge have marginally the more experienced squad, with Eugene Magee always a potential match-winner as the proved in the opening 4-3 success over Three Rock Rovers.

Lisnagarvey, in contrast, have lost several Irish internationals, who are now plying their trade on the continent, including Michael Robson, Neil Glassey, Paul Gleghorne and Mark Murray. However, they recovered from a 2-1 loss to Pembroke on day one to comfortably beat Cookstown 4-0 last weekend.

Banbridge coach Mark Tumilty will, in no way, be underestimating the challenge that lies ahead of his team on Saturday after they followed up the win over Three Rock with a 3-1 success over Cork C of I.

"We didn't start the game well against Cork but improved as it went on. They are a difficult side to play against and it took us time to adapt," said Tumilty.



Banbridge's Josh Moffett and Lisnagarvey's James Lorimer renew acquaintances. Pic: Adrian Boehm

"I was pleased with our final quarter performance and winning the game was important. We are improving but still have plenty more to do, and there is no bigger challenge than away to Garvey.

"Garvey is the biggest game of the year in my opinion and I still see them as one the sides that will be in contention for trophies this year. They have a strong squad with plenty of experience plus a good mix of youth.

"They will be disappointed with the Pembroke defeat but had a good result on Saturday and I am sure they will be looking to build on that against us this weekend."

Tumilty's opposite number Errol Lutton has been happy with the way his younger players have been stepping up to the mark in the two opening games. "As always we look forward to welcoming Banbridge to Comber Road. Both teams have a mix of youth and experience and it should be a exciting game," he stated.

"I've seen both Banbridge's EYHL games this season and they've made an been impressive start. We were delighted to get off the mark last week against a Cookstown team who had enjoyed an excellent opening day victory against Dublin YMCA.

"What was especially pleasing was the performance of the under 18 players who we've recently added to our training panel. It's an exciting time for them to be playing in the EYHL and that has showed in their performances so far.

"We will look to build on last week's performance over the next number of weeks with further games away to Three Rock Rovers and Dublin YMCA.".

Cork C of I and YMCA face a formative match for their respective concerns as they both look to land a first win of the campaign. For C of I, there are doubts over the availability of John Jermyn after he sustained a knock a week ago against Banbridge while Jonny Bruton meets one of his former clubs.

Both sides were content to sit half-court and try to counter-attack hockey last time out with C of I effective for the guts of an hour against Bann before succumbing to three late goals.

The Y, meanwhile, struggled to get out of their half against Three Rock but did score from their one circle entry of the first half. Grant Glutz and Ben Campbell do give them a sharp edge in front of goal if given the opportunity.



Lisnagarvey coach Errol Lutton. Pic: Adrian Boehm

Pembroke's perfect record will be put to the test by Annadale at Serpentine Avenue where the hosts will hope to make it three wins from three.

Cian Murphy has hugely impressive in midfield as he continues to grow at this level while Spanish defender Andreu Gomez looks set to be an important player at the back for Paudie Carley's team.

Cookstown have witnessed wildly conflicting outcomes from their two games already this season ahead of the visit of Glenanne.

The Irish Senior Cup and Irish Hockey Trophy both get under way. A highlight in the former is the meeting of Kilkeel and Bangor who finished first and second in the Ulster Premier Division last season.

Two other sides with ambitions of getting into the EY Hockey League are Instonians and UCD who meet at Shaw's Bridge. The students have whipped up 16 goals in two outings so far but will find Inst a much tougher rival with Mikey Watt now back at his original club after many years on the road.

Men's fixtures (all Saturday)
EY Hockey League: Cookstown v Glenanne, 4pm, Steelweld Park; Cork C of I v YMCA, 3pm, Garryduff; Lisnagarvey v Banbridge, 3pm, Comber Road; Pembroke v Annadale, 4pm, Serpentine Avenue

Irish Senior Cup
Round 1: Clontarf v South Antrim, 2pm, Mount Temple; Kilkeel v Bangor, 2.45pm, Kilkeel HS; Railway Union v Queens, 1pm, Park Avenue
Round 2: Avoca v Belfast Harlequins, 1pm, Newpark; Instonians v UCD, 2.30pm, Shaw's Bridge

Irish Hockey Trophy
Round 1: Ashton v Newry, 3pm, Ashton School; North Down v Portrane, 2.40pm, Comber LC; Raphoe v Rathgar, 2.30pm, Royal & Prior; UCC v Cork Harlequins, 2pm, The Mardyke; Waterford v Dublin North, 2.30pm, Newtown

The Hook


---

Pembroke and Pegasus set for intriguing showdown



Pembroke's Emily Beatty. Pic: Adrian Boehm

The women's EY Hockey League's early phases feature another series of intriguing ties with Pembroke's second away day to Ulster in succession a highlight.

Pegasus won't be taking Pembroke lightly as they expect to welcome back Irish international Emily Beatty, who missed the weekend defeat to Belfast Harlequins.

Although they lost the game at Deramore 2-0, the Leinster team gave as good as they got for most of the 70 minutes and created more chances but found home keeper Marianne Fox in inspired form.

Harlequins, with World Cup heroines Zoe Wilson and Lizzie Colvin in their side, are also on the road and will be hoping to make it two from two when they take on Railway Union as they bid to avenge a 3-2 defeat at Park Avenue last season.

Wilson scored one of the goals and provided an assist for the other in Saturday's win over Pembroke and will be an important cog in the midfield along with Colvin.

Railway are next on their agenda and featured All-Ireland winning Dublin ladies footballers Kate McKenna and Molly Lamb in their squad last weekend while Sarah Hawkshaw made an instant impact after four years at University of Massachussets.

Ards, who drew 0-0 with Muckross on Sunday, will hope to do better than in their last meeting with UCD, who were 7-1 winners at Londonderry Park in the corresponding game last season.

UCD coach Miles Warren saw enough in their performance last weekend against Pegasus to be pleased with – despite defeat to Pegasus – to suggest they can have a say at the top end of the EYHL table this term.

New arrivals Michelle and Niamh Carey, Suzie Kelly, Nina Heisterkamp and Charlotte Cope means a vastly changed side while there is the prospect of Hannah McLoughlin and Ellen Curran joining the party to give them plenty of quality to work with.

Harlequins host Old Alex, both looking to bounce back from an opening day defeat. Lorna Bateman and Becky Maye shared the goalkeeping duties for Quins last weekend, getting a half each as they adjust to life without Emma Buckley.

Alex suffered a torrid first 25 minutes in the top tier last week when they conceded three times against Railway Union but showed enough quality after that to suggest they can cause problems.

Emma Russell, Lisa Jacob, Fiona Connery and Pam Smithwick all have international experience while Spanish import Paula Pena looked lively.

Loreto have moved their home games to the new water-based back pitch at Three Rock Rovers at the far end of the Grange Road for this campaign. Muckross are the first visitors with Sarah Scott coming up against her former club.

She was content enough with her side's performance against Ards but a little disappointed not to find the finishing touch. Whether they can muster chances against the Beaufort side, though, is another matter.

In the Irish Senior Cup, Glenanne and Trinity meet in a Dublin derby in the first round while UCC against Ballymoney could be an interesting prospect on Sunday. There are also several Irish Hockey Trophy ties on the agenda.

Women's fixtures
EY Hockey League (Saturday): Ards v UCD, 4pm, Londonderry Park; Cork Harlequins v Old Alex, 2.30pm, Farmers' Cross; Loreto v Muckross, 1pm, Three Rock Rovers; Pembroke v Pegasus, 2pm, Serpentine Avenue; Railway Union v Belfast Harlequins, 3pm, Park Avenue

Irish Senior Cup, first round (Sunday): Corinthian v Banbridge, 3pm, Whitechurch Park; Glenanne v Trinity, 1pm, St Andrew's; Ulster Elks v Genesis, 1pm, Jordanstown; UCC v Ballymoney, 12pm, The Mardyke

Irish Hockey Trophy, first round
Saturday: CI Ladies v Lisnagarvey, 1pm, CIYMS; Raphoe v Rainey, 1pm, Royal & Prior
Sunday: Ashton v Mossley, 2.30pm, Ashton School; Avoca v North Kildare, 3.30pm, Newpark; Belvedere v Clontarf, 2pm, Ballincollig; Kilkenny v Cork C of I, 1.30pm, Kilkenny College; Waterford v Weston, 3pm, Newtown

The Hook


---

Top of the table Scottish National League 1 clashes this weekend




Top of the table clashes are on the menu in both the men`s and women`s National League 1 programme, the former sees Edinburgh University entertain Hillhead while the latter confrontation is on Tayside where Wanderers are at home to Clydesdale Western.

Western head the women`s table from Wanderers, but only by the slender margin of two goals after four games.

Wanderers` success this season has not just been based on victories against the lesser lights; they beat Grove Menzieshill 3-1 in the opening fixture, then held champions Edinburgh University to a goalless draw.

Both sides will have some young talent on view, Wanderers have GB youth players Charlotte Watson and Emily Dark to add to their firepower. Western have a wealth of international players in the ranks including Lexi Sabatelli and Heather Howie who have already found the net this season.

Last season Western got the better of the occasion with 2-1 and then 5-1 victories, but Wanderers seem a more consistent outfit this term.

Another intriguing clash brings Wildcats to Peffermill to take on a revitalised Watsonians. The latter, who finished fourth in the league last season, have clearly benefitted from the acquisition of Lucy Lanigan, the former Western player has scored four times in the three games so far.

Kate Holmes, Wildcats` signing from the English Premier League, has also made an impact with four goals to add to the strikes by Heather Aitken and Alex Stuart, that also makes for a formidable scoring setup.

Of the other title challengers, Grove Menzieshill are away to bottom side Grange while champions Edinburgh University entertain Hillhead.

The final fixture on the card pairs GHK with Glasgow University, both sit on three points with the winner emerging out of the lower reaches of the table.



22 October 2017 at Old Anniesland. Scottish Cup tie – Hillhead v Western Wildcats

The men`s top fixture this weekend between Edinburgh University and Hillhead could be viewed as a little surprising. But that is not to take anything away from the combatants, both sides are unbeaten in the league so far, and at least one will remain so after Saturday`s clash.

The Glasgow side have managed two wins and two draws, the last being a 2-2 draw away to Watsonians in a game coach Mark Ralph believes they should have won.

Ralph remarked: "We had chances to win the game but didn`t manage to take them. We could have won it in the end if we were clinical."

Perhaps no such complaints on the previous outings 11 goal massacre of Gordonians with striker Graeme Campbell`s five the highest individual tally of the season to date.

The Edinburgh students are a point behind, but with a game in hand. However, Graham Moodie`s charges also drew 2-2 with Watsonians in a similar scenario of chances missed.

Edinburgh were in much more clinical mood in their 6-3 victory over Kelburne last Sunday with Ian Moodie and Peter McKnight the main strikers with a couple each.

Last season the students edged it, they won the first game 5-1 but the return finished a 2-2 draw.

Clydesdale are also unbeaten after three games and will hope to remain so after their visit to a Gordonians side that seem to be leaking goals. That could give strikers Struan Walker, Andrew MacAllan and Andrew Allan from set pieces a chance to augment their goal tally.

With Grange and Grove Menzieshill not employed on league business this weekend, three points in the north east could push the Titwood-based side well into the top four.

Western Wildcats were undoubtedly disappointed to surrender a two-goal lead over Grange last weekend to finally go down 3-2, but nonetheless Harry Dunlop`s cubs have the potential for honours this season.

This weekend Wildcats invite Watsonians to their den at Auchenhowie and Dunlop will be hoping for the three points to kick-start their challenge. The Edinburgh side have only managed two points in their four games so far, last weekend`s 2-2 draws with Edinburgh University and Hillhead.

To the other end of the table, who would have predicted the former 13 times champions Kelburne resting in second bottom spot without a point. Certainly it is clearly rebuilding time under Gordon Shepherd, and patience is required, but a win over Uddingston would settle the nerves slightly.

But the Paisley side had some problems with Uddingston last season; a 4-4 draw followed by 3-3 on the final day were the outcomes, and a loss of four points.

The present omens are not good for either side, last weekend the Lanarkshire side were outplayed by Grove Menzieshill in a 4-0 defeat, while at Glasgow Green the Kelburne defence twice lost six goals against Clydesdale and Edinburgh University.

Scottish Hockey Union media release


---

Northwestern field hockey sees Big Ten title chances take hit with loss to Ohio State

The Wildcats only managed two shots on goal in a 2-1 loss to the No. 25 Buckeyes.

By Brett Haensel



Davis Rich/InsideNU.com

EVANSTON, Ill. — With all five of their previous losses coming against ranked opponents, the No. 12 Northwestern Wildcats struggled yet again against the nation's top talent, losing 2-1 at home to the No. 25 Ohio State Buckeyes. The loss deals a blow to NU's Big Ten aspirations, as the Wildcats fell to 8-6, and 3-2 in Big Ten play.

"We knew Ohio State was probably the most improved — them and Rutgers are the two most improved teams in the Big Ten," coach Tracey Fuchs said. "We just didn't take it to them today, so hats off to them. I'm disappointed in our performance for sure."

Both teams got off to a slow start offensively, generating just five shots total in the first 35 minutes. Locked in a defensive battle, the Wildcats failed to get a shot on target in the first period of play.

The Buckeyes broke the scoreless tie about eight minutes into the second half with a shot near the top of the circle, only for Puck Pentenga and Northwestern to answer just two minutes later.

Pentenga — the Wildcats' most consistent source of offense on the day — let a laser go from the top of the circle off of a penalty corner to tie the game up at one. The goal was Pentenga's ninth of the year, adding to her team-leading 27 points.

A minute after defensive anchor Kirsten Mansfield failed to put a rebound home following another Pentenga penalty corner shot, Ohio State capitalized on a penalty corner of its own to give the Buckeyes a lead they wouldn't relinquish.

The Wildcats pulled goalie Annie Kalfas with five minutes to go in the game but couldn't use the extra attacker to generate another scoring chance, as Ohio State stood strong in its defensive end, largely keeping the ball out of its side of the field.

Northwestern ended the game with just two shots on target, well below its season average of 6.5.

"We didn't come out with the right energy and work ethic today," Fuchs said. "Corners are great. We needed to generate more, and we'll work on that next week."

The loss drops Northwestern to 8-6 on the year and 3-2 in an absolutely stacked Big Ten that boasts seven of the country's top 25 teams.

The Wildcats will be back at home next weekend for a crucial slate of games against No. 15 Rutgers and No. 7 Penn State, needing at least one win to stay above .500.

"We've struggled against top-20 teams before, so we really just need to get ready and show that we're better than them," Pentenga said. "Next weekend is a great opportunity to shot that against Rutgers and Penn State, so we just want to show that we are ready and want to play for a home spot in the Big Ten tournament."

Inside NU


---

Crucial PHF meeting to review Pakistan's poor show in hockey events

Mohammad Yaqoob

LAHORE: The managers' reports about Pakistan's senior hockey team's participation in the Commmonwealth Games, Champions Trophy, 18th Asian Games and the Development squads tours will be considered in the upcoming Executive Board meeting of the Pakistan Hockey Federation which will be held here on Saturday.

Pakistan's performance had been quite unimpressive during the above mentioned tournaments which indeed dismayed both fans and critics at home. Pakistan finished a poor seventh in the Commonwealth Games and finished at the bottom in the six-nation Champions Trophy. Similarly, Pakistan also failed to keep its standing in the Asian region by ending up at a poor fourth place in the recentl Asian Games held in Jakarta.

Moreover, the performance of the development squad during the last tour of Canada was also pathetic as it could not win a single match on the tour.

According to the agenda, the issue of the loan taken for the Asian Games will also come up for discussion. It must be mentione here that all the expenses of Pakistan's contingent which participated in the Asian Games were borne by Pakistan Sports Board (PSB) and it is inexplicable why the loan was taken in the first place. The discussion will also be held about the letters written by ex-hockey players to FIH and FIA.

The executive board is likely to give the playing rights to Mari Petroleum which has applied for the playing rights.

President, secretary and treasurer of the PHF, secretaries of four provincial hockey associations and two technocrat members including Islahuddin and Ayaz Mahmood are likely to attend the meeting. The third member is Navid Alam who has been sacked from his duties of Director Domestic Development after he had developed serious differences with secretary PHF Shahbaz Senior over various issues.

Dawn