All the news for Sunday 7 October 2018

2018 Indoor Test Matches: RSA v NAM (W) - Test 4 & 5
Durban

6 Oct 2018 RSA v NAM     3 - 0 (0 - 0)
6 Oct 2018 RSA v NAM     3 - 3 (0 - 2)

South Africa take the 5 match series 3 - 0 with 2 draws

FIH Match Centre


---

The Youth Olympic Games arrive in the Americas for the first time

Buenos Aires, Argentina - October 7-14


  

This is the third edition of the Youth Olympic Games (Singapore 2010 and Nanjing 2014 were the previous ones) but it is the first time they take place in the Americas.

The Pan American Hockey Federation (PAHF) is proud that one of its members, Argentina, will host 16 nations which will compete during eight days trying to win an Olympic gold medal. The hockey competitions are played in the Hockey5s format.

Men's and women's competitions are divided into two groups of six countries each, with four countries from PAHF: the host Argentina (men & women), Canada (men), Mexico (men & women) and Uruguay (women) . The first four of each group will advance to the quarterfinals.

The competition begins on Sunday, October 7 at 9.30 (local time) at the Olympic Park Stadium, with the men's matches: Mexico will face Poland, Canada will face Austria at 12:30 (local time) and Argentina will face Zambia at 13:15. The women's action starts in the  afternoon: Uruguay will play against South Africa at 14:45, Argentina at 5pm vs Vanuatu and  Mexico will face Poland.

Buenos Aires is ready to host 208 hockey players and has the privilege to fulfill their first dream of being part of the Olympic Games!

Pan American Hockey Federation media release


---

Hockey gets faster, fewer, fiercer




Hockey 5s is a fast sport that promises to get even faster at the Buenos Aires 2018 Youth Olympic Games. Change in playing time promises to make five-a-side action even more frenetic and non-stop.

A reduction in the playing time adds yet another element to the significant uptick in the discipline's non-stop action and speed, which came as a result of reducing the size of the field and number of players.

Teams play five-a-side instead of 11-a-side, and the field of play is 48 metres long and 31.76m wide (including boundary boards) - smaller than the traditional size of 91.40m long and 55m wide. At the Nanjing 2014 YOG, each game was played in three 15-minute periods, but this time in Buenos Aires 2018, hockey games will consist of two halves of 10 minutes each.

"This is the first time for me playing five-a-side hockey," said Robinson Omutekete, who represents Kenya. "I like both disciplines, but this one is harder for me. It's faster and the ball will never leave the pitch."

Kenya are one of 12 men's teams that are divided in two groups of six. Argentina, Malaysia, Mexico, Poland, Vanuatu and Zambia will compete in group A. Australia, India, Bangladesh, Austria, Kenya and Canada will complete in group B.



IOC

The women's competition has the same format, with India looking to build on what could be a great relationship between a new version of a beloved sport for that nation and a playing style that traditionally embodies some of the elements more visible under this set of rules.

"The sideboards have been the biggest challenge in adapting from 11-a-side to five-a-side," said Australian David John, India's team manager. "It takes some getting used to, but I think the style of this discipline suits Indian players because they can use their skills. This is not a defensive game, it's very attacking and India likes playing in this style."

For the women's event, India, Austria, Argentina, Vanuatu, South Africa and Uruguay will compete in group A. Australia, China, Mexico, Namibia, Poland and Zimbabwe will compete in group B. Each team will play each of their group rivals once, with the top four from each advancing to the quarterfinals. The medal games will be played on 14 October at the Youth Olympic Park Hockey Field.

Olympics.org


---

Zambia's Samuel Tagwireyi: Making the transition from team to touchline



Zambia's Samuel Tagwireyi has moved from YOG Athlete to Coach Photo: IOC/XI YANG

Many athletes make the move from competition to coaching towards the end of their playing careers. Samuel Tagwireyi, however, is an exception to the rule – despite being just 21, he will take charge of the Zambia Hockey5s team at the YOG Buenos Aires 2018 in October.

"The biggest and most important challenge I believe is to be a good role model for my players."
Samuel Tagwireyi, Zambia Coach

Tagwireyi still plays hockey for the Hotspurs club in Zambia but, since March 2017, has also been coaching the country's most talented teenagers. Under his regime, Zambia qualified for the YOG after finishing as runners-up at the African Youth Games in Algeria earlier this year. "I haven't really found it difficult to switch from playing to coaching," he says.

"My experiences in Nanjing have helped a lot because I learned so much from my fellow competitors from all around the world. To be part of the YOG in China has been hugely beneficial to me as both a player and now as a young coach. The biggest and most important challenge I believe is to be a good role model for my players. It is a big responsibility to be in charge of a national team and represent our country at the YOG."

Tagwireyi admits his return to the YOG four years after Zambia reached the quarter-finals in Nanjing will be poignant, and he is eager for his young charges to make the most of their experience both on and off the pitch in Argentina. "I woke up every day in 2014 with a smile on my face," he says. "It was the most beautiful thing to be part of the Games and learn and share with fellow players from so many different countries. It was amazing because I also learned much about life outside sport. My advice to my players this year will be to make the most of their opportunities at the YOG. It is perhaps only once in their lives they will have this chance to interact with so many diverse people in this environment."

The Zambian players booked their place after reaching the final of the African Youth Games in July, the match ending in a dramatic penalty shootout defeat against top seeds South Africa. Tagwireyi concedes there were mixed feelings after the result, but is confident his side can take positives from the performance.

"Our main objective in Algeria was to qualify for the YOG, so we were happy to have achieved that," he says. "But we were of course also disappointed to lose. It was not easy to play the highest ranked team in Africa, and it was hard to lose on penalties after we had dominated the match. The boys were upset, but they are eager to correct what they did wrong. Our target at the YOG is to perform well on the same platform as the best teams in the world. It's important we play well on behalf of our country and our continent, and we will enjoy whatever success we achieve."

Courtesy of IOC - olympic.org

FIH site


---

2018 Sultan of Johor Cup - Day 1
Johor Bahru (MAS)

GBR v NZL (RR)     3 - 2
AUS v JPN (RR)     1 - 2
IND v MAS (RR)     2 - 1

Pool Standings
---

Malaysia go down tamely

KUALA LUMPUR: Malaysia lived dangerously and were punished by India 2-1 in the Eighth Edition of the Sultan of Johor Cup at the Taman Daya Stadium in Johor Baru Saturday.

India took a 12th minute lead off Harmanjit Singh and made it 2-0 in the 47th minute when Shilanand Lakra was on target.

However, a brilliant reverse stick shot from Hafizhuddin Zaidi, also in the 47th minute, could not inject the much needed fire and Malaysia went down tamely in front of their own fans.

RESULTS: Britain 3 New Zealand 2; Australia 1 Japan 2; Malaysia 1 India 2.

SUNDAY: Japan v Britain (4.05pm); India v New Zealand (6.05pm); Australia v Malaysia (8.35pm).

NOTE: All matches at Taman Daya Hockey Stadium and telecast live over RTM.

STANDINGS

              P  W  D  L  F  A  pts
BRITAIN       1  1  0  0  3  2  3
JAPAN         1  1  0  0  2  1  3
INDIA         1  1  0  0  2  1  3
MALAYSIA      1  0  0  1  1  2  0
AUSTRALIA     1  0  0  1  1  2  0
NEW ZEALAND   1  0  0  1  2  3  0

Jugjet's World of Field Hockey


---

Japan slay Australia

by Jugjet Singh



PIC: Japan v Australia.

KUALA LUMPUR: Silver medallists Britain started their campaign in the eighth edition of the Sultan of Johor Cup with a clinical 3-2 win over New Zealand Saturday.

In another match, Japan surprised defending champions Australia when they beat them 2-1.

Britain, champions in 2015 could have won the game easily but faltered after taking a two-goal lead.

But a goal in the 35th minute saw them clinch a narrow win.

Mathew Ramshaw scored a field goal off a quick counter-attack in the fourth minute, while the other Britain goals were scored by Cameron Golden (12th) and Edward Way (35th).

New Zealand goals came off Maks Wyndham-Smith (23rd) and Jordan Ward (33rd).

Britain coach Jon Belby was disappointed with his team's defensive display as they allowed the Kiwis to come back from 2-0 down.

"Overall, I must say that we controlled the game and had more chances. We should have won by a bigger margin. The defensive lapse cost us two goals and the match could have gone the other way.

"I hope to see a better performance against Japan Sunday," he added.

New Zealand coach Collin Bryce said a draw would have been a fair result.

"Yes, I would think we should have shared points with them. We came back strongly in the second and third quarters. But they were a shade better in the end. We will try and improve further as we go along," he said.

RESULTS: Britain 3 New Zealand 2; Australia 1 Japan 2; Malaysia 1 India 2.

SUNDAY: Japan v Britain (4.05pm); India v New Zealand (6.05pm); Australia v Malaysia (8.35pm).

NOTE: All matches at Taman Daya Hockey Stadium and telecast live over RTM.

Jugjet's World of Field Hockey


---

That's the Way, Edward

By Aftar Singh



Close tussle: New Zealand's Maks Wyndham-Smith (right) and Britain's Draper fighting for the ball in the Sultan of Johor Cup match yesterday. — Bernama

KUALA LUMPUR: Last year's finalist Britain started their campaign in the eighth edition of the Sultan of Johor Cup with a clinical 3-2 win over New Zealand.

Britain, who lifted the Cup in 2015, could have won the game easily but faltered after taking a two-goal lead. Thankfully, a goal in the 35th minute allowed them to romp home with a narrow win.

Britain drew first blood in the fourth minute. Mathew Ramshaw scored a field goal off a quick counter-attack.

It was the Britain team that controlled the game and in no time increased their lead.

They pressed on and an attack in the 12th minute resulted in a penalty stroke.

Cameron Golden easily converted the flick to give his team a 2-0 first quarter lead.

The Kiwis fought back and in the second half had the better of the exchanges.

In the 23rd minute, they pulled a goal back when Maks Wyndham-Smith scored from close range after receiving the ball in the D area.

Both teams had a penalty corner each in the second quarter but squadered their chances.

The Kiwis drew level in the 33rd minute with a Jordan Ward field goal but that lasted just two minutes. The Britain team, earning their second penalty corner, managed to regain the lead through Edward Way.

Britain coach Jon Bleby was disappointed with his team's defensive display as they allowed the Kiwis to come back from two goals down.

"Overall I must say that we controlled the game and had more chances.

"We should have won by a bigger margin," he said.

"The defensive lapses cost us two goals and the match could have gone the other way. But the players held on and netted the winner to take all three points.

"I hope to see a better performance against Japan and go all out to win the match as well," he said.

The Star of Malaysia


---

A poor start

By Mohd Farhaan Shah



Keen fight: India's Lakra Shilanand (left) dribbling the ball past Malaysia's Silverius Shello during the Sultan of Johor Cup match yesterday. — Bernama

JOHOR BARU: Malaysia started their Sultan of Johor Cup hockey tournament with a 1-2 defeat to favourites India.

The young Malaysians put on a dismal performance in their opening match at the Taman Daya hockey stadium here yesterday.

India opened the scoring against Nor Saiful Zaini's boys through a field goal by Harmanjit Singh in the 12th minute of the first half.

In the second half, the visitors doubled their lead through another field goal by Shilanand Lakra in the 46th minute.

Muhammad Hafizuddin Zaidi then pulled a goal back for Malaysia through a field goal in the 47th minute to make it 1-2 with 12 minutes remaining.

Malaysia tried to find the equaliser but India's stubborn defence frustrated the homesters.

Nor Saiful said that experience was the difference between Malaysia and their opponents but believed his players can improve when they take on Australia today.

"They need to learn fast because we will be facing Australia, which will be another tough match for us," he added.

In the earlier matches, Japan scored a major upset in the tournament when they defeated defending champions Australia 2-1.

Australia took the lead in the 30th minute through a penalty corner by Damon Steffen but the Japanese clawed their way back through captain Raiki Fujishima in the 38th minute.

Japan then scored their winning goal through Shoji Iseki with 13 seconds left in the match to break the Australians heart.

Britain defeated New Zealand 3-2 through goals from Matthew Ramshaw, Cameron Golden and Edward Way.

New Zealand's two goals were scored by Maks Wyndham-Smith and Sam Lane.

The Star of Malaysia


---

India off to winning start

Junior team edges out Malaysia 2-1 in opener; Britain beat Kiwis; Japan stun Australia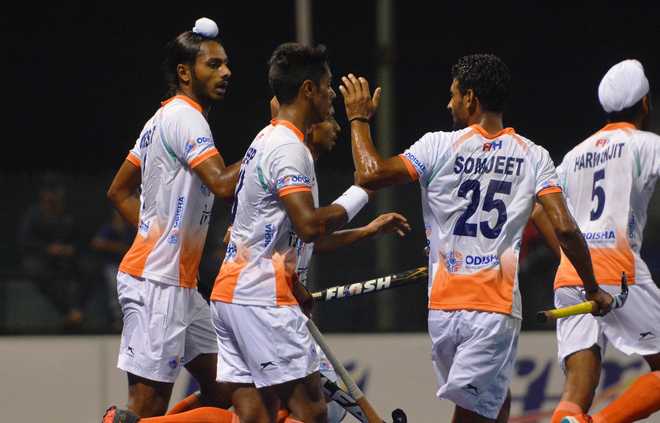 India's players celebrate a goal against Malaysia on Saturday. Hockey India

Johor Bahru (Malaysia) - The Indian junior men's hockey team started its campaign at the 8th Sultan of Johor Cup with a hard-fought 2-1 win over hosts Malaysia here on Saturday.

Harmanjit Singh (12th minute) and Shilanand Lakra (46th) were the scorers for India, while Muhammad Zaidi (47th) pulled a goal back for Malaysia. It was India's sixth consecutive victory against Malaysia in the event, having played the hosts nine times in the yearly tournament.
It was an intense encounter as both the teams vied for possession in the middle, but neither could stitch together a string of passes.

It was only after the 10th minute that India found an opening through a long ball from deep inside their circle but the opportunity was wasted as Malaysian goalkeeper Adrian Albert made a great save. But the Indians drew first blood soon as Harmanjit's deflection beat Albert.

The second quarter belonged to Malaysia as the home team troubled the Indian defence on several occasions by creating opportunities. However, some resolute defending by India made sure that the hosts could not find the equaliser before the half-time whistle.

India started the third quarter on the front foot and tried to stamp their authority on the match by creating several chances. But the Malaysian defence stuck to their task. The visitors finally managed to increase their lead when Lakra found himself in space inside the circle and finished calmly in the 46th minute.

But Malaysia pulled one back in the next minute through Zaidi, who scored past Indian goalkeeper Pankaj Rajak. With just 13 minutes remaining on the clock, Malaysia stepped up their efforts and created a few opportunities, but could not find an opening as India defended well.

"It was just the opening match and the performance was not up to the mark," India coach Jude Felix said. "We will need to improve on several areas but that is what we are here for. Japan had a very good result and as such we must play much better. There are no easy matches this year and every team has improved," he added.

India face New Zealand in their second match on Sunday. Last year's finalists Great Britain started their campaign with a 3-2 win over New Zealand. Britain top the pool, while India are second.

First match jitters

Japan came back from a goal down to stun two-time defending champions Australia 2-1 in their opener. "Yes, we believed we can win. But the players did well to keep the score down and we managed to take the chances at the right time," Japan coach Hiroki Sakamoto said.

Australia coach Chris O'Reilly said: "There is no doubt that we made some unforced errors and our decision-making was also poor. No doubt we could have scored more goals and won easily but overall it was a poor showing. That has to do with the first match nervousness."

The Tribune


---

Way secures opening 2018 Sultan of Johor Cup victory




Captain Eddie Way ensured that the Great Britain Men's U21 side opened their 2018 Sultan of Johor Cup campaign with victory over New Zealand.

Last year's silver medalists ]raced into a two goal lead by the 12th minute courtesy of Matthew Ramshaw and Cameron Golden, but were pegged back by stunning goals from Maks Wyndham-Smith and Sam Lane.

But Way – one of ten players in the team who featured last year – converted a penalty corner early in the second half, a moment that was to prove decisive.

It only took four minutes for Jon Bleby's side to take the lead as Ramshaw expertly deflected Way's crashed ball past the New Zealand goalkeeper Matthew van Aardt.

Jack Turner then saw a shot smothered and Jacob Draper fired over the bar before Ramshaw was fouled in the circle, with Golden sending van Aardt the wrong way from the resulting stroke to ensure his side ended the first quarter two goals ahead.

James Oates had two efforts well saved by van Aardt before New Zealand equalised from seemingly nowhere as a flying Wyndham-Smith diverted Kalyam Jerem's wicked pass beyond James Mazarelo in the 23rd minute.

A flurry of chances for Great Britain followed before half-time but they couldn't find a third goal and were duly punished three minutes into the second half as Lane's stunning tomahawk gave Ollie Payne no chance.

But rather than let their heads fall, Way and his team-mates continued to press and it was the captain himself who restored their lead in the 35th minute as his drag flick snuck underneath Louis Beckert.

The same player then came agonisingly close to adding a fourth in the 55th minute but his penalty corner effort this time flashed the wrong side of the post.

Their opponents never gave up though and forced two penalty corners in the final minute but Great Britain held firm, with Way brilliantly charging down the first while the second went wide.

Next up for Bleby and his team is Japan at 09:05 tomorrow morning.

Great Britain 3 (2)
Ramshaw (FG, 4); Golden (PS, 12); Way (PC, 35)

New Zealand 2 (1)
Wyndham-Smith (FG, 23); Lane (FG, 33)

Starting XI: Payne (GK), Nurse, Draper, Oates, Turner, Griffiths, Ramshaw, Park, Way (C), Mackenzie, Scott

Subs: Mazarelo (GK), Buckle, West, Crowson, Russell, Golden, Rushmere

Great Britain Hockey media release


---

Burras Beaten In Sultan Of Johor Cup Opener

Ben Somerford




The Burras have suffered a first-up defeat to Japan going down 2-1 in their opening match of the 2018 Sultan of Johor Cup at the Taman Daya Hockey Stadium on Saturday night.

The Japanese came back from a goal down to claim the win, before they absorbed the pressure and in the later stages took the game to the Australians.

Reigning champions Australia were kept at bay for almost 29 minutes by the tireless Japanese. It was the Australians who had the bigger share of the possession.

But poor finishing was their bane as they missed no less than three sitters.

Credit must be given to the Japanese for their tenacious defending as they had every player behind the ball.

The Japanese had an early look at goal in the seventh minute when they earned a penalty corner. But the attempt was foiled by the Australians.

Most of the two quarters were a tussle in midfield with the Australians trying very hard to get the goals.

With 30 seconds for the second quarter to end, the Australians finally earned their first penalty corner.

Damon Steffens made no mistake with the direct flick and scored the opening goal for his team.

In the third quarter, the Japanese started off strongly and gained their second penalty corner.

Raiki Fujishima's direct flick hit an Australian player's leg and sailed into the net for the equaliser.

The equaliser also changed the game with the Japanese becoming the aggressors. The Australians continued to have chances at goals, but their shots were either saved or off target.

With 20 seconds to go for the match to end, the Japanese earned their third penalty corner of the match. And the Japanese went on to create their biggest upset in the junior arena with Shoji Iseki scoring the attempt.

Australian coach Chris O'Reilly said the first match jitters got to the players and hoped to bounce back quickly.

"There is no doubt that we made some unforced errors and our decision making was also poor," he said.

"No doubt we could have scored more goals and won easily but overall it was a poor showing. That has to do with the first match nervousness."

Australia will play hosts Malaysia next on Sunday from 11:35pm AEDT. Watch the game via this link.

Story by Satwant Dhaliwal via www.sultanjohorcup.com.my

Hockey Australia media release


---

South African Men's Hockey Final World Cup Squad




The South African Hockey Association has today released the names of the 18 men who will go to the FIH Hockey World Cup in Bhubaneswar in India for the 14th edition of the premier International Field Hockey tournament for Men.

South Africa will head to the tournament for the 6th time looking to outdo their previous best of 10th place, achieved in both 2010 and 1994. To do that they will have to get out of a tough group featuring the hosts India, the world number 3 Belgium and world number 11 Canada. The new format of the World Cup means that one victory could secure you a third place spot in the group where a crossover match awaits ahead of potential quarter finals. South Africa will most definitely be inspired by the journeys of Ireland and Spain at the Women's Hockey World Cup earlier this year, in looking to cause an upset that would really cause waves in India.

In goals South Africa will call on the experience of Rassie Pieterse and Gowan Jones for the battle for number 1. Both were in fact in the South African squad for the 2014 edition so neither should be overwhelmed by the opportunity. European based duo Rhett Halkett and Austin Smith, both centurions for South Africa will lead the defensive line alongside 2018 IPT Player of the Tournament Mo Mea, 2018 PHL Player of the Tournament Jethro Eustice and of course U21 IPT victorious skipper Tyson Dlungwana.

If fans are excited about the defensive combinations available there is no doubt they will be absolutely salivating at the thought of Nic Spooner donning the green and gold again. The previous Hockey India League player is a star in Germany and his star quality is there for all to see. He is joined by arguably South Africa's most consistent performer over the past 12 months in Tommy Hammond, as well as a man playing his best hockey in the past few years in Taylor Dart. Keenan Horne has continually impressed for club and province and gets the nod as well as the exciting Northern Blues man Peabo Lembethe. Of course the midfield will be anchored as always by national captain Tim Drummond, a man who shows you how the game should be played both on and off the pitch.

Up front the goal scoring form of Richard Pautz has made him a name that can't be left out and he is joined by veteran striker Julian Hykes, who appears to be getting younger rather than older in the past 6 months. Another centurion in the team is Taine Paton who also featured at Holland 2014, and then the line-up is complete by the two most exciting young talents in the country. Big game goal scorer Bili Ntuli and the sensational hands of  Dayaan Cassiem.

Coach Mark Hopkins shared his thoughts on the squad:

"The entire squad has focused on building our brand and culture off the pitch and our style on the pitch. I am extremely excited by the squad that is going to represent South Africa at the FIH Hockey World Cup, and humbled by the work behind the scenes to ensure we are as well prepared as possible. We have selected a squad that is able to play a style of hockey that we will get the most out of our talents and also compete against some of the best in the World.

It is critical that we continue to focus on developing our offensive and defensive strategies and execute our game plan consistently. The squad will be led by Tim Drummond and I am sure everyone will get behind him to ensure we deliver our expectations."

South Africa's World Cup group fixtures

28 November 2018 – India vs. South Africa
2 December 2018 – Canada vs. South Africa
8 December 2018 – Belgium vs. South Africa

South Africa's World Cup squad (Caps after names)

    Tim Drummond (captain) - 131
    Dayaan Cassiem – 17
    Taylor Dart – 18
    Tyson Dlungwana – 18
    Jethro Eustice – 95
    Rhett Halkett – 148
    Tommy Hammond – 68
    Keenan Horne – 34
    Julian Hykes – 122
    Gowan Jones – GK – 42
    Peabo Lembethe – 0
    Mo Mea – 14
    Bili Ntuli – 26
    Taine Paton – 104
    Richard Pautz – 16
    Rassie Pieterse – GK – 133
    Austin Smith – 158
    Nic Spooner – 1

SA Hockey Association media release


---

Update on Pakistan home venue




The FIH has been made aware that the FIH Pro League partnership between the Pakistan Hockey Federation and Scottish Hockey could not reach agreement. Whilst we were disappointed to hear of this situation, FIH are in ongoing discussions with the Pakistan Hockey Federation and the participating National Associations, investigating solutions for Pakistan's 'Home' matches in 2019.

FIH site


---

Scottish Hockey statement: FiH Pro league




It is with disappointment that Scottish Hockey has taken the decision to withdraw from negotiations to host Pakistan men's home matches as part of the upcoming FIH Pro League.

Following significant changes from the Memorandum of Understanding (MOU) signed two years ago with the Pakistan Hockey Federation (PHF), Scottish Hockey has been unable to negotiate suitable contract terms.

Scottish Hockey Chief Executive, David Sweetman said, "After lengthy negotiations, it is with sadness and frustration that it has not been possible to agree a contract with the Pakistan Hockey Federation. Bringing the FIH Pro League to Glasgow would have been significant for hockey across Scotland, allowing us to not only put on a world-class event, but develop hockey in Scotland, particularly in the Scottish-Pakistani community.

"We wish the International Hockey Federation every success with the FIH Pro League. I have no doubt the tournament will be a game-changer for hockey on a global scale.

"We are passionate about bringing world-class hockey to Scotland, hosting some outstanding hockey events, including Men's EuroHockey Championship II and World League 1. Our events continue to grow in popularity and we continue to be recognised as one of the leading nations for hosting international hockey tournaments.

"In August 2019 we will host Women's EuroHockey Championship II in Glasgow. We look forward to staging a tournament Scotland can be proud of and one that will live long in the memory of spectators and participants alike."

Scottish Hockey Union media release


---

Oranje-Rood break down brave Grange defensive efforts



©: Frank Uijlenbroek / World Sport Pics

Pool A: HC Oranje-Rood 6 (T Briels 2, L Martinez 2, B de Voogd, T Beins) Grange 0
HC Oranje-Rood eased to victory as they broke down a strong defensive performance from Scotland's Grange who had their moments but could not bridge the gap in star quality.

Indeed, Douglas Gourlay had a busy afternoon between the posts and made a number of big saves while they initially kept Oranje-Rood out with Mink van der Weerden whipping two drag-flicks wide.

The breakthrough did come in the 12th minute when Thomas Briels snuck along the baseline. His intended cross fell back to him at the base of the right post and he nudged it over the line for 1-0.

Grange did win a corner following Todd Mills good work down the left channel but Pirmin Blaak was equal to what was their best chance on goal.

Bob de Voogd fired in the next just before the end of the second quarter for a strong lead but things were not going fully their way. Van der Weerden saw a penalty stroke brilliantly saved by Gourlay.

Teun Beins did nail a corner drag-flick for the third before Lucas Martinez added another before half-time on the backhand; 4-0 at half-time.

The second half saw Grange continue to be dogged in defence, taking the sting out of the Oranje-Rood attacks but they did concede another when Briels finished off in the 42nd minute.

Martinez thrashed in his second during the endgame to complete a strong win that means the Eindhoven club need a draw or better on Sunday against SV Arminen to reach the KO16.

Euro Hockey League media release


---

Mannheim move into pole position in Pool B



©: Frank Uijlenbroek / World Sport Pics

Pool B: Mannheimer HC 7 (G Peillat 2, L Vila 2, G Barreiros, T Nguyen, F Schues) Dinamo Elektrostal 2 (N Dvoretskii, I Larikov)
Mannheimer HC shook off the first half shackles as they hit full throttle in the second half of their EHL ROUND1 game to pull away from Dinamo Elektrostal.

Importantly, they moved ahead of Wimbledon's goal difference, meaning they only need a draw on Sunday to go through ahead of their English rivals.

The first half was a close run battle with Dinamo going 1-0 up against the run of play when Nikita Dvoretskii broke clear from halfway and went it all alone to beat the last defender and fire a brilliant shot into the roof of the goal.

They were able to hold that lead until the 17th minute when Gonzalo Peillat whizzed a corner home by the right post for 1-1 but they never really cut loose before the break, struggling in the face of the Russian defence.

Elektrostal, though, ran out of legs in the second half with Peillat doubling his total with another powerful corner after the break. Tino Nguyen then followed up a corner to fire into the roof of the net for 3-1.

The final quarter saw them up their goal count significantly as Felix Schues got their first goal from play, Guido Barreiros tapped in at the back post and Lucas Vila extend the advantage to 6-1. Ilya Larikov pulled one back from a corner but Vila put an emphatic final exclamation point on the success, baseball-style, to make 7-2.

The result means they have a better goal difference and so can afford to draw against Wimbledon tomorrow while the English side must win their battle.

Euro Hockey League media release


---

Leopold corner machine gives Belgian club strong start in Pool C



©: Frank Uijlenbroek / World Sport Pics

Pool C: Royal Leopold 3 (K Russell 2, T Zimmer) WKS Grunwald Poznan 1 (A Mikula)
Royal Leopold took a significant step toward qualifying for the EHL KO16 as their set-piece machine put them on course for victory over WKS Grunwald Poznan.

Kane Russell struck twice in the first 20 minutes from Leo's first two corners while another drag-flick ended up hitting a Polish body on the line. That gave Tanguy Zimmer the chance to add the third goal from the penalty spot, making it 3-0 at half-time.

The Belgian club always looked the sharper outfit with their swift stickwork and intricate passing creating numerous opportunities. Goalkeeper Mateusz Popiolowski produced a number of world-class saves to keep the scoreline down.

He was swapped out for Rafal Banaszak in the second half and he kept his sheet clean in the third quarter as Grunwald got a greater grip on the game.

Indeed, the Polish club got a brilliant goal with four minutes to go when Tomasz Dutkiewicz's long overhead was batted back from the baseline by Mateusz Hulboj into the path of 40-year-old Artur Mikula who volleyed home first time.

It earned Grunwald what might be an important losing bonus point, one which lifts them above Leopold overnight. The Belgians, though, have a game left to play against HC Minsk and so a draw or better on Sunday will see them advance.

Euro Hockey League media release


---

Three Rock snatch last ditch equaliser with Junior to set up dramatic Pool D final day



©: Frank Uijlenbroek / World Sport Pics

Pool D: Junior FC 1 (S Enrique) Three Rock Rovers 1 (L Madeley)
A dramatic final quarter means it is all to play for on Sunday as Luke Madeley's equaliser with 70 seconds to go earned Three Rock Rovers a 1-1 draw with Junior FC.

It means that the pressure is on Junior to run up a total of at least six goals on Sunday against already eliminated Racing Club de France if they are to have a chance of reaching the KO16 for the first time.

There was very little between the two teams throughout their battle at the Pau Negre Stadium. Junior had the first shot in anger as Alex Gil saw his shot booted away by Jamie Carr while Harry MacMahon put in a blockbuster tackle to deny another Junior attack.

Rovers were always their equal, though, and they won a couple of corners in the second quarter which the Sant Cugat club dealt with to keep the scoreboard blank.

Into the second half, it remained very close with few chances in the third quarter. Gil fired his second drag-flick wide and John Mullins went close when he reacted quickest to a mistake, his shot fizzing by the right post.

But, as Rovers tired following two games in 25 hours, Junior looked to have taken full advantage when Sergi Enrique powered home a corner.

The Irish club swapped out their goalkeeper for an extra outfielder and, after some patient passing, a ball into the circle came off a body. Madeley duly stepped up to score with a low drag into the backboard and the draw.

"It was a mad game," Madeley said afterwards. "We were in it the whole way through and unfortunate to go 1-0 down but we kept fighting and it shows the character of the team to come back.

"It's tough in the heat – we are not used to that back home – but we pushed hard and I guess we have to be happy with the draw. There's nothing more we can do about it now."

Moments before the Junior goal, Madeley was looking to take a short water break but was able to get back into the action to score the key goal.

"I was pretty tired alright; I am not going to lie! Just got myself back on and the lads were able to win that corner and I just did my job."

And he is particularly delighted to be part of the EHL, a competition in which Three Rock are looking to become more regular visitors.

"You dream of playing in the EHL; it's why you push so hard in the Irish league. When you get here, you have got to make the most of it. Yesterday, was a really good team performance in the second half and today we just ground it out. We'll see what happens."

Euro Hockey League media release


---

Defeat for Grange against HC Oranje-Rood




Despite a brave defensive performance from Grange, HC Oranje-Rood struck six goals to put the Scots out of this season's EHL.

Douglas Gourlay had a busy afternoon between the posts for Grange and made a number of big saves while they initially kept Oranje-Rood out with Mink van der Weerden whipping two drag-flicks wide.

The breakthrough did come in the 12th minute when Thomas Briels snuck along the baseline. His intended cross fell back to him at the base of the right post and he nudged it over the line for 1-0.

Grange did win a corner following Todd Mills good work down the left channel but Pirmin Blaak was equal to what was their best chance on goal.

Bob de Voogd fired in the next just before the end of the second quarter for a strong lead but things were not going fully their way. Van der Weerden saw a penalty stroke brilliantly saved by Gourlay.

Teun Beins did nail a corner drag-flick for the third before Lucas Martinez added another before half-time on the backhand; 4-0 at half-time.

The second half saw Grange continue to be dogged in defence, taking the sting out of the Oranje-Rood attacks but they did concede another when Briels finished off in the 42nd minute.

Martinez thrashed in his second during the endgame to complete a strong win that means the Eindhoven club need a draw or better on Sunday against SV Arminen to reach the KO16.

Scottish Hockey Union media release


---

Junior's 'baby' goal not enough against resilient Three Rock Rovers

By Richard Bright



Junior's Enrique runs towards another junior after opener PIC: Frank Uijlenbroek/ World Sport Pics

Junior's senior player Sergi Enrique's 'baby' celebration was scuppered by Three Rock Rovers' late strike as the Irish Euro Hockey League dream stayed alive in Barcelona.

Enrique looked to have sealed a crucial win for the Catalan side late on as he drilled home a penalty corner strike and then ran straight to what looked like his waiting family behind the goal.

But Three Rock Rovers had other ideas as Luke Madeley ruined the Spanish fans hopes with an equaliser with 70 seconds remaining to earn a 1-1 draw.

It means that the pressure is on Junior to run up a total of at least six goals on Sunday against already eliminated Racing Club de France if they are to have a chance of reaching the KO16 for the first time and end Irish hopes.

"It was a mad game," Madeley said afterwards. "We were in it the whole way through and unfortunate to go 1-0 down but we kept fighting and it shows the character of the team to come back.

"It's tough in the heat – we are not used to that back home – but we pushed hard and I guess we have to be happy with the draw. There's nothing more we can do about it now."

Meanwhile Mannheimer HC shook off the first half shackles as they hit full throttle in the second half to pull away from Dinamo Elektrostal and gallop to a 7-2 win.

Importantly, they moved ahead of Wimbledon's goal difference, meaning they only need a draw on Sunday to go through ahead of their English rivals.

The two play on Sunday afternoon with the Londoners needing to win to secure their passage to the last 16.

Royal Leopold took a significant step toward qualifying as their set-piece machine put them on course for a 3-1 victory over WKS Grunwald Poznan.

HC Oranje-Rood broke down a strong defensive performance from Scotland's Grange to win through 6-0.

The Hockey Paper


---

Rovers play waiting game after dramatic late draw



TRR celebrate their late goal. Pic: Frank Uijlenbroek/World Sport Pics

Luke Madeley's equaliser with 70 seconds to go earned Three Rock Rovers a 1-1 draw with Junior FC at the Euro Hockey League in Barcelona, giving them a chance at qualifying for the KO16.

Ineed, the pressure is on Junior to run up a total of at least six goals on Sunday against already eliminated Racing Club de France if they are to have a chance of reaching the KO16 for the first time.

"It was a mad game," Madeley said afterwards. "We were in it the whole way through and unfortunate to go 1-0 down but we kept fighting and it shows the character of the team to come back.

"It's tough in the heat – we are not used to that back home – but we pushed hard and I guess we have to be happy with the draw. There's nothing more we can do about it now."

There was very little between the two teams throughout their battle at the Pau Negre Stadium. Junior had the first shot in anger as Alex Gil saw his shot booted away by Jamie Carr while Harry MacMahon put in a blockbuster tackle to deny another Junior attack.

Rovers were always their equal, though, and they won a couple of corners in the second quarter which the Sant Cugat club dealt with to keep the scoreboard blank.

Into the second half, it remained very close with few chances in the third quarter. Gil fired his second drag-flick wide and John Mullins went close when he reacted quickest to a mistake, his shot fizzing by the right post.

But, as Rovers tired in the last quarter following two games in 25 hours, Junior looked to have taken full advantage when Sergi Enrique powered home a corner.

The Irish club swapped out their goalkeeper for an extra outfielder and, after some patient passing, a ball into the circle came off a body. Madeley duly stepped up to score with a low drag into the backboard and the draw.

Moments before the Junior goal, the powerful sweeper was looking to take a short water break but was able to get back into the action to score the key goal.

"I was pretty tired alright; I am not going to lie! Just got myself back on and the lads were able to win that corner and I just did my job."

And he is particularly delighted to be part of the EHL, a competition in which Three Rock are looking to become more regular visitors.

"You dream of playing in the EHL; it's why you push so hard in the Irish league. When you get here, you have got to make the most of it. Yesterday, was a really good team performance in the second half and today we just ground it out. We'll see what happens."

Euro Hockey League
Pool D: Junior FC 1 (S Enrique) Three Rock Rovers 1 (L Madeley)

Junior FC: A Perez, S Enrique, M Serrahima, A Gil, F di Mercurio, N Mari, O Salvador, M Malgosa, G Dabanch, L Garcia, O Malgosa
Subs: F Mata, M Coria, J Garcia, I Prat, F Saborit, G Munoz, L Plochy

Three Rock Rovers: J Carr, R Nair, J Mullins, R Canning, M Darling, L Madeley, D Walsh, H Morris, J Hosking, J McAlister, H MacMahon
Subs: C Empey, B Walker, K Mullins, M English, A Flynn, B McCrea, S O'Brien

Umpires: L Delforge, M Otten

The Hook


---

Goals Galore On Opening Day Of 2018 AHL

Ben Somerford




All four states recorded one win and one loss as Queensland's Rebecca Greiner made history on the opening day of the 2018 Australian Hockey League (AHL) season.

On the first day of the new rule innovations introduced for the 2018 AHL, the goals flowed providing excitement for supporters too.

NSW and Queensland shared the spoils in front of 2,000 fans at Sydney Olympic Park, with the Arrows knocking off last year's runners-up Scorchers 5-3 in the women's, before the Blades toppled the Waratahs 6-4 in a high-scoring thriller.

Greiner scored the first-ever PumpPlay goal in the Scorchers loss, with her late goal worth double during her side's five-minute play at the end of the fourth quarter.

In front of another strong home crowd in Hobart, the Canberra Strikers won 3-0 over the Tassie Van Demons, before the Tigers got the supporters excited with a 5-1 win over the Canberra Lakers.

NSW Arrows 5 (Smith 4', 4', Watterson 38', Stewart 50', 50') Queensland Scorchers 3 (Kenny 27', Greiner 58' PP), Sydney

In front of nearly 2,000 passionate home-town fans, the NSW Arrows came up trumps against the Queensland Scorchers 5-3 in the first match of the day.

Arrows captain Emily Smith opened the scoring early for NSW with a field goal in the second minute of play. Under this year's new rules, Smith then got the chance to convert her goal and slotted it past Queensland keeper Hannah Astbury putting the Arrows up 2-0.

Towards the end of the first period, NSW Arrows goalkeeper Jocelyn Bartram kept NSW in the lead with some vital saves.

The second quarter was a tight affair with NSW controlling most of play before Queensland managed to break-through right before half-time after Jodie Kenny coolly put away a penalty stroke to give the Scorchers a sniff at the break.

The Arrows came out firing after half-time with a close chance from Grace Stewart going wayward before Jess Watterson blasted a shot from outside the circle to put the Arrows up 3-1 at three-quarter time.

Stewart sent the Sydney crowd wild when she sneaked around the Scorchers keeper with 10 minutes to go before nailing her conversion.

Queensland managed to pull back two goals late in the final term during their five-minute PumpPlay when Rebecca Greiner took advantage of the two-goal play.  

In the end though, the Arrows were too strong for the Scorchers and opened their 2018 AHL account with a decisive win.

NSW Waratahs 4 (Brand 21', 21', B. Govers 40', 47') Queensland Blades 6 (Anderson 16', 55', Rintala 22', 24', 24', D. Wotherspoon 25'), Sydney

In the second match of the day, the Waratahs and Blades came out of the sheds blazing with a flurry of opportunities in the first quarter. Neither team was able to capitalise on their chances and went into quarter-time scoreless.

The Blades opened the scoring early in the second term when Jacob Anderson put one in the back of the net. Waratahs goalkeeper Ash Thomas managed to keep Queensland to one goal when he remained upright and saved the conversion attempt.

The Waratahs hit back shortly later when Tim Brand turned the scores around when he successfully converted his field goal.

The lead was short lived though, when barely a minute later Joel Rintala capitalised on a fast break and sneaked past Thomas with a calm conversion to put the Blades up 3-2.

Rintala further extended the Blades lead when he scored again minutes later, before Dylan Wotherspoon made it 5-2 right before half-time.

Despite the big margin, the Waratahs came out with a renewed energy in the third quarter. They controlled the play before Blake Govers pegged back a goal with a stunning drag flick from a penalty corner.

Govers missed a vital opportunity to put the Waratahs back in the match after spurning a penalty stroke in the opening minute of the fourth quarter.

However, just two minutes later the Wollongong forward managed to make amends from a penalty corner and put the score at 5-4.

In the 55th minute, Jacob Anderson broke the hearts of NSW fans when he managed to score after a goal-mouth scramble. He gave the Waratahs a glimmer of hope after missing an open goal in the conversion.

The Waratahs battled hard in their five-minute PumpPlay to try and draw level but were unable to break-down the tough defence of the Blades, with the match ending 6-4.

Both NSW teams will now head to Tasmania in Round Two to play on Sunday 14 October, while Queensland travel to Canberra.

Tassie Van Demons 0 Canberra Strikers 3 (Evans 12', M. Bone 55', 56'), Hobart

New Hockeyroo Naomi Evans' 12th minute goal split the sides, until a late Meredith Bone converted field goal sealed the fine first-up win.

Evans, who debuted for Australia in Japan last month, maintained her recent run of success with a field goal to open the scoring.

The 26-year-old Goulburn product was unable to make it 2-0 with the resulting conversion, under pressure from Tassie keeper Ruby-Rose Haywood.

Tassie had two players, Ashleigh Arthur and captain Sarah McCambridge, green carded in the second quarter, although the Strikers couldn't capitalise.

Bone, who is the sister of Hockeyroo and Strikers teammate Eddie, sealed the win with a converted field goal in the 55th minute.

Tassie Tigers 5 (Ockenden 7', 7', Arthur 10', McCambridge 42', 42') Canberra Lakers 1 (Day 51'), Hobart

Eddie Ockenden and the Tassie Tigers blitzed the Lakers early, racing to a three-goal quarter-time lead.

Ockenden scored a converted field goal in the seventh minute and last season's AHL top scorer Kieron Arthur netted a 10th minute drag flick.

Shortly before three quarter-time, Tasmania's Sam McCambridge made it five when he also converted his 42nd minute field goal.

The Lakers scored a late consolation from a short corner from James Day in the 51st minute.

ACT hosts Queensland in Round Two on Sunday 14 October, while Tassie hosts NSW.

Hockey Australia media release


---

ROUND-UP: Investec English Women's Hockey League



Alice Wills celebrates her goal for Holcombe, Credit Peter Smith

Holcombe's 3-1 win at Clifton Robinsons proved to be the only victory in the Investec Women's Hockey League Premier Division as last season's champions Surbiton dropped their first points of the season.

Leah Wilkinson opened the scoring in the 13th minute for the away side, slotting in from a penalty corner, but Clifton quickly hit back when Holly Savage scored from open play in the 15th minute.

Alice Wills retook the lead for Holcombe, scoring from open play in the 36th minute before Steph Elliot converted a third from a penalty stroke to ensure they took all three points.

Surbiton maintained their place at the top of the table though, securing a point at East Grinstead as the teams played out a tense 1-1 draw.

Goalless at half time, East Grinstead took the lead in the 52nd minute when Georgie Blackwood scored from open play. But Giselle Ansley hit back for Surbiton in the 62nd as she converted a penalty corner.

Slough earned their first point of the campaign as they also drew 1-1 away at Canterbury.

The first goal of the game came in the 51st minute when Grace Balsdon finished following a penalty corner for Canterbury.

But Slough scored a dramatic late equaliser in the 68th minute as Melissa Ball found the net from open play to ensure both teams received a point.

Elsewhere, the University of Birmingham drew 2-2 at home to Buckingham. In an entertaining first half that saw three goals, the scoring was opened by the home side in the 13th minute when Amy Costello converted a penalty corner.

The away side then hit back when Maddie Newlyn scored from open play in the 21st minute but Birmingham regained their lead shortly before half-time when Lily Walker slotted in from free play.

Phoebe Richards equalised less than a minute after the restart though to secure a point for Buckingham.

Bowdon Hightown's game at Beeston also ended as a draw as both teams netted just one goal apiece.

The scoring was opened in the 26th minute when Sophie Robinson finished a chance from open play.

Bowdon scored an equaliser in the 42nd when Julie Whiting scored a field goal to ensure the points were shared.

Investec Women's Conference North

Loughborough Students picked up their first win of the campaign as they won 6-1 at home against local rivals Leicester in the Investec Women's Conference North.

Leicester had taken the lead in the fourth minute when Katie Long scored from open play but Loughborough quickly hit back through Maria Andrews.

Lucy Millington then added a second for the home side, scoring from open play in the 26th minute, before Loughborough went on to dominate proceedings with Jen Park scoring a brace before half time.

Sophie Byrne scored shortly after the break to make it 5-1 before Millington picked up her second of the game to secure all three points.

Elsewhere, the University of Durham secured a 3-1 home victory over Belper, while Leeds narrowly won 3-2 at home against Sutton Coldfield.

Brooklands-Poynton also claimed their first points of the season, winning 2-1 away at Fylde, while Ben Rhydding went top of the table with a 6-2 away victory against Timperley.

Investec Women's Conference West

Reigning champions Stourport maintained a perfect start to the season by beating Reading 3-0 at home in the Investec Women's Conference West.

Sarah Parkinson-Mills and Lorna McKenzie scored first half goals before Lottie Atkinson sealed the victory as Stourport finish the weekend as table toppers.

Olton and West Warwickshire were also on fine form making it two wins from two against Swansea, with Sally Walton grabbing a double and Alice Conquest also getting on the scoresheet. Amy Burton scored a consolation for Swansea in the 66th minute as the game ended 3-1.

Alexa Thomas grabbed an early fourth minute lead for Oxford Hawks before two goals in five minutes from Zelda Beverley and Abbie Smith brought Barnes through as 2-1 winners after defeat last week.

A goal in the 15th minute was the difference for Gloucester City as they beat Trojans 1-0 to keep pace with the top, while Exe and Isca played out a 1-1 draw.

Investec Women's Conference East

Having trailed at half-time, Horsham battled back to beat Bedford 3-1 and secure their first points of the season in the Investec Women's Conference East.

Kate Costin had given Bedford an early lead with a ninth minute strike, but two goals in the space of a minute from Louisa Denman and Emily Smith saw the game spark into life before Horsham made sure of the win thanks to Charlotte White in the 55th minute.

Elsewhere, Cambridge City are top of the early table following a 3-0 win over newcomers Ipswich, with their goals coming from Helen Richardson-Walsh, Meg Crowson and Miriam Marti-Palet.

Sevenoaks were 3-0 winners at Southgate, while Wimbledon also won away from home with a 4-3 victory over Harleston Magpies.

Last season's champions Hampstead & Westminster also secured an away win, beating St Albans 2-0.

RESULTS
Saturday, 6 October 2018

Investec Premier Division: Bowdon Hightown 1-1 Beeston; Canterbury 1-1 Slough; Clifton Robinsons 1-3 Holcombe; East Grinstead 1-1 Surbiton; Uni of Birmingham 2-2 Buckingham

Investec Conference West: Barnes 2-1 Oxford Hawks; Exe 1-1 Isca; Gloucester City 1-0 Trojans; Stourport 3-0 Reading; Swansea City 1-3 Olton & West Warwicks

Investec Conference North: Fylde 1-2 Brooklands-Poynton; Leeds 3-2 Sutton Coldfield; Loughborough Students 6-1 Leicester; Timperley 2-6 Ben Rhydding; Univ of Durham 3-1 Belper

Investec Conference East: Cambridge City 3-0 Ipswich; Harleston Magpies 3-4 Wimbledon; Horsham 3-1 Bedford; Southgate 0-3 Sevenoaks; St Albans 0-2 Hampstead & Westminster.

England Hockey Board Media release


---

Perfect records fall while YM get off the mark in men's EYHL



Timmy Cockram scored a hat trick for Lisnagarvey. Pic: Adrian Boehm

Three sides share top spot at the head of the men's EY Irish Hockey League after three games with the last two perfect records falling by the wayside and all clubs off the mark in terms of points.

Men's EY Hockey League – day three round-up
Cookstown 2 (M Kerr, J Haycock) Glenanne 2 (J McCormack, S Boucher)
Jack Haycock grabbed a point for Cookstown as his diving penalty corner rebound with seven minutes to go saw them share the points with reigning league champions Glenanne at Steelweld Park.

The Co Tyrone side took the lead early in the second quarter when Stewart Wylie took in a long aerial on the left baseline high over his shoulder and proceeded to drive across the line before picking out Michael Kerr's near post touch.

Shannon Boucher responded with a low corner shot for 1-1 but parity almost proved short-lived when Mark Crooks hit the post soon after, keeping it all square. The Dubliners did go in front for the first time when Jonny McCormack got his first goal for the club, touching home in front of Josh McCabe from a corner routine.

McCabe then kept his side in the running a couple of great stops, allowing his side a chance at getting the equaliser in the closing minutes, a corner rebound snapped up smartly by Haycock. The Glens remain the only unbeaten side with five points from nine so far but sit in fourth place overall.

Cork C of I 2 (A Deane, S Parker) YMCA 2 (G Glutz, G de Grandis)
Cork C of I came back from 2-1 down to record their second draw from three outings this season with YMCA earning their first ever point in the top tier. Thomas Chalumeau almost got on the end of Jonny Bruton's good baseline run as C of I made the better start, penning YM back with Alex Burns and Kevin O'Dea showing some nice skills.

YM did win the first two corners before the first quarter was out and they stepped up the pressure to have some golden chances in the second quarter. One such turnover led to a Gabriel de Grandis shot being put away for the only goal of the first half. They had a stroke to make it 2-0 but it was fired wide, leaving just the minimum in the difference at half-time.

C of I fought back in the second half, Chalumeau winning their first corner before Stephen Parker – against his former club – got a lovely touch after fine work from Bruton to make it 1-1.

The pendulum swung back YM's way in the fourth quarter as a series of corners eventually hit a body on the line. Grant Glutz stepped up to score this time for 2-1. The lead lasted only three minutes, however, with Alex Deane scrambling in from a crash ball.

Both sides then had the ball in the net in a mad-cap closing phase for a would-be winner but both were chalked off, leaving the sides to settle for a point each.

Pembroke 1 (K O'Hare) Annadale 2 (P Caruth, D Tremlett)
Annadale got their first win of the EYHL season, ending Pembroke's perfect start to the campaign with a gritty 2-1 win with all the goals coming in the final quarter.

Pembroke welcomed back Harry Spain and Cedric Mushiete in a tie that saw both sides win corners in the first quarter but were unable to make further inroads. The game cranked up a notch in the second half with Pembroke hitting a post and Mushiete skying the rebound while Pembroke saw two corners and a stroke saved.

Peter Caruth broke the deadlock in the fourth quarter with a power-slap but Pembroke replied immediately via a Keith O'Hare drag-flick with 12 minutes left.

But Dale were able to nick the win when they took a long corner which was crashed to the back post and tapped in by David Tremlett. Whether the ball moved five metres was discussed but the decision stood and Dale had their first win of the campaign.

Lisnagarvey 5 (T Cockram 3, H Morris, T Chambers) Banbridge 4 (E Magee 2, J McKee, A Tinney)
Lisnagarvey's youngsters inflicted a first defeat of the season on Banbridge, joining them in a share of the lead in the men's EYHL with three teams now on six points after three games.

The Comber Road side has put its trust in young guns like Harry Morris, Andy Edgar, Oliver Kidd, Troy Chambers and Johnny Lynch this season following the departure of four players to foreign shores and they are growing in confidence all the time.

They did fall behind the inside 22 minutes when Johnny McKee was on the mark but Garvey grabbed the next three goals to take the initiative either side of half-time. Morris levelled just before the break before Timmy Cockram – back after a year's break – scored the first of his trio of goals from a corner. Chambers got the third goal for a 3-1 lead with 20 minutes to go.

Eugene Magee kept up his goal a game record early in the fourth quarter to get Bann back in the mix but, within a minute, Cockram had his second for 4-2.

Again, Bann fought back with another Magee goal but his former international team-mate netted his third, this one from play, with nine minutes to go – a fourth goal in six minutes between the sides. Alexander Tinney once more made the game live with four minutes left but Garvey held on for the victory.

The Hook


---

Butali hammer Parklands to extend lead

By AYUMBA AYODI



From left: Butali Sugar Warriors playmaker Zack Aura, George Mutira and Frank Wanagwe celebrating a goal against KCA University during their Kenya Hockey Union men's Premier League match at City park Stadium, Nairobi on August 26, 2018. PHOTO | KANYIRI WAHITO |  NATION MEDIA GROUP

Former champions Butali Sugar Warriors on Saturday crushed Parklands 5-0 at City Park Stadium to tighten their grip on the top spot in the Kenya Hockey Union men's Premier League title race.

In the women's Premier League, Leah Omwandho scored a brace as Chase Amira condemned Vikings to a 6-1 rout at the same venue.

George Mutira put the Warriors ahead barely five minutes into the game from a field goal before Constant Wakhura converted from the spot in the 11th minute to lead the first quarter 2-0.

Seth Oburu would cash on a penalty corner to score in the 17th minute to put Butali Sugar 3-0 ahead at the break before Emmanuel Simiyu and Zack Aura put the 2015 champions beyond reach in the 38th and 42nd minutes.

Butali Sugar, who now have 15 wins and one loss, are expected to improve their tally further when they take on Parkroad Badgers, a match they are highly expected to put away comfortably.

However, champions Kenya Police should keep Butali on check at the top with a match against Strathmore University Gladiators on Sunday.

Butali take on Badgers at 3pm before paving way for Police and Strathmore battle at 5pm. Police are placed second in the log with 39 points from 13 wins and one defeat.
While Butali beat Badgers 5-0 in the first leg, Police edged out Strathmore 3-1.

"It was a relaxed and game considering that we have another duel against Parkroad tomorrow," said Butali Sugar coach Dennis Owoka adding that they had short spells where they displayed good hockey as his players didn't move the ball well.

"We had many turnovers in defence and a good side could have punished us," explained Owoka, who called on his charges to step up upfront. "We were also a bit blunt in our striking force."

The victory against Vikings saw Amira climb one place to third with 12 points.

Yvonne Madowo put Amira ahead in the fourth minute before Omwandho notched the first of her brace a minute later. Skipper Lorraine Nondi made it three just before the end of the first quarter with Omwandho completing a double in the 23rd minute.

Jedida Zawadi and Vyette Kanyadong scored in quick succession in the 36th and 38th minutes before Valery Mugono pulled one back for Vikings in the 41st minute but all was in vain.

Daily Nation


---

No. 13 Syracuse upsets No. 8 Boston College in dramatic fashion



Syracuse Field Hockey

SYRACUSE, N.Y. — Syracuse senior Roos Weers scored off a penalty corner in double overtime to secure the first Atlantic Coast Conference win of the season for The Orange. Syracuse improved to 7-4 overall (1-3 ACC) while Boston College fell to 7-4 overall and 2-2 in the league.

Borg van der Velde stopped two of the Eagles' six shots to keep the two tied 0-0 at the half.

Claire Cooke notched her first career goal off a penalty corner brought in by Kira Wimbert to give the Orange a 1-0 lead in the 48th minute. A goal by the Eagles' Frederique Haverhals less than ten minutes later evened the scoreboard at 1-all, a score that would hold through regulation.

In the first overtime period, the Orange defense held tough by denying Boston College penalty corners while van der Velde made a pair of saves.

In the 84th minute of the game, the Orange were granted a penalty corner where Roos Weers scored her sixth goal of the year to secure the win for the Orange. Wimbert was credited with the assist, capping a career night for the sophomore with two helpers.

Syracuse improves to 4-1 in overtime games this season and has played three-straight of them at home. The Orange will close out the weekend against Cal on Sunday at J.S. Coyne Stadium. Fans can follow along on the ACC Network Extra starting at 2 p.m.

NCAA


---

Facing Rutgers will be a Dutch reunion for Maryland field hockey's Bibi Donraadt

By Lila Bromberg



Donraadt and Daphne Groothuis were teammates and classmates in their native Netherlands.

When Maryland field hockey faces off against Rutgers on Friday, freshman Bibi Donraadt will be on the other side of a familiar face from back home.

Donraadt will face fellow Dutchwoman Daphne Groothuis, who attended Thorbecke VO and played for club team Leonidas with Donraadt before joining the Scarlet Knights.

"It's probably going to be really weird," Donraadt said. "Daphne is a really good friend of mine, and she was a very good friend of mine in Holland as well. … I'm looking forward to [seeing] her after a few months and [playing] against each other."

Now, the two former teammates are making significant impacts on their respective college teams.

Donraadt has played in every game for No. 2 Maryland this season. She's tied for third on the team with six goals and has also notched two assists. On Monday, she was named the Big Ten Freshman of the Week.

"My club team, it was all about having fun, passion and training hard, just like what Maryland stands for," Donraadt said. "And I think that's also the key in the U.S. — just work hard and have fun at the same time. They prepared us really well."

Groothuis, a sophomore, leads the Scarlet Knights in scoring and assists with six goals and nine assists on the season already. She was named the Big Ten Offensive Player of the Week on Sept. 4, as well as one of the team's Big Ten Preseason Player to Watch.

With Groothuis on its squad over the past two years, Rutgers (8-3, 1-3 Big Ten) has risen to heights the program has never before reached. The Scarlet Knights enter this weekend at No. 15, the highest ranking in school history.

On Sept. 2, with Rutgers unranked, it upset No. 18 Saint Joseph's 3-2. A week later, the Scarlet Knights faced No. 5 Princeton — the team that caused Maryland the most trouble — and won 1-0.

For head coach Missy Meharg, who's worked to improve Big Ten field hockey since joining the conference in 2014, Rutgers' emergence is promising. As one of the nation's best programs, Meharg has been trying to build up the conference to Maryland's level.

One way to do that is to improve the international recruits, which could make for more reunions like Friday's.

"It'll be great for Bibi to be out there," Meharg said. "They're super familiar with each other, they're very good friends and I think it will be a great matchup."

The Diamondback