All the news for Monday 23 July 2018

Vitality Hockey Women's World Cup 2018 - Day 2
London (ENG)

Results 22 July

CHN v ITA (Pool A) 0 - 3
ARG v ESP (Pool C) 6 - 2
NED v KOR (Pool A) 7 - 0
NZL v BEL (Pool D) 4 - 2

Monday 23 July is a rest day

Pool standings
Pool A
Pool B
Pool C
Pool D
| Rank | Team | Played | Wins | Draws | Losses | Goals For | Goals Against | Goal Difference | Points |
| --- | --- | --- | --- | --- | --- | --- | --- | --- | --- |
| 1 | New Zealand | 1 | 1 | 0 | 0 | 4 | 2 | 2 | 3 |
| 2 | Australia | 1 | 1 | 0 | 0 | 3 | 2 | 1 | 3 |
| 3 | Japan | 1 | 0 | 0 | 1 | 2 | 3 | -1 | 0 |
| 4 | Belgium | 1 | 0 | 0 | 1 | 2 | 4 | -2 | 0 |
---

Fastest goal, first wins, fantastic goals – it's action galore on second day of World Cup action



Italy v China in action on Day 2: pic credit Getty Images/FIH

History was made on Day 2 of the Vitality Hockey Women's World Cup as Italy (FIH Hero World Ranking 17) recorded their first ever win at the World Cup. Italy last featured in a World Cup in 1976, but the way they took to the top tier of international hockey in their opening game against China (WR:8) was nothing short of brilliant.

Equally brilliant was the speed of attack demonstrated by the Netherlands, as Frederique Matla scored one of the fastest goals in World Cup history.

And so to the action as eight more teams opened their Vitality Hockey Women's World Cup campaigns at the Lee Valley Hockey and Tennis Centre.

While China impressed in the opening moments of their Pool A match with their expansive style of play, creating heaps of space as they moved the ball from side to side, it was the attacking intent of their much lower ranked rivals that caught the eye.

While China showed their ability and willingness to cover every inch of the field, it was the midfield dynamos of the Azzurri, Elisabetta Pacella and Maria Socino who were creating the opportunities that proved the difference between the two teams.

"We were told prior to the match to go out and play attacking hockey in the China half of the pitch," said Itay's Jasbeer Singh.

"We just grew in confidence as the match went on. This is our first World Cup for 42 years and we want to go as far as we can."

China were alerted to the danger posed by their opponents when Giuliana Ruggerieri was able to shoot at will after a sequence of passes picked a hole in the Chinese defence and left the striker free. Her shot buzzed harmlessly wide of the goal but the spectators began to sense a ranking upset might be on the cards.

The goal, when it came, was a piece of magic from Valentina Braconi. She latched onto a rebounded shot and slammed the ball past Ye Jiao in the China goal.

Just as the Italian forwards were doing their part in pressurising the China defence, so their defence was standing firm in the face of any attack. Goalkeeper Martina Chirico pulled off an amazing double save, diving first to her right and then bouncing up to dive to her left and deny China the equaliser.

The second half started in much the same vein. China played with composure when they had the ball and there were some pitch-splitting passes from left to right and back again, but when it came to direct activity towards goal, it was the Italians who seized the initiative.

The second goal for Italy came when Vitality Player of the Match Lara Oviedo slid in to deflect a penalty corner strike. The well-rehearsed move left the Chinese defence wrong-footed.

China started to get their own creative moves going as the third quarter counted down. Guo Qiu picked up the ball and weaved her way through the Italian defence before releasing Zhong Jiaqi. Her shot struck the side of the goal but the signs were there that China were responding.

Jamilon Mulders, China's Head Coach removed the 'keeper for the last two minutes of the quarter, coinciding with a green card for an Italian player, so the Asia team had a two-player pitch advantage. It was a brave move but the plan back-fired as the experienced Italian side stole possession mid-field and released Ruggieri who made no mistake as she shot home into the empty goal, taking the score to 3-0, and moved Italy briefly to the top of Pool A.

An upset looked to be on the cards in Pool C when Spain (WR:11) took an early lead against the 2014 World Cup bronze medallists Argentina (WR:3). Carola Salvatella was on hand to bat the ball from mid-air past Belen Succi in the Argentina goal and for a few minutes there was an eerie hush among the Argentina fans in the hockey arena.

Argentina's response however was swift as, five minutes later, Noel Barriounuevo swept in a penalty corner for Julieta Jankunas to deflect past Maria Ruiz.

If the equaliser was timely, the next Las Leonas goal was nothing short of brilliant. Maria Ortiz picked up the ball on the left-hand side of the Spanish circle and unleashed a shot that was perfectly placed just under the crossbar. Six games in and the Day 2 hockey spectators might have witnessed the goal of the tournament.

The third goal was a measure of Argentina's tenacity when they are at their attacking best. The initial shot was blocked by Ruiz but Delfina Merino, who had first played the ball into the circle had continued her run and slipped the rebound to Agustina Albertarrio who had an empty goal to fill.

Spain huddled and attempted to re-group but this was Las Leonas at their consummate best. Merino ran the ball into the circle and her pass to Ortiz was perfect. The striker hit the ball first time and squeezed it through the gap between post and 'keeper to take the score going into half-time 4-1.

It was captain Merino herself who benefited from the next attack. A goalmouth scramble saw the ball partially covered by Ruiz and, as the 'keeper desperately tried to clear, Merino prodded the ball over the line.

The final quarter saw Argentina hit their sixth as Noel Barriounuevo stepped up to fire home a penalty stroke after an infringement in the circle.

With the game effectively wrapped up, Argentina let their concentration slip momentarily and Spain were able to force a penalty corner. An innovative routine allowed Beatriz Perez to sweep the ball home and restore some pride for the Red Sticks.

For Spain's Head Coach Adrian Lock this was an outcome that will not impact Spain's game plan. "We always knew this would be tough," he said. "Argentina are number three in the world and we haven't played them for ten years. In so many ways it was a good game to play first because now we can reflect on today, learn from the things that didn't work and be ready for the other two pool games. We competed today, it was just a few mistakes that let us down."

Agustina Albertarrio of Argentina said that Spain's opening goal in the third minute spurred her team on. "We came into a huddle and we said, 'Come on guys, look there are 57 minutes left, let's get out and play our game'."

If Argentina were responsible for the most impressive goal of the day, then the reigning world champions scored the fastest. The opening goal in the Netherlands versus Korea game came within 20 seconds of the start, one of the speediest goals in world cup history.

"I am so pleased to have scored one of the fastest goals ever – I didn't know."
Frederique Matla, the Netherlands

And, as the goals rattled in over the course of the first half, this had all the makings of a record-breaking win too – currently something held by the former West Germany who beat Nigeria 10-1 in 1978.

The opener was scored by Frederique Matla, who was able to capitalise on some neat interchanges between her team mates to slot the ball past Bae Sora in the Korea goal.

The lead was doubled three minutes later as Lidewij Welten found her way through the Korea defence to open her World Cup account. Goals followed in quick succession, with Kitty van Male scoring twice, Matla adding a second and Laurien Leurink and Kelly Jonker all scoring before half-time.

The Korea goalkeeper was removed after the fourth goal went in, but this was the Dutch team in unstoppable form and Bae's replacement, Hwang Hyeon was also unable to stem the flow of goals.

It says something about the Netherlands approach to this game that they were back on the pitch after the half-time break long before the match was due to re-start. There was an air of simply wanting to get the job done.

Despite the Netherland's eagerness to get going in the second half, the third quarter was a quieter affair, as Korea adjusted to the pace and ferocity of the attack and marshalled their defence. The Netherlands were still creating chances but these were either hit wide, struck the post or were blocked on route to goal. The final quarter was much the same. The Netherlands held possession and created chances but the high tempo and urgent nature of their earlier attack had dissipated. This was a case of job done for the reigning champions with plenty left in reserve.

"We wanted to push for a goal in each quarter," said goal scorer Matla, "It didn't quite work out that way but I am so pleased to have scored one of the fastest goals ever – I didn't know."

In the final match of the day, Gold Coast 2018 Commonwealth Games champions New Zealand (WR:4) faced Belgium, who won silver medal at the Rabobank EuroHockey Championships 2017. Despite a disparity in rankings, this was yet another close contest.

The half ebbed back and forth but it was New Zealand who got the breakthrough. Kelsey Smith was the scorer after her team secured a penalty corner.

Belgium were straight back at the Black Sticks defence and a ball that bobbled around the circle was finally slammed home by Louise Versavel to equal the scores.

The Red Panthers went one better a few minutes later as a visionary cross from the left side of the field found Jill Boon unmarked in the circle. The striker had no hesitation in shooting home to give her side the lead.

The half-time break proved more advantageous to the New Zealand team as they came out firing on all cylinders. Just two minutes into the half and Shiloh Gloyn equalled things up from a penalty corner and seconds later Vitality Player of the Match Olivia Merry put her side ahead as she strode into the Red Panther's circle and struck home.

For a few minutes this knocked the Belgium team back but this team under Niels Thijssen is made of stern stuff and so the game went back and forth as two hard-working teams strove to get a result.

The game was finely poised as it entered the final quarter, with Belgium creating much pressure but always looking susceptible to an attack from the supremely fit New Zealand side.

Boon had the chance to equalise when she was again found in space in the circle – her clever movement a constant thorn in the Black Sticks's side – but her shot flew visciously wide.

Belgium's push for a point from the game was thwarted when Olivia Merry converted a penalty stroke just six minutes from time.

Speaking after the game, Olivia Merry said: "The nerves were getting a bit frayed because we were the last match of the first round but we have got that out of our system now. Belgium definitely put us under pressure but we followed our plan and now we will get ready for the game against Japan."

Belgium's Jill Boon said that one of the biggest changes in the Belgium team of late is their higher fitness levels and the impact this has had on their ability to be competitive with the higher ranked teams.

Day 2: Results
China v Italy 0-3
Argentina v Spain 6-2
Netherlands v Korea 7-0
New Zealand v Belgium 4-2

Monday 23 July is a rest day so competition resumes on Tuesday 24 July when Japan face New Zealand (12:30 CEST+1) and Australia play Belgium (14:30).

#HWC2018

FIH site


---

Day Two: Vitality Hockey Women's World Cup



Italy celebrate

Italy beat China to produce the shock result of the 2018 Vitality Hockey Women's World Cup so far.

There were big wins for Argentina and the Netherlands who wowed the fans with plenty of goals on day two before New Zealand came from 2-1 down to beat Belgium 4-2 in the final game of the day.

Playing in their first World Cup for 42 years, Italy put in a brilliant display to run out 3-0 winners which sparked wild celebrations at the full time whistle.

Valentina Braconi brilliant reacted to loose ball to give Italy the lead after 17 minutes before doubling that lead early in the second half through Lara Oviedo, with Giuliana Ruggieri sealing the win in the 45th minute.

"It's a joy to be here, it's been 42 years since Italy played in a big tournament like the World Cup," said Italy captain Chiara Tidi.

"We are in a really strong pool, and we are the lowest ranked team in the tournament, but we believe in our game and our capacities. I think today we showed to the world that we can play."



Argentina celebrate at the World Cup

Argentina also started their Pool C campaign in winning style as they overcame an early setback to beat Spain 6-2.

Maria Ortiz was the star, scoring two goals including a stunning strike to give her side the lead for the first time after Julieata Jankunas equalised following Carola Salvatella's third minute opener for Spain.

Rocio Sanchez, Noel Barrionuevo and Delfina Merino also put the ball into the net to give the world number three side an unassailable lead, while Beatriz Perez grabbed a late consolation for her side.



Netherlands Fans VHWWC 2018

Not to be outdone, The Netherlands also treated the crowd to a goalfest as they ran out 7-0 winners over Korea.

It took just 21 seconds for Frederique Matla to open the scoring and by the end of the first quarter they had five as Matla grabbed a second with Lidewij Welten, Kitty van Male and Kelly Jonker also on target.

Laurien Leurink scored the goal of the game with a fabulous strike to make it six before van Male grabbed her second. And it could have been more as Alyson Annan's side hit the woodwork three times in the second half.



New Zealand v Belgium VHWWC 2018

The final game of the day also saw a gluttony of goals as New Zealand overcame a dogged Belgian side 4-2.

The Black Sticks had taken the lead through a clever corner routine as Kelsey Smith diverted Anita McLaren's flick over the goalkeeper but it was the Belgians who took the half-time lead thanks to goals from Louise Versavel and Jill Boon.

However New Zealand hit back with two goals in a minute at the start of the third quarter with Shiloh Gloyn equalising before Olivia Merry scored a fine solo goal.

Belgium had chances to grab a point but ultimately it was New Zealand who sealed the win with six minutes to go as Merry scored her second with a penalty stroke.

England Hockey Board Media release


---

Ole! Ole! Las Leonas, the Dutch forced Korea to a worst ever defeat in the World Cup

By B.G.Joshi (in Lee valley hockey stadium, Olympic Park, London)

The Asian giants China and Korea surrendered to a precise play by the Europeans.

Azure blue Italian beat the Chinese convincingly by 3-0. It is the Italians' first win in their history of the World Cup. Italy has entered in World Cup after 42 years. In Berlin (1976) they did not win any match, 2 drawn and 4 losses was their record.

Italian player of Indian origin Jasbeer Singh played with determination. Her father Inder Singh had played in the Mexico Olympics (1968) and was a bronze medalist with the Indian team.

South Korea lost to Netherlands 0-7, which is their worst ever defeat in World Cup.

The fast and agile Dutch pumped 7 goals in 23 minutes, within 20 seconds Matla Frederique scored the goal after pass back. However the record for the fastest goal in the Women's World Cup is Korean Kim Jong Eun, who has scored a goal in 14 seconds against England in Rosario (2010).

Korea did not concede any goal in the further 37 minutes of the match, thanks to goal post, who denied 4 goals. If Netherlands had beaten Korea 10-0 it would be the new World Cup record. Previously Germany beat Nigeria 10-1 in Madrid (1978).

Las Leonas Argentina beat Red Sticks Spain by 6-2 while the supporters were roaring: "Ole! Ole!".

Black Sticks New Zealand beat Red Panthers Belgium in a pulsating contest by 4-2.

After 2 days matches all the 16 teams are in the fray for the knock out stage.

Today is rest day.
 
FIeldhockey.com


---

History! Italy women cause Hockey World Cup shock over China

By The Hockey Paper




Storico! proclaimed a jubilant Italian media on Sunday.

Italy put 42 years in the Women's Hockey World Cup wilderness behind them in sensational style to beat China in their opening pool game on Sunday. It came hours before Francesco Molinari did the same for Italian golf at The Open Championship.

The lowest-ranked side (17) at this World Cup looked anything but as they rolled over a lacklustre but inexperienced China 3-0 as the Asian nation failed to capitalise on their overall domination.

A brilliant first-half strike from Valentina Braconi – one of 10 Argentinian-born players in the Italian squad – set up further goals from Lara Oviedo and Giuliana Ruggieri after the break to hand The Azzurre one of their greatest wins.

Italy's last World Cup campaign came in 1976 and their post-match celebrations at the Olympic Park underlined their passion after a committed display against a top 10 side.

They now have put themselves into contention of qualifying for the cross over matches, in a group also featuring Korea and the Netherlands.

Italy's Eugenia Bianchi said: "We are feeling great. We were convinced that we could do it and this was the beginning that we were expecting. It's awesome.

"Every goal for us was an incredible feeling. Our main objective was to enjoy it and to do what we do inside the field and I think we showed that."

China had more shots, possession and penetration but lacked spark in the press and couldn't break down Italy.

Braconi's opener followed a clinical backpass through the legs from Elisabetta Pacella before a lovely lifted shot into the net.

Their second came via a penalty corner and the Italians showed teams on the opening day how to convert (when only six from 28 were converted) as Oviedo deflected in.

Italy's captain Chiara Tiddi told BT Sport: "It was hot but we were focused. We knew we were in a low posiion in the ranking but with a lot of pressure we can do a lot of things."

China's coach Jami Mulder – the German who is overseeing a young squad – said: "3-0 down and a few days off, I couldn't think of anything nicer."

The Hockey Paper


---

Argentina's goal contender sets Women's Hockey World Cup alight

By The Hockey Paper



Argentina raced to a 6-2 victory against Spain PIC: England Hockey

TV commentators were left in awe of Maria Ortiz's sizzling goal for Argentina during their 6-2 win over Spain at the Women's Hockey World Cup.

Watching the replay of Ortiz's shot on the turn, BT Sport co-commentator Mel Clewlow was momentarily left short of words as she viewed the Argentinian's travelling shot.

Her strike on the turn was hit with such precision at the top of the circle that it never looked like going anywhere other than the goal, as it then rifled under the crossbar and clung to the back of the net.

"That is absolutely incredible," offered a bemused Clewlow.

The goal, after Spain had taken the lead, opened up breathing space for Argentina as they galloped to victory.

The strike has already been hailed as a goal of the tournament contender after day two of action.

It would have been understandable if Argentina's young starlets had nerves in delivering in their opening match without the great Luciana Aymar in a World Cup side for the first time this century.

But they didn't show any signs of them at the Olympic Park and they received glowing praise on social media afterwards.

"Big debut," said Argentina great Carla Rebecchi on Twitter.

"Starting this way is a great boost," added Luciana Aymar.

Argentina's victory was followed by current champions' the Netherlands blitzing seven goals in the first half alone against Korea. Luckily for the Asian side that's how it remained.

On another goal blitz day, New Zealand, the Commonwealth champions, came from behind to beat Belgium 4-2 in the final game of the day.

And, breathe!

More youth, you say?

On day one Rosie Malone, playing only her second senior tournament, struck for her first Hockeyroos goal of the tournament and we asked yesterday whether this was to the youthful World Cup. On Sunday, Frederique Matla, 21, netted in 20 seconds as the Dutch rampaged their way through the Korean defence play after play. Matla is seen as 'the next Paumen' in Dutch circles.

What they said

"We were told prior to the match to go out and play attacking hockey in the China half of the pitch.We just grew in confidence as the match went on. This is our first World Cup for 42 years and we want to go as far as we can."
Itay's Jasbeer Singh

"I'm even more proud now after going away and having my son (Harrison) and coming back and still being able to score goals like that."
Jodie Kenny on her match-winner, her 109th international goal in her 202nd appearance

"We came into a huddle and we said, 'Come on guys, look there are 57 minutes left, let's get out and play our game'."
Argentina's Agustina Albertarrio on going 1-0 down to Spain

Who to look out for on Monday

Sorry, hockey fans, nothing to see here. There's no hockey!

The Hockey Paper


---

Dutch women make strong start at field hockey World Cup

LONDON (AP) — Defending champion Netherlands scored three goals in the opening nine minutes in a 7-0 rout of South Korea in its opening Pool A game at the women's field hockey World Cup.

Frederique Matla struck in the opening minute of Sunday's game before Lidewij Welten and Kitty van Male scored to give the Dutch a commanding 3-0 lead.

Matla fired in her second and Kelly Jonker made it 5-0 in the 14th minute for the seven-time champions before Laurien Leurink and Van Male completed the scoring with just 23 minutes on the clock.

In Pool D, New Zealand beat Belgium 4-2.

Belgium responded through Louise Versavel and Jill Boon after going behind to Kelsey Smith's early opener.

New Zealand equalized through Shiloh Gloyn and Olivia Merry struck in the 32nd and 54th minutes to seal the win.

Also, Italy marked its first World Cup game in 42 years by upsetting Pool A rival China 3-0, and No. 3-ranked Argentina beat Spain 6-2 in their opening Pool C match.

The New Zealand Herald


---

Van Male: Netherlands ignoring favourites tag



Netherlands World Cup

Netherlands star Kitty van Male says her side are ignoring the tag of favourites after they began their Vitality Hockey Women's World Cup campaign with a 7-0 win over Korea.

The reigning World Cup champions put in a ruthless display against Korea, cruising into a 5-0 lead in the first quarter.

Van Male and Frederique Matla both grabbed doubles while Kelly Jonker, Laurien Leurink and Lidewij Welten were also on target.

Speaking after the game, van Male said: "Everyone says we are favourites but we don't really feel it we are just happy with ourselves as a team and want to win every game.

"It was the perfect start. We played brilliantly in the first half and showed everyone what we can do but the second half needed to be better.

"We are in really good form and as a squad were just so happy to finally get our tournament under way after a long wait which is why we played so fast and together."

The Netherlands shared the goals around with five different scorers, something that pleased van Male as she added: "We really played together, it was not a one player show and a team effort. We did it for each other."

Next up for the Dutch are China on Friday 27 July in their second game in Pool A.

England Hockey Board Media release


---

Vantage Black Sticks Women win opening World Cup pool match



Photo: www.worldsportspics.com

Vantage Black Sticks striker Olivia Merry celebrates with her team after scoring in the opening match of the Women's World Cup.

The Vantage Black Sticks Women have won their first World Cup pool game in London with two goals in two minutes the highlight against a resilient Belgium team.

After a slow start in the first quarter, the game burst into life in the second quarter as the Vantage Black Sticks opened the scoring on 24 minutes after increased pressure. A penalty corner led to Kelsey Smith getting a vital touch to deflect in after Anita Mclaren had fired a low shot towards the bottom left hand corner of the goal.

It didn't take long however for the tide to turn in Belgium's favour. After pressure in the Kiwis penalty area and a scrappy interchange led to the ball falling to Belgium's Louise Versavel who fired home the equaliser.

Just minutes later, and with New Zealand still reeling from the goal, Belgium pressed home it's advantage with just seconds remaining on the first half clock. A Belgium attack on the left flank resulted in a telling cross to Jill Boon who controlled a powerful ball  past the Kiwi's goalkeeper Sally Rutherford.

With New Zealand losing 2-1 at half time the Kiwi's came out in the second half looking to overturn the deficit. It didn't take long. Another penalty corner and another drive from Anita Mclaren this time towards the bottom right of the goal saw Shiloh Gloyn get the crucial touch to guide the ball into the back of the net after 32 minutes to make the score 2-2.

The Vantage Black Sticks now had the ascendancy and straight from the hit off regained possession. The ball was moved quickly to striker Olivia Merry who ran powerfully towards the Belgium goal before reverse sweeping a strong shot through the legs of Belgium goalkeeper Aisling D'Hooghe to put New Zealand into a 3-2 lead.

Belgium however came back strong towards the end of the 3rd quarter. A well thought out move led to Belgium's Barbara Nelen forcing a good save from Black Sticks Sally Rutherford. Minutes later Neelen drove another cross come shot towards goal where Jill Boon failed to get the all important touch.

Belgium went looking for the equaliser in the final quarter. A fluid move led to another chance for Belgium's star performer Jill Boon who was denied by a great defensive tackle from Stacey Michelsen.

In an end to end final quarter New Zealand looked to press home it's advantage. After huge pressure in the Belgium circle the ball fell to Frances Davies who's shot was stopped on the line by Lien Hillewaert's body. After going upstairs for a video review the umpire gave a penalty stroke. 26 year old Olivia Merry strode up and calmly slotted away the penalty, her second goal of the match, to make the score 4-2.

Belgium continued to search for ways to get back into the game but Vantage Black Sticks goalkeeper Rutherford was strong again and made a crucial save with just five minutes to go to keep the Kiwi's advantage.

New Zealand coach Mark Hager said he was happy with the three points despite his side turning the ball over too often.

"The pleasing thing is we came out after half time and executed some corners really well, to come away with a win is good"

'We didn't underestimate Belgium, we are in a really tough pool, we're up against Japan next who I thought played really well against Australia'.

New Zealand tops pool D and will carry a goal advantage over big rivals Australia who earlier beat Japan 3-2. The Vantage Black Sticks will take on Japan at 11pm on Tuesday night (tomorrow) and can be viewed on Sky Sports.

VANTAGE BLACK STICKS: 4 (Kelsey Smith 24', Shiloh Gloyn 32', Olivia Merry 32' and 54')
BELGIUM: 2 (Louise Versavel 28', Jill Boon 30')

Half Time: BEL 2-1

Hockey New Zealand Media release


---

Black Sticks open World Cup with come from behind win over Belgium

It's fair to say there will be plenty to work on for the Black Sticks despite a come from behind 4-2 win over Belgium in their Hockey World Cup opener this morning.

Coach Mark Hager was less than impressed with the side's performance after the Commonwealth Games champions conceded two quick goals to trail 2-1 at halftime. The side fought back with two quick strikes after halftime before Olivia Merry added her second from a penalty corner late in the game to secure the win.

"Pretty pleased with the three points but not so much the performance today," Hager told Radio Sport.

"I don't think we were as clinical as we should have been especially in the second quarter. We got a little bit lazy and little bit timid I thought, the way we were playing. Probably turned too much ball over for my liking. We just didn't make good decisions on the ball and I think that's what hurt us.

New Zealand took control of the game early on before opening the scoring in the 24th minute when Kelsey Smith sent a deflection into goal from an Anita McLaren penalty corner.

But Belgium, ranked 13th in the world, took a shock halftime lead with two goals in two minutes. Belgium capitalised on some poor New Zealand defending as the Black Sticks failed to clear from their own circle on three occasions before Louise Versavel sent in the equaliser. Then less than two minutes later Jill Boon fire them into the lead with a rocket strike from just inside the circle.

Whatever was said at halftime seemed to work for New Zealand. The Black Sticks re-took the lead with two quick goals after the break to Shiloh Gloyn and Merry. Merry then added a second in the final quarter from a penalty corner to secure the three points.

"The pleasing thing is we came out after halftime and executed some corners really well, to come away with a win is good," Hager added.

"We didn't underestimate Belgium, we are in a really tough pool, we're up against Japan next who I thought played really well against Australia".

The Black Ferns face Japan tomorrow night after they lost 3-2 in the group's opening game yesterday. The top team in each group advances to the quarter-finals while second and third sides move onto a quarter-final playoff game.

The New Zealand Herald


---

Black Sticks finish strongly to beat Belgium in women's World Cup opener



New Zealand's Olivia Merry celebrates a goal, one of her two for the match, in their World Cup opener against Belgium. TIM IRELAND/AP

Some clinical finishing helped the Black Sticks women make a flying start to their World Cup campaign with a 4-2 win over Belgium in London.

A second half double from striker Olivia Merry saw New Zealand finish much too strongly in their pool D opener, after they trailed 2-1 at halftime on Sunday (Monday NZT).

Kelsey Smith and Shiloh Gloyn were New Zealand's other two goalscorers in a match they were expected to win, ranked fourth in the world to Belgium's 13th.



The Black Sticks are jubilant after Kelsey Smith, centre, scores against Belgium. TIM IRELAND/AP

Next up for the Black Sticks is Japan on Tuesday night (11.30pm NZT), after they lost 3-2 to Australia in their opener.

Coach Mark Hager was happy his side secured the three points despite them turning the ball over too often.



Belgium's Louise Versavel slots one past New Zealand goalkeeper Sally Rutherford. TIM IRELAND/AP

"The pleasing thing is we came out after half time and executed some corners really well, to come away with a win is good," he said.

'We didn't underestimate Belgium, we are in a really tough pool, we're up against Japan next who I thought played really well against Australia'."

New Zealand took the initiative after 24 minutes from a penalty corner when Smith got a vital touch to deflect in a shot from Anita McLaren.

It didn't take long for the tide to turn in Belgium's favour as Louise Versavel converted pressure in the New Zealand penalty area.

Just minutes later Belgium pressed home their advantage on the stroke of halftime when an attack on the left flank saw Jill Boon hit a powerful shot past goalkeeper Sally Rutherford.

New Zealand made the right start to the second half from another penalty corner, when a McLaren drive saw Gloyn get the crucial touch.

Then it became the Merry show. A strong run from the striker was finished by a reverse sweep shot through the legs of Belgium goalkeeper Aisling D'Hooghe to give New Zealand a 3-2 lead.

Rutherford saved well as Belgium mounted some pressure, then a big defensive tackle from Stacey Michelsen staved off another raid.

In an end to end final quarter New Zealand sealed it when Frances Davies' shot was stopped on the line and a penalty stroke was awarded. Merry calmly slotted it to clinch the points for the Black Sticks.

AT A GLANCE

Black Sticks 4 (Kelsey Smith 24', Shiloh Gloyn 32', Olivia Merry 32', 54') Belgium 2 (Louise Versavel 28', Jill Boon 30'). HT: 1-2.

Stuff


---

SuperGroup South Africa start with defeat




Lee Valley Hockey and Tennis Centre in London played host to the opening game of the 2018 FIH Vitality Hockey Women's World Cup as SuperGroup South Africa took on Germany. The two teams took met at the FIH World League Semi-finals in Johannesburg last year and South Africa would have been motivated by that near miss.

But Germany were up for this game and in truth dominated from start to finish with a superb pressing display to limit the South African possession and chances. South Africa were kept in the game by a splendid display from Phumelela Mbande. The Article Clerk goalkeeper continues to get better with each game for the national side and is a joy to watch. As much as she was in form she could not stop Viktoria Huse from giving the European's the lead.

In the second quarter the South African ladies grew into the game holding a bit more possession even rallying after Nicolene Terblanche was taken from the field for concussion testing after a fierce strike to the head. Fortunately, Nicolene has been given the all clear and confirmed this with me after the game ending.

In the third quarter South Africa would have been disappointed to concede so early in the period after a sensational Phumi Mbande shoulder save almost denied the Germans only for Charlotte Stapenhorst to finish the rebound. South Africa refused to lie down though and a combination of great saving from Mbande and superb last ditch defending particularly by Kara-lee Botes and Erin Hunter (who got stitches in the finger as a reward for her efforts). South Africa then were awarded a penalty corner which Lisa-Marie Deetlefs finished superbly.

Germany were unfazed and while the likes of Kristen Paton and Ongi Mali tried their level best, Germany continued to surge and the pressure eventually told when a review for a penalty corner was awarded a stroke. Huse stepped up to fire it home and make it 3-1, which would remain the score at the completion of the game.

Its back to the drawing board for Rostron and the team as they look to mastermind a victory over Spain on Thursday, which will keep their hopes alive in the tournament.

SA Hockey Association media release


---

'England can now deal with Hockey World Cup expectations'

By The Hockey Paper



Crowds packed out England's opening World Cup game PIC: England Hockey

England's players and coach were unanimous in agreement: the hosts now have a better understanding of dealing with the home pressures at the Women's World Cup.

England drew 1-1 with India in their opening match as Lily Owsley netted late on at the Olympic Park to salvage a point.

The match was played out in front of a 10,000 sell out crowd, with many of Danny Kerry's players having never experienced or run out to such an atmosphere.

Kerry said: "We just tried to talk about it rather than make it an issue. It's new and it's different for us."

England next take on USA on Wednesday, with the Americans arriving only 45 minutes before their 3-1 defeat to Ireland due to transport issues.

Meanwhile, England's three-day preparation time before the USA encounter could be be a blessing for the stars and stripes.

"We recover quicker than the opposition so longer days between games favours teams who aren't as well conditioned," said Kerry.

Owsley, meanwhile, has recovered brilliantly and looked intent on missing four months on the sidelines after breaking her hand before April's Commonwealth Games.

"It was unbelievable and without doubt the best crowd and atmosphere I have ever played in," she said.

"You could really feel the crowd in the last quarter and the home crowd really pulled it back for us."

After Argentina and the Netherlands' thumping results on Sunday, England will need to kick start their campaign against the US. Notching a few more penalty corner attempts may be handy.

They have now amassed 54 PCs since the start of the Commonwealth Games, but only netting five.

But midfielder Jo Hunter said: "It's no concern for us. We aren't worried and we'll keep training and keep calling them."

Hunter believes that England can now deal with winning expectations after overcoming the "unknown" of the Indian game atmosphere, which included a Red Arrows fly past and the general euphoria created by an opening World Cup game.

She said: "Until we stepped and ran out for the line out it really hit us and was like 'wow, this is it, this is what we have been training for'.

"There were butterflies but it was a good nervous energy to use in your favour. The crowd can definitely help us when we get the ball into the space and moving forwards."

The Hockey Paper


---

Kenny: Lots For Hockeyroos To Learn From World Cup Opener

Ben Somerford




Experienced Hockeyroos defender Jodie Kenny says there's plenty for the side to learn from their first-up 3-2 victory over Japan at the 2018 Women's World Cup in London.

The Hockeyroos led 3-0 early in the third quarter in the contest after goals from Rosie Malone, Emily Hurtz and Kenny, before surviving a late Japan rally which had Australia under intense pressure.

Kenny, who hails from Wamuran just north of Brisbane, was named Player of the Match in the win on Sunday morning (AEST), playing a key role in defence as Australia kept Japan at bay.

When Kenny scored Australia's third goal in the 35th minute, it appeared a case of how many, but Japan's response put the Hockeyroos on the back foot and Kenny said that was a key lesson.

"It's nice to get a win for our first World Cup game to start our campaign off with a bang," Kenny said.

"But there's lots to learn from that game. We came out firing and then we gave them too many opportunities in that second half.

"They managed to get two back. We held on and got those three points.

"We've got some experienced players in that back group and it really showed. We had to ride it out.

"Japan threw everything they had at us. It could've been worse if not for some good defending."

Australia are next in action on Tuesday night (11pm AEST) against 13th-ranked Belgium, who lost 4-2 to New Zealand in their opening match on Monday morning (AEST).

If the Hockeyroos win against Belgium, they'll be assured of a spot in the play-offs, although top spot and a place in the quarter-finals is the goal.

Kenny, though, said the Hockeyroos weren't getting ahead of themselves.

"For us it's one game at a time," the 30-year-old said.

"This tournament is so cut-throat. We need to put out good performances each and every game.

"We're just rolling on. We'll pick that game apart as all teams will, learn and move on."

Kenny, who debuted for Australia in 2011, is playing in her second World Cup, having taken time away from the game following the 2016 Rio Olympics to start a family.

"I'm even more proud now after going away and having my son (Harrison) and coming back and still being able to score goals like that," she said about her match-winner, which was her 109th international goal in her 202nd appearance.

She added that the mood within the Hockeyroos team was full of positivity ahead of Tuesday's game.

"The atmosphere is awesome. We're ready to go," she said.

"That really showed (against Japan). We stepped on that pitch and came out firing. We can't wait to keep continuing on in the tournament."

Australia's Women's Hockey World Cup team:
Athlete (Hometown, State)
Jocelyn Bartram (Albury, NSW)
Kristina Bates (Port Melbourne, VIC)
Edwina Bone (Orange, NSW) *Plays for ACT
Kalindi Commerford (Mollymook, NSW) *Plays for ACT
Madison Fitzpatrick (Cabarita Beach, NSW) *Plays for QLD
Emily Hurtz (Sydney, NSW) *Plays for VIC
Jodie Kenny (Wamuran, QLD)
Stephanie Kershaw (Townsville, QLD)
Rachael Lynch (Warrandyte, VIC)
Ambrosia Malone (Burleigh, QLD)
Karri McMahon (Berri, SA)
Georgina Morgan (Armidale, NSW)
Kaitlin Nobbs (Newington, NSW)
Brooke Peris (Darwin, NT)
Kathryn Slattery (South Stirling, WA)
Emily Smith (Crookwell, NSW)
Grace Stewart (Gerringong, NSW)
Renee Taylor (Everton Park, QLD)

Australia's Women's Hockey World Cup Schedule (all times AEST):
Sunday 22 July 5am - Australia 3 def Japan 2
Tuesday 24 July 11pm - Australia v Belgium
Sunday 29 July 5am - Australia v New Zealand
Monday/Tuesday 30/31 July TBC - Playoffs
Wednesday/Thursday 1/2 August TBC - Quarter-finals
Saturday 4 August TBC - Semi-finals
Sunday/Monday 5/6 August 11pm/1:30am - Bronze medal/Gold medal match

Hockey Australia media release


---

2018 CAC Games (W) - Day 2
Barranquilla (COL)

Results 22 July

JAM v GUA (Pool B)     5 - 0
TTO v BAR (Pool B)     2 - 1
CUB v GUY (Pool A)     2 - 0
DOM v MEX (Pool A)     0 - 1

Pool standings
Pool A
Pool B
---

Mexico and Trinidad & Tobago move closer to Semi-final spots

Damian Gordon



Photo: Juan Armesto / PAHF

Day 3 of CAC Games action saw all the Day 1 teams that lost play each other to stay in the competition. JAM vs GUA and CUB vs GUY all playing for a chance to still play in the semi-finals. TTO vs BAR and DOM vs MEX played to consolidate their place in the semifinals.

Match 1 Pool B – Jamaica (JAM) vs. Guatemala (GUA)

JAM started the more aggressive of the two teams and the match settled into a pattern of play where GUA defended just outside of their circle looking for counterattacking opportunities. Kamille GRIFFITHS looked dangerous in attack, earning many PCs for her team. They were unable to convert any and the score remained 0-0 through both the first and second quarters.

The third quarter of the match started just like the first two, JAM pushing GUA back. This time Demi NICHOLSON was able to slap home a rebound to give JAM a well earned lead. Encouraged by the goal they quickly added a FG and another PC, both scored by Shareeka ELLIOTT. Q3 ended with JAM leading 3-0. Energised by their lead and more composed in attack JAM looked likely to score every time they entered the circle and it was only determined defending from GUA that denied them. JAM eventually broke their resistance twice from a FG and a PC to complete a comfortable 5-0 win. The final horn sounded with a quick celebratory dance on a deserved victory.

Match 2 Pool B – Trinidad and Tobago (TTO) vs. Barbados (BAR)

Two of the biggest rivals in the English-speaking Caribbean featured in the second match of the day. TTO dominated possession and position, but BAR defended well and eventually started pushing their opponents back. The two teams cancelled each other's attacks early and Q1 ended 0-0. Q2 quickly sprang to life with a spectacular volley from Keisha BOYCE giving BAR the lead. TTO pressed forward earning themselves a PS which Shania DE FREITAS calmly scored. The game continued to be mainly a midfield battle and the score at the end of Q2 remained 1-1.

TTO dominated Q3, pushing BAR back into their 23-metre area but were unable to create any clear chances. BAR looked for counterattacks but found Teresa LEZAMA and the TTO defence difficult to break down. As in Q1 and Q2 the teams cancelled each other out and Q3 ended with the scores still tied at 1-1. Q4 got going with TTO increasingly taking control of the game with all of the play in the BAR half of the field. Though their dominance did not turn into clear cut opportunities, TTO ensured that BAR could not push forward with their counterattacks. Eventually TTO did get some space behind the BAR defence and Brittney HING did well to earn a PS that DE FREITAS coolly scored. BAR made a final push in the last minute to get an equaliser, but the TTO defence held firm to preserve a hard fought 2-1 win over their Caribbean rivals.

Match 3 Pool A – Cuba (CUB) vs. Guyana (GUY)

Match 3 saw two of the losing teams from Day 1 try to get themselves back into the competition. CUB put GUY on the defensive early, but Alysa XAVIER kept the scores goalless. CUB earned a few PCs, but again found the GUY defence difficult to get past. GUY were able to relieve some of the pressure with a few attacks that were easily dealt with by the CUB defence. Q1 ended as the game started at 0-0. CUB picked up the pace in Q2, but found an organised GUY defence difficult to break down. CUB earned a few PCs, but again failed to get past XAVIER. When they did eventually get past her, she was backed up by her defenders to keep the game scoreless. GUY again started a few promising attacks, but could not produce the quality to create a chance. The end of Q2 came with the score 0-0.

CUB started Q3 searching for that elusive goal, while GUY continued to try and play for the counter attack. CUB earned a PC and finally scored with a Yunia MILANES shot that trickled over the line. CUB immediately went looking to score more and created many opportunities but they could not find the target. XAVIER, aided by Ulrica SUTHERLAND continued to play well and at the end of Q3 the score was 1-0 CUB. With a chance for the semi-final still to play for both teams came out quickly in Q4 looking for goals. CUB's quality started to show and Sunaylis NIKLE doubled the score with a FG. CUB continued to create chances but could not add any more goals. GUY made one more big effort to score, but they found the CUB defence as strong as ever. The final horn sounded with the score CUB 2-0 GUY.

Match 4 Pool A – Dominican Republic (DOM) vs. Mexico (MEX)

Our final match of the day saw DOM and MEX battle for a top spot in Pool A. After a cautious start DOM began to gradually dominate play. The teams did a good job of cancelling each other out and Q1 ended at 0-0. Q2 was also quite intense without many quality chances with a green card for each team demonstrating the physical nature of the game. At the halftime horn the scores remained 0-0.

DOM started Q3 looking dangerous earning a couple PCs, but failed to get any shots off. MEX enjoyed their best attacking phase of the game with Marlet CORREA and Fernanda OVIEDO looking dangerous on the left. It was a right side attack that led to a PC that Michel NAVARRO hit past the left foot of Paola DE LA CRUZ in the DOM goal. Q3 ended with the score 1-0 to MEX. Q4 was the most open of the game as DOM pressed to get an equaliser while MEX played on the counterattack. Neither team was able to score and the final horn ended in a MEX win.

Tomorrow the men get back into action with GUA vs. DOM, GUY vs. MEX, CUB vs. JAM and BAR vs. TTO. Like the women today, the matches will feature round 1 losers and winners with no team certain of a semi-final place.

Pan American Hockey Federation media release


---

Manpreet, still a vital cog

Shreedutta Chidananda



Manpreet Singh (7). 

Manpreet Singh may not be India's captain any longer, but he is still at the heart of a great deal the team does on the pitch. The half-back had been appointed skipper in June last year, ahead of the HWL Semi Final in London, when P.R. Sreejesh was ruled out with a knee injury. But in the shake-up that followed India's disappointing Commonwealth Games performance in April, Manpreet handed the armband over to Sreejesh, who was named the side's leader till the end of the year. However, the 26-year-old remains a vital cog in midfield, linking up play, finding pockets of space, and making darting runs forward.

"Personally, I've never thought about the captaincy," said Manpreet. "My first priority is to be on the pitch. If I'm playing for India, it's a big deal for me. It makes no difference if I'm the captain or not. We're like a family. And we will remain that way. Our philosophy is that on the field everyone is a leader in his position. Because Sreejesh cannot play up-field."

Harendra Singh's arrival as chief coach has also reunited Manpreet and Sardar Singh in midfield. The latter had been out of favour under Marijne and even believed his career was finished. But he has returned to the side under Harendra, a move Manpreet is pleased with. "I've been playing with him for seven years now and we have a ready-made understanding about who goes forward and who drops back. It's a lot of fun to play 'give and go' with him. It's easy; I know where he likes to pick the ball up and where he likes to receive it," he said.

Manpreet and Sardar were in the thick of things again on Sunday as India trounced New Zealand 4-0 in the third and final Test at the SAI here. They took turns attacking and defending as India, which sealed the series 3-0, looked sharp in its last competitive game leading up to the Asian Games. Towards the end of the game, Manpreet even played as an auxiliary forward, and was involved in the build-up to the fourth goal.

"Harendra sir always wants me to attack," he said. "He says, 'Whenever you have the ball, I want you pass it forward. I want you to take risks. Feed the forwards.' He's given me a lot of freedom. He's given everyone a lot of freedom."

The result: India 4 (Rupinder Pal Singh 8, Surender Kumar 15, Mandeep Singh 44, Akashdeep Singh 60) bt New Zealand 0.

The Hindu


---

India beat New Zealand 4-0 in third hockey Test, complete series whitewash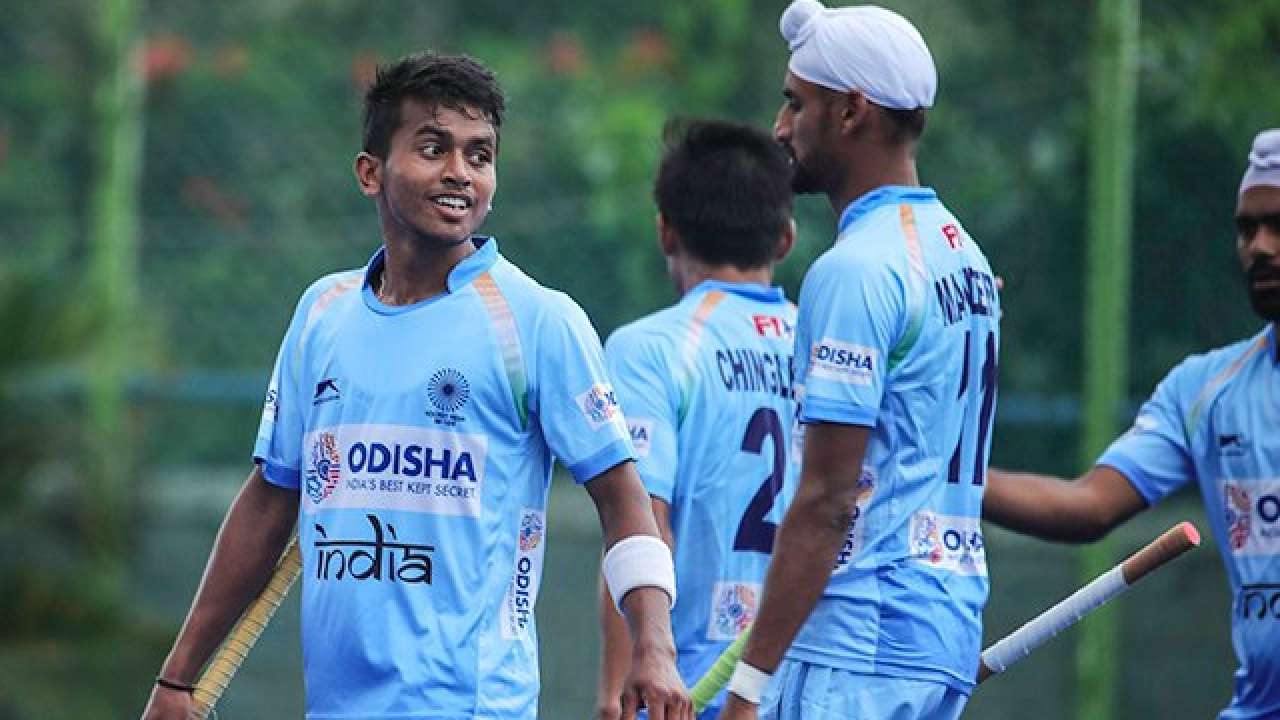 The Indian men's hockey team in action on Sunday , Twitter (@TheHockeyIndia)

The Indian men's hockey team thrashed New Zealand 4-0 in the third and final Test to complete a series whitewash at the Sports Authority of India centre, in Bengaluru on Sunday. Rupinder Pal Singh (8th minute), Surender Kumar (15th), Mandeep Singh (44th) and Akashdeep Singh (60th) scored the goals for India.

India took a 1-0 lead in the first quarter after Rupinder found the net with a low flick from the home team's second penalty corner, thus taking his personal goal count to four in the series. Then Surender scored from a field effort after receiving a clever assist from Rupinder from the top of the striking circle.

Veteran Sardar Singh and Simranjeet Singh then combined on the left flank to set up Mandeep for India's third goal in the 44th minute past New Zealand goalkeeper George Enersen. Striker Akashdeep added salt to New Zealand's injury by scoring India's fourth goal just at the stroke of the final hooter.

India's chief coach Harendra Singh expressed satisfaction with his team's performance in the series ahead of the 18th Asian Games to be held in Indonesian twin cities of Jakarta and Palembang from August 18 to September 2.

"Playing high intensity matches against one of the top 10 teams in the world ahead of a crucial event like the Asian Games is beneficial for us. During these three matches, we tried out different combinations and variations in penalty corners and we are now better prepared for the upcoming tournament," stated Harendra.

"We had specifically worked on different variations in goal scoring but I believe the team still has scope to improve. We missed quite a few easy chances today and we need to work on this ahead of the Asian Games," he added.

Daily News & Analysis


---

Release of govt funds vital for good show in Asiad, World Cup: Hasan Sardar

Anwar Zuberi

KARACHI: The manager of the Pakistan hockey team, former Olympian Hasan Sardar, has called upon the government to release adequate funds to the Pakistan Hockey Federation (PHF) which is facing financial constraints ahead of Asian Games and the World Cup.

"The government should at least release part of Rs200m grant fortwith which it has approved," he told a hurriedly-called press conference at the Abdul Sattar Edhi Stadium on Saturday. He was flanked by Pakistan team's head coach Roelant Oltmans and Captain Mohammad Rizwan Sr.

Earlier, the press conference was convened on a short notice at the Islahuddin-Dr M.A. Shah Academy on Friday, but upon reaching there the reporters were told that it has been put off for a day at the request of some television channels.

Sardar, who has returned from the US recently, said Pakistan is targeting to strike gold in the Asiad in order to earn a direct ticket for the 2020 Olympics and make it to the World Cup semi-finals, but cautioned that all exercise will be futile if funds are not released on time.

He said the players were going through the agony of financial problems which were haunting them since they had to look after their families. "How will they perform when they are not being paid allowances in addition to the job problems?" he asked.

Hasan dispelled the impression there there's no hockey talent in the country but regretted that the old system of inter-school, inter-collegiate, inter-varsity, sports quota in admissions at the government colleges and for jobs in the departments had ceased to exists. "I'm a product of the same system," he remarked.

The former Olympian was critical of the Pakistan Sports Board (PSB), Punjab Sports Board and the Sindh Sports Board for not playing as effective a role in promotion of sports as they used to in the past.

Expressing satisfaction on the team's performance in the Breda Champions Trophy he said the greenshirts 4-1 success against the Olympic Champions Argentina was no mean achievement and a true indicator that their graph is going up.

"We had not gone to Breda to win the title and the results against other outfits shows that the team had lost by narrow margins after dominating most part of play," he maintained.

Citing examples, he said Pakistan lost to Australia 1-9 last year while at Breda the margin was reduced to 1-2 with the greenshirts taking lead in the ninth minute through Aijaz Ahmed.

Similarly, he said Pakistan took the lead over Belgium twice in the league, courtesy Aleem Bilal, who scored a brace through penalty corners before going down 2-4.

To a question he said the fitness level of the team had improved as well as other areas of play.

To another question about not inviting Khizer to the camp, Hasan said the player was given a chance but he failed to prove his mettle.

Answering questions, team's head coach Oltmans said though the boys were showing progress, there's still room for improvement.

He sounded confident that the greenshirts will be back at top level if they maintained a consistent performance.

Referring to Pakistan's 4-0 whitewash against India in the opening match, he said the former were in two goals arrears until the 54th minute when change of goalkeeper cost two more goals in a short span.

He said he was aware of the high emotions attached with the Indo-Pak clash.

Asked how he rates Pakistan team for the Asian Games, Hasan said: "It will win inshallah."

Skipper Rizwan Sr, speaking on the occasion, said he was playing league in Holland for the last few years where a player earns up to Rs 0.3m per season while in the Indian league, a player gets approximately Rs 9m "which is way beyond our imagination."

"If the player is mentally strong having no worry on his mind he will give cent percent performance," he added.

He requested the government to release funds so that the players get their dues before embarking to Indonesia for Asiad next month so that they could put in their best a the mega event.

Dawn


---

Cash-strapped hockey players keen to win Asian Games gold: Rehan Butt




ISLAMABAD - Pakistan hockey team assistant coach and Olympian Rehan Butt has said that cash-strapped hockey players are still keen to win gold medal in the upcoming Asian Games.

Talking to The Nation, Rehan said: "Pakistan Hockey Federation (PHF) is under tremendous financial strain and it is impossible for the federation to pay dailies of the players, but even then the morale in the camp is sky-high and the boys are determined to win gold for the country.

"We are residing at Islah-ud-din Hockey Academy, where the facilities are excellent and we are mainly working on physical fitness of the players. Head coach Roelant Oltmans and physical trainer Daniel Barry also joined the camp from the day one. We are taking the camp very seriously, as Asian Games gold medal is our main target," he added.

Rehan said they are facing huge difficulties due to non-availability of funds and it is very important for the federal government to immediately release funds for PHF before the team's departure for the Asian Games. "The players, who are deprived of their dailies, are also urging the federal government to release the funds of PHF. If the players will not get their basic rights due to shortage of funds, how will they focus on their game and performance? On behalf of Pakistan hockey team and PHF, I personally request Prime Minister to release the federation's funds, so that they may clear players and staff dues."

He said the national team camp is in full swing while head coach Oltmans and supporting staff are working dedicatedly and trying to enhance players' stamina and work on good finishing. "The boys created so many chances in the recently-concluded Champions Trophy in Netherlands but they just lacked poor finishing in front of the goal. So we are working on in and hopefully, it will be improved and the boys will perform well."

The assistant coach said the PHF president and secretary have been doing their jobs with great devotion and they have tried their best to provide each and every facility to the players. "The way junior and senior players were provided jobs, it was not witnessed since long. Now the players have to dig deep and put up more efforts to produce better results.

"We can only train and help them overcome their mistakes but we can't play for them in the field. Same is the case with federation, which can provide best facilities, jobs, training, international coaches and international exposure to the players, and in return, they have to play out their hearts and help Pakistan win laurels at international levels," he added.

"There is still time left before leaving for Jakarta, Indonesia for Asian Games. I once again request PM and President to check our results and without wasting further time, release funds for the federation, as timely payment will do wonders for the country and players and help them finish on the podium," Rehan concluded.

The Nation


---

'Pakistan should have done better at Champions Trophy'- Khalid Hamid

By Ijaz Chaudhry




Pakistan's former star left winger and Olympic gold medallist (1984), Khalid Hamid, opines Pakistan had the capability to do better at the recent Champions Trophy.

"Pakistan, the winners of the first two editions of the Champions Trophy finished last in the last edition in Breda, Netherlands.

I believe they should have done better and certainly didn't deserve the wooden spoon.

In the opening fixture against India, Pakistan were trailing 0-1 with just six minutes left. At that point, they conceded another goal. The management replaced the goal keeper with an outfield player. The decision backfired as the Indians managed two more goals to win 4-0.  It was a demoralizing score. Pakistanis had otherwise played well and created more opportunities than the Indians.

This ploy of substituting goal keeper with an outfielder in the final phase of the match is usually employed in the knock out games or in the latter stages of pool/league games when it is a do or die situation; not in the first league game.

Pakistan did well in the next encounter vs Australia, the World Champions, going down 1-2 with the winning goal coming in the dying minutes. A little better strategy towards the end would have fetched Pakistan one point.

Holland outplayed Pakistan in the third game 4-0.      

However, they immediately bounced back with a resounding 4-1 win over Argentina, the Olympic Champions.

In the last league match, Pakistan twice led Belgium but let in two goals in the last quarter to go down 2-4.

Then, it was the 5th/6th position play off, also against Belgium. It ended 2-2 in the regular time. Belgium won the penalty shootout.

It was Pakistan who had started this event, donated the beautiful trophy and also won the first two editions of the Champions Trophy. All this makes it very disappointing that they finished last in the last edition.

I personally think they had the capability to reach the victory stand. In quite a few matches, Pakistan conceded late goals. It depicts poor physical fitness. Weak finishing was another major flaw. With better strategy during certain stages, Pakistan might have earned better results.

Pakistan Hockey Federation is trying to provide the best facilities to the team. PHF has acquired the services of Roelant Oltmans to coach the national team. He is one of the most successful hockey coaches in the international arena. Oltmans has been given a free hand. On his recommendations, PHF has hired Daniel Barry, a renowned Australian physical trainer. Moreover, the team was sent to Holland, two weeks prior to the Champions Trophy. There, they got specialized goal keeping and penalty corner training by the famous goal keeper trainer Dennis Van de Pol, and the legendary drag flicker Bram Lomans respectively.
 
I am hopeful that the sincere efforts of the PHF would be fruitful. Next assignment is the Asian Games in August. Winning the gold will give Pakistan an automatic qualification for the 2020 Olympics. Pakistan has the ability to win the Asiad gold.

Career Highlights:

Khalid Hamid represented Pakistan from 1981-88 including two Olympics. 
His biggest achievement was of course the Olympic Gold Medal at the 1984 Olympics.
Also won gold at the 1985 Asia Cup
Made three appearances (1983, '84 & '88) at the Champions Trophy winning silver medal each time.
He also has had stints in coaching. Khalid was one of the assistant coaches (not on the bench) who helped prepare the Pakistan national team when they won the Champions Trophy in 1994 in Lahore.
During his stay in the UAE from 2001-2004, he did hockey coaching there.  
Since 2013, Qatari hockey is benefiting from his expertise.

Ijaz Chaudhry writes on hockey & other sports. For more about him and his work, visit: www.sportscorrespondent.info  

Fieldhockey.com


---

New Razak Cup dates clash with ACT -- so no national players

By Jugjet Singh

KUALA LUMPUR: The Malaysian Hockey Confederation (MHC) competitions committee yesterday said it was an oversight, and have brought forward the Razak Cup one week before Deepavali,

But now, the new dates of Oct 26-Nov 3 clash with the Oman Asian Champions Trophy and so, 26 national players will not play in the Cup.

The ACT will be held in Oman on Oct 18-28.

"When we sent out letters to states, stating that the Razak Cup would be held on Nov 3-11 at the National Stadium in Bukit Jalil, it was an oversight as Deepavali is on Nov 6," said competitions committee manager Brian Fernandez.

And when pointed out that the new dates clash with the ACT: "We are aware of that, but a decision was made earlier this year that national players will not play in local tournaments because of a hectic international schedule."

But when Brian was asked when and who made the decision, he could not remember.

After the MHC competitions committee sent out the invitation which clashed with Deepavali, Negri Sembilan HA were he first so reply that they will withdraw if the dates are not changed.

And when Brian was asked about a code-of-conduct letter which the new committee members had to sigh, he said it was a normal procedure to make sure statements come from one source and do not conflict.

The new committee, eight in all, are now not allowed to make statements to the Press.

Jugjet's World of Field Hockey


---

Sikh Union Nairobi Olympians honoured in London

by Dil Bahra



Left to Right: Manjeet Panesar; Amarjeet Marwa; Jack Simonian; Dil Bahra; Davinder Deegan; Surjit Rihal; Sandeep Bhardwaj; Avtar Sohal; Harvinder Marwa; Harvinderpal Sibia; Jitender Panesar (Right click and "View image" for the full size version)

Spencer Hockey Club, one of London's most prominent Clubs, hosted an event last Friday (20 July 2018) where Sikh Union Nairobi players, now residing in the UK, who had represented Kenya at Olympic Games were honoured. Over a hundred hockey lovers attended this special function.

Avtar Singh Sohal, Patron of Sikh Union Nairobi Club had come to London to honour the players. Avtar himself played for Sikh Union Nairobi from 1957 until 1978, Kenya from 1957 to 1972 and was the National captain from 1962 until 1972. He played at Rome 1960; Tokyo 1964; Mexico 1968 and Munich 1972 Olympic Games, captaining the team at the last three Games.

Avtar played as Left back for Club and Country. His partner, for both Club and Country, was the late Kirpal Singh Bhardwaj who played as Right back for the Club from 1957 to 1969 and for the Country from 1959 to 1968. He represented Kenya at Rome 1960; Tokyo 1964; Mexico 1968 Olympic Games. Sadly he died in November 2013 and his daughter, Sandeep, attended the event to collect his award.

Jack Simonian, played for the Club from 1962 until 1973 and for the National team from 1960 until 1968. He represented Kenya at Rome 1960; Tokyo 1964; Mexico 1968 Olympic Games.

The trio of Jack in Goal, Avtar and Kirpal as Full backs were the backbone for both Sikh Union Nairobi and the Kenya team when Kenya was at her peak in international hockey during the golden period in the 1960s.

Davinder Singh Deegan played for Sikh Union from 1965 to 1979 and for Kenya from 1965 to 1978. He represented Kenya at Mexico 1968 and Munich 1972 Olympic Games.

Harvinder Singh Marwa played for the Club from 1966 to 1973 and for the Country from 1966 to 1972. He represented Kenya at Mexico 1968 and then vice-captained at Munich 1972 Olympic Games.

His younger brother Amarjeet Singh Marwa played for Sikh Union from 1965 to 1976 and Kenya from 1966 to 1974. He represented Kenya at Mexico 1968 and Munich 1972 Olympic Games.



Mahan Hall of Fame (Right click and "View image" for the full size version)

Surjit Singh Rihal played for Sikh Union from 1969 to 1989 and for Kenya from 1969 to 1981. He represented Kenya at Munich 1972 Olympic Games. He took over as captain from Avtar as Kenya's National captain from 1973 to 1981, totalling almost two decades of Sikh Union domination as Kenya National captains.

Surjit, Davinder and Amarjeet were selected for Montreal 1976 Olympic Games. The team was in the Olympic Village in Montreal when Kenya, together with other African countries, pulled out of the Games at the last minute for political reasons. Surjit was selected as the captain for the Montreal Games.

Harvinderpal Singh Sibia played for Sikh Union from 1971 to 1972 and for the National team during this same period.  He represented Kenya at Munich 1972 Olympic Games.

Jitender Singh Panesar played Sikh Union from 1976 to 1985 and for Kenya from 1978 to 1985. He represented Kenya at Los Angeles 1984 Olympic Games.

His younger brother Manjeet Singh Panesar played for Sikh Union from 1978 to 1998 and for Kenya from 1979 to 1988. He represented Kenya at Los Angeles 1984 Olympic Games.

All the above players, who were playing members of Sikh Union Nairobi Club at the time of their selection for Olympic Games are featured in the Mahan Hall of Fame at the Clubhouse in Nairobi.

Tochi Panesar and his team at Spencer Hockey Club hosted a marvellous evening which was enjoyed by players and fans alike.

Sikhs in Hockey