All the news for Sunday 22 July 2018
Vitality Hockey Women's World Cup 2018 - Day 1
London (ENG)

Results 21 July

GER v RSA (Pool C) 3 - 1
ENG v IND (Pool B) 1 - 1
USA v IRL (Pool B) 1 - 3
AUS v JPN (Pool D) 3 - 2

Upcoming 22 July (GMT+1)

11:00 CHN v ITA (Pool A)
13:00 ARG v ESP (Pool C)
17:00 NED v KOR (Pool A)
19:00 NZL v BEL (Pool D)

Pool Standings
Pool A
Pool B
Pool C
Pool D
| Rank | Team | Played | Wins | Draws | Losses | Goals For | Goals Against | Goal Difference | Points |
| --- | --- | --- | --- | --- | --- | --- | --- | --- | --- |
| 1 | Australia | 1 | 1 | 0 | 0 | 3 | 2 | 1 | 3 |
| 2 | Belgium | 0 | 0 | 0 | 0 | 0 | 0 | 0 | 0 |
| 2 | New Zealand | 0 | 0 | 0 | 0 | 0 | 0 | 0 | 0 |
| 4 | Japan | 1 | 0 | 0 | 1 | 2 | 3 | -1 | 0 |
---

Ireland produce performance of the day as Vitality Hockey Women's World Cup bursts into life




A mammoth crowd packed into east London's Lee Valley Hockey and Tennis Centre to witness some fabulous action in the first Saturday of the Vitality Hockey Women's World Cup London 2018. Four stellar matches ensured that this eagerly anticipated competition got off to the best possible start.

The opening session of the Vitality Hockey Women's World Cup London 2018 was a witnessed by a crowd of 10,500 being thoroughly entertained by two cracking matches, with Germany producing a classy performance to overpower Pool C rivals South Africa before the partisan crowd watched England claim a draw against India in Pool B.

Germany (FIH Hero World Ranking: 6) made a superb start to their World Cup campaign with a deserved victory over a South Africa (WR:14) team that did not make it easy for the team coached by Xavier Reckinger in the competition opener.

Die Danas were the better side in the opening period, controlling possession and creating chances to force some good early saves from South Africa goalkeeper Phumelela Mbande before the opening goal arrived a minute before the quarter-time break. Viktoria Huse scored the first goal of what promises to be an wonderful World Cup competition in London, deceiving Mbande with a smart turn before passing into an open goal.

Germany extended their advantage two minutes into the third quarter when the excellent Charlotte Stapenhorst fired home from close range before South Africa, who grew in confidence as the game progressed, hit back thanks to a deflected penalty corner slap-shot from Lisa-Marie Deetlefs.

However, few would argue that Germany were worthy winners, with Huse claiming her second of the match from the penalty spot in the 54th minute to seal a 3-1 victory for Germany.

"We have been together for three weeks and we had a tournament in Germany that was the start of all of this", said Germany's two-goal star Huse after the match. "We are here to win, for sure. We have a good team and we all know each other very well. There is a great atmosphere in our camp."

With a full house watching on, the atmosphere during the contest between home favourites England (WR:2) and Asian continental champions India (WR:10) was intense throughout.

"I think as we are competitive people we can become fixated with the result and we are probably disappointed with it, but focusing on the level of performance, particularly in that second half, we absolutely dominated and I can't ask for more"
Danny Kerry, England Head Coach.

England thrilled the home fans by winning but failing to convert a penalty corner in the opening seconds, but India were far from overawed by the occasion.

The Eves were the first team to have a shot in anger, with England's Maddie Hinch comfortably kicking clear a strike from Navjot Kaur.

England had a penalty stroke overturned by the video umpire in a second quarter where they were unusually wasteful in front of goal, something that they were left to rue in the 25th minute when Neha Goyal deflected home from close range to give India a 1-0 lead at half time.

The hosts spent most of the third quarter camped in Indian territory, with Alex Danson and Lily Owsley both growing in stature as the game progressed thanks to their trademark bursts forward. Owsley was particularly influential in the final quarter, and when Hinch was replaced with an attacking player with ten minutes remaining, the breakthrough that England had been searching for arrived.

Owsley was the scorer of the equaliser, forcing home from close range six minutes from time after India failed to effectively clear their lines from a penalty corner, ensuring that the match finished with the honours even at 1-1.

Speaking after the game, England Head Coach Danny Kerry said: "I think as we are competitive people we can become fixated with the result and we are probably disappointed with it, but focusing on the level of performance, particularly in that second half, we absolutely dominated and I can't ask for more. The atmosphere was amazing, you could really feel the crowd getting behind us in that second half."

The second session at the Lee Valley Hockey and Tennis Centre contained unquestionably the best match of the day, as USA (WR:7) and Ireland (WR:16) were involved in a hugely entertaining, fiercely contested game that upset the FIH Hero World Rankings.

Ireland claimed a stunning 3-1 victory over the Americans, a result which saw the second lowest ranked team in the competition end Day 1 sitting top of the Pool B table.

The Green Army - playing their first World Cup match for 16 years - were outstanding in the opening quarter, taking a 1-0 lead after just five minutes when Deirdre Duke produced a calm and collected finish after finding herself one-on-one with USA shot-stopper Jackie Briggs.

That advantage was doubled thanks to a fierce penalty corner strike from Shirley McCay, but an ingenious penalty corner routine from the Americans, finished off by Margaux Paolino, made the score 2-1 at the end of the first quarter.

USA were very much in the ascendency in the second quarter, but they could not find a way past outstanding Ireland goalkeeper Ayeisha McFerran, who was named Vitality Player of the Match. While McFerran was in sparkling form, her goal also lead a charmed life when another wonderful USA penalty corner routine hit the crossbar ahead of a half time.

The killer blow arrived six minutes after half time and again it was Duke who was the scorer, finishing off a rapid counter-attack with a close range strike that rattled the pads of USA goalkeeper Briggs before bouncing over the line to give Ireland a shock victory over a team that finished fourth at the 2014 World Cup in The Hague.

"We just decided to go out and enjoy it", said delighted Ireland forward Anna O'Flanagan after the match.

"We had a certain amount of confidence that we could win this game, we had done a lot of homework on USA and we stuck to our plan. And you saw it out there, everyone was giving 100 per cent. The midfield and forwards were chasing back and defending, everyone was putting bodies on the line."

The final match of Day 1 saw two teams who are very familiar with each other's style of play go head-to-head. Australia (WR: 5) and Japan (WR: 12) have enjoyed a number of test matches in recent months, and the scene was set for a tightly contested game to open Pool D proceedings.

The first quarter passed without a goal being scored but the second quarter was only one minute old when Rosie Malone deflected the ball from a penalty corner into the top of the goal past Japan's 'keeper Megumi Kageyama.

Kageyama was called into action seconds later when she raced out to thwart Brooke Peris who was clear on goal.

Australia's second goal also came in the second quarter as Emily Hurtz got on the end of a sequence of smart passes by her midfield to deflect the ball into the goal.

Things continued in much the same vein as Vitality Player of the Match Jodie Kenny opened her World Cup account with a trademark precision penalty corner in the top right corner to take the game to 3-0.

Japan came back through Motomi Kawamura, who took the ball wide of the Australia goal circle and powered past Rachael Lynch in the Hockeyroos goal. To this point the game had been almost one-way traffic but Kawamura's strike gave the Cherry Blossoms the confidence to begin to push for another goal.

Lynch showed her class with six minutes left on the clock as she forced Kawamura wide when she appeared to have a clear route on goal. Japan enjoyed a late surge as Akiko Kato made it 3-2 after a goalmouth scramble left the tenacious midfielder with a clear shot.

Speaking after the game, Kenny said: "It was nice to get a win for our first world cup game, starting the campaign with a bang but there is lots to learn from that game. We came out firing but then we gave them too many opportunities in that second half and they managed to get two back.

"We had to ride it out as Japan threw everything that they had at us. Yes, we managed to give away those two goals but it could have been worse had it not been for some good defending. On her winning goal and how proud she is about what she has achieved in the game."

Day 1 Results:

Germany v South Africa 3-1
England v India 1-1
USA v IRL 1-3
Australia v Japan 3-2

#HWC2018

FIH site


---

Day One: The Vitality Hockey Women's World Cup




With thousands of fans, a flyover from the Red Arrows and 15 goals the Vitality Hockey Women's World Cup began with a bang!

There was plenty of drama on the pitch and a fantastic atmosphere in the stands throughout the day as the showpiece tournament go under way in London.

The story of the day came as Ireland beat the USA 3-1 in their opening pool B game with Deidre Duke on target twice, much to the delight of the large Irish contingent in the stands.

Ireland are currently ranked sixteenth in the world while the USA sit in seventh, their victory puts them top of pool B ahead of their next fixture with India.

Hosts England battled back to draw with India as Lily Owsley popped up with an equaliser six minutes from time as the venue erupted in delighted.

England finished the contest strongly and will hope their late momentum will hold them in good stead as they take on the USA on Wednesday night.




In pool D Australia and Japan played out a classic with the Hockeyroos running out 3-2 winners which included a stunning drag flick from Jodie Kenny. In pool C Germany began strongly beating South Africa 3-1 with a double from Viktoria Huse and a strike from Charlotte Stapenhorst.

Tomorrow sees the current holders enter the tournament as the Netherlands take on Korea while China face Italy as pool A gets under way.

Elsewhere world number three side Argentina begin their campaign against Spain in pool C and New Zealand and Belgium play in the final game of the day in pool D.

England Hockey Board Media release


---

Why opening wins are key at Women's Hockey World Cup

By TODD WILLIAMS




Day One of the Vitality Women's World Cup is over and three teams can breathe easy in the knowledge that they've got that all-important first win.

Ireland (16) will of course be delighted with their win over the higher ranked USA (7). Less surprising were the victories for Australia (5th) and Germany (6th) over Japan (12) and South Africa (14) but they will still be relieved to have negotiated their way past their tough opponents.

Three points of course is a big step on the road to finishing top of the pool and a guaranteed quarter-final. Finish second or third and you've got an extra knock-out match to get through before that stage.

But there is also a sense of relief with what that first up win provides for coaches and players that they probably won't be that team (or teams) which pretty much every major tournament throws up.

That team is the highly ranked country for whom things start slowly and then go from bad to worse until they eventually watch the semi-finals still scratching their heads wondering how and where their campaign went off the rails.

In Rio two years ago, we saw plenty of examples, just as we saw at the recent Football World Cup. The second-ranked Argentina women finished with unexpected losses in their pool games seeing them face the Dutch in a quarter-final.

Similarly Australia's Hockeyroos, ranked third going in, also fell at the quarter-final stage after an inconsistent set of results through the pool stage.

The remarkable thing about this phenomenon is that you don't even have to play badly to be THAT team.

In Rio, statistically, the Argentinians were the dominant team in their pool game losses against USA and GB but just didn't score. Australia had a similar experience with their post-tournament analysis showing that they averaged more circle penetrations and shots at a tournament than at any time since London and had three times as many shots at Fortress Hinch as they had at them when they lost to GB.




To state the obvious though, that counts for nothing if you don't get the ball into the goal.

It's also worth remembering back four years ago in The Hague when it was England who were THAT team. Only two years after GB's bronze medal win in London, the players from that team in England colours went into the tournament confident of another strong performance.

But a slow start against the USA in the first game had the team on the back foot which was made all the worse when China hit pretty much every chance they had in the net whilst England found every way to miss it. That campaign eventually resulted in a shock 11th place finish but only two years later, many from that team took GB on their unbeaten run through to Olympic Gold.

That's how narrow the margins are and why every coach and player wants that first and second win on the board as quickly as possible. Momentum effects confidence in both directions and whilst that first win doesn't guarantee a quarter-final it's still a massive step in making sure you're the team no one wants to be.

The Hockey Paper


---

Women's Hockey World Cup: hard hits, goals and big crowds

By The Hockey Paper




Stoppages and play acting at a World Cup? Pah! Instead we got fast, free-flowing hockey as a fine opening day at the Women's Hockey World Cup kick started into life at the Olympic Park in front of 10,000 crowds.

Germany had little trouble in sweeping aside South Africa 3-1 in the opener, before the stadium filled to the rafters to watch hosts England salvage a 1-1 draw against a dogged India. A Red Arrows fly past before the match had set pulses running.

The pockets of green then upped the ante as Ireland produced the performance of the day against the USA.

Granted, the United States only managed to get to the ground around 45 minutes before their match thanks to traffic issues.

But world No 16 Ireland's 3-1 victory was a memorable one, with Deidre Duke on target twice against seventh-ranked US.

In the final match of the day, Jodie Kenny, having returned this year after taking time out to become a mother, scored a sublime drag flick as Australia were made to work to the hooter in beating Japan 3-2.

Is this the youthful World Cup?

There are debutantes galore at this World Cup and a plethora of talent who have stepped up from Junior World Cup level. Rosie Malone may have trumped the lot. Playing in her second international tournament after joining the Hockeyroos squad in May (she was close to becoming a soccer player), Malone opened the scoring in her first appearance at a global tournament. She said: "This amazing crowd excites you. I was ready to go and I was in the right place at the right time. We practice that 1000 times and it paid off, so I'm stoked."



Australia began their campaign with tight win PICS: Worldsportpics

Hard hits

The build-up to the World Cup had been notable for raising awareness of concussion, due to England pair Shona McCallin and Nicola White missing England's World Cup squad after concussion and time spent on the sidelines in recovery. On day one at Lee Valley, the dangers were in full evidence. Nicolene Terblanche, the South Africa captain, was sent tumbling after being hit on the back of the neck from a rifling reverse stick shot by a German opponent. She was immediately sent down the tunnel to be assessed. Two USA players were also hit flush in the face during their defeat to the Irish, one of whom gave the thumbs' up to the bench and carried on with no medical attention.

What they said

"We had to ride it out as Japan threw everything that they had at us. Yes, we managed to give away those two goals but it could have been worse had it not been for some good defending."
Australia's Jodie Kenny

"We had a certain amount of confidence that we could win this game, we had done a lot of homework on USA and we stuck to our plan. And you saw it out there, everyone was giving 100 per cent."
Ireland forward Anna O'Flanagan

"USA are one of the best pressing teams in the world and they can put you on the back foot with their physicality. But I thought we were magnificent and I'm incredibly proud of the group."
Ireland coach Graham Shaw

"We dominated possession, we had our corners and we had our chances. If you look at our second half we are really pleased with how we played. It's fine lines but by no means a disaster."
England midfielder Susannah Townsend

Who to watch on Sunday

Carlien Dirkse van den Heuvel (Holland)

Seen as the joker of the team, as well as Dutch captain since January. Leading such a high-profile team, she can walk around Amsterdam relatively unnoticed thanks to her trademark bandana she wears on the pitch.

Delfina Merino (Argentina)

The female world player of the year oversees a talented squad, with an average of 25. Eight of them featured at the 2016 junior World Cup and Merino will want this team to blossom after Argentina finished seventh at the Rio Olympics.

The Hockey Paper


---

Proteas hockey women lose World Cup opener



Proteas stalwart Shelley Jones playing at her fourth World Cup. Photo by Wessel Oosthuizen / SASPA

The Proteas opened their Women's Hockey World Cup campaign with a 3-1 defeat to a relentless German team in London on Saturday.

The margin could have been much bigger had it not been for some superb keeping by Phumelela Mbande between the sticks.

The South Africans went into the second quarter one goal down and knowing full well it could have been much worse if it was not for the shot-stopper.

They managed to keep the Germans out in the second chukka after Viktoria Huse opened their account just before the end of the first period.

The Germans doubled their score shortly after the half-time break courtesy of a field goal by Charlotte Stapenhorst in the 32nd minute.

The South Africans were static in defence in midfield allowing the Germans easy access and a strong point of attack.

They pulled one back when a penalty corner went their way with Lisa-Marie Deetlefs landing the ball in the back of the box on the 40-minute mark to make it 2-1.

Hopes of a fightback and causing an upset were dashed in the 54th minute when Huse planted the knockout blow thanks to a penalty stroke.

South Africa will next face Spain, who are ranked three places ahead of them, on Thursday and Argentina two days later.

The Games


---

Green Army Beat USA 3-1 In World Cup Opener




The Green Army have beaten world number 7 USA in their opening World Cup clash.

It was the perfect start for the Green Army against the USA as Deirdre Duke got the scoreboard ticking in the 5thminute. The vision of Roisin Upton came to the forefront as she picked out Duke and sent the ball the length of the pitch to the waiting UCD stalwart in the circle. Duke still had work to do though as she dragged Jackie Briggs from her goal and rounded her to score from a tricky angle. But the Americans didn't take the goal lying down and Lauren Moyer drew a great sliding save from Ayeisha McFerran in the Irish goal moments later. Gillian Pinder won the first penalty corner of the match and Shirley McCay, Ireland's most capped female athlete, made it 2-0 with one of her trademark sweeps from the top of the circle. Margaux Paolino got the USA off the mark with a well worked penalty corner routine in the 15th minute as she deflected home a sweep from the top of the circle. Irish captain Katie Mullan could have very nearly made it 3 for the Green Army when she picked up a ball in front of goal from Duke but Briggs did well to smother the shot. Ashley Hoffman saw her penalty corner drag ricochet off the crossbar and Melissa Gonzalez's rebound shot on the volley was well saved by McFerran to ensure her side held the lead going into half time.

The Green Army came out of the half time break with the same fire and determination as Mullan drew an early stick save from Briggs. Duke got her second in the 41stminute; great build up play down the right side by Megan Frazer and Evans to set Duke up infront of goal for a composed finished past Briggs. USA won two penalty corners in the third quarter but a mistrap and a deflection wide meant the Irish held the advantage. Duke was hunting for a hat trick as she picked up a super pass from Lena Tice into the circle but her reverse shot fizzed just wide. USA, never a side to be underestimated, started to up the pressure and a snap shot by Caitlin van Sickle drew a superb diving glove save from McFerran in the dying minutes.

Speaking after the match, head coach Graham Shaw said "USA are one of the best pressing teams in the world and they can put you on the back foot with their physicality. But I thought we were magnificent and I'm incredibly proud of the group. One of the most pleasing things was how we saw the game out and I thought we looked really composed, we stayed disciplined and structured, and we're over the moon with that result".

Vitality Hockey World Cup, London

Ireland 3(Duke x2, McCay)
USA 1(Paolino)

Starting: N Evans, K Mullan (Captain), S McCay, G Pinder, R Upton, A McFerran, C Watkins, L Colvin, H Matthews, A O'Flanagan, Z Wilson

Subs: G O'Flanagan, Y O'Byrne, M Frazer, E Tice, N Daly, D Duke, A Meeke

Ireland's Pool B Vitality Hockey World Cup Fixtures:
Ireland 3vs1 USA 21/7/18 6pm
Ireland vs India 26/7/18 2pm
Ireland vs England 29/7/18 7pm

Irish Hockey Association media release


---

Ireland Downs USWNT in Vitality Hockey Women's World Cup Opener



Kat Sharkey in action agains Ireland. Image Taken by Mark Palczewski

LONDON, England - At the Lee Valley Hockey and Tennis Centre at the Queen Elizabeth Olympic Park in London, the U.S. Women's National Team met FIH Hero World Ranked No. 16 Ireland in their first pool play game of the Vitality Hockey Women's World Cup. An exciting match-up saw the Green Army jump to an early 0-2 lead before USA tallied one back, but that wasn't enough for a determined Ireland side that took the game 1-3.

From the starting whistle, Ireland applied a lot of pressure on USA. The Green Army's avid attack paid off early as a long ball threaded through the field found Deirdre Duke wide open at the top of the circle. Upon receiving, she was faced 1v1 with USA's goalkeeper Jackie Briggs (Robesonia, Pa.), turned and tucked it into the goal for a 0-1 lead. USA continued to struggle with possession passes resulting in quick transitions for Ireland. In the 12th minute, Ireland earned their first penalty corner that Shirley McCay swept successfully into the corner to make it 0-2. Following the two-goal deficit, USA picked up the tempo. A close chance came when Melissa Gonzalez (Mohegan Lake, N.Y.) used her speed to get it up field to Jill (Witmer) Funk (Lancaster, Pa.) who dodged an Ireland defender but was stopped by goalkeeper Ayeisha McFerran. Fighting until the quarter ending whistle, Michelle Vittese (Cherry Hill, N.J.) drove the right baseline and earned USA their first penalty corner. A fake, dump right sweep was send down by M. Vittese that Margaux Paolino (Villanova, Pa.) deflected it in to tally one back for USA, 1-2.

To the start second quarter, the Green Army continued to be an offensive threat and exploited USA's uncharacteristic turnovers. A close chance came for Ireland when two strikers linked up from baseline to penalty stroke, but USA's goalkeeper Briggs came up big with the save. USA started to find space to attack as play went stagnant between the 25-yard lines. USA had a penalty corner before the quarter was over but Ashley Hoffman's (Mohnton, Pa.) drag flick attempt was deflected off the crossbar to keep the score 1-2 to Ireland.

The forward momentum continued for Ireland at the beginning of the third quarter, but USA gathered their share of shots on goal. In the 41st minute after an unsuccessful penalty corner by USA, miscommunication on who's possession it was resulted in an Ireland fast break. The ball ended up with Duke shooting it at close-range through Briggs to extend the lead to 1-3.

With fifteen minutes left to close the gap, USA picked up the energy in the fourth quarter, producing circle penetrations, one after another. Caitlin Van Sickle (Wilmington, Del.) got off two solid shots on goal, with the latter being saved by a diving McFerran's glove. USA continued to fight until the end but could not break through Ireland's defense for an outcome as the final score stood 1-3 to Ireland.

Following the loss, Janneke Schopman, USWNT Head Coach, noted that the team has to execute the set game plan from the start. "We need to play the game as it develops, be proactive, keep confidence and use our ability and strengths," added Schopman. "We have to get to the ball first and play it around."

The U.S. Women's National Team will face host nation England on Wednesday, July 25 at 3:00 p.m. ET in their second pool play match. Earlier today in Pool B, India scored first and England found an equalizer as the match finished in a 1-1 tie.

USFHA media release


---

Ireland stun USA in London opener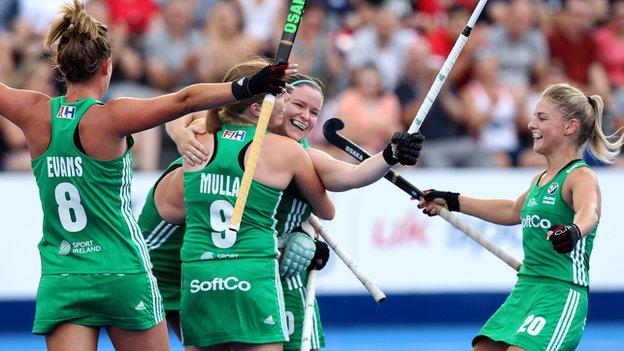 Delight for Ireland after Shirley McCay finds the net against the USA in the World Cup opener

Two first-quarter goals helped Ireland to upset the United States in their opening World Cup match in London.

Deirdre Duke and Shirley McCay scored inside the opening 11 minutes to give Ireland an early lead before Margaux Paolino pulled a goal back for the US.

Duke fired home a controversial third goal for the Irish on the counter-attack with four minutes left in the third quarter.

Ireland top Pool B after England and India drew their opening game.

Ireland, who are ranked 16th in the world, made the perfect start against the seventh-ranked US when they scored after just four minutes.

A clever pass by Roisin Upton found Duke in space at the edge of the circle and she cleverly took the ball wide of goalkeeper Jackie Briggs before scoring from a narrow angle.

Sliding stop

Ireland keeper Ayeisha McFerran was called on to make an early sliding save from Lauren Moyer before Ireland went back on the attack and forced the first penalty corner of the game through Gillian Pinder.

From that penalty corner, McCay swept a low shot into the bottom corner to double Ireland's advantage.

The American response was almost instant as McFerran had to make another save before a well-worked penalty corner routine found Paolino unmarked at the post and the forward was able to deflect the ball into an unguarded net.

Katie Mullan missed a glorious chance to restore Ireland's two-goal advantage five minutes into the second quarter but she could not control Duke's pass and the US defence was able to clear the danger.

Ashley Hoffman's drag shot was deflected by McFerran onto the Irish crossbar and she then had to save a follow-up by Melissa Gonzalez.

Mullan went close 30 seconds into the third quarter before Duke's controversial second goal as the Irish launched an attack from an American short corner.

The American's strike appeared to have deflected off Mullan's stick but officials ruled the shot as a wide.

With the US committed in Ireland's half, expecting a short corner, Nikki Evans found an unmarked Duke, who fired past Briggs.

The Americans piled on the pressure in the final quarter, with Player of the Match McFerran pulling off another great save from Caitlin van Sickle as Ireland held on for a famous win in what was their first World Cup match in 16 years.

BBC Sport


---

England 1-1 India



Owsley scores at the World Cup

A late strike from Lily Owsley saw England come from behind to grab a point in their Vitality Hockey Women's World Cup opener with India.

Neha Goyal gave India the lead in the first half against the run of play but England battled hard and scored a late equaliser with six minutes remaining.

A huge crowd of 10,500 filled the Lee Valley and Hockey Tennis Centre and provided an incredible atmosphere for the opening session of the tournament.

Next up for England are the USA as they continue their campaign in pool B on Wednesday night in front of another bumper crowd.

 Speaking after the game head coach Danny Kerry said: "I think as we are competitive people we can become fixated with the result and we are probably disappointed with it but focusing on the level of performance particularly in that second half we absolutely dominated and I can't ask for more.

"We will look hard at the detail around our penalty corners which were the difference today. We had nine they had none. The atmosphere was amazing, you could really feel the crowd getting being us in that second half."

The hosts flew out the traps and won a penalty corner inside the first minute after good work from Ellie Watton. Giselle Ansley's low flick was well saved to stop England from taking an early lead.

India responded and midway through the first quarter had their first effort of the game but Maddie Hinch was able to kick away the effort with relative ease. The sides entered the first break level.

A flurry of penalty corners saw England begin to dominate the contest in the second quarter. However the hosts found Savita in fine form, twice denying Grace Balsdon and also an effort from Suzy Petty on the left-hand post.

Against the run of play India took the lead through Neha Goyal. A cross was crashed into the circle and somehow found its way through several players where Goyal was waiting to tuck home on the back post and give India the lead at half-time.

England came out fighting early in the second half playing with more assertion putting pressure on the Indian defensive line. Plenty of circle entries followed but no clear cut chances until the 42nd minute.

Susannah Townsend got the ball down the left and a powerful run saw her break into the circle, her cut back made it to Sophie Bray but her effort on the backhand couldn't find the target and India took their lead into the final 15 minutes.

It was a courageous effort from England who threw everything at India and with eight minutes remaining opted for a kicking back. The gamble paid off as from another penalty corner England levelled.

Unsworth slapped at goal before a brilliant tackle from Sarah Haycroft allowed Watton to cross to Owsley who turned home from close range to spark loud celebrations.

England Hockey Board Media release


---

India exposed England's defensive vulnerability and porousness in hard-fought draw

Sundeep Misra



India players celebrate the goal against England. Image courtesy: Twitter @TheHockeyIndia

Irrespective of what you might feel as an Indian hockey fan after the 1-1 draw against Olympic Champions England, more importantly hosts and No 2 in the world, India did expose their vulnerability and porousness at the back. All stats point towards the home team, but sometimes numbers are not enough to realise the depth of the opposition, in this case, India. They had a bunch of players who could fire from the hip, but after some initial bursts they chose to switch off the safety lock and play a highly defensive game. Tactically it makes sense to defend in numbers against a team which can play some wonderful hockey in the midfield and on the right flank. But what also did India in was the lack of a freewheeling poacher inside the English striking circle waiting for a throughball or an aerial. England relaxed at the back and the possession stats in the 3rd quarter, 63 percent, testify to England's dominance. It must also be said that India defended cleanly with the mindset of a miser — not a single PC was conceded in that quarter.

In their previous six World Cups, India had won their opening match only once; in Paris 1974 when they beat The Netherlands 1-0. They had also played England once in the opening of the 1998 World Cup, losing by a solitary goal. In fact, playing the Dutch in openers has come to represent somewhat of a hoodoo jinx for India with them having lost four out of their five matches. So taken in perspective, the 1-1 draw against the hosts on Saturday does have a silver lining. It's only their first draw and for the 2nd time in a World Cup they didn't lose their opening game. That gives life, massive confidence and a position where the rest of the teams now walk onto the pitch with trepidation.

However, it seemed England had come in with an aggressive intent when they attacked from the right flank inside of a minute and won their 1st PC. India defended well, covering the angles, the runners fast, hustling both Giselle Ansley and Grace Balsdown. Indian goalkeeper Savita Punia used the pads to good effect, thrice lying down sideways using the pads and her body to block the height and angle. It was surprising that England hardly used the high flick. A lot of credit to the Indian runners who didn't give them space to get into position for a high flick. When once they did try the indirect, Savita Punia saw it early and closed the angle to the post.

Good defending leads to counter-attacks and the best ones usually slice through the middle. The more you pull to the left and right flanks, that extra second gives the defence the much needed second or two to come back. India had two splendid opportunities in the 1st quarter – Navjot Kaur, Lalremsiami and then Nikki Pradhan blew chances which either was not trapped well or the push was too weak. For a team that is ranked eight spots below the opposition, some players need to be told to never look a gift horse in the mouth.

The first quarter ended with England having more than 60 percent possession and two PCs blown away. India may not have had domination but they had counters and an equal number of chances in the English striking circle. They also walked off knowing a drawn 1st quarter was a credit to them. In front of their fans, England needed early goals to show their ascendancy; but now their confidence, if not dented, was definitely shaken.

Deepika led in the 2nd quarter with a few forays and dribbles that showcased confidence and also pushed the English back on the left flank. Alex Danson was creating trouble with her pacy runs and silken skills, the swish cutting past three or even four defender sticks. But India hung on with some highly structured defending. They didn't lose formation even when rattled with three PCs. With five PCs blown up in smoke, forwards unable to break through, England was losing out on ideas. India was playing and enjoying themselves. Errors were there in the midfield but elsewhere they played tight and compact hockey. The goal came in the 25th minute. England was sloppy. India played on that fact and when Nikki Pradhan hit the ball into the circle, it went of a defenders knee, rose but not dangerously, reached Navjot who tapped it inwards towards Lalremsiami but the ball evaded sticks, feet and reached Neha Goyal whose push beat the England goalkeeper Maddie Hinch. For the Sonepat girl, there couldn't have been a more joyous occasion; the first match of a World Cup and scoring against the Olympic Champion.

The 3rd quarter should have seen England going all out. But they gave away too much by constantly attacking from the right — more than 60 percent of their moves coming from there. There was no sudden switch of flanks either. For India it became slightly easy to contain them. The Indian defence let them in as they used space and time and then plucked the ball away to safety. It was also the quarter where Susannah Townsend gave full rein to her sublime skills that made her such an integral part of the gold medal winning 2016 Rio Olympics team. Time and again, she did switch positions but Sunita Lakra, Deepika, Deep Ekka and Gurjit Kaur didn't lose their structure. Townsend, unable to break through, sent the ball back to the top of the striking circle. England were getting frustrated. India knew what to do. Sophie Bray had a lovely ball cut in by Townsend but the connect wasn't top class.

England had 63 percent possession but no PCs and goals. After the match, England coach David Ralph, said, "India were playing negative." On the other hand, Kate Richardson, 2016 Olympic gold medallist and now analyst after a playing career with over 370 caps, gave credit where it's due, saying: "India deserved the draw because they used the defensive tactics brilliantly and kept the English away."

The 4th quarter was the most open. The game moved back to the midfield and the Indian defence, under the siege so far in the game, did breathe a bit. It was in this quarter that India should have used the high ball. After England's 6th and 7th PCs, the England coach pulled off the goalkeeper Hinch and used a kicking back. There was a window of a few minutes where India could have seized the initiative but they still packed the midfield instead of stretching it. Lalremsiami's speed, Rani Rampal's vision and Vandana Katariya's stick work could have been used on counters to get a second goal. In fact, a few minutes before Hinch was pulled off, Lalremsiami had a chance but the deflection, though well taken, whizzed wide off the post.

And then just after the 9th PC, Deepika committed an error. Deepika, still with the face guard on, had the ball and the opportunity to clear, but the back lift was too much in her effort to smash the ball away. England snatched away the ball and Lily Owsley scored the equaliser. At 1-1, the match had been reignited.

Both the teams now didn't want to stretch their resources. India were looking at taking home a point and England didn't want to give India another chance. Indian coach Sjoerd Marijne said the English goal came off an error and that the player concerned (Deepika) was in tears. "But I am happy that the team wants more than this," said a delighted Marijne.

If there are any regrets in the Indian camp after the draw, it would be that they couldn't create any PCs. But while playing defensive structures, it's only counters that India could rely on. With less forwards up front, no goalmouth melees, PCs would always be a rarity.

Before the World Cup, goalkeeper Savita Punia had said she would want to correct the errors of Rio Olympics and the mistakes of the CWG bronze medal match against England. She did more than that, making at least six match-defining saves. Only in the next two matches against Ireland and USA would we know if the Indian women can build on the draw against England and redefine their previous lacklustre World Cup campaigns.

FIrstpost


---

Confident start by Indian women at the World Cup

s2h team




When India defeated the reigning Olympic gold medallist England at the Gold Coast Commonwealth Games early in the year, it lapsed into recess of memory as a one-off burst. It was perceived so because India went down tamely within days when they again met for the Bronze. Now, its time to forget the drubbing as the one-off and the real strength is the defeat of England. Indian girls thus improved their image when the thousands in the stands failed to get their home team thrash India. Contrarily, India braved the stands, and the Rio image of England to force a creditable 1-1 show.

On a right flank attack by Monica who entered the circle only to be obstructed. India got a free hit which she relayed to top of the circle where Nikki Pradhan trapped it neatly and sent a through pass towards left corner of the circle, where Navjot Kaur got a rebound and sent it towards goal even as Monica and Lalremsiami tried to intercept the diagonal ball, hawkish Neha turned her body half way to guide the ball gently into the goal from very close quarters.

Stunned England went for a referral, quoting the ball that Nikki sent in was raising and hit a defender high before entering the circle. Thankfully for the Indians the third umpire did not agree with the protest, went by what the field umpire's decision.

India played a patient game, structured at that, to control the threatening forwards of the well-respected England. Once that I done, the time has come to push up the scoreboard. At 25th minute, artistic Neha Goyal did it exactly. The goals survived another 30 minute.

Lily Owsley enlivened the home crowd with gem of a goal (1-1), which stood test of time for the next six minutes.

It was the basic error of experienced Deepika Thakur that cost India a win. The penalty corner ball came to her close to right post after weak deflection by the goalie. Even as two forwards are closing in on her, she raised her stick to hit the ball, only to see Owsley snatch the ball and sent home.

Deepika could have covered the ball, or at least pushed hard outside, instead of harried hit.

Stick2Hockey.com


---

Well begun is half done, India draw with the hosts

By B.G.Joshi (in Lee valley hockey stadium, Olympic Park, London)

10th ranked Indian girls played with grit and gumption against World Number 2 England (Olympic Champions as Great Britain in Rio 2016).

In 25 minutes Nikki Pradhan free hit struck Martin Hannah legs, ball reached in D. Navjot Kaur with passion has eyes on ball, she retrieved the ball on her right in the crowded defence. Neha Goyal kept his cool and hit the ball in the goal. Seasoned English Goalie Maddie Hinch has no answer for it.

In the 52nd minute, India had a chance to extend their lead as their forward Lalremsiami was found inside the striking circle but the young striker failed to deflect the ball onto the target.

England took off their GK for full press with 11 field players. This tactics worked and India conceded penalty corners.

On 9th PC Deepika fails to clear GK Savita save and Lily Owsley equalized in 54th minutes.

Before this under England's constant pressure in 20th minutes on 3rd PC, Japanese Umpire Emi Yamada pointed the dreaded spot (Penalty Stroke), but South African Video umpire Joubert Michelle made decision for another PC as ball was heading to go out.

It was 7th drawn match between these two in 30 encounters. India wins 3 only. To reach in quarter finals India needs play like opening match against USA and Ireland.

India will play next match against Ireland on July 26. Statistical highlights of these two teams are:

India vs. Ireland(Women)
Particulars

MP

W

D

L

GF

GA

Total

23

6

3

14

23

40

In  World Cup

Will play first time

Last Played in Johannesburg World League, July 2017, India lost 1-2.
 Fieldhockey.com


---

England come from behind to draw with India

England made a nervy start to their World Cup campaign as they came from behind to draw 1-1 with India.

The tournament hosts fell behind when Neha Goyal gave India a surprise lead after 25 minutes.

England looked the stronger team and created plenty of chances but had to wait until seven and a half minutes from the end to find their equaliser.

Lily Owsley, back after missing the Commonwealth Games with injury, scored when a penalty corner was not cleared.

England, ranked second in the world, beat India 6-0 in their last meeting - in the bronze-medal match on the Gold Coast.

England coach Danny Kerry told BBC Sport he was pleased with the way his team played.

"I need to get away from the result and think about the performance, particularly in the second half where there was just one team in it," he said.

"It was just whether we could get the luck to go our way.

"I'm proud of how we did after the break where we utterly dominated.

"That is the best Lily has played since she has come back from her broken hand and it gave us a bit of an edge."

England's next game will be against USA - who lost 3-1 to Ireland in their opener - on Wednesday.

BBC Sport


---

Lily Owsley rescues England with late goal against India in Hockey World Cup

Nick Ames at the Lee Valley Hockey Centre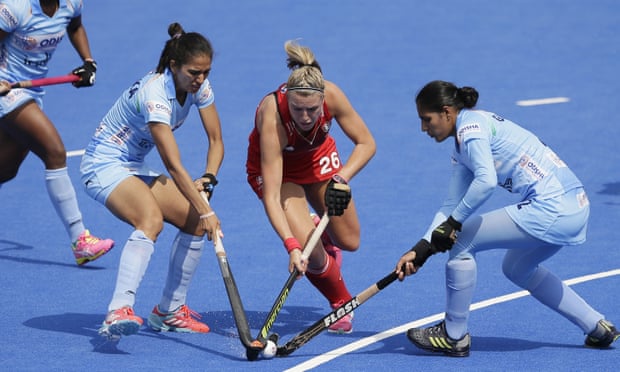 England's Lily Owsley is tackled by two India opponents in the home nation's opening match of the World Cup at Lee Valley Hockey Centre. Photograph: Tim Ireland/AP

Six years ago Lily Owsley was watching inside the Olympic Park when Team GB won bronze in the women's hockey event and further garlanded a glittering, gleaming summer for British sport. Now she may have played her part in continuing a similar feelgood factor, this time wearing an England shirt, and the intervention could hardly have been more timely.

England were nearing a surprise defeat to India on the opening day of the World Cup and an expectant capacity crowd in Stratford looked likely to leave deflated. Owsley's opportunistic finish six minutes before the end changed that and, while this was not the result Danny Kerry's side wanted, the timing of the strike ensured they keep their momentum in a tournament for which their hopes are sky high.

This was the kind of glorious sporting day this corner of east London has made its speciality. There is still something fuzzily reassuring about international events that take place here; this time it was pink-clad Hockey Makers offering the welcome, London Pride filling the pint glasses and an array of visiting club groups adding to the chatter among a crowd that, by the time England's game began, had hit a sellout 10,000. The wave of optimism around Gareth Southgate's football team had sparked a willingness to be delighted once again but that went in tandem with something else, too.

"Our vision is to become a nation where hockey matters," the England Hockey chief executive, Sally Munday, had written in the official event guide. It is becoming that way, and that is largely because the success of both England and Great Britain is impossible to ignore. England won the women's EuroHockey championship at this venue in 2015; the following year Great Britain became Olympic champions so memorably, both triumphs coming after defeating the Netherlands on penalties, and such cumulative excellence gives the sport an opportunity it has rarely had before.

That is why it was so important England, ranked second in the world, did not falter against an India team they had beaten 6-0 in the Commonwealth Games bronze medal match three months ago. After a fast start they became frustrated by their opponents' intense press and, by the time Neha Goyal scored for India 25 minutes in, the support had been reduced to near-silence. It took a ferocious response after half-time for England to turn the tide and when Owsley finally made her mark, diverting the ball into an open goal after Ellie Watton had done superbly to salvage the latest in a seemingly endless stream of squandered penalty corners, the reward for a performance of growing conviction was just.

"Instinctive, desperate, whatever you want to call it," said Owsley, who scored in both of those finals against the Netherlands and, for a 23-year-old, has had a remarkably eventful career, of her leveller. "There was no minute in the game where I didn't believe the goal was coming. They are a strong side and implemented some clever tactics against us but I felt our fitness and athleticism really began to show in the second half. We're so happy to have a point on the board; there's a big difference between losing the first game and getting any kind of result. These tournaments are all about momentum."

It was enough to see England applauded off warmly and the tournament's organisers could reflect on a spectacle that, starting earlier in the day when Germany outclassed South Africa en route to a 3-1 win that flattered their opposition, did the sport a service. It helps when clarity and candour are welcomed with such open arms. While VAR has caused ructions within football, partly due to a lack of communication with supporters about decision-making, hockey's video referral system was shown in all its glory here.

Teams are allowed one appeal per match, while the umpire can request a second opinion on goal decisions. When England, so dominant early on, thought they had earned a penalty stroke after Grace Balsdon's penalty corner stuck an opponent's foot near the line, India immediately requested a second look. To the backing of a Who Wants To Be A Millionaire-style suspense track, the video official got to work while the PA announcer explained exactly what was going on: that India felt the ball had struck a stick first and it was not the defender's body that had prevented the goal. Their claim was upheld; justice had been carried out with an entire stadium of spectators feeling fully in the loop.

England made an appeal of their own relating to Goyal's goal but that was swiftly ruled out; the ease and openness of the process was notable all afternoon and added to the fresh, fast-moving feel of the entire event. Other bursts of audio included lines from Shampoo's 1994 hit Trouble whenever a player received a green card; frippery, perhaps, but on balance good-natured and unobtrusive.

More of the same might give those watching this time round the impetus to follow in Owsley's footsteps. "In that moment I felt a million miles away from them; they seemed like superhumans," she said of that 2012 squad, who would soon become friends and teammates. If England gather themselves to go all the way, it may be a fitting description.

The Guardian


---

India fall prey to late equaliser, draw opening game against hosts England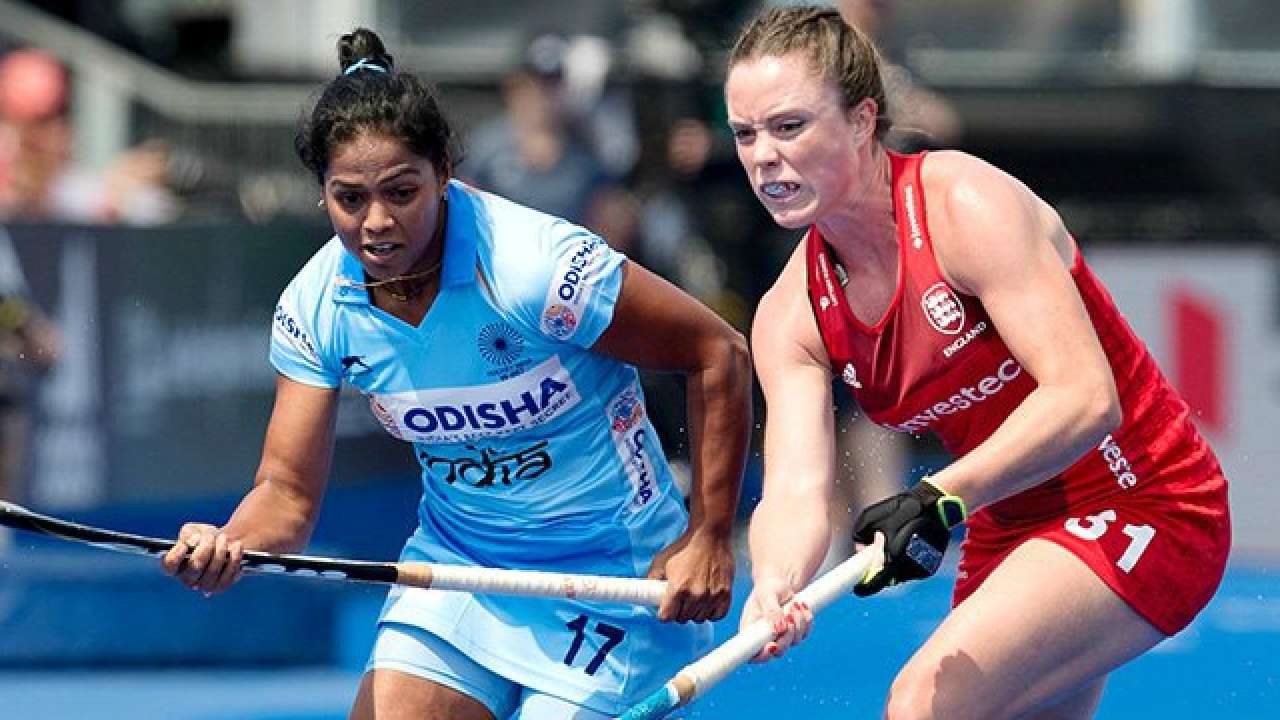 India and England in action on Saturday. Twitter (@TheHockeyIndia)

India produced an impressive display before conceding a late goal to play out a 1-1 draw against world number two England in their opening Pool B match of the Women's Hockey World Cup on Saturday.

Neha Goyal gave India the lead in the 25th minute before Lily Owsley equalised from a penalty corner in the 54th minute. World number 10 India punched above their weight and gave England a run for their money in the keenly-contested duel.

India matched higher ranked England stick for stick in the opening two quarters even though the hosts had more scoring chances with five penalty corners coming their way. But the Indian defence was up to the mark with goalkeeper Savita Punia stealing the limelight with some brilliant saves to keep England at bay. While India looked promising on open play, the home team kept on earning penalty corners.

England earned their first penalty corner inside 32 seconds of the game and then another in the eighth minute but on both occasions the Indian defence kept a tight vigil to keep their goal out of danger. England earned two more penalty corners in the second quarter but on both occasions, Savita showed great reflexes under the bar to keep the danger away.

The Indians, on the other hand, caught the English defence off guard on more than one occasion from open play. From one such occasion, India broke the deadlock in the 25th minute through Neha Goyal who found herself at the right place at the right time to direct the ball into the net and stun the hosts.

The Indians showed great fighting character to go into the halfway break by a slender one goal advantage. They kept a tight vigil after the change of ends and managed to hold on to their lead throughout the third quarter with impressive composure.

Trailing by a goal, England attacked in numbers in the final quarter in search of the equaliser but the Indians defended their citadel well and maintained their control over the proceedings. In the 48th minute, England secured another penalty corner but once again the Indian defence stood tall to thwart the danger.

Five minutes later, England were awarded another set piece and they finally utilised the opportunity to draw level. Though Indian goalkeeper Savita blocked the initial attempt, Owsley found the target from the rebound as Indian defenders failed to clear the ball.

It was a much-improved performance from the Indians considering the fact that they were hammered 0-6 by England in the bronze medal match at the Gold Coast Commonwealth Games earlier this year. Interestingly, the Indians had registered a 2-1 come-from-behind win over the same English side in the group state of the Commonwealth Games hockey competition. India will play Ireland in their next Pool B match on July 26.

Daily News & Analysis


---

Hockey India congratulates Namita Toppo on completing 150 International Caps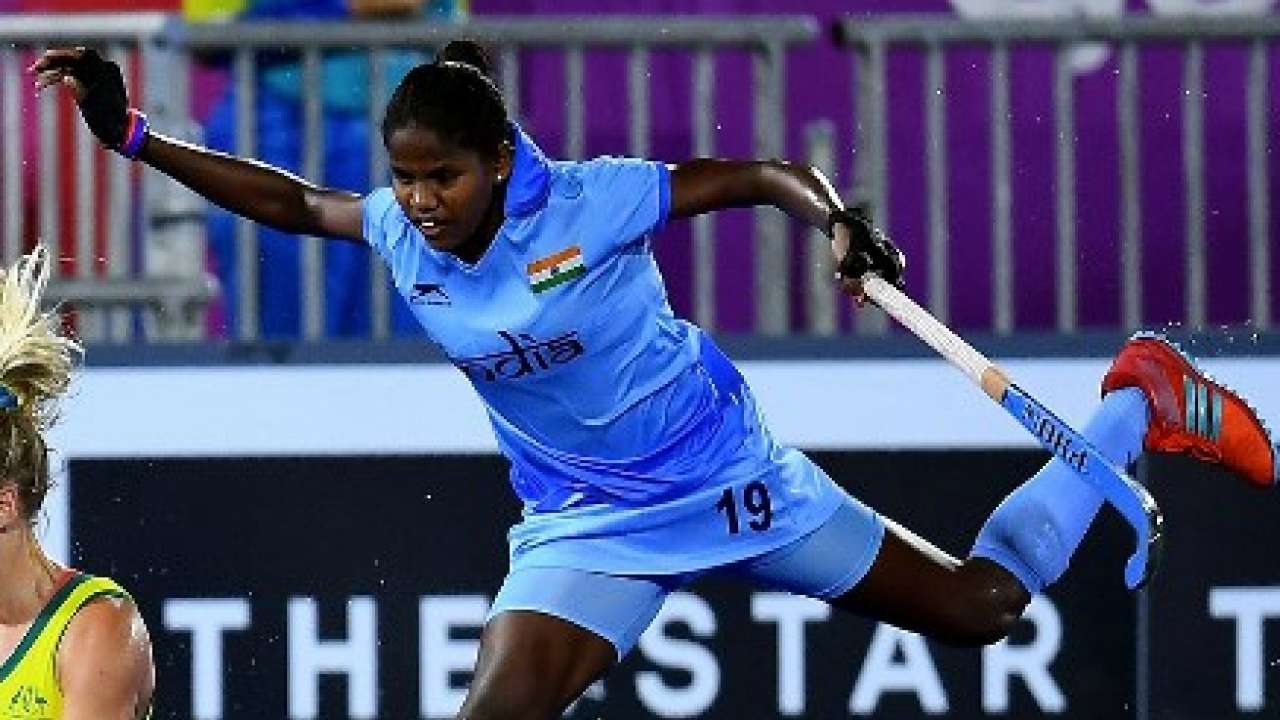 Namita Toppo - File Photo, AFP

Hockey India (HI) has congratulated midfielder Namita Toppo for completing 150 international caps for India. Toppo reached the milestone on Saturday during the Indian women's team's opening match of the World Cup against hosts England.

The 23-year-old from Odisha made her International debut for the senior team in the FIH Champions Challenge I in Dublin in 2012. "I would like to congratulate Namita Toppo on completing 150 International Caps for India. She is a player who brings stability to India's midfield and helps the team in transitioning from defence to attack quickly," said Md. Mushtaque Ahmad, Secretary General, Hockey India.

"Her contribution during the six years since making her debut has been immense and has seen her win many medals. I would like to wish Namita the very best for the future and hope that she keeps contributing to the team's victories."

The young midfielder first represented her state team in 2007 and her performances in the domestic competitions saw her getting selected for the girls U-18 Hockey Asia Cup in Bangkok, Thailand held in 2011 where the Indian team won the bronze medal.

Toppo's hard work and consistent performances in the domestic circuit saw her getting selected to represent the Senior team in 2012 when she participated in the FIH Champions Challenge I in Dublin. Next year Toppo became a part of the Indian junior team which won the bronze medal at the junior world cup 2013 held in M nchengladbach, Germany.

The youngster has since participated in major tournaments like FIH World League Round 2 held in New Delhi in 2013 where India won the gold, 3rd Asian Champions trophy in 2013 where India won the silver medal. She also participated in the 8th Asia Cup 2013, 2014 Commonwealth Games held in Glasgow, 17th Asian Games 2014 where India won the bronze medal, 2016 Rio Olympics and the most recent being the team's silver medal victory at the 9th Asia Cup 2017 held in South Korea.

"I feel extremely proud to have represented the nation for 150 International matches. For me, it is just a start as I am quite young and I look forward to playing many more games for the country," Toppo said. "It is a promising phase for Women's hockey in India and it is important for us to perform well and keep winning trophies to make the fans proud of our team."

Daily News & Analysis


---

Kerry reflects on England's draw with India




Head coach Danny Kerry praised the 'amazing' atmosphere as his England side battled back to draw with India.

The sides contested in front of 10,500 fans at Lee Valley Hockey and Tennis Centre in an entertaining contest with Lily Owsley netting a late equaliser.

Kerry noted the part that the crowd played in the match, he said: "It was amazing. An incredible atmosphere and you could really feel the crowd getting behind us especially in the second half.

"Everyone really got behind us and fed off the urgency and intent of what we were trying to do. It was amazing."

With time running out England opted for a kicking back removing Maddie Hinch from goal and the gamble paid off as Owsley equalised. Kerry explained the decision: "Maddie had absolutely nothing to do in the entire second half so rather than leave it too late we said let's do it now.

"The conversation while the corner was going on was that if we score shall we bring her back on so it made sense when did to bring Maddie back on as we expected India to try and play and threaten in the final minutes.

"I think the best way to sum it up is that we are competitive people and sometimes wrongly fixate on the result so we are probably disappointed. But if we focus on our level of performance we dominated and I can't ask for more."



Owsley celebrates

Goalscorer Lily Owsley said after the match "I'm feeling good after that game, we got a point when we were behind for much of the game. It felt like the whole crowd was behind us, and it really pulled us back in the last quarter.

"It was emotional, and I feel so proud to be part of this team and part of this amazing event, I wish we could have given everyone who came out today three points."

Looking forward to the rest of the event, Lily said "These tournaments are all about momentum, you snowball it and take the good out of games like these. We will learn from this game, we showed a lot of strength and character, and I'm sure we'll carry it through to the next match against the USA."

England Hockey Board Media release


---

Hockeyroos Open World Cup With Hard-Fought Win

Ben Somerford




The Hockeyroos' 2018 Women's World Cup campaign has commenced with a 3-2 victory over Japan at the Lee Valley Hockey and Tennis Centre in London on Sunday morning (AEST).

Australia raced to a three-goal lead five minutes into the second half before Japan rallied but the Hockeyroos held on for three points to start the World Cup.

Newcomer Rosie Malone (17'), Emily Hurtz (22') and Jodie Kenny (35') scored the goals for the Hockeyroos, who overcame a nervous and cagey first quarter.

Motomi Kawamura (36') pulled one back immediately after Kenny's drag flick and while the Japanese piled the pressure on late, they only netted their second goal through Akiko Kato with under 25 seconds left.

The result puts Australia top of Pool D with three points, with New Zealand and Belgium to play on Monday morning (AEST).

Australia are next in action on Tuesday night (11pm AEST) against Belgium.

Malone, who was only added to the national squad in May and opened the scoring in her first appearance at a major tournament, said: "This amazing crowd excites you.

"I was ready to go and I was in the right place at the right time.

"We practice that 1000 times and it paid off, so I'm stoked."

Australia had the best of the chances in the opening quarter, with Brooke Peris setting up both Hurtz for a backhand opportunity and Kathryn Slattery for a diving deflection within two minutes, only to be denied by Japan keeper Megumi Kageyama.

The Hockeyroos won the first penalty corner of the contest late in the first, but Kageyama denied both Kenny and Georgina Morgan.

Australia made their dominance count after Stephanie Kershaw won a 17th minute penalty corner, with Malone deflecting into the roof of the net from Morgan's drag flick.

The goal was Malone's fourth for Australia in her ninth cap, having only debuted in January.

Peris spurned a good one-on-one chance to make it 2-0 a minute later, before Hurtz doubled the side's lead.

The Victorian forward tapped in from close range in the 22nd minute after Slattery's shot rebounded to her off the post.

Grace Stewart won Australia their third penalty corner in the 35th minute and Queensland mom Kenny stepped up with a trademark drag flick into the top corner to make it 3-0.

Japan immediately responded with Minami Shimizu driving forward, before laying off to Kawamura whose reverse stick shot beat the advancing Australia keeper Rachael Lynch.

Australia survived a goalmouth scramble moments before three-quarter time, with the ball trickling under Lynch and wide of the post.

Malone sent a shot on the turn narrowly wide from a 47th minute penalty corner, but from there Japan dominated with numerous circle penetrations.

Lynch and Australia's defence held firm, until the dying seconds when Kato forced the ball home at the second attempt from point blank range.

Australia 3 (Malone 17', Hurtz 22', Kenny 35')
Japan 2 (Kawamura 36', Kato 60')

Hockey Australia media release


---

Black Sticks coach and captain reach ten years on the job together

OLIVIA CALDWELL



Black Sticks captain Stacey Michelsen is only 27 and has already been in the team a decade, she has no plans to retire after the world cup. ANDREW CORNAGA/PHOTOSPORT

When a decade flies by without realising it, you know it is a solid partnership and that is exactly what Black Sticks coach and captain combo Mark Hager and Stacey Michelsen have achieved.

Hager took over the coaching reigns in 2009 when the team was ranked a lowly ninth place and were fresh out of an unsuccessful Olympics campaign.

In rolls young midfielder Stacey Michelsen, just 17 at the time, and she has held firmly her place in the team to become one of world hockey's most respected players.



Black Sticks captain Stacey Michelsen and coach Mark Hager have been with the team since 2009 and this will be their third world cup. KERRY MARINKOVICH/STUFF

The Hager/Michelsen combo will kick off their third Hockey World Cup together on Sunday (NZT), with a team not indifferent to the Commonwealth Games gold medal winners in April.

"It's been pretty incredible over the past sort of nine, ten years to continually build and improve as a group and I think that is something that has been so pleasing and why it is such a special group to be part of because we are trying to continually keep improving," says Michelsen.



Veteran Black Stick and captain Stacey Michelson will be a strong influence in the midfield for her team as the kick off their world cup campaign on Sunday. STEVE BARDENS

"We certainly haven't ticked off everything that we want to and we have fallen short at times, but the end goal is to just keep achieving and that is something that Mark really promotes within our group and installs a belief that we can continually keep achieving."

The London tournament is likely to be Michelsen's last world cup for the Black Sticks, and she says there is a special feeling within this team that they can achieve what no other Black Sticks women's team has before by winning it. They are calm, excited and taking nothing for granted, she says.

"Definitely mixed emotions at the moment. I think everyone is certainly excited, but probably equally nervous at the moment.

"Obviously it is a massive event and it only comes around every four years, so we are all very much aware of the importance of performing here and we all definitely want to do that."

Michelsen's first world cup was in 2010 in Argentina where the Black Sticks were placed seventh and then four years later they were knocked out before the semi finals again to be placed fifth in the Netherlands.

"We certainly felt like we had the group to do something special and unfortunately we didn't perform  well enough through pool play so missed out on the semi finals

"This time round there is certainly a lot of desire among the group...There is a really good feeling among the group and we are definitely excited to try and do something that no New Zealand women's team have done before."

Since her and Hager got on board the team has climbed to fourth place in world rankings, won gold, silver and bronze at the Commonwealth Games and become a real threat to hockey super powers such as Australia, Belgium and Germany.

Last week the team blew off the jetlag in the Four Nations in Munich having a win against Germany and losing to both Argentina and world champions the Netherlands.

Michelsen says keys for her team are doing what they do best, defence. As well as taking the opportunities in the attacking circle, something her side has continually struggled with.

"Field goals for us definitely haven't been our strength. We absolutely have to be more clinical in the front third to put away opportunities, because we certainly do create enough."

Michelsen's ten years with Hager and a handful of team mates have gone with a blink of an eye, but she has no immediate plans to return form the game she loves.

"For me personally obviously the next world cup is going to be another fours years away  so I have no idea wait ill be doing come four years time."

Hager says the team has prepared well in their Four Nations campaign and he was confident his team had the goods to go further than before.

"We have been building for the year towards our pinnacle tournament WC, and had some positive performances. Attack and defensive circles are where the games will be won and lost, this is a constant work on."

The Black Sticks have one of the toughest pools with Belgium, Japan and Australia.

Black Sticks World Cup fixtures [all NZ time]
July 23, 6am v Belgium
July 24, 11.30pm v Japan
July 29, 7am v Australia

Black Sticks World Cup squad
Stacey Michelsen (c), Madison Doar, Ella Gunson, Brooke Neal (Northland) Sam Harrison, Grace O'Hanlon, Liz Thompson, Lulu Tuilotolava (Auckland), Sam Charlton, Tarryn Davey, Frances Davis, Shiloh Gloyn, Rose Keddell, Amy Robinson, Sally Rutherford (Midlands), Anita McLaren, Kelsey Smith (Capital), Olivia Merry (Canterbury).

Stuff


---

Get To Know Alison Keogh




Alison Keogh will take to the World Cup pitch in London this week as one of the chosen-few umpires. Below Alison talks about how she began her umpiring journey and how it has brought her to one of the biggest events in sport.

Background

I started playing at 12 as it was the primary sport of my secondary school, Loreto Beaufort in Dublin. Needless to say, having joined the sport quite late, I wasn't very good! Despite this though I loved the game and persisted, gradually getting somewhat better and rarely missing a session. My love quickly turned to passion though when I joined my club Three Rock Rovers at 16. Three Rock quickly became a second home to me and over the next few years I made my way from 5ths to 1sts/2nds, embraced the social side of the club, met some of my closest friends, joined committees, and eventually became club captain. I have a lot to thank the club for in giving me these experiences and opportunities. Probably my most important first experience they gave me though was picking up a whistle and umpiring a game!

When I joined Three Rock, my Dad, who had umpired years beforehand, was persuaded back onto the pitch to umpire some of my games. I quickly began to question him as to why calls were being blown against me. At first this was done politely after a game, but as I began to learn the rules this quickly progressed to on-pitch questioning, which then progressed to on pitch shouting, before eventually becoming post-match rows in the car on the way home!!! Like most people, I was told that I seemed to know the rules so well as a player that I should see how it feels on the other side of the whistle. So, at 19, having never done any other games, I stepped onto a pitch to umpire the Three Rock Ladies 5ths in Division 14, and surprisingly found myself enjoying myself.

It took me a while to fully embrace umpiring as initially I didn't want to give up playing. I umpired 3rds and 4ths club games for Three Rock intermittently before the Leinster Hockey Umpires Association began appointing me to Division 2 games. In my first year of this senior hockey I got a call one night informing me that the European Hockey Federation was running an Umpire Development Programme and that Ireland would like to put me forward if I was interested. If selected a group of young umpires would be mentored over 3 years, involving trips to watch international tournaments, practical weekends at club games in other countries and support for any questions etc., that you may have. The idea was to fast-track and support individuals to international standards. It wasn't a decision I made lightly as I still loved playing, but I took the faith of those around me and decided to put myself forward. Thankfully I was chosen and from 2009 to 2012 I was part of the UDPs Group 4 We were brought on weekends to the Euronations, the Indoor World Cup, the EHL and practical weekends in Dublin and Glasgow. All the while during these three years I was doing less and less playing, and more and more umpiring, including my first international tournament which was the u18 Europeans in Holland in 2011. It was a gradual process but by 2012, at 24, I was umpiring every weekend.

I was awarded my FIH international badge in 2013 following the EuroNations C Division competition in Greece. By then I was doing Division 1 in Leinster, progressing to the IHL and then the EYHL when it began. Umpiring is much like driving a car though, its only when you have your license that you really learn how to drive! There are four further grades of international umpire ahead of the FIH badge, so I realised that if I wanted to go to the top, I still had a lot of work to do! Since I earned my badge I have umpired an Irish Senior Cup final, four IHL/EYHL finals, 11 u21 international matches, and 43 senior international matches. Those matches have taken place at a range of competitions and venues including the u21 Euronations in Belgium, the Junior World Cup in Chile, the Euronations in Holland, and the World League Finals in New Zealand, progressing up the ranks to the World Development Panel (the 2ndhighest rank). Listing them like that makes them sound easy but there was a lot of learning experiences and challenges in between all of those tournaments and years! 

Best and worst parts

Umpiring challenges depend on where you are in your own progress, but it also depends on the game itself. Initially when I started umpiring the hardest thing was actually knowing where to stand, and what to call! I could see fouls happening, but I couldn't work out which came first, and then often forgot to call anything at all! Needless to say some of these games weren't enjoyable as I knew I wasn't always being consistent, or calling the right things, and players naturally got frustrated by this. However, through listening to the advice I was given, by attending training courses, and by simply getting out on the pitch to expose myself to more games I gradually started to realise where I had to stand and how to manage situations. The higher you go, the decision making actually become easier believe it or not! But the challenges change. There's obviously more pressure and scrutiny the higher you go so the mental side of your game becomes more important. Mistakes happen, so it's important to make sure that you're able to move on from it once you've made a mistake and not let your standards drop for the rest of the game. That can take a lot of work to get right though, it doesn't always happen easily!

One of the questions I get asked most is why do I do this. That answer is easy! I have travelled the world and most importantly made some great friends. I can honestly say that some of the people that I have met through umpiring are some of my best friends, and are people I stay in touch with even outside of hockey. There are very few things in life that give you that sort of opportunity, let alone one that allow you do that while being involved in the sport that you love. Along with that, umpiring gives me the best seat in the house! There really is nothing like the atmosphere from a crowd as one of the worlds best players makes an attack on goal, and I feel so privileged to be a part of that.

Advice (in general/pre game/pre tournament etc.)

Regardless of what the game is though, whether its club or international, you're always trying to do your best. In my mind the best games I have are the ones where no one talks about the umpiring! To do that I usually make sure I follow a routine. Obviously you've to get a good night sleep the night before a game. On the day itself I usually do a few mindfulness exercises and listen to a specific playlist to help prepare. Coffee is also a must! Pre-game, no matter how often you've umpired with someone, we always have a chat about how we plan to manage the game, areas of control etc., so that as a team we are on the same wave length.

In terms of tournaments, the standards for internationals are so high now that you always need to be physically prepared. We do fitness tests three times a year so obviously making sure you're fit and strong is a critical part of your game and preparation. My gym routine is definitely one of the most important parts of my umpiring. After that, you want to make sure you've tested yourself before heading to a tournament. The LHUA and IHUA are great at giving me a variety of games, including mens, before tournaments as its important to get out of your comfort zone. I would usually get feedback at some of these things too so that I'm focused on what I have to work on. Internationally we have a bank of clips from previous tournaments that we can access online so it's always important to look back over those and see how you can improve, and what you've done well.

Self-reflection is probably one of the things that separates the best umpires out there. It is so important to be able to look back on a game and think about why you made a decision, could you have changed anything, how it all went. If you can recognise this yourself, it means you can continually select the next steps you need to take in order to improve. Starting off, this isn't always easy! If you're really not sure, seek out feedback from people that are more experienced. It's not always pleasant to hear about what you need to improve on but listen to what they say and take the time to work on it. It takes persistence and commitment but it's the only way to keep improving. 

If you've never umpired before and you're worried you don't know the rules there are always 1-2 courses in each half of the season within each province that you can attend, ask questions and clarify rules. There are plenty of us out there who are really willing to answer questions and help new people so I would definitely say to get in touch and you will be helped from there. Throughout all stages of my journey I've been supported so well by both the LHUA and the IHUA, with the support changing and adapting as I have. So please do get in touch! Once you attend these courses there is no experience like getting out onto a pitch so you'll have to go and practice everything you learned but at least you will be able to do it with a bit more confidence!

Irish Hockey Association media release


---

2018 CAC Games (M) - Day 1
Barranquilla (COL)

Results 21 July

TTO v CUB (Pool A)     2 - 1
BAR v JAM (Pool A)     1 - 0
GUY v DOM (Pool B)     3 - 1
MEX v GUA (Pool B)     3 - 0

Pools Standings
Pool A
Pool B
| Rank | Team | Played | Wins | Draws | Losses | Goals For | Goals Against | Goal Difference | Points |
| --- | --- | --- | --- | --- | --- | --- | --- | --- | --- |
| 1 | Mexico | 1 | 1 | 0 | 0 | 3 | 0 | 3 | 3 |
| 2 | Guyana | 1 | 1 | 0 | 0 | 3 | 1 | 2 | 3 |
| 3 | Dominican Republic | 1 | 0 | 0 | 1 | 1 | 3 | -2 | 0 |
| 4 | Guatemala | 1 | 0 | 0 | 1 | 0 | 3 | -3 | 0 |
---

TTO, BAR, GUY and MEX win in tightly contested day of hockey

Damian Gordon



Cuba vs. TTO. Photo: Juan David Armesto

Day 2 featured very competitive matches, with very little separating the teams. The heat came from the hockey as much as the sun with the lower ranked teams showing that they will not be underestimated.

Match 1 Pool A – Trinidad and Tobago (TTO) vs. Cuba (CUB) 

Our first men's match saw a clash of Caribbean power houses. The TTO team playing with the memory of teammate Kwasi EMMANUEL in their hearts. The game got off to a fast start with CUB getting the first few shots at goal, but Andrey ROCKE stayed strong for his team. Both teams used lots of long direct passing, TTO mixing theirs up with more aerial passes. Their strategy paid off when Teague MARCANO gave them the lead with a tap in before the end of Q1. Q2 also got off to a fast start with CUB pushing for an equaliser, but the TTO defence held firm. CUB got a few PCs and deflected shots but still could not score, while MARCANO nearly caught them on a counterattack. Neither team was able to score before the Q2 horn sounded. Q3 started with a more patient TTO team, who kept possession for longer periods. They created more chances and Akim TOUSSAINT narrowly missed his shot. CUB though kept coming forward and were rewarded when Wilfredo SANCHEZ scored to make it 1-1, which was how the quarter ended. TTO were dominating the flow of play now and they regained the lead when Mickell PIERRE slapped home a PC rebound. CUB tried to get back into the game, but Jordan VIEIRA helped the TTO defence keep them out for a final score of 2-1. 

Match 2 Pool A – Barbados (BAR) vs. Jamaica (JAM)

The second match was another all Caribbean clash. The early possession was dominated by JAM who got a few circle entries without forcing a shot. BAR played for the counterattack and it worked when Shonkeel WHARTON beat keeper from an acute angle for a 1-0 lead at the end of Q1. Q2 was similar in that JAM continued to dominate possession but failed to create any goal scoring chances. BAR also made a few circle entries without creating any clear chances. Q2 ended with the score still 1-0 to BAR. JAM continued to push for an equaliser, but the BAR defence was immovable. BAR still looked the more likely to score on a counterattack, but were denied by Giovanni GREEN in the JAM goal. Q4 started with JAM getting desperate and the game getting more physical. With 3 minutes to go and playing with a player on a 5-minute suspension JAM pulled their goalkeeper for the extra field player but the BAR defence remained as immovable as ever for the game to finish 1-0.

Match 3 Pool B – Guyana (GUY) vs. Dominican Republic (DOM)

Our third match featured our third consecutive all Caribbean clash and our first in Pool B. DOM needed a little under 2 minutes to take the lead against GUY. After that the game featured a lot of physical play and tough tackles, but very little in terms of circle action. GUY did earn a 2 PCs but were unable to convert either. Q1 ended GUY 0-1 DOM. Q2 saw GUY earn a few more PCs and DOM create a few circle entries, but neither team was able to score before halftime. The physical nature of the game did lead to a small fracas with in the 25th minute, leading to a player from either team receiving 10-minute suspensions. GUY continued to earn PCs and one of them led to a PS which was converted by Aroydy BRANFORD. DOM continued to defend well and Q3 ended tied at 1-1. With the momentum in their favour GUY started Q4 well and scored two quick PC goals. DOM eventually started to get the ball forward but the GUY defence held firm and the final horn sounded with the score 3-1.

Match 4 Pool B – Mexico (MEX) vs. Guatemala (GUA)

Our final match of the day was a battle of Central American rivals. Higher ranked MEX defeated GUA 14-0 the last time they played and they dominated Q1, pushing GUA into their defensive 23 metre area for most of it. They were unable to get any good shots off for all of their dominance and the first quarter ended 0-0. Q2 was more of the same, with MEX even earning a number of PCs that the GUA defence kept out. When the halftime horn sounded the 0-0 score would have been a surprise result. Q3 started again with MEX domination possession and this time they were able to take advantage of an opportunity to open the scoring with Luis VILLEGAS. After that they continued to struggle to score and Q3 ended at 1-0. Q4 again saw MEX dominate the game and earn multiple PCs without scoring. GUA then got a rare attack, that ended with a shot going over the crossbar. MEX responded with a PC goal from Francisco AGUILAR before GUA again came close with a cross that was narrowly missed on the back post by Jason PINEDA. MEX again responded with a PC goal, this time from Yamil MENDEZ. That was the last major play for the game and the final horn sounded with MEX winning 3-0.

Tomorrow the women play round 2 of their match schedule with JAM vs. GUA, TTO vs. BAR, CUB vs. GUY and DOM vs. MEX. JAM, GUA, CUB and GUY will be trying to recover from opening round losses, while the other teams will try to get closer to semi-final qualification.

Pan American Hockey Federation media release


---

Vantage Black Sticks battle but succumb to India 3-1



Vantage Black Sticks midfielder Harry MisKimmin drives forward another New Zealand attack against India in Bangalore. Photo: Madhav Singh Dogra

The Vantage Black Sticks went down 3-1 to India in a physical encounter Saturday night in Bangalore, as the host nation claimed a 2-0 lead in the best of 3 series.

The Kiwis were determined to start strongly after being stung by an early penalty corner in Game 1 Thursday night. With the two teams playing aggressive hockey the first quarter was a robust affair with both sides looking to gain ascendancy.

The Black Sticks defence stood up and India struggled to create chances. However, after a scoreless first quarter it was India, once again via their PC expert Rupinder Singh who went ahead 1-0 in the 18th minute.

New Zealand striker Stephen Jenness, who has had a successful tour in front of goal, pegged one back, scoring a field goal in the 24th minute, taking his tally to six in six games. At 1-1 the Vantage Black Sticks looked good to go into half time on par, but India managed a late field goal in the 27th minute to creep ahead 2-1 as the first half drew to a close.

The remainder of the match was back and forth as the visitors pressed and tried to break down the Indian defence to get back the deficit and

With the score still 2-1 to India with five minutes remaining, in a final push to salvage a draw from the match, the Vantage Black Sticks pulled goalkeeper George Enersen, in an attempt to snatch an equaliser and something to play for in Game 3,  But it was India who caught the Kiwis out on the counter attack with a goal in the dying minutes to Mandeep Singh to seal the win and run out eventual winners 3:1.

"Coach Darren Smith was pleased with how his charges took the game to the world's 5th ranked side, "It was a physical encounter today with both teams pushing hard for a win. Our penalty corner defence was much improved in the first half and our tackling in defence better. This saw India struggle to break us down and with our speed on the counter we threatened.

"What I would like to see is our ball retention and composure improve so that we are able to exploit their press, which at times is aggressive and with numbers. If we can have this tomorrow then there is plenty of space to exploit in behind".

Despite the physical nature of the match, the two sides familiar with each other after several encounters already in 2018, did not incur the attention of the match officials, with no cards awarded the entire game.

The tour has certainly taken its toll on the Vantage Black Sticks with a couple of senior names likely ruled out of the last game Sunday night. Defender Nic Woods suffered a knee injury in the match and is touch-and-go for Game 3, while the highly experienced Shea McAleese succumbed to a calf injury on Thursday and will take no further part in the tour.

Special mention to Richard Joyce who played in his 50th international test match for NZ!

The Vantage Black Sticks play India in their final tour game on Sunday night at 10:30pm NZ time.

VANTAGE BLACK STICKS: 1 (Stephen Jenness 24')
INDIA: 3 (Rupinder Singh 18', Sunil Sowmarpet 27', Mandeep Singh 56')

Half Time: IND 2-1

Hockey New Zealand Media release


---

Harendra calls for efficiency in attack

Rupinder, S.V. Sunil and Mandeep Singh strikes propelled the home side to a 3-1 win



Strike: Rupinder Pal Singh scores one past New Zealand defence. Photo Credit: PTI

Harendra Singh has called on his players to be more efficient inside the circle after India's win over New Zealand in the second hockey Test here on Saturday.

Goals from drag-flicker Rupinder Pal Singh and forwards S.V. Sunil and Mandeep Singh propelled the home side to a 3-1 victory at the SAI, but India's chief coach wanted more from his attackers.

"I'm not happy," Harendra said.

"In the first quarter, we made 18 circle penetrations. I do not expect 50 per cent but at least 35-40 per cent of those penetrations to result in shots on goal.

"That's where we have to work. We are rushing the ball in. We need to step back if it's too crowded and try from another angle to catch the goalkeeper out of position. We changed that a bit in the second half."

Rupinder Pal converted a penalty corner to open the scoring in the 18th minute before Stephen Jenness pulled one back for the visitor.

Strikes from Sunil (27) and Mandeep (56) then helped India, which won the first Test on Thursday, secure the three-match series.

While pleased with the result, Harendra noted that India had to be wary of being caught on the counter-attack by long balls over the defence.

"Whenever we're pressing hard, we're slipping and the opponent lobs the ball over the defenders to create a chance. This happened in both the games. We should not allow it," he said.

Harendra stated, however, that he would not stray from his philosophy of playing attacking hockey.

"We have to play attacking hockey (to succeed)," he said. "We'll press hard and see how we can achieve more circle penetrations. We need to work on shifting the ball quickly into the net for which they need speed. That's the theme of the game right now."

The third and final match of the series will be played on Sunday.

The result: India 3 (Rupinder Pal Singh 18, S.V. Sunil 27, Mandeep Singh 56) bt New Zealand 1 (Stephen Jenness 24).

The Hindu


---

India men's hockey team defeats New Zealand, takes unassailable 2-0 lead in Test series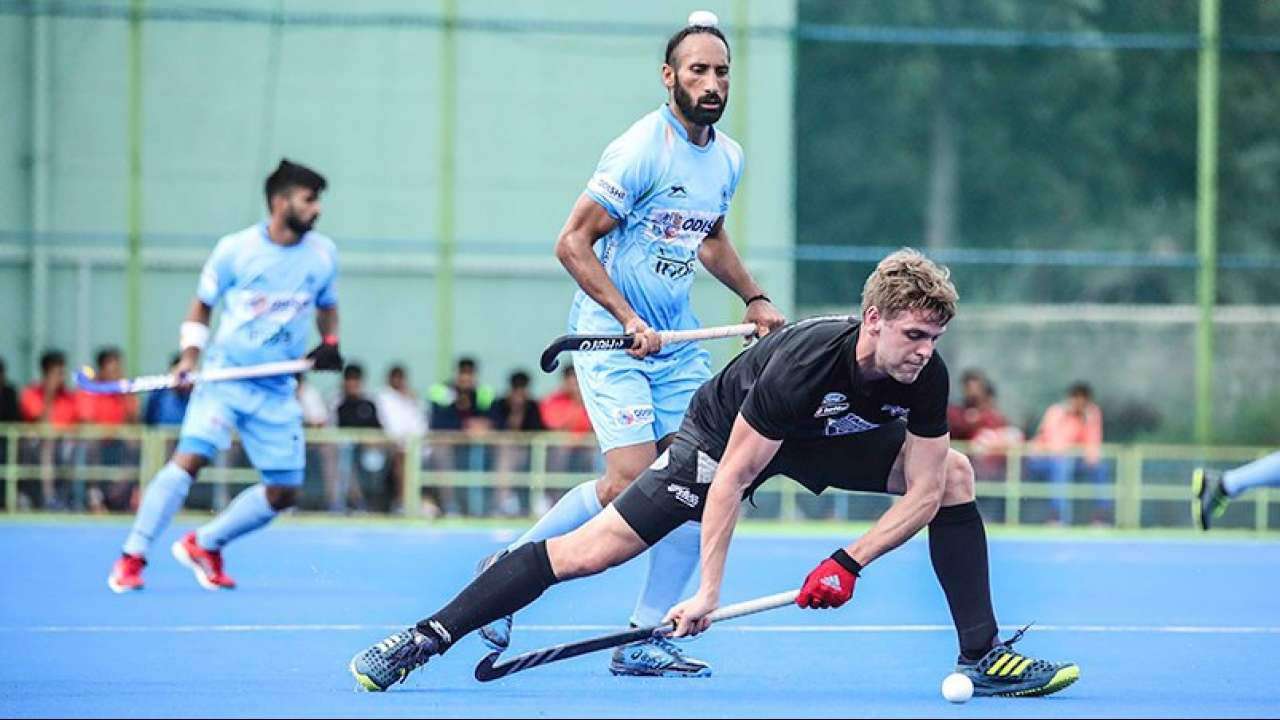 India and New Zealand in action on Saturday , Twitter (@TheHockeyIndia)

The Indian men's hockey team registered its second successive victory against New Zealand, beating the visitors 3-1 to take an unassailable 2-0 lead in the three-match Test series at the Sports Authority of India's Bengaluru Campus.

India began the opening quarter with a structured attack. It was striker SV Sunil who took the team's first potential shot on goal in the opening minute but was well defended by New Zealand goalkeeper Richard Joyce. India dominated the quarter as the team's attack won two PC opportunities, however, the home team could not convert and the two teams ended the first quarter in a stalemate.

The second quarter saw India showcase an improvised attack. They won three back-to-back PCs in the 18th minute and Rupinder Pal Singh was third-time lucky after two of his previous flicks were blocked by New Zealand's first rusher.

It was Manpreet Singh who made a perfect injection that was powerfully picked up by Rupinder to fire it past Joyce, fetching India their first breakthrough. Almost a minute later, the experienced forward Sunil fetched India another PC, however, this time the variation did not work.

In the 24th minute, Stephen Jenness caught the Indian defence off guard when he pierced through the striking circle, beating PR Sreejesh, who had run up to block him and found an open goal to put the ball into the post for an equaliser.

India retorted back with a splendid field goal in the 27th minute through striker Sunil, who worked in tandem with Simranjeet Singh. This brilliant goal won back India their lead and ended the second quarter with the scoreboard reading 2-1 in favour of the hosts.

New Zealand stitched together an improvised defence in the third quarter but their attack remained jaded. India upped the ante in the final quarter as they made enthralling forays into the striking circle. One such attempt, Sunil made a brilliant pass from the right flank to Mandeep Singh, who swiftly deflected into the post, taking India's lead to 3-1 in the 56th minute. The defence held strong to keep up the lead till the end.

Daily News & Analysis


---

Pakistan hockey coach slams team's performance in Champions Trophy




KARACHI: Pakistan hockey coach Roelant Oltmans has slammed the team's performance in the recently concluded Champions Trophy in the Netherlands. Addressing a press conference, the Dutchman said mistakes were committed during the tournament that should not have been made. Pakistan had a dismal campaign during the Hockey Champions Trophy 2018, where they finished last among the six countries that participated in the tournament. The coach admitted it was his decision to recall the goalkeeper during the match against India, in which the Green Shirts were thrashed 4-0.

Oltmans added he keeps reminding the team to not go after money but focus on the game at hand. While speaking about the preparations for the upcoming Asian Champions Trophy, the head coach said the players have been focusing on their fitness which will be evident in their game. On Friday, the Asian Hockey Federation announced the draws for this year's Asian Champions Trophy, which will be played in Muscat, Oman from October 18 to 28. Teams from Pakistan, India, Malaysia, Korea, Japan and Oman will be in action during the 10-day event, with the most anticipated encounter between arch-rivals India and Pakistan on October 20.

The Daily Times


---

Birthday girl Kirandeep aiming to make Asian Games squad

By Aftar Singh




KUALA LUMPUR: Forward Kirandeep Kaur (pic), who turns 15 today, wants to win a place in the women's hockey squad for the Asian Games in Jakarta from Aug 18-Sept 2.

She's among 20 players named by national coach K. Dharmaraj for a five-match playing tour in Brisbane to prepare for the Games. The matches will be played from July 23-29.

The Form Three Student of SMK Bukit Bandaraya in Bangsar said that it would a dream come true for her if she could represent Malaysia in the Asian Games.

"It will be really great to play in the Games at the age of 15. It will also be a big boost for my hockey career.

"I'll go all out to impress in the friendly matches with the Queensland Academy of Sports in Brisbane," said Kirandeep, who is second among three siblings.

Kirandeep said she was only four when her mother Surjeet Kaur passed away.

"If my mother was alive today, she would be proud to see me play for the country," said Kirandeep, who thanked her father Gurdip Singh for introducing her to hockey when she was five.

Kirandeep made her international debut in the World Series in Singapore last month and she impressed coach Dharmaraj by scoring a goal in the final which Malaysia won.

Malaysia outplayed Thailand 6-0 in the final and both teams have qualified for the World Series Round Two. The dates and venue for Round Two have yet to be decided by the International Hockey Federation (FIH).

Dharmaraj said that Kirandeep is a talented player with a bright future.

"I was impressed with her performance in the World Series in Singapore as she was not intimidated by more experienced and older players in the tournament.

"I'm certain that she will perform well in the playing tour in Brisbane to win a place in the Asian Games.

"She will become the youngest Malaysian woman hockey player to play in the Asian Games," said Dharmaraj.

For the Asian Games, Malaysia are drawn in Group A with China, Japan, Taiwan and Hong Kong while South Korea, India, Thailand, Kazakhstan and Indonesia are drawn in Group B.

The Star of Malaysia


---

African Youth Games 2018 - Day 3
Algiers (ALG)

African Youth Games 2018 (M)

ZAM v NGR (Pool B)     2 - 0 (2 - 0)
NAM v ZIM (Pool A)     5 - 2 (1 - 1)
RSA v ALG (Pool A)     9 - 0 (4 - 0)

Pool Standings
Pool A
Pool B
| Rank | Team | Played | Wins | Draws | Losses | Goals For | Goals Against | Goal Difference | Points |
| --- | --- | --- | --- | --- | --- | --- | --- | --- | --- |
| 1 | Zambia | 2 | 2 | 0 | 0 | 4 | 1 | 3 | 6 |
| 2 | Nigeria | 2 | 1 | 0 | 1 | 2 | 3 | -1 | 3 |
| 3 | Kenya | 2 | 0 | 0 | 2 | 2 | 4 | -2 | 0 |
African Youth Games 2018 (W)

NAM v ZIM (RR)     3 - 3 (1 - 1)
NGR v RSA (RR)     0 - 7 (0 - 2)
ALG v GHA (RR)     0 - 13 (0 - 8)

Pool standings
| Rank | Team | Played | Wins | Draws | Losses | Goals For | Goals Against | Goal Difference | Points |
| --- | --- | --- | --- | --- | --- | --- | --- | --- | --- |
| 1 | South Africa | 3 | 2 | 1 | 0 | 29 | 3 | 26 | 7 |
| 2 | Namibia | 3 | 2 | 1 | 0 | 10 | 5 | 5 | 7 |
| 3 | Ghana | 3 | 2 | 0 | 1 | 19 | 3 | 16 | 6 |
| 4 | Nigeria | 3 | 1 | 0 | 2 | 2 | 11 | -9 | 3 |
| 5 | Zimbabwe | 3 | 0 | 2 | 1 | 6 | 10 | -4 | 2 |
| 6 | Algeria | 3 | 0 | 0 | 3 | 0 | 34 | -34 | 0 |
---

Irish Under-18s pull massive final day results out of the fire to retain top tier status

On a special night for Irish hockey, both the Irish U-18 boys and girls produced final day wins to rescue their place in the top tier of European competition, finishing in sixth place overall in their respective tournaments

Oliver Kidd's ninth minute penalty corner goal saw Ireland complete the great escape as they beat England 1-0 in Santander to survive in the top tier on goal difference.

On a special day for the sport in Ireland, the girls also got the 5-3 result they needed to stay in the top tier in two years time.

In the boys' competition, France's 5-2 win over Poland meant anything else but a win would see Ireland relegated to the second tier.

But once ahead, they held on to the narrow lead with real guts and determination, playing on the back foot for much of the tie with goalkeeper David Lawless having a exceptional game between the posts.

They held on for a second consecutive clean sheet, adding to Friday's 5-0 win and putting them ahead of France – who were relegated – by two on goal difference.

The women, in their delayed game due to the ongoing heavy rain in northern Spain, needed to avoid a heavy defeat against the French.

And they got off to the best possible start when Yasmin Pratt put them in front nine minutes in. Nadia Benallal pushed them further ahead before Eve Verzura kept things interesting at half-time, 2-1.

But Natasha Twomey's double in the second half put Ireland almost out of reach and Benallal extended the lead to 5-1. France got a couple of corners down the final stretch but it was far too much to fight back from.

In Antwerp, the Irish Under-23 women finished their campaign with a victory over Canada via a shoot-out. For the most part, Ireland dominated proceedings but could not find the scoring touch to go with it.

Emma Buckley saved the crucial shoot-out in sudden death. It concludes a productive summer for the side, playing 13 matches, winning seven and drawing one.

Looking back on the week in Antwerp, coach Dave Passmore said: "This has been a really insightful and useful tournament to develop players and allow them to experience different playing styles from around the world.

"Obviously we had a tough start, playing the two finalists in our first two matches but we competed well in both for periods. The Dutch side are exceptional and would easily be in the worlds top ten senior teams so it was pleasing we held our own and created some good opportunities in the first half.

"Their speed caught us out in the final quarter when they scored three goals. The two matches against Canada and Great Britain have been really encouraging with some attacking flair evident from the likes of Jess McMaster, Abbie Russell and Michelle Carey build on a sound defensive platform set by the Barr twins amongst others.

"For girls who missed out on the senior World Cup like Ellen Curran, Sarah Torrans and Emma Buckley this has allowed them to play a high quality tournament after all their hard work this year."

In the Under-16 girls tournament, eventual champions Germany beat Ireland 5-0 while the boys came unstuck 3-1 to the same opposition.

Women's Under-23 Six Nations (Antwerp)
Saturday, July 21: Ireland 0 Canada 0, Ireland wins shoot-out

Girls European Under-18 Championship (Santander):
Saturday: Ireland v France, 6.45pm
Boys European Under-18 Championship (Santander):
Saturday: Ireland 1 (O Kidd) England 0
Boys Under-16s Six Nations (The Mardyke, Cork)
Saturday, July 21: Ireland 1 (T Chambers) Germany 3
Girls Under-16 Six Nations (The Mardyke, Cork)
Saturday, July 21: Ireland 0 Germany 5

The Hook


---

Scotland U18 Girls' win EuroHockey Championship II in Rakovnik



Photo by Dave Cawthorn

Scotland won U18 Girls' EuroHockey Championship II with a sensation 2-1 win over Russia in the final in Rakovnik, Czech Republic. Rachel Bain scored the winner in the final minute as Scotland claimed the gold medal as well as promotion to the top tier of European U18 girls' hockey.

The early pressure in the match came from Russia who came out with all guns blazing. The first opportunity of the contest saw a Russian penalty corner zip low and wide of the right post.

The Scots held their own against the competitive aggression of the Russian play and Lexi Sabatelli set about attempting to wriggle through the Russian defence but the danger well cleared.

Then came a great chance for Russia to open the scoring. Anna Golubeva ran through one-on-one with Scotland's goalkeeper Jess Buchanan, and the Scot was out quick to narrow the angle and force the shot wide of the target. It was excellent goalkeeping at a pivotal moment of the game.

Scotland then had a chance through a penalty corner and Emily Dark was denied by a great diving save at the bottom right corner.

Dark would have another chance from a penalty corner after an exceptional long pass out of defence found Ruth Blaikie who won the opportunity for Scotland. Dark then zipped it just wide of the post.

As half time approached fierce Russian pressure won another penalty corner, this time it was driven low and was well saved by leg guards of Buchanan, and the follow up shot looped over the bar.

It was a quick start to second half for Scotland and Georgia Jones won an early penalty corner. A nice routine to left of the D for Jenny Walls saw her deflection shoot just wide of the post.



Photo by Dave Cawthorn

Then came the first goal of the final and it came for Scotland. Blaikie opened the scoring as she forced the ball home from close range after three quick shots on target.

It didn't take long for Russia to equalise. Golubeva absolutely smashed the ball home for Russia's equaliser with a powerful penalty corner strike against the Scotland backboard.

Scotland came close to retaking the lead when Ellie Wilson's deflection fizzed just wide of the left post.

The final quarter was a midfield slog with both sides throwing everything into the contest.

There was a phenomenal chance for the Russians with three minutes to go after they opened up the Scotland defence on the left, the ball was played to the far post where an attacker was waiting to score, but the ball evaded her and Scotland escaped.

Then, with a minute to play, Scotland went for it and the ball fell kindly to Rachel Bain in the Russian D and she converted to grab victory for Scotland, and round off a tremendous tournament with a EuroHockey Championship II gold medal.

Scotland U18 Girls' Head Coach Keith Smith said, "It was a great way to win the tournament, I'm absolutely delighted for the girls. The players have spoken a lot about leaving a legacy – they all have friends and family in the age group below so they wanted to leave a legacy for them. They did that yesterday so I'm absolutely delighted that they get a reward for themselves with a gold medal today.

"Overall I think we played the best hockey in the tournament and deserve to come out as winners. The players proved they can control games and play in different styles. Today for instance they had to adapt as we made some changes to compete with the aggressive style of Russia. We were more direct and some players took on different roles. I'm really impressed with how they adapted. All-in-all there's some really good signs for the future."

Scottish Hockey Union media release


---

Canada's Lexi De Armond receives 'Best Female Player' award in the Six Nations Tournament.

By Tristan Urry



Photo: Tristan Urry

Canada drew 0-0 with Ireland in their final match of the Six Nations Tournament.

Match one: 6-0 loss against the Netherlands.
Match two: 0-0 draw with Belgium.
Match three: 2-0 loss against Ireland.
Match four: 0-0 draw with India.
Match five: 2-1 loss against Great Britain.
Match six: 0-0 draw with Ireland.

The JWNT was extremely proud to have their star defender be recognized as the 'Best Female Player' of the tournament on Saturday evening. Twenty-one year old Alexis, De Armond received her award after the final match of the tournament during the closing ceremonies.

"It was a tight game, in the end, unfortunately, we ended up losing the shoot out against Ireland but it was a great tournament for us overall. This was a big day for me, I signed with my first club and received the 'Best Female Player' of the tournament award on the same day. It's been great getting to know everyone, I think going forward this team will make huge strides in the international scene." said Alexis (Lexi) De Armond.

Parents Laurie and Marischal De Armond were incredibly proud of their daughter for such an outstanding achievement in her field hockey career. "We're pretty excited, just a few weeks ago our daughter (Lexi De Armond) started to think about playing full time here in Belgium, and with the help of the outstanding Canadian coaches we connected with a couple of clubs here and proudly signed her first pro-full time contract as a field hockey player with Royal Evere White Star Hockey Club in Brussels. We're the proudest parents around right now. Watching our daughter grow up playing a sport that she loves, and then her being able to not only participate in this U23 tournament but be recognized at 21 as the top performing female athlete against top calibre teams such as the Dutch, Belgian and British women is an incredible moment for us." said the De Armonds.



Photo: Tristan Urry

JWNT Head Coach, Shiaz Virjee has seen phenomenal growth with the JWNT during their summer program so far. The JWNT started their summer with a camp at UVIC, then went up to the Shawnigan Lake School for another two-week camp before playing the Chile Series in Victoria. The team just finished their time in Europe at the Six Nations Tournament in Antwerp, Belgium at the Royal Antwerp Hockey Club.

"This team has played well at each stage, you can see how much they have improved every two weeks to get up to this level. We don't get a chance to play the European teams too often, so this has been great for us. We had three draws and lost the shoot out in our last game today but the girls have just been phenomenal. The learning curve has been steep, but they have done very well and I am extremely proud of them. For our athlete to be named the best female player of the tournament is incredible. This is a great achievement for Lexi and for our team," said Virjee.

The team will continue their growth and forward momentum with a camp at UVIC in August before the team separates for the fall curriculum.

Field Hockey Canada media release
---

Canadian 2018 U18 Field Hockey Nationals – July 20

U18 competition wraps up with Quebec repeat and BC showdown




Quebec follows U15 boys' golden footsteps with back-to-back tournament victories

The final day of U18 competition kicked off late in the morning with the men's bronze medal match between BC Rams and Alberta, two sides who proved exactly why there were there in the semi-final matches leading up. BC Rams suffered a heartbreaking loss yesterday after a shootout against Ontario CW, whereas Alberta dropped four goals in the second half of their matchup with Quebec. It was a do-or-die situation for both teams as they fought for the last medal position, and it certainly didn't go down without a high level of excitement.

BC Rams took the lead early on with a goal in the 8th minute from a penalty corner but Alberta bounced back to tie the game 2-2 at the beginning of the second half. However, Alberta's efforts fell short as the Rams scored thrice more for the 5-2 result. Rams goalie Ethan McTavish stated that his team came back hungrier than they did in the semi-finals in order to secure the bronze medal.

"This time we went out there with more of a goal and we had better intentions," he said. Our overall organization was a lot better, and I think the most important thing to do after a hard loss is to do something fun with your team. It's okay to think about [yesterday's match], but don't let it get you down."

BC Rams teammate and forward Johnny Jacoby added that Alex Bale, the BC Rams head coach, was crucial in helping the team move forward. He said, "[Bale's] one of my favourite coaches that I've ever had. He makes the game really fun and he's always in really good spirits. It's always a good time with him."

Watching from the sidelines were Quebec and Ontario CW as they prepared to take the pitch for the gold medal game. Quebec was hoping to follow the U15 boys into their first-ever tournament victory and make history. On the other hand, Ontario CW, led by Zeeshan Minhas, had their eyes set on the prize.

"Quebec is a pretty developed team," Minhas said. "They're fit. They move the ball well and are very strong offensively. We have to do a bit of thinking before we face them because they're really good."

And good they were. After a nail-biting first half that saw Quebec take the lead with a two-goal advantage from well-set penalty corners, Ontario CW notched a 47th-minute goal which gave the team one last push for the final quarter. The two teams fought until the bitter end but Ontario was kept out by a determined Quebec defence. The final result: 2-1.

Quebec Head Coach Bill Syrros knew that it would be a tight game given that the two teams met each other often throughout the year. However, watching the U15 boys secure the gold acted as an inspiration for his side.

"It's a clean sweep for Quebec. We actually had three or four of their players playing for us on the U18 squad so they brought their magic with them. For all the boys who've won this U18 tournament — these guys have been together since the beginning so it's a very deserving finish."

As the U18 tournament wrapped up, Quebec midfielder Robert Campe found himself reflecting on the once-in-a-lifetime experience before joining his teammates in celebration. "It's a great experience to play hockey in Canada…Quebec is a pretty young province in hockey and I hope we keep moving forward in the years to come."

Rams come atop in BC showdown against the Stags to secure gold




It was a foregone conclusion at the beginning of the day that a BC team would be standing atop the podium in the U18 women's division. The only remaining question before the gold medal match was who? The Vancouver Island-based Stags or the undefeated Rams.

The teams met in pool play with the Rams getting the better of the Stags 2-0 and they were looking to repeat that performance. Alissa Wong opened the scoring in the ninth minute pushing the Rams ahead. The real turning point was just after half when Stags' goalie Taylor Guy went down with an injury. The result, the Stags played essentially the entire second half with a kicking back and no keeper.

Despite some surges of pressure from the Stags, the Rams held on free of drama to win the gold 4-0 avenging their last season loss in the finals. The gold medal was especially sweet for Rams' goalkeeper, Aerin Park, who had a nationals bronze and two silvers to her name prior to this event. She said the team's attitude and composure throughout the event helped push them to the title.

"We came to this tournament with the goal of winning while keeping a positive environment," she said. "We kept each other accountable and kept each other up, and that was important for us."

Park, who put up an all-class performance throughout the event, was named to the Tournament-11 all-star team along with teammate Wong. The BC Rams only allowed one goal throughout the event, which was a testament to the team defense and tremendous goalkeeping.

Julie King, the program director for all British Columbia-based teams said it was a proud moment seeing how many BC squads have reached the podium so far this week. Including the U15 division, BC has six medals.

"It's pretty thrilling to watch some of the kids that I've seen over the years perform at a high level and get good results," King said. "It's a testament to the work that was put in at FHCBC before I was in the position."

For her, these events are only partially about the results. They also play a major role in shaping the futures for some of these athletes.

"This type of travel tournament is an intense week," she said. "It's an intense competition and it sets them up for their next experience if that is national team or university play. There hopefully won't be any surprises for them. They'll be prepared."

Ontario Central pulled out a gutsy win against the BC Lions in the bronze medal game joining the Stags and Rams on the podium.

UMPIRE PROFILE OF THE DAY



Amy Hollingsworth

Peterborough, Ontario

How did you first get into umpiring?

I was recruited to umpire in my youth by former Olympic and World Cup Umpire Margaret Lansing and continued my mentorship with Mary Cicinelli.

Why Nationals?

Nationals brings everyone together to showcase so many positives about our sport from logistics, officiating, and skillful games to team building and forging lifelong friendships.

What do you think is the most valuable about youth sports?

Youth sport provides an excellent platform to develop leadership, critical thinking, problem-solving, and emotional intelligence in our athletes. These are all essential qualities that transfer to boardrooms and develop good citizens who care about the world around them.

Favourite ice cream flavour?

Death by Chocolate or Moose Tracks.



Trevor Martin

Mount Elgin, Ontario

How did you first get into umpiring?

I got into umpiring after playing for a number of years. I thought I would put something back into the sport.

Why Nationals?

I wanted to give back to field hockey and I'm hoping to pick up some tips from Alan [Waterman] and the other umpire managers so that I can transition into that role at some point in time. But mostly it's about giving back to the grassroots level.

What do you think is the most valuable about youth sports?

GIving them a chance to develop in a national tournament so that they can, if they choose to make the choice, transition into higher levels like the National Team.

Favourite thing about field hockey?

The friendships.

Field Hockey Canada media release