All the news for Saturday 21 July 2018

Vitality Hockey Women's World Cup 2018
London (ENG)

Fixtures 21 July (GMT +1)

12:00     GER v RSA (Pool C)
14:00     ENG v IND (Pool B)
18:00     USA v IRL (Pool B)
20:00     AUS v JPN (Pool D)

FIH Match Centre


---

Vitality Hockey Women's World Cup London 2018: Preview



The captains of the Vitality Hockey Women's World Cup London 2018 Photo: Getty Images

The biggest women's sporting team event to take place on British soil this year is all set to begin, with the Vitality Hockey Women's World Cup London 2018 getting underway on Saturday 21 July.

Ahead of the event, which runs over two weeks to Sunday 5 August, the 16 participating teams have been acclimatising to the new pitch and mentally preparing for the prospect of competing in front of huge, noisy crowds of spectators.

The magnificent, newly-erected West Stand is an impressive temporary landmark on the London skyline, and the iconic blue pitch is in superb condition as it prepares for the opening matches of this exciting competition.

So what can the thousands of spectators in the stands and the millions watching around the world expect over the coming days?

There is a calmness and confidence in the camp of the reigning champions Netherlands, the team that proudly sits at the top of the FIH Hero World Rankings. The team in orange have enjoyed a seamless build-up to the competition and in their Head Coach, Alyson Annan, they have a leader who knows how to win World Cups.

But there are 15 other teams who all have their own ambitions. From the lower-ranked teams such as Italy (WR:17) and Ireland (WR:16), who both see every game as a final and will play with all the accompanying ferocity that teams in that position can muster; to the host nation England (WR:2) and in-form New Zealand (WR:4) who both feel that this is their time to make their own World Cup history.

Both England and New Zealand will be full of confidence on the back of recent successes. Many of the current England team tasted success at the 2016 Rio Olympic Games playing for Great Britain and that memory will leave them wanting more of the same.

New Zealand have enjoyed a fine few months with a silver medal at the Sentinel Homes Hockey World League Final and a gold at the Gold Coast 2018 Commonwealth Games. Like England, they will hope success breeds success.

Argentina (WR:3) and Australia (WR:5) are two teams who have been making the Lee Valley Hockey and Tennis Centre their own temporary home. There is a confidence to both Las Leonas and the Hockeyroos which has been lacking in recent months.

Australia's Head Coach Paul Gaudoin is pleased with the team spirit that is so obvious among his squad, while the singing, dancing Leonas are already giving the venue a touch of South American magic.

South Africa (WR:14) come to London as a relatively unknown team. Unlike many of the European and Asian teams in London, South Africa's preparations have largely taken place at home. Expect fast, furious and highly skilled play from the African champions, who always perform ahead of their rankings at these major events.

For Belgium and Spain, the route to World Cup qualification has been one of continued progress. Both teams qualified as a result of their final placings at the FINTRO Hockey World League Semi-Final in Brussels – eighth and seventh respectively – but the past few months have seen both teams ramping up their training and closing the gap on their higher-ranked competitors. Belgium's second place finish at the Rabobank EuroHockey Championships will have provided Niels Thijssen's team with a confidence boost ahead of this event.

With Tokyo 2020 less than two years away, the Cherry Blossoms of Japan are intent on making their own assault on this competition. Aware of the opportunity to spread the reach of the sport to a whole new audience, the team – led by Head Coach Anthony Farry – will be intent on making an impact and garnering interest back in Japan. The team have a history of finishing this event mid-table; Farry's intention will be to turn this into a more winning mentality.

China are very much an unknown quantity. Head Coach Jamilon Mülders has enjoyed just nine months with his squad and the mission is clear – to inject some European flair into the highly disciplined and hard-working squad. Every training session, every match and every competition is providing a chance for Mülders to work his magic. The question is whether he has had enough time.

Interviews with India's squad suggests that Sjoerd Marijne has his team buzzing with enthusiasm. The players are sensing a chance to make history of their own as they arrive in London with a world ranking of 10 but a habit of upsetting those rankings. In Rani, the team has a combination of youth and experience and the much-admired captain is surrounded by players with high skill levels. The question will be whether the team can get off to a good start and keep the momentum.

Which leaves just two teams to mention, both with very real medal hopes. USA (WR:7) were the surprise package of the 2014 World Cup. They finished fourth and impressed with their speed, flair and, above all, work ethic. Teams will now know the USA's gameplan but with canny Head Coach Janneke Schopman adding some European nous to USA endeavour, they could find themselves pushing for medals again.

Germany (WR:6) will be seeking to do the Indoor and Outdoor double. The team contains many of the players who starred in the Indoor Hockey World Cup in February in their home city of Berlin are now gracing the stage in London. This is a nation that knows how to deliver at the big events and Xavier Reckinger has a squad that is blessed with experience and talent.

The opening match of the Vitality Hockey Women's World Cup will be a great start to proceedings, with South Africa and Germany going head to head. Then London will know that World Cup fever has well and truly arrived as England face India.

For all the news from the Vitality Hockey Women's World Cup, London 2018, click here.

#HWC2018

FIH site


---

Stats Speak: London Women World Cup-Know the teams

By B.G.Joshi (in Lee valley hockey stadium, Olympic Park, London)

Hockey fans all over the World would like to know about the all 16 teams of 14th World Cup commence from today, here it is:

Pool A

1.0 Netherlands (NED): WR-1, Coach-Alyson Annan, Captain-Dirkse van den Heuvel, Current Title: World Cup Champions (2014); European Champions (2017); World League Champions (2017).
In World Cup: App-13, MP-90, W-74, D-9, L-7GF-258, GA-62.
Best Finish-7 Gold Medals (1974, 78, 83, 86, 90, 2006, 14). Player to watch:  Lidewij Welton(no 12)-178 caps. Biggest ever wins: 8-0 vs. Mexico in 1976, Worst defeat: 1-3 vs. Argentina in 2010.
Records: 3 Gold Medals each by Listee Sevens(1974,78,83);Sandra le Poole(1978,83,86) and Elsemieke Hillen(1973,83,86).  Most Goals (Individual):  Maartje Paumen-22, Fieke Boekhorst-20(All time top scorer too, 13 goals in 1981).

2.0   China (CHN):  WR-8, Coach-Jamilon Mulders, Captain-Cui Quixia.In World Cup: App-7, MP-49, W-17, D-6, L-26, GF-65, GA-85, Best Finish-1 Bronze Medal (2002). Player to watch:   Li Dongxiao(no 1)-142 caps, GK. Biggest ever wins: 6-0 vs. Spain in 2010, Worst defeat: 1-7 vs. Australia in 1998.

3.0 South Korea (KOR): WR-9, Coach:  Huh Sang Young, Captain: Kim Young Ran, Current Title: Gold Medal in Asian Games (2014) and Asian Champions Trophy (2018). In World Cup: App-7, MP-49, W-26, D-9, L-14, GF-115, GA-69, Best Finish-1 Bronze Medal (1990). Player to watch:   Park Mi Hyun (no 10)-252 caps. Biggest ever wins: 9-0 vs. USA in 1990, Worst defeat: 1-4 vs. Australia in 1994.
Records: Kim Jong Eun scored the fastest goal in 14 seconds vs. England in Rosario on Sept 3, 2010.

4.0 Italy (ITA): WR-17, Coach-Roberto Carta, Captain-Tiddi Chiara. In World Cup: App-1, MP-6, W-0, D-2, L-4, GF-2, GA-14, Best Finish-10 (1976). Player to watch: Tiddi Chiara  (no 17)-140 caps. Biggest ever wins:  Not applicable, Worst defeat: 0-5 vs. Belgium and Netherlands (by both) in 1976.

Head to head of pool competitors in World Cup
| | | | | | | |
| --- | --- | --- | --- | --- | --- | --- |
| Teams | MP | W | D | L | GF | GA |
| NED-CHN | 3 | 3 | 0 | 0 | 8 | 1 |
| NED-KOR | 3 | 2 | 1 | 0 | 4 | 0 |
| NED-ITA | 1 | 1 | 0 | 0 | 5 | 0 |
| CHN-KOR | 4 | 0 | 1 | 3 | 3 | 8 |
| CHN-ITA | 0 | 0 | 0 | 0 | 0 | 0 |
| KOR-ITA | 0 | 0 | 0 | 0 | 0 | 0 |

Pool   B

1.0 England (ENG): WR-2, Coach: Danny Kerry, Captain: Alex Danson, Current Title: Gold Medal in Rio Olympics (2016) as Great Britain. In World Cup: App-9, MP-64, W-27, D-16, L-21, GF-101, GA-91, Best Finish-1 Bronze Medal (2010). Player to watch:  Alex Danson (no 15)-301 caps. Biggest ever wins: 7-2 vs. Germany in 2002, Worst defeat:  0-5 vs. Netherlands in 1990.

2.0 United States of America (USA):  WR-7, Coach-Janneke Schopman, Captain-Melissa Gonzalez. In World Cup: App-8, MP-58, W-22, D-11, L-25, GF-78, GA-100, Best Finish-1 Bronze Medal (1994). Player to watch: Melissa Gonzalez (no 5)-238 caps. Biggest ever wins: 5-0 vs. China in 2014, Worst defeat:  0-9 vs. South Korea in 1990.

3.0 India (IND): WR-10, Coach: Sjoerd Marijne, Captain: Rani Rampal, Current Title: Gold Medal in Asian Cup (2017). In World Cup: App-6, MP-39, W-9, D-3, L-27, GF-48, GA-87, Best Finish-4th (1974).Player to watch: Deepika Thakur (no 17)-219 caps, her 3rd WC. Biggest ever wins: 4-1 vs. Spain in 1974, Worst defeat: 1-7 vs. Netherlands in 2010.

4.0 Ireland (IRL): WR-16, Coach: Graham Shaw, Captain: Kathryn Mullan.  In World Cup: App-3, MP-23, W-3, D-5, L-15, GF-23, GA-53, Best Finish-11th (1994). Player to watch: Anna O'Flanagan (no 26)-166 caps. Biggest ever wins: 3-1 vs. Argentina in 1986, Worst defeat: 0-6 vs. Netherlands and South Africa (by both) in 2002.

Head to head of pool competitors in World Cup
| | | | | | | |
| --- | --- | --- | --- | --- | --- | --- |
| Teams | MP | W | D | L | GF | GA |
| ENG-USA | 4 | 2 | 0 | 2 | 6 | 4 |
| ENG-IND | 2 | 1 | 1 | 0 | 2 | 1 |
| ENG-IRL | 2 | 1 | 1 | 0 | 4 | 2 |
| USA-IND | 1 | 1 | 0 | 0 | 1 | 0 |
| USA-IRL | 2 | 2 | 0 | 0 | 4 | 1 |
| IND-IRL | 0 | 0 | 0 | 0 | 0 | 0 |

Pool C

1.0 Argentina (ARG): WR-3, Coach: Agustin Corradini, Captain: Delfina Merino, Current Title: Gold Medal in Champions Trophy (2016) and Winner of Pan Am Cup (2017). In World Cup: App-13, MP-91, W-53, D-15, L-23, GF-172, GA-99, Best Finish-2 Gold Medal (2002, 2010). Player to watch: Noel Barrionuevo (no 27)-312 caps. Biggest ever wins: 8-0 vs. Nigeria in 1976, Worst defeat: 0-5 vs. Germany in 1981.
Records: Most Appearances (individual)-5 by Laura Mulhall and Luciana Aymar(1998-2014).
Fastest Hattrick: Maria de la Paz Hernandez scored a hat trick in 10 minutes (2', 6', 10') against Spain (5-0) in Bronze medal match of 2006 World Cup.

2.0 Germany (GER): WR-6, Coach: Xavier Reckinger, Captain: Jane Wieland-Muller. In World Cup: App-9, MP-90, W-51, D-9, L-30, GF-196, GA-113, Best Finish-2 Gold Medal (1976, 81). Player to watch: Jane Wieland-Muller (no 14)-268 caps. Biggest ever wins: 10-1 vs. Nigeria in 1978(tournament record), Worst defeat: 1-6 vs. Netherlands in 1998.Records: Susanne Schmidt Brundert (b: Aug 27, 1960) played as a goalkeeper in the 1981 and 1983, winning the gold in 1981. Susanne later played as a forward in the 1986 and won the silver medal. She also scored a hat trick vs. Canada in the semi-final (1986).FRG (West Germany 1974-86) merged in Germany.

3.0 Spain (ESP): WR-11, Coach: Adrian Lock, Captain: Georgina Oliva. In World Cup: App-10, MP-70, W-21, D-11, L-38, GF-81, GA-141, Best Finish-4th (2006). Player to watch: Berta Bonastre (no 10)-159 caps. Biggest ever wins: 4-1 vs. USA in 2002, Worst defeat: 0-7vs South Korea in 1990.

4.0 South Africa (RSA): WR-14, Coach: Sheldon Rostron, Captain: Nicolene Terblanche, Current Title: Winner of Africa Cup of Nations (2017). In World Cup: App-5, MP-35, W-8, D-5, L-22, GF-57, GA-87, Best Finish-7th (1998). Player to watch: Dirkie Chamberlain (no 12)-221 caps. Biggest ever wins: 6-0 vs. Ireland in 2002, Worst defeat: 0-5 vs. Australia in 2002.Records: Pietie Coetzee played in 5 World Cup and scored in 1st minute vs. Russia in 2002.

Head to head of pool competitors in World Cup
| | | | | | | |
| --- | --- | --- | --- | --- | --- | --- |
| Teams | MP | W | D | L | GF | GA |
| ARG-GER | 12 | 4 | 1 | 7 | 16 | 23 |
| ARG-ESP | 4 | 4 | 0 | 0 | 14 | 0 |
| ARG-RSA | 3 | 2 | 1 | 0 | 11 | 5 |
| GER-ESP | 5 | 3 | 0 | 2 | 19 | 4 |
| GER-RSA | 2 | 2 | 0 | 0 | 7 | 4 |
| ESP-RSA | 2 | 1 | 0 | 1 | 4 | 3 |

Pool D

1.0 New Zealand (NZL): WR-4, Coach: Mark Hager, Captain: Stacey Michelsen. Current Title: Gold Medal in Common Wealth Games (2018). In World Cup: App-7, MP-49, W-18, D-8, L-23, GF-87, GA-84, Best Finish-4th (1986). Player to watch: Anita Punt McLaren (no 32)-264 caps. Biggest ever wins: 6-1 vs. USA in 1990, Worst defeat: 3-7 vs. Netherlands in 2010.

2.0 Australia (AUS): WR-5, Coach: Paul Gaudoin, Captain: Emily Smith. Current Title: Gold Medal in Oceania Cup (2017). In World Cup: App-10, MP-71, W-44, D-11, L-16, GF-172, GA-83, Best Finish-2 Gold Medal (1994, 98). Player to watch: Jodie Kenny (no 7)-201 caps. Biggest ever wins: 7-1 vs. China in 1998, Worst defeat: 1-5 vs. Russia (former USSR) in 1981.

3.0 Japan (JPN): WR-12, Coach: Anthony Farry, Captain: Natsuki Naito. In World Cup: App-7, MP-48, W-13, D-13, L-22, GF-57, GA-84, Best Finish-5th (2006). Player to watch: Ono Maymi (no 3)-231 caps. Biggest ever wins: 3-0 vs. South Africa in 2006, Worst defeat: 1-6 vs. Netherlands in 2014.

4.0 Belgium (BEL): WR-13, Coach: Niels Thijssen, Captain: Anouk Raes. In World Cup: App-5, MP-32, W-12, D-5, L-15, GF-50, GA-54, Best Finish-1 Bronze (1978). Player to watch: Jill Boon (no 27)-271 caps, sister of Tom Boon. Biggest ever wins: 6-0 vs. Austria in 1974, Worst defeat: 0-7 vs. Netherlands in 1981.

Head to head of pool competitors in World Cup
| | | | | | | |
| --- | --- | --- | --- | --- | --- | --- |
| Teams | MP | W | D | L | GF | GA |
| NZL-AUS | 2 | 0 | 1 | 1 | 1 | 4 |
| NZL-JPN | 2 | 1 | 1 | 0 | 6 | 3 |
| NZL-BEL | 1 | 1 | 0 | 0 | 4 | 3 |
| AUS-JPN | 5 | 3 | 2 | 0 | 8 | 4 |
| AUS-BEL | 2 | 2 | 0 | 0 | 5 | 2 |
| JPN-BEL | 3 | 1 | 2 | 0 | 6 | 5 |
 FIeldhockey.com


---

England face India in first game as London tournament starts

Hosts England face India on Saturday as the Hockey Women's World Cup starts in London (14:00 BST).

Sixteen teams split into four groups will compete in a total of 36 matches over two weeks at the Lee Valley Hockey and Tennis Centre in the Olympic Park.

More than 100,000 tickets have been sold for the event.

England, with a squad featuring eight Rio Olympic gold medallists, also face Ireland and USA - who meet at 18:00 BST - in the group stages.

New Zealand, Argentina and the Netherlands, who are reigning champions, are among the favourites.

England captain Alex Danson said her side are relishing playing on home turf.

"There is no place like home," said the 33-year-old. "I can't begin to imagine what it will feel like when we walk out in front of the full stadium with so many people willing us on and we want to do well for them, it's a fantastic opportunity."

What are England's chances?

Ranked second in the world, England have one of the strongest squads in the competition.

England boast the experience of eight Olympic champions who helped Great Britain stun overwhelming favourites the Netherlands in the 2016 Olympic final.

They will also want to improve significantly on their 11th-place finish at the last World Cup four years ago.

And to help them focus, there is a blanket ban across all social media for players and staff for the duration of the tournament - a plan which worked so well for Great Britain in Brazil.

England's squad includes attacker Lily Owsley, who returns after missing the bronze medal-winning Commonwealth Games campaign with a broken hand.

Forward Danson will be competing at her fifth World Cup and is one goal away from equalling Marjorie Pollard's combined England and GB goal scoring record, which stands at 115 goals.

Hollie Pearne-Webb will be hoping to repeat her heroics in Rio, which saw her nonchalantly score the winner in the final penalty shootout.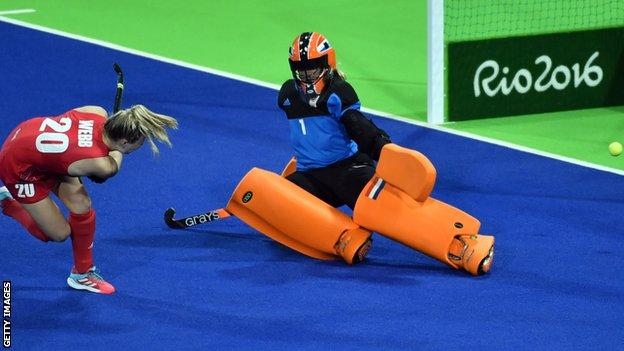 Hollie Pearne-Webb scored the winning penalty as Great Britain won their first Olympic gold in 2016

Best of the rest

The Netherlands will be seeking revenge following their shock loss to Great Britain in Rio and as the current world number one side, they will be hard to beat.

They enter the competition on a the back of a dominant showing in the 2017 European Championships, where they beat Belgium 3-0 in the final.

The Netherlands begin the defence of their title against South Korea in Pool A at 17:00 on Sunday.

However, Argentina - ranked third in the world - are well fancied, with a squad full of youth and experience, including world young player of the year Maria Granatto.

They are dangerous in attack and organised in defence. Australia and New Zealand make up the world's top five and are certainly ones to watch.

Elsewhere, Italy will be playing in their first World Cup in 42 years, after not qualifying since 1976. They play their opening game against China on Sunday.

Can Ireland pull off a shock?

Ireland are ranked 15 of the 16 teams but manager Arlene Boyles believes they can upset the odds.

"Could we surprise someone? Yeah, I definitely think we could, and we're looking forward to it. We are not there to make up the numbers," she said.

"They've put in an incredible amount of effort over months and years to get to this spot."

Key match-ups

The group stage throws up a number of juicy fixtures, including Germany v Argentina in Pool C (Wed, 25 July 18:00) and the Pool D trans-Tasman clash between New Zealand and Australia (Saturday, 28 July, 20:00).

England's opening game against India will be a repeat of the bronze medal match at Gold Coast Commonwealth Games earlier this year.

India will be hoping it is a closer encounter this time around, after they were hit beaten 6-0 by a rampant England.

The venue

The Lee Valley Hockey and Tennis Centre has been expanded for the tournament, making the capacity 10,400 and almost three-times its regular size.

More than 100,000 tickets have been purchased and all England pool games have sold out as well as the quarter-final and semi-final games that could potentially feature England plus the final.

The centre is located within the London Olympic Park, but not the same venue as the 2012 Olympics, where Great Britain won bronze by beating New Zealand 3-1.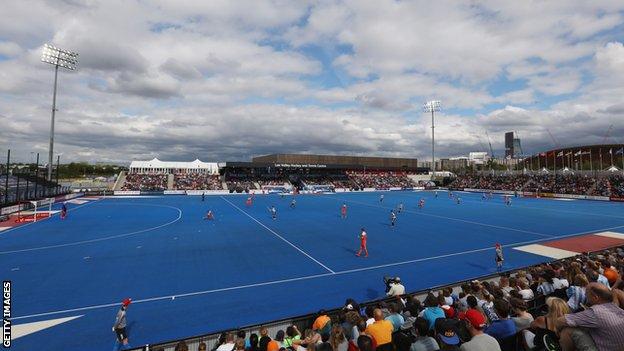 The Lee Valley Hockey and Tennis Centre has been expanded for the Hockey World Cup

BBC coverage

There will be commentary of every England match on the BBC Sport website and on BBC radio 5 live sports extra when the schedule allows.

Sara Orchard will commentate on every England match alongside Helen Richardson-Walsh for the group matches.

England group fixtures (all times BST)

July 21 - England v India, 14:00
July 25 - USA v England, 20:00
July 29 - England v Ireland, 19:00

Ireland group fixtures

July 21- USA v Ireland, 18:00
July 26 - India v Ireland, 14:00
July 29 - England v Ireland, 19:00

The medal matches will be played on August 5

Bronze match - 14:00
Gold medal match - 16:30

BBC Sport


---

Danny Kerry's Road to the Hockey World Cup





As London readies itself to play host to the Women's hockey World Cup, 80,000+ tickets have already been sold as fans wait in anticipation. However, come the tournament, there will be one man more thankful than any to be there.

After famously guiding his GB team to Olympic Gold in Rio, head coach, Danny Kerry is fully accustomed to big tournament pressure. Yet, for the dad of two, just being at the World Cup is a victory in itself this time round.

In July 2017, whilst on tour in South Africa for the Hockey World League semi-finals, Kerry began to report some pain and discomfort in his chest during England's pool-game with Germany. Dismissing it as 'nothing to worry about' initially, the pain intensified during a sleepless night and he was forced to wake up team doctor, Cath Lester. On suspecting he had suffered a heart-attack, she admitted him to hospital almost immediately.

Kerry himself admits to some dark times at that point and prior to surgery, Kerry told the BBC that thoughts crept into his mind asking 'what will happen, will I come out of this?' Advised to stay in South Africa and have surgery there rather than delaying the process, he went through a tough five days in intensive care for a battle far greater than any he'd experienced on the hockey field.

Post-surgery, Kerry, more used to the coined term 'Road to Rio', began his 'Road to Recovery'. After the procedure to fit three metal stents around his heart, the head coach took the doctors by surprise almost straight away with his rapid recovery. Reacting well to the surgery, he was visited by the team where true to his nature, he deflected attention from himself and told them to go and win the tournament.

Unfortunately, England came up short in Johannesburg, instead taking third place; however, for Kerry, the ultimate victory is having the opportunity to lead them out again at another major tournament, something that some would be forgiven for not expecting at one point.

A New-Look England

Danny Kerry was back in full charge of the squad at the start of October last year and began preparations for a big 2018 with a young, exciting squad. With big changes to his lifestyle and diet and a renewed taste for his role, which he says is more than a job 'because [he's] passionate about it and [is] surrounded by staff and athletes who want the best as well', England, under his guidance, will be heading into the World Cup excited by what they can achieve.

England picked up bronze at the Commonwealth Games in March and go into the tournament with 8 of the gold medal winning squad from Rio. Couple that with promising young talent who've had a taster of big tournament hockey, the hosts will be hoping to be able to put on a show for the home crowd come their first pool game against India on Saturday July 21st.

Do you reckon you could become the next Danny Kerry? Discover Sportplan's extensive drills library and coaching tools so you can start to build your own coaching style straight away!

What to Expect at the Hockey World Cup

With London heading into another week of a balmy heatwave, the atmosphere is sure to be electric at a sun-baked Olympic Park. The Lee Valley Hockey and Tennis center, just a few hundred meters from the site of the Riverbank Arena that saw so much drama at London 2012, has had huge temporary stands erected and will sure to be a sea of colour once the action kicks off.

In terms of the teams to be looking out for, we've created a complete list of the contenders for the tournament.

The Netherlands

As reigning world champions and sitting at the top of the world rankings after taking the EuroHockey and Hockey World League titles back in 2017, the hockey crazy nation will be heading into the tournament as hot favourites to take the crown. With 181 caps, Double Olympic gold medalist, Lidewij Welten will be the spearhead of the attack and will be vital to the Dutch success at the tournament.

England

Second in the world rankings and still flying high after GB's gold in Rio, England have gone through a bit of transition recently. But, with a young team being led out by veteran captain Alex Danson and with the best goalkeeper in the world in Maddie Hinch at the back, 2014's 11th placed team will be optimistic about fighting for the medals this time round.

Argentina

Argentina hockey is in a good place at the moment and with recently named World Player of the Year, Delfina Merino amongst Las Leonas' ranks, they will think anything is possible. London has been good to them in the past, they took the Olympic silver medal in 2012 so will be hoping to go one further this time. Finishing fifth in the Hockey World League last year would have been a disappointment so be sure see them come back fighting.

New Zealand

The Commonwealth champions will be coming into the World Cup high on confidence after beating England in the semi's and their Trans-Tasman rivals Australia in their own backyard in the final on the Gold Coast. With a run to the final in the World League in 2017 too, the fourth ranked team, led by uber-experienced captain Stacey Michelsen, will fear nobody when the competition starts in London.

Australia

Having been narrowly beaten by the White Ferns in the Commonwealth Games final and subsequently seeing them leapfrog them in the world rankings, the 2014 World Cup finalists will hope to go one better this year. Having not made the Hockey World League Finals in 2017, the Hockeyroos hope their Commonwealth run will give them the momentum they need to reinstate themselves at the top table.

The Best of the Rest

With a shock third place finish in the Hockey World League Final, the ninth best team in the world, South Korea could be a surprise package in London and should be looking to easily progress from their group then who knows what can happen in the knockout stage.

Germany will always be a strong team that will be looking to show their credentials when it comes to it.

Having been semi-finalists in the last World Cup, USA hockey continues to get stronger and will have a role to play in the tournament.

What is for sure is that the 2018 Women's Hockey World Cup is set to be a fantastic spectacle in a country where hockey has boomed in the past few years. There are many unknowns in regards to who will come out and win it, but what is for sure is it is going to be some show!

The tournament runs from 21st July with the gold medal match concluding the event on August 5th at 16:30 BST.

Sportplan


---

With a balanced mix of youth and experience, India aim to punch above their weight

Sundeep Misra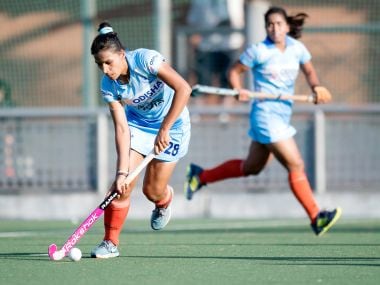 Indian captain Rani Rampal in action. Image courtesy: Hockey India

There is no space for adaption here. Originality, fuelled by a desire to overturn the form book, lightning fast quick hands, the ability to see and pace it out much before the curve caresses the ball and the single-minded focus and mental strength of 18 women who have played over 1,900 matches between themselves should be enough to create a halo around the Asia Cup Champions. However, statistics, caps, numbers are mere fodder for debates in a universe where world orders are crumbling by the day.

Yet, when India walk onto the pitch at London's Lee Valley Hockey and Tennis Centre, venue of the 2018 World Cup, captain of the team Rani Rampal would have impressed upon her mates that England are Olympic Champions but "girls, we beat them at the Gold Coast and let's try and do it again."

Different championships have contrasting themes. If an Asian Games is a one-match tournament where the winner takes all, the Olympic Games are more of a tactical and strategy driven championship. In a World Cup, this being the 14th edition, it will always have the essence of a slug-fest. Usually, single-discipline World Championships raise a lot of dust with just one team left standing at the end.

Are India ambitious and skillful enough to be able to wield the scythe, take a few prisoners and shed enough blood to raise temperatures on a cooled-watered down synthetic pitch? Indian coach, Sjoerd Marijne, his second stint with the women's, said, "The challenge is to keep them focused as it's a long tournament with a four-day gap in between after playing England. The team needs to be in rhythm."

Eight years back at the 2010 World Cup in Rosario, Argentina, India played the three giants in the sport — Netherlands, Australia and Germany — in consecutive matches to start off the tournament, which would have been ominous for any team. India lost to the Dutch 1-7, 3-6 to Australia and 1-4 to Germany. The one name that stood out in the Indian scorers list was Rani Rampal, who had scored four goals out of the five that India managed.

In 2010, Rani was 15. In London, she would be a mature 23, her skills as a goal-scorer more burnished but as a captain and player, more of a playmaker utilising her vision to create opportunities for the rest of the team. "I do believe experience is important," said Rani. "And since Rosario we have come together as a team. Importantly, we have been playing the same bunch for almost two years."

It's also important that the senior team also has quite a few players from the 2013 junior team which won a bronze at the World Championships. Cohesion brings stability which in turn gives resoluteness to the team seen before, but only once. And that was in 2002 when the women won the 2002 Commonwealth Games beating England in the final. The seeds of that win were sowed during the 1998 World Cup when players like Sita Mehta (then Gusain), Pritan Rani Siwach, Manjinder Kaur, Surajlata Devi, Helen Mary got the much needed exposure and then clicked in the 2002 Commonwealth Games final to clinch an important victory.

Sita believes the balance is crucial for a team to win a major championship. Add experience to that balance and you have a potent potion. "With the balance, we had seniors," said Sita. "Actually experience counts a lot. When juniors become shaky, the mind doesn't work and the body becomes fatigued, that is when the seniors know how to cope. You can say if the team was of 11 members, eight-nine were seniors."

In the present team, there is more than just a smattering of senior players. Three players — Vandana Katariya, Rani and Deepika Thakur — have played more than 200 matches. Seven players — Navjot Kaur, Deep Ekka, Monika, Savita Punia (GK), Namita Toppo, Sunita Lakra and Lilima Minz — have played more than a hundred international games. Gurjit Kaur, the big hope in penalty corners and Nikki Pradhan have 55 and 69 caps respectively.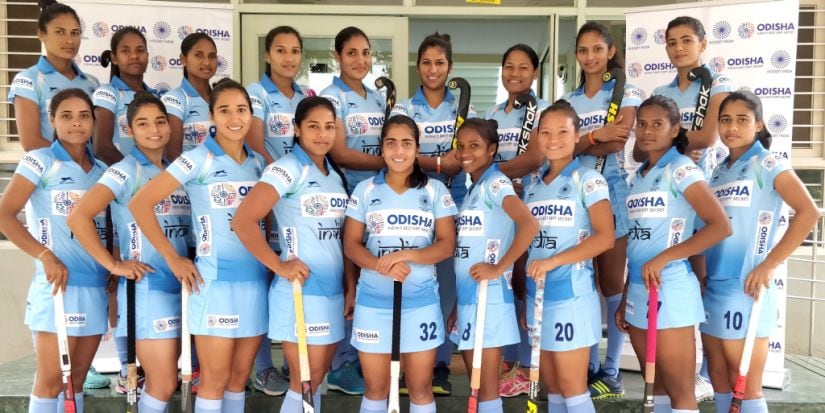 The Indian women's hockey team. Image courtesy: Hockey India

There are no short-term goals here. There is excitement and a sense of pride that the team is playing a World Cup, India's seventh, and the players want to make it count. Even Marijne launched into a short brief of the strengths of the team: "They have the technical skills to dodge, the strikers can do amazing things and the goalkeeper is very good plus we have a good penalty corner battery. And along with discipline we are very well organised."

Marijne refused to be drawn into a debate of what the other teams are capable of. He made a point when he said "I better focus on India and ensure what we think and train, we implement on the pitch." But he understands that USA, ranked three spots above India at seventh, will pose a lot of problems. And Ireland, ranked at 16th, would love to scalp India.

"Our first job is to focus on England," Marijne said. "After that game is over, we will get down to the USA and Ireland. This is a tournament where teams like to take it one match at a time." Like boxers in a ring, some experienced, some rookies, but always looking for that advantage, that unexpected swing, resolute defending and once in a while that lucky strike which gives teams packed with spunk, pluck and grit a good chance of causing an upset.

Rani understands what it's like to play in front of big crowds. She has seen it in Argentina at the 2010 World Cup, where Argentines come to cheer their Las Leonas (The Lionesses). Like Sjoerd, she is focusing on England. "Our training needs to be implemented on the ground," she said. "We have to enjoy our hockey as that would take away whatever little nervousness is there. It is a pressure match. But remember there are under pressure in front of their home crowd. I have told the team to play with as less errors as possible because then we have the ball."

The short-term goal could be a win or a draw against England, which could inject jet fuel into the players' veins. But India are very capable of beating USA and Ireland and qualifying for the quarter-finals. The top team goes into the quarters while the second in each pool plays the third of the other pool. And the winners then go into a quarter-final clash with the pool toppers.

To top their pool, India need to win all matches. But even if they end up second in their Pool B, they could get lucky with the team that finishes third in Pool A. Rani also believes that India and USA are neck-to-neck in terms of team strength. "USA are physically strong," said Rani. "It will be a close game and hopefully we can close the match with a penalty corner."

A lot of India's chances also hinge on two departments — penalty corners and goalkeeping. Savita will be protecting India's goal and Gurjit is India's penalty corner weapon. In modern hockey, a forward may misfire or the midfield may bungle but if the goalkeeper is in form and the penalty corner convertor in a good mood, then a win can be pulled out from impossible circumstances.

Savita gave the example of P Sreejesh in the just concluded Champions Trophy, where in the match against Belgium and the Netherlands, Sreejesh stood out. "It's a huge responsibility," said Savita, who has 169 caps. "But we have learnt to relax and understand pressure. I also keep cool and both my coaches Harendra Singh and Sjoerd have told me that my reaction time is good and I have learnt from mistakes."

Savita also pointed to the fact that communication is of massive importance between a goalkeeper and the defence. "I always believed that a goalkeeper is on her or his own," she said. "But then realised teamwork is required and communication is needed." But Savita also added that over-thinking is also not needed at the World Cup. "There is enough time to recover after an adverse result," she said.

At the World Cup, upgrading your game is necessary to punch above your weight. Currently, it is not the skill but giving the ball in the millionth of a second that sometimes decides the fate of that quarter or even of that move. Yet players hold, which is the extreme end of hockey where you buy time to create moves, find corners and angles. For players like Lilima, Sunita, Rani and Vandana, artistry, dodge and deftness decide their styles of play. Coaches are always on the look out for changes in play pattern as it takes a few quarters to instruct and make your team play in a certain style.

Sita, however, is critical of this mixing of fitness and skills. "Yes, the emphasis is more on fitness and less on skills. Now the ball comes and you give it away. We are leaving behind the old and going towards fast hockey. And we are left in between, where we are neither leaving our hockey nor going full tilt. So, this will take time. Right now Indian hockey is in the middle."

The 22-year-old Gurjit, who was one of the key weapons for India, believes the team will deliver. "Mentally, we are strong as an unit," said the PC exponent on whose young shoulders ride the expectation that she would deliver from whatever chances India get in the opposition striking circle. Gurjit has been doing 50-60 flicks in training on a daily basis except for the off days. "I focus on myself and every player gets into a zone where they play the match mentally in their mind. I do watch videos of the goalkeepers but it's also important to not overdo the thinking."

In a year where even as the team is concentrating on the World Cup, somewhere in the corner also lurks the challenge of the Asian Games which promises a ticket to the 2020 Olympic Games. Marijne answered a tricky question well. "Well, finishing in the top four of the World Cup is bigger than winning the Asian Games but we can combine both and make a mark." Marijne then spoke about the players and said something which is true. "Playing a World is prestigious and most anyway play the Asian Games, so I feel they should enjoy playing the World Cup."

In the past six World Cups that India have played, their rankings have been — fourth ('74), seventh ('78), 11th (83), 12th (98), 11th (2006) and ninth (2010). To emulate what Ajinder Kaur's team coached by Balkishen Singh in Paris 1974 did would take some effort. Players hurt, like they did after the fourth-place finish at the CWG. So don't coaches too? But Sjoerd maintained vehemently that it's not about him or proving a point after being replaced as men's coach and brought back to the women's team. "Absolutely not," he said. "It's not about me. It's about the players and we have to respect them."

Indian captain Rani remembers the 2010 World Cup where she won the 'Best Young Player of the World Cup' and now in London she has set certain goals. "I need to set an example to the others so I need to play with energy and lead with positivity," she said. "It's not a burden but a challenge and I am happy to shoulder it."

Doubt, confidence, fear, positivity and uncertainty are different skins that sportspersons wear. But deep down in the trenches unknown, where the battles are actually fought, it's just the captain and the message that she delivers to her team. "Let's do it girls, let's gate crash the World Cup," could be Rani's version of the World Cup battle cry.

Firstpost


---

India to take on hosts England in opening match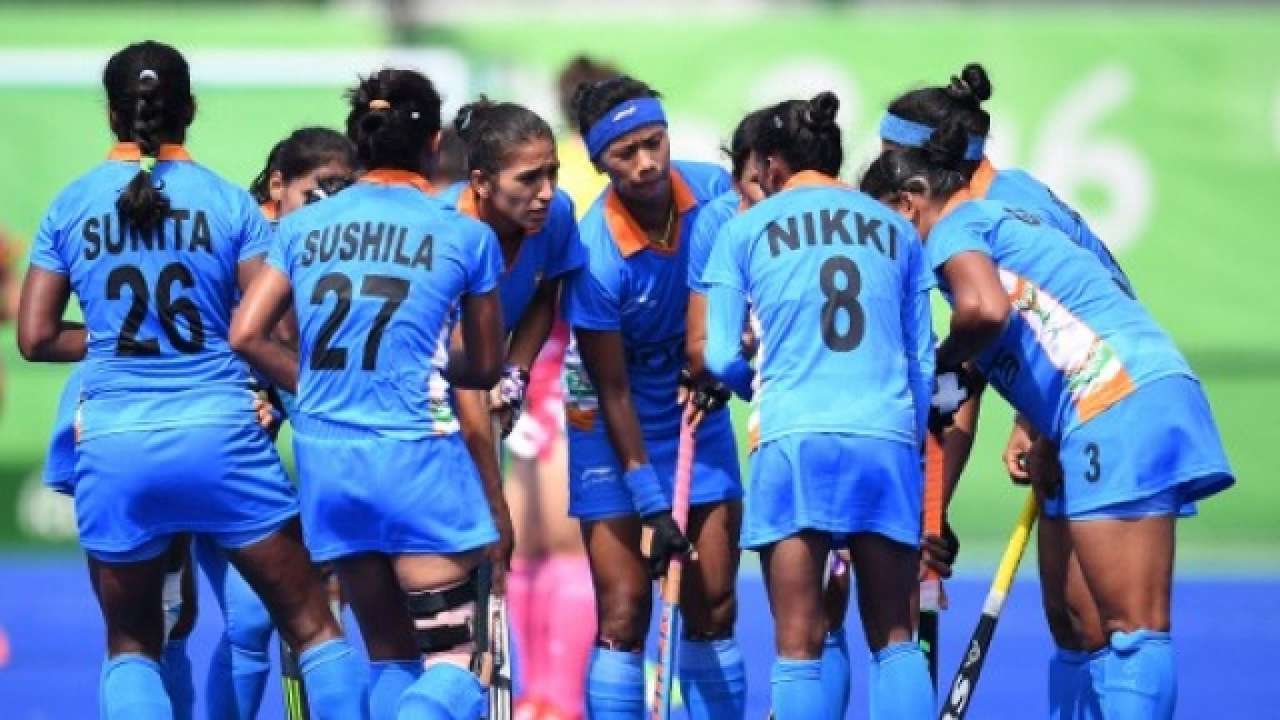 Indian women's hockey team - File Photo, AFP

An upbeat Indian team is set to take on hosts England in its opening match of the Women's Hockey World Cup in London on Saturday.

Grouped in Pool B, India will take on world number 16 Ireland on July 26 followed by world number 7 USA on July 29, apart from facing the Olympic champions in their home ground on the opening day of the prestigious tournament.

"The pressure will be on England and not on us," asserted Indian team skipper Rani on the eve of the match. "Yes they will have the home ground advantage but we are not new to playing in front of big crowds. We have done well against England before and we will carry the confidence of doing well in our recent tournaments including the CWG where we had tasted victory against England in the Group Stage in Gold Coast," added Rani.

India's previous appearance at the FIH World Cup was in 2010 when the event was held in Argentina. Rani then was the cynosure of India's ninth-place performance as she had scored seven goals for the team during the course of the tournament.

While there will be a lot riding on Rani during this edition too, she has a unit that has dished out confidence-inspiring performance over the past two years where India even climbed to a career-best ranking of world number 10.

"The team, especially the forward-line does not depend on Rani alone anymore to score goals. We have young strikers including the experience of Vandana Katariya with 200 plus international caps who have scored on multiple occasions for the team. I like to look at the positives we have and having a drag-flicker like Gurjit Kaur who is one of the best in the world is also an advantage we have," stated chief coach Sjoerd Marijne.

After having arrived in London a week prior to the start of the tournament, the Indian team has had good training sessions at the event venue Lee Valley Hockey and tennis stadium, including two practice matches against Australia and Belgium.

"We have had good match practice against two of the top teams in the World. The team is upbeat and excited ahead of the first match and right now, our only focus is to do well against England. We have played USA and Ireland too in the past and have specific game plan against them. But for now, our focus is on the first match," signed off Rani.

Daily News & Analysis


---

India's Rani Rampal: 'My parents refused to let me play hockey because I was a girl'

It has been quite a journey to the pinnacle of the game for Rani Rampal, who will captain India against England in the opening game of the World Cup in London on Saturday

Michael Butler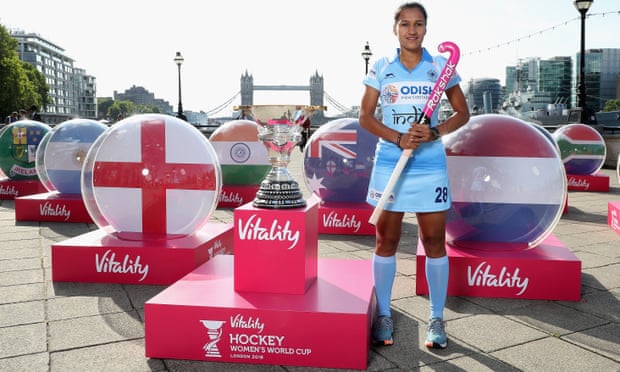 Rani Rampal, India's captain, will take on England in the opening game of the Vitality Hockey Women's World Cup at Lee Valley in east London on Saturday. Photograph: Christopher Lee/Getty Images for Vitality

Standing on the banks of the Thames, Rani Rampal has tears in her eyes. With the Hockey World Cup starting on Saturday, we are at a photoshoot with all 16 captains, but in a quiet corner away from her rivals the Indian captain is reflecting on the journey that has led her to London.

We're talking about her first coach, Baldev Singh, and these are good tears, the ones that creep up on you when laughter and goosebumps aren't enough as she remembers the barriers that inadvertently helped her to become a genuine superstar of the game: at the age of 23 she is already a veteran with 134 goals in 212 international appearances.

"I always thought about quitting hockey because of the poverty but Baldev helped me a lot," Rani explains. "He's very proud now. Whatever I am today is because of him. He worked so hard for me. He knows everything about me, where I come from, and he helped me off the pitch as well. So whenever I talk about him, I feel like: 'Oh my god.' He's like god for me. Now I'm getting emotional."

India start their World Cup campaign on Saturday against hosts England, with the match at the Lee Valley Tennis and Hockey Centre in London's Olympic Park a 10,000 sell-out. It is a far cry from her humble beginnings – Rani grew up desperately poor in the small town of Shahabad, about 120 miles north of Delhi, and lived in a single storey of a house with father – a cart puller – her mother, her two brothers and their wives and children, with her uncle and his family on the floor below.

Simple things were a struggle. Waking up on time for Baldev's 5am training sessions before school became an ordeal as the family could not afford a clock. "My mum did not sleep very much because she was worried about me being late," says Rani. "She would get an idea of the time from looking at the sky and judge when it was 4am to wake me up.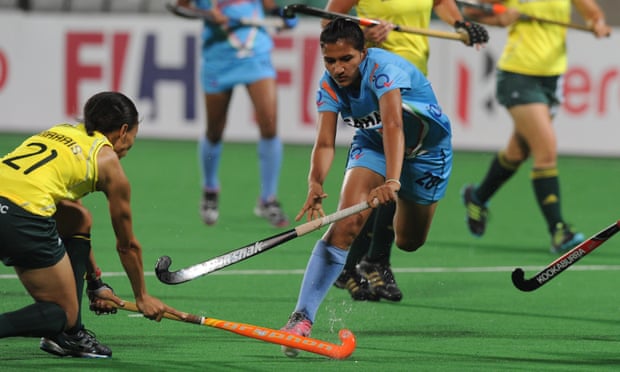 Rani Rampal in action for India. Now 23, she was first called up aged just 15. Photograph: Prakash Singh/AFP/Getty Images

"Once I arrived at 5.02am, two minutes late, and Baldev was so angry that he asked me to pay a 200 rupee [£2.23] fine. My dad only made about 100 rupees per day so I couldn't pay that. I told my mum the story and asked her for the money. She was only able to give me 100. I gave it to Baldev before training and explained the money situation but he was still angry. At the end of the training session, he gave me the 100 rupees back, and another 100 on top, and said: 'I don't want to take money from you, I just want to teach you discipline.' Since that day I've never been late."

It helped that shortly after that episode her school ran a handwriting competition with the winner earning a small alarm clock. "My writing was terrible, but I practised and practised and I won it. So then my mother could get some rest."

There were a number of other issues. Temperatures would sometimes reach over 40C so training time was limited. Shoes and sticks were too expensive and had to be borrowed from coaches and team-mates. But by then Rani had already overcome her biggest challenge, simply convincing her family to let her play sport.

"When I first asked to play hockey my parents immediately refused because I was a girl," Rani says. "Every day I cried in front of them and told them I would treat my children the same way. For three years they didn't trust me in case I did something wrong to bring a bad name to the family. India is a male-dominated country and nobody prefers women to play sport or go out from the house. My parents are not educated, they can't even write their own names, so it's very difficult for them to understand about sport. I said: 'You should give me one chance,' but my neighbours and relatives told my parents it would bring them a bad name because I would be wearing a skirt or shorts.

"Now the same people talk to my parents and always say 'we are so proud of Rani' and they send their kids to play hockey. My parents now say that if they made one decision in life that was good, it was to allow me to play hockey."

That decision certainly paid off. Her talent was quickly recognised and she was called up to India's 2010 World Cup squad aged just 15. She finished the tournament as the second-highest scorer with seven goals and was unsurprisingly voted the young player of the tournament.

Rani is one of just two current India players to have World Cup experience after the nation failed to qualify in 2014. She has been pivotal in their recent success: key goals against Italy and Japan helped India qualify for the 2016 Olympics – their first appearance since 1980 – and the Asia Cup victory last year was a major confidence boost for a team that is still part-time, with most players holding down jobs with Indian Railways.

At the Commonwealth Games this year India came from behind to beat England – ranked No 2 in the world and full-time athletes – in the group stage. Their meeting on Saturday will go a long way to establishing whether India can achieve their ambition of reaching the knockout stage, with USA and Ireland also in the group. "I think England have more pressure than us so we want to enjoy the game," says Rani. "For three weeks a sports psychologist worked with us in Bangalore and that has helped us to believe in ourselves."

Rani's parents will be watching, from the comfort of their new home. "Last year I bought them a house and whenever I go there, I am so happy," Rani says with a beaming smile. "They will watch the World Cup on television but they don't know how to use smartphones so I can't call them on Whatsapp – I have to call someone else if I want to speak with them.

"They worked so hard for me, struggled a lot with poverty and so now it's my duty to do well for them so they can enjoy the rest of their lives."

The Guardian


---

USWNT Ready for the 'Fight' at the Vitality Hockey Women's World Cup in London

By Diana Pugliese




Walking off the field in The Netherlands four years ago, the members of the U.S. Women's National Team had reason to hold their heads high.

Yes, the squad had lost to Argentina in the bronze medal game, but the fact that the Americans had even reached that round of the World Cup surprised many. It marked the highest finish for Team USA since a bronze medal win in 1994, and gave the squad an extra incentive over the next four years of training.

Winning tournaments and finishing fifth at the Rio 2016 Olympic Games helped the United States boost its reputation and rise in the International Hockey Federation (FIH) rankings, but the time has come to see what the Americans can do on the Vitality Hockey Women's World Cup stage as they open pool play Saturday against FIH Hero World Ranked No. 16 Ireland.

The seventh-ranked Team USA that takes the field in London's Lee Valley Hockey and Tennis Centre at Queen Elizabeth Olympic Park will be a little different this time around, however, and that's something the squad feels could be an advantage.

"What's important is just kind of going off of that was last time," said Melissa Gonzalez, USWNT Captain. "For us, it's really not resting on our laurels, on our past performances, really just focusing in and honing in on the moment and the opportunities that present themselves. We put in the work, we've done what we could and we really pushed ourselves. Now it's the fun part, tournament time."

Gonzalez is one of just six Americans on the 18-player roster with previous World Cup experience, including former Penn Manor standout Jill (Witmer) Funk. That kind of youth movement could prove problematic while trying to keep pace with the top teams in the world, but, so far, it's worked pretty well for Team USA.

The USWNT announced the roster for the Vitality Hockey Women's World Cup two weeks ago.

For proof, look no further than the FIH Hockey World League Semifinals. At this time last year, Team USA was in South Africa facing off against Germany in the championship game. A shootout goal from Erin Matson broke the 1-1 tie and clinched the Americans' first gold medal at the tournament – and their spot at the World Cup.

When Matson buried that shot in the back of the net, she was just 17-years-old, and playing in only her second tournament with the national team.

From there, Team USA went on to win bronze at the Pan American Cup at Spooky Nook Sports last August and finish seventh in their first Sentinel Homes Hockey World League Final appearance. This year, the USA took advantage of a flexible schedule to take on a pair of world powers in No. 1 The Netherlands and No. 3 Argentina.

Team USA dropped all nine games, but picked up some valuable experience.

"We want to be the best - we've stated that - so we have to play the best," said Gonzalez. "In terms of world hockey, they have the record to prove it and they've got great players and great styles of play, so it's really good for us to get that kind of exposure."

"I think those teams give us the opportunity to see what we need to improve because they will show us our weak spots," said Janneke Schopman, USWNT Head Coach, about playing The Netherlands and Argentina. "If you don't do it 100 percent all the time, they will find a way and that's what they showed us. Throughout those games, there was tremendous growth, from Holland and being in Argentina, was just needed for us to see and we worked on those details in the last two to three weeks."

Team USA could face The Netherlands again in the World Cup, but that rematch would have to wait until crossover play, while the squad wouldn't see Argentina until the semifinals. Instead, the United States will open the 16-day, 16-team tournament in Pool B with Ireland, No. 10 India and No. 2 and the defending Olympic Games champion England.

It all starts on Saturday as USA and Ireland meet for the first time since a 2-2 tie in the final match of a three-game test series at Spooky Nook Sports last May. Team USA took the first two games of that series.

"We've played them a lot — they're a hard-working team and now one of their star players is back after a long injury," Schopman said of Ireland. "I think we'll play to our strengths, whether it's Holland of Ireland, and we'll see where it gets us. I know it's going to be a fight, but we're ready for that. If we can focus, if we can work hard as a team, we're a tough team to beat."

Content Courtesy of Diana Pugliese, Lancaster Online Sports Writer

USFHA media release


---

Women's Hockey World Cup: newcomers' guide to watching professional game

Todd Williams



Time to celebrate (c) hockeyimages.co.uk

New to the game or an amateur wanting to learn from the best? The Hockey Coach, Todd Williams, takes you through what to look out for at the Vitality Women's Hockey World Cup

Speed

International hockey is fast. Sometimes though it might not seem as quick as it is. If, for example, your seats are not that close to the action, you can miss all the sounds of the ball fizzing across the pitch or hitting the stick that help tell you how quickly it is going.

You also miss the proximity to the players that tells you how fast they are moving or the power they are exerting in taking off or changing direction. Then there's the same sort of relative increase in speed of player and ball that you see at Wimbledon, which allows all of us novices to believe that we could make shots that a pro misses, which seem to be so simple.

What we aren't taking into account is that the speed of the players is making the pace of the ball look slower than it really is. As a tennis pro said to me once, "it might not look that way, but most volleys you see at Wimbledon are below the level of the net, it's just that the players make them look much easier than they are".

Then there's the speed and skill level of the game to take into account. Yes, you might have been able to trap the simple ball that has just nutmegged a defender if that was the only thing you had to worry about, but could you have done it after you've been sprinting flat out trying to stop one of the world's fastest forwards from eliminating you whilst also trying to intercept passes to your left and right to players you know are in scoring positions?

So, if you do find that your seats are in another postcode to the pitch, see if you can get pitch-side for a few minutes for the warm-up. Every team will finish their routine with penalty corners (PCS) and a small game before the opening whistle and getting near the fence for either will give you a really good feel of just how quick it all happens at this level.

Bravery

One difference between the men's and women's international game is that you'll likely see a higher number of penalty corner variations at this World Cup than the men's event later this year. You should be in no doubt just how much time goes into perfecting these moves and how much scrutiny coaches put their opposition defences under.

Hours and hours are spent looking at defences and defenders, looking for that all important space or weakness to exploit. For defenders, the challenge is to deal with the threat of the direct shot and any rebound, knowing that there's a high chance that the attacking team is going to come up with some move to try and utilise their numbers' advantage.

With so much time and effort spent on attacking and defending PC's, it's no surprise that these are probably the most intensive situations you see in an elite game and whether you're an attacker, defender and even an umpire, it's no place for the faint-hearted. You can think of it a bit like an endzone in American football – in this case the quarterback is usually a player at the top of the circle trying to find a receiver for a deflection.

But, of course, the goal is much smaller and there as many as 12 players in a space in front of goal about five metres long and no more than eight or so metres wide. Except for the goalkeeper, there is no padding or helmets that the American footballers have, just face masks and gloves for the defenders while the attackers don't even have that. So, if you're still shaking your head at Neymar rolling around like a freshwater trout on the riverbank and want to see real bravery and commitment, then this is where you'll find it.

Interchange:

Most teams are used to interchange but whereas down the grades it's about sharing game time around, at the international level it's all about maintaining the maximum level of intensity. That's why you see players sprinting off the pitch which is pretty funny when you compare it to the hour or so it takes a footballer to walk 35 metres from the middle of the pitch to the side-line.

The amount of time players are on is calculated through all sorts of different factors including their maximum heart rate and the distance individual players can run before they need resting as well as having to take into other considerations like making sure you have your best PC people on. Typically defenders can play for longer, while strikers can be on for as little as three or four minutes but don't forget that's three or four minutes sprinting flat out to press the opposition and then doing the same to get the ball or get to the circle.

Watch out for teams interchanging their goalkeeper for an extra field player in the last five minutes or so of the game if they are losing, particularly when pools are being decided and we move into the qualification stages. Withteams now used to this strategy, we are seeing more and more goals scored here, as with the speed and accuracy of passing at this level, the extra player virtually guarantees a circle penetration and possible shot or PC.

Time

With football's introduction of VAR, the possibility that a team could be awarded a penalty right up until the last second seemed to make games all the more exciting. In hockey, we've known a goal is possible right up until the last 10 seconds since astroturf was introduced and to the last second since we've had no offside.

The German men scoring twice in the last 45 seconds to beat New Zealand in the Rio games quarter- final showed just how much hockey is left even in the last minute, particularly when you bear in mind that the clock is stopped when a PC is awarded and also when a goal is scored.

In Rio, NZ took the pushback after Germany had scored to make it 2-2 with 40.6 seconds left on the clock and had enough time to take the ball forward on an attack of their own before the Germans countered with only seconds to go to hit the winner. In hockey, it really isn't over until it's over.

Contact

Hockey is a non-contact sport but at international level, you'll see far more collisions as players contest for the ball. Often, what you might think is a nailed-on PC for a tackle will just be a free hit and that's because the fitness, speed and athleticism of the players allows umpires to let them fairly contest for the ball from less feasible positions and angles than you would see down the grades.

No more is this better demonstrated than in the circle where as long as you have a reasonable opportunity to get to the ball, you are allowed to go for it. If both players miss it in the process of contesting for it then there will probably be no penalty either way, no matter who might have been there "first". It's only if the umpire is certain one player has impeded another that they'll go the whistle.

That said, you'll also see big decisions (PC's and cards) when there doesn't seem to be too much in it. What might seem to be a normal free hit in the midfield can turn out to be a green card because the umpire will have deemed to play to have been broken down deliberately, albeit disguised with a very clever level of innocence!

Enjoy the spectacle.

SIGN UP to The Hockey Paper's exclusive newsletter

The Hockey Paper


---

BT Sport and FIH agree four-year extension to media rights for UK and Ireland through to 2022

The International Hockey Federation (FIH) has agreed a new four year partnership with BT Sport, confirming the broadcaster as the 'Home of Hockey' in the United Kingdom and Ireland until 2022.

BT Sport will show more than 600 hours of live and exclusive hockey content each year across all their platforms, during which they will utlise their industry leading technology and innovations to bring fans into the heart of the action.

A key factor of this new partnership is their excitement for the new game-changing FIH Pro League. With 152 matches being played by nine top-level men's and women's teams between January and June each year, this competition will provide considerably more world-class hockey content, more often, for their subscribers.

"Their world-class coverage and content creation will not only be key to enagaging millions more followers across the planet, but also an inspiration to other broadcasters showcasing our sport."
Thierry Weil, FIH CEO

BT Sport will be the host broadcaster for all Great Britain and England women's and men's home matches in the FIH Pro League, as well as the FIH's official Production Partner for all of Pakistan men's home matches, which will be played in Glasgow, Scotland.

The 2019 Series Finals will also be shown by BT Sport. Featuring the world's leading teams not playing in the FIH Pro League, including Ireland, Scotland and Wales, these events mark a key stage on the road to the Tokyo 2020 Olympic Games.

Later in 2019, BT Sport will showcase an incredible end-of year climax. The top teams from the Series Finals will square up to the best teams from the FIH Pro League in winner-takes-all, two-header, Olympic Qualification Events.

Before all that drama begins, BT Sport's latest innovations will be witnessed during the Vitality Hockey Women's World Cup London 2018 which begins tomorrow. This year's biggest women's sporting event will see matches broadcast in 4K Ultra-High Definition (UHD) using High Dynamic Range (HDR) and Dolby Atmos surround sound. This will allow viewers to experience the best-ever picture and sound quality from a hockey event in the sport's history.

Speaking about this, FIH CEO Thierry Weil said: "With BT Sport having been at the forefront of innovation and technology within our sport, we're delighted to agree this new long-term partnership for our flagship events with a broadcaster that reflects our ambitious Hockey Revolution strategy. Their world-class coverage and content creation will not only be key to enagaging millions more followers across the planet, but also an inspiration to other broadcasters showcasing our sport."

Jamie Hindhaugh, COO BT Sport, added: "It's a hugely exciting time for international hockey and we're delighted to continue showcasing our groundbreaking coverage for another four years. Brand new competitions like the FIH Pro League further demonstrates the range of world class men's and women's sport that viewers can regularly enjoy on BT Sport."

England Hockey CEO Sally Munday said: "BT Sport have been a fantastic partner for our sport and I am delighted that they have agreed this new long-term contract with the FIH. With the Vitality Hockey Women's World Cup about to start here in London, this is the perfect opportunity to see how much BT's coverage brings our game to life both on and off the pitch. Our vision is to create 'A Nation Where Hockey Matters' and the FIH's agreement with BT Sport helps us move even closer to that."

FIH site


---

2018 CAC Games (W) - Day 1
Barranquilla (COL)

Results 20 July

MEX v CUB (Pool A)     3 - 0
DOM v GUY (Pool A)     4 - 0
TTO v GUA (Pool B)     12 - 0
BAR v JAM (Pool B)     1 - 0

Pool standings
Pool A
| Rank | Team | Played | Wins | Draws | Losses | Goals For | Goals Against | Goal Difference | Points |
| --- | --- | --- | --- | --- | --- | --- | --- | --- | --- |
| 1 | Dominican Republic | 1 | 1 | 0 | 0 | 4 | 0 | 4 | 3 |
| 2 | Mexico | 1 | 1 | 0 | 0 | 3 | 0 | 3 | 3 |
| 3 | Cuba | 1 | 0 | 0 | 1 | 0 | 3 | -3 | 0 |
| 4 | Guyana | 1 | 0 | 0 | 1 | 0 | 4 | -4 | 0 |
Pool B
---

Big winners on Day 1 in Barranquilla

Damian Gordon




Match 1 Pool A – Mexico (MEX) vs. Cuba (CUB)

Our first match saw tournament #1 Mexico taking on Cuba. Cuba got off to the stronger start, using a lot of long hits to push their opponents deep. Mexico used aerial passes to relieve the pressure and mount a series of attacks. Both teams earned penalty corners, but none of them produced any goals. This pattern continued over the first two corners. The third quarter continued the trend of Cuba starting off strong while Mexico gradually fighting back. The Mexican persistence paid off with a penalty stroke, but Yusnaidy BETANCOURT produced a spectacular stick save to keep the scores 0-0. BETANCOURT was unable to keep out two outstanding goals from Arlette ESTRADA, the first at the end of Q3 and the second against a tiring Cuban defence 3 minutes from full time. The final meaningful piece of action saw Michel NAVARRO score to give Mexico a convincing 3-0 win to start the tournament.

Match 2 Pool A – Dominican Republic (DOM) vs. Guyana (GUY)

Our second match of the day saw the Dominican Republic play Guyana. For the second game in a row both teams dealt with tricky field by using longer passes. DOM took control quickly, pushing GUY right back into their defensive 23 metre area. Alysa XAVIER in goal stood strong, making many important saves to keep the score 0-0 at the end of the first two quarters. The start of the third quarter continued as the previous two, but this time DOM managed to score two with Marian GONZALEZ and Cecilia OFLAHERTI. With GUY starting to slow in the fourth quarter DOM continued to press for more, missing a penalty stroke before Ana WILLIAMS and Augustina BIROCHO finished the scoring to finish round 1 action in Pool A on top.

Match 3 Pool B – Trinidad and Tobago (TTO) vs. Guatemala (GUA)

Our third match of the day saw Pool B off with TTO taking on Guatemala. As with the other matches we saw the long ball preferred to careful build up play. TTO pressed GUA and from the turnover scored in the 1st minute of the game. They continued to pressure GUA and they were rewarded with two more PC goals before the end of Q1. Q2 started as Q1 ended but Norma QUEVEDO made some good saves to keep out the TTO attacks. Eventually TTO scored another FG to take a 4-0 lead at the end of Q2. TTO started Q3 in complete control scoring three inside the first 2 minutes before adding another two to end the quarter a commanding 9-0 in front. GUA continued to defend deep, keeping the TTO attacks out. Eventually they conceded a PS which Shania DE FREITAS scored to take the TTO score to double figures. Gabrielle THOMPSON and DE FREITAS scored again to take the final score to 12-0.

Match 4 Pool B – Barbados (BAR) vs. Jamaica (JAM)

Our final match of the day was a battle of Caribbean rivals. After a cautious start the tempo of the game picked up and with it the number of fouls committed by both teams. BAR had the territorial advantage by the end of Q1 but could not create any clear opportunities. Q2 continues as the first ended, but slowly JAM started creating counter attacks of their own. Neither team, though was able to force even a save from their opposing keepers and the half time horn came with both teams still tied at 0-0. Q3 saw BAR continue to push JAM back deep into their half, but only had one shot on goal to show for their effort. Finally a Nakira DOWNES PC was fumbled into the goal by JAM GK Lorie-Ann McINTOSH. The quarter finished with BAR leading 1-0. Q4 was easily the most dominant for JAM as they earned a series of PCs that they failed to score. BAR defended well and played on the counter attack to earn a hard fought 1-0 victory as the horn signalled the end of the match and the day's play.

Tomorrow the men start their Pool matches with TTO vs. CUB, BAR vs. JAM, GUY vs. DOM and MEX vs. GUA.

Pan American Hockey Federation media release


---

Pakistan to face India on Oct 20th in Asian Champions Trophy




The draws for this year's Asian Champions Trophy have been announced by the Asian Hockey Federation (AHF) and the most anticipated encounter between arch-rivals Pakistan and India will be played on October 20th.

The Asian Champions Trophy will be played in Oman from 18th to 28th October. Teams from Pakistan, India, Malaysia, Korea, Japan and Oman will be taking part in this 10 days event, which also has the approval of hockey's global body, FIH.

Pakistan will face India a day after playing its opening match of against Korea on 19th. Pakistan will also compete against Oman on 22nd, Japan on 24th and Malaysia on 25th of October. The final will be played on October 28th.

This is the fifth edition of the Asian Champions Trophy; a tournament that has been dominated by Pakistan and India, winning the trophy twice each.

Malaysia has made four appearances in the event and has won Bronze on all four occasions. Japan is the only other team to have finished on the podium, winning a Silver medal in the 2013 edition. South Korea, and hosts Oman, will make their third appearance in the tournament.

India took the trophy home in the latest, 2016 edition in Kuantan, Malaysia.

The Nation


---

African Youth Games 2018 (M) - Day 2
Algiers (ALG)

Results 20 July

ZIM v RSA (Pool A)     0 - 6 (0 - 3)
NAM v ALG (Pool A)     4 - 1 (1 - 1)
NGR v KEN (Pool B)     2 - 1 (2 - 1)

Pool standings
Pool A
| Rank | Team | Played | Wins | Draws | Losses | Goals For | Goals Against | Goal Difference | Points |
| --- | --- | --- | --- | --- | --- | --- | --- | --- | --- |
| 1 | South Africa | 2 | 2 | 0 | 0 | 11 | 0 | 11 | 6 |
| 2 | Zimbabwe | 2 | 1 | 0 | 1 | 9 | 6 | 3 | 3 |
| 3 | Namibia | 2 | 1 | 0 | 1 | 4 | 6 | -2 | 3 |
| 4 | Algeria | 2 | 0 | 0 | 2 | 1 | 13 | -12 | 0 |
 Pool B
| Rank | Team | Played | Wins | Draws | Losses | Goals For | Goals Against | Goal Difference | Points |
| --- | --- | --- | --- | --- | --- | --- | --- | --- | --- |
| 1 | Nigeria | 1 | 1 | 0 | 0 | 2 | 1 | 1 | 3 |
| 1 | Zambia | 1 | 1 | 0 | 0 | 2 | 1 | 1 | 3 |
| 3 | Kenya | 2 | 0 | 0 | 2 | 2 | 4 | -2 | 0 |

African Youth Games 2018 (W)
Algers (ALG)

Results 20 July

GHA v NAM (RR)     2 - 3 (2 - 1)
RSA v ZIM (RR)     3 - 3 (2 - 1)
ALG v NGR (RR)     0 - 2 (0 - 1)

Pool standings
| Rank | Team | Played | Wins | Draws | Losses | Goals For | Goals Against | Goal Difference | Points |
| --- | --- | --- | --- | --- | --- | --- | --- | --- | --- |
| 1 | Namibia | 2 | 2 | 0 | 0 | 7 | 2 | 5 | 6 |
| 2 | South Africa | 2 | 1 | 1 | 0 | 22 | 3 | 19 | 4 |
| 3 | Ghana | 2 | 1 | 0 | 1 | 6 | 3 | 3 | 3 |
| 4 | Nigeria | 2 | 1 | 0 | 1 | 2 | 4 | -2 | 3 |
| 5 | Zimbabwe | 2 | 0 | 1 | 1 | 3 | 7 | -4 | 1 |
| 6 | Algeria | 2 | 0 | 0 | 2 | 0 | 21 | -21 | 0 |
---

Canada prepares to play Ireland for their final match in the Six Nations Tournament.

By Tristan Urry



Photo: Tristan Urry

Canada has shown significant improvement during their time in Antwerp at the Six Nations Tournament. Their most recent match against the Great Britain was perhaps their strongest performance and while it ended in a 2-1 loss for the girls there were many positive takeaways from the game.

Steph Norlander scored Canadas' first tournament goal during the third quarter.

"My goal today was a great team effort. It started with a strong build up in our outlet, then I was able to get the ball in the midfield and run it to the circle for a shot. Good positioning by our other forwards opened the space and allowed me a to get the shot off from the right side of the D," said Norlander.

Erica Sanders scored both goals for the UK team during the third and fourth quarters.

"Although we didn't get the winning result that we wanted, we stuck to the game plan and implemented the new structures that we have been working on with success. We had quite a few more attacking chances than we had in previous games so that is a positive that we hope to take into the final match against Ireland," Jordyn Faiczak said.



Photo: Tristan Urry

Canada plays Ireland for their final match in the Six Nations Tournament.

"We've been improving in every game, and I look forward to our final match against Ireland," added midfielder, Katie Lynes.

Field Hockey Canada media release


---

Indian junior men's hockey team hold the Netherlands to 2-2 draw

The Indian junior men's hockey team overcame an early 0-2 setback to hold the Netherlands 2-2 in a hard-fought encounter at the U-23 Five Nations Tournament in Antwerp, Belgium.

The Netherlands caught the Indian team's defence off-guard early in the match with Marlon scoring the first goal in the first minute.

The Dutch team's early 1-0 lead put India on the back foot and recovering from this deficit was further affected when Jip Jansen scored in the 11th minute, making it 2-0 by the end of the first quarter.

But India clawed back into the game in the second quarter. While the team's defence held strong in the following minutes, the Indian attackers worked on creating scoring opportunities.

The team's first breakthrough came in the 27th minute when Mandeep Mor scored a splendid goal to narrow the difference to 1-2.

After a goalless third quarter, the Indian team pushed for goals in the final quarter and their efforts paved way for Mandeep Mor to score another goal in the 48th minute.

Though India stretched the Dutch defence as they vied for a winner, the team could not convert and were forced to settle for a draw.

The Tribune


---

EHL ROUND1 schedule confirmed as world's best club competition returns in October



©: Frank Uijlenbroek

The match schedule for EHL ROUND1 has been confirmed with a series of mouth-watering encounters set to hit the turf at the Pau Negre Stadium from October 5-7, 2018.

The action begins on Friday, October 5 with Belarus's HC Minsk making their debut in the competition in Pool C at 11.15 (CET) against the hugely experienced WKS Grunwald Poznan who are playing in their 12th consecutive EHL season.

A well-matched battle between Austria's SV Arminen and Scotland's Grange follows in Pool A at 13.30. Pool D gets under way with a potential firecracker as Racing Club de France take on Three Rock Rovers at 15.45.

The last two seasons have seen precious little between Irish and French clubs with three meetings between clubs from those countries ending in one win each in normal time while Racing won the other tie in a shoot-out.

The day finishes with another strong match-up with high-flying Russian side Dinamo Elektrostal looking to take down England's Wimbledon at 18.00.

Day two sees the top seeds enter the fray with Royal Leopold returning to the competition to face Grunwald Poznan in the opening game at 10.15 on Saturday, October 6.

Dutch giants HC Oranje-Rood go in as big favourites against Grange at 12.30 in Pool A before Pool D serves up another new face with Spanish runners-up Junior FC making their EHL debut. They will play Three Rock Rovers at 14.45. Germany's Mannheimer HC close out the day's action against Elektrostal at 17.00

Sunday, October 7 sees the conclusion of the group stages with Leopold playing Minsk at 9.30. Oranje-Rood take on SV Arminen in a repeat of their 2015 KO16 encounter – when OR were known as Oranje-Zwart – at 11.45.

The weekend finishes with a flourish with Mannheimer HC facing Wimbledon in a potential classic at 14.00. It is a repeat of their KO8 meeting in 2017 when the English club won via a shoot-out.

And, in the final act of ROUND1, Junior FC go up against Racing Club de France. A year ago, the final game of the weekend saw another French-Spanish battle to close the weekend with Saint Germain beating Club Egara 6-4 in a thriller and this tie could have the potential for a similar outcome.

Tickets for the EHL ROUND1 weekend are set to go on sale on August 3 via the EHL website.

EHL ROUND1 match schedule (Pau Negre Stadium, Barcelona, October 5-7, 2018)
Pool A: HC Oranje-Rood, Grange, SV Arminen
Pool B: Mannheimer HC, Wimbledon, Dinamo Elektrostal
Pool C: Royal Leopold, HC Minsk, WKS Grunwald Poznan
Pool D: Junior FC, Racing Club de France, Three Rock Rovers

Friday 5 October 2018 (all times CET)
M1        11.15h Pool C HC Minsk (BLR) WKS vs WKS Grunwald Poznan (POL)
M2        13.30h Pool A SV Arminen (AUT) vs Grange HC (SCO)
M3        15.45h Pool D Racing Club de France (FRA) vs Three Rock Rovers (IRL)
M4        18.00h Pool B Wimbledon HC (ENG) vs Dinamo Elektrostal (RUS)

Saturday 6 October 2018 (all times CET)
M5        10.15h Pool C Royal Leopold (BEL) vs WKS Grunwald Poznan (POL)
M6        12.30h Pool A HC Oranje-Rood (NED) vs Grange HC (SCO)
M7        14.45h Pool D Junior FC (ESP) vs Three Rock Rovers (IRL)
M8        17.00h Pool B Mannheimer HC (GER) vs Dinamo Elektrostal (RUS)

Sunday 7 October 2018 (all times CET)
M9       09.30h Pool C Royal Leopold (BEL) vs HC Minsk (BLR)
M10      11.45h Pool A HC Oranje-Rood (NED) vs SV Arminen (AUT)
M11      14.00h Pool B Mannheimer HC (GER) vs Wimbledon HC (ENG)
M12      16.15h Pool D Junior FC (ESP) vs Racing Club de France (FRA)

Note: Match times and schedule subject to change due to the requirements of television or other factors as determined by EHL.

Byes to KO16 (subject to confirmation via entry forms due by August 1, 2018):
Netherlands: SV Kampong, AH&BC Amsterdam
Germany: Uhlenhorst Mülheim, Rot-Weiss Köln
Belgium: KHC Dragons, Waterloo Ducks
Spain: Real Club de Polo, Club Egara
France: Saint Germain
England: Surbiton
Russia: Dinamo Kazan
Scotland: Grove Menzieshill

Euro Hockey League media release


---

Kate Richardson-Walsh: Olympic gold medallist to coach Hampstead & Westminster Ladies

By Rob Stevens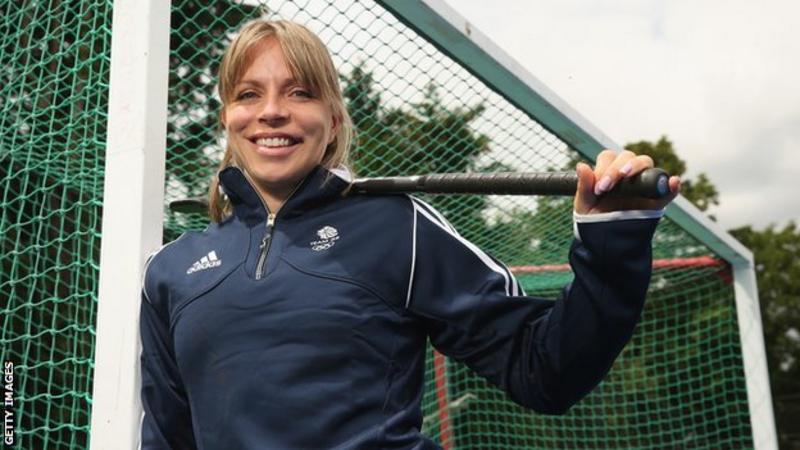 Kate Richardson-Walsh won 375 caps over the course of her 17-year international career

Olympic gold medallist Kate Richardson-Walsh has been appointed as joint-head coach of Hampstead & Westminster Ladies' first XI.

The 38-year-old captained Great Britain women to a historic first Olympic hockey gold in Rio de Janeiro in 2016.

Hampstead & Westminster narrowly missed out on promotion to the top flight of the Women's Hockey League last season.

"I was waiting for the right opportunity and a club I thought I could grow at," she told BBC Sport.

"With all the things I want to learn and people there to work with, this was the perfect opportunity."

Former Ireland international Sarah Kelleher, who coaches England Under-18s, will be joint-head coach alongside Richardson-Walsh at the Maida Vale-based club,

Hampstead & Westminster Ladies went unbeaten to win the Conference East title last season but finished third in a play-off group for two available places in the Premier Division. The top two clubs, Beeston and Slough, booked their spots in the top flight.

"They are an old club with lots of tradition, celebrating their 125th year, and the ladies' side have made great strides in such a short time," Richardson-Walsh added.

"Working alongside Sarah, who was an exceptional player and is an exceptional coach, I feel I can learn a lot from how she works with the players."
England can 'do well' at World Cup

Richardson-Walsh won 375 caps over the course of her 17-year international career - including 13 years as GB captain - and previously served as an assistant coach at Reading towards the end of her playing days.

Her appointment comes on the eve of the Women's World Cup, which takes place in London from 21 July to 5 August.

England are in Pool B, alongside India, Ireland and the USA.

"England come in ranked second in the world and I think they can do well," Richardson-Walsh said.

"If they can top their pool they've got a slightly better route through to the quarter finals.

"Women's hockey has grown in strength and depth which means that anyone in that top eight could win a medal. That's what you want and there are going to be things to play for all through the tournament."

BBC Sport


---

Negri HA: Change date or we withdraw from Razak Cup

By Jugjet Singh



Pic: Competitions manager Brian Fernandez

KUALA LUMPUR: The Malaysian Hockey Confederation (MHC) competitions committee is like a magnet for controversies, and this time, has riled the feathers of states, officials, umpires and players by organising the Razak Cup smack on Deepavali.

In a short letter sent to their affiliates, competitions committee manager Brian Fernandez said the men's and women's Razak Cup will be held on Nov 3-11 at the National Stadium in Bukit Jalil.

Deepavali is on Nov 6.

And in a prompt reply to the competitions committee email, Negri Sembilan HA said they will withdraw from the Razak Cup if the dates are not changed.

"The Negri HA has already sent an email to the MHC competitions committee stating that if the dates are not changed we will withdraw from the tournament.

"It is not fair to hold it during the Deepavali period as I have players who celebrate the event. I am sure there are also many officials, umpires and players from other states who want to balik kampung during that period," said NSHA secretary P. Tamil Selvam.

Negri have Malaysia's No 1 goalkeeper S. Kumar, former national player K. Keevan Raj and former national juniors G. Kavin Kartik in their Razak Cup squad this year.

NSHA coaching chairman S. Chandran echoed his secretary's sentiments.

"We have four players who celebrate Deepavali and they are the backbone of Negri. I am sure they will not want to play during that period so the MHC can hold it a week before or a week after the celebrations," said Chandran.

Tamil Selvan also said he has heard from a member of the competitions committee that during their last meeting the Razak Cup date was not blocked.

"So if the committee did not set the date, who is responsible for this gaffe?," questioned Tamil Selvam.

Last year, the competitions committee only held one meeting and then they removed its eight members when their term expired in February and only appointed new members in June. 

And all the new members had to sign a 'code of conduct' letter.

"I can't say anything about the latest issue because I have signed a code of conduct document. Sufficient to say, we have been receiving brickbats after the dates were announced (Thursday)," said a member who can't even reveal his name because of the regimental rules.

The committee has recommended to do away with Division One in the Malaysia Hockey League (MHL) next season, leaving about 10 clubs in jeopardy.

The plan is to host only the Premier Division, and this has not gone down well with many states who run clubs as well.

Phone calls and messages to Brian were not answered.

Jugjet's World of Field Hockey