All the news for `Friday 20 July 2018

Clinical India defeat Black Sticks in opener



Blair Tarrant, Nick Ross and Kane Russell welcome debutante 19 year old Malachi Buschl (second from left) to the Black Sticks.

Converting penalty corners can make all the difference in a tight hockey test match and so it was in Bangalore overnight, where India defeated the Vantage Black Sticks Men 4-2 to take a one-nil lead in the best of three series.

Indian PC specialist Rupinder Singh fired the home team ahead after only 2 minutes to immediately swing the advantage to India. He would hurt the Black Sticks again later in the match with his second penalty corner goal in the 34th minute.

The Black Sticks responded and played solid hockey keeping the match competitive but lacked the finishing power from their set pieces, to take advantage of the pressure applied to the Indian defence.

Stephen Jenness grabbed one back for the Kiwis after 26 minutes, taking the game into half time with the Black Sticks 1-2 down but with plenty to play for in the second half.

The third quarter had a sense of deja vu about it with Rupinder Singh scoring from a penalty corner four minutes after the restart and a few minutes later Harmanpreet Singh scored from another Indian penalty corner, and India were out to a 4-1 lead.

The Black Sticks persevered against the home side and were rewarded with a late Jenness field goal (his second pair in the last two games) in the 55th minute to keep the score closer.

Head coach Darren Smith rued the lost opportunities in front of goal, "For large parts of this match we controlled the tempo and possession but the PC battle cost us any chance of a win. They were clinical scoring 3 from 5 and we looked threatening but couldn't convert any from 5.

"Malachi Buschl had a bright start to his career holding the ball well, controlling the Indian midfield and showing real poise, which has always been a strength of his make up. Saturday will be a big test as we close in on what has been a challenging tour for the team".

"We have experienced 3 completely different locations and the variance that comes with this but it will help us grow with Bhubaneswar World Cup in mind. We look forward to Saturday!"

The Vantage Black Sticks play India in the second game of the three match series on Saturday night at 10:30pm NZ time. Fans can follow live scoring on the FIH match website.

VANTAGE BLACK STICKS: 2 (Stephen Jenness 26' and 55')

INDIA: 4 (Rupinder Singh 2' and 34', Mandeep Singh 15', Harmanpreet Singh 38')

Half Time: IND 2-1

Hockey New Zealand Media release


---

Comfortable victory for India

Rupinder Pal Singh, coming back after a long break, scores a brace

Shreedutta Chidananda



Getting it right: Drag-flicker Rupinder Pal Singh converted two penalty corners in India's easy win.

Rupinder Pal Singh showed he was returning to form ahead of the Asian Games with a brace in India's victory over New Zealand here on Thursday.

The drag-flicker converted two penalty corners as the home side posted a comfortable 4-2 win in the first of three Test matches at the SAI here. Rupinder had been rested for the Champions Trophy after pulling his hamstring during the Commonwealth Games.

Having steadily worked on his fitness, the towering defender turned in some good performances in practice matches against the touring Bangladesh and South Korea sides. He was now back playing at full intensity.

Rupinder said after the game. "I'm playing after a long break. I feel fine physically. I'm really motivated. This is the first time I've played in this new jersey."

Chief coach Harendra Singh had recently rued India's poor conversion rate from penalty corners at the Champions Trophy; on Thursday India converted three out of five.

"We got none from six. There's the difference," New Zealand coach Darren Smith said.

Smith admitted that India had improved since the teams last met — in the semifinals of the Commonwealth Games, a game New Zealand won. "India are humming. They've obviously prepared really hard for the Asian Games," he felt.

The match was held on a training ground on the SAI premises, and thus not open to the public. Hockey India could consider hosting at least one of the two remaining games at the hockey stadium in the city, although there are bound to be logistical challenges.

"Obviously, I'd love to play in front of a crowd. If people are cheering for us, it encourages us more," said Rupinder.

Smith agreed: "It would be nice to have a stadium and a full house but I have no problems."

The second match of the series will be played on Saturday.

The result: India 4 (Rupinder Pal Singh 2, 34, Mandeep Singh 15, Harmanpreet Singh 38) bt New Zealand 2 (Stephen Jenness 26, 55).

The Hindu


---

India outplay Kiwis 4-2 in series opener

The Indian men's hockey team pulled off a sensational 4-2 win over New Zealand in the first Test of the three-match series at the Sports Authority of India Campus in Bengaluru.

Rupinder Pal Singh (2nd min, 34 min), Mandeep Singh (15 min) and Harmanpreet Singh (38 min) scored for India while Stephen Jenness (26 min, 55 min) scored a brace for the visitors.

The forwards won India their first penalty corner of the match in the first minute. Rupinder Pal Singh fired the ball low to beat goalkeeper Richard Joyce in the second minute. In the 15th minute, India doubled their lead when Manpreet Singh's cross was brilliantly picked up by forward Mandeep Singh, who swiftly deflected it into the goal.

In the 26th minute, New Zealand finally made a breakthrough with Stephen Jenness scoring a perfect field goal to narrow the deficit to 1-2. In the second half, forward SV Sunil created India's third penalty corner and drag-flicker Rupinder Pal Singh flicked the ball to the top right corner of the goal, taking India's lead to a comfortable 3-1 in the 34th minute.

In the 38th minute, SV Sunil created yet another opportunity for India as he won another penalty corner. Harmanpreet Singh was spot-on as he improvised the injection to score India's fourth goal.

The final quarter saw New Zealand test the Indian defenders as they made strong forays into the striking circle. Their efforts paid off with Jenness scoring his second goal of the match as his shot bounced off Indian goalkeeper Suraj Karkera's pad into the goal.

The second Test will be played on Saturday.

The Tribune


---

It's time for the Vitality Hockey Women's World Cup!




All the training, practice matches and gym sessions are complete and now it all comes down to performing on the pitch as 16 countries battle it out at the Vitality Hockey Women's World Cup in London!

The opening weekend sees hosts England take on India in pool B while Germany take on South Africa, the USA face Ireland and Australia play Japan on Saturday.

Sunday sees the reigning champions the Netherlands play Korea with Argentina taking on Spain while China play Italy and New Zealand and Belgium do battle.

The Netherlands head into the tournament after winning the 2014 edition on home soil and come in as favourites. Speaking ahead of the tournament Dutch captain Carlien Van Den Heuvel said: "Everybody is really excited and we are raring to go. We are pumped up to start, we just want to play now! There is a lot of good energy in the squad."

England and India faced each other twice at the Commonwealth Games, both sides winning one game each and they begin their World Cup campaign against each other on Saturday.

Previewing the tournament England captain Alex Danson said: "There is no place like home. The stadium looks fantastic and we are so grateful to everyone behind the scenes.

"I can't begin to imagine what it will feel like when we walk out in front of the full stadium with so many people willing us on and we want to do well for them, it's a fantastic opportunity."

Italy have qualified for their first World Cup since 1976 and are raring to go on the opening weekend against China. Captain Chiara Tiddi said: "We are really excited to be here qualifying for the first time in 42 years so it will be great moment for us. We are really happy to represent our country here.

England Hockey Board Media release


---

Captains officially launch Vitality Hockey Women's World Cup

Sixteen countries. Sixteen captains. 1 prize.




Captains from the competing nations convened in London to officially launch the Vitality Hockey Women's World Cup.

Each player was pictures alongside their respective giant, country-branded hockey ball with Tower Bridge providing a fitting backdrop in the capital.

England captain Alex Danson, 33, was in a buoyant mood ahead of a World Cup in her home country, she said: "It's really exciting to be able to compete on home soil in front of your friends and family and we can't wait to get started.

"I am honoured to be able to lead out this side on Saturday and I am sure I speak for the whole team when I say it will be a fantastic competition and hopefully the fans will be able to cheer us on to achieve our goals."




As well as sponsoring the Vitality Hockey Women's World Cup, health and life insurer Vitality supports the ongoing growth of the game in England through its sponsorship of the grassroots programme, Back to Hockey.

Through this sponsorship and its partnership with England Hockey, the company is supporting the continued progress of both the elite and grassroots game while at the same time inspiring more people to live a healthy life.

England Hockey Board Media release


---

India's Ashoka Chakra 'reappears' on Indian flag after London launch

Hockey World Cup organisers have seemingly moved swiftly to correct an omission on the Indian flag at a pre-tournament launch event.

By The Hockey Paper




Sixteen captains were pictured next to nation-branded hockey balls in London on Wednesday, with Tower Bridge providing a scenic background ahead of Saturday's opening day of the 14th World Cup.

But Indian fans and media were quick to spot that the Ashoka Chakra – the 24-spoke 'wheel of law' depicted in the middle of the Indian tricolour – was missing when images were released with captain Rani standing next to her nation's colours.

On Thursday, however, England Hockey posted an image on social media with the Ashoka Chakra now clearly visible on the Indian flag.

India open up their pool campaign with an enticing clash against hosts England on Saturday at Lee Valley.

India will be looking to exact revenge for their 6-1 defeat to the world No 2 side at the Commonwealth Games bronze medal match in April.

Rani had commented at the launch: "We're feeling really good ahead of Saturday and we look forward to soaking up the atmosphere, which I am sure will be amazing as we take on the host country.

"The World Cup is always competitive but we hope to still be in the competition by the knockout stages and then you never know."

Fans on social media described the promotional mishap as a "huge mistake".

The Hockey Paper has contacted organisers for a comment.

The Hockey Paper


---

Preview: England and India prepare for Pool B opener




With a sell-out crowd of 10,000 heading to Lee Valley Hockey and Tennis Centre on Saturday for the first day of the Vitality Hockey Women's World Cup, the atmosphere as hosts England take on India will be one to remember.

Both sides will be desperate to make their mark on the tournament and in their group immediately, with the USA and Ireland making up the other sides the pool B is shaping up to be a competitive one.

The sides last met twice at the Commonwealth Games in April where India defeated England in their group match as goals from Navneet Kaur and Gurjit Kaur cancelled out Alex Danson's opener.

However England had their revenge in the bronze medal match as they ran out clear winners in a 6-1 victory. Doubles from Danson and Sophie Bray as well as strikes from Hollie Pearne-Webb and Laura Unsworth leading the side to victory.

Rani Rampal, aged just 23 and with over 200 international caps, will lead India once again an with her skills and goal scoring capabilities will be one to watch.

Looking ahead to the match Rani said: "I think that all players live for these games, playing against the hosts will be special. When it comes to it we should enjoy it and I'm sure lots of Indian fans will be there to support us and we are very excited for the game.

"We won and lost against England at the Commonwealth Games in April but we learnt a lot from those encounters and we will see on Saturday if we can put that into practice!"

England Hockey Board Media release


---

England players switch off social media to focus on trophy

By Rod Gilmour



Collective: England to turn off social media at World Cup PIC: WORLDSPORTPICS

You won't be seeing England's star players on Twitter or Instagram over the next few weeks. Danny Kerry's side will avoid distractions at the Hockey World Cup by turning off all social media in their bid to win a first women's world title.

The squad relaxed the social media rule for last summer's EuroHockey Champonships, where they finished with bronze. At the Commonwealth Games, the decision was taken to turn off social media on game days only as they accrued another bronze medal.

This time, they will replicate their famous decision from Rio 2016 to create a "team bubble", shield themselves away from the outside world and draw on one another to become a sociable collective.

They will do so 24 hours before their first game against India until the end of the tournament.

"We don't want any distractions," said Sarah Haycroft, Surbiton's captain.

"Obviously there are the positives of social media with some lovely messages. But if there is one comment which might throw somebody off we don't want to run the risk of that happening.

"There is more media coverage of us which is great but we want to make sure we are more focused as a team.

"We want to stay tight as a unit and be there for each other."

The England women's cricketers decided against social media activity during their World Cup tilt last summer – after consulting with their hockey counterparts – and it was likely that Kerry's side would do the same in London.

Given that their media profile has risen since Rio gold, there isn't the need to promote themselves as heavily as England women look to make history.

"There may be a point where we might not be able to come off social media, like the football boys were on it the whole time due to their profile," added Haycroft. "It may change from tournament to tournament."

The Hockey Paper


---

Kathryn Lane raring to go ahead of Vitality Hockey Women's World Cup



Kathryn Lane

With just days to go until the 2018 Vitality Hockey Women's World Cup, preparations are well underway within the team, with many players getting ready to play a first senior tournament on home soil.

However for Kathryn Lane it will be the first time she has ever played in front of a British crowd and what a stage to do it on, with 10,000 people set to roar England on during each match at the Lee Valley Hockey and Tennis Centre.

This will round off a whirlwind few months for the Leicester HC player, who began the year with just one senior cap to her name but is now a Commonwealth bronze medallist and has been selected to play in the biggest British women's stand alone sporting event this year.

When asked if she thought her 2018 would pan out like this, Lane said: "Absolutely not! In my review at the start of the year I was told I probably wasn't going to the Commonwealth or the World Cup so I'd just focused on working really hard, improving everything I could and hitting October - when the Champions Trophy comes around – hard.

"The Commonwealth Games selection came completely out of the blue but I just had the best time and it set off a hunger for more - I'd never experienced anything like that before, it was just so much fun and we managed to have an ok tournament which has led into the World Cup.

"I wouldn't change anything for the world, I've absolutely loved it."

Since that event Lane's profile has increased furthermore with appearances on England Hockey's channels and in the media, including showcasing her passion for baking alongside Giselle Ansley and Ellie Watton under the watchful gaze of Colin Murray.

She also featured in the #BehindEveryGreatPlayer campaign alongside her Mum, reducing many viewers to tears as she recalled the review from earlier in the year and how she felt like she'd let her parents down.

"Bless her, my Mum was quite nervous coming down because obviously she's never really done anything like that," Lane recalled.

"But she absolutely loved it. It was incredible to share the stories you've had with your family growing up with the outer world and it makes you appreciate how much your parents and your family have done for you.

"Obviously you know it but we just forget to say thank you as I think a lot of kids do. This campaign has had so much support, so many people have messaged me about it saying 'this is incredible/you've reduced me to tears/your mum is a legend' and things like this and it's great to see how much backing it's had."

Ahead of the tournament, the former Exeter University student said the team are in a very positive place and know that they will be taking part in something special between 21 July – 5 August.

She also believes that the, following on from the success of Great Britain at Rio 2016, more eyes than ever will be on them and that it's the perfect opportunity to change perceptions and attract more people to the sport.

"The amount of tickets that have already been sold is absolutely incredible – knowing that there are 100,000 people who want to come and watch women's sport is a massive step forward," she said.

"We also hope to inspire kids to start up hockey or keep playing to the next level. One of our visions as a squad is to inspire the future and this is a massive stage to do that on.

"Even just little things like being around for autographs in the fan zone and just getting to know the fans and people that support us is amazing for us and hopefully we can have some kind of impact on them."

England Hockey Board Media release


---

Townsend in training: Behind Every Great Player...



Hear from Susannah Townsend's top support team Photo: England Hockey

As the England Hockey campaign #BehindEveryGreatPlayer highlights, the wide support network behind the sport's greatest athletes is crucial to success. In recognition of this, our regular blogger Susannah Townsend has handed over the mantle of writing about her countdown to the Vitality Hockey Women's World Cup London 2018 to her mother Lesley.

Her story of keeping her daughter calm and happy before a major event will resonate with parents around the world.

My World Cup training by Lesley Townsend

As Susannah is busy with Vitality Hockey Women's World Cup preparation, I'm taking over her blog this week to tell you a little about my own World Cup training. Preparation for a major event starts long before the first match. I always arrange to do something with Susannah on selection date to either celebrate if she's chosen or to take her mind off it if not.

"We never expected to be thanked for doing what we've done to get the girls to the top of their game; we just feel privileged to be part of the journey."
Lesley Townsend

The priority is keeping Susannah happy during this time and, with apologies to my other children, this impacts all of us. I always try to post an embarrassing photo of Susannah on social media on selection date. This time around she emphatically rejected the one of her with braided hair in a bikini (I can't imagine why!).

It is normal for Susannah to panic about her hair just before a tournament starts so we end up scrabbling around for an appointment just before she leaves. Whenever you see Susannah talking to me after a match, she is generally asking how her hair looked and whether her roots were showing. I'm sure that this doesn't happen in other sports.

Having paid yet another parking ticket for her this week, it's always a bit of a relief once the team goes into the camp as I can hand my daughter over to her hockey parents and start my own training.

As this a home World Cup, I'm relatively relaxed. When we support the team at an away event I always try to do a dummy run of the route before the first match. It's a parent's worst nightmare to be late for the first game and most tournaments have a few issues early on. In Rio, we tried a number of routes to the venue but it always took around two hours, which was factored into our match day. When the team win however, the long journey home doesn't seem to matter quite so much. Those trips home from Rio seemed to fly past.

People often ask what we parents sacrificed to get Susannah to this top level of sport. To be honest, it hasn't felt as if we sacrificed anything as we've enjoyed every moment. I suppose our other children might feel a little put out as they spent a large part of their childhood travelling with me to Susannah's training, eating a packed tea on their laps and doing their homework on the side of a hockey pitch. Thank goodness for the Harry Potter book tapes. I think we had them on a loop to the extent that Stephen Fry now feels like part of the family.

We have had our low moments over the years when Susannah hasn't been selected or an event hasn't turned out as expected. It's hard to find the right language when this happens, especially when we feel it is unfair. I always try to make Susannah laugh and play it down until she's over it – to be honest she is very resilient and this often only takes a day.

Looking back, these low moments have been followed by a serious improvement in her game so maybe there's some tricky psychological stuff going on here. I thought of this last Monday when the parents of the girls surprised them as they entered the team hotel and presented them with their match shirts. It was an incredibly emotional morning and one I will never forget – we never expected to be thanked for doing what we've done to get the girls to the top of their game; we just feel privileged to be part of the journey.

I'm now starting to put my event bag together. Plenty of flags (England red cross, not Great Britain Union Jack – I've made that mistake in the past.) My lucky raincoat which is one of Susannah's old Kent Hockey Association jackets. Some tea bags, just in case, and the usual sun cream, plasters and mints. It's rather like packing a nappy bag but without the nappies and there's always something you forget. Friends and family are planning on replicating a sea of red in the stands for this World Cup so I've had to go clothes shopping as I never wear red. Then it's time to double check the tickets and get in position for that first match to support these wonderful girls as they look to extend their winning form at this Vitality Hockey Women's World Cup.

#HWC2018

FIH site


---

Vantage Black Sticks ready to take on the world



Photo: Roel Ubels

Olivia Merry reaches in for a tackle against Eva De Goede in last week's match against the Netherlands at the Four Nations Cup held in Munich, Germany.

The Vantage Black Sticks are eyeing a podium place for the first time as they attempt to add the World Cup trophy to Commonwealth Games gold.

They're in London for the 13th edition of the women's World Cup, and will play Belgium in their opening game on July 23 at 6am NZ time, live on SKYTV.

The first World Cup for women was staged in 1974, although New Zealand didn't make its debut until nearly a decade later, finishing 7th in 1983 in Kuala Lumpur. The best effort by a Black Sticks side was fourth place in Amstelveen in 1986. That team, captained by Mary Clinton and featuring a young Tina Bell-Kake, lost the bronze medal match to Canada.

The most recent World Cup, held in The Hague in 2014, is the closest the Black Sticks have come to a top four finish since 1986. New Zealand missed out on the semi-finals by finishing third in their pool, before going on to beat China 4-nil in the 5th place playoff.

Seven of the current squad - Olivia Merry, Sally Rutherford, Samantha Charlton, Liz Thompson, Rose Keddell, Stacey Michelsen and Anita McLaren – were part of that campaign. Merry, who was just 22 at the time, says it was an unforgettable experience, "I was pretty young and pretty new into the team at that point, so just the overwhelming factor of how many people were there sticks out. I think we played in crowds of over 15,000 in Holland - it's a big tournament on a big scale."

But aware of New Zealand's history at the event both recent and past, Merry says they want to make a big impact in one of hockey's biggest tournaments, "we've never quite got over that final hurdle at a World Cup and we'd love to this time around. I think we've got the teams and the skills to."

Added to the challenge is the implementation of a new format. The winners from each pool advance directly to the quarter-finals, while the second and third placed teams will go into knockout crossover matches to determine the other four quarter-finalists.

The Vitality Hockey Women's World Cup starts at Lea Valley Hockey and Tennis Centre in London on Saturday July 21, with Spain to play Germany in the opening match.

Hockey New Zealand Media release


---

Black Sticks women striving for consistency as World Cup medal quest begins

Andrew Voerman



Black Sticks captain Stacey Michelsen has her sights set on playing in the World Cup final. ANDREW CORNAGA/PHOTOSPORT

As far as major tournaments go, the Women's Hockey World Cup is fairly generous.

Sixteen teams will do battle over the next fortnight in London, split into four pools; the pool winners advance to the quarterfinals; the second and third-placed teams play off against each other to join them; the fourth-placed teams get an early trip home.

The format means one win in pool play could be enough to advance, but the Black Sticks women don't want to stumble into the knockout rounds - they want to get there convincingly, by topping pool D, where Australia, Belgium and Japan are their rivals.

Ranked fourth in the world as the tournament begins, and coming off a gold medal triumph at Commonwealth Games in April, the Black Sticks have their sights set on being there at the business end of an event where they have previously finished no higher than fourth.

"Our goal as a group is to make the final," said captain Stacey Michelsen, before the team left New Zealand earlier this month.



Black Sticks captain Stacey Michelsen in action against Germany as they warmed up for the World Cup. PHOTOSPORT

"Obviously to make the semifinals is a huge step for us ... but we don't just want to make the semifinals, we want to make that final, and it is a very long and difficult road to get there.

"The nature of the tournament is a little bit different this time, it's a structure we've never played before, where every game is very, very important, so we'll have to be consistent in our performances, but I definitely think if we play as a team then we can get to the final."

The Black Sticks have played world No 5 Australia five times this year, losing three times, drawing once, and winning once - in the gold medal match at the Commonwealth Games. They have played Japan (ranked 12th) three times - losing once, drawing once, and winning once. They haven't played Belgium (13th) since losing last June, but before that they had four wins in four matches going back to 2012.

Their campaign begins on Sunday [Monday morning NZ time] when they face Belgium, with Japan to follow on Tuesday. After that, they have four days before they play Australia, in a match that could decide who tops the group. From there, it's a sprint., with the first knockout matches set for July 30 and the final less than a week later, on August 5.

While she wants to be part of that final, Michelsen certainly wasn't getting too far ahead of herself.

"The biggest thing for us is just taking it game by game," she said.



The Black Sticks won gold at the Commonwealth Games in April. JOHN COWPLAND/PHOTOSPORT

"We want to win our pool to go straight into the quarterfinals, but to do that, we have to focus on each game. The fortunate thing about the World Cup is it is quite nicely spaced out, so you have the opportunity to put it out there each and every day so that's certainly what we'll do in order to try and secure that top spot."

This will be Michelsen's third World Cup, and she is determined the Black Sticks will improve on their seventh place in Argentina in 2010 and their fifth place in the Netherlands four years ago and come home with a medal for the first time.

"For me, the fact that we weren't successful at my last two gives a different kind of feeling to this one," she said.

"I'm definitely excited about it, but I'm feeling a little bit anxious. It is such an important event, and I so hope that we go over there and perform to our absolute potential, and I think if we do that, then we will be successful."

The Black Sticks head into the World Cup on the back of a warm-up tournament in Germany, where they beat the hosts, who are ranked sixth in the world, but lost to the Netherlands (first), and Argentina (third).

Black Sticks' World Cup fixtures [all NZ time]
July 23, 6am v Belgium
July 24, 11.30pm v Japan
July 29, 7am v Australia

Black Sticks' World Cup squad
Stacey Michelsen (c), Madison Doar, Ella Gunson, Brooke Neal (Northland) Sam Harrison, Grace O'Hanlon, Liz Thompson, Lulu Tuilotolava (Auckland), Sam Charlton, Tarryn Davey, Frances Davis, Shiloh Gloyn, Rose Keddell, Amy Robinson, Sally Rutherford (Midlands), Anita McLaren, Kelsey Smith (Capital), Olivia Merry (Canterbury).

Stuff


---

From Punjab's roots to Asian glory, how India became continental giants

Sundeep Misra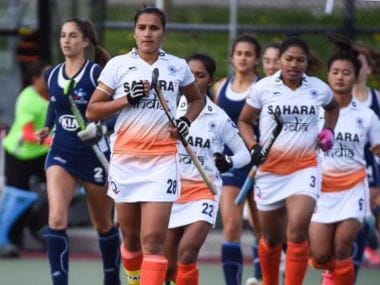 File image of Rani Rampal. Image courtesy: Twitter @imranirampal

On a wintry afternoon, just off the hockey pitch in Shahabad, a week after the Indian women had won the Asian Games bronze medal in Doha, coach Baldev Singh was in a pensive mood. Off NH 1, you could hear the truck tires squeal, cacophony of multiple vehicles honking and a buzz that came in from the direction of the town. Amidst the din, Baldev thought hard. It had been a simple question, "Given the historical perspective and the start that India had in the 1974 World Cup, where they finished fourth, why hadn't the sport picked up and India become a big medal winner at the two championships that counted — the World Cup and the Olympic Games?"

Baldev likes to keep things simple. He is not the coach who will give you a lecture on zonal play, wing-back offensives and defensive manoeuvres that punch holes in the opposition midfield. So he thought. Finally, he said, "It's cultural, and our innate Indianness doesn't let us go that extra mile."

He knew he wasn't really hitting the nail on its head, even though his trail of thought wasn't too off the mark. Finally, scratching his salt and pepper beard, wriggling his cap left to right, he said, "The women need to focus on the sport and forget they have a home. They are women but while you are trying to create a career and win big, you have to be just a hockey player."

Women's hockey was dominated by Punjab in the early 60s and 70s. In fact, for eleven straight years, Punjab won the National Championships — those were the days when players formed clusters and played in tight groups, all wanting the ball. Punjab played with width and thus won Championships. Of course, they had better players. But hockey among women hadn't really caught up in other regions, especially in Haryana or even Odisha. Today, you see a smattering of players from almost every region trying to make it into the Indian team. Yet, Haryana, Punjab, Jharkhand and Odisha dominate.

Goalkeeper in the 1974 World Cup, the first ever for the women's, Neena Rane, believes Punjab was the only state serious about its hockey. "But largely we played for fun," she said. "The Paris World Cup saw us playing above our level and finishing fourth, and I do believe if we had pushed resources into the sport then, women's hockey wouldn't have come down as drastically as it did in phases."

Eliza Nelson, captain of the 1982 gold medal-winning Asian Games team and a member of the 1980 Moscow Olympics team that finished fourth also believes that the coach matters. "If Balkishen Singh was with the women's team in Moscow, there is no way we wouldn't have finished on the podium."

Maybe, a medal in Moscow would have propelled India onto the world stage. It would have made us believe in the women's game the way funding is given to the men's sport together with the hype and spotlight. Eliza also laughs, lacing truth with humour that Balkishen realised early that winning gold with the men's team at the 1980 Moscow Olympics was an easier task than winning with the women. And then vice-versa in the 1982 Asian Games; the men's team coached by Col Balbir with Balbir Singh Senior as manager lost 1-7 to Pakistan in the final. The ladies team bulldozed everyone; winning five matches, scoring 37 goals with just one goal against them to amass ten points and clinch the gold.

Hockey prospered across Punjab in centres like the Mall Road School, Amritsar, Nehru Garden, Jalandhar and in Faridkot where the Saini sisters — four of them representing India at the 1974 World Cup. One among them, Rupa, led the team in the 1978 World Cup, and was also the manager when India won the 2002 Commonwealth Games gold. Balbir Singh Randhawa, who played for India in 1967 at the Pre Olympic Tournament and spent a good period of his time as coach, feels India had another opportunity after the 2002 triumph at the CWG. "But we somehow lost that again," he feels. "I do agree with Baldev that the window of focus is just too small for women players. Even in the Railways, we sign a contract saying that you will play for Railways for at least five years but most players are married within two years and have a child soon."

Only a few very focussed and disciplined women players want to excel as the rest succumb to pressure, as a result of which, the Indian team has been a constant work in progress.

If Gurcharan Singh Bodhi started the progress in Punjab, giving women's hockey almost eight to ten players for the 1974 World Cup, the work was carried on by Balkishen Singh and then Baldev Singh who snatched away power from Punjab and centred it in Haryana as a small town called Shahabad became the epicentre for women's hockey.

Mumbai faltered as politics killed hockey but the rise of Odisha and Jharkhand gave a fillip to those regions. Michael Kindo may have been one of the first Adivasi players to play for India but what he set in motion was that almost every Adivasi who could dribble and keep the ball in play aspired to play for India. It was only a matter of time before girls got into the act.

Trying to replicate what Shahabad was doing were the villages of Sounamara, Tileikani and Lulkidihi in Odisha's Sundargarh district where players like Subhadra Pradhan, Jyoti Sunita Kullu and Binita Toppo wore Indian colours. Yet they were recent converts.

Out of 13 World Cups played so far, India have participated in only six; disappointing, considering we played the inaugural edition and finished fourth. Col Balbir Singh, coach of the 1998 Utrecht World Cup team, believes not much emphasis was ever given to women's hockey.

"Even in 98' when they asked me to coach the women's team, I said you will have to bring back the four players suspended for indiscipline — Sandeep Kaur, Pritam Rani, Sita and Manjinder Kaur. I took the players into confidence and they said they would play for India." All four players had stayed away from the Indian camp for the Olympic Qualifying Tournament in Milton Keynes citing personal issues. Even though the Utrecht team finished 12th at the World Cup, three of the players, Sita Gussain, Manjinder Kaur and Pritam Rani were part of the team that won the 2002 Commonwealth Games.

"It's only now that women's hockey is finding its feet," says Col Balbir. "There is more emphasis on tours, fitness, support staff and foreign coaches."

In the six World Cups that India have played, we have won nine matches, losing 27 and drawing three. Baldev believes India always gave more emphasis to the Asian Games and the Asia Cup.

"We always did try to participate in the World Cup and the Olympics but at the back of the mind, the team always gave up, thinking they won't be able to qualify," explains Baldev. India have only played two Olympic Games — 1980 Moscow and 2016 Rio de Janeiro.

But a look at the Asian Games and Asia Cup shows that in Asia, the Indians do pull punches. In nine Asian Games, India has a gold, a silver and three bronze medals. In eight Asia Cups, we have two gold, two silver and two bronze medals.

Can London 2018 be different? Former Indian captain and member of the 2002 Commonwealth Games gold medal-winning team, Pritam Rani Siwach, believes India can pull off a surprise at the Queen Elizabeth Olympic Park. "It's a balanced side and can attack and defend in numbers," she says. "And they have some good creative players in the midfield and forward-line."

More than the opposition, it is sometimes tough to beat history. It's not a deficit of respect for the Indian women, but history usually wraps itself around; a 'past' unable to let go. If the Indian women can move past the old and predictable narrative and strike out on their own, a few pleasant surprises could be in store."

Firstpost


---

Daly's dual passion driving her on for World Cup



Nicci Daly on the attack last week against Chile. Pic: Adrian Boehm

A lifetime in the making, the multiple sporting strands of Nicci Daly's life reach an incredible crescendo this month.

On Saturday, she lines out against USA as part of the ground-breaking Irish hockey team that will play in their first World Cup for 16 years. It follows eight years – and over 150 caps – of graft, including two devastating Olympic qualifying campaigns.

Then, on August 18 and 19, along with Emma Dempsey, she will get behind the wheel of a racing car for the first time in earnest at Mondello Park at the Historical Racing Festival as part of the Formula Females Race against Cancer.

It is another phase in one of the more diverse range of sporting careers that has also embraced a spell with the Dublin ladies Gaelic footballers.

The first love was motorsport. Her father Vivion was a celebrated figure in Irish motorsport before he passed away from cancer. Her uncle Derek drove in Formula One and so it will be very much in the family tradition when she hits the track in her 1.8L 160Bhp Rover 25 saloon in a "future classics" class.

They will be the only two women in the field of 20, adding to the challenge with all funds raised from the venture going to the Irish Cancer Society, making it a tumultuous month for the Dubliner after a lifetime around the sport.

"It was definitely the number one in the house. Since the day I was born, every Sunday I was at the race track with my family. My dad, the brothers and sisters, it was always a family affair.

"As I got older, my brother and I wanted to get more involved. My dad was a one-man team; he was the truck driver, the mechanic, the engineer. He would take whatever help he could get and certainly put us through our paces to help out.

"We started off making sure the bodywork was clean, the car was clean, the tyres… he was very particular so he made sure we were particular too. As we got older, he taught us more things about the car, the setup and what that requires.

"Then we did the lap timings and would check the ride height, little things like that. That was how I spent my weekends from when I was four until I was 13.

"I think if my dad was still around, we probably would have got into karting as his career was about to wind down, he would have enjoyed helping us out."



Nicci Daly with her customised helmet.

But his passing ruled out that avenue. It meant she redirected her sporting passions in other directions to incredible effect but the fire still burned to do something in motorsport.

"It's such an expensive sport, if you don't have the finances and at the age we were, we didn't have the experience to take it on ourselves. The opportunity never came around.

"In the last few years, it weighed heavy on my mind that I wanted to get back involved and that's where the Formula Female thing came in."

Dempsey was another who grew up around the paddock with her father, an arch rival of the Daly clan in their younger years and was "mad to get me into a car" and eventually it got the green light.

"I just asked 'can we do this for the Irish Cancer Society and in memory of my dad?' and it's just taken off since there.

"It's been a bit overwhelming the support we had from the people from the early years of my dad's career and the sponsors he had back then. The Women in Sport side of thing is huge – the Formula Female thing is obviously based around the fact we are an all-female team and will be racing 18 to 20 cars who are male.

"It has been great to develop something that hasn't been big in Ireland or anywhere really around the world."

She admits she has "no experience" behind the wheel of a race car but testing has proven a pleasant surprise, Daly being a tenth off the fastest lap times on the day and Dempsey three tenths back.

"We know we are quick and we have the ability to drive the car properly which is a good start. "The start is definitely overwhelming; I was completely concerned with the mirrors, making sure I wasn't cutting across anyone."



Daly celebrating with Anna O'Flanagan in 2014. Pic: Adrian Boehm

Before that comes along, the full focus is on hockey and the World Cup. Again, it was not an obvious journey to this point. She was initially a Gaelic footballer primarily until she went to High School in Rathgar where she soon developed her skills and make representative teams.

A bout of shin splints, though, saw her put hockey on hold for three years before being coaxed back by the current Irish coach Graham Shaw to play with Tallaght club Glenanne in 2008 following promotion to Leinster Division One.

It was pretty meteoric from there, getting a call into the Leinster Under-21s within six months and an invitation to the Irish senior team trials just a few months later in April 2009.

Big decisions arrived almost immediately, the tough nature of county or country showing itself when Dublin won their first All-Ireland ladies football title in 2011.

"I had only just got called into the Dublin senior team the same year I got into the Irish team. I had been with the Senior B team. There's always that 'ah, should I have stayed on?' but then again would I have had my opportunity with the Irish team? You just don't know. It was hard to take when they did win eventually but I chose hockey and it has been good ever since!"

There have been low points, most painfully missing out on the Rio Olympics by the width of a post in a shoot-out in Valencia.

For Daly, the method of coping was to take time out from hockey, moving to America where she linked up with the Juncos racing team to work as a data engineer, an avenue of work which seems her calling.

"After 2015, getting that close… it was just devastating. It was really hard to pick ourselves back up. It was our second major low after 2012.

"We had such a strong tournament and so it was hard to see what happens next. Taking that bit of a break to focus on my professional career allowed me to not make any big decisions. I am glad I didn't take them. To come back, knowing there were 16 teams in the World Cup, it gave us that extra push.




"We did come together and debrief it when Graham came in as the head coach. There was a sense of 'that's in the past' and it's a new cycle.

"It was hard to start again, build again with a new coach. But what we learned with Darren Smith over those two years was the foundation for this and we have just continued to grow as a team and get better and better and make more tournaments and the Olympics!"

And that growth led to 2017's super results in Johannesburg and a place at this week's World Cup.

"It's the biggest tournament we have played in, the first time since 2002. There's hype around family and friends, it's just something we have worked so hard for, been disappointed with not making the major tournaments. Getting there, feeling really good about it, I just can't wait."

The Hook


---

Stars of the game recall the 2014 Rabobank World Cup



Kathleen Sharkey will be hoping to take USA further than their 2014 World Cup campaign Photo: FIH/WSP

Row upon row of orange clad, cheering spectators, noise levels reaching a crescendo as 15,000 people applauded the action on the pitch, mesmerising skills from the top exponents of the sport, the thud of a ball striking the backboard and the resulting jubilation on the pitch and in the stands. For anyone who was in The Hague for the 2014 Rabobank Hockey World Cup, the memories linger on.

Two players who made their mark at the World Cup in The Hague were Australia's Anna Flanagan and USA's Kathleen Sharkey. Australia finished the event with a silver medal after they dominated the pool stages but were unable to match the unstoppable Dutch team in the final. The USA astonished the hockey world as they defied the rankings – they were ranked 11th at the time – to claim fourth place and a lot of new admirers for their style of hard working, relentless hockey.

"The atmosphere at the World Cup in The Hague was the best I have ever experienced in my career. It even trumped the Olympic Games."
Anna Flanagan, Australian World Cup silver medallist 2014

Flanagan finished the event as second highest scorer behind the Netherlands Maartje Paumen, while Sharkey was one of a number of USA attackers who drew praise from hockey pundits for her speed, athleticism and never-say-die attitude.

"We trained so hard to prepare for that tournament," says Sharkey as she looks back. "We were able to use our strength, speed, and fitness to our advantage. Everyone in the squad brought the intensity from the very start of the tournament, and we were able to bring that consistent energy and work rate for the duration of all the games."

USA's Head Coach at the time was Craig Parnham and his policy of taking each game as it came paid dividends. Higher ranked teams England, China and Germany all fell to the USA style of play. A draw with Argentina was the icing on the cake in the pool games.

"I think we had the same goals in each of our games of the event from the beginning to the end," says Sharkey. "We took it one game at a time and didn't get ahead of ourselves. We focused on what we could control and tried to limit any outside distractions."

For 28 year old Sharkey, the Vitality Hockey Women's World Cup in London is very much in her sights. With 135 caps to her name, the striker is one of a handful of experienced players who have been with the team since they finished fifth in the 2013 Hockey World League Semi-Finals to qualify for the 2014 World Cup. Since then the USA has been on an upward trajectory and will be viewing a medal in London as a very tangible target.

Anna Flanagan has since taken a break from international hockey although she still plays top level hockey in Australia. She is working as a television commentator, fulfilling a long-held ambition to carve out a career in the media. She recalls the excitement surrounding the 2014 World Cup. "The atmosphere at the World Cup in The Hague was the best I have ever experienced in my career. It even trumped the Olympic Games. The stadium was always full and everyone would be up and dancing and cheering all game, every game. It was completely surreal to play every game with thousands of people cheering even if the Netherlands weren't playing."

Like the USA, Australia performed above their ranking at the tournament. They were ranked fifth in the world, so a second place finish was a good result. While she won't take the credit, Flanagan's contribution was immense. She scored six of Australia's 11 goals, mainly through her deadly accurate drag flicks at penalty corners.

"Individually and as a team it was a good event," she says. "I was sharing drag flicking duties with Jodie Kenny and we were really confident in our corner battery that one of us could score. Every single game was so close and therefore being able to get our corners in proved the difference for us."

Flanagan's consistent accuracy in front of goal is something that Australia will need to replicate in London. At the recent Commonwealth Games, where they took silver behind New Zealand, they showed they are a strong defensive unit but found scoring a challenge. For the USA scoring is something they do with ease, but maintaining their levels of work rate through all stages of an event is a tough ask and Head Coach Janneke Schopman will be looking to old-timers like Sharkey to use every ounce of experience to ensure that USA are fighting for the medals at the end of the tournament.

#HWC2018

FIH site


---

London embassies feel the passion of women's Hockey World Cup




The Vitality Women's Hockey World Cup is here and follows the football version played out in Russia. It seems like weeks ago now, but Germany and Argentina failed to even make it out of the group stages, the Netherlands weren't even at the World Cup, while Australia, to a lesser extent, also didn't make the knock out stages.

So the four sporting powerhouses will hope to make amends in London over the next two weeks where they will all be hoping to lift hockey's showpiece trophy.

The Hockey Paper put questions to all four nations' embassies in London. Argentina and the Netherlands' ambassadors responded in kind, Australia's high commission and Germany's ambassador were unable to offer a response due to a tight ministerial schedule.

Both nations unfortunately failed to make it out of the football World Cup group stages. How important is it for the women's hockey team to do well as a response?

Argentine Ambassador Carlos Sersale di Cerisano: There is no relation between them. For our national hockey team, doing well in terms of results and playing well is something that has weight on its own. They always play to win independently of what happens in other sports.

Dutch Ambassador, Mr Simon Smits: Let's first of all establish that the Dutch women's football team became European Champions last year, beating Sweden in the quarter finals (2-1), England in the semis (3-0) and Denmark in the finals (4-2).

Dutch women are doing incredibly well in sports: in football and hockey, as well as in volleyball, handball and tennis. The Hockey women are the most successful national hockey team of all time, with 10 world titles, nine European Championship titles, six Champions Trophies and three Olympic gold medals under their belt. They are the current world No 1 and the team to beat in this World Cup in London.



Dutch fans

Are you or any of the embassy staff expected to attend the Hockey World Cup?

Di Cerisano: Sure, it will be an honour to be at the stadium.

Smits: Absolutely. I will be attending their opening match against Korea on Sunday.

What does hockey mean to you and the Argentine nation as a whole?

Di Cerisano: Diplomacy and sports are interlinked and in the case of Argentina, sport is part of our brand as a country at international level. Domestically, Argentinians follow every sport when our national teams play overseas. In the case of hockey, the women's team has a history that is very much admired around the hockey world.

In the case of the men they are the Olympic champions, what else you can say. We are proud of it. Regarding what it means to me? I'm proud of them, I enjoy watching them play and I am very emotional for the passion they put on the pitch as a team and individually. This is an extraordinary, professional group of girls.

Smits: Hockey is the second most popular team sport in the Netherlands after football. More than 250,000 people are playing hockey at 322 hockey clubs throughout the country, while the three young princesses, daughters of our King and Queen, also play. And both the national teams, women and men, have a very rich, successful history.



On target - Maartje Paumen

Do you know how many fans are coming over or attending the hockey World Cup?

Di Cerisano: We will see at the Olympìc Park on July 22. London is a wonderful and very attractive city. I am sure that coming to London is an additional reason to come to support our national hockey team.

Smits: The Dutch fans can't be missed. We like to show our support for Oranje, by dressing up in orange. I hope to see lots of support for our hockey women, the best squad in the world. Around 1170 tickets have been sold in the Netherlands before the tournament, while England Hockey expects a very high proportion of Dutch fans and hockey players living in London to be attending.

The Hockey Paper


---

Old hand Noor Hasliza looking forward to her fourth Asian Games



Count on me: Noor Hasliza Mohd Ali believes the national team have a good chance of reaching the semi-finals in Jakarta.

KUALA LUMPUR: Just three months after delivering her baby boy, hockey player Noor Hasliza Mohd Ali has returned to the national fold. This time, she will focus on her other "baby" – the Asian Games.

The Jakarta Asiad will be Noor Hasliza's fourth. Her last assignment was at the KL SEA Games in August last year.

"I am happy to be back in the national team," said the 29-year-old.

"The good news is that I will be among 20 players who will be going to Brisbane, Australia, to play five matches with club sides there.

"I am looking forward to the matches in Brisbane as I need to prove to the coach that I can still play well in international matches," said Noor Hasliza, a police inspector based in Melaka.

Noor Hasliza is one of the most experienced midfielders in the team and has represented Malaysia 210 times since making her international debut in 2004.

National coach K. Dharmaraj is happy with her return to boost the team's preprations for the Jakarta Asiad.

"She is an asset to the team as she will beef up the midfield. I have named her for the playing tour to Brisbane as she needs international exposure after being out of the national team for 11 months," said Dharmaraj.

Malaysia are drawn in Group A with China, Japan, Taiwan and Hong Kong while Group B comprises South Korea, India, Thailand, Kazakhstan and Indonesia.

Malaysia finished fifth in the last three Asian Games – Doha (2006), Guangzhou (2010) and Incheon (2014).

Noor Hasliza said they received a favourable draw and believes that they have a good chance of reaching the semi-finals this time.

"We have beaten world No. 12 Japan (3-2) in the Asian Champions Trophy (in Donghae City in South Korea in May) and believe we can get the better of them again in the Asian Games to finish top two in the group to reach the semi-finals.

"The team have made a steady progress in competitions this year," said Noor Hasliza, who was named the best player in the World League Round One in Singapore in 2014.

The Star of Malaysia


---

Training ground in tatters for Pakistan hockey team ahead of Asian Games

Jaffar Hussain

KARACHI: Pakistan's national hockey team is training these days for the upcoming Asian Games at the Olympian Islahuddin-Dr Shah Hockey Academy in Karachi's North Nazimabad locality.

But, upon a visit to the said venue, it seemed as if hockey, the country's de facto national game, has become a long-forgotten sport, never to be played again.

The board displaying the name of the grounds has come off its support and lies on the ground, the walls unpainted, and the chalkboards unclean.

The Islahuddin-Dr Shah Academy lacks even the most basic facilities that pertain to the sport. The ground is in a poor condition, with goal posts featuring torn nets and benches in the spectator stands broken. Even the valuable, blue-coloured AstroTurf — the artificial grass surface installed at sports fields — is tattered in various places.

The lack of a proper system in place for the ground's upkeep has led to the deteriorating condition of the expensive AstroTurf as well as the ruined benches.

There, obviously, seems to be no cleaning arrangement either for those few benches that have not succumbed to the negligence yet.

The AstroTurf is full of dust and dirt — a very obvious proof that it has not been cleaned with water. The drainage on the edges is also quite dirty and the garbage-filtering mechanism sits damaged and ignored.

Players on the national hockey team, on the other hand, are worried about their remuneration.

Speaking on the condition of anonymity, one player said: "We are only concerned about our pays; once we are paid, the problems will be resolved."

Surprisingly, Roelant Oltmans, the Dutch head coach of the Pakistani men's national hockey team, is not bothered either. During the practice games, if a ball or two is shot out of the grounds, that's not an issue, he told Geo News. "Everything is good," he said.

As if it was not disappointing enough to see the disregarded grounds for a camp that starts at 6AM in the morning, the institute only had one container of drinking water for the entire team — something that is, perhaps, not even enough for a handful of the players.

The 18th Asian Games, also known as Asiad, are scheduled to be held from August 18 to September 2, 2018 in Jakarta and Palembang, Indonesia.

See a video of the condition of the venue

Geo TV


---

African Youth Games 2018 - Day 1

African Youth Games 2018 (M)
Algiers (ALG)

RSA v NAM (Pool A)     5 - 0 (0 - 0)
ZIM v ALG (Pool A)     9 - 0 (5 - 0)
KEN v ZAM (Pool B)     1 - 2 (0 - 1)

Pool Standings
Pool A
| Rank | Team | Played | Wins | Draws | Losses | Goals For | Goals Against | Goal Difference | Points |
| --- | --- | --- | --- | --- | --- | --- | --- | --- | --- |
| 1 | Zimbabwe | 1 | 1 | 0 | 0 | 9 | 0 | 9 | 3 |
| 2 | South Africa | 1 | 1 | 0 | 0 | 5 | 0 | 5 | 3 |
| 3 | Namibia | 1 | 0 | 0 | 1 | 0 | 5 | -5 | 0 |
| 4 | Algeria | 1 | 0 | 0 | 1 | 0 | 9 | -9 | 0 |
 Pool B
| Rank | Team | Played | Wins | Draws | Losses | Goals For | Goals Against | Goal Difference | Points |
| --- | --- | --- | --- | --- | --- | --- | --- | --- | --- |
| 1 | Zambia | 1 | 1 | 0 | 0 | 2 | 1 | 1 | 3 |
| 2 | Nigeria | 0 | 0 | 0 | 0 | 0 | 0 | 0 | 0 |
| 3 | Kenya | 1 | 0 | 0 | 1 | 1 | 2 | -1 | 0 |
African Youth Games 2018 (W)
Algers (ALG)

RSA v ALG (RR)     19 - 0 (9 - 0)
GHA v ZIM (RR)     4 - 0 (2 - 0)
NGR v NAM (RR)     0 - 4 (0 - 1)

Pool Standings
| Rank | Team | Played | Wins | Draws | Losses | Goals For | Goals Against | Goal Difference | Points |
| --- | --- | --- | --- | --- | --- | --- | --- | --- | --- |
| 1 | South Africa | 1 | 1 | 0 | 0 | 19 | 0 | 19 | 3 |
| 2 | Ghana | 1 | 1 | 0 | 0 | 4 | 0 | 4 | 3 |
| 2 | Namibia | 1 | 1 | 0 | 0 | 4 | 0 | 4 | 3 |
| 4 | Nigeria | 1 | 0 | 0 | 1 | 0 | 4 | -4 | 0 |
| 4 | Zimbabwe | 1 | 0 | 0 | 1 | 0 | 4 | -4 | 0 |
| 6 | Algeria | 1 | 0 | 0 | 1 | 0 | 19 | -19 | 0 |
---

Ards seek new coach after Grundie ends 13-year tenure



Former Ards coach Gareth Grundie. Pic: Adrian Boehm

Ards Ladies Hockey Club in Ireland are looking for a coach for 2018-19 season for their first team. It follows Gareth Grundie's decision to step down from the role after 13 years at the helm "due to personal commitments and new hockey commitments with the Irish senior women".

During his tenure, he oversaw a memorable period for the club including an Ulster Premier League title, two Ulster Shields, seven Ulster and All-Ireland indoor titles, a European bronze and gold medal at various levels.

They also reached the 2016 Irish Senior Cup final, just missing out on a shoot-out against Ulster Elks.
In a club post about his departure, Ards said: "We would like to thank G for all his hard work and the success he has brought to the club and we wish him all the best as his coaching journey continues and we look forward to seeing him on the other side of the fence as a spectator with his daughter Charlotte, supporting both Naomi Grundie and the rest of the Oranges!"

As for the new role, the club add: "The successful candidate will be qualified to Level 2 standard or to Level 1 standard with previous experience of coaching at Premier League/ Senior League 1 or Representative Level.

"The role holder will be a positive role model with good communication skills and the ability to motivate and inspire not only the team to achieve its potential but also each player within the training and playing squad.

"Ideally we are looking for someone who is available to lead two training sessions per week and who will be available on a Saturday for matches, both home and away. Part of the role of the 1st XI coach will be to work on talent identification and development with the club Development Officer and the other club coaches.

"Requests for further information about the role duties and attributes required and expressions of interest, accompanied by a CV demonstrating how you meet the qualifications, skills and experience should be forwarded to 1st XI Captain, Caroline Adams via email to This email address is being protected from spambots. You need JavaScript enabled to view it. CVs must be received no later than 29th July.

"It would be preferable to have interviews completed by 8th August and remuneration will be discussed at interview."

The Hook