All the news for Thursday 19 July 2018

2018 Test Matches: JPN v GER (M)
Kakamigahara (JPN)

12 Jul 2018     JPN v GER     1 - 6
18 Jul 2018     JPN v GER     1 - 5

FIH Match Centre


---

Hockeyroos Record Another Win Ahead Of World Cup Opener

Ben Somerford



Rosie Malone opened the scoring

The Hockeyroos' preparations for the upcoming 2018 Women's World Cup in London remain on track after a 2-1 practice match win over Great Britain on Wednesday (UK time).

Australia, who defeated India 3-0 in a practice match on Monday, proved too strong ahead of the World Cup which starts on Saturday.

Newcomer Rosie Malone, who hails from the Gold Coast, opened the scoring in the first quarter.

Great Britain levelled from a second quarter penalty corner but the Hockeyroos restored their lead through Armidale defender Georgina Morgan.

Morgan is set to make her first official appearance for Australia in more than 12 months at the World Cup following a long-term foot injury.

Australia begins their World Cup campaign against Japan from 5am Sunday AEST, live on FOX SPORTS.

The Hockeyroos, who were World Cup runners-up in 2014, are in Pool D against Japan, Belgium and New Zealand.

Australia's Women's Hockey World Cup team:
Athlete (Hometown, State)
Jocelyn Bartram (Albury, NSW)
Kristina Bates (Port Melbourne, VIC)
Edwina Bone (Orange, NSW) *Plays for ACT
Kalindi Commerford (Mollymook, NSW) *Plays for ACT
Madison Fitzpatrick (Cabarita Beach, NSW) *Plays for QLD
Emily Hurtz (Sydney, NSW) *Plays for VIC
Jodie Kenny (Wamuran, QLD)
Stephanie Kershaw (Townsville, QLD)
Rachael Lynch (Warrandyte, VIC)
Ambrosia Malone (Burleigh, QLD)
Karri McMahon (Berri, SA)
Georgina Morgan (Armidale, NSW)
Kaitlin Nobbs (Newington, NSW)
Brooke Peris (Darwin, NT)
Kathryn Slattery (South Stirling, WA)
Emily Smith (Crookwell, NSW)
Grace Stewart (Gerringong, NSW)
Renee Taylor (Everton Park, QLD)

Australia's Women's Hockey World Cup Schedule (all times AEST):
Sunday 22 July 5am - Australia v Japan
Tuesday 24 July 11pm - Australia v Belgium
Sunday 29 July 5am - Australia v New Zealand
Monday/Tuesday 30/31 July TBC - Playoffs
Wednesday/Thursday 1/2 August TBC - Quarter-finals
Saturday 4 August TBC - Semi-finals
Sunday/Monday 5/6 August 11pm/1:30am - Bronze medal/Gold medal match

Hockey Australia media release


---

The making of Alex Danson, England Hockey World Cup captain

By Rod Gilmour



Alex Danson - England Hockey captain

Alex Danson has spent over half her life as an elite athlete playing for England and Great Britain. She has bore witness to the lowly years of English hockey and its ultimate resurgence. She has benefited from full-time funding and has won a medal in a major competition every year since 2009. An Olympic champion; now captain of her country.

Yet talent alone is not enough to succeed for the Hampshire-born 33-year-old. "You've got to work hard and you've got to love what you do." And she has kept up this unrelenting theme since hockey first started to run through her veins.

As an 11-year-old, she would endlessly hit reverse stick shots towards the net for hours on end. Her older brother, Ed, once offered to go in goal for her on the astro turf at their local school. She's only small, how hard can she really hit it, he thought. "After the first ball went flying past my ear I got out of the way as fast as I could!"

Four years later, Danson, an STX player, was playing for England under-18s. Trisha Heberle, the former Hockeyroo and England women's coach, vividly remembers the first time she spotted Danson. Fast-tracked to the England under-21s, the Danson Express stepped up to the national team within 12 months.

"It was her attitude and determination," explains Heberle. "She wanted to compete and attack the circle. And any opportunity she would to shoot or get herself in position, she was in it. She was physically under developed but wanted to score goals. She would be throwing herself on her stomach, diving for deflections which at that time a lot of the senior players weren't doing."

England always had notable strikers back then – Tina Cullen and Jane Smith to name but two. Now, a 16-year-old was joining the fray. "Often it's something they've got which stands them apart, or you have to instill that quality and hunger," adds Heberle.

"It was unusual to see such a young kid so willing and determined to get the ball and advance towards goal. She is opportunistic."

Over a decade later and countless more internationals, Danson returned from time away from the game following bronze at London 2012.

With retirements from the Olympic campaign, Sarah Haycroft had joined the central programme. She was immediately "in awe" of Danson as she joined her new team-mates at Bisham HQ. "Even in a simple shooting drill, she was phenomenal. She is an unbelievable hockey player," says Haycroft.




"Because she is so lovely off the pitch, to see her transform into this ruthless goalscorer is quite something.

"She throws herself into it and there is no one else who will stop her trying to score a goal. That's how she is in the D.

"She is the epitome of an unbelievable goalscorer and will stop at nothing to put the ball in the net."

Fearless on the pitch, there is a sense of freedom off it.

The Danson family have always ventured to North Cornwall for their holidays. After a mile walk to one of their favourite spots, Lundy Bay, they arrive on the turn of the tide before games of cricket, hopscotch or tennis will commence, with Alex and her brother and sister, Claire.

The ocean is the perfect tonic away from elite sport and the team environment she so relishes during the week back in Buckinghamshire.

She captained netball, threw discus for her county, but hockey was always where her strengths lay. After playing in the garden since she was six and later terrorising her brother in goal, she joined Alton HC as a 12-year-old.




Her first coach was a volunteer. In between junior club matches, she also recalls former GB player Mandy Nicholson training the team. For months later she would practice and try to perfect the routines she learnt that day.

"Throughout my career I have been motivated, encouraged, supported and coached by so many incredible people," she once said.

"These experiences have led me to believe it is a privilege as athletes to give back whenever we can."

She says she learned her first lesson a year after joining Alton and being selected at England age group level. Danson was selected, she admits, not because she was the best but because she was the hardest worker. She wanted to be accepted.

"I am very competitive and I wanted to be in the England team so badly, so I put all my efforts into my training," she said in an interview at the time.

Selection came from failure. At England under-16 trials, she had failed a bleep test and was given six weeks to prove herself before another round of trials.

There was no let up. An eager Danson admits that she woke up her parents nearly every day before school to squeeze in a run before classes. She admits that she might have been "the least talented hockey player" but had strained every sinew to show initiative to the coaches.

A couple of years later, the ever-smiling teenager was playing for Hampshire-based Trojans, away to Woking in the old Division One. At 15, she was the club's best player.

"She played as support striker and was everywhere," recalls Ben Barnes, a former Trojans coach. "She was completely fearless and would play like a 17-year-old boy would, with high skill levels."

At that Woking game, she had received a call that she had been picked for the England team. There was fear and uncertainty, naturally, for someone so young. "She was self-effacing and didn't realise how good she was in other people's eyes," says Barnes.

She went to her first Junior World Cup with England under-21, aged 15. Kate and Helen Richardson-Walsh were in the same side, as well as other players she looked up to. "They knew I'd be very happy to sit on the bench and learn and that's important in a team game," she told The Times.

Having started 2001 as a promising junior, the Hampshire schoolgirl ended the year with two senior caps to her name.

Her life was to change irrevocably thereafter off the pitch and it took her nine years to complete her BSc in open studies from the Open University. Her graduation ceremony is still "one of the best days of my life".

On the field, she made her debut in October 2001 against Germany in Cologne to become the youngest player to be capped by England. According to her coach, she was far from "intimidated" by the experience.

And, nearly 17 years on, she still maintains the same frisson of nerves when selection nears for England or GB matches, despite her role as captain and her name rubber-stamped on the team sheet.




She believes that her 16-year-old self wouldn't get into the centralised programme now. She says she was reserved and shy back then and her hockey skills wouldn't be enough for the class of 2018, she told The Telegraph earlier this year.

But that's perhaps the self-effacing Danson.

She has seen so much already this century and has witnessed life at Bisham Abbey evolve dramatically since she entered the national programme. England Hockey has survived financial collapse and she has seen GB women miss out on Olympic qualification.

As she kept performing for England, there have also been personal disappointments to digest. At some motivational talks for the Youth Sport Trust, Danson sometimes shows a telling photograph of her at the 2006 World Cup. She has just missed a goal that was usually a given.

The image portrays her head in her hands as the team failed to reach the semi-finals. Utter agony.

"I ask the kids if they have ever felt like giving up on something and tell them that I felt I had let myself down, let my team down and let my country down and I felt like giving up," she told The Sunday Times in 2014.

To maintain her playing career, she continued to work as a hockey coach and at a Harvester's restaurant in Fleet, Hampshire, before the ushering in of the central programme in 2009 and elite funding. Sixth in Beijing, bronze in London. Gold at Rio 2016. "An absolute game changer in terms of the team's achievements," she has said.

The previous year, she had been with the England under-21 team when it was announced that London would be hosting the 2012 Olympics. All she had thought of then was getting tickets and watching her heroes in action.

Instead it was her mother, her "hero", and father, who watched on in London as she scored against New Zealand to help secure bronze for GB in front of a fervent crowd.

The goal was indicative of Danson's goal-hungry persona: a dive and deflection into the net from a penalty corner routine worked over countless times at Bisham. Bronze felt like gold for Danson and co.

She took a break after London 2012 and came back for the Rio campaign in a period which changed both the team's philosophy and the sport's perception. In Danson's mind, there was "more in the squad".

"In the lead up to Rio, we spent hours and hours crafting how we could become the best team," she told fitpro in an interview. "We had a very clear vision: 'Be the Difference, Create History, Inspire the Future', and a set of values: 'We are one Team, Be Alive, We are Winners'.

"We then found ways to turn these into behaviours and live by them every single day. For example, we had a weekly session called 'Thinking Thursday', which was all about finding a way to win and bring our value 'We are Winners' to life."

Putting the team ethos into play on the training pitch – working the players "to the absolute nth degree in terms of intensity" while finding a way to win, according to coach Danny Kerry – every player's role and position, Danson's included, was now valued.

The 2015 EuroHockey Championships had set them on the way. There is a striking image, pictured below, of Danson lifting the ball over the German goalkeeper earlier in the tournament.

Her opponent's head is seemingly focused at Danson's feet. Yet the quick-footed England forward's muscled strength has already put away the shot and the ball is clearly visible on its way to the net.



The London Times newspaper portrays Alex's career in pictures

England had come from behind in the final against the Netherlands – and then won a dramatic shoot-out. "Victory in that tournament convinced us that we could compete with the world's best on a major stage," she told The Times.

It was their first title in Europe's showpiece for 28 years.

The previous year, England had finished a dispiriting 11th of 12 teams at the World Cup in The Hague. Won by the Dutch, the host nation were seen on several occasions walking together around the stadium complex in between their matches. They looked a tight and utterly formidable unit.

Now it was the turn of Danson and her team-mates in Rio as they fell into Great Britain mode. They famously came off social media and built their own fortress on the back of their team culture.

"I truly believe we were successful because we were the greatest team. Even around the athletes' village we didn't leave each other's sides," Danson told the Mail on Sunday last year. "Sixteen women walking together stand out as a pack. The Dutch are, individually, fantastic players but we were a better team."

One team. Winners. Be alive.

Danson leads by the team's party line.

"She wears her heart on the sleeve," adds forward Lily Owsley. "She leads by emotion, passion and a love for the game. Her desire for us to do well is quite infectious. She plays with her heart and spreads it around the side."

And to think the Great Britain team had little idea of the impact generated back home on that memorable Friday night in Rio as they ended the Dutch team's Olympic domination since 2008.

"I'll go to an event that has nothing to do with hockey and everyone tells me where they were watching the final. This moment was pure magic," she has admitted to The Times.

Her talks continue to resonate post-2016, only this time they glisten with gold.



Alex wants 10,000 kids to pick up a stick PIC: www.marcelgphotography.com

"I started in the same seat you are in, I had a dream of playing Hockey for my country and I did everything that I could to make that dream become a reality," she told those assembled at the East Hampshire Sports Awards last year.

"I urge you all to do the same, you will get knock downs and times where you feel like you aren't going to succeed, but getting through these moments are the best parts of your career and lead to amazing things."

Yet she wholeheartedly believes that the lessons learned from playing in a team can be carried and applied to all areas of life.

"She lives to inspire the next generation; it is one of our core values," adds team-mate Haycroft. "Her true love is the game and if she can inspire one or two people to be able to fulfill their dreams, that means so much to her."

Sixteen years on, Trisha Heberle is far from surprised that Danson has now been chosen as national captain.

Having been carefully managed in both body and mind to compete at the highest level, Danson has seen through the transition. She has achieved this through an openness to continually learn.

"She is team orientated. She has this great perspective. She knows where she's come from and the role she plays in the team."

Heberle says there is an inextricable link with Danson's long-time friend Kate Richardson-Walsh, who she took over from as women's captain. "They have a genuine understanding that it's about team work and if you get everyone functioning in their role and working hard, then anything is possible."



Alex and Kate Richardson-Walsh, right, have endured the long road to glory with England and Great Britain

Speak to her fellow team-mates or coaches, past and present, and they will tell you that Danson refuses to take individual credit.

"Everything is about the team and how to achieve their goals as a collective," is the general response.

An admission summed up by team-mate Anna Toman. "Not only do we step on the pitch with her, she thinks just as highly of us as we do of her. She sees us all as equal and that's what I admire most about her."

Individually, however, Danson has the future of English hockey at heart. She wants to introduce 10,000 primary-school-aged kids to the sport through the Alex Danson Hockey Academy, which goes into schools and sports centres up and down the country and encourages children to get active and involved with hockey.

Having had her own life transformed by the sport, Danson simply wants to give other young children the same chance.

Yet, even her daily hockey infusion has to take a backseat at times.

The sea then comes calling and the calm of sitting by the ocean.

If she had a home by the sea next to a coffee shop, then "I'd be absolutely made," she said recently in an interview.

"She will always be busy, she will always be synonymous with that incredible night in Rio, and she will always hold a special place in the hearts of hockey fans who got to see her play the game and live out her dreams as a professional sports woman," adds her brother.

"She will say she is the luckiest person on the planet. As her brother, I will say that she has earned it."

So will say her team-mates – and no doubt the rest of us.

The Hockey Paper


---

Emily Defroand: England hockey player's debt to mother Gill

By Ross Bone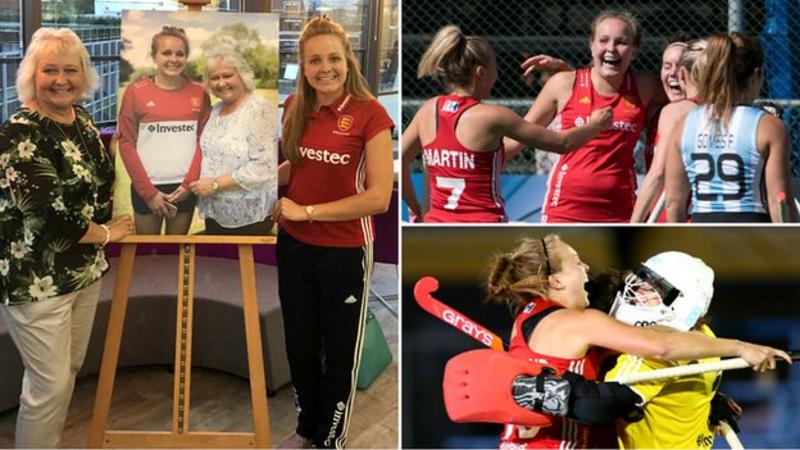 Emily Defroand with her mum Gill (left) and in action for England (right top and bottom)

It's well documented that to reach the top level of sport every athlete needs to make sacrifices.

Blood, sweat, tears. Highs, lows, hours in the gym, missed social engagements. The list is seemingly endless.

What is perhaps less publicised is the lengths to which some athletes' parents go to so their children can get to where they aspire to be.

"I don't think I could ever put into words how much your support has helped me," England and Great Britain hockey player Emily Defroand says to her mother, Gill. "Both on and off the pitch.

"Your constant positivity, you're always a shoulder to cry on and the experiences I've had living my dream are all down to my family.

"It means the world and I want to make my family proud and make the sacrifices worth it."

These words are not said lightly as both Gill and Emily describe the journey the latter has been on: from the six-year-old tearing up and down the pitch in a chaotic manner at Havering Hockey Club, where mum Gill already played, all the way to the senior squad trip to South Africa where the Surbiton star made her full international debut.

It has been some journey, and Defroand's family have been there to see it all.

"I got into sport thanks to my mum," Emily explains.

"My first memory is going to watch her play every week and just wanting to get involved. I loved it from that moment on.

"I grew up playing at Havering and had lots of friends whose parents played with my mum. I was lucky enough to play alongside my mum aged 11 and we always say I'd do the hard work and she'd get the glory by scoring the goals.

"I look back on that really fondly and that's what sport is all about for me."

Logistical miracles

Emily also credits other members of her family for helping her to love sport.

"I'm really lucky I grew up with two older brothers and sport has always been part of our lives," says the 23-year-old, who has been capped 35 times by her country.

"I remember being in the garden playing cricket with them or being stuck in goal while they smashed the ball at me as hard as they could.

"As bad as it sounds, it made me want to play every sport under the sun and obviously that relied on mum and dad being able to take me to sports clubs.

"I've made friends for life through sport and that's so important to me as a person. Your support network needs to encourage participation in sport. Not just a single sport but all sports so that children can find things they enjoy. I'm lucky I had that chance to try things."

With Emily and her two older brothers playing every sport they could, as well as fitting in going to watch their beloved West Ham on Saturdays, the onus was on Gill and her husband to perform logistical miracles to get their children to every sporting engagement.

"I took supporting to mean helping them to get ready, getting them to training or the match on time, making sure they have their kit, they enjoy it and so on," says Gill.

"Sometimes it was a case of dropping one child somewhere, rushing home to collect another and taking them somewhere and then picking the first one up. That was our weekend for my husband and me.

"We only had one car to begin with so it was always a challenge but we bought a second car because we often needed to be in two or three different places at once.

"You build up that network and you help each other out, so other parents help you and you help them, but we managed. I'm not sure how, but we managed."

And Emily acknowledges the efforts.

"The sacrifices mum and dad made back then were huge," she adds.

"I look back and realise how helpful it was for me and how selfless that was from my parents.

"I don't think I'll ever be able to show how much I appreciate it and what a key vital role it played for me. We were so lucky."

Learning from the low times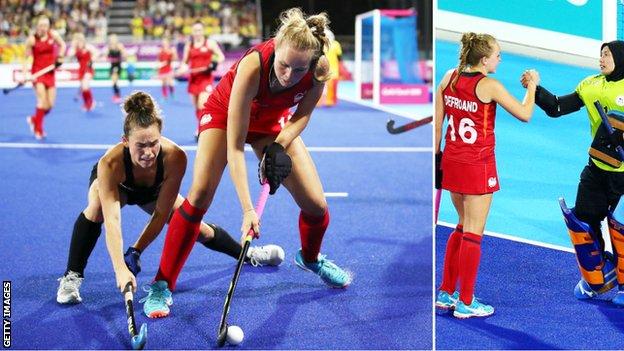 Emily Defroand in action for England during the Commonwealth Games

Defroand graduated from Birmingham University in 2016 with a masters in sports science

Whilst you could be forgiven for thinking Emily's path to the top has been plain sailing, Gill and the rest of the family have had to step in when the down side of elite sport has kicked in.

This month, England will be competing in a home World Cup in London but Emily has not made Danny Kerry's 18-strong squad.

"It's all part and parcel of sport. There are always highs and lows and my family have always been with me through the good and the bad times," Emily says.

"I lean on my parents and in particular my mum. It's not necessarily the words that they say it's the actions - the arm around the shoulder, the big hug to make you feel better.

"Something that's always stuck with me is my mum has always been forward thinking. No matter what the setback, what the knock it's how you deal with it and come back to turn it into a positive or a driving force is what counts."

Gill's response to missing out is an impressive one, saying it's about how Emily reacts to the disappointment and what it means for the future.

"You always get setbacks in life. How you are defined is by how they affect you," she says.

"We are always there for Emily, but we also try to help to learn from these experiences."

Setbacks aside, Emily has accumulated a significant number of caps for her country, something both her and her family are immensely proud of.

As Gill says, no-one can ever take those away from her, and the whole family are "proud no matter what happens".

Missing out on the World Cup will not be the defining moment of Emily's international career.

It will drive her forwards to succeed in the future with a renewed determination.

And her family will be there every step of the way, cheering her on.

BBC Sport


---

Shona McCallin: Olympic gold medallist on effects of 'brutal' concussion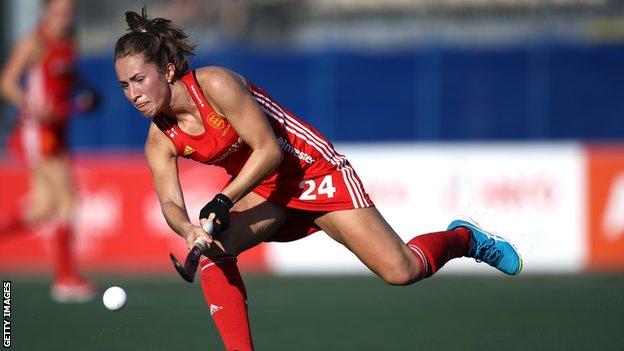 McCallin is yet to return to full-time training after she was concussed in February

"There have been times where I've been looking down a dark tunnel and there is no light at the end."

Like most elite athletes, Olympic gold medal-winning hockey player Shona McCallin has had her fair share of injuries. But concussion, she says, is "far and away the worst".

Playing for England against Argentina in February, the 26-year-old took an opponent's shoulder to her head. Headaches, sickness and a sensitivity to light and sound rapidly developed, and despite being initially told she would only be out for two to four weeks, she has still not returned to full-time training.

She is one of three players - along with England team-mate Nicola White and the Netherlands' Pien Sanders - who will miss the World Cup, which starts on Saturday, because of concussion.

"Concussion is like a game, but not a very fun game," McCallin told BBC Sport. "It takes over your whole life.

"It's a brain injury, so you can't mess around with it."

So is enough being done? Are athletes aware of its seriousness? And should the sport's governing bodies be considering more action to prevent such injuries by introducing headwear?

What is concussion?

Concussion is a temporary injury to the brain, usually caused by a bump, blow or jolt to the head.

Symptoms, like those experienced by McCallin, can include headaches, nausea, and balance issues, as well as dizziness, confusion, changes in vision and unusual behaviour.

McCallin's symptoms developed almost instantaneously, and when she was substituted she veered left and right as she ran off the pitch despite believing she was moving in a straight line.

"I got really angry when I was told I wasn't going back on, which I know now is a sign of concussion," says McCallin, who had headaches every day for four months as a result.

"I went to warm down with the girls and I couldn't run, my co-ordination had just gone. I found it hard to just talk. I couldn't think and engage my brain and get my words out.

"As soon as I heard the word concussion, I knew I wasn't playing any more on that trip."

'Like a hangover in handcuffs'

McCallin missed April's Commonwealth Games - where England won a bronze medal - and will have to sit out the World Cup.

But while she admits missing such tournaments is "horrible", she says the "brutal" impact on her personal life has been just as great.

"They are huge tournaments and ones you want to go to as an athlete, but what is worse is the control concussion has over your life," she says.

"You don't know how it is going to affect you each day, how you're going to wake up or if it's going to be a good or bad day."

McCallin, who won European gold with England in 2015, does not yet know when, or indeed if, she will return to full-time training, but says the past five months have given her "more perspective on life".

"Concussion is overwhelming and relentless, you just can't get away from it sometimes. It feels like a hangover in handcuffs - you don't have the freedom to do what you want," she says.

"There have been times where I have thought, 'am I going to be able to live a normal life? Am I going to be able to get rid of this?'

"Hockey isn't everything, there are bigger things in life, and this has really cemented that in my mind."

'The onus is on the player'

During her recovery McCallin has met former rugby players who, after retiring, still experience side-effects from concussions they suffered during their playing careers.

It has led to her wanting to raise as much awareness about the injury as possible, admitting she was previously "naive" about it.

"All I want is to raise awareness of concussion and educate people more because the actual onus is probably on the player initially to tell medical teams," McCallin says.

"I could have hidden the fact I had a headache, so it's about educating people to understand the consequences of hiding it and the seriousness of it."

Luke Griggs, of brain injury association Headway, told BBC Sport incidents of concussion are often "unreported", meaning experts do not know the "extent of the problem" in sport.

"Either people don't understand it and the risks of continuing to play, or they choose not to take themselves off and be assessed," said Griggs, who experienced concussions himself as a hockey player.

"Hockey is progressive. It is trying to evolve and improve things and that is great, but is enough being done?"

'There will be concussions at this World Cup'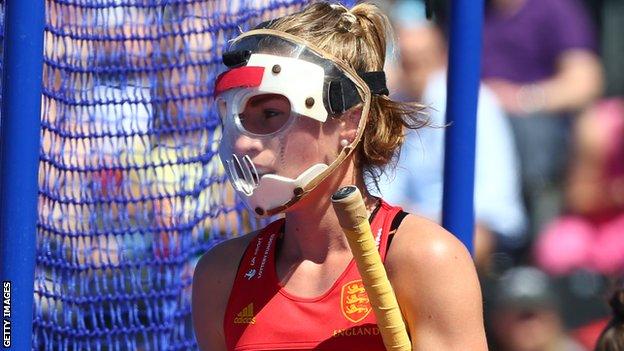 Players wear masks when defending penalty corners but remove them once the move has ended

While hockey goalkeepers wear head-to-toe protection including helmets during games, outfield players only put on masks for penalty corners.

There have been calls for players to wear head protection throughout games, but the International Hockey Federation (FIH) says there are "no imminent plans" to make changes - and McCallin thinks it would have made little difference in her case.

"I think if I had been wearing a headpiece, I still would have got a concussion," McCallin says.

England Hockey physiotherapist Matthew Davies told BBC Sport playing hockey provides "no extra risk" of concussion than other sports.

He said: "Inevitably, if someone runs into you and hits you in the head, I'm not sure we can prevent concussion.

"There's not a lot of evidence that would support the use of helmets in preventing concussion."

At this summer's football World Cup in Russia, Morocco were criticised for playing winger Nordin Amrabat five days after he suffered a concussion.

Griggs says there will "undoubtedly" be concussions at the hockey World Cup in London, but hopes the sport will "set a better example" than football.

"Greater awareness is happening all the time, and you can't take every risk out of life and out of contact sport," he says.

"The information needs to be out there that if a concussion happens, people need to acknowledge it, act accordingly, and take the 'if in doubt, sit it out' approach."

BBC Sport


---

Hockeyroos Pair Ready For Impact After Long-Term Injuries

Ben Somerford



Georgina Morgan has recovered from a foot injury

Hockeyroos coach Paul Gaudoin is excited about the impact of defensive duo Georgina Morgan and Madison Fitzpatrick at the 2018 Women's World Cup in London following long-term injuries.

Australia begins their 2018 World Cup campaign on Sunday 5am (AEST) against Japan at the Lee Valley Hockey and Tennis Centre.

Armidale's Morgan and Cabarita Waters' Fitzpatrick were part of the Hockeyroos team that arrived in London last Thursday and defeated India in a practice match on Monday 3-0.

Morgan, who has 66 caps and 16 goals to her name, last represented Australia more than 12 months ago at last year's World League Semi-Finals in Belgium, with a foot injury keeping her sidelined.

Gaudoin was full of praise for 25-year-old Morgan who he felt was only an "outside chance" to make the team barely a few months ago.

"Credit to Georgina, she's worked extremely hard and has come back with a renewed vigour about what she wants to do with her hockey," Gaudoin said.

"That's rubbing off on many of the players and staff. It's great to see someone who really wants to play for her country and do well. It's a credit to her.

"She was probably an outside chance of making this team but she's fully deserves her position in this team. I look forward to her having a pretty solid tournament."

Fitzpatrick's stint on the sidelines hasn't been as lengthy, last playing for Australia in November coincidentally against upcoming opponent Japan, with shin and adductor injuries keeping her out.

The pair both bolster the Hockeyroos' backline, which proved so strong at the Commonwealth Games on the Gold Coast earlier this year by not conceding a goal until the gold medal match which ended in defeat to New Zealand.

Morgan and 21-year-old Fitzpatrick, who has netted 12 goals in 37 caps, are also both dangerous options from penalty corners, which boosts Australia's scoring possibilities.

"It certainly gives us some attacking options at penalty corners but both give us good passing range from the back," Gaudoin said.

"With Morgan it's some experience and with Fitzpatrick it's some flair. She's got an ability to do some things a bit differently and is a very skilful player.

"We've got a pretty solid midfield. We're disappointed not to have Jane Claxton (hamstring injury) there but we have Renee Taylor stepping into that role pretty well at the moment."

The Hockeyroos are due to take on Great Britain in their final practice match from 11.30pm (AEST) on Wednesday.

Australia's 2018 Women's World Cup campaign will be televised LIVE on Fox Sports, starting with the Sunday 5am (AEST) match against Japan.

The fifth-ranked Hockeyroos are in Pool D with New Zealand, Japan and Belgium.

Australia's Women's World Cup team:
Athlete (Hometown, State)
Jocelyn Bartram (Albury, NSW)
Kristina Bates (Port Melbourne, VIC)
Edwina Bone (Orange, NSW) *Plays for ACT
Kalindi Commerford (Mollymook, NSW) *Plays for ACT
Madison Fitzpatrick (Cabarita Beach, NSW) *Plays for QLD
Emily Hurtz (Sydney, NSW) *Plays for VIC
Jodie Kenny (Wamuran, QLD)
Stephanie Kershaw (Townsville, QLD)
Rachael Lynch (Warrandyte, VIC)
Ambrosia Malone (Burleigh, QLD)
Karri McMahon (Berri, SA)
Georgina Morgan (Armidale, NSW)
Kaitlin Nobbs (Newington, NSW)
Brooke Peris (Darwin, NT)
Kathryn Slattery (South Stirling, WA)
Emily Smith (Crookwell, NSW)
Grace Stewart (Gerringong, NSW)
Renee Taylor (Everton Park, QLD)

Australia's Women's Hockey World Cup Schedule (all times AEST):
Sunday 22 July 5am - Australia v Japan
Tuesday 24 July 11pm - Australia v Belgium
Sunday 29 July 5am - Australia v New Zealand
Monday/Tuesday 30/31 July TBC - Playoffs
Wednesday/Thursday 1/2 August TBC - Quarter-finals
Saturday 4 August TBC - Semi-finals
Sunday/Monday 5/6 August 11pm/1:30am - Bronze medal/Gold medal match

Hockey Australia media release


---

England aim high for hockey World Cup after advice from Gareth Southgate

Michael Butler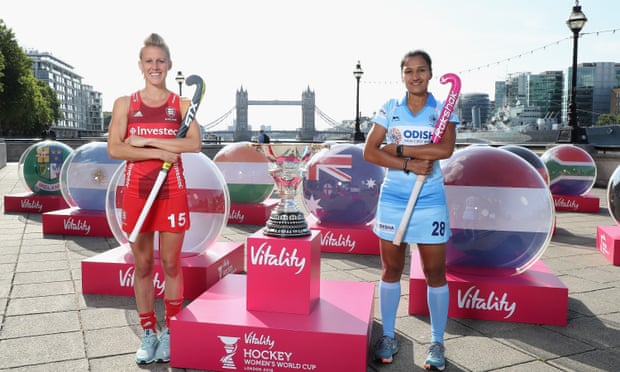 Alex Danson and India's Rani Rampal with the World Cup trophy on Wednesday, three days before the Vitality Hockey Women's World Cup starts. Photograph: Christopher Lee/Getty Images for Vitality

England's footballers may have fallen short of reaching the World Cup final in Russia but England's hockey captain, Alex Danson, believes conversations with Gareth Southgate have helped prepare her side for their own World Cup, which begins on Saturday against India at London's Lee Valley Hockey and Tennis Centre.

England host the tournament for the first time and have arguably never been in a better position to win it. Ranked No 2 in the world, and with Danson one of eight members of Great Britain's 2016 Olympic gold-winning side in England's squad, overcoming pressure and expectations in front of a home crowd is key.

"It was a real privilege to go to the Football Association conference, where I had to opportunity to share insights with Gareth from Rio and before," Danson said. "I learned a lot: the language that Gareth used in some of his pre-match reviews was about routines, the process, and that's what we've instilled in our environment here. He asked how we built the team of 31 women into a cohesive unit. I think we saw that with Gareth's team at the World Cup."

The mental side of the game has become paramount for England and Great Britain's recent success in women's hockey – including overcoming a much-fancied Dutch side in the Olympic final on penalties – and something that has dramatically improved since English players such as Danson became full-time professionals.

"Your mind is just as important as your body," said the 33-year-old. "We've worked with an incredible psychologist, Andrea Furst, since 2014 and she's had an enormous impact on our behaviours and team culture.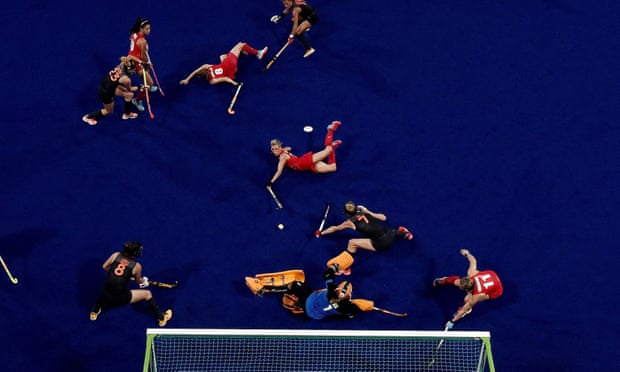 Alex Danson (centre) dives to score a goal for Great Britain against the Netherlands in the Olympic final at Rio 2016. Photograph: Manan Vatsyayana/AFP/Getty Images

"When I started my career, we weren't full time. We were ranked 11th in the world, and now we've climbed to second. I don't believe it's a coincidence that having a centralised, full-time programme means that we've had success over that period of time.

"I think back to my first World Cup in 2002: we quietly went off to Australia. We all had full-time jobs and wore the same shirt that we had worn for the previous two years."

This year's World Cup jerseys were distributed differently, with backroom staff secretly arranging for players' parents to hand them out – just one example of how things are being done behind the scenes to create a sense of unity.

"Honestly, in my career, I think that was the most special thing that I'd ever experienced," said Danson. "Genuinely, it's up there with winning Olympic Gold.

"They managed to keep it a secret, goodness knows how. I even organised a barbecue at my boyfriend's the day before to say bye to everyone. They were, like, 'see you in a week.' It turns out they were good liars."

Every England group-stage match is a sell-out, with 10,000 fans set to pack out the Lee Valley Hockey and Tennis Centre in London's Olympic Park for the opening match against India, before further tests against USA and Ireland, and Danson is banking on the home support for success. "Being at home makes an extraordinary amount of difference. Lee Valley is our fortress."

The Guardian


---

USWNT Ready to #Gr1tForGlory at World Cup




LONDON, England -  After an intense training regimen, several test matches and hours of film, it all comes down to these next two weeks. The U.S. Women's National Team are gearing up for their Vitality Hockey Women's World Cup journey to begin in three days time. As final preparations are underway, here's how USA's World Cup venture looks coming in to the Lee Valley Hockey and Tennis Centre in London.

Potential for USA

USA's goal of finishing better than their previous World Cup appearance has been head coach Janneke Schopman and the team's goal since punching their ticket to London back at the FIH Hockey World League Semifinal in Johannesburg, South Africa. The team entered the 2014 World Cup as the 10th seed of 12 and placed fourth in that tournament. Despite the low seeding, USA sailed through pool play one game after another before ultimately claiming the top spot in their pool with a record of 4-0-1, totaling 13 points ahead of Argentina, and advancing to the semifinals.

Currently sitting as FIH Hero World Ranked No. 7, USA enters competition experienced and well trained after spending the first half of the year playing several test series against potential World Cup opponents. They sit in Pool B alongside host nation No. 2 England, No. 10 India and No. 16 Ireland. Should history remain on their side, the red, white and blue is eying a first place finish in their respective pool before heading to crossover play.

USWNT's Vitality Hockey Women's World Cup Pool Play Schedule:
Date                Match            Time
Saturday, July 21        USA vs. Ireland    1:00 p.m. ET
Wednesday, July 25    USA vs. England    3:00 p.m. ET
Sunday, July 29        USA vs. India        12:00 p.m. ET

Scenarios

USA has a strong chance of advancing out of pool play. The top three teams from each of the four pools will advance to the next round, with the second and third place finishers playing against each other for a spot in the quarterfinals. Top place finishers however will advance directly to the quarterfinals, meaning one less game played. USA's return to the semifinals would be that much easier should they win all three of their pool play matches. That scenario would set USA up against the winner of Pool A No. 2 and Pool B No. 3.

If USA finishes second in Pool B, they would match up in crossover play with the third place finisher from Pool A, which consists of No. 1 The Netherlands, No. 8 China, No. 9 South Korea and No. 17 Italy. The winner would advance to the quarterfinal against the top seeded team from Pool A.

If USA finishes third in Pool B, they would play in a playoff crossover against the second seeded team from Pool A. The winner of this playoff game would advance to the quarterfinal against the top seeded team from Pool B.

Event Program

Stay up to date with everything at the Vitality Hockey Women's World Cup has to offer. Whether you need to know about the event, view the schedule or results, or read all news stories related to the event, access the Vitality Hockey Women's World Cup Event Program on either a desktop or mobile device. On a mobile device, head to usafieldhockey.com, then in the upper left-hand corner, click the three horizontal lines and choose Events. #HWC2018

Tune in Via Live Stream

Don't miss a second of action from London! BT Sport will produce one single program each day. This will give viewers the opportunity to watch all of the action from the very first match of the day until the very last match. This provides fans with non-stop hockey coverage, with all of the match action supplemented by in-depth analysis from the BT Sport team led by Chris Hollins and Sam Quek with Kate and Helen Richardson-Walsh, Crista Cullen, Mel Clewlow and Simon Mason plus features on athletes, coaches and the sport in general.

Watch all of USA's matches, and the entire Vitality Hockey Women's World Cup, on online live stream on Bleacher Report Live. For more information and access to Bleacher Report Live, click here.

For all information regarding the Vitality Hockey Women's World Cup, including full schedule, roster, news and more, check out the official event program by clicking here. #Gr1tForGlory

USFHA media release


---

Get To Know The Green Army Forwards



Nikki Evans

Debut: June 2010 v Australia

Caps: 163

International goals: 36

Current club: UHC Hamburg

Previous club: Hermes, Railway Union, UCD, Hermes-Monkstown

School: Alexandra College, Milltown

Position: Forward

A qualified lawyer, Nikki decided to take a year away from her professional career to go and play abroad in the German Hockey League. Having narrowly missed out on Olympic qualification for Rio and with a World Cup on the horizon, she took time away from her professional career to focus her attention solely on hockey. She comes into the World Cup off the back of a memorable season with German side UHC Hamburg, helping them to silver medals in the National Championship as well as the European Club Cup. Nikki is set to return for a second season with UHC as well as a position with international law firm, CMS. She is looking forward to developing her hockey career as well as progressing her professional career.

An infectiously high-spirited character, she is one of the central parts of the Irish forward line, leading the press through her athleticism and unrelenting work rate. Nikki has enjoyed resounding success in the domestic game, winning all major competitions. Internationally, career highlights include winning silver at the Champions Challenge I in 2014 and scoring a stunning hat-trick against South Africa in the opening game at the 2016 Olympic qualifying tournament in Valencia.



Katie Mullan

Debut: August 2012 v Wales

Caps: 151

International goals: 30

Current club: UCD

Previous club: Ballymoney

School: Dalriada

Position: Forward/Midfield

Katie Mullan took over the captaincy in the wake of Megan Frazer's injury travails and provides a strong presence in either the forward or midfield lines where she has been used at different intervals. She has joked that she has found herself in "every position except goalkeeper" with her aggression making her an adaptable force of nature. After a prolific underage career, scoring plenty of goals for Ballymoney and at the 2010 Youth Olympics, she broke into the Irish team in August 2012. She was fast-tracked into the side for a first tournament in the Champions Challenge I, winning a bronze and scoring a last gasp equaliser against Scotland. A silver two years later at the Challenge I in Glasgow followed in 2014 as well as a silver at the

EuroHockey Junior Championships in Vienna that same year. The devastation of missing the 2016 Olympic Games was soon replaced by the super World Cup qualifying campaign with Mullan leading out the team: "I love having the opportunity to walk the team out before an international game. For me the best captains have always been those who lead by example on the pitch, Megan is a prime example of that. That's the ethos I'm trying to go with." In her youth, she split her hockey time with camogie at the Eoghan Rua club in Coleraine, something she credits for her hand-eye coordination before coming under the wing of former Irish internationals Bridget Cleland and Lynsey McVicker at Dalriada and Ballymoney. A move to UCD for a sports scholarship allowed her to step up further and she now divides her time between playing and her masters in biomedical engineering.



Anna O'Flanagan

Debut: July 2010 v Scotland

Caps: 168

International goals: 63

Current club: Pinoke

Previous club: Hermes, UCD, Hermes-Monkstown, HC Bloemendaal

School: Muckross Park, Donnybrook

Position: Forward

Anna O'Flanagan is quickly closing in on the national goalscoring record of 65 – held by Lynsey McVicker – and will hope she can hit that mark during the World Cup. Seldom has there been a more predatory Irish striker, her exploits all the more remarkable given she is not a direct corner shooter. Indeed, she scored 12 times in World League Round 2, the first phase of World Cup qualification, in January 2017 to pass the 50-mark and she has shown little sign of slowing down, going at more than a goal every three games. It has been a career already marked by a serious medal haul with Champions Challenge I bronze in 2012 and silver in 2014. She won the old All-Ireland Championships with Hermes when still a schoolgirl in Muckross Park before winning a national treble with UCD in 2014. She returned to Hermes-Monkstown to add an EY Hockey League and Champions Trophy in 2016. This year, she took a break from her legal pursuits to focus on hockey in the World Cup lead-up, joining HC Bloemendaal in the Netherlands. There, she won the Gold Cup.



Deirdre Duke

Debut: June 2013 v Scotland

Caps: 103

International goals: 13

Current club: UCD

Previous club: Three Rock Ladies, Hermes, Northeastern Huskies

School: Alexandra College

Position: Forward

The rangy forward has been around the squad for the most part since late 2014, playing a pivotal role in the 2015 EuroHockey Championships II success in Prague, winning gold and promotion back to the continental top tier. Shoulder surgery kept her out of World League Round 2 in 2017 but she returned to full form quickly on the club front with UCD, leading to her playing a full role in the World League Semi-Final  where World Cup qualification was assured. She also played in the European Championships in Amsterdam in 2017.

Her hockey beginnings were at Three Rock Ladies before moving to Hermes HC and then taking up on a year with Northeastern Huskies in Boston. Since coming back to Ireland, she won everything in the domestic game in Ireland with UCD Ladies Hockey Club, captaining their EY Hockey League, Champions Trophy and Irish Senior Cup wins in the last two seasons. She also represented the Irish soccer team at u15 and u17 level and played Gaelic football for the Dublin underage teams for a number of years before concentrating on hockey.

Irish Hockey Association media release


---

Green Army Ready For The World Cup




The side's first match of the tournament takes place on July 21st at 6pm against the USA, a traditionally physical side and renowned for their fitness in world hockey.  Jackie Briggs in the US goal has been in fine form over the last 12 months, playing a crucial role at World League in Johannesburg as she helped her side to victory in penalty shootouts over both England and Germany. Equally Melissa Gonzalez is always one to watch for America, she took over the captaincy when Lauren Crandall retired and is a constant threat with her power and pace.  But Ayeisha McFerran in the Irish goal is equally proficient when it comes to shoot-outs and the experience of Shirley McCay, Ireland's most capped female athlete, combined with the cool head of Zoe Wilson will be used to the threat the Americans pose, as the sides meet almost annually for a match series.

India come next, on Thursday July 26th at 2pm, and offer a different challenge entirely. The sides met in a crucial 7th/8th playoff tie at World League in Johannesburg last summer with the Green Army coming from a goal down to claim a 2-1 victory thanks to a stunning goal from Lizzie Colvin. But India have won the Asia Cup since then, beating higher ranked China in the final, and have had a couple of different coaches with Dutchman Sjoerd Marijne returning to the helm of the women's squad following a period with the men's team. They place a big emphasis on Savita in goal and their captain Rani for some creativity but the Green Army may well have the upper hand when it comes to skill and speed courtesy of Nicci Daly and Gillian Pinder. 

Hosts England are the final Pool B opponent for Ireland on Sunday July 29th at 7pm. Much can be made of the Olympic gold medallists and they retain a large portion of that history making team from Rio. But it was just 12 months ago that saw England snatch a victory over Ireland by only a single goal and they will be under pressure as hosts, having not made it to the European final as expected last August. Maddie Hinch is rightly the goalie of the moment and she will be tough to get past but the ever-threatening Anna O'Flanagan has beaten her before and combining her eye for goal with the determination of Nikki Evans will certainly test the English defence. It will be crucial for the Irish midfield, particularly utilising the experience of Chloe Watkins, to get the ball into the circle for the forwards. Katie Mullan, captaining the side, is adept at picking up the ball and bulldozing her way into dangerous areas and if penalty corners come then the Green Army are blessed with two talented drag flickers in the forms of Roisin Upton and Megan Frazer.

The winners of each pool progress straight through to the quarterfinal and the bottom placed team goes home. The second placed team in Pool B will play off against the third placed team in Pool A, and the third placed team in Pool B will play against the second placed team in Pool A.

World Cup Squad:

Name, Club, Position
Ayeisha McFerran, University of Louisville, GK
Grace O'Flanagan, Railway Union, GK
Yvonne O'Byrne, Cork Harlequins, Defender
Hannah Matthews, Loreto, Defender
Elena Tice, UCD, Defender
Zoe Wilson, Belfast Harlequins, Defender
Roisin Upton, Cork Harlequins, Defender
Shirley McCay, Pegasus, Defender
Katie Mullan, UCD, Midfield/Forward (Captain)
Nicci Daly, Loreto, Midfield/Forward
Gillian Pinder, Pembroke, Midfield/Defender
Megan Frazer, Mannheim, Midfield/Defender
Chloe Watkins, Bloemendaal, Midfield
Lizzie Colvin, Belfast Harlequins, Midfield
Deirdre Duke, UCD, Forward
Nicola Evans, UHC, Forward (Vice Captain)
Ali Meeke, Loreto, Midfield/Forward
Anna O'Flanagan, Bloemendaal, Forward/Midfield (Vice Captain)

Irish Hockey Association media release


---

Irish hockey player Katie Mullen believes "Strong is the new skinny"

Three members of the Irish women's hockey team spoke to Off The Bench about the upcoming World Cup.

BY Stephen Kierans

Nikki Evans, Katie Mullen and Roisin Upton joined Cliona Foley on Off The Bench to discuss their upcoming Women's Hockey World Cup in London, starting this week.

They talked about what made them start hockey, the importance of the world cup and if hockey is still seen as a 'posh person' sport.

"David Gillick was just coming into the start of his great career, so I used to get a fifty or one hundred metre start. It was, 'I can't let him catch me'. It wasn't until I went to secondary school that I picked up my first hockey stick at 12", Nikki said.

Katie spoke about what got her started in the sport.

"For me I just grew up playing Camogie and Gaelic. I played hurling with the boy's underage, when it got to under-16 level they were getting too fast and physical. I played with the women's camogie senior team and we won the All-Ireland in 2010. I started playing in grammar school. I suppose hockey was the main sport for the girls there.

 "Aside from the Olympics, the World Cup is the number one major tournament in hockey. The stadiums sold out 15'000 people. It's definitely the pinnacle in the hockey world. I'd say right now, we're probably not quite there yet, but I see a transition in how people are viewing females as elite.

"I just think going back, it wasn't maybe the most attractive thing to be seen as being strong and physical. Whereas, I think there is a transition there, in school especially, you can see the kids now are more getting into the gym. That wasn't seen when we were in school. Strong is the new skinny."

Like her team mates, Roisin was also a late starter to the sport but has always been a  fanatic. Here's what she had to say.

"I only started playing hockey in first year in college. Before that growing up with two older brothers, I was playing soccer. So, I played with the boys as well. I remember the hockey coach being adamant you can only play hockey matches when it came to cup time. I was still soccer mad. We won the Munster final and I got trials.

"It's been fantastic the last couple of years. We've been looking for sponsorship and I think it's just a great fit. Soft Co have supported us. I missed out on getting my first cap a couple of times, I thought it would never come. I ended up having to get double hip surgery", said Roisin.

Off the Ball


---

Coaches Corner: China ring in the changes



China's new coaching team will be looking for progress at the World Cup Photo: FIH/WSP

The China women's hockey team have just spent a few days in their Head Coach's capital city before they enter the final few days of frenzied preparations for the Vitality Hockey Women's World Cup, London 2018.

"Yes, 10 of the girls spent a few days relaxing and looking around Berlin," says Jamilon Mülders, who himself is relaxed and clearly enjoying the challenges that his new role presented.

"In order to carefully balance the demands of travelling, the time difference and the general stress that comes from knowing two major tournaments (The Vitality Hockey Women's World Cup and the Asian Games) are just around the corner is a challenge which we must deal with. Mental and physical recovery is also something we are focusing on and something the team has learned to appreciate and explore during the last nine months.

"I started last October but to describe the complexities of the situation in China in a few words is impossible," says Mülders. "On the one hand you have the players and their backgrounds, culture and education, on the other hand you have the demands and expectations of the NOC, the national hockey federation and the government.

"But what I will say is that the players are far more open-minded and curious than I ever expected. They are very keen to learn and take on new experiences."

Under Mülders and his team – Team Manager Julia Walter, Strength and Conditioning Coach Tillmann Bockhorst, Assistant Coach Lukas Fieber and, for five months earlier in the year, from Andreas Höppner – the team is getting a heap of new experiences.

Alongside these regular members of the coaching staff, three consultants in the shape of the vastly experienced Carlos Garcia Cuenca, Paul Lissek and Andre Henning, are working with the China players regularly throughout the year.

The players have English lessons twice a week. This is something that will not only make communication between the coach and the players easier but will also help the players grow personally both on and off the pitch. It will also help when it comes to communicating with the umpires and officials at international events.

For his part, Mülders is also learning Chinese and drew the praise of fellow Head Coach Alyson Annan (Netherlands) when she heard him talking to his players in their home dialect at a recent Four Nations Tournament in Breda, in the Netherlands.

The players are also being educated on how to take better care of their own health. Weekly yoga sessions, nutritional information and the importance of rest and recovery is all part of the new way under Mülders and his team – it was something the Head Coach says was missing before he and his team arrived.

For Mülders, working with a team who are centrally contracted is an eye-opener. In the past, Mülders worked as head of high performance within the German system. This involved many meetings and conference calls, as well as a never-ending stream of emails. It is with a certain amount of glee in his voice that Mülders says that his email in-tray has reduced by 98 per cent.

"The most important thing is to ask the players not to just execute, rather to make them think what ingredients they think they need, like and are able to handle."
Jamilon Mülders – China Head Coach

That is not to say that things are a walk in the park. While Mülders might not have a mountain of emails to deal with, the challenges he faces are deep set. His way of coaching is to communicate with his players on a deep level, asking opinions, probing for feedback. He is also an emotional coach, well known for his pitch side tirades. This is unknown territory for his players.

"If I get emotional and shout, the players might not understand what I am saying in Chinese, so they will stop trying new things and will fall back into old habits."

From talking to the vivacious Head Coach, you get the feeling that the communication difficulties between himself and his players is something he finds invigorating rather than frustrating. As an innovative and thoughtful coach, he never refers to 'problems' only challenges.

He also knows that the 2018 World Cup has probably arrived too early for his squad. He says there are some great players in the China team and the squad are making improvements on a daily basis but to unlearn years of one system and to learn to play the Mülders way will take longer than a few months.

"We tried useful things in the 'trial and error' mode at the Hockey World League Finals," he says. "Since then we developed our own idea of playing and the content of our training programme, which is players focused and driven. It is a new way for all of them including the coaches and officials."

Mülders name checks Gu Bing Feng,  Cui Qui Xia, Peng Yang and Zhang Xiao Xue as well as new squad members Guo Qio, He Jiang Xin and Zhong Jia Qi  as players who can make an impression in London. But, being realistic, he says, at present his team have been through a period of destabilisation and need more time to mature.

"It is like making a cake," he explains. "The most important thing is to ask the players not to just execute, rather to make them think what ingredients they think they need, like and are able to handle. They watch the teams from Europe, Oceania and South America and they can identify what they need to add to their game. But importantly, they are also learning to name their own strength and abilities.

"The players have great knowledge and understanding of that, but it is getting them then to have the confidence to try new things for themselves and to deal with set backs without giving up."

The next two months are a busy time for China and their Head Coach. First, there is the World Cup, where they have an opening match against Italy before facing the reigning champions the Netherlands and then their Asian rivals, Korea. Once China's World Cup journey is over, they have the Asian Games, a Tokyo 2020 Olympic Games qualifer, starting just a few weeks later on 18 August.

For the new-look, relaxed Muelders, it is all part of an exciting journey during which is proving a huge discovery and learning process for all involved.

#HWC2018

FIH site


---

When hockey came home to Ireland – the joys of Dublin 1994

On the eve of the 2018 women's World Cup, John Flack takes a trip down memory lane, looking back on Ireland's World Cup adventures in 1994 and 2002



The Irish women's team in Dublin Castle before the 1994 World Cup

There was no difficulty hearing Norma Gartside's dulcet tones as she delivered a spine-chilling rendition of Danny Boy – the national hockey teams' anthem before Ireland's Call took over – as it pierced the Brussels air at around 7.55am on a warm June day in 1991 before the European Championship game with Wales.

There were just a handful of spectators in the stadium on that occasion, the attendance obviously affected by the graveyard shift which is usually the fate of the teams who have to play off for the lower placings.

Three years later however, Ireland's then manager – who still sings as a hobby to this day – could scarcely be heard above the noise which enveloped the national hockey stadium at Belfield as the anthem boomed out over the speakers when Ireland prepared to take on Russia at 8am at the 1994 World Cup.

More than 3,000 spectators were in the stadium despite the early start and Ireland won the game 3-2 to avoid the dreaded wooden spoon and secure an 11th place finish.

Hockey had finally come home and what an event it was as the Irish Ladies Hockey Union rolled out the red carpet to welcome 12 of the world's best teams to Belfield.

The glorious weather no doubt helped the attendances which peaked at a capacity 5,000 on most days as spectators packed all sides of the ground, two of which had temporary seating.

Hundreds of noisy school children added to the atmosphere as chants of 'you'll never beat the Irish' and 'there's no one quicker than McVicker' became commonplace.

The latter was in deference to Lynsey McVicker, whose pace wasn't restricted to the hockey pitch as she was also a talented athlete in her school days at Dalriada in Ballymoney.

A dedicated and selfless band of volunteers, some of whom didn't see a ball struck, made sure everything went smoothly and the smiling faces that greeted you as you entered the stadium will be a lasting memory.

Off the pitch, ceol agus craic was the order of the day (and night) with impromptu traditional music sessions keeping fans entertained and plenty of refreshments available in the many temporary marquees that had been set up.

On the pitch, Ireland, captained by Cork Harlequins' Sarah Kelleher, didn't pull up any trees as they drew two and lost three of their group matches to enter the play-offs for ninth-12th place.

England, who were having a disastrous tournament by their own lofty standards, were up first and McVicker's equaliser in a 1-1 draw forced a penalty shoot-out which Ireland lost 2-0 after a bit of earlier insidious/astute preparation from the opposition (delete as applicable).



Former Irish manager Norma Gartside with EHF President Marijke Fleuren

Norma Gartside takes up the story explaining: "England had asked us for a warm-up game before the tournament at Grange Road which, of course, we accepted.

"They then asked us if we wouldn't mind playing them in a penalty shootout after the game and we thought nothing more about it at the time.

"However, after they had beaten us in the shootout in the World Cup game, their manager told me that they had videoed our strokes in the warm-up match so they knew what to expect from ours.

"Let's just say, we weren't happy and Sandra O'Gorman, who was later named as goalkeeper-of-the-tournament, was livid when she heard about it.

"I know these days everybody videos virtually everything but, back then, it wasn't the norm and we felt it was a little bit sneaky."

That left Ireland with Russia to play for 11th-12th place and the hosts won 3-2 to finish off the tournament on a high.

Gartside added: "We firmly believed that we'd be lucky to have the proverbial one man and his dog at the game such was the early start but how wrong we were."

"Looking back we did really well, considering we had only qualified as hosts and the whole tournament was a marvellous experience for all involved."

Of the 16-strong squad, Tamara Macleod (formerly Strong) is the only player still to be lining out at the top level as a regular with Ards in the EYHL.

Ireland 1994 squad: Sandra O'Gorman, Alison Vance (GKs); Gail Stevenson, Laura Brown, Jeanette Turner, Shirene Young, Tamara Strong, Judith Chapman, Caroline Craig, Karen Humphreys, Mary Logue, Sarah Kelleher (capt.), Lynsey McVicker, Rachael Kohler, Julie Stewart, Teresa Hurley; coach: Terry Gregg assistant: Peter McCabe.

Results: v Argentina lost 3-0; v Spain: drew 1-1; v South Korea: lost 2-0 v Australia: lost 4-0; v Russia: drew 0-0.

9th-12th place play-offs: Ireland 1 England 1 (England won 2-0 on pens); Ireland 3 Russia 2; final: Australia 2 Argentina 0.

In 2002, Ireland's last appearance at a World Cup, it was current team manager, Arlene Boyles, who was our unlikely top scorer, pipping Hermes' striker Jenny Burke by five goals to three, all of them coming from penalty corners.

The 1994 version came too early for the pair and Boyles drew the curtain down on her career after the trip to Perth, Australia where she won the last of her 129 caps.

Ireland only secured their place in the tournament after recourse to the Court of Arbitration for Sport following a penalty controversy, much more complicated than the one which they had faced against the English in Dublin.

Lithuania won the shootout after a draw in the qualifying tournament in Amiens to deny Ireland the last place in Perth – or so they thought.

But the officials failed to change the order of the penalty takers in sudden death as the rules dictate and the FIH asked the teams to do it all again the following day after an Irish protest.

To their cost, Lithuania didn't accept the decision and didn't turn up for the rearranged shootout and, cutting a long story short, Ireland were awarded with a place in the Australian sun.

Once again, Ireland beat Russia to avoid the wooden spoon, Burke's 66th minute winner earning a 1-0 victory.

A 17-year-old Alex Danson, who has gone on to bigger and better things, was among the scorers as England beat Ireland 3-1 for starters with Boyles netting the consolation.

Further losses followed against USA, Australia, Holland, Spain, Japan and South Africa in the group stages.

That left Ireland in the 13th-16th place play-offs and following a 4-3 loss to Ukraine, the Russians were defeated in a tight contest as Riet Kuper's side again avoided the ignominy of finishing last.

The Irish press corps was again out in force as I was joined by Mary Hannigan (Irish Times), John Stokes (Irish Independent) and Gary Moran (RTE).

Although the Australian summer weather did help raise spirits, Perth is no Dublin and, once the work was done, finding a place to have a drink to wind down was to prove difficult after 9pm.

The city's laws dictate that food must be purchased in order to buy alcohol and we ended up being found out by the time the third night came along, having ordered one portion of potato skins between four of us previously!

So, Dublin was a clear winner on most counts as far as Ireland's two most recent World Cup adventures are concerned.

Hockey, unlike the football World Cup trophy, is coming home to England over the next couple of weeks, but London will have a hard act to follow after the joys of Dublin 94.

It was wonderful, just wonderful and made me so proud to be Irish!

Ireland 2002 squad: Tara Browne, Angela Platt (GKs); Arlene Boyles, Jenny Burke, Linda Caulfield, Eimear Cregan, Karen Humphreys, Rachael Kohler (capt.), Laura Lee, Pamela Magill, Claire McMahon, Lynsey McVicker, Ciara O'Brien, Jill Orbinson, Daphne Sixsmith, Linda O'Neill, Katherine Maybin, Catherine Murray.; coach: Riet Kuper; assistant coach: Graeme Francey.

Results: v England: lost 3-1; v USA lost 2-1; v Australia: lost 2-1; v Holland: lost 6-0; v Spain: lost 2-1; v Japan: lost 1-0; v South Africa: lost 6-0; 13th-16th play offs: v Ukraine lost 4-3; v Russia: won 1-0; final: Argentina 1 Holland 1 (Argentina won 4-3 on penalties).

The Hook


---

Black Sticks new faces ready for India challenge

Kieran O'Connor



Photo: Junji Itou

Fresh from their two week tour of Japan, with a one win, two loss, one draw record, the Vantage Black Sticks Men have settled into their new accommodation in Bangalore, India and are readying themselves for the three test series against what will be a fired up Indian side.

The teams have faced off several times in 2018, with India touring NZ in January competing in the University of Waikato Men's 4 Nations International Series, as well as the famous win against them for the Black Sticks in the Commonwealth Games semi-final on the Gold Coast, that took New Zealand to the final, eventuating to a silver medal.

There will be some new blood in the Kiwi ranks for the India leg with injuries to Dylan Thomas (thigh) and David Brydon (hand) who have since returned home and have been replaced by recent debutante Kieran O'Connor, who will carry on with the squad, and newbie Malachi Buschl, the 18 year old Southern midfielder, who joins the team on debut.

"After a challenging couple of weeks in Japan, we're turning our attention to Bangalore to take on the challenge that is India. Our initial intention was to play these matches in Bhubaneswar to look at the set up for the World Cup later in the year but the stadium there is still under construction", commented Darren Smith, Vantage Black Sticks Men's head coach.

The team were under no illusions it was a tough assignment, "India are firing at the moment after a good runner up performance at the Champions Trophy and, like Japan, are in full preparation for next months Asia Games, which is their direct qualifying tournament for Tokyo 2020. We're looking forward to matching up against them.

"It's great to have these new young players in the squad. We're looking forward to seeing what they can do under pressure and they're excited to be here, and pulling on the black shirt".

The Vantage Black Sticks play India tonight at 10:30pm NZ time, the match can be followed live HERE 

VANTAGE BLACK STICKS V INDIA - BANGALORE

Game 1 July 19 NZ Vs India 10:30pm (NZ time)
Game 2 July 21 NZ Vs India 10:30pm (NZ time)
Game 3 July 22 NZ Vs India 10:30pm (NZ time)

Kieran O'Connor will remain on tour with the Vantage Black Sticks Men as they begin their Indian series tonight.

Hockey New Zealand Media release


---

Elevation to fifth spot would inspire us to perform even better, says Sreejesh

He said the pressure on the teams will be different at the Asian Games because all are eyeing for Olympics berths.



Indian men's hockey team captain and goalkeeper P.R. Sreejesh during a training session in Bengaluru. Photo Credit: K. Murali Kumar

Captain P.R. Sreejesh on Wednesday said that the Indian hockey team's elevation to fifth spot in world rankings would inspire it to perform even better in the upcoming 2018 Asian Games and FIH World Cup.

"The elevation gives us a big boost to do well in the upcoming 18th Asian Games 2018 in Jakarta and the World Cup in Bhubaneswar. We want to finish as title winner in our backyard," he said on the sidelines of the ongoing national camp at SAI centre in Bengaluru.

Sreejesh said the Asian Games will be totally different from Champions Trophy because the participating nations' style of hockey is different from that of European countries.

Apart from playing against Pakistan, India will face the challenge of Korea and Malaysia, whose standard of hockey is completely different, Sreejesh said.

He said the pressure on the teams will be different at the Asian Games because all are eyeing for Olympics berths.

Replying to a query, Sreejesh said nothing has changed ever since he made a comeback as a captain because he was doing his duty as a senior player.

"Being a goalkeeper I speak to defenders and midflielders during games. I support them and that is what I am doing earlier will do in future," he said.

Sreejesh said he shoulders more responsibility off the field to keep the players united and do more team-bonding activities, which have to be fun, not formal.

He said he is not the captain when he takes the field, but just a goalkeeper, and the responsibilities were distributed among the players.

"We distribute responsibility in the team. Among the defenders, Harmanpreet, Birendra, Bob (Rupinder) have to take leadership. Among midfielders, Manpreet and Sardar, even Chinglensana, have to take the lead," he said.

"In the forward line, Sunil, Akash and Mandeep are there to take responsibility. So, it is my duty to give life to my team, and on the field I am just a goalkeeper saving post," he added.

The Hindu


---

Stats Speak:  India will play first ever test series with Kiwis on home soil

By B.G.Joshi (In London)

Indian hockey have made international debut in 1926 by playing test series versus New Zealand. Since then India-New Zealand had met 96 times. Indian played all the 11 test series on the Kiwi soil. On Indian soil India- New Zealand will play first ever test series.

India-New Zealand in Test Series
| | | | | | | | |
| --- | --- | --- | --- | --- | --- | --- | --- |
| Year | MP | W | D | L | GF | GA | Results |
| 1926 | 3 | 1 | 1 | 1 | 9 | 7 | Drawn |
| 1935 | 3 | 3 | 0 | 0 | 14 | 5 | Won |
| 1938 | 3 | 3 | 0 | 0 | 12 | 2 | Won |
| 1955 | 3 | 2 | 0 | 1 | 7 | 6 | Won |
| 1961 | 3 | 2 | 1 | 0 | 6 | 2 | Won |
| 1964 | 3 | 2 | 0 | 1 | 14 | 6 | Won |
| 1975 | 4 | 3 | 0 | 1 | 10 | 7 | Won |
| 1983 | 2 | 0 | 1 | 1 | 2 | 5 | Lost |
| 2001 | 4 | 1 | 1 | 2 | 9 | 8 | Lost |
| 2009 | 4 | 2 | 2 | 0 | 6 | 3 | Won |
| 2015 | 4 | 2 | 1 | 1 | 7 | 6 | Won |
| 11 | 36 | 21 | 7 | 8 | 96 | 57 | Total |
 Fieldhockey.com


---

PHF officials on board for Asiad probables, rumours of funds misuse baseless: Islahuddin

Anwar Zuberi

KARACHI: The Chairman of the national selection committee, former Olympian Islahuddin Siddiqui, has said that he had contacted manager Hasan Sardar and the Pakistan Hockey Federation (PHF) secretary Shahbaz Ahmed on telephone from the US before inviting 27 probables for the camp in preparation for the next month's Asian Games.

"The probables includes 22 players who went to Breda for the Champions Trophy and five stand-byes as we want to focus on the Asiad in order to win and earn a direct ticket for the 2020 Tokyo Olympics," Islah, who returned from abroad the other day, told a press conference at his academy on Wednesday.

"Doors are always open for talented players from Sindh, Khyber Pakhtunkhwa, Punjab or Balochistan who have been given chances to prove their mettle," he said while referring to co-selector Farhat Khan's statement that he was not consulted while announcing the probables and all the players belonged to Punjab.

Identifying local player, Khizer, the chief selector said he (Khizer) was given a chance in the camp twice before being dropped and reiterated that only 48 players belonging to the city turned up in the open trials.

Islah, a former member of the International Hockey Federation (FIH) Rules Board, said as chief selector he has the authority to scout talent across the country and recommend to the PHF. "I'll carry out talent hunt after the Asian Games," he added.

Answering another question, Islah quashed rumours taking round that he has misused huge funds given by the Sindh government for the academy besides renting out shops.

"I've not spent a single penny from Rs 20 million doled out by the Sindh government in 2014 which has now increased to Rs 25 million and lying in the academy's account," he said while clarifying his position.

He replied in the negative when asked whether the caretaker government had asked him to furnish details of the spendings from the government funds. "The questions of accountability doesn't arise when the principal amount is safe and kept for the rainy day," he remarked.

He said shops around the sports stadia are being constructed to generate funds for running the activities at the academy and added that it sounds strange that nobody has ever questioned about the shops around Gaddafi Stadium, Lahore or at the Abdul Sattar Edhi Stadium in the city.

According to details, there are 10 commercial shops belonging to the academy while the academy has 12 employees. The coaches work on honorary basis.

Islah said the academy is catering to inter-school, inter-collegiate, inter-university events for boys and girls besides regular training of registered academy players and holding competitions.

For security purpose we ask the players to provide copy of their ID card, cell number, fathers's name and residential address before getting them enrolled for free of cost training.

"Holding of the national camp is not only an honour for the academy but for Karachi and Sindh," said Islah and added that the PHF had provided 10 split air-conditioners for the hostel on his request.

"I'm impressed to see the facilities at the academy which are even better than in many European nations," Islah quoted Dutch coach Roelant Oltmans as saying.

He, however, evaded answering about the monthly expenses of the academy and how they are being met when the government money is lying in the account.

It is pertinent to mention that the office block and dressing rooms were inaugurated on Sept 1, 2012 while the synthetic turf was commissioned on Sept 7, 2013.

After the briefing the journalists were shown the 24 room ground plus two-story impressive hostel which is equipped with a modern gymnasium, lecture room, audio, video facility, kitchen and a lobby on the ground floor.

An expensive chandelier greets the guests as they enter the hostel which Islah said he himself has donated.

Dawn


---

The Canadian JWNT gears up for their next match in the U23 Six Nations Tournament.

By Tristan Urry



Photo: Tristan Urry

The JWNT has completed three games in the U23 Six Nations Tournament already.

Match one: 6-0 loss against the Netherlands.
Match two: 0-0 draw with Belgium.
Match three: 2-0 loss against Ireland.
Match four: 0-0 draw with India.

The JWNT has been working hard to refine their skills as of late and it shows with this most recent match against India.

"I think we were all pretty proud of how we played against India. We came out with a lot of intensity and successfully implemented a new press that we had been working on. We've improved substantially since the first practice match that we played against India and today's result shows that," said Sara Goodman, Canadas number 12 defense.

"It felt like we were finally clicking with our press, structure and our outlets today. It was good to see that we were executing what we want to be doing and have the players where we want them to be. The India game was a really good step forward for this team," said Rowan Harris, Canadas number 31 goalkeeper.

"Our first game against the Netherlands was not quite what we wanted, but they went scoreless for two quarters in that game and that shows we're not to be forgotten and the Canadian JWNT is a team that is on the rise. I think that we also made a statement against Belgium getting a tie. We defended exceptionally well in that game and our defense has been improving with each game so I think we will be really successful in our next match," said Margaret Pham, Canadas number 11 striker.

Harris noticed an improvement in the team structure now that the players have got a feel for each other "Our first couple of games were a little hard, we were playing three players short so the flow of the game was a bit off. We're really starting to get a feel for each other and where our place is on the field."



Photo: Tristan Urry

Canada will play Great Britain at the Royal Antwerp Hockey Club on Friday morning at 10:00 am.

"The six nations tournament has been an incredible learning opportunity for us, getting to play against some of these top teams in this age category is a new experience for all of us and I think we have been competing quite well. GB is a very good team and disciplined in their structure, but I think we have a good shot against them," said Goodman.

Field Hockey Canada media release


---

India's junior women's hockey team play out goalless draw against Canada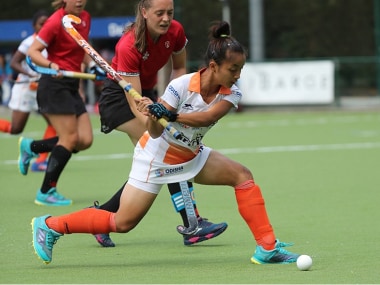 India played a goalless draw against Canada on Wednesday. Image courtesy: Twitter/@TheHockeyIndia

Antwerp, Belgium: The Indian junior women's hockey team continued their unbeaten run as they played out a goalless draw against Canada in their fourth round-robin match of the ongoing U-23 six nations tournament here on Wednesday.

The Indian junior women's team, led by Preeti Dubey, have had a strong showing in the tournament thus far having won three successive matches previously.

In the first match, the Indian team beat Ireland 4-1, before surpassing Great Britain 1-0 in their second match. They followed it up with a strong 2-0 win against hosts Belgium in their third match.

The team put up a strong attack against Canada as they created six PCs in the match but unfortunately could not convert, thanks to Canada's strong PC defending.

Canada too created three PCs during the course of the match but could not find a break through thus ending the match in a stalemate.

India will take on the Netherlands on 20 July.

Firstpost


---

Under-23s caught late to tie with GB; U-18s frustrated; Chambers keeps on firing




The Irish underage international sides had another tough day at their respective tournaments with two draws gleaned from the six games played across the continent.

The Under-23 women did add to their Tuesday win over Canada with a 2-2 draw against Great Britain with Sarah Torrans and Jessica McMaster netting the goals.

There was an element of frustration, though, as GB nicked last minute equaliser from a controversially awarded penalty corner. It means they will need a positive result on Belgium – whom they beat twice in warm-up games – to have a chance at playing off for third place from this Six Nations event in Antwerp.

The Brits took the lead from a corner in the first half but Torrans – who was in excellent form throughout – tied things up a minute into the second half.

She would then lay on the pass for McMaster to make it 2-1 and they held that narrow advantage courtesy of Hannah McLoughlin's composed defending and some strong Emma Buckey stops but GB eventually drew level at the end.

The men's Under-23s lost 6-1 to GB, their third blank from three, with hosts Belgium on Friday their last pool game.

At Under-18 level, the girls needed a draw or better to reach the semi-finals but succumbed 4-0 to England.

Ireland got off to a great start, getting their tactical alignment spot on and thought they had a lead when Nadia Benallal got a faint touch to Amy Elliott's cross.

It was ruled out for a foot though the umpire later viewed the video and admitted her error. It unfortunately changed the façade of the game with England scoring via Molly Redgrave soon after.

Sophie Hamilton added another 10 seconds before half-time which knocked the stuffing out of Ireland. Two more followed in the third quarter and while Ireland won a series of corners in the final quarter, they could not breakthrough.

They now face Spain and France in the relegation pool. The French have yet to register a point while Spain look a skillful opponent in the final third but have conceded heavily which offers opportunity.

The boys lost 7-0 to Belgium in something of a dead rubber. They were already confined to their relegation pool and will probably need wins over both England and Poland to stay up.

At Under-16 level, the boys continue to be the most impressive of Ireland's squads this week. Troy Chambers netted twice against Spain in a 2-2 draw, adding to their win over England.

In a highly competitive match, Spain won the only penalty corner of the first half but neither side were unable to break the deadlock.

Ireland started the second half well and began to exert pressure on the Spanish defence winning a corner in the 37th minute. Chambers, after scoring a hat-trick yesterday, flicked the ball past Victor Bejarano to give Ireland the lead.

Spain fought back quickly, winning a corner four minutes later and Pol Cabre's effort pulled Spain level at the end of the third quarter.

Spain took the lead early in the fourth quarter when Albert Grau beat Ross Clarke in the Irish goal, after Clarke had made a superb double save.

From the restart, Ireland attacked immediately and Chambers was on hand to find the back of the net again to make it 2-2. Despite some late chances for both sides, it finished level sending the sides to a shoot-out for a bonus point.

Spain proved the stronger side and picked up the bonus point by scoring their first three shoot-outs, with Ireland failing to score.

The girls missed out 2-1 to the Spanish. The opening quarter was evenly contested with both sides creating chances. Spain managed to win their second penalty corner in the 14th minute and after the initial shot was defended, Carla Barba Armengol was first to react to give Spain the lead.

Despite some pressure from Spain towards the end of the first half, the Irish defence stood firm to leave the score at half-time 1-0 to Spain.

Ireland began brightly after the break, earning a penalty corner with Milly Lynch flicking the ball just over the crossbar. Lynch was given a second opportunity five minutes later and this time she dragged low and left to score the equaliser.

Spain restored their lead just a minute later when Paula Pena Martinez slotted passed Holly Micklem in the Irish goal to lead at the end of the third quarter by 2-1 and held on for the result from there.

Ireland will hope they cane get off the mark when they play Belgium on Thursday at 4pm in the Mardyke. They are the only Irish side in action with the other five teams resting.

Women's Under-23 Six Nations (Antwerp): Ireland 2 (S Torrans, J McMaster) Great Britain 2

Men's Under-23 Five Nations (Antwerp): Ireland 1 Great Britain 6

Girls European Under-18 Championship (Santander): Ireland 0 England 4

Boys European Under-18 Championship (Santander): Ireland 0 Belgium 7

Boys Under-16 Six Nations (The Mardyke, Cork): Ireland 2 (T Chambers 2) Spain 2 (P Cabre, A Grau), Spain win bonus point shoot-out 3-0

Girls Under-16 Six Nations (The Mardyke, Cork): Ireland 1 (M Lynch) Spain 2 (C Barba Armengol, P Pena Martinez); Today: Ireland v Belgium, 4pm

The Hook


---

Taranaki hockey player of decades off to represent New Zealand in Spain

Jane Matthews




Jude Sewell-Monod is off to the International Masters Hockey Association's (IMHA) Masters World Cup in Terrassa, Spain, representing New Zealand in the 50s team. ANDY JACKSON/STUFF

The only times Jude Sewell-Monod ever stayed off the hockey pitch was when she was with child.

Other than those three occasions, Sewell-Monod, 51, has spent almost 40 years on and around hockey turfs all over New Zealand, either coaching, playing or both.

She can't keep away - six months after giving birth to first child, Caitlyn, now 14, Sewell-Monod was playing in an early morning game while her daughter was on the sidelines in the arms of another hockey player.



Sewell-Monod has been playing and coaching hockey for decades. ANDY JACKSON/STUFF

Now she spends her time coaching Taranaki hockey teams, playing the sport herself and caring for her daughters, who as well as Caitlyn include Sophie, 11, and Madison, 8. All three girls play hockey.

This year Sewell-Monod is off to represent New Zealand for the third time.

She is the only Taranaki woman named in a New Zealand 50s team to play at the International Masters Hockey Association's (IMHA) Masters World Cup in Terrassa, Spain, at the end of the month.

She will be joined by Taranaki hockey players Alan Bunning, Grant Boyde and Lloyd Morgan on the turf in Terressa, Spain, and Taranaki umpire Glen Taylor, too. Former-Taranaki residents Chris Arthur and Wendy McKie are also in New Zealand teams, as is one of the women Sewell-Monod has played with for decades: Paula Attrill.

"We played Taranaki at high school, then Taranaki women's together," Sewell-Monod said. "Now we're going off."

Her love for hockey started as a rash decision by a then-teenager.

"When I was at school, because I was tall, I played netball like most girls," Sewell-Monod said.

After asking to be moved into a better netball team - and being refused - she threw in the towel and switched sports.

And she's never looked back.

"I've had amazing experiences with hockey."

When Sewell-Monod was younger she didn't want to play for the Black Sticks, but she's making up for it now.

Taranaki is Sewell-Monod's home, and team of choice, but since there's rarely a team she plays for Canterbury.

"Canterbury is my region of heart," she said. "My father was born there and I did my degree there.

"And after the earthquake they needed more players."

Canterbury isn't the only regional team Sewell-Monod has represented, she's also played for Tauranga and Northland too.

"But I always play for Taranaki first."

Stuff


---

Hockey Team Off to Algiers

Chris Phiri




The U18 Zambia male hockey team which was camped at the Olympic Youth Development Centre (OYDC) through the support of the National Olympic Committee of Zambia (NOCZ) has left for Algiers, Algeria ahead of the African Youth Games slated for 18th to 28th July, 2018.

The team of nine players who have been in camp for three weeks is accompanied by one Coach Samuel Tagwireyi and team manager Floyd Chomba.

The games will be used as qualifiers for the 2018 Summer Youth Olympic Games to be hosted in Buenos Aires, Argentina between 6th and 18th October.

The team was seen off by Olympic Youth Development Centre Director Dr. Fredrick Chitangala, who encouraged the boys to mint medals and subsequently qualify for the Summer Youth Olympic Games.

Dr. Chitangala, reminded the players that they were not travelling to Algeria for a vacation but for competitive games which must be taken seriously if they are to qualify for the Youth Olympic Games.

Meanwhile, Team manager Floyd Chomba, disclosed that the team is ready for the games and in high spirits to win the matches.

He added that his mission is to see the team qualify for the most anticipated Summer Youth Olympic Games in Argentina.

The team has been placed in Group B and will meet Kenya, Uganda and Nigeria.

Zambia Reports


---

CTM cements its sponsorship position in SA hockey

The 2018/19 CTM Premier Hockey League partnership




CTM, South Africa's largest retailer of tiles and bathroom ware, is proud to announce its continued support of the South African Hockey Association, upgrading its role to chief sponsor of the Premier Hockey League (PHL) for the 2018 and 2019 seasons.

CTM was first introduced to the PHL in 2017, sponsoring four of the nine teams, namely the Kilimanjaro Addo Elephants, Pro-grip Drakensberg Dragons, Tivoli Blyde River Bunters and the ever popular TopT Madikwe Rangers.  The team identities are inspired by famous tourist areas in South Africa and are linked to CTM products including its exclusive Kilimanjaro tile range, its Pro-Grip adhesive and grout products, the Tivoli tap range and also to CTM's sister brand, TopT.

The Inaugural South African Premier Hockey League owned by the South African Hockey Association and funded by Sports and Recreation South Africa, was launched in 2016 in Randburg, Gauteng, and has shown great promise over the past two years since its launch.

The PHL model is an exciting, inventive new hockey format, created to transform the sport in South Africa. Comprising of three weeks of incredible hockey action, the best franchise teams representative of each of the nine provinces compete against each other in a series of top quality matches.

 "CTM is proud to partner with the PHL – we share the common values of innovation and inventiveness, and this partnership enables both organisations to make a positive contribution to hockey development, propelling the sport forward in this country," says CEO of CTM's parent company, Italtile Ltd, Mr Jan Potgieter on the rationale behind the sponsorship.

Jan adds, "CTM strives to be a good corporate citizen and our social responsibility and sponsorship initiatives are aimed at making a meaningful difference in the communities in which we operate.  Sport is a powerful means of bringing people together in a positive environment, improving health and fitness, social skills and self-esteem, thereby contributing to a healthier, more productive society."

Marissa Langeni, CEO of SA Hockey, has the following to say on the relationship "The Premier Hockey League has become a much sought after event by our high performance players and continues to delight players and fans alike. The world class broadcasting of the event by SuperSport has ensured that fans of the game have been able to enjoy high quality hockey played by exceptional players.  The continued support received from Sport & Recreation South Africa is testament to the gem that the PHL is. We are pleased that CTM has seen value in the PHL and as such could not pass up the opportunity to back this prestigious event. The partnership with CTM will enable us to reach new highs and unearth more great young talents like Ongeziwe Mali and Dayaan Cassiem.''

"In its short lifespan the PHL has achieved so much and has even gained recognition through a short listing from the SIG Awards as best new invention in sport for the PHL18 Draft," Marissa concludes.

SA Hockey Association media release