All the news for Wednesday 18 July 2018

Canada's summer tour comes to an end with a series win against Spain

By Tristan Urry



Photo: Tristan Urry

Canada concluded their 2018 European Summer tour with a 0-0 draw against world ranked number eleven team, Spain. Canada won the first game against Spain 3-2, the second game was a 2-2 draw, making Canada the series winner in Madrid.

"Given that it was the final game of the tour, perhaps the expectation was for some fatigue, both mental and physical, to be evident. Our girls dug deep and once again showed that they are ready and willing to compete on the world stage. Each player gave all they had and while it ended a 0-0 tie, they left it all on the field. A much deserved and well-earned break allows the team to head back home and enjoy some rest and relaxation with family and friends as they set their sights on a very busy and exciting year ahead," said Canada's team manager, Nancy Mollenhauer.

"I think we had a good start and a great defense throughout the game to hold such a highly ranked team off. It felt great to end our tour with a series win against Spain," said Stephanie Norlander, Canada's number 26 striker.

"Spending time together both on and off the pitch has allowed us to further develop as a tight nit group.  Being in Europe provided us with the opportunity to work with world-class coaches and play top level teams on a daily basis, which has had a huge impact on us as individual players as well as on the team as a whole," Canada's Nikki Woodcroft said.

"The logistical convenience and advantage that is inherent with European hockey gave us the opportunity to play a significant amount of matches against a variety of opponents. This not only gave us more confidence in our game ability, but also exposure to different styles of play. Finally, the European hockey culture, specifically in The Netherlands, is, in my humble opinion, second to none and it is always a fantastic environment to train and compete in," said Canada's goalkeeper, Lauren Logush.

"I had the opportunity to join the team in Amsterdam in early July, having last seen them at training camp in late May at UVIC in Victoria. I was excited to see the remainder of the games as they had been having some great results early on in Europe….I was not disappointed! The team is playing some terrific hockey and all of their hard work training both at home and here in Europe has provided for tremendous growth in their play. Given the duration of the tour, the final five tests (two vs. South Africa and three vs. Spain) with three wins and two ties demonstrated their growth, resilience, and ability to compete. It is an exciting time for the WNT with much more to come," Mollenhauer said.

Canada has seen some impressive results against some very highly ranked teams in 2018 so far. As the fall approaches the team will reconvene in various capacities as they prepare for a very busy twelve months in 2019.

Field Hockey Canada Women's Team media release


---

Element of surprise adds to World Cup magic



South Africa are one of several teams who could spring a surprise

The Women's Hockey World Cup, as an FIH event, first took place in France in 1974. Since then 13 champions have been crowned but there is a familiarity to the names that regularly appear in the medal positions at this showcase event.

Topping the World Cup tally is the Netherlands with seven gold medals, including the Rabobank World Cup 2014. The Oranje have also managed a further four silver medals and a bronze. 1994 was the last time a Netherlands side failed to stand on the podium.

In fact 1994 was the year that Australia won the first of their back-to-back gold medals and Netherlands Head Coach Alyson Annan was one of the key players in that victory for the Hockeyroos. The team followed up that success in 1998 in Utrecht.

Argentina and Germany (as West Germany in 1976) are the only other two teams to have lifted the World Cup in triumph. When not winning, these four teams have usually shared the silver and bronze medals amongst themselves.

Canada is the only other team besides those four to have collected a silver medal. Bronze medals have been won by Belgium, Canada, USA, England, the former Soviet Union, Korea and China.

So what of the teams this year? Are there any dark horses lurking among the lower-ranked nations who might end up causing some surprises?

Talking to the Head Coaches is informative. Graham Shaw of Ireland women and Italy's Roberto Carta are both talking about their players "gaining experience", instantly taking any over-heightened expectations from their player's shoulders. Adrian Lock, Head Coach to Spain, has been a little more expansive, suggesting that: "This World Cup can throw up some surprises".

Also interesting is the learning curve that the coaches constantly refer to. For the nations that do not have a full-time programme, the players' learning curve is so much steeper.

While Germany can never be said to be rank outsiders, they do come to the World Cup as a team with a reputation for getting better in each round. This approach took them to bronze at the Rio Olympics, who knows what might happen at the Vitality Hockey Women's World Cup London 2018?

The European trio of Belgium (WR: 13), Italy (WR:17) and Spain (WR:11) have been focusing on their fitness as it is a part of the programme that the players can work on despite not being on a centralised programme. It was an issue that Niels Thiessen, Head Coach to the Red Panthers highlighted after the FINTRO Hockey World League Semi-Final in 2017, where his team faded into eighth place, despite a strong start to the tournament. Since then the Belgium team have been working hard to raise their fitness to the highest level possible.

One team who is always looking for a chance to upset the rankings is African champion South Africa (WR: 14). As the stand out team on the continent by some 18 ranking places (Ghana are ranked at 30), the South African team find it difficult to play high quality training matches locally. Much of their preparation is done against men's teams or the national boys teams. At world level competition, the approach stands them in good stead – they usually finish above their rankings.

At the Hague in 2014, USA came to the World Cup as number 11 in the world. Over the course of the fortnight, they stunned their opposition with their fast, furious style of hockey and their refusal to be cowed by higher-ranked teams.

It was a performance that lit up the stage and is still talked about four years on. The great hope for the Vitality Hockey Women's World Cup, London 2018, is that it is an event that contains plenty of those two great sporting elements – drama and surprise.

#HWC2018

FIH site


---

Hockeyroos Going To World Cup To Win It

Alexie Beovich




Australia coach Paul Gaudoin says the sky is the limit for the Hockeyroos ahead of the 2018 Women's World Cup in London where they enter as the world's fifth ranked side.

The Hockeyroos are in Pool D for the quadrennial tournament alongside New Zealand, Japan and Belgium.

Australia's campaign begins against Japan on Sunday 5am AEST with all Hockeyroos' matches live on FOX SPORTS.

The Hockeyroos finished as runners-up in the 2014 World Cup but have undergone serious change since then, with only six players remaining from the team from four years ago.

Gaudoin has taken over from then-coach Adam Commens, with fresh generation of young players coming through, but he's still aiming high.

"We're going there to win it," Gaudoin said.

"We know that's a mighty challenge. We think there's some very good teams at the World Cup and it's a different format in four-by-four pools, so anything can happen.

"Coming with that is the opportunity for us to go deep into this tournament.

"We want to win every game we play. We don't get to build into the tournament. We're looking forward to our first game against Japan."

Gaudoin acknowledged getting off to a winning start against 11th ranked Japan would be important for the Hockeyroos given the format.

"We know how important that is," Gaudoin said. "It's almost a six-point game with a pool of four.

"We know how important that is to get started. We're very optimistic.

"We've had a good block of training. We've been able to get some players playing together who've been injured for a period of time.

"Who knows? We want to set our sights high."

Australia played both Japan and New Zealand in May's Tri-Nations tournament in Queenstown, coming out as the winners with a 4-1 triumph in the final against the Black Sticks.

Gaudoin was enthused by that victory but said it wouldn't count for much in London against the same opponents.

"Probably not as much as people think," he said.

"We all had different teams there, were trying some different things out and weren't showing all our cards.

"At the same time, I feel confident we can get wins against both of those teams.

"Whilst we haven't played Belgium since mid-last year, we're confident we can get the job done."

Hockey Australia media release


---

Get to Know: Jane Claxton

Alexie Beovich




Hockeyroos midfielder Jane Claxton will miss the upcoming World Cup due to a hamstring injury so in the meantime we quizzed her on which travelling room-mate she'll miss most, her life outside Hockey and her favourite holiday destination.

What's your full name?

Jane-Anne Claxton, I don't have a middle name!

What's your nickname and why?

Jane, Jane-o or Clacko, but I don't really like people calling me that but they do anyway. It's a family nickname, my brother and dad get called that as well. Nothing too creative!

You grew up in Adelaide, where exactly and where did you go to school?

I grew up in Burnside in Adelaide. I went to Marryatville Primary School and then on to Seymour College.

Your dad is well known in Hockey circles so I think we know the answer, but how'd you get into Hockey?

When I was a young kid I had to go pretty much every weekend to watch dad play. I got into it through that. Juniors would often play beforehand so I ended up playing from quite a young age in my brothers' team, which was a mixed team. It was a family sport. I first started at seven years old.

Did you ever entertain playing other sports?

I got to state level in cross country and athletics. I thought about being a runner but I'd get so nervous before races. I'd feel sick as it's an individual sport and so I'd get so much anxiety that I stopped liking the sport when I got to a higher level. Whereas Hockey was a team sport which I loved a bit more.

If you weren't a Hockey player, what would you be?

I always think about this and I think I'd have to be a triathlete who do multiple sports in one. I couldn't just do one discipline. Hockey has a lot of variation in training which I like.

What do you do outside of Hockey?

I study OT (occupational therapy). I'm in my last year. I'm on placement at the moment at Sir Charles Gairdner Hospital in Perth which is quite cool. I'm in the emergency department.

What's your long-term goal in occupational therapy?

I haven't settled on a field of OT but I am very interested in, what they call, hand works. I do also like working in this prac for ED. It's quite high paced and cool to see the variations of injuries that come in through the emergency department. I think something that is more hands-on would suit me.

Favourite holiday spot and why?

I'd have to say Italy. I haven't been there, but I feel like I'd love it there because I love carbs! I love cheese, I love wine and also it's sunny a lot of the time there. I love summer over winter.

Favourite place to play Hockey and why?

It would have to be Holland. They do Hockey so well over there. They make it a party atmosphere. Playing in the World Cup last time there was amazing and every tournament there, even if it was just a friendly game against the Netherlands, they always turn it into a massive party, so it's always fun.

Finally sadly injury means you're not at the World Cup in London but it means you avoid room sharing. Who's the worst team-mate to room with on tour?

I've been fortunate enough to always get Renee Taylor who understands my OCD cleanliness. Generally if anyone is really messy or doesn't have a good standard of hygiene, I struggle to room with them! I haven't come across anyone yet who I've roomed with where that's happened though!

Hockey Australia media release


---

Get To Know The Green Army Defence



Shirley McCay

Debut: January 2007 v Canada

Caps: 267

International goals: 6

Current club: Pegasus

Previous club: Ulster Elks, KHC Dragons, Old Alex, Omagh

School: Omagh Academy

Position: Defence/Midfield

The most capped female sportswoman in Ireland, Shirley McCay is now in her 11th year as part of the Irish team, providing a wealth of experience and a tenacious attitude combined with an eye for a long pass from the back. She has gone through three tough Olympic qualifying campaigns, narrowly missing out on places at 2012 and 2016, and six European Championships before finally getting to the promised land with this World Cup qualification, a just reward for her enduring efforts. McCay was part of the side that won silver at the Champions Challenge I in Glasgow in 2014. In her early days, she went to school at Omagh Academy, helping win their only Kate Russell All-Ireland Schoolgirls Championship in 2005. She went on to have two successful spells with Ulster Elks, winning two Irish Senior Cups, either side of a spell at KHC Dragons in Belgium and time in Dublin with Old Alex.



Zoe Wilson

Debut: January 2016 v Spain

Caps: 73

International goals: 8

Current club: Belfast Harlequins

Previous club: Randalstown, University of Syracuse, Harvestehuder THC

School: Ballyclare HS

Position: Defender

Zoe Wilson has been a key component of the Irish defence since she broke into the team in 2016 following a season in the US with Syracuse University where she won an NCAA Championship. It followed an incredibly successful youth career, captaining Ireland's Under-18s to an unbeaten victory at the EuroHockey Youth Championships II in Italy in 2015. An impressive showing at the Hawkes Bay Cup in 2016 saw her cement her place in the senior squad and she made her ranking tournament debut in January 2017 at the World League Round 2 in Malaysia, playing 33 times for Ireland during the year. She had initially come to prominence when she scored the winning goal in the Ulster Schools Senior Cup for Ballyclare HS at just 14. After school, she moved from her club, Randalstown, to the USA before returning to Europe, spending a year in Germany with Harvestehuder THC before linking up with Belfast Harlequins.



Roisin Upton

Debut: November 2016 v Scotland

Caps: 40

International goals: 8

Current club: Cork Harlequins

Previous club: Catholic Institute, UConn Huskies

School: Crescent Comprehensive College

Position: Midfield/defender

Roisin Upton is a relative newcomer to the Irish team, making her debut in November 2016 before establishing herself as one of the driving forces in either midfield or defence. She had been on Graham Shaw's radar for a long time from her performances at youth level and the coach twice tried to get her involved but for a hip injury in 2015 and then a stress fracture in early 2016 to delay her introduction. Those calls came following an incredible spell in the US where she won two NCAA titles – named an All-American both times – with the UConn Huskies, captaining the side in 2015. Just a month after her debut, she went straight into the tournament squad for World League Round 2 in Malaysia, the start of the World Cup qualifying process. She grew up in Limerick, captaining Crescent Comprehensive College to the Munster title and helped Catholic Institute break up Cork Harlequins' monopoly of Munster club success.



Elena Tice

Debut: November 2016 v Scotland

Caps: 68

International goals: 6

Current club: UCD

Previous club: Loreto

School: St Gerard's

Position: Defender

Despite her tender years, Lena Tice has already amassed over a combined 100 caps across cricket and hockey. She made her cricket debut at just 13 and 272 days and went on to win 40 caps across T20 and ODIs before turning her focus to hockey. On that front, she debuted a fortnight before her 18th birthday but quickly established herself in the national set-up, earning selection for the Hawkes Bay Cup in April 2016 just a couple of months before her Leaving Certificate. The defender has a wide range of passes and has been an almost ever-present since her debut. She led St Gerard's to a first-ever Leinster schoolgirls Senior Cup title in 2015, scoring the winning goal in the final, and was head girl a year later before earning an Ad Astra scholarship to UCD. She was born in England and lived in USA and Austria before her family settled in Wicklow.



Yvonne O'Byrne

Debut: January 2014 v Spain

Caps: 113

International goals: 5

Current club: Cork Harlequins

Previous club: n/a

School: Mount Mercy

Position: Defender

The dynamic defender has been a pivotal part of the Irish side since her major tournament debut in 2015 at the Olympic qualifying tournament in Valencia – the World League Semi-Final. The Cork woman has helped her country to gold at the 2015 EuroHockey Championships II in Prague and World League Round 2 in Malaysia and, since June 2017, she has played in over 28 consecutive games for Ireland. She took up hockey at Mount Mercy where she made the senior team at the age of just 14, winning the All Ireland Schools Kate Russell Cup that same year. O'Byrne captained Munster at each underage level as well as her club, Cork Harlequins, when just 20, winning the Munster senior league.



Megan Frazer

Debut: June 2008 v Wales

Caps: 128

International goals: 30

Current club: Mannheimer HC

Previous club: Ballymoney, Ulster Elks, University of Maryland Terrapins

School: Foyle and Londonderry College

Position: Defence/Midfield

One of the most talented players Ireland have ever produced, Irish coach Graham Shaw will hope Megan Frazer can put her injury woes behind her after a nightmare 20-month run. A cruciate knee ligament injury has kept her out for that time and while she returned to action in May at the European Cup with her club side, Mannheimer HC, she since had complications which required further keyhole surgery. In her youth, she was highly decorated during her time at Foyle and Londonderry College, top scoring on the hockey field for three seasons and leading the school to a maiden Ulster schools title in 2009. She also excelled at soccer and cricket at youth level and was named the Derry & District Young Sportswoman of the Year for 2005/06. It saw her elevated to the national team while still in school and she played in the 2009 Euros before departing for the US and the University of Maryland Terrapins. There, she was a three-time All-American and won the NCAA Honda Sports Awards as the nation's best player. She was made Irish captain in 2014 by coach Darren Smith at the age of 23 and led the side to Champions Challenge I silver in Glasgow. In 2015 in Valencia, she came within a width of a post of sending Ireland to a first Olympic Games, her shot rebounding out in a shoot-out against China, an effort that would have sent the team to Rio. On the club front, she helped Ballymoney reach the Irish Senior Cup final before moving to the US and then won the title with Ulster Elks on her return. She moved to Mannheim in 2016 but sustained her injury soon after. Megan returned to international action after almost 2 years away as she played in the recent fixtures against Italy and Chile.



Hannah Matthews

Debut: June 2014 vs Italy

Caps: 108

International goals: 4

Current club: Loreto

Previous club: n/a

School: Loreto Beaufort

Position: Defender

Daughter of Irish rugby international Phillip, Hannah Matthews reached her 100th international cap in June in the series against Canada at Serpentine Avenue. Her ranking tournament debut came in front of a home crowd at World League Round 2 at Belfield in 2015 where she was part of a defence that conceded just twice in six games. That year ultimately ended in disappointment at the World League Semi-Finals. From 2015 to now, she has been part of each ranking event, providing an ice cool calmness. On the club front, aged 18, she memorably scored the winning penalty stroke to win Loreto – her only club – the Irish Senior Cup, showing nerves of steel. More recently, she captained the Beaufort club to the EY Champions Trophy in May. She combines an international hockey career with her work as a primary school teacher.

Irish Hockey Association media release


---

Argentina's Delfina Merino set to light up women's hockey World Cup

By Rod Gilmour




In February, when Delfina Merino won the female world player of the year award at the FIH Hockey Stars in Berlin, the winners' roll of honour briefly highlighted what Argentina has been missing since they last won the hockey World Cup in 2010.

Luciana Aymar won the award a staggering eight times during her illustrious career. But here was Merino, who was nominated for the award for the first time in 2015, taking over her mantle and collecting it for the first time – and rightly so – to break a three-year run held by Dutch players.

Having kept her award quiet from the team and the media when she was first contacted by FIH officials, Merino sent a short text message to Aymar before collecting her prize on a cold Berlin night. "I want to tell you that you are winning 8 to 1.. so get ready" she jokingly told the Argentinian great.

"I do not know if I am very aware of what this means," she later told Clarin of her award, "it gives me tremendous pride and, at the same time, it seems crazy."

For many observers, her recognition by fans and players is far from crazy. Merino, 28, will be playing in her third World Cup, alongside co-captain Belén Succi and Noel Barrionuevo, and thus will be one of the key players in the Argentina squad in London.

There will be added pressure for the forward. Expectation runs high in Argentina; hockey is the nation's leading women's sport and the legacy left by Aymar – a sculpture of her is one of many nods towards the sport in Buenos Aires – remains very much in evidence since the women's team first put hockey on the map with Olympic silver behind Australia at the 2000 Sydney Olympics.

Merino remembers watching those Olympics on television back home, featuring the likes of Aymar and Cecilia Rognoni.

Aymar won her first world player of the year award the following year. Nine years later Merino made her debut in Argentinan stripes and will now be seen as a mentor to many Leonas' starlets on their month-long European tour.



The Luciana Aymar statue, Buenos Aires

Ten players will be making their World Cup debut for Argentina in this edition. From an outside vantage point, that might represent one too many when it comes to the experience needed to lift the world title.

But Argentina's coach, Agustín Corradini, has made sure that youth will be blended with experience thanks to having overseen 25 pre-World Cup matches prior to this weekend's opening games.

Little wonder he calls it a 'Barbarian World Cup' for Argentina.

Further, coupled with the fact that the Argentinian domestic league is very competitive, they will certainly not be overawed in London.

Not least given that eight of the team won the Junior World Cup two years ago, while the standout remains 23-year-old María José Granatto, awarded the FIH best young player award for the second year running.

"It is a fulfilled dream and a very big responsibility," Merino said, when asked the duties of being a Lioness.

"When you put on your shirt you are representing an entire country. We are very fortunate, there are very few people in the world who have the possibility to really do what they love. It is a privilege."

Merino, who is in the final throes of qualifying as a lawyer, has largely played for Banco Provincia since she was five, her great-grandparents having run the bar at the club.

She will play her club hockey in the Netherlands next season – her third stint in the Dutch leagues – and her bond for the game is strengthened by a hockey-playing younger brother and her 91-year-old grandmother, who played the sport until she was 80.

Thanks to her grandmother, church remains an important part of her upbringing and one senses that playing for her country doesn't weigh as heavily as it did for Aymar, who recently admitted that she hardly slept during her lengthy tenure playing for Las Leonas.

It's no coincidence that when she collected her Berlin award that Cyndi Lauper's Girls just want to have fun led Merino to the stage. For she makes sure that when it comes to building the team's values off the pitch, she is at the centre of it.




She doesn't like to keep herself in her hotel room on tour and will often be playing cards with her younger team-mates, playing alongside them on the pitch in an era for the sport which she knows is far more physical than when she first started out 10 years ago.

Yet Merino – often compared to Lionel Messi due to the award accolades she is now receiving, just as Aymar witnessed – also knows that her unerring skills have defined her game.

Her play is laced with intelligence and talent in tight spaces, her backhand shooting and, more often than not, she comes out on top in one versus one situations.

"Today there are things that I do not even know how I do them: they come natural to me," she recently told La Nacion in an interview.

Her international experiences over the last decade have taught her that.

Now the world player of the year is entrusted with upping her individual skills and returning home with a world team title to cap a remarkable year.

The Hockey Paper


---

Athletes surprised by families ahead of Vitality Hockey Women's World Cup



Kit presentation

Mums, Dads, friends, former teachers and coaches were invited to surprise the England women's hockey team ahead of their Vitality Hockey Women's World Cup campaign on home soil in London.

Those closest to the players were asked present each squad member with their bespoke World Cup kit in a special presentation at the team's hotel.

The team were addressed by England Hockey CEO Sally Munday and England's captain from their 1975 World Cup victory, Anita White.

The presentation perfectly shows the values and inspiration behind England Hockey's #BehindEveryGreatPlayer campaign which celebrates and recognises those people behind the players.

The family, friends, coaches and volunteers whose passion, dedication and emotional support truly fuels success, both as players and people.

#BehindEveryGreatPlayer celebrates the importance of a supportive social network in achieving sporting success, from children trying a sport for the first time through to international athletes playing at the highest level.



Rayer Parents

Ellie Rayer explained how the morning played out, she said: "We got to Bisham in the morning thinking we are off to the World Cup and said goodbye to Mum and Dad. When we got to our hotel later we were ushered around a bit but didn't think anything of it.

"Then Sally Munday our CEO came in and said they had some special people in attendance to give us our shirts. Everyone's parents then walked in and everyone just started crying!"

Anita White captained England when they won the World Cup in 1975 and Ellie is proud to be wearing the same shirt number as Anita in London.

"I was introduced to Anita and I'll be wearing lucky number 13 just like she did. It's amazing in all honesty to think they've done it before so we can go out there and it is possible."

Sophie Bray was surprised by her mum and teacher Miss O'Callaghan who first introduced her to hockey, she said: "They see us at our best and worst and help us through the tough times along the way.

"They are always there for you and always say you're playing well regardless. We can't thank them enough for all their support."

Miss O'Callaghan who taught Sophie at Tiffin School said: "It's been a really emotional morning and great to see Sophie again.

She is no different from the first time I put a hockey stick in her hand and saw what a future she'd have. I could tell you then when she was aged just 11 that she was going to go far."

England Hockey Board Media release


---

Women's Hockey World Cup shirts: 16 nations ranked and assessed

By The Hockey Paper




In what is surely a hockey fashion first, we have decided to rank and rate all 16 competing nations' playing shirts at the 2018 Vitality Women's Hockey World Cup.

This was no easy task, however. While the marketing power of football means that brands release kit images well before any World Cup – months even – hockey is decidedly slower off the mark. Nevertheless, we gritted our teeth and managed to collect as many teams' outfits as possible to give you a flavour of the designs and colour which will adorn Lee Valley Hockey and Tennis Centre over the two-week extravaganza.

Such was the task – yes, we could have waited until teams had hit town, but no tournament sporting preview would be the same without these sporting kit epics – that several factors have gone into the top 16 ranking: look, feel, retro-ness, full kit look and factoring in home/away combined efforts where possible. Enjoy!

16. GERMANY




Germany will be chasing a first final spot since 1986 when West Germany lost to the Dutch, while third remains their best showing since 1998. And it's a fair bet that there have been some better shirts on offer in that time. Admittedly, the white and black offerings take on a different, refined look in terms of the full kit. But where have the clean, mean German shirts gone to which we have come to fear?




15. IRELAND




A new sponsor proved timely for Ireland ahead of the World Cup. Images adorned the company's headquarters and the team were photographed in countryside splendour as they prepared for a first World Cup in 16 years, with hopes of emulating the men's side against the backdrop of funding. In that respect, the Green Army won't be worried about their lowly ranking here, with a kit which needs that little bit more fizz to claim a higher prize in our inaugural chart.




14. INDIA




Indian teams always carry the weight of expectation at Hockey World Cups. And it seems as if the players will be carrying an extra burden with their 70s style neck collars, akin to a deflated travel pillow. While the traditional light blue continues, the away shirt colours add extra class, however.




13. CHINA




Shirts need to move with the times – and no doubt designers could work wonders with China's home and away shirts. But is there any need? The red and yellow offer stability like the team's defence. The stem-like V-neck a touch of class.




12. SPAIN




Spain, with a fourth-place finish at their home World Cup in 2006, show the first signs of soccer-style influence, with this ever-so-slightly, Liverpool of the 80s' feel. The red and shallow V-neck line works well enough, which is then complemented by their white-clad second strip. Now, white can often be dour, but the hints of red lift the attire somewhat.




11. BELGIUM




No, it's not a Spanish repeat. It's fellow European rivals Belgium, who have incorporated the lion colours nicely into their design, while the white down the side gives the shirt some breathing space. The red is lacking from their second strip but the combination just edges the Spanish in our book.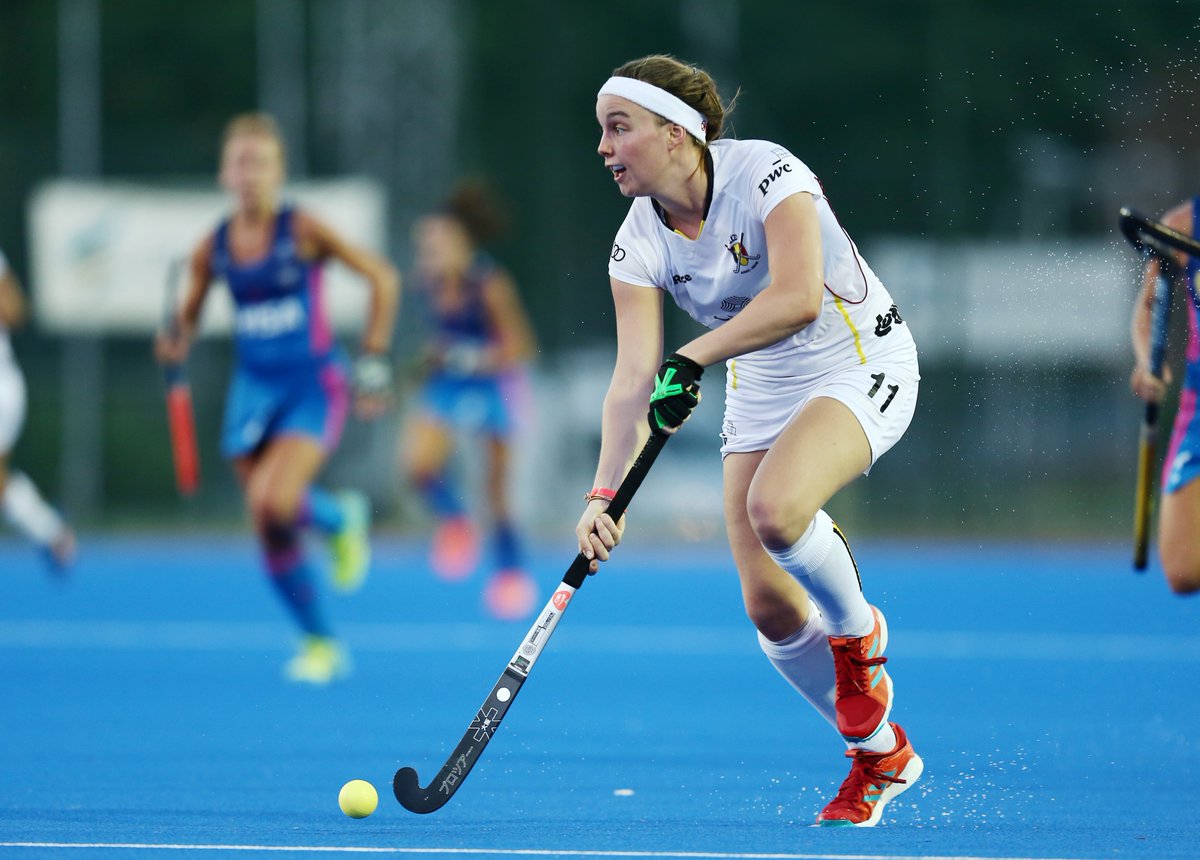 10. SOUTH AFRICA




At the 2014 World Cup, the team was backed by Investec. Funding was lacking before a leading property website got on board. And, three years on, South Africa's World Cup designs impress. The all-Green remains, while the away strip is a neat addition.




9. NEW ZEALAND




Play with the all-black strip at your peril. Not much can be done to change the iconic colour of the Black Sticks. The added incentive of Commonwealth champions yields extra class to the clean design.




8. ENGLAND




Unless The Hockey Paper has missed out on some electrifying kit launches from other nations, England remains a stand out in terms of promotional activity, as you'd expect from a host nation. Adidas say that this is the first time that a kit has been designed with women in mind first (does this mean that they have previously worn men's kits?). At any rate, the red remains first choice, while the white is unimaginative yet clean.




7. SOUTH KOREA




South Korea's cut-sleeved, singlet style designs always seem to stand out. The nations' colours also add a certain retro feel here, casting minds back to Seoul '88 and the iconic Olympic logo so entwined with the GB men's golden era.




6. UNITED STATES




Brash or brand heavy? There is always a sense of 'Team USA' with a corporate twist, but if you can't pick out players, why not just leave your nations' name emblazoned across the shirt. However, it's all fun and pizzazz here. We're in favour.




5. AUSTRALIA




Australia's famous bodysuits have been around for some time now, caps replaced by suit presentations to debutant Hockeyroos, On the shirt, it looks like the classic game Buzz Wire has replaced the country outline on the iconic home strip. But this is cast aside in sleek style with its second offering, with the World Cup's only dark blue design – and perhaps the best away kit of them all.

4. NETHERLANDS




The Netherlands, thanks to the consistent success of their men's and women's hockey teams and subsequent backing of the team, move with the times when it comes to kits. And why not, when home games are a sea of Oranje and there is money to be made from apparel and yearly design changes.

3. ITALY




Italy, heavy outsiders to make it past the group stages, atone with two bookies' favourite retro, soccer-style classics. Oozing class from an era of fuzzy televisions and chain-smoking coaches, the Italian hockey team will hope to play in HD at the World Cup.




2. JAPAN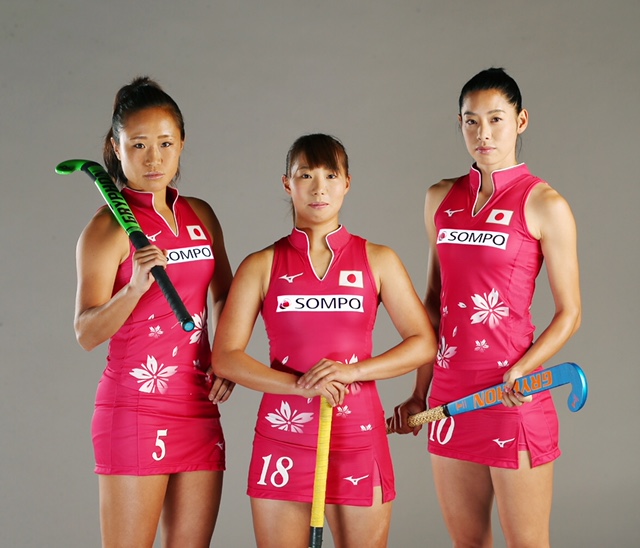 Japan's Cherry Blossom kit goes straight into second spot thanks to its smart, fashion-heavy design. The neckline is seemingly taken from the traditional Chinese dress – Cheongsam – which is also worn in Japan, while the blossom adds gloss. The white away strip trumps their rivals' offerings too. But we will see them beyond the group stages?




1. ARGENTINA




The light blue and white vertical strips with global sponsor has been ever-present for the South American powerhouse in recent years. The strip has oozed status since the new century, mainly thanks to the great Luciana Aymar. Now it's the turn of the younger generation to show strength in a Las Leonas shirt, a design which has been supplemented by a second strip which has claims to even usurp its home one. And for us, that makes it No 1.




Do you agree? Have your say here…

The Hockey Paper


---

Champions Trophy winners Australia remain top of men's FIH Hero World Rankings

The latest FIH Hero World Rankings for men have been released, with Australia remaining at the top of the standings following the ranking points accrued during their title-winning performance at the recent Men's Rabobank Hockey Champions Trophy 2018 in Breda, Netherlands.

The Kookaburras claimed their 15th Champions Trophy success by defeating India in a shoot-out in the competition final, ensuring that the reigning world champions held on to top spot in the rankings table.

Australia (1906 points) sit 23 points ahead of second ranked Argentina (1883), with Belgium (1709) and Netherlands (1654) occupying the respective third and fourth positions.

For India (1484), their outstanding silver medal-winning performance in Breda has come with an added bonus. Harendra Singh's team have moved up the rankings table from sixth place to fifth, forcing Germany's Die Honamas (1456) down one place to sixth.  

The vast majority of the teams featured in the top 20 positions have been non-movers, although 18th placed Austria and 19th ranked Egypt have climbed ahead of France, who now sit in 20th position.

The next update to the men's FIH Hero World Rankings wil be made following the completion of the Hockey Series Open at the end of September 2018, with another update coming after the conclusion of the Odisha Hockey Men's World Cup Bhubaneswar 2018 in December.

An update to the women's FIH Hero World Rankings will be made shortly after the conclusion of the Vitality Hockey Women's World Cup London 2018, which takes place in England at the Lee Valley Hockey and Tennis Centre from 21 July to 5 August 2018.

Check out the complete FIH Hero World Rankings here.

FIH site


---

Kookaburras Retain World Number One Ranking

Ben Somerford




The Kookaburras have retained their number one world ranking in light of their recent Champions Trophy triumph following Tuesday's release of the latest men's FIH Hero World Rankings.

Australia claimed their 15th Champions Trophy success by defeating India in a shoot-out in the competition final, ensuring that the reigning world champions held on to top spot in the rankings table.

Australia (1906 points) sit 23 points ahead of second-ranked Argentina (1883), with Belgium (1709) and Netherlands (1654) occupying the respective third and fourth positions.

The Kookaburras re-gained their number one status in December after winning the World League Final in Bhubaneswar. The side has since won the Azlan Shah Cup, Commonwealth Games gold medal and the Champions Trophy.

The next update to the men's FIH Hero World Rankings will be made following the completion of the Hockey Series Open at the end of September 2018, with another update coming after the conclusion of the 2018 Men's World Cup in Bhubaneswar in December.

An update to the women's FIH Hero World Rankings will be made shortly after the conclusion of the 2018 Women's World Cup which takes place in London at the Lee Valley Hockey and Tennis Centre from 21 July to 5 August 2018.

The Hockeyroos are currently ranked fifth in the world on 1625 points, behind the Netherlands (first, 2165 points), England (second, 1823), Argentina (third, 1793) and New Zealand (fourth, 1733).

Australia are in Pool D at the 2018 World Cup alongside New Zealand, Japan and Belgium.

Hockey Australia media release


---

India jump one place to 5th in latest FIH rankings

Australia sit 23 points ahead of second-ranked Argentina and are followed by Belgium and Netherlands.



Indian hockey players celebrate a goal against Australia during the Champions Trophy 2018 final, in Breda. Photo Credit: PTI

India have jumped a rung to fifth position in the men's hockey world rankings issued by the International Hockey Federation (FIH) on Tuesday.

India have made the jump by virtue of its second consecutive runner-up finish at the Champions Trophy in Breda, Netherlands earlier this month.

Champions Trophy winners Australia remained on top of the chart, thanks to its title victory.

The Kookaburras claimed their 15th Champions Trophy by defeating India in a shoot-out in the final, ensuring that the reigning world champions held on to the top spot in the rankings table.

Australia (1906 points) sit 23 points ahead of second-ranked Argentina (1883) and are followed by Belgium (1709) and Netherlands (1654).

With 1484 points, India have pushed Germany (1456) to sixth from the fifth spot.

Most of the teams in the top 20 are non-movers, although 18th placed Austria and 19th ranked Egypt have climbed ahead of France, who now sit in 20th position.

The Hindu


---

India rising, but global glory is far

Silver in Champions Trophy puts India back on track, team favourites for Asiad

Indervir Grewal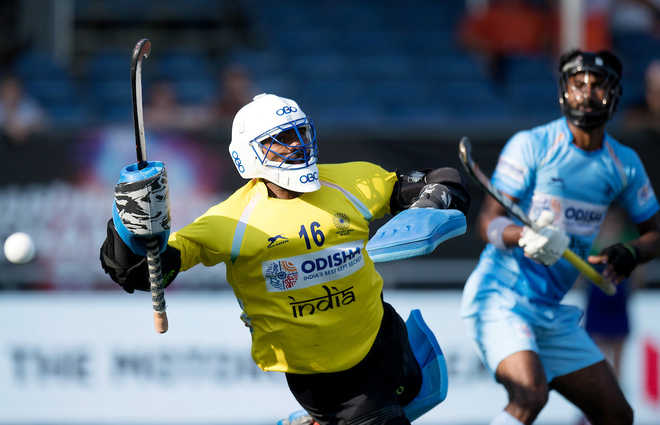 PR Sreejesh's return to form is a good sign for the Indian team as it will improve their morale. HI

The progress of the Indian men's hockey team is back on track. Not that it had derailed — as was feared after of the Commonwealth Games — but the solid performance at the Champions Trophy has quelled any doubts.

The silver medal in Breda, Netherlands — their second successive second-place finish in the Champions Trophy — reassured everyone that the below-par fourth-place finish at the Gold Coast CWG was just a hiccup, albeit one which cost a coach his job. Apart from that drastic step, it took a motivator, a few tweaks in the team and its playing style, and the return to form of one player to bring about a perceptible change in India's performance in such a small time.

Motivator

From the time he had taken over, Sjoerd Marijne proclaimed that he would transfer responsibility to the players. His "player-driven" system seemed to have been a welcome change after the players had criticised Roelant Oltmans's autocratic style. But after the CWG disappointment, it came out that the players had lost faith in Marijne's coaching style, even before the Gold Coast event. The Dutchman's team selection was also questioned. There were also reports of a rift in the squad. It was presumed that Marijne had lost control of his players and, therefore, the team lost its discipline.

After joining, new coach Harendra Singh's first task was to bring unity and confidence back into the team, which had been panned for the CWG flop show. The 52-year-old is known for giving motivational speeches, though overdramatic at times. "One of the best parts about him (Harendra) is that he really motivates and pumps up the players. He is gifted with using the right words just before players walk on to the field," captain PR Sreejesh said after the team's return. Defender Varun Kumar said the coach kept reminding everyone to "play as a team". And India did put up a collective fight against the world's top teams, especially when defending.

'Focus on defence'

Varun said that Harendra gave more importance to improving the defence. "He believes that good defence wins you matches," said Varun. The 22-year-old added that Harendra made changes in the defensive structure, with "more emphasis on man-to-man marking". Also, Chris Ciriello has settled into his role as the team's analytical coach, evident from the former Australian defender's conspicuous participation in discussions during the matches.

Sreejesh back in form

However, despite the improved performance, the team's defensive frailties remain. A big reason for the difference in India's results at the CWG and Champions Trophy was captain Sreejesh. In the CWG — which was his first tournament after a long injury layoff — Sreejesh was poor for his standards. In the Champions Trophy, he was back at his best. Sreejesh was India's saviour time and again, for which he won the tournament's best goalkeeper award.

Defined roles

Sreejesh's return to form will also improve the team's morale. With his own confidence rising, he will be able to reclaim his role as the team's leader and control the defence better. Making Sreejesh the captain has also helped reduce the burden on Manpreet Singh, who had taken the role too seriously. As skipper, Manpreet took it upon himself to carry the team to victory. As part of the leadership group in Marijne's player-centric system, it seemed Manpreet was desperate to justify every team decision. It affected his game — he was all over the pitch, trying to be a one-man show.

After he was removed from captaincy, Manpreet said it was a "blessing in disguise". In the Champions Trophy, he was his usual self again, inconspicuously moving the game along and popping up with crucial contributions at the back, in the midfield and the offensive third.

Manpreet was also forced to push harder because of a flawed team selection. Marijne's team was criticised for its inexperience. Harendra brought back a few senior players, while retaining a few youngsters. But it was the defining of the players' roles that worked in the Champions Trophy. Youngster Vivek Prasad — who was too inexperienced to control the midfield in the CWG — was moved forward. He scored the equaliser in the final. Sardar Singh was back in the midfield, but as the free player in charge of covering zones. While attacking, he released the ball early, and while defending, he wasn't assigned any marking duties; but the presence of an experienced player in the centre made a big difference.

One of Harendra's best selections turned out to be that of Jarmanpreet Singh. The 22-year-old was a crucial part of Harendra's junior India team, but missed out on the World Cup due to a suspension. Harendra gave him his senior debut and Jarmanpreet justified the coach's decision. India have struggled to find a right-half with attacking ability and Jarmanpreet made the crucial position his own.

His understanding with former Surjit Academy and junior India teammates Varun, Harmanpreet Singh and Mandeep Singh benefitted the team. Decisions like these help raise a team's confidence.

Too early for World Cup talk

The team's good performance has also led to talks about India's chances at the World Cup. These talks are premature. With the World Cup scheduled in December, all the top teams at the Champions Trophy kept their cards close to their chest. The teams were experimenting and there was a lack of understanding. There were few set-plays and, surprisingly, more haphazard running with the ball. What made this edition — also the final — the best in many years was the teams' willingness to play fearless, adventurous hockey. It was a perfect farewell for one of hockey's most revered tournaments. Though it doesn't take the credit away from India, it puts the second-place finish in perspective. India's shortcomings — their defensive frailties, weak and unsettled midfield, misfiring forwardline and over-reliance on a fast counter-attacking style — were there to see in Breda, and will most likely be exploited in Bhubaneswar in December. What about the Asian Games? India, at world No. 5, are Asia's top team, and the next-best are Malaysia, Pakistan and South Korea, at No. 12-14. These teams will challenge India at the Asian Games, but if India play to potential, the gold should be theirs.

The Tribune


---

No room for complacency, says Harendra

Men's team coach says defending Asian Games title is not a given



Be prepared: Harendra Singh expects his wards to be on the ball against all their opponents in the Asian Games. 

The Indian men's hockey team coach Harendra Singh feels the defending champion cannot afford to take things easy in next month's Asian Games even though it is a gold medal favourite owing to its highest-ranked status in the draw.

India will open its title defence against Hong Kong China on August 22 followed by games against Japan (August 24), Korea (August 26) and Sri Lanka (August 28).

"Though we are the defending champions, we cannot take any team lightly. We must be highly cautious against each of these teams as we have not played against teams like Hong Kong China and Sri Lanka," said Harendra.

"Japan is a rising team in Asia and capable of surprising any team. It has done well in recent events while Korea too is a good team and plays very defensive hockey."

India defeated Pakistan to win the gold in 2014 and with the 2020 Olympics berth at stake, Harendra and his men would be eager to book their direct ticket to Tokyo here.

"I expect the team to be hungry to win the gold again and get direct qualification for the 2020 Olympic Games. I want to make it clear that there will be no room for complacency," the chief coach asserted.

Like his counterpart, the women's team's coach Sjoerd Marijne is also eyeing a gold in Indonesia but feels Korea will give a tough fight. The Indian team had to settled for a bronze in 2014.

"In the Asian Games pool, Korea will be our toughest challenge and I am happy we have played quite a few matches against them this year and are aware of how they play," Marijne said.

"The only thing I would like to say to the team is that it does not matter who we play, if we want to win, we must win against everyone whether they are ranked lower than us or higher, he added.

The Hindu


---

Stephen: Australian tour will help Malaysia meet Asiad target




PETALING JAYA: National hockey coach Stephen van Huizen (pic) is confident that the playing-cum-training tour of Australia from July 21-Aug 2 will help Malay­sia achieve their Asian Games target.

The target, set by the Malaysian Hockey Confederation (MHC), is for Malaysia to win the gold medal at the Indonesia Asian Games from Aug 18 to Sept 2 in order to earn automatic qualification to the 2020 Tokyo Olympics.

For the record, Malaysia last played in the hockey competition at the Sydney 2000 Olympics.

Stephen said he will be out to iron out the kinks in the team during their five test matches against the Aussies.

"This is the final stage of our preparations. The test matches are not about winning as we want try out new tactics, set-pieces and strategies.

"We want to see if some of the new approaches can be used and this tour gives us the opportunities to do so," said Stephen yesterday.

"There is criticism of the tour to Australia but we made the decision based on the availability of our opponents and the budget as well."

Malaysia had a favourable draw for the Asiad hockey competition. They are in Group B with Pakistan, Bangladesh, Oman, Thailand and hosts Indonesia.

Group A comprises defending champions India, South Korea, Japan, Sri Lanka and Hong Kong. This Asiad will be the first to use the Video Referral system.

But Stephen won't count his chickens before they hatch.

"Yes, the grouping is very kind to us as we need to beat Pakistan to top the group but having said that, we won't take the other teams lightly as Bangladesh and Oman can be tough nuts to crack," added Stephen.

"We'll be playing one extra game in the group stage compared to the other group. We need to be careful and take one match at a time.

"We also need to keep the players injury and suspension-free when we advance to the semi-finals," he said.

The Star of Malaysia


---

Stage set for ROUND1 as EHL ends field goal trial rule




The stage has been set for the 12th edition of the Euro Hockey League as the ROUND1 groups for the world's best club hockey competition were confirmed today.

ROUND1 will return to Barcelona's Pau Negre in the Olympic district of the city from October 5-7, 2018 where 12 of Europe's top clubs will battle it out for the four tickets to the KO16.

It is the first step on the road to the Alain Danet Trophy, a season which will see a couple of changes to the competition.

Firstly, following opinions from players, umpires and fans, the EHL has decided not to continue with the field goal equals two trial. From ROUND1 in October, every goal will return to equaling one whether it comes from the field or a penalty corner.

Secondly, due to the changing nature of the hockey calendar, the EHL will combine the KO16 and FINAL4 events at Easter, making a six-day carnival of hockey from April 17 to 22, 2019.

In addition, for the 2019/20 season, there will be some competition changes in the EHL due to the calendar congestion which we will announce in full in due course.

For now, the most important information is that the total number of teams involved will be reduced from 24 to 20 from the 2019/20 season. The four teams will come from the different categories.

As for the draw, the four groups of three have been outlined following the draw conducted by EHF Director General Angus Kirkland and EHL board member Jorge Alcover.

Pool A will be headed up by Oranje-Rood, runners-up in 2017 and the champions – as Oranje-Zwart – in 2015. They are joined by Austria's SV Arminen who they beat 2-0 in the KO16 on their victory run in 2015 as well as Scotland's Grange.

Mannheimer HC and Argentine penalty corner specialist Gonzalo Peillat are the number one seeds in Pool B. They face a potential cracker against England's Wimbledon, a repeat of their 2017 KO8 showdown, as well as the dangerous Dinamo Elektrostal.

Pool C is headed up by Royal Leopold who are back in the competition and looking to reach the KO16 for a third time. They will be big favourites against Belarussian newcomers HC Minsk and Poland's ever-present side WKS Grunwald Poznan.

Finally, Pool D sees Junior FC taking on the role of the most local club as the Spanish side look to make it an EHL debut to remember. They have a well-matched line-up, taking on Racing Club de France and Irish champions Three Rock Rovers.

Top spot in each group will advance to the EHL KO16 next Easter. The confirmed EHL ROUND1 schedule will be confirmed and announced on Friday with ticket information to follow soon after.

EHL ROUND1 draw (Pau Negre Stadium, Barcelona, October 5-7, 2018)
Pool A: HC Oranje-Rood, Grange, SV Arminen
Pool B: Mannheimer HC, Wimbledon, Dinamo Elektrostal
Pool C: Royal Leopold, HC Minsk, WKS Grunwald Poznan
Pool D: Junior FC, Racing Club de France, Three Rock Rovers

Byes to KO16 (subject to confirmation via entry forms due by August 1, 2018):

Netherlands: SV Kampong, AH&BC Amsterdam
Germany: Uhlenhorst Mülheim, Rot-Weiss Köln
Belgium: KHC Dragons, Waterloo Ducks
Spain: Real Club de Polo, Club Egara
France: Saint Germain
England: Surbiton
Russia: Dinamo Kazan
Scotland: Grove Menzieshill

Euro Hockey League media release


---

Rovers' Barcelona opponents known but Euro indoor tournament cancelled



TRR's Daragh Walsh in action in the EHL against Saint Germain. Pic: Frank Uijlenbroek/World Sport Pics

Three Rock Rovers found out one leg of their European season but also had a disappointment with the news they will not have a Euro indoor competition to look forward to in 2019.

Rovers were drawn in Pool D of the Euro Hockey League where they have been grouped with Spanish debutants Junior FC and Racing Club de France for ROUND1 which takes place from October 5-7 in Barcelona.

It means they avoid heavy hitters like HC Oranje-Rood and Germany's Mannheimer HC who have Argentinean superstar Gonzalo Peillat in their armoury.

Junior, though, do have serious quality accumulated in recent times with Spanish skipper Sergi Enrique and Gabriel Dabanch – an EHL winner with Oranje Zwart in 2015 – in their line-up.

Indeed, they only missed out on their national title in a controversial shoot-out in June at the hands of Real Club de Polo.

Racing Club de France are a seasoned EHL side, too, reaching the KO8 two years ago when they survived a Banbridge onslaught to eventually win a shoot-out in Eindhoven.

They feature former Rover Ali Haughton in the line-up but long-term injuries to Simon Martin-Brisac and Jean-Laurent Kieffer could see them shy some of their firepower. Three Rock bowed out at the hands of French opposition – Saint Germain – last season but will hope the experience of last Easter will stand to them.

A strong performance is likely to be important with the news that the EHL will reduce from 24 to 20 teams for the 2019/20 season, making the margins for Irish inclusion that bit tighter.

The competition will also see the cancelation of the two-for-one deal on field goals with every goal reverting back to normality following feedback from fans, players, umpires and coaches.

On the indoor front, however, Rovers' hard work in gaining promotion in Europe may go unrewarded with the cancelation of the EuroHockey Indoor Challenge I event next February.

This is because none of the teams in the competition were either able or willing to host the competition. Hosting rights were also offered to the highest ranked team from Challenge but to no avail.

From Three Rock's perspective, their most used venue at St Columba's is unsuitable for hosting a tournament of this magnitude with limited run-off space around the pitch.

The club approached the National Basketball Arena, Gormanston Park and Abbotstown but all were booked out for the assigned tournament weekend. An alternative date was sought but the international calendar does not allow for the move in dates.

The EHF said that one team will be relegated from the competition for 2020 from the third tier but this will be from Wales, meaning the Irish place is safe at that level for another year.

The Hook


---

Under-23 women and U-16 boys pick off strong wins




Ireland's Under-23 women and Under-16 boys both enjoyed strong wins on Tuesday afternoon as they got the best of Canada and England, respectively, in their Six Nations tournaments.

The women saw off the Canadians 2-0 with Jess McMaster finishing off a quality move from Serena Barr who drove to the baseline to set her up.

Hannah McLoughlin then finished off a penalty corner after half-time, a result which sees Ireland bounce back after losses to India and the Netherlands. They play Great Britain on Wednesday.

For the boys, they had put it up to the Dutch in game one and showed buckets of character to beat England 4-3 at the Mardyke.

Troy Chambers opened the scoring in the first minute before Tom Moorehouse levelled. Chambers and Evan Jennings extended the lead out to 3-1 before England fought back again but Chamber nailed his hat trick with two minutes to go to make the game safe.

Next on their agenda is a date with Spain on Wednesday afternoon as do their female Under-16 counterparts.

The Under-18 Euros also gets back into gear after a rest day with the girls looking to draw or better against England to reach the semi-finals in Santander. The boys will hope to bounce back after two losses when they face Belgium in their last pool game.

Women's Under-23 Six Nations (Antwerp)
Tuesday: Ireland 2 (J McMaster, H McLoughlin) Canada 0
Wednesday: Ireland v Great Britain, 12pm

Men's Under-23 Five Nations (Antwerp):
Wednesday: Ireland v Great Britain, 1.30pm

Girls European Under-18 Championship (Santander):
Wednesday: Ireland v England, 2.45pm

Boys European Under-18 Championship (Santander):
Wednesday: Ireland v Belgium, 12pm

The Hook


---

Former SA hockey player Louise de Jager still lives hockey

Former SA women's hockey player, Louise de Jager describes what makes a good hockey defender.



Former SA hockey player, Louise de Jager discusses the nuances of hockey at the Randburg Astroturf.

No one has more passion for hockey than Louise de Jager.

The former SA women's player, and current Southern Gauteng defender, 'works' hockey and plays hockey every day.

A 29-year-old Ferndale resident, De Jager owns BMT Sport Consulting, a company that specialises in sports massages, sports psychology and sports science.

De Jager loves her work, but it is in the evenings and on weekends that she truly comes alive.

She is always playing hockey, whether for Crusaders Hockey Club in club games, TopT Madikwe Rangers in the Premier Hockey League, or Southern Gauteng in national tournaments.

De Jager played hockey for South Africa from 2009 until 2013 but is also accomplished in other sports.

She represented South Africa at the 2004 World Gymnastics Championships in Germany, and has Gauteng colours for water polo and athletics.

At school, she did tumbling, swimming, tennis, squash, cricket and golf, but hockey was her first love.

"I first played hockey when I was five and loved it from first sight," she reminisced at Randburg Astroturf. "I loved scoring goals and it's still my favourite thing even though I'm a defender."



Former SA hockey player, Louise de Jager has the same love for hockey she had when she first started playing.

De Jager married a fellow hockey player, Marc, and the two sometimes coach together.

She said the toughest challenges of being a defender in hockey were getting the ball out of the danger zone under immense pressure and defending inside the circle with a no-risk mindset.

When asked about the state of South Africa's women's hockey, De Jager said there were incredible potential and depth in hockey in the country, but the sport's development structures were nowhere near the level of hockey's top nations.

"What we are missing are enough high-performance structures for all ages but especially for the juniors, say those around 14 years old."

She said not enough young players were taught the whole deal: The technical, tactical, physical, psychological and well-being aspects of hockey.

This ranges from everything from playing the game to specific muscle development to stress and diet management.

The Randburg Sun