All the news for Tuesday 17 July 2018

Hockeyroos Defeat India In World Cup Warm-up Match

Ben Somerford



Stephanie Kershaw opened the scoring

The Hockeyroos have warmed up for the 2018 World Cup with a comprehensive 3-0 win over India in Monday's practice match in London.

Stephanie Kershaw opened the scoring late in the first quarter in the clash between the fifth-ranked Hockeyroos and 10th-ranked India.

Grace Stewart netted the second goal in the second quarter, with captain Emily Smith sliding home the third shortly after.

The Hockeyroos will next play Great Britain in a practice match on Wednesday.

Australia's World Cup campaign commences on Sunday 5am AEST against Japan LIVE on FOX SPORTS.

The Hockeyroos, who were World Cup runners-up in 2014, are in Pool D against Japan, Belgium and New Zealand.

Australia's Women's Hockey World Cup team:
Athlete (Hometown, State)
Jocelyn Bartram (Albury, NSW)
Kristina Bates (Port Melbourne, VIC)
Edwina Bone (Orange, NSW) *Plays for ACT
Kalindi Commerford (Mollymook, NSW) *Plays for ACT
Madison Fitzpatrick (Cabarita Beach, NSW) *Plays for QLD
Emily Hurtz (Sydney, NSW) *Plays for VIC
Jodie Kenny (Wamuran, QLD)
Stephanie Kershaw (Townsville, QLD)
Rachael Lynch (Warrandyte, VIC)
Ambrosia Malone (Burleigh, QLD)
Karri McMahon (Berri, SA)
Georgina Morgan (Armidale, NSW)
Kaitlin Nobbs (Newington, NSW)
Brooke Peris (Darwin, NT)
Kathryn Slattery (South Stirling, WA)
Emily Smith (Crookwell, NSW)
Grace Stewart (Gerringong, NSW)
Renee Taylor (Everton Park, QLD)

Australia's Women's Hockey World Cup Schedule (all times AEST):
Sunday 22 July 5am - Australia v Japan
Tuesday 24 July 11pm - Australia v Belgium
Sunday 29 July 5am - Australia v New Zealand
Monday/Tuesday 30/31 July TBC - Playoffs
Wednesday/Thursday 1/2 August TBC - Quarter-finals
Saturday 4 August TBC - Semi-finals
Sunday/Monday 5/6 August 11pm/1:30am - Bronze medal/Gold medal match

Hockey Australia media release


---

I'm loving what I'm doing, says England's Ellie Rayer

By Richard Bright



Ellie Rayer, second left, celebrates with Susannah Townsend PIC: England Hockey

England's Ellie Rayer has fast-tracked from junior to senior hockey in the same manner that she plays the game.

Rayer, 21, played at the 2016 Junior World Cup and will make her entrance in the senior version this weekend for the first time when England take on India.

"It has all been a bit of a whirlwind to be honest," she told BBC 4's Women's Hour. "I found out just after the Junior World Cup that I would be joing the centralising programme and to train every day."

Naturally, she was "elated" to be picked for her second global tournament after bronze with England at the Commonwealth Games.

"To play sport every day and do something you love, not many people get the opportunity to do that and for that happen to me at my age, I am loving what I am doing."

Asked whether she had experienced a steep learning curve at Bisham Abbey HQ, she admitted: "You're in such a good environment with so many important people around you and everyone wants to learn and get better."

Her team-mates are seemingly learning off Rayer, a former Loughborough Student and established 400 metre runner.

"A lot of us fast ones thought we were fast until Ellie came along," said Susannah Townsend. "When she joined I was injured and I gave her all the chat that I would be faster when I got back – but I'm definitely not.

"There is an experience like the Commonwealth Games … when you look to the side and and see people like Ellie who haven't won medals before. And that brings back home how important those experiences are.

"New players coming through definitely push the older lot and makes us want to get better. I see her face every time she runs on to the pitch. I'm a bit moody and I see that smiling face and remember why I'm there."

Asked whether playing elite sport had been a "sacrifice" or a "choice", Rayer cast her mind back to the time she was in the England under-16 squad.

"We had a chat about decisions and sacrifices and someone said we make our sacrifices," she said.

"Our coach interrupted and said you don't make sacrifices, you are making a choice. That's the way I see it. Everything that we choose to do, we are in it because we have a team around us.

"You may miss out on things but the opportunities that we are given that we are allowed to have in this environment, you just wouldn't change."

The Hockey Paper


---

Tuilotolava ready to challenge the World's Best



Lulu is pictured second from the right as the Vantage Black Sticks Women celebrate after scoring against Argentina at the Four Nations Cup. Photo: Roel Ubels

A whirlwind two months is about to go up a notch for the Vantage Black Sticks' newest player.

After making her debut in Cromwell in May, Auckland midfielder Lulu Tuilotolava will play in her first major event when the Vitality Women's Hockey World Cup begins next week.

Having earned six caps since her initial call-up, which Tuilotolava described as a shock, the 21-year old is ready to take on the biggest challenge of her young career when New Zealand opens its campaign in London against Belgium, "it's going to be a big step up from what I'm used to, but I'm expecting it so I will have to embrace and adapt to it."

Coach Mark Hager believes it's going to be a real learning curve for Tuilotolava, but says she's a great character who has slotted in well and will embrace whatever role she's given "she may play a lot of minutes, and I hope she does, but at this stage Lulu will come on and rest people. If she starts performing well, which we have confidence she will, she'll give us a real ability up front to not only create goals but score them."

Our Vantage Black Sticks head off to London tomorrow night after exploring the sights of Munich for their last day in Germany today. After tight losses to the Netherlands and Argentina and a win against Germany in the Four Nations Cup they will look at building on these performance as they finish their preparations ahead of the Vitality Hockey Women's World Cup.

Check out our Facebook page to see Rikki Swannell's interview with Lulu talking about her experience with the Vantage Black Sticks and next week's World Cup.

Hockey New Zealand Media release


---

Lynch: I Watch 2014 World Cup Semi-Final Shootout Regularly!

Ben Somerford




Hockeyroos goalkeeper Rachael Lynch fondly recalls her shootout heroics in the semi-finals of the World Cup four years ago, ahead of this year's edition.

Lynch was the hero in the shootout as Australia booked their spot in the World Cup decider with a 3-1 win on penalties against the United States after the contest ended 2-2.

The goalkeeper denied US's Katie O'Donnell, Paige Selenski and Michelle Kasold, while Kellie White, Georgie Parker and Jodie Kenny (nee Schulz) converting theirs to clinch the victory.

"I actually watch the video quite regularly," Lynch launched. "For us to win that way, it was really only when the one-on-ones had just come in.

"It was a pretty dominant performance. I love the one-on-ones. I like the pressure because I'm quite aggressive it suits my style."

Australia went on to lose to the Netherlands in the final in The Hague, going down 2-0, but it was a great experience for the side.

"Even though we came second it's definitely one of the highlights of my career," Lynch recalled.

"The way we made it through the tournament with some exciting games, a lot of the finals going to one-on-ones.

"It's the dream to play Holland in Holland in the World Cup final. We had a lot of confidence in the group.

"We had a lot of success in the lead-up year. It was a really enjoyable tournament. No doubt, London will put on a show."




Lynch is part of the 18-member team which travelled to London last week for the 2018 World Cup which starts on Saturday.

Only six members of that side are part of the 2018 team which is now coached by Paul Gaudoin, but Lynch sees plenty of parallels.

"I felt good at the tournament but had a lot of confidence in the defensive group in front me," she said.

"We were in a good place and I think we've got that now. With Jodie (Kenny) back, as well as Morgo (Georgina Morgan) returning now. It makes my job easier.

"This is the excitement of a big challenge. The Comm Games (where the Hockeyroos won silver) was good but this is the real deal against all of the top countries."

Australia are ranked fifth in the world, behind Commonwealth Games gold medallists New Zealand (fourth) who are in their pool. Japan (12th) and Belgium (13th) are also in their pool.

"I am optimistic," Lynch said. "We're in a great spot to do well.

"It's about being consistent. You can't afford to drop any games at a World Cup.

"We've done the prep now it's about performing on the big stage."

Australia opens their 2018 World Cup campaign against Japan from 5am AEST on Sunday with the match LIVE on FOX SPORTS. Follow @Hockeyroos on Twitter for live commentary.

Hockey Australia media release


---

Six current and former Tar Heels will play in Vitality Hockey Women's World Cup

By Torre Netkovick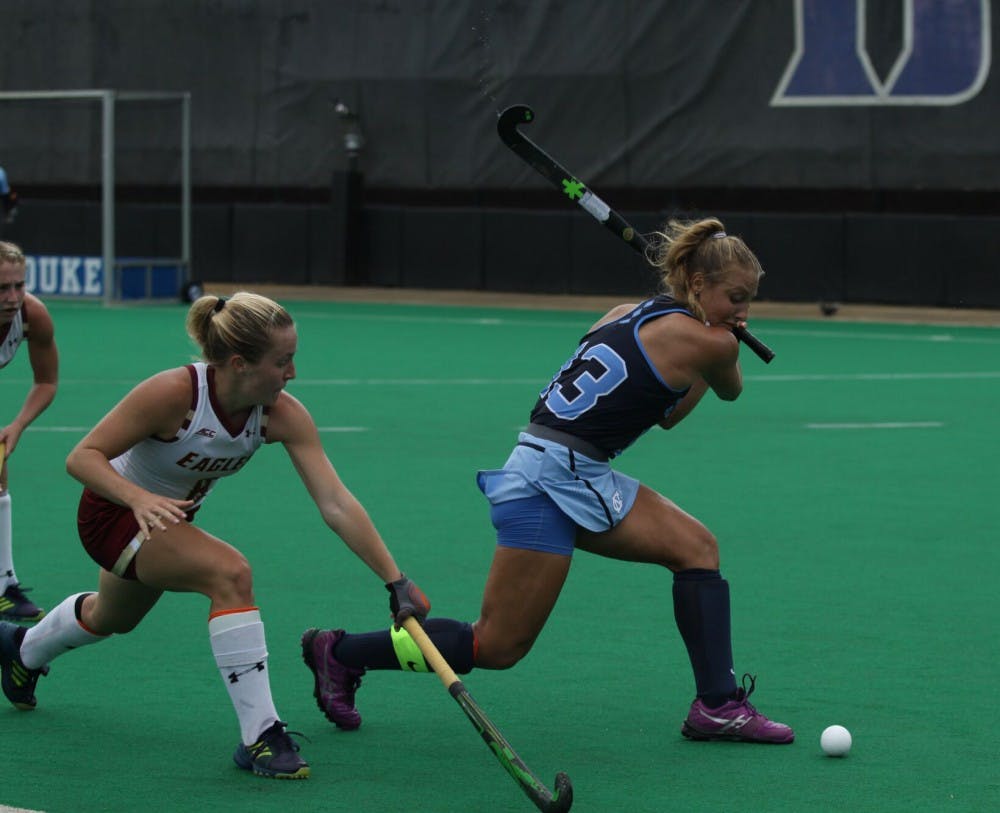 Junior midfielder Ashley Hoffman (13) rears back for a shot against Boston College on Sep. 16 in Durham. Stella Reneke

Two current North Carolina field hockey players were chosen to join the U.S. Vitality Hockey Women's World Cup team, which will compete in London from July 21 to August 5.

On this national team rising senior Ashley Hoffman and first-year Erin Matson are joined by four Tar Heel alumni — Jackie Briggs, Lauren Moyer, Caitlin Van Sickle and Julia Young.

With 18 athletes on the team, UNC is represented by one-third of the roster.

"I think having a lot of Tar Heels on the U.S. team is pretty unique in a way because even though there are former players and current players we are still kind of like family," Matson said. "I think it shows that it's been a strong program throughout the years and that coach Shelton is continuing the legacy."

Although, Hoffman and Matson have competed with older girls in the past, this experience is special. While Hoffman is reunited with some of her former teammates, as a first-year, Matson's experience will be different. 

"I think it is amazing," Hoffman said. "Even talking to the older alum and through the transformation that Chapel Hill is going through right now it's fun to reminisce with them about what they are missing out on, and then Erin I'm already really good friends with her so I think her transition onto the team will be so easy. It's a lot of fun to play on a team that you have a similar connection with and you can talk about experiences. It makes it a lot more fun to play." 

Even though Hoffman and Matson have yet to play an official game together for UNC, the two have formed a strong relationship.

"Ashley is like a sister to me," Matson said. "And we have played field hockey together for a while now being on the U-21 team and now this team together there is a strong connection between us. I think it's really exciting to carry that over into college now and in the fall, we are both very excited to get started with the fall season."

In preparation for the 2018 Vitality Hockey Women's World Cup, both girls have been practicing all summer, which they believe will help them during the fall season.

Although Hoffman has had plenty of success in the three years she has been a part of the UNC squad, this season is special, with her being a senior.

Throughout her collegiate career, Hoffman has competed in three Field Hockey Final Fours. In each of those appearances the team was unable to win a national championship. Hoffman said her goal this season is to ultimately win the biggest event in the sport.

"I think with the personnel we have we should try to win every game," Hoffman said.  

After a summer filled with two-a-day practices, Hoffman and Matson along with the other members of the U.S. World Cup team, which is ranked No. 7 on the FIH Hero World Rankings, will begin their run on July 21st against No. 16 Ireland. The two teams will face off at Lee Valley Hockey and Tennis Centre's field at Queen Elizabeth Olympic Park in London. 

"It's a new team so it is going to be exciting to see what we can do on such a large stage," Hoffman said.

The Daily Tar Heel


---

From captain Rani Rampal to goalkeeper Savita Punia, meet Indian team for tournament

Sundeep Misra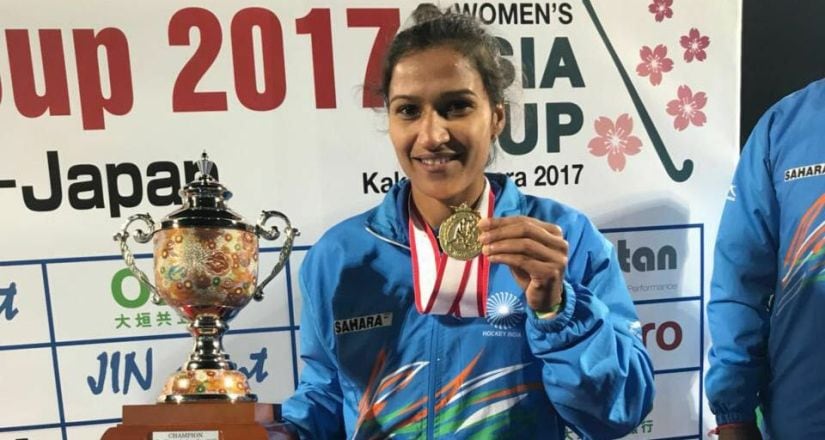 India captain Rani Rampal will hold key for India at the 2018 Women's Hockey World Cup. Image Courtesy: Rani Rampal Facebook

Meet the Indian women's hockey team as they open their campaign on 21 July against Olympic Champions England at the Queen Elizabeth Olympic Park, London. England, USA and Ireland. With close to 2000 caps in the team, experience is not something the Asia Cup Champions lack.

Name: Rani Rampal (Captain)

Age: 23

Position: Forward

Caps: 213

Shirt No: 28

When most were still trying to break into the state junior sides, Rani, at the age of 15, was already the youngest player to represent the national team at her debut tournament. She made headlines at the 2009 Champions Challenge at Kazan where she picked up the title of the highest scorer with four goals in the final. She is also the only Indian to be nominated for the FIH Women's Young Player of the Year Award and also won the 'Best Young Player of the Tournament' at the 2010 Women's Hockey World Cup in Argentina. Rani has the capability of turning a match on its head –with a defence splitting pass or a strike from the corner of the circle. The Indian captain believes 'experience' will be the strength of the team at the 2018 World Cup.

Savita Punia (Vice-Captain)

Age: 27

Position: Goalkeeper

Caps: 169

Shirt: 11

Her grandfather wanted to toughen her up, so hockey was the sport he chose. Today, that toughness is visible when she stands up to penalty corners and sharp strikes from opposition forwards. Without doubt, one of the finest goalkeepers to have represented India, the 27-year-old was also a part of the team that won the Women's Asian Champions Trophy in 2016 and the 2016 Rio Olympics. It was her crucial save in the penalty shootout in the final of 9th Women's Asia Cup that saw India lift the trophy after 13 years. "Rankings are not important," says Savita. "Dealing with the situation in a match is."

Rajani Etimarpu

Age: 27

Position: Goalkeeper

Caps: 74

Shirt: 13

There will be extra temple visits for Rajani's mother in the next couple of weeks as her daughter starts a World Cup campaign that could define India's success at the top level. "She prays for my success and the team's," says the player from Chittoor district in Andhra Pradesh. The goalkeeper has been a constant in the core group and was a part of the Indian team which participated at the 2016 Rio Olympics. She has been at every tournament with the coach fully aware that he has one of the best back-ups in town. She was also a part of the team that won the 9th Women's Asia Cup 2017.

Deepika Thakur

Age: 31

Position: Defender

Caps: 219

Shirt: 17

Coming back after injuries is tough but making a return after an ACL is nothing short of a minor miracle. Deepika, who sometimes moves up like a forward or a wingback from a defender's position, knows that hard work and a little blessing have gone into finding a place in the team after a 10-month recovery from surgery. The 31- year-old is a two-time World Cupper, making appearances at the 2006 and 2010 editions. In London, it will be her experience in defending and creating those counter-strikes that will give India the momentum it needs in crucial situations. Deepika was also a part of the 9th Women's Asia Cup 2017 gold medal winning team.

Sunita Lakra

Age: 26

Position: Defender

Caps: 132

Shirt: 26

Captain for the Asian Champions Trophy, 2018, where India lost at the final hurdle to host South Korea 0-1, Lakra is a vital cog in the defensive structure of the team. She is calm as a defender and time and again can be seen taking the ball away from a melee of sticks and legs. Lakra made her debut for the national team in 2009 and in the nine years with the senior team has been a part of victories in the Asian Champions Trophy in 2016 and the 9th Women's Asia Cup 2017. It will be her defensive duties and leadership qualities that will help India remain calm and collected during moments of stress.

Deep Grace Ekka

Age: 23

Position: Defender

Caps: 164

Shirt: 3

Groomed at the SAI Centre in Sundargarh, Deep Grace Ekka shot to prominence when she was part of the Odisha National Schools (U-17) Hockey Tournament in 2009. Now acknowledged as one of the best defenders in the national side, she is the one who commits very few errors while holding and releasing the ball. Grace was selected in the senior team which won the bronze medal at the 8th Women's Asia Cup in 2013. Since then she has been a regular fixture in the side. India, despite having a very balanced side, at the World Cup will look up to Grace to minimize errors when defending against fast paced teams like England. Grace is also a very competent penalty corner flicker.

Gurjit Kaur

Age: 22

Position: Defender

Caps: 55

Shirt: 2

If India need goals at crucial intervals and have their penalty corner drill work at more than 35 percent, Gurjit Kaur will have to play a vital role. She has a powerful flick and can create angles leaving the opposition defence dumb-founded. From Khalsa College, Jalandhar, Gurjit played an important role in India's victory at the 9th Women's Asia Cup in Japan where she scored a total of eight goals, finishing as the tournament's third-highest goal-scorer. Apart from defensive skills, where she plays deep, Sjoerd Marijne's team will look at more goals from her if they have to travel further in the World Cup.

Monika Malik

Age: 24

Position: Midfielder

Caps: 117

Shirt: 4

Monika was noticed as a thinking midfielder when Chandigarh picked up a bronze in the junior nationals in Sonepat in 2010 and her talent shone yet again in the 2012 junior nationals where Chandigarh claimed silver. Fast-tracked immediately into the Indian junior side, Monika is known for her skills and that reverse sweep that usually finds forwards inside the circle. She inspired the national team with a goal in the final of the 9th Women's Asia Cup 2017 and FIH Women's Hockey World League Round 2 held in Canada in 2017. She was also a key member of the bronze winning Indian side at the 2014 Asian Games.

Namita Toppo

Age: 22

Position: Midfielder

Caps: 149

Shirt: 19

From the Panposh Sports hostel to the Champions Challenge 1 at Dublin in 2012 was a dream comes true for Namita Toppo. Wearing the national colour has always inspired her. "Playing for India is what all hockey players dream and only a few make it happen," she said. "At the World Cup, I want to make it count." One of the five who make up the midfield of the current Indian team, Namita was also a member of the national team that won bronze at the Women's Junior World Cup in Germany in 2013. Toppo has also represented India at the Glasgow Commonwealth Games in 2014, Incheon Asian Games in 2014, and the 9th Women's Asia Cup in 2017.

Nikki Pradhan

Age: 24

Position: Midfielder

Caps: 69

Shirt: 8

Daughter of a police constable, Nikki created history when she became the first woman hockey player from Jharkhand to play for India at the Olympics. Injuries have been a part of her career and her less than a hundred caps don't do justice to her talent and skill. One of the fittest players in the team, Nikki, apart from representing India at the Olympics, has played at the Hockey World league Semi Finals and the Asia Cup in 2017.

Neha Goyal

Age: 21

Position: Midfielder

Caps: 36

Shirt: 32

Neha began training in a hockey academy run by former India captain Pritam Siwach. Sticks, shoes and even kits were an issue. Grit was in plenty as Neha realized that is she makes it could lead to a better life for her parents who were struggling to just ensure their daughter keeps playing. Neha first represented India at the age of 14 when she was picked for the Junior Asia Cup in 2011. The breakthrough moment came in the U-21 four-nation Lal Bahadur Shastri women's hockey tournament where Neha was declared player of the tournament. By 2014 she had made her senior debut and played her first match at the FIH Champions Challenge in Glasgow. Now a key member, Neha's midfield skills in holding the ball and pushing the momentum towards the opposition makes her a player to look out for.

Lilima Minz

Age: 23

Position: Midfielder

Caps: 116

Shirt: 31

Spotted at the National Rural Games in 2009 when Odisha became champions, Lilima's move up the hockey ladder has been smooth and effortless. A player who plays with finesse, she is always unruffled when moving with the ball. At her best when moving forward, Lilima can suddenly swerve and create an opening for other players. She was part of the Indian junior team that won bronze at the 2013 Junior World Cup at Monchengladbach, Germany. Since her debut in 2015, she has been an integral part of the team representing India at the 2016 Rio Olympics, Hockey World League Semi Finals and the Asia Cup.

Navjot Kaur

Age: 23

Position: Forward

Caps: 133

Shirt: 1

Top scorer at the U-18 Asia Cup in Bangkok, Navjot Kaur's rise in Indian women's hockey has been steady. Today, in the World Cup side for London, Navjot is a player whose striking prowess inside the circle is what the team would be looking to enhance and give India goals from half chances. Confidence is sky high for the Haryana player as she scored in the 2017 Asia Cup final against China and also in the shoot-out where India won the title to qualify for the 2018 World Cup. Part of the team that won bronze at the 2013 Junior World Cup, she has played at the 17th Asian Games, 2016 Rio Olympics, and 4th Women's Asian Champions Trophy and was also part of India's successful campaign at the Women's Hockey World League Round 2 in Canada.



File image of Indian women's hockey team. AFP

Vandana Katariya

Age: 25

Position: Forward

Caps: 201

Shirt: 16

Third-highest scorer in the 2013 Junior World Cup with five goals, Vandana is now the player who can create and also score inside the opposition striking circle. There are times when she might seem slow but the Indian forward's skills give enough time for the others to get into scoring positions. At the age of 26, Vandana knows that the World Cup is a great opportunity to make a mark. The Indian forward named as the 'player of the tournament' at the Asian Champions Trophy 2018 believes beating England at the Commonwealth Games will give them the confidence in their first match against the hosts at the World Cup.

Navneet Kaur

Age: 22

Position: Forward

Caps: 40

Shirt: 25

Her hat-trick against Japan in the Asian Champions Trophy, 2018 set the momentum for India to go all the way to the final. Consistency has been her hall-mark and it would be required more now than ever before when India take on England, USA and Ireland in their Pool. Even at the Asia Cup where India won the trophy, she was one of the most impactful players with four goals. Navneet was also a part of the team that won bronze at the 2013 Junior World Cup.

Lalremsiami

Age: 18

Position: Forward

Caps: 25

Shirt: 20

At the World Cup in London, Lalremsiami would be the youngest member of Team India. Scoring goals regularly against top teams and also hugely successful across U-17 and U-18 Asian tournaments, she is one of the talents to watch out for in the Indian team. Lalremsiami was born and brought up in Kolasib in Mizoram where after being spotted at the Women's Hockey Training Centre, she played a vital role in India's success at last year's Asia Cup scoring against Japan and Singapore. A robust defender and one of the quickest inside the striking circle when it comes to picking up rebounds, Lalremsiami will be marked very closely by the opposition defence.

Udita

Age: 20

Position: Midfielder

Caps: 15

Shirt: 18

Midfielder Udita has slowly blossomed into a resolute midfielder who with her pace on the wings can cut into the circle and try to create shots to hustle the opposition defence. In 2016, Udita led a U-18 Indian team to the Asia Cup where India reached the final. Her selection for the World Cup is an indication that the selectors do believe that she can shore up the mid zones and is also a talent to be watched out for, especially in a year when the Asian Games is right after the World Cup.

Reena Khokhar

Age: 24

Position: Forward

Caps: 14

Shirt: 6

One thing that Reena won't be doing in London is balancing her MBA degree with playing time. The World Cup selection has come as a surprise but Reena Khokhar, a firm believer in studies to enhance oneself and have better career options after one is through with sport is going to completely focus on hockey. The Chandigarh girl who is a part of the Madhya Pradesh Hockey Academy owes it to her coaches who saw the talent and recommended her to coach Sjoerd Marijne who promptly picked her for London.

Firstpost


---

Jersey presentation marks start of special week for Irish women

Nine months on from World Cup qualification, Irish coach Graham Shaw says Friday evening's jersey presentation very much felt like "the start" of the competition proper.

The parents of each player were given the honour of handing over the green outfits they will wear next Saturday in London when they start their campaign against USA.

"An event like that does feel like 'the start' of the World Cup," Shaw told the Hook. "We had the parents present the jersey which is a lovely moment for anyone, to hand over the Irish shirt to their son or daughter. It was a really nice day."

On Saturday, his side finished their formal preparation with a 2-2 draw against Italy at Serpentine Avenue. an aggressive battle that will mirror the kind of challenge the US and India provide in the group stages.

"We are in a good place," he said. "We can tidy up aspects of the performances but this close to competition, this was the right team for us to play.

"Against the US, we will have to bring a real physicality to it so this was the right teams to play. Italy also have a more direct style compared to other European sides which lines up quite well with what [our second opponent] India do so they worked well."

The big news for Shaw was that Megan Frazer played her first games in almost two years and the coach said she came through unscathed.

Roisin Upton was rested for the weekend but will play a full role in a practice match on Wednesday against South Africa on the Lee Valley turf.

"We didn't want to risk her today but she has played a lot of games and knows the systems so we are confident she has enough under her belt."

It means Emily Beatty – who had two fine performances this week – will wait in the wings but could be brought in sooner or later if either endures further issues.

Frazer and Upton have never played in green together but probably offer the two best ball-playing options in defence and gives Shaw far more versatility to work with.

"It will take Megan a little bit of time for her to get back full confidence playing at this level but it was a good start. She looked very composed on the ball. With Roisin also coming back, the question is now where we play her.

"We do have so many different options in the midfield and backline who can pop in to different lines. We've gone for a versatile and flexible side so we're not regimented into how we line up and be too predictable."

Ireland travel on Tuesday morning, play South Africa Wednesday, train Thursday and then rest Friday ahead of their biggest game for 16 years.

The Hook


---

Get To Know The Green Army Goalkeepers



Ayeisha McFerran

Debut: January 11, 2014 vs Spain

Caps: 73

International goals: 0

Current club: University of Louisville

Previous club: Larne, Randalstown, Pegasus

School: Larne Grammar School

Position: Goalkeeper

Ayeisha McFerran became the youngest goalkeeper to play for Ireland when she lined out against Spain in January 2014 a day after her 18th birthday. Since then, she has developed a reputation for being an immense shot-stopper, particularly in shoot-outs. Indeed, she made her name in that realm at the 2015 World League when she was brought in specifically for a shoot-out against Canada, winning it and a gold medal in the process. She has taken on the number one role for the most part since Emma Gray's retirement in 2016. She started her hockey career with her hometown club of Larne, progressing to Randalstown and then Pegasus with whom she won the 2015 goalkeeper of the tournament at the IHL finals. Since then, she has been based at University of Louisville where she has been named an All-America first team selection on 3 occasions.



Grace O'Flanagan

Debut: 2012

Caps: 34

International goals: 0

Current club: Railway Union

Previous club: N/A

School: Loreto Foxrock

Position: Goalkeeper

Grace O'Flanagan played a vital role in Ireland's qualification for the World Cup when she famously saved a penalty stroke with her first touch against India at the World League Semi-Finals in Johannesburg, coming off the bench for the sin-binned Ayeisha McFerran. Ireland trailed 1-0 at the time but fought back to win 2-1. O'Flanagan is a qualified doctor, something which meant she had to step away after the panel a couple of times for study reasons in the early part of her international career. She was part of the 2013 European Championships panel before stepping back for three years, returning to the fold in 2016. She has usually been the reserve goalkeeper but took on the number one role at the 2017 Europeans in Amsterdam.

Irish Hockey Association media release


---

Pakistan to face Thailand in opener on August 20

18th Asiad will serve as qualifiers for Tokyo 2020 Olympic Games




LAHORE: The Asian Hockey Federation (AHF) on Monday announced the schedule of the field hockey tournament of the Asian Games 2018 to be held in Jakarta-Palembang in August-September. Pakistan, who are in Pool B, will face Thailand in their opening match on August 20. The 18th edition of the Asiad will see the highest ever number of participating teams in the history of hockey competitions at the Asian Games. 21 teams from 14 countries will go head to head in the men's and women's categories in 60 matches over a course of 14 days. The winners of the men and women's categories will book their place in the Tokyo 2020 Olympic Games. All matches will be played in the Gelora Bung Karno (GBK) Sports Complex in Jakarta, Indonesia.

11 men's teams have been split into two groups, based on FIH World Rankings. In Pool A, Asian champions India lead the group along with South Korea (14), Japan (16), Sri Lanka (38), and Hong Kong China (45). In Pool B, Malaysia (12), Pakistan (13), Bangladesh, Oman, Thailand, and Indonesia will go head to head to secure top positions. In the women's category, 10 teams will face-off to achieve Asian dominance and a place in the Tokyo 2020 Olympic Games. Pool A will see clashes between China, Japan, Malaysia, Hong Kong China, and Chinese Taipei, while India, Korea, Thailand, Kazakhstan, and Indonesia will compete in Pool B.

The hockey event will commence on August 19 with the women's fixtures followed by the men's fixtures on August 20. After 25 men's and 20 women's matches, the classification stage will begin on August 29. The women's final is scheduled to be played on August 31, while the men's final will be played on September 1. This edition of the Asian Games will be the first Asiad to have video referral system for all matches of the mega event. The video referral system has become a permanent feature in the sport and has been an essential tool for technical officials to
make crucial decisions, which has contributed towards
sports fairness.

Shahbaz believes Pakistan will shine at Asiad: Meanwhile, the Pakistan Hockey Federation (PHF) is optimistic that national squad will emerge victorious in the upcoming Asian Games.

PHF secretary general Shahbaz Ahmed said Monday that after showing satisfactory performance in recently concluded last edition of the Champions Trophy, the moral of national team was high. "During The Champions Trophy, we defeated Olympic champions Argentina 4-1 in Breda, whereas, we also played brilliantly against other strong teams," he said and added special focus had been put on team to get good results at the Asiad. "Our main target is to play the final and win it," the former captain said and added India would be the team to beat for Pakistan.

Pools

Pool A: India, South Korea, Japan, Sri Lanka, Hong Kong China
Pool B: Malaysia, Pakistan, Bangladesh, Oman, Thailand, Indonesia

SCHEDULE (PST)

Monday, 20 August 2018:

10:00 am: South Korea vs Hong Kong China
12:00 pm: Japan vs Sri Lanka
14:00 pm: Bangladesh vs Oman
16:00 pm: Pakistan vs Thailand
18:00 pm: Malaysia vs Indonesia

Wednesday, 22 August 2018:

10:00 am: Malaysia vs Thailand
12:00 pm: Pakistan vs Oman
14:00 pm: South Korea vs Sri Lanka
16:00 pm: India vs Hong Kong China
18:00 pm: Indonesia vs Bangladesh

Friday, 24 August 2018:

10:00 am: Oman vs Thailand
12:00 pm: Bangladesh vs Malaysia
14:00 pm: Japan vs India
16:00 pm: Indonesia vs Pakistan
18:00 pm: Sri Lanka vs Hong Kong China

Sunday, 26 August 2018:

10:00 am: Hong Kong China vs Japan
12:00 pm: Thailand vs Bangladesh
14:00 pm: South Korea vs India
16:00 pm: Pakistan vs Malaysia
18:00 pm: Oman vs Indonesia

Tuesday, 28 August 2018:

10:00 am: Bangladesh vs Pakistan
12:00 pm: India vs Sri Lanka
14:00 pm: Malaysia vs Oman
16:00 pm: Japan vs South Korea
18:00: Thailand vs Indonesia

Thursday, 30 August 2018

10:30 am: 9/11th 5th Pool A vs 6th Pool B
13:00 pm: 7/8th 4th Pool A vs 4th Pool B
15:30 pm: Semifinal 1 1st Pool A vs 2nd Pool B
18:00 pm: Semifinal 2 1st Pool B vs 2nd Pool A

Saturday, 1 September 2018

10:30 am: 9/10th Winner M26 vs 5th Pool B
13:00 pm: 5/6th 3rd Pool A vs 3rd Pool B
15:30 pm: 3/4th Loser SF1 vs SF2
18:00 pm: Final Winner SF1 vs Winner SF2.

The Daily Times


---

Indian men's hockey team to open Asian Games title defence against Hong Kong China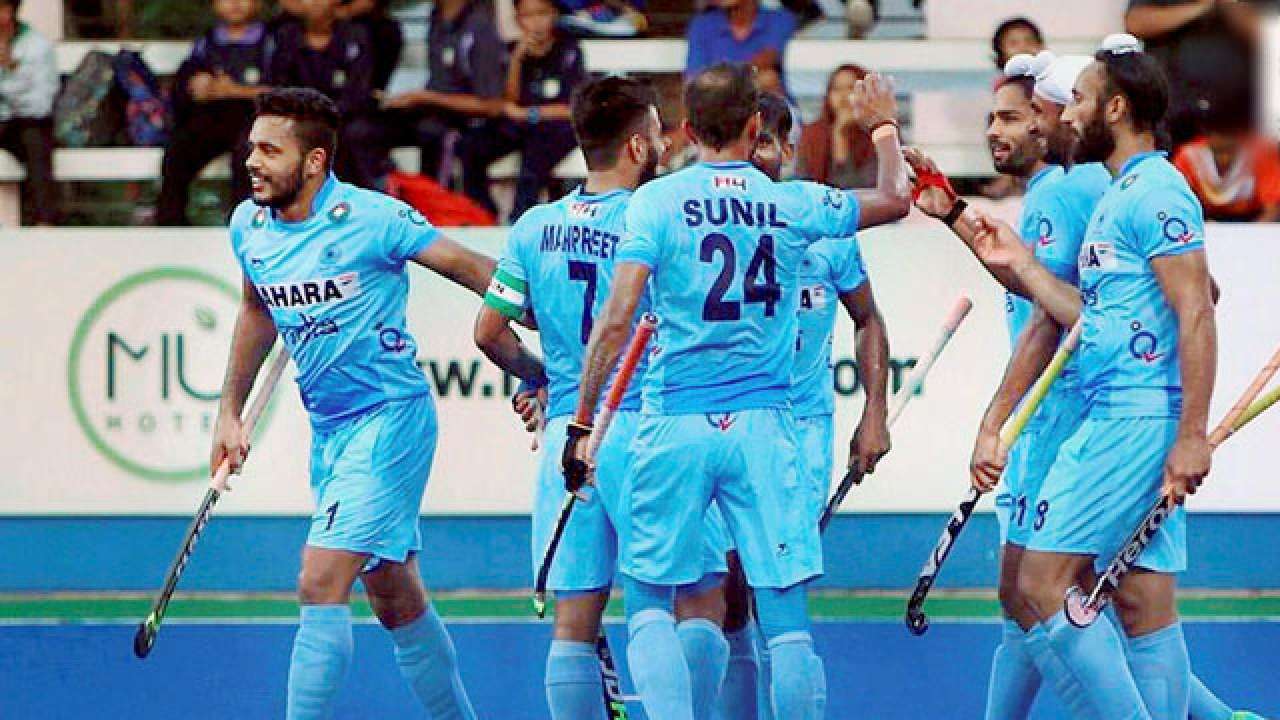 Indian men's hockey team - File Photo, PTI

India will open its title defence against minnows Hong Kong China on August 22 in the men's hockey competition of the Asian Games to be held in Indonesia.

India have been clubbed in Pool A in the men's competition alongside Korea, Japan, Sri Lanka and Hong Kong China, while Pool B consists of Malaysia, Pakistan, Bangladesh, Oman, Thailand and hosts Indonesia.

After Hong Kong China, the Indians will next play Japan on August 24 followed by matches against Korea (August 26) and Sri Lanka (August 28).

The Indian women's team, meanwhile, has been placed in Pool B alongside title holders Korea, Thailand, Kazakhstan and Indonesia. Pool A features China, Japan, Malaysia, Hong Kong China and Chinese Taipei. The Indian women's team will open its campaign against hosts Indonesia on August 19, followed by games against Kazakhstan (August 21), Korea (August 25) and Thailand (August 27).

The 18th edition of the Asian Games will see the highest ever number of participating teams in the history of hockey competitions at the continental event. 21 teams from 14 countries will go head to head in the men's and women's categories in 60 matches over a course of 14 days.

The winners of the men's and women's categories will book their places in the Tokyo 2020 Olympic Games. All matches will be played in the Gelora Bung Karno (GBK) Sports Complex in Jakarta.

After 25 men's and 20 women's matches, the classification stage will begin on the August 29. Women's final is scheduled to be played on August 31 while the men's final will be played on the September 1. This edition of the Asian Games will also witness the debut of Video Referral System in the continental event.

Daily News & Analysis


---

Malaysian men sure bets for Asian Games semis

By Jugjet Singh

KUALA LUMPUR: The Malaysian men's hockey team are confirmed to play in the semi-finals of the Asian Games on Aug 19-Sept 1.

For, they only have to 'fear' Pakistan in Group B while Bangladesh, Oman, Thailand and Indonesia should receive hammerings.

Group A has three heavy-weights in India, South Korea and Japan.

"Yes, the grouping is very kind to us as we need to beat Pakistan to top the group but having said that, we will not take the other teams lightly as Bangladesh and Oman play very hard and determined hockey.

"And if we top the group, I believe we will avoid India in the semi-finals as they are the favourites of the tournament (ranked no 6 in the world)," said Malaysian coach Stephen van Huzien.

China's absence has also made it easier for Malaysia: "China have qualified for the World Cup but are not in the Asian Games and it has also actually made our group much more 'easier' to play in," said van Huizen.

In the women's events, Malaysia are in Group A and need to beat Japan and they can even afford to lose to China but make the semi-finals as their other opponents are Hong Kong and Taiwan -- who should be easyly beaten.

The winners of the Men's and Women's categories will book their place in the Tokyo 2020 Olympic Games. All matches will be played at the Gelora Bung Karno (GBK) Sports Complex, Jakarta, Indonesia.

China are conspicuously missing from the men's tournament, as their government had placed them on ice after they performed badly in a recent tour of Canada, a source in the Asian Hockey Federation (AHF) confirmed.

Interestingly, China men have qualified for their first even World Cup in India pn Nov 28 to Dec 16.

China qualified for their first World Cup thanks to a super performance from Malaysia in the Asia Cup in Dhaka, Bangladesh.

China's spot was confirmed when Malaysia held South Korea to a 1-1 draw, a result which put the Malaysians into the final against India as well.

This edition of the Games will be the first Asian Games to have Video Referral system for all matches on Pitch I, and that's why the men's and women's matches are being held on alternate days.

MEN -- Group A: India, South Korea, Japan, Sri Lanka, Hong Kong; Group B: Malaysia, Pakistan, Bangladesh, Oman, Thailand, Indonesia.

WOMEN -- Group A: China, Japan, Malaysia, Hong Kong, Taiwan; Group B: South Korea, India, Thailand, Kazakhstan, Indonesia.

Jugjet's World of Field Hockey


---

Struggling Pak hockey needs govt support: Shahbaz Sr

Mohsin Ali




ISLAMABAD - Pakistan Hockey Federation (PHF) secretary Olympian Shahbaz Ahmad Senior has sent SOS call to Caretaker Prime Minister Nasir-ul-Mulk and President Mamnoon Hussian to help the federation, which is starving to meet day-to-day affairs due to acute shortage of funds.

Talking to The Nation, Shahbaz, Pakistan hockey team winning skipper in 1994 Hockey World Cup, said: "Ever since we took over some 2 years back, things are heading towards right direction. I can't claim that we have achieved the ultimate target of taking green shirts to victory stand and completely turned around the things, but I can easily claim that now things are better than before, as we have been working day and night to streamline the things.

"I am a sole witness of tireless efforts of PHF president Brig (R) Khalid Sajjad Khokhar, who always keeps on thinking and talking about hockey, and such is the passion and involvement of Brig Khokhar that I was highly motivated and since that day, I started giving more attention and focus and made my aim to do whatever I can to take Pakistan hockey to new heights," he added.

Shahbaz said that it is quite painful that handful of people, who despite fully aware of the fact that it is not the federation but system's fault that Pakistan hockey was going down, have no other work but to criticize the federation without any solid reason. "There is no ground reality at all behind their criticism but they just want meager benefits. I had time and again offered them to bring plans and suggestions and I will implement them. I also offered that if Pakistan hockey can be back on track with my resignation, I am ready to do so. It is a thankless job.

"I have given my entire life and my career is in front of all. During my playing days, I gave everything to hold aloft Pakistan flag across the globe. But despite doing all this, I had to face criticism from different corners. Now same mindset is again active and they have no ground plan but they just want my head. I am still ready to step down, but first they must come up with that wonder plan, which will change the fortunes of Pakistan hockey.

"The appointment of foreign coach and other supporting staff is a clear indication that we want to help hockey in the best possible manner, while former greats were also taken onboard along with Hassan Sardar, which means we have also full trust and faith in our own coaches but it will take some time. Already positives are being witnessed and more favourable results will come through thick and thin," he added.

The PHF secretary said that they have requested the government to release funds so that they may clear players' dailies and also focus on Asian Games and World Cup. "The Olympics qualifiers are also round the corner, so without investing, we can't train and participate in international events. It is my humble request to PM and President to order release of funds so that the training camp for Asian Games in Karachi and dues of the players may be cleared soon."

"We don't have funds and we are the only office-bearers, who have conducted not only audit through reputed firms, but also requested AGPR to conduct special audit. It shows that we have done nothing wrong and utilised every single penny on the players, coaches and hockey. Without funds, we can't pay players, supporting staff. Presently, the camp is underway in Karachi and we are unable to meet expenses, as the federation's accounts are zero. "The caretaker government must pay heed to issue of grave importance, as future of Pakistan hockey is in their hands. Asian Games victory will guarantee Pakistan a place in the Olympics and it will lift the morale of the players. Now it's upto government as if they release funds soon, Pakistan hockey will be ready to excel once again," Shahbaz concluded.

The Nation


---

PHF concerned over SHA parallel body

LAHORE: The Pakistan Hockey Federation (PHF) has expressed its concern over the patronage of the Sindh Olympic Association as a parallel body of the Sindh Hockey Association, which has no affiliation with the PHF.

The PHF has appealed to the Pakistan Sports Board and the Pakistan Olympic Association (POA) to end parallel body in the Sindh Hockey Association.

"The elections of Pakistan Hockey Federation (PHF) for the next term of four years i.e. 2018-22 were held at Crown Plaza Hotel, Islamabad on 15th May in the PHF Congress Meeting," PHF said in a statement. "PHF preserve the independence in all matters directly or indirectly concerning hockey in Pakistan without the intervention of any outside authority.

"It is learnt that some elements are floating parallel bodies in Sindh, which is illegal and unlawful. This is reportedly being done under the patronage of Sindh Olympic Association. Such uncalled for actions only serve the vested interests of few. Creation of parallel organisation in recent past in POA itself and Pakistan Football Federation have served no purpose. These have rather been counterproductive," the PHF further stated.

"According to PHF Constitution Article 25, 25.1 & 25.2 floating of parallel associations at any level shall be prohibited. Only one association duly constituted under its constitution in a Province/District recognized by PHF, shall be the bona-fide unit and any person (s), inciting/ instrumental or participating in formation of parallel body shall be declared person-non-grata and debarred for life from any activities of PHF.

"The Pakistan Olympic Association and the Pakistan Sports Board are requested not to allow any parallel body to function in the country at any level (Provincial/District Hockey Associations) and strict disciplinary action should be taken against the violators according to PHF Constitution," it concluded.

Dawn


---

Two Southlanders to play masters hockey world cup

JOHN HAWKINS



Chris Young leaves next week for the Exin Masters Hockey World Cup in Terrassa, Spain. John Hawkins/Stuff

Chris Young will be without his favourite stick when he plays for New Zealand at the Exin Masters Hockey World Cup in Spain.

He broke the stick earlier this month and was hopeful the repair work would be a success.



Chris Young will be one of two Southlanders playing for New Zealand at the masters world hockey cup in Spain. Lynne Dickie, of Lumsden, is also in one of the Kiwi teams. John Hawkins/Stuff

The Invercargill electrician and Lynne Dickie, of Lumsden, are the only Southlanders in Kiwi teams for the World Cup in Terrassa, Spain, being held between July 27 and August 5. Young leaves on Monday, while Dickie is currently overseas.

To play for New Zealand was a huge honour, Young said.

He has played for Southland and Otago senior teams and the New Zealand under-18 side during his 35 years in the sport.

"I've pretty much got as much hunger [for hockey] as I had when I was younger.

"I'm definitely fitter now, than I've ever been."

Gaining selection into a New Zealand masters' team fulfilled a goal Young set 10 years ago. It was always in his thoughts but he didn't commit to pursuing a place in the team until this year.

"It was only in last six months that I really wanted to have a good crack at it."

His strong performances for Southland at national tournaments influenced selectors to name him in the team. Young has made three trips to Auckland for training with others in the masters team, including former Black Stick players Brett Leaver and Daryl Cassidy. 

Hockey New Zealand has sent Young information packs on staying healthy and safe in Spain.

"We'll be playing in 30-degree temperatures and will have to keep the fluids up.

"There's a bit of crime [pickpockets] over there."

With all team members having to pay their own expenses on the trip, Young is grateful for funding from his employer, Aotea Electric Invercargill, and the Invercargill Licensing Trust.

Meanwhile, other members of Young's family play hockey. Three of his four children play and he and wife Mel coach the Myross Bush School's year 5-6 team.

Young's father Alister, of Dunedin, was a coach and played for Otago and South Canterbury, while his brothers, Matthew, of China, and Michael, of Palmerston North, and sister Rebecca, of Dunedin, also played. 

Stuff


---

2018 U15 Field Hockey Nationals – July 16

Thrilling medal round play wraps up the U15 National Championship




The final day of the U15 National Championship didn't come without excitement. The temperature was nearing 40 degrees with humidity. Bronze medal games kicked off the day. Lightning delayed the boys' final. And when the final whistle of the day blew, two teams stood atop the podium as national champions.

In the girls' division, the provincial rival semi-finals meant it was going to be BC vs Ontario in both the finals and bronze medal game. The bronze medal match featured Ontario Central and the BC Lions. A tight affair from start to finish, BC carried the majority of the play and capitalized on two second-half goals to win the game 3-1 securing the bronze for BC and guaranteeing two medals for the province. An emotional coach, Chris Bell, said after the game that he was immensely proud of the team's effort this season and that the group deserved a medal for how well they played throughout the event.

The sprinklers sprung up and prepped the field for the boys' bronze medal. The visitors from USA took on home-town Ontario in an exciting matchup. After a shaky pool-play start from the US, they figured their game out and despite dropping the semi to Quebec, had put up more polished performances. Monday was no exception as the visiting Americans controlled the ball with exceptional patience and poise. Team Captain Brett Eisner made good on a 24th-minute goal and the stingy US defense held out from there, winning 1-0 to secure third spot at the event. Since the US are an out-of-country squad, Ontario still locked up the Canadian bronze medals for their efforts this week.

The stage was set for the girls' final. Both teams were confident that if they played their game, they would be best set up for success. For Michelle Turley, Ontario West's coach, it was all about including the whole team in their effort. And for returning gold medallist coach, Jenn Beagan, it was about the BC Rams executing their game plan.

Brooke McCusker opened the scoring for the Rams in the first half with her tournament-leading 6th field goal of the tournament. Insurance goals from Polly Campbell and Dhillon Ahria were all BC needed to win their second consecutive national gold medal. Ontario put pressure on BC but still couldn't find the back of the net. It's the second consecutive year that Ontario West has had to settle for silver and will have to wait for next season.




As the Rams celebrated their title, the U15 boys made their way to the field for warmup. The BC Rams entered this afternoon's match as the only undefeated team left on the boys' side. They also return as last year's gold medallists. Standing in their way of a repeat is a Quebec side that put together a sparkling performance against a tough American team in the semis. Before either teams could even settle into the match, mother nature had other plans. As if any additional drama was needed, a 75-minute lightning delay held up the gold medal match.

The action took place at a frantic pace as both teams traded chances in the first quarter. In the final play of the first half, Quebec banged in a loose ball off a penalty corner effort. Quebec came out flying in the second half and notched another goal right after the break. From then on out, BC controlled the play, controlled the attack, but couldn't break the staunch Quebec defense. Finally, in an impressive display of individua skill, BC's Manvir Malhi found his way into the D and smashed a backhand into the top of the net. Despite a hectic final 15 minutes of BC pressure, Quebec held on for their first national title in the modern era of Canadian Nationals.

With the U18 teams coming into town, the finals venue was electric. Fans, parents, coaches and arriving athletes were treated to back-to-back spectacles of youth hockey. The U15s now give way to the U18s. Competition begins Tuesday morning. Follow Field Hockey Canada on social media for day-to-day updates and check back for tomorrow's daily recap.

Girls Tournament 11 – Chloe Smith (BC), Olivia Huebner (BC), Tessa Everett (BC), Brooke Taylor (BC), Danielle D'Silva (ON), Isabella Beck (ON), Grace Leahy (ON), Lindsay Doiron (PEI), Kayla Robertson (QC), Mikayla Stelling (BC), Elly Peters (ON).

Boys Tournament 11 – Baldeep Sivia (AB), Finlay O'Callaghan (BC), Armaan Bagri (BC), Arjun Cheema (BC), Harvir Malhi (BC), Sahibjit Sahota, (ON) Alexander Bird (QC), Nicolaz Syrros (QC), Jacob Ethier (QC), Parwazjit Hundal (QC), Brett Eisner (USA).

UMPIRES OF THE DAY



Amar Dhesi

Surrey, BC

How did you first get into umpiring?

I started umpiring about 20 years ago now. I played a lot of hockey, played at the national level and it's something you do to give back to the hockey community. It's my way of staying involved in the game and keeping up with the rules.

Why Nationals?

It's something you use to look at youth and grassroots hockey, and which players to look out for who might be representing Canada one day.

What do you think is the most valuable about youth sports?

I think any sport is good for youth. I've been involved with hockey for so long so it's my first passion. As long as you can keep them in sport, it's a way of teaching life disciplines.

Dream destination?

Maldives.



Harpreet Jhamat

Abbotsford, BC

How did you first get into umpiring?

I've been doing this for the last 10 years because I like to play hockey and I learn a lot of new things. While umpiring, you pick up new rules which is great.

Why Nationals?

For me, I hope to be umpiring at a national level and for Canada one day. I'm gaining new experiences here.

What do you think is the most valuable about youth sports?

I want to keep kids away from rather negative experiences and influences, so it's good to get people involved at a young age.

Favourite dish?

Mongolian.

Field Hockey Canada media release