All the news for Monday 16 July 2018

Experience will give us an edge, says Indian skipper Rani Rampal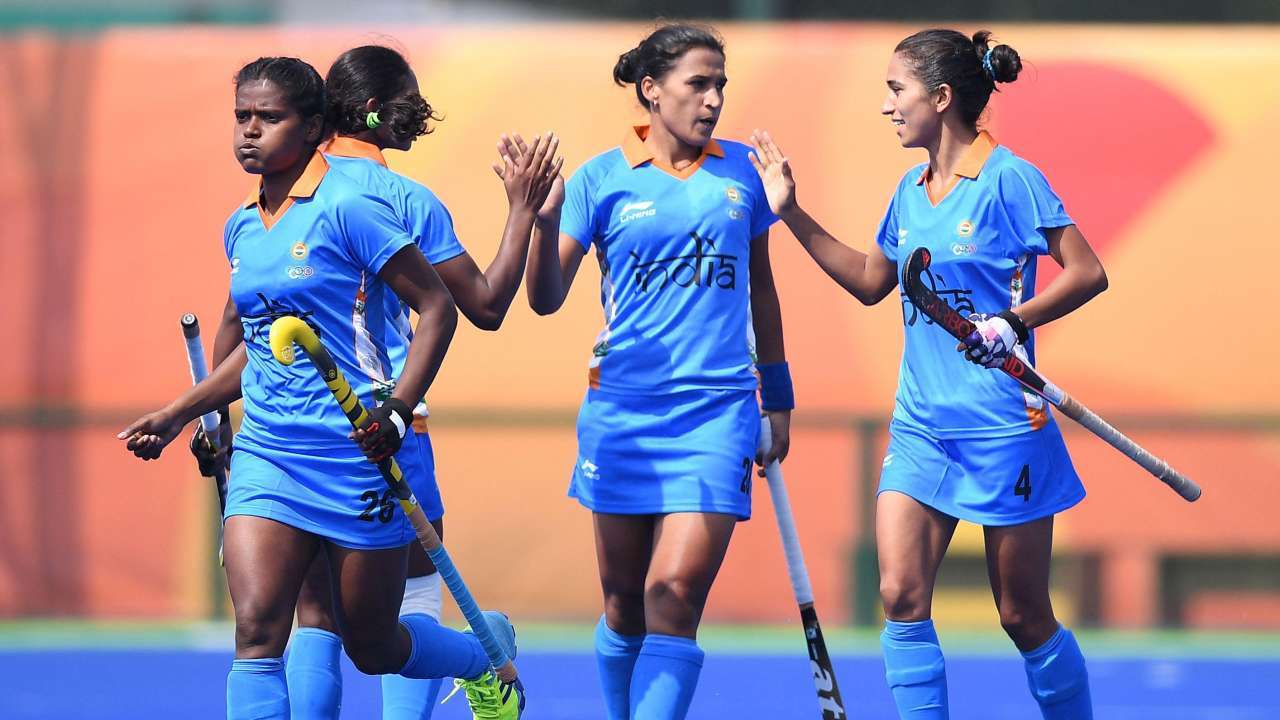 Indian Women Hockey Team , AFP

Indian women's hockey captain Rani Rampal feels abundance of experience will give her team an advantage in the Vitality World Cup 2018 to be held between July 21 and August 5 in London.

It is a plus point for us that this team barring only three or four players have been playing together for over two years now and have had good international exposure with many of them having more than 100 or 150 plus International caps for India," Rani said before departing for London here today.

"Every player in the team has grown from strength to strength and I am confident we will do well at the Vitality Hockey Women's World Cup London 2018. This is the first time in eight years that the Indian women's hockey team will participate at the prestigious World Cup and no other player in the current squad apart from skipper Rani and Deepika have ever played at a World Cup before.

The team is extremely excited and we have waited for this moment ever since we won the Asia Cup last year. For almost everyone on the team, this will be a first-time experience to be playing at the World Cup, said skipper.

India are grouped in Pool B along side Olympic champions England, world no.7 USA and Ireland. In their first match on July 21, India will take on hosts England.

Daily News & Analysis


---

Shahbaz believes Pakistan will shine at Asiad

Kashif Abbasi

ISLAMABAD: Pakistan Hockey Federation (PHF) is optimistic that national squad will emerge victorious in upcoming Asian Games.

Secretary PHF Shahbaz Ahmed told Dawn that after showing satisfactory performance in recently concluded last edition of the Champions Trophy, the moral of national team is high.

"During champion trophy, we defeated Olympic champions [Argentina] 4-1 in Breda, whereas, we also played brilliantly against other strong teams," he said and added special focus has been put on team to get good results the Asiad slated to be held in Indonesia from Aug 8 to Sept 2.

"Our main target is to play the final and win it," the former player said and added India will be team to beat for Pakistan.

"In the Champions Trophy, the team played very well against India, as during the first 54 minutes Indian team was leading by just one goal up until the 54th minute of the one hour game, and Green Shirts conceded three goals during the last six minutes, mainly because of the change of goal keeper," he said.

"With the passage of time, the national team has been witnessing improvement in their performance," Shahbaz said.

In a surprise to many, the PHF's selected 27 probables, who are undergoing a training session in Karachi for the Asian Games, all belong to Punjab.

Former Olympian Farhat Hassan Khan, who is a member of selection committee told Dawn, that he had no role in selection of team, rather he was surprised to know that all 27 probables belong to Punjab.

"Though, I am member of selection committee but I don't know, how, these probables were selected," he said and added that there should be players Sindh and KP at least in training camp.

"Sindh's player Khizar Akhtar, KP's Junaid Kamal and Taimoor should have been given the chance to attend the training camp," he said.

Shahbaz, when asked to comment on process of selection of probables, said: "The chief selector is the concerned person to be asked this question, I would just say that the selection committee and coach Roelant Oltmans are fully independent to take decisions to prepare a balance team for the Asian Games."

Dawn


---

Tough opening weekend for junior age group teams

The Irish underage sides endured a tough weekend on the results front with eight losses from eight outings against strong opposition at tournaments in Antwerp, Santander and Cork.

The Under-18 girls went the closest to a positive outcome as they put it up to Germany on day one of the European Championships in Spain.

Siofra O'Brien latched onto a penalty corner rebound at the injector spot to get them off to a flying start and a series of awesome saves from Ellie McLoughlin kept them in the hunt throughout.

Stine Kurz, though, nailed two penalty corners to swap the lead around before half-time. Ireland kept pushing through the second half but could not find the golden chance and eventually fell 2-1.

The boys were undone by a talented Dutch team 6-0 but did improve in the second half after conceding five in the opening half.

In the Under-23 competition in Antwerp, the women had a good battle with India on Saturday with Edel Nyland levelling the score at the quarter mark. The Indians, though, took their chances to pull away in a 4-1 result.

On Sunday, a star-studded Dutch side won 5-0 with senior internationals Yibbi Janssen and Ginella Zerbo on the mark along with Pien Dicke, Freeke Moes (both Under-21 Euro champions last August) and Ilse Kappelle also scoring.

The men fell 5-0 to India. After a scoreless first quarter, India netted three in the second quarter before scoring in the first and last minutes of the second half.

A day later, they put in an excellent performance with David Rae scoring but found the Dutch too hot to handle in the end. Rae had made it 1-1 before Kampong's Jip Janssen and Bloemendaal's Yannick van der Drift netted.

In Cork, the Under-16 girls were another side to meet an impressive Dutch side. Holly Mickelem made some great stops in the opening phases while India Cotter was an excellent attacking threat and Isabelle Maleady went close.

Jill Niessen, however, broke the deadlock in the 10th minute and Mikki Roberts made it 2-0 at half-time. Kim Hendrikx added a third in the second half but Ireland hung tough and battled all the way.

The boys also put in a spirited performance against the Dutch. Guus Jansen neatly tucked away a rebound off a big Ross Clarke save but Ireland were soon level when a corner won by Troy Chambers led to a foul and a stroke. Craig Mackay converted from the spot.

Ivo Visser restored the Dutch lead and Pim Haring made it 3-1 with barely 10 minutes gone but Ireland did get one back just before half-time to leave it at 3-2 at the interval.

Hidde Parleviet scored twice in the second half to end it 5-2 in spite of the Dutch going down to eight players at one stage with three yellow cards.

Monday sees the Under-23s on rest days as are the boys Under-16s. The Under-18 teams both have crucial games against lower-ranked sides on paper.

The girls are up against a Belarus side who lost 4-0 to England in their opening game while the boys are in action against France who lost 6-2 to Belgium. The Under-16 girls are up against England at the Mardyke.

Women's Under-23 Six Nations (Antwerp)
Saturday, July 14: Ireland 1 (E Nyland) India 4
Sunday, July 15: Ireland 0 Netherlands 5
Tuesday, July 17: Ireland v Canada, 12pm
Wednesday, July 18: Ireland v Great Britain, 12pm
Friday, July 20: Ireland v Belgium, 1.30pm
Saturday, July 21: Crossovers

Men's Under-23 Five Nations (Antwerp):
Saturday, July 14: Ireland 0 India 5
Sunday, July 15: Ireland 1 (D Rae) Netherlands 3
Wednesday, July 18: Ireland v Great Britain, 1.30pm
Friday, July 20: Ireland v Belgium, 6pm
Saturday, July 21: Crossovers

Girls European Under-18 Championship (Santander):
Sunday, July 15: Ireland 1 (S O'Brien) Germany 2 (S Kurz 2)
Monday, July 16: Ireland v Belarus, 1.15pm
Wednesday, July 18: Ireland v England, 2.45pm
July 20/21: classification matches

Boys European Under-18 Championship (Santander):
July 15: Ireland 0 Netherlands 6
July 16: Ireland v France, 5.45pm
July 18: Ireland v Belgium, 12pm
July 20/21: classification matches

Boys Under-16s Six Nations (The Mardyke, Cork)
Sunday, July 15: Ireland 0 Netherlands 3
Tuesday, July 17: Ireland v England, 4pm
Wednesday, July 18: Ireland v Spain, 3pm
Friday, July 20: Ireland v Belgium, 2pm
Saturday, July 21: Ireland v Germany, 5pm

Girls Under-16 Six Nations (The Mardyke, Cork)
Sunday, July 15: Ireland 2 Netherlands 5
Monday, July 16: Ireland v England, 4pm
Wednesday, July 18: Ireland v Spain, 1pm
Thursday, July 19: Ireland v Belgium, 4pm
Saturday, July 21: Ireland v Germany, 3pm

The Hook


---

Scotland U18 Girls' get off to a winning start in Rakovnik

Scotland U18 Girls' got their EuroHockey Championship II campaign off to a sensational start with a 4-0 win over Wales in Rakovnik, Czech Republic.

It was a lightning start to the contest by Scotland and it saw them take an early lead through Georgia Jones – the Scots profited from a turnover high up the pitch and Jones took the ball past the goalkeeper to score.

Scotland bossed the early stages and enjoyed lots of possession. They had a good chance to double their advantage when they were awarded a penalty corner – Millie Skidmore struck it low and wide of the right post.

Some good play by Lexi Sabatelli on the left created a near post chance but the resulting deflection went just wide of the target.

It was a composed opening quarter with Scotland taking control of possession and looking dangerous throughout.

Wales came out in attack in the second quarter and had Scotland pegged back in their own D. This pressure was broken when a pass from defence to Lorna Crawford saw her produce a great turn and break which saw Jones unlucky not to score a second.

Then in the same attack Scotland pressurised the Wales defence as they tried to escape with the ball. The ball found its way to Sabatelli who coolly slotted the ball low into the goal to make it 2-0 to Scotland.

Into the second half in Rakovnik and Rachel Bain nearly connected with a pass into the D but it went wide as Scotland continued to attack.

Then Crawford again produced a great turn and pass to send Scotland forward, the ball eventually found Ruth Blaikie who won a penalty corner. The penalty corner saw a deflection by Jennifer Walls to send the ball into the roof of the net to make it 3-0 for Scotland U18 Girls'.

The fourth goal came soon after; the Wales goalkeeper slid out to block a shot and the ball fell nicely for Walls who slammed it low against the backboard to make it 4-0 at the end of Q3 – her second goal of the match.

In the final quarter the Welsh battled hard to get onto the scoresheet as Scotland soaked up their pressure.

On the break, Bain again came close when she dived to connect with a turn and pass to the far post but the ball eluded her.

In the end it was an excellent victory for the Scots in Rakovnik who go into the match against Russia tomorrow with the confidence of a solid win under their belts.

Scotland U18 Girls' Head Coach Keith Smith said, "I'm delighted with the work rate and mind-set of the players – it was a nice and controlled performance. We asked them to set a high tempo and drive the pace of the game from the start and the players did exactly what we asked of them. We were pretty comfortable and with a little bit more composure we could have had more goals.

"It's a really good first game and a good marker for the tournament. If we perform like we did today, and can add a little bit more quality, then we can go into any game with confidence and fear no one. We'll improve as the tournament progresses and we've set a really good starting point for that improvement."

Scottish Hockey Union media release


---

Watson on target in successful opening day for GB EDP

Scotland internationalist Charlotte Watson scored on a successful start to the Six Nations campaigns for the men's and women's EDP teams – both saw off Belgium in highly competitive matches.

The women overcame the tournament hosts 3-2 thanks to two strikes from senior international Erica Sanders, while Watson scored the pivotal third goal in the second half.

Sanders scored the only goal of the first half with an overhead smash into the top left corner while her second came from a corner.

Watson's goal was certainly a fine individual effort as, after being forced wide by the 'keeper, she dummied a pass – fooling her opponents – before slapping the ball into the far corner to secure the points.

After the game head coach Hannah MacLeod said: "It's always good to start a tournament with a win, particularly against a well organised home team.

"I was particularly pleased with the team's response to the half-time instructions and we delivered moments of real quality."

It was a similar story for the men too as they battled their way to a 2-1 victory over Belgium to start their tournament in the perfect fashion.

Having faced the same opponents at Bisham just a few days before, GB used that experience alongside some improved attacking play and plenty of hard work in the blistering heat to grind out the win thanks to a penalty corner strike from Eddie Way and a field goal from Surbiton's Zach Wallace.

Both teams now face India later today in the bid to continue their impressive starts to the tournament.

Scottish Hockey Union media release


---

2018 U15 Field Hockey Nationals – July 15

Bracket Play Recap and Gold Medal Previews




U15 Boys Division

The morning kicked off early with two remaining quarterfinal matchups: BC Lions vs BC Rams on one side, and Ontario vs Quebec 2 on the other. Quebec 1 had already qualified for the semi-finals and was set to face USA.

After two exhilarating matches and a frenzy of goals, the BC Rams defeated their BC counterpart 5-0 after leading with three goals up at halftime. Rams Head Coach Adrien D'Andrade, who also plays on the Men's National Team, was happy to advance and acknowledged the good effort put up by the Lions.

"We were hoping not to have to play our BC team in this tournament and hopefully meet them in the semifinals," he said. "But we've played some practice matches against them leading up to this, and they've been getting a lot better in each tournament. They've gotten a lot stronger and gave us a good game."




When asked about the Ontario opposition, who D'Andrade's side would be facing after a 6-1 win over Quebec 2, he stated that the boys were focused on playing their game and staying hydrated in the heat. Ontario Head Coach Reg Pereira added a similar thought, noting that they wouldn't crumble under the pressure.

"We are a decent side and we feel pretty confident that we will be able to compete in the match," he said. "The idea is to get a good hold on the game in the first 15 minutes and let it roll itself out in our favour."

Quebec 1 and BC Rams advance as semi-finals unfold

Semi-final matches began shortly after noon as an undefeated Quebec side set to face the Americans. Quebec 1 held onto their two-goal lead at halftime to win the game 4-0, which Head Coach Chris Pawluk attributed to the team's strong focus and plan going into the match.

"The boys are feeling good," Pawluk said. "Everybody wants to play, but we're all supporting each other and everybody's putting in work where they can. Playing USA was great since they're a different country and play a different game."

An hour later, BC Rams and Ontario took to the pitch to fight for the last spot in the gold medal match. Both teams looked determined coming off five hours of rest. By the end of the first half, BC Rams had scored two goals in the 21st and 30th minute after solid offensive plays by the team. The Rams opened the floodgates and popped five more goals in the second half booking themselves a spot in the finals against Quebec.

Ali Currimbhoy, the BC Rams assistant coach, spoke to the rivalry between the two provinces, adding that it was great to see the boys play at the level they did despite the heat. He looks forward to facing Quebec, a side whose players he once coached.

"Quebec's really put a good program together and we're excited to play them. It should be a good gold medal game and a very nice finish to the tournament for everyone."

After three full days of action from the U15 Boys, the tournament comes to a close tomorrow. The bronze medal match will be played between Ontario and USA at 11:35am EDT, followed shortly by the gold medal match between Quebec 1 and BC Rams at 3:15pm. Consolation matches for 5th to 8th places begin at 8:00am.
U15 Girls Division




East vs West. BC vs Ontario. A classic.

For the second consecutive year, the BC Rams will take on Ontario West for the national title in the U15 Girls division. Last year, coach Jenn Beagan's BC Rams took home the gold. The Rams are looking for a repeat while Ontario West is looking for sweet revenge.

Michelle Turley, coach of Ontario West said her team's biggest attribute is their ability to play a complete team game. Something that they've been working on for the entire season.

"I'm really happy that everyone is contributing to our wins. This team is not a 3 or 4 person show. It's 16 players all committing to the game plan," Turley said. "In our semi-final, we connected on every pass. We strung five to six goals together to score our goals. Everything was clicking."

They'll need everything to click tomorrow as they come up against the other undefeated team in the tournament, the BC Rams. Tessa Everett played for the BC Lions last season and this year is representing the province on the Rams. She said things have been coming together for the team and that they have a lot of confidence heading into the national title bout.

"Our goal coming into the tournament was to be the hardest working team at the event," she said. "We are doing that. We are playing our game, we are communicating really well, and we are feeling really strong right now."

Rams coach, Beagan, said she's really proud of the team for making huge progress throughout the event. As a coach that is no stranger to a national final match, she has confidence in her young and hard-working squad.

"We're a young team and If we are able to execute our game plan, I think it will work out," she said. "I expect Ontario to come out really strong. They are a team with good structure and good fundamentals. I'm expecting a really tight back-and-forth battle."

Avery Davis, a member of Ontario West, remembers her first nationals in Calgary as a thirteen-year-old. A three-year nationals veteran, Davis is looking forward to tomorrow's gold medal match.

"When is was 13 at my first nationals, I was really nervous, and the older girls helped me out," she said. We have a fast team, we have come a long way and we're stoked for tomorrow's game. I'm sure we'll be a little nervous before the game starts but once we get on the field, it will all go away."

Surely, the nervous energy will be felt on both sides of the ball before the opening whistle is blown at 1:25pm EDT on July 16. Ontario and BC will once again battle for the U15 girls' gold medal. Will the Rams repeat or will Ontario West surge to a first-place finish that has eluded them in recent years? Keep up to date with the action on Field Hockey Canada's social media channels as the U15 action wraps up tomorrow.

The bronze medal game will also be a BC vs Ontario clash as the Lions take on Ontario Central. Both teams dropped provincial rival matches in the semis and will be looking to bring home the third-place hardware here in Toronto at 9:45am PDT.

TECHNICAL DIRECTORS OF THE DAY



SCOTT DAVIS
Waterloo, Ontario

How did you first get into technical directing?

I'm a field hockey parent of two daughters that are participating in the Nationals for Ontario. I've been involved in different tournaments as a technical official and I think Laurie started getting me into more things, like OUAs as well as some indoor tournaments. I just want to get involved and provide some of my time back to the sport.

Why Nationals?

For me, I don't think things like this happen without the volunteers, so if I have time, why not give back? Nationals is a fantastic opportunity to get more experience at this type of level.

What do you think is the most valuable about youth sports?

I think sports are filled with a lot of life lessons that you get to experience at a young age.

Favourite artist?

Drake.



LAURIE HOGAN
North Island, Ontario

How did you first get into technical directing?

I started as a team manager with the Carleton Ravens quite some time ago and rolled into the role of a judge and technical official. My first experience was actually as an official.

Why Nationals?

I am here and helping so much because I want the sport that brought me so much in life to continue, and I'm happy to help in whatever way I can.

What do you think is the most valuable about youth sports?

I think a huge part is that you learn how to get along with people you probably would've never met. In sports, you become teams and it's an asset now and later on in life.

Favourite thing about field hockey?

The people you meet.

Field Hockey Canada media release