All the news for Sunday 15 July 2018

real FOUR NATIONS CUP Women - Final day
Grünwald (GER)

NZL v ARG (RR)     2 - 3
GER v NED (RR)     0 - 4

Pool standings
| Rank | Team | Played | Wins | Draws | Losses | Goals For | Goals Against | Goal Difference | Points |
| --- | --- | --- | --- | --- | --- | --- | --- | --- | --- |
| 1 | Netherlands | 3 | 3 | 0 | 0 | 9 | 2 | 7 | 9 |
| 2 | Argentina | 3 | 2 | 0 | 1 | 6 | 5 | 1 | 6 |
| 3 | New Zealand | 3 | 1 | 0 | 2 | 6 | 8 | -2 | 3 |
| 4 | Germany | 3 | 0 | 0 | 3 | 3 | 9 | -6 | 0 |
---

Goals galore as the Vantage Black Sticks Men and Women both suffer defeat



Photo: @worldsportpics

Both Women's and Men's Vantage Black Sticks teams were in action tonight, the women taking on world #3 Argentina, as they prepare for the Vitality Women's World Cup starting in 7 days time, while the men faced Germany in a one-off test in Japan as they look forward to a tour of India next week in preparation for their World Cup in November.

WOMEN

Argentina have often been a challenging team for the Black Sticks Women in recent years, with tours by both teams to each others countries in 2017 and 2018 meaning there is a fair amount of familiarity when the sides play head-to-head.

It was in Munich where the South American side went up 1-0 after a Martina Cavallero penalty corner in only the 3rd minute. The previous two matches of this pre-World Cup tour had seen the New Zealand Women start well and score early.

Always a contrast in styles when these two teams play, the match was quick and entertaining for fans as the match remained at 1-0 until half time.

It took the Black Sticks 9 minutes into the second half to break the Argentinians down with a Madi Doar deflected goal from an Olivia Merry slap shot penalty corner to get New Zealand on the board.

Late in the 3rd quarter Anita McLaren was green carded by the referee, only to come back on a minute into the fourth and score her 104th goal in the black singlet, taking the Black Sticks into the lead.

That lead was short lived with Argentina striking back a mere 2 minutes later with a Delfina Merino field goal to tie the match up at 2 a-piece.

It was a close finish in Munich when Argentina pulled off their goalkeeper with six minutes to play. The Black Sticks probably should have scored when the kicking back was struck on the leg in the circle, conceding a somewhat controversial penalty corner as the ball hit the back side of her stick.

The New Zealand team failed to capitalise and were stung by a late goal from Argentina's Noel Barrionuevo through a penalty stroke, which sealed them with a 3-2 victory.

"A mixed team performance against the number 3 in the world. We have to better handle their fast paced game which troubled our defence at times today", said Sean Dancer, Assistant Coach.

"While Argentina dominated good portions of the game with their pace and skill, we did have periods of dominance ourselves, especially the third quarter, so it was a close match.

"It was the hottest day we've played in so far, so that was quite challenging for both teams as well. It's been an excellent tournament. We couldn't have asked for better to prepare us for the World Cup".

The Vantage Black Sticks Women will have a day off tomorrow to recover, then head to London on Monday (UK time) to play their opening match of the Vitality Women's World Cup 2018 against Belgium on July 22. New Zealand games will be live on SKY TV. Final TV schedule and times to be confirmed.

Matches at the real Four Nations Cup were live streamed and replays can be found at http://sportdeutschland.tv/

VANTAGE BLACK STICKS: 2 (Maddison Doar 39', Anita McLaren 46'
ARGENTINA: 3 (Martina Cavallero 3', Delfina Merino 48', Noel Barrionuevo 58')

Half Time: ARG 1-0

MEN

There's no doubt this tour has been a challenging one for this Vantage Black Sticks Men's team who were looking to blood some new players and gain insights as preparation for the Tokyo Olympics and the Odisha Men's World Cup in India on the near horizon in November.

New Zealand faced Germany for the first time since the 2016 Rio Olympics looking to end the Japan leg of the tour well, but knowing the world #5 ranked Germans would be a difficult undertaking. And so it was to be.

The efficient Germans started strongly with 2 goals in the first quarter, to Marco Miltkau in the 9th minute and Tom Grambusch in the 15th minute, to put the Kiwis on the back foot despite some good play from the Black Sticks, who were unable to turn pressure into goals.

New Zealand got one back straight after the break with a Stephen Jenness field goal in the 16th minute, however the second quarter saw the Germans apply the pressure forcing a barrage of corners. The slick European side scored a further 2 goals, another to Grambusch and a Florian Fuchs field goal to make it 4-1, before PC king Kane Russell pegged one back for the Black Sticks.

With the score 4-2 to Germany at half time, the Kiwi side were still in the hunt but knew they were in for a battle to get back into the match and it proved to be with a blistering 3rd quarter from the Germans adding another three goals without reply in a devastating four minute onslaught.

Facing a 5 goal deficit with a quarter to go, the Vantage Black Sticks were looking down the barrel of another defeat on this tour. To their credit, the team dug deep in the final 15 minutes and rallied with two goals, a Dominic Newman field goal (53') and another from Stephen Jenness (60') to finish the match with a 7-4 loss.

"It's been a testing time for us, five games in eight days, and really hot weather, but we have to take it on the chin, take on the challenge, choose to be optimistic and be a bit better next time", said Bryce Collins, Assistant Coach.

"We need to review the game and make the most of the time to refocus and transition well as we head to Bangalore to play India who will be a different kind of challenge, fresh off their recent results at the Champions Trophy".

VANTAGE BLACK STICKS: 4 (Stephen Jenness 16' and 60', Kane Russell 28', Dominic Newman 53' )
GERMANY : 7 (Marco Miltkau 9', Tom Grambusch 15' and 19', Florian Fuchs 24' and 41', Dieter Linnekogel 44', Niklas Wellen 45'

Half Time: GER 4-2

Hockey New Zealand Media release


---

Black Sticks men and women suffer hockey losses in warmup matches



Black Stick striker Olivia Merry grabbed a goal for her side along with Anita McLaren, however it wasn't enough for the win. MATT KING/GETTY IMAGES

The Black Sticks women's hockey team have fallen short overnight to Argentina in a tough battle in Munich.

World No 3 Argentina snuck a goal in the dying minutes to take the World Cup warmup match 3-2 on Saturday (Sunday NZT).

The New Zealand team failed to capitalise in the dying stages of the match and were stung by a late goal from Argentina's Noel Barrionuevo through a penalty stroke, which sealed victory.

Always a contrast in styles when these two teams play, the match was quick and entertaining with the halftime score remaining at 1-0.

The South American side went up 1-0 after a Martina Cavallero penalty corner in the third minute.

It took the Black Sticks nine minutes into the second half to break the Argentinians down. A Madi Doar deflected goal from an Olivia Merry slap shot penalty corner got New Zealand on the board.

Late in the third quarter Anita McLaren was green carded by the referee, only to come back on a minute into the fourth and score her 104th goal in the black singlet.

That lead was short lived with Argentina striking back with a Delfina Merino field goal to tie the match up at 2 a-piece.

Assistant coach Sean Dancer said his side could have handled the fast pace of the match better, as it troubled his defence through the match.

"While Argentina dominated good portions of the game with their pace and skill, we did have periods of dominance ourselves, especially the third quarter, so it was a close match.

 "It was the hottest day we've played in so far, so that was quite challenging for both teams as well. It's been an excellent tournament. We couldn't have asked for better to prepare us for the World Cup".

The Black Sticks leave for London where they will open their cup campaign against Belgium next Sunday (NZT).

Men's defeat

The Black Sticks men lost to Germany 7-4 in Japan.

New Zealand faced Germany for the first time since the 2016 Rio Olympics, looking to end the Japan leg of the tour well, but knowing the world's fifth ranked team would be a difficult undertaking.

With the score 4-2 to Germany at halftime, the Kiwi side were still in the hunt, but couldn't pull off the win.

Facing a five goal deficit with a quarter to go, the Black Sticks were looking down the barrel of another defeat on a tough tour.

They dug deep in the final 15 minutes and rallied with two goals, a Dominic Newman field goal and another from Stephen Jenness to finish the match with a 7-4 loss.

Stuff


---

Honours Even For The Green Army And Italy




The Green Army came out of the blocks firing in their final home game before the World Cup as they won an early couple of penalty corners but credit to the Italians runners both Shirley McCay's and Zoe Wilson's efforts were blocked. Katie Mullan made a superb interception and then fed the ball to Deirdre Duke in front of goal; the shot appeared to be stopped on the line by a foot but in the scramble the ball was cleared. Italy took an unlikely lead in the 16thminute when a scuffed shot by Maryna Vynohradova deflected into the goal. But it took less than 20 seconds for Ireland to respond as Mullan sent a high reverse into the circle and Nikki Evans somehow managed to get a stick to deflect it just under the crossbar. Wilson gave her side the deserved lead from their third penalty corner as her power strike from the top of circle was driven low into the corner.

The game evened out somewhat in the second half as Italy won 2 penalty corners in quick succession but Grace O'Flanagan made two fine saves. Katie Mullan made a run from her own half into the 25 and sent a pass across the circle for the waiting Evans but the ball just missed her outstretched stick. Federica Carta drew the game level as she chipped over O'Flanagan after the initial PC strike was saved. The short corners seemed to come thick and fast for Italy then as they amassed a total of 8 but the Irish defence didn't relent. The chances were equally notching up for the Green Army with Ali Meeke's deflection going just wide and Hannah Matthews PC strike skimming past the post. Mullan won her side one final PC in the dying minutes of the fixture but the shot was sent high and wide.

Pembroke, Dublin

Ireland 2 (Evans, Wilson
Italy 2 (Vynohradova, Carta)

Starting: N Evans, K Mullan (Captain), S McCay, E Tice, G Pinder, A McFerran, L Colvin, N Daly, H Matthews, A O'Flanagan, Z Wilson

Subs: G O'Flanagan, Y O'Bryne, M Frazer, E Beatty, C Watkins, D Duke, A Meeke

Final Pool results
| Rank | Team | Played | Wins | Draws | Losses | Goals For | Goals Against | Goal Difference | Points |
| --- | --- | --- | --- | --- | --- | --- | --- | --- | --- |
| 1 | Italy | 2 | 1 | 1 | 0 | 4 | 3 | 1 | 4 |
| 2 | Ireland | 2 | 1 | 1 | 0 | 3 | 2 | 1 | 4 |
| 3 | Chile | 2 | 0 | 0 | 2 | 1 | 3 | -2 | 0 |
Irish Hockey Association media release


---

Ireland draw last home World Cup warm-up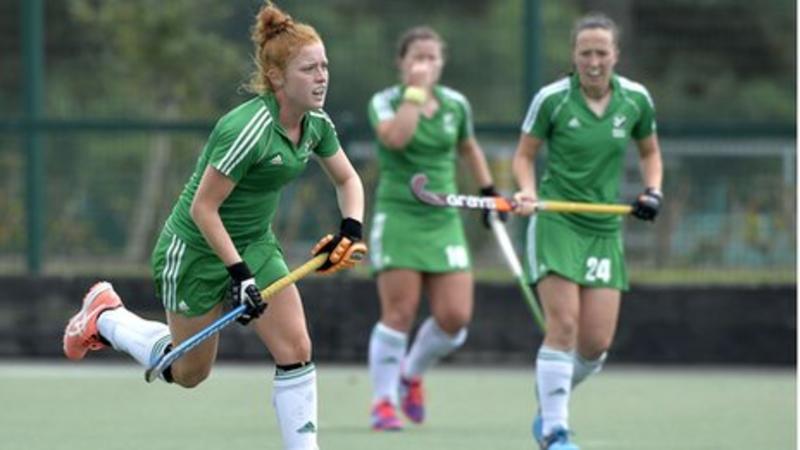 Zoe Wilson's strike gave Ireland the half-time lead at Pembroke

Ireland drew 2-2 with Italy at Pembroke in their final home warm-up match before the World Cup.

The Green Army came from behind to lead at half-time thanks to goals from Nikki Evans and Zoe Wilson.

Goalkeeper Grace O'Flanagan made a string of fine saves after the break but could not stop Federica Carta levelling the match with a deft chip.

Ireland begin their World Cup campaign in London on Saturday 21 July against the USA.

The home side were by far the brighter in the opening stages but their early endeavours went unrewarded as Deirdre Duke's close-range effort was stopped on the line.

Italy delivered a sucker-punch after soaking up the early pressure when Maryna Vynohradova's effort deflected into the net after 16 minutes.

Evans levelled within a minute, deflecting Katie Mullan's high reverse home from inside the circle.

Wilson drilled a powerful effort in from a penalty corner to ensure the home side took a lead into the break in Dublin.

O'Flanagan made two smart saves in quick succession as Italy pressed for an equaliser.

Their pressure eventually told when Carta followed up on her own saved penalty corner strike to equalise.

Ireland have been drawn in a tough World Cup pool alongside the USA, India and England.

BBC Sport


---

Canada and Spain draw 2-2 in the second match of their three-game series.

By Tristan Urry



Photo Tristan Urry

Tensions were high during the second test match in Madrid after Canada put away a 3-2 victory in the first match against Spain, a team ranked ten spots ahead of them. Both teams came out hard during the first quarter.

"We definitely fought through a lot, it was extremely hot out there so we were running hard and put in enough effort to bring a tie in the game against a really good team. It's been a long tour, I think we're all being challenged to expand our games but we've been putting some stuff together that we've been working on and it has been showing us some great results against highly ranked teams," said Dani Hennig, Canadas number 9 Defender.

Carmen Cano scored Spain the first game point on a penalty corner five minutes into the first quarter. Canada's number 24 Striker, Caashia Karrington found the back of the net four minutes later to counter Spain.

"Today was a tough game, obviously Spain wanted to come in strong after a loss yesterday but I think we did a good job and held our own. I think the next match is going to be a battle, we will both be looking for a win to get the series result. They're going to come out flying, and we're going to have to match that and more," said Rachel Donohoe, Canadas number 11 midfielder.

Carlota Petchame scored the second goal for Spain within the last minute of the third quarter. Canada responded to this immediately by taking control of the ball at the beginning of the fourth quarter and scoring another goal to level the score 2-2. Caashia Karrington was the sole goal scorer for Canada during this match with an impressive two field goals.

Patrick Tshutshani, the assistant coach of Canadas women's program has seen a large improvement during his time with the team this summer. "The team is doing exceptionally well. There has been a lot of training, and it has been tough from a tactical, technical, and psychological perspective. We have seen massive growth in players abilities during our time here in Europe. We played really well today against Spain and the girls are implementing what we have been working during our training and it seemed to work well. Our final match is going to be tough, Spain is a team ranked ten spots ahead of us so they are going to come out guns blazing but we will also come out to equally match that," said Tshutshani.

The two teams will face each other again Monday at 12 pm for the final game of the test series, thus concluding Canadas European tour.

Field Hockey Canada Women's team media release


---

Junior Age Groups begin series of 30 fixtures this week

The Irish underage teams begin a series of over 30 games this week with the Under-23s in Belgium, the Under-18s at the European Championships in Santander and the Under-16s hosting a Six Nations in Cork.

The Under-23s start on Saturday morning with the women facing India at 9.30am (Irish time) with the men in action at 11am against the same opposition.

For the women, it follows a couple of midweek warm-up wins over Belgium while the men played the Irish senior men last weekend.

Looking forward to the competition, coach Jonny Caren said: "This is another fantastic opportunity for us to develop our U21 players in a non major competition year, with high caliber opposition in both European and Asian teams.

"With us missing four of our players to the senior program as they compete for their spot in the World Cup squad, it enables us to look at players in a high pressure tournament environment that we maybe wouldn't have been able to before.

"With promising performances in the USA Junior 3 Nations tournament in May, this will be a step up to challenge our team on the next level competing against U-23 teams."

The side features Keith O'Hare who has senior international caps and nine of the squad that played in last year's Under-21 Euros.

The Under-18s are in Santander for the Europeans with the girls starting a tough group on Sunday morning against Germany before taking on Belarus and then England. The boys are grouped with the Netherlands, France and Belgium.

Finally, at the Mardyke, it is Ireland's turn to host the annual Under-16 Six Nations tournament with the boys and girls starting their competitions against the Dutch.

Women's Under-23 Six Nations (Antwerp)
Saturday, July 14: Ireland v India, 10.30am
Sunday, July 15: Ireland v Netherlands, 10.30am
Tuesday, July 17: Ireland v Canada, 12pm
Wednesday, July 18: Ireland v Great Britain, 12pm
Friday, July 20: Ireland v Belgium, 1.30pm
Saturday, July 21: Crossovers

Men's Under-23 Five Nations (Antwerp):
Saturday, July 14: Ireland v India, 12pm
Sunday, July 15: Ireland v Netherlands, 12pm
Wednesday, July 18: Ireland v Great Britain, 1.30pm
Friday, July 20: Ireland v Belgium, 6pm
Saturday, July 21: Crossovers

Girls European Under-18 Championship (Santander):
Sunday, July 15: Ireland v Germany, 9.45am
Monday, July 16: Ireland v Belarus, 1.15pm
Wednesday, July 18: Ireland v England, 2.45pm
July 20/21: classification matches

Boys European Under-18 Championship (Santander):
July 15: Ireland v Netherlands, 10am
July 16: Ireland v France, 5.45pm
July 18: Ireland v Belgium, 12pm
July 20/21: classification matches

Boys Under-16s Six Nations (The Mardyke, Cork)
Sunday, July 15: Ireland v Netherlands, 3pm
Tuesday, July 17: Ireland v England, 4pm
Wednesday, July 18: Ireland v Spain, 3pm
Friday, July 20: Ireland v Belgium, 2pm
Saturday, July 21: Ireland v Germany, 5pm

Girls Under-16 Six Nations (The Mardyke, Cork)
Sunday, July 15: Ireland v Netherlands, 1pm
Monday, July 16: Ireland v England, 4pm
Wednesday, July 18: Ireland v Spain, 1pm
Thursday, July 19: Ireland v Belgium, 4pm
Saturday, July 21: Ireland v Germany, 3pm

The Hook


---

2018 U15 Field Hockey Canada Nationals – July 14 Recap

Battle of Ontario and Battle BC upcoming in U15 girls division semifinals




With a 4-0 record and a +13 goal differential, it's safe to say Ontario West is favoured to punch their ticket to the U15 girls division finals. But head coach, Michelle Turley, said the team is not getting ahead of themselves.

"We're not looking too far ahead," she said. "We're going to take one game at a time. Right now, we're just thinking about the semis."

Turley, an experienced coach at the provincial and collegiate level, said the team is made up primarily of three separate clubs in the Kitchener/Waterloo area. For her it was about ensuring the off-field connection and encouraging complete team play.

"We're a team that connects very well off the field. And I think that translates really well to on-field success," she said.

Turley has plenty of podium experience as a coach at this tournament in the past. Her goal is to encourage complete team play and she hopes to get back on the podium again this year.

Standing in Ontario West's way is provincial rival Ontario Central. Central's route to the semis wasn't quite as smooth. They played the BC Stags to a 1-1 draw, offed PEI and, with thanks to Alberta for playing spoiler, had a date with the BC Rams this evening to decide top spot in pool A. The BC Rams had control early and beat Central 2-1 setting up a BC/BC semi on one side and an ONT/ONT battle on the other.

Vince Mascarenhas is the head coach of Ontario Central and he said his young squad has made dramatic improvements every game and is looking forward to a provincial semi-final duel tomorrow morning. With only four returners from last season, Mascarenhas said the team has grown in confidence and is hungrier than ever for tomorrow's match.

"The two teams are almost neck and neck and both teams will be fighting for a spot in the finals," he said. "It's a big stage for our girls. But they are ready for it."

On the BC side of the bracket, the undefeated BC Rams have looked like the most polished team at the event. They are sitting in top spot and have booked a match with the BC Lions in the semis. This is a rematch that 14-year-old Brooke McCusker has been looking forward to since June when the two teams tied at the India Club tournament in BC.

"We played them in our first game of the season and tied them," she said. "We really pumped up for the game. I think we are a team that can go far and do really well."

McCusker, who is representing BC in her second nationals, said the Ram's on and off-field chemistry has made the season fun and successful.

"Our communication on and off the field is really good. We know each other's strengths and weaknesses and we really trust one another."

The connection and trust on the field has shined through in the BC Rams' dominant pool-play performances. The team is undefeated and looking to book a date with an Ontario squad yet to be determined. Women's semis go simultaneously at 11:25am EDT.




FOR MORE PHOTOS, CHECK OUT THE FIELD HOCKEY CANADA FACEBOOK GALLERIES

First U15 boys quarterfinal matchup sees Alberta and USA in a definitive match as group stages wrap up

Competition for the U15 boys resumed today as Quebec 1 and Ontario took the field late in the morning in a match that resulted in a 1-1 tie. Meanwhile, on Pitch two, the BC Lions tied Alberta 2-2. It was a nail biting start to a day that would end with the first boys quarterfinal matchup.

Athletes, coaches and spectators alike were eagerly awaiting to see who was going to face Quebec 1, a team that had already qualified after topping Pool B by goal differential. Quebec 1 Head Coach Chris Pawluk was proud with the results considering the team spent minimal time together prior to the tournament.

"We're from all different parts of Quebec so we don't get a chance to play together very often," he said. "We just want the kids to come away enjoying Nationals, so we try to make it fun so they can come back next year thinking it was a great experience."

With goals in the 16th and 48th minute in the evening quarterfinal, USA held great pressure against Alberta to win the match 2-0. Described as a "must-perform" situation, USA Head Coach Mike Barminski acknowledged the team's good hockey.

"At the end of the day, a 2-0 win is a really solid result," Barminski said. "Alberta was pretty good. They played well in their pool and it was a good crossover match for sure. Especially in the playoff stages, it's a do or die situation."

USA forward Danish Singh stated that although there were some gaps in the defence, the collaboration and motivation exhibited by his teammates helped in securing the win. With the Alberta's loss, coach Nick Hignell's side will be playing consolation matches against the losers of the other quarter finals. However, he has no doubt that each game is a learning process.

"With each match in this tournament, [the boys] are becoming more aware and more comfortable with their space on the field. It's eye-opening…especially since don't get that type of experience and coaching at home," Hignell said.

The remaining U15 Boys quarterfinal matches are taking place tomorrow morning while semi-finals kick off in the afternoon at 1:15pm EDT.

UMPIRE PROFILE OF THE DAY



Mike Dykema
Newport News, Virginia, USA

How did you first get into umpiring?

I got into umpiring because I have four kids that play and we were travelling to tournaments in the US and said why not? If we're going to be at tournaments for 3 or 4 days, I might as well umpire. My wife did first, so she kind of dragged me into it. My first game I did was at Disney World; it was a rough couple of days, but it was fun.

Why Nationals?

My son is here with the US team and I emailed after FHC was looking for umpires. I was happy to help out.

What do you think is the most valuable about youth sports?

Having four kids that play and having umpired for a number of years now, what I appreciate about field hockey in particular is that it teaches you teamwork. You do games where teams don't do well and they're frustrated, and I love it when I see coaches that bring them together and say, 'let's put this behind us' — I believe that it gives them perspective on life, on what's important, and that winning isn't everything.

Favourite food?

Ribs.



Joanne Wudrich
Calgary, AB

How did you first get into umpiring?

I was the player who always yelled at referees so my coach a few years ago made me start umpiring. Now it's really fun and I really enjoy it.

Why Nationals?

Last year, I was recruited from my local league and I really enjoyed Nationals then. I performed pretty well and got some medal games, and from there, I started pursuing this further. I did some university games last year and I actually want to and think I can go far with this. It's becoming a more serious thing!

What do you think is the most valuable about youth sports?

I like the structure that it gives the players; it's a good way to teach the kids normal life skills as well as passion. You get to be so dedicated to something and really trying for your province or country.

Favourite animal?

Dogs. I'm actually a dog trainer and I've been training them for two years!

Field Hockey Canada media release