All the news for Saturday 14 July 2018

Black Sticks come up short in final clash with Japan, who take series.



PHOTO: Junji Itou

The Vantage Black Sticks Men have gone down fighting in their final match against Japan, losing 1-0 at Kawasaki Juko Stadium, in Maibara City, Gifu, Japan.

The injury depleted Kiwi side played solidly in the first quarter, though taking some time to hit their straps, matching the home team for passion and endeavour, with the game being played in 30 degree heat.

The Kiwis took it up a notch with a wealth of possession in the second quarter and more shots on goal with five to Japan's one, but failed to convert.

The deadlock was broken in the 24th minute, when Japan were awarded a penalty stroke, after a New Zealand infringement. Kenji Kitazato converted past Black Sticks goalkeeper George Enersen to see Japan ahead 1-0 going into the half time break.

The third quarter was a back and forth tussle with Japan slowly gaining some ascendancy, with neither side being able to create meaningful chances in the circle.

With the score still 1-0 in Japan's favour, the Vantage Black Sticks poured on the pressure in the fourth quarter, with repeated forays into the Japanese circle, looking for the equaliser.

It was largely one way traffic as the clock ran down, but New Zealand's efforts became unstuck when, with seven minutes to go, the Black Sticks lost Nick Woods (green) and captain Blair Tarrant (yellow) to take the side down to 10 men.

It was an uphill battle from there, with the home side running out winners 1-0 on the night. This leaves the Vantage Black Sticks with a 1-1-2 record on this tour, but with a lot of learning and new talent blooded in the process, toward the long term goal of the Tokyo 2020 Olympics.

For coach Darren Smith it was a somewhat frustrating game as the Black Sticks couldn't quite get there.

"We started a bit slow today and took until the second quarter to get our standards up. By this stage we were 1-0 down. In the second half we pushed hard at them but couldn't convert despite several attempts.

"Tomorrow we face a high quality German team and we look forward to that challenge".

The Vantage Black Sticks Men play their final match on Japanese soil Saturday night at 9pm NZ time, when they take on Germany in Gifu. They then depart for a three game series in Bangalore, India, in preparation for the Odisha Men's World Cup later in the year.

VANTAGE BLACK STICKS: 0
JAPAN: 1 (Kenji Kitazato 24')

Half Time: Japan 1:0

Hockey New Zealand Media release


---

USA Secure 2-1 Win Over Green Machine

It wasn't quite the goal frenzy of yesterday's match but nonetheless Ireland still looked comfortable for much of the fixture. John McKee picked up a long pass from Paul Gleghorne and darted along the baseline but his shot went into the side netting. Stuart Loughrey followed up with an equally pin-point pass across the circle to Shane O'Donoghue but his reverse strike went inches past the post. Kei Kaeppler was a creative spark for the USA and broke into the circle and drew a good close range save from Jamie Carr. 3 penalty corners for the Green Machine broke the deadlock when O'Donoghue rifled the ball low into the corner to get his side off the mark.

The second half evened out in terms of possession and chances but it was Ireland who came closest first when O'Donoghue saw his reverse strike well saved by Jonathan Klages. Sean Murray then got himself free from his marker in the circle but his shot skimmed past the post. Credit goes to America as their first goal was superb; Kei Kaeppler picked up the ball at the top of the circle and sent a volley on the reverse into the top corner. Ireland pulled Mark Ingram from their goal and opted for a kicking back but the move didn't pay off when American won their first penalty corner of the game. William Holt got his side the winner in the dying minutes when he picked up the initial PC drag deflection and fired into the open goal.

UCD, Dublin

Ireland 1 (O'Donoghue)
USA 2 (Kaeppler, Holt)

Starting: J Carr, L Madeley, M Nelson, E Magee, S O'Donoghue, S Murray, M Darling, P Gleghorne, J Duncan, L Cole, S Loughrey

Subs: J Bell (Captain), S O'Connor, J McKee, O Magee, D Walsh, M Ingram, S Cole

Irish Hockey Association media release


---

Ireland fall to surprise US loss as Bessell outlines coaching situation



Ireland's men endured a rare loss against lower ranked opponents. Pic: Adrian Boehm

Ireland's men fell to something of a surprise loss to USA at Belfield as two goals in the closing eight minutes saw them succumb to the visitors.

Nine previous meetings had seen nine Irish wins and Thursday's 5-1 hammering suggested more of the same was in order, particularly when Shane O'Donoghue broke the deadlock.

But Kei Kaeppler and Will Holt turned things around to nick a 2-1 result for the side, a very rare defeat against a side ranked lower than Ireland in the world at 26.

The hosts looked comfortable for much of the fixture. John McKee picked up a long pass from Paul Gleghorne and darted along the baseline but his shot went into the side netting.

Stuart Loughrey followed up with an equally pin-point pass across the circle to O'Donoghue but his reverse strike went inches past the post.

Kei Kaeppler – one of a trio of German-based players – was a creative spark for the USA and broke into the circle and drew a good close range save from Jamie Carr.

Three penalty corners for the Green Machine broke the deadlock when O'Donoghue rifled the ball low into the corner to get his side off the mark.

The second half evened out in terms of possession and chances but it was Ireland who came closest first when O'Donoghue saw his reverse strike well saved by Jonathan Klages.

Sean Murray then got himself free from his marker in the circle but his shot skimmed past the post.

America, though, kept plugging away and got a superb equalizer. Kei Kaeppler picked up the ball at the top of the circle and sent a volley on the reverse into the top corner.

Ireland pulled Mark Ingram from their goal and opted for a kicking back but the move didn't pay off when Americans won their first penalty corner of the game.

Holt got his side the winner in the dying minutes when he picked up the initial PC drag deflection and fired into the open goal.

Ireland were, for the second game running, coached by John Bessell. The Australian Bessell was brought in to help the panel on an assistant basis in May by Craig Fulton.

The head coach departed just a few weeks later, though, and with Jonny Caren with the Irish Under-23s in Antwerp and Kai de Jager unavailable, Bessell was the last man standing to run the side.

"Craig Fulton got me over from Belgium where I had been working for 10 years," Bessell told The Hook in the wake of the first game of this series. "He asked me to join the staff as an assistant coach and then a couple of weeks later he moved to Belgium!

"Weird situation but I am enjoying working with the guys. It's unique and a funny time being here while they are interviewing for the head coach!

"We're slowly, slowly building extra little things into our game for the World Cup."

He added that he is aware Hockey Ireland have conducted interviews this week for Fulton's replacement with November's World Cup fast approaching.

Bessell holds a full-time club role with Daring in Belgium and so has ruled himself out of the full-time job as he believes the best person would be primarily based in Ireland.

"I'm not sure which way Hockey Ireland will go but I think they need someone on the ground here in Ireland to make sure everything runs structurally well.

"There's a lot of talent. But with 16 or 17 of the squad playing in Holland, Belgium and Germany next year, it would work well to have me on the ground [in Belgium] and Kai [in Holland], it will help us train the boys as we can't do a full-time programme here [right now]."

In Belgium, Bessell previously coached Royal Leopold to qualify for the EHL, reaching the KO16 in 2016 before coming unstuck to a Rob van der Horst wonder goal.

He has also done analytical work for the Belgian national team in the lead-up to both London and Rio Olympics but is enjoying the role with Ireland.

"It's good get away from the camera and computer and be more hands-on time with the boys!"

The next phase of the Olympic qualifying process was given a slightly clearer outline on Friday. The Hockey Series Finals for men will be held, for the men, in France and Malaysia and one other venue to be confirmed.

The women will go either Japan, Spain or one other venue to be confirmed.

Men's international test match
Ireland 1 (S O'Donoghue)
USA 2 (K Kaeppler, W Holt)

Ireland: J Carr, L Madeley, E Magee, S O'Donoghue, S Murray, J McKee, M Darling, P Gleghorne, J Duncan, L Cole, S Loughrey
Subs: J Bell, M Nelson, O Magee, D Walsh, S Cole, M Ingram

USA: J Klages, P Harris, A Grassi, W Holt, A Dhadwal, T Barratt, K Kaeppler, S Cicchi, J Orozco, A Kaeppeler, M Gandhi
Subs: K Barber, C de Angelis, J Kentwell

The Hook


---

USA upset Ireland with late rally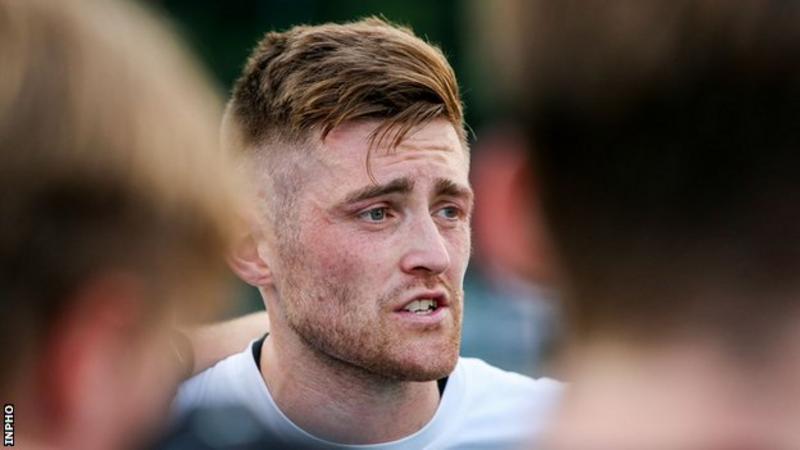 Shane O'Donoghue scored Ireland's only goal of the game

The United States upset Ireland 2-1 to draw their two-match series in Dublin.

The visitors, who are ranked 26th in the world and 16 spots below Ireland, scored twice in the final quarter to surprise their hosts.

Ireland, who won Thursday's opening game 5-1, led at half-time thanks to Shane O'Donoghue's low strike.

But Kei Kaeppler levelled for the US before William Holt secured a stunning victory with a late winner after Ireland had switched to a kicking back.

Following on from their comfortable win in the opening match of the series, Ireland looked in control for most of the game at Pembroke hockey club, with John McKee and O'Donoghue both going close in the opening minutes.

The home side deservedly took the lead from their third penalty corner when O'Donoghue rifled a shot into the bottom corner of the goal.

The US improved in the second half and drew level with a superb goal by Kaeppler, who picked up the ball at the top of the circle and volleyed into the top corner.

Ireland pulled goalkeeper Mark Ingram in favour if a kicking back as they went in search of a winner but the gamble did not pay off as Holt scored in the dying minutes when he pounced on a deflection and scored into an open goal.

BBC Sport


---

Canada starts the first of their three-game series against Spain with a 3-2 Victory.

By Tristan Urry



Photo: Tristan Urry

Canada started strong when Steph Norlander scored the first goal about eleven minutes into the first quarter. Brie Stairs followed when her ball found the back of the net less than two minutes later.

"We were trying out a new press, and it worked really well for us as we put two in the net during the first quarter. It was really hot out there but we were able to come through and play hard to win the game despite the immense heat" said Canadas number five defense and midfield player, Allison Lee.

Spains Berta Bonastre scored approximately five minutes into the second quarter. Begoña Garcia followed her teammate and scored during the last two minutes of the second quarter. That brought the two teams to a 2-2 score increasing the pressure for the last two quarters.

"Today's game was really strong, we scored the first two goals and then I think we drew back a little bit so Spain fought back and put two in the net. We really fought hard to put one more in the net during the last quarter," said Canadas number 24 striker, Caashia Karrington.

Holly Stewart scored the final game-winning point for Canada about seven minutes into the fourth quarter on a field goal.

Team captain Kate Wright said "This game really showed that we have improved at adapting on the fly which is something we hadn't done enough of previously. We really believed and dug deep with a great defense and pulled through with a 3-2 win. I think Spain is going to come out hard during our next match. Spain has a lot of pride and they are a really great team so we're going to have to prepare for a big battle,".

The next match begins at 7 pm Saturday afternoon and another one occurs at 12 pm Monday. These are the last two games of Canadas European summer tour.

"Our team has been able to work with some really great specialist coaches that Giles brought in to refine their skills during our time in Europe and it certainly shows. Our technical abilities have improved and I believe it will continue to do so.

We've won our last three games and the girls had great results against South Africa and Holland so I think we will try hard to keep that tree during the last leg of our tour," said Wright.

Field Hockey Canada Women's Team media release


---

Test Match results from 13 July
2018 Test Matches: CHN v JPN (W)
Auderghem (BEL)

CHN v JPN     1 - 1

3 Nations Invitational Tournament (W) - Day 2
Dublin (IRL)

CHI v ITA (RR)     1 - 2

FIH Match Centre


---

A peek at the pools




As the countdown continues to the opening matches in the Vitality Hockey Women's World Cup London 2018, we take a look at the pools and how they may pan out.

But first, a quick mention about how the pool system at this event works. The preferred finishing place in the pools is, of course, in the number one spot. Not only does this give the team enormous confidence going into the knock-out stages but it also offers straight passage through to the quarter-finals. For the teams placed second or third, they face a crossover match to earn a place in the quarter-finals. For the team finishing in fourth place in each pool, it is game over.

Pool A: The Netherlands, China, Korea and Italy

The team that strikes fear into all its rivals is the reigning World Cup holder, the Netherlands (FIH Hero World Ranking: 1). This year's line-up is blessed with talent, from multi-decorated Olympians such as Lidewij Welten and Carlien Dirkse van den Heuvel to the young players who do not know what it is to lose, such as Pien Sanders and Frederique Matla. And at the helm is Alyson Annan, a coach who knows just what it takes to be a consistent winner.

Leading the charge to dethrone Oranje are the two Asia giants, China (WR:8) and Korea (WR:9). Both met the Netherlands in both the FINTRO Hockey World League Semi-Final in Brussels and the Hockey World League Final and both came up short, but this is another day and another challenge.

The fourth contender in Pool A is Italy (WR:17), a team that is energetic and relatively unknown in these hockey circles. Head Coach Roberto Carta and his squad will view each game as a final, where anything can happen.

Pool B: England, USA, India and Ireland

There will be a weight of expectation on the shoulders of the England (WR:2) players which will serve to either inspire or destroy them. The question is whether the experience of captain Alex Danson, Head Coach Danny Kerry and the numerous Rio 2016 Olympic gold medallists in the team can help the entire squad overcome nerves to play to their potential.

While England's position as host nation offers an unquestionable weight, USA (WR:7) will also have high hopes of bettering their 2014 World Cup performance, where they performed brilliantly to finish in fourth place. Then they were rank outsiders, now they are medal contenders. Their question mark is whether they have the tactical ability to match their energy and challenge for a podium place.

India (WR:10) and Ireland (WR:16) are both teams who can throw surprises. India are getting better with every passing tournament, while Ireland will play each game with their usual energy and indomitable spirit. This pool has the potential for some world ranking upsets.

Pool C: Argentina, Germany, Spain and South Africa

Rebuilt and bristling with ambition, Argentina (WR:3) arrive in London with high hopes of a medal. Standing in their way in this pool are three teams that all have the players to provide an upset. Adrian Lock's Spain (WR:11) have a talented and experienced team that is awash with speedy, aggressive players. Leading the team is Georgina Oliva, who has nearly 200 appearances and is Spain's creative hub.

South Africa (WR:14) is a team with a point to prove, having missed the 2016 Olympics due to a lack of support from its own National Olympic Committee. The team will be determined to establish themselves back at the top table at a major international and all the more dangerous for that ambition.

And Germany (WR:6) will always be a threat. The team has been on the up recently, with a bronze medal at the Rio 2016 Olympics and a glorious gold medal at the Indoor World Cup. Long-serving captain Janne Müller-Wieland and her team would love to be crowned double World Cup champions and they have the balance and experience in their squad to make that happen.

Pool D: New Zealand, Australia, Japan and Belgium

A silver medal at the Sentinel Homes Hockey World League Final in December 2017, a Commonwealth Games gold medal in April 2018, and a jump up the FIH Hero World Rankings to fourth – it has been a good few months for New Zealand. Head Coach Mark Hager and his team will hope to keep that winning momentum going into London. They will be a dangerous opponent for whoever they face, particularly as the tournament draws on into the latter stages.

Last edition's silver medallists Australia (WR:5) are looking for a return to former glories and this would be a perfect stage for that ambition. Paul Gaudoin has an energetic and forceful squad who, if they get on a roll, will be difficult to stop. When the Hockeyroos are good, they are very good, but as they proved at the FINTRO Hockey World League Semi-Finals in Brussels, they can also be a little fragile under pressure.

Japan (WR:12) and Belgium (WR:13) are squads that are building. Belgium admit that they have a long term plan to follow in the footsteps of their male counterparts, the Red Lions. A good performance in London will catapult the Red Panthers into the big time and, with thoughtful coach Niels Thijssen at the helm, they cannot be discounted.

For Anthony Farry and Japan, the Vitality Hockey Women's World Cup London 2018 is a chance to see how much progress the next hosts of the Olympic Games have made in recent months. Japan are a team that tend to finish in the mid to low positions in the major events so they will need to be at their best to change that this time around. The question will be – has Farry had enough time to instil a winning mentality?

To see a schedule for all the pool matches, click here.

#HWC2018

FIH site


---

Now FIH write off Belgium-Spain's play-off match for berth in SF (1978) in Women World Cup records

By   B.G.Joshi (Sehore-Bhopal, India)

It is pity that FIH media kit on tournaments has blunders in statistics. In fact their media team has been consistent in making statistics mistakes in every tournament, which I have been correcting  by overview of my records compiled over decades.

Till 1980 it was a rule that if two or more teams are tied in points after completion of pool matches. Then there will be playoff match between rank 2 and 3 in pool. In 1978 Madrid World Cup, hosts Spain was tied at 4 points each with Belgium. In play off (played on Sept 22,1978) Belgium beat Spain 2-0 for entry in SF. Ultimately Belgium shared Bronze medal in 1978 with Argentina as bad light prevented the tie breaker.

FIH media kit shows total 535 matches (page 53), whereas 536 match played so far. There is lot of discrepancies in total goals scored. Media kit shows 1700 (missing 89 goals scored in 1974 World Cup, few results have written wrongly in 1976, 1978) against 1796 goals scored so far.

In inaugural World Cup, Dutch Nel van Kollenburg scored the title winning goal in extra time against Las Leonas. Argentina beat India ladies in SF; India topped the pool, but finished 4th in the tournament.

For hockey fans over the World, at a glance table from my record book is given below on Women World Cup:

Women World Cup:  At a glance
by B.G.Joshi (India)
| | | | | | | |
| --- | --- | --- | --- | --- | --- | --- |
| Year | Venue | Total Teams | Winner | Captain | Matches Played | Goals Scored |
| 1974 | Mandelieu | 10 | Netherlands | Wilma Koopman | 29 | 89 |
| 1976 | Berlin | 11 | Germany* | Birgit Hagen | 35 | 126 |
| 1978 | Madrid | 10 | Netherlands | Sophie von Weiler | 30 | 97 |
| 1981 | Buenos Aires | 12 | Germany* | Birgit Hagen | 42 | 153 |
| 1983 | Kuala Lumpur | 12 | Netherlands | Marjolein Eijsvogel | 42 | 119 |
| 1986 | Amsterdam | 12 | Netherlands | Carina Benninga | 42 | 151 |
| 1990 | Sydney | 12 | Netherlands | Carina Benninga | 42 | 113 |
| 1994 | Dublin | 12 | Australia | Rechelle Hawkes | 42 | 102 |
| 1998 | Utrecht | 12 | Australia | Rechelle Hawkes | 42 | 184 |
| 2002 | Perth | 16 | Argentina | Karina Masotta | 72 | 247 |
| 2006 | Madrid | 12 | Netherlands | Minke Booije | 42 | 116 |
| 2010 | Rosario | 12 | Argentina | Luciana Aymar | 38 | 153 |
| 2014 | Hague | 12 | Netherlands | Maartje Paumen | 38 | 146 |
| 13 | Total | 27* | 4 | 10 | 536 | 1796 |
 Note:* FRG (West Germany) records merged in Germany

Fieldhockey.com


---

10 questions ahead of women's Hockey World Cup and can England win it?



Craig Keegan formed part of the golden Rio squad (PIC: England Hockey)

Craig Keegan, former England/GB women's assistant coach, runs the rule over what we may or not see at the Hockey World Cup in London

1. Can we gauge favourites from pre-tournament matches?

There have been some good valuable competitive games, but I am interested in the semi-final teams from Rio (England/GB, Holland, Germany and NZ) going up against each other for the first time in the World Cup for two years. I find that a little bit strange but perhaps it's a reflection of the new Hockey Pro League and the fact there will be a huge amount of financial commitment involved to compete in that. But I would like to have seen England against Holland over a series and it would have whetted the appetite ahead of the World Cup.

2. The Lee Valley crowd: a help or hindrance?

The home crowd will be the challenge for England. The expectation is going to be high – and fair enough following the success of the 2015 Euros and the 2016 Olympics. That level is more relevant to handling and managing it, rather than playing in front of a crowd. They will handle it; there is still a lot of experience in the team and they will help the younger players through. But the home tournament coming off the back of two or three years of the most successful period in the sport's history in the women's game in the country will be a key area. How they respond to that will be interesting for me.

3. How will teams score World Cup goals?

As a general rule, you are going to have to net 30-40 per cent of goals from corners. You are relying on the other 60 per cent on key individuals who have been there and done it: Alex Danson and Sophie Bray in particular. But tactically, the game is won or lost now in transition periods and building up against a set defence. I think the key moments will be the double turnover moments: you have driven into the circle, you've lost the ball in your attacking circle and you try to win it back in the next two, three seconds. That is where the goals will come from in open play.

4. Will goals be hard to come by in London?

It is becoming increasingly difficult to score against a set defence. Teams know how to break play down now and they are packing the defence with 11 players and making space very hard to manoeuvre. The teams which will do well are ones with quick transition and can win the ball back quickly. I would be concentrating a lot of my efforts in that area of the pitch while teams are in transition.

5. Who can surprise at the London World Cup?

It is a little too early to tell. With the German coaching contingent over in China now, they will be more ambitious than they have been. There has never been a lack of talent in China, or a lack of conditioned players. History has told that there has just been a lack of ambition at times in the game. They have been happy to settle with what they've got, but Jami [Mulders] was much more ambitious with Germany and they could well be a threat, especially in the knock out stages. They have a cutting edge now.



Daniela Sruoga (Argentina, left) and Xu Xiaoxu of China

6. Experimenting with youth, does it pay off?

You are either making a decision now that you are building or experimenting for Tokyo 2020 – like Australia, who have blended more youth than experience. If that is their approach and they have made a strategic and conscious decision that they will take this group right through, then that could be a decision that they will benefit from in the long term. Teams who are seeing this as an opportunity to bring in some young players as an experience, there are other opportunities other than the World Cup, so teams will find that a challenging environment.

7. Does youth translate into World Cup credentials?

The Dutch and Argentina for me are so consistent with a conveyor belt of young talent coming through. They don't need a lot of time to adapt to that level. They play in a club and under-21 environment which is superior to most which gives a huge amount of exposure. There's no doubt that at the last few Junior World Cups, these two nations were a long way ahead of all other nations. You can see why they are in the top few in the world as they spend a lot of time developing those players. The Argentina under-21 squad in 2016 was very talented. I was very impressed.
Argentina Hockey



Argentina will be one of favourites to win women's Hockey World Cup

8. Why Argentina are favourites

Argentina have retained several key players and have come through a period of turmoil in relation to change of coach and senior players retiring. They have put two years behind them and now have the best young players in the world [including world young player of the year Maria Granatto]. They are the most athletic team I have seen. That, combined with their willingness to score goals from open play, makes them a very dangerous opposition.

9. What's to love about women's hockey?

I've loved the competitiveness of women's hockey. There are a lot more teams beating each other now in a tournament structure. In each pool, there are two or three teams which could come out to reach the quarter-finals. The other area of interest is the willingness to introduce new methods into the game. The women's game went to three at the back, the men's game has followed suit; eight players around the circle at penalty corners to create extra options, rather than having six or seven.

The men's game, or some of the teams I've noticed, have adopted the same dimension. I generally love the athleticism of the women's game; across the game it is more athletic than the men, which is all power and pace. The ability to eliminate and beat opposition in a one v one scenario, which the men's game can't offer as much. I think back to the days of Shahbaz Ahmed [the Pakistan great from the 90s] who could eliminate four or five people in one of his runs, which we don't see in the men's game. It's all power-based with the men, the women offers flow and fluidity to their athletic way. There is less reliance on penalty corners in the women's game. That's pleasing to see. In the men's game, matches can come down to who can win a penalty corner, whereas with the women it's all about trying to create chances in open play.




10. Can England win the World Cup?

They will find it challenging. You have to look back at the last two gold medals where in both tournaments there were ups and downs. They came through from a collective point of view and there is never an over-reliance in one individual and one specific aspect to how they do things. That is one of coach Danny Kerry's biggest assets. The culture has always underpinned the performance and they have enough experience left to know what it takes to win. They will have the home support and the expectation of pressure also gives you an injection of enthusiasm and energy when you need it the most. Recent history has demonstrated that this team has managed pressure well at home tournaments, with gold in 2015 and medalling at London 2012 and there are a number of players who played in those events. If they manage that well, it will be much more of an asset than a negative pressure. Yes, they can win it.

Craig Keegan heads up performance sport at the University of Derby

The Hockey Paper


---

England Hockey CEO Sally Munday: "This is really special"



Sally Munday

'The eyes of the country will be on us and I know we're going to smash it out the park.'

England Hockey CEO Sally Munday is backing her team to host the best ever Vitality Hockey Women's World Cup...

"I wouldn't want to be on any other team… I know we have an awesome team and we are going to deliver an amazing World Cup.

A World Cup happens once every four years, a home World Cup comes around once in a lifetime. This is really special!

I'm feeling two emotions at the moment, the first being really, really excited - we're hosting the World Cup! I'm down the pub on a Friday saying 'We're hosting the World Cup!' and people get excited because I'm excited.

If I'm honest I'm also a little nervous because we're doing things we haven't done before; two site venues, doubling the size of stadium, delivering the biggest event in the FIH calendar.

There are lots of things that are new and that makes me nervous because we haven't tested them - this is the fourth major event we've hosted in four years, but there are things we haven't tested.

Whilst I'm nervous, it's that good nervous energy. It's like in a team sport, just before the big game – the really big game – and you're sat in the changing room before the game and you're thinking about the opposition, about their team and they've got 'Billy Boggs' and Jimmy Smith' and thinking about the great players they've got… And then you look around your changing room, you look at your team, the team around you that all worked together to get you to this moment, and you think, I don't care who they've got, my team's better!

Whilst I'm nervous, I look round my changing room, I look at my team – the people that are doing stuff to make this event happen – and I wouldn't want to be on any other team and my nerves are abated because I know we have an awesome team and we are going to deliver an amazing world cup.

In two weeks' time the eyes of world hockey are going to be on us, the eyes of British sport are going to be on us.

The eyes of the country will be on us and I know we're going to smash it out of the park!"

England Hockey Board Media release


---

Indian women's hockey team skipper Rani Rampal, leading the family and country

Rani Rampal, who will lead the Indian women's national hockey team at the World Cup and Asian Games, has used her hockey career to help lift her financially struggling family as well.

Saurabh Duggal



Rani Rampal is currently the skipper of the Indian women's hockey team.(Sonu Mehta/HT PHOTO)

Rani Rampal was a teenager when she was included as the youngest in the Indian women's hockey squad for the 2010 World Cup. Adjudged 'Young Player of the Tournament', she was named in the Asian All Star and World XI teams as well that year.

Eight years on, the daughter of a cart-puller from Shahbad, Haryana will lead the national team at the 2018 World Cup to be held in London later later this month.

In her decade-long India career, Rani has not only emerged the face of Indian women's hockey, but also helped lift her struggling family.

Hers is a rags-to-riches story – from living in a shanty till last year, she has gifted her parents a two-story house with all modern amenities, including a modular kitchen.

"It's a dream come true. When I took up the sport, I never thought of reaching so far. When I joined the Shahbad hockey centre, my ultimate aim was to make it to the India team and play with the seniors from our centre who were regulars in the team at that time. Now, gradually the coaches have shown faith in me to lead the team," says Rani, currently in the national camp at Sports Authority of India (SAI) centre, Bangalore. "What I am today is because of my coach Baldev (Singh) Sir. I attribute my name, fame and money to him," adds Rani.

When Rani took up the game, there were days when even getting their daily bread was a struggle for her family. But she never let her family's financial constraints stop her from chasing her dream.

"My journey of the last ten years is nothing less than a fairy tale. I have not forgotten what my family has gone through over the years; to support my hockey, they had to curtail other expenses. There was time when getting new shoes used to be the utmost luxury," recalls Rani, a SAI coach posted at the National Institute of Sports, Patiala.

"I have seen days when we couldn't even afford an alarm clock in our house, I used to wake up for early morning training by seeing the position of stars. Now I have an Apple watch, ipad and cell phone. With good grace, I am financially comfortable. Still, I try to save the money where I can. Last year, after returning home from the Arjuna award ceremony, I had a flight from Delhi to Chandigarh. But from Chandigarh, I travelled by normal bus to Shahbad," adds Rani.

Rani's father worked as a cart-puller till last year; one brother is a carpenter and the other a mechanic. Thanks to Rani, her family's financial condition has improved. And Rani, the only graduate in the family, has given hope to kids in the family who are studying in private schools.

Rani's biggest gift to her family is the house. "This is the least I can do for my family. I don't want my father to work anymore. He has already done a lot for all of us. I want him to relax and play with his grandchildren (brother's kids)," says Rani, hoping her team performs well at the World Cup and Asian Games.

Hindustan Times


---

Netflix to air Luciana Aymar documentary

By The Hockey Paper



Luciana Aymar (c) Andy Smith

A film dedicated to Argentinian field hockey great Luciana Aymar will air on Netflix from July 16.

"Lucha, jugar con lo imposible", translated as 'To play with the impossible' first premiered in Argentina cinemas two years ago.

The documentary tells the story of her rise to the top as she became regarded as one of the best female players of all time.

"When I was nine years old, when I started playing in the Fisherton Club, I did not imagine that I could get where I came from," she said of the film.

"I postponed things and did crazy things for the love of this sport and it's nice to see them reflected in this movie. It's a dream come true."

The film was directed by Ana Quirog, who documented her rise to become eight times world player of the year, as well as a two-time World Cup winner.

It is not yet known whether the documentary will be subtitled and be available to view on Netflix English-speaking platforms.

The film is released just one week before Argentina attempt to regain the World Cup title from Dutch hands after Aymar propelled the South American nation to glory in 2010 on home soil.

The Hockey Paper


---

'Thought my India career was over'

Sardar Singh reiterates that he is as fit as ever, welcomes Harendra's appointment

Shreedutta Chidananda



Fighting fit: Sardar Singh is preparing in right earnest for the Asian Games. 

Sardar Singh believed his international career was finished when he was left out of the Indian men's hockey team for the Commonwealth Games, the player has admitted. Sardar was also omitted from the teams for the HWL Final and the New Zealand tour last year, before being snubbed for the CWG in April.

"When the CWG team was named and I was not even on stand-by, I packed all my belongings and took them home," he said at the SAI here on Friday. "I thought I was not coming back to the camp again. Because nobody told me anything. It would've been nice if the previous coach had spoken to me once."

Sad at being left out

The 31-year-old was recalled to the Asian Games squad, though, when Harendra Singh replaced Sjoerd Marijne as the men's coach. "I'm happy to be back. When I was watching the CWG from the outside, I realised how much I missed being in the India jersey. Obviously, I was sad. The CWG comes once in four years. It's not like cricket, where if you are dropped for one series, there is another in 10 days' time," he said.

Sardar disagreed with the idea that his fitness was on the decline. "I'm absolutely fit," he stated. "Tests are being conducted in the camp — look at the results. My speed has been the same from the beginning. And people say I'm slow.

"People ask: 'What happened to Sardar's passes?' They're right to expect that. But when a new coach comes in, and there are new players who have played only 10 games, it's not easy to develop that chemistry. I don't use the backhand pass anymore, because it doesn't work if you don't have an instinctive understanding with the other player. That takes time."

New confidence

Sardar welcomed Harendra's appointment. "Fifteen years ago, my first junior camp was under Harendra sir," he said. "Since he came, a new confidence has entered the camp. We are united. At the Champions Trophy, there was a fighting spirit in us. He told me: 'I don't need to teach you hockey. You need to lead everyone on the ground. That's your responsibility.' People say Indian coaches are not good. It's our responsibility now to prove them wrong."

he Hindu


---

Kirandeep closing in on Asian Games dream

By Saiful Affendy Sapran

KUALA LUMPUR: Promising player Kirandeep Kaur is ready to fight for a slot in the Jakarta Asian Games, even though she knows it will not be easy.

She will only turn 15 on July 22, but showed promise at the Hockey Series Open in Singapore earlier in the month, and even scored a goal in the final where Malaysia hammered Thailand 6-0.

National women's coach K. Dharmaraj is willing to give her a break as he had said that he might include her in the Australia Tour starting on July 21.

It will be the coaches' final selection for the Asian Games.

"If I am selected for the Australian Tour it would be a dream come true because I will get closer to playing in the Asian Games.

"But even if I am not selected this time, I will keep trying for future tournaments."

Kirandeep said the experience of playing in Singapore was an eye-opener, even though she was nervous during the early matches.

"I was nervous at the beginning and so could not score any goals until I settled down in the final match against Thailand. That goal really means much to me, and my hockey career."

Dharmaraj had made an out-of-the-box selection when he named a 14-year-old for the Singapore tournament, but his gamble paid off and now, Kirandeep might even help Malaysia in the Asian Games.

Jugjet's World of Field Hockey


---

Malaysia to host, but tougher route

By Jugjet Singh

KUALA LUMPUR: The International Hockey Federation (FIH) Friday announced that Malaysia has won the bid to host the Hockey Series Finals at the National Stadium in Bukit Jalil on April 23-May 1.

This opens another door for Malaysia to qualify for the 2020 Tokyo Olympics, but its a tougher route compared to winning the Asian Games gold medal in Jakarta.

For, Malaysia must play in the final of the Hockey Series Final to qualify for the Olympic Qualification -- a stage that decides the last six or seven slots, depending on if Japan wins the Asian Games gold.

"The Asian Games gold medal will remain our primary target as it's also a Podium Programme requirement and we have been planning for it for a long time.

"But still, hosting the Hockey Series Finals opens another 'in case' door for us and hosting it has many benefits," said Malaysian coach Stephen van Huizen.

The FIH wrote: "Hockey Series Finals marks the return of FIH competition to the passionate hockey nation for the first time since the Men's Champions Challenge in 2014.

"With vast experience in hosting major international events at some of the world's best hockey stadiums, including the annual Sultan Azlan Shah Cup and Sultan of Johor Cup, the Malaysian Hockey Confederation know how to deliver successful global events."

van Huizens said: "Playing at Bukit Jalil will give us an added confidence, as well as not having to worry about food and weather accalimatation."

At the Asian Games, Malaysia's chances all depend on the grouping, which the Asian Hockey Federation have yet to release.

In the men's tournament, the qualifiers are hosts Indonesia, India, Pakistan, South Korea, Malaysia, China, Japan, Oman, Bangladesh, Sri Lanka, Thailand and Taiwan.

There are only 10 teams in the women's event and they are hosts Indonesia, South Korea, China, India, Japan, Malaysia, Thailand, Hong Kong, Taiwan and Kazakhstan.

Jugjet's World of Field Hockey


---

2018 Field Hockey Canada Nationals – Day 1 Recap




Toronto, ON — The sun was fierce on the Back Campus Fields at the University of Toronto, but the action was fiercer. After kicking the event off yesterday with teaser matches in the evening, the U15 Nationals action heated up today with 11 matches at the two university fields.

Head Coach Jen Beagan's BC Rams are undefeated after day one — a result she's happy with and attributes to the dedicated work of the athletes throughout the summer.

"We have our set game plans and strategies that we have been working on all summer long," she said. "And our expectations are that we improve every game."




As a high-level player in her own right, she said her experience and ability to relate with the players as they go through the Nationals experience can be really helpful.

"So far, they've been doing great," she said. "We're here to support them in the tournament setting. I've played under a lot of really quality coaches and I'm happy to use my experience to help guide them."

With a 2-0 start to the tournament, Beagan is looking forward to the rest of the competition. Alternatively, coaching on the boys side, is senior national men's national team athlete Adrien D'Andrade. D'Andrade's Rams are also undefeated winning their only game of the day against the US National U15 team.

D'Andrade and his coaching partner Ali Currimbhoy have worked together for several years. D'Andrade said that with this age group, it's all about establishing a good balance.

"For most of them, this is their first trip away for hockey," he said. "We want to find that balance of instruction without overloading them."




FOR MORE PHOTOS, CHECK OUT THE FIELD HOCKEY CANADA FACEBOOK GALLERIES

D'Andrade went on to say that when it comes to the on-pitch work, they are really trying to set the next generation up for success moving forward in their playing careers.

"We try to teach a lot of the learning points on why we do certain things," he said. "If they can understand why we are doing certain things, they can start to make better decisions on the field."

The patience, balance and disciplined showed through in their thorough 6-0 win against the US. They looked polished and structured and are back at it tomorrow with a match against a Quebec team that drew with USA in the morning.

The travelling Americans had a tough start to the tournament but their coach, Mike Barminski, said he's expecting the team to improve throughout the tournament. Barminski, an eight-year veteran of the US Men's National Team, grew up playing in the US National Junior Program and remembers his first time playing in Canada in a similar setting. He says his experience throughout the years is a good support service for the kids going through the exact same process.

"The US program is really important to me," he said. "I want to see the kids excel and progress and I want to help give them the tools to succeed."

Barminsky said the experience this American team gets by travelling to Canada for hockey is transformative and sets the kids up for future success.

"It's such a great learning experience to come up here and learn to play as a unit. It's a new atmosphere for them. It's that much better than just a regular Sunday hockey league."

UMPIRE PROFILE OF THE DAY



Stewart Cawthray
Toronto, Ontario

How did you first get into umpiring?

My daughter started playing about three years ago, and since there's not really a lot of opportunities for adults to play field hockey, I found that umpiring is way to get involved with the game.

Why Nationals?

Nationals is just exciting. Being here in this high level of play is a learning opportunity. It's a chance to work with the best umpires with some of the best players in Canada at this age, and to have this chance is fantastic.

What do you think is the most valuable about youth sports?

The lessons they learn beyond just athleticism, the teamwork, the idea of having a goal to achieve and having to put in the work and effort to achieve them — I think those are the biggest things you can take from it.

Dream destination?

If I had the money, I would be one of the first commercial flights into space.



Jasbir Singh Tatla
Vancouver, BC

How did you first get into umpiring?

I started playing because my son plays for the BC team, and when I saw them playing, I thought, why not starting new rules and regulations so I can teach them too? I'm at the regional level now, so I've come a long way.

Why Nationals?

The main thing when I umpired last year was the coaches we had. They gave us a lot of feedback in comparison to league play, and I think [Nationals] is a great time to improve your skills.

What do you think is the most valuable about youth sports?

It's the teamwork. It doesn't matter if you're a student or if you're married, teamwork is everywhere.

Favourite thing about Toronto?

The heat.

Field Hockey Canada media release


---

Elektrostal in great shape to break Kazan's hold on Russian title



©: Frank Uijlenbroek

Dinamo Elektrostal are in good shape to finally break Dinamo Kazan's stranglehold on the Russian title as the league takes its summer break.

They have 14 wins and one draw out of 15 so far in the campaign, putting them five points clear of Kazan with the rest of the pack a long way back.

In their back to back series in May, the two sides shared a cracking 5-5 draw with Kazan winning a shoot-out for a bonus point.

In the second meeting, Elektrostal won 4-3 with Georgii Arusiia scoring the winning goal just a couple of minutes from the end despite having trailed 3-1.

In Kazan, Elektrostal also picked up a 4-3 success, Almaz Kurbanov got a late winner once again in the victory. A week later, the Moscow club won 13-3 against Tana to complete their first half of the season in great shape.

The season starts back up again August 8th and will run through until mid-October with each of the six clubs facing each other two times.

Euro Hockey League media release


---

Magnolias, Defence Force take hockey titles

Nigel Simon



Coach Darren Cowie, right, an his Shandy Carib Magnolias women's hockey team pose for a team photo after beating Malvern 5-0 in their T&T Hockey Board Championship Division match at the National Hockey Centre, Orange Grove Road, Tacarigua, on Tuesday night to claim the league crown. PICTURE SEAN OLTON

Shandy Carib Magnolias and Defence Force were crowned new champions in the abbreviated T&T Hockey Board Women and Men Championship Divisions League competition which concluded at the National Hockey Centre, Orange Grove Road, Tacarigua, earlier this week.

The women's title race came down to goal-difference as Shandy Carib Magnolias secured a much-needed win, 5-0 over rivals Malvern to claim the title on Tuesday night on goal-difference.

USA-based Brianna Govia scored a pair of goals for Magnolias in the 33rd and 43rd minutes while Savannah De Freitas, her sister Shaniah De Freitas, and Samantha Olton, all national women's team's players got the goals.

With the win, Magnolias ended with 19 points from eight matches, level with Malvern, but with a superior goal difference of plus-26 to plus-13 to dethrone Paragon, winners of the last league competition in 2016.

Two days earlier on July 8, the Malvernites had put themselves in the driver's seat for the title with an entertaining 4-2 defeat of the same Magnolias led by a double from Daniella Martin, in the 43rd and 51st.

Andrea Jackson and Krizia Layne got the others for Malvern while Savannah De Freitas netted both Magnolias items.

However, just needing a point on Tuesday night, Malvern had its worse performance of the season, and first defeat as well.

In the Men's Championship Division, Defence Force completed the season unbeaten in six matches for 14 points, one ahead of Malvern while Petrotrin, champions in 2015 and 2016, ended third with one.

Results

July 10
Women's Championship
SC Magnolias 5 (Brianna Govia 33rd, 43rd, Savannah De Freitas 9th, Shaniah De Freitas 25th, Samantha Olton 43rd) vs Malvern 0

July 8
Women's Championship
Malvern 4 (Daniella Martin 43rd, 51st, Andrea Jackson 11th, Krizia Layne 30th) vs SC Magnolias 2 (Savannah De Freitas 26th, 35th)

Trinity Men
Malvern 2 (Aidan Marcano 27th, Jonathan Warren 55th) vs Carib 1 (Joshua Gibson 43rd)

July 7
Trinity Men
Paragon 3 (Gerron Frank 12th, Salim Clapman 46th, Keston Paul 56th) vs Carib 1 (Joshua Gibson 60th)

Trinity Women
Paragon 2 (Jhania Gajadhar 7th, Harmony O'Brian 34th) vs SC Magnolias 0

The Trinidad Guardian


---

Swanson, Watson and Brown selected for GB Women EDP 6-nations




Scotland internationalists Laura Swanson, Charlotte Watson and Millie Brown have been selected for the GB Elite Development Programme (EDP) squad competing in a 6-nations tournament in Belgium.

GB will face Belgium, India, the Netherlands, Ireland, and Canada over the course of the tournament with the first game being played on Saturday.

Scotland U21 Head Coach and Scotland women Assistant Coach, Neil Menzies, is also with the 6-nations squad over in Belgium as Assistant Coach.

The GB EDP was launched as part of a strategic objective during the Tokyo 2020 cycle with the aim of developing medal winning Olympians of the future, with the selected athletes having shown their potential to achieve that during a comprehensive selection process.

Six Scottish players overall have been selected for the GB Elite Development Programme.

The GB EDP will also see a revised coaching structure with world-class coaches leading the activity as well as spending time engaging and supporting the domestic and university game.

While the GB EDP is not age categorised, it has been designed for players aged between 19-23. A total of 36 players have been selected for the women's GB EDP and there is a strong Scottish representation.
 
Matches:

Sat 14 July:

GB vs Belgium (16.30)

Sun 15 July:

GB vs India (13.30)

Tue 17 July:

GB vs Netherlands (15.00)

Wed 18 July:

GB vs Ireland (12.00)

Fri 20 July:

GB vs Canada (10.30)

Sat 21 July:

Placing matches

NAME     CLUB
   
Beth Bingham     Holcombe
Louisa Bray (GK)     Durham University
Millie Brown     Clydesdale Western
Esme Burge     Nottingham University
Tess Howard     Durham University
Holly Hunt     Birmingham University
Lucy Millington     Loughborough University
Charlotte Childs     Durham University
Holly Munro     Birmingham University
Lizzie Neal     Loughborough University
Miriam Pritchard (GK)     Loughborough University
Lottie Ross     Nottingham University
Erica Sanders     Birmingham University
Eloise Stenner     Nottingham University
Laura Swanson     Edinburgh University
Emma Trunks     Holcombe
Charlotte Watson     Dundee Wanderers
Alice Wills     Birmingham University
   
Staff    
Paul Revington (10-12 July – non-resident)     Head Coach
Hannah Macleod     Head Coach
Neil Menzies     Assistant Coach
Sam Beveridge     Team Manager
Lynn Booth     Physiotherapist
Keith Stone     Performance Analyst

Scottish Hockey Union media release


---

FIH agrees extension of data tool partnership with AltiusRT

The International Hockey Federation (FIH) has extended its partnership with AltiusRT until the end of 2019, ensuring all international hockey data will continue to be captured through a consistent and safe database system.

The extension sees a continuation of the partnership which first began in 2013. Since then, extensive data has been collected from international hockey matches through their products, which include their flagship Realtime Capture System used to provide the FIH's Tournament Management System (TMS).

Their service has provided the sport with a reliable and efficient tool that captures data from international hockey matches and disseminates it to various platforms, including the FIH website, social media and broadcast partners. As a result, AltiusRT has played an important role in growing the sport's fans through the provision of such data.

Speaking about this, FIH Chief Executive Officer Thierry Weil said: "We are delighted to continue our relationship with AltiusRT. With more than 1,200 matches taking place each year, the amount of data being captured is huge, therefore it was important that we continued with a partner that we trust."

He continued: "With an increasing demand for data, whether through social media or in our broadcasts, our data capture provider will play an important role in keeping our fans updated with the latest results and in preserving our sports historical records. With some extremely high profile competitions on the horizon, including the FIH Pro League and the Hockey Series, it is important that we capitalise on data in order to bring our sport to life."

Hari Kant, President of AltiusRT, added: "We have worked with the FIH to provide the exact features needed to make hockey statistics come alive. We look forward to building on our productive relationship as we move towards some incredibly exciting events coming up over the next two years."

To find out more about AltiusRT, visit their website: https://altiusrt.com.

FIH site