All the news for Friday 13 July 2018

real FOUR NATIONS CUP Women - Day 2
Grünwald (GER)

ARG v NED (RR)     1 - 2
GER v NZL (RR)     2 - 3

Pool standings
| Rank | Team | Played | Wins | Draws | Losses | Goals For | Goals Against | Goal Difference | Points |
| --- | --- | --- | --- | --- | --- | --- | --- | --- | --- |
| 1 | Netherlands | 2 | 2 | 0 | 0 | 5 | 2 | 3 | 6 |
| 2 | Argentina | 2 | 1 | 0 | 1 | 3 | 3 | 0 | 3 |
| 3 | New Zealand | 2 | 1 | 0 | 1 | 4 | 5 | -1 | 3 |
| 4 | Germany | 2 | 0 | 0 | 2 | 3 | 5 | -2 | 0 |
---

Vantage Black Sticks Women take down Germany in Munich



Olivia Merry in action on her 200th appearance for the Vantage Black Sticks, in their 3-2 win over Germany. Photo: www.worldsportpics.com

Shiloh Gloyn grabbed her second goal of the tournament as the Vantage Black Sticks Women won 3-2 over host nation Germany at the real Four Nations Cup, in Grunwald, Munich overnight.

It was a flurry of early goals to start the match, with Shiloh Gloyn scoring after only 2 minutes, with a sharply taken tap in as she reacted first from a penalty corner rebound, to give the Kiwi side an early lead.

Barely a minute later Germany were on the board. After some quality ball movement caught the Black Sticks defence out, Lisa Altenberger struck a timely field goal from close range to level the scores.

The vocal local crowd was entertained as an exciting game of two different styles unfolded. But it was the Black Sticks who struck next, after 23 minutes, with a penalty corner goal to  Brooke Neal who scoed with a rocket drag flick right in the corner.

Amy Robinson, fresh from her 50th appearance yesterday against the Dutch, made it 3-1 to the Kiwis in the 26th minute,  with a nicely taken goal. Stacey Michelsen dribbled forward and fired an inch perfect pass, splitting open the German defence, to Robinson free on the edge of the circle, who scored with a sweetly taken reverse stick chip over the advancing keeper.

With the Vantage Black Sticks ahead 3-1 at half time it was a tense 2nd half as the local side fought their way back into the match. A well worked team goal after 33 minutes by star German striker Marie Mavers, made for a tight finish.

The New Zealanders, stayed the course and held on for a deserved 3-2 win, in what was Olivia Merry's 200th cap for her country.

"It was good to hold on and get the result today, Germany pushed us right to the end", said Assistant Coach Sean Dancer.

"We played some good counter attack hockey and scored some good goals. And of course it was special to get the win for Olivia on her 200th".

The Vantage Black Sticks Women will play their final game of the real Four Nations Cup, when they take on Argentina, who were beaten 2-1 by the Netherlands in today's earlier match, on Saturday night at 9pm NZ time. Host Germany will play the Netherlands in the earlier game.

Matches are being live streamed at http://sportdeutschland.tv/

Watch a full replay of the match HERE

VANTAGE BLACK STICKS: 3 (Shiloh Gloyn 2', Brooke Neal 23', Amy Robinson 26')
GERMANY: 2 (Lisa Altenberger 3', Marie Mavers 33')

Half Time: NZ 3-1

Hockey New Zealand Media release


---

Black Sticks women win in Olivia Merry's 200th test



Striker Olivia Merry brought up her 200th cap for New Zealand in their win over Germany at the Four Nations warm-up event. DEAN MOUHTAROPOULOS/GETTY IMAGES

The Black Sticks women celebrated Olivia Merry's 200th test in style overcoming hosts Germany 3-2 at the warm-up Four Nations Cup in Munich on Friday (NZT).

New Zealand are using the event as preparation for their World Cup campaign in London, which begins against Belgium on July 23. Victory was extra sweet with Canterbury striker Merry, who debuted in 2012, joining a select club to have reached 200 caps for the Black Sticks women.

It was a flurry of early goals to start the match with Shiloh Gloyn scoring after two minutes with a sharply taken tap-in as she reacted first from a penalty corner rebound.



Shiloh Gloyn opened the scoring for the Black Sticks women in their 3-2 Four Nations win over Germany. Mark Kolbe

Barely a minute later Germany were on the board. After some quality ball movement caught the Black Sticks defence out, Lisa Altenberger struck a field goal from close range to level the score.

The Black Sticks struck next after 23 minutes with a penalty corner goal to  Brooke Neal, who scored with a rocket drag flick right in the corner.

Amy Robinson, fresh from her 50th appearance on Thursday (NZT) against the Dutch, made it 3-1 to the Kiwis in the 26th minute with a nicely taken goal.

Stacey Michelsen dribbled forward and fired an inch perfect pass, splitting open the German defence to Robinson free on the edge of the circle, who scored with a sweetly taken reverse stick chip over the advancing keeper.

With the Black Sticks ahead 3-1 at halftime it was a tense second half as the hosts fought their way back into the match. A well worked team goal after 33 minutes by star German striker Marie Mavers made for a tight finish.

"It was good to hold on and get the result, Germany pushed us right to the end", said New Zealand assistant coach Sean Dancer.

"We played some good counter-attack hockey and scored some good goals. And of course it was special to get the win for Olivia [Merry] on her 200th".

New Zealand's final match at the Four Nations tournament is against Argentina on Saturday night NZT (9pm start).

AT A GLANCE:

New Zealand 3 (Shiloh Gloyn 2', Brooke Neal 23', Amy Robinson 26') Germany 2 (Lisa Altenberger 3', Marie Mavers 33')

Stuff


---

Green Machine Put 5 Past USA




2 goals inside the opening 66 seconds stunned America and the crowd at UCD as the Green Machine asserted their dominance. A penalty corner in the 29thsecond appeared to be deflected in by Sean Murray though Shane O'Donoghue was formally awarded the goal. Seconds later and Eugene Magee had doubled the lead as he chipped Jonathan Klages from the right baseline. Matthew Nelson created the third with a powerful run down the left wing and a high reverse into the circle that Jeremy Duncan somehow got a stick to send it past Klages. It was 4-0 before half time, Magee again the scorer, this time with a powerful PC drag from Ireland's third PC. USA got their goal on the cusp of half time with a well worked penalty corner of their own, Kei Kaeppler with the drag flick to take some of the sting out of the scoreline at the half.

The goals maybe have eased up in the second half but the Irish dominance of possession didn't relent. Paul Gleghorne and Jonny Bell controlled play from the back with Shan O'Donoghue picking out passes at will. The majority of the time Fitzgerald was the only Irish man in his own half as the Americans were put under continuous pressure. Alan Sothern drew a superb high stick save from Jonathan Klages as he spun his marker and sent the ball aiming for the top corner. Michael Robson made it 5-1 as he went on a mazy run around the top of the circle to shoot on his reverse low into the corner. The Green Machine notched up a few more penalty corner chances but couldn't quite add to their tally.

The two sides meet again tomorrow evening at 7pm in Pembroke Wanderers.

UCD, Dublin

Ireland 5 (Magee x2, O'Donoghue, Duncan, Robson)
USA 1 (Kaeppler)

Starting: J Bell (Captain), S O'Connor, E Magee, S O'Donoghue, S Murray, J McKee, M Robson, D Fitzgerald, P Gleghorne, J Duncan, S Loughrey

Subs: J Carr, L Madeley, M Nelson, A Sothern, D Walsh

Irish Hockey Association media release


---

Ireland take Route 66 to cruise past USA




Ireland eased to a facile 5-1 win over USA at Belfield with John Bessell taking the coaching role for the night with two goals in the first 66 seconds setting up the success.

The Australian joined the set-up earlier in 2018 as one of three assistants to Craig Fulton. With Jonny Caren with the Irish Under-23 side in Antwerp and Kai de Jager unavailable, he leads the side for this series against a seriously out-gunned visiting side.

It was 2-0 within just 66 seconds with Sean Murray guiding in a penalty corner and Eugene Magee credited with the final touch from a baseline run.

The US looked set to be over-run but did hold out for the remainder of the first quarter. Jeremy Duncan added a quality third in the 17th minute from Matthew Nelson's brilliant ball across and Magee added a second from a clever dummied corner move, flicking through the defences of Jonathan Klages.

Paul Singh got one back before half-time but Michael Robson wheeled away to score an excellent fifth to make it 5-1. The second tie takes place on Friday evening at 7pm in Pembroke.

Men's international test match
Ireland 5 (E Magee 2, S Murray, J Duncan, M Robson)
USA 1 (P Singh)

Ireland: D Fitzgerald, J Bell, S O'Connor, E Magee, S O'Donoghue, S Murray, J McKee, M Robson, P Gleghorne, J Duncan, S Loughrey
Subs: M Nelson, A Sothern, D Walsh, S Cole, L Madeley

USA: J Klages, P Harris, A Grassi, W Holt, A Dhadwal, T Barratt, P Singh, S Cicchi, J Orozco, A Kaeppeler, M Gandhi
Subs: K Barber, K Kaeppler, C de Angelis, J Kentwell

The Hook


---

Eugene Magee leads Ireland to 5-1 win over USA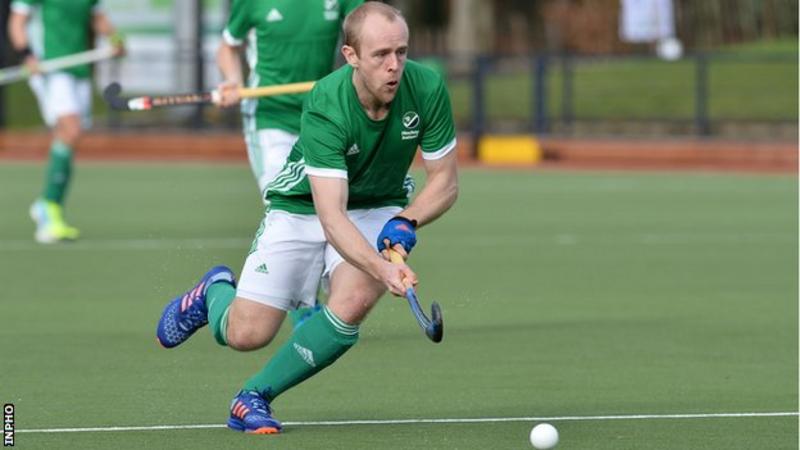 Eugene Magee of Banbridge scored two goals in Ireland's win over USA

Two goals in the opening 66 seconds gave Ireland a 5-1 win over USA in the first game of their two-match series.

Banbridge captain Eugene Magee got a brace for the home side after Shane O'Donoghue's early opener, while Jeremy Duncan and Michael Robson also scored.

Kei Kaeppler scored a consolation goal for the visitors.

Assistant coaches Jonny Caren, John Bessel and Kai de Jager took charge of the Irish team following the departure of former head coach Craig Fulton.

Ireland, who are ranked 10th in the world, recently clinched a 3-0 series win over France and they carried that form into their game against a US team that are 16 places below them in the rankings.

The home side raced into an early lead when O'Donoghue's effort from a penalty corner in the 29th second was deflected in and they doubled their lead less than 30 seconds later when Magee chipped Jonathan Klages from the baseline.

Matthew Nelson of Lisnagarvey created the third with a powerful run down the left wing before Duncan diverted the ball past Klages and the hosts were leading 4-0 before the break when Magee scored from Ireland's third penalty corner of the match.

The visitors pulled a goal back just before half-time after Kaeppler finished off a well-worked penalty corner routine.

But Ireland never looked in danger of relinquishing their control of the game and they deservedly scored a fifth goal when Robson finished off a mazy run with a low reverse shot into the corner.

The two sides will meet again at 19:00 BST on Friday at Pembroke in Dublin.

BBC Sport


---

Green Army Beat Chile In 3 Nations Opener



Katie Mullan earned her 150th cap

Ireland were the far livelier of the two in the opening half and could have taken the lead on more than one occasion. The ever-threatening Anna O'Flanagan picked up a long pass from Hannah Matthews but her reverse strike went across goal. Megan Frazer, playing her first senior international test in nearly 2 years, looked as sharp as ever as she sent passes through the eye of a needle and proved a potent threat with Zoe Wilson. Katie Mullan, earning her 150th cap this evening, was leading the charge as usual and won numerous long corners setting up attacks into the Chilean circle. Naomi Carroll drew a super save from Claudia Schuler as she deflected a ball in front of goal, Carroll was again on hand with some superb 3D skill to pick up a ball in the circle and fire a reverse volley. Each team won 1 penalty corner in the opening half; McCay's sweep going wide for Ireland and Elene Tice making a save on the line from Carolina's Garcia's close range shot on the post at the other end.

The goal very nearly came in the opening minutes of the second half when O'Flanagan burst into the circle and sent a reverse strike goalward but Evans deflection put it inches past the post. 2 PC's in quick succession for the Green Army looked likely to break the deadlock but Schuler again made a good save and Wilson's strike was sent wide. Mullan was next to test the Chilean defense as she sent her reverse shot into the side netting. The goal came in the 43rd minute as Matthews sent a pinpoint reverse into the circle and Emily Beatty deflected the ball high into the net to give her side the lead. Grace O'Flanagan didn't have a huge amount to do throughout but when called upon she made a superb diving save from a PC strike. The Green Army could well have extended their lead with the skills of Nicci Daly breaking open the Chilean backline but Schuler made 2 further saves from Evans close range effort.

Ireland's next match is on Saturday at 2pm against Italy in Pembroke.

3 Nations, Dublin

Ireland 1 (Beatty)
Chile 0

Starting: G O'Flanagan, N Evans, K Mullan (Captain), S McCay, E Tice, G Pinder, L Colvin, N Daly, H Matthews, A O'Flanagan, Z Wilson

Subs: Y O'Byrne, M Frazer, N Carroll, E Beatty, A McFerran, C Watkins, A Meeke

Irish Hockey Association media release


---

Beatty cracker gives Ireland 1-0 win over Chile



Emily Beatty scored the only goal. Pic: Adrian Boehm

Megan Frazer made her first appearance for Ireland in over two years as they continued their World Cup warm-up with a 1-0 win over Chile at Belfield.

Emily Beatty – one of the current reserves for the main event which starts in eight days – got a beautiful touch to Hannah Matthews' cross for the single goal in the 43rd minute.

It should have been a couple more in a dominant second half with some more composed heads in the circle after a physical first period had ended scoreless.

For coach Graham Shaw, his injury situation remains up in air to a certain extent. Former captain Frazer has undergone three surgeries on her knee and so her appearance after seven minutes was an emotional one for the green army.

She subsequently played around 15 minutes on a rolling sub basis, coming through with no issue, and coach Graham Shaw is hopeful to give more pitch-time for her in Saturday's game against Italy.

Roisin Upton did an extensive warm-up but sat out the game as they nurse her hamstring injury while Deirdre Duke did not play due to a concussion sustained last week against Japan.

Early on, Matthews' lovely pass found the lively O'Flanagan on the left of the circle and her reverse-stick cross-shot just skipped through a couple of back-post sticks.

Katie Mullan was an aggressive force, too, on her 150th cap, making some strong inroads. At times, though, Ireland went for ambitious backhand crosses which went dangerous rather than going through the handball phases.

Chile did have a gilt-edged corner chance with Carolina Garcia seeing her effort brilliant taken off the left post by Lena Tice. Naomi Carroll's excellent upright volley went very close in the last act of the half.

Ireland were fully in control of the second half and should have broken deadlock sooner. Nikki Evans somehow contrived to touch Anna O'Flanagan's goalbound shot wide from close range.

Mullan sent a shot into the side-netting before the goal came. Matthews' first attempt at a cross was blocked but she won the ball back and fired across once more and Beatty got very satisfying deflection in off the intersection of post and crossbar.

Nicci Daly's skills almost yielded another but the one was enough to see out the victory.

Ireland will play Italy on Saturday afternoon at 2pm in Pembroke in the last of their home-based warm-up games.

Women's Three Nations Tournament
Ireland 1 (E Beatty)
Chile 0

Ireland: G O'Flanagan, N Evans, K Mullan, S McCay, L Tice, G Pinder, L Colvin, N Daly, H Matthews, A O'Flanagan, Z Wilson
Subs: Y O'Byrne, M Frazer, N Carroll, E Beatty, C Watkins, A Meeke

Chile: C Shuler, F Villagran, D Krimerman, F Flores, C Garcia, K Jacob, C Caram, F Tala, C Palma, J Villalabeitia, J Cambiaso
Subs: F Pizarro, A Solano, P Valdivia, J Salas, M Maldonado, J Roman

The Hook


---

Ireland 1-0 Chile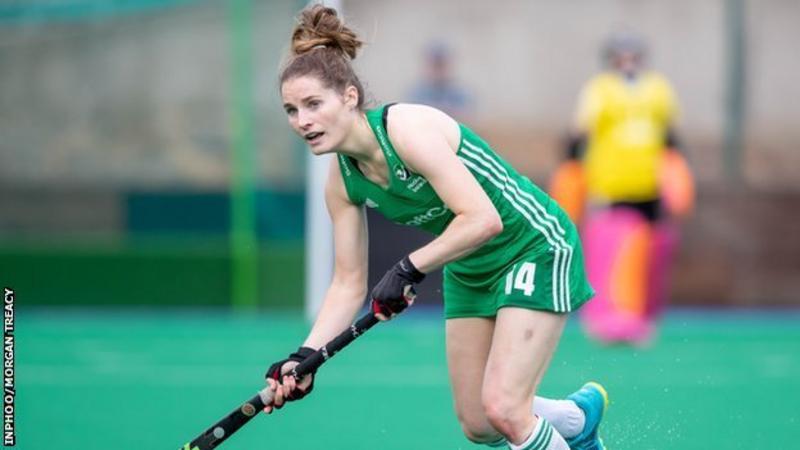 Emily Beatty scored the only goal of the game in Dublin

Ireland continued their World Cup preparations with a 1-0 win over Chile in the first of the 3 Nations warm-up matches.

Emily Beatty's deft second half finish was enough for the hosts to claim victory in Dublin.

Dalriada forward Katie Mullan was a bright spark throughout and perhaps unlucky not to have marked her 150th international cap with a goal.

Ireland's World Cup campaign gets underway on 21 July in London.

The Green Army were fully deserving of victory in a game in which they were by far the livelier side.

It took until the 43rd minute Beatty to break the deadlock, deflecting Hannah Matthews reverse into the net from inside the circle.

Ireland will face the USA in their World Cup opener before further Pool B games against England and India.

They take on Italy in Pembroke on Saturday in their next 3 Nations match.

BBC Sport


---

Test match results from 12 July

2018 Test Matches: BEL v CHN (W)
Brussels (BEL)

BEL v CHN     2 - 1

2018 Test Matches: JPN v GER (M)
Kakamigahara (JPN)

JPN v GER     1 - 6

FIH Match Centre


---

A Brief History Of The Hockeyroos At The World Cup

Ben Somerford




The Hockeyroos have arrived in London ahead of the 2018 World Cup which starts next week, with the side targeting their third ever global title.

CONTENDERS

Australia heads into the quadrennial event ranked fifth in the world, with reigning champions and seven-time winners Netherlands going in as the favourites as the world's number one ranked side in light of last year's World League Final triumph.

The Dutch also claimed Olympic gold in London in 2012, although that tournament was played at Riverbank Arena, not the Lee Valley Hockey and Tennis Centre where this year's World Cup will be held.

Rio Olympic gold medallists and hosts England are ranked second, with Argentina third and 2018 Commonwealth Games gold medallists New Zealand fourth.




HISTORY

Australia's two previous World Cup triumphs both came during a rich era for the side, winning in 1994 and 1998, while they also claimed Olympic gold in 1996 and 2000.

Olympic triumphs appear to be indicative towards World Cup success, with the Dutch winning gold in Beijing in 2008 and London in 2012, along with the 2006 and 2014 World Cup titles, so Rio winners England loom large, particularly as hosts.

Remarkably the Dutch have appeared in the past five World Cup finals, although they have only won two. Interestingly, only three different nations have participated in the past seven World Cup finals; the Netherlands, Australia and Argentina, indicating a three-way dominance.

Four years ago, the Netherlands defeated the Hockeyroos 2-0 in the decider in The Hague, while 2010 World Cup winners Argentina came third.

Beyond those nations, only Germany (formerly West Germany) have ever lifted the World Cup; in 1976 and 1981, and they last competed in the final in 1986.

The Germans head into this World Cup ranked sixth, while 2017 World League Semi-Final winners USA (ranked seventh) and 2017 World League Final third-place getters South Korea (ranked eighth) shouldn't be under-estimated.

AUSTRALIA'S POOL

Australia are in Pool D, alongside New Zealand whose best-ever World Cup finish occurred in 1986 when they came fourth.

The Black Sticks and Hockeyroos have forged a fierce rivalry in recent times, with New Zealand knocking Australia out of the 2016 Rio Olympics at the quarter-final stage and winning the 2018 Commonwealth Games gold medal match. Japan (ranked 12th) and Belgium (ranked 13th) round out Pool D.

Belgium are the only European team in the pool which in terms of conditions may suit Australia, whose two previous World Cup titles both occurred in Europe; winning in Dublin in 1994 and Utrecht in 1998, showing that the continent holds no fears.

Curiously Australia were pooled with all three nations in 2014, albeit in the different six-team per pool format. The Hockeyroos beat both Japan and Belgium 3-2 while they drew 0-0 with New Zealand.

The current Australian side is vastly different to the one which reached the final four years ago, with only six members from the 2014 team part of the group which has travelled this year.

Those players are Jodie Kenny, Karri McMahon, Edwina Bone, Emily Smith, Rachael Lynch and Emily Hurtz, with a wave of new younger players now coming through.

Subsequently expectations for the Hockeyroos to win their first world title in 20 years are measured but given Australia's strong history at the World Cup, nothing's impossible.




HOCKEYROOS' WORLD CUP HISTORY
1974 - DNP
1976 - DNP
1978 - DNP
1981 - Fourth
1983 - Third
1986 - Sixth
1990 - Runners-up
1994 - Winners
1998 - Winners
2002 - Fourth
2006 - Runners-up
2010 - Fifth
2014 - Runners-up

Hockey Australia media release


---

Team USA Prepare for London as the Hockey Women's World Cup Comes to Town




The 2018 Vitality Women's Hockey World Cup is coming to London this summer, and the U.S. Women's National Team are getting ready to take it to the world! We spoke to the players ahead of the event, which takes place between July 21 and August 5 this year, at the Lee Valley Hockey and Tennis Centre at the Queen Elizabeth Olympic Park (where the London 2012 Olympics were held). It's easy to get to - the nearest London Underground station is Stratford, reachable from Central London via the Jubilee and Central Lines, and the Docklands Light Railway - so get your flag waving arm ready and get out there to support the Americans in London!

During the pool, Team USA will be facing Ireland (July 21, 6pm), then England (July 25, 8pm - Tickets Sold Out) and India (July 29, 5pm). Matches will be broadcast in the UK on BT Sport.

Click on each athletes' picture to read their interview.



#2 | Stefanie Fee



#20 | Ali Froede



#29 | Alyssa Manley



#24 | Kathleen Sharkey

Content Courtesy of The American, Britain's #1 American Magazine

USFHA media release


---

'Umpires receive abuse, but respect is key part of the game today'

by Daniel Dunne



Alison Keogh will umpire at the Women's Hockey World Cup PIC: Adrian Boehm

At the Women's Hockey World Cup there will be, for the first time, a mixture of both genders officiating to reinforce the sport's 'Equally Amazing' values. There will be a total of 25 officials from 14 countries appointed, representing all five continents at this year's tournament.

The life of a referee for any sport is hard and hockey is no different. There will be abuse, decisions to make and a rapturous crowd to contend with so keeping a clear head won't be easy for the officials in the middle. We talked to Alison Keogh, an FIH qualified umpire from Ireland, who will be officiating in London.

Alison has been with the FIH for just over five years now and has been involved in hockey from a young age before becoming a club captain and the Three Rock Rovers physiotherapist, all while studying for a PhD in physiotherapy.  She spoke to us about her experiences as an umpire and the Hockey World Cup.

Q: What is the worst abuse you've received as an umpire and how did you deal with it?

Alison: Anytime I watch football on TV I think to myself, "why do they do it?". There is just a total lack of respect there for officials. So, when I think of abuse my mind wanders to that sort of scenario where someone is being surrounded and later vilified across various media platforms. In that case, I consider myself very lucky to not have suffered terrible abuse! That's not to say I haven't received it, because we all do!

We're only human and sometimes we have bad days, especially in the initial stages of our development. The mood of a game depends on so much; the teams taking part, their coaches, how their season is going, their memory of you as an umpire, your own day, your performance, your colleague, the type of crowd there, and so much more.

One match in particular stands out for me though. It was a local derby between two clubs in Dublin, both of whom were pushing for the top spot in the league. I remember it because I was having a bad day both on and off the pitch. Work was really stressful and unfortunately, I brought it out onto the pitch with me and as a result my management wasn't what it should have been.

I had taken crowd side, which was also bench side, so I heard everything and anything that was said about me. The line that stood out was that it was a disgrace that I was an international umpire, and that if this was the standard of an international, then umpiring was in a bad place.

I think I was only umpiring about four years at the time, so I hadn't yet learnt the management skills to deal appropriately with the abuse I was getting, but the problem was I didn't deal with it because I believed it! I hadn't yet developed the mental skills that it takes to be able to move on from a bad decision and continue with the game.

It went from bad to worse and I walked away in tears. Probably one of the most important things I have learnt from that episode, but also from the general abuse you can get at games is how to deal with it. You can't always stop it (especially if it is off the pitch) but you can try to prevent it with timely management and good decision making, and if it happens, you can control how you deal with it.

I've worked hard on the mental side of my game to deal with that, and I now have a couple of strategies that I use pre-game to help me focus and plan my role, but also for during a game if it is required. Obviously the more consistent you are in your decision making the better, as I think inconsistency is one of the most frustrating things for teams.



Alison Keogh in action PIC: Adrian Boehm

Although it's also important to be approachable and human. I think that is where hockey is really good, we allow a certain level of discussion once it is done in a respectful manner. I will always answer questions, particularly off the pitch. Sometimes the coach doesn't agree with me but at least if they can understand my rationale they are more likely to accept it. Similarly, though I think it is important to be humble and admit if you couldn't see, or you missed something, or got it wrong.

There is nothing worse than someone who is proven wrong digging in their heels, but if you can say look I'm sorry, and they know you mean it, coaches and players are much more likely to accept it. The human side of the game is so important in building a respectful rapport between everyone.

Q: Have you ever felt a umpire that you're working with has ever been condescending towards you and what do you make of introducing men into the women's tournaments and vice versa?

Alison: I can genuinely say that certainly at international level I have never felt that. I have been at tournaments where there is a difference in experience and that difference is accepted by everyone, but it is never held against you.

The more experienced umpires just know how to help support less experienced ones without patronising them. At the end of the day regardless of your experience the two of you have to go out and work together so it's in everyone's best interest that there is a good working relationship where both of you know your game plan.

As for umpiring with men or in men's games, I've umpired both a lot at home. Again, I've never had a problem. I think the pool of us is so small at particular levels that there is a knowledge that if you are there, you're there for a reason, and again at the end of the day you both have a job to do.

In the upcoming World Cup there will be male technical officials at the women's event and vice versa but for now the umpires at both tournaments are all of the same sex. In time this may change, and I personally think that is a really exciting development! Hockey is always at the forefront of change and it is great to see that continuing.

Q: What games stand out in your memory that you've been an official for?

Alison: Internationally one of my highlights to date was during the World League final, the quarter-final game between New Zealand and Argentina. The New Zealand home crowd really got behind their team and created such an electric atmosphere. It was a really tight game which is always a good challenge to have.

It was great to be a part of and was the first time in years that I had got to umpire with Sarah Wilson, a good friend of mine, which was also special. She's one of the people I met first when starting out and we had been to so many tournaments together without getting to umpire, so it was nice to finally be paired.

In terms of domestic games, I have been lucky enough to be part of the first all-female team on a men's match. Carol Metchette and I, who would be a mentor of mine, were put on a men's cup game a few years ago but this year we got to repeat it within the All Ireland league, the EYHL. The speed of men's matches is always much higher so they're always very enjoyable. To have two women on it, there was maybe a little fear of how it would go but the teams were brilliant! They got on with it, were respectful and treated us just like anyone else which is all you could want going into it.

Q: During the last World Cup you were a fitness co-ordinator, how has that experience prepared you for what's to come?

Alison: Unfortunately, not at all really! I wasn't actually present at the last World Cup. I've been the FIH umpire fitness co-ordinator since 2011, when I was only really just starting umpiring myself. In 2011, the FIH created the 'Road To' programme which was the group of umpires (male and female) that they would be choosing their Olympic and World Cup panels from.

Anyone on these panels have had to send in 3-4 rounds of fitness results annually since then. My role is to collect and analyse these results to make sure people are reaching the standards set by the FIH and answer any queries regarding fitness or training that the umpires have.

So, in that way my role takes place behind a screen so there was no need to have me present at the last World Cup. However, since then I've progressed to now being on the panel myself while I've also been at various events including the Europeans and the World League Finals.

It's my presence at these events that has prepped me more than anything because you get used to what to expect in terms of crowds, TV, schedules etc. After that, your preparation is very personal. For me there's obviously a lot of fitness involved, but I would be doing that anyway. There's also the mental side of your preparation, and then the usual … practice, practice, practice.

Q: What are you looking forward to most at this year's tournament?

Alison: Everything! I've not umpired at Lee Valley yet, but English Hockey looks like it has been doing a fantastic job promoting the game and the events they've hosted in recent years. I'm looking forward to seeing it all first hand. The hockey is obviously going to be fantastic. Every game counts and at this level you can't take anything for granted so I can't wait to get out on the pitch.

We've got a great group of umpires and officials there, most of whom I've met before so I'm looking forward to catching up with friends from around the world. We've obviously got a job to do there but it's always easier to do that among friends. We will all have been preparing hard for this over the last few months, so it will be great to go and put that all into practice.

The Hockey Paper


---

Hockey stars' favourite World Cup venues



Some of hockey's greatest stars recall their favourite World Cup venue Photo: Van Berkum Fotografie

The World Cup is the pinnacle of any sport and for hockey it's no different. Along with the Olympic Games, being crowned a World Cup champion is a moment in any player's sporting career that will define their sports achievements for the rest of their life. And it is fitting that the stories of World Cup drama, excitement, heart-break and ecstasy should be played out in stadiums that will also remain etched in the minds of players and spectators alike.

The Vitality Hockey Women's World Cup London 2018 will take place in a venue that is fast becoming an iconic hockey stadium. As a legacy venue from the London 2012 Olympic Games, the striking blue pitches at Lee Valley Hockey and Tennis Centre, in Queen Elizabeth Olympic Park, provide a stunning stage on which this year's drama will take place and players and fans alike will walk away from the Park with their own set of magical memories and standout moments.

While the current crop of top internationals will be looking to make their own golden moments in London this summer, here are four stars of the game recalling their own World Cup memories and the stadiums that played host to their achievements.

"I loved playing the World Cup in The Hague, Netherlands in 2014. It was a true hockey celebration - from the magnificence of the stadium to the events held outside the competition. The city seemed beautiful to me and I have the most wonderful memories."
Macarena Rodriguez

Alyson Annan remains one of the greats in world hockey. With two Olympic gold medals and two World Cup gold medals, Annan was a key member of the Hockeyroos squad that dominated world hockey in the 1990s. At the 1998 World Cup in Utrecht, Netherlands, Annan was top scorer with eight goals and also voted player of the tournament.

Perhaps unsurprisingly, the current Head Coach to the Netherlands names Utrecht 1998 as her favourite World Cup venue.

"I remember walking out onto the pitch for a test event. We had been held up by traffic getting to the venue, so we were frantically trying to warm up and get ready for the game while still in the team bus.

"We just saw this sea of orange [Dutch supporters] and we felt pretty naked in our new bodysuits (this was the first time the Australian team had worn their famous bodysuits in front of a large crowd). The organisation was fantastic, the atmosphere was even better and of course winning helps."

Macarena Rodriguez of Argentina has two World Cup medals. A bronze from the 2014 Rabobank World Cup, which took place at The Hague, and a gold medal which she won while captaining the team in Rosario in 2010. Her choice of favoured venue comes as no surprise.

"I loved playing the World Cup in The Hague Netherlands 2014. It was a true hockey celebration, from the magnificence of the stadium to the events held outside the competition.

"The city seemed beautiful to me and I have the most wonderful memories; although we finished third. But if I have to choose one I prefer the 2010 Rosario Argentina World Cup in which we won and, of course, it was in front of a home crowd.

"It was incredible what we experienced in that tournament. Everything was perfect for us, and it was best feeling to have all the support and love in the stands. It was a dream come true. It was my first World Cup and I lived it to the full. In a word it was 'amazing!'"

Rosario is also the venue of choice for former England and Great Britain captain, Kate Richardson-Walsh and the current German captain Janne Müller-Wieland.

Muller-Wieland, who is likely to be leading Germany out for this year's Vitality Hockey Women's World Cup in London, said: "I loved the stadium in Rosario 2010. Playing against Argentina in the semi-final filled with probably 14,990 Argentinian fans and the atmosphere they can create was just incredible."

Great Britain's most capped female player agrees. Richardson-Walsh said: "The 2010 World Cup in Rosario, Argentina, was one of my best hockey memories. 

"As an England team we were making great strides forwards as we had only started our full-time Great Britain centralised programme the year before. Our bronze medal winning game versus Germany was a great scalp in extreme heat.

"Then there was the stadium and the atmosphere. Other than the London Olympic stadium in 2012 I have never played in front of such a big, noisy and passionate crowd. The stands were jumping throughout Las Leonas' games and the rendition of the Argentinian national anthem in Rosario, in that stadium, is really something to behold. Playing in front of such a knowledgeable and impassioned crowd was a real treat and I feel very lucky to have had the chance to play there so many times.

"I'm quite sure this time around in London at the Vitality World Cup in 2018, the English crowd will put on a similarly emphatic display."

#HWC2018

FIH site


---

Pakistan given Indian visa assurance for World Cup

By Muhammad Yousaf Anjum



PHOTO: AFP

LAHORE: The Pakistan hockey team has been assured it will not face any visa issues when the players pack to travel to India for the upcoming Hockey World Cup scheduled to take place at the end of the year.

The news came as a sigh of relief for the Pakistan Hockey Federation (PHF) after the International Hockey Federation (FIH) gave them the assurances.

PHF boss Brig (r) Muhammad Khalid Sajjad Khokhar, while talking to media in Lahore, said the process will run smoothly this time around, courtesy FIH's interference.

"We had detailed talks on the visa issue with FIH president Narinder Batra, who is also the head of Hockey India. He and all other FIH officials said that Pakistani players and support staff should start the applications process on time so that they face no hurdles in the issuing of visas," explained Khokhar.

In December 2016, the Indian government refused to grant visas to Pakistan's junior wrestling, squash and karate teams which disallowed them from participating in the Asian Games

The political climate between the countries is still unfavourable and it seems like FIH will face a big challenge in making sure it lives up to its promise made to Pakistan.

On a question about Pakistan team's performance in the recently concluded Champions Trophy, the president expressed satisfaction despite the team finishing bottom of the pile. "The PHF is satisfied with the team's results in Champions Trophy. We finished last but the Green Shirts are improving every day, especially against Argentina our team played well to beat them. We believe in this team," he said.

Khokar also revealed that the PHF is still facing the issue of a lack of funds and hoped it will be resolved soon.

The Express Tribune


---

France, Japan, Malaysia and Spain to host 2019 Hockey Series Finals



Two out of three hosts for each of the men's and women's Hockey Series Finals have been confirmed

The International Hockey Federation (FIH) has confirmed that France, Japan, Malaysia and Spain will host Hockey Series Finals in 2019.

Women's events will take place in Japan and Spain and men's in France and Malaysia, with two more Hockey Series Finals - one men's and one women's, to be confirmed within the coming weeks.

A crucial stage on the road to Tokyo 2020 Olympic Games qualification, these events will involve many of the world's top teams not playing in the FIH Pro League, plus qualifiers from this year's Hockey Series Open.

Between April and June next year, eight teams per gender will compete in each of the respective events. The top two teams from each Hockey Series Final will secure a place in the Olympic Qualification Events which will be held in November 2019.

"The Hockey Series Finals will provide the platform to showcase our sport to a global audience whilst also offering significant legacy prospects for each of these leading hockey nations."
Thierry Weil, FIH CEO

Japan and France were selected to provide a significant boost for hockey ahead of the Tokyo 2020 and Paris 2024 Olympic Games. Between 25 May and 2 June Japan will host their women's event at a venue to be confirmed shortly, while the men's event in France will take place in Touquet Athlétic Club, Le Touquet between 15 and 23 June. These events will be crucial opportunities to capture the interest of local sports fans and partners who will be eagerly anticipating the Olympic Games taking place in their capital cities over the next six years.

The event in Malaysia will take place between 23 April and 1 May at the Bukit Jalil National Stadium in Kuala Lumpur. It marks the return of FIH competition to the passionate hockey nation for the first time since the Men's Champions Challenge in 2014. With vast experience in hosting major international events at some of the world's best hockey stadiums, including the annual Sultan Azlan Shah Cup and Sultan of Johor Cup, the Malaysian Hockey Confederation know how to deliver successful global events. Combined with substantial support from local broadcaster Astro Arena and a loyal fan base, the Malaysian event is set to be one of the highlights in the 2019 calendar.

Spain will be looking to build on the interest generated by their men's involvement in the FIH Pro League which begins in January 2019. With some of the world's best women's teams also coming to the Betero Hockey Stadium in Valencia between 19 and 27 June, fans in Spain will be exposed to significantly more live, world-class international hockey throughout the first six months of the year.

Speaking about this, FIH CEO Thierry Weil said: "We're delighted to secure hosts for these massive events that form a crucial stage of the Tokyo 2020 qualification process. The Hockey Series Finals will provide the platform to showcase our sport to a global audience whilst also offering significant legacy prospects for each of these leading hockey nations. We have no doubt that teams, fans, media and commercial partners will be eagerly anticipating this new competition which is an important component of our new Event Portfolio."

To find out more about the Hockey Series Finals and who qualifies from the Hockey Series Open, follow the Hockey Series on Facebook, Twitter, Instagram and LinkedIn or visit the official Hockey Series website.

HOCKEY SERIES FINALS 2019 DATES
23 April – 1 May: Malaysia - Bukit Jalil National Stadium, Kuala Lumpur
25 May and 2 June: Japan, Venue TBC
15-23 June: France - Touquet Athlétic Club, Le Touquet
19–27 June: Spain - Betero Hockey Stadium, Valencia

About the Hockey Series:
The Hockey Series Finals will include at least five qualifiers from the Hockey Series Open but contain no more than three of the teams that qualified directly for the Finals based on World Ranking. A comprehensive Q&A detailing the FIH Series and Tokyo 2020 Olympic Games qualification is detailed on the official website.

#HockeySeries2019

FIH site


---

Nuraini all pumped up for Jakarta after two awards

KUALA LUMPUR: National women's hockey defender Nuraini Abdul Rashid is all pumped up to achieve her best showing at next month's Asian Games in Jakarta after winning two awards recently.

The 29-year-old Temerloh-born is in high spirits after bagging the Best Player and Top Scorer awards at the World Series in Singapore early this month.

The penalty corner specialist who represented Malaysia since 2007, converted seven penalty corners and two field goals in six matches en route to winning the title for Malaysia.

Nuraini said it was the first time that she had won two individual awards in an international tournament.

"It is a new milestone in my hockey career. Winning two awards has inspired me to play much better in my third Asian Games," said Nuraini, who has 130 international caps to her credit.

She featured in the 2010 Guangzhou and 2014 Incheon Asian Games and on both occasions, Malaysia finished fifth.

Nuraini said they hoped to go one better by qualifying for the semi-finals in her third Asian Games attempt.

"We stunned world No. 12 Japan (3-2) in the Asian Champions Trophy in Donghae City in South Korea in May to finish fourth (behind champions South Korea, India and China).

"And I believe that we can get the better of Japan again to qualify for the semi-finals in the Asian Games. The draw is not out yet but Japan is likely to be in the same group with us," said Nuraini.

The world No. 22 Malaysia and nine other teams will feature in the Games.

In preparation for the Asiad, the national team will play in Brisbane on July 20 and take part in five matches against club teams before the final squad of 18 are named.

The Star of Malaysia


---

iWYZE Schools International Series | Night Three




On a cool night in Pietermaritzburg the iWYZE International U18 series between South Africa and Australia came to an end on a thrilling note. Heading into the final night the South African girls had already secured the series with two fantastic wins, but the boys series was still in the balance as both games had been tied in electrifying circumstances.

Girls | South Africa 2-0 Australia

Having secured only their first ever victory against Australia in the opening match, South Africa completed their first ever clean sweep as Lenise Marais enhanced her own growing reputation as a coach with a 3-0 series win. The final game saw the wounded Australians taking on a highly encouraged SA girls side who were being watched by South African U21 coach Robin van Ginkel.

The first half was a little bit of a tentative affair with few high-quality chances being created. The lack of intensity due to the series being decided was clear but half-time words seemed to create the urgency that was missing. South Africa took the lead when Jean-Leigh du Toit, who will be headed to the African Youth Games in Algeria, netted from a penalty corner with the type of finish that you associate with Lisa-Marie Deetlefs for the National team. South Africa confirmed the victory in the 56th minute when the sensational Bianca Woods scored the goal of the series with some scintillating aerial skills to create and finish her chance.

A superb series for the South African Girls and a great statement about the strength of the future of girl's hockey in South Africa.

SA Girls Team – Mishka Ellis, Jacolene Mclaren, Ammaarah Hendricks (c), Edith Molikoe, Angela Welham, Carienke Jacobs, Kayla de Waal, India Hardie, Thati Zulu, Bianca Wood, Francisca Darkoh, Zimkhita Smayile, Laila Williams, Samantha Smuts, Julia Hoal, Jean-Leigh du Toit & Elita van Staden

Boys | South Africa 3-6 Australia




Australia were strongly favoured for the series but had met a South African boys side who were nothing short of resolute in the opening two games. They took that favoured tag seriously at the start of the series decider, when they gave the superb double fire in the opening 8 minutes. First Ky Willott from a penalty corner before Joshua Brooks scored a field goal.

The superb Cody Posthumus pulled a goal back for South Africa before Australia turned on the class to run away with the game. Kaleb Christensen (29th minute), the outstanding Craig Marais (36th) and Elias Fernandez (38th) all scored from field goals to make it 5-1 and probably settle the game. But Posthumus, who will be integral for the SA Youth team at the Algerian Youth Games, scored twice in two minutes to score the first hat-trick of the series and to set up a nervous finish. Both goals came from the spot as the umpires punished some poor defending.

As South Africa surged in an attempt to level the series it left opportunities at the back and after winning a penalty corner Australia sealed the victory with a Ky Willott penalty corner. An outstanding 6-3 win for Australia and with it a 1-0 series victory.

The boy's series produced 23 goals in a scintillating series that really gave the crowd some fantastic exhibition hockey, played at a high intensity with a great spirit and both teams were fantastic.

SA Boys Team – Taine Bird, Suubi Sekawabe, Andre Bradford, Jared Campbell, Mpumelelo Maphumulo, Luke Wynford, Idrees Abdulla, Teven Petersen, Cody Posthumus, Peter Jarvis, Angelo Walstroom, Marvin Simons, Matt Dewar (c), Ivann van der Merwe, Joshua Findlay, Steven Conway, Niel Raath & Sihle Ngcongo

SA Hockey Association media release


---

Golden and MacKenzie selected for GB Men's EDP matches




Scotland's Cameron Golden and Callum MacKenzie have been selected for the GB Men's Elite Development Programme (EDP) in the upcoming six match tournament held in Belgium.  These matches will be played between Saturday 14th July to Saturday 21st July and will see GB face Belgium, India, Netherlands, Ireland and Malaysia.

The GB EDP has been launched as part of a strategic objective during the Tokyo 2020 cycle with the aim of developing medal winning Olympians of the future, with the selected athletes having shown their potential to achieve that during a comprehensive selection process.

A total of 35 players have been chosen for the Men's GB EDP and, while the programme is not age categorised, it has been designed for athletes aged between 19-23.

The GB EDP will also see a revised coaching structure that will see world-class coaches leading the activity as well as spending time engaging and supporting the domestic and university game, with Jon Bleby announced as the Head Coach of the Men's GB EDP.

Squad

James Albery (Beeston)
Jacob Draper (Cardiff and Met)
Cameron Golden (Grove Menzieshill)
Callum Mackenzie (Grange)
Tim Nurse (Bath Buccaneers)
James Oates (Canterbury)
Nick Park (Reading)
Josh Pavis (Nottingham University)
Oliver Payne (Durham University)
Matt Ramshaw (Loughborough Students)
Toby Reynolds-Cotterill (Loughborough Students)
Peter Scott (Bath Buccaneers)
Rhys Smith (Durham University)
Tom Sorsby (Nottingham University)
Jack Turner (Durham University)
Zach Wallace (Surbiton)
Jack Waller (Durham University)
Eddie Way (Birmingham University)

Scottish Hockey Union media release


---

Emma Watson joins international athletes at Hockey Futures launch event



Emma Watson at Hockey Futures launch event

Emma Watson joined female England Hockey athletes at a launch event for new charity Hockey Futures, with nine days to go before the start of the Vitality Hockey Women's World Cup in London.

Emma surprised schoolchildren at Thorpe Hall Primary School in Walthamstow, East London, joining a hockey session alongside Rio 2016 Olympic gold medal winner Helen Richardson-Walsh MBE and Commonwealth & European medallist Emily Defroand.

Hockey Futures is a new charity whose mission is To create a nation where every young person can play hockey. The charity will partner with clubs to create outreach programmes that connect with young people through schools and community organisations up and down the country. With the Vitality Hockey Women's World Cup starting in London on Saturday 21 July, England Hockey are using the event as a platform to help launch the charity.

Emma – who played hockey for Rover Oxford as a youngster and also at Brown University – joined in with twenty children in a session delivered by coaches from Waltham Forest Hockey Club.

Emma said, "Hockey was a big part of my life growing up and I'm thrilled that England Hockey are committed to making the sport more accessible to children all over the country through the launch of Hockey Futures. Hockey is the nation's most gender equal sport and it was fantastic to visit a Hockey Futures session at Thorpe Hall Primary School and see children playing together, learning new skills - and teaching me some new hockey tricks too!

"This is such an exciting time for hockey in England, with London hosting the Vitality Hockey Women's World Cup this month.All the England games are already sold out, and I hope that the event will draw more young people to the sport.

"It's a really important opportunity to celebrate leading sports women from all over the world and I wish all the players every success in their games."

Helen Richardson-Walsh is an ambassador for Hockey Futures, and Essex-born Emily Defroand is an ambassador for England Hockey's work in East London in conjunction with Sport England, and they helped guide Emma through a Quicksticks session at Thorpe Hall's sports facilities.

Helen said, "It was great to be part of the event alongside Emma, Emily and of course the schoolchildren! Hockey is an amazing inclusive sport and it is so important that we help create as many opportunities as we can for youngsters to play, wherever they live. Throughout my career and since Rio I've seen first hand how powerful sport can be at grass roots, and long may it continue through Hockey Futures. Fundraising is now key and as an ambassador for the charity I will be doing all I can to help share its message."

Emily added, "It was a fantastic event and I'm happy to admit it was an amazing surprise for everyone in the room that Emma was able to join us. She is a brilliant role model and to have her support is very, very powerful. With my roots in Essex, I am very proud of hockey in this part of the world and I really believe Hockey Futures can make a significant difference for the long term, helping as many young people as possible to play our sport. With the world cup starting soon, hockey has a great platform to keep growing."

Helen, Emily and Emma also helped gift the school with 100 free tickets for a world cup session, while Helen and Emily presented Emma with a signed shirt from the England women's world cup squad. The world cup runs from July 21 to August 5 at Lee Valley Hockey and Tennis Centre on Queen Elizabeth Olympic Park, and this will form the start of Hockey Futures' public campaign to raise £1m before the 2020 summer Olympics in Tokyo.

About Hockey Futures
Hockey Futures is a registered independent charity with the vision To Create a Nation Where Every Young Person Can Play Hockey. The charity works with hockey clubs to create outreach programmes to connect with young people through schools and community organisations. It aims to encourage hockey for all with particular emphasis on inner city neighbourhoods, helping young people improve their life skills, allowing them to positively develop.

The charity is looking for individual donations, as well as corporate partners and partner hockey clubs. Please see www.hockeyfutures.org  or contact This email address is being protected from spambots. You need JavaScript enabled to view it.. Individuals can donate at mydonate.bt.com/charities/hockeyfutures or by text, text FUTURES to 70970 to donate £5, or FUTURES to 70191 to donate £10.

England Hockey Board Media release


---

Hockey is England's most gender equal sport, says Harry Potter actress

By The Hockey Paper




England Hockey has used the power of celebrity and royalty before, but Emma Watson might have trumped the lot after she co-launched a new charity, Hockey Futures, ahead of the Women's Hockey World Cup.

The 28-year-old actress, who has nearly 29 million Twitter followers, surprised schoolchildren in East London as she joined Rio gold medallist Kate Richardson-Walsh and Emily Defroand.

Hockey Futures' mission is to create a nation where every young person can play hockey and will partner with clubs to create outreach programmes that connect with young people through schools and community organisations.

Watso, who who played hockey for Rover Oxford as a youngster, said: "Hockey was a big part of my life growing up and I'm thrilled that England Hockey are committed to making the sport more accessible to children.

"Hockey is the nation's most gender equal sport and it was fantastic to visit a session and see children playing together, learning new skills – and teaching me some new hockey tricks too."

She added that she hoped the looming World Cup would attract more young people to the sport.

"It's a really important opportunity to celebrate leading sports women from all over the world and I wish all the players every success in their games," she said.

Richardson-Walsh said: "Throughout my career and since Rio I've seen first hand how powerful sport can be at grass roots, and long may it continue through Hockey Futures.

"Fundraising is now key and as an ambassador for the charity I will be doing all I can to help share its message."

Helen, Emily and Emma also helped gift the school with 100 free tickets for a World Cup session, while Helen and Emily presented Emma with a signed shirt from the England women's World Cup squad.

The Hockey Paper