All the news for Thursday 12 July 2018

real FOUR NATIONS CUP Women - Day 1
Grünwald (GER)

NZL v NED (RR)     1 - 3
GER v ARG (RR)     1 - 2

Pool standings
| Rank | Team | Played | Wins | Draws | Losses | Goals For | Goals Against | Goal Difference | Points |
| --- | --- | --- | --- | --- | --- | --- | --- | --- | --- |
| 1 | Netherlands | 1 | 1 | 0 | 0 | 3 | 1 | 2 | 3 |
| 2 | Argentina | 1 | 1 | 0 | 0 | 2 | 1 | 1 | 3 |
| 3 | Germany | 1 | 0 | 0 | 1 | 1 | 2 | -1 | 0 |
| 4 | New Zealand | 1 | 0 | 0 | 1 | 1 | 3 | -2 | 0 |
---

Black Sticks women beaten by world number one



Shiloh Gloyn was New Zealand's only goal scorer in their 3-1 loss to the Netherlands in Munich this morning. ANDREW CORNAGA/PHOTOSPORT

The Black Sticks women have lost to the world number ones, the Netherlands 3-1 this morning (NZT) in the opener of the Four Nations Cup.

Meanwhile the Black Sticks men have rectified their heavy loss to Japan earlier this week by toppling the homeside 3-2 in Japan in the dying minutes.

Strike forward Shiloh Gloyn opened the scoring for the women in Munich to give the Black Sticks an early lead, which they held for the first half.

After a solid opening by the women, the Netherlands proved their class and within two minutes into the second half the Dutch equalised through a Caia van Maasakker penalty corner.

The Black Sticks gave away too many opportunities which eventually cost them in the dying stages of the match with the Dutch adding two more late goals.

Assistant coach Sean Dancer said the team worked hard and he was pleased with the first half efforts.

"Unfortunately we let ourselves down in the second half and gave away too much ball and opportunities, which we really can't do against a quality side like the Dutch.

"We now need to re-focus and be prepared for a tough challenge against Germany tomorrow".

They will play host nation Germany, who were beaten 2-1 by Argentina in the earlier match.

In the men's third match against Japan, a late Stephen Jenness field goal clinched the 3-2 win. The Kiwis, coming off a humbling 7-1 loss to Japan two nights before managed to redeem themselves.

After a tight and scoreless first quarter, the Black Sticks struck with two goals in super quick succession, a field goal to Stephen Jenness, then only moments later, a Jared Panchia goal.

The lead was quickly erased however, with Japan immediately striking back with two of their own.

It fell to Black Sticks striker Stephen Jenness to break the deadlock three minutes from full time for his third goal of the tour and snatch a 3-2 win for the visitors.

Coach Darren Smith, it was a pleasing return to form for the team after the disappointment of the previous match.

"Much better performance from the team today. We were in control of the match for large periods and I felt that our passing, movement and ability to hold the ball was much improved. We were also able to limit Japan's threats through our defensive application.

"The other aspect that was impressive is that we lost three players in the first half to injury meaning that we played the entire second half with only three substitutes. Considering the heat, humidity and Japan wanting to play the game at pace we showed some quality and determination to close the game out".

Stuff


---

Black Sticks clinch match with late Stephen Jenness winner



PHOTO: Junji Itou

A late Stephen Jenness field goal clinched a 3-2 win for the Vantage Black Sticks Men over Samurai Japan, at the Kawasaki Juko Stadium in Gifu this afternoon. The Kiwis, coming off a humbling 7-1 loss to Japan two nights before, were determined to get back to winning ways and make amends for an out of character performance.

After a tight and scoreless first quarter, the Black Sticks struck with two goals in super quick succession in the 24th minute of the match, a field goal to Stephen Jenness, then  only moments later, a Jared Panchia goal, to see the New Zealanders ahead 2-0.

The lead was quickly erased however, with Japan immediately striking back with a Kazuma Murata brace in the 26th and 29th minute, leveling the scores at half time.

A tense battle ensued as both teams pushed for the win, with the Vantage Black Sticks down three players due to injury in the first half. It fell to Black Sticks striker Stephen Jenness to break the deadlock 3 minutes from full time for his third goal of the tour and snatch a 3-2 win for the visitors.

For Head Coach Darren Smith, it was a pleasing return to form for the team after the disappointment of the previous match.

"Much better performance from the team today. We were in control of the match for large periods and I felt that our passing, movement and ability to hold the ball was much improved. We were also able to limit Japan's threats through our defensive application.

"The other aspect that was impressive is that we lost three players in the first half to injury meaning that we played the entire second half with only three substitutes. Considering the heat, humidity and Japan wanting to play the game at pace we showed some quality and determination to close the game out".

The Vantage Black Sticks will play the last of four matches in the Japan series Thursday night, at 9pm NZ time, followed by a one-off match verses Germany in Gifu, Friday at 9pm NZ time.

VANTAGE BLACK STICKS: 3 (Stephen Jenness 24' and 57', Jared Panchia 24')

JAPAN: 2 (Kazuma Morata 26' and 29')

Half Time: 2:2

Hockey New Zealand Media release


---

Scotland held to a draw and Atlantic Series ends as a tie



Photo by Duncan Gray

Scotland men's final match of the Atlantic Series against the USA ended in a 1-1 draw at the Glasgow National Hockey Centre, resulting in the series finishing as a tie.

Scotland's Michael Bremner opened the scoring for the hosts in the first quarter, but the visitors struck back just as the final portion of the game began, Aki Kaeppler finding the net for them.

Determined to put on a great display and clock up a series-winning victory after Monday's 3-1 defeat, the Blue Sticks started strongly, creating multiple chances. Their opponents looked threatened and under pressure in defence and Scotland sought to take advantage with some early attacks.

They continued to bombard the US with a series of penalty corners. Twice successively Willie Marshall was denied, but when it came to the third attempt Bremner capitalised, finishing emphatically from close range to give Scotland the lead.

While Scotland's dominance started to wean as the half progressed, they still looked comfortable on the ball and the US offered little in attack.

That changed when the visitors started to offer more of an attacking threat in the second quarter. Their chances remained few and far between, but they managed to trouble the Scotland goal once or twice, and there was a feeling that Scotland would need to double their advantage to ensure victory.

After a mostly quiet third quarter, the US then rocked the hosts at the start of the fourth, Kaeppler's goal levelling things up with just 15 minutes remaining.

Scotland pushed forward in a bid to regain the lead, however found themselves frustrated by a resilient and organised American defence. In the game's dying moments the blue sticks were denied several opportunities and a penalty claim, and the game finished all level. The series ended in a tie after three competitive matches at the Glasgow National Hockey Centre.

Scottish Hockey Union media release


---

USMNT and Scotland Finish Atlantic Series in a Draw




GLASGOW, Scotland - The final game of the Atlantic Series between the U.S. Men's National Team and FIH Hero World Ranked No. 23 Scotland was a true battle. At the Glasgow Hockey Centre, the Blue Sticks struck first in the 6th minute and it took 40 minutes for a determined USA to equalize the score as the match finished in a 1-1 draw.

Scotland played their full and strongest squad available during this final meeting. In the 6th minute, the Blue Sticks got on the board first through Michael Bremner off a short handed penalty corner and hesitant call. What looked like it could turn into a back and forth game, both teams went into their respective build from the back modes and could not find much on offense. USA was disciplined and worked hard to win the ball back each and every time they lost possession. The halftime score stood at 1-0 in favor of Scotland.

At the end of the third quarter, USA moved the ball quickly from the back, switching over to the right side to find Kei Kaeppeler (Stuttgart, Germany). K. Kaeppeler made a solo run from the 25 yard line into the circle heading for the baseline as his teammates expected him to drop it back to the penalty spot. As he was 3 yards out, Scotland's goalkeeper also anticipated him to cross, giving K. Kaeppeler enough room on the inside post to put the ball in the back of the net, which tied the game 1-1.
The fourth quarter was a battle as each team tried to force the pace in search for the winning goal. USA fought the entire 15 minutes with the end result being a tied game and tied series.

The U.S. Men's National Team have already hit the road on their way to Dublin, Ireland for a two-game series against the Green Machine to finish out their tour. The first match will take place tomorrow, July 12 at 3:00 p.m. ET.

USFHA media release


---

BT Sport's Chris Hollins hopes more heroes are made at women's Hockey World Cup

By Rod Gilmour




As a teenager, self-confessed hockey lover Chris Hollins grew up during the 1984 and 1988 Olympics, saw Great Britain win bronze and then dance a golden jig in Seoul and remembers wanting to keep a stick in his hand and hockey as his number one game.

Thirty years later, the sports broadcaster and presenter will front BT Sport's coverage of the Vitality women's Hockey World Cup, which starts next weekend. The 47-year-old multi-talented sportsman admits that he hasn't played much hockey since leaving for university, but could soon be enticed back to the game. Moreover, it is television which he hopes will entice more anticipation and coverage back into the game – with the next three weeks in the UK set to glisten with hockey, whatever the outcome in the football version in Moscow on Sunday.

"I always have been really keen on hockey," he tells The Hockey Paper. "I timed it to perfection as I started in '84 and then the men won the gold in '88.

"I wasn't a bad hockey player and my teacher at Tonbridge School [in Kent] knew some of the hockey boys. We ended up having some of the Olympic medallists coming to play against us. I played against Steve Batchelor and Imran Sherwani.

"It was really fantastic and all of a sudden university came along and I would only play the odd game here and there."

Hollins certainly has a passion for the game and he has just procured a new stick from Simon Mason, who will also be working for BT Sport, and admits that he might be tempted to play again next season.

"I definitely haven't played a proper match since I was probably 18," says Hollins, who has played both Varsity hockey and cricket matches at Lord's.




Well into his television career, the opportunity came up with BT Sport two years ago, as the journalist and presenter "grabbed" the chance to front the coverage when the broadcaster started its hockey output at the 2016 Champions Trophy in London. "It was brilliant and everybody involved thought it was fantastic and wanted to keep it going."

The product, he says, worked on television. "Having grown up with watching it in the 80s, it didn't work very well. There was no 4K, there weren't the numbers of cameras, there was no blue pitch, it was really difficult as there wasn't the technology.

"It was when we won Olympic gold [in Rio] and I remember thinking that we desperately want to make sure that we keep the momentum with both the men and the women."

He also feels part of the FIH's self-billed 'revolution' and has an interest in which direction the sport goes, with the TV infrastructure in place and a global appetite for the game.

Having seen Great Britain perform below par at the 2016 Champions Trophy, Hollins' expectations were low as he then watched the journey unfold in Rio a month later. This was despite then captain Kate Richardson-Walsh promising Hollins that "they still had something up their sleeve and holding something back".

"I didn't believe them, but of course they were fantastic in Rio," laughs Hollins.

"It is a very exciting time and the sport is unique: the women's game is just as, if not more popular than the men. It's a real 50-50 sport. Cut it down the middle and it's just brilliant.

"Hockey potentially should be bigger. We have a great opportunity to grow the sport. You see the stadium when the men or women are playing at home and the atmosphere is fantastic. There are some real global heroes associated with the game; the Argentinians and the Dutch sides.

"Everyone looks at the football model. You have heroes, challenges, jeopardy, controversy – everything you want from a sport is there [in hockey].

"What is it that makes football so good as a global sport and what hockey needs to do is to make sure that you are on television, making sure people know it is on, a narrative and calendar.




"Hopefully we will get that with the Hockey Pro League and it trickles down to participation so you know it is there. Get people to see what you do and you're away. But it's hard work!"

Hollins, who won Strictly Come Dancing in 2009, says that BT Sport's coverage – deep into its commitment from 2017 to show 700 hours of live hockey – for the World Cup will be "more of the same, but better".

He will have plenty of knowledge beside him, with Olympic champions Kate and Helen Richardson-Walsh, Sam Quek, Crista Cullen, as well as Mel Clewlow, Mason and commentators Ashley Morrison and Charlie Brougham.

"We've got it all there. We've got all the ingredients and what's great about hockey is that after the game, they walk off the pitch and talk to us," adds Hollins. "None of this sterile green room. They are still sweating and covered in blood or whatever it is. The coaches will talk to us during the game and tell us how it's going.

"That's pretty exclusive, for people to talk to us when they've gone 1-0 down or up and viewers can find out what they are going to do or change."




There will also be what the team describes as "myth busting", whereby the commentators or summarisers will explain hockey's rules or intricacies such as the reverse stick or the art of jabbing.

The BT Sport tower will be placed next to the main grandstand, which will make the capacity an eye-opening 10,500 for the 14th World Cup and will rival the Kyocera Stadium in The Hague's atmosphere when the Dutch played there at the 2014 edition.

"There is no doubt that when England play, it is going to be awesome," Hollins concludes. "The stadium does rock when there is a full house. When England played the Dutch last summer when it went to a shoot out I had goosebumps upon goosebumps, and that was only a friendly. Think about that being a World Cup final, it is a mouthwatering prospect."

The Hockey Paper


---

PHF Calls 27 Probables for Asian Games Camp

Pakistan Hockey Federation has announced the names of 27 probables for the training camp for the Asian Games to be held in Plamberg, Indonesia from 18 August to 02 September.

Following players have been asked to report to Hassan Sardar, Manager/Camp Commandant, at the Abdul Sattar Edhi Hockey Stadium, Karachi on July 14.

Imran Butt
Mazhar Abbas
Amjad Ali
Muhammad Irfan Senior
Rashid Mehmood
Muhammad Aleem Bilal
Ammad Shakeel Butt
Mubashar Ali
Tasawar Abbas
Muhammad Rizwan Senior
Muhammad Toseeq Arshad
Ali Shan
Muhammad Umar Bhutta
Abu Bakar Mahmood
Shafqat Rasool
Muhammad Azfar Yaqoob
Muhammad Arslan Qadir
Ajaz Ahmad
Muhammad Irfan Junior
Rana Suhail Riaz
Muhammad Rizwan Junior
Muhammad Dilber
Muhammad Atiq
Muhammad Faisal Qadir
Muhammad Atif Mushtaq
Junaid Manzoor
Asad Aziz

PHF Media release


---

India still the team to beat for Asiad hockey gold

By Aftar Singh

KUALA LUMPUR: India will pose a big threat in Malaysia's bid to win the Asian Games hockey gold medal and qualify for the 2020 Tokyo Olympics.

The Asiad gold medallists gain automatic berth to the Olympics and Malaysia last featured in the Olympics 18 years ago in Sydney.

National chief coach Stephen van Huizen said India were the team to beat.

"India are favourites to win. They almost stunned world champions Australia in the final to win the Champions Trophy in Breda (Holland) recently," said Stephen.

India, ranked sixth in the world, lost 3-1 to world No. 1 Australia in the penalty shootout after both teams played to a 1-1 draw in the regulation time.

"India are ranked higher than us (Malaysia ranked 12) and they will be the team to beat," said Stephen.

Besides India, Pakistan coached by Dutchman Roelant Oltmans have also improved and Stephen is not ruling them out.

"In the Champions Trophy, Pakistan upset reigning Olympic champions Argentina (4-1) and played well to hold Belgium to a draw (2-2)," said Stephen.

"They have a world-class coach to guide them to the Olympic tickets.

"The other challengers are former Asian champions South Korea, Japan and China. Korea and Japan are always tough teams to beat.

"China will be making their debut in the World Cup (in Bhubaneswar, India from Nov 26 to Dec 16) and they too will put up a strong challenge in the Asian Games," he said.

Stephen added that defender Muhd Najmi Farizal Jazlan has withdrawn from the national team due to personal reason.

"He was in the plan for the Asian Games but he decided to opt out and we respect his decision," said Stephen.

There are 27 players in the training squad and 20 of them will be going to Perth on July 21 to play five friendly matches with the Australian national team.

Stephen will name the final squad of 18 players after the tour in Australia.

The Star of Malaysia


---

Indian men's hockey team to be part of Target Olympic Podium Scheme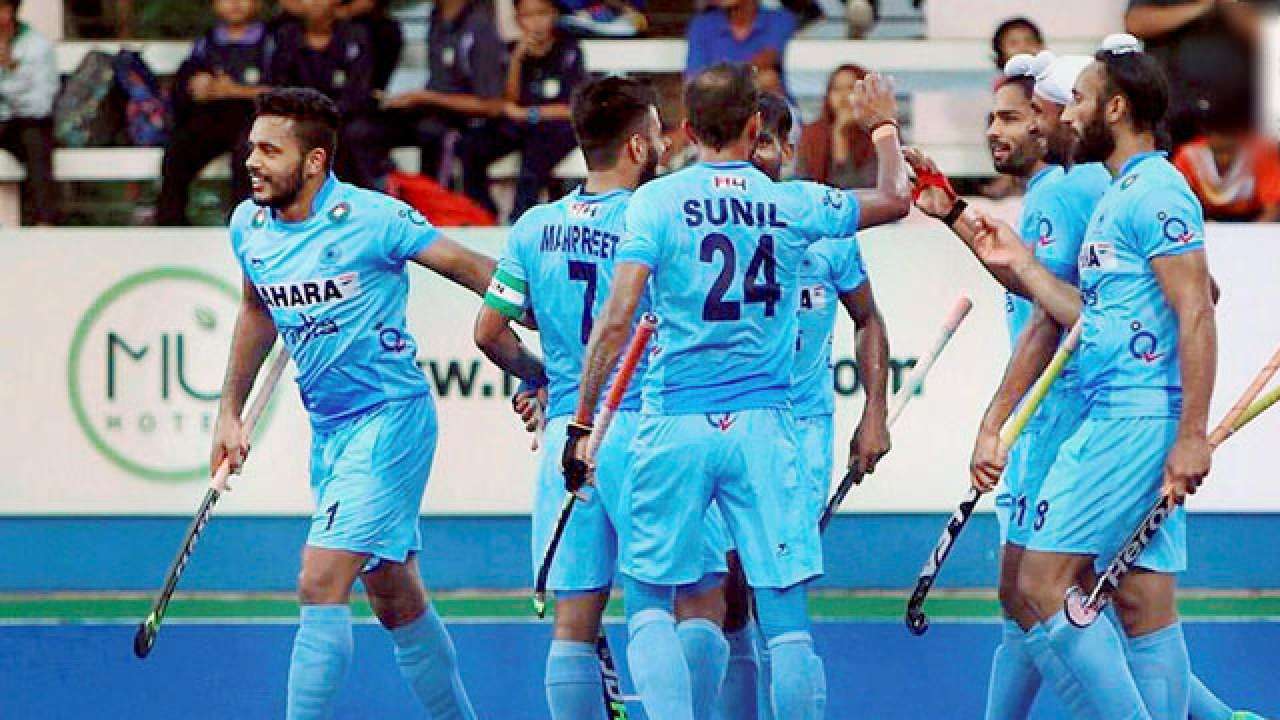 Indian men's hockey team , PTI

The Mission Olympic Cell (MOC) decided to approve the Indian Men's Hockey team, comprising 18 players selected for the Asian Games, as part of the Target Olympic Podium Scheme (TOPS) here in a meeting on Wednesday.

Under this scheme, the hockey team will receive a monthly allowance of Rs.50, 000 per team member. The decision was taken in view of the recent improvement in the performance of the men's hockey team under the newly appointed coach Harendra Singh.

It was also decided that the women's Hockey team would be considered for inclusion under the TOPS after review of their performance in the upcoming World Cup and the Asian Games, 2018. The MOC also reviewed the performance of athletes included under the TOPS.

Boxer Sarjubala Devi received an extension in the scheme while four athletes, three from wushu and one from judo, were dropped due to below-par performance and non-inclusion in India's Asian Games squad. The decision to clear funding proposals regarding training, competition and equipment needs was also taken at the meeting.

In gymnastics, Rs. 7.76 lakhs has been sanctioned for the month-long training program of Pranati Nayak, a member of India's Asian Games squad, for her training in Uzbekistan. Other two gymnasts, Ashish Kumar and Aruna Budda Reddy, were sanctioned Rs. 14 Lakhs for the training camp in Belgium. Both the gymnasts were selected in the Asian Games squad.

In tennis, Rs. 12.57 lakhs has been sanctioned for Ramkumar Ramanathan for his training, competition and equipment expenses leading up to the Asian Games.

In archery, Rs. 11.48 Lakhs has been sanctioned for the purchase of archery equipment for three Compound archers- Trisha Deb, Rajat Chauhan and Jyothi Surekha Vennam- and one Recurve archer Promila Daimary. All four have been selected for India's Asian Games squad.

Further, Rs. 4.04 Lakhs has been sanctioned for the engagement of Italian athlete Sergio Pagni to train India's compound archers for a period of 10 days at the Sports Authority of India (SAI) Sonepat center ahead of the Asian Games.

In wrestling, a two-time Olympic medalist Sushil Kumar has been sanctioned Rs. 6.62 lakhs for this training program which will also include two sparring partners and one physiotherapist. Kumar is presently training in Georgia ahead of the Asian Games. Rs.3.22 Lakhs has been sanctioned for Bajrang Punia and Sumit for a 14-day training camp and participation in a Wrestling tournament in Turkey.

In Judo, Rs. 3.55 Lakhs has been sanctioned for Indian judokas Avtar Singh and Vijay Kumar Yadav for their training, competition and equipment expenses ahead of the Asian Games. The committee also decided to exclude Tulika Mann from the TOPS scheme due to her recent below-par performances.

On a related note, Asian Games are slated to be held from August 18 to September 2 in Jakarta and Palembang, Indonesia.

Daily News & Analysis


---

Pakistan hockey at crossroads after Champions Trophy humiliation

Anwar Zuberi

IT has been a stark contrast for Pakistan if we compare the inaugural and the last editions of the Champions Trophy. The green-shirts were riding on crest of a wave starting from 1978, winning one event after the other but today national hockey is in complete shambles.

Pakistan, as expected, ended up at the bottom in the six-nation 37th and final edition of the Champions Trophy at Breda in the Netherlands. Though fraternity of the game back home was expecting no surprises from the three-time former champions, they were however, shocked by 4-0 humiliation against old foes India in the opening fixture.

India have improved leaps and bounds in recent past, which is evident from the fact that they played the Champions Trophy final and finished to Australia who the title-decider 3-1 victory in penalty shootout after it ended 1-1 in regulation time.

The final turned out to be a repeat of the last edition and the triumph gave the world champions Australia 15th Champions Trophy title. Unfortunately, this trophy eluded India in 40-years.

In other classification matches, hosts Holland handed a 2-0 defeat to Argentina in the playoff to seize bronze medal while Belgium were home 2-1 in a penalty shootout after 2-2 stalemate against Pakistan to attain fifth spot.

It was Pakistan's fifth loss in six matches against India in 12 months (the other was when these teams drew 2-2 during the Commonwealth Games at Gold Coast in April). Previously, Pakistan suffered four humiliating defeats — 7-1 and 6-1 in the World Hockey League at London in June last year and 3-1 and 4-0 in the Dhaka Asia Cup.

The most astonishing part of green-shirts' 4-0 drubbing against India was that Pakistan conceded the last three goals in a six-minute duration. All the goals came through field efforts which reflect weaknesses in the defence and goal-keeping.

Pakistan went down to Australia 2-1 in their next match after taking lead in the ninth minute through field goal by Aijaz Ahmed.

The Netherlands whipped Pakistan 4-0 in their third match. After suffering three defeats, Pakistan managed to break the jinx with an emphatic 4-1 victory over Argentina, their solitary success in the event. Irfan Jr (10th), Mubashir (47th) PC, Aijaz Ahmed (48th) and Aleem Bilal (58th penalty stroke) scored one goal each.

In their last league fixture, Belgium thumped Pakistan 4-2. The latter's both goals came through Aleem Bilal, via penalty corners, in the 11th and 38th minutes.

The Champions Trophy was the second important assignment for Pakistan's Dutch coach Roelant Oltmans after the recent Commonwealth Games where Pakistan had to settle for seventh place among 10 nations despite them not losing any match.

The nature of Champions Trophy was different as compared to the Commonwealth Games as only three of the six teams — Australia, India and Pakistan — were common.

The Pakistan Hockey Federation (PHF) has been targeting the 18th Asian Games, which run from Aug 18 to Sept 2 in Jakarta, in order to earn direct entry for the 2020 Tokyo Olympics.

However, it will be a Herculean task for Pakistan in the wake of recent failures against reigning Asian champions India. The Asian Games won't offer Pakistan much respite because other outfits, such as Malaysia, South Korea and Japan, could test them to the hilt.

It is pertinent to mention that Pakistan lost 4-2 to India in the shootout after being tied 1-1 in regulation time at the Incheon Asian Games four years back.

The PHF faces race against time to instill confidence in the already demoralised national team before the Asian Games begin. The Asiad will be followed by World Cup in the Indian city of Bhubaneswar from Nov 28 to Dec 16 and that will be another huge challenge for Pakistan.

Dawn


---

Junior Women's National Team puts up 4-1-1 home series record against Chile

Successful home series sets up 6-Nations Tournament in Belgium




For Vancouver Island native Sara Goodman, wearing the red and white of Team Canada on home soil for the first time is something she'll never forget. As one of the more experienced players on the Junior Women's National Team (JWNT), Goodman said the community support and on-field success made the experience even better.

On June 29, the JWNT faced Chile's U21 National Team in the first of six matches at the University of Victoria field. Canada put up a convincing 6-0 win in the opening match, emphatically starting a series that would eventually see them notch four wins, one draw and a loss. Goodman said that despite the score lines getting tighter throughout the event, she thinks the team made huge progress and growth.

"Chile definitely played better after that first game," Goodman said. "It was such a great learning opportunity for us to work together and improve as a team. Since our training camp in Victoria, we've made some huge strides."

For many of these athletes, last week's home series marked the first time they have donned the maple leaf in competition. Goodman, however, made her debut in senior competition earlier this year in a Women's National Team (WNT) series in Santiago, Chile. She will also be entering her second year at UBC this fall. With that experience in mind, she said she wanted to support the younger players on the team and set a good example.

"Just like the girls on the senior team do for me, I wanted to be supportive for the younger girls on the team," she said. "I offered advice when I could, and I think it was a good learning experience for me to be in a leadership role."

The junior women's development program has had a busy year. A large JDS contingent traveled to Chula Vista, California for a camp and a squad met in Victoria, BC in May for a selection camp. The numbers were then shaved down and the newly formed team immediately began a camp in Shawnigan Lake, BC. JWNT head coach, Shiaz Virjee, said the Chile Series is another great building block in the Junior Development System and he believes the athletes and team made another step in the right direction. For Virjee, the positive results on the field are a direct result of the hard work done in previous months.

"I think the biggest thing is our preparation; when you work hard, and the preparation is good, the results follow," he said. "It's nice to see where we stack up against a Pan American team like Chile."

Virjee said that because many of the athletes are new to international play, there's a learning curve to get used to the pace of play. He said he was very impressed with how the team has met that challenge head-on and have shown success already.

"It's a big jump from provincial and high school play," he said. "The nuances, the structures, the set plays. Everything is tighter and done at a higher pace."

BELGIUM BOUND – NO REST FOR THE JWNT

Less than three days after finishing their final Chile Series game, 14 JWNT athletes have their boots on the ground in Belgium. There, they will play in a Junior 6-Nations tournament featuring world powerhouse teams such as Netherlands, Great Britain and India.

Goodman, whose international play has been limited to the Pan-Americas, said she couldn't be more excited to compete against some of the best teams in the world. With the Junior World Cup approaching in the coming years, this type of experience will be invaluable especially for the younger players on the team.

"I am so excited. This will be an amazing experience for all of us, getting to play against those European teams. It will be a different level for a lot of us," she said. "It's the type of experience we need if we want to qualify for the Junior World Cup."

Adding some depth to the JWNT, four senior national team players — under the age of 23 — will be joining the squad for the 6-Nations tournament. Nikki Woodcroft, Steph Norlander and two goalkeepers, Rowan Harris and Lauren Logush have now joined the JWNT in Belgium.

The four senior players are coming off a five-week tour of Europe with the WNT. Goodman said they will bring an added level of experience that will be a great example for the JWNT players.

"They will bring that knowledge and experience from the senior level and really set the pace for us," she said. "It'll be great to have the goalkeepers leading the pack from the back-end."

See below for the touring roster. Follow the JWNT during their 6-Nations tournament by keeping tabs on the FHC 6-Nations Page and FHC social media. For a behind-the-scenes look at their competition experience, follow the Junior Women's National Team on Instagram.
 
ROSTER

Samantha McCrory
Izzy Fraser
Steph Norlander
Grace Delmotte
Nikki Woodcroft
MacKenzie Janzen
Nora Goddard-Despot
Rowan Harris
Lauren Logush
Thora Rae
Jordyn Faiczak
Katie Lynes
Anna Costanzo
Sara Goodman
Margaret Pham
Anna Mollenhauer
Hannah Eborall
Alexis De Armond

 Staff:

Claire Linn – Manager
Julia Pharand – Athletic Therapist
Shiaz Virjee – Head Coach

Field Hockey Canada media release


---

Tasmania & NSW Crowned U21 National Champions

Ben Somerford




Tasmania and New South Wales have been crowned men's and women's national champions respectively at the Under-21 Australian Championships which culminated in Sydney Olympic Park Hockey Centre on Wednesday.

Tasmania claimed a rare title with a 3-2 shootout victory over Victoria in the men's gold medal match after the contest had ended 1-1.

New South Wales survived a tense finale to defeat Queensland 2-1 in the women's gold medal match.

Meanwhile, Victoria claimed the women's bronze with a 4-2 win over South Australia, while Western Australia won the men's bronze with a 3-1 victory over ACT, with all states among the final day action.

Tasmania's men's triumph was arguably the story of the day, having initially finished bottom of Pool B after three straight losses in the round robin stage.

The Tasmanians enjoyed an exceptional knockout phase, toppling favourites NSW in a shootout in the semi-finals on Sunday, before squeezing past ACT 4-3 in Tuesday's preliminary finals.

The final was hard fought against Victoria, who had initially finished second in Pool A. The Victorians went ahead in the 19th minute through Nathan Ephraums.




After trailing at half-time, Tasmania won a penalty stroke in the 37th minute, which captain Jack Welch – who was later named Men's Player of the Championships - converted and scores remained deadlocked upon the full-time whistle.

Victoria took an early lead in the shootout thanks to goalkeeper Ashley Bingle's good work, but Tasmania converted their final three attempts from Gobindraj Gill, Hayden Beltz and Oliver Smith, to set up the opportunity for victory.

Victoria's fifth penalty-taker Jonathan Bretherton needed to convert to send the shootout to sudden death with his side trailing 3-2, but he was thwarted by Tasmania keeper Mitchell Nicholson, cuing the celebrations.

In the women's gold medal match, NSW took a first-quarter lead via captain Abigail Wilson's shot from a penalty corner.

Queensland hit back in a seesawing third period, with Zoe Smart levelling in the 34th minute before Andrea Gillard scored the eventual winner on the cusp of three-quarter time for the hosts.

Award Winners
U21 Women's Australian Championships
Player of the Tournament: Morgan Mathison (Queensland)
Leading Goal Scorer: Rebecca Greiner (Queensland)
Play The Whistle: Queensland

U21 Men's Australian Championships
Player of the Tournament: Jack Welch (Tasmania)
Leading Goal Scorer: Niranjan Gupte () & Ehren Hazell ()
Play The Whistle: ACT

Hockey Australia media release


---

Development plans signal bright future for hockey

Sarah Juggins



FIH Hockey Open Series, Salamanca - Team Panama. Photo: Andrés Mallén

Two events have taken place recently that highlight a couple of things about hockey in the PAHF region. On the one hand, there are some teams are head and shoulders above all other PAHF nations when it comes to elite performance, with three teams – Argentina men, Argentina women and USA women – regularly pushing for top honours on the global stage. On the other hand, hockey is spreading across the continent as more teams follow a professional route when it comes to both the playing side of the game and the organisational and administrative side of things.

Leading the way in global hockey is the powerhouse of Argentina. The men are currently Olympic champions and ranked number two in the world, while the women are ranked at number three and are tipped for a medal at this year's Vitality Hockey Women's World Cup in London.

Canada are the next highest ranked PAHF men's team, at number 11 in the FIH Hero World Rankings, while USA women are sitting tight at seventh in the world. Both teams regularly qualify for both the Olympic Games and the World Cup but have yet to reach the podium at either of these blue riband events in modern times.

Below these nations are a number of middle-ranking teams. Chile women (WR:15), Canada women (WR:21), Uruguay women (WR:24), USA men (WR:26), Brazil men (WR:27), Mexico women (WR:29) and Trinidad and Tobago (WR:31) men all sit in the bracket of teams that are knocking at the door of the top table of hockey but are not yet in a place where they can challenge for major honours.

The remainder of the world rankings table is liberally scattered with PAHF nations who are emerging with development plans to raise hockey's profile and participation levels and who have embarked on a programme of coach and administrative education which will make hockey a sustainable sport in the future.

Laura Macchiotti is PAHF Events and Development Coordinator. She is generally pleased with the direction of travel the PAHF nations are taking when it comes to a professional approach to the sport.

"We are seeing small countries hiring coaches to raise the level of hockey by passing on their knowledge to both players and up-and-coming coaches. These nations are putting strategic plans in place to help the sport grow. More countries are getting Olympic Solidarity funds to help make this happen."

For Macchiotti, multi-sport events such as the South American Games and the CAC Games are perfect opportunities for the developing nations, who don't have much funding available, to get experience of both playing in and organising hockey events. She explains that the costs of hosting such events are the responsibility of the Local Organising Committee and the National Olympic Committee, so hockey can benefit without the cost of hosting.

That said, it is still the more developed hockey nations who dominate these events at present. At the South American Games (ODESUR), Argentina dominated the men's and women's competition, with the men conceding only two goals in the entire competition and the women conceding no goals and racking up an impressive 34 goals in four games.

Chile men took second spot, while Chile women finished third after they missed out on a place in the final on a goal difference of one to another rising star of South America – Uruguay.

But signs for the future of hockey are promising. ODESUR, which is a multi-sport event, has 14 nations affiliated, so to attract eight men's hockey squads and seven women's squads is a sign that the sport is growing. At the previous edition, in 2016, six men's teams and five women's teams participated, while back in 2006, the number of entries stood at five men's teams and four women's teams.

Argentina's dominance is undisputed. The men's and women's teams have participated in seven of the eight editions and have won every time they have played. On the year they did not take part, 2016, Chile won the men's event and Uruguay the women's.

Of course, as Argentina superstar Delphina Merino explained in an earlier interview, "Argentina has a long history of playing hockey. It is the number one sport for the women. Young girls want to grow up to be Leonas. They run around with hockey sticks in their hands from an early age. It is not yet at that stage with many other countries."

Both PAHF and the International Hockey Federation (FIH) are working hard to change that. The newly created Hockey Open Series aims to provide more teams with the opportunity to play more international hockey – a huge stepping stone towards growth and development.

The Hockey Open Series replaces the Hockey World League and its idealistic aim is to give developing nations, and those nations not included in the Hockey Pro League, the opportunity to test themselves against some of the world's best teams. The rounds are based within continents to help national associations cope with travelling costs. Winners and runners-up of round one then play in one of three Hockey Series Finals, with the chance of qualifying for the next major tournament, either the Olympic Games or the World Cup.

The first ever Hockey Series Open took place in Salamanca, Mexico, with five men's and five women's teams playing for the two top spots. The women's teams taking part were Canada, Mexico, Puerto Rico, Panama and Guatemala. The male competitors were USA, Mexico, Panama, Puerto Rico and Costa Rica.

With the world rankings ranging from 26th to unranked in the men's competition and 21 to 68 in the women's event, there were always going to be some disparities. Guatemala women suffered a 30-0 thumping at the hands of Mexico, while USA panned Panama 22-0. That said, there were also some cracking games, with Mexico men versus USA men a particularly entertaining 5-5 draw.

The new CEO of the International Hockey Federation, Thierry Weil, spoke about his hope that the Hockey Series Open would prove a catalyst for getting more and more nations to enter teams into international competitions, regardless of the disparity in rankings between some teams.

"In the first Hockey Series Open in Mexico, we saw some nations that have never competed at this international level. Of course there were some big score-lines but that doesn't matter, what is important is that these teams are learning and gaining experience.

"Other nations will look on at the teams playing in Mexico and decide that next time around they want to do the same. This is nothing but good for the growth of the game as it means that nations will invest more in officials and coaches and facilities and so the game will become more professional."

It is a sentiment with which Macchiotti whole-heartedly agrees. "To get growth in the sport we need to see improvement in the administration carried out by national associations. Government regulations must be complied with, papers must be in order, more people are needed to do all the tasks associated with running a professional organisation. The national associations need to work harder to find partners, sponsors, other non-profit organisations and foundations."

This may seem like a long and demanding list, but for PAHF it is a two-way process. One example of this two-way process can be found in Central America where PAHF support and resources are channeled directly into tournaments. These events are an integral part of the development process. As Macchiotti says, "it is a concerted effort to give competition and education opportunities to a region."

There are, of course, many challenges to development across the PAHF region. Some countries simply have no hockey facilities or any chance of getting any. In many countries soccer is so revered that no other sport has access to sports turfs. In other countries unstable regimes, extreme weather or high levels of poverty are all barriers to sports development.

But there are also shining examples of national associations defying the odds and bringing hockey to their people. Guatemala women, for example, may have finished bottom of the table at the recent Hockey Series Open but a glance at their vibrant social media pages indicate that this is a nation that is in love with the sport. Even Las Leonas had to start somewhere…

Pan American Hockey Federation media release