Vitality Hockey Women's World Cup 2018
London (ENG)

Fixtures 24 July 2018 (GMT +1)

12:30 JPN v NZL (Pool D)
14:30 AUS v BEL (Pool D)

Pool standings
Pool A
Pool B
Pool C
Pool D
| Rank | Team | Played | Wins | Draws | Losses | Goals For | Goals Against | Goal Difference | Points |
| --- | --- | --- | --- | --- | --- | --- | --- | --- | --- |
| 1 | New Zealand | 1 | 1 | 0 | 0 | 4 | 2 | 2 | 3 |
| 2 | Australia | 1 | 1 | 0 | 0 | 3 | 2 | 1 | 3 |
| 3 | Japan | 1 | 0 | 0 | 1 | 2 | 3 | -1 | 0 |
| 4 | Belgium | 1 | 0 | 0 | 1 | 2 | 4 | -2 | 0 |
---

Rise of the lower-ranked nations



Jill Boon epitomises the fit and physical Red Panthers

There are 16 teams at the Vitality Hockey Women's World Cup, London 2018, and after the first two days of action, it is clear that the competition is one of the most wide open contests in the event's history.

At the end of Day 1, England (FIH Hero World Ranking: 2) had drawn with India (WR:10); Ireland (WR:16) had thoroughly quashed USA (WR:7), and Australia (WR:5) were taken to the wire by Japan (WR:12). Only Germany's (WR:6) 3-1 win over South Africa (WR:14) reflected the rankings.

Day 2 got even more interesting as the lowest ranked team, Italy (WR:17) took Asian giants China (WR:8) apart to record a 3-0 victory. Spain (WR:11) momentarily led Argentina (WR:3) and Belgium (WR:13) were unlucky in their 4-2 loss at the hands of New Zealand. World number one side, Netherlands bucked the trend as they romped to a faultless 7-0 win over Korea (WR:9).

We spoke to Belgium's Jill Boon after her team's narrow loss to higher-ranked New Zealand. She explained that key to closing the gap between the top 10 teams and those in the 'teens is a focus on fitness.

"In the past we lost a lot of games because we were not fit or not fit enough but we have worked really hard in the past few years and now we are really, really fit."
Jill Boon, Belgium

"We wanted to start our tournament with full determination and we did that and I don't think New Zealand expected us to be as aggressive as we were from the off. There were moments in the game and small details where they had the upper hand because they are higher ranked and have that extra edge that comes from experience. They showed that in scoring two corners and a stroke."

The current Belgium team has been on an upward trajectory over the past four years. The Red Panthers finished in 12th and last place at the 2014 Rabobank World Cup in the Hague. Then they were comprehensively outplayed but now, with a silver at the 2017 Rabobank EuroHockey Championships under their belt, they are a team that oozes new found belief.

"In the past we lost a lot of games because we were not fit or not fit enough but we have worked really hard in the past few years and now we are really, really fit," says Boon.

"But teams like New Zealand, well they have players like Stacey Michelsen and Anita McLaren and they are another league, in fact they are the best in the world when it comes to fitness and speed.

"We have made huge steps forwards. We play with a huge amount of passion and we really celebrate every goal now. Today we lost but we also scored goals and competed and that is where we want to be. The most important game for us is against Japan so today [against New Zealand] we will take all the positives, learn from the mistakes and make progress that way.

"The fact that we are fitter and can do extra metres that is what our coach Niels Thijssen has been telling us. If you want to compete with those teams you have to make those extra metres to make yourself free and give yourself space. We also have very creative and hard-working midfielders who can find us when we make leading runs."

Jill Boon is one of the stars of the Belgium Red Panthers who are in action on Tuesday 24 July against Australia at 14:30 (CEST+1).

#HWC2018

FIH site

---

At the Women's Hockey World Cup, Holland has plenty to savour
By Todd Williams



Holland eager to upgrade 2015 Euro to world title PIC: Worldsportpics

The Vitality Women's World Cup opening games have already seen shock results and teams staking their title claims.

Italy (ranked 17) laid their own claim to the surprise result of the tournament so far with their 3-0 win over China (8).

While, statistically, the result is virtually identical to Ireland (16) beating USA (7), much has been expected of China since the highly-regarded German coach Jami Mulders took over following the EuroHockey Championships in 2017.

Goals were the order of the day on day two with seven from the Dutch, six from Argentina and four from New Zealand, sending a clear message as to the quality of those teams.

After taking an early lead, New Zealand (4) were 2-1 down at half-time to a vastly improved Belgium (13) but Mark Hager will no doubt be delighted with their composed and efficient second half response.

The Black Sticks have been one of the world's top four teams for a long time but it may well be that their victory at the Commonwealth Games has given them the confidence and self-belief to go to a higher level. They certainly looked that way in their opening match, albeit without the swagger.

Maria Paula Ortiz scored the best of Sunday's 24 goals, sticking one from the top of the circle "up where the owls live" in Argentina's (3) comfortable 6-2 win over Spain (11).

Luciana Aymar is, of course, irreplaceable, but four years since her retirement and Las Leonas are making a pretty good go of it.

Spain have made good progress in recent years on the back of a well organised and tough defence.

Argentina's four field goals tell you that they have plenty of forward threat to go along with Noel Barrionuevo's penalty corners.

One of the biggest talking point among the coaches, though, was the subtle statement from the tournament favourites.

In a performance described to me by coach Alyson Annan as "pretty good", The Netherlands eased through the gears to score seven past Korea without conceding.

For the Dutch, the impressive score line is notable as much for the players that aren't at the tournament as those that played so well yesterday.

With players of the quality and experience of Maria Verschoor not selected, the Dutch face a challenge unique to any other team with the depth they have.

Ever the diplomat, Annan declined to provide an exact number but instead described their squad having "plenty" of players capable of coming into this team and performing at the same level.

Going through the names, "plenty" is at least six and could be higher. That's at least double or even triple the two or three really tough choices that most other teams have to make.

And if the prospect of knocking the Dutch off their world No 1 ranking wasn't daunting enough, the new FIH Pro League, will only make them stronger.

According to Annan, not only will they be able to give their current group more opportunities, but they'll also be able to bring in some of the talented juniors that would otherwise have to wait their turn.

Thankfully that's at least one thing their next opponent – Jami Mulders and his Chinese team – don't have to worry about.

The Hockey Paper

---

Video umpires and rules explained

By Andy Mair



Andy Mair in the box seat

The hype and fervour of the Football World Cup may be over, and the graceful energy of the Wimbledon Tennis Championship also behind us, but now we have the highlight of many peoples' summer sport – the splendour of the Vitality Women's Hockey World Cup in London.

Each of these sports has obvious differences, but there is one common theme that runs through all of them, the use of video technology to minimise major errors by the talented but fallible human officials. 

How does this work within hockey?

Here are a few points to help you start to build your understanding of the process:
Each team has a single referral to use in a normal length match.
They keep that if their challenge is correct, but lose it if incorrect.
Only incidents within the 23 metre area of the pitch, which are connected to the award/non award of a; Penalty Corner (PC), Penalty Stroke (PS) or Goal; can be referred by the team.
Any player of the team can ask for the referral by showing the 'T' signal with their arms to the match umpire.  The umpire may then ask a single player to indicate what they are challenging.
The match umpires can also ask for their own use of the referral process for certain things.  They may want to check that a goal/no goal incident is correct, or whether a PS situation is correct.  After all, these are potential game changing situations and everyone wants to get them correct if possible.
There isn't a limit on the number of 'umpire referrals' that can be used in a match.
Like football, the hockey umpires (not referees) are linked by radio, so that they can talk to each other during the match and to the Video Umpire (VU) when called upon. 




You may get to hear them within the stadium or on your tv coverage? But you should also be able to see some video replays of the challenged incident on the pitch-side screens, if you are lucky enough to be inside the stadium, to help you understand and learn more about the rules and decisions.

Listen out for terminology such as; "no clear reason to change your decision", which will indicate that a team challenge is likely to be lost; " I have a decision for you", which is likely to be followed by a correction to the 'on pitch' decision: or "no advice possible", when the VU cannot get a definitive angle or clear view of the incident, meaning that the team keeps their referral for future use and the original umpiring decision remains.

The so-called 'easier' decisions for the VU are when they are questioned about a matter of fact, such as a "defender's foot inside the shooting area", then hoping that the camera angles enable a quick resolution. 

The 'trickier' areas are when 'interpretation' creeps into the decision, such as 'danger', after all, your idea of danger may be different from my own.

There are times when (as the VU) you need to take a deep breath and swallow hard before communicating your decision to the on-pitch umpires and waiting hockey world. 

So, maybe have a little sympathy with the VU, particularly when it's a difficult scenario to be unravelled? It is not as easy a job as you may think!

There are quite a few variables on the basic aspects that we have highlighted above. 

Keep an eye out for further updates, where we may expand on the rules of this important part of our sport at international level, or focus on particular events in matches at this World Cup.

Andy Mair has umpired at World Cups and Olympic Games, as a specialist Video Umpire at the 2014 World Cup and 2016 Rio Olympic Games

The Hockey Paper

---

Hockey World Cup: Women's media coverage expands the world over
By Richard Bright



England celebrate key equaliser to set media coverage PIC: Worldsportpics/Ady Kerry

After 48 hours of World Cup hockey wonder, a rest day was handed out on Monday for us all to recover.

And if the opening two days are anything to go by, hockey's exposure is set to run as the women's game was given a huge shot in the arm.

England's opening game against India attracted plenty of reportage on Sunday as their home World Cup finally kicked off after the association's winning bid in 2013.

"Before a capacity 10,000 crowd, many of them encouraged by memories of Great Britain's victory at the 2016 Olympics, England always looked the more positive of the two teams in their opening Pool B fixture, but they were unable to make their superiority pay," wrote The Sunday Times.

"This is a radically different squad from the one that triumphed on that unforgettable night in Rio, with both Kate and Helen Richardson-Walsh and also the stalwart Christa Cullen having retired, leaving the defence lacking its former solidity and composure."

In the Sunday Telegraph, the 2018 World Cup was contrasted with the 1986 men's World Cup, which saw multiple fans pass through the turnstiles.

"During that balmy October, 90,000 spectators passed through the turnstiles at a dressed-up stadium in Willesden as hockey relegated Match of the Day to the sidelines with Sean Kerly and company's tournament run.

"Now, 100,000 tickets had been sold before Germany and South Africa even opened proceedings yesterday at the first women's World Cup to be held on home soil. Welcome to the revolution."

The Observer, meanwhile, focused on Lily Owsley as she returned from four months out to score the all-important equaliser.

"Six years ago Lily Owsley was watching inside the Olympic Park when Team GB won bronze in the women's hockey event and further garlanded a glittering, gleaming summer for British sport," the paper stated. "Now she may have played her part in continuing a similar feelgood factor, this time wearing an England shirt, and the intervention could hardly have been more timely."

The Mail on Sunday reported that Sophie Bray will 'crack on', said coach Danny Kerry, after she was thought to be the player involved in a pre-tournament car crash.

Kerry, without revealing the name of the player involved, said last week that his plans had been hampered after a squad member received whiplash in a car crash on the M4.

Elsewhere, in The Guardian, Rani was profiled ahead of the England clash, in a revealing story headlined: 'My parents refused to let me play hockey because I was a girl'

'Magnificent' and 'Famous' were just two of the adjectives to describe Ireland's win over the USA.

It was heralded as a surprise result given the ranking order, but Ireland looked far from being an outsider as they took to the field in a World Cup for the first time in 16 years.

The biggest game in their careers to date, wrote the Irish Times, saw Ireland's women produce their biggest performance as Deirdre Duke's breakaway double sent Ireland to the top of their World Cup group in London.

Italian media was quick to get on board with the Azzurris first World Cup success, highlighting an historic success – and a potential quarter-final berth – as the men watch from the sidelines.




Luckily it came a few hours before an Italian won The Open Championship at Carnoustie, giving enough time for word to spread on breaking 42 years in the hockey World Cup wilderness.

'Fabulous Italy' ran La Gazetta's headline.

Paula Ortiz's goal later helped Argentina to break free from Spain in their opening 6-2 win.

Leading Argentine daily La Nacion profiled Ortiz's rise, including the fact that the gifted young player did not even know about hockey until she went to get some photographs developed.

To end a super opening 48 hours in London, Belgium then lost out to New Zealand as the Kiwis showed their Commonwealth gold status against the rising European nation.

If you're a follower of Belgium hockey, head on over to Le Soir, where the newspaper has tied up with Hockey Belgium to provide year-round media coverage of the sport.

"We decided before the tournament not to be too greedy. And not to be frustrated if we lost to the Black Sticks," Raes told the paper.

The Hockey Paper


---

2018 CAC Games (M) - Day 4
Barranquilla (COL)

GUA v DOM (Pool B)     1 - 3
GUY v MEX (Pool B)     0 - 3
CUB v JAM (Pool A)     5 - 0
BAR v TTO (Pool A)     2 - 1

Pool Standings
Pool A
Pool B
| Rank | Team | Played | Wins | Draws | Losses | Goals For | Goals Against | Goal Difference | Points |
| --- | --- | --- | --- | --- | --- | --- | --- | --- | --- |
| 1 | Mexico | 2 | 2 | 0 | 0 | 6 | 0 | 6 | 6 |
| 2 | Dominican Republic | 2 | 1 | 0 | 1 | 4 | 4 | 0 | 3 |
| 3 | Guyana | 2 | 1 | 0 | 1 | 3 | 4 | -1 | 3 |
| 4 | Guatemala | 2 | 0 | 0 | 2 | 1 | 6 | -5 | 0 |
---

Barbados and Mexico Take a Step Closer to Semi-finals
Damian Gordon



Photo: Juan David Armesto

Day 4 of CAC Games action saw all the Day 2 teams that lost play to stay in the competition. JAM vs GUA and CUB vs GUY all playing for a chance to still play in the semi-finals. TTO vs BAR and DOM vs MEX played to consolidate their place in the semi-finals.

Match 1 Pool B – Guatemala (GUA) vs. Dominican Republic (DOM)

Our opening match saw two teams trying to recover from opening round losses. GUA wanted to show that their opening round performance was no fluke and their last result against DOM in the 2014 CAC Games was a 0-8 defeat. GUA settled first, controlling the flow of the game with possession hockey. DOM eventually settled into their own plan of trying to force turnovers in midfield and counterattack quickly. Their plan earned a few PCs, the third of which was turned into the goal by Jorge NIVAR. GUA remained calm and earned their own PC which was scored on a rebound shot by Oscar LEIVA. Q1 ended with the scores at 1-1.

Q2 started with the same pattern of GUA controlling possession and DOM trying to win the ball in midfield. As the quarter progressed it was the DOM strategy that seemed to work better and they forced a number of saves from Jorge LOPEZ to keep the score at 1-1, which was how it stayed when the halftime horn sounded. Q3 started where the previous one ended with DOM in control of the game. GUA fought back earning a PC, but the DOM defence cleared the danger. Shortly after DOM took a deserved lead when Joel MONCION struck the ball firmly past LOPEZ from the top of the circle. GUA tried to create opportunities, but the best they could manage was a PC that was again well defended. Q3 ended with DOM leading 2-1.

Q4 started as a midfield battle, with both teams cancelling out attacks early. DOM looked more dangerous and started to find more space as GUA had two players serve yellow card suspensions. Shortly after one of these suspensions started DOM made a circle penetration that ended with a well taken Francisco GARCIA goal. The final horn sounded a few minutes later for a final score of GUA 1-3 DOM.

Match 2 Pool B – Guyana (GUY) vs. Mexico(MEX)

Match 2 saw the Pool B leaders clash to see who would take that step closer to the semi-final. The game was very tactical with neither team giving any opportunities to attack. MEX began to push the GUY team back into their defensive half and most of the quarter played there, although their were no goals by the time the horn sounded.

Q2 continued as Q1, with just a few PCs for MEX that were well defended by GUY. The MEX pressure paid off when they earned a PS that was scored by Francisco AGUILAR. GUY pushed to get back into the game, but the MEX remained in control until the halftime horn sounded.

Q3 started with MEX immediately putting the pressure on GUY earning their second PS within a minute. AGUILAR stepped up and scored again for a 2-0 lead. MEX maintained their grip on the game, but GUY were able to prevent them from scoring again as the horn brought an end to the quarter.

Q4 came and with it, for the first time in the tournament, clouds. The effect on the temperature was immediate and it seemed to give GUY a boost as they began to push MEX back. However, AGUILAR was able to get more space to work and he used it to complete his hattrick. GUY never gave up, earning a PC as they tried to get back into the game. They did come close when Aroydy BRANFORD hit the upright, but the final horn sounded a few minutes later with MEX winning 3-0.

Match 3 Pool A – Cuba (CUB) vs. Jamaica (JAM)

Our third match started under a cloud cover that brought easily the coolest temperatures of the tournament. The action was still quite hot as CUB put JAM on the defensive immediately. The JAM goal was under constant siege requiring strong defending from GK GREEN and his team to keep the score 0-0. CUB earned a PC which Darian VALERO scored for a 1-0 lead, which is how things stayed by the end of Q1.

Q2 started with CUB in full control, but JAM started finding ways to play long passes looking for counterattacks. One of these long passes led to GK Leordan HERNANDEZ fouling Andre GARDENER for a PS. Duvaughn HENLON step up and pulled his shot wide to the keeper's right to miss a glorious chance for JAM to equalise. JAM continued to defend well and push for counterattacks, but CUB managed to keep them out of their circle. Q2 ended still 1-0.

Q3 was a productive one for CUB as Heriberto SARDUY scored an early PS followed by a FG to put his team in control. Wilfredo SANCHEZ added a 4th after and when Marcos MARTINEZ added a 5th it looked like a blow out was on the cards. The quarter ended at 5-0 CUB.

Q4 though saw a strong fight back from JAM who managed to keep out the CUB attacks while forcing play more into the middle of the field. They managed a few attacks of their own, but neither side was able to score again and the final horn sounded with the score CUB 5 – 0 JAM.

Match 4 Pool A – Barbados (BAR) vs. Trinidad and Tobago (TTO)

 Our final match was the Caribbean Classico between BAR and TTO, both looking to consolidate top spot in Pool A. TTO started the game the stronger of the teams using the long pass to force BAR deep. They earned a series of PCs, the last of which was scored by Tariq MARCANO. TTO continued to dominate the game, but did not add any goals. The 1st quarter ended 0-1.

Q2 again saw TTO dictate the play, using the long pass effectively. They hit many hard crosses into the circle, which made it difficult for their forwards to get on to the bouncing ball lifting unpredictably off of the field. BAR kept their intensity up and forced a circle penetration that ended with a PS. Che WARNER sent the GK the wrong way to equalise. The 2nd quarter ended 1-1.

Q3 BAR started getting room to counterattack down the right wing. From one of these attacks came a cross that Akeem RUDDER slapped home to give BAR the lead. Minutes later another right side attack almost led to a third goal, but the TTO defence was able to clear. Both teams continued to attack each other at a high tempo, but neither could score. The 3rd quarter ended with BAR leading 2-1.

Q4 started quickly, both teams going hard for the win. It led to more midfield play, but the TTO team gradually started to get more play in the BAR half. They managed to earn many PCs, but struggled to get shots off against strong defending. BAR nearly caught their opponents on the counterattack, but Andrey ROCKE kept them out. The final horn brought an end to an exciting match and 2-1 win for BAR who have now seized control of a wide open Pool A.

Tomorrow is the final round of Pool play for the women with only Guyana and Guatemala unable to play for the semi-final. They will both be hungry to get a win on the board and with semi-final spots on the line for the rest it promises to be an intriguing day of hockey. See you tomorrow for BAR vs. GUA, MEX vs. GUY, JAM vs. TTO and CUB vs. DOM.

Pan American Hockey Federation media release


---

Alexander Cox Appointment Green Machine Head Coach


Hockey Ireland is pleased to announce the appointment of Alexander Cox as the new head coach of Ireland men's hockey team. Cox joins Hockey Ireland and the Green Machine with an abundance of experience having previously held the roles of assistant coach with both the Dutch men's and women's national teams, winning gold at the 2012 London Olympics with the latter. He has been the head coach of Kampong men's team since 2012 and will remain in that role. While there, he has lead the side to the top of the Hoofdklasse for 2 years in a row, as well as winning the Eurohockey League title in 2016.

Commenting on his appointment, Cox said "I'm honored to be the new head coach of the Irish senior men's team. The Irish culture, the work ethic and persistency of the team, motivates me to start our preparation towards the World Cup in India. I'm looking forward to working with the team, staff and Hockey Ireland".

Hockey Ireland CEO Jerome Pels welcomes the arrival of Cox to Hockey Ireland "After an extensive recruitment process, we are delighted Alexander is joining our team, and are excited by what he can bring to the Green Machine and hockey in Ireland. His experience speaks for itself and we feel he is the right person to lead the Green Machine in this exciting World Cup year"

Alexander will begin his role on August 1st. Prior to that the Green Machine will travel to Dusseldorf for the 4 Nations Cup where they will be defending their title against Argentina, Germany and France.

4 Nations Cup Dusseldorf fixtures (all times are local):

26/7/18 5pm Ireland vs Argentina
27/7/18 7:15pm Ireland vs Germany
29/7/18 9:30am Ireland vs France

Ireland Squad:

David Harte (Captain)
Jamie Carr
John Jackson
Jonny Bell
Matthew Bell
Luke Madeley
Matthew Nelson
Alan Sothern
Peter Caruth
Sean Murray
John McKee
Owen Magee
Michael Robson
Daragh Walsh
Paul Gleghorne
Jeremy Duncan
Lee Cole
Stuart Loughrey
Stephen Cole

Irish Hockey Association media release

---

Kampong's Cox adds Irish head coach role to his immaculate CV


©: Frank Uijlembroek/world Sport Pics

SV Kampong head coach Alexander Cox will add another high profile job to his CV as he takes on the role as Ireland's senior coach ahead of their first World Cup bid since 1990.

He will hold the role in conjunction with his club commitments with Kampong whom he has led to two Hoofdklasse titles and an EHL crown in 2016 as well as coaching the Dutch Under-21 men to European gold in 2017. He has also been part of the Dutch men's and women's coaching teams

Commenting on his appointment, Cox said: "I'm honoured to be the new head coach of the Irish senior men's team. The Irish culture, the work ethic and persistence of the team, motivates me to start our preparation towards the World Cup in India. I'm looking forward to working with the team, staff and Hockey Ireland."

Hockey Ireland CEO Jerome Pels welcomes the arrival of Cox, saying: "After an extensive recruitment process, we are delighted Alexander is joining our team, and are excited by what he can bring to the Green Machine and hockey in Ireland. His experience speaks for itself and we feel he is the right person to lead the Green Machine in this exciting World Cup year"

He will begin his role on August 1. Prior to that the Green Machine will travel to Dusseldorf for the 4 Nations Cup where they will be defending their title against Argentina, Germany and France.#

This season, Kampong - as Dutch champions - will play in the EHL KO16 next Easter, bypassing ROUND1 which takes place from October 5-7, 2018 in Barcelona.

Euro Hockey League media release


---

Dutchman Alexander Cox named new national men's coach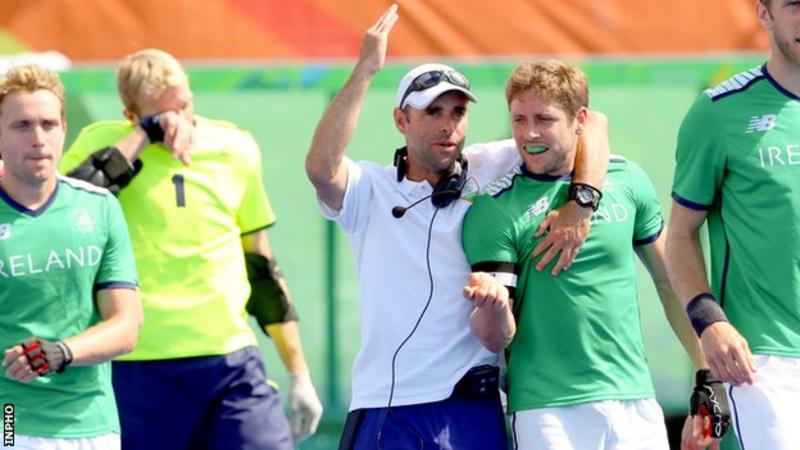 Craig Fulton (centre) stepped from the Ireland role last month to become Belgian assistant coach

Hockey Ireland has appointed highly-rated Dutchman Alexander Cox as the new coach of Ireland men's team.

Dutch-based Cox, previously assistant coach to both the Netherlands men's and women's sides, succeeds Craig Fulton who stepped down last month.

South African Fulton left the Ireland role to become assistant coach to the Belgian men's team.

Cox helped guide the Netherlands women to the Olympic title in 2012 and is head coach of Dutch club SV Kampong.

He will remain in the Kampong role where his players include Ireland goalkeeper David Harte, who will be part of Ireland's squad at the World Cup in India later this year after Fulton guided the team to qualification.

Cox has led Kampong to two Dutch titles while his team also won the EuroHockey title two years ago.

Hockey Ireland chief executive Jerome Pels said that Cox's "experience speaks for itself".

"We feel he is the right person to lead the Green Machine in this exciting World Cup year," said Pels.

Cox described his appointment to the Ireland past an an "honour".

"The Irish culture, the work ethic and persistence of the team, motivates me to start our preparation towards the World Cup in India," said the Dutchman.

"I'm looking forward to working with the team, staff and Hockey Ireland."

Cox will start in the role on 1 August after the team defends the 4Nations Cup in Dusseldorf against Argentina, Germany and France later this week.

Harte will captain the squad in Dusseldorf while assistant coaches Jonny Caren, Kai de Jager and John Bessell will be in charge of the team.

Ireland squad for 4Nations Cup

David Harte (capt), Jamie Carr, John Jackson, Jonny Bell, Matthew Bell, Luke Madeley, Matthew Nelson, Alan Sothern, Peter Caruth, Sean Murray, John McKee, Owen Magee, Michael Robson, Daragh Walsh, Paul Gleghorne, Jeremy Duncan, Lee Cole, Stuart Loughrey, Stephen Cole.

Matches

26 July: Ireland v Argentina - 16:00 BST
27 July: Ireland v Germany - 18:15
29 July: Ireland v France - 08:30

BBC Sport


---

Today Marks Two Years Until 2020 Tokyo Olympics
Ben Somerford




Tuesday 24 July marks exactly two years until the 2020 Tokyo Olympics where the Hockeyroos and the Kookaburras will hopefully compete for gold medal glory.

The Hockey tournament at the 2020 Summer Olympics will run from 25 July to 7 August at the Oi Seaside Park, with Argentina and the Netherlands heading in as the reigning men's and women's gold medallists respectively.

The Kookaburras are nine-time Olympic medallists, with one gold, three silver and five bronze medals. They won a bronze at the 1964 Olympic Games held in Tokyo too.

The Hockeyroos are three-time Olympic gold medallists but women's Hockey wasn't at the 1964 Olympic Games in Tokyo.

Beyond Hockey at Tokyo 2020, there's many milestones for the Games, with four new sports – skateboarding, sport climbing, surfing and karate – to make their Olympic debuts.

Australia will field their second largest team ever, behind only the 2000 Sydney Olympics team on home turf.

Tokyo's time zone will also ensure Australian viewers aren't kept up to all hours of the night, ensuring fans can support the Hockeyroos and the Kookaburras from afar.

Hockey Australia media release


---

African Youth Games 2018 - Day 4
Algiers (ALG)

African Youth Games 2018 (M)

RSA v Bye (QF!)
NGR v ZIM (QF2)     1 - 0 (1 - 0)
NAM v KEN (QF3)     1 - 3 (0 - 2)
ZAM v ALG (QF4)     7 - 0 (3 - 0)

African Youth Games 2018 (W)

ZIM v NGR (RR)     4 - 0 (3 - 0)     Official        
GHA v RSA (RR)     2 - 5 (1 - 2)     Official        
NAM v ALG (RR)     13 - 1 (6 - 0)

Pool Standings
| Rank | Team | Played | Wins | Draws | Losses | Goals For | Goals Against | Goal Difference | Points |
| --- | --- | --- | --- | --- | --- | --- | --- | --- | --- |
| 1 | South Africa | 4 | 3 | 1 | 0 | 34 | 5 | 29 | 10 |
| 2 | Namibia | 4 | 3 | 1 | 0 | 23 | 6 | 17 | 10 |
| 3 | Ghana | 4 | 2 | 0 | 2 | 21 | 8 | 13 | 6 |
| 4 | Zimbabwe | 4 | 1 | 2 | 1 | 10 | 10 | 0 | 5 |
| 5 | Nigeria | 4 | 1 | 0 | 3 | 2 | 15 | -13 | 3 |
| 6 | Algeria | 4 | 0 | 0 | 4 | 1 | 47 | -46 | 0 |
---

Aly joins big Rot-Weiss contingent in Germany squad


©: Frank Uijlenbroek /World Sport Pics

Rot-Weiss Koln goalkeeper Victor Aly is the newest face in the Germany squad named for this week's Four Nations Cup in Dusseldorf where they will play against France, Argentina and reigning champions Ireland.

It follows their recent tour to a scorching hot Japan where the beat the hosts 6-1 and 5-1 and New Zealand 7-4 as part of the summer training block, leading up to November's World Cup in India.

Aly has one previous international game under his belt, lining out against South Africa in Cape Town in 2015.

He is among seven Rot-Weiss players in the panel along with Grambusch brother Tom and Mats, Marco Miltkau, Mathias Muller, Timur Oruz and Christopher Ruhr.

There are four Uhlenhorst Mulheim players in the line-up – Benedikt Furk, Timm Herzbruch, Ferdinand Weinke and Lukas Windfeder – while Dan Nguyen Luong is the Mannheimer HC representative.

Nguyen Luong will also be looking to play in EHL ROUND1 in Barcelona in October where his club have been drawn against Wimbledon and Dinamo Elektrostal.

The Irish side for the Four Nations will feature Three Rock Rovers players Jamie Carr, Luke Madeley and Daragh Walsh who are also set for ROUND1 where they take on Junior FC and Racing Club de France.

Euro Hockey League media release


---

2018 U23 Field Hockey Canada Nationals – July 22: Men

BC takes the golden title in men's division to conclude tournament




U23 Men's competition concludes with BC gold, Ontario Red silver, Ontario White bronze, and many lessons learned

After a night of practices and two matches that acted as a warmup for some, day two of the U23 competition started in an exhilarating fashion as Ontario Red tied BC, a team that was hoping to win the tournament after silver and bronze finishes in U15 and U18 respectively, 3-3.

On the other side, Ontario White's 5-2 win over USA was a special one for Captain Rohan Chopra, who's participating in his 8th Nationals and had scored two goals in the win.

"We stuck to very basic hockey," he said. "A lot of us haven't played together so much so we really tried to focus on moving the ball, getting a lot of touches, interchanging positions, and really connecting with one another. Our next game is going to be very important, so I think we did a really good job in this game to get used to the tournament a bit more."

These matches were important to position themselves strategically for the semi-finals the next day. It was a showdown between the Ontarios, Red and White, and Ontario Red would take the lead in the 21st minute and hold onto it for the 1-0 result. On the other field, BC secured a definite 9-0 victory against USA, including hat-tricks from both Kyle Bishop and Tarjan Sandhu.

As pool play wrapped up, the semi-final matches were set up: it would be Ontario Red vs Ontario White, and BC vs USA — a rematch for all four sides.

The last day of the tournament came quickly and intensely, and the Toronto downpour was reflective of the consequential day ahead. All four teams would take the pitch early in the morning for a fight for a position in the goal medal match, but it was also a chance for redemption and to learn from yesterday's faults and successes.

First up: round two of the battle of the Ontarios. Despite a close match the day before and Ontario White's 7th-minute goal to lead the game, Ontario Red was able to notch four goals in for the 4-1 victory. BC and USA, however, had a similar match and saw BC win by eight goals to nil, meaning that it would be a BC vs Ontario Red final, and Ontario White vs USA bronze medal game.

Bishop, who was tied as BC's second leading goalscorer of the tournament, stated that it was great to play some new faces, yet still get great results leading up to the finals. "We were just moving the ball around the field and had a few good baseline entries. Overall, we had a great time in that last game. We're just going to get some rest, eat well, and prepare ourselves [for tonight]."

With only four hours of rest before overall standings were determined, teams made their way down to the field for the highly-anticipated medal matches and tournament finale. With the Men's gold medal on one side and the bronze medal on the other, spectators had much to be excited about.

BC took the lead early on with a goal in the 4th minute to kick off the gold medal match, which was quickly followed by a Fin Boothroyd hat-trick in the 11th, 18th, and 37th minutes to secure the first place finish.

BC Captain Satbir Brar attributed the win to the team's good mindset heading into the game and was pleased with the result, having tied Ontario Red initially.

"It feels quite rewarding because we definitely played hard and focused on our game plan," Brar said. "When you realize everything you have and make it come together, it feels good to win something you worked hard for. The atmosphere at Nationals is just great."

Alternatively, after a high-strung first quarter that saw USA take the lead 1-0 from a penalty corner, Ontario White quickly countered with a 25th-minute goal to tie the game. It was a series of back-and-forth attacks with good chances from both sides. However, late in the fourth quarter as a penalty shootout began to rise above the horizon, Ontario White's Divyanshu Saini scored the game-winning goal to take third place.

The loss, however, did not dampen USA's spirits, but instead fuelled it and made the team excited to come back in the future, should the opportunity arise. Colin Hennessy, a centre-forward on the American side, said that Nationals has been a learning process for USA given that many of the players have played back-to-back tournaments after the U18s.

"We've constantly been improving and talking about professionalism and keeping that momentum going," Hennessy said. "Especially for the guys in the US, we don't get to play a lot of hockey. Getting this chance to come out and play Canadians — we're working hard every single moment and taking it all in."

The sun sets on another Field Hockey Canada National Championships. The amazing competition took place over two weeks with 700 athletes, coaches and officials. For photo galleries, tournament recaps and more information on this year's championships, please visit the event page.

So long from Toronto.




Field Hockey Canada media release


---

2018 U23 Field Hockey Canada Nationals – July 22: Women
Ontario claims top two spots in the women's division




Four teams, three days and a gold medal on the line. The U23 women's division kicked off on Friday night in Toronto with a pair of games. Squads from Alberta, BC and two from Ontario met to play out the final stage of the 2018 Field Hockey Canada National Championships that had already seen the U15 and U18 division come to a close.

Jaslan Stirling, a member of Ontario Red, the eventual tournament winners, said that the U23 division is a step up from university play and that she really appreciates the competition level at this tournament. Stirling, last year's OUA MVP and rookie of the year and a huge contributor to York's Canadian USPORTS silver medal, said the community aspect of this event is also a real draw.

"I personally really enjoy it because I know a lot of the players in the division," Stirling said. "The competition is really intense. And because of the small division, every game really matters."

Stirling's Ontario Red advanced to the finals with a comfortable win over Alberta. On the other field, the whole facility gathered to watch as Ontario White's Alison Lee scored three late goals to force a shootout against BC. When the dust had settled, Ontario White punched their ticket in a heroic comeback and shootout performance. They couldn't keep the streak going though, as Ontario Red defeated White in the finals with the only goal of the game coming off of the stick of — you guessed it — Jaslan Stirling.

Stirling, the tournament's high scorer and a member of the Tournament-11 All-Star team, said that bringing the top university-aged players in the country together for a tournament in the summer has a great training and developmental aspect to it as well. She said it prepares her and the other USPORTS and NCAA athletes in the division.

"This is huge. It's a level up from the OUA. This event trains you against really good competition to prepares us for the university season," she said.

Louis Mendonca, head coach of the title-winning Ontario Red team, was proud to see his players come together over the three-day competition and put up the positive results.

"It's a short competition so there's not that much time to improve as a team," he said. "we really packed a lot in. We are trying to learn as we go, and we tick off boxes along the way. They played really well today and it's a great feeling to see them win."

Mendonca, the current coach of the Indoor National Team echoed a lot of Stirling's sentiments and spoke of the value of the U23 competition.

"I think the U23 division is really valuable," he said. "There is always a group of players who have passed the U18 age group but are still trying to make the senior team. They can continue to play and continue to train in this division. It's good, healthy competition."

Stirling, 19, took part in the U18 and U15 competitions as well, but not as a player. Stirling got her first major exposure to umpiring last week during the previous two divisions. Admittedly, Stirling said she used to get pretty emotional and even give the umpires a hard time during matches. Her experience now as an umpire has put the game into perspective. She said it has also helped her learn the game inside and out which has helped her playing career

"Now I'm also on that side of the game, I've really come to appreciate how hard it is to always be in the right position, to always get the call perfect," Stirling said. "Now, I don't question the umps because I know how hard it is and I really appreciate them."

The sun sets on another Field Hockey Canada National Championships. The amazing competition took place over two weeks with 700 athletes, coaches and officials. For photo galleries, tournament recaps and more information on this year's championships, please visit the event page.

So long from Toronto.




Field Hockey Canada media release


---

Rodhanizam: More commitment needed from MHC for indoor hockey

By Jugjet Singh



At the Under-12 tournament in Klang on Sunday, Kuala Lumpur Boys A lifted the inaugural C. Sivasubramaniam Cup. Pix by Muhammad Sulaiman

KUALA LUMPUR: The Klang Crows Hockey Club hosted an Under-12 indoor hockey tournament where 180 boys from 20 teams had fun while being on the receiving end of a valuable learning curve which can't be taught in a classroom.

Indoor hockey rules and surface are different from field hockey, and many of the youngsters had trouble adapting to the surface, movement, as well as indoor hockey sticks.

But once they got the hang of it after a few games, it was a joy to watch the youngsters making deft short passes as well as using the 'side iron bars' as a 'team-mate' in one-two situations.

Former national field hockey player Rodhanizam Mat Radzi was at the Real Sports Arena in Klang to witness the tournament, as well as play an exhibition match between veterans to show the youngsters how the indoor game is played.

But he was an unhappy man after the match.

"I believe there is great potential for the indoor game which has yet to be tapped here in Malaysia. Just look at the players present today, they adapted well to the rules and surface within just an hour of playing.

"But to make it big like field hockey, the indoor game needs more commitment from the Malaysian Hockey Confederation (MHC). We hosted it at the KL Sea Games and played in the Asia Cup last year, but after that indoor hockey is no longer active," lamented the former national player.

Malaysia had hosted three consecutive Indoor Asia Cup tournaments in Ipoh in 2008, 2009 and 2010 where the men won three silver medals -- losing all three finals to Iran.

However, Malaysian women emerged as champions in 2008 and bronze medallists over the next two years.

Rodhanizam felt Malaysia could do well in the indoor World Cup: "I believe if we start with the Under-12 like today, and have serious backing from MHC, Malaysia can excel in the indoor World Cup."

For the record, in the last Indoor Asia Cup in Doha last year, even though the men were not impressive, Malaysia's womens team only lost 2-0 to Kazakhstan in the final.

And at the Under-12 tournament in Klang on Sunday, Kuala Lumpur Boys A lifted the inaugural C. Sivasubramaniam Cup, which was wholly-managed by amateur officials who sadly made quite a few blunders, but all was forgotten in the spirit of learning and sport.

New Straits Times

---

Sea Games Indoor hockey pitch ruined

By Jugjet Singh

THE indoor hockey artificial pitch used for the Kuala Lumpur Sea Games last year is now lying in a store somewhere in Balakong, Selangor, damaged and abandoned.

After the pitch was laid as a temporary measure to host the 2017 KL Sea Games at the Malaysia International Trade & Exhibition Centre (MITEC), it was thoughtlessly ripped off.

Contractor Kuckreja & Co spokesperson Allan Netto said yesterday the pitch was damaged, and is no longer in playable condition.

On top of it, the Sea Games organisers still owe the contractor more than RM40,000, almost a year after the Malaysian men's team won gold while the women's team took bronze on the artificial pitch.

"Initially we were told to rush the job because a VIP wanted to visit MITEC, and we had to cut corners to get it ready. And after the visit, the pitch did not meet specifications because it was bumpy.

"We laid it again and finished the job just days before the Games started. It was in good condition and nobody complained.

"However, after the Games we asked for the balance of the money owed to us before removing it professionally. But instead of paying us, they hired unprofessional foreign workers who ripped it off and sent the pitch to a store in Balakong.

"This is a delicate surface and needs skilled workers to remove and lay it at another venue, but sadly, unprofessional hands have made it unplayable now," said Allan.
The total cost to lay the indoor pitch was RM250,000 with the additional cost of hasty laying and re-laying for the VIP's visit.

Kuckreja & Co has till now, yet to receive the RM40,000 owed.

"After the Sea Games, the venue was used for the Paralympics followed by a chess tournament where tables and chairs were arranged on the mat.

"This, itself, destroyed some parts of the mat, and with unprofessional removal and storage, it has just sadly gone to waste," said Allan.

Right after the indoor Sea Games prize giving ceremony, NST Sports had asked National Sports Council (NSC) director general Datuk Ahmad Shapawi Ismail what they planned to do with the indoor court, and he could not provide an answer.
Shapawi had said then: "This artificial pitch needs to be moved to another hall because MITEC was just a temporary venue. But I can't think of any place that is available right now.

"All our (NSC) halls are fully utilised for other sports. We will have to think of something fast."

When contacted, Malaysian Hockey Confederation Deputy President Datuk S. Shamala said she needs more time to investigate before making a statement.

Jugjet's World of Field Hockey

---

Spar Hockey grand finals


Michaela Quintal from Amanzimtoti High School.PHOTO: Val Adamson

FIXTURES and umpires for the eighth Spar KZN School Girls' Hockey Challenge in South Africa have been announced, with the 10 teams participating heading to St Mary's DSG, Kloof, to face each other in the much anticipated grand finals on July 21 and July 22.

In Pool A, host school and defending champions St Mary's DSG will take on St Anne's from Hilton; King Edward High School from Matatiele, Amanzimtoti High School and Greytown High School.

In Pool B, the only team to have a 100% attendance rate at the finals, Durban Girls' College take on Epworth School from Pietermaritzburg; Our Lady of Fatima from Durban North, Ferrum High School from Newcastle and Felixton College from Richards Bay.

Leading the fixtures, the Highway Regional champions St Mary's DSG will take on the uMvoti Regional winners. Following them are two of the three newcomers this year; Epworth will meet Felixton in the first game for Pool B; St Anne's College will meet the King Edward team; Durban Girls' College take on Fatima in the fourth game; and Toti take on other newcomers Greytown.

The pool games will last 22 minutes, with four points being awarded for a win, two points for a draw with goals, one point for a goalless draw and zero points for a loss. The play offs will have two halves lasting 15minutes each way, and if the game ends in a tie, the result will be decided in a penalty shoot-out.

Officiating at the grand finals are umpires from all over KwaZulu-Natal. Leading by example is renowned Wanri Venter from Thomas More College, who had the honour of blowing at the Gold Coast Commonwealth Games held in April. No stranger to the tournament, this will be the first time she will be taking to the field at a grand finals with a whistle.

Venter is joined by Sonika Buys, who makes her seventh appearance at the finals. The two senior umpires will be joined by eight up-and-coming umpires at the weekend. They are Candes Strydom (Werda); Mia Steenkamp (Most Promising Umpire from Vryheid); Brian Riddell (Thomas More College pupil and second appearance at grand finals); May Mazibuko (Most Promising Umpire from PMB Central); Sethu Sithole (Most Promising Umpire from DBN Central); Tallyn Tregear; Marnus Engelbrecht (Most Promising Umpire from Mandini) and Lethokuhle Ngadi (Most Promising Umpire from PMB North). Overseeing all of the officials with Venter is hugely experienced Queensburgh's Michael Lees.

The 2018 grand finals tick the tournament counter over to 88 in total over the eight years since its inception in 2011. The tournament, which travels across 10 regions in KZN, awards the regional winners with a festive grand finals each year.

Ten top teams and 10 umpires will be taking to the field in the eighth grand finals of the Spar KZN School Girls' Hockey Challenge.

News24