All the news for Friday 6 July 2018

Spain Tops USMNT in Second Game of Europe Summer Training Tour




MADRID, Spain - On a slightly cooler day at Club de Campo in Madrid, Spain, the U.S. Men's National Team faced FIH Hero World Ranked No. 8 Spain in their second game of the three-match series. Unlike the first match-up, USA was much calmer and more in control during this meeting and an improved defensive structure was a direct reflection of the score. The Red Sticks defeated USA 3-1.

USA adjusted and was used to the speed of their high-caliber international opponent. The first quarter finished with the score 0-0 and it was arguable to say who had more possession.

In the second quarter, Spain had a few more scoring opportunities and capitalized off two. The first came in the 24th minute on a field goal by Diego Arana and the second was in the 29th minute off a penalty corner from Pau Quemada. USA responded and moments later earned their first penalty corner of the game, which resulted in Deegan Huisman (Almere, The Netherlands) putting a rebound in over Spain's goalkeeper's head. The halftime score was in favor of the Red Sticks, 2-1.

USA restarted with more energy in the third quarter and did not provide Spain with many opportunities to get down field or even in their attacking circle. The improved defensive structure aided in this positive play.

In the fourth quarter, Spain started to force the pace a little more and scored their final goal in the 54th minute off a penalty stroke converted by Quemada. The final score finished at 3-1 to the host nation.

The USMNT will practice today before their final game of the series tomorrow at 5:00 a.m ET.

USFHA media release


---

Test Match results - 5 July

2018 Test Matches: CAN v CHN (M)
West Vancouver (CAN)

CAN v CHN     4 - 2

2018 Test Matches: BEL v CHI (W)
Brussels (BEL)

BEL v CHI     1 - 1

FIH Match Centre


---

France provides stage for next women's Hockey Series Open



The Hockey Series Open in France will get underway on 6 July

The Hockey Series Open continues to thrill hockey fans across the world as the third women's event gets underway from 6-8 July in Wattignies, France.

This four-nation event, featuring up-and-coming teams from Europe, will see the top three teams qualify for the Hockey Series Finals 2019 and potentially contest the Olympic qualification events for Tokyo 2020.

The participating nations are Belarus (FIH Hero World Ranking:20), Russia (WR:25), host nation France (WR: 31) and Austria (WR:32).

With just 12 ranking points separating the highest and lowest ranked teams, this event is likely to see some tightly contested matches and some very close score lines.

The Belarus Head Coach Herman Kruis is no stranger to top class hockey competition. He was formerly Coach to the Netherlands women, leading them to an Indoor World Cup gold medal in 2007. He has also coached some of the best clubs in the Netherlands, including HC 's-Hertogenbosch. Kruis has already enjoyed success with the Belarus indoor squad, leading them to bronze at the Indoor World Cup in Germany earlier this year. Many of the players from the indoor squad feature in the team competing in Wattignies, so will bring an element of additional confidence to the tournament.

The next highest ranked team is Russia, and they bring a team that is well balanced in terms of youth and experience. On the one hand, the squad will be led by players such as Margarita Drepenkina and Olesia Petrova, who have enjoyed many seasons with the national team. But, with an eye to the future, the coaching team of Svetlana Ivanova and Anthony Thornton have also included six teenagers in the team, including the talented Anastasia Kolpakova and Maria Bordolimova.

Host nation France will be looking to overturn the rankings and make a top two finish. Like Russia, the French coaching staff are building a team for the future, with 15 of their players on fewer than 20 caps. The veteran of the team, and the player who will be adding invaluable experience, is Philippine Berly. Currently on 94 caps, she would love to hit the century mark with a crack at the Hockey Series Final.

The final team in the quartet is Austria and they bring a lot of experience to the competition. Led by Head Coach Christopher Faust, Austria have in their ranks a number of players who know what it takes to compete on the international stage. Captain Corinna Zerbs and midfielder Viktoria Stockl have amassed a number of caps between them but there is experience all over the pitch with this Austrian team. They might arrive in France with the lowest ranking, but they could also be the team that upsets the form book.

The opening day of matches see Belarus take on France at 14:30 (CEST), with Russia playing Austria at 18:00 (CEST).

The event in Wattignies is a continuation of the Hockey Series Open, with other events in the Series taking place across the world over the coming weeks.

This stage of the FIH's new Hockey Series is the first step towards Olympic qualification for participating teams.

Enjoy all action from the Hockey Series Open on FIH Youtube.

For further information about the Hockey Series Open, click here.

You can also view more content on the Hockey Series Open channels on Facebook, Instagram and Twitter.

#HockeySeries2018

FIH site


---

Huge month ahead for Vantage Black Sticks



Stephen Jenness in action vrs Japan at the University of Waikato 4 Nations, Hamilton - Jan 2018 Photo: www.photosport.nz

Almost three months after unprecedented success at the Gold Coast Commonwealth Games, the Vantage Black Sticks Mens and Womens teams are on the hunt for further glory.

While the Black Sticks Women will leave for Europe on Sunday ahead of the Vitality Hockey World Cup in London, the Black Sticks Men are already in Japan as part of the build-up towards their World Cup in India later in the year.

The mens side will play the first of four matches against 16th ranked Japan in Shiga and Gifu on Sunday, July 8. Theyll also play a one-off test against world number five Germany before moving on to Bangalore for three matches against India.

That series will be a rematch of the Commonwealth Games semi-final, where the Black Sticks prevailed 3-2 over the worlds sixth ranked team.

"We have settled in well after a long trip to Japan on Wednesday", said coach Darren Smith. "The guys have a demanding schedule with five games over the next 10 days before taking on India on home soil".

"All three will be difficult opposition with Japan setting up toward Tokyo 2020, Germany being traditional powerhouses and India coming off a superb silver medal in Breda at the recent Champions Trophy. It will be exciting to see how we match up against three different styles in what will be very hot and humid conditions".

Goalkeeper Dominic Dixon, striker Dylan Thomas and midfielder Kieran OConnor are in line to make their debuts in the series with Japan, while captain Blair Tarrant returns to the squad after a lengthy injury layoff.

The Odisha Hockey Mens World Cup takes place in Bhubaneswar, India from 28 November - 16 December.

As the mens team take the turf, the Vantage Black Sticks Women will be winging their way to Munich for three tough matches against The Netherlands, Germany and Argentina.

The four day tournament will allow the team to put the finishing touches on their preparations for the World Cup, which starts on July 21. New Zealands first game of the tournament is against Belgium two days later.

The squad, which was announced on Tuesday, features just one change from the team which won the Gold medal at the Commonwealth Games, with Auckland youngster Lulu Tuilotolava included for her first major tournament.

VANTAGE BLACK STICKS MEN v JAPAN, GERMANY, INDIA (NZ time)

Sunday, July 8 7pm v Japan Shiga
Monday July 9 7pm v Japan Shiga
Wednesday July 11 10pm v Japan Shiga
Friday July 13 9pm v Japan Gifu
Saturday July 14 9pm v Germany Gifu
Thursday July 19 10:30pm v India Bangalore
Saturday July 21 10:30pm v India Bangalore
Sunday July 22 10:30pm v India Bangalore

VANTAGE BLACK STICKS WOMEN, FOUR NATIONS, MUNICH (NZ time)

Thursday July 12 2am v Netherlands Munich
Friday July 13 5:30am v Germany Munich
Saturday July 14 9pm v Argentina Munich

Hockey New Zealand Media release


---

Spain name Redsticks squad for World Cup



Spain will be looking to continue their development by medalling at this year's Vitality Hockey Women's World Cup Photo: FIH/Getty

 Spain will be looking to continue their development by medalling at this year's Vitality Hockey Women's World Cup Photo: FIH/Getty

The Spanish women's national team who will compete at the Vitality Hockey Women's World Cup London 2018 was announced earlier today.

A group of 18 members selected by Head Coach Adrian Lock will depart Spain on Tuesday 17 July with the hope of winning one of hockey's most prestigious prizes.

Spain's highest ever finish at a women's World Cup was fourth in 2006

As part of their preparations, Spain's RedSticks will play three test matches against Canada on 13, 14 and 16 July at Joaquín Blume Residence.

Spain women's team for the Vitality Hockey Women's World Cup London 2018:

    BERTA BONASTRE PEREMATEU
    CARMEN CANO RUÍZ
    BEGOÑA GARCIA GRAU
    MAIALEN GARCIA GALARRAGA
    MELANI GARCIA AFONSO
    XANTAL GINÉ PATSI
    CRISTINA GUINEA GONZÁLEZ
    ROCIO GUTIERREZ SIERRA
    LUCÍA JIMéNEZ VICENTE
    MARIA LÓPEZ GARCÍA
    ALICIA MAGAZ MEDRANO
    GEORGINA OLIVA ISERN
    BEATRIZ PÉREZ LAGUNAS
    CARLOTA PETCHAME BONASTRE
    JÚLIA PONS GENESCÀ
    LOLA RIERA ZUZUARREGUI
    MARÍA ÁNGELES RUÍZ CASTILLO
    CAROLA SALVATELLA PANÉS

#HWC2018

Courtesy of the Real Federacion Espanola de Hockey

FIH site


---

From Gold Coast to Breda, India have come a long way

"Play to win" and "do the basics right" were Harendra's mantra who wanted his boys to play one-touch hockey and aim only for a win.

HARPREET KAUR LAMBA



India finished runners-up in the Champions Trophy recently.

New Delhi: "Pass, run, pass, run, pass, run. Keep rotating the ball," Indian hockey coach Harendra Singh shouted out the instructions in the huddle as the teams took a breather in their Champions Trophy opening match against Pakistan on June 23.

"Play to win" and "do the basics right" were Harendra's mantra who wanted his boys to play one-touch hockey and aim only for a win.

India showed plenty of those traits in their silver-medal winning feat at the final edition of the Champions Trophy at Breda, the Netherlands, last week. They thrashed Pakistan in the opener, beat Olympic champions Argentina, played out tough draws against world no. 2 Belgium and world no. 4 Holland before finally going down to top-ranked Australia in the final.

In fact, India know that the gold was there for the taking having dominated Australia in the final before the shootout produced a winner. The numbers present a clear picture. India matched the world champions shot to shot (19 per side), earned four penalty corners to Australia's one and even dominated in ball possession.

But Australia defeated them where it mattered the most — holding their own when pressure got intense and converting chances, a lesson India will need to learn if they want to win trophies.

Given India's world ranking (no. 6) and recent form where they struggled at the Commonwealth Games at Gold Coast, they would take plenty of positives from the CT but would also rue the missed opportunity.

Tears trickled down midfielder Manpreet Singh's eyes, while Sardar Singh stood in silence at the medal ceremony. The man who had led India to the final almost single-handedly, skipper Sreejesh P.R., was a picture of disbelief and offered a faint smile when presented with the best goalkeeper of the tournament trophy. But even though India might not have ticked all the boxes, they showed they have come a long way since the CWG debacle.

Solid defence

"Save your house first and then attack," is a thought well advocated by most coaches and India followed it to the T at Breda. Defence, which has been their weakest point in the last few years, stood tall with the players not shy of taking body blows, saving penalty corners and playing to a structure even when pressed by Belgium and Holland.

Against Australia, who off set the opponents with their fast pace, India though still had a lot to cover in the group stage.

Sreejesh, the Wall

There have been calls to make him India's "defence minister" for his stupendous saves and the ability of bring the team back into the game from near hopeless situations, and the 30-year-old showed why he is so integral to the team's plan. The captain made this tournament truly his own with marvellous saves. Against Olympic champions Argentina, he saved 11 of the 12 penalty corners to keep India in contention for the final and against the Dutch, he weathered a later storm to guide them to the final.

Mental battles

There was a time when India used to lose the game even before taking the field — in their minds. The fear of playing the fast-paced Australians, the tactically strong Germany, the shrew-minded Dutch and the sturdy Argentina played on their minds and many a time a battle was lost even before it had began, but not this lot. Harendra made sure his boys were battle ready with regular psychological sessions and drilling in them the winning mentality. Be it the likes of youngsters Dilpreet Singh, Vivek Sagar Prasad, Simranjit Singh or Surender Kumar and Harmanpreet Singh in the defence, the boys were up for the battle. The return of Sardar Singh too seemed to have its impact with the senior pro evoking fear in the opponents' ranks.

"I do not go to participate, I go there to win," has always been Harendra's mantra, something his players showcased in plenty.

Tactical changes

Hosts Holland ran India close with a berth at final on stake, but this bunch absorbed pressure. Playing at 1-1 with four minutes to go, India withstood waves of attack with defenders Birendra Lakra, Surender and Harmanpreet clearing out every obstacle.

They took this form to the final, battling the Australians at every step. The usually aggressive Australians were pushed into their half as India weaved a series of attacks, giving them no width.But in the end, Australia handed them a tough lesson — on how to win even when the odds are against you. The Kookaburras earned just one penalty corner and converted it. In the penalty shootout, the first three failed attempts from India meant there was tremendous pressure on Sreejesh, who managed to save the fourth one but it was all too late by then.

Overall, India showed a solid structure throughout the tournament but if there is one thing this team still has to learn, it is winning the big games. With the Asian Games and the World Cup in sight, they will need to build on from here.

Deccan Chronicle


---

'We deserved to win but missed chances'

Coach Harendra laments CT final loss

Shreedutta Chidananda



Takeaway: Harendra Singh was satisfied with India's showing but said it could've been better. 

Although pleased with the team's progress on the pitch, national men's hockey coach Harendra Singh is disappointed with India's defeat to Australia in the final of the Champions Trophy.

India lost to Australia on penalties in Breda on Sunday, with the scores tied 1-1 in regulation time. "Reaching the final was good but the entire team is disheartened with the way in which we lost," Harendra said on Thursday.

"We deserved to win but we missed some chances to wrap it up in normal time. Before the tournament, I had told the boys: 'India has not won the Champions Trophy before. This is a chance to get yourselves into the history books.' We came close."

India had improved with its circle penetrations, Harendra felt.

"Even in the Commonwealth Games, we were making circle penetrations; it's just that we were not converting them. In all the team meetings, I told the players that we were on par with the best sides in the world in terms of skill and fitness. We only needed to improve mentally and play smart hockey. We had to attack and defend as a team and we did improve in that regard."

Pleased for seniors

Harendra was pleased with the performance of seniors Sardar Singh and Ramandeep Singh, both of whom had been recalled after being left out of the CWG squad.

"If you look at the FIFA World Cup, the teams that are doing well are the ones with a good blend of youth and experience. That's what we tried to achieve as well. I feel the seniors really pulled their socks up and delivered. As a team, we played entertaining hockey that the whole hockey world appreciated."

India's next target is a gold medal at the Asian Games, set to begin in Indonesia in August.

"We need to improve in certain areas before that," Harendra stated. "Our penalty corner attacks must improve. And we must score in every quarter."

The Hindu


---

Hockey coach Harendra Singh not satisfied by India's Champions Trophy performance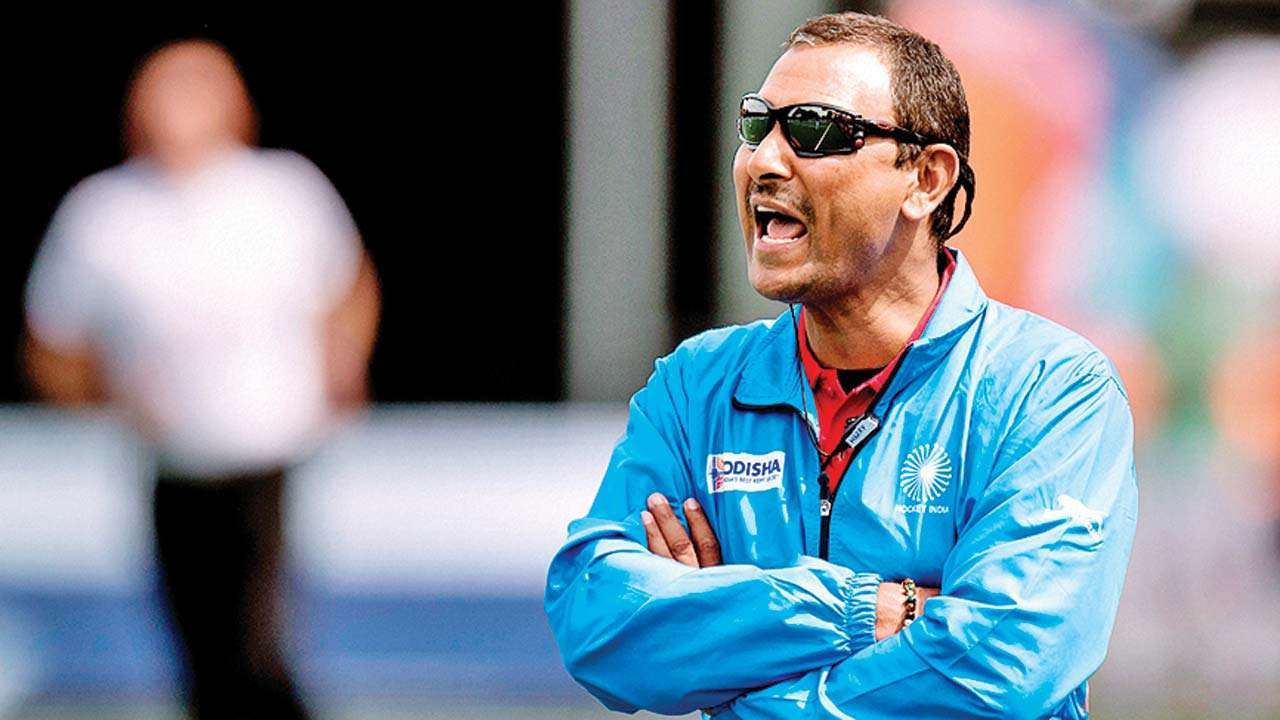 Harendra Singh

Back with a creditable silver medal from the Champions Trophy, the Indian men's hockey coach Harendra Singh is determined to seal India's 2020 Olympic berth in the upcoming Asian Games as he feels it will give the eight-time winners ample time to become realistic medal contenders in Tokyo.

Harendra, who returned to coach the men's team for a record fourth time two months back replacing Sjoerd Marijne, could not have asked for a better start to his new stint as India excelled in almost all areas before losing to world champions Australia via penalty shoot-out in the CT final.

"As a coach I am happy with our performance but not with the colour of the medal because I wanted to change the colour and we had our moments," Harendra told PTI in an interview. "Now the Champions Trophy is history for me and our complete focus should shift to the Asian Games in Jakarta where I will settle for nothing less than gold. Defending the Asian Games title will secure our place in the Olympics. We will then have 2 years to prepare which I feel should be enough to be a serious medal prospect in Tokyo," he added.

Even though Harendra couldn't change the colour of the medal in the just-concluded Champions Trophy in Breda, Netherlands, the coach was mighty pleased with the attitude and performances of his players.

"The performance of the team has been satisfying. As a team, we have taken a few positive steps, which is important. We had our chances to close the final against Australia in the third and fourth quarters but we didn't use them and had to pay the price in the shoot-out which is anybody's game," he said.

In the Champions Trophy, Harendra fielded a balanced side, which has the experience of someone like Sardar Singh and also the youthful exuberance of players like Diplreet Singh, Vivek Sagar Prasad. The coach's experiment was bang on target as India not only showcased some fine attacking hockey, but also defended stoutly in numbers to draw the attention of its opponents.

"We have improved in our defence and attack as a team which was visible in Breda. We've improved with our fast counter-attacks and circle penetrations," Harendra said. "But we still have to work on some areas like positioning inside the circle, choice of skill inside the circle and of course penalty corner conversions."

Harendra, however, warned his players against complacency, saying they cannot afford to look back from here on. "We will continue to play attacking hockey. That is our strength and any deviation from that will be a compromise. We are on the radar of every team now. We must continue the progression. We cannot sit back and relax," the coach said.

Harendra said the Indian squad for the Asian Games will be decided by Tuesday but a formal announcement may be made later. After the ongoing short break, the players will assemble at the national camp on Sunday and the camp will continue till the departure of the team for the Asian Games.

Daily News & Analysis


---

International Hockey Umpire Christchurch's Gareth Greenfield gets the plaudits

Gareth Greenfield top Kiwi Hockey Umpire was appointed to The semifinal and then the final of the last ever Champions Trophy.

Greenfield umpired World number One Australi and India in the final for the record Australia won in a shootout.

But it is the semi final between home team The Dutch and India match that Greenfield  is getting the kudos.

Greenfield opted to review a Dutch goal which would have seen them into the final- the review tossed out the goal.

Newstalk ZB


---

There should be proper budget set for hockey federation: PHF




According to Pakistan Hockey Federation (PHF), it is challenging to ameliorate the team until or unless the youth is not polished and educated from "grass-root level".

PHF secretary Shahbaz Ahmed Sr stated, "There should be a proper budget set for PHF so that it can manage its affairs all by itself,".

He also added, "The youth must be spotted and picked up from grass-root level. They must be then trained in these centres and given proper education as illiterate cannot survive in international sports,"

He believes that there is a need for about 4-5 hockey centres in Pakistan and that the federation must be able to ensure that the players are provided with proper nutrition as per their requirements.

On the poor performance of Pakistan's team against Canada in Champions Trophy and series, he said that how was it possible for them to win as they ranked 13th; "Pakistan is ranked 13th in International Hockey Federation (FIH) rankings while Australia, Argentina, Belgium, Netherlands and India are in top six,".

He further added, "On the other hand Pakistan development squad that lost the series to Canada was Pakistan junior team playing against Canadian senior team. The Pak-Canada series was all sponsored by our Canadian counterpart and had nothing to do with FIH rankings. Our junior team went to Canada for international exposure then why so much criticism,"

He highlighted, "At our time players had permanent jobs in several departments," and that today, jobs should be provided to the players in order for them to earn a living.

The Nation


---

Super Group announces new partnership with the Women's National Hockey Team




Super Group, who provide a vast array of international supply chain and fleet management services and operate a vehicle dealer network in South Africa and the United Kingdom, announces its official partnership with one of our nation's premiere female sports teams, the South African Women's Hockey team, and is expanding its brand presence in the sports market, which is growing exponentially globally.

Hockey is one of the fastest growing schools sports in the country and has made significant progress in all areas including the announcement of this new sponsorship deal.  There has been  greater gender integration in the way SA Hockey hosts tournaments and events, increasing awareness through broadcast partnerships with SuperSport hosting world class events and attracting the worlds' best hockey teams to our local shores.

Super Group will be on board to assist the National Women's team prepare and compete at the Vitality Women's Hockey World Cup in London from the 28th July to 5th August where our team will look to improve on their 9th place finish at the Hague in 2014. The event is one of the largest Women's only sporting events that the UK has hosted to date.

Super Group's sponsorship will be well received by the public and the hockey community as the ever-needed funding is a critical component of the game of hockey. With hockey not being a professional sport in South Africa, the sustainability of the sport is reliant on such partnerships. The growth and participation of hockey around the globe is definitely a source of excitement for Super Group.

Mr Peter Mountford, the Chief Executive Officer for Super Group explains the value proposition for the alignment as follows: "For Super Group, this sponsorship signifies an opportunity to give back to the South African sports public and support an excellent team whose high International Ranking is unique amongst Competitive Countries who are all full-time professionals."

"The partnership with Super Group speaks volumes to the character of Hockey in our country, in particular the Women's game. One of our goals is to drive positive change in Women's sport through the performance of the national team and having Super Group on board presents an excellent opportunity for this," says SA Hockey CEO Marissa Langeni, "We are thrilled to have Super Group on for the next part of this journey!"

SA Hockey Association media release


---

Argentina hockey great Luciana Aymar reveals mental battles over 20-year career

By Rod Gilmour




Luciana Aymar, widely considered the greatest ever women's hockey player, has revealed that she "never slept in 20 years" and says that she would ward off her children from choosing international hockey as a lifestyle following her obsessive strides to reach the top of the sport.

In a compelling recent interview, published by Argentinian daily La Nacion, the 40-year-old admitted that she visualised matches "too much" as well as isolating herself ahead of games as captain.

The Argentinian retired from hockey in 2014 after a glittering career where she won eight world player of the year awards, two World Cups, countless Champions Trophies but finishing without an Olympic title.

She said that although she was never consumed by a love of hockey, she was compelled by pulling on the Las Leonas shirt when playing for her country.

"The captain, at least in the Lionesses, must worry about many things," she told La Nacion.

"Having so many responsibilities, playing a World Cup with so many people, wearing the shirt of a team that has won so much is a lot."

Aymar, who now resides in Chile with her boyfriend, the former tennis player Fernando Gonzalez, said that she found resting a difficult beast to conquer as she rose to the top of the game.

Asked whether she was able to sleep before a game, she said: "I never sleep! I never slept in a 20-year career. I was always visualising a lot, too much.

"I had very big costs, yes. I went through a very hard stage, I was sad, anguished, depressed, I have no shame in telling it…"

She said that if she was asked by young players today for advice, reminding them of stress would be a key component.




"One does a lot of analysis, from everything you experience [when you stop playing]. I am very proud of what I achieved in my career. But later, seeing myself from the outside, the way I was for 20 years … It's not that I regret, but I would have changed some things …

"I believe that my discipline, my perseverance, my requirement, added to the talent I had to be the best. But if I had a child, I do not know if I would recommend the lifestyle.

"I would try to be like my parents were, they never pressured me. I enjoyed the sport because my parents lived in the club and I loved sports because they loved sports."



Luciana Aymar(l) and Eva de Goede challenge for the ball

The Argentinian admitted that her lifestyle before quitting the game aged 37 was "too hard".

"It was the right to time to stop," she added. "I loved the sport and I still love it. It was the best thing that life gave me. But I need to live life, too."

Aymar's life will be told in a Netflix documentary to be screened this month, having first hit Argentinian cinemas two years ago.

The Hockey Paper


---

Belgium ushers in domestic league change for FIH Hockey Pro League

By The Hockey Paper



Dan Fox in action for England against Belgium at Four Nations tournament in Glasgow - credit Asdrubal Diaz.

As the top nations set their sights on the FIH Hockey Pro League in January, so national governing bodies have been scratching their heads as to domestic league structures.

With the Pro League taking place from January to June, large swathes of players will be unavailable for half the year.

Belgium, an emerging force in both men's and women's formats nowadays, approved change to its domestic structure last month, with the number of league matches lessening from 22 to 16 over the season.

The 12 teams in the top flight will be split into two groups of six at the start of the season. Before the winter break, the 12 will all play each other once across the groups.

After January, all the group teams will play each other in their five remaining games.

The top four teams will qualify for the quarter-finals of the play-offs, while the two group winners will qualify for the Euro Hockey League, with the third European berth being handed out when the national champion is realised at the end of the play-offs.

In all, the championship-winning side will have played 22 matches over the season, while change will also be implemented in the match schedule.

All matches will be played at the same time on Sunday afternoons, while there will be no evening matches scheduled.

The Hockey Paper


---

Murray and Ingram get big moves to Rotterdam



Mark Ingram will swap Pembroke for Rotterdam next season. Pic: Adrian Boehm

Sean Murray and Mark Ingram will both move to HC Rotterdam this summer, bringing the total of senior men's internationals playing for clubs outside Ireland to over 20.

Murray, 21, make the switch from Lisnagarvey, making him the third notable player from the Hillsborough club to make the switch abroad.

Neal Glassey and Paul Gleghorne both penned moves to Crefelder HTC in Germany late in June where they will link up with the club that Ronan Gormley and Matthew Bell have played for in recent years.

Likewise, Ingram, 24, is the third player to move on from Pembroke following Kirk Shimmins' switch to Dragons and Alan Sothern to La Gantoise earlier this week.

It means just eight of the squad of 26 that played France last weekend are currently set to play their hockey in the EY Hockey League next season.

Elsewhere, Anna O'Flanagan will swap HC Bloemendaal for Pinoke in the Hoofdklasse. The Amsterdam club were promoted to the top tier over the summer and have shown serious ambition in the transfer market with Australian international Gabi Nance and Blackstick Samantha Charlton coming in.

The Hook


---

2018-19 U.S. U-21 Women's National Team and U.S. Women's National Development Squad Named

LANCASTER, Pa. – Four days of trainings. Four days of intense practices. Four days of evaluation is what stood between 60 athletes and their dream of being on the final roster. Following the conclusion of the U-21 and Development Junior National Camp on July 3, the U.S. Women's National Team coaching staff is pleased to announce the newly named 2018-19 U.S. U-21 Women's National Team and U.S. Women's National Development Squad.

"It was a productive nine-day period at the Nook with the Young Women's National Championship followed by Junior National Camp," said Phil Edwards, U-21 USWNT Head Coach. "I am happy with the two training groups that were named out of the camp and it promises to be another productive year of growth for both the U-21 and the Development Teams."

Selections to the U-21 and Development Junior National Camp came from the 2018 Young Women's National Championship, which featured more than 100 elite female collegiate and post-collegiate athletes from around the country. The event concluded on June 29 and the Junior National Camp took place June 30 to July 3.

Congratulations to the following athletes who have been named to the 2018-19 U.S. U-21 Women's National Team:

Carter Ayers (Louisville, Wilmington, Del.), Maddie Bacskai (Princeton, Berwyn, Pa.), Brooke Deberdine (Maryland, Millersville, Pa.), Lacey Frazier (Old Dominion, Indian Island, S.C.), Greer Gill (Virginia, Virginia Beach, Va.), Kyler Greenwalt (Maryland, Gambrills, Md.), Erin Huffman (Old Dominion, Annville, Pa.), Mary Kate Neff (Princeton, Villanova, Pa.), Halle O'Neill (Michigan, Hummelstown, Pa.), Meghan Schneider (Louisville, San Diego, Calif.), Christie Van de Kamp (William & Mary, Midlothian, Va.), Elise Wong (Princeton, Perth Amboy, N.J.), Corinne Zanolli (Stanford, Newtown Square, Pa.)

In addition to the players selected above, seven athletes will be offered a trial at the conclusion of their collegiate season from December 19-21 at Spooky Nook Sports in Lancaster, Pa. Those athletes are:

Jessica Dembrowksi (UConn, Palmyra, Pa.), Ashley Dykema (Liberty, Newport News, Va.), Makayla Gallen (Virginia, Glen Mills, Pa.), Gianna Glatz (Rutgers, Medford, N.J.), Fusine Govaert (Boston College, Rye, N.Y.), Lauren Hausheer (Virginia, West Windsor, N.Y.) and Elizabeth Ryan (Albany, Hoosick Falls, N.Y.).

"We will get the opportunity to observe a number of college players during the fall season including those who were invited back to the December trial based on their performances this past week," added Edwards. "I look forward to watching their development over the next few months"

To account for the transitional phase from the U-21 USWNT to the senior USWNT, the U.S. Women's National Development Squad was introduced in November 2016 to nurture the talent of college students who no longer are permitted to be on the junior team due to age restrictions.

"The Junior National Camp was a great opportunity to see a huge number of high quality athletes working together," said Marc Hardy, U.S. Women's National Development Squad Head Coach. "Across the four days we were able to see a talented pool of players compete for selection to the women's Development Team. There are a number of returning players in the team, also crucially, many new faces. The squad has great depth and I look forward to working with them again soon."

Congratulations to the following athletes who have been named to the 2018-19 U.S. Women's National Development Squad:

Kendall Ballard (Ohio, Charlottesville, Va.), Margaert Bettz (Michigan, Acton, Mass.), Kelsey Bing (Stanford, Houston, Texas), Taylor Blood (Boston U., Hampton Falls, N.H.), Virginia Bramley (Penn State, Elizabethtown, Pa.), Kelsey Briddell (Albany, Wilton, N.Y.), Katrina Carter (Cal Berkeley, Berkeley, Calif.), Cori Conley (Penn State, Oak Park, Ill.), Linnea Gonzales (Maryland, Bel Air, Md.), Alexandra Hammel (Boston U., Duxbury, Mass.), Karlie Heistand (UConn, Hamburg, Pa.), Alexa Hoover (UPenn, Collegeville, Pa.), Carrera Lucas (Virginia, Brooklandville, Md.), Kelly Marks (Albany, Elverson, Pa.), Emily McCoy (Boston College, Lititz, Pa.), Erin Menges (William & Mary, Richmond, Va.), Mikayla Michals (Providence, Needham, Mass.), Sabrina Rhodes (Maryland, Wilmington, Del.), Jenny Rizzo (Penn State, Hershey, Pa.), Kealsie Robles (Old Dominion, Seaford, Va.), Erin Shanahan (Virginia, Pasadena, Md.), Taylor Stone (Louisville, Herndon, Va.), Sophia Tornetta (Princeton, Plymouth Meeting, Pa.), Katie Walsh (Louisville, Louisville, Ky.)

USFHA media release


---

SJU Assistant Hannah Prince Makes the Most of International Experience




Not many athletes have the honor of representing their country on an international stage. Those who do have a wealth of experience with and knowledge of their sport, including how other countries approach the game. What do those athletes do in the offseason?

Hannah Prince, the captain of the United States Women's National Indoor Field Hockey Team, coaches at Saint Joseph's.

Prince had a history with USA Field Hockey prior to joining the Indoor Team; she played on the U-21 and U-16 National Teams and spent a year on the outdoor National Team after graduating from the University of Massachusetts in 2014. When she wasn't reselected for the outdoor team, Prince moved to New Hampshire to join the University of New Hampshire's coaching staff.

"I was obviously pretty bummed [I wasn't reselected], because it's been a dream of mine to play, but I didn't want to stop playing," Prince said. "I was contacted by the Indoor coach asking if I wanted to come train with them. Despite the distance, I said, 'Heck yeah, I do.'"

The Indoor Team trains in Pottstown, Pennsylvania, about a seven-hour drive from where Prince was living in New Hampshire. She made the trip about once a month in the offseason and multiple times in the late fall and winter, often staying in the Pottstown area for more than a week.

The distance didn't bother Prince, though. It was a chance to continue playing the game she loves, albeit a different version than she was used to.

Indoor field hockey is different from outdoor; notably, the game is played on a hard court and play is five-on-five.

"It's a lot different because you can't have a backswing and you can't lift the ball in the field of play," Prince said. "As a player, you obviously get more touches with it being five-on-five. There are boards, too, so it's like ice hockey, sort of. You can use the boards to pass."

Prince always enjoyed spending time outside and most of her field hockey career focused on the outdoor game. She hadn't played on an indoor team since she was in high school.

The transition from outdoor to indoor wasn't difficult for long, though. Shortly after Prince joined, the team traveled to South Africa for a tournament, where the coaching staff announced Prince would be a co-captain.

Prince had always been a vocal leader on and off the field, so her role as a team captain came naturally. While being a captain didn't change the way she played or viewed the game, she's constantly taking in everything that happens during a game.

"Say there's a questionable call against one of my teammates that results in a card or a goal against us," Prince said. "I need to be able to quickly articulate what happened and speak to the umpire in a manner that I know what I'm talking about and respectfully, either to get the call changed or just being able to communicate with them because that can make or break a game a lot of times."

Confidence and communication are two of Prince's key focuses as team captain, and that mentality translates well to coaching. Being a vocal leader as a coach is crucial to the team's success, especially in situations when the team is down or struggling. Prince has always approached those situations with confidence; if she can support the players and lay out a plan, the team will thrive.

After coaching at New Hampshire for two seasons, Prince started looking for a job closer to the Pottstown area to be closer to the U.S. Indoor Team's training facility. When an assistant coaching position at SJU opened prior to the 2017 season, it was the perfect opportunity. Even better, Prince won three Atlantic 10 championships as a student-athlete with the Minutewomen, so she knew the conference.

The 2017 Hawks enjoyed the best season in program history, finishing with an 18-4 record and the #15 ranking in the final NFHCA Coaches Poll of the season. Although the season featured many highlights, the most memorable was the 3-2 double overtime nailbiter win in Amherst, Massachusetts, to win the A-10 title.

Was facing her former team in the championship game weird for Prince, though?

"I want [Massachusetts] to do well except when they play us," Prince said with a laugh. "[UMass head coach Barb Weinberg] isn't the coach that I had, so it's different. And it's not even the same field. They play in a different location, so that helps."

The Hawks' season ended in mid-November, but field hockey was still at the front of Prince's mind. The U.S. Indoor Team traveled to Berlin, Germany, for the Indoor World Cup in February. Prince had played in numerous games at different venues and in different countries, and the atmosphere of the World Cup was by far the best.

Hockey has a much larger following in Europe than it does in the United States. Players start learning the game at a young age and can play in year-round club systems. Teenage players can play for clubs in women's leagues, exposing them to a high level of competition at a young age.

Players for the national team are celebrities in some countries, according to Prince. Hockey isn't just a sport: it's a culture.

It shouldn't come as a surprise, then, that the stadium was packed for the Indoor World Cup. Still, Prince was in awe. How could you not be?

"It was the biggest crowd I've ever played in front of," Prince said. "There were so many people. You have to tune it out because it gets so loud, but feeling the energy from the crowd is such a cool experience."

When her squad wasn't playing, they'd watch other matches to scout upcoming opponents. At any large tournament, Prince, her teammates, and their coaches will observe other teams, taking notes and watching video to understand what they'll be up against.

After one season on the outdoor team and two seasons on the Indoor Team, Prince has a deep understanding of many countries' styles and tactics. That knowledge helped Prince land a broadcasting gig with the outdoor team.

The U.S. Women's National Team played a four-game series against Chile in Lancaster, Pa., in April. Janneke Schopman, the National Team's head coach, had suggested Prince be asked to provide color commentary for the broadcasts.

Prince didn't have any prior broadcasting experience, but jumped at the opportunity.

"I was so nervous," Prince said. "Once I got comfortable talking hockey, I felt like I did a good job… Doing anything related to hockey at a high level is not only fun, but helps me learn. That's what I'm all about. I never want to settle. I just want to continue to learn as much as I can in any aspect of the game."

Prince's vantage point while broadcasting allowed her to see and analyze more elements of the game than she would while playing or coaching. Although not all the tactics Prince analyzed would fit with the Hawks' style of play, there were plays she noted could work against certain opponents.

Even if the Hawks don't employ any of the strategies used in the U.S.-Chile games, Prince's experience with international games is sure to play a huge role in the team's development. Given field hockey's worldwide appeal, it isn't surprising that seven of the 26 players on the Hawks' 2018 roster are from outside the United States. Many other college teams have a similar makeup.

With influences from multiple countries shaping how collegiate teams play, understanding international strategies is key to being competitive. Prince's experience playing in international games and analyzing other countries give the Hawks an advantage over most programs.

"Some countries are known for certain playing styles," Prince said. "For example, the Netherlands, they're incredibly skilled, their passing is lightning speed, and they're super athletic and always looking to shoot the ball, so you have to be prepared. As soon as they get in that circle, they're ripping the ball on the cage. There are certain teams who, say, defensively, they'll half-court press you. You kind of get an idea of what certain teams will do."

Granted, indoor and outdoor field hockey are different, but Prince sees many elements that translate. The Hawks hold an indoor training segment during the winter, playing in a tournament against other schools.

"It really helps team dynamics because it's a smaller group and it brings out more leaders," Prince said. "It works on individual skill because on the hard court you have to have really fast hands. Also, the defensive structure is something that I think really translates because…if the defensive structure is in a flat line or is disconnected and too far apart, those are issues…It's all about making shapes together and stepping up together."

Defense was one of many strong points for the Hawks last season. Their .805 team save percentage ranked fourth in all of Division I.

With solid defense and offense, a talented class of incoming freshmen, and Prince's extensive knowledge of international playing styles, SJU is poised for another strong, competitive season. Prince and the rest of the coaching staff have written down multiple potential lineups and playing shapes to get a head start on the 2018 season.

"It's funny, your path is never what you think it's going to be," Prince said. "I would have played on the outdoor team for 10 years if I had the opportunity. It's okay. You keep going and find your spot, whatever that looks like."

Captain of the United States Indoor Team. Assistant coach for Saint Joseph's. Four-time Atlantic 10 champion. Prince has found her spot.

Content courtesy of Christy Selagy, Saint Joseph's University

USFHA media release


---

PAHF Hockey Umpire's Workshop held in Barbados

Kofi Hinds, Barbados Hockey Federation



Matthew Williams receiving his certificate from Roger St Rose. Photo: Barbados Hockey Federation   

The Barbados Hockey Federation, in association with the Barbados Olympic Association and the Pan American Hockey Federation (PAHF) hosted an umpires' workshop for local umpires, during the recently concluded Barbados Tri-Nation Invitational Women's Hockey Series, held from June 28th to July 1st 2018, in Barbados. The workshop was facilitated by PAHF Umpires Committee Chairman and International Hockey Federation (FIH) Trainer, Mr. Roger St. Rose.

St. Rose, a stalwart of World Hockey from Trinidad & Tobago and former World Panel umpire, introduced participants to modern concepts and trends in Hockey, covering the FIH Hockey Revolution, as well as key concepts such as fitness, umpire psychology, team work, interpretations, match flow and facilitation, rules application and technical match management.

Over the four days of the workshop, St. Rose also held sessions with local umpire coaches and mentors and stressed the need for encouragement of new umpires and creating positive environments for umpires to succeed, given the demands placed on umpires in the sport.

Participants ranged in experience from beginners to practicing and retired international umpires and also included some veteran local umpires.

Matthew Williams, a local umpire and attendee commented, "The umpires workshop with Mr St. Rose was very informative and interactive. The workshop showcased the importance of umpiring standards and the key role umpires play in the development of hockey."

Local upcoming international umpire Shane Lewis, who will be heading to Colombia to umpire at the CAC Games later in the month also took part in the workshop. Lewis added, "It was educational, insightful and certainly exceeded expectations in terms of delivery. It highlighted the key role that officials play in successfully globalizing sports and further emphasized the need for persons to be as update as possible with regards to trends in modern-day umpiring."

St. Rose, who was also acting as the Umpires' Manager for the Tri-Nation tournament, introduced a template for local umpire training and grading, which the BHF will be working closely with him to implement.

Participants: Gina Belle, Justin Taitt, Kofi Hinds, Matthew Williams, Richanne Gaskin, Shane Lewis, Jamar Springer, Brian Burrowes, Ashlee Neblett, Andrea R. Nichols, Roger D. Broomes, Shaquille Callendar, Bertram Corbin and Corliss Boyce.

Pan American Hockey Federation media release