All the news for Saturday 7 July 2018

Hockey Series Open - Wattignies 2018 (Women) - Day 1
Wattignies (FRA)

BLR v FRA (RR)     4 - 0
RUS v AUT (RR)     4 - 0

Pool standings
| Rank | Team | Played | Wins | Draws | Losses | Goals For | Goals Against | Goal Difference | Points |
| --- | --- | --- | --- | --- | --- | --- | --- | --- | --- |
| 1 | Belarus | 1 | 1 | 0 | 0 | 4 | 0 | 4 | 3 |
| 1 | Russia | 1 | 1 | 0 | 0 | 4 | 0 | 4 | 3 |
| 3 | Austria | 1 | 0 | 0 | 1 | 0 | 4 | -4 | 0 |
| 3 | France | 1 | 0 | 0 | 1 | 0 | 4 | -4 | 0 |
---

Japan Take 2-1 Win In Very Close Contest




The game was played at a fiery pace throughout with Japan starting the smarter and Shihori Oikawa acting as the play maker at the back. The Green Army got to grips with the pace and the long range passes of Zoe Wilson started to cut the Japanese midfield open. Sarah Torrans put her side in front in the 12thminute as she slipped her marker to pick up a pinpoint pass from Lena Tice and drew the keeper from her goal before calmly slotting the ball into an empty net. Katie Mullan nearly doubled her sides lead as she barged down the left side and sent a cross into the circle but the ball ricocheted off the post before Deirdre Duke could get to it. The Green Army continued to swing the pendulum in their favour as Lizzie Colvin poached the ball in midfield and swept into the circle only for Chloe Watkins to very nearly dink the ball past Erika Akaya.

The Green Army continued the stronger side of the second half and Anna O'Flanagan got herself free in the circle to shoot on the reverse and draw a good save from Megumi Kageyama. Japan levelled the match in the 36thminute with a penalty corner routine that saw Akiko Ota sweep the ball in at the back post. But Ireland replied with a PC of their own; Wilson's shot was saved and a goal mouth scramble saw Japan win a free out. Mullan continued her flying form as she caused the Japanese defence continuous trouble, sending passes into the circle and across goal at will. But it was Japan who took the spoils, another well worked PC routine that drew Ayeisha McFerran from her goal before the slip back for Natsuha Matsumoto. The Green Army opted for a kicking back in the final minutes of a very close game and one last chance came courtesy of Watkins sending a ball across the face of goal but nobody could get the vital touch.

UCC, Cork

Ireland 1 (Torrans)
Japan 2 (Ota, Matsumoto)

Starting: K Mullan (Captain), S McCay, E Beatty, S Loughran, A McFerran, L Colvin, H Matthews, S Torrans, A O'Flanagan, Z Wilson, A Meeke

Subs: G O'Flanagan, Y O'Byrne, E Tice, N Carroll, G Pinder, C Watkins, D Duke

Ireland 0vs2 Japan 4/7/18 7pm UCC
Ireland 1vs2 Japan 6/7/18 7pm UCC
Ireland vs Japan 7/7/18 5pm UCC

Irish Hockey Association media release


---

Japan overturn Torrans' calmly taken strike




For a second successive game, the 53rd minute was cursed for Ireland as Japan came from a goal down to win 2-1 at the Mardyke in their World Cup build-up series.

On Wednesday, the Japanese scored twice in that minute for a 2-0; this time around, Natsuha Matsumoto got the winner, overturning Sarah Torrans' early strike.

The youngster – one of the players on the reserve list for London – got Ireland off to a flyer when she went through one on one and calmly slotted home after a miscontrol unlocked the door.

Coming in the 12th minute, it capped a fine start for the Green Army, showing more vigour in attack than game one. It continued into the second half with Lena Tice's range of passes causing problems while Katie Mullan and Anna O'Flanagan went close.

Japan, though, got back on terms in the 43rd minute from a penalty corner rebound with 17 minutes to go.

And they snatched their winner 10 minutes later from a set piece once again, this time a variation that fell to Matsumoto to score.

The visitors held on for the victory to make it two wins from two from the series which finishes on Saturday evening at 5pm at the same venue.

Once complete, the training camp moves to Dublin for games against Chile and Italy this week before Ireland head to London for their World Cup opening game on July 21st.

Women's international test match
Ireland 1 (S Torrans)
Japan 2 (A Ota, N Matsumoto)

Ireland: A McFerran, K Mullan, S McCay, E Beatty, S Loughran, L Colvin, H Matthews, S Torrans, A O'Flanagan, Z Wilson, A Meeke
Subs: Y O'Byrne, L Tice, N Carroll, G Pinder, C Watkins, D Duke

Japan: E Akaya, M Ono, N Matsumoto, H Nagai, A Kato, K Nomura, Y Nagai, M Kozuka, Y Ishibashi, S Oikawa, A Yamada
Subs: A Ota, Y Mano, M Karino, K Hoshi, H Yuda, M Kawamura, M Kageyama

The Hook


---

Progress Made For USMNT During Three Game Series with Spain




MADRID, Spain - In their final series game at the Club de Campo pitch, the U.S. Men's National Team faced a well experienced FIH Hero World Ranked No. 8 Spain. Falling 6-1 and 3-1 in the first two meetings, USA was eager to continue their positive progression in this match. A tough press and two first half goals would be in favor of Spain as USA was defeated 2-0.

From the opening whistle, Spain pressed urgently which unsettled USA. The outletting was under pressure and USA struggled to get the ball into Spain's half for 10 minutes. However, USA broke into the attack which was started by a great drive upfield, picked up by Deegan Huisman (Almere, The Netherlands) who passed it to Kei Kaeppeler (Stuttgart, Germany), who got a shot off that went off the post. The score remained 0-0 after the relentless pressure which eventually subsided as Spain could not find a way through. The USA defensive structure was back in place, even though still quite new to the team and the build up from the back started to progress once again.

Spain scored twice in the game, both off penalty corners. The first in the 12th minute was an option play finished through Alvaro Iglesias and the second was a direct drag flick from Josep Romeu off the left castle for a final score of 2-0.

Stated after the game, USMNT Rutger Wiese said he was happy with the progress in such a short timeframe. The USMNT staff are encouraged by what they saw this week and look forward to progressing as the tour continues.

After a quick night's sleep and an early morning flight, the U.S. Men's National Team will continue to work in Glasgow, Scotland for their next three-game series against the Blue Sticks, the Atlantic Series. Games are set to take place Sunday, July 8, Monday, July 9 and Wednesday, July 11 at the Glasgow National Hockey Centre.

USFHA media release


---

Barbados Tri-Nation Women's Series

Barbados, Guyana, Trinidad & Tobago



Barbados Tri-Nation Women's Series - Day 3. Photo: Barbados Hockey Federation

The Barbados Hockey Federation (BHF) hosted a local Tri-Nation Women's International Hockey Series between national teams from Barbados, Guyana and Trinidad & Tobago on Thursday June 28, Saturday June 30 and Sunday July 1 at the Wildey Hockey Center. This women's series was the first accredited international competition in the country since the Women's Pan American Cup held in 2004, some 14 years ago.

With the Central American & Caribbean Games (CAC) scheduled for July 20 to 29, 2018 in Barranquilla, Colombia, the Series provided the teams with much needed match preparation, as all three nations will be competing in the CAC Games for a place at the 2019 Pan American Games, to then challenge for 2020 Olympic qualification.

Barbados national women's coach Donovan Smith stated, "The Series was a good test run before CAC. We are in the fine-tuning phase and this type of preparation shows where we are and where need to be to as Colombia approaches." Smith is a former Barbados national defender and CAC Games veteran, having represented Barbados as a player in three past CAC Games, where he earned silver and bronze. He will be hoping for his first silverware as coach at this CAC.

In addition to the competition experience, Guyana and Trinidad & Tobago took the opportunity to get some pitch time on Barbados' new artificial sand in-fill surface, as it is expected that the playing surface at the CAC Games in Colombia will be the same type.

Commenting on the series, first time captain of the Barbados women's national team, Ayanna Wilson, said "It's a tremendous honour at such a young age to be the captain of the senior women's Hockey team. The series is a good preparation for the CAC games. Tournaments like this are needed for the growth and development of Hockey in Barbados." Wilson, 20, with 22 international caps, is leading a squad with an average age of 25, which includes a mix of young talent and veteran national players.

In addition to the players, local Hockey umpires and technical officials were also featured, with an all-Barbadian technical team, led by local veteran international Technical Delegate (TD), Cameron Burke, whose most recent appointment was to the Hockey Series Open International Event in Salamanca, Mexico earlier this month.

BHF President Mark St. Hill was pleased with the progress of the tournament, as he said, "It's a remarkable achievement of the [BHF] Board to be able to host an international tournament so quickly after the return of the Hockey Turf and it forms a key element of the preparation plan for the Women's National Team as they prepare for next month's CAC games."

Kofi Hinds, BHF Secretary and member of the Local Organizing Committee, mirrored the President's sentiments and added, "It is indeed a tremendous opportunity but also a tremendous challenge and the team has been putting in a tremendous effort to make it happen. We definitely need to thank the Barbados Olympic Association for their overwhelming support in making this Series possible and assisting with the resources to help our national programmes with their CAC preparations - they also are supporting our men's team with a preparation tour to the UK in a couple of weeks. We also need to extend thanks to our other supporting sponsors, committee members and partners as well, such as our Operations Director Jason Robinson, our streaming partners Riveting Media, Jordan's Supermarkets, the Barbados Beach Club Resort and the Barbados Tourism Marketing Inc. and many others."

Honors:
Most Promising Umpire: Richanne Gaskin (Barbados)
Most Outstanding Goalkeeper: Alysa Xavier (Guyana)
Golden Stick for Most Goals: Brianna Govia (Trinidad & Tobago, 2 goals)
Series MVP: Amanda George (Trinidad & Tobago)
 
Final Standings:
1. Trinidad & Tobago - 7 points
2. Guyana - 5 points
3. Barbados - 3 points

Results:

Thursday (Jun 28)

GUY vs. BAR: 1-1
GUY #19 Shebeki Baptiste 13' (FG)
BAR #19 Ayanna Wilson (C) 58' (FG)

TTO vs. GUY: 0-1
GUY #5 Marzana Fiedtkou 13' (PC)

Saturday (Jun 30)

TTO vs. BAR: 1-0
TTO #8 Brianna Govia 40' (FG)

GUY vs. TTO: 1-3
TTO #8 Brianna Govia 4' (FG)TTO #4 Felicia King 25' (PC)
TTO #10 Brittney Hingh 27' (FG)
GUY #13 Princessa Wilkie 49' (FG)

Sunday (Jul 1)

BAR vs. GUY: 1-1
GUY #7 Trisha Woodroffe 40' (PS)
BAR #23 Nakisha Downes 60' (PC)

BAR vs. TTO: 0-0

Pan American Hockey Federation media release


---

Hockey's World Grand Masters Association

By Morley Pecker




In 2002 the FIH men's World Cup was held in Kuala Lumpur. For some years previously, veterans hockey (mainly over-60s) had been played in a number of countries, notably England where the LX Club had established a full list of domestic fixtures and had toured abroad extensively. With the agreement of some other countries, a veterans world cup event was also organised in KL to coincide with Kuala Lumpur's main event. Although memory of some of the details has faded, the main ones remain: Ted Jones of Australia, who had been heavily involved in the planning, was the tournament's very efficient TD who insisted on perfection from his umpires. Players, some of whom had not met each other for many years, came from all over the world to enjoy a tremendous event, with stars like Islahuddin of Pakistan bringing his hand-picked side. Umpires too, all volunteers, including the author of this piece, came from distant parts to KL to join the fun, . The success was such that more was wanted – and thus the World Grand Masters Association was formed there and then. Many were involved in this organisation, which was ably led by Ted Jones himself as the first Hon. Secretary, and national veterans clubs were quickly formed where they had not existed previously.




The 2004 Athens Olympics were only a couple of years away, and this was the start of WGMA (formed with 'neutral' England-born Peter Child now married and living in Germany, as President) taking place frequently – with an 'Olympic' tournament every four years to coincide – or played just after – the Olympics themselves, where possible in the host city. In Athens, the veterans played on the Olympic practice pitches. Further such events took place in 2008 in Hong Kong (mainland China was not yet ready for what was developing into a substantial organisation), in London in 2012, and in Newcastle, Australia in 2016 (Brazil like China was not ready for Grand Masters). Every four years was not enough for these hockey-hungry vets. Thus our own World Cups were organised to coincide with the FIH's men's event, albeit not always in the same city. Wonderful championships have been held in such venues as Hartleyvale in the South African Cape, Leverkusen and The Hague, and the past two weeks have seen the culmination with 1200 players enjoying the Barcelona (Polo Club) sunshine and camaraderie. With 60+ events having developed over the years to create more age categories, now 60+. 65+, 70+ and 75+ (in the latter one team had 7 players over 80) around 2000 players and umpires and supporters congregated in Barcelona from Argentina, Australia, Belgium, Canada, England, France, Germany, Ireland, Italy, Japan, Netherlands, New Zealand, Scotland, Singapore, South Africa, Spain, USA and Wales. The Jamboree these days has the additional benefit that Women's teams and umpires are now a full part of WGMA's festivities. What progress in just 15 years! Of course, two years out of every four has not been good enough. In the intervening years, there are now European and Asian championships, and many other events take place regularly throughout the world, bringing our hockey family together as often as possible. WGMA involving players over 60 years old has the advantage of comprising many players who have retired from work and whose families have grown up, enabling leisure time to be spent with their favourite sport and good friends – something that is not always possible these days when one is working hard in these difficult times.



 
However, WGMA has since bred its own youngster, the IMHA, which caters for players over 35 who, as we do, want to carry on enjoying hockey with their friends. Discussions are presently taking place concerning the future of Masters Hockey under the FIH, with the prospects of the formation of a new organisation involving events from 2020. WGMA already has its 2019 events fixed, and is planning ahead to 2020.
 
The tremendous enjoyment which we 'oldies' have from our WGMA veterans organisation's tournaments could not have happened without an enormous amount of hard work from many people, including by those who organise the national teams and the hosts of our ever-growing events. Administratively, the start under Ted Jones moved forward with the Presidency of Peter Child and Vice-President Bernard Verbunt from the Netherlands. Technically, a team under Dutchman Wim van Noortwijk built up a small body of umpires and officials, and it was a pleasure to be one of them. Now, the competing countries are encouraged to select and propose umpires, and the Barcelona event's programme listed more than 50 of them taking part there, including the aptly named Welshman Bruce Hockey. The WGMA baby has certainly grown up. How soon will it be before we have over-80s events? In recent years Wim has successfully taken over as President from Peter, and he and his hard-working and most-efficient English Honorary Secretary Adrian Stephenson have worked tremendously to achieve the present successful organisation that is enormously appreciated by so many of our great hockey family. Long may it flourish. My thanks to all who have made it possible.

Fieldhockey.com


---

Grand Masters make big strides at Barcelona World Cup



The Irish Over-60s World Cup squad

Ireland Grand Masters Hockey made great strides forward despite the Spanish sapping heat in Barcelona last week as they took on the World Cup at Real Club de Polo and Castelldefels Hockey Club.

The Over 60s squad finished ninth out of 18 Countries, winning four matches but disappointingly losing twice in the pool matches to Germany and Spain after dominating play in both matches and having many short corner opportunities.

Germany and Spain finished in third and fourth respectively. Congratulations to Stuart Egner who won his 100th Cap against Singapore. Ian O'Keeffe was Man-of-the-Match against Belgium and scored second goals with Andy Matthews getting four of the 22 tournament goals with just four against.

The Over 65s World Cup Squad finished 11th from 14 participating countries, winning their final match against South Africa with a fantastic effort, after two earlier draws and three defeats. Mick Jordan and Stuart Switzer both got a brace of goals during the competition.

The Over 60s Tournament Trophy team, in their first ever outing, finished a very credible fifth from 10 Trophy squads, winning three matches, drawing 2 and only losing once to silver medallist's, the Scottish Thistles. Harrold de Jong and Declan Goulding both scored three Tournament goals each!



The Irish Over-65s World Cup squad

Congratulations to all players in all 3 Squads, the commitment and effort from everyone was awesome and a credit to Ireland Masters Hockey.

Massive thanks to the following support team who all did a phenomenal job: Organisers Crawford McKee & Sean Curran; Physio John Phelan; Head Coaches Denis Pritchard & Dwyne Hill; Managers Peter Chadwick, Sean Curran, George Blackwood & Ailis Kennedy; Captains' Keith Jess, Frank Nawn & Brendan Rice.

Also particular congratulations to Umpire Mervyn Logan who achieved the tremendous milestone of umpiring his 100th Masters International Hockey match during his time in Barcelona!

All the squads would like to thank all their supporters in Barcelona and also the support through social media!



The Irish Over-60s Tournament Trophy side

The Hook


---

Introducing the world's best hockey player: Arthur Van Doren




Belgium's Arthur Van Doren is dominating world hockey right now. In the past two seasons, the 23-year-old defender has not only driven his unfancied team to silver at the Rio 2016 Olympic Games and silver at the 2017 European Championships in Amsterdam, he has also picked up the 2017 International Hockey Federation's (FIH) male player of the year award. Here, he chats about hockey stick superstition; reveals why he picked the sport over tennis; and recalls the early morning hours he and his brother spent immersed in the Beijing 2008 Games. 

Traditionally, goal-scorers get all the glory in sport, but defenders are just as important, aren't they?

I do love a good tackle as much as I like a beautiful goal. Often the simplicity for me is as beautiful as the most amazing dribble. But I don't just focus on defence. I like to look at the bigger picture, the complete game. I really like to watch our games back. I want to see the whole picture. I want to see if I have missed anything or to see the running lines the strikers are taking.

What was it about hockey that first grabbed your attention?

One of the biggest things I love is the team dynamic. I also played individual sports, particularly tennis, when I was young; but I would always pick a team sport over an individual sport. I love the team vibe, the way you work to get to a goal together; and if you reach a goal, there is pretty much nothing better than that feeling.

Did you end up having to make a choice between tennis and hockey?

I played tennis until I was 13/14 and then hockey started getting too big. When I was 15, I started playing in the first team at (KHC) Dragons (Van Doren's club side in Belgium); and then two years later I was in the national team, and that is when it went really big.

I played a reasonable level (in tennis), but I was at a really high level in hockey at a really young age, so that made the choice a bit easier. Tennis is a difficult sport to get to the top, and I don't know if I had the ability to really make it. But you never know.



Getty Images

What other sports with sticks do you excel in?

I love golf. I am a really big fan. I go to European Tour events; I know Thomas Pieters (Belgian Ryder Cup player).

A lot of hockey players are golfers. We try and play when we are away, say, in South Africa or New Zealand. We love it. I play off eight at the moment.

Are you the best golfer in the Belgian squad?

Good question. I need to organise a tournament to know that. A lot of guys will point to themselves for that trophy.

You are seen as the best hockey player in the world right now – but what else could you be the best at in the world?

There is not something that comes to mind!

In team sport, a big part of winning an individual award has to go to the team. You can't do anything by yourself. I just try to train hard every day and keep developing myself as a player and a person. It's not that I wake up and think, 'I have to be the best at this now.' I am just trying to make a step every week and at every training session.



Getty Images

Tell us about hockey sticks: do elite players have their trusted favourites or is the technology always developing?

Every player is a bit different. Some of the guys are really superstitious: when they are playing well, they really want to always play with the same sticks for the whole season. So if they don't break, they will just keep playing with them.

Other guys love new gear, new colours. If the sponsors get new models, they'll use them.

For me, I am playing with a stick that is made for me personally. They send me four sticks a year.

What role have the Olympic Games have played in your life to date?

I have always looked up to the Olympic Games. I remember sitting in front of the television with my brother, watching all the different sports for hours and hours. We set our alarm clocks for the 2008 Beijing Olympics. I remember how we were stoked for those Games and knew that one day we wanted to play in them.

Looking back at Rio, it was an unbelievable journey. It puts a big smile on my face.



Getty Images

And how do you feel when you look forwards to Tokyo 2020?

We have been busy developing our game and our team, so we will be even better than we were in Rio. It's working pretty well. We are happy with where we are going. We have a few big tournaments before, and these short-term goals are important on the way towards a long-term aim like the Olympics.

The men's team has done really well in major tournaments recently without ever quite finishing first. How do you turn those silvers into golds?

If I knew the answer, I would have more golds in my wallet. Looking back at it, maybe we over-achieved with this team at the beginning, and the expectations and ambitions kept growing.

We have developed well and now it is about making that final step. Those big games are often decided on details, and so it's about getting those details right and making the right choices under a lot of pressure and when fatigued. When we get those things in order, we can win something big.

But the good thing in hockey nowadays is that there is not really one team overpowering the rest. You have a bunch of teams that are really close, and it's about which team is playing better on the day. It's really exciting for the fans.

Olympic.org


---

Rani Rampal to lead Indian Asiad women's hockey team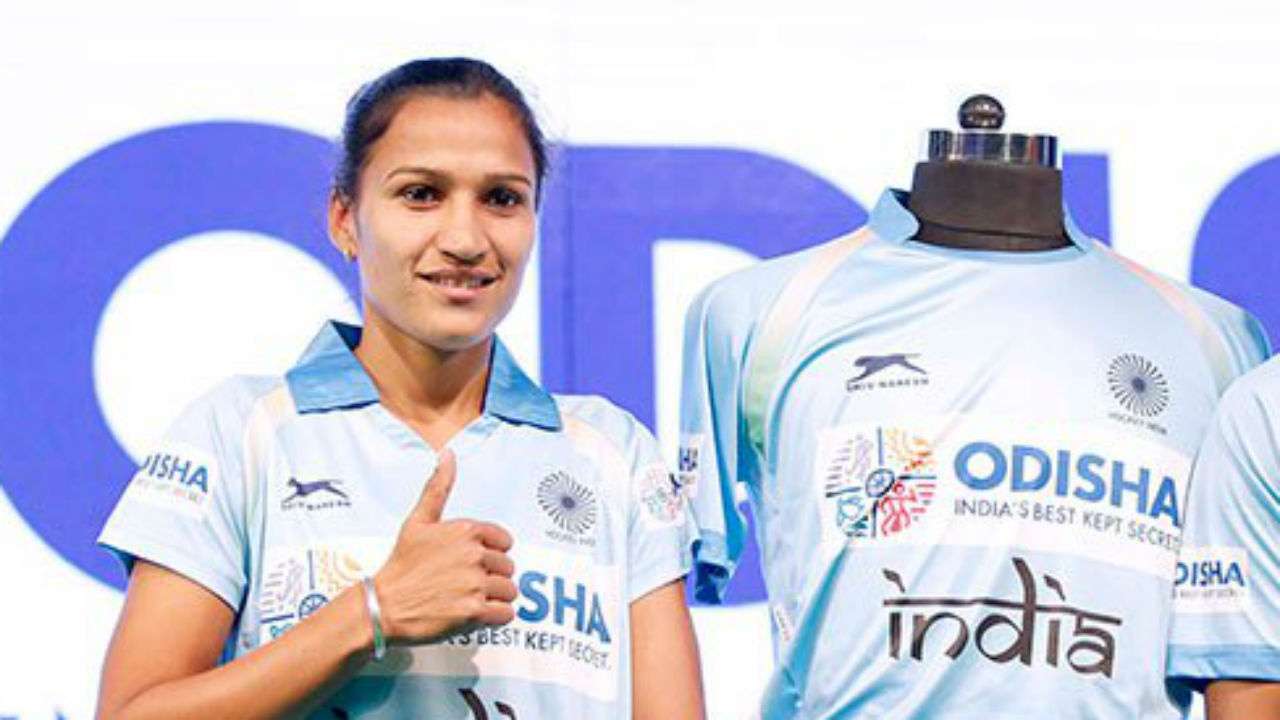 Rani Rampal , Twitter @TheHockeyIndia

Striker Rani Rampal will lead a strong 18-member Indian women's hockey team at the Asian Games to be held in Indonesia from August 18 to September 2.

While the team will be led by Rani, who had successfully captained India to its ninth women's Asia Cup title victory last year, experienced goalkeeper Savita has been named as the vice captain.

Rajani Etimarpu has been named as the reserve goalkeeper for the prestigious event, where India will vie for the gold to get a direct qualification for 2020 Tokyo Olympics.

India's defence will feature the experienced Deep Grace Ekka, Sunita Lakra, Deepika, Reena Khokhar and dragflicker Gurjit Kaur while the team's midfield will have Namita Toppo, Lilima Minz, Monika, Udita, Nikki Pradhan and Neha Goyal.

The forward-line will be led by the skipper Rani, who has over 200 international caps. She will be ably-supported by Vandana Katariya, who also completed 200 international caps for India at the recently held Spain tour.

Young striker Lalremsiami has also been rewarded with a place in the squad for her recent exploits and will be joined by Navneet Kaur and Navjot Kaur, who have had a good showing in the recent tournaments for India.

"We have a good mixture of experienced and young players. I'm happy to note that each one of them have experienced what it is like to play high level matches," said chief coach Sjoerd Marijne.

He further added that the team's performance at the forthcoming women's World Cup in London starting July 21 will have an impact on the 18th Asian Games.

"Playing well in London will be good for the confidence of the team ahead of the Asian Games. I can tell they are good and that they are capable of winning against any team but when you experience it yourself it is always better to raise your confidence level," added Marijne.

While India have etched their place as a dominant team at the Asian level with their winning performances at the Asia Cup (winners in 2017) and the Asian Champions Trophy (winners in 2016; runners up in 2018), world no. 8 China and world no. 9 Korea will be a threat to India's quest for gold at the Asian Games.

Asked if the team is working on specific areas to excel against China and Korea, Marijne said, "The team's focus at the moment is on the women's World Cup in London. A good show there will certainly give us the right momentum for the 18th Asian Games."

Indian women's team

Goalkeepers: Savita (Vice-Captain), Rajani Etimarpu Defenders: Deep Grace Ekka, Sunita Lakra, Deepika, Gurjit Kaur, Reena Khokhar Midfielders: Namita Toppo, Lilima Minz, Monika, Udita, Nikki Pradhan, Neha Goyal Forwards: Rani Rampal (Captain), Vandana Katariya, Lalremsiami, Navneet Kaur, Navjot Kaur.

Daily News & Analysis


---

Winning Asian Games next target: PHF President




ISLAMABAD - Pakistan Hockey Federation (PHF) president Brig (R) Khalid Sajjad Khokhar has said that Pakistan hockey team has been improving gradually and winning Asian Games and World Cup is our next targets.

Talking to The Nation, Khokhar said that the head coach has been doing excellent job and committed to take Pakistan hockey to new heights. "Winning medals in Asian Games is our main target now and then we will focus on World Cup. I hope our coach will work with more dedication and the players too would respond well and trained hard to win laurels for the country in the upcoming mega events."

The PHF president also lashed out at critics claiming that they are leveling baseless allegations against the federation just for meager benefits. "I am the only president of PHF till date, who not only has conducted the audit of the federation but also ordered special audit through government, which is presently underway at the PHF house in Lahore and the audit report will be handed over on July 24th.

"I have made it time and again clear to all that if I fail to deliver, I will quit. I am surprised that why these so-called hockey well wishers don't understand that we can only bring funds, top class coaches, provide jobs, facilities and maximum international exposure while the players, in return, have to perform in the field and give bets results.

"Shahbaz Senior is best PHF secretary and knows well about hockey affairs, so instead of criticising the federation, the former greats must come up with plans and join hands with the PHF for the noble cause of taking Pakistan hockey back to track," he added.

About Pakistan performance in Champions Trophy, the PHF chief said top five teams of the world were involved in the mega event while Pakistan got wildcard. "We could have refused to participate, if we had any kind of fear factor of losing. But some elements have no other business but to sabotage all the good efforts of the PHF and the players.

"Before I took over the PHF, Pakistan hockey team failed to qualify for World Cup and Olympics, but we earned a place in this year's World Cup in India and remained undefeated in the Commonwealth Games. Our performances in recently-concluded Champions Trophy wasn't bad as the players played superbly and beat Olympic champions Argentina while they also played well against champions like Australia and Belgium and also gained international exposure against the best in the business," he added.

Khokhar said other hockey federations have annual grant of more than Rs 800 million, while the PHF gets just peanuts. "Despite limited resources, we provided successful international matches to our players, brought World XI team to Pakistan, conducted Hall of Fame here and also arranged goalkeepers' course in the presence of top international goalkeepers. We have other better plans to help Pakistan hockey regain lost glory and soon, everyone will see Pakistan hockey will be back to track.

"It is my humble request to caretaker Prime Minister to not only release special grant for the PHF, but also give me time in person, so that I may explain him about our achievements and plans, which can help Pakistan hockey flourish with each passing day," Khokhar concluded.

The Nation