All the news for Thursday 5 July 2018

Green Army Fall To Two Late Goals By Japan



 
Japan, ranked 12thin the world, got off to the better start as they built continuous phases of possession. But they had few real goalmouth chances, the main two being a reverse strike and a crash ball into a crowded circle, were saved by Ayeisha McFerran. Nicci Daly was also on hand to clear Minami Shimizu's shot off the line. Ireland pounced on any loose passes and attacked on the counter utilizing the pace of Anna O'Flanagan. It was O'Flanagan who won the first penalty corner of the game with some tenacious running into the circle but Zoe Wilson's strike was well saved by Megumi Kageyama. The Green Army upped the pressure as the half went on with Ali Meeke robbing Maho Segawa of the ball and feeding Deirdre Duke, winning her 100thcap today, on the end line but the final slip back to penalty spot was well read and cleared by the Japanese defense.

McFerran continued her great game with two fine saves early in the second half. Motomi Kawamura got an awkward touch in front of goal but McFerran made a good reaction save and moments later came sliding out of her goal to prevent Aki Yamada's close-range strike. The first goal came from a bobbly ball into the circle that saw Yukari Mano get the touch past McFerran in the 53rdminute. The Japanese doubled their lead courtesy of an Irish error; a well won PC went awry and they countered at pace down the right with Hazuki Nagai picking the ball up at the base line and firing into the corner. The Green Army had a few chances as the clock wound down; Zoe Wilson sending a great ball into O'Flanagan and Pinder doing the same for Mullan but Kageyama made the late save.

UCC, Cork

Ireland 0
Japan 2(Mano, Nagai)

Starting: N Evans, K Mullan (Captain), S McCay, E Beatty, G Pinder, A McFerran, L Colvin, H Matthews, A O'Flanagan, Z Wilson, A Meeke

Subs: G O'Flanagan, Y O'Byrne, E Tice, C Watkins, N Daly, S Torrans, D Duke

Ireland vs Japan 4/7/18 7pm UCC
Ireland vs Japan 6/7/18 7pm UCC
Ireland vs Japan 7/7/18 5pm UCC

Irish Hockey Association media release


---

Japan strike twice in 53rd minute for 2-0 win



Deirdre Duke receives her 100th cap from Graham Shaw. Pic: Irish Hockey

Two goals in the 53rd minute saw Ireland fall to a 2-0 defeat to Japan in the first of their three games at Mardyke this week.

Yukari Mano eventually broke the deadlock with just seven minutes remaining with a dinked finish over goalkeeper Ayeisha McFerran. Seconds later, the hosts won a corner which fell to Yuri Nagai on the baseline and she found the backboard.

Ireland were forced to defend deep for long periods of the first half against the world number 12s – four places above the Green Army.

But thet had few real goalmouth chanyes, the main two being a reverse strike and a crash ball into a crowded circle, were saved by Ayeisha McFerran. Nicci Daly was also on hand to clear Minami Shimizu's shot off the line.

It was Anna O'Flanagan who won the first penalty corner of the game with some tenacious running into the circle but Zoe Wilson's strike was well saved by Megumi Kageyama.

The Green Army upped the pressure as the half went on with Ali Meeke robbing Maho Segawa and feeding Deirdre Duke, winning her 100th cap, on the end line but the final slip back to penalty spot was well read and cleared.

The pattern continued into the second half but no goals accrued until that final salvo. McFerran continued her great game with two fine saves early in the second half.

Motomi Kawamura got an awkward touch in front of goal but McFerran made a good reaction stop and moments later came sliding out of her goal to prevent Aki Yamada's close-range strike.

The first goal came from a bobbly ball into the circle that saw Yukari Mano get the touch past McFerran in the 53rd minute. The Japanese doubled their lead courtesy of an Irish error; a well-won home corner went awry and Japan countered at pace down the right with Hazuki Nagai picking the ball up at the base line and firing into the corner.

The Green Army had a few chances as the clock wound down; Wilson sending a great ball into O'Flanagan and Pinder doing the same for Mullan but Kageyama made the late save.

Nicci Daly did make her first appearance in competitive action in over a month following a stress fracture in her foot but there was still no return for Megan Frazer as she works her way back from a knee injury.
As such, World Cup reserve Emily Beatty started the tie while Sarah Torrans came off the bench with Roisin Upton also rested.

The sides will meet again on Friday (7pm) and Saturday (5pm) at the Mardyke to complete this eight-day block.

Women's senior international test match
Ireland 0
Japan 2 (Y Mano, Y Nagai)

Ireland: A McFerran, N Evans, K Mullan, S McCay, E Beatty, G Pinder, L Colvin, H Matthews, A O'Flanagan, Z Wilson, A Meeke
Subs: Y O'Byrne, L Tice, C Watkins, N Daly, S Torrans, D Duke, G O'Flanagan

Japan: M Kageyama, N Naito, A Ota, Y Mano, Y Nagai, M Segawa, S Oikawa, M Karino, K Hoshi, M Kawamura, H Yuda
Subs: N Matsumoto, Y Asai, H Nagai, M Shimizu, K Nomura, A Yamada, E Akaya

The Hook


---

Women's international hockey friendly: Ireland 0-2 Japan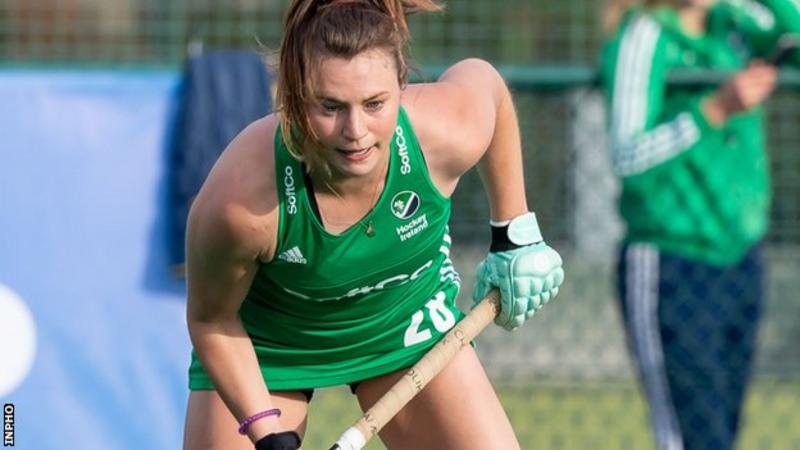 Deirdre Duke made her 100th Ireland appearance in the defeat to Japan

Ireland suffered a 2-0 defeat to Japan in their World Cup warm-up match in Cork on Wednesday evening.

Second-half goals from Yukari Mano and Hazuki Nagai gave the world's 12th-ranked team victory at UCC.

Zoe Wilson and Anna O'Flanagan came close for Ireland on a night when Deirdre Duke won her 100th cap.

The Irish squad is preparing for the World Cup in London later in July, in which they face USA, India and England in the pool stages.

Wilson's effort came from the first penalty corner of the game, but her strike was well saved by visiting goalkeeper Megumi Kageyama.

The first goal came in the 53rd minute from a ball into the circle that saw Mano get the finishing touch past Ayeisha McFerran.

It was an Irish error that led to the second, as a penalty corner went awry and the visitors broke at pace down the right, with Nagai firing into the corner.

O'Flanagan forced another save late on from Kageyama as Japan secured victory.

Ireland take on Japan in further friendly fixtures on Friday and Saturday.

BBC Sport


---

4th July Test match results

2018 Test Matches: CAN v CHN (M)
West Vancouver (CAN)

CAN v CHN     5 - 0

2018 Test Matches: BEL v CHI (W)
Brussels (BEL)

BEL v CHI     2 - 2

2018 Test Matches: ESP v USA (M)
Madrid (ESP)

ESP v USA     3 - 1

FIH Match Centre


---

England announce Vitality Hockey Women's World Cup squad



England women at the Euros

England have named their 18-strong squad that will compete at the Vitality Hockey Women's World Cup on home soil in London between 21 July and 5 August.

The squad contains eight Olympic Gold medallists from Great Britain's victorious Rio 2016 campaign, two of whom also competed in the games at London 2012.

As well as harbouring a wealth of experience the squad also boasts a number of promising young players who have gained experience at recent major tournaments including the Commonwealth Games and World League Finals.

Olympians Shona McCallin and Nicola White are not selected after a period on the sidelines through injury.

Looking ahead to the tournament Head coach Danny Kerry said: "We've taken a large number of months to understand our squad going to a home World Cup. We've had a number of injuries and had to understand how these would develop and if players would be fit and available in time which made things more complex.

"I think we have world class players in key positions with a lot of pace to our attack and equally a good solidity to our defence with lots of options to get the ball out from the back.

"It will be a very tight tournament and I am really optimistic that the squad can perform and can use the support of a home crowd in those times games and think clearly under pressure.
  
"We've had lots of good preparation in terms of match play and our tactical understanding so it's just a case of the last few finishing touches now but we could start tomorrow if we needed to."

England are in Pool B and begin their World Cup campaign against India at 2pm on Saturday 21 July before facing the USA on Wednesday 25 July and Ireland on Sunday 29 July.

Over 100,000 tickets have been sold for the event with fans travelling from across the globe, while all of England's matches are completely sold out.

The capacity of Lee Valley Hockey and Tennis Centre on Queen Elizabeth Olympic Park has had to be trebled to 10,000 to cope with demand for tickets while a free spectator hub, Fan Central, will be in operation covering the size of three hockey pitches.

England Squad:

Giselle Ansley
Grace Balsdon
Sophie Bray
Alex Danson (C)
Sarah Haycroft
Maddie Hinch
Kathryn Lane
Hannah Martin
Lily Owsley
Hollie Pearne-Webb
Suzy Petty
Jo Hunter
Ellie Rayer
Amy Tennant
Anna Toman
Susannah Townsend
Laura Unsworth
Ellie Watton

England Fixtures:

Sat 21 July - India (2pm)
Wed 25 July - USA (8pm)
Sun 29 July - Ireland (7pm)

England Hockey Board Media release


---

England has 'world-class' squad ready to play host

By Rod Gilmour



Alex Danson, centre, will captain England at Hockey World Cup in London

England coach Danny Kerry believes he has the squad "to think clearly under pressure" after naming an 18-strong squad on Wednesday for the Vitality World Cup in London later this month.

Kerry's squad contains eight Olympic gold medallists from Great Britain's Rio 2016 campaign and a majority of the squad from their Commonwealth bronze-winning side which will attempt to become the fifth nation to win a home World Cup since 1974.

Lily Owsley, the speedy forward, returns after picking up an injury pre-Gold Coast, but Emily Defroand unfortunately misses out during a selection process which Kerry described as "complex".

Fellow Olympians Shona McCallin and Nicola White are not selected after a prolonged absence through concussion.

World No 2 England, captained by Alex Danson in her fifth World Cup, also retain eight of the players who experienced an 11th place finish at the 2014 World Cup in The Hague.

However, four years on and with Olympic and European titles under their belts, Kerry says he has found the right combination heading into the pressures of a World Cup on home soil.

He said: "I think we have world class players in key positions with a lot of pace to our attack and equally a good solidity to our defence with lots of options to get the ball out from the back.



Lily Owsley makes her England return after pre-Commonwealth injury

"It will be a very tight tournament and I am really optimistic that the squad can perform and can use the support of a home crowd in those times games and think clearly under pressure."

Satisfied with his preparations – despite the team playing no tournament matches – Kerry added that England could start the World Cup "tomorrow if we needed to".

"We've had lots of good preparation in terms of match play and our tactical understanding so it's just a case of the last few finishing touches now."

Danson, meanwhile, is one goal away from equalling Marjorie Pollard's combined England and Great Britain goals' record, which currently stands at 115 goals.

England, who will play in front of 10,000 sell out crowds for all their fixtures, begin their campaign on July 21 against India before facing the USA and Ireland.

England squad

Giselle Ansley, Grace Balsdon, Sophie Bray, Alex Danson, Sarah Haycroft, Maddie Hinch, Kathryn Lane, Hannah Martin, Lily Owsley, Hollie Pearne-Webb, Suzy Petty, Jo (Hunter) Pinner, Ellie Rayer, Amy Tennant, Anna Toman, Susannah Townsend, Laura Unsworth, Ellie Watton

The Hockey Paper


---

Lily Owsley returns as eight Olympic champions included in squad

Eight Rio Olympic gold medallists have been named in England's squad for next month's Hockey World Cup in London.

Among those, forward Lily Owsley returns after missing England's bronze medal-winning Commonwealth Games campaign with a broken hand.

Captain Alex Danson will be competing at her fifth World Cup.

England open their campaign against India on 21 July and will also face Ireland and USA in the group stages of the 16-team event.

Olympic champions Giselle Ansley, Sophie Bray, Maddie Hinch, Hollie Pearne-Webb, Susannah Townsend and Laura Unsworth are also included in Danny Kerry's 18-strong squad.

However, fellow Rio gold medallists Shona McCallin and Nicola White remain absent after both suffering concussions before the Commonwealth Games.

Danson is one goal away from equalling Marjorie Pollard's combined England and GB goal scoring record, which stands at 115 goals.

England, who are ranked second in the world, finished 11th at the last World Cup, which took place four years ago in the Netherlands.

England squad: Giselle Ansley, Grace Balsdon, Sophie Bray, Alex Danson, Sarah Haycroft, Maddie Hinch, Kathryn Lane, Hannah Martin, Lily Owsley, Hollie Pearne-Webb, Suzy Petty, Jo Pinner, Ellie Rayer, Amy Tennant, Anna Toman, Susannah Townsend, Laura Unsworth, Ellie Watton

BBC Sport


---

Korea team revealed for World Cup



Korea will be looking to win their first World Cup medal in 18 years Photo: FIH/WSP

Korea women's national team Head Coach Huh Sang Young has named 18 athletes that will represent their nation in the upcoming Vitality Hockey Women's World Cup London 2018 between July 21 to August 5.

With a mix of experienced heads and rising talent, the Korean coaching staff have selected players they feel can bring home medals from this showcase event. They include the hugely experienced Park Mihyun who has 252 caps to her name along with six other athletes who have earned more than 100 caps. The least experienced is 25 year-old Choi Suji who has only played three times previously for the national team, while Cho Hye Jin is the youngest aged 23.

"Korea have a 53% win ratio in the women's World Cup."

The highly disciplined and skillful Korean team will be aiming to bring home their first World Cup medal in 18 years after they defeated England 3-2 to win bronze in the Sydney World Cup in 1990.

Korea women's team for the Vitality Hockey Women's World Cup London 2018:

    CHOI SUJI
    KIM YOUNGRAN (C)
    LEE YU RIM
    BAE SO RA (GK)
    AN HYOJU
    PARK MIHYUN
    PARK SEUNG A
    LEE YOUNG SIL
    CHO EUNJI
    CHO YUN KYOUNG
    CHEON SEUL KI
    KIM OK JU
    KIM BO MI
    CHO HYE JIN
    SHIN HYEJEONG
    JANG HEESUN
    LEE YURI
    HWANG HYEON A (GK)

#HWC2018

FIH site


---

Georgia Nanscawen Retires From Hockeyroos

Alexie Beovich/




Hockey Australia today confirms that Olympian Georgia Nanscawen has decided to retire from international hockey effective immediately.

Nanscawen featured in 205 matches for the Australian Women's team across her career and holds the record as the youngest Hockeyroo to reach both 100 and 150 caps.

Debuting one day after her 17th birthday, the tenacious forward quickly carved out a role as a regular contributor for Australia. Nanscawen featured in many of the Hockeyroos most important international competitions over the last nine years.

"Some of my most special memories included the 2012 London Olympics, winning the gold medal at the 2014 Commonwealth Games, competing at two World Cups and winning silver in 2014, competing at two Junior World Cups and winning 2 Champions Trophy silver medals," said Nanscawen.

"To be involved in a period that saw the Hockeyroos reach number two in the world is something I'll always cherish."

Not only did she represent Australia at the elite level, Nanscawen also competed at numerous Australian Hockey Leagues (AHL) representing her home state of Victoria. Nanscawen's final game of representative hockey came in Victoria's victory in the 2017 AHL where she scored the equalising goal to send the game to shoot outs.

Shortly after the 2017 AHL, Nanscawen stepped away from hockey for the first time as an adult, it was in this time that she made the decision to retire.

"After taking time away from the program I had time to think and reflect, and I'm content with my decision to formally retire from international hockey.

"I feel very fortunate to have had such long and successful career, beginning at the age of 16 and spanning across 9 years and 205 games," said Nanscawen.

"To have had the opportunity to live out a childhood dream in playing for the Hockeyroos is something I'm incredibly grateful for, and to be the youngest person to reach 100 and 150 games was a huge honour."

Nanscawen made a considerable contribution to hockey in Australia. Her dedication to the sport, the people around her and the time she invested with kids around Australia has been greatly appreciated throughout the hockey community.

"Thank you to all that have helped me in my journey, particularly to my family who have been there every step of the way and supported me through my highs and lows," said Nanscawen.

Thanks to my teammates, with whom I've shared so many incredible experiences and formed some lifelong friendships."

Hockey Australia would like to congratulate Georgia on her incredible hockey journey and wish her all the best in her new sporting adventure as she joins North Melbourne Football Club in their inaugural AFLW season in 2019.

Hockey Australia media release


---

U.S. O-60 Men's Masters Team Highest Finishing Pan American Nation at FIH Grand Masters World Cup

BARCELONA, Spain - The 13th place match of the FIH Grand Masters World Cup saw the U.S. U-60 Men's Masters Team go up against Singapore, who finished last in Pool C conceding 22 goals and only scoring one. Determined to stamp authority on their final game of the tournament in Barcelona, Spain, USA stuck to their strength and pressured Singapore's defense from the opening whistle. This eventually broke through as USA went on to win 5-1.

From the start, USA had much of the possession and gradually used this to their strength to wear down Singapore's defense. The first goal came in the 15th minute off a penalty corner from Alva Serrette (Stone Mountain, Calif.). This was followed up four minutes later by a field goal from Raghbir Mangat (Gold River, Calif.), his first of the tournament, to extend the lead by two. Just before halftime, Singapore's Tharmalingam Kanmani closed the gap with a direct shot off a penalty corner to make it 2-1.

In the second half, USA kept up the pressure and tallied three more goals to take the game out of reach and secure the victory. Goal three came in the 46th minute off a penalty corner from Ramani Sankar (Fremont, Calif.), followed by two field goals through Chamkaur Gill (Placentia, Calif) in the 57th minute and Dieter Hillert (Encinitas, Calif.) in the 69th minute. The final score finished at USA 5, Singapore 1.

The U.S. O-60 Men's Masters Team finished 13th out of the 18 participating teams in their first ever Grand Masters event. Beating both Canada and Argentina, this made USA the highest finishing Pan American Nation at the FIH Grand Masters World Cup.

Final Standings:

 1. Netherlands
 2. England
 3. Germany
 4. Spain
 5. Australia
 6. Scotland
 7. Wales
 8. New Zealand
 9. Ireland
10. Belgium
11. Japan
12. South Africa
13. USA
14. Singapore
15. Italy
16  Argentina
17. Canada
18. France

USA Field Hockey would like to take this time to extend condolences to team member Darryl Michael, who fell seriously ill during tournament play. The USA Masters Committee has set up a GoFundMe account to help support Darryl and his family with medical costs. Thanks to generous donations, the USA Masters Committee reached it's funding goal in less than 24 hours and is continuing to accept donations to support their teammate through his recovery process. If you would like to contribute to the GoFundMe campaign, click here.

USFHA media release


---

Meet Sandeep Singh: The real 'Soorma' who inspired the Diljit Dosanjh-Taapsee Pannu starrer film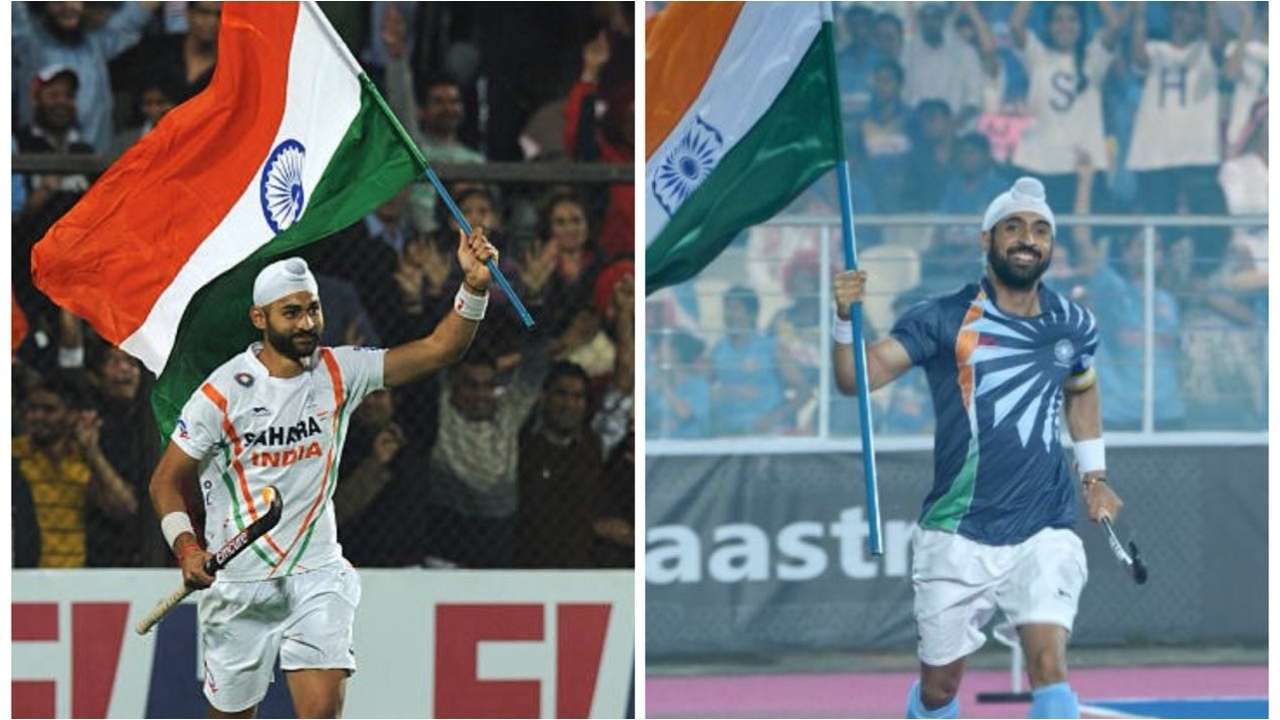 The legend of Soorma is exceptional in the field of Indian sports. While any individual would lose hope after being accidentally shot, the episode only made our Hockey hero stronger. Diljit Dosanjh and Taapee Pannu starrer Soorma is this luminary story of Hockey icon, Sandeep Singh who re-established himself in the game after the accident that nearly changed his life.

Sandeep Singh's journey in Hockey began quite early in Shahabad, Haryana. Singh is the youngest person in the world to make his International Debut at the age of 17 years in Sultan Azlan Shah Cup (2004) in Ipoh. He took over as the captain of the Indian national team in January 2009, under whose captaincy, India won the Sultan Azlan Shah Cup in 2009 after defeating Malaysia in the finals. It was success after 13 years for India. Singh was also the top goal scorer of the tournament.

Singh recalls, "At the time when I was playing for India, it was a dream come true. Success does not come to anyone served in a silver plate. One cannot just give up on self. It needs hard work. I had to strive to achieve the endeavor our country was waiting for."

Keep up with the wait and watch Soorma in theatres near you soon!

Produced by Sony Pictures Network Productions, Chitrangda Singh, and Deepak Singh, the project will certainly be a successful endeavor. It is slated to release on July 13, 2018.

Daily News & Analysis