All the news for Monday 7 May 2018

Clemons Announces Retirement From Kookaburras

Ben Somerford




Hockey Australia today confirms Kookaburras goalkeeper Tristan Clemons has decided to retire from international hockey effective immediately.

Clemons, 30, has decided to step away from the game to pursue professional interests outside of the sport, taking up an opportunity in Chicago, United States, in his chosen field of medical research.

The Bunbury-raised goalkeeper debuted for Australia in 2011 and represented his country 51 times, including in last year's triumphant World League Final.

He was also part of successful Kookaburras teams at the 2015 and 2017 Oceania Cups.

Clemons said the time was right to hang up the helmet.

"I have been fortunate to have had so many amazing experiences with the Kookaburras and my hockey in general," Clemons said.

"The ultimate privilege in sport is being able to represent your country and I am just so thankful of all of my coaches, teammates and supporters who have been there to help me make that happen throughout my career." 

Clemons, when not on the hockey field, is a highly regarded young scientist working on developing new treatments for cancer, burns and spinal cord injuries.

"I am excited about the next chapter for my wife and I," he said.

"The research position in the US is a really great opportunity to work with one of the best teams in the world striving towards new medical advances.

"It's kind of like working with the Kookaburras but in a science lab not on the hockey pitch!"

Kookaburras coach Colin Batch moved to recognise Clemons' contribution, labelling him the epitome of a Kookaburras player.

"We need to acknowledge his progress and development during his time with the Kookaburras," Batch said.

"He's played second fiddle for a long time behind two very good goalkeepers which has restricted his opportunities.

"He's given his hockey career everything he could to get the most out of his talent and he epitomises everything we want in a Kookaburra."

Batch added: "He has long combined his hockey career with his employment and has a great opportunity. We wish him all the best in that endeavour and his future."

Hockey Australia's men's National Selection Panel will identify the player to replace Clemons in the National Senior Men's Squad and this will be announced in due course.

Hockey Australia media release


---

Bloemendaal and Kampong shoot their way to first leg victories



©: Koen Suyk/World Sport Pics

Both HC Bloemendaal and SV Kampong picked up away wins in the first leg of their Hoofdklasse playoffs on Saturday via shoot-outs, giving them a big advantage heading into Sunday's return legs.

Bloemendaal won an absolute ripper of a tie against AH&BC Amsterdam, coming from 4-2 down to eventually share a 5-5 draw and then win on shoot-outs.

Roel Bovendeert had given Bloemendaal the early lead after 80 seconds and they were 2-1 up via Xavi Lleonart's driving run and cool finish but corner goals from Boris Burkhardt and Justin Reid-Ross and a Caspar van Dijk finish made it 3-2 at half-time.

Billy Bakker blasted Amsterdam further ahead but Jamie Dwyer's tip in corner reduced the gap, starting a run of three goals in eight minutes for Bloemendaal.

Yannick van der Drift and Tim Jenniskens combined to make it 5-4 but, with just 39 seconds left, Nicki Leijs hung around the back post to get a vital equaliser.

Amsterdam could not carry that momentum into the shoot-outs, however, and when Jan-Willem Buissant was judged to have hit the first effort with his back-stick, Bloemendaal scored all of their set of five to take the first leg advantage.

For Kampong, they went behind when Niek van der Schoot broke through David Harte's defences but Quirijn Caspers tied the game at 1-1 in the second half when he got on the end of Bjorn Kellerman's pass to flick in.

In the shoot-out, the key one was when Harte delayed Bob de Voogd long enough to see him timed out, giving Philip Meulenbroek the chance to win it.

It means if Bloemendaal and Kampong win again on Sunday afternoon at home, they will reach the final. A loss and they go to a third leg next Thursday.

Euro Hockey League media release


---

Hosking pounces as Rovers retain EY Champions Trophy with yet more last minute drama



Jody Hosking celebrates his winning goal. Pic: Adrian Boehm

Jody Hosking scored a dramatic winner 48 seconds from time to see Three Rock Rovers retain the EY Champions Trophy title at Grange Road in front of their home support, capping an incredible season for the Rathfarnham club.

The captain was on hand to poke home a dramatic last-gasp effort, following up after Harry Morris's first up effort had come back off the post. It was their second successive last minute winner of the weekend, earning their final spot with a 2-1 win over Lisnagarvey in the very last play.

This final was filled with blood and thunder with both sides stretching every sinew for success, sometimes beyond the limits as both David Keogh and John Mullins played through the pain barrier.

Glenanne had the first opening in a high octane start with Gary Shaw slapping at Jamie Carr with the save going dangerous to lead to a penalty corner. Shane O'Donoghue's radar was just off course.

From there, though, Rovers came back to have most of the first half's play and began to get off some shots with Hosking seeing one tipped away by Iain Walker while Richard Pautz shot over.

And they got a second corner just before half-time which Peter Blakeney dragged home for 1-0 and the advantage.

Their next corner went close, too, in the second half when Luke Madeley fired a drag onto the base of the post. Indeed, Rovers did not make full use of two extra men when Glenanne were guilty of fielding an extra man, leading to captain Shane O'Donoghue taking a yellow card but they could not make full use of a couple of overlaps.

Glenanne hung on, though, and they were awarded a corner when Madeley slowed a Glenanne attack by pushing the ball away from a free. On a spin move, Shannon Boucher fired a rocket to the net and it was back level.

Three Rock, though, reacted well to win a corner which Walker did brilliantly to deny Blakeney a second. Another came with 80 seconds left on the clock when Iain Walker tripped his namesake Ben from Rovers. Madeley's first up drag was saved on the line by Rowland Rixon-Fuller but they did not reorganise in time as the long corner was poked goalward by Morris.

It hit the post into the gleeful path of Hosking who tapped in and celebrated in spectacular style before closing out the last seconds for victory.

"To be honest, I was off to celebrate as I thought Harry's shot was going in!" Hosking said of his goal. "I was just lucky to be in the right place at the right time and is just looped into the corner."



Three Rock lift the EY Champions Trophy. Pic: Adrian Boehm

"Winning is definitely a habit. I thought we played really well both days, getting lots of possession, lots of circle entries and maybe not got enough goals from that. The character of the lads to stick with it, we knew it would go to the last minute!"

It was their sixth title in all competitions, adding to the Irish Senior Cup and the National Indoor Trophy as well as the Neville Cup, the Mills Cup and the EuroHockey Club Challenge II this season.

It ensures they will go back to Europe next season as national champions in both outdoor and indoor.

"You can't put it into words. The lads have been incredible and worked hard. It comes from a big squad, the young lads coming through won us that Neville Cup and will hopefully be pushing us. We know this is a special group and we will try and push on from this because next year will be a massive task to get anywhere near where we are now."

Men's EY Champions Trophy final
Three Rock Rovers 2 (P Blakeney, J Hosking)
Glenanne 1 (S Boucher)

Three Rock Rovers: J Carr, R Nair, L Madeley, D Kane, C Empey, J Mullins, R Canning, M Darling, B Walker, D Walsh, K Mullins, H Morris, J Hosking, R Pautz, M Samuel, B McCrea, C Quinn

Glenanne: I Walker, D Keogh, N Byrne, R Couse, E O'Malley, S Boucher, J Brennan, S Brownlow, S O'Donoghue, G Shaw, S O'Connor, R Rixon-Fuller, R Shaw, G Gibney, A Clayton, J Rogan, J Murtagh

The Hook


---

Loreto's perfect corner routines pay dividends in first Champions Trophy success



Loreto celebrate their EY Champions Trophy success. Pic: Adrian Boehm

Loreto produced another superb tactical performance to earn the EY Champions Trophy for the first time, coming back from a goal down to defeat Cork Harlequins at Grange Road, Rathfarnham in the searing heat.

They had trailed in the 14th minute to a Michelle Barry strike but corner goals from Nicci Daly and Mia Jennings turned things around. Like the UCD win in Saturday's semi-final, they did not concede a single penalty corner and gave up precious few chances.

The win came something out of the blue for coach Paul Fitzpatrick who had originally scheduled a holiday for this weekend when it looked like Loreto were out of the running for the top four.

But a late season run of form saw them sneak into the playoffs on the final day of the campaign and they duly produced the goods on the biggest stage.

Michelle Barry, Quins' outstanding player over the weekend, broke the deadlock 14 minutes in. It wasn't cleanest of strikes but her propensity to shoot early caught out Pegasus on Saturday and it did for Alannah Carragher in the final, going in off the goalkeeper's instep before she had time to set herself.

Loreto, though, kept their cool and cranked up the gears. At the heart of things, Hannah Matthews – in an advanced sweeper role – and Hannah McLoughlin dictated their tempo while Ali Meeke's skills and determination always threatened. Meeke was crowned Player of the Tournament later in the day, lifting the Jimmy O'Connor Cup.

They got back on terms from the first penalty corner of the game, won by Jesscia McGIrr following a long overhead out of defence. Sarah Clarke disguised her shot beautifully to Nicci Daly waiting at the injector spot and she flicked home.

For much of the third quarter, Loreto continued to hold most of the ball, circulating possession more effectively in a scrappy midfield tussle.

Mia Jennings almost produced a wonder goal soon after the break, stealing on halfway and escaping the final defender. Emma Buckley slid out well to limit the damage but it was the diminutive forward who scored the crucial second goal in the 41st minute.

Meeke won the set piece from whence it came and Clarke's shot was again the creator, giving the pace for Jennings to ramp up and over Buckley for 2-1.

There was still a good half hour for Quins to work with but they could not get the likes of Rebecca Barry and Naomi Carroll going in dangerous areas as their runs were cut off at source.

Michelle Barry forced a double save from Carragher 12 minutes from time but, in truth, their final volley was too direct and was picked off by a Loreto defence who had closed out a similar vanguard a day earlier from UCD.

For Loreto coach Paul Fitzpatrick, he likened the performance to something from early 90s football: "Someone said to me it was like the Denmark team in 1992 coming back from their holidays to win the Euros," he said.

"We always felt we could win every game but it became more and more important as Railway dropped points fairly quickly. It suddenly became evident we could do it!"



Roisin Upton on the attack for Cork Harlequins. Pic: Adrian Boehm

"Today, Cork Harlequins are a strong side and they got a lot of ball in the early quarters with Naomi Carroll getting on the ball a lot but we readjusted to that. We actually worked hard on those corners this morning before the game and it went well for us."

His side benefitted hugely from the return of Sarah Clarke from the second team as well as Nicci Daly following a spell in the US.

"Two of our defenders went on Erasmus at Christmas so were struggling a little so Sarah came in. She's an experienced player and is really enjoying it which is the most important thing.

"Nicci is another who has enjoyed her time this season and its improved her game. We just agreed on a new rotation system for her in midfield. Our change six weeks ago to put Hannah Matthews into more of a midfield role has really worked really well. Defensively, we kept the ball in the 'dead zones' in the corners for a lot of the game."

His Quins counter-part Stephen Dale reflected on his side's performance, saying: "You could ask for no more today. It's really fine lines that win tight games; they got two penalty corners, scored both. We didn't get any and sometimes that's the difference.



Loreto celebrate on the final whistle. Pic: Adrian Boehm

"Maybe you have to lose a few to win one and maybe that's the difference. I hate saying it but we are probably a little bit green on that side of things."

Loreto will contest European competition in 2019 as a result as Ireland's top seed with UCD – as regular season champions – taking the second slot.

Congratulations to Emma Buckley who won female GK of the tournament and Ali Meeke who was named Player of the Tournament.

Women's EY Champions Trophy final
Loreto 2 (N Daly, M Jennings)
Cork Harlequins 1 (M Barry)

Loreto: A Carragher, A Meeke, S O'Brien, H McLoughlin, C Sherin, N Small, S Torrans, C Hamill, H Matthews, S Clarke, N Daly
Subs: S Evans, H Mulcahy, M Jennings, H McDermott, J McGirr, A Taaffe, L Fitzgerald

Cork Harlequins: E Buckley, C Sargent, Y O'Byrne, R Upton, N Carroll, C Perdue, R Barry, M Barry, I Burns, E O'Leary, E Barber
Subs: S Murphy, J O'Halloran, O Roycroft, A O'Grady, R Hobbs, S Griffin, E O'Meara

The Hook


---

Alex grind out promotion to the EYHL at Trinity's expense



Old Alex celebrate their promotion to the EYHL. Pic: Adrian Boehm

Old Alex claimed the final spot in the EY Hockey League for 2018/19 as they ground out a 2-1 win over Trinity at Grange Road in the promotion/relegation playoff.

Lisa Jacob's first quarter strike and a close range Sophie Roopnarinesingh tap-in won it, cancelling out Niamh Sweeney's effort early in the second half, dropping Trinity back to the Leinster league after one season.

For Alex, it was promotion at the third time of asking, seeing off a side that pipped them to that honour via the playoffs a year ago at the same venue.

They started in the ascendancy with Jacob denied with a rocket from mid-circle that hit Carolyn Crampton full force. Crampton then recovered amazingly to keep out O'Mahoney who appeared to have plenty of time to score at the right post before the late intervention.

No matter, O'Mahoney created the first goal just a few minutes later when she got to the baseline and crossed for Jacob who was adjudged to have gotten the crucial touch amid a thicket of sticks and legs.

Trinity fought back in the second quarter, winning five corners but none unduly worried Jess Jecko between the posts while Sally Campbell fizzed a reverse across the face of goal.

An Alex corner on the half-time ended the first half action, the Milltown club ending the half at 1-0.

The students were quick to get level in the second half via Sweeney when Ailish Long drove down the left baseline. The ball popped up to Sweeney who applied an sharp upright reverse stick volley.

Parity only lasted three minutes, however, as Alex found space to attack with Jacob again at the heart of things, feeding to Georgia Dunlop on the right baseline. Her push made it through the tiniest of gaps for Roopnarinesingh to tap into an open net.

From there, it was time for the defence to take over. Trinity pushed on, pinning Alex back in their 23 for long periods but, in a packed zone, they never really got much traction in the circle. Erica Markey looped a reverse over from a narrow angle while two more corners were kept out by Jecko while Pia Diepman put in a superb display.

It got more and more frantic with Trinity's attacks getting more desperate and Alex getting more assured to see out the 2-1 win.

Women's EY Hockey League promotion-relegation playoff
Old Alex 2 (L Jacob, S Roopnarinesingh)
Trinity 1 (N Sweeney)

Trinity: C Crampton, S Campbell, S Osborne, A Ryan, I Delamer, A Sullivan, A Dooley-O'Carroll, A Long, C McCullough, N Sweeney, R Burns, E Noone, L McCollum, J Long, E Markey, A Turley

Old Alex: J Jecko, G Dunlop, V Winn, F Connery, P Diepman, R Gray, A Roopnarinesingh, R Evans, L Jacob, L Lenehan, A Giblin, E Duncan, S O'Mahoney, H Kelly, S Roopnarinesingh, R Kelly, P Smithwick

The Hook


---

Varsity Hockey a vital cog in the SA Hockey machine

Varsity Hockey is proving to be a vital cog in the production line of South African hockey excellence. With Varsity Hockey alumni filling the South African national side, the importance of the tournament is clear.

The three weeks of hard hitting action exposes the players to tougher conditions, which prepares them for the higher echelons of the sport according to SA-U21 squad-member and Tuks goal-keeper Estiaan Kriek.

"The difference in level is the speed, skill and intensity of the game. The speed and intensity of Varsity Hockey is a lot higher than that of school hockey," Said Kriek.

UJ defender and SA Junior World Cup player Kyle Lion-Cachet echoed Kriek's statement.

"I feel the difference between school hockey and Varsity Hockey is that the pace of the game is a lot faster and a lot more physical. There is less room for errors."

The players have dubbed the level of competition within the tournament what makes it such an important stepping stone in South African Hockey with Gauteng and Wits centre-half Michael Marki commenting on the jump in competition from high school to Varsity Hockey.

"For me the jump from Matric to first year was quite big. We're playing against guys who have more street smarts than you and to catch up you need to adapt a lot quicker otherwise you'll get left behind, where as high school hockey, although still very fast paced and intense, is a lot more forgiving."

South Africa u21 coach Garreth Ewing explained that Varsity Hockey is necessary nursery for South Africa's next batch of top talent.

"Varsity Hockey is a great opportunity for aspiring national players, especially the U21s. Seeing the players under the pressure of competition and exposure to a high-profile environment gives me as National coach a good chance to see who can cut it at the next level."

"University competition has always been a feeder to SA U21 teams, and Varsity Hockey has taken that to the next level."

Catch the last day of The Wits leg of the competition which will be televised live on SuperSport on Monday 7 May, while the final three days of the Tuks leg will be televised, which includes 13 and 14 May and the final will also be broadcast live on SuperSport on 21 May.

For more about Varsity Hockey:

For all news, fixtures, logs and updates online: www.varsitysportssa.com
Facebook: facebook.com/VarsitySportsSA
Twitter: @VarsitySportsSA
Instagram: @VarsitySportsSA
YouTube: youtube.com/VarsitySportsSA
Official hashtag: #HardHittingAction
Follow our sponsors on Twitter: @Mugg_and_Bean @FNBSA @SamsungSA

Varsity Sports media release


---

Maties remain unbeaten as they beat rivals UCT 6-2

By Sifiso Nyawo



Ru Baker of Maties during Game 9 UCT v Maties varsity hockey match at Wits Hockey field Johannesburg Photo by: Christiaan Kotze/SASPA

The first game on the third day of the Varsity Hockey tournament at Wits university saw a Western Cape derby, where Maties managed to maintain their 100% record at the tournament by conquering their province rivals UCT 6-2.

UCT were out of the blocks quickly, dominating play in opening moments of the match, but Maties did well to neutralise the waves of UCT attack. Maties did also have a fair share of opportunities themselves in the first quarter but it wasn't to be, with both teams going into the first break level at 0-0.

The second quarter was where the first goals of the day did eventually come, with Maties registering the first two, that came as a result of a field goal and a short corner thanks to captain Alex Stewart and Dayne Samboer, taking the score to 3-0.

UCT did manage to cut the deficit to just one goal before halftime, with Walter Pfaff getting his name on the scoresheet after pushing the ball into the back board to bring the score to 3-2. Maties then replied really quickly to increase their lead, when Maximillian Pike managed to push the ball beyond UCT keeper Anton Loggerenberg just after a short corner to make it 4-2 at the break.

The start of the second half, was an open contest with both sides knowing very well that they were playing for more than just points; for bragging rights in the Western Cape. The contest itself continued to be very competitive, with UCT coming close at the early stages but Maties keeper William Eveleigh stood firm to keep his side ahead.

The second half did eventually receive a goal, which unfortunately for the UCT faithful, went to Maties, in the 56th minute. The in-form Reece Arendse was the one to pile on UCT's misery by completing a well-worked team goal and see that the score went to 6-2.

Even though that was the last of the goals, UCT did continue to surge forward in numbers but the Maties defence continued to keep the attacking efforts out. Maties have now enjoyed an unbeaten run so far on the Wits leg of the 2018 Varsity Hockey tournament with one game remaining for them. UCT on the other hand have only managed to win one out of the three games so far.

Scores
Maties: 6
Goals: Alex Stewart, Dayne Samboer, Maximilian Pike, Reece Arendse

UCT: 2
Goals: Walter Pfaff

*Field goals count 2 in the Varsity Sports Hockey competition

FNB Player of the Match: Alex Stewart (Maties)
Mugg & Bean Star Player: William Eveleigh (Maties)
Samsung Super Striker: Walter Pfaff (Maties)

Teams
Maties: 38. William Eveleigh, 2. Andrew Hobson, 4. Nicholas Giger, 5. Tom Richardson, 7. Matthew Roman, 8. Alex Stewart, 9. Wade Dollman, 11. Dayne Samboer, 12. Maximillian Pike, 14. Gareth Tate, 15. Ruari Baker
Subs: 16. Jordan Turnbull, 17. Luke Schooling, 21. Clayton Saker, 23. Reece Arendse, 24. Callen Heynes, 29. Mbuso Mgobozi, 1. Rob Mc Kinley

UCT: 5. Bjorn Sorensen, 4. Ross Talmage, 6. Malachy Barbour, 2. James Watters, 12. Dan Cole, 19. Nick Mc Kechnie, 10. Jack Forrest, 8. Walter Pfaff, 14. Michael Gildenhuys, 15. Jaydee Rossouw, 7. Matthew Mc Kechnie
Subs: 3. Tim Alfeld, 13. Mawu Zukisa, 23. Daiyaan Solomons, 31. Tino Elijah, 28. Ross Maharage, 1. Anton Van Loggerenberg, 26. Liam Peter

Varsity Sports media release


---

Kovsies earn first win after beating Madibaz

By Sifiso Nyawo



Ryan Scheepers of Kovsies during Game 10 Madibaz v Kovsies varsity hockey match at Wits Hockey field Johannesburg Photo by: Christiaan Kotze/SASPA

In what was the second game of the Varsity Hockey on day three, Kovsies all the way from the Free State, managed to finally grab their first win in the tournament, when they beat fellow strugglers Madibaz, 4-2.

The game was always bound to be a fierce encounter, with both sides going in search of their first win in this year's Varsity Hockey campaign. The competitiveness was immediately evident, when both teams struggled to get a goal early on in the first quarter. The action was very entertaining, with the sides often being involved in a 'ping pong' battle.

The score was level at 0-0 at the start of the second quarter. First blood was, however, drawn by Kovsies in the second quarter, who fought hard to pick the ball up in a counter attack and unleash Willie Kruger in the circle, who had no problem finishing well to give his side a 2-0 lead.

The men in red continued to try get another but the Madibaz were having none of it, with their coach being very animated on the touch line making sure things were kept tight at the back. This meant the sides then went off to get a bit of a breather with Kovsies more at ease, leading 2-0 in this crucial encounter.

The second half saw the Madibaz get off the starting blocks very quickly, taking just 40 seconds to equalise and stabilise matters, when Brodie Fanoe was at the end of a pass that he merely flicked into the net to take the score to 2-2. The equaliser seemed to unstabilise Kovsies a little, with the Madibaz going forward more in search of a way to take back the lead.

It never quite worked the way they had planned, with Kovsies eventually adding another in the dying minutes of the game to try make sure they were definitely not losing this one. The goal came courtesy of eventual Samsung Super Striker award winner Tiaan Weldenhagen. One of the Kovsies coaches could then be heard close by barking out orders that the team was happy with the score line and the men in red should defend.

That in the end, is what Kovsies did, with the Madibaz searching for the equaliser but it never happens as Kovsies held onto win the game 4-2.

Scores
Kovsies: 4
Goals: Willie Kruger, Tiaan Weldhagen

Madibaz: 2
Goal: Brodie Fanoe

*Field goals count 2 in the Varsity Sports Hockey competition

FNB Player of the Match: Cheslyn Neethling (Kovsies)
Mugg & Bean Star Player: Nathan Waters (Madibaz)
Samsung Super Striker: Tiaan Weldhagen (Kovsies)

Teams
Kovsies: 1. Lou Frans Esterhuizen, 2. Andre Nel, 3. Egon Van der Merwe, 5. Raymond De Villiers, 6. Ryan Scheepers, 7. Matthew Ramos, 8. Willie Kruger, 9. Mpho Tsaoane, 10. Gerhard Van Bosch, 11. Justin Smouse, 13. Tiaan Weldhagen
Subs: 14. Stephan Van Vollenhoven, 15. Mvelase Mbombisa, 18. Cheslyn Neethling, 19. Shelton Mollentze, 21. Jan Willem Ras, 22. Tylor Oliver, 24. Luyolo Nkosana

Madibaz: 1. Nathan Waters, 18. Joshua Engole, 4. Kurt Wicht, 5. Jason Mc Gillivray, 6. Callan Dewar, 7. Arno Van Jaarsveld, 8. Alexander Penhall, 9. Jacque Potgieter, 2. Keoghan Penhall, 11. Laython Coombes
Subs: 12. Brodie Fanoe, 14. Christopher Wynford, 15. Michael Hansel, 22. Andre Potgieter, 23. Athi Mbovane, 21. Jared De Kock, 24. Duncan Hare, 16. Richard Asmah-Andoh

Varsity Sports media release


---

UJ sneak past determined NWU

By Sifiso Nyawo



Francois Joubert of NWU and Manessah Dube of UJ during Game 11 UJ v NWU varsity hockey match at Wits Hockey field Johannesburg Photo by: Christiaan Kotze/SASPA

The third game of Varsity Hockey 2018 on day three saw the weather become slightly colder as the sun dimmed. Another thing that dimmed was NWU's chances of earning points, when UJ came from behind late on to beat the North West side in the last quarter of the match.

UJ and NWU came into the match-up looking to rack up a full set of points to solidify their chances of making the playoffs in the later stages of the competition.

NWU were the ones to get a bright start in the game, when Pierre Botha caught the UJ defence napping, bolting through to score the opening goal and give NWU a solid 2-0 start. The men from Johannesburg seemed to panic a little after conceding but that didn't last long, as the nerves seemed to settle from both teams as the game progressed.

UJ did have a fair share of chances, with captain Kyle Lion-Cachet also coming close often through his drag flicks from short corners. The goal did, however, eventually come for the Orange Army of UJ, when Lion-Cachet made no mistake this time with a drag flick. That is how things eventually concluded going into the break, with NWU nervously enjoying a narrow 2-1 lead.

The third quarter saw both sides, exchanging blows at each others defences but none of the teams were able to change the score line going into the last quarter. Andile Ndlovu from UJ was impressive throughout the game, often overlapping from the right hand side and defending really well.

The final quarter saw UJ faced with an uphill battle, if they would have any chance of overcoming the one goal deficit in 15 minutes. UJ in past seasons have seemed like the team that enjoys the big occasions and they did step up and deliver in the last quarter of the match, with Spencer Botes showing he has 'BMT'.

He bundled the ball into the net to give his side a 3-2 lead with 7 minutes to go. After that, both teams had chances to add to their goal tallys but both defences seemed to refuse to let anymore goals in and it was UJ who held on to 'smash and grab' their way to a 3-2 victory.

Scores
UJ: 3
Goals: Kyle Lion-Cachet, Spencer Botes

NWU: 2
Goal: Pierre Botha

*Field goals count 2 in the Varsity Sports Hockey competition

FNB Player of the Match: Andile Ndlovu (UJ)
Mugg & Bean Star Player: Mthokozo Mbotho (NWU)
Samsung Super Striker: Kyle Lion-Cachet (UJ)

Teams
UJ: 1. Matthew Martins, 2. Brad Robertson, 4. Andile Ndlovu, 5. Kyle Lion-Cachet, 6. Michael Newland-Nell, 7. Chad Burke, 8. Courtney Halle, 9. Che February, 10. Spencer Botes, 11. Keegan Smith, 13. Ernest Jacobs
Subs: 15. James Gilbert, 16. Raynor York, 17. Jesse Martins, 18. Diego De Abreu, 20. Manessah Dube, 21. Gary Cooper, 23. Tristan Blackie-Roden

NWU: 3. Lochner Van der schyff, 4. Wayne Jeffery, 5. Leonard Du Plessis, 6. Anru Kock, 7. Gertjie Lamprecht, 9. Sinoxolo Mbekeni, 10. Franscois Cilliers, 12. Damian Tamine, 13. Franscois Joubert, 14. Mitesh Makan
Subs: 17. Damian Kyle Kenny, 18. Pierre Botma, 21. Siyabonga Mabo, 20. Naude Stean, 23. Tait Clayton, 1. Andrew Oosthuizen, 22. Mthokozo Mbotho

Varsity Sports media release


---

Tuks break Wits hearts in the dying moments

By Sifiso Nyawo



Matthew Davies of Tuks during Game 12 Wits v Tuks varsity hockey match at Wits Hockey field Johannesburg Photo by: Christiaan Kotze

The last game of day three of Varsity Hockey saw Wits come really close to making a comeback but Tuks did what was necessary to emerge 6-5 winners in the dying moment of the match.

The first half saw hosts Wits off to a dream start, when it took them just 3 minutes to get on the scoreboard. Chad Futcher was the man to register his name on the scoresheet after he provided a finish from a move from a short corner. With the score at 1-0, Tuks were never going to sit back and invite Wits back in for another. The men from Pretoria continued to search for a goal to level matters but it wasn't to be in the first quarter.

The second quarter was where the men from Pretoria found the breakthrough, when Ashley Kemp stepped up to give Tuks a first-time lead in the match. Tuks were not done there though, with Bradley Sherwood adding another one from open play, to hand Tuks a deserved 4-1 lead heading into the interval.

The second half was one that would have impressed many Wits supporters, with their team giving it their all to try get back within touching distance of Tuks. Both teams battled hard and it was evident with them going into the fourth and final quarter with the score remaining the same.

The fourth quarter saw a bit of a shake-up, with Wits showing a bit of a resurrection late on, with Thabang Modise scoring off a short corner to bring the score to 4-2 to Tuks with 9 minutes left on the clock. Three minutes later and Wits managed to get another, this time a much needed field goal that meant a valuable two goals to take them 5-4 up, in the dying stages of the fixture.

With the Wits fans just about celebrating a famous victory, Tuks had other ideas and showed why they are one of the favorites in this year's competition, when Steven Paulo showed up to break Wits hearts and knock the ball into the net to secure Tuks a third successive win in as many games.

Scores
Tuks: 6
Goals: Ashley Kemp, Bradley Sherwood, Steven Paulo

Wits: 5
Goals: Chad Futcher, Thabang Modise, Kingsley Botes

*Field goals count 2 in the Varsity Sports Hockey competition

FNB Player of the Match: Mitchell Currie (Tuks)
Mugg & Bean Star Player: Duncan Fischer (Wits)
Samsung Super Striker: Chad Futcher (Wits)

Teams
Tuks: 1. Henrik Kriek, 3. Letuka Onke, 4. Currie Mitchell, 5. Jared Cass, 6. James Redfern, 7. Sam Mvimbi, 8. Peabo Lembethe (C), 9. Steven Paulo, 10. Michael Forest, 11. Ashley Kemp, 13. Matthew Butler, 15. Bradley Sherwood
Subs: 16. Nicholas Pio, 19. Matthew Davies, 20. Christian Kriek, 21. Tim Halle, 22. Mark Chong, 23. Sizwe Mthembu

Wits: 1. Duncan Fischer, 2. Gareth Riley, 4. Cody Van Wyk, 5. Brad Riley, 6. Brandon James, 7. Michael Marki (C), 8. Jaryd Thomas, 10. Thabang Modise, 11. Chris Makaba, 12. Chad Futcher, 13. Bryce Cressy
Subs: 14. Sean Donaldson, 15. Michael Horan, 17. Rusten Abrahams, 18. Kamal Ramburuth-Hurt, 19. Kingsley Botes, 20. John Henning, 23. Sizwe Nyandeni

Varsity Sports media release


---

Edinburgh University at the double with women's Scottish Cup victory

Edinburgh University women retained the Scottish Cup, and completed the league and cup double, with a resounding 4-1 win over Grove Menzieshill in the sun at the Glasgow National Hockey Centre.

Women's Scottish Cup Final | Edinburgh University 4-1 Grove Menzieshill

Edinburgh University retained the Scottish Cup with a resounding 4-1 win over Grove Menzieshill.

Katie Stott opened the scoring for Grove Menzieshill, but Zara Malseed, Louise Campbell, Hannah McKie and Amy Brodie ensured the Edinburgh side were triumphant.

Both sides started the game evenly, exchanging possession as they tried to find the net.

A penalty corner for Grove Menzieshill would be what broke the deadlock though, Stott's deflected effort sending her side into a 1-0 lead.

Their opponents soon responded though, Edinburgh University captain Zara Malseed finishing off some excellent attacking play from Samantha Judge.

The defending champions soon found their stride. Sophie Maunder's slotted pass finding Campbell, who made it 2-1, putting the Edinburgh side into the ascendancy.

Just before half-time, McKie scored a third for University, giving them a two-goal advantage as they headed into the interval.

Early in the second half Grove Menzieshill offered a threat, but the students then all but sealed the game. A University penalty corner found Becky Merchant, who hit the ball towards goal, Brodie getting a touch and sending into the net.

Grove Menzieshill struggled to mount a comeback at all, and Edinburgh University saw out the game comfortably to lift the Scottish Cup once again.



Photo by Mark Pugh

Women's Scottish Plate Final | Edinburgh University 2s 0-5 Clydesdale Western

Clydesdale Western were crowned Scottish Plate Champions with a goal-scoring victory over Edinburgh University 2s in Glasgow.

The Clydesdale Western attack was relentless in the opening stages and Edinburgh University 2s formed a solid green wall to deny an early goal.

Heather Howie rattled the crossbar from a penalty corner routine as Western chiselled away at the University defence.

Lucy Lanigan eventually opened the scoring for Western when she looped the ball into the back of the net from a tight angle. 1-0.

Lexi Sabatelli doubled Western's advantage when she tore into the D and smashed the ball low past the goalkeeper for 2-0.

It went to 3-0 as Western's energy opened up the defence for a goal for Zara Mason.

Millie Steiger made it 4-0 from close range when she forced the ball over the line at the right post for another strike.

Edinburgh University 2s shut up shot until half way through the second half when Jenny Eadie scored through the legs of the goalkeeper for 5-0, which was how it remained and Western took the Plate.



Photo by Mark Pugh

Women's District Cup Final | Edinburgh University 4s 0-4 Orkney

Orkney retained the Women's District Cup in convincing fashion with a 4-0 win over Edinburgh University 4s.

Hannah Cromarty, Charlotte Bruce, Bethin MacDonald and Lauren Gilmour all got their names on the scoresheet, securing another memorable win for the islanders.

Despite the eventual score, the game was initially quite even, both sides creating chances but unable to gain firm control of the match or take advantage of their chances.

With just under ten minutes to go until half-time though, Cromarty found the net for Orkney, giving them a valuable one-goal lead heading into the interval.

Buoyed by their lead, they played with greater confidence in the second half, taking firm control of the game and creating a series of chances.

Their Edinburgh opponents were beginning to struggle, and soon conceded another goal as Bruce managed to get the last touch on an Orkney penalty corner.

Not content with their two-goal advantage, the defending champions pushed for a third and soon found one courtesy of MacDonald, the goal again coming from a penalty corner.

With minutes remaining Gilmour added a fourth, ensuring Orkney head back north with the District Cup once again theirs.



Photo by Mark Pugh

Women's District Plate Final | Ellon 5-3 Glasgow University 3s

Ellon won the Women's District Plate in a tremendous goal-laden cup final against Glasgow University 3s.

Ellon took an early lead in a frantic opening to the match scoring with a nice move through the middle of the defence before number Lynne Gordon slotted home for 1-0.

Glasgow University 3s were up for the fight and the game raged on at terrific pace in the early stages, end-to-end with both sides looking hungry for goals.

Ellon went 2-0 up through a penalty corner. The injection bounced to the top of the D, Ali Glasses-Davies passed to the far post for Jenni Urquhart and it was knocked home by the forward from close range for a second.

A third goal for Ellon came after a lovely three pass move set up Urquhart for her second of the match with composed finished for 3-0.

Urquhart scored another goal for her hat-trick when she went twisting and turning in the D and unleashed a reverse strike into the far corner for 4-0.

Glasgow University 3s pulled one back when Kirsten Fraser forced the ball home on the line from a penalty corner routine for 4-1.

The Glasgow University 3s fightback was in full flow when Zara Bell instantly pulled another one back when she lofted the ball into the net for 4-2.

Glasgow University 3s scored a third goal in under three minutes through another penalty corner when Hannah Dodds blasted the ball home from the top of the D. 4-3.

Then came a tremendous opportunity for an equaliser when Glasgow University was awarded a penalty stroke, but Sophie Highet had her effort saved low to the right.

Ellon then sealed the victory with a quick break and finish to make it 5-3 and securing the Plate in the Glasgow sun.



Photo by Mark Pugh

Scottish Hockey Union media release


---

English Men's Masters Championship Finals Round Up



Masters O40 T1 2018

Men's Over 40 Tier 2 Final

Canterbury (3) 3
Alderley Edge (2) 3
Canterbury win 7-6 in a shootout

The opening game of the day did not disappoint as both sides were hungry for the win. Matthew Hardy was first on the scoresheet taking Alderley Edge into the lead. It was end to end but in the 24th minute Stewie Keir pulled one back for the Kent side converting a penalty corner. Alderley Edge retaliated quickly resulting in Hardy scoring his second. But it wasn't long until Canterbury equalised with Matt Lea leaping across the circle putting his stick to ball, minutes later a penalty corner was beautifully converted by Keir to snatch the lead.

Canterbury had the edge in the early of the second half but it was Alderley Edge who took their chances, Neil Tidford pulling the keeper wide to slip the ball across to John Fletcher, who pushed the ball over the line to draw his team level.

Neither side backed down, if it wasn't in the Alderley circle it was in Canterbury's, with ten minutes to go Canterbury were rewarded a penalty stroke where Matt Lea hit the post! The final whistle blew forcing the sides to a very exciting penalty shootout, where Canterbury came away victorious 7-6.

Captain and goal keeper Andrew Carney said;
'Absolutely exhausted - I couldn't have stood up any longer! We practised them but not that many and in this heat! It is great to have won after being finalists last year. It's a great day out for the family!'

Men's Over 50 Tier 2 Final
 
Stourport (0) 2
Barford Tigers (1) 3

Neither side had made a masters final before and were relishing at the chance of silverware.

Stourport had some early chances but it was on the 19th minute with a lovely one two in the circle from Barford Tiger's Balakar Jawanda to Jeff Longden giving his side the lead. Former Internationalist David Knott had a chance on goal for Stourport but denied by the keeper as they pressed for an equaliser before half time.

The second half was kicked off with a fantastic run from Timothy Wood for Stourport down the right hand side striking the ball across the goal for Sahne Lovett's strike to rocket over the goal. Timothy Wood pulled a goal back in the 55th minute to make it 1-1.

A penalty corner to Barford Tigers saw Satpal Dugun tapping in the rebound to give his side a 2-1 lead. A minute later Stourport responded as Neil Thomas pulled back an equaliser. 

Less than a minute later Barford took the lead! A great first touch from Longden in the circle to pull the keeper wide, his strike finding the backboard. This was enough for Barford Tigers to be crowned champions, full time 3-2.
Captain Mohamed Mohamed Barford Tigers said; 'It was a good battle, nothing was left at the end of the game - always exciting with Stourport. This win is dedicated to GK Barry Simpson &   who passed away recently. It was always their dream to win at O50 level.'

Men's Over 50 Tier 1 Final

Isca (0) 0
Ben Rhydding (0) 1

Last year's runners up, Ben Ryhdding came out hungry to do one better than last year's silver medals. It was end to end with neither side being able to finish in the first half.

The second half was opened by a cracking through ball into the circle for Rob Ward to strike the ball first time to break deadlock. Isca responded with a penalty corner but the Yorkshire side did well to clear out of danger.

Isca keeper, Robbie Brown did well to deny Rhyddings attack. A penalty corner to Isca but a superb clear on the line from Andrew Locke denied the side a goal. Full time 1-0 to Ben Rhydding.

Goal keeper Paddy said;
'Absolutely brilliant to have won. It's been fantastic having all the support here – it was a nervous morning! It fantastic to have won against a really good team – we are delighted!'

Men's Over 40 Tier 1 Final

Indian Gymkhana (0) 4
Clifton Robinsons (0) 2

This final had it all! The first chance fell to Indian Gymkhana who were awarded a penalty stroke, Ranjeev Deol stepped up to the spot but hit the post.

Clifton moved the ball well round the pitch as they built the press on Gymkhana's defence, who stayed strong. Gymkhana were quick on the counter attack with Deol dancing round the Clifton defence, Gymkhana began to find their flow with captain Paramdeep Eari drag flick superbly saved by the keeper, Pickford.

A penalty stroke was awarded to Clifton Robinsons, Paul Underhill stepping up but Harrington saved with his left glove deny them to break the deadlock ten minutes before half time.

Heads did not drop as both took their opportunities on the counter attack but neither side could find the back of the net, 0-0 at half time.

Second half saw Indian Gymkhana took the lead, a messy goal saw the ball trickle over the line, scorer captain Eari. After some build up pressure from Clifton they were awarded a third penalty corner, where Phillip King found himself in prime position by the near post to tap in the ball to give the equaliser.

Indian Gym got their second with 20 minutes left on the clock, Rajinder Bansal tapping home a deflection to regain the lead.

With ten minutes left on the clock a superb through ball to the near post for Alistair Bennet to tap the ball under the keeper to claim the equaliser.

Just seven minutes left Clifton took the lead, Phillip King getting his second tapping the ball through his legs to beat the keeper as the Clifton crowd roared! King secured his hatrick and a fourth for the Clifton side to cement their win, full time score 4-2.

Captain of Clifton Robinsons Duncan Long said; 'We have loved today! It was very tense, two missed flicks then it had everything in the second half. We just kept going and the team spirit pulled us through. It's a great day, a little too hot for hockey!'

Men's Over 60 Tier 1 Final

Surrey (4) 6
Gloucestershire and Herefordshire (1) 2

Surrey put Gloucestershire and Herefordshire on the back foot straight away forcing keeper Dave Webb to make some great saves. 

Ian Wallace was first on the scoresheet slotting home a deflection beating Webb. A second quickly followed by Martyn Cremin then a third by Nick Wren. Captain Mark Precious secured Surrey fourth.

Tony Haycroft did well to deny the attack in goal but the ball popped loose for Steve Foster to give his side their first goal of the game making it 4-1 at half time.

Gloucestershire and Herefordshire defended well to hold off the Surrey attack but Max Jason manged to find his way through scoring a fifth for his side. Andrew Crawford wrapped up the match scoring Surreys sixth goal and helping surrey retain their over 60s title. 

Surrey captain Mark Precious said; 'It feels nice to retain it. It was a very good performance, we were nice and controlled. Gloucestershire & Herefordshire have done really well to get here so we knew we were up against a good team.'

Men's Over 60 Tier 2 Final

Trojens (1) 1
Iceni Rex Essex (2) 3

Trojens took the lead early on with Peter Cowen tapping in Brian Hiscocks rebound. Cowen found himself on the penalty spot unmarked but the keeper was quick to deny him a clear shot on goal as the Southampton based side pushed for a second goal.

Just before half time Iceni Rex Essex pulled back the equaliser, Tim Smith found himself at the top of the circle converting the penalty corner. Minutes before the half time whistle Iceni took the lead with a wonderful run from Stuart Perry driving into the circle to slip the ball across goal for Mark Hollingsworth to tap over the line.
 
Iceni extended their lead in the second half from Captain Kim Hansen, confirming Iceni Rex Essex a third over 60s title.

England Hockey Board Media release


---

Greensharks shoot down Police, Jaguars to move top

By AYUMBA AYODI



Strathmore University Scorpions Gilly Okumu celebrates after scoring against Amira Sailors during their Kenya Hockey Union women's premier league match match on May 6, 2018 at City Park Stadium. PHOTO | CHRIS OMOLLO |  NATION MEDIA GROUP

Greensharks stunned champions Kenya Police 4-3 before beating Western Jaguars 2-1 to move to the summit of the Kenya Hockey Union (KHU) men's Premier League at the weekend.

Sharks staged one of the most thrilling comebacks in the recent times when they rallied from 3-0 to sink Police 4-3 on Saturday at the City Park Stadium.

Sharks also rallied from behind 1-0 to edge out stubborn Jaguars 2-1 on Sunday at the same venue as they moved to the top with 12 points.

It was a moment of sheer bliss for Sharks who struck their opening goal at the end of the third quarter through Chris Wokila's field goal.

Benson Mawici scored Sharks' second goal from a scintillating field play just seconds after Wokila's exploits as Sharks inched closer 3-2 after the third quarter.

Then Kevin Simiyu would level in 52nd minute with another field goal as to cancel out Samuel Oungo (11th) and Amos Barkibir (26th, 32nd) goals.

Chris Muchwanju then put Sharks ahead in 55th minute as Nixon Nyaganga's side waylaid Police attacks to seal the victory.

On Saturday, Conrad Wafula put Jaguars ahead from a field goal in the fourth minute before skipper Leon Magomere equalised for Sharks four minutes later from a penalty corner. Kevin Simiyu then stepped up to score Sharks second goal from the spot in the 14th.

"It's one of the best outings for us with fantastic six points and six goals," said Nyaganga, who cautioned his charges not to slow down. "We still have got a long way to go hence no teams are minnows."

Greensharks' match with the 2016 champions Butali Sugar was washed away two weeks ago when Sharks were trailing 2-0. "It's all about self-belief. I believe we shall overturn the deficit and win again," said Nyaganga.

"That is the price you pay for underestimating your opponents," Police skipper Oliver Echenje said, adding that they went back to their comfort zone, failing to change their systems after going three goals up. "We took our opponents lightly but I am happy it has happened early in the season."

Sharks now are unbeaten in four matches and at the top with 12 points, three better than Butali and Police, who tie in second place nine points each.

Butali thrashed Western Jaguars 4-0 on Saturday with goals from George Mutira (sixth), Vincent Odhimabo (13th), Hannington Otieno (28th) and Brian Musasia (59th).

In the women's Premier League, champions Telkom weathered a poor start as they rallied from 2-0 down to tame Sliders 5-2 at City Park.

Strathmore's Gilly Okumu scored a brace in the 57th and 60th minutes to spur her side to a 2-0 victory over Amira Sailors 2-0 at City Park on Saturday.

Daily Nation


---

Canterbury and Harbour take Under 21 titles



Photo above: Planet Hockey

The Canterbury Women and North Harbour Men have won this year's Vantage National Under 21 Tournament titles.

Canterbury Women beat Auckland 3-0 in the gold medal game thank to goals from Hayley Cox, Margot Willis and Emily Wium.

In the women's bronze medal match North Harbour powered past Central 6-1 led by a double from Kate Ivory.



Photo: Harbour Hockey

Meanwhile, the North Harbour Men defeated Midlands 2-1 to win the gold medal after a huge comeback saw them score twice in the fourth quarter to snatch the championship.

Auckland came through to take the bronze medal with a 2-1 result over Canterbury.

CLICK HERE for final results, standings and goal scorers

Hockey New Zealand Media release


---

TNB CUP: SSTMI and Penang champions

by Jugjet Singh

KUALA LUMPUR: Tunku Mahkota Ismail Sports School (SSTMI) Thunderbolts beat Pahang Sports School (AHP-SSP) Thunderbolts 4-0 to lift the men's Malaysian Junior Hockey League (JHL) TNB Cup Sunday.

And as promised on the eve of the final, Akhimullah Anuar Esook scored in his third consecutive finals for SSTMI. Akhimullah delivered in the 25th and 34th minutes, after Izham Azhar opened scoring in the 23rd minute. The other goal was scored by Amirul Hamizan Azahar in the 52nd minute.

Wearing jersey No 10, the lanky Akhimullah has also scored in the 2016 and 2017 finals, and became the JHL top-scorer with 18 goals for the second consecutive year.

Last year, he top-scored with 17 goals.

And in the recent Bangkok Asian Youth Olympics Qualifier, a five-a-side tournament, Akhimullah scored 16 goals to hand Malaysia the silver and a ticket to the Buenos Aires, Argentina, Youth Olympics on Oct 6-18.

In the women's TNB Cup final, a solitary goal from Nurmaizatul Hanim Syafi in the 23rd minute was enough for Penang side MSSPP-PSHA to beat Kuala Lumpur's WIPERS-KLSS.

Penang women's coach Leo Vincey, when asked what's the magic, said: "No magic, just hard work and unity which saw my players win the TNB Cup."

Except for one girl, the rest of the players are all from Mutiara Impian School in Penang.

"This is a long term effort from the school, as well as the management of the team. Three of my girls were also good enough to be selected for the Bangkok Asian Youth Olympics Qualifier (where Malaysian women finished third) and the good news is that all my players are also eligible to play in next year's JHL, as they are 18 and below right now," said seasoned coach Leo Vincey.

RESULTS -- TNB CUP Final: Men -- Tunku Mahkota Ismail Sports School (SSTMI) Thunderbolts 4 Pahang Sports School (AHP-SSP) Thunderbolts 0.

Women -- Penang (MSSPP-PSHA) 1 Kuala Lumpur (WIPERS-KLSS) 0.

Jugjet's World of Field Hockey


---

Akhimullah leads SSTMI to their seventh MJHL title

By Kng Zheng Guan

KUALA LUMPUR: Mohd Akhimullah Anuar Esook lived up to his reputation as a deadly goal-scoring machine by powering the Tunku Mahkota Ismail Sports School (SSTMI)-Thunderbolt to a record seventh Malaysian Junior Hockey League (MJHL) overall title.

The 18-year-old was simply unstoppable as he fired a brace to help SSTMI to a resounding 4-0 win over the Pahang Hockey Academy (AHP)-SSP-Thunderbolt at the National Hockey Stadium in Bukit Jalil yesterday.

The Terengganu-born player found the net in the 25th minute through a penalty corner before doubling his account in the 34th minute through a field effort.

SSTMI had earlier taken the lead through a field goal by Muhd Izham Azhar in the 23rd minute.

They duly ended any hopes of a Pahang comeback by scoring a fourth – a field effort by Muhd Amirul Hamizan – eight minutes from time.

The day however belonged to Akhimullah who finished on a high as overall top scorer with 18 goals.

It is the second straight year he earned that recognition after scoring 17 goals in SSTMI's triumph last year.

The youngster's stock is certainly soaring after he also finished top scorer in the Youth Olympic Games Qualifiers in Bangkok last week.

Then he scored 16 goals as Malaysia finished runners-up to India to qualify for the Youth Olympics in Buenos Aires, Argentina from Oct 6-18.

SSTMI coach Wan Roslan Wan Abdul Rahman was certainly pleased with his team and with Akhimullah's deadly showing.

"We played exceptionally well in the final and we made good of our chances," said Wan Roslan.

"I'm really happy with my players for showing the consistency to stay unbeaten in the league and to win our seventh overall title."

"Akhimullah also did well to score two goals to finish as the top scorer for the second year in a row.

"It's also good that most of my players, including Akhimullah, are still eligible to compete in the league next year," added Wan Roslan who has helmed SSTMI since 2002.

Meanwhile in the girls final, the Penang State School Coun­cil(MSSPP)-Penang State Hockey Association (PSHA)edged the Wipers-KLSS 1-0 for the overall title.

Nurmaizatul Hanim Syafi scored the solitary goal in the 23rd minute as the Penangites stoutly defended to troop off winners.

The Star of Malaysia


---

Punjab colts reclaim national title

Punjab beat Haryana in final; juniors, seniors complete golden double

Indervir Grewal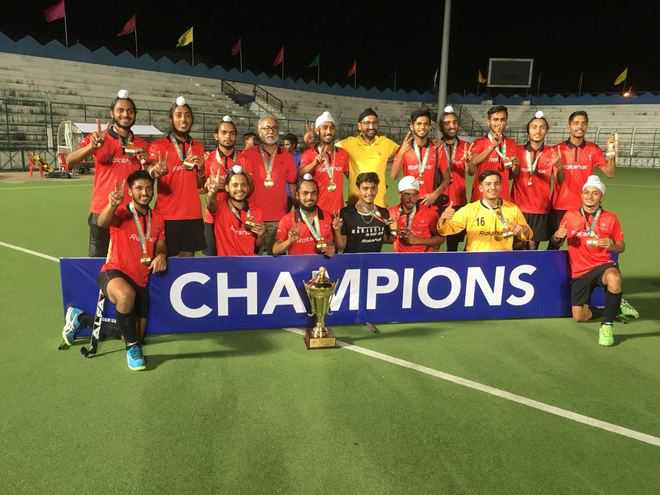 The Punjab junior hockey team poses with the trophy in Bhopal on Sunday. This is the junior team's fourth national title in eight years.

Punjab reclaimed its spot at the top of men's hockey as the juniors followed in the footsteps of their senior counterparts to complete the golden double in the National Championships.

Just over a month after the senior men's team beat Petroleum Sports Promotion Board 2-1 to win the national title for the first time since 2012, the junior team defeated neighbours Haryana to reclaim the title after four years.

The juniors showed "great composure and belief" to overturn a two-goal deficit and beat Haryana 4-2 in the final in Bhopal on Sunday.

"They didn't have a good start, maybe they were nervous," said Punjab coach Avtar Singh. "They made mistakes and conceded the goals."

Punjab fell behind in the 26th minute when Deepak scored a field goal. Mohit doubled Haryana's lead 11 minutes later.

"In the second half, we changed our strategy a bit, but the boys showed great composure and belief to turn the match around," Avtar added. "In the second half, they were brilliant and outclassed the opponents."

Gursahibjit Singh (42nd, 57th, 65th minutes) scored a hat-trick to turn the tables on Haryana before Karajwinder Singh (70th) sealed the match.

Gursahibjit finished with four goals in the tournament, while penalty-corner specialist Parampreet Singh and Surdarshan Singh finished as the team's top-scorers in the event with six goals each.

"Gursahibjit had an extraordinary game today. But the title win was a team effort. I can't single out any player," Avtar said.

This is the junior men's team's fourth title since Hockey India started the National Championships in 2011. They also won gold in 2012, 2013 and 2014, apart from winning silver in 2015 and bronze in 2011 and 2017. This is also the first time since 2012 that the senior and junior men's teams have won the golden double.

Help from India players

"It is a big achievement for us. We have won the title for the first time since 2014. It has been hard work," said Avtar. "Last few years have been tough. We lost the final in 2015, couldn't advance from the pool stage in 2016 and last year were knocked out in the semifinals after a shootout loss," added Avtar, who is a coach at Jalandhar's Surjit Academy.

"This year, we started preparing for the Nationals almost three months ago. We also changed our style," he added. "After we won three back-to-back titles, the other teams figured out our style. So we decided to adopt a more modern system."

Avtar said that former India captain Manpreet Singh and Junior World Cup winning captain Harjeet Singh conducted sessions to help the players understand the modern style. "That made a lot of difference," said Avtar.

Punjab started with a 7-2 win over Manipur, before a 5-0 victory over Mumbai Hockey Association Ltd. However, they had two "poor matches" and were held to 3-3 draws by Uttar Pradesh and Services, finishing second in their pool.

In the quarterfinals, Punjab overcame SAI 3-2 to set up a last-four clash with archrivals Odisha. Punjab had lost to Odisha in the 2015 final and were knocked out by the same team in the semifinals last year. "Last year, we had a very strong team, we were contenders. But we lost (4-5) in the shootout in the semifinals," said Avtar.

On Friday, their semifinal again went to the shootout after a 1-1 stalemate in regulation time. This time, Punjab won 3-1.

"That was a big win. It helped the boys. Today, they were outstanding in the second half," said Avtar.

Meanwhile, Gangpur-Odisha secured the bronze medal with a 6-1 win over defending champs Odisha.

The Tribune


---

FIH Congress 2018 Update




The International Hockey Federation (FIH) is pleased to announce the dates and venue for the FIH Congress 2018 which will take place between 1-3 November at the Lalit Hotel in New Delhi, India.

Further details will be sent to Members in the coming weeks regarding the programme and the registration information.

Media information will be sent within the next few months once details have been confirmed with the host.

Should you require any information ahead of FIH's official communication, please contact This email address is being protected from spambots. You need JavaScript enabled to view it..

FIH site