All the news for Friday 30 March 2018

Rebuild behind Kookas' rapid return

Murray Wenzel

A Rio reality check brought about a complete Kookaburras overhaul with survivor Jacob Whetton confident they have now caught up with the pack.

The Kookaburras were bundled out of the quarter-finals at the 2016 Olympic Games as Argentina went on to beat Belgium for gold.

Whetton said the result stung his side and was the catalyst for change that has seen them quickly return to the top of the world rankings ahead of April's Commonwealth Games.

"We had to reflect after Rio and it was disappointing and took a bit of getting over," he said.

"Hockey's changing and our coaching staff have adapted to that and we've seen some good success."

The Kookaburras beat Argentina in the World League final late last year to regain No.1 status while a gritty Azlan Shah Cup triumph in steamy Singapore was another feather in the cap of the remodelled side.

It is a superb revival but one Whetton knows will never dominate the sporting landscape in a country dominated by cricket and the footy codes.        

He's just happy he'll finally get a chance to play for Australia alongside fellow Brisbane junior Daniel Beale in his home state for the first time.

"The way that hockey is played over there (in Europe), it's like a national sport and we work in the background and don't get the media attention which we're fine with," he said.

"We ran around playing for the Brisbane and Queensland teams together, so now to represent Australia and for them (our family) to come and watch us play (in Queensland is exciting)."

KOOKABURRAS' COMMONWEALTH GAMES SCHEDULE

Saturday April 7 - Australia v South Africa
Sunday April 8 - Australia v Scotland
Tuesday April 10 - Australia v Canada
Wednesday April 11 - Australia v New Zealand
Friday April 13 - Semi-finals
Saturday April 14 - Medal matches

Yahoo Sports


---

Craig's Unconventional Canadian Path To Comm Games

Ben Somerford




Kookaburras midfielder Tom Craig's love of hockey doesn't follow convention. A year spent in Canada as a toddler spawned a life-long passion which has led to his maiden Commonwealth Games.

In the late 1990s, Tom and his older brother Ben, who has 21 caps for Australia, moved with their parents to Canada's largest city Toronto, where ice hockey is the number one sport.

"We got into the ice hockey and the Toronto Mapleleafs," Tom recalls. "I had a Boston Bruins jersey. We got into it.

"It's exactly what got us into hockey. It wouldn't have happened had we not gone to Canada. My parents never touched a stick. I don't even know if they'd seen a game."

The family returned to Sydney after one year in North America, where immediately upon their return the young brothers wanted to take up their newfound sport.

The Craigs never had any history with hockey, let alone ice hockey, so needed to research clubs to play and the whereabouts of local ice rinks.

"When we got back to Australia, mum bought us a couple of NHL greatest goals tapes," Tom says.

"When we got back from Canada, Ben wanted to play ice hockey and mum wouldn't let us.

"We investigated where to play ice hockey and found a local rink. Ben was set on it and being the younger brother I wanted to do what he wanted to do.

"Then mum told us to try field hockey for a year to start and if we liked it, we could play ice hockey, but I've got my suspicions she made that up!"

http://www.hockey.org.au/LinkClick.aspx?fileticket=wHlvrVySyxU%3d&portalid=2

Growing up in Lane Cove, the pair almost joined Gordon North Sydney Hockey Club but settled on Ryde-Hunters Hill Hockey Club. They never looked back.

"They're such a good club," Tom says. "There's a whole bunch of reasons why.

"It's home to a lot of my best friends, most people grew up with the club can say that, but a lot of life-long friends I met through juniors.

"The club policy of giving back to the club is great. The club has grown exponentially.

"There's a long proud history and in recent times we're one of the more progressive clubs, with our Youtube coaching videos and getting an academy together. It's a hotspot for juniors.

"We've had four homegrown juniors represent Australia, myself, Lachi (Sharp), Ben (Craig) and (national squad member) Tim Brand, while Kirsten Pearce who went to Rio with New Zealand.

"People love the club and it's infectious. I want to spend all my spare time there to be honest."

Craig is a keen observer of American sports such as basketball and gridiron but admits he barely follows ice hockey nowadays.

"I don't quite understand the game to appreciate it, which is quite funny," he laughs.

Nowadays, hockey and the Kookaburras is his chief focus, with competing at his first-ever Commonwealth Games rapidly approaching.

The tournament represents a major opportunity for Craig, given it is being held on home soil and in close proximity to Sydney where he grew up.

"We've got a big neighbourhood back home who've all got into hockey for one reason or another but we're friends first, went to pre-school together, primary school together, we're a pretty tight-knit group," he says.

"Everyone will be heading up to the Comm Games which will be such a good experience to play in front of them.

"I know they loved us playing the Oceania Cup in Sydney. A lot of the Ryde contingent will head up. They all love hockey.

"The proximity to Sydney makes it easy, so a lot of people who I love will be watching. I'm really excited about that."

The Kookaburras, who are in Pool A alongside New Zealand (ninth), Canada (11th), South Africa (15th) and Scotland (23rd), arrived on the Gold Coast on Wednesday.

Hockey Australia media release


---

Seniors Sreejesh, Sunil look to lead hockey team by example in CWG

Manuja Veerappa

BENGALURU: The Indian hockey team at the Gold Coast Commonwealth Games wears a fresh look. Most of them are at their maiden Games. There is an air of joy, excitement, anticipation and pressure among the 18 players.

Goalkeeper and former captain PR Sreejesh and striker SV Sunil have the experience to mentor and advise the young guns in the team. The two, who are thick friends off the field, entered the Indian camp in 2006 when the fight for a place in the team was intense with Sreejesh vying with Adrian D'Souza and Bharat Chetri while Sunil had the likes of Deepak Thakur, Prabhjot Singh, Shivendra Singh in the frontline to compete with.

Having gone through the grind, the seasoned players take pressure as a challenge and motivation comes from within. With India lining up a young team sprinkled with rookies, Sreejesh, who has just returned from a prolonged injury lay-off, believes the role of the duo goes beyond duty on the field.

"It is a prestigious tournament and given our recent performances expectations are high. As seniors we have been preparing the youngsters on what to expect at tournaments like the CWG, Asian Games and Commonwealth Games. That's because the event looks very rosy from the outside. But when you are on the field, it feels like you are in a pressure cooker. If you want to perform well, your undivided attention has to be on the game. The channels for pressure are plenty, you simply cannot allow it to get to you," explained Sreejesh, who captained India at the 2016 Rio Olympics.

"That said, Sunil and I always tell them, 'you are not there merely to participate, you are there to achieve something," added the seasoned goalkeeper.

Sunil, the quieter of the two, believes in action and leading by example. "We have been playing together for 10 years and it is important for us to lead by example on the field with our conduct and executions. Both of us have won medals at the CWG and we know how it feels and what it means to step on to the podium. I remember the day our chief coach (Sjoerd Marijne) took over, he said target gold at CWG. Given our maturity the seniors took it as a challenge but we ensured the juniors realised setting goals didn't mean inviting pressure on ourselves."

Both players have seen a lot of changes in and around their respective positions. While Sreejesh said it doesn't affect the goalkeeper who his standby is, Sunil pointed out that adjustments need to be made, but it is important to be patient with the younger players.

"Mistakes are bound to happen, but it is important not to scold them. Instead we have to motivate them. I always tell them that on the field there are no seniors or juniors. So, if they think I'm hanging on to the ball longer than required, they have to communicate. Also I often advise them not to think too much about the opposition. Rankings are mere numbers. The best team on the day wins," the striker said.

With most of their batchmates like VR Raghunath and Sardar Singh being ignored, both players realise it is a perform-or-perish situation. But they are not losing sleep over it. The focus is on results rather than the future. "This is the first big tournament of an important year for us and we have to return with a medal. We have a silver from 2014 and this Games provides us a platform to showcase how much we have improved as a team," said Sunil.

Sreejesh added: "I divide my career into before and after injury. Most people tend to compare the present Sreejesh with the one from the past. But I want to improve each day. I'm not looking at the number of matches I'll play. Instead, I focus on how I play whichever matches I'm picked in."

The Times of India


---

Struggling to break barriers

Rohit Paniker



Indian men's hockey vice captain Chinglensana Singh during a training session in Bengaluru.

For about every village in Manipur, there is a minimum of two fulllength football grounds gushing with youngsters enjoying the beautiful game. The same cannot be said about hockey, though. The Khuman Lampak Sports Complex in Imphal provides the only Astroturf ground for the Manipuri players to play the sport, with a majority of the players travelling from different parts of the state. The struggle to compete with the state's stupendous football culture is real for the players trying to make it big in hockey, according to Indian men's hockey vice captain Chinglensana Singh.

The 26-year-old is one of the few gems from the northeast to have burst on the scene at a young age and went on to win 2014 Asian Games gold and silver in the Commonwealth Games the same year.

"This is something I have been saying for a long time. The main problem is we don't have any grounds there. We only have one ground, in Imphal. How are we supposed to play if there are no grounds? Facilities are the biggest problem for Manipuri players. There are youngsters travelling about two hours in the bus to come to Imphal. Not everyone is able to do that," Chinglensana told MAIL TODAY.

While comparing football and hockey would be too far-fetched, Chinglensana said there are quality players in the state. "It's absurd to compare football and hockey in Manipur," he said. "There are good players in hockey, it's not that we don't have players. But as I said, there are not enough grounds for them to play on. Whenever I meet any officials, I request them to create more grounds for us. Even I play football whenever I am not training and have time to relax. That's the kind of craze we have for that sport." Chinglensana was handed the vice captaincy last year, efficiently deputing captain Manpreet Singh in the senior team.

The young and dynamic defender has been pivotal for the team, often involved in penalty corner situations alongside drag-flickers Rupinder Pal Singh and Harmanpreet Singh. "It's been a responsibility that I have enjoyed so far. Never had the pressure, obviously, you have the captain leading the team but I have always played my game. It's been amazing to share my experience with the youngsters in the squad. I am looking forward to more success in the future," said Chinglensana.

The immediate future for the Indian team comes in the form of the Commonwealth Games next month. The Sultan Azlan Shah Cup in Ipoh, prior to the Gold Coast event, didn't go as planned for the young Indian squad which finished fourth.

Chinglesana said the setback didn't bother the team as they has worked well on tactics. "We didn't think about it much. It was a young side, most of us were rested. Our focus is on the Commonwealth Games now, though the Asian Games and World Cup will follow. "I want to concentrate on this one (CWG). The players often talk about the problems and try to resolve. Chris Ciriello has been another valuable addition to our team and we have improved under him so far. I hope we can give a good show in Gold Coast," he said at the end.

India Today


---

Sam Ward drives England men forward

By Rod Gilmour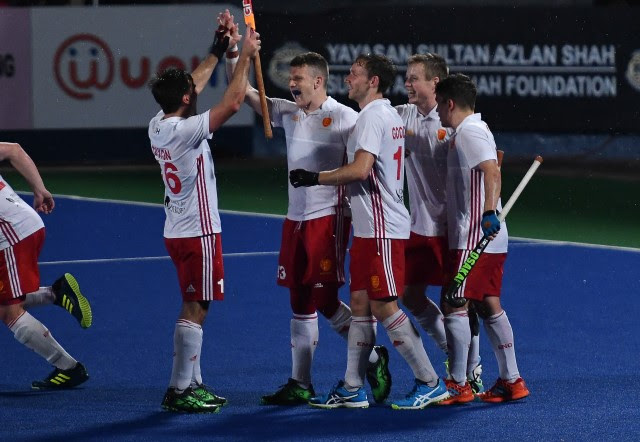 As the Gold Coast start looms, Sam Ward reflects on his rise through the England ranks while Mark Gleghorne reveals England's 'Dumb and Dumber' pairing

The statistics tell the story when it comes to Sam Ward's influence in front of goal. In England colours he's netted 26 times in 44 games; over a goal every other game. The 27-year-old bagged a brace on his England debut four years ago this December. Against Australia, too. And this was only three months in as a centrally contracted player.

Yes, he's experienced an Olympics, but missed out on the 2014 showpieces at the World Cup and the Commonwealth Games. Now, he's becoming the driving force up front for England as he heads into a debut Commonwealth Games on the Gold Coast after five goals during the Sultan Azlan Shah in Malaysia.

"There's no better feeling or generally at any time you score for your country," says Ward, a former Loughborough Students player. "I like to celebrate hard and it's all part of the fun.

"But you never want to get complacent. You want to work as hard as you can and you're never sure of your position. Anyone can take your place with such a strong squad now but scoring goals in Malaysia does give you confidence going into the Commonwealths."

In all, Ward's rise is not too shabby for a former Volkswagen car salesman from Loughborough, who was on the verge of quitting hockey to focus on his job.

He started in the car trade nearly 10 years ago, working in the industry for five years. He began as a receptionist and moved his way through to fleet sales. "That was fantastic as it allowed me to still play hockey at the weekends. It was the perfect job.

"I was playing for Beeston at the time and it was tough to be honest," he reflects. "I came close to quitting because I wanted to focus on my career but my breakthrough came at a good time and I've kind of cashed in ever since."

Given the lack of transfer fees in hockey, Ward does not mean here that he's ready to retire following moves from Beeston to Holcombe and back to Beeston. Far from it: the only focus over the next three weeks is pulling on the red and white colours and the aim of upgrading a clutch of bronze medals with England to top honours.

"The squad is in a very good place at the moment," he adds. "We are putting in back-to-back performances and it's all about peaking at the right time."



Credit: Koen Suyk

ENGLAND'S 'DUMB AND DUMBER' DUO!

Here, England's Mark Gleghorne assesses England's recent performances in Malaysia and how the new recruits have settled in as they prepare for a first global Games

Any international game is going to be fiercely competitive especially against Australia – I don't think they know how to go in any less gears.

It was a good performance but I think both teams were keeping to ideas that we weren't peaking at the Azlan Shah but at the Commonwealth Games. Hopefully we will get another crack at them again.

That's the great thing about our sport in that we have so many games in such a short space of time. It's a test of who can perform consistently.

All the guys who have come in have done well. It's a good thing about our centralised programme that they come up to speed quickly.

With Brendan [Creed] and Liam [Sanford], they didn't really know each other before they came in, which I didn't realise. It's like 'Dumb and Dumber', two peas in a pod, so I just assumed they were friendly with each other!

They have formed a really good partnership together, commanding at the back with good voices and which bodes really well for the Gold Coast.

The Hockey Paper


---

Scoring goals the biggest concern for our women's hockey squad

KUALA LUMPUR: The biggest challenge for the Malaysian women's hockey team at the Commonwealth Games in Gold Coast, Australia, is scoring goals.

They only managed a meagre two goals at the 2014 Glasgow Games – failing to score even one during the group stage where they lost to Australia (4-0), Scotland (2-0), England (5-0) and drew 0-0 with Wales.

Malaysia finally sounded the board in the playoff for seventh placing where they were tied 2-2 with Canada in regulation time, before winning 3-0 in a penalty shootout.

Forward Hanis Nadia Onn, who scored 14 goals to help Universiti Tenaga Nasional (Uniten)-KPT win the league title in the National Women's League last month, admitted that scoring goals would be their biggest concern in Gold Coast.

"But this time we are well prepared as we have been training hard and have played a number of tournaments," said Hanis from Johor.

"We also did well to score 18 goals in six matches in the Asia Cup (in Kakamigahara, Japan, last November) to finish fifth.

"The team's forwards have also shown their talent by scoring against teams that are ranked much higher than us," said Hanis, who scored three in the Asia Cup.

In the opening match, Malaysia – ranked 22nd in the world – gave world No. 8 China a good fight before losing 5-4.

Hanis said that they had made steady progress since K. Dharmaraj took over as coach in January 2016.

"He has pushed us hard in training and want us to be sharper in the opponents' semi-circle.

"I'm optimistic that we can do much better than in Glasgow," said Hanis, who netted five goals to help Malaysia retain the Kuala Lumpur SEA Games gold medal.

In Gold Coast, Malaysia open their Group A campaign against world No. 10 India on April 6.

Their other matches are against world No. 14 South Africa (April 7), world No. 2 England (April 9) and World No. 26 Wales (April 11).

Hanis said that they needed at least a draw against Asia Cup champions India in the opening match.

"It will be tough but not impossible," said Hanis.

In the Asia Cup in Kakamigahara last year, India defeated Malaysia 2-0.

The other forwards in the Malaysian team are Norazlin Sumantri, Nurul Nabihan Mansur, Nur Amirah Shakirah and Nur Syafiq Mohd Zain.

The Star of Malaysia


---

Hockeyroos & Kookaburras Visit Kids In Hospital On Good Friday

By Ashley Gillespie



Photo by Getty Images

A bunch of Kookaburras and Hockeyroos stars spent part of their Good Friday visiting sick children at the Gold Coast University Hospital.

Daniel Beale, Jacob Whetton, Jodie Kenny and Renee Taylor came bearing chocolates and gifts and spent time laughing and talking with the children.

The quartet also signed autographs and posed for photos with the sick kids, who could not be home for Easter.

Queensland-raised Commonwealth Games debutant Renee Taylor, was among the group and spoke to the media

"Being able to come in here and brighten their day is definitely something I feel privileged to do," Taylor said.

"These little kids are struggling, while we're sitting in the athlete's village having the time of our life – something that is almost life changing for us – they're at the other end of the spectrum, and it's very life changing for them."

Brisbane-born Kookaburras star Whetton was excited to visit the hospital.

"Visiting the kids brightens their day and hopefully puts a smile on their faces, and they can put a smile on ours," he said.

The Hockeyroos will be gunning for a fourth straight Games gold medal on the Gold Coast, but will have to buck the rankings to do so – they're currently ranked fifth in the world – below England (2nd) and New Zealand (4th).

The top-ranked Kookaburras, led by retiring veteran Mark Knowles, are in good form and aiming for an unprecedented sixth-straight gold.

The hockey action kicks off at the Gold Coast Hockey Centre on Thursday 5 April. After preliminary face offs in pool matches, the advancing teams from both Pools A and B will play the medal matches on Saturday 14 April.

The Kookaburras are in Pool A in the men's draw alongside New Zealand (ninth), Canada (11th), South Africa (15th) and Scotland (23rd).

The Hockeyroos are in Pool B in the women's draw alongside New Zealand (fourth), Scotland (18th), Canada (21st) and Ghana (30th).

Hockey Australia media release


---

Are you ready for an epic EHL Easter at HC Rotterdam?




The world's best club hockey competition hits full throttle this weekend as 16 of Europe's top clubs battle it out for the four tickets on offer to the FINAL4 and the pursuit of the Alain Danet Trophy.

HC Rotterdam looks set to play the perfect host with huge crowds already confirmed with record numbers of pre-sales for Super Saturday and the potential for days to sell out entirely at the 6,500 seater venue.

The action gets underway on Friday, March 30 as English club Holcombe and Spanish side Real Club de Polo open the weekend's action at 13.15h (CET).

Holcombe are playing in their second EHL campaign, taking up the position vacated by Surbiton as their ambitious face the Spanish league leaders.

For Polo, star man David Alegre knows his side will need to be at their very best if they are to win through this knock-out tie.

"To play a good game is not enough," he said. "You have to perform very close to excellence. Now, we will fight in every game. We don't want to miss out on another opportunity!"

Belgian newcomers Herakles make their debut against Atlètic Terrassa (15.30h) in a battle between two clubs very much built around a family ethos and growing talent from within.

"It means a lot to play in the EHL!" said Herakles Nico de Kerpel "I'm in love with my club but every year when we are watching the EHL, people told me I needed to change club if I ever want to play in it.

"Being able to play it this year with all my best friends and with Herakles is a dream come true. Sharing this with our crowd makes it even better!"

Third on day one are Royal Racing Club de Bruxelles who face Russian champions Dinamo Kazan at 17.45h. Kazan are one of just two clubs to play in every season of the EHL but are still waiting for their first win in the KO16.

Racing have won only once in the KO16 but, on that occasion, went all the way to the FINAL4 and with Tom Boon and Cedric Charlier in their line-up, they have plenty of talent on display.

Day one concludes with a classic rematch between 2016 champions SV Kampong and 2017 winners KTHC Rot Weiss Köln at 20.00h.

They have met for the past two seasons and the winner has each time gone on to win the Alain Danet Trophy. Both are leading their domestic competitions currently, making this a potential ripper of a tie.

"When Kampong plays Cologne, it's probably the best advertisement for hockey." Rot Weiss coach Andre Henning said ahead of the event. "We enjoy playing against the best teams in the world, especially in the night session match.

"These matches are always intense but always fair with loads of spectators in the stadium and on the TV. That's why we play hockey."

Saturday's action begins with the return of Ireland's Three Rock Rovers to the competition after a nine-year absence to face the ROUND1 surprise package Saint Germain at 11.30h.

The Irish side have amazingly already won four trophies in the current season but have a very inexperienced team with just Mitch Darling and Peter Blakeney back from 2008-09.

Saint Germain have a glut of French internationals who helped them win World Cup qualification and they followed up with an epic performance in club colours to beat Club Egara in Barcelona to the KO16 ticket.

It means France will have two clubs in the KO16 for the first time. Straight after that game, Racing Club de France take on Uhlenhorst Mülheim in the next tie at 13.45h.

For RCF, they currently have a perfect record in the French league but are meeting an Uhlenhorst side that beat Rot-Weiss in the German league last weekend and have Timm Herzbruch and Thilo Stralkowski in a strong line-up.

At 16.00h, hosts HC Rotterdam make their entrance in what is sure to be a highlight of the weekend when they face Mannheimer HC. It marks a return to the competition after a four year break for Rotterdam and the event's all-time top scorer, Jeroen Hertzberger.

"I have missed the EHL; the club has missed the EHL!" he said ahead of the event. "It is the ambition of the club to be at the top of the game, to participate for prizes, not just in our own country but also in Europe.

"It's never as busy here than at the EHL. The KO16, 16 European top clubs – totally crazy!

"With teams from different countries and different cultures, with a different style of play and thought process, with their own crowd - it is just so much more fun. The charm of the EHL is the four-day hockey party!"

They will have their hands full against a Mannheimer HC team who feature the world's deadliest drag-flicker Gonzalo Peillat and Olympic gold medalist Lucas Vila.

The KO16 closes out with a battle between EHL royalty with KHC Dragons facing two-time champions HC Bloemendaal at 18.15h in a tie packed with interesting sub-plots.

Bloemendaal have many stars with Jamie Dwyer back in the line-up, Florian Fuchs always a menace and former Dragons player Manu Stockbroekx.

Stockbroekx likened the tie to a cup final in the lead-up to the game. Dragons, meanwhile, have the world's best player for 2017 – Arthur van Doren – at the base of their defence but he will move to Bloemendaal next season.

Working with Florent van Aubel, Loic van Doren and Felix Denayer, they have an excellent line-up, too, and are looking to add to their collection of EHL medals.

The winners of each of the KO16 games go into KO8 knock-out games on Sunday and Monday while the losers will play in ranking matches early on both of those days, too.

Always an event for innovation, this season, the Euro Hockey League is currently trialing a new scoring system.

The new scoring system will follow along the same lines at the Hockey India League with field goals and a penalty stroke goal that did not result from a penalty corner earning two goals. Every penalty corner and every goal from a penalty stroke that came about from a penalty corner will earn one goal.

The aim is to promote and reward free-flowing, attacking hockey and produce more beautiful field goals.

It adds an extra layer to the world's best club hockey competition and we hope you will join us for the latest thrilling knock-out weekend!

BROADCAST SCHEDULE
Find out where you can watch the event at the following link:
http://ehlhockey.tv/news/ehl-ko16-broadcast-schedule-watch-worlds-best-club-hockey/

SUPPORTER INFORMATION
Visiting the EHL along with thousands of others? Here are all the details:
http://ehlhockey.tv/news/supporters-information-ehl-ko16-hc-rotterdam/

NEW RULES
Read about the changes here: http://ehlhockey.tv/news/ehl-trial-new-scoring-system-201718-season/

SOCIAL MEDIA
Twitter: @ehlhockeytv
Facebook: Euro Hockey League
Instagram: ehlhockeytv
Hashtags: #ehl #KO16

Event website: http://ehlhockey.tv/

Euro Hockey League media release


---

Dragons hitting "EHL form" ahead of their date with Bloemendaal



©: Frank Uijlenbroek/world Sport Pics

Florent van Aubel says Dragons are getting into what the club call "EHL form" as they build up to their KO16 date with HC Bloemendaal on Saturday evening.

Since the return after the winter break, they have a perfect record in the Belgian league, including a 4-0 win over Racing Club de Bruxelles, moving within range of top spot domestically.

"We are playing good hockey at the moment, getting into wat we call our EHL form," van Aubel said. "Our start at the beginning of the season was not our best but now we are trailing the WatDucks only by one point. Every individual is playing at a high level at the moment and that makes our collective very strong."

Dragons have a doubt over the fitness of Louis Rombouts with a minor ankle injury but should otherwise be at full strength for their massive date with another of the giants of the EHL game.

"We have been anticipating this game for a long time now. I think it will be a hard battle with a lot of offensive hockey. Both teams have a great EHL history and both of us will bring our A game.

And there is a little bit of extra spice to the encounter. If the winner of this game goes on to reach the FINAL4, they will be the host club, something van Aubel really enjoyed last season in Brasschaat.

"Obviously it was a great experience to host last year! I think our club hosted it really well. Unfortunately we didn't get through to the finals but the Bronze medal made up for it. Playing in front of your home crowd always gives you that little extra. We will give our best to go through the next stage!"

** Belgian viewers can watch the EHL all weekend on Eleven Sports by signing up via: http://hockeypass.elevensports.be/

Euro Hockey League media release


---

Mülheim have homework done for Racing challenge



©: Frank Uijlenbroek/world Sport Pics

Uhlenhorst Mülheim will have the services of some of their top stars available for the EHL KO16 as they face Racing Club de France for the first time in this competition.

But coach Omar Schlingemann has made sure to do his homework as the club had a video-man in place for Racing's recent win over Lille.

And he knows that they will not be an easy opponent: "We just watched Racing in the match against Lille. They have a very good corner, a strong goalkeeper, many French and two Malaysian internationals in their ranks and were very convincing champions in France last year. We will take this very seriously and focus fully on this task."

Timm Herzbruch, Lukas Windfeder and Thilo Stralkowski are three top stars who are available again, playing in last Saturday's 3-1 win in the league catch-up against Rot-Wess Koln.

Herzbruch – a world young player of the year nominee – missed EHL ROUND1 in Barcelona through injury but is on the comeback trail now. That ROUND1 series will show the danger any side can pose and Uhlenhorst were in trouble right the way through their game against Dinamo Elektrostal until Stralkowski slammed in a crucial corner goal.

In the win over EHL champions Rot-Weiss – their only game outdoors in 2018 – Schlingemann saw his side come from a goal down thanks to efforts from Ferdinand Weinke, Laurens Halfmann and Canadian international Gabriel Ho-Garcia.

"We've already lost a lot of times this season. That's why it was so important and it was a difficult fight. When we got better at limiting Cologne's space coverage and set up to counter-attack, it went much better than in the initial phase."

Euro Hockey League media release


---

Three Rock Rovers in EHL Action




Three Rock Rovers will travel to Rotterdam to compete in the KO16 of the EHL. There, they will face Saint Germain HC and the side will include many familiar names given they have a plethora of French internationals who competed in Belfast at World League 2 last March. The sides meet on Saturday 31st at 11:30am CET. Click here for the full match schedule.

Three Rock Rovers are returning to the Euro Hockey League after a nine-year absence for their second time in the competition. They won the EYHL Champions Trophy to land the Irish top seed, beating Monkstown in their national final.

The side is very young but full of rising talent and is coached by the club's youth director Niall Denham with 14 of the panel coming through the ranks.

The EHL will be available to view on a wide variety of platforms, including on Eurohockey TV and on BT Sports in the UK & Ireland. Click here for the full broadcast schedule and listings.

Irish Hockey Association media release


---

Kookaburras Headline Exciting Darwin International Line-Up

Ben Somerford




Hockey Australia and the Northern Territory Government today confirms the world number one Kookaburras will again compete at the Darwin International Hockey Open in 2018.

The Kookaburras will take on Rio Olympics gold medallists Argentina (world ranking two), Malaysia (12) and Japan (16) at Marrara Hockey Stadium from September 18-22.

The matches will be crucial preparation for Australia ahead of the 2018 World Cup in India which commences in November, with the Kookaburras chasing a third consecutive title.

This year's Darwin International Hockey Open has been made possible thanks to the support of the Northern Territory Government and Hockey NT.

The event will mark the third straight year Australia have competed in Darwin, with the Kookaburras playing Pakistan in a four-match Test Series in 2017 and the Hockeyroos meeting New Zealand, Japan and India in a four-nations tournament in 2016.

Hockey Australia CEO Matt Favier said "The opportunity to play international matches in Darwin over the past two years has been very well-received across the board from the fans to the players.

"Hockey Australia is excited for the third instalment in 2018 which appears to be the best line-up of international teams yet.

"The Northern Territory has a proud history of punching above their weight division in hockey, with Territorians Jeremy Hayward and Brooke Peris both currently in our national squads.

"We hope Territorians will relish the chance to see the world's number one and two teams do battle in their own backyard in September, along with Malaysia and Japan."

NT Minister for Tourism and Culture Hon Lauren Moss invited Territorians to extend a very warm 'Top End' welcome to the four nations men's teams.

"We continue to bring top-class sporting events to the NT as they attract visitors from across Australia and enhance the Territory lifestyle, which is so important in keeping people living in the NT. The opportunity to watch world-class players in action is very exciting," Ms Moss said.

"Through community engagement activities such as game development clinics and school visits, our kids also get to meet some of the world's best hockey players."

The Territory Labor Government continues to invest in better facilities, today announcing $1.7 million for Hockey in the NT to upgrade lighting at Marrara and resurface pitches in Darwin and Alice Springs.

"Territorians love watching and playing sport and investing in sporting infrastructure at the Marrara Sporting Precinct, like this and the $25 million Warren Park, the new $18 million netball stadium and $16 million tennis centre is a smart investment and good for the economy," Ms Moss said.

Hockey NT Executive Officer Ian Harkness said the Darwin International Hockey Open was a fantastic opportunity for the sport loving public.

"Having a four-nation event, similar to 2016, provides four days of top quality, value for money entertainment," Harkness said.

"This should be an outstanding tournament with the world ranked number one, two, 12 and 16 nations.

"The efforts that Hockey Australia have gone to in securing these quality teams for a Darwin event should be acknowledged."

Tickets for the Darwin International Hockey Open are not yet on sale and Hockey Australia will provide updated ticketing information in the coming weeks on hockey.org.au.

2018 Darwin International Hockey Open Fixtures (all fixtures in local time/ACST):
Tuesday 18 September 5pm– Argentina v Japan
Tuesday 18 September 7pm – Australia v Malaysia
Wednesday 19 September 5pm– Malaysia v Japan
Wednesday 19 September 7pm– Argentina v Australia
Friday 21 September 5pm – Malaysia v Argentina
Friday 21 September 7pm – Australia v Japan
Saturday 22 September 5pm – 3rd Place Final
Saturday 22 September 7pm – 1st Place Final

Hockey Australia media release


---

NAGS set to face The Netherlands



Boys' NAGS. Photo credit: gpfoto.ie

England Hockey's National Age Group Squads will be playing a series of matches against The Netherlands over Easter weekend.

England Hockey are delighted these development opportunities exist for our age group athletes, with a number of U16 and U18 players sampling junior international match play for the first time.
 
The U16 and U18 Boys' will host The Netherlands at Lilleshall National Sports Centre with games taking place on Saturday, Sunday and Monday. The U16 and U18 Girls' travel out the Netherlands where Vughtse Mixed Hockey and Cricket Club M.O.P will host our squads.

Match schedules (weather permitting, timings may be subject to change) can be found by visiting the relevant page on the England Hockey website here.

Final scores will be posted through the England Hockey Twitter account on the day of the games.

England Hockey Board Media release


---

Scotland U16 and U18 squads announced against Wales

There is a weekend of youth international hockey on the cards at the Glasgow National Hockey Centre this weekend as Scotland welcomes the Wales in U16 and U18 boys' and girls' squads for international test series'.

Scotland and Wales will be competing against each other for three days of fantastic hockey, with multiple matches in different ages categories – Under 16 and Under 18. These matches are being held across Glasgow between the 30th of March to 1st April 2018

Under 16 – Girls

The first match of the weekend is in the Under 16 girls' category and will be played on Friday 30th March at Uddingston at 5:30pm. Day 2 for the Under 16's starts a little earlier at 1:30pm at Glasgow National Hockey Centre, with their match being played on Pitch 2. On Sunday 1st April, the final match between both rivals will be played at 9:00am on Pitch 1.  Here is the squad representing Scotland in what is going to be a very exciting competition:

Aisha Saini (Wildcats)
Amy Salmon (Grove Menzieshill HC)
Anna Hoolaghan (Clydesdale Western HC)
Ava Smith (GHK)
Charlotte Simmers (GHK)
Corrie Hay (Grove Menzieshill)
Ellie Mackenzie (Grange HC)
Ellie Rutherford (Cala Edinburgh)
Ellie Stott (Grove Menzieshill HC)
Emily Simmers (Watsonians)
Georgia Crooks (GHK)
Grace Drummond (Inverleith)
Hannah Miller (Fjordhus Borders Reivers)
Holly Shepherd (Fjordhus Borders Reivers)
Izzy Lamotte (Cala EHC)
Jen Tait (Granite City Wanderers)
Jessica Buchanan (GK) (Clydesdale Western)
Jessica Mitchell (GK) (Clydesdale Western)
Katie Swanson (Inverleith)
Lucy Smith (Grove Menzieshill HC)
Lucy Williamson (GHK)
Maddie Boyes (GK) (Watsonians)
Nina Constable (Grange HC)
Sophie Atherton (ESM)
Sophie Hinds (Inverleith)
Zara Mason (Clydesdale Western)

Under 16 – Boys

The Under 16 boys' category does mirror the Under 16 girls with the same match times, however it falls different on the final day. On Friday 30th March, the boys will be playing at 5:30pm but their game will be played at Titwood. Day 2, the boys' will be playing at 1:30pm on Pitch 1 at Glasgow National Hockey Centre. On Sunday 1st, the boys will be putting up a fight on the final day of competition, playing at 10:45am on Pitch 1 of the Glasgow National Hockey Centre. Here's the U16 Boys' squad, these are matches not to be missed.



Scotland under 16 boys v UK Lions

Adam Mackenzie (Western Wildcats)
Alex Wilson (Perthshire)
Ali Douglas (Highland Hockey Club)
Ben Carroll (Uddingston)
Ben Galloway (Clydesdale)
Cameron Bell (Dundee Wanderers)
Cameron Bosi (Inverleith)
Cameron Ede (Grange)
Charlie Jack (Inverleith)
David Macrae (Grange)
Euan Burgess (Watsonians)
Euan Menzies (Hillhead)
Iain McFadden (Highland Hockey Club)
Jake Inglis (Inverleith)
Joel Davenport (Grange)
Keir Robb  (Grove Menzieshill)
Logan McClure (Kelburne)
Louis Gardiner (Uddingston)
Lucas Grubb (Grange)
Scott Menzies (Western Wildcats)
Struan Griffiths (Perthshire)




Under 18 – Girls

The Under 18 girls start their first match on Friday 30th at 7:30pm at Uddingston. Saturday 31st will see this team play at 3:30pm on Pitch 1 at Glasgow National Hockey Centre and on Sunday, their final match will be played at 12:30pm on Pitch 2. This is what their head coach, Keith Smith had to say about the matches;

"The upcoming series kicks off a busy period for the U18 Women's National Development Programme, with test matches against Poland, England and Ireland to follow, before we travel to the Czech Republic in July for the European Championships II.

We've only had limited amount of time together as a group so far, so these games against Wales will give us a chance to see how well-established some of our playing principles are, and to highlight areas in which we can continue to improve and develop.

As well as being an important part of our preparations for the Euros this summer, we'll also be looking to use the Wales games to experiment with various aspects of our play in order to provide the players with valuable learning opportunities in a competitive, pressured environment.

Matches against Wales are always a tough test, and the squad are looking forward to the tackling the challenge in front of a home crowd."

Squad

Amber Murray (Watsonians)
Bronwyn Shields (Clydesdale Western)
Cailin Hart (Watsonians)
Ellie Wilson (Watsonians)
Emily Dark (Dundee Wanderers)
Erin Stevens (Grove Menzieshill)
Eve Pearson (Watsonians)
Georgia Jones (Watsonians)
Georgia Smith (Grove Menzieshill)
Heather Elder (CALA Edinburgh)
Jenny Walls (Grove Menzieshill)
Kathryn Meenan (Hillhead)
Kirsten Cannon (Western Wildcats)
Lexi Sabatelli (Clydesdale Western)
Lorna Crawford (Watsonians)
Margery Justice (Clydesdale Western)
Maris Cawthorn (Granite City Wanderers)
Millie Skidmore (Granite City Wanderers)
Olivia Bell (Watsonians)
Rachel Bain (Western Wildcats)
Ruth Blaikie (Dundee Wanderers)



Photo by Mark Pugh

Under 18 – Boys

The Under 18 boys' category will be putting on a great performance, first starting on Friday 30th at 7:30pm at Titwood. On Saturday, their game passback is at 3:30pm on Pitch 2 at the Glasgow National Hockey Centre and on Sunday 1st, the last game of the tournament, starting at 12:30pm on Pitch 1. Below shows the team that will be out competing in a tournament.

Alex Riddell (Grange)
Ali Richmond (Clydesdale)
Andrew Lochrin (Uddingston)
Andrew McAllister (Western)
Andrew McConnell (Western)
Ben Pearson (Edinburgh University)
Chris Moon (Gordonians)
David Nairn (Clydesdale)
Duncan Gladwin (Cannock)
Duncan Rudd (Highland HC)
Fraser Heigh (Watsonians)
Fraser Moron (Western)
Jack Rathbone (Gordonians)
Jacob Tweedie (Grange)
Jamie Golden (Grove Menzieshill)
John Stephen (Perthshire)
Jono Hawley (Grange)
Martin Rose (Doncaster Hockey Club)
Matthew Taylor (Inverleith)
Ralph Weissen (Grange)
Ritchie McCluskey (Grange)
Robbie Croll (Grange)
Sam Hill (Gordonians)
Struan Walker (Clydesdale)

Full schedule
Friday:

    U16 Girls | Uddingston | 17:30
    U18 Girls | Uddingston | 19:30
    U16 Boys | Titwood | 17:30
    U18 Boys | Titwood | 19:30

Saturday:

    U16 Girls | Glasgow National Hockey Centre | 13:30 (Pitch 2)
    U16 Boys | Glasgow National Hockey Centre | 13:30 (Pitch 1)
    U18 Girls | Glasgow National Hockey Centre | 15:30 (Pitch 1)
    U18 Boys | Glasgow National Hockey Centre | 15:30 (Pitch 2)

Sunday:

    U16 Girls | Glasgow National Hockey Centre | 09:00 | (Pitch 1)
    U16 Boys | Glasgow National Hockey Centre | 10:45 | (Pitch 1)
    U18 Girls | Glasgow National Hockey Centre | 12:30 | (Pitch 2)
    U18 Boys | Glasgow National Hockey Centre | 12:30 | (Pitch 1)

Scottish Hockey Union media release


---

Anderson hope to stop 'unstoppable' SSTMI

By Aftar Singh

KUALA LUMPUR: Anderson-Thunderbolt have never beaten defending overall champions Tunku Mahkota Ismail Sports School (SSTMI)-Thunderbolt before.

And the trend is expected to continue when both teams meet in the Malaysian Junior Hockey League (MJHL) match at the SSTMI Pitch in Bandar Penawar, Johor, today.

Anderson did well to upset league champions Petaling Jaya City Council (MBPJ) Tigers 4-1 on Wednesday.

SSTMI, powered by eight players from the 2020 Project squad, are just too strong as they top the Division One standings with full points from three matches.

image: https://content.thestar.com.my/smg/count/FCID=2778/viewid=23405096884/random=6385619165/network=SMG/site=TSOL/area=TSOL.Sport.Hockey/pagetype=StoryPage/platform=desktop/size=videoinread/position=atf

image: https://content.thestar.com.my/smg/settag/name=lotame/tags=Eve_Prog_Lifestyle,Eve_Sports,tsol,Eve_Football_Lovers,Fatin_GSC_Insight_ALL,all

They outplayed SMK Datuk Bentara Luar-UniKL-PHJ 4-0, hammered SSTMI Juniors (7-0) and trounced Pahang Hockey Academy (AHP)-SSP-Thunderbolt 5-0.

Anderson team manager M. Kaliswaran said SSTMI-Thunderbolt are just unstoppable in the league.

"They are just too solid in every department.

"And my boys' main challenge will be to penetrate their defence and score the first goal," said the former international.

"They also have very talented players, who can score both field and set-piece goals.

The Star of Malaysia


---

PHF axes its associate secretary on disciplinary grounds




LAHORE: The Pakistan Hockey Federation (PHF) has removed its associate secretary former Olympian Khalid Bashir on disciplinary grounds.

"The decision was taken by the PHF executive board at a meeting chaired by PHF president Khalid Sajjad Khokhar," said a spokesman for the PHF here Thursday.

The meeting was also attended by PHF secretary general Shahbaz Ahmad Senior, all provincial secretaries, PHF women's wing chairperson Khushbakht Shujat, PHF vice president Muhammad Saeed Khan, Director Army Sports Directorate and Technocrats director Brig Ghulam Jilani, Syed Musaddiq Hussain, Naveed Alam and Qasim Khan.

Khokhar said that Khalid Bashir had been removed for continuously violating the code of conduct of the PHF and issuing statements against the policies of the national federation.

"His removal was initiated on disciplinary grounds with a heavy heart. The honourable members of the executive board unanimously endorsed the decision of the PHF," he added.

The Daily Times