All the news for Thursday 29 March 2018

2018 Test Matches: ESP v CHN (W) - 4th Test
Malaga (ESP)

ESP - CHN         3 - 1

Spain win the 4 Test series 1 - 0 with the other 3 Tests ending in a draw

FIH Match Centre


---

Rare encounters make for compelling matches




This year will be the sixth time hockey has been contested at the Commonwealth Games and, in the words of Australia mens' head coach Colin Batch, "the competition has never been so tight".

Taking centre stage at the Gold Coast Hockey Centre will be the top 10 men's and women's teams from across the Commonwealth and it promises to be a real hockey spectacle as countries as diverse as Scotland, South Africa, Ghana and Malaysia bring their own brand of hockey to the party.

Many of the match-ups that will take place at the Gold Coast Hockey Centre do not usually occur during the course of international competition, which makes the encounters all the more exciting. Wales women, for example, are raring to go against Malaysia and India, two teams they would not usually play.

"We have been developing our own identity and our own style of play," says head coach Kevin Johnson. "I am expecting the team to play with courage and quickly adapt to playing our game against other playing styles."

Australia men have dominated the Commonwealth Games hockey competition, winning all five previous editions. They have only lost one game in the entirety of the competition, losing to South Africa in the pool matches in 1998. In the same year, the Kookaburras were taken to penalty strokes by England in the play-off round but came through by a narrow margin to secure a place in the final.

This year, Australia are sitting at number one in the FIH Hero World Rankings and are confident after a strong winning performance at the Sultan Azlan Shah Cup. However, there are a number of teams lining up to give the Kookaburras a tough test, particularly as eight of the 10 teams will also be participating in the Odisha Men's Hockey World Cup later in the year.

South Africa are resurgent and looking to show they are worthy of a place at the top international events; Canada has an experienced and tough squad who always step up on the big stage and both England and India are looking for a win at a major tournament after some good preparations.

The women's event has been a more closely contested event over the previous 20 years. Although Australia has won four of the five titles, in the past two editions, it has really gone to the wire.

In 2010 New Zealand's Clarissa Eshuis scored in the final action of the match to make the score 2-2 and send the game to penalty strokes. The Australia players held their nerve to win the match 4-2.

In 2014, England came within 12 seconds of winning gold. They were leading 1-0 through a Lily Owsley goal going into the final minute of play but Jodie Kenney broke English hearts when she scored a penalty corner to even the match. Australia won on shoot-out after Casey Eastham, Georgie Parker and Madonna Blyth all found a way past Maddie Hinch in the England goal.

With the start of the Games just a few days away, the teams are converging on the Gold Coast. Scottish player Lucy Lanigan summed up the excitement as she prepared to travel to Australia: "It won't be easy with our pool [where they face Australia, New Zealand, Canada and Ghana] but what a thrill to be playing the home nation in a Commonwealth Games. That will be a life experience and a memory to remain with you forever."

#CWG2018

FIH site


---

Indian hockey team for CWG chosen based on how players reacted to pressure of tournaments

By Sjoerd Marijne, India Men's Hockey Coach



For me it is not about how someone was in the past but how good he is now.

On being appointed as coach of the men's team ahead of the 2017 Asia Cup, it was important for me to have an idea about the quality and depth of players in the squad. The best way to do that was in tournament conditions. To analyse players by only training camps is not as effective because there is no pressure. How a player reacts in a difficult match situation is different from how he reacts in everyday training.

Having tried different combinations in three major tournaments and one tour over these past few months, I believe the 18 we have picked is the best we have to win the gold at the Gold Coast Commonwealth Games. We were open about the process with the players. I understood there would be pressure on them as they could no longer take their place in the squad for granted.

Almost every player in the core group got to play two or more tournaments in the past five months. There has been talk about some experienced players having been left out of the team. But for me it is not about how they were in the past but how good they are now with international hockey changing so rapidly. Creating that internal competition gives us an insight into how players react to each other, how willing they are to take responsibility and even how much they want to help others improve.

I believe helping other players will help them develop their own performances. What we are searching for are team players. You don't win tournaments with two or three extremely talented players. It does not work like that anymore. We need the entire team to work effectively as a single unit. We also analyse whether the players are 'coach-able', whether they are adapting to the changes we bring in the game or whether there is a limit to their learning process.

Between training and tournaments, there has been plenty of opportunities for players to showcase how driven they are and show us that they can be responsible for their own game and the team's. The whole process has eventually helped us to pick this team. Not many countries have the privilege of playing so many events to help in picking the right players. But we have had that privilege over the past few months.

Since September last year, we have tested between 35-50 players who know how we want to play as the Indian Team. Some of these players who don't make it into the team or the core group will go and play domestic tournaments and can teach other players what is necessary to play at the international level. We are hoping many players will benefit from this process.

As coaches and selectors, you don't want to miss seeing new talent. David John, director, high performance, Hockey India, travels to different parts of the country where domestic tournament are played. We are keeping the selection process open for fresh talent to come in. While this process has been put into practice with our eyes set on the 2020 Olympic Games, it is imperative to ensure we are on track and be our best this year when we will also play the Asian Games and the World Cup in Bhubaneswar

I am happy with the progress we have made but there is still a lot of work to do. The playerdriven approach is working well for the team and it excites me to see them take responsibility. They have a lot of clarity on what they want to achieve as a team and what are the areas they need to improve upon in order to achieve those targets. I see that this method has helped in individual growth as well as in team growth. We are closer to top countries now and on a good day can upset any team, regardl ..

Economic Times


---

Harendra Singh-coached India look to end medal-drought at Gold Coast

Sundeep Misra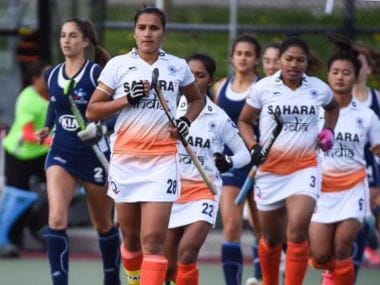 Rani Rampal will lead India's women's hockey team CWG. Twitter/@imranirampal

When he's not talking hockey, he is usually thinking about it. Obsession would be too mild a word to describe the idiosyncrasies of Indian women's coach Harendra Singh. In a career that spans probably 40 years where he played the sport as a junior, then turned out for India at the Asian Games in 1990 and then donned the cloak of a coach, life has been full of steep curves, only a couple of straight lines and some top of the world feelings.

Criticism and praise, two sides of the same coin for most coaches have been constant bed fellows. What has always stood out is his opening line "Bhai sahib, hockey mein kya ho raha hai" accompanied by a beaming smile. He probably tends to forget he is the one standing in the epicentre of the sport. But his first question will always be about hockey. Information is oxygen for him. And that's why there is no doubt that he inherited a bunch of, you can't call them rag-a-tag, but talented, direction-less, hungry for success gang of girls cast in his mould. He has given them direction, purpose and made them into a team ravenous for victory, filled with an insatiable appetite to climb the podium.

Harendra never believed or thought that one day he would coach the women. It has nothing to do with gender. It probably had more to do with his abilities of transferring knowledge onto a team after coaching men's teams for almost two decades. He had doubts. It's a different Harendra now. "I learnt from them," he says. Appointed as women's coach in September, 2017, Harendra talks of the changes he underwent as a coach and a person to communicate better. "It has made me a better man and, of course, a better coach," he says smiling.

At Gold Coast, on the verge of another assignment, the task of winning a Commonwealth Games medal, "gold", he asserts,  it's a tough ask. But Harendra's logic for going to a tournament is simple. "It's to win and go for Gold. Otherwise, why bother?"

He insists he has the team to achieve it. But first the team has to manoeuvre around Pool A which has Malaysia, Wales, England and South Africa. It's a tough pool but surmountable. The big teams are England and South Africa. Team captain Rani Rampal believes the winning momentum from the Asia Cup and the Test series against South Korea will help. "The way with we ended with a win in the Asia Cup in 2017, the tour of 2018 Korea tour has also started with a win. We want to continue the momentum, till the end of 2018. We just want to perform to our best in the Commonwealth Games and bring a medal."

Numbers do hold a place in modern sport. You can always over-ride the past, make it into a non-issue but good coaches and teams do make it into a motivational exercise. Against Olympic Champions England, India has played 27 matches, won two, drawn 6 and lost 19. One of the two wins coming in the 2002 Commonwealth Games final against England; a sure shot source of adrenaline and a fountain-head of motivation. "I do understand that there is always history you need to look at and try and beat the numbers," says Harendra. "I have the team and they have the ambition to get positive results."

Against South Africa, we have played 35 matches, won 9, drawn 7 and lost 19. But there has been a shift, a course alteration, a deviation from the usual since Harendra took over. "The Asia Cup was a big test and to qualify for the World Cup was not on the cards," he says. "But the players, I suspect, surprised after winning the Asia Cup, now want more wins and there has been an aggressiveness that I haven't seen in an Indian women's team. At the moment, physically and mentally we are there with the top teams."

Against Malaysia, India hasn't lost in 32 matches. They have won 29 and drawn 3. India has played Wales five times, winning 4 with one drawn.

Rani says there is nothing special planned against any of the teams. "We have not planned anything separately. We have to focus on the simple things and not focus on the other team's strategy and plans. We believe in our training and get the natural results."

Harendra focuses on psychological ploys away from the training. He believes the team needs to understand that in a male dominated society like India, the players have the opportunity of a life-time to achieve something and make their families proud. "One has to respect that in this team most women have broken age-old taboos of not playing a sport and looking after the house," says Harendra. "It's that hunger that is driving them to conquer and leave an impression."

Goalkeeper Savita Punia returns after being rested for the recent tour of South Korea. In the defence there is enough tenacity and fortitude in the form of players like Deepika, Sunita Lakra, Deep Grace Ekka, Gurjit Kaur and Sushila Chanu Pukhrambam. In the midfield, Nikki Pradhan with her usual guile and stick-work will be the work horse. Nikki comes from the village of Hesal in Jharkhand's Khunti district. She became the first women hockey Olympian from Jharkhand when she was selected for the 2016 Rio Olympics. It's a creative midfield with Monika, Namita Toppo, Neha Pradhan and Lilima Minz. It's in the attack that the team is confident of using the depth in the defence and midfield to convert their chances.  Rani, Vandana Katariya, Lalremsiami, Navjot Kaur, Navneet Kaur and Poonam Rani neither lack the experience or motivation to do something spectacular at the CWG.

Rani who has grown into the role of a play-maker and also the creator of that sublime through pass at crucial junctures, when the opposition defence believes she would go in on her own, allows the other forwards to create space and put pressure on the opposition. The Indian captain also believes that the team has a great set of players with a mixture of experience and youth. Both she and coach Harendra speak highly about the rise in fitness levels. "Hockey has become a speedy game and if you compare from before then our team has improved a lot in fitness and we don't doubt that we can beat any team in fitness." Rani also puts forth the argument of having experienced players in the team. "When you play tournaments like the Commonwealth Games, World Cup, Asian Games then experience matters a lot because to handle the pressure of big games you need experience which can help the youngsters and guide them to come out of pressure zones."

Harendra feels the team has made up its mind to play the CWG final on 14 April. He believes women are more determined and know what to do and when. It's a different way of examining the strengths of women, physically and mentally, and adapting it to team sport or hockey.

In five editions of the CWG, India have a gold and silver; won in 2002 and 2006 respectively. Its 12 years now that India has come back empty-handed from the CWG. That's what they said when Harendra took the team to the Asia Cup – 'it's been 13 years since we won the Cup' – India came back with the trophy.

Harendra will once again dip into his treasure box of memories – of victories, defeats, thrilling moments, tears and sadness; he will look for clues, small details, bring back that obsessiveness and provide an answer to the cat calls 'it's been 12 years'. He talks about the girls, about 18 players who are raring to go, constantly willing to prove themselves. He doesn't like the word 'hopeful' and says 'we are determined to get the gold.'

Firstpost


---

Harendra Singh confident of India's CWG chances

Vijay Lokapally

For Harendra Singh, the experience of coaching hockey girls has turned out to be "unique."

In his words, "I had never trained a women's team but coaching philosophy is same. Handling the girls obviously is different. With the boys team I could use harsh words. Not here. I have to handle them carefully."

How was the initiation? "I used to follow women's hockey but had never watched them play live. I always felt it was a slow game. After the last two Olympics I realised they play as fast as men. With this team I discovered their self-esteem was high. I never criticise them for taking a decision. I know sometimes they are wrong but I back them. And they have begun to take risks. Without risks you can't excel."

He did not lose time in making his point. "It took me one month to drill modern hockey, mental preparation and self-appreciation. At the Asia Cup I did not concentrate on medal. Just wanted them to take risks and back their instincts. Learn and move further. These girls are really good in picking lessons."

Looking to regain the Commonwealth Games women's hockey gold last won in 2002, Harendra said, "CWG teams are more competitive and tougher than in Asian Games. We will be up against Australia, England, New Zealand, Malaysia. We can do much better this time because of the preparation."

On the strength of the team, Harendra was confident, "We are good in field goals and penalty corners. Each player is a scorer. I don't wait for one or two players to score. Gurjit (Kaur) has been scoring in every match. We don't have a drag flicker and have to rely more on field goals. To me the player who creates the goal is more important than the scorer. She does the hard work and gets into position to create a goal."

Maintaining that India is a male-dominated country, Harendra noted, "We don't allow our daughters to step out on their own. We must change that. My daughter travelled from Delhi to London alone when she was just two and a half years old. We have to send our daughters to the sports fields. I urge girls to sports rebels and come to the sports fields. Our girls have the potential to do better than men in sports."

Harendra concluded by throwing light on his style. "I use emotions as a tool to handle things. If you are emotionally attached to the team you can serve it well. I have used it in the past with the junior boys. I am using the same weapon. You have to connect emotionally with the player to get the desired results. My benchmark always keeps rising. Sport is not a place to relax. You have to be on your toes all the time. Must accept reality and adapt. Sky is the limit."

The Hindu


---

Golden Games Moments: Kenny - I Watch That Goal All The Time

Ben Somerford




Jodie Kenny admits she watches her last-gasp equalising goal in the 2014 Commonwealth Games all the time. "I can't get enough of it," Kenny laughs.

The Hockeyroos were trailing 1-0 to England in Glasgow with 24 seconds on the clock, with their gold medal hopes fading away, when they won a penalty corner.

Anna Flanagan's initial effort was blocked but the rebound eluded Georgia Nanscawen and Kellie White along with the English defenders found its way to Kenny, who fired a shot through a raft of bodies and sticks and into the backboard at the far post.

"I watched that goal all the time," she says. "The whole timing of it. We went into that game pretty confident and we were 1-0 down.

"We got to the point where we thought we'd lost. With 24 seconds to go we win a corner and that brings the anticipation as well. The first one they broke. It built the excitement up more.

"Flanno hit the first shot, it hit the goalie, I barely remember it. It bounced out to me, it doesn't happen often. It went through Kellie White's legs and came to me.

"The angle I had and the fact the England players stick was a metre in front of mine. If I didn't put a bit of a lift on it, it would've hit her stick and gone out. A lot worked in our favour and a bit of luck."




The goal would ensure the match went to a tense shootout, although Kenny's initial reaction was pure relief.

"All I remember is seeing Ash Nelson's eyes lighting up," Kenny recalls. "She was diving in on the ground. She was the first one the get up and launch at me.

"At first I didn't see it go in. It was the reaction of everyone around me. It was pure relief."

Australia triumphed 3-1 in the shootout although it didn't entirely go according to plan, with Kenny brought down by England keeper Maddie Hinch, winning a penalty stroke.

However, Kenny pushed wide her penalty stroke leaving the scores at 2-1 giving England the chance to level after four attempts but Rachael Lynch denied Nicola White, before Madonna Blyth secured gold with the fifth attempt.

"I got a bit of a wipe-out from the goalkeeper," Kenny remembers. "I had it in my head what I wanted to do and it worked.

"I'm usually a stroke taker. I was pretty confident and I put it wide. I don't know what happened.

"Looking back, I question whether I shouldn't have given it to someone else. I was fairly winded.

"In the end it didn't matter. Lynchy's heroics, Donny's coolness, we got there."




Kenny will line up again in pursuit of gold medal glory at the 2018 Commonwealth Games on the Gold Coast, down the road from where she grew up in Wamuran.

The 30-year-old took time away from hockey after competing at the 2016 Rio Olympics with the birth of her first child, Harrison, but has returned to action this year hungry for more gold.

"It would be very nice," she says. "It will be a different feeling this time round with a little human in the crowd watching me.

"Not only am I proud to play for Australia, but with my son in the crowd as well. Not only is it home turf in Australia, but only an hour from my home.

"All my friends and family, can come watch me live. Nothing replaces that feeling of watching a live hockey match."

The Hockeyroos, who are in Pool B alongside New Zealand (fourth), Scotland (18th), Canada (21st) and Ghana (30th), flew out for Gold Coast on Wednesday 28 March.




Hockey Australia media release


---

Kiwi officials well represented on Gold Coast



Photo: www.photosport.nz

New Zealand will be well represented both on and off the turf at the Commonwealth Games with five umpires and officials in action on the Gold Coast.

The hockey competition will feature Kiwi Umpires Tim Bond (Auckland), Jo Cumming (Poverty Bay) and Aleesha Unka (Auckland) along with Technical Manager Colin French (North Harbour) and Technical Official Jackie Tomlinson (Manawatu).

It will be the first Commonwealth Games for four of the five with Unka having umpired at the 2014 Glasgow Commonwealth Games.

Gold Coast 2018 Umpires Manager Colin French, who is employed as Technical Manager at Hockey New Zealand, is looking forward to the experience.

"New Zealand has a strong and successful history of officials being appointed to world class events and it's great to see this continuing with these highly regarded officials being appointed to the Gold Coast," French said.

"The appointments demonstrate the quality of our development and capability within our New Zealand domestic tournament pathways.

A key outcome for the sport will be to ensure the knowledge and learnings that these five officials are exposed to at Commonwealth Games will be utilised throughout the hockey community."

Hockey New Zealand Media release


---

"I have missed the EHL! The club has missed the EHL" – Hertzberger



©: Frank Uijlenbroek/world Sport Pics

"I have missed the EHL; the club has missed the EHL!" Jeroen Hertzberger cannot wait to get back up and running in the world's best club hockey competition after a four year wait.

It has been a strange sight in recent years not seeing the famous green and white shirts lining out. Rotterdam is a club synonymous with the EHL, hosting the very first FINAL4 and winning a series of medals in their seven campaigns.

Hertzberger – a club member for life – is one of the undisputed legends, too. With 35 goals, he is the all-time top scorer in the competition and one of the true star attractions this weekend at the KO16 on his home turf as the club return for the first time since 2014.

"For the club, participation in the EHL is important. It is the ambition of the club to be at the top of the game, to participate for prizes not just in our own country but also in Europe."

"It's never as busy here than at the EHL. The KO16, 16 European top clubs – totally crazy!" he said ahead of the event.

"With teams from different countries and different cultures, with a different style of play and thought process, with their own crowd - it is just so much more fun. The charm of the EHL is the four-day hockey party!"

For Rotterdam, they picked up one of their biggest wins of the season last Sunday against Oranje-Rood in a dramatic and controversial game. Hertzberger scored a beauty as they moved 4-1 before holding on to a 4-3 win that keeps alive playoff hopes in the Hoofdklasse.

His club face Mannheimer HC in the KO16 in one of the highlights of the weekend and Hertzberger hopes it is a stepping stone to ultimate glory.

"That European title .... we have never won it. We have been close, losing the final 3-1 to UHC Hamburg. But my best memories of the EHL events are here in Rotterdam.

"From the pitch, you see the clouds of smoke from the barbecues on the plaza and in the stands with their beers. It is fantastic for the public: four days with four top matches each day.

"We, as a team, can use this support well and must benefit from home advantage and this means a lot to the supporters. You can see that last year in the playoffs in our own stadium against Kampong. The atmosphere that Saturday was phenomenal, despite the loss.

As for the challenge ahead on Saturday, Hertzberger said: "We do not know much about Mannheimer HC yet. Yes, they are the German champion from last season and I played with a few of their Argentineans [Gonzalo Peillat and Guido Barreiros] in the Malaysian Hockey League.

"The Bundesliga only starts after Easter and Mannheim will only have played a few exhibition games. We will just have to be very good to win.

"It's the audience who will be the big winner!"

Euro Hockey League media release


---

Rot-Weiss and Kampong trilogy "probably the best advertisement for hockey" says coach Henning



©: Frank Uijlenbroek/world Sport Pics

"It's why we play hockey," says Rot-Weiss Köln coach André Henning as he looks forward to part three of their EHL trilogy against SV Kampong on Friday evening (8pm CET) in the KO16 in Rotterdam.

The sides have met in the knock-out stages of the competition for the last three seasons with the winner each time – Kampong in 2016, Rot-Weiss in 2017 – going on to be the ultimate champion.

And Henning says it is challenges like this are what he and his team relish the most.

"When Kampong plays Cologne, it's probably the best advertisement for hockey. We enjoy playing against the best teams in the world, especially in the night session match

"These matches are always intense but always fair with loads of spectators in the stadium and on the TV. That's why we play hockey. In Germany, we don't have this publicity and not this quality of events like the EHL."

He hails Kampong as "one of the best teams on the planet" with the likes of David Harte, Sander de Wijn, Bjorn Kellerman and Robbert Kemperman in the line-up.

Rot-Weiss have a similarly star-studded squad with Mats Grambusch likely to make it back after injury during the indoor season. With Tom Grambusch, Timur Oruz, Marco Miltkau and Christopher Rühr, they have quality throughout the pitch.

Henning, though, does have a concern about the shortage of pitch-time they have had outdoors in the build-up to the KO16. They got in three challenge matches against Mannheimer HC but snow and ice have frozen out much of their training sessions while many of their internationals were in Spain with the Honamas until March.

They lost their one Bundesliga match in 2018 against Uhlenhorst Mülheim 3-1.

"Maybe we are not in shape hundred percent but I think German teams always find solutions to equalise this disadvantage with our mentality as we did last year."

Indeed, it is a regular problem for German clubs due to their longer winter breaks compared to other European leagues and, with the introduction of the Hockey Pro League at international level in 2019, one which he sees as becoming even harder to solve.

"Unfortunately in Germany we are not able to create enough time for an appropriate preparation for club teams. There were no official Bundesliga matches before the EHL and training camps for the German men's run close to the EHL.

"This shows the problems we have in Germany due to the many events and matches. The Hockey Pro League probably starting next year is maybe a chance for hockey but a high risk for European club hockey as well.

"And the German league could be the first to be destroyed because, in Germany, we can't start the season before the end of March. But, to be honest, these problems are not that new, but they are getting bigger and harder to solve every year. But complaining never helped, we will try to bring our best possible performance!"

And that best possible performance could bring them all the way to the Alain Danet Trophy. For a couple of seasons, Rot-Weiss maybe under-achieved in the EHL but last year's success means a little bit of pressure has been taken off their shoulders.
"Every season and every game is different and depends on how each player feels and creates his own pressure and mindset. Altogether, I think we have less pressure than last year.

"After trying to win this trophy year after year, we finally made it. Last year, the pressure was incredibly high. We lost the German final just a week before the EHL FINAL4. Everyone in Germany expected us to win the EHL finally after trying for seven times.

"This year is a new challenge. No team in EHL history has defended the EHL title. It is the biggest possible challenge to win it again and much harder than winning it for the first time. The first title you win with talent, the others with character. For us, it will be the challenge to reach the same insane motivation and focus we had last year!"

Euro Hockey League media release


---

Polo looking to grasp their opportunity in Rotterdam



©: Frank Uijlenbroek/world Sport Pics

David Alegre says Real Club de Polo's path to the EHL FINAL4 features "complicated but not unbeatable teams" as they look to negotiate their way through the KO16 and KO8 this weekend in Rotterdam.

Their journey starts with a tie against England's Holcombe on Friday afternoon and Polo will hope that will lead to a KO8 game against either Herakles or Atlètic Terrassa.

Alegre feels the "level is pretty similar" of all four teams and says they have taken a lot from previous years, particularly their close-run 2-1 loss to eventual champions Rot-Weiss Köln last year in the KO8.

"I think we have learned from that game against Rot Weiss. If you want to achieve big goals in the EHL, you must be a very mature team and avoid committing absurd mistakes!

"To play a good game is not enough. You have to perform very close to excellence. Now, we will fight in every game. We don't want to miss out on another opportunity!

"It's always good news not to face Dutch or German teams. They have always eliminated us in previous years. This allows us to dream of our goal, which is the FINAL4."

Polo have a much-changed side this year with Xavi Lleonart moving to HC Bloemendaal, Sander Baart to Braxgata, Lucas Vila to Mannheimer and Pedro Ibarra moving on, too. Coming in are Belgian player Max Plennevaux and Olympic gold medalist Nano Ortiz.

Looking at how they are set-up, Alegre's forward partner Alex Casasayas says: "We know we lost some outstanding players from last year, but the boys from the club are adapting and learning quickly to the team and we are all very happy with their performance.

"We have got a super killer in Max Plennevaux and pure muscle in Nano Ortiz for midfield. We might not have that many stars but we still have a balanced team with all pieces working just fine."

His coach Carlos Cuenca agrees that they are coming into the tournament in great form, leading the Spanish league going into the final third of the campaign with 10 wins out of 12.

"The team arrives in Rotterdam at a great moment and if all goes well until the day of KO16 we will be able to compete with the whole squad," the coach said. "We have worked very hard to arrive in an optimal state on a physical, technical, tactical and above all mental level.

"In the Spanish competition we are in a privileged situation and with a good advantage on points. The league is being so hard this season and our performance is still good.

"Two weeks ago, we played in the Copa del Rey and lost the final [to Club Egara]. It was a tough tournament and a tough final but the team had a great performance with a 'black point' that prevented us from getting our fifth Copa del Rey in six years.

"We have invested a lot of time trying to improve that 'black point' and I am sure that it will be reflected in these days and it will be a plus for the team performance."

As for the challenge of Holcombe, he says: "We have some information about them, although not all that we would like, but we have prepared very well for a match like this one.

"I am completely sure the players will be 100% and they will give more than 100% in this EHL. At the end of the game, we will know if it'll be enough."

Euro Hockey League media release


---

Atlètic's pride in youth development underpins their EHL bid



©: Frank Uijlenbroek/world Sport Pics

It seems something of a circle of the life of a talented Atlètic Terrassa to shine at home, make a move to a big league in the Netherlands or Belgium, before returning to the home comforts.

Oriol Peremiquel came back to the club last summer after a successful spell in Belgium, playing with KHC Dragons – winning an EHL bronze medal – and Antwerp.

The likes of Roc Oliva and Marc Salles who have gone abroad but are back at the club while Albert Beltran is the latest to have been snapped up by Rotterdam.

Peremiquel played six seasons in the EHL with Atlètic - pictured above in 2013 - and he is relishing being back on his home turf.

"I love playing again for Atlètic because that means playing alongside my lifetime friends, having my family and friends cheering and supporting on the stands. It's an amazing feeling. The experience in Belgium was great, and for sure life changer, but Atlètic is, has been and always will be my home.

"Some things have changed, especially my role and the role of the guys I used to play with. Now we have to take different responsibilities than when we were younger. But the atmosphere and the inside jokes are still the same ones and that made my comeback much easier."

As always, the focus for development at Atlètic is on bringing through their own players, something that has probably produced more Olympic hockey players per capita than any other region in the world.

"Atlètic's youth is the base of our club first teams. That's something every club member is really proud of. The club's philosophy has been to focus on the youth and it works.

"Proof is all the talent that we brought to the first team for the last decades – Santi Freixa, Oliva, Escude, Tarres, Boltó, Salles….

"A lot of young players want to experience the hockey abroad and that something the club needs to deal with. But having a good base in our youth allows us to stay at a top level although some players are gone for a few seasons. The good thing is that we always come back!"

As such, it is an interesting draw for Atlètic, lining out against a Belgian club, Herakles, that he knows well and one that has a similar family ethos of homegrown talent to his own club.

"Herakles did an amazing season last year with Nicolas de Kerpel as key player. They played at a really high level and they were really consistent throughout the whole season.

"They have a good mix of experienced internationals and talented players from their youth. We will have to be really stable during the entire game, but the most important thing is to focus on ourselves and on our own performance as a team."

Peremiquel is currently busy with Scorrd, a new social platform designed to help hockey players and coaches connect with clubs around the world, something borne out of his own experiences.

His club team ran a public crowd-funding programme, meanwhile, to finance their journey to Rotterdam with Peremiquel putting forward some of his shirts forward as rewards for donations.

As an amateur status team potentially lining out against professional opponents, the club has to find innovative to make up the difference in resources.

"In Spain, hockey is not a big sport and the clubs struggle to find enough support and sponsors to complete their budgets. Also, the national competition is quite expensive as you have to travel long distances each weekend to play your away games.

"We have other initiatives in the past to collect some extra money, so this initiative of the club was just another creative way to help us afford the EHL costs.

"Doing things like this does give you an extra boost of motivation and responsibility towards the club and the supporters."

And it's a motivation that has powered the club on numerous occasions to score big wins over supposedly higher rated opposition.

"EHL is a competition that every player loves to play. Playing against the best teams and players of the world, at great venues and in front of big crowds it's what every top player wants.

"Also the aim of EHL of creating new rules every now and then makes hockey more attractive and fast. I think, thanks to this, EHL has become the most innovative and attractive competition in hockey."

Euro Hockey League media release


---

U.S. U-19 Women's National Team Caps Off Ireland Tour with a Victory in Final Test Match




WICKLOW, Ireland - The U.S. U-19 Women's National Team built on the momentum present in yesterday's game to earn their second victory today and cap off their tour and test series against Ireland's U-21 team. Played at St. Gerald's School, the U-19 USWNT netted one in the first quarter and extended the lead in the third, but not before Ireland fought back to cut the goal margin. USA stayed relentless to tally another three in the fourth to seal a 5-2 win.

USA was aggressive from the first whistle with their press. This created a few turnovers that the U-19 USWNT countered on and as well as some nice attacking plays. In the 17th minute, Leah Crouse (Virginia Beach, Va.) had some nice pressure and stole the ball from one of Ireland's back. Crouse quickly released the ball to Megan Rodgers (San Diego, Calif.) higher up the field who converted on the opportunity for a 1-0 lead. The solid offense was backed up by a very stingy defensive unit once again, not allowing Ireland a single shot in the first quarter.

The second quarter was a midfield battle and Ireland created some nice chances. In the 21st minute, a close chance came for Ireland as they were attacking high on the left, moved the ball around USA's goalkeeper who was playing high and just as they were about to celebrate their first goal, Brynn Zorilla (Vista, Calif.) came out of nowhere to make the defensive save on the line. Ireland continued their pressure earning two penalty corners near the end of the quarter but the half ended with the USA preserving their narrow lead of 1-0.

Ireland wasted no time in the third period to get into USA's defensive circle. They earned a penalty corner in the 39th minute but the drag attempt was saved by Zorilla at the post. USA used this save and countered quickly with some nice passing up the field and finishing with a top-notch goal by Samantha Popper (Blue Bell, Pa.) roofing a reverse shot past Ireland's goalkeeper to extend the lead to 2-0. Unfortunately, the lead was cut in half very quickly when Ireland immediately attacked off the push back and reverse shot over USA's goalkeeper just a minute later.

Going into the last quarter of the tour the U-19 USWNT was leading 2-1. A few lazy tackles in USA's defensive circle and some crafty stick work by Ireland earned them three penalty corners in two minutes. In the 58th minute, after Ireland blocked a USA penalty corner, the red, white and blue pounced on the rebound and passed it out to Popper on the opposite side of the circle, who received and released it quickly to score her second of the game to make it 3-1. Six minutes later, Riley Donnelly (Doylestown, Pa.) connected a sweet pass to Crouse who finished with a great goal to the far side. Ireland cut the lead in half again by scoring off a field goal in the 66th minute. USA was relentless and added to their lead with two minutes left in the game and scored a well-executed penalty corner when Zorilla deflected a low sweep over the goalkeeper to make the final score, 5-2.

The U.S. U-19 Women's National Team will have some time off but will meet against April 27-29 for a Technical Camp at a location to be determined.

USFHA media release


---

Women's EuroHockey Championship II is coming to Glasgow



The Glasgow National Hockey Centre

Women's EuroHockey Championship II will be held in Glasgow from 4-10 August 2019. The EuroHockey (EHF) Executive Board awarded the tournament to Scotland, which will see another summer of top international hockey coming to Glasgow.

Scotland women will compete in the tournament, which will be held at the Glasgow National Hockey Centre.

The Scotland women's squad is currently out in Gold Coast preparing for the upcoming Commonwealth Games and the news of playing in front of a home crowd next year has been met with excitement.

"There's nothing like playing at home"

Scotland women's captain Kaz Cuthbert said, "Its wonderful news that we'll be hosting the Euro championships next year, there's nothing like playing at home – especially at the Glasgow National Hockey Centre with the facilities we have there – to get the whole crowd behind you. It's nothing but success in the making.

"The girls will be extremely excited and it's such a great boost for Scottish Hockey, and for Scotland, to see an event like that hosted in Glasgow. We're really excited and can't wait for next year."

Scottish Hockey has delivered multiple international hockey tournaments over the last few years. Last year saw Men's EuroHockey Championship II come to Glasgow, and in 2016 Men's World League 1 and Boys' and Girls' U18 EuroHockey Championship II were also hosted in Glasgow.

2019 is shaping up to be another exciting year of international hockey in Glasgow as further to Women's EuroHockey Championship II, Glasgow will host the Pakistan men's squads' home FiH Hockey Pro League matches.

It's an exciting prospect to have another home international tournament as our Scotland women's squad battle for promotion to regain their status at the top table of European hockey at Women's EuroHockey Championship II.



Scotland women v France

Another top international tournament in Glasgow

Scottish Hockey CEO David Sweetman said, "I'm delighted that Scottish Hockey will again host another top international tournament in Glasgow. We set out to make Scotland a home for hockey and it's fantastic that we have attracted such high-profile hockey tournaments to Scotland.

"Next year will be another incredibly exciting year for hockey in Scotland; first we host Pakistan's men's home Pro League matches, then two months later Scotland women will compete in Glasgow at Women's EuroHockey Championship II in what will be another exciting tournament in front of a home crowd."

The Glasgow National Hockey Centre, a Glasgow 2014 legacy venue, will again provide an iconic backdrop for international hockey. Councillor David McDonald, the Chair of Glasgow Life and Depute Leader of Glasgow City Council, said: "Glasgow is a leading global player when it comes to hosting world-class sporting events and we're delighted that the Glasgow National Hockey Centre will be home to the Women's EuroHockey Championship in August 2019."

Scottish Hockey Union media release


---

Akhimullah continues scoring spree in MJHL

By Aftar Singh




KUALA LUMPUR: Mohd Akhimullah Anuar Esook (pic) is on a roll in the Malaysian Junior Hockey League (MJHL).

He scored a brace to steer Tunku Mahkota Ismail Sports School (SSTMI)-Thunderbolt to a convincing 5-0 win over Pahang Hockey Academy (AHP)-SSP-Thunderbolt at the SSTMI pitch in Bandar Penawar, Johor, yesterday.

The ace has scored five goals in three matches.

It was SSTMI's third consecutive win in Division One of the Under-19 league.

In the first two matches, they outplayed SMK Datuk Bentara Luar-UniKL-PHJ 4-0 and thrashed SSTMI Juniors 7-0.

Defending overall champions SSTMI took the lead through Mohd Amirul Firdaus Shamsudin in the 16th minute before Akhimullah doubled the score off a penalty corner in the 25th minute.

Shello Silverius increased the lead in the 33rd minute and Akhimullah scored his second and the team's fourth goal in the 39th minute before Syarman Mat Tee completed the rout with in the 59th minute.

SSTMI coach Wan Roslan Wan Abdul Rahman was pleased with his team's performance.

"I never expected to beat them with five goals as last year we only beat them 2-1 in a league match.

"I believe that the long break really benefitted us as we used it to train and also improve our penalty corner set-pieces," said Wan Roslan.

Bukit Jalil Sports School (BJSS)-Thunderbolt registered their second big win by thrashing Malaysia Sabah Sports School (SSMS) Resilient 9-2 at the Kuala Lumpur Hockey Stadium. In the first match, they humiliated Olak 10-0.

Muhd Idris Samad (second, 28th, 59th) and Muhd Syaqir Nordin (34th, 56th, 59th) each scored a hattrick for BJSS.

Ameer Aiman Mohd Saberi (18th, 59th) and Syamil Azim Dzulkafly (50th) contributed the other goals for BJSS.

Muhajir Abdul Rauf (eighth) and Ag Ku Mohd Nuh Akmal (55th) replied for the Sabah School.

The Star of Malaysia


---

PHF names probables for training camp in Karachi




KARACHI: The Pakistan Hockey Federation (PHF) has announced 51 probables for the selection of a national team for the 3rd Youth Olympics Qualifying Round to be held in Bangkok, Thailand from April 25 to 29. The 3rd Youth Olympics will be held in Argentina from Oct 1 to 12, 2018. The top two teams from the qualifiers will represent Asia at the Youth Olympics. The training camp will be held in Abdul Sattar Stadium from Monday (April 2). The players have been directed to report to Kamran Ashraf, the coach of the national junior team, at the stadium on Sunday. It is pertinent to mention that the hockey event of the Youth Olympics will be played on 5-a-side format. Hence, the PHF has planned a 5-a-side tournament for the camp trainees, at the newly-established Shahnaz Sheikh Hockey Stadium in Rawalpindi. That event will be held along with the training camp. According to Qamar Ibrahim, the manager of Pakistan juniors, this tournament will help in assessing the players` potential. After the conclusion of this tournament, the final squad for the youth Olympics qualifiers will be announced. The team will attend a short training camp before departing for Thailand.

Probables: Waqar Younis, Rizwan Ali, Rehan Butt, Moin Shakeel, Adcel Latif, Junaid Manzoor, Shahzaib Khan, Ghazanfar Ali, Afraz Hakeem, Umair Sattar, Naveed Alam, Adil Rao, Amjad Ali, Awais Arshad, Rana Waheed, Ahmed Nadeem, M llyas, Waqar Ali, Zakirullah, M 1brahim, Waqas Ahmed, Salman Shaukat, Junaid Rasool, Mohibullah, Ali Raza. Awais Rasheed, Amjad Rahman, Murtaza Yaqoob, Zulgarnain, Hammad Anjum, Abuzar, Umar Bilal, Roman Khan, Akmal Hussain, Zain Ijaz, Khairullah, Abdullah Shahid, Abrar Ahmed, Ali Hamza, M Yasir, Faizan Alvi, M Moazzam, Zain-ul-Abideen, Daud Niaz, Hamza Sohail, Zubair Saleem, Abdul Rehman, Mohsin Khan, Asif Hanif, Mohammad Sajid and Arbaz Ahmed.

The Daily Times


---

Revamped hockey league set for April 7 start

By AYUMBA AYODI



Telkom coach Jos Openda (left) and captain Tracy Karanja lead Kenyan hockey queens in celebrations after they were presented with the trophy for winning the women's 2017-18 Premier League on February 18, 2018 at City Park Stadium. PHOTO | CHRIS OMOLLO | NATION MEDIA GROUP

Kenya Hockey Union (KHU) has made drastic changes to the men and women's Premier Leagues ahead of the new season which gets underway on April 7.

The Union's Secretary General Wycliffe Ongori announced Wednesday that both the leagues and the durations have been shortened to make them competitive, besides giving teams good pre-season preparations.

The season is expected to end in November.

The men's game will feature three leagues-Premier League, Super League and National League-unlike previously when it was only the Premier League and National League.

Ongori said that women's competition will also have a Super League in addition to the Premier League.

Ongori explained that the men's Super League winner will earn promotion to the Premier League next season.

The National League will now feature as a third-tier, where the winner will also get promoted to the Super League.

While the men's Premier and Super Leagues will have 12 teams each, the National League will feature 11 teams.

Kenya Police won the men's Premier League title.

The three bottom teams at the end of the Premier League season will be relegated to the Super League, with the bottom three in the Super League dropping to the National League.

Only one team will gain promotion from the National League to the Super League, according to the changes agreed upon by club managers.

KHU aims to have eight teams in each of the men's Premier League and National League for the 2020 season.

The Premier League and Super League will be played on a home-and-away -basis, while the National League will be a one-off contest.

"We intended to have 10 teams for the 2019 season and eight teams in each of the Premier League and National League," said Ongori.

"Our target is to have leaner Premier and Super Leagues with the rest featuring in National League so as to improve competition," said Ongori.

The women's Premier League will have seven teams, while the newly introduced Super League will also feature the same number.

The top seven finishers last season led by champions Telkom will take part in the Premier League that will be played on home and away basis.

The next four teams in last season's league that had 11 teams will be joined by three newcomers Wolverlines from Nairobi, Nakuru Ladies and Lakers from Kisumu in the Super League.

Team for 2018 Season

Men's Premier League:

Kenya Police, Butali Warriors, Greensharks, USIU-A, Wazalendo, Parkropad badgers, Nairobi Sikh, Strathmore University, Western Jaguars, Parklands, Kenya Colleague of Accountancy- University (KCA-U), Nakuru.

Men's Super League:

Chase Sailors, Kenyatta University, Technical University of Kenya, Wazalendo Masters, Multimedia University, Kisumu Youngsters, Mvita XI, Impala, Mombasa Sports Club, Kimathi University, Kabarak University.

Men's National League:

Parkroad Tigers, Thika Rovers, Mombasa West, Gorilla, Daystar University, JKUAT, Bay Club, Wazalendo Youth, University of Nairobi, Karate Axiom, University of Eldoret, Bungoma.

Women's Premier League:

Telkom, USIU-A, Strathmore University, Chase Amira, Sliders, JKUAT, Vikings.

Women's Super League:

Kenyatta University, Mombasa Sports Club, Multimedia University, University of Nairobi, Wolverines, Lakers, Nakuru.

Daily Nation


---

Former Singapore international Dahlia Borhan passes away at age 58

Shamir Osman



Dahlia Borhan (stairs, second from left) with three other members of Singapore's 1993 SEA Games gold medal-winning women's hockey team (from left) Foo Siew Chin, Chua Buay Choo and Geraldine Ho. The four attended a reunion dinner where they met the 2012 national hockey team.PHOTO: NEW PAPER

SINGAPORE - Former Singapore hockey international Dahlia Borhan died on Wednesday (March 28) afternoon. The former national women's coach succumbed to cancer. She was 58.

Dahlia was a key member of national coach Margaret Pierce's 1993 team that won gold at the SEA Games held in Singapore, in what remains the only time the Republic finished ahead of Malaysia.

Singapore held their Causeway rivals in a scoreless game before edging them 4-3 on penalty flicks at the Delta Sports Stadium.

Florence Chua, who captained the 1993 women's team, said: "I'm devastated. She's a very private person, but when she decided that she wanted to see us (team-mates), we rushed down. I'm glad that I got that I got to see her before she passed on today.

"Just before our final game against Malaysia in 1993, we were a bit tense as, as you can imagine. I remember Dahlia cracking jokes that really relieved our tension. It helped me as captain to stay calm and focus on preparation.

"She's always was great team player, humble and prepared to train extra hard.I will miss her."

On its Facebook page, the Singapore Hockey Federation wrote: "It is with the deepest sorrow that Singapore Hockey Federation announces the passing of Dahlia Borhan, former Singapore International Hockey Athlete and SEA Games Gold Medallist.

"Dahlia also served as National Under-16 Girls coach and later as National Women's Team Coach and was much loved by many in the hockey fraternity. She will be dearly missed. Singapore Hockey extends its deepest condolences to her family."

Facebook user and former national player Steff Chan said in a post: "I am ever so thankful for those years of playing alongside (Dahlia) that made me the player I am today. I was (also) very blessed and privileged to have represented the country under her coaching. She didn't stop giving back to the sport she so loved after hanging up her turf shoes and stick.

"Thanks for being a friend, a teammate, a coach and an inspiration. You have fought a great fight."

Straits Times