All the news for Saturday 31 March 2018

Kampong, Racing, Herakles and Polo through to KO8



©: Frank Uijlenbroek/world Sport Pics

SV Kampong eliminated Rot-Weiss Koln in a tense and intense 1-0 thriller to close out day one of the KO16, taking their place in Sunday's KO8 where they join Royal Racing Club de Bruxelles, Herakles and Real Club de Polo.

Boet Phijffer's close range tip in from a superb Robbert Kemperman backhand corner shot in the first half proved the only difference as the 2016 champions beat the reigning champions for a KO8 date with Racing Club de Bruxelles (15h00 CET).

Earlier in the day, Racing had proven too strong for Dinamo Kazan as they netted four field goals and one penalty corner for a 9-0 success against the Russian champions.

Tom Boon started the run before lovely strikes from Jerome Truyens and Tommy Willems were augmented by a Conor Harte drag-flick and a Willy Garcia smash.

Real Club de Polo won the first clash of the day with a lively 7-4 win over English side Holcombe. Nick Bandurak started and finished the scoring for Holcombe, putting them 2-0 with a rocket of a shot.

But the Barcelona outfit soon came good with Max Plennevaux scoring a stroke and Borja Llorens making it 3-2 from a corner. Field goals from Ignacio Ortiz and Alex Casasayas around the 49 minute mark made the game safe before Bandurak added another powerful finish.

Debutants Herakles got their EHL history off to the perfect start when they beat Atletic Terrassa 4-2, making full use of two field goals which outdid Roc Oliva's penalty corner double.

Jacob Smith's behind-the-back deflection got Herakles on the road to success before Oliva halved the deficit. Louis Hottlet's smart finish stretched out a 4-1 lead; Oliva got Atleti back in range with 15 minutes to go but they could not reduce the gap further.

On Super Saturday, Three Rock Rovers make their return to the EHL after nine years when they take on Saint Germain (11h30 CET). They are one of two French sides contesting the KO16 – the first time this has happened – with Racing Club de France meeting Uhlenhorst Mulheim.

Hosts HC Rotterdam enter the fray at 16h00 (CET) with a mouthwatering clash against Mannheimer HC before HC Bloemendaal and KHC Dragons raise the roof at 18h15.

Results

Friday 30 March
M1 KO16: Holcombe HC 4 (N Bandurak 2 FG) Real Club de Polo 7 (M Plennevaux FG (stroke), B Llorens PC, I Ortiz FG, A Casasayas FG)
M2 KO16: Royal Herakles HC 4 (J Smith FG, L Hottlet FG) Atlètic Terrassa 2 (R Oliva 2 PC)
M3 KO16: Royal Racing Club de Bruxelles 9 (T Boon FG, J Truyens FG, C Harte PC, T Willems FG, G Garcia FG) Dinamo Kazan 0
M4 KO16: SV Kampong 1 (B Phijffer PC) KTHC Rot Weiss Köln 0

Saturday 31 March
M5 11.30h KO16: Saint Germain HC vs Three Rock Rovers
M6 13.45h KO16: RC de France vs HTC Uhlenhorst Mülheim
M7 16.00h KO16: HC Rotterdam vs Mannheimer HC
M8 18.15h KO16: KHC Dragons vs HC Bloemendaal

Sunday 1 April
M9 10.30h KO8 ranking match: Holcombe HC vs Atletic Terrassa
M10 12.45h KO8 ranking match: Dinamo Kazan vs Rot Weiss Koln
M11 15.00h KO8: Royal Racing Club de Bruxelles vs SV Kampong
M12 17.15h KO8: Real Club de Polo vs Herakles

Monday 2 April
M13 09.15h KO8 ranking match – Loser M8 vs Loser M5
M14 11.30h KO8 ranking match – Loser M6 vs Loser M7
M15 13.45h KO8: Winner M8 vs Winner M5
M16 16.00h KO8: Winner M6 vs Winner M7

Note: Match times and schedule subject to change due to the requirements of television or other factors as determined by EHL.

Euro Hockey League media release


---

Phijffer tips the balance for Kampong to win latest battle with Rot-Weiss



©: Frank Uijlenbroek/world Sport Pics

Boet Phijffer's close range tip in from a superb Robbert Kemperman backhand proved the only difference as the 2016 champions beat the reigning champions Rot-Weiss Koln to set up a KO8 date with Racing Club de Bruxelles.

Kampong had the better of the early chances with Martijn Havenga drawing a brilliant stop from Victor Aly while Quirijn Caspers lovely shot on the spin went inches wide.

The goal came from a wonderful piece of improvisation when a corner was not fully stopped by Kemperman. He reacted quickly to shift the ball left and release one of his famous backhands which Phijffer tipped in at the right post.

From there, it was big battle with Rot-Weiss offering up few more holes in their armoury but Kampong looked the more dangerous of the two sides.

And they kept making the cleaner incisions in the second half. Aly again did brilliantly to keep out Bjorn Kelleran with an out-stretched boot.

David Harte was inactive for long periods but he was called on with nine minutes to go to keep out a sharp Jan Fleckhaus deflection from a crash ball.

Aly kept out another Havenga drag that kept Rot-Weiss in touch with four minutes to go, keeping it close. Kemperman then fired a corner wide when the German side had no keeper in place, a double goal that would have killed off the game.

But it didn't matter as Kampong held out a few late attacks to secure their 1-0 win and claim the latest tie in their trilogy.

Euro Hockey League media release


---

Racing speed their way into KO8 with big win over Dinamo Kazan



©: Frank Uijlenbroek/world Sport Pics

Racing Club de Bruxelles cruised into the EHL KO8 for the second time in their history with a comfortable victory over Dinamo Kazan, winning 9-0.

It took 13 minutes to get on the board, Jerome Truyens breaking in from the left sideline, exchanging passes with Tom Boon, leading to the latter flicking into the roof of the net.

The 2-0 lead quickly became four with Truyens scoring a brilliant solo goal with a rocket on the reverse and Conor Harte added a corner goal in the second quarter for a 5-0 advantage.

Before half-time, Tommy Willems added the third field goal of the game, leading well to get in front of his marker while moving away from goal, making enough space to unleash a great shot into the top corner.

Guillermo Garcia smashed in a sharp chance for another double with 13 minutes to go, making the game extra certain.

Euro Hockey League media release


---

Herakles secure dream debut win over Atletic Terrassa



©: Frank Uijlenbroek/world Sport Pics

A pair of field goals powered Herakles to victory in their first ever EHL game as they saw off Atletic Terrassa, winning out 4-2 in the second KO16 game in Rotterdam

The Belgian side got their EHL history off to a dream start Jacob Smith turned in an Antonio Sanz del Campo cross behind his back from the left wing to make it 2-0 with a lovely field goal.

That came inside just the second minute but Atletic had one back when Roc Oliva powered in a penalty corner within 60 seconds.

It was a rip-roaring first half with plenty of chances at each end with numerous points of drama and video reviews. Herakles had one field goal called back in favour of a corner but despite all the drama, no further scores accrued.

The crucial moment came just before the end of the third quarter when Louis Hottlet got the vital touch, sliding home a finish to extend the lead out to 4-1.

Again, Atletic replied quickly and got another Oliva corner on the board, setting up a dramatic late corner with lots of emotion but Herakles stood firm to secure their maiden victory.

Speaking afterwards, coach Darran Bisley said: "It's an historical day. The guys did a really good job to get up to this level and really match it with Atletic. They are very fast and skillful guys and something we don't face every week but we found that level.

"Huge challenge. It hasn't sunk in yet but we play Polo. We'll have a look at them tonight and tomorrow and try to come up with a good plan to get through to the next one."

Euro Hockey League media release


---

Polo fire their way into EHL KO8 with 7-4 win over Holcombe



©: Frank Uijlenbroek/world Sport Pics

Real Club de Polo came from behind to beat Holcombe 7-4 to reach the KO8 once again, beating an understrength Holcombe with something to spare.

The English club were missing stars like Barry Middleton and George Pinner at the Commonwealth Games while David Ames was out injured.

Holcombe, nonetheless, went ahead when Nick Bandurak spun incredibly quickly on a loose ball to smash home on the turn from a quick move via Jonathan Bretherton and Dan Webster.

Polo, though, were showing up well and making most of the early moves. They had already hit the post before producing some serious style.

Max Plennevaux equalised from the penatly spot – the stroke awarded from play – to level the game at 2-2 and Borja Llorens' drag-flick put Polo into a 3-2 lead at half-time.

The game was then killed off in the early stages of the fourth quarter when Nano Ortiz bundled in a bouncing ball after Manu Bordas's run and touch into the circle. Alex Casasayas extended the advantage out to 7-2 with a backhand finish that owed much to the delicious pass on the turn from Plennevaux.

Bandurak did get another two back with a classy field goal with 60 seconds left but too late to change the outcome.

Speaking afterwards, Polo's Borja Llorens reflected on the game: "When they scored first with a field goal counting double, we were a little bit worried. But I think we reacted really well, waiting for the opportunities and finally scored. When we scored the first one, we felt comfortable and it got much easier.

He played against Holcombe last season in the English league but said it was a very different outfit: "We normally spend a lot of time watching the games of other teams; we only had a small amount of video for them but we knew who were their good players."

And it raises the chances of reaching the FINAL4 for a second time in Polo's history.

"All the opponents in the last few years were champions of the Dutch of German league so this time it will be different. We know some of the Herakles players well and know more about their league so we will do ok."

Euro Hockey League media release


---

Blakeney trying to create new EHL memories with TRR



©: Frank Uijlenbroek/world Sport Pics

Three Rock Rovers' Peter Blakeney – along with Mitch Darling – is just one of two members of the club's last EHL experience back in 2008/09 but while he was part of the first Irish side to reach the KO16, he says he is the last person to ask about his memories of it.

They qualified with two draws, first 0-0 against Atletic Terrassa and then 1-1 against KHC Leuven with Blakeney scoring the crucial goal.

"I can't really remember too much of it to be honest!" he told the EHL website. "The first game, we were completely out-played by Atletic and just about held on.

"The second game was the same until they went ahead but when we got that goal, it was jubilation and a major chance of going through. There was potential it was going to a shoot-out so I couldn't even go for beers!

"Once that went out the window, it was straight into the stands and the songs began."

Blakeney admits himself he is coming to the end of a varied career, one in which he won the Italian title with HC Roma as well as the AHL in Australia with the West Australia Thundersticks. He also played in the Under-19 Cricket World Cup before hockey took over in college.

Back in 2008/09, Blakeney was one of the young firebrands; this time he is one of the elder statesmen though he reckons you would not know it.

He is one of only a couple of players in the panel aged over 23 with six Irish Under-21 players in the line-up. The majority of the side came up through the youth system with 14 of the travelling panel of 20 rising the ranks.

Does he consider himself a mentor to the young guns?

"I doubt it! Maybe to a degree but hockey is unique in that you can play to a high level but still be working full time. The priorities from work to hockey fluctuate.

"At EHL time before, I was in and around the national team. Now because I am at the twilight of my hockey career, it becomes a priority again because I recognise there is only a season or two left. Being involved in the team is really rewarding and you want to make sure you give it your all.

"I have played in the club since I was very young. Sometimes you question is it my time to still be sticking around or should I be hanging up the stick? But it's the events like the EHL, when you start getting to that level and competing, they add that reward for all the hard work and it means a lot."

As for the opponents on Saturday, what does he make of the challenge of Saint Germain? "I am the worst person to ask! I don't think I have watched a hockey match in my life. Ask Mitch Darling that question!"

Euro Hockey League media release


---

Whetton's Long Wait For Home State Debut

Ben Somerford




Queensland duo Jake Whetton and Daniel Beale have both forged successful 100-plus-game Kookaburras careers but the upcoming Commonwealth Games marks the first time they'll represent their country in their home state.

The Brisbane-born duo couldn't hide their excitement about the prospect playing in Queensland when speaking to media on Friday.

Whetton, 26, has 156 caps to his name after his 2011 debut, while 25-year-old Beale has tallied up 126 caps having debuted in 2013.

"Daniel and I haven't played a game in Queensland and we've both been in the team for six years now," Whetton said.

"That's something we've both looked forward to, coming back being able to play so close to Brisbane, with family and friends coming up to watch you.

"We ran around playing for the Queensland state teams together and you had the parents together watching them, and now for us to represent Australia, for them to be able to come watch us play is pretty exciting."

Australia is ranked number one in the world currently, won the World League Final in December, has won all five Commonwealth Games men's hockey gold medals and is the home team but Whetton said the side wasn't feeling any additional pressure as a result.

"I don't think there's any extra pressure for us," he said.

"We take this tournament really seriously. We start next Saturday taking one game at a game and hopefully we're there at the end."

He added: "There's been fantastic results in the past for both men and women's programmes. I don't think there's any pressure for us to go out and think of that.

"It's a four-year gap where teams get better and everyone here is such a quality opposition for the Kookaburras and the Hockeyroos.

"We go out there as a tournament knowing if we play to our potential, the results will hopefully go our way.

"We're just taking it one game at a time and hopefully we'll be there at the end of the tournament."

The Kookaburras, who are in Pool A alongside New Zealand (ninth), Canada (11th), South Africa (15th) and Scotland (23rd), arrived on the Gold Coast on Wednesday.

Hockey Australia media release


---

India men's hockey team out to break Australia jinx

Feroz Khan

The 18-member Indian men's hockey team that will represent India at Gold Coast 2018 (PTI image)The 18-member Indian men's hockey team that will represent India at Gold Coast 2018 (PTI image)
NEW DELHI: The winds of change are blowing thick and fast in the heavily scrutinised world of Indian hockey. Under the tutelage of Dutch coach Sjoerd Marijne, the men's team is on a mission to reclaim its lost glory and the early few signs have put them on a solid footing that they are treading the right path.

Their first major test awaits them in Gold Coast [Australia] which will play host to the 2018 Commonwealth Games from April 4-15. In its past two iterations, India have made it to the finals only to fall at the final hurdle against the same adversary, Australia.

But expect no warmth from the current world champions who are playing the hosts this time around provided India manage to make it to the summit clash. They have a mission of their own to continue their CWG domination, having pocketed gold medals on all five occasions since hockey became a part of the games in 1998. Twice India have reached the summit clash – once at home, once in Glasgow – and on both occasions they suffered heavy defeats to the Kookaburras who have an added motivation this time around to give their legendary captain Mark Knowles a perfect send-off now that he has announced he will retire following the conclusion of the games.

After the unceremonious sacking of Roelant Oltmans last year, the reins of the team were handed over to Marijne. In his first two assignments in charge of the men's team, he delivered gold at the Asia Cup last year and then led a successful defence of their bronze medal at the Hockey World League in December.

Marijne is already leaving his imprint on this team having given chances to a host of youngsters, tinkering with the team combination across three tournaments [Asia Cup, Hockey World League and Sultan Azlan Shah Cup]. Innovative and fun training sessions and not shying away from dropping ageing stars [Sardar Singh, Ramandeep Singh, SK Uthappa] in favour of fresh legs [Vivek Prasad, Dilpreet Singh] but at the same time allowing his players enough freedom to express themselves on the field.

That reflected on the 18 members Marijne picked for his first major assignment of a year which is packed with high-profile events including the Asian Games, Champions Trophy and the World Cup.

At the CWG, India have been placed in Pool B alongside Pakistan, England Malaysia and Wales. Defending champions Australia are in Pool A with New Zealand, South Africa, Canada and Scotland.

India face Pakistan in their opening clash and if their recent clashes are any indication, this shouldn't be a tough nut for the two-time silver medallists. They bossed over Pakistan in 2017, winning by big margins in all their four clashes. Apart from their traditional rivalry, the fact that Oltmans is coaching Pakistan adds more spice to the contest.

Against Malaysia, India have a dominating record, having beaten them 80 times in 115 matches while losing 17 with 18 of them ending in draws. Against Wales, they have never lost a game but it's England who they must watch out for.

While India are a team that are particularly dangerous on the counter, penalty corners are an area they need to improve upon vastly. They have the luxury of four PC specialists in Rupinder Pal Singh, Harmanpreet Singh, Varun Kumar and Amit Rohidas but need to make it count in demanding match situations. Defending falls on the shoulders of experienced Rupinder and Harmanpreet while captain Manpreet Singh will marshal the midfield which has the likes of Chinglensana, Sumit and teenager Vivek Prasad.

The lightning quick speed of SV Sunil and power of Gurjant Singh will be at the forefront while Akashdeep can be depended upon for his deceptive game. Aided by these, Mandeep Singh, Lalit and the young Dilpreet will be eager to sound the board everytime they have the chance. Guarding the cage falls on the veteran PR Sreejesh and his understudy Suraj Karkera.

The team is not a finished article yet but judging by their recent displays, a gold medal is not a far-fetched prospect.

Fixtures: vs Pakistan (April 7), vs Wales (April 8) vs Malaysia (April 10), vs England (April 11)

The Times of India


---

Quest for GOLD

Having lost last two finals to Australia, India hope to get third-time lucky

Indervir Grewal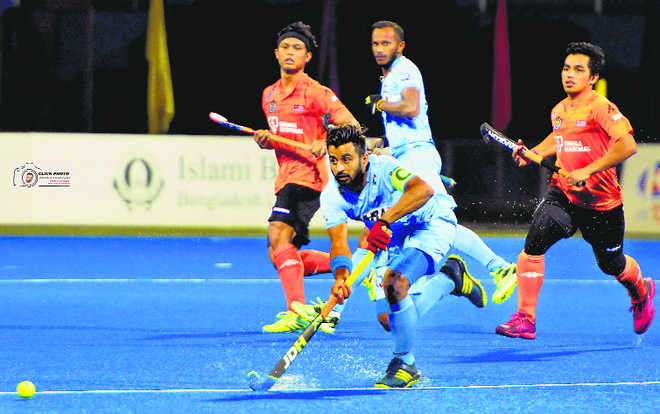 The Manpreet Singh-led side will have to put up a disciplined performance to end Australia's dominance in the Commonwealth Games. File photo

IT has been eight years since a masterful Australia schooled India in front of a stunned New Delhi crowd. The 8-0 hammering had come as an anticlimax to a surprisingly successful campaign — India reached the Commonwealth Games final, for the first time ever, after upsetting England in the semifinals.

By reaching the final of the Games at home, India had raised the fans' hopes for a first gold. But the Australian team, made up of stars such as Jamie Dwyer, came as a whirlwind that left the Indian team and its reputation in tatters. At the 2012 Olympics, India finished a dismal 12th, and it took a total revamp and patient rebuilding to bring the men's team back on track.

Four years after the New Delhi humbling, India again surprised the field to set up the title clash with Australia in the Glasgow Games. However, the gold again eluded India as they finished a distant second, losing the final 0-4.

As another Commonwealth Games campaign begins, the talk is no longer limited to another final appearance. After eight years and two finals, the Indian men's team wants only the gold. "We are looking at nothing less than a gold medal at the CWG. We have lost two consecutive finals to Australia but this time we want to aim for a better colour of medal," said captain Manpreet Singh.

Gunning for Australia

In the run-up to the Games, the discussion has revolved around whether India can get the better of the mighty Australians. The coach and the players seem to think "why not?"

Coach Sjoerd Marijne didn't want to discuss the distant past. The Dutchman added that considering the recent close results and India beginning to catch up with Australia, "why can't we win" against the reigning world champions. "It's all about belief," Marijne said before leaving for Gold Coast.

India's confidence stems from their rise over the last four years. A lot has changed since Glasgow. India became the Asian champions, won medals at three top FIH tournaments and saw three foreign coaches come and leave. And with contributions from all four of the foreign coaches, India have achieved their highest ranking in the world in decades. But overcoming the challenge of the five-time defending champions will still not be an easy task. Even though Australia are not as menacing as they were a few years ago, they are still world No. 1; and having won the World League Final in Bhubaneswar in December, they are in top form.

Contenders, ranking-wise

Nevertheless, Indian teams always go for gold, at least talk of it, whatever the scenario. In the previous two editions, India were the dark horses and they upset higher-ranked England (in 2010) and New Zealand (in 2014) to reach the final. This time, at least ranking-wise, India are genuine contenders.

World No. 6 India are the second-highest ranked side at the tournament. But being among the favourites also brings along added pressure. "Goals are always difficult to set but being the second highest ranked team, we will definitely go for the highest position," Marijne said. While in the last two editions, India were the surprise package, in Gold Coast, they will have to be wary of underdogs such as Malaysia and Pakistan. Indian are grouped in Pool B along with Pakistan, Malaysia, Wales and England.

Pakistan, though going through a slump, could prove dangerous given the two nations' hockey history. Also, India play their opening game, when a team is the most vulnerable, against Pakistan. "The most important match right now is our first game against Pakistan," said Marijne.

Malaysia, on the other hand, have been India's toughest Asian rivals in recent times. They have a knack for causing upsets in key tournament, as they did in last year's World League Semifinals.

Discipline and consistency

Though India are ranked high, they still lack the consistency of teams such as England and New Zealand. There is a tendency of losing focus and losing to lower-ranked teams.

Marijne linked consistency with discipline. "If you are disciplined on the pitch, consistency will come automatically," said the Dutchman, who started the practice of punishing erring players in the last camp. "…to do well in big tournaments and against top sides like Australia, we need to be disciplined," Marijne added. But before the prospect of a meeting with Australia, India will have to face the dogged England, whose ranking (7) is misleading. With Australia in the other pool, India will look to top the pool to avoid running into the Kookaburras in the semifinals. India have not beaten England since the 2016 Champions Trophy, but, barring one loss, they have managed to play out a draw on other occasions.

"The team went through an intense preparation camp with focus on specific areas that required improvement. Now it will be all about executing the plans we have against each team to perfection and remain consistent throughout the tournament," said Manpreet.

Looking for good start

India had a poor start to the year, with a fifth-place finish in the Azlan Shah Cup earlier in the month. However, the tournament was used more as a testing ground. Keeping in mind the busy year — with the Asian Games, qualifier for the Olympics, and the World Cup to follow — Marijne and high performance director David John have tested out many young players and combinations since the Dutchman's appointment last year. "We saw 50 players in five months and played them in two tournaments each and this group has convinced us the most," Marijne said. "I am really happy with our preparation. 2018 is a big year for us and the Commonwealth Games is the first big tournament and we want to do well in it."

Marijne said a good performance would give the team momentum. "It is a challenging and exciting year for us. The Asian Games is very important. Then you have the Champions Trophy and the World Cup at home," he said. "But it doesn't mean we will give our 80 percent in the Commonwealth Games. It's about taking small steps which will eventually lead to bigger goals."

The Tribune


---

Dilpreet, the tiger on prowl

Indervir Grewal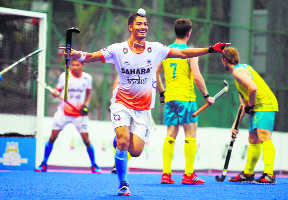 Dilpreet Singh

"The day you can tie your hair on your own, I will take you along," Balwinder Singh had told his young son who insisted on accompanying his father to Amritsar. "When I became the coach of Maharaja Ranjit Singh Hockey Academy in Amritsar, he told his mother 'I want to go with dad'," added Balwinder, who belongs to Butala village, about 50km from Amritsar.

"I told him he was too young but he wouldn't listen. So I had to convince him like this; he had very long hair," Balwinder laughed.

Dilpreet Singh, around seven then, had to wait for over four years to join his father at the Amritsar academy. "When he was in Class 6, I brought him to the academy," said Balwinder, who is retired from the Army. Since then, Dilpreet has not had to wait much to realise his hockey dreams. Within a couple of years, he graduated to Jalandhar's Surjit Academy, arguably Punjab's top hockey centre. At 16, the talented forward made his international debut, at the U-18 Asia Cup, and instantly impressed everyone with his goal-scoring ability.

The progression to India U-21 didn't take long. In last year's Sultan of Johor Cup, Dilpreet scored nine goals to finish as the tournament's top-scorer.

The performance earned him a spot in the senior India camp, and an impressed team management gave Dilpreet his senior India break in the four-nation tournament in New Zealand.

His show in New Zealand caught coach Sjoerd Marijne's attention. "He played more matches in New Zealand, and when you can score against Belgium (world No. 3), you can do it against every country," Marijne said about Dilpreet. "He is a striker who scores easily and has good basic skills. Besides, he has a good overview about what is necessary to play give and go (hockey)," the Dutchman added.

'Gifted'

Dilpreet's hockey journey began as a three-year-old when his father would take him along to the village ground. "I would take him along when I went for my training," said Balwinder, a former national-level hockey player. "He started enjoying the game."

Back then, Balwinder had not thought about hockey as a career for his son. But Dilpreet's unwillingness to study led Balwinder to push him into sports. "He didn't study, was a mischievous kid in school. But when I put him hockey, he showed exceptional talent. He was gifted," Balwinder added.

"Despite being the youngest in the team, he was named the best player in various tournaments," he added. However, Avtar Singh, coach at Surjit Academy, said that due to his exceptional talent, Dilpreet had an attitude problem initially.

"He was always good at scoring. But when he came to us, he was a selfish player. I guess it can happen with players with such talent," said Avtar.

His attitude almost cost him a spot in the senior national camp. But his uncanny goal-scoring ability and willingness to learn from the seniors persuaded the team management to give him a shot.

The result: just five months after making his junior India debut, the 18-year-old, the second youngest member of the team, is all set to represent India in the Commonwealth Games. Though "a huge opportunity" as Dilpreet expressed without showing much emotion, it took some time for the realisation to hit the teenager. "I had called him to ask if the team was announced and he told me he was in. I asked him 'why don't you sound happy'," Balwinder said. "He is not one to blow his own trumpet. However, recently when he called us from Australia, telling us about the place, he sounded really excited."

The Tribune


---

Girls have an outside chance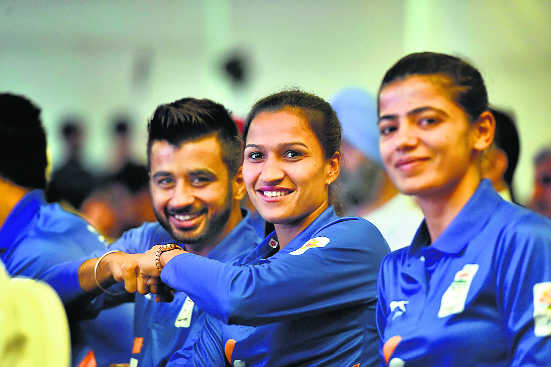 Manpreet Singh, Rani Rampal and Savita Punia. file

Rani and her teammates would have been eagerly waiting for the Commonwealth Games to start. After their Asia Cup triumph last year, the Indian women garnered widespread acclaim and gained enormous confidence.

More than their win, it was their dominance that surprised everyone. But there remained a question whether the new and improved women's team — playing fast, attacking hockey — could shine on the world stage. The Commonwealth Games will give the women an opportunity to test their confidence and prove their Asia Cup win wasn't a fluke.

With Olympics champions England (world No. 2), Australia (No. 5) and New Zealand (No. 4) in the field, India will be counted as outsiders.  

However, with Malaysia, South Africa and Wales in their pool, qualifying for the semifinals alongside England shouldn't be too difficult. And in the knockouts, it will be about winning one match to guarantee a medal, "I don't think any team is easy to beat. Every match will be challenging but to begin with a victory will be ideal," said captain Rani.

"We are going to the Games as serious contenders for a medal. We are hungry to win and build on our reputation as the Asia Cup champions. We have left no stone unturned in our preparations and have worked on every area that has bothered us in the past."

The Tribune


---

Asia conquered, Indian hockey sets sights on world stage

Both men and women team reclaimed the Asia Cup last year and have the momentum to end the Commonwealth Games gold jinx in Gold Coast.

By Jaspreet Sahni



India's women hockey captain Rani Rampal and men's team skipper Manpreet Singh (Image: Twitter)

New Delhi: When Sjoerd Marijne and Harendra Singh assumed charge of their changed coaching roles last September, there was hope and doubt in equal measure. But the two, at the helm of India's men and women hockey teams, respectively, trashed the doubts and turned hopes into gold.

India's Asia Cup jinx ended in the centre of the podium for both men and women. With gold on chest, the icing on the cake was their unbeaten campaigns. But unlike some of the previous Indian teams, this lot realised that conquering Asia wasn't enough and what awaited them over the next 14 months could define their mettle.

The clock has ticked since that moment in October last year to reach the Commonwealth Games (CWG) beginning April 5 in Gold Coast, Australia – Indian hockey's first major test of 2018 on a world stage.

CWG gold has been a hoodoo of sorts for India. The men have never won it, with their best being back-to-back silver in 2010 and 2014. The women, meanwhile, won a gold medal in 2002, followed by silver in 2006, but couldn't manage a podium finish in the next two editions.

But there is an upswing in the teams' fortunes since Marijne and Harendra have taken over.

The women continued their winning momentum with a 3-1 victory in the five-match series – with one draw – on their tour of South Korea before flying for the CWG.

The men finished with a bronze medal at the Hockey World League (HWL) Finals and then reached the title clash in two legs of the Four-Nation Invitational tournament in New Zealand. The only blip was a fifth-place finish at the Sultan Azlan Shah Cup.



Altogether, it made the CWG selection process a tough affair, which best highlights itself in the ouster of former captain Sardar Singh from the CWG squad.

Sardar was part of the Asia Cup win, dropped for the HWL Finals and then returned as captain to lead a young team at the Sultan Azlan Shah Cup. But he couldn't impress the men who mattered.

"It's not about age, it's about performance. I don't care if a player is 18 or 31. It's about what they show," said Marijne, putting focus on the young Vivek Sagar Prasad and Dilpreet Singh included in the CWG squad in place of Sardar and Ramandeep Singh, respectively.

"They (Vivek and Dilpreet) did really well. They were consistent and it's not that they did well only on the New Zealand tour; they were good in (training) sessions as well."

India lost the last two CWG finals against Australia, and the Kookaburras once again pose the biggest threat. But Marijne said talking just about one team can make you lose focus.

"I think England is a good team and, of course, Malaysia can surprise. If we happen to meet Australia, we are ready for it. But first, we have to reach that moment," he said.

Besides England and Malaysia, Pakistan and Canada are the two other teams joining India in Pool B. India begin their campaign against Pakistan on April 7.

"The more we see it (Pakistan game) as a normal match, the better we will play. The key is not to show emotions on the pitch, because when it gets emotional, then it can be a tough game," Marijne said.

The women's team, on the other hand, is on a transformation path and wants to put up a show on the global pitch.




Beating China twice en route Asia Cup win was a sign of things to come. Success on the Korean tour strengthened that belief. A CWG medal may just authenticate it.

"Wo lamha hum bhi dekhenge (we also want to live that moment)," captain Rani Rampal told Harendra, who had coached India's junior men's team to winning the World Cup in 2016.

"It's good that the team thinks on these lines, that I can guide them to a medal. It increases my responsibility; but when there is faith, it gives you more energy," the coach said.

To start with, the women are on the better side of the draw, with England being the only team ranked higher than No. 10 India. South Africa, Malaysia and Wales are the other teams in Pool A.

They play their first match against Wales on April 5.

Zee News


---

We're getting closer and closer to top teams in world: Sjoerd Marijne

By Rutvick Mehta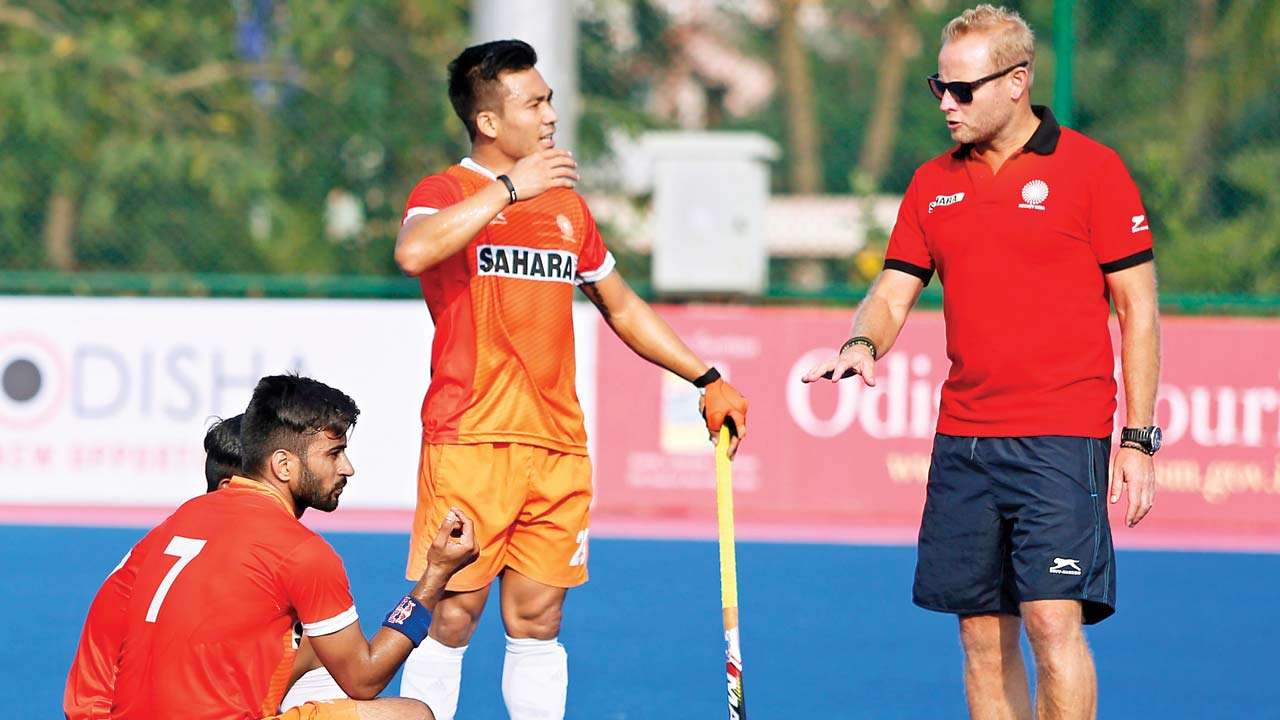 Sjoerd Marijne India chief coach Sjoerd Marijne (right) says that he is not obsessed with results

As Indian men's hockey team seeks to better its silver-winning 2014 show in CWG, head coach Sjoerd Marijne talks to Rutvick Mehta about importance of doing well in Gold Coast
What are the goals you've set for the team from the Commonwealth Games (CWG)?

As Team India, we want to go into every tournament looking to win a gold medal, and that is going to be our endeavour from now on. It starts with the first match at the Commonwealth Games, which is against Pakistan. For us it's most important that we play that match well, and from there build on it. We're not watching the semifinals or finals. Of course, we know the teams that are in fray, and we know their strengths and weaknesses. But again, it's all about focussing on doing our things right.

The CWG is the first big tournament in a crucial year for Indian hockey. How important is it to do well here to set the tone for the rest of the year?

For us, it's important to improve every time we're together as a group, be it at training or in a tournament. We did really well in the New Zealand tour (earlier this year), and that's the kind of process we want to continue. If we continue improving ourselves, the results will come automatically. We're not obsessed with results. Of course, results are important but we're focussing more on what we can control: and that is our areas of improvement and our goals.

The team has beaten some higher-ranked teams in the last few tournaments, but sporadically. Are you confident India can defeat teams like Australia, Argentina and Belgium to go all the way in a big tournament like the CWG?

Yes, absolutely. I'm very confident about that. I see it in this team, in the boys. It shows in the improvements we are making. The top six-seven teams in the world are really close to each other. So, it will never really be easy but it's also good for our sports. That said, we're getting closer and closer to the top teams in the world. If you saw the Azlan Shah, we played really well against Australia and Argentina, and 13 (players) were not there (from the CWG squad). So, that's gives us a massive confidence for the future.

What are the key areas the team will have to focus upon in order to do so?

It is really important to have good pressure on the ball. The more pressure we can create, the more mistakes the opponents will make. Then, we can use our qualities. And one of the most important quality is our speed. Everybody knows that, and we are aware of our strengths.

The other thing is being consistent. That means not having too many unforced errors during matches. The more we lose the ball, the more opportunities the opposition will have. So, if we take away those unforced errors, our quality goes higher, our consistency goes higher, and we will be able to beat the big countries.

It must be good to have PR Sreejesh back but with some old hands like Sardar Singh and Ramandeep Singh missing, do you think this team has enough experience to excel in high pressure situations in a big tournament?

If you see the players who are in this squad, they have tasted a lot of experience over the last two years. Also, the juniors winning the (2016 FIH Junior) World Cup gives them a lot of confidence. After the World Cup, they did really well in the Holland tour, the Asia Cup, the FIH World League Finals and the New Zealand tour. So already, they have a lot of experience. Yes, this will be the next step for them, but I have complete confidence in them doing well here too.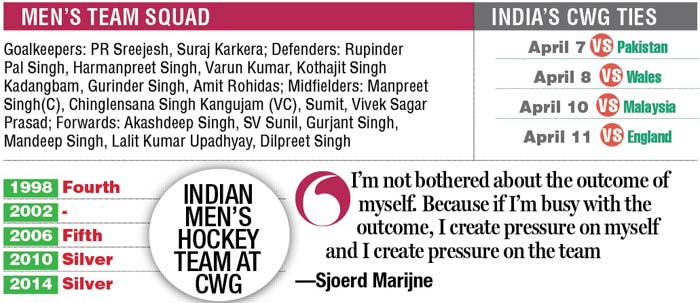 India's silver at the 2014 CWG was one of its high points that season. Do you feel any pressure of matching that silver-winning effort this time around?

No, I'm not bothered about the outcome of myself. Because if I'm busy with the outcome, I create pressure on myself and I create pressure on the team. I'm focussed on the first match against Pakistan, and take it match by match from thereon. By doing that, we don't feel any pressure. The only pressure we put on ourselves is that we want to play so good that we can show everyone how good we are. That already creates enough pressure on ourselves.

India went on to win gold at the Asian Games after the CWG silver in 2014. Hoping for history to repeat itself?

Absolutely. Asian Games is a really important tournament for us this year, and we really want to do well there. It gives us a chance to qualify as the first country in the world for the (2020 Tokyo) Olympics. So, of course, we want to do the same as in 2014, and maybe even a step better by winning the CWG as well.

Daily News & Analysis


---

U.S. U-17 Women's National Team Opens Uruguay Tour with Shutout Win




MONTEVIDEO, Uruguay - On Wednesday, the U.S. U-17 Women's National Team arrived in Uruguay and wasted no time as they hit the pitch the same day to start their preparation for their four-game series against Uruguay. This was followed by two more training sessions on Thursday and one this morning, before opening up the series at the British Schools of Montevideo. USA displayed a great scoring performance on their way to a 6-0 shutout win, as three goals in each half were matched by a defensive unit that limited Uruguay's attacking opportunities.

Hope Rose (Dauphin, Pa.) started off the scoring early in the first quarter on a USA counter attack. A turnover in the midfield put USA on the attack with some quick passing that found Margo Carlin (Drexel Hill, Pa.) open on the right side of the circle where she was able to find Rose at the stroke mark for a great one-time shot to finish the play. As the teams started to settle in the game, play went back and forth in the midfield before USA found another right sided attack that led to a goal, only this time it was from Maddie Zimmer (Hershey, Pa.) as she carried along the end line and beat the Uruguay goalkeeper with some great stick work and a quick shot to finish the play to put USA up 2-0 at the end of the first quarter.

The U-17 USWNT was able to build on their passing game as the second quarter started up. Uruguay also was able to find some energy with their quick skills and speed through the midfield. The teams traded penalty corner opportunities throughout the second period but it was USA who was able to pull through with another goal off the stick of Rose. Kelsey Reznick (Drums, Pa.) was able to start the play with a great intercept to shut down a Uruguay attacking opportunity and transfer the ball quickly through the midfield where it ended up with Alexandra Morgan (Winnetka, Ill.). After a great individual run by Morgan, she laid the ball off to Rose at the far post for a clinical finish to put USA up 3-0 going in to halftime.

The second half started off quickly with USA getting right back in the scoring column. This time it was great team defense off a press that caused a turnover where Rose finished the hat trick two minutes in to the third quarter to give USA a 4-0 lead. That spark continued with some solid team defense throughout the lines giving USA another counter attack opportunity six minutes later where this time it was Hannah Miller (Malvern, Pa.) who stole the ball, weaved her way through the circle for a great finish to extend the lead.

The final tally came from Leanne Bough (Whitney Point, N.Y.) as she was able to put back a rebound off a penalty corner with three minutes remaining. USA completed the shutout with a great combined effort from Caylie McMahon (Stow, Mass.) and Annabel Skubisz (Houston, Texas) splitting time in goal and keeping Uruguay off the board.

A great start for the four-game series as the U.S. U-17 Women's National Team will return tomorrow for game 2 against Uruguay at 3:30 p.m. ET.

USFHA media release


---

Title-holders SSTMI edge gritty Anderson

By Aftar Singh

KUALA LUMPUR: Defending overall champions Tunku Mahkota Ismail Sports School (SSTMI)-Thunderbolt survived a scare from Anderson-Thunderbolt before winning 3-2 in the Malaysian Junior Hockey League (MJHL) Division One match.

It was SSTMI's fourth consecutive win while the Ipoh school tasted their first defeat in two matches.

Anderson have never beaten SSTMI in the Under-19 league but they surprised the favourites by taking the lead as early as the second minute through Arif Sabron.

But SSTMI stormed back to score two goals in the space of four minutes to lead 2-1.

Muhd Akhimullah Anuar Esook equalised in the fourth minute off a penalty corner and two minutes later, SSTMI were awarded a penalty stroke. Akhimullah converted – taking his tally to seven goals in four matches – to give SSTMI the lead.

Anderson, however, fought back to equalise in the 48th minute through Mohd Syazwan Syafiq Basir.

Muhd Hazzim Amin Hafidz fired home SSTMI's winning goal in the 58th minute.

SSTMI coach Wan Roslan Wan Abdul Rah­man was disappointed that his team conceded their first two goals in four matches.

"We let in a goal as early as the second minute due to a mistake by the defenders. It was a wake-up call for my players that they have to play consistently well in every match," said Wan Roslan.

In an earlier match played at the same venue, Pahang Hockey Academy (AHP)-SSP-Thunderbolt edged SSTMI Juniors 2-1.

The Pahang team, who lost 5-0 to SSTMI-Thunderbolt on Wednesday, took the lead through Muhd Syahir Hasif Harun in the 14th minute. But SSTMI Juniors equalised in the 39th minute off a penalty stroke converted by Muhd Ikhmal Hakim Mohd Radzi.

Shafiq Ikhmal Daniel Suzaini scored the winning goal for the East Coast side in the 53rd minute.

The Star of Malaysia


---

Why modified formats are hurting hockey's Olympic status

By Todd Williams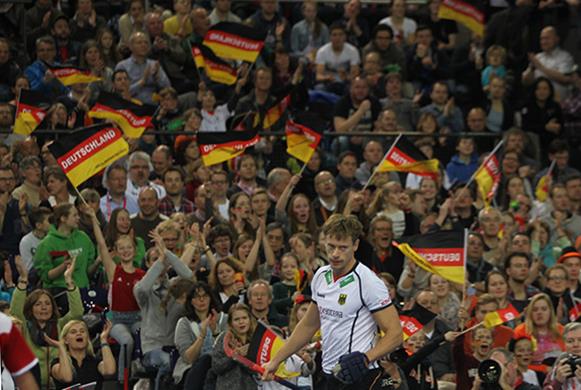 The FIH, hockey's international governing body, was formed in 1924, largely in response to the sport being left out of the Paris Olympics of that year. Ever since then, one of FIH's primary aims has been to maintain hockey's Olympic status. So, by the time the Games return to Paris in 2024, that objective will have been successfully achieved for a full 100 years.

In recent times though, hockey's Olympic tenure has been growing ever more doubtful.

In 2005, FIH moved their head office from Brussels to Lausanne, driven by the need to be on the IOC's doorstep should any conversation start that threatened to drop hockey from the summer Games schedule. That growing fear turned to reality in 2013 when hockey found itself, along with taekwondo, modern pentathlon and wrestling, facing exclusion as one of the Olympic Games' core sports.

Testing rules knows no bounds

Having been in the packed stands of the Riverside Stadium watching the men's and women's Olympic tournaments in London months before the 2013 vote, it was hard to understand why hockey could be so close to the Olympic axe. As the world's oldest stick and ball sport, played on all the continents and in well over 100 countries, you would think it would tick plenty, if not most, of the Olympic boxes.

As it was, wrestling was the unlucky sport to be discarded and that tells us much about the direction of the IOC and the peril that hockey now faces. Although the decision made some sense, with wrestling's low profile, fledgling women's competition and lack of identifiable superstars, it was still one of the sports from the ancient Games and had been included at every Olympics since the modern version started in 1896.

Clearly that didn't matter too much to the IOC and if that's the case then we can also assume neither do the sorts of factors in support of hockey.

Instead, the IOC decision to drop wrestling was, and still is, based on popularity, ticket sales, global reach, television ratings and anti-doping policies. And in case it's not obvious, just bear in mind the link between popularity, global reach and television ratings.

That is why hockey is still desperately testing rules and format changes to try and make the game more appealing to an IOC that, you get the sense, seems less interested in our sport by the day. On top of that, the IOC also explained in 2013 that their decision to reduce the number of core sports was with the aim of controlling the size and cost of the Games and also to make the events more "relevant to sports fans of all generations".

With that, we can now cut to the chase. First, the IOC (incorrectly) thinks that hockey is more of a Commonwealth sport than a global one. Second, it's a big and expensive event at the Games (24 teams, 384 players, plus coaches, umpires and officials) that takes the whole two weeks but yet only counts for six medals. Third, as a sporting product, hockey's TV appeal is nowhere near that of other sports. In short, it's for hockey lovers more so than for sports "fans".
TV over loyal fans

So, you can imagine that when the FIH makes what we see as significant changes to the international game, like moving to ad-break friendly quarters or reducing the playing time by 10 minutes, the IOC's reaction is probably closer to a shrug and a polite smile than backslapping and a long-term guarantee. Yes, they probably appreciate the gesture but deep down they know that reducing the game to nine players or making field goals count for more isn't going to suddenly boost global popularity or TV figures.

The one consolation in this gloomy summary is that we are in all probability not alone. If television success of the Winter Olympics is anything to go by, other mainstream sports are almost certainly under the same threat and the IOC's aim of being relevant is a far more revealing statement than you might think.

Hockey is just not a sport that you associate with "fans". People in a hockey crowd are usually current or former players, coaches and umpires. They are children, they are parents and they are friends. On the other hand, I am basketball fan, despite never having played, coached or umpired a game and I watch it only on TV. So, make no mistake, when the IOC talks about "fans" they are talking about millions of TV viewers and not thousands of loyal followers. Any sport in that boat, which ironically probably includes the likes of rowing, is in trouble.

The inside word from the recent Winter Games in Pyeongchang is that the IOC wants to attract these fans by feeding them more of the spectacular images, including crashes, that a mountain provides.

Whereas watching the Summer Olympics was once about developing a previously unknown love for archery while waiting for the hockey to come on, it's now likely to be heading towards a fast-moving montage of only the most popular sports, mixed in with extreme sports, e-sports and probably UFC. This also helps explain the recent diversion of funding from the likes of badminton and basketball into winter sports.

Where to now?

Hockey, it seems, is caught between a rock and a hard place. It has a loving family all around the world but at the same time, it is trapped trying to satisfy the IOC with an increasingly modified format, like a teenager trying to please the girlfriend or boyfriend that deep down knows they are going to move on when it suits them. Anyone that's ever been in that situation will tell you that it never works out for the best and maybe it's time that hockey came to the same conclusion.



Ashley Jackson in indoor action for East Grinstead

The answer though may not be as difficult as you might think. You only have to look at rugby 7's to see what the IOC wants from team sports. Best of all, we already have that very successful and exciting modified version in existence as we saw at the recent Indoor World Cup.

With short, sharp games from a far more global list of competitors and spectators sitting right on top of the action it's ready made for the Olympics of the future. Critically, it's also a far better economic model and virtually identical to the other existing Olympic indoor team sports like volleyball, basketball and handball.

Don't get me wrong, I never thought I'd see the day where I'd be advocating indoor hockey (despite loving it) as an Olympic sport. On the other hand, I'd much rather that than nothing and if it's in and amongst BMX, skateboarding and watching six nerds play FIFA-Pro then I'm probably not going to be watching the Olympics as much as I used to in any case.

With indoor as our modified Olympic version, that then leaves us free to keep our World Cup in the format that is recognisable to the hockey world. Two years after London, hockey lovers were treated to the most phenomenal event in The Hague.

The combined men's and women's World Cups in 2014 showcased everything that is great about our sport in a format familiar to everyone. And, who knows, the fans who discover indoor hockey at the Olympics might even tune in to watch.

The Hockey Paper