All the news for Tuesday 5 December 2017

Odisha Men's Hockey World League Final Bhubaneswar 2017 - Day 5

Results Day 4

Pool B AUS v ENG 2 - 2
 Pool B IND v GER 0 - 2

Fixtures Day 5 (times GMT+5:30)

17:30 Pool A ARG v ESP
19:30 Pool A BEL v NED

Standings
Pool A
 

| Rank | Team | GP | W | D | L | GF | GA | GD | P |
| --- | --- | --- | --- | --- | --- | --- | --- | --- | --- |
| 1 | Belgium | 2 | 2 | 0 | 0 | 8 | 2 | 6 | 6 |
| 2 | Spain | 2 | 1 | 0 | 1 | 3 | 7 | -4 | 3 |
| 3 | Argentina | 2 | 0 | 1 | 1 | 5 | 6 | -1 | 1 |
| 3 | Netherlands | 2 | 0 | 1 | 1 | 5 | 6 | -1 | 1 |

Pool B
 

| Rank | Team | GP | W | D | L | GF | GA | GD | P |
| --- | --- | --- | --- | --- | --- | --- | --- | --- | --- |
| 1 | Germany | 3 | 2 | 1 | 0 | 6 | 2 | 4 | 7 |
| 2 | England | 3 | 1 | 1 | 1 | 5 | 6 | -1 | 4 |
| 3 | Australia | 3 | 0 | 3 | 0 | 5 | 5 | 0 | 3 |
| 4 | India | 3 | 0 | 1 | 2 | 3 | 6 | -3 | 1 |
---

Germany top Pool B at Odisha Men's Hockey World League Final Bhubaneswar 2017



Germany defeated India to claim a first place finish in Pool B at the Odisha Men's Hockey World League Final 2017. Copyright: FIH / World Sport Pics

Bhubaneswar, India: It was another cracking day of action at the Odisha Men's Hockey World League Final Bhubaneswar 2017, with the finishing positions in Pool B being settled thanks to the results of two pulsating matches at the Kalinga Stadium.

Germany finished first in the pool thanks to a 2-0 win over host nation India, while England's 2-2 draw against Australia was enough for them to take second place ahead of reigning the world and Hockey World League champions, who finished third in the standings. The teams will now have to wait until the conclusion of Pool A on Tuesday 5th December before learning who they will face in the quarter-final crossovers. 


On the occasion of Barry Middleton's 400th senior international appearance, England (FIH Hero World Ranking: 7) claimed a creditable draw with Australia (WR: 2) - the third draw in three games for the Kookaburras.  


England were the better team in the early stages of the opening quarter and deserved the lead that they established four minutes into the contest, with Liam Ansell forcing home from close range. It proved to be something of a wake-up call for the Kookaburras, who came roaring back into the contest but were denied an equaliser thanks to some outstanding defensive work from the European bronze medallists.


The leveller eventually arrived in three minutes into the third quarter through Dylan Wotherspoon, who slapped home from close range after being supplied by a perfect pass from Matt Swann, who was later named Man of the Match, presented by Odisha New Opportunities. Eight minutes later it was 2-1 to Australia, who made full use of a video referral to win a penalty corner that was despatched with precision and power by Blake Govers, guiding a low flick into the bottom right corner of the English goal. 


Remarkably, England hit back with six minutes of the match remaining thanks to Phil Roper, who was on hand to volley into the roof of the Australian goal to steal a share of the points. Despite there being no further goals, Australia came within a fraction of snatching the win when they rattled the frame of the English goal not once but twice with an overtime penalty corner, which was a fitting end to a breathless game of hockey.


"Every year it seems to get quicker and harder when I just want it to get slower, but it was a great game and result for us", said Barry Middleton, one of the highest capped players in the history of the sport, before making reference to Australia hitting the post twice in the overtime penalty corner. "It is nice to come out of it with a point when you have one like that on the buzzer. We probably need to be a bit calmer in the last few minutes to make sure we don't give penalty corners away, and try to play as if it is the first 15 minutes. We rode our luck on the last corner and got away with it, but nice to come away with a point."

When asked about his feelings on reaching such an incredible milestone, Middleton said: "It tells me that I'm old, mostly. It is not really something I'm thinking about right now, it is more something I'll look back on in the future and realise what it is then. I know it is something that when I am older I'll look back on and be really proud about." 


The Australia-England result meant that a win, draw or even a narrow loss for Germany (WR: 5) in their match against India (WR: 6) would be enough for them to finish top of the pool. For the host nation there was everything to play for if they were to avoid a fourth place finish and a meeting against the winners of Pool A that came with it.

A packed and rowdy Kalinga Stadium certainly enjoyed India's first quarter performance, with the home favourites playing with great energy despite being starved of possession by the Germans. India were also good in the second quarter, but they found themselves trailing 2-0 thanks to some clinical finishing from Germany. Team captain Martin Häner netted a penalty corner with his team's first shot on target before Mats Grambusch's deflected effort deceived Indian shot-stopper Akash Chikte to double the advantage.

While India had chances in the third and fourth quarters, Germany were outstanding in defence and always seemed in control of the contest to end their pool campaign with seven points from a possible nine. Germany's opponents in the quarter-finals will be the team that finishes fourth in Pool A, while Pool B fourth place finishers India will take on the winners of Pool A in the knock-out phase.

"It was fantastic playing India, I've never played in front of such a big crowd", said Germany's Mats Grambusch, who was named Man of the Match, presented by Odisha New Opportunities. "It is good to win the pool but there are four amazing teams in the other pool and we know that anything can happen in the quarter-finals." 


The competition continues on Tuesday 5th December with the final two matches in Pool A, which will both bring the pool phase to a close and settle the line-up for the competition quarter-finals. Olympic champions Argentina face Spain at 1730 Indian Standard Time (UTC: +5.30) before pool leaders Belgium take on European champions the Netherlands at 1930, the latter being a rematch of the gold medal match at the Rabo EuroHockey Championships 2017 in Amsterdam.


RESULTS – DAY 4

Pool B: Australia 2, England 2.

Man of the Match, presented by Odisha New Opportunities: Matthew Swann (AUS)

Junior Player of the Match, presented by ONGC: Liam Sanford (ENG)

Pool B: India 0, Germany 2.

Man of the Match, presented by Odisha New Opportunities: Mats Grambusch (GER)

Junior Player of the Match, presented by ONGC: Johannes Große (GER)


Pool B Standings (Final)

1: Germany
2: England
3: Australia
4: India

FIH site


---

Middleton's landmark appearance ends in gripping draw



Barry Middleton 400th appearance

Barry Middleton's 400th international appearance ended in dramatic style as England clung on to draw with Australia in their final pool game of the Odisha Hockey World League Final.

Having levelled the scores with six minutes remaining through Phil Roper, Harry Gibson and his defenders kept out four penalty corners in the final minute of the game to deny Australia their first win of the tournament.

England had taken the lead early on through Liam Ansell but Australia hit back in the third quarter, equalising through Dylan Wotherspoon before Glovers gave them the lead.

The results ensured that England would finish above Australia in the final group standings with Germany and India still to play their final fixture.

Buoyed by victory against India two days before, England began confidently and opened the scoring with the game's first attack as Ansell dinked the ball home after a good run by David Goodfield.

Lachlan Sharp's 10th minute shot was superbly smothered by George Pinner before Liam Sanford and Henry Weir then put in crucial blocks to keep out an Australian penalty corner in the 13th minute.

The reigning Hockey World League champions continued to press in the second period but England's defence held firm.

Middleton – only the fifth player to ever feature in 400 international games - pulled off a heroic diving block to thwart Tom Wickham in the 24th minute before substitute goalkeeper Harry Gibson made a smart save to keep out a Glovers penalty corner.

The pressure eventually told early in the second half though as Matthew Swann picked out Wotherspoon who swept the ball past Pinner to equalise, despite an England review.

Pinner then showed why he has been nominated as the FIH Goalkeeper of the Year with an incredible double save in the 36th minute to deny firstly a diving Jeremy Edwards and then Wickham's follow up effort.

Wickham was then kept out by Pinner again moments later but the Kookaburras won a penalty corner on review and Glovers smashed it home to give his side the lead with just under 20 minutes remaining.

England began the final quarter in much more attacking fashion and won a penalty corner early on, only for Luke Taylor's effort to be well charged down before Goodfield slapped a shot wide.

But with just six minutes remaining the ball broke kindly for Roper just a couple of yards out from goal and the midfielder nudged it over Tristan Clemons to grab a point for his team.

England then defended heroically to keep out four penalty corners in the final 30 seconds – the third one hitting the post twice – in a dramatic end to another pulsating game.

Australia (0) 2
Wotherspoon (FG, 33), Glovers (PC, 41)

England (1) 2
Ansell (FG, 4), Roper (FG, 54)

Starting XI: Pinner (C), Ames, Ward, Gleghorne, Roper, Dixon, Middleton , Creed, Ansell, Condon, Sanford

Subs (Used): Gibson, Taylor, Weir, Martin, Goodfield, C Griffiths, Gall

England Hockey Board Media release


---

Kookaburras Head For Quarters With Third Straight Draw

Ben Somerford




The Kookaburras have narrowly missed out on second spot in Pool B at the FIH Men's Hockey World League Final following a third straight draw after scores finished 2-2 with England in Bhubaneswar on Monday night.

Australia were denied the victory which would've seen them leapfrog England into second, when Blake Govers' drag flick and Daniel Beale's shot from the rebound both hit the post in the final seconds of the match.

The draw means Australia finishes third in Pool B, behind Germany and England, and will meet second from Pool A in the quarter-finals on Wednesday or Thursday.

Australia will need to wait until Tuesday night's Pool A matches are completed to learn their quarter-final opponent, which could be either Spain, Argentina, Netherlands or least likely Belgium.

For the third consecutive match, Australia were made to come from behind after conceding early.

Like Saturday's 2-2 draw with Germany, the Kookaburras fought back with two third-quarter goals from Dylan Wotherspoon (33') and Govers (41') in his 50th game.

Australia were denied their maiden win of the tournament when the English, in veteran Barry Middleton's 400th game, levelled via Phil Roper (54').

Man of the Match Matthew Swann said: "We were going for a win today. We've had three games and three draws.

"This game was very important. It was also very important for the English team with Barry Middleton with his 400th Test match. That's incredible.

"Congratulations to him, thank you to the crowd, we're just happy we put on another good show."

England started the game the better, with David Goodfield squaring to Liam Ansell from the baseline for the opening goal in the fourth minute.

Australia rallied and pressed for an equaliser for the remainder of the first quarter, with third gamer Lachlan Sharp denied after a Govers' intercept.

England's David Condon had an effort saved by Tyler Lovell, while Govers' drag flick from a penalty corner was also thwarted by opposition keeper George Pinner before the break.

Australia's pressure told in the third quarter when Swann darted down the right and squared for Wotherspoon to convert the equaliser, although England referred the goal which got the all-clear from the video umpire.

Pinner brilliantly denied Tom Wickham before Govers' clever video referral opened up an opportunity for a penalty corner, which he converted with a powerful flick.

England pushed for a leveller early in the final term and got on level terms when Condon found Roper for a close-range finish past Tristan Clemons.

Australia had their chance to win it, with a series of penalty corners in the 60th minute, with Govers and Beale coming closest when they were both denied by the post.

Australia 2 (Wotherspoon 33', Govers 41')
England 2 (Ansell 4', Roper 54')

Hockey Australia media release


---

Wasteful Australia settle for 2-2 draw against England

Feroz Khan

BHUBANESWAR: In the final 25 seconds of the first match on Day 4 of Hockey World League Final, Australia were given not one two or three but four golden opportunities to beat England and finish the round-robin stage on a winning note. They squandered all of them as England held on for a 2-2 draw on Monday evening.

They got four penalty corners in the dying stages but Harry Gibson and England defenders were resolute to not let their opponents steal a last-gasp win. Liam Ansell (4') and Phil Roper (54') struck for England while Dylan Wotherspoon (33') and Blake Govers (41') were Australian goal-scorers.

In sports, an Australia v England contest is always a much-hyped affair. Currently, the two nations are engaged in a fierce Ashes series which is living up to its reputation. About 8300 kms from Adelaide Oval, where teams from the two countries are writing another chapter for their storied rivalry, a quiet but nevertheless interesting battle was underway between their hockey teams.

At the Kalinga Stadium, the build up to a Hockey World League final round-robin clash between Australia and England did not generate much hype yet the crowd and the press turned up in significant numbers. One could argue they were there for the second contest of the evening - India vs Germany - and rightly so but for a sports lover, this was a rare not-to-miss opportunity see Australia and England battle it out on the pink and blue pitch.

It was England who drew the first blood as Australia's propensity to leak early goals continued with Ansell receiving a good ball from David Goodfield from the backline and sounding the board get England in the lead at 1-0.

Australia had to wait till the change of ends before it could draw parity when a Brendan Creed failed to cleanly trap a high ball, allowing Mathew Swann to break free and pass it on to a diving Wotherspoon who pushed it past diving England defender and keeper.

The Kookaburras then snatched the lead by converting a penalty corner as Blake Govers did well to get the goal despite it not being a clean trap. The shot went right between 'keeper Goerge Pinner and Barry Middleton who was playing in his 400th game for England. Phil Roper then struck three minutes before the full time to score England's second.

Australia thus ended the group stage without a win with three consecutive draws while England recorded all three results - a loss, win and draw from their three matches respectively.

The Times of India


---

Barry Middleton: 400 Not Out



Middleton 400

14 years, 7 months and 28 days since his debut, Barry Middleton has reached the unprecedented landmark of making 400 international appearances.

The Great Britain and England legend and all-time leading cap maker notched up the figure in England's 2-2 draw with Australia at the World League Finals, and tributes have been flooding in for the midfield maestro.

Middleton has consistently shown himself to be one of the very best players in the world netting 113 goals during his 400 appearances.

Speaking after reaching the landmark, Middleton said: "I'm incredibly proud. I'm still enjoying playing so much and I'm really relishing the opportunities with this group moving forward.

"When I do retire I will definitely look back on it more then and there are so many nice memories I've had along the way but for now my focus is always on the team and our tournaments."

Barry has represented Great Britain at four Olympic Games, England at three World Cups and at eight European Championships and his reputation with his team mates and the Hockey world is unrivalled.

GB and England head coach Bobby Crutchley said: "He's made an incredible contribution to England and Great Britain hockey for 14 years and his attitude to his development and the growth of the team have been exemplary.

"He is a role model for any younger player and a fantastic example for any aspiring athlete to follow."

GB and England co-captain Ian Sloan commented: "400 international caps is outrageous! Barry is an incredible player and person and still has the same desire as a player getting their first cap."

England Hockey Board Media release


---

India fall back to old ways, lose to Germany; Australia held by England

Indervir Grewal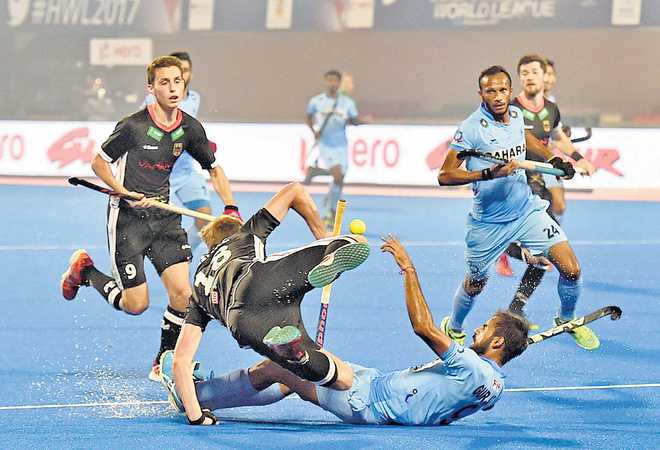 Gurjant Singh falls down after a tackle by German defender Weinke Ferdinand on Monday. PTI

A masterful Germany first pushed India off their axis with faultless passing and enviable defending, and then characteristically applied the chokehold to make it one of the most one-sided 2-0 wins in international hockey.

If the defeat to England, conceding the late goal, was heartbreaking, this schooling in disciplined and tactical hockey by four-time Olympics gold medallists would have been morale-crushing.

India didn't start as badly as they had against England, but the little time they took to settle their nerves was enough for Germany to find their touch. "We didn't start well, we started nervously," said India coach Sjoerd Marijne. "We lost the ball too many times."

Along with the initial nerves, India's struggle to find a foothold in the match was increased by Germany's tight defence, with Germans breathing down the Indian players' neck. As the space shrank, finding passes became difficult.

Nullifying counter

But it was the way Germany held possession that exhausted India, both physically and mentally. As Germany nullified India's counterattacks — their main style of play —the hosts ran out of ideas. Germany stuck to their plan of playing "basic passing hockey", and slowly unraveled the Indian defence. But Germany played a way more tactical game than a basic passing game.

Their fast passing constant movement in the middle confused the Indians, especially the central midfielders, and the hosts' defence started to lose shape. The Indian players struggled to read the play, and were slow to react, which is why there were fewer interceptions and steals and, therefore, fewer counterattacks. "Yes, it looked like that, but Germany didn't have many big chances as well. So, I think they (Indians) did a good job," Marijne said when asked if the Indian struggled defensively, especially in the middle.

But Marijne admitted that India "didn't get enough interceptions" because the "players didn't get close enough to the opponents".

That leeway enabled Germany to get behind the Indian fortress on a few times, which in turn resulted in the Indian defence becoming more wayward. From their first penalty corner, captain Martin Haner scored in the 17th minute. 

Three minutes later, Mats Grambusch got too much space to run into the circle and his strike was defected in off an Indian stick.

Results

Germany 2-0 India
Martin Haner (17th min), Mats Grambusch (20th min)

Australia 2-2 England

The Tribune


---

India brings up the rear after yet another loss

Germany outplays the host in all aspects, tops the pool

Uthra Ganesan



Failed attempt: India's Mandeep Singh tries to get past the German defence in the Hockey World League Final match. Photo Credit: BiswaranjanRout

Statistics are tricky business in sports. They tend to glaze over the effort on field or the numerous variables that matter in a result. Sometimes, though, they expose the grim reality of a competition.

On Monday night, they did the latter and, in the process, highlighted the gap between the teams after India's 2-0 loss against Germany to finish at the bottom of Pool B. At the end of its last league match in the Hockey World League Finals here, the host had a meagre 36 percent possession, 10 and shots at goal. In contrast, the opposition had 64 percent ball and even though only six shots at goal, it made every one of them count.

The numbers supplemented the performance on field. The one-touch give-and-go hockey that India wanted to play was displayed by the Germans instead. Their second goal came off one such move, four passes and a rasping shot from an unmarked Mats Grambusch rising off Birendra Lakra's stick into the net in a matter of seconds. Structure, the favourite term in the Indian dressing room at the moment, continued to be on a leave of absence.

India's favourite mode to relieve pressure, the aerial diagonal long pass, was intercepted and resulted in turnovers. The short passes the team switched to as an alternative could not find a way forward. The attempts at earning penalty corners ran into a firm German wall.

The defence picked itself up. Akash Chikte brought off some impressive saves. Lakra kept getting better and Manpreet Singh kept falling back to bolster it. The waves of German attack were unable to overwhelm them or find too much space. The forwards, indisciplined and clumsy as there were, did manage to get into the circle but were out of position and missed the finishing touch — the final pass being the culprit many times — and were thwarted in equal measure by German goalkeeper Tobias Walter and the uprights.

Every time India got the ball in the opposition half, it elicited a huge roar of support from the packed stands, only to fizzle out. The back-ups were just not there even as India failed to optimise the space utilisation. As for the Germans, they only reiterated their resolve to go back with yet another trophy from the city where they won their last gold medal, three years back, with a near-perfect execution of their gameplan.

Earlier in the day, the rivalry between Australia and England regardless of the filed of play ensured there would be no quarters given and ended in a 2-2 draw with the momentum swinging either way throughout the game.

Barry Middleton admitted as much, referencing the ongoing Ashes to highlight his own team's intent to "pull one back for England" here. It almost did so but Australia came up with perhaps its best performance of the tournament so far for its third draw in as many games. Liam Ansell tapped in an early goal but Dylan Wotherspoon and Blake Govers fought back for the defending champion. It took a special effort by captain Phil Roper to level scores and, despite four back-to-back penalty corners at the stroke of full time,

Australia was unable to break past the English defence. The results meant germany topped Pool B while India brought up the rear ahead of the quarterfinals.

The results (Pool B): Australia 2 (Dylan Wotherspoon, Blake Govers) drew with England 2 (Liam Ansell, Phil Roper); Germany 2 (Martin Haner, Mats Grambusch) bt India 0.

Standings: (read as team, played, won, draw, lost, goal difference, points): Germany 3, 2, 1, 0, 4, 7; England 3, 1, 1, 1, -1, 4; Australia 3, 0, 3, 0, 0, 3; India 3, 0, 1, 2, -3, 1.

The Hindu


---

Gallant India goes down to Germany

s2h team




India held the ball far less than their formidable rival, but had as many as attacks as Germany, revealing a strategy of relying on counters but the strategy despite working perfectly in terms of process, did not move the scoreboard, as it went down 0-2 today in the last pool match of the Bhubneswar Hockey World League Finals.

Striking two goals in the very start of second quarter, Germany posted their second win in three matches to top the pool. India pressed hard especially in the second half, getting 3 of their 4 penalty corners but could not beat the German citadel. First, captain Martin Haner sent the ball into cage on a grounder push off the first penalty corner in the 17th minute and three minutes later Mats Grahmbusch enlarged the lead to make the victory for sure.

On the other hand, flawless Indian defence conceded just a penalty corner when a push hit the jumping foot of Amit Rohidoss. German would convert it. This made the difference to the outcome. It broke the solid first quarter displayed by India. Captain Martin Haner sent a grounder that sped past the diving Indian goalie Akash Chikte in the 17th minute.

Three minutes later, Mats Grahbusch, who was later deservedly adjudged the Man of the Match, enhanced the lead.

India did not lack the will to infuse vigour and vitality. Indians almost held the upperhand in the 3rd and fourth quarters in terms of attack. Sweeperback Martin Harner's defence would not let in. Goalkeeper Tobias Walter was as usual at his best.

With two loses and a draw, India is at the bottom of the table which is topped by today's winner, Germany. Australia, which drew all its three matches, is third while England is sitting pretty at second.

Indian defence cracked to a well-oiled and precise German attack after first quarter. Within three minutes from the second quarter start, Germany's Haner converted its first penalty corner to silence the crowd.

Couple of minutes later, momentarily ball watching Indians were punished. Trapping a feed on top of the circle, Mats Grahambusch struck a force-packed forehand shot that got deflected from Indian goalie Akash Chikte for second goal (2-0).




It was anti-climax for Indian fortunes and its defence oriented strategy. India relied much time on defence, relying on counters. Yes, they countered a lot and had equal shots at goal. But the defence blinked in the early part of second quarter.

Indians were charged up now. Forwards Chinglensana Singh, Akashdeep Singh and Mandeep Singh had their quota of attacks, but German goalie stood like a rock of Gibraltar.

Mandeep Singh's backhander towards cage had every trapping of a goal, but in a one to one situation goalie could block it.

India got its first penalty corner on a timely referral, but Rupinder Pal Singh's usual centre of the cage flick did not pose any danger.

India got two penalty corners in the last minute, but both Harmanpreet Singh and Rupinder Pal Singh's efforts did not yield any fruit. Thus, all effort of SV Sunil, who had a great match, went in vain.

But India can look forward to the quarters with confidence, that is for sure

With two wins and a draw, Germany goes to the knockout heads held high. Said Man of the Match Mats Grahmbusch: Perfect Start. But its all zero now. Man of Match: Mats Grahmbusch

Stick2Hockey.com


---

India end league stage winless, lose 0-2 to Germany

Feroz Khan

BHUBANESWAR: India's Hockey World League Final began with a bang but in their final league match, they disappointed to succumb to a 0-2 defeat at the hands of Germany and finished last in their Pool B with just one point. Haner Martin (17') and Mats Grambusch (20') scored for the world no. 5 to seal their second win and the top spot with seven points on Monday.

Germany are a well-oiled defensive unit. On Monday, they not only showed why they are called so by staving off one Indian threat after another but also crashed through their opponents' defensive wall and made use of the limited opportunities to convert their chances and take a 2-0 lead by the time the half-time hooter went off.

The first goal came through penalty corner. It was the German captain Martin Haner who slung the flick to the right of Akash Chikte and crashed the Indian party to take lead right at the start of the second quarter in the 16th minute. Two minutes later, Mats Gramsbuch surprised everyone with a fierce forehand from just inside the D and India were unlucky as the ball crashed inside the cage after deflection from Birendra Lakra. The crowd which had been vocal all this while was brought to a stunning silence.

What kept them going was India's habit of hitting on the counter and they kept coming close to scoring with every move. Mandeep Singh's crushing shot was saved by Tobiar Walter who did it on multiple occasions later in the game. Gurjant Singh, who was off colour in the first two matches, showed exceptional skills and combined with SV Sunil to penetrate the German circle but his high shot was palmed away. He then won India their first penalty corner but Walter crouched low to block Rupinder Pal Singh's flick with his left hand.

As the game resumed after the change of ends, Indian influence grew on the proceedings with Sunil leading the charge from the right flank. But unlike their German counterparts, they failed to find any opening. They could have been another goal down when the ball bounced dangerously on the goal-line after a Germany penalty corner. They needed that sort of luck at the front too but the forwards failed to make the finishing moves count. They did get a penalty corner of their own and this time, Harmanpreet Singh attempted the drag-flick but his attempt was weak and was blocked by German rusher quite easily.

India, tried staging a comeback but either their execution wasn't right or the German defenders were too alert for their comfort. They continuously made rapid turnovers but couldn't convert. After putting the German forward under pressure, a high ball from Manpreet found Akashdeep open in front of the goal but Haner was quicker and trapped the high ball from reaching the Indian forward. They won two penalty corners in the final seconds but converted neither.

The Times of India


---

Coach Sjoerd rues technical mistakes after India finish last

Feroz Khan

BHUBANESWAR: The sparkling start to the Hockey World League Final by the Indian team had raised hopes. By Monday night those hopes had taken a major dip after a technically superior Germany outclassed them with a sound 2-0 defeat. It was India' second defeat in three matches and with just one point to their name, finished fourth in their pool.

Coach Sjoerd Marijne had no qualms in admitting Germany were the much better team on display on the night but he somehow managed to take some positives out of the disappointing show. While the Indian team started well against Australia and England, on Monday they seemed a bit jittery. "We started a little bit nervous (tonight). We lost the ball too many times. Germany had most of the possession and played with a lot of discipline," Marijne said at the post match press conference.

He further added, "Technical skills weren't good enough. We didn't play from stick to stick. Germany put up a great example for us. The statistics, if you look at them, for both the teams were almost same but we need to make the conversions - shots and PCs."

He praised Germany saying they made India work hard to get the ball. "Compliments to Germany for the way they kept (possession) of the ball. We had to put a lot of energy to win the ball and sometimes it took us really long (to get the possession)."

As has been the case, the team has continued to create chances but the finishing needs more polishing. While against Australia, they were the aggressor and dictated the pace of the game from the opening minute, with Germany, they seem to struggle on the front. "We have to make the chances count. I was happy with the second half. We created opportunities but as I said, you have to execute them and if you see the last three matches, that's one of the big areas where we can improve," Sjoerd observed.

India's penalty corner woes continued as they didn't convert either of the four they won on the night including two as the match approached the end. Marijne said it was because the German rushers made life difficult for their drag-flickers who were in top form. "The PCs weren't bad; they (Germans) were running better. They made it very difficult for us to play the angles. For me it was important to keep fighting even when we were 0-2 behind and I am happy with that. We have to work really hard now. We will do much better in the coming matches," he said.

Captain Manpreet Singh said Indian team made several "unforced errors" and that the team relied on attacking on the counter more as it's one of their strengths. But Marijne differed saying his men need to correct that propensity and not just rely on reacting to what the opposition team is attempting to do.

"Something has to happen for us to start playing quicker. That's something we have to work on. One of the reasons is that in the beginning of the first half we made a lot of technical errors. It becomes difficult to get the rhythm back," he said.

The Times of India


---

India coach Sjoerd Marijne says execution matters over statistics after Germany loss



File image of Sjoerd Marijne. Facebook: Hockey India

Bhubaneshwar: A lacklustre India slumped to their second defeat at the Hockey World League (HWL) Final and chief coach Sjoerd Marijne was livid with the execution skills of his boys.

Despite having the better share of chances in their final Pool B match against Germany, the hosts could not execute them and went down 0-2.

Summing up the performance of his players at the end of the pool stage, coach Marijne said better match statistics doesn't have any significance if a team can't win.

"If you look at the match statistics, we have more circle entries, more penalty corners, more ball possession but eventually it is about scoring. The chances we get we have to make use of them," the Dutchman said at the post-match press conference.

"In the second half we played well. We created chances but didn't execute them and they (Germany) knew how to execute their opportunities. One team have more ball possession but what matters is execution. It's about who scores most goals. It's about winning the match," said the coach.

After producing an inspired performance with a 1-1 draw against world champions Australia, an inconsistent India slumped to back-to-back defeats against England (2-3) and Germany (0-2) to finish at the bottom of their pool.

Marijne said the Indians have plenty of work to do ahead of their Wednesday's quarterfinal encounter against the top team of Pool A, which will be decided on Tuesday.

"We need to improve on our penalty corners and shots on goal. I always like when the players get freedom to play but that's not how we started in the last two matches. We didn't start fast. In the beginning of the first half we committed plenty of technical errors. Once that happens, it is really difficult to come back into rhythm," he said.

He, however, was pleased with the way the team responded in the last two quarters.

"We were 0-2 down but I was happy to see the team fighting on. In the first half, our technical skills were not good enough. We didn't play stick to stick hockey. The Germans were very good in their technical skills," Marijne said.

India captain Manpreet Singh agreed with the observation of his coach.

"We committed many unforced errors today. We need to improve on our passing," he said.

Firstpost


---

India go down 0-2 against Germany to end at bottom of their pool



Bhubaneswar: German captain Martin Haner(6) scoring first goal against India during Men's Hockey World league at Kalinga Stadium in Bhubaneswar on Monday evening. PTI Photo by Swapan Mahapatra

Bhubaneswar: India produced a lacklustre and disappointing performance in their second consecutive match to go down 0-2 to Germany and end their pool engagements on a winless note at the Hockey World League (Final) on Monday.

The Bhubaneswar crowd had to return home disappointed once again as Germany scored two goals in the second quarter through skipper Martin Haner (17th minute) and Mats Grambusch (20th) to hand India their second defeat of the eight-nation tournament.

India, who drew 1-1 with Australia and lost 2-3 against England in their previous outings, thus finished at the bottom of Pool B table with just one point from three matches.

Earlier in the day, World Champions Australia and England played out a 2-2 draw in their final pool engagements.

Dylan Wootherspoon (33rd minute) and Blake Govers (42nd) scored for Australia, while Liam Ansell (4th) and Phil Roper (54th) found the net for England.

Having finished at the bottom, India will now play the leaders of Pool A in the quarter-final on Wednesday, while Pool B's top-placed Germany (7 points) will take on the last team of Pool A.

Pool A standings will be decided on Tuesday after the final round matches between Argentina-Spain and Belgium-Netherlands.

The Germans came out strong in the first quarter, dominating the early share of exchanges.

The Indians, however, got their foothold as the quarter progressed. Both the teams tried hard but failed to produce any real goal scoring opportunities.

But the deadlock broke just after the start of second quarter from Germany's first penalty corner.

The Germans kept up the pressure on the Indian defence and secured the first penalty corner of match, which Haner converted with a ground flick to the right of a diving Akash Chikte in front of the Indian goal.

To the utter disbelief of the capacity crowd present at the Kalinga Stadium, the Germans extended their lead minutes later through Grambusch, whose strike from the circle beat Chikte after a deflection from Birendra Lakra stick.

Stunned by two goals, the hosts finally showed some promise and created a few good chances but failed to get past Germany custodian Tobias Walter, who was brilliant under the post.

Walter denied Mandeep Singh from a counter attack and then from the resultant move Akashdeep Singh's reverse went inches wide of the goal.

The German goalkeeper made three brilliant saves in the final three minutes of the second quarter.

An agile Walter made a double save to deny Gurjant Singh twice, first blocking his shot and then keeping out a sharp deflection from the striker with his extended arms.

The Indians earned their first penalty corner in the next minute after going for a referral but Walter came to his side's rescue again as he kept away Rupinderpal Singh's flick.

Germany went into the breather leading 2-0.

Soon after the change of ends, India secured a penalty corner but it was later disallowed by the video umpire after Germany went for referral.

The Indians had a close shave minutes later when the ball struck the post and went out after India's second choice goalkeeper Suraj Karkera did just enough to keep out Germany's second set piece.

India then got their second penalty corner but this time Harmanpreet Singh disappointed.

Penalty corner conversions continued to haunt the Indians as they wasted two more set pieces in the final seconds of the match to sum up their disastrous pool showing.

Firstpost


---

Mandeep Singh, a jovial striker living his dream

Feroz Khan

BHUBANESWAR: Mandeep Singh was five when he decided that he wanted to play hockey. To make a decision that would dictate his entire course of life, at such a raw age came easy to him, and not just because he hails from Punjab, a state that has over the years ensured a healthy supply of hockey stars to the Indian national team. His older brother was into hockey and that helped.

But Mandeep was at an impressionable age, when he would have heard the Indian cricket team getting the better of Australia in near-miraculous fashion in the intervening period between February and March of 2001. You must have been living under a giant rock if you were an Indian, alive, and not known about Sourav Ganguly and his side that stitched memorable victories and blocked Australia's path to global domination in Test cricket.

Mandeep, a sports lover, was well aware. It was natural to have that attraction to the game. Mandeep wasn't untouched as he admitted, 'his mood was more towards cricket'. However, watching his brother play hockey every day left an impression and with time and his mood changed.

And what a great decision it turned out be. In his late teenage years, Mandeep was making waves at the Hockey India League which was followed by two World Cups for the Indian hockey team in the space of one year - at junior (2013) and senior (2014) level. Two years later, he was a part of the team that won the junior World Cup at home.

"I was five when I started playing hockey," Mandeep tells TOI Sports. "My brother used to play and I followed in his footsteps. Initially, my mind was more inclined towards playing cricket. But then I used to watch my brother play hockey. Slowly and gradually, my mood changed and I started loving hockey."

After developing his love for hockey, Mandeep began dreaming. He dreamt of representing India, of becoming a hockey star and playing alongside his favourites - Sandeep Singh and Sardar Singh.

"I used to watch Sardar Singh and Sandeep Singh on TV; they were my favourites. It was my dream to play with these two. Manpreet Singh and I used to play together and he made it to the Indian team before me. So I always used to think about getting a chance to join the national team and play with these superstars," he said while remembering the days when he watched his idols on TV before getting a chance to meet them and later play alongside them.

Mandeep has, as of date, 85 caps for India and been part of the national setup for some time. He has seen highs and lows, injuries and dips in form. That would make anyone mature enough for their age. But Mandeep still exudes the charm of a youngster - giggling every few minutes, not shy of admitting that he is one of the biggest pranksters of the team.

For Mandeep, having fun remains a major part of his life and it becomes clear when he suddenly, midway through a sentence, turns his attention towards his team-mates at the other end of the pitch where they are playing a prank on their captain Manpreet. He watches the entire performance, sniggering, hopefully wanting to be closer to the action. Though as the hoopla around the prank dies down, Mandeep is back to completing the sentence, picking up right from where he left off.

"It's me. I am the biggest prankster," comes his reply when asked who the naughtiest character in the team is. "I like laughing. You can ask anyone - I never get angry. Manpreet is also quite a funny guy."

But Mandeep is not just about pranks and jokes. The journey towards playing for the country hasn't been a joyride. From a young age, he has been living away from his family to pursue his dream and he admits that being on the road hasn't always been ca cakewalk.

"I have stayed away from my home for a long period. To become a professional hockey player, you must make some personal sacrifices. You will have to give up either your dream or living with family. I have been living in hostels, different hockey academies, continuously travelling for nationals. But my family has been supportive all through. They wanted me to play. I've worked really hard," the 22-year-old says.

When he was fully devoted to hockey, Mandeep never compromised on getting a good education. In fact, when he was living in a hostel, his family had arranged for a tutor who would, without fail, turn up at the facility for daily evening lessons.

"When in hostel, a teacher used to come especially from my village to give me tuitions every day for two hours from 6 pm for tests and lessons," he said.

Did he ever get distracted from studies? "Sometimes yes. But you know studying is important too. It allows the brain to develop and focus better. Even now, I take English classes whenever free."

At the Sultan Azlan Shah Cup earlier this year, Mandeep became India's saviour when Japan, a team ranked well below them, threatened to pull off an upset. His hat-trick not only rescued India from a potential embarrassment but also gave them a narrow 4-3 win. His more famous hat-trick was when India got the better of the then-Olympic champions Germany for a come-from-behind 5-4 win at the Hockey World League Final. Mandeep calls these two matches as his best moments with the national team.

"Sultan Azlan Shah was a good tournament for me where against Japan I scored a hat-trick. Then in New Delhi (HWL 2015) when I scored a hat-trick against Germany," he said.

Life is all about hockey for the young star and it keeps him busy, though he does like shopping. "I remain busy with hockey. So, there's not much time to do anything else apart from hockey. But I do like shopping. I do a lot of shopping," he says with a smile.

Mandeep is a confident striker who eagerly aims to improve with each game and promises that his team will not disappoint the home crowd at the ongoing HWL Final.

"When we are on the pitch, our focus is only on the game. It's our home crowd and we promise we won't disappoint them. These three matches (league stages) are going to teach us a lot. Obviously, the quarterfinal is where we have to be at our best and we will give our best no matter whom we face there. Whatever mistakes we have committed so far, we will rectify them," Mandeep says.

Mandeep will hope to take home happy memories and rectify mistakes his mistakes when the tournament ends and will aim for cementing his spot in the team, hoping for a repeat of his Germany and Japan heroics.

The Times of India


---

Significant World Cup turf investment set to provide widespread benefits to hockey community



Photo: FIH Events and Strategy Director Sarah Massey (centre) with Vitality Hockey World Cup London 2018 Stakeholder Board Chair Andy Tapley (centre right) and Head of Sport and Leisure for Lee Valley Regional Park Authority Dan Buck (centre left) joined by community hockey teams.

International Hockey Federation (FIH) Official Global Supplier Polytan will shortly begin installation of two new state-of-the-art pitches at Lee Valley Hockey and Tennis Centre ahead of the Vitality Hockey Women's World Cup London 2018.

The installation of their Poligras Platinum World Cup product at the venue, located within Queen Elizabeth Olympic Park, will begin at the start of March and the second pitch will be completed in May 2018.

The £600,000 investment will provide widespread benefits to the hockey community. It will not only give England and Great Britain's national and development squads, university, school and hockey clubs world-class turfs to play on, it will also provide a number of environmental benefits. The investment further reinforces the benefits of the UK hosting major events and in the long term will bring more elite competition to the UK – for example the Hockey Pro League from 2019 onwards.

Polytan has spent considerable time and investment on developing a new turf product specifically for next year's Hockey World Cups being staged in England and India. It is an evolution of the turf used at the Rio 2016 Olympics Games which proved extremely popular with athletes and spectators. The new turf however uses denser fibres to create a faster playing surface.

"...The installation of this innovative new product will make it one of the best hockey venues on the planet...Athletes will be given the perfect stage to showcase their talent."
Jason McCracken, FIH CEO

Polytan's significant investment through its FIH Global Supplier status has been further supported by Lee Valley Regional Park Authority and the Vitality Hockey Women's World Cup London 2018 additional funding partners England Hockey, UK Sport and the Greater London Authority.

FIH has been working hard to align the Hockey Revolution strategy to Olympic Agenda 2020 recommendations around environmental impact of sports events. Consequently, FIH has put particular focus on sustainability in the Quality Programme for Hockey Turf. One of the key environmental benefits resulting from the development of this new product is that it will require up to one third less watering compared to the previous turf.

Speaking about this installation, FIH CEO Jason McCracken said: "Lee Valley Hockey and Tennis Centre is already a top-class facility - the installation of this innovative new product will make it one of the best hockey venues on the planet. Athletes participating in next year's Vitality Hockey Women's World Cup London 2018 and in the Hockey Pro League in 2019 will be given the perfect stage to showcase their talent. However, what makes hockey so special is that this same field will also benefit athletes of all levels, therefore community investment is hugely important."

He continued: "Together with Official Global Supplier Polytan, a unique playing surface for our World Cups was created that improves both playing performance and sustainability. After extensive research and development, they have delivered a product that is outstanding for both facility owners and those who use it."

England Hockey Chief Executive Sally Munday said: "We are absolutely delighted that new Polytan pitches will be in place at Lee Valley Hockey and Tennis Centre in time for the Vitality Hockey Women's World Cup next summer. With even better surfaces and major environmental benefits, this is a significant step forward for the venue, not just for our international teams but also for hockey at a local level."

Shaun Dawson, Chief Executive of Lee Valley Regional Park Authority, which owns Lee Valley Hockey and Tennis Centre, said: "This is great news for hockey. These two fabulous world-class new pitches will be used not just by international players but by the clubs, schools and community groups who play at the Lee Valley Hockey and Tennis Centre day in, day out."

Markus Deimling, Chief Executive of Polytan added: "Polytan holds a track record supplying Olympic Games and World Cup venues with class leading products. We are therefore delighted to supply our World Cup Edition Hockey Turf Poligras Platinum to the venue. Our state-of-the art turf system will be installed in time to welcome England Hockey's Championship Finals and League Championships from April 2018. The Vitality Hockey Women's World Cup London 2018 will then take place there between 21 July and 5 August before Great Britain's men and women kick off the inaugural Hockey Pro League season in early 2019."

Esther Britten, Head of Major Events at UK Sport said: "This investment is a fantastic example of the benefit of the UK hosting a major sporting event. Through the funding commitment from partners, including UK Sport and The National Lottery, and the record level of ticket sales by the British public who are excited to be part of this pinnacle event, it means that every stage of the hockey pathway, from junior to elite, will benefit from the Vitality Hockey Women's World Cup."

Polytan is part of SportGroup, a global  leader in the industry using multiple brands like APT, AstroTurf, Laykold, Melos, Polytan and Rekortan. Under the brand Polytan, SportGroup is FIH's Official Global Supplier within the FIH Quality Programme for Hockey Turf – an internationally recognised quality programme designed to help ensure good quality fields are built for all levels of play. For more information about the FIH Quality Programme, click here.

Lee Valley Hockey and Tennis Centre Temporary Pitch Closure

Only one of Lee Valley Hockey and Tennis Centre's pitches will be closed at a time. Ahead of construction, key regional and county league representatives have been given notice of plans to work with clubs and leagues to support fixture changes as well as with clubs using the facility in terms of impact on upcoming fixtures. Anyone who has not already been informed about the temporary facility closure and requires further information should contact Lee Valley Hockey and Tennis Centre on This email address is being protected from spambots. You need JavaScript enabled to view it. or 03000 030 614.

FIH site


---

New pitches to be laid in time for Vitality Hockey Women's World Cup



Crowd at Lee Valley

Significant turf investment set to provide two new pitches at Lee Valley Hockey and Tennis Centre in time for Vitality Hockey Women's World Cup London 2018

International Hockey Federation (FIH) Official Global Supplier Polytan will shortly begin installation of two new state-of-the-art pitches at Lee Valley Hockey and Tennis Centre ahead of the Vitality Hockey Women's World Cup London 2018.

The installation of their Poligras Platinum World Cup product at the venue, located within Queen Elizabeth Olympic Park, will begin at the start of March and the second pitch will be completed in May 2018.

The £600,000 investment will provide widespread benefits to the hockey community. It will not only give England and Great Britain's national and development squads, university, school and hockey clubs world class turfs to play on, it will also provide a number of environmental benefits. The investment further reinforces the benefits of the UK hosting major events and in the long term will bring more elite competition to the UK – for example the Hockey Pro League from 2019 onwards.

Polytan has spent considerable time and investment on developing a new turf product specifically for next year's Vitality Hockey Women's World Cup London 2018 and the Odisha Men's Hockey World Cup 2018 in India. It is an evolution of the turf used at the Rio 2016 Olympics Games which proved extremely popular with athletes and spectators. The new turf uses denser fibres to create a faster playing surface. Polytan's significant investment through its FIH Global Supplier status has been further supported by Lee Valley Regional Park Authority and the Vitality Hockey Women's World Cup London 2018's additional funding partners England Hockey, UK Sport and the Greater London Authority.

FIH has been working hard to align the Hockey Revolution strategy to Olympic Agenda 2020 recommendations around environmental impact of sports events. Consequently, FIH has put particular focus on sustainability in the Quality Programme for Hockey Turf. One of the key environmental benefits resulting from the development of this new product is that it will require up to one third less watering compared to the previous turf.

Work is due to start on March 5, and the first event on a new surface is scheduled to be the Notts Sport Schools Championships for Boys on 24-26 April, with our Investec Women's League and Men's Hockey League Finals on 28-29 April. New venues for the club Under 16 Championships, and the Investec Women's Hockey League & Men's Hockey League promotion tournaments will be confirmed in due course.

Plans are in place to recycle the existing playing surfaces, as took place following the London 2012 Olympics and details will be made available to clubs shortly.

Speaking about this installation, FIH CEO Jason McCracken said: "Lee Valley Hockey and Tennis Centre is already a top-class facility - the installation of this innovative new product will make it one of the best hockey venues on the planet. Athletes participating in next year's Vitality Hockey Women's World Cup London 2018 and in the Hockey Pro League in 2019 will be given the perfect stage to showcase their talent. However, what makes hockey so special is that this same field will also benefit athletes of all levels, therefore community investment is hugely important."

He continued: "Together with Official Global Supplier Polytan, a unique playing surface for our World Cups was created that improves both playing performance and sustainability. After extensive research and development, they have delivered a product that is outstanding for both facility owners and those who use it."

England Hockey Chief Executive Sally Munday said: "We are absolutely delighted that new Polytan pitches will be in place at Lee Valley Hockey and Tennis Centre in time for the Vitality Hockey Women's World Cup. With even better surfaces and major environmental benefits, this is a significant step forward for the venue, not just for our international teams but also for hockey at a local level."

Shaun Dawson, Chief Executive of Lee Valley Regional Park Authority, which owns Lee Valley Hockey and Tennis Centre, said: "This is great news for hockey. These two fabulous world-class new pitches will be used not just by international players but by the clubs, schools and community groups who play at the Lee Valley Hockey and Tennis Centre day in, day out."

Markus Deimling, Chief Executive of Polytan added: "Polytan holds a track record supplying Olympic Games and World Cup venues with class leading products. We are therefore delighted to supply our World Cup Edition Hockey Turf Poligras Platinum to the venue. Our state-of-the art turf system will be installed in time to welcome England Hockey's Championship Finals and League Championships from April 2018. The Vitality Hockey Women's World Cup London 2018 will then take place there between 21 July and 5 August before Great Britain's men and women kick off the inaugural Hockey Pro League season in early 2019."

Esther Britten, Head of Major Events at UK Sport said: "This investment is a fantastic example of the benefit of the UK hosting a major sporting event. Through the funding commitment from partners, including UK Sport and The National Lottery, and the record level of ticket sales by the British public who are excited to be part of this pinnacle event, it means that every stage of the hockey pathway, from junior to elite, will benefit from the Vitality Hockey Women's World Cup."

Matthew Paterson, Chairman of Wapping Hockey Club - who play at Lee Valley Hockey and Tennis Centre - said: "The opportunity to use the same world class facilities as our international teams is a massive draw for Wapping Hockey Club and its members, and the news that the pitches will be relaid ahead of next year's Vitality Hockey Women's World Cup is further evidence of England Hockey's continued commitment to growing the game in East London."

Polytan is part of SportGroup, a global leader in the industry using multiple brands like APT, AstroTurf, Laykold, Melos, Polytan and Rekortan. Under the brand Polytan, SportGroup is FIH's Official Global Supplier within the FIH Quality Programme for Hockey Turf – an internationally recognised quality programme designed to help ensure good quality fields are built for all levels of play. For more information about the FIH Quality Programme, click here.

England Hockey Board Media release


---

2018 National Senior Women's Squad Confirmed

Ben Somerford




Hockey Australia today announces the 25-member National Senior Women's Squad for 2018 ahead of a massive year for the Hockeyroos.

The Selection Panel considered a number of priorities upon selecting the squad, with a view to achieving performance benchmarks at the 2018 Commonwealth Games on the Gold Coast in April and the 2018 World Cup in London in July-August and also with a development view towards the 2020 Tokyo Olympics.

The Selection Panel also sought to reward impressive performances in 2017 along with recognising potential within the daily training environment and competition with inclusion in the squad.

Lily Brazel, Savannah Fitzpatrick and Emily Hurtz have all been included in the squad having all been part of the team during the International Festival of Hockey (IFoH) and Adelaide Test series in November.

Kirstin Dwyer, Georgia Nanscawen, Jacqui Day, Laura Barden and Kate Hanna have been omitted from the squad, although the latter two players will be included in the National Development Squad which will be confirmed later this week.

Hockeyroos head coach Paul Gaudoin said: "The squad we've selected is one that we think can help us achieve our performance benchmarks in 2018 but it's also a squad that can develop to achieve podium performance in Tokyo."

Gaudoin was excited to offer opportunities to Brazel, Fitzpatrick and Hurtz having impressed during their appearances late in the year.

Victorian defender Brazel, 22, made her debut during the IFoH against the United States in Bendigo and impressed in eight appearances, having helped her state win the Australian Hockey League (AHL) in October.

"Lily has impressed during the opportunities she's had during the year," Gaudoin said. "She started off performing well at the National Camp in Canberra in March. She followed it up with an impressive Visiting Athlete opportunity in May prior to the World League semi-finals.

"She went on the Development Tour to Japan and impressed there and also played well in the AHL. She's had consistent solid performances throughout the year and has warranted inclusion."

Queensland 22-year-old forward Fitzpatrick, the sister of current Hockeyroo Madison, scored four goals in eight appearances after her inclusion late in the year, having previously tallied one goal in six caps in 2016.

"Savannah is not dissimilar to Lily where she's had consistent performances throughout the year," Gaudoin said. "Whenever she's had the opportunity to be involved with us to perform, she's been able to. She's hit a lot of goals.

"From a goal scoring perspective, she's shown that she can cut it at this level and we're looking forward to seeing what she can do in the next couple of years."

Experienced forward Hurtz, who was top scorer at the 2017 AHL with champions Victoria, successfully returned to the national set-up for the IFoH and the Adelaide Test series with four goals in eight appearances, having not represented Australia since 2014.

"It's fantastic that Emily is keen to be involved," Gaudoin said. "She was a stand-out performer at the AHL and the last couple of years as well.

"To have her back in is fantastic. She performed really well in her opportunities at the IFoH and in Adelaide. She brings a lot of experience as a 27-year-old into our group and is clearly good enough to be there."

Gaudoin also moved to recognise the contribution of the five players to be omitted from the squad.

Nanscawen, who competed at the 2012 Olympic Games and has made 205 appearances for Australia, has elected to take a break from hockey.

Dwyer, who has tallied 132 caps, is another departing Olympian having competed at last year's Rio de Janeiro Games, while Day has made 19 appearances after her debut in 2016.

"Georgia and Kirstin have been fantastic players and stalwarts for Australia for a number of years and have given everything to the sport," Gaudoin said.

"I commend their efforts and wish them luck in their future, along with Jacqui who has been a great addition to the squad for the past year.

"We'll give Laura and Kate another opportunity in the National Development Squad. Both are still young and have potential. We hope they take their opportunity being involved in the Development Squad to further improve."

The Selection Panel has decided to leave two spots open in the 2018 National Senior Women's Squad, with a squad of up to 27 players permitted.

The final two spots will be decided after the Hockeyroos' Test series against Spain in January in Perth.

SQUAD LIST

Athlete (Hometown, State)
Jocelyn Bartram (Albury, NSW)
Kristina Bates (Port Melbourne, VIC)
Edwina Bone (Orange, NSW) *Plays for ACT
Lily Brazel (Sydney, NSW) *Plays for VIC
Jane-Anne Claxton (Adelaide, SA)
Ashlea Fey (Sunshine Coast, QLD)
Madison Fitzpatrick (Cabarita Beach, NSW) *Plays for QLD
Savannah Fitzpatrick (Cabarita Beach, NSW) *Plays for QLD
Jordyn Holzberger (Ipswich, QLD)
Emily Hurtz (Sydney, NSW) *Plays for VIC
Stephanie Kershaw (Townsville, QLD)
Rachael Lynch (Warrandyte, VIC)
Karri McMahon (Berri, SA)
Georgina Morgan (Armidale, NSW)
Gabrielle Nance (Kingscliff, NSW) *Plays for SA
Kaitlin Nobbs (Newington, NSW)
Brooke Peris (Darwin, NT)
Madi Ratcliffe (Warrnambool, VIC)
Kathryn Slattery (South Stirling, WA)
Emily Smith (Crookwell, NSW)
Grace Stewart (Gerringong, NSW)
Renee Taylor (Everton Park, QLD)
Ashlee Wells (Morwell, VIC)
Mariah Williams (Parkes, NSW)
Georgia Wilson (Mahogany Creek, WA)

Hockey Australia media release


---

Hockey World Cup squad selected

by Helge Schütz



The chief administrator of the NSC Freddy Mwiya with the Namibian women's indoor hockey squad.

THE final 12-member squad to represent Namibia at the Indoor Women's World Cup in Berlin, Germany in February 2018 was named at the Namibia Sport Commission on Monday.

Four players were dropped from the 16-member squad that has been training and preparing under coach Erwin Handura for the past few months.

The unlucky players who missed the cut are Sonet Crous, Phia Gerber, Jerrica Bartlett and Jivanka Kruger, but they will be on stand-by as non travelling reserves.

The president of the Namibia Hockey Union, Marc Nel, however stressed that they still have a chance to make the team.

"Our executive committee is uncompromising about this. Should any player sustain an injury or not reach the required fitness level, she will immediately be replaced. At the 2011 World Cup we took an experienced player along who was injured, and in the end he only played for half a match, so that will not happen again," he said.

Handura said he had to make some tough decisions before selecting his final squad.

"Sometimes you have to make some tough decisions in life and as a coach they can make or break you. But I have done that and I have the utmost faith in my team," he said.

"I know the players and their parents will be disappointed, but you can't always get what you want and they must just work harder now," he added.

According to Handura, it is a well balanced team, with a total of 180 caps at an average of 15 per player, while the average age is 24.

"After the 2011 World Cup most of our players retired, but now we have a young squad that can grow and develop and in three years time we will have an experienced side for the next World Cup qualifiers," he said.

The most experienced player in the squad is captain Maggie Mengo who has 43 international caps, while other experienced players include the goalie Petro Stoffberg with 24 caps and Marcia Venter with 38 caps.

Other experienced members include Jocelle Deysel, Gillian Hermanus and Ina Louis, but it is mostly a young squad with several players still under 21 years of age.

They include Jeani Holz (17 years), Zani van Lill (18 years), Dure Boshoff (17 years) and the youngest member of the squad, Kiana Cormack who is only 16 years old.

Despite her youthful age, Cormack starred for KwaZulu Natal at the South African Inter Provincial Tournament last month where she finished as the second highest goal scorer at the tournament.

According to Handura the team recently completed an intensive training camp in Swakopmund where they were assisted by the Dutch national coach Marieke Dijkstra, who also arranged two training matches for Namibia against the national Dutch team at the end of January 2018.

Namibia, which is currently ranked 14th in the world, will be competing in a tough group at the World Cup, against Germany (ranked second in the world), the Czech Republic (third), Ukraine (seventh), Australia (eighth) and Russia (17th).

Handura, however said that world rankings would not deter them and that they are aiming to reach the quarterfinals.

"Our aim is to reach the quarterfinals. We only have to win two of our five group matches so its not that difficult," he said.

The Namibian squad is as follows:

Maggie Mengo (captain), Petro Stoffberg, Jocelle Deysel, Marcia Venter, Sunelle Ludwig, Ina Louis, Gillian Hermanus, Dure Boshoff, Jeani Holz, Kiana Cormack, Zani van Lill and Berencia Diamond.

The team management consists of Marietta Stofberg who is the head of delegation; the team manager, Tersia Venter; the head coach Handura, the assistant coach DJ Strauss, the conditioning and mental coach Manuel Carballo, the video analyst Maryke Short, and the technical advisor Nils Hedwig.

The Namibian


---

PAHF announces 2017 Pan American Indoor Elite Teams



Ali Campbell (USA) and Solomon Eccles (Trinidad & Tobago). Photo: Yan Huckendubler   

The Pan American Hockey Federation is pleased to announce the 2017 Pan American Indoor Elite Teams.

Since 2007, Pan American Elite Teams have been named every two years to recognize the top players in Pan American competitions. For the first time this year, separate Indoor Elite teams have been named to give deserved exposure to the top indoor players, and to the indoor game itself.

Hockey specialists present at the 2017 Indoor Pan American Cups in Georgetown, Guyana, were consulted for the selection of this year's Elite Teams.

The 2017 Men's Pan American Indoor Elite Team is led by charismatic Trinidadian captain Solomon ECCLES, who led his team to a spectacular Pan American title in Guyana. Three other members of the Trinidad & Tobago team that stayed unbeaten at the Pan American Cup earned a spot on the 12-man Elite roster: goal-keeper Ron ALEXANDER, Mickell PIERRE and Akim TOUSSAINT.  Toussaint is the only player to be nominated on both the outdoor and indoor PAHF Elite Teams.

Pan American Cup finalists Argentina are rewarded with three nominations, including their captain Joaquin GONZALEZ and young sensation Juan ELEICEGUI, who dazzled opponents and spectators with his speed and skills. Bronze medallists Canada also received three nominations, with veterans Jonathan ROBERTS and Micah TEIXEIRA joined by youngster Gurtej DHALIWAL.

Two players of Guyana, host of the successful Indoor Pan American Cups, were also voted onto the 12-man roster, with Robert FRANCE and goal-keeper Medroy SCOTLAND.

Altogether, the 2017 Men's Pan American Indoor Elite Team is made up of players from four different countries: Trinidad & Tobago (4), Argentina (3), Canada (3) and Guyana (2). The average age is just 28 years old.

The 2017 Women's Pan American Indoor Elite Team is headed by American sensation Ali CAMPBELL, top goal-scorer and Player of the Tournament at the Indoor Pan American Cup. She is joined by three teammates of the young USA team that stayed unbeaten in Guyana, earning for the first time a spot for their country in the incoming Indoor World Cup: Mary Beth BARHAM, goal-keeper Samantha CARLINO and Junior Player of the Tournament Sammy POPPER.

Silver medalists Argentina only lost by one late goal to the USA in the Final and are rewarded with the nomination of three players on the Elite roster, Luciana AGUDO, Carina GUZMAN and Maria NIMO. The Bronze Medal match between Uruguay and Canada was also a very close affair only decided by one goal, and two players of each team make their way onto the 12-woman squad, including goal-keeper of the Tournament Kathryn WILLIAMS (Canada).

Altogether, five countries are represented on the 2017 Women's Pan American Indoor Elite Team: USA (4), Argentina (3), Uruguay (2), Canada (2) and Guyana (1). The average age is 24.8 years old.
2017 Pan American Indoor Elite Teams
Men
 

Women

Ron ALEXANDER (GK) 
TTO
 
Luciana AGUDO
ARG
Agustin CEBALLOS
ARG
 
Mary Beth BARHAM
USA
Gurtej DHALIWAL
CAN
 
Ali CAMPBELL [C]
USA
Solomon ECCLES [C]
TTO
 
Samantha CARLINO (GK)
USA
Juan ELEICEGUI
ARG
 
Marzana FIEDTKOU
GUY
Robert FRANCE
GUY
 
Carina GUZMAN
ARG
Joaquin GONZALEZ
ARG
 
Alison LEE
CAN
Mickell PIERRE
TTO
 
Camila de MARIA
URU
Jonathan ROBERTS
CAN
 
Maria NIMO
ARG
Medroy SCOTLAND (GK)
GUY
 
Sammy POPPER
USA
Micah TEIXEIRA
CAN
 
Maria Teresa VIANA ACHE
URU
Akim TOUSSAINT
TTO
 
Kathryn WILLIAMS (GK)
CAN
Pan American Hockey Federation media release


---

Dungannon soar to top of Ulster Premier League



Action from Queens vs Lisnagarvey in the women's Irish Junior Cup. Pic: Billy Pollock

Dungannon have taken over at the top of the women's Ulster Premier League table after a 2-1 win over Randalstown at the Tyrone venue on Saturday, writes John Flack.

It's been a tremendous season so far for Dungannon who have dropped just one point from seven outings as the half-way mark draws near.

Jill Elliott put the hosts ahead in the 15th minute but Town levelled matters before the breakthrough Nicole Mott. Georgina McMullan scored the winner from the penalty spot in the 45th minute to secure Dungannon another excellent scalp.

Ballymoney, who had won their six previous games, were held to a 1-1 draw by Mossley, who are also having a fine campaign in their first season in the top-flight of Ulster hockey.

Nikki McMillan scored in the first half at the Joey Dunlop Centre before Rachel Minihan levelled after the break to rescue Money a point.

Rainey, who have joined Mossley in the top-tier for the first time this season have been enduring a tougher time but they secured their first win on Saturday. It was an important three points as they came against their fellow-strugglers North Down, Koren Ferguson hitting a hat-trick in the 3-0 victory in Magherafelt.

Banbridge, who started the day at the foot of the standings, have moved off the basement following a hard-fought 2-1 success over Ulster Elks at Havelock Park.

Charley Brush, who was a member of the local Academy's All-Ireland winning team last season, hit the winner after Judith Allen had equalised Paula Haugh's opener.

In Senior One, Lisnagarvey maintained their 100% record with a comfortable 3-0 win over CI Ladies at Comber Road, where two goals from Rachel Hewitt and one from Scarlet Holdsworth sealed the deal.

Raphoe kept in promotion contention with a narrow success over improving Armagh, Emma Harpur scoring the only goal of the game at Royal & Prior.

Victorians edged out Omagh 3-2 in Tyrone after trailing 1-0 at the break and then going 3-1 up with two goals from Emily Cutrona and one from Kim Porter before Aimee Buchanan's late response.

Ballyclare defeated Priorians by the same scoreline with goals from Jade Purdy, Tori Wallace and Jessica West with Grace Hand and Nicola Lowry replying for the Co Derry visitors.

Ballymena, who will meet Garvey in the Senior Cup final on December 31st, crushed Knock 10-0 at the Co Antrim venue where Claire Gillespie hit four and Rebekah Reynolds weighed in with a hat-trick.

In the Irish Junior Cup, goals from Beth Ravey and Annabel Hylands gave Queen's a 2-0 win over Lisnagarvey while Becky Gamble was on the mark for Harlequins in a 1-0 victory over Muckross and Ulster Elks had a walkover against Ashton.

In the men's Ulster Premier League, leaders Bangor threw away a 2-0 lead to draw 2-2 with Belfast Harlequins while title favourites Instonians were held 1-1 by Mossley.

Chris Campbell and Ryan Burgess scored to put the seasiders in the driving seat but Quins struck back through Adam Tweed and Jonny Wilson, with all the goals coming in a frantic first half.

Stephen Kelso got the Instonians equaliser 12 minutes after the break at the Glade after Ryan Lyall had put the Kirk Cup finalists in front in the 26th minute while there were also wins for Civil Service, Portadown and South Antrim.

Service defeated Antrim 4-3 helped by two goals from the prolific Chris Barnes as Jason Roe's hat-trick for Antrim was all in vain.

Matty Winter and Jordan Brown got the goals for the Ports in their 2-0 win over Queen's while South piled more misery on Raphoe with a 6-1 success in Donegal where Johnny Brown and Chris Henry each scored twice.

The game between North Down and Newry ended in a 1-1 draw with Keith McWilliams on target for the border team after Josh Gilmore had put the Comber side ahead.



Action from Queen's vs Portadown in the Ulster Premier League. Pic: Billy Pollock

Bann's seconds were among the five Ulster men's teams to progress to the third round of the Irish Junior Cup, Rory Woods hitting a hat-trick in a 5-2 win over YMCA.

Will Millar got both Instonians goals in a 2-0 win over Cork C of I while there were also victories for Kilkeel, Lisnagarvey and North Down.

Meanwhile, the countdown is for Wednesday's McCullough Cup final between Friends' and Sullivan Upper at Lisnagarvey (2pm).

Andrew Edgar was the hat-trick hero on as Friends' defeated Methodist College 3-1 to move within 70 minutes of a first McCullough triumph for 37 years.

Friends' led 2-0 at half-time but rode their luck a little at the start of the second period as Methody went close on a couple of occasions. The Belfast lads did pull a goal back but any chance of a comeback was dashed shortly afterwards when Edgar completed his treble.

Edgar broke the deadlock early on when he sent a drag flick high into the net following a penalty corner.
He added a second goal in similar fashion before the break to leave Methody with it all to do.

But they fought back gallantly and struck the crossbar and then forced Friend's keeper Ryan Kirkpatrick into a great save.

Methody eventually reduced the deficit when team captain Michael Patterson netted a set-piece. However, Friends' wrapped up the win when Edgar completed his hat-trick seven minutes later from yet another corner to send his team into the final.

WOMEN
Ulster Premier: Ballymoney 1 (R Minihan) Mossley 1 (N McDowell); Banbridge 2 (P Haugh, C Brush) Ulster Elks 1 (J Allen); Dungannon 2 (J Elliott, G Mulligan) Randalstown 1 (N Mott); Rainey 3 (K Ferguson 3) North Down 0; Portadown v Lurgan postponed.

Senior One: Ballyclare 3 (J Purdy, T Wallace, J West) Priorians 2 (G Hand, N Lowry); Ballymena 10 (C Gillespie 4, R Reynolds 3, A Logan, C McCracken, E Anderson) Knock 0; Lisnagarvey 3 (R Houston 2, S Holdsworth) CI 0; Omagh 2 (L Pinkerton, A Buchanan) Victorians 3 (E Cutrona 2, K Porter); Raphoe 1 (E Harpur) Armagh 0.

MEN
Ulster Premier League: Bangor 2 (C Campbell, R Burgess) Belfast Harlequins 2 (A Tweed, J Wilson); Mossley 1 (R Lyall) Instonians 1 (S Kelso); Queen's 0 Portadown 2 ( Winter, J Brown); Civil Service 4 (C Barnes 2, C Bannister, M Willis) Antrim 3 (J Rowe 3); Raphoe 1 (W Kilpatrick) South Antrim 6 (J Brown 2, C Henry 2, A Glass, R Brown); North Down 1 J Gilmore) Newry 1 (K McWilliams).

SCHOOLS
McCullough Cup semi-final: Friends' 3 (A Edgar 3) Methody 1 (M Patterson)

The Hook


---

Western Jaguars disrupt Police rhythm in men's title race

By BRIAN YONGA



Festus Onyango of Strathmore University Gladiators (left) tries to evade a challenge from Brian Musasia of Butali during their Kenya Hockey Union men's Premier league match at City Park Stadium on December 2, 2017. PHOTO | MARTIN MUKANGU | NATION MEDIA GROUP

Western Jaguars' defeat of leaders Kenya Police over the weekend slowed down the law enforcers' ambitions of clinching the Kenya Hockey Union men's Premier League title race.

The 1-0 defeat away at the Kakamega High School grounds saw their lead at the top cut from 15 points to 10 points with six matches left. It was also their first loss of the season after 21 matches.

And with second-placed Butali Sugar Warriors having a game in hand over their arch-rivals, the deficit could come down to seven points.

While Police are still in pole position to clinch their first title since 2013, they have a tricky run-in as compared to Butali.

On Sunday, they take on third-placed Greensharks, who have proved tough to beat this season, and defeat in that game will further complicate matters for them.

Having won 20 out of 21 matches before Saturday's loss to Jaguars, it therefore came as a surprise especially against a team battling the big drop.

Police coach Kenneth Kaunda has challenged his charges to maintain their focus and not 'self-destruct' at this crucial stage.

"Our mental shape will be tested over the coming matches and we need to be composed because we are still in pole position to clinch the title," Kaunda said.

It was the first time this season that Police have failed to score in a match despite creating a host of chances. Butali collected six points to move one spot to second place with 51 points.

The Kisumu-based side claimed hard fought victories against champions Strathmore University Gladiators and USIU to leave Nairobi with six points. They will be hoping that Police falter in their coming matches so that the deficit can further be reduced.

"We battled hard to get the six points and we will continue wining our games and put pressure on Police and hopefully something will give, it's not over yet," Butali coach Godfrey Wakachunga said.

Sharks dropped to third spot despite their 2-1 win over Wazalendo which sees them move to 49 points.

USIU and Wazalendo round off the top five places. At the bottom, Jaguars' impressive win moved them a point off the relegation zone. They are placed 13th with 21 points, one ahead of second-from-bottom KU Vultures.

In the women's Premier League, Amira Sailors and Strathmore University Scorpions closed in on second place after wins in their respective matches.

Telkom and USIU, who were not in action this weekend, are on 45 points and 34 points respectively. Sailors and Scorpions are both tied on 33 points and occupy third and fourth place respectively.

Daily Nation


---

 'I am into developing new forms & formats', says Floris Jan Bovelander

The former Netherlands hockey player urges on the need to go in for an alternate surface to play on

Uthra Ganesan



Floris Jan Bovelander. 

Floris Jan Bovelander, the 51-year old Dutchman synonymous with immaculate drag-flicks and thundering hits, still continues to draw crowds when talking about hockey and keeps travelling across the world doing so.

With a World Cup and Olympic gold against his name and 216 goals in 241 matches, his fierce shots earned him the moniker 'Boem Boem Bovelander'.

Arriving here for a brief visit during the ongoing Hockey World League Finals on Sunday, Bovelander spoke to the The Hindu about a wide range of topics including the need to develop an alternate surface to play on if hockey wanted to become truly global and get more countries into the fold.

Excerpts

How would you rate the current crop of drag-flickers and PC executions?

I think all teams have good drag-flickers now. But there is room for improvements, inventions and new tactics. I still don't know why they (the players) have to refuse the hit, it can be very effective.

Running also has become very good so there is just a small angle to score. It is always nice to have 1-2 new tricks. Maybe I will come up with something!

As a PC expert, how do you see the experimental rules of awarding more points for a field goal?

I think you can do it as long as the attacking team gets the advantage. If you are two goals up you can easily give a PC because it won't be a big deal. It is also in the mind. When you are 3-4 goals down you can still feel you can win and that brings excitement. We have to think about how to keep hockey attractive for everyone.

What do you make of Hockey 5s and mixed team events?

I think the excitement of Fives is good, the thrills and speed is really good and if you have a shorter game with lesser players and smaller pitch it should be exciting. As for the other question, the event is ok if you mix but men and women playing together, it's difficult. We are just not built the same. So if it's competing in a physical game, it's not always fair.

What future do you see for the newer formats?

I was part of the group that set up rules for beach hockey back in Holland 10 years ago, so I am really into developing new forms and formats of hockey. I think new formats are really good.

One big problem is that modern hockey is played on artificial pitch and if you want hockey all over the world, having no artificial pitch would be better. Maybe we need to try and look at grass or beach hockey. It's a totally different game. You cannot simply go back to grass again, you have to make a totally new kind of game like beach or ice hockey.

The Hindu