All the news for Monday 4 December 2017

Odisha Men's Hockey World League Final Bhubaneswar 2017 - Day 4

Results Day 3
Pool A BEL v ESP 5 - 0
Pool A NED v ARG 3 - 3

Fixtures Day 4 (time GMT +5:30)
17:30 Pool B AUS v ENG
19:30 Pool B IND v GER

Standings
Pool A
 

| Rank | Team | GP | W | D | L | GF | GA | GD | P |
| --- | --- | --- | --- | --- | --- | --- | --- | --- | --- |
| 1 | Belgium | 2 | 2 | 0 | 0 | 8 | 2 | 6 | 6 |
| 2 | Spain | 2 | 1 | 0 | 1 | 3 | 7 | -4 | 3 |
| 3 | Argentina | 2 | 0 | 1 | 1 | 5 | 6 | -1 | 1 |
| 3 | Netherlands | 2 | 0 | 1 | 1 | 5 | 6 | -1 | 1 |

Pool B
 

| Rank | Team | GP | W | D | L | GF | GA | GD | P |
| --- | --- | --- | --- | --- | --- | --- | --- | --- | --- |
| 1 | Germany | 2 | 1 | 1 | 0 | 4 | 2 | 2 | 4 |
| 2 | England | 2 | 1 | 0 | 1 | 3 | 4 | -1 | 3 |
| 3 | Australia | 2 | 0 | 2 | 0 | 3 | 3 | 0 | 2 |
| 4 | India | 2 | 0 | 1 | 1 | 3 | 4 | -1 | 1 |
---

Red Lions move clear at top of Pool A on Day 3 of Odisha Men's Hockey World League Final Bhubaneswar 2017



Belgium's Red Lions made it two wins from two matches at the Kalinga Stadium. Copyright: FIH / World Sport Pics

Bhubaneswar, India: Belgium continued their excellent start to the Odisha Men's Hockey World League Final 2017 event, claiming a second successive victory to take control of Pool A at the end of Day 3 in Bhubaneswar, India.

Belgium's Red Lions (FIH Hero World Ranking: 3) claimed a 5-0 win against the Red Sticks of Spain (WR: 9), adding another three points to those collected in Saturday's triumph over Olympic gold medallists Argentina.

While the Belgians were seen as the pre-match favourites, Spain's impressive win over the Netherlands on Saturday ensured that they had good reason to feel confident about their own prospects.

Belgium needed just three minutes to make the first mark on the scoreboard when Floren van Aubel dived at full stretch to squeeze in a shot from a tight angle, making the most of an opportunity created by Red Lions captain Thomas Briels.

Spain gave as good as they got in their opening two periods before Loick Luypaert netted a rasping penalty corner drag-flick midway through the third quarter to give Belgium breathing space.

Three goals in the final three minutes of the match perhaps gave a rather flattering look to the score-line, with Luypaert completing has hat-trick with a penalty corner and a penalty stroke either side of an open play effort from the ever impressive Cedric Charlier.

The result put Belgium onto six points in Pool A, ensuring that they would finish the day three points clear of their nearest rivals even before the start of the evening match between Olympic champions Argentina and European champions the Netherlands.

Talented Dutch youngster Thierry Brinkman showed a killer instinct in front of goal in the 12th minute, smashing home the opening goal of the game with a wonderful first time strike past onrushing Argentina goalkeeper Juan Vivaldi.

The Netherlands doubled their lead in the third quarter when Valentin Verga was allowed to charge into the circle unchallenged before unleashing a vicious shot into the bottom right corner, giving the Rio 2016 Olympic gold medallists a mountain to climb.

It was a challenge that Los Leones accepted wholeheartedly, dragging themselves level with two improvised goals following mis-trapped penalty corners. Matias Rey netted just before the end of the third quarter, with the influential Lucas Vila brilliantly converting a close-range deflection into the top corner with ten minutes remaining.

The Netherlands moved back ahead with five minutes left to play when Mirco Pruijser scored from a penalty corner, but Argentina refused to be beaten and claimed a dramatic 3-3 draw thanks to yet another crucial penalty corner strike from Gonzalo Peillat with less than a minute remaining. It was a fitting conclusion to a thrilling game that was enjoyed by another big crowd at Bhubaneswar's Kalinga Stadium, although the result left both teams in the bottom half of the Pool A table.

"If you are two goals ahead and then one goal up with half a minute to play then you really should win the game, so we'll need to take a look at that but it was a good game to watch", said Joep de Mol of the Netherlands, the Junior Player of the Match, presented by ONGC. "It is nice to get the appreciation with the junior prize, but I'd prefer to have win 3-2 and somebody else gets the award." 


The competition continues on Monday 4th December with two matches in Pool B. Reigning world and Hockey World League champions Australia face England at 1730 Indian Standard Time (UTC: +5.30) before home favourites India take on pool leaders Germany at 1930.

RESULTS – DAY 3

Pool A: Belgium 5, Spain 0.

Man of the Match, presented by Odisha New Opportunities: Arthur van Doren (BEL)

Junior Player of the Match, presented by ONGC: Arthur de Sloover (BEL)

Pool A: Netherlands 3, Argentina 3.

Man of the Match, presented by Odisha New Opportunities: Valentin Verga (NED)

Junior Player of the Match, presented by ONGC: Joep de Mol (NED)

#HWL2017

FIH site


---

Belgium thrash Spain 5-0; Argentina equalise late to draw against Netherlands



Belgium players react after their win over Spain. Image courtesy: Twitter @FIH_Hockey

Bhubaneswar: Olympic champions Argentina survived a scare and scored a late equaliser to eke out a hard-fought 3-3 draw against European winners Netherlands in a thrilling Pool A match of the Hockey World League (HWL) Final on Sunday.

World No 1 Argentina, who lost 2-3 to Belgium in their tournament opener, twice came from behind to earn a draw and register their first point in the eight-nation event.

The draw also enabled Netherlands to garner their first point in the tournament after they were stunned 2-3 by lowly Spain in their opening game.

After Netherlands took a 2-0 lead through Thiery Brinkman (9th minute) and Valentin Verga (37th), the Los Leones made a valiant fightback to draw level through penalty corner strikes from Matias Rey (45th) and Lucas Vila.

Nertherlands, however, managed to restore their lead in the 55th minute when Mirco Pruijser scored from a penalty corner before Gonzalo Peillat converted a set piece a minute from the hooter to help Argentina share the spoils.

Earlier in the day, Loick Luypaert scored the first hat- trick of the tournament as Olympic silver medallists Belgium spanked lower-ranked Spain 5-0 to register their second consecutive win.

Spain are the lowest ranked team in the tournament at ninth but they created a flutter on the second day by shocking two-time Olympic gold medallists and reigning European champions Netherlands 3-2 in their tournament opener.

But the Red Lions taught the Spaniards a hockey lesson and pumped in as many as five goals that included three in the final three minutes of the game.

Florent van Aubel (3rd minute), Luypaert (38th, 57th and 59th) and Cedric Charlier were the scorers for Belgium.

Argentina will play Spain in the final pool match on Tuesday while Netherlands will be up against Belgium.

Firstpost


---

Red Lions continue to burn it up in Bhubaneswar



©: Frank Uijlenbroek / World Sport Pics

Belgium continued their excellent start to the Odisha Men's Hockey World League Final 2017 event, claiming a second successive victory to take control of Pool A at the end of Day 3 in Bhubaneswar, India.

Belgium's Red Lions claimed a 5-0 win against the Red Sticks of Spain adding another three points to those collected in Saturday's triumph over Olympic gold medallists Argentina.

Belgium needed just three minutes to make the first mark on the scoreboard when Dragons' Floren van Aubel dived at full stretch to squeeze in a shot from a tight angle, making the most of an opportunity created by Red Lions captain Thomas Briels.

Spain gave as good as they got in their opening two periods before Loick Luypaert netted a rasping penalty corner drag-flick midway through the third quarter to give Belgium breathing space.

Three goals in the final three minutes of the match perhaps gave a rather flattering look to the score-line, with Luypaert completing has hat-trick with a penalty corner and a penalty stroke either side of an open play effort from the ever impressive Cedric Charlier from Racing Club de Bruxelles.

The result put Belgium onto six points in Pool A, ensuring that they would finish the day three points clear of their nearest rivals even before the start of the evening match between Olympic champions Argentina and European champions the Netherlands.

HC Blormenedaal's Thierry Brinkman showed a killer instinct in front of goal in the 12th minute, smashing home the opening goal of the game with a wonderful first-time strike past onrushing Argentina goalkeeper Juan Vivaldi.

The Netherlands doubled their lead in the third quarter when Valentin Verga was allowed to charge into the circle unchallenged before unleashing a vicious shot into the bottom right corner, giving the Rio 2016 Olympic gold medallists a mountain to climb.

It was a challenge that Los Leones accepted wholeheartedly, dragging themselves level with two improvised goals following mis-trapped penalty corners. Matias Rey netted just before the end of the third quarter, with the influential Lucas Vila brilliantly converting a close-range deflection into the top corner with ten minutes remaining.

The Netherlands moved back ahead with five minutes left to play when Mirco Pruijser scored from a penalty corner, but Argentina refused to be beaten and claimed a dramatic 3-3 draw thanks to yet another crucial penalty corner strike from Gonzalo Peillat with less than a minute remaining.

It was a fitting conclusion to a thrilling game that was enjoyed by another big crowd at Bhubaneswar's Kalinga Stadium, although the result left both teams in the bottom half of the Pool A table.

"If you are two goals ahead and then one goal up with half a minute to play then you really should win the game, so we'll need to take a look at that but it was a good game to watch", said Oranje-Rood's Joep de Mol, the Junior Player of the Match.

The competition continues on Monday with reigning world and Hockey World League champions Australia facing England before home favourites India take on pool leaders Germany.

Euro Hockey League media release


---

Red-hot Belgium go top of pool A after crushing Spain 5-0

Feroz Khan

BHUBANESWAR: After the high of stunning Netherlands, Spain came crashing down on Sunday as Belgium bossed over them in a one-sided contest of the Hockey World League Final to record their second consecutive win. With a 5-0 win, Belgium moved to the top of the standing in Pool A with six points from two games.

Loick Luypaert (38', 57', 59') scored a hat-trick while Florent van Aubel (3') and Cedric Charlier (58') scored one goal each. Belgium were simply unstoppable in the final quarter during which they scored three goals to add to their tally of two from the first three.

Defensive error saw Spain concede an early goal after Dorian Thiery was left free on the right flank with Belgium players flooding the other half. As a result, he played to captain Thimas Biels inside the D whose shot was blocked by Quico Cortes but Florent van Aubel did well to tap that inside to put his team 1-0 ahead in the third minute.

Belgium could have easily doubled their lead when Josep Romeu held the ball for too long inside Spain's half. And soon he was swarmed by Belgian forwards. Panicked, his back pass fell to Amaury Keusters after hitting an opposition forward. Kesuters was right in front of the goal and had all the time in world to strike that home but Cortes was well placed.

But just a goal behind, Spain were still in the game at the first half. But their captain Miguel Delas conceded shoved a Belgian forward from behind and ended up conceding a penalty corner. Loick Luypaert converted it to double the lead.

Spain dropped the intensity further allowing Belgium more chances to penetrate the circle. They conceded another penalty corner and Luypaert made no mistake. The fourth goal was a beauty with captain Thomas Briels feeding an excellent pass on the move after glancing there was space to his right, away from the Spain defenders and finding Cedric Charlier bang in front to put the ball in. By this time, Spain had surrendered and conceded an unnecessary penalty stroke. Belgium gave Luypaert a chance to score his third and he succeeded. Belgium had pumped three goals in three minutes.

Belgium next face Netherlands while Spain take on Argentina on Tuesday.

The Times of India


---

Argentina leave it late for thrilling 3-3 draw vs Netherlands

Feroz Khan

BHUBANESWAR: It was a match that would have been expected of between the current Olympic champions Argentina and the European champions Netherlands. The nearly full Kalinga Stadium crowd witnessed a breathtakingly finale as Argentina came from behind, twice, to hold Netherlands 3-3.

Netherlands were handed a two-goal lead by Thierry Brinkman (12') and Valentin Verga (37') before losing that in the space of five minutes. Matias Rey (45') and Lucas Vila (50') scored through penalty corners to draw level in the second half. But Mirco Pruijser again restored the lead for the Orjanje before Gonzalo Peillat scored in the final 30 seconds to ensure his team ends on equal footing.

Brinkman scored the opener of the night after Verga began the move from the midfield and passed to Seve van Ass on his left. Van Ass then dodged a defender and then threaded the gap between two Argentine defenders for Brinkman to apply the final touches. Verga turned from provider to scorer in the second half when he slotted home from the top of the D.

Argentina were then a bit lucky two fire two goals and draw level. Both goals came via penalty corner but not before they failed to trap the ball cleanly. On the first occasion, it fell nearby after deflecting off the stick and Ignacio Ortiz got control to pass it to Agustin Mazzilli to his right whose shot from an angle went inside after Rey got the final touch. The next trap went farther but Juan Lopez pounced on the ball and pushed inside the D where Vila deflected it over the diving goalkeeper's head.

The comeback was complete and now the world no. 1 Argentina were looking for the winner. But it was the Dutch who once again went ahead with an opportunistic Pruijser tapping it in. Argentina desperately began their search for the equaliser and sent the crowd roaring with goal in the dying moments. Netherlands would rue missing six of their seven penalty corners while their opponents won't be too pleased with their own efforts despite managing to convert three out of seven.

Netherlands next face group topper Belgium while Argentina square off against Spain on Tuesday.

The Times of India


---

We could've won but a point is good: Lucas Vila

Feroz Khan

BHUBANESWAR: Argentine forward Lucas Vila said his team could have won the match against Germany after they played out a thrilling 3-3 draw in the Hockey World League Final on Sunday.

"Our second half was really good. In the last quarter, we had our chances we pressed up a lot. Could have won the game but at least we have point," he said after the match.

Argentina were messy with their penalty corners, failing to make clean traps on multiple occasions but were lucky to still score thrice that enabled them to secure a point from the contest. But it came on that half of the pitch which has come under some criticism from teams in the past.

Players of the likes of India captain Manpreet Singh have also complained of a 'bump' on the D. Vila too laid the blame on the uneven surface saying the team might speak to International Hockey Federation (FIH) to get it rectified.

"I don't know exactly what's going on there. Holland had the same problem. We tried changing spots but we couldn't trap. There seems to be some problem. We are going to talk to the FIH. If it doesn't help, then we have to work our way around it," he said.

Like other top teams, Argentina has also seen a lot of junior players making it to the national team and Vila, at 31, is a senior member of the team and says it's their job to help the youngsters grow. "We have around seven new players in the team. We have to keep it competitive between each other. We have to make the young boys better. It's an honour to be a part of this team because we have produced brilliant results in the past one year," he said.

On which areas, his team must improve on, Vila said, "I think in both the circles (defensive and offensive). We need have to concede less penalty corners and need to get more of them for Gonzalo (Peillat) to score."

The Times of India


---

Stats Speak: Barry Middleton is 5th most capped player in annals of hockey, will play 400th match in Bhubaneswar today

By B.G.Joshi (in Kalinga Hockey Stadium-Bhubaneswar)

Barry John Middleton (born Jan 12, 1984) has been playing since 2003 for England (254 caps) and Great Britain (145 caps).Barry was the captain when England won Euro Hockey Nations Cup (Amsterdam-2009).

Midfielder cum forward Barry has played 4 Olympics (2004, 08, 12, 16). He is 5th most capped player in annals of hockey reaching 400 match milestone today(Dec 4,2017) in front of huge hockey fans in Kalinga Stadium.

Here are the statistical highlights of all 5 legends of international hockey:
Caps

Goals

Scored

Player

Country

Duration

OG

App

FIH/Continental

Gold Medals

453

219

Teun de Nooijer

Netherlands

1994-2012

5

OG-2,WC-1,CT-6,EC-1

412

77

Dilip Tirkey

India

1995-2009

3

AG-1,AC-2

410

37

Waseem Ahmad

Pakistan

1996-2013

3

AG-1

401

10

Jeroen  Delmee

Netherlands

1994-2008

4

OG-2,WC-1,CT-6,EC-1

399*

113

Barry Middleton

England

2003-active

4

EC-1
*includes Great Britain

Fieldhockey.com


---

India versus Germany at a glance

By B.G.Joshi (in Kalinga Hockey Stadium-Bhubaneswar)
Particulars

MP

W

D

L

GF

GA

Total

96

18

26

52

145

212

In HWL

3

1

2

0

9

8

Last Five

5

0

2

3

6

13

Last played in June  2017 Dusseldorf tourney, lost 0-2
FIeldhockey.com


---

 India seeks to fix the chinks in its armour

Misfiring forwards a big concern for coach Sjoerd Marijne

Uthra Ganesan



Talking tough: Coach Sjoerd Marijne tells Mandeep Singh to get his act together. Photo Credit: Biswaranjan Rout

An entire hour of practice in blistering sun was spent trying to get the ball into the goal through every possible combination and from every angle. Some of the shots went out, several made it to the backboard but a majority were saved by the two goalkeepers, highlighting the biggest concern for coach Sjoerd Marijne ahead of the India's final league match against Germany.

Two years ago, The Hindu had carried a report, about the Indian team in the previous edition of this very tournament, citing how the team 'needed to be more consistent'.

The team might have achieved several highs and lows in the intervening period but the issue of consistency remains unresolved.

India was aggressive yet sublime in its first match against Australia but was lethargic and tried to roughshod its way past England. Neither helped the team win but Marijne would have preferred the former any day, sticking to the gameplan and holding the structure firm.

He would also prefer the first to turn up for every game India plays.

"We have seen our videos from the England match and are aware of the errors and weaknesses. "We are working on working out the chinks in our game and looking to build consistency," the Dutchman said after the strenuous training on Sunday.

Gurjant Singh and Mandeep Singh have failed to get the final touch in and, worse, mis-trapped often inside the striking circle.

The penalty corners haven't produced enough returns either despite the presence of a triple-battery of drag-flick experts and a couple of hitters.

But pointing out individuals to blame in a team effort that left a lot to be desired wouldn't be fair.

Belgium swamps Spain

Three goals in as many minutes saw Spain go from simply losing a game to being thrashed comprehensively by World No. 2 Belgium, suffering a 5-0 loss here on Sunday.

The other match saw Argentina fight back thrice to draw 3-3 with Netherlands.

The results (Pool A):

Belgium 5 (Loick Luypaert 3, Cedric Charlier, Florent van Aubel) bt Spain 0; Argentina 3 (Lucas Vila, Matias Rey, Gonzalo Peillat) drew with Netherlands 3 (Thierry Brinkman, Valentin Verga, Mirco Pruijser).

The Hindu


---

Fickle India have a German test

After losing to England, hosts will be keen to make amends when they take the field today

Indervir Grewal

The hosts blowing hot and cold in the first two days has made it hard to predict which Indian team will turn up for the match against Germany. The one that showed "less energy" and made "more mistakes" in the match against England, or the "disciplined" one that played to its plan of fast, one-pass hockey against Australia?

One thing, however, is certain — Germany will be ready for the latter. And if they catch the Indian team having another slow start, it is unlikely the wily Germans will give the hosts a chance to get back into the match, like England did on Saturday.

The four-time Olympics champions have shown the most consistency till now, winning one and drawing one match to top the pool. India coach Sjoerd Marijne, on the other hand, has been complaining about his team's lack of consistency.

Need energy

"We watched the match (against England) again," Marijne said after India's training session on Sunday. "A lot of things need to improve. In the Australia match, we were disciplined. Against England, we made more mistakes and had less energy."

The Dutchman added that the match against Germany was an opportunity to do the good things they had trained for, and to find some consistency.

India had a light training session under the high afternoon sun, with a cool wind making it a pleasant day to be out on the blue turf. The players were relaxed and in a jovial mood — they seemed to have shaken off the disappointment of Saturday's defeat.

There was a serious discussion after the England defeat, though — as was the norm after every match, Marijne said. "Yeah, we had discussion at length," said young defender Varun Kumar. "We are ready for the next match."

Relax!

But on the field on Sunday, the support staff tried to create a relaxed atmosphere. After training, the players, along with Marijne, divided themselves into two teams and had a scoring competition. Whenever Marijne ran in from the 25-yard line to shoot at goal, the players started cheering. But the Dutchman couldn't score once. A rusty-looking Marijne shooting at goal wasn't the prettiest of sights. But national team players rooting for their coach like a bunch of boisterous kids, less than a day after suffering a morale-crushing defeat, was an encouraging sight.

Inexperienced defence

Just like India, Germany have also come to Bhubaneswar with a young and inexperienced defence.

While the Indian defence includes Harmanpreet Singh (48 international caps), Varun Kumar (12), Dipsan Tirkey (12) and Amit Rohidas (35), there are two in the German team who have so far not even played 10 games.

Apart from captain Martin Haner, who completed his 200th game here, Germany has Phillipp Huber (8), Julius Meyer (30), Johannes Grosse (5), Dieter Linnekogel (34) and Ferdinand Weinke (23). Which bunch of youngsters will keep the nerves?

Belgium not happy with 5-0 win   

Belgium eased past Spain 5-0 but Man of the Match Arthur van Doren was not happy with the team's performance. "We didn't play our best," said FIH Young Player of 2016 Doren. To be fair to Spain, three of the Belgian goals came in the last four minutes; till then, Spain had matched the Olympics silver medallists. Loick Luypaert got a hat-trick.

Draw between champions

Drag-flicker Gonzalo Peillat scored a goal in the final seconds as Olympics champions Argentina twice came from behind to play out a thrilling 3-3 draw with European champions Netherlands.

The Tribune


---

Consistency is the keyword for coach Sjoerd Marijne

Feroz Khan

BHUBANESWAR: The Indian hockey team lacked energy in the beginning of their second match of the Hockey World League Final against England on Saturday, says coach Sjoerd Marijne and he wants his wards to display the same level of discipline as against Australia.

"Against Australia, we were extremely disciplined. Against England, there was a little less energy and when you do that against these opponents in the beginning, it becomes difficult to create chances. That was one of the differences. We made more individual mistakes. The speed of the game against Australia was better. We kept the ball a little longer. We have to improve the marking," he said on Saturday.

When asked whether the team management came out with a different strategy, Marjine said, "The strategy was same as against Australia. Like the first game, we had chances in the beginning, we made good interceptions. However, after making those interceptions, we kept the ball too long and too much at the back."

He said to win matches in the future the team has to exhibit with the same energy levels. "There are a lot of things that we can improve from yesterday's match. Germany is an opportunity to improve ourselves. During the fourth quarter, we were much better. We are here to win matches and for that we need to be more consistent," the 43-year-old observed.

Against England, there were few individual mistakes which cost India the game but the coach refused to put the blame on anyone. "When a goal is scored against you then it's not just one person's mistake. It's team's. And it starts from the front," he said.

He advised the team to keep the pace of the game high which will allow them to play to their strength. "We are creative and that's our quality. I believe we should focus on ourselves rather than the opponents. Things have to move faster. Failing that, we won't be able to play our best game," Marjine said.

The Times of India


---

Inconsistent India eye improvement against Germany

Feroz Khan

BHUBANESWAR: After losing to England on Saturday night, the mood in the Indian camp was sombre. At the press conference, Manpreet Singh's expression gave away the disappointment of the defeat. He knew his team had committed several mistakes despite raising their game in the final quarter.

Sunday was an off-day for Indian team. When other teams cancelled their practice sessions, coach Sjoerd Marijne marches in with his troops. The aim of the session was to lift the mood and put them in a better space before their last league match of the Hockey World League Final against Germany on Monday.

After the regular drills, the group was divided into two and pitted against each other for a penalty shootout with the two goalkeepers - Akash Chikte and Suraj Karkera taking turns to guard the cage. The winners celebrated wildly along with the coach. The purpose of session apart from working on mistakes had been fulfilled.

The Indian team has put up two contrasting performances in the space of 24 hours. In the opening match against Australia, they delighted with lighting quick passes and high pressing game upfront catching the defending champions by surprise. In the opening quarter, which they so thoroughly demented, several opportunities to score goals were created. When Australia finally came into their own, they put up a solid defence and ended up with a satisfactory 1-1 draw.

Then, a day later, they faced England - a team ranked one place lower and one they would have fancied winning against. They began well but it was England who drew the first blow. And by the hosts recovered, it was too late. The result was a disappointing 3-2 defeat. The quick releases, incisive passes went missing. And when they finally attacked, the defence committed two glaring errors.

Now they face Germany, a team that is not going to allow them easy chances. They are a team who are more than happy to defend and catch their opponents unaware with dangerous counterattacks. They have beaten England 2-0 and played a nail-biting 2-2 draw with Australia. India will be tested on both the fronts - defence and attack. What is more worrying is their inability to score through penalty corners. They did score two on Saturday but have failed on seven occasions across two matches. Clearly, an area they need to improve massively.

Against Australia, we were extremely disciplined. Against England, there was a little less energy and when you do that against these opponents in the beginning, it becomes difficult to create chances. That was one of the differences. We made more individual mistakes," Sjored said on Saturday.

Although the result won't affect their chances of qualification for the knockouts, a win would serve as a confidence booster and put them mentally in a good space ahead of more stern and testing phase.

The Times of India


---

Find the right zone

Since Rio Olympics, teams are shifting from man-to-man to zonal marking system

Indervir Grewal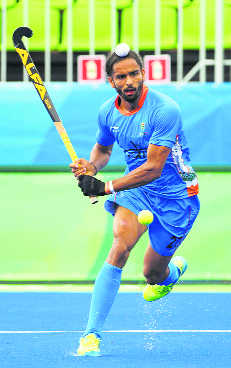 Argentina and Belgium surprised the world last year when they played in the final of the Rio Olympics. The two upcomers in world hockey outclassed the old masters to set up a final between first-timers. Both Argentina and Belgium played the zonal defensive system. "In Rio, we and Argentina were the two teams playing the zonal system," said Belgium player Loick Luypaert.

A year later, most teams have shifted from man-to-man to zonal defence. "We were may be the first team to make the shift a few years back," added Luypaert. "Now, other teams have also started playing this system."

In the zonal system, each player mans a zone, rather than marking an opponent. However, the change isn't black or white. Earlier, the teams preferred a mix of zonal and man-to-man marking, the latter prevalent in central midfield and the back. Now, even the back three of most teams man their zones. But they do shift to man-to-man according to different situations.

Faster game

"Hockey is evolving. In today's fast game, you must be really, really fit for the man-to-man system," said Luypaert, giving a reason for more teams preferring zonal marking. One of the benefits, he said, was that "it seems there is space when there isn't".

The system isn't just better for defending, it also assists in starting swifter attacks, said senior Netherlands defender Sander Baart. "We want the players to be in their positions," said Baart. "In man-to-man, sometimes a left forward can end up on the other side of the field… So, when we steal the ball, we want players in the right positions."

While the Netherlands made the switch right after the Olympics, for teams such as India and Germany, the Hockey World League Final has been the perfect platform to try out the system at the top level. India first tested the system on the Europe tour a couple of months back, under former coach Roelant Oltmans. In their opener in Bhubaneswar, India made it tough for Australia to find a way through the middle as the hosts, for most part, were fabulous as a unit.

In Bhubaneswar, it has been mesmerising to watch the teams move in unison as the ball shifts from flank to flank. When the players have got it right, it has looked like a choreographed performance, with perfect V or diamond formations all over the blue field.

More communication

"In zonal system, every player is as important and as involved," said German captain and senior defender Martin Haner, when asked how he bears the burden of marshalling a very young defence. "It starts from the forwards back to the midfielders and to the defenders, every player must be in his position."

Therefore, it requires constant communication between the players, said Haner. Also, players must have great understanding. The Netherlands, who have brought five new players, struggled a bit in their first game. "We have not played together much after a long European summer. We had a one-week camp before this tournament," said Baart.

Luypaert said that the system was not easy for the players who didn't have a great tactical understanding of the game. "You must be more aware of the game, otherwise you will struggle," said the Belgian.

Tactical awareness

Indian forward Akashdeep Singh agreed with Luypaert's assessment, adding that "if players are tactically clever, the zonal system becomes very easy to play in".

In the India-Australia game, the hosts showed a tendency to deviate from their plan when the world champions altered the pace. There were times when senior forwards Akashdeep and SV Sunil were seen pointing to youngsters Mandeep Singh, Gurjant Singh and Lalit Upadhyay to get into position.

Indian players take a longer time to mature because they get to play in a modern, structured system only after getting into the national camps. Whereas, players of top teams such as Australia or Germany grow up playing a single system. But as they showed against Australia, they can make it happen.

Changing styles: man-t0-man to zonal defence

    In the Man-to-Man defence system, each player in defence marks an opposing team player
    In the Rio Olympics last year, Argentina and Belgium were the two teams playing this system
    Teams in the past preferred a mix of the two systems
    In the Zonal defence system, each each player mans a zone, rather than marking an opponent
    A year after Rio, most teams have shifted from man-to-man to zonal defence system, including India
    Now, even the back three of most teams man their zones

The Tribune


---

There's nothing like playing hockey in India: Arthur Van Doren

Feroz Khan

BHUBANESWAR: For Belgian defender Arthur Van Doren playing in India isn't a new experience. He has played in the Hockey India League for Uttar Pradesh Wizards but for him the opportunity to play in the country is unique which is unmatched.

"There is nothing like playing hockey in India. The crowd is different than what we have elsewhere," he said after Belgium outclassed Spain 5-0 in their second match of the Hockey World League Final on Sunday evening.

The Indian team has had a mixed tournament so far, drawing their opening game and losing their second. Belgium, on the other hand, have won both their matches and if the story continues, will likely face India in the first quarterfinals.

"Really hope that we will play them (India) - either in the quarter-finals or semi-finals. There's nothing like playing India in India. So, we are looking forward to it. India is always a dangerous team. It's a team that you have to watch out for," he said.

Talking a bit more about his experience of playing in the HIL, Van Doren said, "It was a great experience. You meet different people, different personalities, and diverse culture. They all come together and do what they love which is to play hockey. Had a great time in India. Hope to come back as soon as possible. It made me a better person and a player."

When asked how they pass instructions on the field when playing other European nations considering there's almost no language barrier, the 23-year-old said players from his team speak two languages and they switch between them according to the opposition. "We have a bit advantage in that because we speak two languages. When we play Holland, we speak French and when we play France, the language is Dutch. But hockey language almost everyone understands. So it's something you try to find a way around," he said.

The Times of India


---

FIH optimistic about Pakistan's participation in 2018 WC in India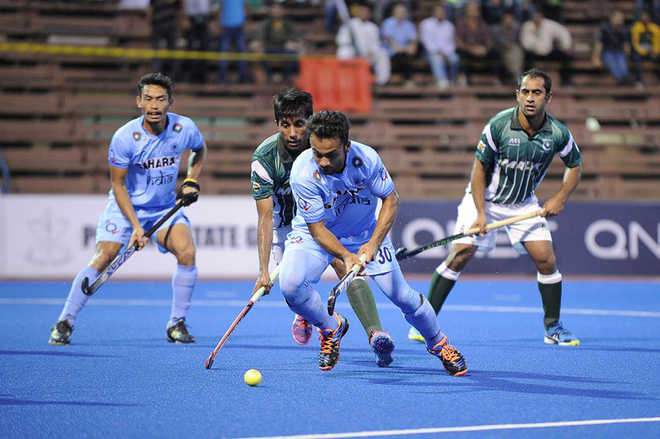 The last time a Pakistani hockey side had travelled to India was in December 2014, when they took part in the Champions Trophy. File photo

India and Pakistan share one of the fiercest rivalries in world hockey and the international federation does not want to miss out on the chance to cash in on a high-voltage contest during next year's senior men's World Cup to be held here.

Of late, diplomatic tensions have taken a toll on sporting rivalries between the two neighbouring nations and last year's Junior Hockey World Cup in Lucknow was a witness to that after Pakistan could not participate in the event following visa issues.

But the International Hockey Federation (FIH) does not want a repeat of the Lucknow episode and is working closely with the hockey bodies and governments of both the countries to ensure Pakistan's participation in the next year's World Cup to be held here from November 28 to December 16.

"Absolutely (we are in talks with Pakistan)," said FIH CEO Jason McCracken when asked whether the game's governing body is in touch with Pakistan regarding their participation in the World Cup.

"Pakistan have qualified and we are super happy and delighted for them. It is a fantastic rivalry between India and Pakistan. We have to make sure that Pakistan get their visas on time.

"They have to do all the correct things with their government and also the India Government. The FIH will do its best to ensure Pakistan participates in the World Cup. Pakistan is vital and we look forward to see them here next year," he added.

Diplomatic tensions and frequent border skirmishes between the two countries have already taken a toll on bilateral sporting ties with India and Pakistan only competing in international tournaments.

The last time a Pakistani hockey side had travelled to India was in December 2014, when they took part in the Champions Trophy here.

The Tribune


---

Only hockey not enough for surviving in Germany: 'Doctor' Christopher Ruhr

s2h team




Bhubaneswar: On field, Christopher Ruhr is the player to watch out for. His stick work, speed and accuracy has played a great deal in helping the German team clinch the top spot in Pool B, which also features England, Australia and India. He is a crowd-favourite, giving them ample entertainment whenever he performs some antics on the field.

But the craze and fancy, is not enough for the young player, who is inching towards another profession in a few years from now.

"I will start studying medicine in two years. My father and sister are both doctors. So it is in the family," Chris says.

"In Germany, you can't just survive by playing hockey. So, you have to work. I like medicine very much, so I will be taking it up."

Christopher will be first studying the general medicine course and will be taking up a specialization only after that.

"I haven't decided on which specialization I would choose. Now, I just know I am studying medicine. Once I retire, I will become a full-fledged doctor," he says.

Of course, hockey will not stop. "It will go side by side. If you like doing something, you will find a way out," he clarifies. Chris has been a driving factor in the opener against England which the Germans won 2-0. In the second match against World number 2 Australia, Germany managed a 2-2 draw after pulling down the equaliser in the 58th minute.

"In 2014 Champions Trophy in Bhubaneswar, we had won the title. It would be good to replicate that sort of winning performance here. But, this tournament is very different. A lot of tough teams are present," he says.

On the India versus Germany today, Chris says he is aware that the Indian team might keep a strict vigil on him.

"I think in the past, people have been stronger on me. When they are stronger, I have to be strongest. They are friends and there are no tough words on the field."

Stick2Hockey.com


---

Hockey stronger when India participates, door still open for Pro League: FIH CEO

Feroz Khan

BHUBANESWAR: International Hockey Federation CEO Jason McCracken says the door is still open for India's participation in its ambitious Hockey Pro League. Hockey India (HI) withdrew from the league in July this year saying the tournament doesn't offer a direct qualification for the Olympics and it would have been next to impossible for its women team to make the cut for Tokyo 2020 through this event.

"FIH would be absolutely delighted if Hockey India is a part of that and I think in the future when the time is right, I hope they will join us," McCraken said while addressing the media here on the sidelines of the Hockey World League Final on Saturday evening. "Because hockey is strong when India is there and we are seeing that here, the door is open. There is a process by which countries can join the Pro League. When the time is right, we will welcome Hockey India in the Pro League. There are some challenges of course. We are working on the schedule. You could imagine it - 144 games all over the world. We have to adjust it."

McCraken also revealed that the world hockey body has sent Pakistan the invitation for participating at the men's hockey World Cup next year which is also slated to be held in Odisha despite the current state of diplomatic relations between the countries. "We are super delighted for Pakistan to be here. We have to ensure that Pakistan players get visa in time and they do all the correct things - by their government and Indian. Pakistan has been invited and we look forward to seeing Pakistan next year in Bhubaneswar," he said.

Odisha is hosting the last edition of HWL Final which began on Friday and McCracken called the opening ceremony the best he has ever seen for an international hockey event. "The opening ceremony was the best opening ceremony I've ever seen and I have been involved in four Olympic events and different hockey events all over the world. Odisha has set the standard for that we want hockey to be like. We want it to be a superstar event and if this is the standard for Hockey World League Final, I can't wait for the Odisha World Cup," he said.

The HWL will be replaced by Pro League in 2019 and McCracken who is a former Olympic and World Cup umpire from New Zealand, says the reason behind is that apart from India, the event failed to draw enough support.

"I think these Finals (in India) have been very successful. And a few years ago, I was the tournament director for this event in Delhi and we didn't have such strong support and crowd. It has been growing but unfortunately we still see some earlier rounds where we didn't have such strong support from TV, media athletes and also fans coming to the game. So we have simplified it and ensured it links up to the Olympic programme as well," he said.

On why FIH believes its latest experiment to popularise the game will be a success, McCracken said, "We think Pro League is going to be a success. Everyone one of those games is a home match and we have seen good crowd for that. But when we see India playing, there's a packed crowd. We want that all over the world."

The Times of India


---

International Olive Oil Hockey Tournament - Women

#     Date/Time     Info     Teams     Score
1     28 Nov 2017 11:45     RR     ESP v IRL     4 - 2
2     29 Nov 2017 11:45     RR     IRL v BEL     2 - 4
3     30 Nov 2017 11:45     RR     ESP v BEL     2 - 3
4     1 Dec 2017 11:45     RR     ESP v IRL     5 - 2
5     2 Dec 2017 13:30     RR     IRL v BEL     1 - 3
6     3 Dec 2017 11:45     RR     ESP v BEL     2 - 1


| Rank | Team | GP | W | D | L | GF | GA | GD | P |
| --- | --- | --- | --- | --- | --- | --- | --- | --- | --- |
| 1 | Spain | 4 | 3 | 0 | 1 | 13 | 8 | 5 | 9 |
| 2 | Belgium | 4 | 3 | 0 | 1 | 11 | 7 | 4 | 9 |
| 3 | Ireland | 4 | 0 | 0 | 4 | 7 | 16 | -9 | 0 |
---

Green Army Fall 3-1 To Belgium In Close Match




A very tight opening half saw Ireland nearly take an early lead as Nikki Evans drew a strong high save from Elena Sotgiu inside the opening 2 minutes. The Green Army were pressing high and putting the Belgians under a lot of pressure, a tactic that payed off as Ireland tilted the possession stats in their favour. But the experienced Belgian side were able to break at pace and a composed Elene Tice was forced to clear up a potentially dangerous 2 on 1 situation. Pauline Leclef gave her side the lead in the dying seconds of the opening quarter as her initial PC shot was blocked but the follow up sweep found its way through a crowded circle into the goal. A minute into the second quarter they'd doubled their lead as a pacey attack down the right found Emma Puvrez free at the back post for the tap in. But Ireland were creating their own chances, 2 PC routines went awry, while Evans was distributing the ball and charging into the circle at will. Ireland's deserved goal came from a piece of solo brilliance by Sarah Torrans as she broke into the circle and fired into the bottom corner from an acute angle, beating Aisling D'Hooghe before the half time break.

Grace O'Flanagan was called upon far more in the second half and made several very good saves. The pick of the bunch came when a loose ball across the Irish circle was intercepted, forcing O'Flanagan to spring from her goal and slide at the shooting striker. Evans arguably had the best of the Irish chances as she picked up the ball unmarked in the circle but D'Hooghe did enough to put her off and the shot fizzled wide.  Alix Gerniers put the game to bed for Belgium in the 53rd minute when she showcased her 3D skills to skip into the circle and shoot on her reverse. The teams exchanged further PC's but both keepers made saves to keep the score at 3-1.

Belgium 3 (Leclef, Puvrez, Gerniers)
Ireland 1 (Torrans)

Squad: G O'Flanagan, C Brown, N Evans, E Getty, E Tice, S Torrans, A O'Flanagan, Z Wilson, D Duke (Captain), A Meeke, L McGuire

Subs: E Buckley, Y O'Byrne, N Carroll, H McLoughlin, L Colvin, E Russell, R Barry

3 Nations Fixtures at Club Hockey Alcalá:

Ireland 2 vs 4 Spain 28/11/17 11:45am
Ireland 2 vs 4 Belgium 29/11/17 11:45am
Spain 2 vs 3 Belgium 30/11/17 11:45am
Ireland 2 vs 5 Spain 1/12/17 11:45am
Ireland 1 vs 3 Belgium 2/12/17 11:45am
Spain 2 vs 1 Belgium 3/12/17 11:45am

*All times listed are local

Irish Hockey Association media release


---

Cavemen stoke title defence as Bunters march on

By Karien Jonckheere



Photo by Marcel Sigg

He may have been on the other side of the field, but goalkeeper and captain of the Crossroads Maropeng Cavemen, Rassie Pieterse thoroughly enjoyed the unique goal celebration at the opposite end.

With just a matter of seconds on the clock, Thabang Modise had just slotted in the third goal for the defending champions to seal a 3-0, bonus point victory over the ProGrip Drakensberg Dragons at the Premier Hockey League in Johannesburg on Sunday.

What followed was an intricate, hand-waving performance that certainly had the crowd entertained.

"The stick becomes the fire because we're Cavemen and we're heating ourselves up by the fire," explained Modise with a smile. "I've got new ones coming for you – but I can't tell you what they are – it's a surprise," he added.

"We only see the fist pump of Ricky West these days so it was nice to see some of the others scoring goals and getting the celebrations going," joked Pieterse. "It's awesome to see that energy coming through there." There was certainly plenty of energy on the field as West and Chad Futcher scored the other two goals and the Cavemen then threw everything into their defence to keep the Dragons out.

"I haven't seen the stats yet but I'm sure they had a lot of circle and 25 entries so it was a huge defensive effort from us to stop a team like this," said Pieterse.
 
"My decision-making is so much easier when the guys are marking tightly at the back and I think a lot of balls were played straight at me so I got a little bit lucky today but of course, any goal keeper will enjoy a clean sheet so I'll take that with me and use it as a bit of confidence for next weekend."

Another keeper who enjoyed a clean sheet was the Mapungubwe Mambas' Richard Curtis, who has only allowed one goal past him in the entire tournament. He was once again in top form as his team defeated the Kilimanjaro Addo Elephants 1-0 to add to the 2016 runners-up's woes.

"The team is playing really well, defending with 11. That's the mindset we had – we're not going to try and score goals, we're going to defend as much as we want to score, and build on that platform.

"It's a massive result for us going forward in the competition. I think we're on 11 points from three games so we're looking forward to next week," added Curtis, whose side are currently top of the log and face both the Cavemen and Dragons next weekend.

Meanwhile, the iWYZE Namaqualand Daisies pulled off their second last-gasp win of the tournament by beating the Wineland Wings 2-1. After an extremely tight game, the teams were still locked at 0-0 heading into the fourth quarter. The Daisies were first to score, thanks to Charne Maddocks but the Wings, having brought on a kicking back, came back at them just two minutes from time. Then, with 10 seconds left on the clock, the under 21s earned a penalty corner, which Steph Botha duly converted for the win.

"We didn't expect to come back, we got the goal and I was celebrating like mad. My heart rate was quite high," admitted Botha afterwards. "It was quite tough – they kept on coming and coming but we were like a brick wall and didn't let them through. Unlucky that they eventually got their goal but then we stepped up and scored one back."

Coach Robin van Ginkel added: "It was always going to be a tight one. For both teams it was a really important one to win to try to secure a semifinal so I think there was a lot riding on it. It was always going to be competitive – maybe not that nail-biting – but always competitive.

"As a young group I think they're really listening to the game plan and executing it, which is keeping us in the game, and well done to the defence today. They're a young group and learning quickly. There's lots of talent, maybe not as much experience yet but the talent and their desire to win definitely makes up for a lot," added Van Ginkel, whose team now head into a national under-21 team training camp ahead of next weekend's matches.

Later in the day, in a repeat of last year's women's final, the defending champions, the Tivoli Blyde River Bunter continued their dominance, beating the TopT Madikwe Rangers 1-0. Celia Evans, back in the team after missing out last weekend through illness, was the goal-scorer for the Bunters in the 50th minute.
 
The iWYZE Golden Gate Gladiators, meanwhile, produced a remarkable run of six unanswered goals to come back from a 0-3 deficit and claim their first win of the tournament – a 6-3, bonus point victory over the now bottom-of-the-log Garden Route Gazelles.

PHL action continues at the Randburg Astro next weekend, before the teams head into the playoffs on 11-12 December.

Results
3 December 2017

Mapungubwe Mambas 1-0 Kilimanjaro Addo Elephants
iWYZE Namaqualand Daisies 2-1 Wineland Wings
Crossroads Maropeng Cavemen 3-0 ProGrip Drakensberg Dragons
Tivoli Blyde River Bunters 1-0 TopT Madikwe Rangers
iWYZE Golden Gate Gladiators 6-3 Garden Route Gazelles

SA Hockey Association media release


---

Glenanne make big gains at the top of men's EYHL




Glenanne stole a march on their rivals as the only side in the men's EY Hockey League; they were the only side in the league's top five to win over the weekend, strengthening their hold on top spot.

Saturday: Cork C of I 2 (P Brownlow 2) Banbridge 2 (N Gilmore, P Brown)
Philip Brown's last second penalty corner ended Banbridge's four-game losing streak as they rescued a point at Garryduff with a 2-2 draw with Cork C of I.

Brown had played a key part in Bann's first of the game, slamming a shot against the post from a corner before Neil Gilmore picked up the pieces on the right of the circle to make it 1-0 in the 13th minute.

Bann held that lead until the break as Cork C of I played some nice stuff but could not find the final pass while the Co Down side looked dangerous on the counter.

Cork got level when John Jermyn won a corner which was initially saved but Phil Brownlow rebounded for 1-1. The same man showed his predatory instincts once again to take the lead with 11 minutes left when Alec Moffett's crash ball was miscontrolled and Brownlow cleaned up.

The hosts has their chances to put the game beyond doubt, especially when Brown was sin-binned with six minutes to go. But, crucially, he came back on in the final minute and he nailed his chance on the final hooter with a drag-flick for 2-2.

Glenanne 3 (E O'Malley 2, S O'Donoghue) Lisnagarvey 2 (S Murray, P Gleghorne)
Three first half goals saw Glenanne add yet another big win to their list, one that sees them further clear at the top of the men's EY Hockey League, inflicting a first defeat of the season on Lisnagarvey.

It moves them three points clear of Three Rock Rovers with a game in hand – away at Monkstown next weekend – which could guarantee them Christmas number one status. Stu Ronan's quick first time ball into the circle from Stephen Brownlow's sideline ball was missed by the Garvey defence in the 11th minute to allow Eddie O'Malley nick in and open the scoring.

Sean Murray equalised four minutes later when David Keogh did well to charge down an initial shot but it fell invitingly for the Irish international to score.

But the Glens got back in front with O'Malley when he latched onto a long ball, trotted into the circle and spanked home. Shane O'Donoghue extended the lead to 3-1 at half-time with a delicious corner drag-flick.

Some in the crowd thought they had a sublime fourth from Richie Shaw but it was chalked off. Garvey upped the pressure and started to run up the corner chances and got back in range from their fifth corner, Paul Gleghorne on the mark with his first of the season.

They had plenty of time left to equalise with Andy Williamson spurning a big chance while O'Donoghue almost killed it off but saw Richard Arneill take it off the line.

Pembroke 2 (G Chambers, A Sothern) Three Rock Rovers 2 (R Pautz, B Walker)
Dublin rivals Pembroke and Three Rock Rovers shared a feisty 2-2 draw at Serpentine Avenue in which both sides had their moments to win the tie.

The hosts took an early lead through Greg Chambers before Ben Walker made it 1-1 in the 18th minute from a corner move. Richard Pautz put Rovers in front for the first time just before half-time.

Rovers had a trio of good chances to go further up before Pembroke had their spell in the ascendancy with Alan Sothern levelling with 11 minutes to go following Kirk Shimmins' excellent run.

Sothern, though, made a rare mis-step in front of goal from a penalty stroke which he put wide with five minutes to go. Richard Sweetnam did brilliantly to save off the line from a Luke Madeley drag-flick at the end to ensure a draw.

Sunday: Cookstown 4 (K Black 3, M Kerr) Monkstown 4 (S Nolan 2, G Sarratt, K Smith)
Keith Black's third goal of the day earned Cookstown a share of the points against Monkstown to move up to five points, further out of range of bottom placed Railway Union.

Monkstown led three times, the first of which came eight minutes in from Karl Smith's corner rebound. Michael Kerr levelled from a corner before Black tapped in his first at the back post for a 2-1 lead but they saw the lead swap once again before half-time.

Guy Sarratt nailed a drag-flick for 2-2 and Shane Nolan made it 3-2 to Monkstown at half-time. Black smashed home for equality for a third time early in the second half following an overhead and Mark Crooks' subsequent deft touch into the path of Black.

Nolan nabbed another for a 4-3 lead from the second phase of a penalty corner but they could not make the lead stick. Matthew Rollins' determined tackling fell for Black at the back post and he added the simple finish.

Annadale 2 (J Taylor, C Roberts) Railway Union 1 (E MacArthur)
John Taylor and Connor Roberts struck in the last 12 minutes to give Annadale their third win of the campaign, leaving Railway Union without a point at the hafway stage in their season.

Railway had the best of a scoreless first half but their struggles in front of goal continued to leave their total blank. Dale were better in the second half, making most of the promptings but they fell behind with 16 minutes left when Eoin MacArthur netted.

But the lead lasted just a few minutes as Taylor equalised and Roberts won the game with four minutes to go. The result lifts Dale to a share of fifth place.

The Hook


---

Big results in women's Scottish National League 1 opening day



Indoor League Division 1 game – Grove Menzieshill v Edinburgh Uni – photo by Duncan Gray

Edinburgh University had the big results on the opening day of the women`s indoor National league 1 campaign by inflicting a 5-4 defeat on last season`s runners-up Grove Menzieshill in Perth.

There was an early shock for the favourites when Sophie Maunder opened for the students in the first minute, but the lead lasted only until Grove Menzieshill`s Jaime Lyon levelled not long after. Although Becky Dru restored Edinburgh`s lead at a penalty corner, it was the Taysiders who reached half-time 3-2 up with strikes by Sue Hamilton at a set piece and Lyon again.

Goals were exchanged in the second half, Dru scored for the students from open play but Hamilton replied to put the Dundonians 4-3 ahead. But the upset was sealed with two goals in as many minutes from Maunder and Ella Watt who fired in the winner with five minutes left.

Edinburgh started off their campaign modestly with a 2-2 draw against Wildcats, Catriona Booth and Megan Cox put the latter two up before Louise Campbell and Dru equalised for the students in the closing exchanges.

The students finished their day`s activities with a 2-2 draw against Hillhead, courtesy of a last minute strike by Katie Hibbert.

Meanwhile, Dundee Wanderers started the defence of their title with a 5-4 win over rivals Milne Craig Western in a cracking ding-dong affair.

It was the Glasgow side that opened the scoring through Kayleigh Justice but back came the champions with strikes by Amy Snelle and Emily Dark to take a 2-1 lead. However, on the stroke of half-time Margery Justice levelled for Western from the penalty spot.

Rachel Osborne restored the Taysiders` lead after the break, but Justice again from the spot tied the score at 3-3. Wanderers then made a push for the three points and two goals in three minutes from Snelle and Dark settled the issue, Kayleigh Justice found the net again for Western but it was little more than a consolation by then.

Wanderers then beat Kelburne 18-0 in their final game, the scorers were Ruth Blaikie (7), Amy Snelle (5) and Katie Mulholland (3).



Indoor League Division 1 game – Dundee Wanderers v Clydesdale Western – photo by Duncan Gray

Clydesdale Western commenced at a canter with a 16 goal defeat of Bromac Kelburne, Millie Steiger scored five, all in the second half, while Margery Justice got four.

In contrast, Grove Menzieshill had a more modest opening with a 2-0 defeat of Wildcats, Lauren Kingston scoring in each half.

Hillhead can be pleased with their opening exchanges in the first division, in their first encounter they saw off CALA Edinburgh 4-2. Zoe Irvine and Jenny Sinclair put the Glasgow side two up at the interval. But back came CALA with strikes from AJ Russell and Emma Davie to level at 2-2. With four minutes left Hillhead stepped up the pace and sealed the three points with a late double by Carla McNiven.

In their second outing Hillhead also put 16 past Kelburne, there was a double hat-trick for Wendy Andrews while Irvine scored four.

CALA recovered some sort of pride with a 3-1 win over Wildcats. The latter went ahead through Catriona Booth but the Edinburgh side retaliated with goals from Hettie Dunlop, Livia Welsch and Russell.

Scottish Hockey Union media release


---

Grove Menzieshill second string march to the top

Grove Menzieshill`s second string, winners of last season`s indoor Scottish National League 2 but not eligible for promotion, made a promising start to the present campaign with a solid 9-5 win over Western Wildcats in the opening fixture at Bells Sports Centre in Perth.

Albert Rowling was the catalyst in Grove Menzieshill`s victory with seven goals in total to curb the aspirations of the Wildcats to made an immediate return to the top flight after last season`s relegation.

Rowling opened for the Taysiders in only four minutes but the Wildcats roared back with a double from Rob Harwood in as many minutes. But it was Grove Menzieshill who reached the break with a narrow 3-2 lead, Rowling again and Mike Ross were on target.

Although the Wildcats scored three further goals in the second half it was the Dundonians who stole the show, Rowling added five more to his tally with David Petrie getting the other.

The Grove Menzieshill second string maintained their good form with a 7-3 win over Uddingston in their second fixture, and again Rowling was to the fore with first half hat-trick. The Taysiders led 5-1 at the break, Olly James and Mike Ross were the other scorers while Ben Carroll replied for the Lanarkshire team.

The second half was a more even affair, Ross got his second of the match while Jamie Golden scored for Grove Menzieshill while Carroll and Hughes replied but the points went to Dundee.

Grove Menzieshill seconds completed their treble of the day with a 9-3 win over their equivalents at Inverleith. The Taysiders had their noses in front with a 3-0 lead at the interval.

They added six more in the second half, Rowling completed another hat-trick, the other goals came from Golden, Andrew Suttie, Paul Martin and John Stephen while Stuart Hatton picked up a couple for the Edinburgh side.

Wildcats recovered their composure to see off Inverleith 2s 6-4 in their second outing. The Auchenhowie side led 4-2 at the interval courtesy of a hat-trick by Andrew McConnell with Harwood getting the other. Both sides scored twice after the interval, Harwood again and Rob McConnell striking for Wildcats.

Uddingston, also relegated from the top flight, fought out a thrilling 6-6 draw with Watsonians in their opening second division fixture. The sides shared an eight goal first half, a Brad Hughes hat-trick and Hamish Robson were on target for the Lanarkshire side while Fraser Sands (2), Ben Allen and Fraser Heigh scored for Watsonians.

Sands completed his own hat-trick to put the Edinburgh side 5-4 ahead three minutes into the second half, but back came Uddingston with strikes by Hughes again and Tom Hyndman to move into a 6-5 lead. But an Uddingston victory was frustrated by a last minute goal from Watsonians` Tom Swarbrick to finish with a share of the points.

Watsonians again had to dig deep to see off Falkirk GHG 6-5 after trailing 4-3 at the interval. A Sands double and another from Allen put the capital side into a 3-0 lead, but back came Falkirk through Liam Witt (2), Douglas Nicol and Mark Weaver to go into the break with a single goal lead.

That is how it stood with four minutes remaining, but goals from Allen and another brace by Sands put Watsonians 6-4 ahead until Cameron Scott notched a late consolation for Falkirk.

Kingdom Homes Carnegie had a mixed day at the office, they went down 5-4 to Inverleith`s second string in their opening game despite a hat-trick from Robert Gillespie.

The Fifers recovered sufficiently to see off Dundee Wanderers 2s 6-2, they led 3-0 at the interval through Andrew Doyle (2) and Martin Daw. Carnegie added three more after the break, Doyle secured his hat-trick while Findlay Conroy and Stephen Glass got the others, Paul Dailly and Ewan Brown scored for Wanderers.

Scottish Hockey Union media release


---

Butali keep title hopes alive

By BRIAN YONGA



USIU's Wycliff Wanyonyi (right) vies for ball with Butali Sugar Warriors' Vincent Odhiambo (left) during their Kenya Hockey Union Premier League match on December 3, 2017 at City Park Stadium. PHOTO | CHRIS OMOLLO |  NATION MEDIA GROUP

Butali Sugar Warriors cut Kenya's Police lead at the top of the Kenya Hockey Union men's Premier League table after a 1-0 win over USIU on Sunday at the City Park Stadium. Nairobi.

Emmanuel Simiyu's 40th minute field goal proved to be the difference in the closely contested encounter. Butali missed chances to win by a wider margin but will be glad with the three points that saw them complete a good outing in Nairobi.

On Saturday, they beat spluttering champions Strathmore University Gladiators 2-1 at the same venue.

After reaping the six points, the former champions are now placed second with 51 points, 10 behind Kenya Police, who lost their first match of the season away to Western Jaguars on Saturday.

Butali coach Godfrey Wakachunga was pleased with the six points noting that his charges will continue to fight till the end.

"Today we suffered a bit due to fatigue but we rode our luck and got the only goal. Ten points is still a massive gap but we have hope we can claw the gap," the coach said.

Greensharks drop to third place despite a 2-1 win over Wazalendo in the final match of the weekend.

Chris Wokila fired Sharks ahead in the 10th minute after converting a penalty flick past Waza keeper Bright Kezengwa. Wazalendo equalized on 34 minutes through Elly Mwanzi's field goal but Sharks found the wining goal 10 minutes later through Chris Mchwanju.

Sharks are on 49 points. In the women's Premier League, Amira Sailors and Strathmore University Scorpions kept alive their hopes of finishing in second place after winning their respective matches.

Amira Sailors beat former champions Sliders 3-0, while Strathmore University Scorpions secured a 2-1 win over Vikings in their encounter.

In the men's National League, Thika Rovers beat Parkroad Tigers 2-0 at the same venue.

Kenya international Pauline Naise hit a brace to inspire Amira to a comfortable win with Yvonne Kanyandong adding the other to give their side the three points. The result took Amira to 33 points, one behind second placed United States International University of Africa (USIU-A) Spartans.

Amira have however played 15 matches, one more than the students with five games till the end of the season. Amira coach Linet Onyango urged her charges to keep up the fight for a second place finish which will see them book their ticket to next year's Africa Club Championship.

"We have not been in action for a month and you could see the rustiness in the opening exchanges. It was however comfortable once we got the first goal and we are still in with a chance of finishing second," Onyango said.

Naise gave the hosts the lead in the 13th minute, converting a penalty after Lorraine Nondi was brought down by Sliders defender Doris Kirui. Sliders keeper Kate Opicha had no chance as Naise scooped the ball to the roof of the net.

Sliders were slow in attack and Amira picked them out in the 36th minute as a swift counter attack was finished by Naise for her 18th goal of the season.

Three minutes to the end, Kanyandong capitalized on defensive lapses to bury home the third with a sweet chip.

"We have got to be better than this, we allowed Amira to control the match and did not really show much fighting spirit," Sliders captain Anita Agunda said.

Daily Nation


---

Amira condemn struggling Sliders to more misery

By Elizabeth Mburugu



Amira Sailors Bridgit Naliaka hits the ball when they played Orange Telkom in the Premier Ladies at City Park yesterday. PHOTO: JENIPHER WACHIE

Amira Sailors piled more misery on the struggling Sliders after they defeated them 3-0 in a Kenya Hockey Union women's league match yesterday at City Park.

Pauline Naise bagged a brace while Yvette Kanyadong scored once as they guided Amira to their 10th win.

With the victory, Amira, who are making their second appearance in the league this season, maintained their third spot on the standings with 33 points.

Their victory reduced the gap between them and second-placed United States International University of Africa (USIU-A) to one point.

After finishing third behind champions Telkom and Strathmore University last season, Amira are seeking an improved finish this season.

Amira coach Linnet Onyango remained optimistic that her charges can still achieve their season's objective.
ALSO READ: Hockey: Champions open 11-point gap in league battle

"We were hopeful of a better finish this season and I believe it can still be done. With today's win we have reduced the gap between us and the top two teams and if we keep securing every available point, then even a top two finish is achievable," Onyango said.

Naise led Amira's goal hunt and her combination with captain Leah Omwandho, Pauline Ochieng, and Jedidah Zawadi was a constant threat.

Naise put them through just before the end of the first quarter.

The Standard Online