All the news for Sunday 3 December 2017

Odisha Men's Hockey World League Final Bhubaneswar 2017 - Day 3

Day 2 Results
Pool A ARG v BEL 2 - 3
Pool A NED v ESP 2 - 3
Pool B GER v AUS 2 - 2
Pool B IND v ENG 2 - 3

Day 3 Fixtures (Times GMT +5:30)

17:30 Pool A BEL v ESP
19:30 Pool A NED v ARG

Standings

Pool A


| Rank | Team | GP | W | D | L | GF | GA | GD | P |
| --- | --- | --- | --- | --- | --- | --- | --- | --- | --- |
| 1 | Belgium | 1 | 1 | 0 | 0 | 3 | 2 | 1 | 3 |
| 1 | Spain | 1 | 1 | 0 | 0 | 3 | 2 | 1 | 3 |
| 3 | Argentina | 1 | 0 | 0 | 1 | 2 | 3 | -1 | 0 |
| 3 | Netherlands | 1 | 0 | 0 | 1 | 2 | 3 | -1 | 0 |

Pool B
 

| Rank | Team | GP | W | D | L | GF | GA | GD | P |
| --- | --- | --- | --- | --- | --- | --- | --- | --- | --- |
| 1 | Germany | 2 | 1 | 1 | 0 | 4 | 2 | 2 | 4 |
| 2 | England | 2 | 1 | 0 | 1 | 3 | 4 | -1 | 3 |
| 3 | Australia | 2 | 0 | 2 | 0 | 3 | 3 | 0 | 2 |
| 4 | India | 2 | 0 | 1 | 1 | 3 | 4 | -1 | 1 |
---

Belgium, Spain & England winners on Day 2 of Odisha Men's Hockey World League Final Bhubaneswar 2017



England's Sam Ward nets the winning goal against India on Day 2 of the Odisha Men's Hockey World League Final Bhubaneswar 2017. Copyright: FIH / World Sport Pics

Bhubaneswar, India: Four matches took place on the second day of action at the Odisha Men's Hockey World League Final Bhubaneswar 2017, with Belgium, Spain and England claiming important wins in their respective pools at the Kalinga Stadium.

The opening match of the day was a replay of the gold medal game at the Rio 2016 Olympic Games, a contest that Argentina (FIH Hero World Ranking: 1) famously won to claim their first ever Olympic title. This time, the victory went the way of Belgium's Red Lions (WR: 3), who emerged as 3-2 winners in hot and humid conditions.

A penalty corner rocket from Loick Luypaert (Man of the Match, presented by Odisha New Opportunities) gave Belgium a 1-0 lead in the first quarter, an advantage that was eventually doubled nine minutes from time thanks to a powerful backhand strike from Amaury Keusters. Maico Casella (Junior Player of the Match, presented by ONGC) reduced the deficit a minute later with a cool finish from the top of the circle before Tom Boon's penalty corner re-established Belgium's two-goal advantage. Los Leones again hit back with an unstoppable penalty corner from Gonzalo Peillat, but it was not enough to deny Belgium the victory.   

I don't think we played our best game today, so that is really good to get the three points knowing we can play better", said Belgium's John-John Dohmen, the 2016 Hockey Stars Male Player of the Year who also commented on his return to the international scene after a year-long break. "It is a great feeling to be back, I've missed it. It is always great to wear the Belgium shirt."

Also in Pool A, Spain's Red Sticks (WR: 9) claimed a fine 3-2 triumph over European champions the Netherlands (WR: 4), with veteran Spanish attacker Pau Quemada giving his side a lead through a 15th minute penalty corner.

The Spaniards moved into 2-0 lead five minutes after half time thanks to a poacher's finish from rising star Enrique Gonzalez (Junior Player of the Match, presented by ONGC), before the Netherlands pulled a goal back through Lars Balk, who pounced on a saved penalty corner to fire into the roof of the Red Sticks net.

Just as it seemed the Dutch were on the comeback trail, Spain added a third when Sergi Enrique was left unmarked to guide a perfect deflection past Netherlands shot-stopper Pirmin Blaak to leave Oranje will everything to do going into the final quarter. Mirco Pruyser made the score 3-2 with five minutes remaining, but it proved to be a consolation as Spain started their World League Final campaign in winning fashion.

Spain captain Miguel Delas, who reached a personal milestone of 200 international appearances, said: "I'm really happy for our team. I think we did a super effort and it was great to play in this amazing stadium. Besides that, it nice recognition for myself and I'm really happy to have reached 200 caps with Spain."

In Pool B, Germany (WR: 5) and Australia (WR: 2) played out an entertaining 2-2 draw in a match in which the momentum constantly shifted. Marco Miltkau smashed home the opening goal in the seventh minute, with Australia's Blake Govers levelling with an improvised penalty corner in the third quarter. Aaron Kleinschmidt put the Kookaburras ahead with 12 minutes remaining, but a captain's goal from Martin Häner secured a 2-2 draw for Die Honamas, who finished the day at the top of the Pool B with four points from their two matches.

Speaking after the match, Australia's Eddie Ockenden – who made his 300th senior international appearance for Australia today – said: "Australia versus Germany in front of a huge Indian crowd is pretty special. I'll always remember my 300th game for that reason. We want to win the tournament and I think we were better than (the draw against India) yesterday. Whenever we come to tournaments we want to win, so it is definitely our aim."

Another mammoth crowd turned out to watch host nation and Asian champions India (WR: 6) in the final match of the day, although they did not get the result they hoped for as England (WR: 7) snatched a 3-2 victory. The European bronze medallists established a 2-0 lead thanks to strikes from David Goodfield and Sam Ward (Man of the Match, presented by Odisha New Opportunities) before India came roaring back into the contest, with Akashdeep Singh netting before Rupinder Singh tied the match with ten minutes to go. However, it was Ward who would have the last word, creating space in the circle before smashing home a terrific strike to give England a winning response to their opening day defeat against Germany. The result moved England up to second in the Pool B table, one point behind leaders Germany and ahead of both third placed Australia and fourth placed India.

The competition continues on Sunday 3rd December with two matches in Pool A. Belgium face Spain at 1730 Indian Standard Time (UTC: +5.30) before European champions the Netherlands take on Olympic champions Argentina at 1930.

RESULTS – DAY 2

Pool A: Argentina 2, Belgium 3.
Man of the Match, presented by Odisha New Opportunities: Loick Luypaert (BEL)
Junior Player of the Match, presented by ONGC: Maico Casella (ARG)

Pool A: Netherlands 2, Spain 3.
Man of the Match, presented by Odisha New Opportunities: Ricardo Santana (ESP)
Junior Player of the Match, presented by ONGC: Enrique Gonzalez (ESP)

Pool B: Germany 2, Australia 2.
Man of the Match, presented by Odisha New Opportunities: Jake Whetton (AUS)
Junior Player of the Match, presented by ONGC: Lachlan Sharp (AUS)

Pool B: India 2, England 3.
Man of the Match, presented by Odisha New Opportunities: Sam Ward (ENG)
Junior Player of the Match, presented by ONGC: Harmanpreet Singh (IND)

#HWL2017

FIH site


---

Belgium make winning start; beat Argentina 3-2

Feroz Khan

BHUBANESWAR: Argentina v Belgium is fast developing into some rivalry. The two sides have shed the tags of hockey minnows and transformed into one of the top sides currently. They met at the Rio Olympics final and then, Argentina rewrote history by edging them for gold. On Saturday they met again and this time, it was the silver medallist's turn to celebrate victory. In their opening clash of the Odisha Hockey World League Final here, Belgium took three points with a 3-2 victory and avenge the Olympic defeat.

The win might not have a major impact as far as the tournament goes but it did give the Red Lions a confidence booster after that heart-breaking defeat in Rio where they had bossed over their highly-rated opponents. Belgium sat back in the initial stage, letting Argentina dictate the pace. But soon the world no. 3 team started creating pressure. That won them their first penalty corner in the ninth minute and Loick Luypaert's perfect drag-flick put them in the lead at 1-0 in the first quarter.

The scorching goal had everyone gushing and something from which the teams of the likes of host India can take some leaf out of. Luypaert's drag sent the ball soaring over the Argentine rushes and goalkeeper's head and all they could do was watch it as it crashed inside the net.

Argentina might be the world's top-ranked team but today, they were second best on the pink and blue turf of the Kalinga Hockey Stadium. They fail to string together passes, were defending for the better part of the match and Amaury Keusters' field goal in the 51st minute made a Belgium win all nut certain. But Argentina suddenly woke up from their slumber through Maico Casela's superb strike on the far a minute later. After receiving the ball on the edge of the D, he dodged Nicolas de Kerpel and with a 360 degree turn, superbly sent the ball inside the goal to make it 2-1.

Tom Boon then converted a penalty corner in the 56th minute to restore the two-goal cushion at 3-1. But Argentina weren't going down without a fight. In the final four minutes, they won their first penalty corner and Gonzalo Peillat made no mistake to make it 3-2. The fairly good crowd, comprising enthusiastic school children was treated to a nail-biting finish as Belgium held on to their slim lead.

The Times of India


---

Satisfied but could've done better: Belgium coach Shane McLeod

Feroz Khan

BHUBANESWAR: Belgium dominated Argentina for the better part of their Hockey World League Final opener before the Olympic champions showed some fight to score twice in five minutes on Saturday. But the world no. 3 managed to hold them off and secure a 3-2 victory, taking full three points.

Their coach Shane McLeod though wasn't fully satisfied with the victory and said the team needs to improve in certain areas. "Satisfied with the points," McLeod told TOI Sports when asked how he rated the performance. "We could've done better in some areas of the game. It's our first game of the tournament so nice to get good start."

McLeod said the team will be working on the game in the round-robin stage as the "strange format" affords them the luxury to not lose sleep over qualifying for the next stage. But he does feel that going into the quarter-finals with good results will put them in a good mindset.

"It's a strange format. You want to be playing in the last games but during this stage, you are working on your game. You've to get better every game. In that regard it's interesting. Although anyone can beat anyone, you want to go into the quarterfinal stage feeling well and having the game at a higher level," he said.

It was the first time that Belgium and Argentina met after their Rio Olympic final but McLeod refused to term this as a revenge. "Not really. It certainly not a revenge and it will hopefully come later," he said.

Saying his players are fit enough to last the rigours of HWL, McLeod, at the same time, admitted that going full steam at this stage might also prove to be counterproductive in the knockouts. "For sure. That's always a factor but our guys are really fit. They actually get fitter the more you give them. They are built to play better at the end of the tournament rather than at the start," he said.

So how are Belgium going to approach this tournament? "Playing to our potential. We certainly are one of the best teams in the world if not the best. We have to do well tactically against some nations, against others we just have to physically show our domination," McLeod replied.

The Times of India


---

Belgium, Spain register upset wins in Pool 'A'



Belgium players celebrate after scoring a goal in their match against Argentina in the Hockey World League Final match in Bhubaneswar on Saturday. Photo Credit: Biswaranjan Rout

In the first match of the day, the win enabled world number three Belgium to avenge their loss to Argentina in the title clash of the 2016 Rio Olympics.

It was a day of upsets in the Pool 'A' matches of the Hockey World League (HWL) Final in Bhubaneswar on Saturday, as Belgium and Spain stunned Olympic champions Argentina and European champions Netherlands in their opening matches of elite eight-nation tournament.

While Belgium shocked world number one Argentina 2-3, lowest-ranked team of the tournament, Spain pulled off the biggest upset of the tournament so far by defeating World Cup silver medallist Netherlands by an identical margin.

In the first match of the day, the win enabled world number three Belgium to avenge their loss to Argentina in the title clash of the 2016 Rio Olympics.

It was an exciting, end-to-end affair between the two Rio Games finalists but it was the Red Lions who drew the first blood in the ninth minute when Loick Luypaert converted a penalty corner.

After a barren second and third quarters where both the teams struggled to get an edge over each other, the final 10 minutes witnessed an edge-of-the-seat tussle with the teams pumping in as many as four goals.

After Belgium doubled their lead in the 51st minute through a field goal by Amaury Keusters, Argentina pulled one back a minute later when Maico Casella found the net from a field effort.

But Belgium restored their two goal lead four minutes later through another penalty corner conversion by their dragflick expert Tom Boon.

The Argentines, however, did not give up without a fight and scored again to reduce the deficit a minute later through Gonzalo Peillat's (57th minute) penalty corner strike.

It was Argentina all the way in the last three minutes of the game but Belgium defended stoutly to held on to their lead.

Meanwhile in the second match of Pool A, Spain, ranked ninth in the world, punched above their weight to outclass two-time Olympic champions Netherlands.

Spain scored their goals through Pau Quemada (15th minute), Enrique Gonzalez (35th) and Diego Arana (39th), while Lars Balk (37th) and Mirco Pruijser (55th) were the goal getters for the Dutchmen.

Spain will face Argentina in their next pool match on Sunday, while Belgium will be up against Netherlands.

The Hindu


---

Spain stave off late Netherlands threat for 3-2 win

Feroz Khan

BHUBANESWAR: As the last 10 seconds approached, not one red shirt from Spain was anywhere inside the Netherlands half. It was indicative of a team scrambling to hold its thin lead and another's desperation for an equaliser. In the end, Spain managed to stave off the late charge and started their Hockey World League Final with 3-2 win at the Kalinga Stadium on Saturday.

Netherlands were at the top when the match began. And certainly, they were the favourites, especially considering their opponents were known for their inconsistency. But Spain were more determined and resourceful on Saturday and pounced on every opportunity to build pressure on Netherlands and were rewarded.

In the dying stage of the first quarter, Spain made a referral for penalty corner and won. Pau Quemada's slinger rocketed past Netherlands goalkeeper as Spain took a 1-0 lead. They then defended well to hold on to their lead before the change of ends.

Pirmin Blaak, the Netherlands goalkeeper then padded away a shot that came from well outside the D. The ball travelled a few feet away from him but Spaniard Enrique Gonzalez found himself on a perfect spot to unleash a fierce reverse hit and double his team's lead in the 35th minute.

Balk Lars then scored, two minutes later, on the rebound when the ball lobbed to him after Spanish 'keeper had done well to keep the drag-flick from entering the cage. The lead was cut down to 2-1 with Lars breathing life into the contest. But that lasted for just two minutes as Diego Arana received a pinpoint pass at an angle and with a deft touch, made it 3-1.

Now, all Spain had to do was to defend their lead for the win. Mirco Pruijser then did well to finish a brilliant teamwork into Netherlands' second goal. The three-time world champions lifted their game in the final quarter and pushed themselves hard to secure at least one point from the game but Spain defended resolutely to deny them.

The Times of India


---

Knew if we play well, we can beat Netherlands: Enrique Gonzalez

Feroz Khan

BHUBANESWAR: Spain stunned Netherlands 3-2 in their opening match of the Hockey World League Final on Saturday. Speaking to the media after the match, Enrique Gonzalez, who led Spain at the Junior World Cup 2016 in Lucknow, said that the team was motivated and confident enough that despite being the lowest ranked team in the competition, they could beat Netherlands.

"It was a good match for me and for the team too. We had the confidence that we can beat Holland. Happy we beat Holland today. We wanted to win this match and are happy with the result," Gonzalez said.

Gonzalez was the Player of the tournament when he represented Spain at the Junior World Cup which India went on to win. He was touted as a future star and did that repudiation no harm on Saturday, scoring his team's second goal against Netherlands.

Talking about how different is the level of competition at the junior and the senior level, Gonzalez said, "Playing at the junior level is a bit easier than at the senior level - it's more difficult. But there are seniors who talk to us and make things easier."

Spain next face Belgium on Sunday who earlier defeated Argentina 3-2.

The Times of India


---

Kookaburras Draw With Germany Despite Fightback

Ben Somerford




The Kookaburras have been held to a 2-2 draw with Germany despite a spirited second-half fightback at the FIH Men's World League Final in Bhubaneswar on Saturday night.

Australia trailed 1-0 at the main break but claimed the lead in the final quarter after goals from Blake Govers (39') and Aaron Kleinschmidt (49').

However, Germany, who opened the scoring in the seventh minute through Marco Miltkau, equalised from a 58th minute penalty corner through captain Martin Haner to deny Australia.

The result means Australia have drawn their opening two games in Pool B at the World League Final.

The Kookaburras are next in action against England on Monday from 11pm AEDT live on Fox Sports.

Man of the Match Jake Whetton, who set up Australia's second goal, said: "We improved from yesterday.

"Germany are an outstanding team. We knew that. They put it to us in the first half and I thought we worked really well to get back into the game.

"It's disappointing to come away with the draw. We're getting into this tournament. It's a big tournament for us and we're really looking forward to moving forward now."

In a milestone match for Eddie Ockenden, who brought up his 300th international appearance, the Kookaburras started well, with the early pressure but it was Germany who went ahead when Miltkau fired home a loose ball.

Aran Zalewski's angled second quarter effort was Australia's best chance of the first half, while Christopher Ruhr came close to doubling Germany's lead with a speculative effort moments prior to the interval.

Australia responded after the break, with Whetton setting up a good chance for Matthew Swann whose shot was saved by Germany goalkeeper Mark Appel.

The pressure eventually told when Govers converted a penalty corner, despite initially mis-trapping the ball, managing to fire home at the back post.

Kookaburras skipper Mark Knowles hit a good chance wide in the last quarter, before Kleinschmidt put Australia ahead with a diving effort from Whetton's brilliant cross in the 49th minute.

Both sides traded chances with Tom Wickham and Ruhr, before Germany levelled via Haner's penalty corner in the dying minutes.

Australia 2 (Govers 39', Kleinschmidt 49')
Germany 2 (Miltkau 7', Haner 58')

Hockey Australia media release


---

Milestone Man Ockenden Full Of Pride

Ben Somerford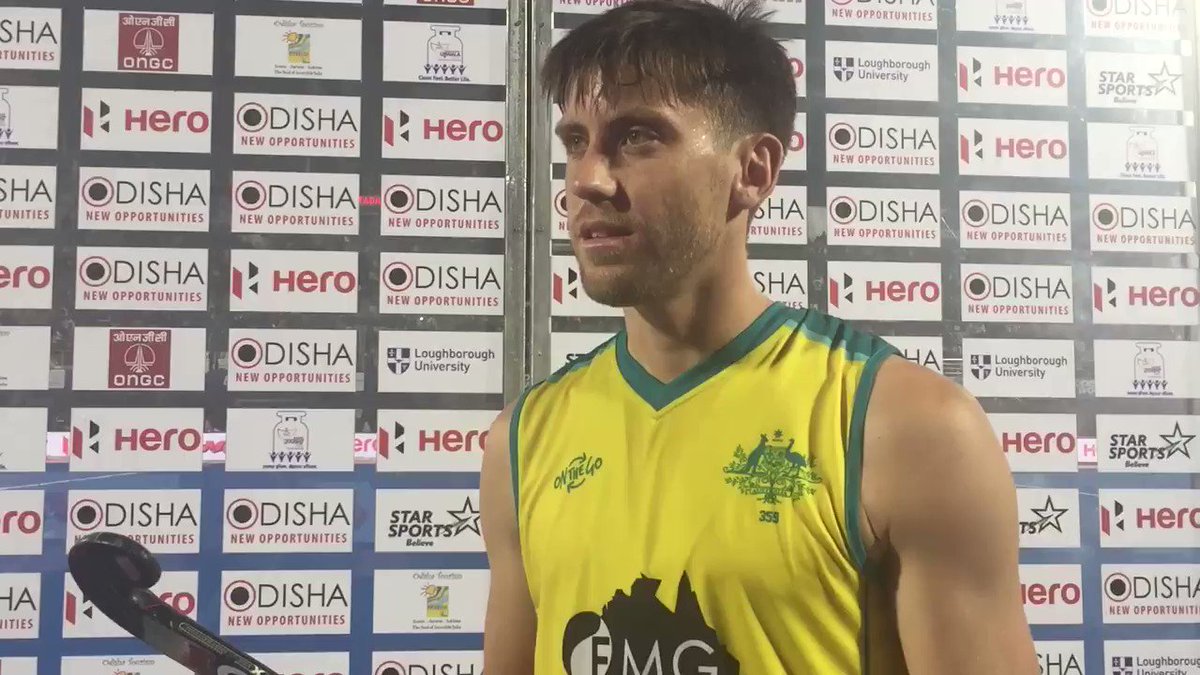 Kookaburras' milestone man Eddie Ockenden was beaming with pride after notching up his 300th appearance for Australia in Sunday morning's (AEDT) 2-2 draw with Germany at the FIH Men's World League Final.

The Tasmanian midfielder became only the sixth player to reach 300 games for the Kookaburras.

"Thinking about it now I'm pretty proud to represent Australia 300 times," Ockenden said post-match.

"It feels like a lot of games. It feels like it went pretty quickly in the same sentence."

The 30-year-old, who debuted in 2006, said it was a special occasion in front of a bumper crowd at Kalinga Stadium in Bhubaneswar.

"Australia versus Germany in front of a huge Indian crowd is pretty special," he said.

"I'll always remember my 300th game for that reason."

The draw means Australia have two points from two games but can still top Pool B with a win in their final group game against England from 11pm AEDT on Monday night.

Ockenden said the Kookaburras were on the improve and ambitious about their chances ahead of the quarter-finals.

"We're looking to win the tournament," he said.

"We want to get better every day and I think we were better than (the 1-1 draw with India) yesterday.

"We want to make steps all the way through, quarter-finals, semi-finals are obviously big games.

"Whenever we come to tournaments we want to win, so it is definitely our aim."

Hockey Australia media release


---

Second successive draw for Australia in HWL Final nail-biter

Feroz Khan

BHUBANESWAR: Australia, Germany played out a nail-biting 2-2 draw in a Pool B match of the Hockey World League Final on Saturday. In a seesaw affair, Germany took the lead in the first quarter before Australia scored twice in the third quarter to go ahead.

But in the final minutes, four-time Olympic champion Germany equalised to climb at the top of Pool B with four points.

Australia were quicker off the blocks and created more chances in the opening minutes. The spirited moves, sometimes solo, began with a promise but they failed to break the German defence which seemed impregnable. Germany were happy to sit back but when they went on the offensive, rattled the defending champions.

It was during one such period when they capitalised through Marco Miltkau who found himself in front of the cage and accepted the easy chance, putting his team in lead at 1-0 in the seventh minute.

Australian captain Mark Knowles got a weak touch as he attempted to intercept a pass from the right flank near the edge of the D meant for Timur Oruz who then quickly took control and pushed it inside further where Miltkau did the rest.

The Germans were content to defend, holding on to their lead. They knew it was Australia who were playing catch-up. Australia tried their best to crash their defence barrier but failed on multiple occasions. Their attempts at penalty corners were thwarted by the rushers. On one instance Dylan Witherspoon did find the target, but alert German goalkeeper Mark Appel padded the ball away. Germany were frustrating the world no. 2 with a defence masterclass.

If only they had not committed mistakes of their own, the contest would have gone in their favour. They failed to convert all their penalty corners, one thanks to some resolute defending and others due to failed attempt at variations.

In the third quarter, Australia were pressing hard, minute after minute. And then in the 39th minute, got a penalty corner. They almost made a hash of it as drag-flicker Blake Govers missed the ball in his first attempt. He quickly got hold of the ball and found the equaliser.

And then Aaron Kleinschmidt scored an excellent field goal to put Australia ahead in the 49th minute. A searing pass from the right found a diving Kleinschmidt one-on-one with the goalie as he guided the ball in. From being a goal down in the first two quarters, Australia had taken control and the lead.

But as it turned out, it wasn't the end. Germany were now playing catch up. With two minutes left on the clock, Germany won two successive penalty corners. They missed the first but Marin Haner converted the second to draw level.

The Times of India


---

Ward's superb late strike hands England dramatic victory



Sam Ward celebrates v India

Sam Ward's stunning strike secured England's first win of the Odisha World League Finals in a thrilling game against India.

The hosts looked like they had completed a remarkable comeback as Akashdeep Singh and Rupinder Singh struck in the final quarter to wipe away England's initial two goal lead after earlier goals from Ward and David Goodfield.

But with just three minutes remaining David Condon found Beeston's Ward in the circle before the forward smashed the ball into the roof of the net to hand England a first win against India in the south Asian country since January 2014.

After the game Ward said that having team-mates Brendan Creed and Harry Martin back from illness - having missed the opening game with Germany - was crucial to their victory.

"It helped having a few more players. Obviously yesterday we were three down so having them back made a big difference," the Player of the Match said.

"We had to grind them down and it was fantastic to get the result."

Both teams started at a lively tempo and created early chances, Akashdeep forcing Harry Gibson into a second minute save before Goodfield scuffed a golden opportunity wide shortly after.

India then nearly took the lead at the start of the second period only for Chinglensana Kangujam to completely miss the target.

Mark Gleghorne's penalty corner - England's first of the tournament - was then well charged down in the 25th minute but seconds later England took the league after Goodfield's cross was diverted into his own goal by goalkeeper Suraj Karkera.

That goal stunned a previously vociferous home crowd into silence but they awoke four minutes after half-time as Gibson produced a marvellous save to keep out a well hit strike from the edge of the circle.

However they went quiet once again two minutes before the end of the third quarter as Ward scored his 20th goal for England, taking full advantage as Harmanpreet Singh failed to control a routine aerial in his own circle by sliding the ball past Karkera.

The defender almost immediately made amends a minute later as Gibson kept out a penalty corner that sparked India into life as they won another at the start of the final period of play.

George Pinner did well to keep out Rupinder's initial effort but the ball bounced up kindly for Akashdeep to nudge into the England goal.

Three minutes later - and spurred on by the partisan home support - India levelled the scores as Rupinder snuck a vicious flick in between Pinner and Barry Middleton on the goal line.

The drama was not finished there though as both teams continued to press hard, with Condon thinking he should have been given a penalty corner with four minutes remaining after a powerful run.

He controlled his frustration at the decision well though and played an instrumental part in setting up the winner by playing an intelligent pass to Ward, who did well to manufacture some room before unleashing an unstoppable effort to win the game.

India (0) 2
Akashdeep (PC, 47), Rupinder (PC, 50)

England (1) 3
Goodfield (FG, 25), Ward (FG, 43; FG, 57)

Starting XI: Gibson, Weir, Ward, Gleghorne, Roper (C), Dixon, Middleton, Creed, Goodfield, Condon, Sanford,

Subs (Used): Pinner, Taylor, Martin, Ansell, C Griffiths, Gall

England Hockey Board Media release


---

Self-destructing India played like they were suffering jet lag in England defeat

Sundeep Misra



The Indian hockey team before a Hockey World League Final match. Image courtesy: Twitter/@TheHockeyIndia

Even though defending is a thankless job, yet it requires a certain art, a level of detachment that comes from the knowledge that applause is only for the 'aura ringed forwards'. But when defenders go into a slump or face a dip in form or have inconsistent pitch behaviour, and teams like England take advantage, it reduces India to clichéd excuses for what was one of the worst performances of this year. England may have won 3-2, the match-winning goal snatched straight out of India's hands, but the truth is the hosts played like they were suffering jet lag.

At the outset, to be fair, it's a failure in only their second match at the Hockey World League Final; but a collapse of mammoth proportions. Except for the initial periods of the 1st quarter and the start of the 4th quarter, India self-destructed.

Previously this year at the Azlan Shah against Malaysia and then in the HWL Semi-Finals in London, India played much below par against Canada and then Malaysia to lose a semi-final spot. The team then blew away circle penetrations that crossed 15 with strikes on goals pegged at 16 and 20.

But at the Kalinga Stadium in front of a packed house, India didn't play hockey. They let England enjoy domination, allowed the English to play themselves into the game and sat back, their own play riddled with basic errors to lose a match that, purely based on their form and skill, should have been in their pocket. In the first quarter, around the 5th minute, there was a moment when Varun had the ball and he tried dribbling past two English forwards and failed. India were playing in 2017 but the mindset was back to the eighties. Gone was the first touch release. And its place was taken by selfishness, and a move away from the game plan.

The surprising aspect is that it's not a team that has just graduated from the junior league to the senior. Harmanpreet Singh and Rupinder Pal Singh were at the Rio Olympics. Besides, Harmanpreet was part of the junior squad which won the 2016 Junior World Cup. The captain, Manpreet Singh, played his 200th international in the 1-1 draw against Australia and in just 24 hours forgot the discipline instilled over 200 games.

Chinglensana Singh, SK Uthappa, SV Sunil, Akashdeep Singh, Mandeep Singh, Gurjant Singh all blew it away in a refusal to accept they were not in the right frame of mind. Instead of holding the ball and controlling the proceedings, which was of vital importance, they went for wild passes more in hope than anything else.

Birendra Lakra, coming back after a long lay-off, showed he still needs more time. But what was baffling was Rupinder. He did score the equaliser which brought the house down. But his field play was that of an amateur; of a player who was not willing to grind it the way the English did it in the 1st quarter.

England were reinforced by the return of Brendan Creed and Harry Martin but what was impressive was even though they were still way below their best, they played as a unit. Rotation won the day as they probed for weaknesses in the Indian side. To a good coach like Bobby Crutchley, it was evident that India wasn't a unified team. The flow so evident against Australia was simply not there.

Even in the forward line, Mandeep, Sunil, Akashdeep, Gurjant and Lalit Thapa played as individuals. Sunil seriously needs to balance his ball skills with that of his sprinting ability. With acres of space available but no support, Sunil sprinted and was deprived of the ball four times in the match. Baffling was the fact that each of those turnovers were fashioned into a counter-attack by the English.

After 222 caps, you don't need a Sjoerd Marijne to tell you that. Each of those runs could have been held back to build a move with the defence moving up and the midfield getting an opportunity to create something substantial.

Glimpses of the level of a Nehru Cup hockey match were provided by some of the players. Criticism is harsh but players with 100 caps have a responsibility to not only the team but to the 8,000-odd paying fans who turned up to watch the team play your best and not put in a shoddy performance. It's a huge credit to the fans that they stayed put even after England had a 2-0 lead in the 43rd minute, enjoyed the comeback and then applauded the home team after the match.

Marijne, at the post match conference, looked thunderous. "Players don't do it with purpose but that cost us the game," Marijne said when asked about India's costly defensive lapses. "But it was not only about defence. The speed of the game in the beginning was not good enough. We held the ball too long and we lost the ball too much. The pressing was not like yesterday. I have already told them before the tournament that we really need to work on our consistency. For me the big question is why we dropped from yesterday's level. That's what we need to talk about because if you have reasons you can improve," he said.

In a way, it wasn't good enough an explanation. Of course, players don't do it on purpose. Any explanation at this point of time does sound like a worn-out cliché, given the wealth of experience many of the players had — just counting those who have played more than 100 matches, India had the experience of 1,357 international matches.

India rarely demonstrated a tactical know-how to kill counter-attacks. Over the years, we have a weakness for the counter and the midfield or the forwards are the first line. Look back into the match against Australia and that's where we got it right. India kept the Aussies boxed in and rarely let them create.

India's midfield was in disarray and players were not willing to work hard. Uthappa drifted through the match while Mandeep rarely made an attempt to regain control in the middle of the pitch. In the 2nd and 3rd quarters, three-four Indian players usually boxed themselves into a space of five to ten metres. Short passes can easily be broken up and if you count the turn-overs when India had the ball, they were 12; that in itself created pressure. Not once did the back line show a structure and when Harmanpreet was deprived off a high ball by a trapping error, Sam Ward found space past Akash Chikte. There were no back-ups here.

The bigger issues lay in the play-making. It's in short supply and some players have a very narrow field of view. Thus it's almost impossible to generate any kind of in-possession momentum. Most of the movement died simply because the player in sequence wasn't able to keep the pass going.

At the post-match conference, an almost different Indian captain faced the media. Along with the team, he too had had a bad day. "I think there were too many errors and we need to get back to the basics," said a Manpreet, who was visibly shocked. "We need to create more penalty corners."

In two matches, India have had nine penalty corners and just one direct flick to show. Finding answers in penalty corners is easy. But field work is what leads to penalty corners. India did really well in the 4th quarter to bring back momentum and press an English side that was sitting on a 2-0 lead.

India pulled back a goal in the 47th minute off their 3rd penalty corner. Rupinder's flick bounced off George Pinner's pads and Akashdeep rushing in didn't hesitate to smash the ball into goal. The fans came back to life and England realised they now needed to work. And then off the 5th penalty corner, Rupinder's low but powerful flick bisected the goalkeeper and the defender to bring back the fans on their feet.

Ideally, India should have packed the midfield, and even tried bringing back Lalit, to hang onto the ball. But they refused to regroup; though the match-winner by Sam Ward in the 57th minute came off a late clearance by Manpreet. Ward found space and beat Chikte on his right side; it was a goal that should have been saved by the Indian goalkeeper. India would do well to hasten the release point of the ball because in delaying they are squandering away the fraction of a second that could make all the difference.

India now have a rest day on Sunday, a day where introspection and a team talk could get them ready for Germany on Monday. Potential is a variable beast. India need to plug the gap between what it does and what it is seriously capable of.

Firstpost


---

Error prone India exposed by England

s2h team




Error prone India failed to live up the expectation, going 2-3 down to England in its second match today at the Kalinga stadium, Bhubneswar. India struck two late goals to make amends for their earlier lethargic display but an opportune Samuel Ward gave his side a thump up with a reverse shot that thundered into the net three minutes before the hooter after outsmarting three markers inside D to post the winner in a manner that befitted their domination throughout the encounter.

It was yet again a story of conceding late goals and also India's inability to close down the match when the things are turning against.

In the last HWL Finals in Raipur, India defeated England in the quarterfinal.

Indian forwards were again found wanting missing out on scoring many occasions, often Mandeep Singh seen unable to connect good balls served to him inside the circle. But the error prone India was exposed by the English side. The loss pushed the hosts to the bottom of points table after Day 2 of the Hockey World League Finals here in Bhubneswar.

Match 4 of the day was much expected, every seat in the stands were occupied. India however did not show the energy and precision they showcased a day earlier against Australia.

After a failed penalty corner conversion, England went up a minute later when David Goodfield struck from a close angle from the right baseline (1-0). It was in the 25th minute.

Midway in the third quarter, Sam Ward enhanced the lead after Harmanpreet Singh fumbled with a rival's overhead. As he failed to stop a overhead that landed inside D, Sam sensed goal, and quickly blasted the ball into open net (2-0).

Indians pressed hard in the last quarter and as a result got a penalty corner with a successful referral for a wrong side stick tackle of Sunil.

Rupinderpal took the drag aiming the centre. Goalie blocked it but Akashdeep Singh tapped in the short rebound (2-1) in the 50th minute.

Three Minutes later, Rupinderpal sounded the board (2-2), leading to wide celebrations. However, Sam's acrobatic goal in the 57th minute silenced all.

Over all it was an error prone game by Indians. Forwards fumbled. They are poor inside circle. On the other hand, the English were precise and always threatening to punish the rival side's smallest of mistakes, which ultimately told on the scored board.

Indian coach Sojerd Marinje pulled Indian goalie out for the last three minutes to narrow the gap, but the one man extra was evened out as Akashdeep would immediately get an yellow card suspension for a frustrated shoving of rival player inside D.

Over all, India needs to play a flawless hockey and bring back the freeflow one which all saw on the opening day.

Day 2 of Hockey World League Finals is a busy one. All Eight teams were on action. The London HWL SFs finalist Argentina and Belgium played their first match which turned out to be a stunner. Argentina bowed down to the belgium's precision in the circle. Argentina thus faced a close defeat 2-3. Match No.4 followed the trend. Spain surprised Netherlands for a fluent 3-2 victory.

Australia and Germany played an exciting hockey before the Match of the Day between the host and England was played out. In the match No.5 Australia trailed for much part of the game by an odd goal, but bounced back in time, striking twice in the later stages. Just two mins and 43 sec before the final whistle Germany converted its last penalty corner to draw level 2-2. The match turned physical, both Jeremy Hayward and Chris Ruhr simultaneously got yellow cards

M.No.3: YOUNG Player:Maico Casella (Argentina)
M.No.3: Man of the Match:Loick Luypaert (Belgium)
M.No.4: YOUNG Player:Enrique Gonzalez (Spain)
M.No.4: Man of the Match:Ricardo Santana (Spain)
M.No.5: YOUNG Player:Lachlan Sharp (Australia)
M.No.5: Man of the Match:Jake Whetton(Australia)
M.No.6: Young Player:Harmanpreet Singh (India)
M.No.6: Man of the Match:Samuel Ward (England)

Stick2Hockey.com


---

Clumsy India pay the price for inconsistency, lose to England

India's both goals came from penalty corner conversions by Akashdeep Singh (47th) and Rupinderpal Singh (50th).

Uthra Ganesan



England's Ward Sam gestures after scoring the second goal against India during the match in the Hockey World League Final match at Kalinga stadium in Bhubaneswar on Saturday. Photo Credit: Biswaranjan Rout

India coach Sjoerd Marijne had praised his team's discipline after the first game against Australia. Captain Manpreet Singh had spoken about the structure. Both were missing on Saturday as the host went down 3-2 against England in a scrappy Hockey World League Finals Pool B match on a day of upsets that saw lower-ranked sides getting the better of their higher -placed opponents, by identical 3-2 margins.

Every previous coach of this team had been frustrated by India's inconsistency and unpredictability. Marijne would be the latest addition to the list. The host was erratic and off-target. England wasn't too better but it took full advantage of India's mistakes.

There was little to chose between the sides except for the extra goal for the visitor. And the Indian team was partly responsible for all three.

The control on the situation and ball possession seen earlier were both missing. India tried to hustle the opposition, indulged in some body-play and tried to use the aerial route but couldn't connect. The one-touch play was absent, the players held on to the ball too long and there was none of the give-and-go that the team had practised for ever since Marijne took over.

"This was not the gameplan we had, we need to stick to the basics and do the simple things right," SK Uthappa said at half time with India trailing by a goal. That had come off a goalmouth melee that saw David Goodfield's attempt take a deflection from the inside edge of goalkeeper Suraj Karkera's pads and go in. It showed the team knew the problem; it just didn't know how to rectify it. The third quarter — second half — was equally disjointed.

India's defence had stood out the previous day, for all the right reasons. It was in the spotlight again, but for all the wrong reasons.

England's second goal by Sam Ward was gifted by Harmanpreet Singh's trapping error, an out-of-place goalkeeper Akash Chitke and no back-up. The third was due to poor marking my Manpreet Singh. Amit Rohidas hardly took the field in the final quarter. The speed was too slow. The turnovers conceded too many and earned too little. The shots off target too often. The desperate dives resulting in too many slippages. India's concerns on the day were simply too many.

The host did try and recoup in the last 10 minutes. There was an urgency in the attacks and with field goals not coming, the focus shifted on earning penalty corners. India got them too, five of them, and scored twice — one a rebound and the other direct hit — to level scores. But while England stuck to its plan and kept pressing ahead India, despite the momentum, could not hold on to the structure. And paid for it.

As has been said may times over, results at this stage matter little. But for India, momentum has always been important. Hopefully the two games so far would have given Marijne an idea of which team he would want to turn up against Germany in the final pool match on Monday.

Earlier Spain, the lowest ranked side in the competition, beat European champion Netherlands 3-2 and Belgium defeated Olympic champion Argentina by an identical margin in Pool A encounters. In Pool B, Australia managed to hold Germany 2-2 for its second successive draw.

The results: Pool A: Belgium 3 (Loick Luypaert, Amaury Keusters, Tom Boon) bt Argentina 2 (Maico Casella, Gonzalo Peillat); Spain 3 (Pau Quemada, Enrique Gonzalez, Diego Arana) bt Netherlands 2 (Lars Balk, Mirco Pruijser); Pool B: Germany 2 (Martin Haner, Marco Miltkau) drew with Australia 2 (Blake Govers, Aaron Kleinschmidt); England 3 (Sam Ward 2, David Goodfield) bt India 2 (Akashdeep Singh, Rupinderpal Singh).

The Hindu


---

India fight back but not enough vs England; Belgium, Spain register upset wins

Indervir Grewal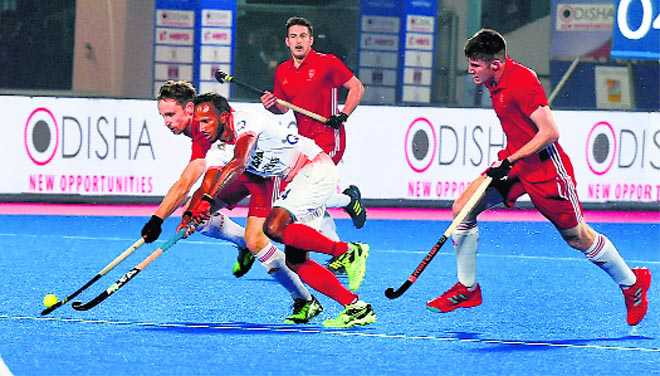 SV Sunil is chased by England''s players during their match on Saturday. PTI

India took their own sweet time to wake up from the blissful trance they seemed to have gone into after having pushed world champions Australia to the limit on the first day. But just as the spectators screamed their loudest to egg the hosts towards victory, Sam Ward's stunning on-the-turn strike into the far corner burst the bubble and denied India a well-earned point.

It took India three quarters and two England goals to find the current they had shown in their 1-1 draw against Australia on Friday. While Akashdeep Singh's follow-up tap-in (47th minute) after a drag-flick that rebounded off the goalkeeper's pads woke the crowd up, the decibel levels in the stadium after Rupinder Pal Singh's equaliser (50th) from a penalty corner went through the roof.

The crowd, which had been lulled into a daze by England's choke-hold over a lackadaisical India, found its voice again. Chants of "India jeete ga" echoed around the Kalinga Stadium, and along with the crowd, the players also started to believe they could steal a spectacular come-from-behind victory. And they dominated England for most part of the next seven minutes. However, they got carried away trying to find the goal, and a drop in concentration gave Ward a half chance he grabbed with both hands.

It was, in fact, Ward's first goal, in the 43rd minute, that had come as a wakeup call for India. An innocuous scoop into the India circle should have been easily handled by Harmanpreet Singh. But the youngster played for the whistle, trying to get a 5-yard foul with Ward behind him. But in keeping an eye on Ward, he failed to stop the ball, and Ward easily rounded up the hapless goalkeeper to score England's second.

Their first goal (25th) had also been a soft one. Two Indian players were caught out of position and a manageable cross pushed in from left went into the goal off the inside of goalkeeper Suraj Karkera's extended left leg.

India had not started the match in their usual speedy style and looked guarded in their approach. They were haphazard and "did not playing to our game plan", as SK Uthappa said during a halftime interview.

Not finding rhythm

Belgium avenged their Olympics final defeat with a 3-2 win over Argentina, but the match didn't live up to expectations. While the usually fast and fluent Belgium lacked rhythm, Argentina only woke up after falling behind by two goals. Being their first matches, the top teams have struggled to find their rhythm. On Friday, Australia, Germany and England were off-colour. Today, the Netherlands became the first casualty after being upset 3-2 by Spain.

Sreejesh in trouble for Kohli match?

India's prolific goalkeeper PR Sreejesh could face disciplinary action from Hockey India for playing in Virat Kohli's charity football match in October. Sreejesh, who has been out of action since May due to a knee injury, could face the repercussions for playing during his recovery period. Sreejesh is supposed to make a comeback at the four-nation tournament in New Zealand in January. Hockey India said it could not comment on the issue till the disciplinary panel met.

Results

    England 3-2 India
    David Goodfield (25th min)
    Sam Ward (43rd, 57th min)
    Akashdeep Singh (47th min)
    Rupinderpal Singh (50th)
    Belgium 3-2 Argentina
    Spain 3-2 Netherlands
    Germany 2-2 Australia

The Tribune


---

Ward strikes twice as England beat India 3-2

Feroz Khan

BHUBANESWAR: Samuel Ward struck twice as England beat India 3-2 to record their first win of the Hockey World League Final on Saturday.

England had a lacklustre game against Germany in their HWL opener on Friday evening, losing 0-2 whereas India, despite being wasteful, held Australia to a 1-1 draw. India continued to be wasteful but England improved. They took the lead thanks to an enterprising goal from David Goodfield in the 25th minute. From an acute angle, he shot towards the far corner and with some luck, the ball deflected off goalkeeper Suraj Karkera and went inside the cage.

A mistake from India captain Harmanpreet Singh in the 43rd minute cost India dearly as England doubled their lead. He failed to control an aerial shot as the ball approached him bouncing inside the D. England had Ward wandering inside the danger zone and he pushed the ball past Akash Chikte.

Australia allowed India several chances to score on Friday but they couldn't as the forwards and the drag-flickers failed to apply the finishing touches. Against England those opportunities were fewer for the majority of the game. They won back-to-back penalty corners but converted neither. After 45 minutes they were lagging behind by two goals and with time running out, they not only needed to create chances but to convert them too.

Another opportunity came, in the form of penalty corner. The story was repeated as Rupinder Pal Singh's bad run continued with the England goalkeeper blocking his flick, again. But as the goalie fell in his effort, Akashdeep Singh was waiting inside the D and on the rebound, lifted the ball over him, scoring the equaliser and bringing the packed stadium alive.

With that goal, the mood changed - on and off the field. And then it also changed Rupinder's luck. Kothajit won India their fourth penalty corner, Rupinder missed. They won another. And this time, Rupinder's dragflick soared past the rushers and the custodian, crashing inside the cage. In the 50th minute, India had equalised - scoring twice in three minutes.

Six minutes after that, Ward crashed through the Indian defenders to sneak in his second goal and England then held on to their 3-2 lead despite India playing without a goalkeeper in the final moments in a desperate search for an equaliser.

The Times of India


---

We worked on our mistakes after losing to Germany: Phil Roper

Feroz Khan

BHUBANESWAR: England produced two contrasting performances in the space of one day as they bounced back from their 0-2 defeat to record their first win of the Hockey World League Final on Saturday.

Playing in front of a partisan home crowd, England maintained their calm and composure to beat India 3-2 and take home full three points from the fixture.

England coach Bobby Crutchley was pleased with the performance and said that missing three key players in their opening match against Germany on Friday resulted in a drab performance.

"We were missing three players yesterday. So, we couldn't play at the same intensity that we wanted to. We got a couple of them back today. So that made the difference as we were able to play our tactics. Based around that," he said after the match.

Shedding some light on their tactics, Bobby said, "We always want to put pressure. We have to be more organised to deny the space, passes. We know India can threaten with long passes. So, we can't give them those. We also wanted to put pressure to win the ball too. When your defence turns over the ball, you have the space to counterattack. And that's a key thing in international hockey now. To create counterattack opportunities, you need to defend well. So it's not just about attacking, you have to get the defensive bit first."

England captain Phil Roper said the team worked on their mistakes. "We did some decent work last night and looked up what went wrong against Germany and try to correct that. Thankfully it kind of went well today," he said.

India did raise their intensity in the final 10 minutes as they tried hard for a comeback and managed to do that converting a penalty corner before England restored their lead through Sam Ward's second strike of the night.

"All the momentum was with India for those 10 minutes. Especially when the crowd gets going. We always knew if we stuck to our game plan and stayed composed, we could snatch a goal. We played some good hockey and luckily we have some forwards who can score those kind of goals," Roper said.

The Times of India


---

We were not good enough: Marijne

England, on the other hand, was happy after the loss in opening game.



Sjoerd Marijne 

India coach Sjoerd Marijne has often advocated a player-first philosophy, insisting it was always team work. After defeat to England too, he refused to apportion blame to any individual.

"We not only have to address individual mistakes but work as a team. In the first two quarters the level was not good enough like yesterday. We know we have to improve. I told them before the tournament that we need to work on our consistency. I am happy with the end of the match though. We fought back, we created opportunities and penalty corners," Marijne said after the game, trying to find positives in the loss.

He also defended his players and the poor defence. "Players don't do it with purpose. But it was not only about defence. The speed of the game in the beginning was not good enough. We held the ball too long, we lost the ball too much," he added.

Asked what were the lessons learnt form this game, he refused to get into details. "I told the players it is easy to pinpoint mistakes but it is better we think what went wrong and why so that it doesn't happen next time. The big question is why we dropped from our yesterday's level. That's what we need to talk about because if you have reasons for poor performance, you can improve," he insisted.

England, on the other hand, was happy after the loss in opening game. "It was important to get our tournament going. Yesterday we struggled a bit against Germany so it was nice to get the result. Every team in the tournament will get better and learn as they go on," coach Bobby

Crutchley said, adding that the key was to avoid turnovers and intercept India's aerial passes, both of which his team managed to do successfully to prevent India's counter-attacks.

The Hindu


---

Maintaining consistency remains a big challenge for India

Feroz Khan

BHUBANESWAR: You didn't have to watch the India-England Hockey World League Final league stage encounter to know who had won. A glance at the expression of Indian skipper Manpreet Singh gave away the result as he sat beside coach Sjoerd Marijne while addressing the media after India suffered a 2-3 defeat on Saturday night.

Barely looking at anyone with his eyes fixated downwards, the young captain was in a pensive mood with coach doing the most of the talking. When finally, a question was addressed to him, the usual cheerfulness in his voice was missing but his replies were sharp.

"We cannot play the entire game at one pace," Manpreet said when asked why India and especially he raised the game only in the final 10 minutes when they were trailing 0-2. "There are times when we need to slow down the pace of the game. Sometimes you attack more, sometimes you have to defend. In the last quarter, we were trailing behind by two goals so we needed to attack more and need to play upfront. So, I played in a more attacking position."

Marijne felt the intensity wasn't at the same level as Friday when India played out a 1-1 draw against defending champions Australia. "For me consistency is the big question and why we dropped our level (from yesterday). That's what we are going to talk about. Because if you have reasons, you can improve on them," he said.

Indians were guilty of committing several defending errors allowing England easy goals and despite their late push for a win, they ended up conceding a late goal to lose by a narrow margin.

"That's part of the game but you want to avoid that," Sjoerd said on the glaring mistakes. "Players aren't doing it on purpose but it happened and cost us the game. But I don't think it was only that. The speed of the game in the beginning was not good enough. We kept losing the ball too many times. We not only have to watch individual mistakes but as a team too. The level wasn't as much like yesterday. We know we have to improve. As I spoke before, we need to work on our consistency. I am happy what happened during the final stages when we equalised. Unfortunately, we lost in the end," he further added.

India next face Germany in their final league game on Monday and will look to put up the defeat behind and finish on a positive note ahead of the knockouts.

The Times of India


---

Hager's plan to take on men goes on hold

By David Leggat



The Dutch proved too strong for the women's Black Sticks. Photo / photosport.nz

It seems Black Sticks women's coach Mark Hager's impassioned call for his team to have more matchplay against men is going to have to wait.

After losing the World League final at North Harbour 3-0 to world No1 the Netherlands, Hager said it was important the women have more exposure to playing men's under-18 or 21 level provincial teams to learn about coping with a faster-paced, physical style of hockey.

"We've got to be innovational and stop beating our heads against a brick wall," Hager said. "We have got to play in the boys competition, simple, plain, easy and we've got to get over the fear of the girls getting hurt. We play under-18 boys and some under-21s and it's a good contest.

"They play at such a pace it gets us up to speed. That's what we've got at our disposal but I don't think we tap into it enough."

There are occasional hitouts against Auckland or North Harbour young men's age group teams but Hager wants more of it, and more structured.

However, Hockey New Zealand's high performance boss Paul MacKinnon made it clear it's not happening in the immediate future.

Asked if it was feasible for the national women's team to play in an under-18 national tournament, for example, he said: "Not yet. To make changes like that you need consolidated time with the whole system, and regions [and ask] is it the right thing to do?

"If it's a good idea, that's fine but it can take time to round it out and implement it."

MacKinnon admitted serious thought hadn't gone into the idea of women in a men's tournament at official level.

MacKinnon said there are a range of initiatives and acknowledged games against age group men are good value for the Black Sticks, who went up to No4 on world rankings with their performance at the World League tournament at Albany.

"It's a higher level of physical intensity, a faster game, and puts more pressure on time and space and decision-making aspects; the sort of things they'll face when they are playing teams like Argentina and the Netherlands."

Hager said the club competitions for the country's leading women aren't good enough. "They train once a week in club competitions, play once at weekends, where an under-18 tournament gives us the chance to play in tournament style against the boys.

"That's what Holland do every week. They play quality competition every week, train three or four times a week, play two games at weekends."

All that said, Hager felt his Black Sticks, considering the loss of a chunk of experienced players this year, are a year and a half ahead of where he thought they might be in terms of progress.

"Hopefully some of the young ones will learn. The Dutch gave us a bit of a lesson.

"We have to look at ways to score goals. [If we can't], we're not going to win games."

The New Zealand Herald


---

Rafters the comeback queens of round two PHL action



Bernie Coston (L) battles for the ball. Photo by Marcel Sigg

"Never underestimate the underdog" were the first words out of coach Shaun Hulley's mouth as he left the field after his side's stunning 2-1 upset victory over the 2016 women's runners-up at the Premier Hockey League in Johannesburg on Saturday.

Having lost both their matches last weekend, the Orange River Rafters went into their game against the TopT Madikwe Rangers knowing they had to pull off a win to keep any semifinal hopes alive.

This knowledge, together with a good bit of inspiration from being tagged as the tournament underdogs, proved to be just what was needed to claim a 2-1 win.

Two goals from captain Sulette Damons were what did it for the Rafters. They took the lead in the third minute and extended that to 2-0, 20 minutes later. But the Rangers came back at them just a matter of seconds later when Sylvia van Jaarsveldt scored from a penalty corner. The Rafters then had to endure a period of sustained pressure but held on for the win.

In what seems to be true Rafters style, Damons was unwilling to take any of the credit for her brace. "It was a great build-up, really a team effort. I was just lucky enough to get in front and get the touches. So I don't take the credit – they were definitely team goals," she said afterwards.

"We are very chuffed. We knew it was a very important game and we needed to win it to get a lifeline in this tournament and we did it.

"The other team most probably thought they've got nothing to fear and were humbled. We knew we had nothing to lose, just enjoyed it and gave it our all. Every single one of the team did their part and that led to the victory," added the captain.

Her coach echoed those sentiments. "It was a team effort and a better understanding of what we needed to do in that last bit. The press was better, closing the different zones was better, which is something that we lacked last weekend," said Hulley.

"Being the underdog has given us a bit more freedom as well. I think playing against some of the teams we're playing – it just shows you, no matter how many good players you have on your team, if you don't play as a team, then you're probably going to be found wanting."

Meanwhile, despite having to overcome a "sleepy brain" for an early morning match, Private Property St Lucia Lakers captain Shelley Jones managed to lead her side to a 3-1 victory over the iWYZE Namaqualand Daisies, which included a brace from Kelly Reed.

"Definitely the Daisies put us under a lot of pressure and at one stage had six penalty corners in a row so we're thrilled with our PC defence to keep that all out and very proud of the girls for putting in those last two goals at the end. We just persisted with what we were doing and finally we knew those goals would come," said Jones.

"I think it was still very scrappy at times. I'd like to think that's what an 8am game does – still a few sleepy brains – well, that's my excuse anyway – but I think with each game we know each other a little better and hopefully are honing in on those connection and passes we need to make. I think we can look forward to a better performance next week," she added.

In the men's tournament, coach Krinesan Moodley said he believes to win the Premier Hockey League you have to concede as few goals as possible. So a stat sheet that shows 9 for and 1 against after two games, is something that has the coach of the Mapungubwe Mambas smiling broadly.

His side beat the Garden Route Gazelles 3-0 to put them in an excellent position heading into Sunday's showdown with the 2016 runners-up, the Kilimanjaro Addo Elephants.

"It's more about how few goals you concede rather than how many goals you score. It's obviously a balance. Scoring goals is great for the team, winning games. But conceding one goal in two games at this level, playing against some quality strikers is important for us," said Moodley.

The Addo Elephants celebrated their first win of the tournament with a 4-2 victory over the iWYZE Golden Gate Gladiators. They went 4-0 up before the under-21 side pulled two back with penalty corner goals. And in the final women's match of the day, the defending champions, the Tivoli Blyde River Bunters kept up their unbeaten run by defeating the Wineland Wings 3-1.

PHL action continues at the Randburg Astro on Sunday, with all matches being broadcast on SuperSport.

Results

2 December 2017:

Private Property St Lucia Lakers 3-1 iWYZE Namaqualand Daisies
Mapungubwe Mambas 3-0 Garden Route Gazelles
Orange River Rafters 2-1 TopT Madikwe Rangers
Kilimanjaro Addo Elephants 4-2 iWYZE Golden Gate Gladiators
Tivoli Blyde River Bunters 3-1 Wineland Wings

Fixtures

3 December 2017:

8am: Kilimanjaro Addo Elephants v Mapungubwe Mambas
10am: iWYZE Namaqualand Daisies v Wineland Wings
12pm: Crossroads Maropeng Cavemen v ProGrip Drakensberg Dragons
2pm: TopT Madikwe Rangers v Tivoli Blyde River Bunters
4pm: iWYZE Golden Gate Gladiators v Garden Route Gazelles

SA Hockey Association media release


---

Kenya Police's unbeaten streak ends in Kakamega

By TITUS MAERO & BRIAN YONGA



Mike Malungu (left) of Western Jaguars celebrate a goal against Multimedia University with teammates during their play-off match at City Park Stadium on February 25, 2017. PHOTO | MARTIN MUKANGU | NATION MEDIA GROUP

Kenya Police's unbeaten run in the Kenya Hockey Union (KHU) men's Premier league came to an end Saturday when they were defeated 1-0 by hosts Western Jaguars at the Kakamega High School grounds.

Dan Kuya's 45th minute goal via a penalty corner delivered the famous win to the relegation-threatened side.

Police, who last won the Premier League title in 2013, had won 20 matches and drawn once prior to Saturday's encounter.

The result left Police top of the pile with 61 points, 13 points ahead of second- placed Butali Sugar Warriors, who beat spluttering champions Strathmore University Gladiators 2-1 at the City Park Stadium in Nairobi.

Kenya Police Coach Kenneth Kaunda said his boys played well in spite of the defeat.

"We had many scoring opportunities but the strikers were unlucky not to have scored," said Kaunda.

On his part, Jaguars Assistant Coach Peter Okova praised his players for putting up a sterling performance.

"We used the home ground well. The boys played an attacking game and we made use of the chance we got." said Okova. The win took Jaguars away from the relegation spot.

They are now in 13th place with 21 points, one ahead of Kenyatta University Vultures and 13 ahead of bottom placed Technical University of Kenya.

The bottom two teams will be relegated at the end of the season.

Police started the encounter on a high note and they could have taken the lead in the fifth minute when Calvin Kanu's shot on the edge of the Jaguars' circle was cleared by defender Mark Mutua.

Jaguars fought back gallantly making relentless attacks at the goal mouth of their opponents in search of the elusive goal. After half time, both teams showed high ball possession.

Victor Wekesa could have snatched the opener in the 38th minute for Police when he rounded up Kelvin Machinji only to shoot the ball in the hands of advancing goal keeper Gilbert Okanga.

Jaguars maintained a composed game and went ahead with 15 minutes to go as Kuya converted Ian Baron's short corner.

At City Park Stadium, Butali took the lead in the first minute through Maxwell Fuchaka's field goal but the students levelled through Job Jerry Ogaro in the second quarter.



Festus Onyango of Strathmore University Gladiators (left) tries to evade a challenge from Brian Musasia of Butali during their Kenya Hockey Union men's Premier league match at City Park Stadium on December 2, 2017. PHOTO | MARTIN MUKANGU | NATION MEDIA GROUP

The lakeside team benefited from defensive lapses from the students to regain the lead through Barnabas Odhiambo and held out for the three points.

They will have a chance to cut Police's lead to 10 points with a win against USIU on Sunday.

In another men's Premier league match, Sikh Union cruised to a 5-1 win over Parklands.

A brace from international Francis Esikhuri set the 2012 champions on the path to a comfortable win in a match they should have won by a wider margin.



Sikh Union's Allan Iningu (centre) celebrates his goal against Parklands with teammates at the City Park Stadium on December 2, 2017. PHOTO | MARTIN MUKANGU | NATION MEDIA GROUP

Allan Iningu, Inderjit 'Coolly' Matharu and Davies Wanangwe also chipped in with goals as Sikh put their opponents to the sword scoring all their goals through short corners.

Allan Odongo scored a consolation for Parklands in the fourth quarter.

In the men's National League, Dedan Kimathi secured a 2-1 win over University of Nairobi as Impala earned three points after Daystar University failed to show up for their match.

Daily Nation


---

Before Akshay Kumar's Gold, a look at his muse: Hockey legend Balbir Singh Sr

Austin Coutinho



Balbir Singh Sr. Illustration © Austin Coutinho

Editor's note: This week, reports stated that Akshay Kumar's next film — Gold — would be a biopic on hockey legend Balbir Singh Sr. Singh was a member of three Olympic gold medal winning squads, and still holds the record for scoring the highest number of goals in an Olympics men's final. Before his story comes to the big screen, we take a look at the man behind the legend.

At a glittering function last year, India's legendary hockey striker, captain and coach of yesteryear, Balbir Singh Sr., 91, was conferred with the Major Dhyan Chand 'Lifetime Achievement Award'. He was among the first sports persons in India to be conferred with the Padma Shri in 1957, and this latest award, therefore, took a long time coming!

Unaffected by the inattention, though, the legend had revealed that the inspiration to play for the country and win Olympic gold medals had come after watching a newsreel on India's hockey win at the 1936 Berlin Games. He had said, "I was mesmerised by the magical skills of Dada Dhyan Chand and the way he sold 'dummies' to the opposition defenders. Therefore, receiving the Dhyan Chand 'Lifetime Achievement Award' is all the more an honour. I have idolised Dada all my life!"

Balbir Singh, who was born in the village of Haripur Khalsa, in Jalandhar, on 10 October 1924, now lives in Burnaby, Canada. He had retired from the post of Director of Sports, Punjab, in 1982, after an illustrious playing career and dedicated service in the Punjab Police.

The journey to his 'life's calling', as he later termed it, had begun 85 years ago. His father, Dalip Singh Dosanjh, a freedom fighter had brought for his son a hockey stick as gift for his seventh birthday. The glee with which his son, Balbir had opened the gift wrapping and had run on to the ground nearby to play with his new stick had warmed his heart.

The Dosanhj family then lived in Moga, Punjab, a stone's throw away from the Dev Samaj High School, where Balbir studied. The school's hockey ground was in fact their backyard. Young Balbir spent his entire after-school hours playing with his mates here. Looking at him through the window of his tiny dwelling, Dalip Singh would often wonder if his gift had distracted his son from his studies. Little did he know then that his son would one day be a three-time Olympic gold-medalist and a world hockey legend!

Climbing the ladder of fame

It is said that Balbir Singh is a direct descendant of Baba Bidhi Chand, a close aide of Guru Hargobind, the sixth of the Sikh gurus. Therefore, he perhaps had inherited his fighting qualities.

After his matriculation, Dalip Singh had packed Balbir off to Lahore to join the Sikh National College there. He wanted his son to finish his studies and then look for a good, steady job. Harbail Singh, who was then the Khalsa College coach had watched Balbir's skills and enthusiasm for the game and had wished that he join the college in Amritsar. Dalip Singh, however, would have none of it. Harbail Singh's requests and persistence paid off only two years later when he agreed to let Balbir join Khalsa College.

Balbir was his coach's favourite trainee and blue-eyed boy. After the team finished its practice, Harbail Singh would take Balbir aside and ask him to practice his dribbling skills, all alone. He then had to take top-of-the-striking-circle shots into goal for an hour. It wasn't surprising then that he was picked to play for Punjab University, which went on to win the national varsity championships from 1943 to 1945.

The next step upward for Balbir was getting selected to the rock-solid, 'undivided' Punjab state squad. The team consisted of star players from Punjab, Sind, Jammu & Kashmir and Rajasthan. The last national championship final under British rule was played in 1947 at the Bombay Hockey Association grounds in Churchgate, when Punjab-led by AIS. Dara, future Pakistan captain — got the better of a strong Bombay squad by a solitary goal.

The Games and some curious happenings

By 1948, the country had not only gained independence from British rule but had also gone through a bloody, devastating partition. Two Olympic Games had been called off because of World War II. A cash-strapped Britain, all the same, decided to play host to the 1948 Games in London.

When the Indian hockey squad for the London Games was announced, with many of its former stars turning up for Pakistan, it wasn't a surprise that Balbir Singh had made the cut. He had done enough at the university and state nationals to merit a place in the side.

A greenhorn, as far as international hockey was concerned, Balbir wasn't an automatic choice in the playing eleven. Gleefully accepting the chance to play against Argentina, when Bombay's Reggie Rodrigues reported sick, he displayed brilliant stick-work to score six goals, including a hat-trick. Argentina was routed 9-1. Then benched for two matches, he came back into the side against Britain, in the finals, and scored a brace. India thus beat Britain 4-0 to win its fourth consecutive gold.

After his excellent showing against Argentina, Balbir's name was initially included in the team list announced for both the league matches that followed. Against Austria, the lineup was changed just before the game. When the final league game against Spain came up, Balbir was asked to return to the bench by the captain - supposedly under instructions of the team manager. He was replaced even as he was preparing for the bully off!

A senior member of the team by the time the Helsinki Games (1952) came around, Balbir was made vice-captain in a strong team led by KD Singh 'Babu'. He scored a hat-trick against Britain in the semifinals and then pumped in five goals in the final as India rode roughshod over a hapless Netherlands. That record of five goals, in a final, still stands.

At Helsinki, Balbir was India's flag-bearer at the opening ceremony. After over a hundred pigeons were released by Finland's President Paasikivi, one of them chose to 'dirty' his left shoe as he proudly led the march past. Embarrassed, he was looking to wipe off the dropping, when an Olympic official patted him and said, "You are going to be champs again. We believe, in Finland, that when a bird 'dirties' your left boot, nothing can stop you from succeeding!"

Balbir wore jersey number 13 at Helsinki. When one female fan pointed out to him that the number 13 was thought to be unlucky, he said, "In most Indian languages, the number 13 is pronounced as 'tera' — meaning God. I can't be luckier!" India scored 13 goals in the tournament and won gold, its fifth in a row.

At Melbourne (1956), his final appearance at the Games, Balbir was asked to lead the side. After scoring five goals in the opening game of the tournament against Afghanistan — who were whipped 14-0, he broke a finger and had to sit out till the semifinals. Plastering his broken finger and in extreme pain, he played against Germany in the penultimate round, which India won 1-0. The final against Pakistan was hard fought but India snatched the gold medal through a penalty corner hit by RS Gentle.

Balbir describes a funny incident that took place just before the team left for the final against Pakistan in Melbourne. As players were trooping into the team bus, Ansari — a team official — sneezed. This was a bad omen, as far as Ashwini Kumar, team manager was concerned. He pulled Balbir out of the bus, took him back to his room, made him change, had him relax for five minutes and then got him back into the India colours. It was only after this ritual was completed that the bus was allowed to leave the hotel.

Balbir Singh was now a three-time Olympic gold medalist and helped India win two silvers at the 1958 and 1962 Asian Games at Tokyo and Jakarta respectively.

Top of the word as mentor

In 2006, Balbir Singh Sr. was declared the best Sikh hockey player ever. He, at first, refused to receive the award but then grudgingly accepted it saying that it could perhaps inspire youngsters to take up hockey. "When we played, it was never as a Sikh or as a Hindu, Muslim or Christian!" he said.

He was asked to manage the Indian hockey team that participated in the 1975 World Cup. "In our team hotel in Kuala Lumpur," says Balbir, "We had a prayer room where we had placed a Granth Sahib, a Quran, a Bhagavad Gita and a cross. The entire team prayed together in that room and enjoyed playing as a team."

On Saturday, 15 March 1975, India was to play archrivals Pakistan in the all-important final. That morning, Aslam Sher Khan, who had helped India beat hosts Malaysia in the semifinals, requested that he be allowed to go to the Mosque for prayers. While returning, Balbir and Sher Khan met the entire Pakistani team on their way to offer prayers. One of them took Sher Khan aside and said, "We have observed that the Indian team prays more than us. I think God will be on your side today!" India beat Pakistan 2-1 to win its only World Cup title till date with Surjit Singh and Ashok Kumar scoring.

Love at first sight

Balbir Singh married the girl he loved on 27 November 1946. Sushil, his wife, came from a wealthy Sandhu family in Model Town, Lahore. He first met her when he was carrying a message from one of his professors to the family. For both of them, it was love at first sight!

They met regularly after the first meeting, and kept in touch on phone and through letters. After Punjab won the national hockey championships in 1946, Balbir gave the winner's medal for Sushil to keep as souvenir.

Balbir has four children. A daughter, Sushbir, and three sons, Kanwalbir, Karanbir and Gurbir.

Final wish!

Balbir Singh Sr. says that his final desire in life is to see India winning the Olympic gold in hockey. "The top spot is always vacant. It is meant only for the hard working and the brave," he asserts.

He has another wish. That of finding the medals and blazer he had handed over to the Sports Authority of India for a sports museum planned by them. They have supposedly gone missing!

Here's hoping that the Indian hockey team fulfills the legend's final desire and that his priceless belongings are returned to him!

The author is a sportswriter and cartoonist besides being a cricket and mental toughness coach.

Firstpost


---

Injured Sreejesh likely to be spared for playing charity match

BHUBANESWAR: PR Sreejesh's decision to play in Virat Kohli's charity football match might have raised a few eyebrows but India's premier hockey goalkeeper might just get away with a reprieve, at least this time.

Indian hockey team's regular captain Sreejesh played a 'Celebrity Clasico' in October this year in Mumbai, featuring the country's top sports and Bollywood stars, including India cricket captain Kohli and former skipper MS Dhoni.

During that period Srejeesh was on a break but what went against him was that he was recuperating from a serious injury that time after being sidelined from the national team following the Azlan Shah Cup in May earlier this year. There were reports that Sreejesh's action didn't go down well with the team management but he might just get away as Hockey India is yet to initiate any disciplinary action against him.

"Yes, it came to our notice but we didn't initiate any disciplinary action as yet. We are currently busy with the Hockey World League Final and a disciplinary meeting has been called," Hockey India CEO Elena Norman, who is also a member of the Disciplinary Committee, told PTI.

Another member of the Disciplinary Committee is completely in dark about the issue and said he only came to know about the matter when contacted on Sunday.

"It's news to me. I only came to know about the matter today. I am not aware of any Disciplinary Committee meeting. I haven't been told anything by Hockey India as yet. Any progress on this matter will take place, if it has to, only after the Hockey World League Final," said the senior member of the committee.

Considered the best in his business, Sreejesh has been the backbone of Indian hockey since his debut and his brilliance under the bar has won India many matches, which includes the 2014 Asian Games gold in Incheon. In May this year, Sreejesh had torn his anterior cruciate ligament (ACL) during the Sultan Azlan Shah tournament in Malaysia and since then he has been out of the side. India is desperately hoping for Sreejesh to recover soon especially with a busy 2018 lined up.

But Sreejesh's action is a serious breach of Hockey India's Code of Conduct and he faces the risk of four months suspension.

"Sreejesh is a role model for young hockey players and his actions will leave an impact on them. Even though I don't know whose permission he took to play in the match just when he was recovering an injury, I feel he should have avoided it thinking about his own and nation's cause," the Disciplinary Committee member, said. "Having said that he has never had any disciplinary issues in the past, so I feel he will escape with a warning. India need Sreejesh's services."

But the big question which is making round is that just whose permission did India's premier goalkeeper take to play in the 'Celebrity Classico'.

"Sreejesh didn't ask Hockey India before playing in the match. We don't have anything on record," the HI CEO said. "He might have taken permission from his coaches, physio or the High Performance Manager," she said.

High Performance Manager David John, however, said he was not approached by Sreejesh. "I was not asked. During that period I was not in India. I was with the team in Dhaka for the Asia Cup," John said.

When contacted, Sreejesh refused to comment on the issue. "I won't like to comment anything on the issue. We will talk later," he said before disconnecting the phone.

The Times of India