All the news for Thursday 7 December 2017

Odisha Men's Hockey World League Final Bhubaneswar 2017 - Day 7

Results Day 6

QF ESP v AUS 1 - 4
QF EL v IND 3 - 3 (2 - 3 SO)

Fixtures Day 7 (Times GMT +5:30

17:15 QF ENG v ARG
19:30 QF GER v NED

FIH Match Centre


---

Incredible India stun Belgium in Quarter-Finals at Odisha Men's Hockey World League Final Bhubaneswar 2017



India overturned the odds to reach the semi-finals of the Odisha Men's Hockey World League Final Bhubaneswar 2017. Copyright: FIH / World Sport Pics

Bhubaneswar, India: Host nation India caused a massive upset on the first of two days of quarter-final action at the Odisha Men's Hockey World League Final Bhubaneswar 2017, while title holders Australia also claimed a place in the competition final four at the Kalinga Stadium.  


India, who finished fourth in Pool B, claimed a stunning shoot-out victory over Belgium's Red Lions, a team that came into the contest on the back of three straight victories. Earlier in the day, Australia's Kookaburras proved too strong for Spain to keep alive their hopes of defending the Hockey World League title that they won two years ago in Raipur.

Australia will face a semi-final meeting against either Germany or Netherlands, two sides that meet in the quarter-finals on Thursday 7th December. India's semi-final opponents will come from the winner of Thursday's quarter-final clash between England and Olympic champions Argentina. 

The opening match of the day saw Spain (FIH World Ranking: 9), who finished second in Pool A thanks to a victories over European champions the Netherlands and Olympic champions Argentina, looking to continue their excellent form by defeating the reigning world and Hockey World League title holders Australia (WR: 2), whose third place finish in Pool B disguised the fact that they did not lose any of their opening three matches here in Bhubaneswar.

A goal-less first quarter was followed by a second period that was certainly not short of action. Australia had a goal ruled out when Spain made good use of a referral to the video umpire, with the Spanish taking a 1-0 lead moments later when Marc Garcia got a crucial touch on crashed ball into the circle to find the target. Jeremy Hayward restored parity two minutes ahead of half time with a low and powerful penalty corner effort, leaving the match finely balanced ahead of the two remaining quarters.

A yellow card shown to Daniel Beale resulted in Australia needing to absorb huge amounts of Spanish pressure, but the Red Sticks could not get the breakthrough before the Kookaburras returned to full strength. It proved to be telling, as three penalty corner goals in three minutes early in the fourth quarter killed the contest, with Aaron Kleinschmidt and a double for Blake Govers - who was named Junior Player of the Match, presented by ONGC - putting the defending champions into the semi-finals.

"The push-out, trap and flick was really good today", said Australia captain Mark Knowles, referring to his side's ruthlessness from penalty corner situations. "You cannot have a world class flicker if someone cannot push it out flat, and it was very pleasing to the coaching staff."

The Kalinga Stadium was a cauldron of deafening noise for a belting match between Pool A winners Belgium (WR: 3) and host nation India (WR: 6), who finished fourth in Pool B but produced a stunning performance against their higher-ranked opponents. The lively SV Sunil twice came close to opening the scoring for India in the first half, with the Red Lions having a goal ruled out by the video umpire due to a back stick.

One minute into the second half, the mammoth crowd erupted with joy when Gurjant Singh forced home from close range to give India a shock lead against the pre-match favourites, an advantage that was doubled four minutes later thanks to a ferocious penalty corner flick from Harmanpreet Singh.

The Red Lions were stunned, but regained their composure to score twice either side of the third quarter break. Both goals were penalty corners that came from the stick of Loick Luypaert, who took his competition tally to a remarkable eight in four matches.

India hit back almost immediately when Rupinder Pal Singh scored a penalty corner, but a deflected goal from Belgium's Amaury Keusters took the score to 3-3 and forced the match into the most entertaining and dramatic of shoot-outs.

India lead the shoot-out 2-0 after three efforts each, but Belgium forced sudden-death by scoring both of their two remaining efforts while India failed to convert. Harmanpreet Singh scored what proved to be the winner while Arthur van Doren was unable to beat India shot-stopper Akash Chikte, sparking scenes of utter jubilation both in the stands and on the field from the home favourites.

"It was a really exciting game, I'd describe it as nail-biting", said India's Rupinder Pal Singh after the match. "The crowd were amazing today, they were helped us play a really good game."

The two remaining quarter-final matches will be played on Thursday 7th December, with England (2nd Pool B) taking on Argentina (3rd Pool A) at 1715 before Germany (1st Pool B) play the Netherlands (4th Pool A) at 1930. 


RESULTS – DAY 6: Quarter-Finals 

Spain 1, Australia 4.

Man of the Match, presented by Odisha New Opportunities: Matthew Dawson (AUS)
Junior Player of the Match, presented by ONGC: Blake Govers (AUS)


Belgium 3, India 3. (India win 2-3 after Shoot-Out)

Man of the Match, presented by Odisha New Opportunities: Loick Luypaert (BEL)
Junior Player of the Match, presented by ONGC: Sumit (IND)

Remaining Quarter-Final fixtures (All times Indian Standard Time - UTC +5.30)

Thursday 7th December 2017

17:15: England v Argentina
19:30: Germany v Netherlands

#HWL2017

FIH site


---

India and Australia land first HWL wins to upset form guide and reach semis



©: Frank Uijlenbroek / World Sport Pics

India and Australia flipped the form book on its head as they overcome sluggish group stages to knock-out Belgium and Spain, respectively, on the first day of quarter-finals.

India earned just one point in the group stages while the Belgians won all three of their ties but the Asian side bounced back in the knock-out game to record a big shoot-out victory after a 3-3 draw in normal time.

One minute into the second half, the mammoth home crowd erupted with joy when Gurjant Singh forced home from close range to give India a shock lead against the pre-match favourites, an advantage that was doubled four minutes later thanks to a ferocious penalty corner flick from Harmanpreet Singh.

The Red Lions were stunned, but regained their composure to score twice either side of the third quarter break. Both goals were penalty corners that came from the stick of Loick Luypaert, who took his competition tally to a remarkable eight in four matches.

India hit back almost immediately when Rupinder Pal Singh scored a penalty corner, but a deflected goal from Belgium's Amaury Keusters took the score to 3-3 and forced the match into the most entertaining and dramatic of shoot-outs.

For Spain, they were beaten 4-1 by Australia. The Spaniards had a good group stage, beating the Netherlands and Argentina, while the Kookaburras drew all three of their games.

It was Fred Soyez's team who went ahead when Marc Garcia got a crucial touch on crashed ball into the circle to find the target. Jeremy Hayward restored parity two minutes ahead of half time with a low and powerful penalty corner effort.

Three penalty corner goals in three minutes early in the fourth quarter killed the contest, with Aaron Kleinschmidt and a double for Blake Govers putting the defending champions into the semi-finals.

"The push-out, trap and flick was really good today", said Australia captain Mark Knowles, referring to his side's ruthlessness from penalty corner situations. "You cannot have a world class flicker if someone cannot push it out flat, and it was very pleasing to the coaching staff."

The two remaining quarter-final matches will be played on Thursday with England taking on Argentina before Germany play the Netherlands.

Euro Hockey League media release


---

India enters semifinal after giantkilling Belgium

s2h team

Spirited India upset the applecart of higher ranked Belgium in the QuarteRfinal of the Hockey World League Finals, emerging successful in the tense sudden death. Earlier, India and Belgium shared six goals in the regulation time. In the ensued shoot out, Belgium missed thrice, but India too missed last two to tie the shoot out score 2-2. In the sudden death Harmanpreet Singh struck, while Indian goalie Akash Chikte blocked Belgium veteran Arthur van Doren's try to give India the semifinal slot.

Like in the last edition at Raipur, India will be in the semis second time in a trot.

Belgium is Silver medallist of Rio Olympics where India finished much lower. However, India gave the ranking a damn today amidst packed stands, and took up the challenge in a confident way.

Hitherto all win Belgium faced its first defeat, while its first win for India in four matches, and the way it was achieved speak volume about the Indian spirit.

Similarly, winless Australia too posted its first win to enter the semis earlier.

After a barren half time, Gurjant Singh put India ahead (1-0) seconds after resumption, and then Harmanpreet Singh struck in the 35th minute (2-0) to give the full crowd many things to cheer about.

Belgium played a patient game against India's all attack orientation, and got the dividends.

Loick Luyepert, with already six goals, struck a brace of consecutive penalty corners to even out the score in the space of seven minutes. Then came the thunder from Rupinder Pal, who played heart out today. But the Indian third goal achieved in the 46th minutes was also evened out, this time Amaury Keuster's rebound goal in the 53rd minute did the trick.

It was anybody's game at this juncture, both team going on frequent attacks. SV Sunil and Sumit missed out hard worked upfront thrusts while Akash Chikte who replaced brilliant Karkare, stood like a rock of Gibraltor. Then came the shoot out. The rest is history.

Two brilliant crosses into D, both attempted by SV Sunil in vain and two penalty corners for India which it could not make use marked the first half in which both teams were seen on even keel.

A Thomas Briel's field goal at the stroke of tenth minute did not survive referral much to the chagrin of Belgium, and to the grin of India. India and Belgium showcased a brilliant hockey till the half time which ended goalless but not eventless.

SHOOT OUT SEQUENCE
BEL WEGNEZ Victor (Missed)
BEL van AUBEL Florent (Scored)
BEL BOCCARD Gauthier (Saved)
IND SINGH Harmanpreet (Missed)
BEL STOCKBROEKX (Missed)
IND UPADHYAY Lalit (Scored)
IND SINGH Rupinder Pal (Scored) after referral
BEL van DOREN Arthur (Scored).Score at this point 2 - 2
IND SUMIT Missed
IND SINGH Akashdeep Missed)

SUDDEN DEATH
SINGH Harmanpreet (SCORED)
BEL van DOREN Arthur (MISSED)

Opening note: Belgium takes on India with enormous dose of confidence having won all the three pool matches with comfortable margin, only team in Bhubneswar to do so. On the other hand, India doesn't have a win on its plate having lost two matches while drawing the opener against Australia. However, India showed brilliance in all three matches to be in the company of the world's best. The quarterfinal therefore is expected to be a cracker, that too when the full stands of about 6000 fans rooting for the home side.

In the last FIVE encounters, India has only one win.

The stat is given below
Lost at Rio 1-3
Lost at Dusseldorf 3-Nation 1-2
defeat at Dusseldor 3-Nation 3-2
Lost 0-1 at Boom in Test Series
Lost 1-3 at Boom in Test Series

Stick2Hockey.com


---

India sends Belgium packing

Strong crowd support enables the hosts pull off a 1-0 victory via sudden death

Uthra Ganesan



Cock-a-hoop: The Indians celebrate their quarterfinal victory over Belgium on Wednesday. 

The Belgians had been unbeaten so far, but then they had not yet played in front of a packed, vocal 10,000-strong crowd supporting the opposition. In the end, the crowad at the Kalinga Stadium was the '12th man' that ended the Olympic silver medallist's dreams of advancing further in the Hockey World League Finals here on Wednesday, going down against an aggressive India 1-0 in sudden death after being tied 2-2 in the shootout and 3-3 in regulation time.

It was an atmosphere the Belgians had never played in. "The entire stadium screaming 'India, India' all through the match, it was crazy. I would say they won the match for India," a disappointed goalkeeper Vincent Vanasch had no qualms admitting after the game.

It was also a different Indian team that took to field in the quarterfinals.

They knew it was a knockout and there would be no second chance. The team played like that.

It did everything it was criticised for not doing in the last two games, right from the word go, and even though chances were still fluffed, they didn't matter in the end. The rhythm was back. The counter-attacks came easy. "Their zonal play gave us space but then they had to. Our defence was very strong and they had to move around seeking space themselves. We made use of it," S.V. Sunil explained.

The counter-attacks are India's most lethal weapon.

On Wednesday, it got enough chances to unsettle the Rio silver medallist. The other weapon in the hosts' arsenal is the multitude of penalty corner experts.

The team, aiming direct hits so far and failing miserably, switched gears and the strategy. There were variations attempted, dummies used and India converted two of its four PCs.

It is true that statistics are illusionary. But coach Sjoerd Marijne had also claimed that possession was not more important than goals.

That India managed 15 penetrations to Belgium's 13 despite a meagre 38% possession proved him right.

Twice in the first five minutes Sunil failed to deflect the ball at the far post after receiving it from Gurjant Singh. Gurjant, among the best players, finally decided to get himself on the scoresheet instead, tapping in immediately on resumption of the second half after Sunil's first shot was saved by custodian Vanasch and Arthur van Doren was a split second late in clearing the rebound.

No one had expected India to go 2-0 up against the World No. 3 side. But there was no stopping this side.

Interestingly, this is the second time in as many editions that India has accounted for the unbeaten side in the quarterfinals. The trivia would read India avenging its quarterfinal defeat at the Rio Olympics to the same opposition. It would also read that there were 11 players from either side on the pitch. But the 12th man in the stands would remain critical for the team to go further than the bronze in 2015.

Earlier in the day, defending champion Australia finally played the kind of attacking hockey it had been desperate for here, rode on Blake Govers' twin strike to win 4-1 against Spain in the first quarterfinal.

The results (quarterfinals): Australia 4 (Blake Govers 2, Jeremy Hayward, Aaron Kleinschmidt) bt Spain 1 (Marc Garcia); India 3 (Gurjant Singh, Harmanpreet Singh, Rupinderpal Singh) bt Belgium 3 (Loick Luypaert 2, Amaury Keusters) (via sudden death).

The Hindu


---

India shoot out rampaging Red Lions 3-2, reach semifinals

Indervir Grewal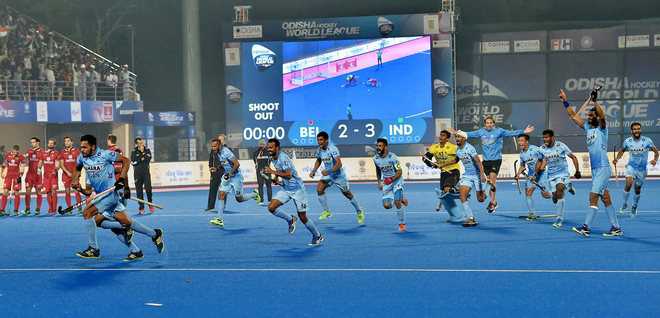 The Indian team is ecstatic after beating Belgium 3-2 in the penalty shootout on Wednesday. PTI

India got a lifeline in the early minutes, ceded a two-goal lead, then failed to hold on at 3-2, again surrendered a two-goal advantage in the shootout before, finally, Akash Chikte denied Arthur van Doren in sudden death to release the unbearable tension built up at the Kalinga Stadium and send the capacity crowd into a long collective roar.

Chikte, extraordinarily cool in such a tense situation, saved three shots in the shootout. But the last two Indian attempts went wide and hit the crossbar to let the Olympics silver medallists back in the match. At that time, it seemed India's luck was going to run out — when a tumbling Rupinder Pal Singh managed to nudge the ball in during the shootout, it seemed it was going to be India's day.

Harmanpreet Singh, who had missed India's first attempt in the shootout, stepped up to take the first in the sudden death as well. This time, Harmanpreet, who actually asked the umpire to change the ball, managed to rock the backboard. For Belgium, van Doren — the FIH Young Player of year — took his place at the 25-yard line, stooping over the yellow ball. But whatever was going on in his head would have been drowned by the cheers Harmanpreet's goal raised.

Van Doren was one of only two Belgians to score in the regular shootout, having beaten Chikte with ease. But this time, the young goalkeeper shadowed the Belgian till the last moment and watched the ball ricochet off his pads towards safety. He stood up, roared with arrogance, before getting buried under a heap of Indian players. Van Doren lay there with his face in his hands, while his teammates consoled each other. Players like John-John Dohmen could not have escaped from a sense of déjà vu. He was part of the team that had lost to India at the same ground and at the same stage of the 2014 Champions Trophy.

Collective effort

But this win ranks much higher for India as Belgium are currently world No. 3 and, unlike back in 2014, were the tournament favourites after having won all their pool matches. For India, it had been a terrible tournament so far.

So what changed since their abject show against Germany? "We did the same thing," India coach Sjoerd Marijne said when asked what he did differently to inspire such an improved performance.

"Today, the players were focused throughout the match. In the previous matches, you saw that only in patches," he added.

After early pressure, Belgium scored the first goal. Despite having 11 men in their own third, India still allowed a free man in the circle, whose mishit reverse-stick shot went past the goalkeeper. But a video referral by the umpire showed that the initial shot came off the back stick.

After the lifeline, India improved hugely. After absorbing pressure, India started the second half on the attack. Akashdeep Singh made two interceptions, the second of which led to the opener by Gurjant Singh.

Results

    India 3-2 Belgium (Penalty shootout)

Regulation time: (India) 3: Gurjant Singh (31st min), Harmanpreet (34th min), Rupinder Pal Singh (46th min); Belgium 3: Loick Luypaert (38th and 46th min), Cedric Charlier (52nd min) 

    Australia 4-1 Spain

The Tribune


---

India beat Belgium in thrilling shootout to enter semi-final

Feroz Khan

BHUBANESWAR: In a heart-stopping end to a breath-taking quarterfinal, the Indian team defeated Belgium 3-2 in the shootout to enter their second ever semi-final of the Hockey World League Final here on Wednesday. The match ended 3-3 in regulation time and moved to shootout and there too, the teams ended on an even keel at 2-2. The result was then decided by sudden death with Akash Chikte denying Belgium after Harmanpreet Singh scored what turned out to be the winner.

In the topsy-turvy shootout, Lalit Upadhyay, Rupinder Pal Singh and Harmanpreet scored from India. And for Belgium, Arthur van Doren and Florent van Aubel converted their shootout into goal.

You are never sure which Indian team will turn up for the game. They always surprise you. Trust them for that. Wednesday was another chapter in their long history of unpredictability and they saved their best for the top team on show at the HWL Final - Belgium. India were brilliant against Australia and ordinary against England and Germany. Against Belgium they were sparkling, again.

Belgium have been the team to beat this tournament. The hosts needed to lift their game and commitment by several notches. They did just that.

Belgium were almost made to look ordinary in the first half as the Indian crowded them out with sustained pressure, continuously winning the ball. The defenders dived, put their body on the lines to put up a resolute resistance. From the midfield, captain Manpreet Singh was engineering the moves. And the forwards hared across as did SV Sunil in two occasions when Gurjant Singh raced ahead with the ball and unleashed two powerful crosses from either flank. On both the occasions, the final effort was wide.

Belgium though, as they have done on so many occasions this HWL FINAL managed to hold the ball more and at the beginning of the first quarter, seemed to have scored the opening goal. Only, the Indian team referred it for back stick from Belgium captain Thomas Biel and the decision went in their favour.

The team continued improving. Akashdeep won a high ball just on the edge of Belgium circle and Sunil took control of the bouncing ball for a searing reverse hit which the goalie kicked. The ball on rebound from a defender fell to Gurjant who tapped it in to bring the house down in the 31st minute.

Then, Lalit won India their second penalty corner of the match and for the first time in the tournament, they tried a variation. Manpreet injected and drag-flicker Rupinder Pal Singh played a cheeky back pass which was crashed between the legs of the goalie by Harmanpreet to double the lead four minutes later.

But the Olympic silver medallist came right back when tournaments' top scorer Loick Luypaert converted a penalty corner in the 39th minute, scoring his seventh of the tournament to cut down the lead to one goal.

After being pushed back inside their half for quite some time in the third quarter, they managed to dispossess the Red Lions with Sumit sprinting ahead solo and penetrating the circle but was denied.

Belgium drew level in the right time after the start of final quarter as Luypaert converted a penalty corner to score his second of the night in the 46th minute. India responded brilliantly with Akashdeep winning India their third penalty corner immediately and Rupinder's flick soared right inside the cage. India had again take the lead at 3-2.

But there is a reason why Belgium are regarded as one of the strongest teams as they found a way back when Amaury Keusters (53rd minute) struck from the right and the ball went inside the goal after deflecting off Harmanpreet. The scoreline remained 3-3 with Belgium winning two more penalty corners but failing to score the winner with the contest moving into shootout.

The Times of India


---

India shock Belgium to reach semis of HWL final



Indian players celebrate after winning their quarter-final match against Belgium in penalty shootout at Kalinga Stadium in Bhubaneswar. PTI

Hosts India produced a spirited performance to stun Olympic silver medallist Belgium in the shoot-out and progress to the semi-finals of the Hockey World League (HWL) final after both the teams were locked at 3-3 at the end of regulation time, here on Wednesday.

Warming the bench for most part of the match, goalkeeper Akash Chikte dished out a superb performance to hand India their first win of the tournament, a win that will erase all their wrongdoing of the pool stages.

It was a great exhibition of attacking hockey from both the sides as the regulation time yielded as many as six goals, three each from either side.

While Gurjant Singh (31st minute), Harmanpreet Singh (35th) and Rupinderpal Singh (46th) were the goal scorers for India, Belgium's goals came from the sticks of Loick Luypaert (39th, 46th) and Amaury Keusters (53rd).

But Chikte, who gave his place to young Suraj Karkera in the match and was brought into action in the 47th minute, stood up to his coach's faith and produced four brilliant saves in the shoot-out that went to sudden death to seal the famous win for India.

Unlike their last two matches, the Indians made bright start to the game and had a wonderful chance to take the lead in the opening minute.

But an unmarked SV Sunil was guilty of wasting the golden opportunity on the far post as he deflected wide a measured reverse stick cross from Gurjant Singh.

The hosts kept up the pressure and secured their first penalty corner in the fifth minute but Harmanpreet Singh's attempt was easily dealt by Belgium goalkeeper Vincent Vanasch.

The Indians controlled the tempo of the match, at least in the initial 10 minutes.

But the Belgians found the net against the run of play in the 11th minute when John-John Dohmen pushed in skipper Thomas Briels' backhand pass but to the relief of the capacity crowd the goal was disallowed for back stick after India went for video referral.

Sunil then wasted an identical chance, just like the way he fumbled early on, the only difference being this time he missed the opportunity in the left side of the pitch.

It was again Gurjant-Sunil combination that produced the opportunity in the 18th minute.

The Indians earned penalty corner just seconds from half time but again Harmanpreet's attempt was easily anticipated by Vanasch.

After a barren first, the third quarter witnessed fast- paced, exciting hockey that yielded as many as three goals.

Just a minute after the change of ends, Gurjant gave India the lead, pushing in a ball from goalmouth melee after Sunil's initial reverse shot was saved by the Belgian goalkeeper.

Four minutes later, India doubled their lead from their third penalty corner to send the crowd into frenzy.

All this while in the tournament the Indians were predictable with short corners and it took a fine variation try from the hosts to make the scoreline 2-0 in their favour.

Harmanpreet converted the set piece after being set up by a beautiful dummy by Rupinder.

But the Red Lions, the No.3 side in the world and known for their fighting spirit, made a valiant fightback and struck twice from penalty corners in a span of eight minutes to draw level.

On both occasion Loick Luypaert was bang on target with his set piece conversions to silence the crowd.

In the very next move India restored their lead when Rupinder converted their fourth penalty corner.

But the Red Lions drew parity again minutes later through Amaury Keusters.

The Belgian, who were unbeaten in the pool stage, had two great chances in the form of two penalty corners at the fag end of the match to score the winner but the Indians defended well to take the game into shoot-out.

In the topsy-turvy shoot-out, Lalit Upadhyay, Rupinder and Harmanpreet scored from India.

India's semi-final opponent will be decided after the conclusion of tomorrow's remaining two quarterfinals.

The Tribune


---

Not lot went our way, determined India did a good job: Shane McLeod

Feroz Khan

BHUBANESWAR: Belgium coach Shane McLeod said that Indian team looked a lot more determined on Wednesday and things didn't work out for them as they expected.

"This team has got an immense character. They are hard working athletes. They have desire, passion and they don't give up. The only time we lose game is when we run out of time. I felt like that a bit today and not a lot went our way. It's a great team to coach, very responsive and they always are going to fight back - whether one-goal down they're always going to fight," he told media after Belgium were knocked out of the Hockey World League Final by India in a shootout.

After they came back twice to draw level at 3-3, Belgium got two late penalty corners but wasted both and McLeod feels they should have sealed the game when they had the chance. "We did enough to give ourselves a chance to winning the game. It is always the little details that make the change. I don't think it [missing penalty corners] swung the momentum. I think we may have missed the opportunity of sealing the game," he said.

Belgium captain Thomas Briels said it was a hard-fought contest but the Indian were better tonight. "I think it was a really nice [match], especially for the Indian audience. We were 0-2 down, so we fought and got back into the game. We then got 2-3 down and then again got back. We even had a corner to win it. It was a good response from the team but India really played well - compact and counterattacked well which we already know. It was a hard game but on the day, India were better than us," Briels said.

McLeod said the Indian team performed as a unit and they looked determined to win the game. "It was quite a collective effort [from India]. The things which featured for India were that they were quite collective, disciplined to their task and the scoreline encouraged them to continue fighting. I saw a determined Indian side that did a good job," he observed.

The Times of India


---

Focus was on defence and counter-attacks: Manpreet Singh

Feroz Khan

BHUBANESWAR: India on Wednesday knocked out tournament favourites Belgium from the Hockey World League Final, winning the quarter-final match in the sudden death. The game ended 3-3 in regulation time and then in the shootout too both teams scored two goals each. Harmanpreet Singh then slotted home what turned out to be the winner in the sudden death as Akash Chikte saved the Belgium attempt.

India captain Manpreet Singh said the team went back on the drawing board and worked on its strengths and executed the strategy in the game which they took as a final. "We looked at this game as our final. It was the quarterfinal [stage] and we were playing against Belgium one of the best teams in the world. So, our aim was the give our best. Focus was on maintaining defensive structure and counter attacks. We wanted to score every time we get a PC. Rupinder and Harman scored. We took our chances, converted them and I think it was a plus point. In our previous games, we weren't able to do this but today we executed it properly," Manpreet said while addressing media after the match.

It was a sweet revenge for the hosts who were knocked out by Belgium last year at the Rio Olympics at the quarter-final stage but Manpreet refused to consider it as one. "We never thought of revenge. Our focus was on playing to our potential, we worked on it. We had seen Belgium play and worked out their strengths and weaknesses. We controlled the game and dictated the pace of," he said.

Coach Sjoerd Marijne said that he saw a lot of previous Belgium matches to prepare his team for the all-important clash and that the team improved by several notches when compared to their previous matches of the ongoing tournament. "Yes, I saw a lot of matches. We always prepare with the analytic coach. The defending was good, structure was good. It all had to do at the individual level. I also saw a different team from the last few matches and I must say against Australia and England there were few good moments. But today, it was during the entire match. They were extremely focused and it was nice that I got to experience with the team," Marjine said.

Coach also praised the forwards for making "good choices" and said they worked hard on maintaining the energy level throughout the match. "It was very positive performance from our team against one of the best [team] of the tournament. We had the control. The energy, the way we got the penalty corners, we had to work on those. It is important to get better and better with every match. I think today we did better than the previous game. Our marking is getting better. So, I am happy with that," the Dutch said.

Explaining the reason behind brining Akash Chikte in place of Suraj Karkera two minutes into the fourth quarter despite the latter putting up a decent show, Marjine said, "I saw Suraj Karkera's body language, the trust went down from in after Belgium scored for the second time from the penalty corner. So, we brought Akash in."

The Times of India


---

This Match was like a Final for us: Manpreet Singh

s2h team

Bhubaneswar: The moment was tense. More than 5000 people on their feet. A few hands went up in prayer as Harmanpreet Singh readied for the winner. In a matter of seconds, he netted the semi-final berth to India as it knock-outed out Belgium in the quarter-final.

The winning team captain Manpreet Singh is not less excited or less tense like the crowd on the stands. He likens to the match to the final.

"The match was like a final for us. We knew we had to win. In the last few matches, we had made a lot of mistakes. Today, our focus was on defense and counter-attack. Also, Rupinder and Harmanpreet converted penalty corners for us, which was a big plus point," the skipper said after the match.

India, who had finished at the bottom of Pool B, were more attacking and created more chances in the match, unlike their previous encounters.

"We had a positive character against one of the best teams. We had the control over game. Though they came back to score, we were still better. With every match, we are getting better," said coach Sjoerd Marijne.

"Our defence was strong and the structure remained intact. There were less mistraps and individually each one made less mistakes."

India will play the winner of England and Argentina match in their semi-final. India lost to Belgium in the semifinals of previous HWL Finals held in Raipur, India.

Stick2Hockey.com


---

Kookaburras Clinch Semi-Final Spot With Spain Blitz

Ben Somerford




The Kookaburras have qualified for the FIH Hockey World League Final semi-finals after a three-goal final quarter blitz clinched a 4-1 win over Spain in Wednesday's quarter-final in Bhubaneswar.

Aaron Kleinschmidt swooped on a rebound from a penalty corner to make it 2-1 shortly after three quarter time, before Blake Govers fired home two drag flicks to seal Australia's spot in the final four.

Earlier, Spain had gone ahead when Marc Garcia swept home on 20 minutes, but Jeremy Hayward scored a deserved equaliser from a penalty corner shortly before half-time.

The Kookaburras had the better of the chances with 60 per cent possession in the opposition half and converted four of six penalty corners in a strong display.

Australia will face either Germany or the Netherlands in the semi-finals on Friday or Saturday.

The Kookaburras had drawn all three pool matches before the quarter-final win over Spain, who had finished second in Pool A.

Man of the Match Matt Dawson said: "We obviously started a bit slow.

"It's always nice to build into the tournament. It's good to get a win tonight."

Dylan Wotherspoon had the best of the chances in a tight first quarter, before Australia thought they'd taken the lead when fourth-gamer Lachlan Sharp tucked home a rebound.

However, the goal was disallowed after a Spain video review for a dubious foul from Aran Zalewski.

Moments later, the Spanish went ahead when Sergi Enrique's deflected drive into the box was converted by Garcia in the 22nd minute.

Despite the cruel twist, Australia rallied with Hayward powering home a drag flick in the 28th minute.

Hayward forced a good save from Spain goalkeeper Quico Cortes early in the third from a penalty corner, while Tyler Lovell did well to thwart Diego Arana down the other end.

Daniel Beale was yellow carded late in the third but Australia held on, before taking the advantage in the last, when Kleinschmidt lashed home a rebound from Hayward's 48th minute drag flick.

A minute later, Govers struck a drag flick past Cortes' right to make it 3-1 and give Australia breathing space.

In a carbon copy, Govers added another from a penalty corner in the 50th minute to the goalkeeper's right to seal the result and Australia's semi-final spot.

Australia 4 (Hayward 28', Kleinschmidt 48', Govers 50', 50')
Spain 1 (Garcia 20')

Hockey Australia media release


---

Defending champions reserve their best for QF

s2h team

Defending champions Australia walked into the Kalinga Stadium today with two vital staring statistics. Firstly, they did not have a win in three matches. Secondly, they had a poor penalty corner performance, scoring only three goals out of 17. As if to reserve the best for the opportune moment, Australia posted first win, that too emphatically, using turn-around penalty corner prowess. Australia made use of four out of six penalty corners to set aside the initially dangerously looked Spain 4-1 in the first quarter finals of the Third Hockey World League Finals, all of them were held in India.

When Marc Garcia stylishly deflected a out of circle push to the right of Australian goalie in the 20th minute, it looked a tough battle is on card. This Spanish lead came after they successfully referred a goal award that was struck by youngster Sharp.

Having changed a goal awarded and then got a break away goal, Spain only spurred the Australians, whose forwards were consistent and proved a thorn in the flesh of veteran Pau Quemeda led defence.

Jeremy Haywards helped Australia level the score (1-1) in 28th minute. The decisive fourth quarter settled the issue who will make it the Bhunbneswar HWL semis. It was clearly Australia, who showed extraordinary prowess in the penalty corners, where they fared below par till then in the HWL Finals.

Younger of Grovers, Blake who was one of the youngest at the Rio Olympic hockey teams, struck a brace out of two successive penalty corners to douse the fire of Spain.

Fittingly, Blake Govers was declared Junior Player of the QF1 and Matt Dawson the Man of the Match.

Stick2Hockey.com


---

Spain feel cheated after 1-4 loss to Australia

Indervir Grewal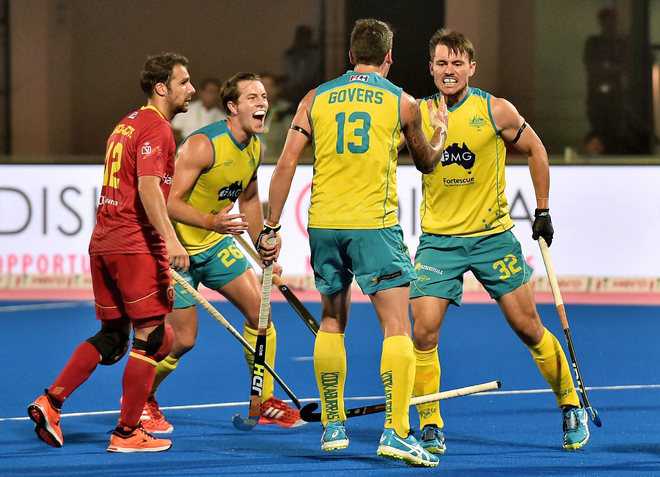 Hayward Jeremy (32) of Australia celebrates with teammates after scoring a goal against Spain. PTI

Spain felt cheated out of a fair contest after a 4-1 loss at the hands of defending champions Australia in the first quarterfinal here today.

Four penalty corner strikes, including a brace for Blake Govers, helped Australia register what looks like a comprehensive win after falling behind in the 20th minute.

After an Australian goal was disallowed following a video referral, Marc Garcia put Spain ahead with a surprise goal against the run of play. But Jeremy Hayward equalised eight minutes later.

Despite Australia dominating possession, the match stayed on an even keel for the next 20 minutes. But three quick goals by Aaron Kleinschmidt (48th) and Govers (both in 50th minute) spelled the doom for Spain.

Spain, though, didn't seem happy about some of the umpiring decisions and some of the players lost their cool. They got two green and one yellow card in the second half, which also hurt the team.

"We are not happy about the umpiring," said Spain coach Frederic Soyez.

"At 1-1, the match was evenly placed. At that time, the penalty corner decisions hurt us. My team played a tough match," the coach added.

'Not happy with scheduling'
But what irked Soyez more was the scheduling of the matches. "We played yesterday, while Australia had a day's rest. There is an issue with the scheduling," Soyez said.

"Germany and England play four matches in seven days. We play four matches in five days," he added about Spain having played their opener on December 2. Germany and England played there first matches on December 1 and play their quarterfinals on December 7.

The Tribune


---

Australia spank Spain 4-1 to enter semi-finals

Feroz Khan

BHUBANESWAR: Defending champions Australia entered the semi-finals of the Hockey World League Final after beating Spain 4-1 on Wednesday in front of a packed stadium. Blake Govers (50', 50'), Aaron Kleinschmidt (48') and Jeremy Hayward (28') scored for the world no. 2 while Marc Garcia was the lone goal-scorer for Spain.

It was Australia all over Spain in the first half when they dictated the pace. They attacked more, strung together good passes and made more circle penetrations. The young Lachlan Sharp got them ahead after pushing one in the second half but Spain contested for a foul and the TV umpire on review fulfilled their wish following an obstruction by an Australian player.

Australia would have wished the goal stood because soon Spanish captain Miguel Delas slapped the free hit inside the circle. Australian Jeremy Edwards deflected that ball to Garcia who had enough space and time to guide that in and took his team to 1-0 lead.

Australia then converted a penalty corner via drag-flicker Jeremy Haywards who slung his shot low and to the right of Quico Cortes and Australia drew parity two minutes before the half-time hooter.

The teams were on even footing and it continued with Australia playing with 10 men after Daniel Beale was shown yellow card but the defending champions held on in the third quarter. It was the fourth quarter that made all the difference between the two sides with the Kookaburras converting three penalty corners in quick succession to take a three-goal lead.

Kleinschmidt scored with a reverse tap on rebound after Cortes had stopped the flick with his left hand as Australia took the lead at 2-1. Then, two more conversions within a minute by Blake Govers made it 4-1 and Spain had fallen back by quite a margin. While Australia shifted a gear in the final 15 minutes, Spain went a step back. Worse, their most experienced campaigner Sergi Enrique got a yellow card late in the fourth quarter making it an almost impossible task for Spain to claw their way back into the contest.

The Times of India


---

Knowles: It's All About Winning The Big Games

Ben Somerford




Australia captain Mark Knowles says the FIH Men's Hockey World League Final is all about learning to win in big games as the Kookaburras move into the final four of the tournament in India.

The Kookaburras qualified for the semi-finals with a 4-1 win over Spain on Wednesday night, with Blake Govers scoring a double, while Aaron Kleinschmidt and Jeremy Hayward also hit the scoresheet.

Australia failed to medal at last year's Rio Olympics, getting eliminated in the last eight by the Netherlands, who they may face in the semi-finals, depending on their quarter-final result against Germany on Thursday night.

Knowles, who was Australia's captain in Rio and has more than 300 caps, said beating Spain in a knockout match was a pleasing step for the new group, having previously drawn all three pool games.

"We're a bit up and down but it's really important that teams come here and play well in big games," Knowles said.

"We go back to Rio 12 months ago, we failed to do that.

"Completely new group, completely different coaching staff, you want to win big games.

"We're in the top four now, that's a start. Then you get another chance at a big game."

Knowles identified "small moments" as being key to winning the big games, citing Argentina's run to Olympic gold last year.

"It's very important. In the biggest games, small moments count for so much," the 33-year-old said.

"We haven't quite been on top of that this tournament so far, so it was nice for Hayward and Govers to score.

"Those small moments, you look at Argentina in the Olympics, those are what win tight games."

Knowles, who debuted in 2004, praised the side's youngsters such as newcomers Lachlan Sharp and Jake Harvie and said belief was growing within the group.

"The biggest positive for those guys is learning how to play in the structure and how fast international hockey is," he said.

"I'm experienced and it's still very fast. We're getting them into the game, how Australia plays.

"This team needed a bit of belief and to see that we could do it. The coaches believed in us and I think the guys are starting to believe in the game plan, how we're playing and how we're acting as young men and hockey professionals."

The Kookaburras will learn their semi-final opponent and fixture date following Thursday night's quarter-finals.

Hockey Australia media release


---

Knew game against Spain would be a grind: Matt Dawson

Feroz Khan

BHUBANESWAR: Australia defender Matt Dawson has said that the 4-1 win against Spain in the first quarter-finals of the Hockey World League Final on Wednesday, his team's first of the ongoing tournament, was satisfying as they knew they will have to sweat hard for it.

"We always knew game against Spain is going to be a grind. Tough, hard fought first half. It was good to get some penalty corners late in the game. We had to stick to our processes and put in plans to execute our penalty corners. It's good to get a win today, always pleasing to get some goals," Dawson, who was chosen as the man-of-the-match, said after the Australia registered their first win in four matches after drawing the first three in the pool stage.

The 23-year-old expressed his disappointed that Hockey World League has been scraped for 2018 and will be back only late in 2019 but hopes he will get another chance to represent Kalinga Lancer as and when the tournament is back. "I am very disappointed that HIL won't be back next year. Hopefully in 2019 I can come back and get to play in Bhubaneswar," he said.

Talking about the semi-finals, Dawson said the team has the much-needed momentum with his win and will hope to carry it forward. "It's going to be a tough semi-final no matter who we play there whether Germany or Holland. We are going to take some momentum after this victory. We didn't win (in the league stage) but haven't lost as well. It is always good to get a win," he said.

The Times of India


---

Stats Speak: Two giants Netherlands and Germany will play in the quarter finals today

By B.G.Joshi (in Kalinga Hockey Stadium Bhubaneswar)    

Netherlands and Germany are top hockey nations since inception. Indian sub continent have ruled the game from Amsterdam (1928) to Los Angeles (1984) Olympics. However The Dutch and Germans have challenged India-Pakistan in that era too. Here are the statistics highlights of these two great teams:
| | | |
| --- | --- | --- |
| Category | Germany | Netherlands |
| World Ranking | 5 | 4 |
| Head to head-Total | 201 | 201 |
| Wins | 85 | 63 |
| Drew | 53 | 53 |
| Goals Scored | 437 | 392 |
| In  World League(P-W-D-L) | 3-1-1-1 | 3-1-1-1 |
| In   Olympics-Gold Medals | 4(1972,1992,2008,2012) | 2(1996,2000) |
| In World Cup-Gold Medals | 2(2002,2006) | 3(1973,1990,1998) |
| In  Champions Trophy-GM | 10(1986,87,88,91,92,95,97,2001,07,14) | 8(1981,82,96,98,2000,02,03,06) |
| In  World League-Gold M. | 0 | 1(2014) |
| Euro Hockey  Cup-Gold M. | 8(1970,78,91,95,99,2003,11,13) | 5(1983,87,2007,15,17) |
| Total FIH/Continental  GM | 24 | 19 |

Fieldhockey.com


---

Tristan Clemons: Goalkeeper on the field, research scientist off it

Feroz Khan

BHUBANESHWAR: It's an overwhelming experience meeting Australian hockey star Tristan Clemons, and not just because he is a world-class goalkeeper. In fact, professional hockey isn't his 'day job'. So, when not honing his skills as a goalkeeper on the field, Clemons is busy inside a laboratory, developing nanoparticle drug delivery systems for better treatment of various diseases, especially cancer.

But wait, that's just not it. Clemons is also a qualified marriage celebrant, motivational speaker and owns a business selling 'flap hats'. And he has done all of that before turning 30.

Science is a subject that came naturally to Clemons, who grew up on a farm and kept his parents busy with questions about the way things worked and why they worked in that manner. But as a teenager, he had other interests too and field hockey was at the top of the pile. He wasn't into books and preferred running with a hockey stick on the grass, hitting goals.

When he turned 16, Clemons came across nanotechnology while sifting through the pages of Job Guide, which fortunately his mother was more than happy to read to him. It was a new field and possibly with limited career opportunities but Clemons was hooked and as it turned out, he ended up as a Research Scientist at the University of Western Australia.

How does a full-time hockey player happen to be a scientist?

"I have always been interested in science. I grew up in a farm and always asked my parents how things work and wondering why things happen as they do. I have always been intrigued by that and that's probably why I got into science," Clemons tells TOI Sports on the sidelines of the 2017 Hockey World League Final.

The University of Western Australia describes Clemons as "a key member of the BioNano research team" and lists multifunctional nanoparticle synthesis, therapeutic delivery, disease treatment, wound healing and chemistry education research as his key researches. In 2015, he was one of 13 Australians selected to attend the prestigious annual Lindau Nobel Laureate Meetings where Nobel Laureates and other scientists exchange ideas.

Currently, the 30-year-old is working on developing nanoparticles for the delivery of drugs which leave severe side effects. "My research now focusses on the delivery of drugs to try and reduce the side effects of different therapeutics," says Clemons. "So, to think about cancer treatment, for example - it has some very bad side effects. Your immune system is damaged, you can lose your hair, it's nauseous. And we are looking at ways to deliver that drug inside a nanoparticle and target it to the cancer cells. That's how we want to reduce the side effects and actually have better outcomes for patients."

The conversation steadily moves to his other passion, hockey - which happens to be his first love. Clemons was inspired by his older brother to play the sport. Interestingly, he started out as a field player and eventually became a goalkeeper as the prospect of becoming a hero was alluring.

"I grew up in a small country town called Bunbury in Western Australia. My older brother played hockey and follow in his footsteps. What was interesting is I sort of fell into goalkeeping. I started as a field player and just liked the opportunity to be in the goals and maybe change the game, become the hero by saving or become the villain by letting one in. I like that pressure and the opportunity to shine," Clemons recounts.

He feels the game has changed quite a bit since he picked up the hockey stick as a kid. "The game moves along very quickly now. The importance of penalty corner has come along a lot as well now with the drag-flick being so lethal. The game has sped up in general. The overheads (shots) becoming common nature, back-stick passing being common across all countries. That's what makes it (hockey) such an enticing product for live and viewing audience as well," says Clemons.

It's not Clemons' first time in India for a hockey competition. He was here when Australia triumphed in Raipur two years ago, and has played in the Hockey India League (HIL). Clemons feels that the tournament's rule to award two points for a field goal and one for a penalty corner has made the game more interesting. He suggests it should be implemented at the international level too.

"I really like playing in the HIL where you have two goals for a field goal and one for penalty corner. The reason why I like this is because if you are only leading by one goal late in the game, there's a chance to go for two points and win the game, instead of just trying to draw it. It has brought in some element of surprise," he says.

Goalkeeping in hockey is one of the toughest jobs, requiring you to be courageous enough to face a hard plastic ball racing towards you at over 120 km/hr. But for Clemons, that's not the most daring trait of a custodian. "The biggest thing for me is that I stay calm so that I can let my training takeover and play to my abilities" he says about his mindset during a game. "I think the bravest thing about goalkeeping is not worrying about the shots coming at you but to make the right decisions. Sometimes we have to come out and tackle or stay back at the goal - when to move or not to. Being brave enough to make those decisions in the tight spots during games is what makes it as courageous maybe."

The Australian team is going through a transitional phase. After a disappointing performance at the Rio Olympics, they are determined to re-establish themselves at the top of the pile of men's hockey. "After the Rio Olympics, we had a few retirements. We are in a new group with a new coach. There's a lot excitement. We are the world No 2 so we are not very far from the top. We are here to play the quarter-finals and try to win the world league and then we have the world cup next year here. The group that we have now can be expected to do that," says Clemons.

When he is not playing hockey or making it a better world to live for everyone in a lab in Perth, Clemons volunteers to teach students about the role science plays in the betterment of the world. What better role model could they ask for?

The Times of India


---

Hockey World League Final organisers left embarrassed as Netherlands, England players hit by stomach bug



The England hockey team competing in the Hockey World League Final. Twitter: @EnglandHockey

A handful of players from the Netherlands and England squad competing at the ongoing Hockey World League Final in Bhubaneswar fell sick over the last few days, reportedly due to a stomach bug.

Both teams fielded depleted sides in their final group matches on Monday and Tuesday. While the Dutch missed three players against Belgium – Thijs van Dam, Joep de Mol and Pirmin Blaak — due to "food-related issues", England had the same number of absentees – David Ames, Harry Martin and Brendan Creed – against Australia.

The issue has raised a slew of questions about the hospitality team and the organisers, as this showpiece event is expected to be a dress rehearsal for next year's World Cup, which will be played at the same venue.

"The issue came to my knowledge earlier this week. We have asked our food safety team to conduct a daily check of the kitchen and the ingredients. It started on Tuesday and will be done in every hotel where the teams are staying," Odisha sports secretary Vishal Dev was quoted as saying by The Indian Express. The report further adds that both the teams are staying at the Mayfair Lagoon.

Netherlands captain Seve van Ass said three of his teammates were down with stomach issues with some sort of a bug. "Unfortunately, we are not fully healthy. They have stomach issues, something in the food. In our last group match, we played 14 instead of 18 ( the fourth player has an ankle injury)," he said. "I hope nothing will happen further in the tournament."

The Argentine team, too, faced similar issues, with at least one player missing a match due to illness.

However, Dev blamed it on the players ordering pizzas from a certain restaurant. "Apparently, some teams had ordered pizzas from outside," he said.

Meanwhile, England coach Bobby Crutchley did not want to make a judgement before collecting enough evidence. "There are other teams in our hotel who've got the same problem. Our doctor is concerned for the health of players and we are trying our best to ensure players don't get it," Crutchley told The New Indian Express. However, the hotel denied that there were problems with the kitchen staff. "No team has complained to us," a senior staff said. "We are not aware of any such issue."

The state government has ordered a team to inspect the kitchens of all teams hotels, along with cooking ingredients, on an everyday basis.

Firstpost


---

Central American Games in Managua

Alicia Takeda




Day 3 of the women's and men's hockey competition at the Central American Games in Managua, with todays results Nicaragua & Guatemala at the top of the women' standings and  Guatemala  as well in the top of the men's standings.

The Central American Games in Managua Nicaragua, began on December 3rd and for the first time they incorporated Hockey 5 modality. With a colorful opening of bands and dances by young Nicaraguans, the Games were formally inaugurated.

The first three days faced the teams of men and women from Costa Rica, El Salvador, Guatemala, Nicaragua and Panama. Honduras is participating only with its male team. Every day is a happy day in Managua, full of color, and young dancers  entrenaining the audience between games.

With very hot days these countries have managed to compete for the fourth time at the regional level, working hard to get a place on the podium. It is also worth mentioning the enthusiasm of the national referees and technical officials who gain experience with each match. Tomorrow, December 7, from 9 o'clock in the morning the young athletes will fight for gold medal at the Conchita Palacios Stadium.

Alicia Takeda, experienced international technical officer told us: "As a Technical Delegate for the XI Central American Sports Games of Managua 2017, I congratulate the teams of Costa Rica, Guatemala, Honduras, Nicaragua, Panama and El Salvador, as well as the Pan American Hockey Federation, for the inclusion of our sport in these games with high relevance in the region.

It is my wish that with this atmosphere this becomes a competition that encourages the promotion of hockey and collaborates in the development of teams, referees and officials.

Even when the conditions are not ideal, I appreciate the great effort that the Organizing Committee and the Nicaraguan Hockey Federation have put, with much effort, to cover the technical requirements of hockey. Undoubtedly, great learning will have been obtained from this event.

Today, I am satisfied with what I have been able to witness and I hope that once the path is opened, people continue working on it.

It is an honor for me to be part of this event, making history in the Central American Hockey Region "

Soledad Iparraguirre, Olympic referee and now Referee Manager of of the Pan-American Hockey Federation, echoed the Technical Delegate congratulations and added: "As Referee Manager of this competition, I consider this event as a great opportunity for the region referees in order to continue their process of learning and growth, a task they have been carrying out with great commitment. The teams have worked hard to improve their level, and the referees also. We expect the tournament will end with very good results".

Tomorrow we will be looking forward for the final games. We will be expecting great games!!!

Pan American Hockey Federation media release


---

Pakistan welcome to play World Cup: Elena Norman

s2h team

Bhubaneswar: Amid the tension between India and Pakistan, Hockey India has confirmed it is open to any country playing in the World Cup.

"They are welcome like any other countries. It is upto them to complete the Visa process and provide all details," Hockey India CEO Elena Norman said.

Pakistan is one of the 16 teams participating in the World Cup.

Giving details of the World Cup preparation, she said the turfs would be replaced ahead of the big tournament. India coach Sjoerd Marijne and skipper Manpreet Singh had earlier said that a particular portion of the pitch had a bump. Two additional galleries will also be added in the stadium, giving it a brand new look.

"Both the main and the practice pitch will be changed. The construction work is supposed to get over by the end of May. The pitch would laid after that in two-month time. The whole stadium is expected to be ready by July," she said.

On Hockey India League, Elena clarified that the popular format is still on cards.

"It is scheduled for the end of 2019. The final dates will be out after getting window from FIH."

On a few foreign players from Belgium and England falling sick possibly due to 'food poisoning, she said,

"Some of the teams have unwell athletes. So, as part of precaution, we have asked the local authorities to check if the best practices is being done. We are getting all the hotels checked."

Stick2Hockey.com


---

All teams are welcome, says Hockey India CEO



Indian Hockey team captain Sardar Singh is greeted by Elena Norman, CEO Hockey India. File photo. Photo Credit: PTI

With India hosting the hockey World Cup next year at the Kalinga Stadium here and doubts being raised on Pakistan's participation despite qualifying for the big event, Hockey India CEO Elena Norman on Wednesday took time out to answer questions on a variety of issues that have been facing uncertainty for a while.

Excerpts:

Arrival of Pakistan for World Cup

They are welcome here, like any other team. We have got the official sanction from the Ministry of Youth Affairs and Sports and the official sanction for conducting the tournament, which includes 16 teams, including Pakistan. We need three clearances, the other two from the Ministry of Home Affairs and the Ministry of External Affairs. We have already got approval from one of them so far, though I cannot remember which one right now, and other one is expected soon.

Then it is up to Pakistan. There are requirements like submitting for visas within a certain period and providing all the details, just like all the teams.

Teams complaining about the pitch and rumours of the event shifting out

That's rubbish and I have no idea where this is coming from. The World Cup is very much on at Bhubaneswar here. As for the pitch, most of the team were here for two weeks before the start of the tournament, the India team was also practising here and we didn't hear anything. If it were anything serious, it would have definitely been raised.

That said, we all know that this pitch is 3-4 years old, so things do happen, they don't stay perfect. But this, along with the other pitch, is being changed for the World Cup, along with the cushion, after all the construction work is expected to be over by May next year. That's the plan. By July, we hope we will be ready to launch a whole new stadium so I guess that lays to rest the shifting part as well.

Doubts on the continuation of the Hockey India League

It will (tentatively) be by the end of 2019 and is on track. We already have confirmed with our broadcasters for that. I don't think the franchises were complaining but then everyone likes to make money and we still have time to sort that out.

We do need to reconfirm a broad window with the FIH, because leading into 2020, they also have the Olympics qualification events, which will happen before the HIL so that the players are free for HIL. But it will finish the last Sunday before Christmas.

The Hindu


---

Government has okayed Pakistan participation: Hockey India

Arnab Lall Seal

BHUBANESWAR: One big concern about the hockey World Cup to be held in India next year is the participation of Pakistan. On Wednesday, Hockey India (HI) CEO Elena Norman said the Pakistan are welcome to take part in the mega event and two union ministries have already okayed their participation.

"We have already written to the ministry of youth affairs, home and defence, seeking permission for hosting the 16 teams, one of them being Pakistan, for the tournament. While two of them have already given their permission regarding the same, the other one is expected soon," she told reporters. "After that, it is up to Pakistan to proceed accordingly. There is a time limit and they have to fulfill all the requirements by then."

Talking about the Hockey India League, which has been shelved for now, Norman said the plan was to hold it in 2019. "We're planning to hold the Hockey India League at the end of 2019. As far as the number of teams is concerned, there will be either six or eight teams but it's not confirmed yet," she remarked.

Norman also allayed fears that the World Cup can be shifted from here. The seating capacity of Kalinga Stadium is being increased for the big event and Norman revealed even the pitches will be relaid. "It is expected that all constructions will be completed by the end of May. Then we will have two months to relay the pitches. So before monsoon, everything will be done," said the HI CEO.

The Times of India


---

Hockey Stars Awards: Meet the women's nominations for Player of the Year




The five shortlisted players for the International Hockey Federation (FIH) women's Player of the Year have lit up the hockey scene in 2017 with their skill, work rate, commitment to the game and sheer talent. All five nominees are also shining examples to others on and off the field and are deservedly seen as inspirational role models. Below is a snap-shot of each nominee's achievements. These are in alphabetical order by surname.

VOTE HERE!

Recently appointed Great Britain and England captain, Alex Danson has represented her country since she was a 16-year-old back in 2000. Since then she has represented Great Britain and England more than 290 times, scoring a combined 106 goal in the process. Her medal tally includes five European bronze medals, EuroHockey silver in 2013 and EuroHockey gold in 2015, a bronze at the 2010 Hockey World Cup, bronze at the 2012 Olympic Games, plus Olympic gold at Rio 2016. Danson's commitment to the game remains as strong now as it ever has been and she is also a great advocate for the game, putting in hours of work for charities in Great Britain. Her leadership at the Sentinel Homes Hockey World League Final saw England finish in fourth place.




Melissa Gonzalez led the USA women's team to a first place finish at the Hockey World League Semi-Finals in Johannesburg, South Africa which not only guaranteed qualification for the Vitality Hockey Women's World Cup London 2018 but also sent the team, ranked seventh in the world, to their first Hockey World League Final, where they finished seventh in Auckland, New Zealand. With more than 220 caps to her name, Gonzalez has been at the heart of the USA resurgence as they have moved up the rankings and earned respect as one of the top teams in the world. Gonzalez was Player of the Tournament at the Hockey World League Semi-Finals and took that form to Auckland, where she received plaudits for her fitness, tenacity and skill levels.




Argentina's Delfina Merino is the iconic striker who has all the makings of becoming a Las Leonas legend in the style of Luciana Aymar and Carla Rebecchi. With Merino at the helm, Argentina this year won their fifth successive Pan American Cup, qualified for the Vitality Hockey Women's World Cup in London by virtue of a fourth place finish at the Hockey World League Semi-Final in Johannesburg, and maintained their position as third ranked team in the world in the FIH Hero Hockey World Rankings. Merino is the stand-out player in a team of talented individuals, not least because of her impressive leadership skills on and off the pitch. She was also joint top scorer at the Sentinel Homes Hockey World League Final in Auckland.




When New Zealand faced Argentina in the quarter-finals in Auckland at the Sentinel Homes Hockey World League Final, it was captain and current highest capped player (235) Stacey Michelsen who led from the front, cajoling and pushing her teammates to dig deep. Whether it was bravely chasing down a penalty corner, driving forward from midfield or getting on the end of a penalty corner deflection to score, Michelsen was everywhere. Just that performance highlighted her greatness but this is the story of Michelsen every time she walks on the pitch – tenacious, hard-working, brave and an inspirational and popular leader. New Zealand lost in the final of the Hockey World League to the Netherlands but there was consolation for Michelsen as she was named Player of the Tournament.




Netherlands women have changed markedly since Rio 2016 but one of its enduring stars is the midfield dynamo Lidewij Welten. The double Olympic gold medallist continues to spearhead the Dutch attack and was key to the 2017 EuroHockey success which saw Oranje announce that they were back to winning ways. Welten was also key in the Netherlands barnstorming win at the Sentinel Homes Hockey World League as they beat New Zealand in the final. The Netherlands have played some spell-binding hockey this year and Welten has been at the heart of maintaining their number one position in the FIH Hero World Rankings.




All photos from Getty Images and World Sports Pics

#HockeyStarsAwards

FIH site


---

Gladiators geared up for PHL's final weekend battle

By Karien Jonckheere



Photo by Marcel Sigg

There's an intriguing weekend of action ahead as the Premier Hockey League heads into the final round of games before the playoffs. And one man who will be watching the log very carefully will be coach of the SA men's under-21 side, playing as the Old Mutual iWYZE Golden Gate Gladiators, Garreth Ewing.

His side pulled off the most dramatic comeback of the tournament so far last Sunday when they came back from 0-3 down to beat the Garden Route Gazelles 6-3. The Gladiators are currently fourth on the log, and as it stands, that would mean a semifinal spot, but with only one game to play this coming weekend, anything could happen.

"I think that a lot is going to happen before the semifinalists are decided," reckoned Ewing. "We only have one game to play this weekend, which might count against us. All the results will have an impact on the table for all the teams. It's going to change game by game and possibly one or two results might work in our favour. Who knows what pressure will do?"

The Gladiators face the tough task of taking on the defending champions, the Crossroads Maropeng Cavemen, in their final game, but confidence is high after last weekend's performance. "Our team focus won't change, beyond improving on last weekend's performances and trusting in our process against a very strong Cavemen team," explained the coach.

"I think we can definitely beat them, but I'm extremely respectful of their experience and balance. It will be a tough game but a very good opportunity for the young Gladiators to continue to learn about playing in pressure situations."

Speaking about the Cavemen, who are currently second on the log after a rained-out match went straight to a shootout, which they lost to the Gazelles, Ewing added: "It was no surprise to me when they won the tournament last year. They have key players right up the middle of the field and they have a strong offensive and defensive PC. I think they have a handle on their defensive game which will make them hard to break down."

The young Gladiators will surely believe that anything is possible after last Sunday though. Describing what changed in his team to be able to turn around the deficit, Ewing explained: "3-0 wasn't a comfortable place for us. We shared a few stern words at half-time, but we focused on playing to the shape we had agreed upon before the game, and making sure that we stopped leaking goals due to errors.

"The biggest shift the players made was committing to passing the ball instead of becoming individuals when under pressure. This really raised our tempo and then things started to flow. It was also, I think, an indication of the team's character and the pride they have in their performance that they found an extra gear. I was thrilled at the way they responded and they played some beautiful hockey at times.

"Our whole process, with there being a longer-term goal of being successful at the Junior World Cup in 2019, has been about performing and growing rather than getting results. In terms of team growth there is a lot to feel encouraged about, but we need to ask how we got ourselves to 3-0 down in the first place.

"The key for us is to now believe that we can compete against older players with more experience, and to make sure we start games better. The team is very upbeat after the game, however, and it will help our confidence a great deal going into the last weekend."

Fixtures:

Saturday, 9 December

8am: ProGrip Drakensberg Dragons v Mapungubwe Mambas
10am: Private Property St Lucia Lakers v TopT Madikwe Rangers
12pm: Crossroads Maropeng Cavemen v Old Mutual iWYZE Golden Gate Gladiators
2pm: Wineland Wings v Orange River Rafters
4pm: Kilimanjaro Addo Elephants v Garden Route Gazelles

Sunday, 10 December

8am: Private Property St Lucia Lakers v Wineland Wings
10am: Crossroads Maropeng Cavemen v Mapungubwe Mambas
12pm: Orange River Rafters v Tivoli Blyde River Bunters
2pm: ProGrip Drakensberg Dragons v Garden Route Gazelles
4pm: Old Mutual iWYZE Namaqualand Daisies v TopT Madikwe Rangers

SA Hockey Association media release


---

World XI to come on Jan 10 to play two matches: Shahbaz Sr




LAHORE - Pakistan Hockey Federation (PHF) secretary Shahbaz Ahmad Senior has said that star-studded World XI will arrive here on January 10 on a four-day trip to play two-match series against Pakistan team.

"The foreign team, which is a blend of world's renowned hockey players, will be arriving Karachi and will play its first match at Abdul Sattar Edhi Stadium on January 12," Shahbaz said and added the team would fly to Lahore on January 13 to play its second match of the tour on January 14. "We will be arranging grand functions at both Karachi and Lahore. The Karachi's match will be played under light and the match at Lahore to be a day affair."

The PHF secretary said a special function of nomination of world's former top-notch players for the 'Hall of Fame' would be held on January 12 at Karachi and a number of foreign and home players would be honoured with their induction in the 'hall of fame'.

"The prime objective of induction of players in 'hall of fame' is to develop a new culture to give recognition to those foreign and home players, who excelled in the game at the highest level. We are confident that it will be big step forward to motivate the youth to take up hockey and to revive the game in Pakistan," said Shahbaz , a former Pakistan hockey captain and most celebrated forward of all times.

To a query, Shahbaz replied that the World XI would be comprising players from Olympic Champions Argentina, Holland, Germany, Spain and Belgium. "The World XI will be consisting of 5 to 16 players."

He said the tour of the World XI would be a way forward to bring back international hockey to Pakistan and to hold the Pakistan Hockey League (PHL) in April next year in a befitting manner. "With the tour of World XI , we will be enhancing our organisational capabilities and allied aspects in order to host the PHL in a professional way," he said.

Replying to another query, he said the World XI would be leaving on January 14 soon after playing the match at Lahore. "The government has issued NOC for hosting the World XI and the PHL and we will be generating necessary funds from the sponsors for holding both the events in a trend-setting way," he said.

Shahbaz said the matches of Pakistan Hockey League would be staged at Lahore, Karachi, Faisalabad and Sialkot. "We will be holding seven to eight matches at every centre and all the matches will be held under lights. Hopefully, we will be starting the PHL in the last week of April. The league will be a major revenue generation venture for the PHF while the players, who are drawn in different categories, will be getting handsome amounts."

"It will be a new trend in our hockey and it will give new identity to hockey in Pakistan as we struggling now being at a low ranking of world number 14th. Both the events will portray soft image of the country besides serving the cause of hockey at all levels," he concluded.

The Nation


---

World XI hockey team to play in Lahore, Karachi

Abdul Ghaffar

A World XI hockey team will play two matches in Pakistan on January 12 and January 14, Pakistan Hockey Federation (PHF) Secretary Shahbaz Ahmad announced on Wednesday.

A World XI side comprising players from top international teams Argentina, Netherlands, Australia, Spain and Belgium will play its first match in Karachi on January 12 after arriving on January 10; while the second match will be played in Lahore on January 14, the official said.

Ahmad said that former greats from Pakistan and other countries will also be celebrated in a PHF Hall of Fame programme. The tour will also be taken as an opportunity to convince international players to participate in the upcoming Pakistan Hockey League.

Pakistan recently hosted a World XI side for cricket matches. The event was seen as an important step in the return of international sporting events to the country after an attack on a Sri Lankan cricket team in 2009 forced Pakistan to play 'home' matches first in England, and later the United Arab Emirates.

Dawn


---

Get to know: The Hockeyroos




The calendar year of 2017 has been one of ups and downs for the Hockeyroos as they kick started their new four year cycle on the back of Olympic disappointment in Rio.

After missing out on qualification to the Hockey World League Finals in July the Aussies bounced back in style to win the Oceania Cup and will hope to use this to build momentum heading into a huge 2018.

Like many international squads there has been a high turnover of players within the squad who enter the next four years together but, with a proud hockey history and passionate following, they will be confident of success and medals at the Commonwealth Games and Vitality Hockey Women's World Cup.

With Trans-Tasman rivals New Zealand in their pool along with Japan and Belgium there are some hot clashes in Pool B. Snap up your tickets to see them before it is too late here.

Nickname: Hockeyroos
Head Coach: Paul Gaudoin
Captain: Emily Smith
World Ranking: 4
World Cup wins: 2
Olympic wins: 3
Vitality #HWC2018 Pool D: Australia, New Zealand, Japan, Belgium

The Hockeyroos are the third most successful nation in World Cup history with two gold, three silver and one bronze medal to their name. However their most recent trips to tournaments in London have seen them finish fifth at the London 2012 Olympics and fourth at the 2016 Champions Trophy.

Australia are led by captain and forward Emily Smith who has 187 caps to her name since making her debut in October 2011. She has scored 74 international goals in this time making her one to watch.

Goalkeeper Rachael Lynch is another experienced and world class campaigner in the Aussie squad. Lynch has made nearly 200 appearances and has a lot of history in the United Kingdom. She was the hero for Australia in their Commonwealth Games win in Glasgow as she made two saves in the shootout.

Lynch was also named the best goalkeeper of the World Cup in 2014 at the Hague and will hope to make another big impact at the event in London next summer.

The job of coach Paul Gaudoin will be to continue to rejuvenate this side heading into two major tournaments in 2018 but the side are showing signs of what it can do most notably in the Oceania Cup where they beat Papa New Guinea 23-0 on their way to defeating New Zealand in the final.

England Hockey Board Media release


---

2018 National Women's Development Squad Confirmed

Ben Somerford




Hockey Australia (HA) today announces the National Women's Development Squad for 2018.

The announcement comes after the release of the National Senior Women's Squad on Tuesday, with two spots remaining available and to be determined following the Spain Test series in Perth in January.

National Development Squad players are decentralised but receive HA support and resources through the state institutes and NTC coaches.

Hockeyroos head coach Paul Gaudoin said: "We've selected people who we think will help us develop a group that can win a medal in Tokyo.

"We want to make sure the Development Squad is about preparing people to be able to play for Australia."

Laura Barden and Kate Hanna have been de-selected from the National Senior Women's Squad and added to the Development Squad, while Lily Brazel, Savannah Fitzpatrick and Emily Hurtz were elevated to the Senior Squad on Tuesday.

WA's Karri Sommerville has been added to the Development Squad after impressive performances at the 2017 Under-21 Championships and 2016 Junior World Cup.

Murphy Allendorf, Kyra Flynn, Greta Hayes and Sam Snow are omitted from the Development Squad. Jodie Kenny, Sophie Taylor, Naomi Evans, Anna Flanagan, Laura Gray and Roos Broek were added to the Development Squad in October and have been retained.

"There's people who we want to give more of an opportunity to see where they are at coming into next year," Gaudoin said.

The National Women's Selection Panel have identified Barden, Kalindi Commerford, Hanna, Kenny, Ambrosia Malone and Mikaela Patterson as the players in contention for the final two spots.

Those six players will attend the Senior Squad's January camp and be included in the Spain Test series.

"It's important we give people the chance if they haven't had enough of an opportunity," Gaudoin said.

2018 National Women's Development Squad

Athlete (State)

Laura Barden (Kew, VIC)
Roos Broek (Melville, WA)
Kalindi Commerford (Canberra, ACT)
Naomi Evans (Canberra, ACT)
Anna Flanagan (Canberra, ACT)
Laura Gray (Goulburn, NSW) *Plays for ACT
Kate Hanna (Constitution Hill, NSW)
Jodie Kenny (Wamuran, QLD)
Ambrosia Malone (Molendinar, QLD)
Hayley Padget (Hurstbridge, VIC)
Mikaela Patterson (Blackbutt, NSW)
Meg Pearce (South Yarra, VIC)
Aleisha Power (Clackline, WA)
Teagan Richards (Biggera Waters, QLD)
Karri Sommerville (Kensington, WA)
Penny Squibb (Tambellup, WA)
Sophie Taylor (Camberwell, VIC)

Hockey Australia media release


---

Scotland women's squad announced for warm weather camp



Photo by Duncan Gray

Gordon Shepherd has named his Scotland women's squad for the upcoming warm weather camp in Gran Canaria on 13th Jan – 3rd Feb.

This camp will be used to select the squad for the Commonwealth Games in the Gold Coast in 2018.

The Scots will also play Wales five times during the warm weather camp in Gran Canaria as part of preparations for the Gold Coast.

Excitement is building in anticipation of the Gold Coast Commonwealth Games following the recent fixtures draw for the tournament. Scotland women have been drawn in Pool B against Australia, New Zealand, Canada, and Ghana. Women's Pool A has England, India, South Africa, Malaysia, and Wales drawn together.

The Gold Coast Scotland squad announcement will be made on Feb 14 2018.

Scotland women's Head Coach Gordon Shepherd said:

"I am delighted with the level of competition we have in every line in the team, and the camp in Gran Canaria will allow the players to express themselves and compete for selection for the Gold Coast.

"As well as training we have five games versus Wales and I feel this is an excellent balance of training and games to maximise each player's opportunity to be selected.

"Every player that is going on this selection camp has the same opportunity to be selected to represent Scotland at the Commonwealth Games in the Gold Coast next year."

Scotland women's squad for Gran Canaria

Lucy Camlin (Watsonians)
Nicola Cochrane (Beeston)
Amy Gibson (Reading)
Kareena Cuthbert (Western Wildcats)
Karin Belch (Grove Menzieshill)
Alison Howie (Clydesdale Western)
Heather Howie (Clydesdale Western)
Katie Robertson (Grove Menzieshill)
Nicola Skrastin (Grove Menzieshill)
Laura Swanson (Edinburgh University)
Rebecca Merchant (Edinburgh University)
Amy Brodie (Edinburgh University)
Sarah Jamieson (Grove Menzieshill)
Charlotte Watson (Dundee Wanderers)
Camilla Brown (Clydesdale Western)
Fiona Burnet (Clydesdale Western)
Jennifer Eadie (Clydesdale Western)
Robyn Collins (Surbiton)
Becky Ward (Western Wildcats)
Lucy Lanigan (Clydesdale Western)
Sarah Robertson (Hampstead and Westminster)
Amy Costello (University of Birmingham)
Rebecca Condie (University of Birmingham)
Kate Holmes (Clifton Robinsons)
Nicola Alexander-Lloyd (Wimbledon)
Fiona Bruce (Clydesdale Western)
Mairi Drummond (Wimbledon)

Scottish Hockey Union media release


---

Seven players called up for women's Commonwealth Games hockey squad

By Aftar Singh

KUALA LUMPUR: The Malaysian women's hockey team have called up seven new players for training in preparation for next year's Commonwealth Games in Gold Coast, Australia, from April 4-15.

They are defenders Putri Nur Batrisyia Nor Nawawi, Ellya Amanina Ellias, Dayang Nuramirah Abang Mahadini and Nor Asfarina Isahyifika Isahhidun; and forwards Siti Zulaika Ismail, Nur Atira Mohamad Ismail and Nuramirah Shakirah Zulkifli.

National coach K. Dharmaraj has retained all 18 players from the team who finished fifth in the Asia Cup in Kakamigahara, Japan, last month.

He said that the seven new players were called up based on their performances in the recent Razak Cup tournament in Kuala Lumpur.

"Experienced midfielder Fazilla Sylvester Silin will join the team next month, so I will have 26 players in the training squad," said Dharmaraj.

"Fazilla has been undergoing a six-month training course with the Fire and Rescue Department (Bomba) since June.

"I have called up more players for training so that I will have more options when it comes to selecting the team for the Commonwealth Games.

"I will review the players' performances in training and also during next month's National Women's League (Jan 15-Feb 15)."

The national team began training on Monday and the players will be released to feature for their clubs in the National Women's League early next month.

Ten teams will feature in the Commonwealth Games and world No. 22 Malaysia are in Group A with England (No. 2), India (No. 10), South Africa (No. 14) and Wales (No. 26).

World No. 4 Australia, New Zealand (No. 5), Scotland (No. 18), Canada (No. 21) and Ghana (No. 30) are in Group B.

THE 26 PLAYERS

Goalkeepers: Farah Ayuni Yahya, Mas Huzaimah Md Aziz, Ain Nur Nasiha Yahaya.

Defenders: Siti Noor Amarina Ruhani, Juliani Mohamad Din, Raja Norsharina Raja Shabuddin, Nuraini Abdul Rashid, Fatin Shafika Mahd Sukri, Putri Nur Batrisyia Nor Nawawi, Ellya Amanina Ellias, Dayang Nuramirah Abang Mahadini.

Midfielders: Fazilla Sylvester Silin, Siti Rahmah Othman, Norbaini Hashim, Wan Norfaiezah Md Saiuti, Surizan Awang Noh, Siti Zulaika Hussin, Nor Asfarina Isahyifika Isahhidun.

Forwards: Nurul Nabihah Mansur, Norazlin Sumantri, Hanis Nadiah Onn, Nuraslinda Said, Nur Syafiqah Mohd Zain, Nur Atira Mohamad Ismail, Nuramirah Shakirah Zulkifli, Nur Maizatulhanim Syafi Sheik Fuad

The Star of Malaysia


---

From 4 mums to 74 members in under a year



Durham Dales founders

From 4 mums to 74 members all in under a year, meet the Durham Dales Hockey Club
 
In February, Sarah found some old plastic indoor hockey sticks and a small ball and thought it would be fun to invite some friends for a game of hockey. She invited Kirsty, Lucy and Alison along and as they were looking for a new way to get fit they decided that they would give it a go.
 
"Getting into hockey was really an accident;" Sarah explains. "I found some plastic sticks and a ball (not a hockey ball!) I thought it might be fun after seeing the recent success of the women winning Olympic gold in Rio. We booked our local 3G pitch and even though it was pouring with rain and there was only four of us we really enjoyed it! Then every week more and more people joined in.  The support of Harriet Tebbs, England Hockey Relationship Manager has been instrumental in helping us grow and to get all the paperwork and insurance in place.
 
"We have members from 5 to 55 years-old; they range from ex county players, to those who played at school to those who had never played before.  We have men, women and children; we are like one big family!
 
"We had no money, no funds or anything so it has been a tough start to getting into the sport but we enjoy it so much we have just been driven to keep going."  Slowly, we started to replace the plastic sticks with hockey sticks and bought a few balls.
 
The Durham Dales have built a partnership with Weardale Action Partnership who has invested £400 which helped them buy a goal keepers kit. The nearest facility to them is a small 3G pitch so they can't host any matches but is just about enough for training.
 
But the future is bright for this new young club; they plan to affiliate this year and after some of their first ever games they plan to join a league next year. And importantly they have a space in the local pub for socialising after training!
 
"Other plans are to continue to fight for a pitch so can keep growing all our sections and help maintain our inclusive 'everyone plays' ethos." Unfortunately the large school hockey pitch they played on in the Summer is earmarked for sale by Durham County Council so the group are currently displaced and are unable to play games at home or train on a full size pitch as there aren't any nearby.  The club is continuing to meet on the 3g pitch for now.
 
"We hope to continue to grow in our local area, working with schools and community groups to encourage others of all abilities and fitness levels to join. They have just applied for another grant for a storage unit, some goalie equipment for the juniors and some coaching.
 
"We are pleased we have just secured a sponsor of Peggotty's of Wolsingham, this money will be used to provide a dry space for adults so they can still watch and support their children on wet Sundays."  The junior section is growing rapidly and they have five of the ladies and men team volunteering to support their development.
 
Sarah who work at the University of Sunderland as a Senior Lecturer can't believe how far the club has come she told the Northern Echo.
 
"I am amazed by how far we have come. To see all these people here on a Friday night playing hockey together when they could be at home with a glass of wine is just fantastic."
 
They were shortlisted for Sports Club of the Year category in the County Durham Sport Physical Activity Awards and we want to wish them the best of luck!

England Hockey Board Media release