All the news for Friday 9 December 2016

Four teams claim victories on Day 1 in Lucknow




There were wins for New Zealand, Germany, England and host nation India on an entertaining opening day of the Uttar Pradesh Hockey Junior World Cup 2016 in Lucknow.

The day's action began in Pool C, with New Zealand battling to a hard earned 1-0 win over Japan. The New Zealanders scored the only goal of the game in the 55th minute, with Oliver Logan finding the target with a well taken drag-flick. The Japanese came close on numerous occasions in the latter stages, but the junior Black Sticks held on to make a winning start to their competition. "To absorb that much pressure was pretty good for us," said New Zealand's David Brydon. "Normally we'd be leaking a few so to keep a clean sheet is awesome."

Reigning champions Germany also made a winning start to their title challenge, but were made to work hard by an organised Spain. Anton Boekel's 25th minute strike was cancelled out by Spain's Manual Bordas I Fabregas in the 48th minute, but German Olympian Timm Herzbruch scored seven minutes from full time to give his team all three points.

The second part of the day saw attention switch to Pool D, where England claimed a 4-2 win over South Africa. Edward Horler scored two near identical penalty corner efforts in the 5th and 9th minutes before Peter Scott made it 3-0 two minutes later. A fine solo goal from Matthew de Sousa reduced the deficit in the 13th minute and things got very interesting when Ryan Crowe made it 3-2 with 14 minutes remaining. However, Jonty Griffiths' fine strike from the top of the circle sealed the win for England.

Following an energetic and colourful opening ceremony, India and Canada took to the field to contest the final match of the day. India delighted the noisy home fans with a high-quality performance, winning 4-0 thanks to goals from Mandeep Singh, Harmanpreet Singh, Varun Kumar and Ajit Panday all on target. The Canadians were resilient in the first half, but India took control of the second and were deserving winners.

The opening ceremony and the match was watched by Canadian High Commissioner Nadir Patel, who said: "Canadians love sports and as a proud Canadian, I am thrilled to be here to witness the game and cheer for our national team. Canada has always cherished its friendship with India and opportunities like these in the arena of sports reiterates the vibrant relationship that both countries share."

RESULTS
Pool C: New Zealand 1, Japan 0; Germany 2, Spain 1.
Pool D: England 4, South Africa 2; India 4, Canada 0.

FIH site


---

Germany, NZ made to fight for wins

Asheem Mukerji

LUCKNOW: Germany and New Zealand had to work hard before registering wins on the opening day of the Junior Men Hockey World Cup championship. In another match, England too overcame some anxious moments before downing South Africa 4-2.

Six-time champions Germany found the going tough against Spain before prevailing 2-1, while New Zealand had to dig deep against Japan for a solitary goal win in their Pool C games at Major Dhyan Chand stadium here on Thursday.

Germany found the going tough against the packed defence of the Spaniards. Lack of space made the Germans search hard for opportunities in the rival area as their dangerous striker Tim Herzbruch was kept in check. Finally, Anton Boeckel had to come up with a fine reverse hit to beat the Spanish guard for the opening goal in the 25th minute. The reverse forced the Spanish side to change gears and go on the offensive. That paid off when Manuel Bordas Fabregas got the equalizer for the side in the 48th minute.

The Times of India


---

England U21s off to winning start at Junior World Cup



England celebrate scoring at HJWC2016

A first half blitz from England handed them a win in their opening match of the Junior World Cup against South Africa in Lucknow, India. Three goals in the opening 11 minutes from Ed Horler (twice) and Peter Scott put Jon Bleby's side in the driving seat and despite South Africa hitting back through Matthew De Sousa and Ryan Crowe, Jonty Griffiths' goal eight minutes from time made the points safe. 

England suffered an early setback as James Simpson was stretchered off after being caught in the face by De Sousa. Undeterred, they gathered themselves and pushed South Africa back. After five minutes they won their first penalty corner. Horler took the responsibility and found the bottom corner with a superb drag flick. Four minutes later the Loughborough Students man repeated the trick with an almost identical set piece to grab his and his team's second goal. There was barely time to draw breath when England made it 3-0. The ball was fed into the circle where Scott turned and hit an unstoppable backhand into the roof of the net.

South Africa got on the board in the 13th minute after a lovely solo effort from De Sousa as there was no let up in either side's attacking intent.

Garreth Ewing's side began to threaten but a superb stick save by Chris Wyver denied Charlie Bowren and then the England goalkeeper did brilliantly to block from Nqobile Ntuli. Horler came close to his hat-trick just before the break but his drag flick flashed just wide. 

Horler resumed his personal battle with South Africa goalkeeper Robert McKinley in the second half but this time the goalkeeper did well low to his right to get a stick on the ball and keep it out.

At the other end Wyver was performing heroics effecting some good saves to deny Kyle Lion-Cachet from a number of penalty corners. Chris Proctor almost made it 4-1 with a mazy dribble along the baseline but he could not smuggle the ball past McKinley.

Despite failing to beat Wyver from set-pieces South Africa were right back in the contest with 14 minutes left after a neat finish from Crowe reduced the arrears to 3-2. Some nervy moment followed with Wyver again excelling and keeping his side in front. With eight minutes on the clock the ball broke to Griffiths in the circle and he lashed a superb strike past the goalkeeper to seal the points.

Man of the match Horler said afterwards:
"it's a fantastic start for us. We've had a great week of preparation in Lucknow and it's nice to start off with a win. We've got a day off tomorrow and then we play the home nation in front of the home crowd so that should be a good game."

England's next match is against hosts, India on Saturday at 1330 UK time.

England 4 (3)
Ed Horler 5, 9 (PC, PC)
Peter Scott 11 (FG)
Jonty Griffiths 62 (FG)

South Africa 2 (1)
Matthew De Sousa 13 (FG)
Ryan Crowe 56 (FG)

England Hockey Board Media release


---

NZ Under 21 Men open with strong win



Photo: World Sport Pics

The New Zealand Under 21 Men have opened with a 1-0 victory over Japan at the Junior World Cup in Lucknow.

It was a tight encounter which saw both sides create plenty of scoring opportunities, with Ollie Logan delivering the game winner with a 55th minute penalty corner drag flick.

Kiwi goalkeeper Thomas Mallon had an outstanding game and alongside his back four, kept a clean sheet under huge pressure from Japan who had nine penalty corners but were stopped every time.

The result sees New Zealand take away three points with two games to play in the pool phase with only the top two moving through to the quarter finals.

Man of the Match Logan said it was pleasing to open the tournament with a win.

"It's great to come away with maximum points from our opening game. We came in with a lot of information on Japan, we knew what we needed to do and came away with a result which is great for us.

"We've got some very good flickers in the team so to be able to play my part and put one into the net was a really good feeling."

The New Zealand Under 21s are back in action in their second game at the Junior World Cup when they take on Germany on Saturday at 1:30am (NZ time), with live coverage on SKY Sport.

NEW ZEALAND 1: (Ollie Logan)
JAPAN 0
Halftime: 0-0

Hockey New Zealand Media release


---

Canada falls to India in opening match of Junior World Cup

Shaheed Devji



Rohan Chopra (right) chases the Indian ball carrier in Canada's match against India on December 8 at the 2016 Junior World Cup in Lucknow, India (By Yan Huckendubler)

The Canadian Under-21 Men's National Team dropped its first game of the 2016 Junior World Cup by a score of 4-0 to the host Indians Thursday in Lucknow.

A late first half goal put India ahead, and the hosts added three more in the second half en route to the victory in both teams' first match of the tournament.

Canada will face South Frica in its second pool-stage match on Saturday, December 1o (2:00pm local time; 1:30am Pacific, 4:30am Eastern).

Channeling the energy from the home crowd, which was out in full force and full voice on the first night of the tournament despite foggy and cool weather, India began with a majority of possession. But Canada, likely expecting an initial surge from the host team, weathered the storm quite well, not allowing India to earn a scoring attempt.

India continued to push for the first ten minutes, but Canada seemed confident its ability to hold them off.

In the 12th minute, however, the Indians picked up the first penalty corner of the match and the game's first real scoring opportunity. The attempt, was turned away by a combined effort from first-runner Parmeet Gill who got a piece of the ball to take away some of its power, and goalkeeper Iqwinder Gill who turned it away once it reached goal.

Another corner was awarded to India immediately after and Gill made a strong save.

The keeper's performance seemed to spark Canada as forward Rohan Chopra led a rush back in the other direction and made his way into the Indian circle with numbers. But Chopra's pass in from was defended well and knocked away before a Canadian could get on the end of it for a shot.

As the first half went on, Canada began to hold more possession, evening out the flow of the match, but the Indians started to make more of their touches.

Gill was forced to stand tall and showed he was up to the challenge by charging out to make many aggressive saves in the circle.

The game looked to be headed to half-time scoreless, after India hit the post on a deflection in the 33rd minute. But in the final minute of the first half, a scramble in the Canadian circle resulted in the ball coming loose to Mandeep, one of India's most dangerous players, and he quickly put a backhand on it beating Gill for the game's first goal.

India added three more goals in the second half to go on to the 4-0 victory.

Canada will face South Africa – which also lost its first match by a score of 4-2 to England – on Saturday, December 10 at 2:00pm local time (1:30am Pacific/4:30am Eastern). Find complete streaming and coverage information here.

Field Hockey Canada media release


---

Comprehensive win for India over Canada

s2h team



Photo by kind permission of Vino John

Mandeep Singh's strong reverse shot that landed at the right corner of the cage less than thirty seconds before the lemon time set India break the tight Canadian defence and go for goal blitzkrieg in the next half to post an impressive 4-0 win in Lucknow Junior World Cup.

Till Mandeep, who was later declared Man of the Match, broke the Canadian citadel, Indians were having tough time in the rival's citadel despite hectic efforts, as their defence came prepared to stonewall with all might.

Canadian goalie Iqwinder Singh Gill gave a sterling display in the first half to frustrate India and also twin penalty corner attempts by established Harmanpreet Singh, an Olympian in the side.

However, Harmanpreet Singh pushed the penalty stroke to the right of diving goalie Gill to enhance Indian score(2-0) after his penalty corner shot hit the body of a defender on the goaline in the 46th min.

Young Varun Kumar made it 3-0 off the sixth penalty corner drill. The penalty corner push by Parminder Singh was not stopped properly by Captain Harjeet Singh, leaving it to bounce. However, he managed to control quickly and sent a mild minus to Varun on the edge of the circle line.

Varun Kumar pushed the ball hard, which hit the goalie but bounced into the cage high, the force behind it being the clinching factor.

This was just ten minutes before the hooter.

A minute later, after India miss out another penalty corner, Ajit Kumar Pandey raised his stick enough to guide a high ball into the D to mount further frustration for Canada (4-0).

Canadian citadel that looked formidable in the first half, is now in shamble.

Arman Qureshi, who missed two sitter in the first ten minutes, earned India's eight penalty corner with deft thrust on the right, but Harmanpreet Singh again faltered.

India, which wasted two penalty corners midway through first half, went for break with mandeep Singh's opportunistic 1-0 lead.

Same Mandeep shortly later missed a sitter, just swiping his stick in the air without connection off a feed.

Earlier, India faced stiff resistance from Canadians, who packed their defence with all might and succeeded in containing Harmanpreet Singh in the penalty corner drill and then the likes of Arman Qureshi and Parminder Singh without goals.



Photo by kind permission of Vino John

Two matches each in Pool C and D were held today. While goals reined in Pool D with England overwhelming South Africa 4-2 and Indian show against Canada, the other pool saw conservative results. New Zealand held on to a single goal lead for collecting full points whereas defending champions Germany overcame stiff challenge of Spain 2-1.

Fog conditions continue leading to minor adjustments of schedule. Two matches will be held on 13th, which is otherwise earmarked for Rest Day.

Stick2Hockey.com


---

India steamrollers Canada

Uthra Ganesan



HAPPY TIMES: Mandeep Singh is ecstatic after scoring India's first goal against Canada in Lucknow on Thursday. 

LUCKNOW: Fog threatened to disrupt but eventually stayed away long enough to ensure that India, despite playing at less than full tilt, began its campaign in the Junior World Cup with a comprehensive 4-0 victory in Pool D against Canada at the Major Dhyan Chand stadium here on Thursday.

With adverse conditions in the city over the past week being a concern, the match began 15 minutes before scheduled time, with good reason. Ten minutes into the game, visibility dropped quite a bit before it recovered and the Indian team's performance lifted proportionately.

The host began nervously, taking time to settle down and missing quite a few early chances. Despite the difference in experience and level of both sides, Canada managed a stubborn defence, forcing India to try variations upfront.

The first came in the second minute itself and Armaan Qureshi stuck the sideboard in the fourth but thereafter, the team was happy with possession play.

"Actually, I did expect Canada to play so defensively," coach Roelant Oltmans said after the game. And captain Harjeet admitted it was a nervous few minutes for the team early on — "It was the first game but we were always confident of coming back," he said — as India kept changing flanks trying to get into the striking circle.

A couple of penalty corners went waste and Parvinder Singh's deflection in the 32nd minute came off the upright. Canadian goalkeeper Iqwinder Gill stood firm before Mandeep Singh finally broke through in the final seconds of the opening half — the matches are being played in the old 35x2 halves format here — knocking in a rebound to go into the break on a high.

The second half was a completely different affair. India pressed harder, pushed ahead aggressively and completely dominated the proceedings. If the host had hopes of giving some valuable match practice to goalkeeper Krishan Pathak, it was fruitless with the ball rarely coming close to the Indian circle.

A penalty stroke in the 45th minute doubled the lead, Varun Kumar made it 3-0 despite Harjeet fumbling with stopping the ball on a PC and Ajit Pandey rounded up in 65th minute, deflecting in a rebound after Manpreet's shot, beating two defenders on the backline, was gloved by Gill.

"There are always areas to improve but going by the way we entered the circle, created chances, did not concede a single PC and stayed true to our team's structure, I am completely satisfied with the boys. 4-0 is a very good scoreline to start a tournament," coach Harendra Singh said.

Earlier, two-time defending champion Germany needed a late strike from Timm Herzbuch to open its title defence with a shaky 2-1 win against Spain in Pool C. Germany went ahead in the 25th minute through Anton Boeckel but Spain not only struck back post the break but also threatened to upset the six-time champion before Herzbuch helped Germany scrape through.

The day's opening match saw New Zealand beat Japan 1-0 in Pool C, courtesy Oliver Logan's penalty corner, and England made its title ambitions clear with a 4-2 win against South Africa in Pool D.

The results: Pool C: New Zealand 1 (Oliver Logan) bt Japan 0; Germany 2 (Anton Boeckel, Timm Herzbruch) bt Spain 1 (Manual Fabregas I Bordas); Pool D: England 4 (Edward Horler 2, Peter Scott, Jonathan Griffiths) bt South Africa 2 (Matthew De Sousa, Ryan Crowe), India 4 (Mandeep Singh, Harmanpreet Singh, Varun Kumar, Ajit Pandey) bt Canada 0.

The Hindu


---

India off to a great start

Colts begin their campaign with a 4-0 win over Canada

Indervir Grewal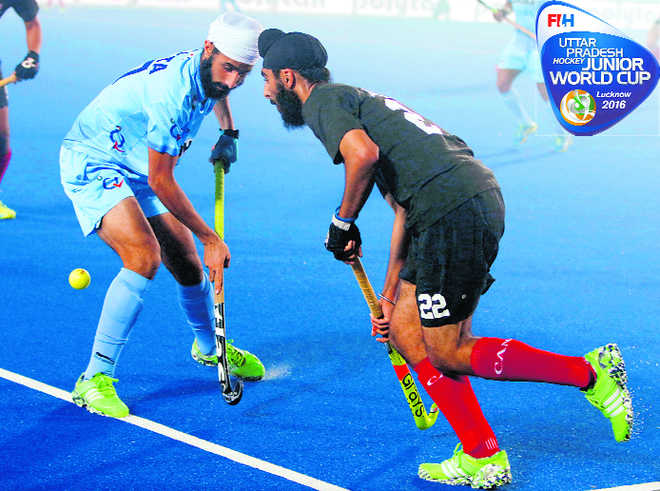 Santa Singh vies for the ball with a Canada player during their Junior World Cup match in Lucknow. Tribune photo

Lucknow: As the mercury fell drastically on the opening day of the junior hockey World Cup, the Indian team singed the floodlit blue turf at the Dhyan Chand stadium here today. The hosts picked apart Canada with fast and bullying hockey to start their campaign with an emphatic 4-0 win.

Facing a defensive Canada — which manager Roelant Oltmans later said that he wasn't surprised to see —India used speed and variation to break down their opponents. India took some time to get going but as soon as they found their rhythm, they were fluent, with a lot of short, slick passes.

As Canada defended very deep, the whole team behind the defensive third on occasions, India kept shifting their point of attack to break down the Canadian defence. One of the most impressive aspects of India's performance was the way many of the players had flexible roles, hovering at different positions. The fact that they could do that showcases the players' all-round abilities.

However, despite the chances, India were kept out thanks to the efforts of the Canadian goalkeeper. As the wait for that crucial first goal got longer, India grew impatient and instead of playing their normal fast game started hurrying — clear signs of nerves. They needed to slow down; and as the game fell into a short lull and the crowd, which came in considerable numbers, fell silent, India regained their composure. The crowd woke up from that lull with a loud gasp as Parvinder Singh's deflection hit the post. India's luck finally changed as Mandeep Singh shot home their first goal after a goalmouth scramble right at the end of the first half. The goal eased the nerves and a very different, very dominant, India entered the field in the second half. Looking to turn the screws, India pushed forward in numbers to form an inescapable net around the Canadian defensive third. They were not even able to get the ball to their forwards for long stretches. After about 10 minutes of holding on, Canada wilted under the constant pressure.

India missed many penalty corners before one, taken by Varun Kumar, got them a penalty stroke. Harmanpreet Singh converted it in the 46th minute. Kumar got his goal from another penalty corner in 60th minute. Ajit Pandey made it 4-0 after deflecting in Manpreet's bouncy shot at goal. Mandeep, who was named the Man of the Match, could have increased the margin as he missed two chances.

Format flip-flop

At a time when international hockey has moved on to the four-quarter format, it was surprising to see junior World Cup matches being played in the old format of two halves of 35 minutes each. The reason, as explained by an FIH official, was that the qualifying tournaments had followed the same format. England coach Jon Bleby was critical of the decision, saying personally he preferred the four-quarter format as there should be consistency at the junior and senior level. Spain's goalkeeper, who was named the Man of the Match in his team's 2-1 loss to Germany, said it was a bit uncomfortable to shift between the two formats as everywhere else the new format is being followed.

The Tribune


---

India begin with a romp over Canada

Asheem Mukerji

LUCKNOW: India started their campaign in the Junior Men Hockey World Cup with a comfortable 4-0 win against Canada in their opening Pool D game at Major Dhyan Chand stadium here on Thursday evening.

The Indians started with a flurry as their forwards - Mandeep Singh, Arman Qureshi and Manpreet Jr - looked sharp. Skipper Harjeet Singh controlled the game from the midfield, sending crisp passes upfront, giving the Indian forwards the key to unlock the gates of the Canadian citadel.

Though India looked good from the start, using the space available in the Canadian half with some deft passes and skillful play, they had to wait till the 35th minute to get the first goal. Mandeep Singh's reverse hit beat the Canadian goalkeeper Angus Grauer to make it 1-0. A minute earlier, India were unlucky as Parvinder Singh got his stick to a pass from Armaan Qureshi but saw the ball hit the far post and bounce back into play.

After the change of ends, it was India all the way. They doubled their lead when Harmanpreet Singh scored off a penalty stroke in 46th minute. India earned the stroke after a penalty corner drag-flick clipped the body of a Canadian defender in front of the goal.

With the floodgates opening, Varun Kumar scored the third goal off a short corner. After a fumble by the stopper, the ball came to Varun, who unleashed a rasping drive to defeat a diving Grauer. With four minutes to the final hooter, Ajit Pandey rounded off the tally utilizing a pass from Manpreet Singh.

Later, Mandeep Singh, who was named the man-of-the-match, said it was a very satisfying win for the side. "We played some good hockey, and we dominated the proceedings after the opening goal."

Canadian coach Inderpal Sehmbi said he was satisfied with the display of his team. "We conceded a late goal in the first half, and though we lost, I am not disappointed." He also complimented India, saying: "Indians played well, and the support of the home crowd was also there to boost them up."

The Times of India


---

Encouraging to find boys do well in all departments: Harendra

LUCKNOW: Indian junior team's head coach Harendra Singh was very "happy" with the performance of his boys in the World Cup opener against Canada as it was "encouraging" to witness them do well in all departments.

India on Thursday spanked Canada 4-0 in their opening Pool C match to start their campaign on a resounding note.

"We are happy with our performance in the first match. All compliments to the boys for holding on to their nerves. They played as per plan. We know if we keep going like this, we will achieve our goal," Harendra said at the post-match press conference.

Harendra said it was heartening to witness India dominating all departments of the game against Canada.

"I will give full credit to the team. Every team comes here to win but look at the margin, possession of ball, circle penetrations, shots on goal, penalty corners we were by far the superior side. We also did not concede a single penalty corner that shows us that we were superior structure wise," he said.

"In any World Cup, it is important to win earn three points and to achieve that by such a margin is encouraging."

"I feel scoring four goals and attacking so much proves that the boys have fulfilled my expectation. But they have more potential and we show that in future," he added.

The coach, however, said they will need to work on a few grey areas and keep on improving as the tournament progresses.

"But yes, there is always need for improvement and we will analyse on our today's game and try to keep on improving."

Senior team's chief coach Roelant Oltmans, who is a part of the coaching side here, too agreed with Harendra.

"In every tournament, the first game is difficult. You have to find your rhythm. It took the boys little while to find the rhythm properly. Mandeep's goal late in the first half gave us confidence. In the second half, we decided to put more pressure. The boys showed fantastic attacking skills, scoring 4 goals in a match is not a small thing," the Dutchman said.

"For most of the boys, it is the first time they are playing such a big tournament with so much of expectations around. So I feel they did a good job. Structure wise we played a good game."

Fog was always thought to be an issue going into the late evening match, but Oltmans said they never think about external factors before any match.

"We focus on the job we have to do we don't focus on things that is not in our hands. If it happens like that then we have to resort to plan B that is always there in our minds. We started in time and during the game, there were no problems or concerns," he concluded.

The Times of India


---

India look to carry on winning momentum against England

LUCKNOW: Their campaign off to a rampaging start, India colts would look to carry forward the momentum when they face England in their second pool match of the men's Junior Hockey World Cup, on Saturday.

Dubbed as one of the strong contenders for the title, the home team recorded a resounding 4-0 win over Canada in their opening at the Major Dhyan Chand Astroturf stadium on Thursday.

Stakes are high for India in the tournament as they look to end their 15-year-old title drought as they last won the event in 2001 in Hobart and the colts would leave no stone unturned to reclaim the glory.

The Indians would also be eyeing an all-win record in the preliminary stages of the tournament which will enable them to top their pool and avoid six-time champions and title holders Germany in the quarter-finals.

But all said and done, the Harendra Singh-coached Indian side is on a dream run this year, having defended the Asia Cup and beaten Germany in a four-nation tournament in Valencia to lift the title.

A win tomorrow will virtually seal their place in the quarter-finals and the Indians would be eager to raise the level of game a notch high against unpredictable Englishmen, who are be desperate to win their maiden title after having finished fourth twice in the past (1997, 2001).

In the tournament opener on Thursday, the Indians outclassed Canada in all departments of the game, a fact which has been asserted by head coach Harendra.

"Look at the margin, possession of ball, circle penetrations, shots on goal, penalty corners, we were by far the superior side. We also did not concede a single penalty corner which shows we were superior structure wise," he had said after Canada match.

But the Indians will have to keep in mind that with every match every team will grow stronger and from here on improvement will be the key factor.

"There is always need for improvement and we need to keep on improving as the tournament progresses," Harendra conceded.

Harmanpreet Singh was impressive with his defence splitting balls from the backline. Parvinder Singh and Mandeep Singh too had a good match as they threatened the opposition goal on numerous occasion.

Dragflicker duo of Harmanpreet and Varun Kumar is a real threat for any side and they have made their intentions clear by registering names in the scoresheet.

While Harmanpreet scored from a penalty stroke, Varun was bang on target from one of the six penalty corners.

But it will not be that easy against England as they are known for playing hard and physical hockey. They started their campaign on a positive note, beating South Africa 4-2.

England coach Jon Bleby has already warned India.

"We are keenly looking forward to the match against India. We know that India are a tough side. They are in fine form and playing at home. So it is going to be a tough game but we are prepared and will try to go for a win," Bleby said.

Both the teams will also be keenly observing the weather conditions as heavy fog forced the International Hockey Federation (FIH) to rejig the timings of the final match of every day.

India and England will play at 6pm in the evening, the final match of the day, after extreme cold conditions and dense fog compelled the organisers to reschedule the timings.

Meanwhile in other matches of the day, Korea will face Austria (Pool A), South Africa will take on Canada (Pool D) and Argentina will square off against Australia (Pool A).

The Times of India


---

Match Schedule Change: Uttar Pradesh Hockey Junior World Cup Lucknow 2016




Due to persistent concerns surrounding the heavy fog that has been present in the early mornings and late evenings at the Uttar Pradesh Junior Hockey World Cup Men Lucknow 2016, the FIH, in consultation with Hockey India and our global broadcast partner Star Sports, has made the proactive decision to make adjustments to the match schedule.

With the existing adverse weather conditions set to continue, the FIH felt it was important to review the schedule in order to minimize any future disruption.

This evening's match between India and Canada will be brought forward to 18:45 hrs IST. For all subsequent days, the final match of the day will commence at 18:00 hrs Indian Standard Time (UTC +5:30). To achieve this, two of the pool matches - England versus Canada (Pool D) and Australia versus Korea (Pool A) - and will now be played on Tuesday 13th December, which was originally the designated rest day. The updated match schedule can be found by clicking here.

The full results, standings, images and more will be available on the official website on FIH.ch whilst further coverage will be provided via FIH Twitter, Facebook and Instagram using the hashtags #HJWC2016 and #RockTheJuniors.

FIH site


---

Dense fog forces FIH to reschedule match timings

LUCKNOW: Adverse weather conditions today forced the International Hockey Federation to reschedule the evening match timings of the men's Junior Hockey World Cup, which began at the Major Dhyan Chand Astroturf Stadium.

The FIH said in a statement that the timing of last match of every day from now onwards has been advanced due to dense fog.

"Due to persistent concerns surrounding the heavy fog that has been present in the early mornings and late evenings at the Junior Hockey World Cup 2016, the FIH, in consultation with Hockey India and our global broadcast partner Star Sports, has made the proactive decision to make adjustments to the match schedule," the FIH said.

"With the existing adverse weather conditions set to continue, the FIH felt it was important to review the schedule in order to minimise any further disruption," it added.

In fact, today's last match between India and Canada started 15 minutes early from its scheduled start of 7 pm after a colourful and musical opening ceremony, which was attended by UP Governor Ram Naik.

As per the revised scheduled announced by FIH, the last match of every day will now be played from 6 pm instead of earlier scheduled 7 pm and 8 pm starts.


"For all subsequent days, the final match of the day will commence at 18.00 hrs IST. To achieve this, two pool matches will now be played on Tuesday 13th December, which was originally the designated rest day," the FIH said.

The FIH decision came after dense fog yesterday engulfed the stadium, situated on the outskirts of the city, forcing the Malaysian team to delay its practice session by half an hour.

Such was the weather condition that the stadium was completely invisible for some time due to dense fog which cleared up to some extent as time progressed but reappeared, forcing the Malaysian team to cut short its training session.

The Times of India


---

Punjabi roots drive Canada colts to play hockey

Indervir Grewal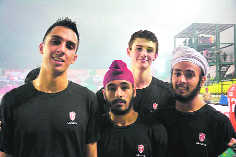 Canada colts Balraj Panesar, Harbir Sidhu and Kabir Aujla strike a pose in Lucknow. Indervir Grewal

Lucknow: Before his team's biggest match of the World Cup, against home favourites India, Canada's coach Indy Sehmbi said that his team didn't fear the hosts and would play with heart.

"India is the second oldest team when it comes to average age. We are the youngest," Sehmbi said. "But more importantly, it's a match between a team that had a lot of money spent on it and one that had the least amount spent on it," he added.

The Indian junior men's hockey team doesn't get the same attention from the federation as the senior team gets. The juniors don't get enough international exposure and till very recently they didn't even have a physical trainer. This year being the World Cup year, the situation improved.

In Canada, the situation is worse. While the senior team gets some funding from the government, the juniors get almost no support; and there are not many sponsors, Sehmbi added.

In fact, the Canadian players ended up spending from their own pockets to get to the World Cup. "They spent 10 thousand (Canadian) dollars each to play in the qualifiers," he said.

Hockey heritage

How did they convince their parents to spend such a huge amount? "We didn't have to because they have supported us from the beginning," said Harbir Kahlon, one of the nine Punjabi-origin players in the team that includes 12 players of Indian origin. Kahlon, born and brought up in Canada, has his roots in a village near Sangrur. Despite only two of the players with Punjabi roots being born in India, Sehmbi said that the Punjabi hockey legacy has a big role to play in kids taking up the sport in Canada.

"Most of these guys picked up hockey because their fathers or grandfathers or uncles used to play the sport. They love the game and feel proud that they are carrying on with the family's legacy," Sehmbi said.

In fact, many of the Punjabi boys' parents or relatives came to watch them play today. "It was a very special occasion for us, watching our son make his World Cup debut against the Indian team in India," said Sukhwinder, father of Rajan Kahlon, who played hockey at PAU Ludhiana.

Accompanying Sukhwinder were Rajan's mother, Bimal, and younger sister, Armaan. "It was a difficult moment as we were torn about whether to root for India or Canada," said Bimal.

Parmeet Gill's father, Shamsher, and maternal grandfather, Gurnam Singh Dhaliwal, were also hockey players and they couldn't have been more proud of Parmeet.

Belief

It couldn't just be the love of the game that motivated the boys to spend so much money. "The experience we had today is a motivation," said Canada captain Brandon Pereira. "To play in front of such a huge crowd was a new and thrilling experience."

Sehmbi added that the World Cup was the biggest stage these boys had been on. "Their last international match was in May," he said.

You need to believe in yourself to be willing to back yourself and spend that much money? "Yes, and that is the strength of this team. To even get here is a big accomplishment for them. That is why they will play without fear," he added.

The Tribune


---

Indo-Canadian hockey players feeling 'at home' in Junior World Cup

LUCKNOW: The Canadian men's team that faces India in a Hockey Junior World Cup pool match on Thursday has a strong desi flavour with as many as 13 Indian-origin players in the 18-man squad.

Two among the Canadian U-21 team -- Floyd Mascarenhas and Ganga Singh -- were born in India and an opportunity to connect with their roots makes their trip to India special.

India will begin their tournament campaign against Canada in Pool D that also has South Africa and England.

The experience the Indo-Canadians have so far had in the country of their ancestors has been indescribable.

"From what I've seen and from talking to other guys who have played there before, it's definitely something that everyone else has described as something you can't comprehend," Mascarenhas was quoted as saying by fieldhockey.ca on Wednesday.

Mascarenhas, a defender, moved to Canada when he was only two years old. He said hockey is a popular sport in Canada.

"It's nothing like any other place in the world, the scale of hockey there."

Twenty-year-old Parmeet Gill of Brampton, Ontario, a place with a strong Indian presence, and team-mate Ganga Singh travelled to India in the past summer and trained at a hockey school for two months.

"Basically, we lived in this academy, we trained twice a day for five days a week, we ate there," Gill said to fieldhockey.ca.

"We basically lived and breathed hockey for two months with those guys, learning Indian hockey."

Gill said the trip wasn't mandatory. But they planned it because of the importance of their India roots.

Gill has trained in Vancouver with Canada's junior team for the last several months.

The Times of India


---

From Tirupattur to Melbourne, Arunasalam hopes for hockey glory

Uthra Ganesan

His profile page on the Victorian Institute of Sport's website gives an insight into the kind of person Kiran Arunasalam is. It reads, "I've failed over and over again in my life and that is why I succeed."

That has also been the motto for the 21-year old as a hockey player as well, which is almost 75 per cent of his lifetime so far.

He is also one in a long line of Indian-origin players who, for some reason, have always commanded a special place in the ranks of hockey teams across the world. Those players, in turn, have always maintained a special affinity for the country of their forefathers.

Arunasalam is no different. The Australian junior forward traces his lineage to the town of Tirupattur in the Vellore district of Tamil Nadu, a place he says his family has retained links to through their extended relations and the ancestral house. That, however, in no way influenced his decision to pick up the sport, he adds, given the fact that both his parents were Malaysian Indians before migrating to Australia.

"My dad moved to Australia for his university studies about 35 years ago and I was born in Melbourne. My parents were born and grew up in Malaysia. I have been to our ancestral town in India twice, the last time in 2012, so I haven't been there in a while but hope to soon," Arunasalam says, adding that he was initiated into the game by his brother. The latter moved on to running but Arunasalam stuck to the sport he first picked up 16 years ago.

Arunasalam is also aware that, while he is fit enough for the high-intensity competition of international hockey, he is not endowed with the kind of brute strength that his teammates enjoy. He does make up for it in other ways, though.

"Well, I can bench press a lot! Maybe I am not as fit but I have my own skill sets. I am a little bit faster, I am a little more agile. But I don't know, I am not sure. I can say I am fast so I can exploit that a little bit. You are always competing with other people on physical abilities but it's how you use those abilities, that's the important bit," he shrugs.

With families in both India and Malaysia, Arunasalam admits it's a challenge playing against both opponents but would pick India any day.

"India is definitely a challenge. We went to Johor last year and they beat us. We haven't played them since then as a team but I played them in the AHL with Victoria and beat them in the shoot-outs. Malaysia is cool too but I think I prefer to play India," he declares.

That profile page for VIS also lists his life's ambition as playing hockey for Australia. This Junior World Cup, he hopes, would be the first step to achieving that.

The Hindu


---

A big learning curve for D'Souza's team

Uthra Ganesan

LUCKNOW: A three-year stint with SV Arminen that saw the club win the Austrian domestic hockey league for the first time in 15 years in 2013 was enough for Cedric D'Souza to impress the national federation officials there. Two years later, D'Souza was handed charge of the Austrian national and junior teams with an eye on qualifying for the 2020 Olympics.

The former India coach knew it was ambitious and the first test was the Junior World Cup here, the team for which he admitted was put together in a hurry.

"The club culture is very important there. We get the players only sporadically in terms of national camps. We have had just five weeks together. The national league got over in end-October and I gave them just two days off," D'Souza said after his team lost its final practice match 5-0 to big boys New Zealand.

Austria qualified by virtue of finishing sixth at the European Junior Championships and is clubbed with former champion Australia, Argentina and Korea in Group A here.

D'Souza accepted that being here was in itself an achievement. That three players from the side here ply their skills in Second Division Bundesliga helped.

"Now that we are here, we want to make sure we are at least competitive in terms of our structure. We know we will make mistakes, that the other teams are going to blow us but we have to adapt as much as we can.

"We have played a lot of matches in the last five weeks so that the boys get out of their comfort levels and know what world hockey really is. We played in Germany, Holland, and England," he added.

While the focus clearly is on building a side for Tokyo, D'Souza was realistic enough to understand that it was a slow process. "For us the games were a complete learning process. We know where we are, what our strengths and weaknesses are. We lost our first game 14-0 and the next 2-1. We also understand that nothing happens overnight, it's a slow process. It's not been slow for them, though, it's shot up like a rocket for them," he said.

The Hindu


---

EHL All-Stars take on South African indoor side in four tests




An international All-Stars team packed with EHL talent arrived in Cape Town this week for the annual Pro Series Indoor hockey festival which features 16 sections, 20 franchises and over 2,500 players.

The series features national competitions from Under-11, 12, 13, 14, 16 and 18, battling it out for national honours. In addition to these tournaments, the All-Stars team will take on the South African men's indoor team over four test matches at the Univserity of Cape Town.

UHC Hamburg's Moritz Fürste is one of the star attractions and he played a big part in Thursday's opening ceremony, taking a giant selfie with a huge amount of the children taking part.

2015 World Cup winners Laurens Goedegebuure, Robert Tigges, Nicki Leijs and Teun Rohof – all from AH&BC Amsterdam – and Sjoerd de Wert from SV Kampong are all part of the All-Stars team.

They are joined by German legends Timo and Benjamin Wess – both double Olympic gold medalists outdoors – who also have won numerous medals with the German national team, Benjamin being part of the 2011 World Cup winning side.

The All-Stars take on South Africa on Saturday and Sunday before a rest day and then completing the series on Tuesday and Wednesday.

Euro Hockey League media release


---

World's First Orthopedic Hockey Match

Artifical hips take on artificial knees

Lawrence West




Is this a world first? Next week, in Western Australia, the artificial hips will take on the artificial knees at Perth Hockey Stadium.

ARTIFICIAL HIPS v ARTIFICIAL KNEES
PERTH HOCKEY STADIUM
WEDNESDAY 14 DECEMBER AT 3.30PM

Western Hockey Masters is a Perth based Social Hockey Club with approximately 200 members, all over 50 years of age.  Competitions are played at Perth Hockey Stadium and Perry Lakes throughout the year.
Amongst members there are thirteen players with at least one artificial hip and fourteen players with at least one knee replacement.  On Wednesday, 14 December 2016, at 3.30pm at Perth Hockey Stadium, a match will played between a team of players with hip replacements versus a team with knee replacements. 

Hip replacements need nine months of rehabilitation including walking, swimming, gym and physiotherapy a daily basis.  Similarly knee replacements require dedicated exercises, and specific physiotherapy in order to become mobile, and strengthen the leg muscles around the knee.  A number of players with joint replacements are also Masters State Representatives, and one player is in the Australian Masters Team.

As an Australian and probably World first, this Hockey Match shows what is possible with modern medicine and celebrates the orthopaedic technology that is available.

Hockey Australia media release


---

Three young Canterbury players are in line to debut for the Black Sticks next week

ROBERT VAN ROYEN



Striker Catherine Tinning is one of five Canterbury players in the Black Sticks for the Malaysian series. Joseph Johnson

All going well, Canterbury will be able to boast three more capped Black Sticks by the end of next week.

Black Sticks women's coach Mark Hager last month named 12 uncapped players in his 22-strong squad for their five-match series against Malaysia in Taranaki.

Canterbury's Catherine Tinning, Phoebe Steele and Jessie Anderson made the cut and all are expected to debut during the series, which runs between December 12-18.



Phoebe Steele can play striker or in the midfield. Joseph Johnson

Tinning, 18, who is in her final year at Villa Maria College, is the youngest player in the squad, while Steele and Tinning are both 21.

The trio join fellow Canterbury players Rachel McCann (32 caps) and Jenny Storey (12 caps) in the team.

Despite all harbouring the ambition to crack the Black Sticks, all three admitted they didn't expect it to happen so soon.

Anderson, one of two teenagers in the squad, was particularly caught off guard by the call up.

"We were away on camp and a few girls came up to me and said 'congratulations'. I had no idea what they were talking about," she said.

"It was pretty cool hearing that news."

Anderson, who plays club hockey with Tinning for Christchurch club Harewood, trained with the team in Auckland for the first time last Friday.

"I was a bit intimidated getting out of the car," she said. "I was like to mum, 'Oh, I'm really nervous to get out and train,'.

"But it was actually really good and all the girls were so lovely."

It's been a memorable year for Anderson, who a few months ago scored the match-winning goal in golden goal extra time to power Villa Maria to their first national secondary schools title.

Anderson, who plans to study a bachelor of science at Lincoln University or the University of Canterbury next year, said putting on the black jersey and debuting for her country would mean a lot to her.

The fact she could do it alongside fellow Canterbury players Steele and Tinning would make it even more special.

Steele and Tinning recently returned from the junior world championships in Chile, where the junior Black Sticks finished 13th.

While Tinning said her call up was a "bit of a shock", she had hoped Hager would look to the future after the Rio Olympics.

"I guess after the Olympics a few of us girls knew there would definitely be a clear out in players and we were hoping that they would give younger players a bit of a go," she said.

"But I wasn't expecting it. I'm really, really happy they've giving younger players a bit of an opportunity."

Steele, who is also a New Zealand touch representative, moved to Auckland at the start of this year for hockey and was treating being named in the squad as a reward.

"It's a cool reward for that because it obviously wasn't easy," she said.

After experiencing a tough campaign with the junior team in Chile, Steele is expecting things to ramp up even more against Malaysia.

"You read about everyone who debuts and they just say it's a whole other level," she said.

"You've got so much less time on the ball and everything. It's exciting, though. I can't wait."

AT A GLANCE:
Game 1: December 12, 6.30pm
Game 2: December 13, 6.30pm
Game 3, December 15, 6.30pm
Game 4, December 17, 3pm
Game 5, December 18, 1pm.

Stuff


---

Norbaini faces fitness test to make cut for Hockey League Round Two meet

KUALA LUMPUR: A place in the Women's World Hockey League Round Two is at stake for seasoned campaigner Norbaini Hashim when she takes part in the five-match Test series for Malaysia against New Zealand next week.

Only if she passes the Dec 12-18 Test series with flying colours will she be considered for the Women's World Hockey League Round Two, to be held here from Jan 14-22.

The 28-year-old Norbaini was out of action for four months after injuring her left knee in the match against Diamond Club in Perth during a playing tour to Australia in June.

She only resumed training last month.

Norbaini admitted to being nervous after such a long injury layoff.

"I'm happy to be back in the national team ... I hope I can perform well in the Test series and impress our coach (K.) Dharmaraj," said Norbaini, who has won 80 caps since making her international debut in the 2006 Melbourne Commonwealth Games.

Dharmaraj, who named 20 players for the Auckland Test, said that Norbaini is "80% recovered".

"I have named her for the Test series as she is experienced and can play either as a striker or in midfield.

"I want to see whether she is fit and ready for the Round Two tournament in Kuala Lumpur," said Dharmaraj, who left with the team to Auckland last night.

In Auckland, world No. 21 Malaysia will take on world No. 5 New Zealand on Dec 12, Dec 13, Dec 15, Dec 17 and Dec 18.

THE SQUAD

Mas Huzaimah Mohd Zain,
Siti Noor Hafiza Zainordin,
Siti Noor Amarina Ruhani,
Juliani Mohamad Din,
Siti Shahida Saad,
Nurul Shafiqa Mat Isa,
Nor Syafiqah Mohd Zain,
Nor Azlin Sumantri,
Raja Norsharina Raja Shahbuddin,
Fatin Shafika Mohd Shukri,
Wan Nor Faiezah Mohd Sayuti,
Noraini Abdul Rashid,
Surizan Awang Noh,
Norbaini Hashim,
Hanis Nadia Onn,
Siti Rahmah Othman,
Nurul Nabihah Mansur,
Noraslinda Said,
Fatin Naimah Zaki,
Fazilla Sylvester Silin.

The Star of Malaysia


---

Scottish Indoor hockey stage is set for National League 1

There might be a hint of things to come in the opening games in Men's Indoor Hockey National League 1 at the Bell`s Sports Centre in Perth this Saturday, when Grange take on Grove Menzieshill, to be followed by Kelburne against champions Inverleith.

There is no doubting Stuart Neave`s desire to win the indoor first division crown for the fourth year in a row for his Inverleith charges, but he knows this will take patience and careful planning. The Edinburgh-based side have a tough opening schedule, their first two encounters are against Bromac Kelburne and city rivals Grange, and title rivals Grove Menzieshill lie in wait for the final fixture of the day. Neave said: "Three game days are always awkward especially when you have the calibre of opposition that we are up against in the first weekend of the league."

The only consolation for Neave is that Grove Menzieshill are in exactly the same boat with games against the same sides.

Kelburne could be a side to stake a claim this weekend. In the past the Paisley side, 12-times consecutive outdoor league winners and currently at the top of the table, have not shown the same acumen for the indoor game, but undoubtedly have the playing potential to mount a real challenge if their top players are on form.National League Indoor logo yellow

Grange have also created the odd upset over the last few years and finished a very creditable fourth in last season`s championship. This is recognised by Neave: "I believe Grange and Kelburne have shown in the past that each can be very competitive on their day."  Consequently, six points are far from guaranteed from Inverleith`s opening encounters, and Grove Menzieshill will share that uncertainty.

The final clash between the great rivals of the indoor game will undoubtedly be the highlight of the day, but hardly conclusive in the destiny of the title given the format of the competition.

Former Scottish internationalist Bruce Cuthill has taken over the coaching reins at Grove Menzieshill in an attempt to wrest the indoor first division title from Inverleith. "It is important for the club that we win the title, we want to be Scottish champions again and get back into Europe," said Cuthill.

Cuthill himself played in the days when the Taysiders were regular recipients of the crown – Grove Menzieshill have been champions 19 times since 1985. But over the last three years it is Inverleith who have had possession of the crown and have played in Europe.

On the Inverleith match Cuthill said: "At this stage the result is not crucial although we will be able to gauge the level that we are with them, however it would be good to beat them."

Cuthill also sees Grange as a potential threat. "Grange might break into the monopoly depending on how committed they are to the indoor game. They have a good coach in David Knipe who knows a thing or two about the indoor game."

Uddingston were the shock troops last season, the newly promoted Lanarkshire side finished strongly in bronze medal place, beating Grange 2-0 in a penalty shoot-out after the sides were locked at 1-1 in normal time. This weekend they take on Western Wildcats and Kelburne, six points here would show that again Uddingston could be an influencing factor in the competition. Clydesdale, Hillhead and Wildcats make up the rest of the division, but their main concern could focus on retaining their top flight status.

The women`s competition will offer the opportunity for some players to make a name for themselves with the absence of Scotland squad players - they are training ahead of a warm weather camp in Gran Canaria in preparation for the World League in early February.

Even without defender Becky Ward and striker Charlotte Watson it is expected that Dundee Wanderers will stake a solid claim for another Scottish title. The champions have three games against a Western Wildcats side without player/coach Kareena Cuthbert, Inverleith and CALA Edinburgh at Forthbank on Sunday, and the target will be to ensure the nine points are on their way to Tayside.

With Vikki Bunce`s retiring from the international scene, the Wanderers` playmaker and main striker could be around to terrorise defences and may be a catalyst if the Taysiders` are to find a winning formula.

Traditionally Grove Menzieshill and Western have been the main threat to Wanderers` hegemony, but both will be short of their international players. However, the two sides meet in the penultimate outing of the day and the result could have a bearing on the main source of opposition to the champions as the season continues.

By then Western will be aiming to have picked up maximum points against Inverleith and Edinburgh University while Grove Menzieshill`s only earlier fixture is against Aberdeen Bon-Accord.

Wildcats have made considerable strides in the outdoor first division - currently they lie third - it will be interesting if they can transfer that progress to the indoor competition. While they face a battle against Wanderers, a convincing victory over Bon-Accord in their second outing could provide an early indication, though the Aberdonians will have something to say about that. Before CALA Edinburgh meet Wanderers in the final game of the day they will face Edinburgh University in an Edinburgh derby. Edinburgh will also face Western earlier in the day.

Scottish Hockey Union media release


---

Hockey New Zealand certain of "quality" new men's team coach after Colin Batch makes shock departure

Clay Wilson



After missing out on the Australian men's coaching job several times before, Colin Batch was "head-hunted" for the role this time around. GETTY IMAGES

Hockey New Zealand are certain they will appoint a "quality" candidate to replace Black Sticks men's coach Colin Batch after being caught unawares by his shock departure to take charge of Australia.

Capped 175 times for Australia and a former assistant coach of the Kookaburras, Batch took over the New Zealand team following the London 2012 Olympics and in early October signed a four-year contract extension.

But, after outgoing Wellington Phoenix manager Ernie Merrick spoke somewhat out of turn on Tuesday, it was revealed Batch had also resigned his post.



Black Sticks men's assistant coach Bryce Collins, who collected 65 caps for New Zealand, could be one of the Kiwi-based contenders for the vacated head coach position. MICHAEL BRADLEY/FAIRFAX NZ

The news was confirmed by Hockey NZ soon and later that day Hockey Australia made the official announcement.

Batch informed Hockey NZ high performance director Terry Evans and chief executive Ian Francis of his decision on Saturday, the move likely facilitated somewhat by Hockey Australia high performance Toni Cumpston, who held that role with the New Zealand national body when they hired Batch.



Black Sticks captain Simon Child will have a new coach to work alongside in 2017. JOHN COWPLAND/PHOTOSPORT

Evans admitted it "came as a bit of a shock" given he had re-signed and expressed a strong commitment to the Black Sticks role.

However, Evans also acknowledged the "reality of sports", the fact Batch had been "heavily recruited" by other countries and away from family in Australia for eight years.

Evans said there were no hard feelings from the national body, and they had quickly begun to look forward.

"While it's disappointing, we also see it as an opportunity to refresh the programme.

"We've only had the job advertised for a day and I've had significant interest from around the world and within New Zealand. We're talking about a really sought after role and I've no doubt we'll get a quality coach."

Some of the initial interest had come from as far afield as Europe and North America, while Batch himself said he knew of several coaches within the Australian system that may be interested.

Both also asserted there were New Zealand coaches with the ability to do the job.

Batch said he would not be surprised if one of his assistants - Bryce Collins and Greg Nichol - or former men's assistant and ex-Irish women's team head coach Darren Smith got the nod.

Evans was less inclined to mention specific names but said there was "absolutely" Kiwi-based coaches they would be interested in.

"We've spent a bit of time over the last cycle investing in coaches ... we seriously believe there are coaches in this country who would do good job of leading Black Sticks.

"There is no doubt risk with overseas coaches but there is risk with any role and we are always adamant we'll put the best person in, where their passport says they're born is irrelevant."

Perhaps proving why Hockey NZ has not reacted negatively towards the unexpected move, Evans said whoever got the position would benefit from the good work Batch had done.

The team experienced mixed results under Batch, winning the 2012 Sultan Azlan Shah Cup and finishing runners-up in the 2012-13 World League but failing to medal at the 2014 Commonwealth Games and being fortunate to qualify for the Rio Olympics, where they surrendered a late 2-0 lead to lose their quarterfinal against Germany.

Evans, though, felt Batch had driven important "cultural change" and the man himself believed he left with the squad in a "pretty healthy" state.

While that undoubtedly made the decision to head the Perth-based Kookaburras programme easier, it was mainly the enticement of his dream job which drove Batch's decision.

Even if his pursuit of that role had waned in recent years, the offer was simply too good to turn down when he was shoulder-tapped by Hockey Australia just prior to last month's trans-Tasman series in Auckland.

"It was not something I chased, said Batch, who has applied for the Australian role several times before.

"There have been times five, six, seven years ago when I really wanted the job and it wasn't available. The last few years I hadn't looked at it and thought what if, I'd just focussed on my job here.

"Obviously I had re-signed but when you are presented with a great opportunity and you're head-hunted I really had to consider it. The rest fell in to place."

With Evans expecting to have a new coach appointed by mid-to-late January, Hockey NZ are optimistic the same will go for them.

Stuff


---

Stars shine at Golden Hockey Ball



Golden Hockey Ball was attended by the Countess of Wessex (third from right)

The great and the good were out in force last night as Great Britain Hockey hosted a glittering Golden Hockey Ball at the Tower of the London. 

Just over 400 people from the world of sport, TV and business took to the red carpet at the star studded event which was hosted by award winning broadcaster and self-confessed sports obsessive Colin Murray.



Colin Murray on stage at Golden Hockey Ball

The event was put on to celebrate the British Women's Team's Olympic gold medal success as well as looking ahead to an important year for both men's and women's squads.

It is an exciting time to be involved in hockey with interest in the sport at an all time high and with England hosting the Men's World League next summer followed by the Women's World Cup in 2018 both at the London 2012 legacy venue, Lee Valley Hockey and Tennis Centre. Throughout the evening an auction was held where the money raised went to England hockey's new charity, Hockey Futures.

"Hockey has such an exciting future.  For our athletes, the spotlight shines on them more brightly. For our grassroots players, they're even more proud to say they love hockey. For our sponsors, they take even more value from aligning themselves with a sport on the rise." Said Sally Munday, England Hockey's Chief Executive. "For our spectators, they will be at more sold-out events. For children, they have new hockey role models. And for our organisation, our continued strategy is to create A Nation Where Hockey Matters. With your help we can achieve that aim."

Host Colin Murray was joined by international magician Bill Herz for some extraordinary entertainment for the assembled guests. The Countess of Wessex, Patron of England Hockey was also in attendance and met guests and some of the athletes before she sat down to enjoy her evening whilst OK Magazine and Sky Sports covered the event, ensuing the media interest in such a special evening was well catered for.

British rowing greats Katherine Grainger and Matthew Pinsent joined in the celebrations alongside rugby legend and World Cup winner Neil Back. Back's daughter is part of the U18 England squad and he was full of praise how the women have inspired her on the start of her own sporting career.

The night was rounded off with a festive sing-along by the London Youth choir and Gareth Malone featuring our Olympic athletes on stage. JP Morgan, Goldman Sachs and BT Sport were amongst the businesses that attended the event with Barclays donating their table to British Breast Cancer.



Golden Hockey Ball Maddie

Georgie Twigg and Giselle Ansley, two of the gold medallists described the number of these events they have attended and the attention their achievements have attracted as "surreal" with Twigg adding that it was "Nice to celebrate and bring it all back into our minds."

As well as a celebration of the elite side of the game, the event was used to launch England Hockey's new Hockey Futures Charity. Hockey Futures is a national charity set up by England Hockey to transform lives through the power of hockey. The charity aims to create new opportunities for young people to access the sport, igniting undiscovered passions, developing vital skills and uniting diverse groups. From the playground to the podium, Hockey Futures hopes that more hockey dreams can come true.

England Hockey Board Media release


---

Countess of Wessex joins women's hockey team to celebrate their achievements

Kelli Finger   

After visiting the ICAP Charity Day, the Countess of Wessex spent her Wednesday evening with Great Britain's Olympic gold winning hockey team at the Great Britain Golden Hockey Ball at the Tower of London Pavillion. The event was held to honour the women's hockey team success in 2016.

The Countess was joined fresh from the I'm a Celebrity jungle by hockey player Sam Quek, who was among the athletes to meet the Countess at the event. She and her fellow teammates captured a gold medal in the Rio Olympics this summer, but for the duration of Wednesday evening thirteen of the players put away their hockey sticks and joined The Countess to celebrate their success at the Olympics.

Sophie has said that she has: "always enjoyed" the sport of hockey, having been patron of the sport for ten years.

The Countess, who spoke to Sky Sports after the event, described how excited and ecstatic she was watching the team take Great Britain to victory in Rio. She also said that women and girl's involvement in sport has increased immensely since the hockey team's Olympic win and is still growing.Colin Murray, sports, television, and radio personality hosted the event. While Jonny Gould, well-known

The event was hosted by sports, television and radio personality, Colin Murray; while well-known TV presenter, Jonny Gould, hosted the live auction. All proceeds were donated to Hockey Futures, a national charity founded by England Hockey. Hockey Futures focuses on the power of hockey and sport to change the lives of children.

Hockey players were not the only well-known faces to be in attendance. Also at the atar-studded event were Olympic rowing champions Katherine Grainger and Matthew Pinsent, as well as rugby star Neil Back and musician, Gareth Malone of BBC Two's The Choir.

Royal Central


---

Over 1300 teams to participate in Biju Patnaik rural hockey

New Delhi: With an aim to inspire rural youth to pick up hockey sticks instead of guns, veteran defender Dilip Tirkey is organising one of the biggest rural hockey tournaments and over 1300 teams are expected to participate.

"Biju Patnaik rural hockey tournament will be a unique tournament where more than 1300 teams and 25000 players from the rural belt of Odisha, Chhattisgarh and Jharkhand will exhibit their skills," Tirkey told Bhasha.

"Vice President Hamid Ansari will inaugurate the event on 10th December in Rourkela and finals will be played in March," he added.

The total prize money will be around Rs. 30 lakhs and matches will be played at different venues across four months in three states -- Odisha, Chhattisgarh and Jharkhand.

He said that the main aim behind this tournament is to inspire tribal youth to pick up hockey stick and ensure that they start dreaming again.

"It is terrible to see the youth waste their lives. That is why I decided to organise this tournament. The craze for hockey in this belt is no secret, they just need a proper platform to showcase their talent and we are providing that," said the BJD member of parliament and three times Olympian.

"As a former Olympian, it is my duty to give it back to the game and the players. I cannot see young boys pick up guns. They need to be armed with hockey sticks so that they can play, get jobs and spend time on the field rather than be brainwashed by Maoist elements," he said. MJ CM ATK

The Times of India