All the news for Saturday 10 December 2016

Germany, Spain, Belgium and the Netherlands triumph on Day 2




On day 2 of the men's Uttar Pradesh Hockey Junior World Cup 2016, Germany became the first team to reach the quarter-finals while Spain, Belgium and the Netherlands were also winners at the event currently taking place in Lucknow, India.

The Pool A contest between Argentina and Austria kicked off proceedings, with Austria claiming a surprise draw against the junior world champions of 2005. Argentina dominated for long spells and deservedly took the lead when Tomas Domene fired home a backhand effort in the 47th minute. However, the Austrians claimed a share of the points seven minutes from time thanks to Oliver Binder's low and powerful penalty corner drag flick. "We had a lot of chances but we couldn't score, and that is a problem for us," said Argentina captain Maico Casella after the match. "We have some things we need to work on."

The day also witnessed the first matches in Pool B, with Belgium and the Netherlands both claiming convincing victories. Belgium made light work of African champions Egypt with a convincing 4-0 triumph. The Red Cougars scored two goals in each half, with Philippe Simar, Henri Raes, Alexandre van Linthoudt and Gregory Stockbroekx all on target. The Netherlands were in ruthless mood in their meeting with Malaysia, powering to a 7-2 win. Bram van Groesen scored twice, with Thijs van Dam, captain Thierry Brinkman, Terrance Pieters, Daniel Aarts and Jorrit Croon also registering.

In Pool C, Germany sealed a place in the quarter-finals thanks to a 2-1 win over New Zealand, who will next face Spain – winners against Japan – in a battle for a quarter-final berth. A fine penalty corner effort from Sam Lane gave New Zealand an early lead, but Germany turned the match around with strikes from Timm Herzbruch and man of the match Anton Boeckel. Earlier in the day, Spain were in top form in their 4-1 win against Japan, with Lucas Garcia Alcade netting a double alongside efforts from Marc Serrahima and Pablo de Abadal. The concluding matches in Pool C take place on Sunday 11th December, with Germany playing Japan before Spain and New Zealand face-off for a place in the quarter-finals.   

FIH site


---

NZ Under 21 Men beaten by Germany



Photo: FIH/World Sport Pics

The New Zealand Under 21 Men have been narrowly defeated 2-1 by Germany at the Junior World Cup in Lucknow.

Canterbury's Sam Lane opened the scoring for New Zealand in just the fourth minute when he crashed home from a penalty corner.

Germany equalised in the 24th minute through a field goal from Timm Herzbruch before Anton Boeckel gave his side a 2-1 lead with 20 minutes remaining.

The Kiwis fought hard in search of another goal but couldn't find a way past the solid German defence.

The result sees New Zealand currently third in Pool C with a must win in their next game in order to guarantee a place in the quarter finals.

New Zealand plays its final pool game against Spain at 1:30am on Monday morning (NZ time), with live coverage on SKY Sport.

NEW ZEALAND 1: (Sam Lane)
GERMANY 2: (Timm Herzbruch, Anton Boeckel)
Halftime: 1-1

Hockey New Zealand Media release


---

Germany eke out fighting win over New Zealand

LUCKNOW: Six-time champions and title holders Germany continued their fine form and defeated New Zealand 2-1 in a closely-fought Pool C encounter to virtually seal their place in the quarterfinal of the men's Junior Hockey World Cup on Friday.

New Zealand gave Germany a run for their money before the world champions rode on their big match experience to pocket three full points and lead the pool with six points from two games.

New Zealand stunned Germany by taking the lead in the fourth minute through a penalty corner conversion by Sam Lane.

Tim Herzbruch drew level for Germany with a field strike in the 24th minute as both the teams went into the breather locked at 1-1.

It was a neck and neck fight in the second half but it was the Germans who seized the initiative this time through Anton Boeckel's field goal, a lead which they managed to hold on to till the final hooter.

Germany had earlier defeated Spain 2-1 in their tournament opener.

Germany will next play Japan on Sunday while New Zealand will be up against Spain on the same day.

In the other Pool C match of the day, Spain defeated Japan 4-1 to register their first win of the tournament.

Marc Serrahima (8th minute), Lucas Alcalde Garcia (24th, 37th) and Pablo de Abadal (25th) were the goal scorers, while Japan's loan strike came from the sticks of Atsushi Sugiyama (48th).

Meanwhile, in other matches of the day, Belgium spanked Egypt 4-0, while The Netherlands routed last-minute entrant Malaysia 7-2 in Pool B.

Belgium's goals came from the sticks of Phillipe Simar (18th), Henri Raes (27th), Alexandre van Linthoudt (46th) and Alexis Lemaire (60th).

Belgium will play The Netherlands in their next pool match on Sunday, while Egypt and Malaysia will fight it out in the battle of minnows.

In the match between The Netherlands and Malaysia, the Dutchmen scored three goals in the first half through Thijs van Dam (19th), Thierry Brinkman (29th) and Bram van Groesen (33rd) before pumping in four more in the second half courtesy Terrance Pieters (40th), Daniel Aarts (44th), Jorrit Croon (49th) and Bran van Groesen who scored his second of the match.

Malaysia's goals were scored by Muhammad Zaidi (59th) and Amirol Arshad (65th).

Earlier in the day, minnows Austria held Argentina to a 1-1 draw in a Pool A encounter.

Argentina took the lead through Tomas Domene's field strike in the 47th minute before Austria drew parity through Oliver Binder's penalty corner conversion seven minutes from regulation time.

The Times of India


---

New Zealand edged by strong German outfit at Junior Men's Hckey World Cup in India



Canterbury striker Sam Lane scored New Zealand's lone goal in their 2-1 loss to Germany at the Junior World Cup in India. PHOTOSPORT

New Zealand have been edged by a strong German outfit in their second match at the Junior Men's Hockey World Cup in India.

After pipping Japan 1-0 in their tournament opener, the young Kiwi side went down 2-1 to Germany in Lucknow on Friday (Saturday NZ time).

Despite the final result, it was New Zealand who opened the scoring when Canterbury striker Sam Lane, who made his Black Sticks debut in last month's trans-Tasman series against Australia in Auckland, crashed a shot home from a penalty corner in just the fourth minute.

Germany, though, equalised in the 24th minute through a field goal from Timm Herzbruch before Anton Boeckel scored the match-winner with 20 minutes remaining in the contest.

The Kiwis fought hard in search of another goal but couldn't find a way past a solid German defence.

The result put New Zealand third in their pool and needing a win in their final pool match against Spain early on Monday morning (1.30am NZ time), to guarantee a place in the quarterfinals.

Germany 2 (Timm Herzbruch, Anton Boeckel) New Zealand 1 (Sam Lane). Halftime: 1-1

Stuff


---

Malaysia junior hockey team goes down 7-2 to Holland

PETALING JAYA: Malaysia suffered a 7-2 defeat to Holland in the opening Group B match of the Junior World Cup Hockey in Lucknow, India on Friday.

Coach Wallace Tan's boys, who are a last-minute replacement for Pakistan, trailed 3-0 in the first-half.

Bram van Groesen scored a brace for the Dutch in the 33rd and 63rd minutes. The other goals came through Thijs van Dam (19th), Thierry Brinkman (24th), Terrance Pieters (40th), Daniel Aarts (44th) and Jorrit Croon (49th).

Muhd Hafizuddin Zaidi (59th) and Amirol Aideed Arshad (65th) minutes replied for Malaysia.

The Star of Malaysia


---

Malaysia make shameful start in India

by Aftar Singh

KUALA LUMPUR: Malaysia got off to an embarrassing start in the Junior World Cup when they were humiliated 7-2 by Holland in a Group B match at the Major Dhyan Chand Hockey Stadium in Lucknow, India.

Wallace Tan's boys, a last-minute replacement for Pakistan who withdrew from the meet, were pathetic as they were outclassed by the speedy and physically powerful Dutch players.

What's even more alarming was that the national juniors failed to make a single attempt at their opponents' goal in the first 35 minutes yesterday.

Holland, the 2014 junior European champions, started aggressively from the first whistle but had to wait until the 19th minute to open the floodgates.

A loose ball fell to Thijs van Dam who promptly whipped it past a hapless Malaysian goalkeeper Muhammad Zaimi Mat Deris.

The Dutch kept up their aggressive play and were rewarded with two penalty corner goals through Thierry Brinkman and Bram van Groesen in the 29th and 33rd minutes.

Holland's fast attacking game paid dividends after the breather as they netted four goals in 24 minutes.

Terrance Pieters made it 4-0 in the 40th minute and four minutes later, Daniel Aarts was on hand to deliver a field goal.

Jorrit Croon made it 6-0 in the 49th minute.

Finally, Malaysia got on the score sheet in the 59th minute when Muhd Hafizuddin Zaidi scored a field goal.

Three minutes later, Groesen grabbed his second and his team's seventh goal off a penalty stroke.

Malaysia reduced the deficit through a penalty corner goal from Amirol Aideed in the 65th minute.

Egypt, Malaysia's opponents tomorrow, also got off to a bad start, going down 4-0 to Belgium.

Defending champions Germany have booked a place in the quarter-finals after chalking up their second win in Group C.

Germany, who edged Spain 2-1 on Thursday, came back from a goal down to beat New Zealand by the same margin yesterday.

Sam Lane stunned six-time champions Germany with a fourth-minute penalty corner goal.

Germany equalised off a field attempt by Timm Herzbruch in the 24th minute. Anton Boeckel netted the winning goal in the 51st minute.

The Star of Malaysia


---

India will look to seal quarterfinal spot with win

Uthra Ganesan



Brilliant turn-and-shoot: Tim Herzbruch (left) scored the equaliser before Anton Boeckel scored Germany's winner against New Zealand. 

A dominant performance against Canada notwithstanding, India would be facing its toughest challenge in the group stages of the junior World Cup here when it takes on England in its second game at the Major Dhyan Chand Stadium on Saturday.

England had registered a 4-2 victory in its opening game against South Africa and India will be cautious as it looks to seal a quarterfinal spot with another win. The host, among the favourites to win the title, will also be keen to continue its good run against England after winning the test series against it a month ago.

Captain Harjeet Singh said the game against England would be completely different. "Your own performance also depends on the opposition. If the opponent is sharp and strong, you stay more alert. We are expecting England to come hard at us and we are prepared for it," Harjeet said.

England's two best performances in the tournament had come in 1997 and 2001 — fourth both times — which incidentally were also also the best outings for India, ending runner-up and then winner in 2001.

With four of its players having played in the previous edition of the tournament in Delhi, England will be hoping to make full use of its advantage. In comparison, India only has Harjeet and forward Mandeep Singh from the 2013 edition. However, the presence of defender and drag-flicker Harmanpreet Singh has been a big advantage given the youngster's Olympic experience.

"Yes there is a difference in experience, but that doesn't mean anything special. I played the last edition but Harman was there in Rio with the senior side so that has been a big plus. We keep asking him about how to handle the pressure and we also share our experiences. We are all very close and confident of our strengths as a unit," Harjeet said.

Germany first to make quarters

Earlier in the day, favourite Germany became the first team to ensure a spot in the knock-out rounds with a 2-1 win against New Zealand.

Despite an equally patchy performance as in the opening game, the team did enough to get full points with its second win of the tournament, led by the experienced duo of Timm Herzbruch and captain Constantin Staib.

As happens against most top teams, New Zealand packed its defence and relied more on counters to try and score. Germany dominated, both in terms of possession and attempts to score, but was unable to break past the crowded Black Sticks' defence. While Germany wasted its first penalty corner, Sam Lane put New Zealand ahead after earning a penalty corner of its own on counter.

It took a brilliant turn-and-shoot from Herzbruch to level scores in the 24th minute before Anton Boeckel scored the winner after being put through by Johannes Grosse from the top of the circle in the second half. "We did not dominate as much as we wanted to. We have qualified for the quarterfinals, which is a good thing. But, we should have done better," a disappointed coach Valentin Altenburg admitted.

The results: Pool A: Argentina 1 (Tomas Domene) drew with Austria 1 (Oliver Binder); Pool B: Belgium 4 (Philippe Simar, Henri Raes, Alexandre van Linthoudt, Alexis Lemaire) bt Egypt 0; Netherlands 7 (Bram van Groesen 2, Thijs van Dam, Thierry Brinkman, Terrance Pieters, Daniel Aarts, Jorrit Croon) bt Malaysia 2 (Muhammad Zaidi, Amirol Arshad); Pool C: Spain 4 (Lucas Garcia 2, Marc Serrahima, Pablo de Abadal) bt Japan 1 (Atsushi Sugiyama); Germany 2 (Timm Herzbruch, Anton Boeckel) bt New Zealand 1 (Sam Lane).

The Hindu


---

Colts up against tricky England

Indervir Grewal

Lucknow: India play their hardest match of the pool stage as they take on familiar foes England in their second match of the junior hockey World Cup here tomorrow.

After thrashing Canada in the opener, India will go into the match high on confidence; and apart from a quarterfinal berth at stake, a win will also help them top their pool.

But looking at recent history, there is nothing between the two teams. Since the last junior World Cup, India and England met in back-to-back finals of the Sultan of Johor Cup; while India won 2-1 in 2014, England won 4-3 in a shootout the next year. Earlier this year, the two played four matches in England, both winning two matches each.

England coach Jon Bleby had said after his team's 4-2 win over South Africa yesterday that he was concerned about the speed at which India played. India coach Harendra Singh has repeatedly said that they wouldn't get ahead of themselves, taking it one match at a time, and focus on their own game rather than the opponents.

Argentina held, Germany through

Argentina started their campaign with a slight stumble as they were held to a 1-1 draw by minnows Austria, while European powerhouses Germany and the Netherlands registered contrasting wins on the second day.

Argentina paid for a slow start as a determined Austrian team, coached by Cedric D'Souza, made a late comeback with a 63rd minute equaliser by Oliver Binder after Argentina had taken the lead through Tomas Domene in the 47th minute.

Two-time defending champions Germany did just enough to edge out New Zealand 2-1 and qualify for the quarterfinals with six points from two matches. Coach Valentin Altenburg was happy with the result but nowhere close to satisfied about his team's performance, calling it scrappy and disjointed. The Kiwis took the lead in the fourth minute through a Sam Lane drag-flick goal. The Germans fought back with goals from Timm Herzbruch (24th) and Anton Boeckel (51th).

The Dutchman gave a rude welcome to late-entrants Malaysia with a 7-2 thrashing.

The Tribune


---

After FIH changes junior format, coaches call for consistency in all forms of game

Lucknow: International Hockey Federation's surprise decision to conduct the ongoing Junior World Cup matches here in the old two-half format has no gone down well with most coaches, who felt "consistency and uniformity" was key to the development of a junior player.

Unlike the ongoing Junior World Cup, all the international hockey tournaments are now being played in the format of four quarters of 15 minutes each and most coaches of the participating countries here were of the opinion that consistency and uniformity is necessary for the transition of a player from junior to senior level.

India's head coach Harendra Singh said he has no problem playing in the old format but personally in favour of the new four-quarter system.

"Personally if you ask me I am in favour of 15 minutes quarter system because I feel a consistency should be maintained in both junior and senior levels. These junior players will soon break into the senior side and they should feel at ease while making that transition," Harendra told PTI.

While on one hand he expressed his personal opinion as a coach Harendra also looks at the brighter side of things.

"But the format does not bother us. In fact, I feel two halves of 35 minutes each is good for junior hockey. This system will help these juniors in improving their respiratory system and also test their fatigue levels," he added.

Germany U-21 coach Valentin Altenburg is in favour of the new rules and feels the sooner the FIH implements them across all levels the better it is for the game.

"Both the formats have their advantages and disadvantages but I feel it should be consistent. I will recommend the FIH to adopt a consistent approach and help in the transition of these young players to the senior level," said Altenburg, who also coached the German senior side, besides being the coach of Hockey India League franchise Dabang Mumbai.

Most of the coaches PTI spoke to were in favour of four quarters of 15 minutes each format.

England coach Jon Bleby said: "I would like the format to be more standardised and uniform. I preferred the four quarter system as it is fast paced and exciting. Adopting different formats for different levels is not great for the game."

Australia coach Ben Bishop also had the same view as he felt it "strange that we are not playing four quarters."

"If that is the way hockey is headed (four quarters), then we (junior players) should also be playing that. If you are looking forward to produce future stars you need to be uniform," Bishop said.

At a time when the FIH is employing various new and innovative measures to market the game and make it more fast-paced and entertaining, the world body's decision to play Junior World Cup in the old format came as a surprise to many.

But the FIH has its own explanation for their decision.

"The FIH Executive Board considered whether or not to play it (4 quarters) for Junior World Cups but as all teams had been preparing for 2x35 format and that the first of the two Junior World Cups was scheduled to start 14 days later, it was decided not to implement the change. This decision was supported by the FIH Athlete representatives," the FIH said.

"The decision of four quarters was originally applied only for top level competitions till Rio Olympics and was reviewed thereafter, being confirmed as permanent from January 1, 2017 by the FIH Executive Board last month. The next edition of the tournament, therefore, would be in the new format," the world body added.

Firstpost


---

'Grand old daddy' begs for action

Cedric D'Souza, coaching Austria, uses his contacts to help team; Argentina's hockey moms are here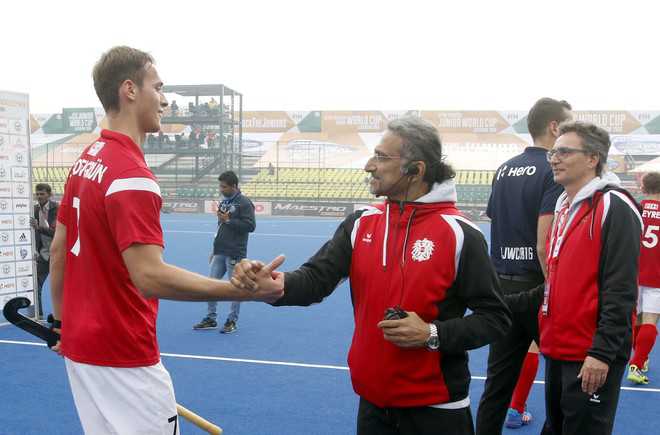 Austria coach Cedric D'Souza congratulates a team member after playing out a draw with Argentina

Indervir Grewal

Lucknow: All through Austria's match against Argentina, a grey-haired Indian man writhed every time the Europeans missed a chance. And when they finally got the equaliser in the 63rd minute, he pumped his fist in joy.

The man, Cedric D'Souza, is a familiar face in hockey circles — in fact, he likes to call himself the 'grand old daddy' of hockey. D'Souza, a former India coach, is now coach of the Austrian junior team, a job he took after the team qualified for the World Cup in March.

Austria, not counted among the major hockey-playing nations, are making their debut at the junior World Cup. However, D'Souza said that he hadn't thought of it as a daunting job. "I had coached there at a club for three years so I knew that Austria has a strong club culture," D'Souza said.

What change was needed? "They lacked international exposure so I decided to take them to the butcher's den, pitting them against top European teams," he added.

"Austria's federation is small and the money is little; the government support is not much," said manager Nitan Sondhi. The players pool their money to cover their expenses.

So how did you manage to bring the change? "I told you I am the 'grand old daddy' so I used my contacts. I begged the other coaches to play with us," D'Souza said.

"We started by playing in the Netherlands, where we got butchered. Then we went to Germany, England and again to the Netherlands," he added.

How has that helped? "There has been a huge improvement. Today's performance proves it (Austria held Argentina 1-1). This result has got us respect," he said.

Is playing in the bigger leagues a motivation for Austrians? "In fact, that is my most important target. I want my players to leave Austria and play in the Netherlands or Germany. That will help them improve, and my team will improve," he said. "From this team, three guys play in Germany."

D'Souza saw today's draw as a part of the process. "This is a process, sometimes we will get the results, sometimes we won't. My target is the 2020 Olympics," he added.

Loud and proud mamas from Argentina

Before Argentina's opener against Austria, captain Ignacio Correa got a huge, but pleasant, surprise. To cheer for her son, Correa's mother, Julia, has travelled literally to the other side of the world. She isn't the only player-mother here — seven others have come all the way to India to watch their sons play here. However, unlike the other sons, Correa had no idea about his mother's visit.

Being from middle-class families, it was a big decision for these women to spend so much money. "It wasn't cheap. We all made sacrifices to be here. A couple of us sold our cars to fund this trip," said Valeria, mother of Nicolas Keenan. "But we wanted to make it special for the boys." For some, it was extra special as they were meeting their sons for the first time in almost a year as the boys had been away from home, training at the national camps.

Girls play hockey

Most of these women come from hockey families and had themselves played the sport at some level, which was the main reason for their sons taking up the sport. Till very recently, men's hockey was not as popular as women's hockey in Argentina. The mothers explained that in Argentina, hockey had been associated with girls — it was played in social clubs, while the boys took up basketball, rugby or football.

"When I first asked my son to play hockey, he cried 'but it's for girls'," said Maria, mother of Agustin Rios. "But the mentality has changed, especially after the men won the Rio Olympics gold."

The senior men's win has brought the juniors under the spotlight, and they're counted among the favourites here. But the mothers aren't fussed about winning gold. "They have worked hard to be here, so if they win, great, otherwise we will always support them," said Valeria.

And the eight women made sure that in an almost empty stadium, their sons got rousing support.

The Tribune


---

No money in sight, national colours only motivation for Spain

LUCKNOW: With cash coffers drying up due to the economic crisis the country witnessed from 2008 to 2012, representing the national team remains the only motivation for Spain's hockey players, says junior men's team coach Roger Pallarols.

Once considered as an European powerhouse in hockey, Spain of late has been struggling to match the top hockey teams of the world and languishing at the ninth position in the world rankings.

Asked Spain's U-21 coach the reason behind such a decline, he was candid enough to admit that all is not well in Spanish hockey.

"In last Olympics we finished fifth and we consider it as a very good result considering the financial condition of the country. If we compare us with other top teams of the world like Australia, Germany, Netherlands, India etc we are nowhere because the economy is Spain is not good. The Spanish economy is still recovering," Pallarols said after Spain beat Japan 4-1 in their opening Pool C match of the Junior Hockey World Cup at the Major Dhyan Chand Astroturf Stadium here today.

"Spanish hockey doesn't have any money and so we can't ravel and participate in every international tournaments. That is the reality. The only motivation for a hockey player in Spain is to play for the national team and showcase their talent to the world," added the coach.

The current situation, notwithstanding, Spain has a rich hockey history, having won three silver medals in Olympics (1980 Moscow, 1996 Atlanta and 2008 Beijing).

Besides Olympic medals, Spain are two-time silver medallist in World Cup (1971 Barcelona, 1998 Utrecht) and bronze winners in 2006 Monchengladbach event.

Spain are also two-time European champions (1974 Madrid, 2005 Lipzig) and have also won the prestigious Champions Trophy once (2004 Lahore) and finished runners-up twice (2008 Rotterdam, 2011 Auckland) while returning with the bronze medal thrice (1997 Adelaide, 2005 Chennai, 2006 Terrassa).

Talking about his team's chances in the ongoing World Cup, the Spanish coach said their first target is to qualify for the quarterfinals, where they didn't mind facing home team India who are rated as one of the pre-tournament favourites along with six-time champions and title holders Germany.

"India and Germany are the favourites. Both are really good teams. Germany are in our group and we play them next but we know how the Germans played as we have played them three weeks ago," Pallarols said.

"India are in very good form. They recently won the four-nation tournament in Valencia. They also have home advantage but we don't mind facing them in the quarterfinals if the situation demands," he concluded.

The Times of India


---

Indian origin players may be, but the condition differ vastly

Avtar Bhurji




Foreign origin players in national teams are not uncommon but a high point has been observed in the ongoing Junior World Cup in Lucknow.

The Canada team that played so well against India the other day has as many as 13 Indian origin players in its side, mostly from the States of Goa and Punjab.

May be for some the contest might have seemed between two domestic Indian outfits in the All India Grade I tournament, and this is not exaggeration.

However, the commonality stops here.

In all other respects, conditions vary and even represent two extremes.

While the home team is considered medal contenders, Canada is an underdog. Players from Indian team are the most experienced in terms of international exposure and kind of competitions they figure including Hockey India League.

Canada is poor in terms of international exposure and experience

Canadian coach Inderpal Sehmbi and captain Brandon Pereira today revealed that they don't get any serious funding to prepare and send national teams to India for the Junior World Cup.

The players and their families cut their pockets to be here.

Besides sporting spirit, deep passion for the sport, family connect, and chance to wear nation's colour help these youngsters to dig deep into their pockets.

Captain Brandon Pereira come from hockey playing back ground. His father was a hockey player and coached Inderpal Sehmbi.

Its worthwhile to mention here that his grandfather Polly Pereira played with this writer in the 1972 Olympics.

Stick2Hockey.com


---

Despite setbacks, goalkeeper Krishan Pathak keeps faith

From overcoming death of his parents to being homeless before 19, India's junior goalkeeper Krishan Pathak has thwarted tragedies in life to reach where he is now.

by Mihir Vasavda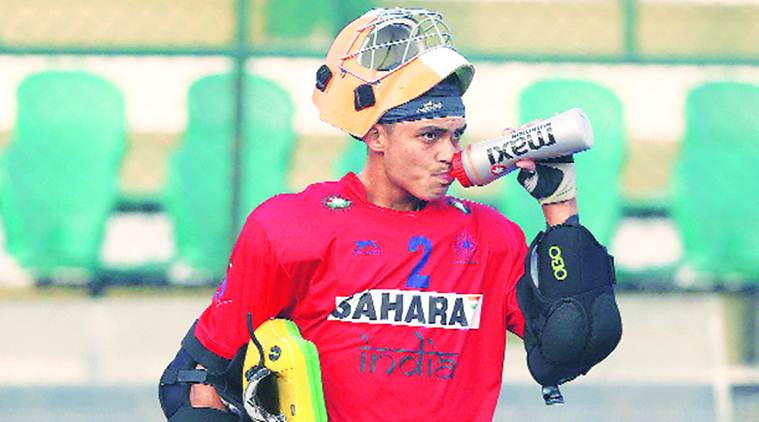 After a spate of personal setbacks, hockey has been Krishan Pathak's comfort corner and also his first priority.

"Shuru se itna kuch dekh rakha hoon, aasaan ho jaata hai jhelna." Krishan Pathak is talking about the day he was orphaned. That day, life as he knew it, changed forever. After listening to his story, the cliched question, that most boys at the Junior World Cup face — about how they would be handling the pressure while standing under the bar becomes irrelevant.

Three months after he celebrated his 19th birthday — and just two days before he would leave for his debut international tournament — Krishna's father passed away. He suffered a heart attack in his sleep. It was painful, but Pathak says it wasn't the hardest moment in his life. "I have seen so many setbacks in life that one goes numb after a point. So when my father died, it was just another blow," he says.

Pathak was 12 when his mother passed away. And then saw his family fall apart. He's never had a house he can call home, having spent early years at his uncle Chandra Bahadur Pathak's place in Kapurthala, Punjab and the last nine years at a sports hostel in Jalandhar.

Tragically, post-World Cup, Pathak sees an uncertain future. An orphan, he has no one waiting for at home. Actually, he isn't sure if he has a place which he can call home. His two elder sisters continue to stay in Nepal while his elder brother — 20 years senior to him — moved to Malaysia after landing the job of a security guard. The brother hasn't kept in touch with the siblings since the day he flew away.

"It's not been, how do I put it, very family-like so to say. Everyone got busy in their own lives. Whenever I felt lonely, I went to my uncle's place or called up my dad, who used visit me at the hostel," Krishan says, adding that his uncle and his father contributed to meet his expenses.

His uncle, father's brother, used to stay in Kapurthala. But now shuffles between the two countries, and ends up spending majority time in Nepal. "Upar wala dekh raha hai. Upar wala sab deta hain," he says. Pathak wipes his moist red eyes, and smiles a big, warm smile. "Right now, though, it is not the time to dwell on these things."

Hockey has been Pathak's comfort corner and also his first priority. He missed his father Tek Bahadur Pathak's funeral since he was picked to be part of the India junior team's tour of England. "My first reaction (after learning about his father's death) was to rush home. But the last rites were to be performed in the evening the following day and my village in Nepal is a remote hilly area, so I wouldn't have been able to reach in time for the funeral," he says.

"I spoke to my uncle, who reminded me of all the sacrifices I had made to reach this far. Mushkil se team mein naam aaya tha. This was my big break. This is what my father would have wanted me to do."

For a moment, Krishan contemplated leaving everything and returning to Nepal. "My sisters were there and I had a place to stay," he says. "Then I thought Sachin (Tendulkar) and Virat (Kohli) too had faced similar problems (demise of their respective fathers during a match/tournament). They didn't quit. So why should I?"

It was something that would have made his father proud. Tek Bahadur wasn't a quitter but someone who opted for a life of struggle to make things easier for his family. When Tek Bahadur migrated to India from Lubhdi, a tiny village in Nepal, with his wife, in the 90s in search of a steady job, he never thought that his son would one day represent the alien land. The family made Kapurthala his base, staying at his brother Chandra Bahadur's house.

Tek Bahadur got a job of a crane driver for a government agency. It didn't pay him much, barely enough to keep the family of six afloat. But it was steady income nevertheless. Krishan, his fourth child, was born in 1997 in Kapurthala.

"He used to drive those big cranes which are used at construction sites. Papa's job was such that he had to constantly move from one place to another depending on his assignments. My mother accompanied him most of the times, so I grew up at my uncle's place in Kapurthala," Krishan says.

Like most kids from the region, Krishan joined the famous Surjit Singh hockey academy in Jalandhar when he was 12. He moved out of his Chandra Bahadur's place soon after, preferring the academy hostel instead. It wasn't even two months since he had moved to the hostel when the warden summoned him early in the morning. "You need to call home; something's come up," Krishan recalls the warden telling him.

His father was the bearer of bad news. His mother, he told Krishan, had passed away after suffering a heart attack in her sleep. "I didn't know how to react. I don't remember much actually what happened back then," he says. "In fact, I don't have many memories with my mother since I spent very little time with her."

The hockey field became his refuge. Surjit Singh academy has produced dozens of international players over the years. Krishan showed early promise as a goalkeeper and as years passed by, he flourished in that role. He was selected for Punjab's junior team for the national championships, where he staked his claim for a position in the junior national team.

"Mentally he is very strong. His reflexes and anticipation are good, which is essential for a goalkeeper," junior team's chief coach Harendra Singh says.

These were the qualities that had caught the coach's attention when he first saw 2015. While rest of the playing group was together for the last three years, Pathak joined the Junior World Cupper in 2015.

And after a year at the camp, Pathak was rewarded with a place in the squad for a tour to England in July.

It was all finally falling into place for him, and the teenager was counting down days to board the plane to the UK — his first flight ever. On a rainy morning — two days before the departure — Pathak returned to his room at the Bangalore SAI campus after a light workout session when his phone buzzed. "It was my sister. She called me to inform that my father had passed away after suffering a heart attack in his sleep, just like my mother," Pathak recalls.

The talented goal-guard now waits for December 18 with equal measure of excitement and trepidation. It's the day when the junior World Cup final will be played. And Krishan hopes his team will be alive in the competition till the last day. At least till then, he doesn't have to worry about a place to stay. "Last 10 years of my life, I've spent at Surjit Singh academy hostel and SAI Bangalore hostel. Where do I go now?" he wonders.

Coach Harendra has offered Krishan shelter at his place in Delhi until they find a job for him. But Krishan isn't worrying about it yet. He is just desperate to make an impact in the World Cup to make peace with the fact that missing his father's funeral was worth something. "I miss dad on some days," he says. One thing gives him some solace, though. "Mere dad ki jab death hui, tab unhe itna pata tha ki mera India selection hogaya hai…mera naam team mein aa gaya hai," he says. "That's the last conversation I had with him."

Indian Express


---

Demonetisation hits foreign hockey players too

LUCKNOW: Indian government's demonetisation move has affected all and sundry and the latest to feel an impact of it are foreign teams, participating in the men's Junior Hockey World Cup.

The Narendra Modi-led Indian government had banned Rs 500 and Rs 1000 notes last month in a bid to counter black money, corruption, fake currency and terrorism.

But the countrymen as well as foreigners travelling to India have been facing problems because of shortage of cash in banks and ATMs.

Germany coach Valentin Altenburg, who has been a regular visitor to India as coach of the German senior side and also as coach of Mumbai franchise in Hockey India League, said they were troubled by the cash crunch in India.

"We had problems initially. We had to find banks where we could change our currency. It was difficult for us to get money or exchange our currency. We managed to find a bank and get some legal currency but it was not adequate," Altenburg said.

"Our hotel, food and travel expenses are taken care off. The boys are also using cards to shop but it becomes difficult to buy gift or souvenir items from street side small shops without money because everyone does not accept card payments here," he said.

"But I heard the move is going to help the economy of India, if this is the case I think it's a good move."

Australia coach Ben Bishop and his Canadian and English counterparts also said that it was difficult for them to manage without adequate cash initially.

"We had issues in the beginning because we faced difficulties in exchanging currency. The local organisers helped us in getting some money which is not adequate," Bishop said.

His English colleague Job Bleby added: "I don't know much about the issue because I was busy preparing the team for the tournament. But I did hear that our team manager faced problems in arranging money."

The Canadian team seems to have been hit the most as 12 players of the 18-members squad are of Indian origin and have their ancestral roots in the country. In fact two players - Floys Mascrenhas and Ganga Singh were born in India before migrating to Canada.

"I am not a political guy at all so I don't know the matter. But a few players did face problems in exchanging CAD 80 they had with them and are now left with very little money. The problem is some players have their relatives in the country and plan to visit them after the tournament. So they are going to face problems without adequate cash," Canada coach Indy Sehmbi, who is also of India origin, said.

Not just the hockey players, the visiting England cricket team, who is currently playing the fourth test against India in Mumbai, is also facing problems because of limited cash.

The demonetisation step has also hit the tennis circuit with top players Roger Federer and Serena Williams pulling out of the Mahesh Bhupathi-backed IPTL this year because of economic climate in the country.

Earlier the organisers of Pro Wrestling League were also forced to postpone the second edition of the tournament due to demonetisation.

The Times of India


---

Goons threaten Japanese hockey team with guns in Lucknow

Sharad Deep



The Japanese hockey team for the Junior Men's Hockey World Cup was attacked by goons in Lucknow. (HT Photo)

The Japanese team in Lucknow for the Junior Men's Hockey World Cup, had a taste of local 'goondaism' on Friday while returning to their hotel after their match from Major Dhyan Chand Stadium.

According to eyewitnesses, a SUV bearing the Samajwadi Party flag and a hooter overtook the Japanese players' bus near Khurramnagar crossing and intercepted it. Before the bus driver could understand anything, two youths, one carrying a rifle, jumped out of the vehicle and started abusing and threatening him for overtaking their SUV.

Shocked by the incident, the Japanese players bolted the bus door from inside. The players remained stranded at the spot for almost 20 minutes. By the time local cops came the two youths fled from the scene but left their vehicle behind.

"The team officials faced some tense moments till the bus moved on from there," said an official taking care of the team's travel.

Strangely, the police escort vehicle, deputed for the security of the players, zoomed past their bus even as the bus driver was being threatened.

"They (the youths) took it as a big insult that our bus overtook their SUV on the way," said a team official on condition of anonymity.

"We later checked the two youths but there was no weapon with them," circle officer, Ghazipur, Dinesh Kumar Puri, told HT.

The incident only spoilt the day further for the Japanese players as earlier they had lost their match to Spain 1-4 in the championship.

Hindustan Times


---

Fiji, Aussies battle in decider

Peni Mudunavonu



Leevan Dutta of Fiji on attack against the Australian Country side during the Hockey competition at the National Hockey Centre yesterday. Fiji lost 5-1. Picture: RAMA

THE Fiji Men's Hockey President's Selection team will play their final match against the visiting Australia Country today at the National Hockey Centre in Suva to determine who wins the coveted Hector Smith Trophy.

Fiji have yet to record a win against their Australian rivals and have a lot to prove after they lost to the Aussies in their last encounter on Thursday.

The match saw the Aussies beating Fiji 5-1 in what seemed to be a result of a lapse of concentration by the hosts.

Fiji scored their lone goal through left wing Jerome Edwards.

Fiji President's Selection head coach Hector Smith was not happy and will be out to make amends today.

His visiting counterpart Nathan Hooper said they had a very good game.

"Our boys really put it together and I am proud of their performance.

"We came out playing against a very tough opposition who always provided a very tough challenge.

"I am very proud of the boys and their performance," Hooper said.

They match is expected to begin at 5pm today.

The Fiji Times


---

Ames adds to Holcombe's international quality




English club Holcombe have made a significant midseason transfer with the arrival of England and Great Britain international David Ames from Beeston.

He will link up with the Kent club in January following six years with the Bees, following the likes of Sam Ward and George Pinner who made the same move in the last few seasons.

Speaking about the move, Holcombe chairman David South said: "Having someone of David's ability joining Holcombe will be a big boost to the club. Passing on his experience to our homegrown younger members of the squad will be a major plus to the overall development of the first team squad.

"David has very much bought into the overall ambitions of Holcombe and I am sure he will be a key part of our future going forward."

Ames said of the move: "Having spent six great years at Beeston, I am delighted to be joining Holcombe for the second half of the season. I'm very much looking forward to the new year and hopefully doing my best to help keep Holcombe at the top of the table for the remainder of the season.

"It's great to know a few of the guys from the international set up and hopefully that'll help my interaction with the rest of the group. Holcombe is a very ambitious club with plenty of aspirations of its own and that was something which helped make the move a right one for me."

Holcombe lead the English Premier Division after 10 rounds by a point from Wimbledon with Surbiton third on 21 and Beeston fourth on 19 points. The competition returns to action early in February.

Euro Hockey League media release


---

'Green and goals' for hockey star Donna

The South Coast has a habit of producing international quality sporting stars.

David Rush



Encouragement: Donna Small spends some down-time with her mom Karen.

DONNA Small of St Mike's in South Africa is a homegrown talent who has excelled on a global hockey stage.

She was one of the stars for the South African U21 women's hockey team which took part in the U21 World Cup in Santiago, Chile last week.

SA finished 14th overall out of 16 but were competitive throughout.

"We were hoping for a top eight and then failing that to finish higher in the bottom eight so 14th was a little disappointing," she said.

Still, most of the games were close.



Speedy pass: Donna Small in action for the South African U21 hockey team at the World Cup. PHOTO BY PLANET HOCKEY

They were involved in a dramatic penalty shoot-out win over France in the 13 to 16 positions play-off.

This meant SA could play New Zealand for 13th place, which had beaten Zimbabwe 16-0 in the same round. (Ouch).

The gold medal was won by Argentina, defeating the Netherlands.

One of the highlights of the tournament for Donna was the two goals she scored in a 3-3 thriller against England.

And she did at least fulfil one of her Bucket List's wishes – to sing the national anthem.

"We had to do it without a 'voice' (professional singer) and battled along as loud as we could," she said. Was she the leading vocalist? "Definitely not," she laughed.



Loving the experience: Donna Small takes time to chat to friends and fans.

Donna comes from some serious sporting stock – her father Greg was a very skilled hockey and cricket player, while her mother Karen is certainly no slouch with the stick.

Her brother David is a cricketer of some note, having made his mark at Maritzburg College.

Her parents, brother, and boyfriend Josh Fourie travelled with to watch the hockey, and do some sightseeing, with mom Karen providing regular updates on Facebook.

There's a lot to be said for her Sheppie hockey grounding.



Great ball control.

Donna, who is the granddaughter of long-time South Coast residents Mervyn and Gloria Tarboton, matriculated at Creston College, where she was head girl and obviously hockey captain.

She clearly hasn't forgotten her roots, asking her mom to relay a message from the World Cup to Gareth Olivant, who was the sports director at Creston at the time Donna was there.

His comment back then was: "So are you going to work towards making the World Cup in 2016?"

That was back in 2013. Nice how it turned out.

But it's more than just her hockey skills that are so impressive.



It's going to be okay.

She was interviewed at the tournament after one of the games and came across really well, a complete natural in front of the camera – interesting, articulate but humble.

Her days as head girl certainly put her in good stead.

In terms of her studying, she is going to do her honours in corporate communication.

The future looks bright for her, and it may not be long before she is competing for the national team.

The South Coast Herald


---

USA Field Hockey Announces 2017 U-19 Women's Junior High Performance Coaches

COLORADO SPRINGS, Colo. - USA Field Hockey proudly announces the selection of Ole Keusgen and Tamara Durante to lead the U.S. U-19 Women's National Team in 2017. With an extensive playing background paired with their seasoned coaching resumes, the duo will guide and develop the nation's elite talent pool which is projected to climb onward to the senior national team. The Women's Junior High Performance (JHP) will benefit and flourish under Keusgen and Durante's advance approach to the game.

Keusgen is currently the assistant coach at the University of Virginia where he contributed to the Cavalier's on-pitch success since 2015. He will also bring an international coaching perspective to the U-19 USWNT's game by tapping into the 10 years he spent coaching both the men's and women's first teams of Oberhausener THC in Germany.

As a player, Keusgen competed professionally in Germany with one of the top-tier field hockey clubs in European history, Uhlenhorst Mülheim. With his club team, he won the German Indoor championship in 2015 and the Euro Indoor Club Cup in 2015. Keusgen, a retired German National Team athlete, won a bronze medal at the 2013 World University Games in Kazan.

"We believe that Ole is a talented coach who can help increase the individual development of the players greatly, especially in terms of skill development," commented Janneke Schopman, USWNT Assistant Coach and U-21 USWNT Head Coach.

"Every nation hast different philosophies and ideas when it comes to field hockey and if you pay attention, you pick up new things along the way which you can add to your tool box," said Keusgen. "The time in the UK for example taught me a more diverse variety of defensive concepts. As a coach you learn so much from working internationally, especially in high-performing countries like England, Germany or the Netherlands. Each time we (my club team) played against a dutch team in the EHL we had to deal with their fast pace of play, which again benefited our own system a lot. Playing internationally takes you to a whole other level - in tournaments for example you play different nations each day and will be faced with different styles of play constantly. This is why I want to develop intelligent and creative players - nowadays even the college teams are filled with international players and so the girls will play against different types of players each game. As a coach and as a player I have learned that you have to be able to analyze and adapt quickly in order to compete on the highest level - so striving towards this is what defines the way how I teach the game."

 "USA Field Hockey has developed tremendously over the last couple of years and I feel honored to contribute to this development by forming a team that consists of intelligent and diverse players who will grow into being what I call 'complete" players,'" adds Keusgen.

The coaching staff hopes to organize an international tour or tournament, ideally in South America or Europe. Traveling with the team will give the young girls the chance to see what the world of international field hockey has to offer and also make them compete on the highest level. Keusgen remarked that the team needs the international comparison in order to see where we stand on the competitive horizon and also show the girls what they would be dealing with in international championships.

Although only in her second season as an assistant field hockey coach for Michigan State University, Durante's coaching expertise has substantial depth. A staple in the collegiate world, Durante sports 16 years of experience and tactical knowledge with her current role; combined with 4 years at Ohio University and 10 seasons at Yale University.

She has also played a vital role in USA Field Hockey's JHP pipeline winning a gold medal as an assistant coach for the U-21 USWNT at the Junior Women's Pan American Championship in October of 2008. Durante has coached in the Futures Program since 2002 and served as the Great Lakes Regional Futures Director from 2003 to 2005. She coached at the Junior Olympic Games from 2006-2008 and 2010-2013, winning a gold medal in 2012. Most recently, she served as an assistant coach for the U-19 USWNT's Tour in Belgium.

Durante graduated from the University of Alberta and was a 5-year starter for the school's field hockey team. She helped the Pandas to a silver medal in the CIAU Championship in 1997 and bronze medals in 1996 and 1999.

"Coaching the U-19 group is truly a tremendous opportunity to lead and teach the young women in our Olympic pipeline," said Durante. "I am looking forward to the training sessions and hope to transfer some of the lessons I've learned from working with Janneke to this group."

"Tamara is a great coach who cares a lot about USA Field Hockey and the development of the players," said Schopman. "With her experience she creates consistency and together with her enthusiasm she will help improve our U-19 program for sure."

"The goals for JHP teams is consistent over the years," added Schopman. "The main focus is to have our best athletes in each age category play and compete together, focus on their individual development and growth and expose these players to the laws of international hockey."

USA Field Hockey would like to thank Ange Bradley, the previous coaches whose dedication and commitment has helped mold the JHP program.

USFHA media release


---

The Showdown: Pinner vs Peillat



Pinner vs Peillat

Goals win games. There's no disputing that. Having someone with the ability to score them is the difference between success and failure. With that in mind, the people responsible for keeping them out take on great significance. The finest of margins decide top level hockey matches and a potent goal threat or a good goalkeeper can become your team's hero.

Looking ahead to the Hockey World League Semi-Final in London, an intriguing duel has come to the forefront of our minds, Goalkeeper vs. Goalscorer: Pinner vs Peillat.

Gonzalo Peillat perhaps needs little introduction to hockey fans. The scourge of defences worldwide, the Argentina man netted 11 times in the Olympic Games this summer as Los Leones swept to a glorious gold medal and he himself took the honours as the competition's top scorer. His efforts have seen him nominated for FIH World Player of the Year and he is unsurprisingly marked out as a danger to every team.

Standing in his way is England and Great Britain Super Keeper George Pinner. The No1 stands at 6 foot four and is capable of hair-raising agility and some truly incredible saves. He scooped the Goalkeeper of the Tournament Award at the Hockey Champions Trophy last summer and is relishing the prospect of taking on Peillat: 

"It's Interesting as a 'keeper, you look forward to facing the best guys. It's the relative unknowns who you aren't quite as prepared for. Peillat expects to score every corner and in goal I set high standards. I expect to save everything and I work very hard to make sure that's what I do. This calendar year I've improved that side of the game immensely. Hopefully I can keep it going. It's great to face someone like him in big matches. They're the moments you dream of and you hope you can help your team to win those big games and win the big medals."

So, who will come out on top? Pinner or Peillatt? You can find out live and in person by securing your seats here.

Fixtures have now been announced for the Hockey World League including mouth-watering ties such as Super Sunday's ENG v ARG and PAK v IND.

England Hockey Board Media release


---

Great Britain Women named Team of the Year



Alex Danson and Shona McCallin collect the Team of the Year award

Great Britain's women's Hockey Team added another prize to their bulging trophy cabinet when they were awarded the Team of the Year Award and the 2016 Sunday Times Sportswomen of the Year Awards.

Danny Kerry's team, who won widespread acclaim for their dramatic gold medal triumph at the Olympic Games came out on top in a competitive category which also contained the 4x100m athletics relay squad, Manchester City women FC, Rowers Helen Glover & Heather Stanning and the Team pursuit cycling squad.

It is the second consecutive year hockey has taken the prize with Danny Kerry's England team, the European Champions scooping the award in 2015.

Striker Alex Danson, the tournament's top scorer in Rio collected the award on behalf of the team alongside team mate Shona McCallin. McCallin said it was a "real honour" to receive the award especially given what a "truly special year for British sport" it has been. Danson echoed those sentiments, adding that it makes her "extremely proud to represent the whole squad" at such events.

The Sportswomen of the Year Awards are now in their 29th year, and have led the way in recognising and celebrating the outstanding contribution to sport made by elite athletes, coaches, administrators, community volunteers and inspirational women.

Four-time Olympic gold medallist Laura Kenny was named the 2016 Sunday Times Sportswoman of the Year, whilst the other awards handed out were:

Olympian of the Year: Helen Glover & Heather Stanning (rowing)

Paralympian of the Year: Kadeena Cox (athletics & track cycling)

Young Sportswoman of the Year: Siobhan-Marie O'Connor (swimming)

Helen Rollason Award for Inspiration: Hannah Francis (a teenage eventing rider, who died in August after losing her battle with a rare bone cancer)

Lifetime Achievement Award: Professor Celia Brackenridge (researcher and activist)

Community Award: Kirsty Cameron (founder of Ladies Leisurely Cycles Facebook group)

Congratulations to our golden girls on another prize and of course congratulations to all winners and nominees!

England Hockey Board Media release


---

UK Sport confirms funding levels through to Tokyo 2020




England and Great Britain Hockey have today received notification of our UK Sport funding for the Tokyo 2020 cycle, and we are very pleased that our athletes' achievements in inspiring the nation through Olympic success have been recognised.

Hockey returned home from Rio with the largest number of Olympic gold medallists from any British sport, and our women's gold medal match was voted the people's highlight in our nation's most successful modern Olympics.

We will now support a greater number of athletes in our programme, with 80 full or part time contracts to be awarded (40 women and 40 men), up from 64 in the build-up to the Rio games.

With that victory 112 days ago, our athletes achieved their goal of inspiring the future, and since then they have carried that mantle forward with hundreds of school & club visits and countless media & business appearances to further promote the sport. All of these factors combine to ensure we are utilising the gold medal to create a nation where hockey matters, and deliver against UK Sport's vision of inspiring a nation through Olympic and Paralympic success.

The new funding cycle will enable us to make further strides for both our women and our men and we are clear in our ambition to deliver repeated medal-winning success.

There are separate challenges now for our two squads: for the women, coach Danny Kerry started planning for Tokyo just two days after gold in Rio, and he spoke in the dressing room after the game about the importance of 'winning after winning.' For our men, they had a number of positive tournaments in the four-year cycle but we now need to progress this into regular podium finishes. So with the men taking part in the World League on home soil in London in 2017, and the women's World Cup also in London in 2018, planning is well underway and the challenge begins now.

Chief Executive Sally Munday said, "I would like to thank UK Sport, the National Lottery and the Government for their continued funding of sport in this country and specifically hockey, Rio was a shining example of how the model creates success. For hockey, we are very pleased with the opportunity that our funding affords us, and with 80 athletes on our programme we have a real chance to make a difference, both on the pitch and in terms of visibility for our fantastic sport.

"I have been so proud of our athletes this year, not just with the way our women won gold, but with the way they have harnessed that medal to inspire thousands of people to play and follow hockey. And for our men, they have reflected honestly on their performance in Rio and both we and they are clear what needs to be done to get on the podium in Tokyo.

"I would also like to thank Investec and all of our sponsors, their contribution is vital and this is the perfect time for any new sponsors to come on board at the beginning of a four-year cycle, aligning themselves with a sport that is definitely on the rise."

Performance Director Ed Barney said, "We are pleased with the outcome of today's announcement, and the Tokyo cycle can truly begin in earnest now. We made the application to fund more athletes as it gives us a greater chance of continued success, and it is very pleasing that UK Sport recognised the progress we have made in the last few years and our plans for the Tokyo cycle.

"Our women's team will naturally evolve from Rio, and I am excited about their potential for continued growth. For the men, podium success is paramount and I look forward to making significant strides in this area. We will announce our 80 central athletes in the coming weeks and it is a challenge to all of us to once again inspire the nation through sporting success."

For the full details of the funding announcement, including reaction from UK Sport, visit the UK Sport website.

England Hockey Board Media release


---

GB Hockey awarded increased UK Sport funding following gold medal success

England and Great Britain Hockey insist they are confident they can continue to inspire the next generation of Olympians after seeing their UK Sport funding increase following Team GB's women's gold medal success in Rio this summer.

It was the first time Great Britain's women had ever won an Olympic title, having won bronze four years earlier at London 2012, and remains one of the most memorable moments of the Rio Games.

GB Hockey will now award 80 full or part-time contracts to players (40 women and 40 men) as attentions turn to Tokyo 2020, 16 more than were awarded at the start of the Rio 2016 cycle.

Chief executive Sally Munday said: "I would like to thank UK Sport, the National Lottery and the Government for their continued funding of sport in this country and specifically hockey, Rio was a shining example of how the model creates success.

"For hockey, we are very pleased with the opportunity that our funding affords us, and with 80 athletes on our programme we have a real chance to make a difference, both on the pitch and in terms of visibility for our fantastic sport.

"I have been so proud of our athletes this year, not just with the way our women won gold, but with the way they have harnessed that medal to inspire thousands of people to play and follow hockey.

"And for our men, they have reflected honestly on their performance in Rio and both we and they are clear what needs to be done to get on the podium in Tokyo."

Eurosport