All the news for Thursday 8 December 2016

Will Lucknow prove a happy hunting ground for Los Leones and the Red Caribou?

Sarah Juggins



Photo: Yan Huckendubler

Argentina and Canada will be flying the flag for the Pan America Hockey Federation at the men's Junior World Cup in Lucknow, India, and boy, do Los Leones now have a high standard to live up to!

Following Argentina women's stunning victory at the women's Junior World Cup, pressure is on the men to follow suit. If Argentina men were to win a medal at this competition, it would be the first time since 2005 they have stood on the podium – on that occasion, also a gold medal.

For 12th ranked Canada, anything higher than an eighth place finish would be their best finish at a Junior World Cup. At the last edition, in 2013, Canada finished 16th, and they definitely aspire to a higher finish this time around.

Argentina come to Lucknow as the team ranked second in the world. In their pool they face  Australia, Austria and Korea. Looking at pool A, you would expect Australia and Argentina to progress through to the quarter-finals, but this is a World Cup where anything can happen. Austria are very much an unknown quantity, although in coach Cedric D'Sousa they have a wily campaigner and many of their team has experience of senior hockey, having recently been part of the all conquering Hockey World League Round One squad.

Korea are ranked 11th in the world and, again, they are a team who can cause upsets on their day. Seo Woohyeon and seventeen-year-old goalkeeper Kim Jaehan were both members of the Korea squad that competed in the Hero Hockey Champions Trophy in London earlier this year, an experience which could prove vital.

On paper at least, Australia are the side that could stand between Argentina and a top place finish in the pool. Australia last won this event in 1997 but are among the favourites to lift the trophy this year. The Burras arrive in Lucknow full of confidence following their title success at the recent Sultan of Johor Cup 2016 in Johor Bahru, Malaysia. The champions of Oceania progressed through that event undefeated, with senior internationals Tom Craig and Blake Govers – an Olympian at Rio 2016 – both scoring six times. Josh Beltz is another player with senior international experience, adding extra quality as the team chase their second Junior World Cup title.

Moving the focus to Pool D, Canada's chances of making the top eight are less clear cut. The Red Caribou finished 16th in the 2013 edition of the Junior World Cup and coach, Inderpal Sehmbi, will be aiming for a much higher finish this time around. With their highest ever finish an eighth place in 1982, Canada will be hoping to reflect the upward trend shown by the senior men's team in the past few seasons.

Canada has the distinction of fielding the youngest player in the competition, in the form of 16-year-old Rowan Childs, but there is also experience in the squad as team captain Brandon Pereira, and Balraj Panesar were both part of the squad that contested the 2013 Junior World Cup.

It is certainly conceivable that the Red Caribou could make the top eight. They come to the competition ranked three places higher than South Africa in the world rankings, so would hope to pick up points there, while England men are a team that can blow hot or cold.

It is the host nation India who will pose the biggest challenge, not just to the Pool D members but to other title contenders. A passionate home crowd, highly confident after being crowned champions of Asia, India are one of the favourites for the title. The team is packed full of high quality individuals, including senior internationals Harmanpreet Singh, Mandeep Singh, goalkeeper Vikas Dahiya, captain Harjeet Singh and Ajit Panday. With more than 60 senior international appearances, 21-year-old striker Mandeep is the most experienced player of the squad, having represented his country at numerous major events including the Rabobank Hockey World Cup 2014 and the Hero Hockey Champions Trophy 2016.

For one member of the North American team, Jamie Wallace, the quality that will see the Red Caribou's causing problems to the other team is one that runs through the Canadian psyche, namely "grit".

In an interview with the Vancouver Courier, Wallace outlined the team's values: "Canadian hockey is played a lot like Canadian ice hockey: physical, dogged and direct. We consider ourselves to be a gritty team. We certainly pride ourselves on being one of the hardest-working teams."

"Three core values define their mindset", he added. "Heart is trying to give it our all and not be out-worked. Trust is believing in our teammates, the coaches and the game plan. And, professionalism is making sure we train well, eat well and do everything a professional athlete should be doing. Those are the things our team has been priding ourselves on for the past 16 months."

One player who knows just how much hard work it takes to be a champion is a former star of the Junior World Cup and currently one of the best known and most respected players of his generation, Olympic gold medallist, Gonzalo Peillat.

The Argentinian superstar took a few moments to explain how his experiences at the Junior World Cup helped shape him into the player he is now.

Gonzalo's meteoric rise began in 2012, when he was just 20. Back then, and this was only four years ago, Argentina were ranked ninth in the world and finished 10th at the Olympics. Gonzalo was a bright spot in an otherwise poor showing, but those Games proved to be a catalyst for an Argentine reinvention, which came to its conclusion with a gold medal four years later in Rio.

Once the 2012 Olympics were over, Gonzalo returned to duties with the U21 side in preparation for the 2013 Junior World Cup in New Delhi. He says: "My memories of the Junior World Cup in India are really good and it was a great experience. The team had started training three years before the tournament and it was seriously intense. We trained four times per week. I wasn't always able to be at the training because I was training with the senior team for the Olympics 2012.

"Despite that, when I could train with the juniors, it was always a good quality of training. It was divided up by time spent on the hockey field but also running and gym sessions."

Gonzalo explains that the junior side played a lot of practice games against the Los Leones because the only junior competition really available was the Pan American Cup and the Malaysia Cup, an event held four month prior to the Junior World Cup.

That is one reason he cites for the team's disappointing 11th place finish in Delhi. "I think we acknowledge that we didn't have enough test matches or international games in the build-up to the competition, so we were a team without experience in this kind of tournament."

Gonzalo himself was already an experienced senior player by the time the 2013 Junior World Cup came around. While his debut for the junior team was the 2012 Pan American Cup in Mexico, he had already represented his country in South Africa in 2011 at the Champions Challenge, where Argentina finished fourth. He recalls his first match as a full international was against Japan. Five years later and he has 120 international caps to his name and was top scorer at both the 2014 World Cup, where Argentina won bronze, and at the 2016 Olympics. His tally of 11 goals at Rio included a hat-trick in the semi-finals and one goal in the final.

Looking back to his debut match, Gonzalo says: "I can remember in my first senior match everything was just too fast. My heart rate probably was 200 and I was super excited. I don't think it was a surprise but I was so happy to play against players that I had only watched on the TV or via live streaming. It was a dream for me and it took me a couple of games to adapt to the new system, new team, new opponents and faster games."

For the players lining up for their first match at the Junior World Cup, Gonzalo has this advice: "You will be feeling extremely proud and excited. Listen to the anthem and take it all in, you have worked incredibly hard to be there and you have sacrificed a lot to become an international hockey player."

Pan American Hockey Federaion media release


---

Barstow's journey starts with Junior World Cup



Dan Barstow Umpire

Dan Barstow was a player who collected cards for back chat from an early age. After an umpteenth spell on the naughty step he decided he should give umpiring a go. He did and he has never looked back.

Years after his epiphany Barstow's hard work has paid off and he is off to the Junior World Cup. In between playing hockey, coaching Wakefield ladies and being a primary school teacher he has been selected to start on the road to Tokyo 2020. He shared his umpiring journey with us.

"I decided at the end of last year that I could no longer continue to play hockey as there just wasn't enough time to coach Wakefield in the Investec Women's North Conference and concentrate on my umpiring. Ultimately something had to give. Thankfully I have a really supportive employers and Wakefield HC has an excellent set up so there are always people willing to help here and there when things are difficult." he adds "I have always been involved in hockey ever since I was a small tot so Saturdays, Sundays and week nights have been a common booking in my calendar during the season. Thankfully I also have a very understanding wife who expects not to see me much between September and April."

Barstow first started umpiring aged ten. He admits that he was never a "model player" and regularly could be found shouting at umpires telling them what to do. Having decided to put or shut up he progressed quickly into the England Young Umpire programme and then in to the national league set up.

"Along the way I have had countless support both from the Young Umpire programme and the NPUA. Umpiring is full of highs and lows. Although it is a team goal amongst the umpires to achieve the best for the players you also have your own personal goals. When a team fails you can all rally round and support each other but in umpiring it can get quite lonely. Thankfully the support of NPUA has been immense and there are a large number of people always there with advice and support for you."

Barstow is very excited to be back umpiring internationally. His last big tournament and career highlight was the Glasgow Commonwealth Games where he umpired the final.

"The Junior World Cup is a fantastic opportunity for me. Having missed out over the last two years because of work commitments and a range of injuries my progression has slowed slightly. However the Junior World Cup gives me a fantastic opportunity to get back in the mix and move forward again towards Tokyo. I have a very clear aim and focus for the next four years and this is just the start of the journey."

"It'll be very different to the Commonwealth Games. I will be going as one of the more experienced umpires. In Glasgow we had three Olympic and World Cup Umpires so there were a range of people to turn to with advice and support. That will be part of my role in India." 

"There is the different climate and environment in India. It is always a challenge to keep yourself healthy and cope with the cultural differences. Finally U21 tournaments can be very different to senior internationals. The standard is very high but there is still an element of unpredictability about it. Young teams aren't always drilled to the same patterns as full senior internationals which can make it hard to read the game at times."

We want to wish Dan the best of luck for the Junior World Cup which begins on December 8th in Lucknow.

England Hockey Board Media release


---

India eyeing to break 15-year jinx at Junior Hockey World Cup

Canada first-up for India.

A formidable Indian team will be aiming to end their title drought spanning over a decade and half when they take on minnows Canada in their opening group league fixture in the 11th FIH Junior Hockey World Cup, starting on Thursday.

The last time when India won the junior world championship was back in 2001 in Hobart, Australia. It was a side that boasted of quality players like Gagan Ajit Singh, Deepak Thakur, Yugraj Singh, Prabhjot Singh, all of whom went onto represent the senior national team with distinction.

German coach Valentin Altenburg has already declared India to be one of the top contenders for the title. This is the second time that India are hosting the men's junior World Cup in hockey, and also the second successive time it is being held in India.

New Delhi hosted the last edition in 2013, where Germany claimed their sixth title beating France 5-2 in the final. A total of 16 teams have been put into four groups of four teams each. India are placed in Pool D alongside Canada, England and South Africa.

Should the home team finish in the top two of the group stages, which they are expected to, they will have to face one of the top two teams from Pool C, which comprises defending champions Germany, New Zealand and Spain. Besides the title triumph in 2001, India's other notable result in the Junior World Cup is a runners-up finish in the 1997 edition of the event in Milton Keynes in the United Kingdom. It was a tournament that featured one of India's then most promising junior Rajiv Mishra, a man whom the hockey fraternity lost due to recurring injuries.

But this time around India are fielding one of the strongest teams in the event which features full internationals like captain Harjeet Singh, striker Mandeep Singh, defender and dragflicker Harmanpreet Singh and goalkeeper Vikas Dahiya. The Harendra Singh-coached side is also approaching the World Cup on the back of a strong performance in a four-nation invitational tournament in Valencia in October, where they defeated a strong field comprising Germany, Belgium and hosts Spain to emerge victorious.

Defender and drag-flick specialist Varun Kumar and promising striker Armaan Qureishi were in good scoring form for India, with both chipping in with goals in the 5-2 win over Germany in the title clash. India are also regarded as one of the most experienced and balanced team in the World Cup with most of the players having plied their trade with the best of world hockey in the last three editions of the Hockey India League.

DNA


---

Showtime: India take on Canada

We cannot afford to take any team lightly, especially in our first game, says coach Harendra

Indervir Grewal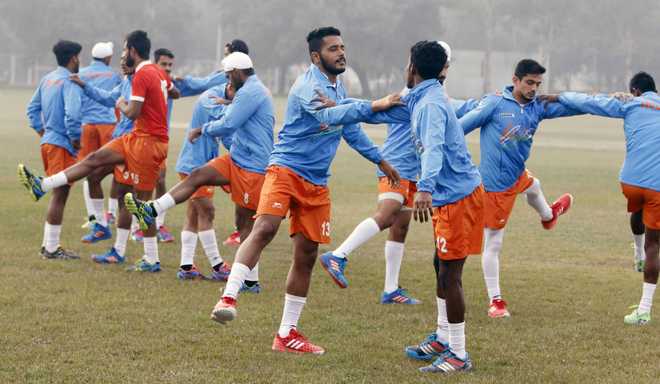 India colts train ahead of their World Cup opener against Canada, at Lucknow on Wednesday. Tribune photo

Lucknow: As Roelant Oltmans gestured to Harjeet Singh to take the centre seat in a row of three chairs, the junior India skipper looked around shyly before offering the seat to coach Harendra Singh.

"You take it, you are the dulha (groom), we are just the baraatis (wedding guests)," Harendra joked.

As the media interaction started, the first question was asked to Oltmans — "You have been here for two weeks, how have you been preparing, what have you been doing?"

"We have been busy sightseeing," said Oltmans, getting the desired result as the room filled with laughter.

Harendra repeated his groom reference for the media's benefit. "The mood in the team is very relaxed. There is no tension on any player's face. In my career, I have not seen this kind of environment before such a big event," Harendra added. "The chemistry of this team is something that I am proud of."

Half-an-hour later, Harendra's statement was justified as the Indian team entered the arena for its final practice session before its opener against Canada tomorrow, joking around and laughing it out. Senior team captain PR Sreejesh lightened the mood further with his usual tomfoolery.

Serious talk

Not all was fun and games though. Oltmans, within seconds of that sightseeing comment, got serious. "The boys have been training hard. I personally feel that we couldn't have been better-prepared for the challenge. The excitement level is high," he said.

Then, a few questions later, the Dutchman, who is with the junior team as the manager, almost lost his cool.

Oltmans, who renewed his contract as the senior team coach yesterday, got a couple of questions about the importance of this tournament in the context of the senior team and the 2020 Olympics. "Now, that doesn't matter, let's stay in the moment," he insisted.

"I don't want these players to start trying to impress me with individual tricks. I want to see a team, so let's talk about the present," he said.

One step at a time

But when a journalist asked Oltmans about his target of winning the World Cup, the Dutchman cut him off, saying: "I didn't say my target was winning the World Cup." Everyone laughed again, but Oltmans wasn't amused. "No, let's get serious. Everybody in the country is talking about winning the World Cup. That's not right," he said. "We are only focused on tomorrow's game."

Harendra added: "We are taking it one step at a time and the first step is always the hardest." Canada are not considered among the strong teams but they have a habit of troubling India, if not managing an upset. At the previous edition, India were made to fight hard, making a comeback from being a goal down to beat Canada 3-2 in their pool game.

"We are not scared of India. My players will play with a lot of heart," said Canada's coach Indy Sehmbi.

Big words, though Harendra knows that Canada can hurt his team. "We can't afford to take any team lightly, especially in our first game," said Harendra.

Fog worries

With the tournament starting tomorrow, fog is getting a bit serious for the organisers. As has been the case for the last few days, Wednesday also saw fog settling over the stadium at dusk. Today, though, the fog got too dense too early. About 10 minutes after the last practice match of the day, between the Netherlands and Korea, finished, the visibility level got so bad that parts of the turf couldn't be seen from the stands. It is a cause of concern as India play Canada around the same time tomorrow. Though no official word came from the organisers, there is a word around that they are thinking about the possibility of shifting some of the matches to the other stadium, which is in the city.

Sreejesh in the house

From the senior men's team, captain PR Sreejesh has been the most visible in showing his support for the junior team, be it interviews to various newspapers or video messages on Hockey India's Twitter handle. That was expected of Sreejesh, who has recently come to be known as a leader.

But none of the mediapersons at the stadium, waiting for the Indian junior team to arrive, had ever imagined seeing Sreejesh in the Indian contingent. In fact, Sreejesh has joined the coaching staff unofficially and was seen helping in the training drills for the goalkeepers. Talk about walking the talk!

But not before treating everyone to some of his characteristic antics. After the official photos of the World Cup trophy, he stole it from the organisers, got the juniors to huddle around him, and gave an impromptu motivational speech. Then, he hijacked a photographer's camera and started taking pictures of coach Harendra Singh, who gladly played the model.

Bumpy at D-top

In modern hockey, penalty corners are unarguably the most lethal weapon in every team's armoury. So, it's not unusual to see all the teams spending extra time practising their penalty corner drills, and the drag-flickers have been the busiest. However, most teams are finding it a bit hard to stop the ball as the turf is a bit bumpy at the top of the circle on one side. Many players were seen getting increasingly frustrated. After many failed attempts to stop the ball, the Argentine players came up with a simple solution — holding the stick upright. However, not leaving any room for any adjustment if the push is off the mark, the solution seems only temporary. It will be interesting to see if the bumpy patch plays a significant part during the matches.

The Tribune


---

India Colts set to hit the ground running

Asheem Mukerji

LUCKNOW: Six-time champions Germany will be the favourites, while India will bank on home support in the 10-day Junior World Cup Men's Hockey that begins at the Major Dhyan Chand stadium here from Wednesday.

Discipline and consistency were the hallmark of the German team's domination in preview editions. They won the last two - in New Delhi and Johar Bahru (Malaysia) - and will be in search of their third consecutive title here. Though players keep rotating in age-group tournaments as they cross the age-limit, making it difficult for the coaches to create a nucleus, the Germans have been able to find players who have delivered the goods.

This time they have three players - Tim Herzbruch, skipper Constantin Staib and Lukas Windfeder - who are part of their senior team. Herzbruch, a member of the bronze-winning German side at the Rio Olympics, is a dangerous striker who can rattle the best of defences. Providing them support with his ideas will be Valentin Altenburg, the man who coached the senior side in Rio.

Clubbed in a somewhat easy Pool C along with Spain, New Zealand and Japan, the defending champions are expected to make the quarterfinals easily. They will be joined there by two teams from Pool D, which consists of India, England, Canada and South Africa. The Indians would have to top their pool in order to avoid a likely showdown with the Germans in the quarterfinals. The home side has the experience and confidence to do so. More so, after winning the Junior Asia Cup.

The Harendra Singh-coached side have the ever-dependable Mandeep Singh in the forward line. Mandeep, who has 60 appearances for the senior side, is known for his goal scoring abilities. Three other players - highly effective drag-flicker and defender Harmanpreet Singh, hard-working captain Harjeet Singh and goalkeeper Vikas Dahiya - have also done duty for India seniors regularly.

Thursday's matches (Live on Star Sports): NZ vs Japan (11.30 am); Germany vs Span (1.30 pm); England vs South Africa (3.30 pm); India vs Canada (7 pm)

TEAMS TO WATCH OUT FOR

GERMANY

Six-time champions Germany will start the formbook favourites and come into the contest with a power-packed team. Coached by senior side coach Valentin Altenburg, the defending champions have their ammunition in place with a number of senior team players in the line-up.

INDIA

This is the best shot at the podium for the hosts in a long time. Brimming with talent and home advantage, Harjeet Singh and his band of talented youngsters are seen as potential semifinalists. Four players in the squad - Vikas Dahiya, Harmanpreet Singh, Mandeep Singh and Harjeet - have been a part of the senior team and carry that experience and exposure.

AUSTRALIA

The reigning Sultan Johor Cup champions last won the event in 1997 and will be eager to reclaim the title. They too come in with players like Tom Craig and prolific scorer Blake Govers.

The Times of India


---

India colts want to be kings in City of Nawabs

Junior World Cup will provide proper assessment of the next generation and whether they have the ability to challenge the current lot.

by Mihir Vasavda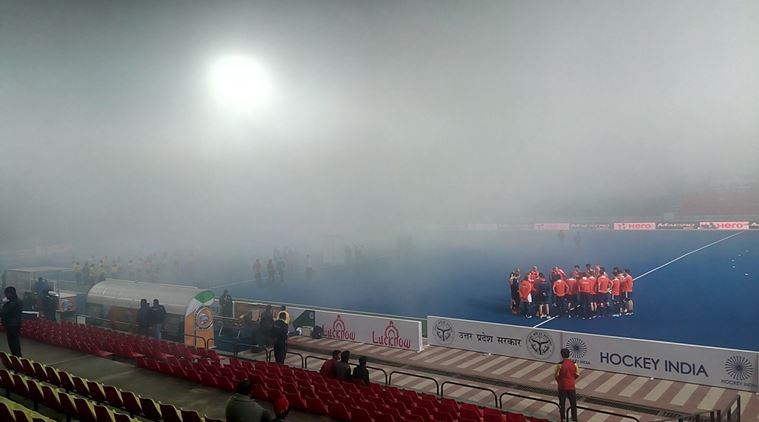 Lucknow: With matches, on some days, scheduled at 10am and 8pm, fog is a genuine concern (India play every match under lights). (Source: Express Photo) With matches, on some days, scheduled at 10am and 8pm, fog is a genuine concern (India play every match under lights). (Source: Express Photo)

At 7.40pm on Wednesday, the Dhyan Chand Stadium disappeared in thick mist. Minutes before, South Korea and Holland had finished a practice match in very poor visibility. By the time they began their post-match cool-down drills, the fog became so dense that the players could barely see each other on the field.

Fog has been an unwelcome guest every evening here for the last one week. So much so that visibility, or the lack of it, has pushed everything else surrounding the junior World Cup into the background. With matches, on some days, scheduled at 10am and 8pm, fog is a genuine concern (India play every match under lights). And the International Hockey Federation (FIH) is already putting a contingency plan in place and has kept the possibility of rescheduling the matches open.

It'll be a shame if poor visibility does affect play. For if the fog lifts, we will get to see if the future of Indian hockey seems as promising as the present. The last 18 months have been the most stable for Indian hockey in a long time. Under master tactician Roelant Oltmans, the spunk has returned and they have occasionally played with flair that had earlier gone missing. As the team enters a new Olympic cycle, a few changes in the playing group will be inevitable.

Oltmans, who signed an extension till the 2020 Olympics earlier this week, has already said there will be a new core group of players when the team reassembles in March after the Hockey India League. The next 12 days will provide proper assessment of the next generation of players and whether they have the ability to challenge the current lot for a place in the senior national team.

The previous junior World Cup, in 2013, saw the emergence of Manpreet Singh. He had already established himself in the senior team but the World Cup further enhanced his reputation and by the time the Rio Olympics came around, he had displaced Sardar Singh as the centre-half – perhaps the most important position on the field.

Focus on skipper

This time, the focus will be on captain Harjeet Singh, who also plays as a centre-half. Sardar's position in the senior team has come under increasing pressure. Some believe he is slowing down the pace of then attacks of the team that thrives on quick counters. Some have even suggested he made it to the Rio squad based largely on reputation. And even if he manages to cling on to his place for now, by the time the 2018 World Cup or the Tokyo Games take place, Sardar knows his place in the team will no longer be a certainty.

The 20-year-old Harjeet will hope to put further pressure on India's best player of the last decade. Harjeet, incidentally, has modelled his game on Sardar and Manpreet. In the few junior tournaments he has played, Harjeet has shown that he is crafty like them, creating moves and distributing balls to the forwards with amazing precision. The midfielder has already made his senior team debut at the Azlan Shah Cup earlier this year. And as a centre-half, he gave a decent account of himself.

Sardar's isn't the only position up for grabs. VR Raghunath and Rupinder Pal Singh, too, will be watching over their shoulders. Harmanpreet Singh, who has been shortlisted for the FIH's Rising Star of the Year award, is already pushing them. The 20-year-old has been among the highest goal scorers at almost every junior tournament India has played in the last two years. It earned him a promotion to the senior team, where he has done enough to give Oltmans a selection headache.

In several tournaments this year, the Dutchman has been forced to juggle between the two veteran drag-flickers while Harmanpreet has been a constant. At the Olympics, all three were a part of the squad. But that was possible largely because India took just one goalkeeper to Rio, giving Oltmans the luxury of an extra outfield player. Which brings us to the third, and most crucial, position – the goalkeeper.

For almost two years, India, at times, have depended solely on PR Sreejesh to bail them out of tough situations. Sreejesh has joined the junior team as a mentor and oversaw the training session on Wednesday. Perhaps, he too is keen to find his successor. Oltmans and his two predecessors Terry Walsh and Paul van Ass have tried numerous options in goal but every time they've been reminded of the huge void.

Akash Chikte showed some promise during the Asian Champions Trophy but a good performance by Vikas Dahiya or Krishan Bahadur Pathak would put them firmly in contention as the back-up goalkeeper.

Up front, Mandeep Singh – a veteran now in the junior ranks – will get another opportunity to live up to the promise he had shown two years ago. One gets the feeling that this is Mandeep's last chance to show his worth.

For that to happen, though, he'll hope the mist will lift on Lucknow, and play takes place unhindered.

Eye on the future

The junior hockey World Cup will provide a peek into whether the next generation of players can challenge the established players. A few players who might stake a claim for a place in the national team.

Golden chance for Dahiya, Pathak

India has still not found a suitable replacement for PR Sreejesh, who has almost singlehandedly held fort in the last two years. While Akash Chikte showed some promise at the Asian Champions Trophy, a good performance by Vikas Dahiya or Krishan Bahadur Pathak could put them in contention to be Sreejesh's back-up.

Overtaking his idol

Harjeet Singh grew up admiring Sardar Singh and has based his game on the former India captain and Manpreet Singh. Like them, Harjeet too is a centre half and is adept at creating chances for the forwards. Sardar, meanwhile, has been under pressure to justify his place in the team. An impressive performance by the junior India captain will further put Sardar in a spot of bother.

Three-way battle

Harmanpreet Singh's emergence as a sturdy defender and an effective drag-flicker has directly impacted the positions of VR Raghunath and Rupinderpal Singh. Roelant Oltmans has shuffled between the two experienced players while giving Harmanpreet opportunities in the senior team. Another strong performance with the junior team by Harmanpreet will only strengthen his case for a senior team spot while jeopardizing Raghunath and Rupinder's.

16 Number of teams taking part in the junior World Cup.

6 Number of junior World Cups Germany has won out of the 12 editions of the tournament. They are eyeing a hat-trick of titles in Lucknow.

Indian Express


---

My players will showcase their best hockey, says Harendra

LUCKNOW: Hosts India are rated as strong title contenders in the Junior Hockey World Cup starting on Thursday, but the team's head coach Harendra Singh is no mood to think so far ahead and has only guaranteed that his 18-member squad will showcase their best hockey.

Harendra said his side was focused on taking the first step correctly, to come out on top of Canada on Thursday in the tournament opener.

"I have told the boys a very important mantra that a mountaineer never aims at the summit, he or she only concentrates on every single step. If he keeps on looking at the summit from the word go he will never succeed in climbing it," he said on the eve of India's opening match.

"We are approaching one match at a time. But I can guarantee all that I won't let anyone leave the tournament disappointed. I can guarantee you one thing that these 18 boys will show their best hockey to you and the world," said Harendra who took over the reigns of the Indian colts in 2014.

The coach warned his wards against doing "special" things in any match and asked them to concentrate on implementing their game plan.

"From my experience I have learnt that we try to do many special things against all teams. But this is not possible in modern hockey. You just need to do your own things. We must ensure that whatever we have learnt in the training should be implemented in match situations. If we try new things it won't work," said Harendra.

"I have told the boys to keep in mind just whatever we have learnt in the last 2 years and 8 months and focus on that.

"Second thing I told them is that they should always remember why they started hockey, then only they can play normal hockey," he added.

Regarded as a hard task master, Harendra said for him what's important was discipline and professionalism.

He said before stepping onto the turf, every player should remember about the tricolour and their reasons behind picking up hockey sticks.

"What I believe is that Harendra Singh is a tough nut to crack. Whatever I am today is because of two things, one is discipline and professionalism. For me the tricolour is the tallest and most important and you have to play for that. Keeping that in mind I only can show you the right path.

"My simple logic is either it is my way or take the highway. But I can proudly say that the boys have realised the thing and the results in the last two years only proves that point," he said.

Well aware of the expectations from the home team, Harendra advised his boys to play normal hockey and said the results will automatically follow.

"Never play under pressure, play normal hockey and try to enjoy, results will automatically come. I don't think there is any pressure on us. We are approaching match by match and now the most important match of the tournament for us is tomorrow's game against Canada. First step is always the difficult one," the coach said.

"We are aware of the expectations and from the first day I have told the boys that they will have to come good at the expectations of 125 crore people. But having said that we are now not thinking about the Mount Everest, we are taking one match at a time," Harendra added.

India senior men's team head coach Roelant Oltmans, who is also a part of the coaching staff of the junior side during the World Cup, agreed with Harendra and said the focus now should only be on the job at hand and not think about anything else.

"The team has been preparing very hard. They know all the expectations and we like to take the challenge. From my point of view the team could not have prepared themselves better than what they have done," said the legendary Dutchman, whose contract with the senior side has been extended till 2020 Tokyo Olympics.

"For us the most important thing during a tournament is to find the right balance and stay focused. These guys have the experience and know when to get the focus back. There is plenty of outside expectations and that will be there but we take the challenge. We love what we are doing. We know how to execute our game plans.

"To be honest here it's about performance of the Under-21 boys and that is the only thing that matters. Of course they all know if they play well it will increase their chances in the future but at the moment the only thing which the boys want to do is show their qualities which they have shown in the last couple of tournaments," Oltmans said.

India colts captain Harjeet Singh, who has the experience of playing in the senior side, said the time has come for them to accomplish their mission which was set in 2014.

"We are very excited. When we started as a group in 2014, coach sir (Harendra) told us that we have a mission and we have been working towards that. We have been practising hard, putting in efforts and now it's time for us to prove ourselves," he said.

"When coach sir started with us he told us only to think about what is in our hands and not think about other things. The entire team has the same thinking," he said.

The Times of India


---

Junior goalkeepers look to motivator Sreejesh for tips

LUCKNOW: Regarded as one of the best hockey custodians in the world, PR Sreejesh will take charge as goalkeeping mentor of the India Under-21 side from Thursday as the home team begins its quest for the Junior World Cup title after a prolonged 15-year wait.

Captain of the senior national men's team, Sreejesh will take charge of the role from South African Dave Staniforth, who was roped in by Hockey India to work with the junior goalkeepers for a short three-week period keeping in mind the World Cup. Staniforth is set to leave for his home nation on Thursday.

Sreejesh's presence with the side could not have come at a better time for Under-21 goalkeepers - Vikas Dahiya and Krishan B Pathak -- as the Kerala custodian is known for his sound technical knowledge and is also considered a great motivator in and out of the field.

"I have worked with the junior goalkeepers in Bangalore camp for sometime before going for a break. Dave (Staniforth) has been training the goalkeepers for the last 3 weeks. But from tomorrow onwards I will be in charge of the goalkeeping aspect," Sreejesh said.

India junior team head coach Harendra Singh said Sreejesh's involvement will not only be of immense help to the goalkeepers but to the entire squad as well.

"Sree is currently one of the finest goalkeepers in the world. He is also a great motivator and fun loving guy. So his presence will be of great help," the coach said.

India colts No.1 goalkeeper Vikas Dahiya too feels the same.

"Sree bhai is a great goalkeeper and I have worked with him in the past as well. He is a fantastic jovial person to be with around. He always motivates and inspires everyone to bring out their best on the field," said Dahiya who is also a part of the senior side now.

India are rated as one of the favourites to lift the Junior World Cup to be held here from December 8 to 18. India last won the trophy way back in 2001 in Hobart.

India colts will open their campaign against Canada in a Pool D match on Thursday.

The Times of India


---

Dense fog engulfs hockey venue, serious worry for FIH

A thick fog cover over Major Dhyan Chand Stadium in Lucknow. (PTI Photo)A thick fog cover over Major Dhyan Chand Stadium in Lucknow. (PTI Photo)
LUCKNOW: Adverse weather conditions in North India this time of the year was always a concern after Lucknow was named host city of 2016 World Cup, and the FIH now seems to be in for a tough time as visibility at the venue dropped considerably just a day before the start of the 16-team event on Wednesday.

Dense fog engulfed the Major Dhyan Chand Astroturf Stadium, situated at the outskirts of the city, forcing the Malaysian team to delay their practice session by half an hour.

Such was the weather condition that the stadium was completely invisible for some time due to dense fog which cleared up to some extent later on but appeared again, forcing the Malaysian team to cut short their training session.

With many matches scheduled for 7 pm and 8 pm start, including the title clash on December 18, the International Hockey Federation (FIH) is now thinking about back up plans, which includes changing the timing of the matches and even shifting a few games to the other hockey ground in the middle of the city at Gomti Nagar, which has been earmarked for practice of teams.

"It was unbelievable today. Fog is turning out to be a serious issue especially for the late matches. The FIH is concerned about the weather condition but it is not in our hands. We are trying to work out a contingency plan in case of such adverse weather," an FIH official said on condition of anonymity.

India senior side chief coach Roelant Oltmans, who is a part of the coaching staff of the Indian junior team here, too is concerned about weather conditions but said they cannot lose sleep thinking over it.

"A few things are not in our hands and one of these is weather conditions. We have to cope according to situations. We played a practice game two days ago where it was a bit foggy but still good enough to see everything.

"We are not worried about that, we are just focused on executing our job properly and if there is any outside influence we will have to handle it accordingly," Oltmans said.

Germany coach Valentin Altenberg said it would be a risk to play in such adverse weather conditions and the FIH will need to work out an alternate solution.

"If it (fog) gets thicker then we have a problem. Not only for the players, but also for the umpires, the TV umpire and also for those who will be watching it. So if we reach a point where it could get dangerous, then we need to look at alternatives," he said.

India play their tournament opener against Canada on Thursday in the last game of the day, the scheduled start of the match being 7 pm.

The Times of India


---

Junior World Cup History Part I: Germany Pak dominate

K. Arumugam

Germany and Pakistan dominated what one can categorize the first phase history of 4-decade old Junior World Cup before India and Argentina came with vengeance to change the course to present power equation.

Paul Lissek, who nowadays is mentor of Chinese men's team, is the most successful coach,and how is the narrative here.

French Hockey Federation, which donated winner's trophy, has been given the task of organizing first Junior World Cup, which came to the FIH calendar after it successfully hosted four editions of Senior World Cup.

Junior World Cup, this way, is eight years younger to World Cup proper, but it created enough buzz in the world hockey and helped hockey regenerated at base level. undefined

First edition, held for the winner's take away of Rojer Danet Trophy, named after the former president of Racing Club de France, the venue of the first Junior World Cup finals, was a hit.

Five teams from Europe, two from Asia-Ocenia, two from Pan America and a solitary representation from Africa, took part. The matches were played on three grass grounds in Varsailles, near to Paris.

Singapore, Malaysia, India and Pakistan made it to the maiden event, as Australia , which would make it the finals in the next edition, withdrew.

On 2nd September, Pakistan led by Manzoor Hussein annexed the first Junior World Cup, defeating Germany (which overwhelmed Holland 3-1 in the semis) 2-0.

Pakistan struck a goal in each half, and withstood a stoke from German for their hour of joy. The mere fact that the Pak forwards struck their first goal in sixth seconds of bulley off is proof how dominating they were in the final.

Malaysia, which surprised everyone before reaching the semis in Paris, came forward to host the next edition in Kuala Lumpur.

Belgium withdrew in the last minute, leaving Pool A a team less.

With wins over Spain, New Zealand and drawing formidable Pakistan 2-2, Malaysia again was in the semis only to fall 2-4 before determined Germany. And then Pakistan gave went to its semi-final defeat to Australia, heaping ten unanswered goals on the hosts to win bronze.

Qasim Zia, who later became the president of the Pakistan Hockey Federation, led Pakistan to defend the title, but the script went awry.



Paul Lissek

Germany, trained by Paul Lissek, proved too strong for Australia on August 28th in Ipoh. Germany clinched first of its many Jr crown in the Asian hotbed.

After Europe and Asia, like the senior edition, its now the turn of Pan America to host the third edition.

Germany again proved nemesis for Pak, but now in the semis. Shahid Ali Khan's Pakistan, whose seniors won the LA Olympic Gold, stumbled before the Paul Lissek's boys (2-4).

Germany won its second Junior crown at Vancouver.

Fourth edition returned to Asia, now to the home state of Sultan Azlan Shah, Ipoh. Just a remake of Kuala Lumpur edition, its Germany and Australia final on 19th August.

When the world cup returned to Europe, now to Spain, the question that lurked in everybody's mind was whether Germany's gold run could be stopped.

It was not to be. Germany won its fourth consecutive Junior World Cup in Terrassa in September 1993. Pakistan by then regained its strength and got past the semifinal hurdle, a goal separating it from losers Holland in seven.

After Terrassa, the power equation changed. India, which missed previous two numbers losing out in the Junior Asia Cup (qualifying event for JR WC), came with a vengeance. With a phoenix like rise Argentina added further spice.

Thereafter new names, new nations took centre-stage and will form part II.

Stick2Hockey.com


---

Applications open for Black Sticks Men's coach




Applications are now open to join Hockey New Zealand as head coach of the Black Sticks Men.

The role is responsible for leading the performance of the National Men's team, the Black Sticks, to succeed in international competition around the world.

Key aspects of the role

- To be responsible for the selection, preparation, development, coaching and performance of the New Zealand team and National senior squad in international competition.

- To be responsible for the continuing development of a high performance culture within the men's programme.

- To contribute to the leadership and longer term development of the HP programme including but not limited to High Performance coach development, talent identification and elite player development and player and coach succession processes.

- In conjunction with key HP staff, develop, implement and communicate a national and Olympic four year plan.

To apply for this role, please email a CV and comprehensive covering letter to Terry Evans, High Performance Director at This email address is being protected from spambots. You need JavaScript enabled to view it. by 5pm Monday 9th January 2017.

CLICK HERE for the full job description

Hockey New Zealand Media release


---

Mannheimer sign up Becher for four-years as coach




Matthias Becher has signed a four-year contract as head coach of Mannheimer's men's section with the aim of developing them into being annual challengers for the German national title while also developing a co-ordinated player pathway from the youth section to the adult team.

Born in Mannheim, the 29-year-old completed a master's degree in Sports Management and came to the MHC in 2009. He was responsible for the female junior team before he joined forces with Michael McCann working with the men's team in his third season at the club.

Becher has worked extensively with the German Hockey Federation in a variety of coaching roles. Among other things, he helped win the Under-21 World Cup in 2013 in India.

This year, he was part of the coaching team which won the indoor European Championships with the men's team and the bronze medal at the Olympic Games in Rio.

He is currently with the German men's Under-21 team in Lucknow, India for the men's Junior World Cup in his last role with the DHB before devoting himself completely, from January 2017, to his projects with Mannheimer.

"I have found an environment at Mannheimer HC that inspires me to use my past experiences with national teams, club hockey and my studies to further the development of the club with a passion," Becher said of the new challenge.

He lists his three core areas of focus as: "the development of the Bundesliga men's team from a Final Four candidate to be a German champion team; a more intensive co-ordination of the male youth department; along with the co-operation of a unique coaching team."

"Matthias stands for the future of MHC. He was our dream candidate for this job. We are proud that he has decided to join us at MHC despite having other interesting offers," said Peter Lemmen, sporting director of the MHC, of their new appointment.

Euro Hockey League media release


---

Neelam, another hockey gem from Rourkela

Sudheendra Tripathi

MUMBAI: True, it may be known as the hockey capital of India, but almost all among the several hockey players Rourkela has produced have a story behind their success. A story of suffering... a story of hardships and poverty... a story of grit and determination. South Central Railway, Secunderabad, (SCR) defender Sanjeep Xess Neelam's story is written along such lines.

Born into a family of peasants, Neelam, an aspiring exponent of the drag flick, scored two goals in the final of the 51st edition of the Bombay Gold Cup hockey tournament against Punjab National Bank at the Mumbai Hockey Association Limited-Mahindra Stadium on Wednesday. His effort was instrumental in the Secunderabad side clinching the final 4-2 and subsequently walking home richer with a purse of Rs 3 lakh along with the glittering Bombay Gold Cup trophy.

Hockey is so popular in Rourkela that it is a given for youngsters to pick up a stick at a very young age. Neelam was no different. Of course, he could still afford an occasional game of football, but hockey stuck with him. After learning the nuances of the game, he came in touch with some quality coaches and some seniors like fellow former India defender Birendra Lakra. In 2010, he started taking serious strides and it was not long before he began to get noticed. With the help of those coaches and Lakra, he started developing his game and was picked by the Sports Hostel.

At the Sports Hostel, he found a platform that would pitchfork him in to the national scheme of things. Soon, he got a national call-up to the sub-junior camp. His staunch defending abilities earned him an India cap and before he could realise it, he was handed the reins of the team in a tournament recently held in Dhaka, Bangladesh. But despite getting offers from reputed clubs in India, he could not play for them because the Sports Hostel rule doesn't permit its students to play for outside clubs on a stipend. But because of the possibility of Neelam landing a job with SCR, the officials gave him special permission to play in Mumbai.

"This is for the first time I am playing in an all-India tournament for a different team. The officials and coaches at the Sports Hostel were kind to grant me permission to play here. Hopefully I will do well in the future," the 18-year-old said.

The Times of India


---

Hockey Australia signs 5 year deal with ONTHEGO Sports

Innovation led sports apparel brand

Holly MacNeil




(Melbourne Victoria) - Hockey Australia today announce a 5 year deal with a new apparel partner for both national teams – the Kookaburras and the Hockeyroos, and Indoor, Officials, Staff and Masters categories. For the first time in recent years, both men and women will unite with the one apparel partner.

ONTHEGO® Sports is a fast-growing apparel brand, leading the way in innovation and technology in customised apparel and accessories, with a mission to empower the world through team wear by using business as a force for good.

The Canberra-based company was founded by Mick Spencer in 2012 with a vision to disrupt the traditional apparel market by building a supply chain capability that enables teams to create customised apparel through an easy design your own process. Starting by meeting the needs of local teams from Spencer's garage, ONTHEGO® has quickly grown into a brand making waves through the industry.

Spencer met with Hockey Australia Chief Executive Cam Vale early in 2016 and their shared vision for social inclusion through sport, and driving Hockey forward in Australia, lead to discussions on joining forces.

Now, for the first time in a long time, Australia's national hockey teams the Kookaburras and the Hockeyroos will be united under the same apparel partner, on and off the field. The teams have had input into the design of the new kit, and are looking forward to representing Australia in an exciting new uniform.

This unified front shows how passionate both ONTHEGO® and Hockey Australia are in respect to engaging the athletes, understanding how important an innovative and functional uniform and playing kit is to performance and competition.

Hockey Australia chief executive Cam Vale said: "We are thrilled to be partnering with ONTHEGO® Sports, and I can speak on behalf of our organisation when I say they are very much looking forward to wearing the new kit that they have played a part in creating.

"ONTHEGO® share a number of the same values as Hockey Australia, and we look forward to a mutually beneficial partnership where we will look to grow the sport from a grass roots level."

ONTHEGO® Founder and CEO Mick Spencer said: "We are extremely excited about this relationship; it will be more than just a partnership. We have an arena to further our Research and Development in high performance product, work with athletes on providing the gear how they want it, and offer a true solution for Hockey Australia and associated teams."

The partnership between ONTHEGO® and Hockey Australia will be effective as of January 2017, with the initial contract for 5 years.

About ONTHEGO® Sports
Founded in 2012, in Canberra, Australia, ONTHEGO® Sports vision is to empower the world through team wear. By employing fabric and customisation technology customers can design their own sportswear beyond what they ever thought was possible, through their proprietary online system.

The ONTHEGO® brand has grown from a garage idea to a company leading the way in bespoke manufacturing of highly technical apparel and accessories.

ONTHEGO® works with teams, clubs, groups and athletes aspiring to give every person the opportunity to live an active and healthy life through their own unique pursuits.

Hockey Australia media release


---

Notts Sport renew partnership



Notts Sport HockeyFest

Leading synthetic surfacing supplier Notts Sport will continue its ongoing support for hockey by extending its successful relationship with England Hockey as the organisation's Official Facilities Partner.

The renewed partnership, which will run until 2021, means Notts  Sport continue their fantastic work in collaboration with England Hockey, ensuring that clubs, schools and local authorities can deliver the best new and refurbished hockey facilities to help grow the game in communities up and down the country.

The announcement comes four years after Notts Sport began working with England Hockey, offering Facility Design, Advice & Supply. The extension of the partnership provides an emphatic endorsement of the quality of service the company provides.

As well as the renewal of the Official Facilities Partnership, England Hockey and Notts Sport are also proud to announce their continuation as Official HockeyFest Partner. With Notts Sport's help and the uplift in exposure hockey has received following the Olympics campaign, the 2016 HockeyFest initiative was successful in inspiring young and old alike to pick up a stick. Notts Sport has supported this fantastic nationwide event, which runs annually, to grow participation levels at hockey clubs around the country. In the extended partnership, the company will carry on working alongside England Hockey to encourage people to give the sport a try whilst enhancing the relationship between clubs and their communities.

Not only will Notts Sport continue with both these partnerships, the company has also announced that it is extending its investment within hockey. From the 2017, Notts Sport is proud to become Title Partner of the Schools Championships for Boys and the England Hockey Schools Conference. This will help to extend the reach of hockey even further giving more opportunities for children to play and be involved in hockey.

England Hockey Commercial Director Jon Cockcroft "We are delighted to have extended our partnership with Notts Sport through to 2021.  The market-leading work they undertake with our clubs and schools is critical to the facility provision for hockey and the support they provide our initiatives, such as HockeyFest, enhances the experience for existing and new players alike.  We look forward to working with Duncan and his team as hockey continues to make positive strides on and off the pitch."

Notts Sport Managing Director Duncan Bennett says: "We care passionately about hockey and our partnership with England Hockey goes far beyond a pitch. We are equally as proud of HockeyFest and our involvement in supporting hockey as a sport, as we are the ongoing delivery of high-quality hockey pitches throughout England.

"We are extremely proud of the continued success of our relationship with England Hockey since we began in 2012 and look forward to an exciting period for the sport, building from the success of Rio 2016 with ambitious plans for the future development of the game."

For more information about Notts Sport please click here.

England Hockey Board Media release


---

Decorated Olympian Akhlaq Lived and Breathed Hockey

By Ijaz Chaudhry



Mohammad Akhlaq

Olympian Mohammad Akhlaq who recently passed away at the CMH Lahore remained associated with hockey throughout his life.


Born in Sheikhupura, a town rich with hockey tradition having produced quite a few Olympic gold medalists and World Cup winners, Akhlaq took to hockey in his childhood.  A full back, right from early playing days, first national recognition came in 1986 when he gained selection for the Pakistan under 18 team for the European tour.  He had to wait for the full national colours for a while and made his senior debut for Pakistan in the Perth test match against Australia in 1990. Then onwards, he was a permanent fixture in the Pakistan team till 1993.

During this period, Akhlaq appeared in four Champions trophy tournaments, winning a silver (1991) and a bronze (1992). His finest achievement as a player obviously came in the 1992 Olympics, where Pakistan won the bronze –country's last Olympic medal.  

He was first dropped from the national squad in 1993. Though, later named in the national camp twice, he never reported. 

He continued playing for his department, National Bank, in the domestic circuit till 1999.  Meantime, he had started training young boys in his hometown, Sheikhupura.  Within a few years, two of his pupils, brothers Imran and Irfan Yousaf had won selection for the national team; both appeared at the 2000 Olympics.

2004 was the year when his coaching skills got recognition for the first time. The PHF asked Akhlaq to coach the Pakistan team in the Junior Asia Cup that year. They finished second thus gaining qualification for the 2005 junior World Cup. Pakistan had failed to qualify for the previous edition.  That year, Abahani, one of the elite Bangladeshi clubs approached him for coaching.  The club had a couple of Indian stars in Dhanraj Pillay and Sabu Virkay but their arch rivals Mohammadan Sporting  had a stronger lineup including legendary Shahbaz, the great right in Tahir Zaman , that cracker of a centre forward Kamran Ashraf (scorer of Pakistan's eight out of 12 goals in their victorious campaign at the 1994 World Cup) among others.  Under Akhlaq's tutelage, Abahani club was able to win the league after four years.  Later that year, he had a one month coaching stint with Slough, a leading English hockey club.

Akhlaq was employed in the National Bank's sports department.


The bank has been involved in a lot of sports activities. Apart from the sports teams, the bank also employs a number of sportspersons of individual disciplines.  Akhlaq played his part in the organization of tournaments of various sports.  But hockey was his first love. He remained the head coach of National Bank's junior hockey squad for several years, guiding them to the final of the national junior championships many a time. Quite a few players from bank's junior team graduated to the Pakistan juniors and even the national senior side. 

Apart from quite a few courses carried out by the PHF,  Akhlaq also attended six FIH coaching courses conducted by some very distinguished names  including Maurits Hendriks, Roelant Oltmans and Tayyab Ikram.  As a coach, he achieved a unique distinction in Pakistan hockey.  In 2008, under his coaching, Pakistan women's under 18 team defeated Thailand 2-0 in the under 18 Asia Cup. It was first ever victory for the Pakistan women hockey team at an international tournament at any level.  In addition, he also served as the coach of Pakistan's national senior women team.
 
He was the manager of the Pakistan 'A' team which won the gold medal at the 2010 SAF games in Dhaka, Bangladesh. There, the Pakistan team defeated India in a high octane encounter after having lost the league match against them. Then he was the coach of the Pakistan 'A' on the tour of China later the same year.
 
He also acted as the 'coordinator of PHF academies' in 2010.  The Dutch consultant Wauters Tazelaar had been hired by the PHF for formulating a coaching programme for the newly established hockey academies throughout Pakistan.  Akhlaq worked with Tazelaar for three months when the latter was in Pakistan.  Thereafter, he worked independently, travelling across the length and breadth of the country to visit each academy.

Other than coaching, Akhlaq also carried out other important tasks at hockey events, national and international.  He acted as the tournament director at the national senior and junior championships.  In 2008, he was FIH's tournament director at the 4-nation tournaments for both men and women at Dublin, Ireland.

In 2011, FIH began assigning Akhlaq tasks to develop hockey in countries where hockey was in nascent stages or very slow in development. He first worked in Seychelles in 2011-12 on an IOC funded project.


In 2013, the FIH sent him to Myanmar. There, the Myanmar Hockey Federation gave him the target to win bronze at the South East Asian Games staged in country's new capital Naypyidaw. And he achieved that. It was country's first hockey medal at any international event. They lost to Singapore 0-1 with the goal conceded in the last minute. Otherwise, Myanmar would have been playing the final against Malaysia. It is pertinent to note that he had a pool of only 25 players at his disposal in the country. After the SEA Games success, government and people's interest in hockey increased greatly. Akhlaq's efforts were appreciated by the Asian Hockey Federation as well.

Later, he also worked with the Sri Lanka Hockey Federation for more than a year. On the wishes of the Myanmar Hockey Federation, he was to return to Myanmar in a few weeks' time but for his untimely death.

Nurturing the nursery in his own country gave him the greatest pleasure and satisfaction.  He was the hea

He once told the scribe, "It gives me a great sense of achievement as well as pride to see so many of the boys, who we took  under the wings of the academy in their early teens, representing  various age group as well as Pakistan's national teams.   Dar academy colts toured Europe in 2010, 2011 and 2012 and we performed very well each time. The finest compliment I received by the European spectators, "Is this Pakistan's national junior side".

Akhlaq lived and breathed hockey.

Ijaz Chaudhry writes on hockey & other sports. For more about him and his work, visit: www.sportscorrespondent.info  

Fieldhockey.com