All the news for Wednesday 7 December 2016

Cedric D'Souza building Austria's hopes

Sharad Deep



Cedric D'Souza was also a former India national hockey coach. (Hindustan Times)

India's former national hockey coach, Cedric D'Souza, had drawn everyone's attention in Austria even in 2013, after a three-year stint with domestic club, SV Arminen. During that period, he not only produced about a dozen players for the national team, but guided the club to their first national title for 15 years.

That was the start of his journey with the Austria team and he was assured of a chance to work with it if a vacancy arose. The promise was finally fulfilled during the Hockey World League last year when Austrian hockey officials met him in Antwerp and asked him to take over the national team.

"I didn't refuse as I was waiting for such an opportunity where I could work with a new force. It was quite a challenging task for me, but I am enjoying it," Cedric, the Austria chief coach at the Junior Men's Hockey World Cup here, told HT on Tuesday.

"It's a dream start for me as after only two days off after the Austrian national league on October 29, we started training. So far we have played 15 matches to get ready for the mega event," he said. "We know our strengths and weaknesses and we are ready to challenge everyone here."

Austria, who finished sixth at the European Junior National Championship to qualify for their World Cup debut, are clubbed with former champions Australia, Argentina and Korea in Group A in the 16-nation tournament starting on Thursday.

"In Austria, there is a club culture in hockey and clubs have full control over the players. We get them only periodically in terms of national camps. I picked all the boys after watching them play for their clubs.

"For all of us, it is hockey only for the last five weeks as matches against Bangladesh, England and even Germany before playing a few practice games here have given us extra confidence. The purpose was to get the players out of their comfort levels and know what world hockey really is." said Cedric.

"We have qualified for the World Cup and that itself is a big thing. Our focus is on qualifying for the 2020 Olympics, and I know many of my junior boys would be pushing the senior boys out of the side."

Three squad members play in the second-rung of the German League, while many seniors too play outside Austria, and this exposure should benefit the national team.

"I am sure our juniors would be challenging others here. In the last two months, the level of their playing has improved a lot," added D'Souza.

Hindustan Times


---

Canadian team feels "at home" at Indian Junior World Cup

Shaheed Devji



Canada's Under-21 men at the 2016 Junior Men's Pan American Championship in Toronto in May 2016 (By Yan Huckendubler)

When Canada's junior men's field hockey team takes to the field at the Junior World Cup in Lucknow, India on Thursday much of Canada will be paying close attention.

It's no surprise that when a Canadian hockey team is playing, there is a large following. What is likely surprising, however, is that this team isn't playing ice hockey, and the interest is still there.

That's due largely in part to Canada's Under-21 Men's National Team having a strong Indian-Canadian flavour.

With two athletes on the team – Floyd Mascarenhas and Ganga Singh – having been born in India, and many of the rest the eighteen-man roster having Indian roots, a trip to India is special.

"From what I've seen and from talking to other guys who have played there before, it's definitely something that everyone else has described as something you can't comprehend," says Mascarenhas, a defender who moved to Canada when he was two years-old. "It's nothing like any other place in the world, the scale of hockey there."

That's not surprising to 20 year-old Parmeet Gill, who was born in Brampton, Ontario, one of the pockets of Canada that heralds a strong Indian culture.

Gill and Junior World Cup teammate Ganga Singh traveled to India this past summer and spent two months playing and training at a hockey school there.

"Basically, we lived in this academy, we trained twice a day for five days a week, we ate there," Gill explains. "We basically lived and breathed hockey for two months with those guys, learning Indian hockey."

It was not a mandatory trip. Rather, something the two Canadians wanted to do because of the importance of their India roots.

Since the trip, Gill has been in Vancouver training with the Junior National Team for the last several months, and while doing so has been playing for the United Brothers club hockey team in Surrey, another city with strong Indian roots.

"The Indo-Canadian atmosphere here is really great as well," he says. "I feel a community vibe here, which is something I definitely feel in India as well. And I feel at home here and I will definitely feel at home in India as well."

That's a common feeling on the Canadian Junior World Cup team and one that will make the upcoming tournament even more meaningful.

"I have family from here and India as well coming out to watch," Gill says. "So a really strong support system from both countries."

Canada begins the 2016 Junior World Cup with a match against host India on Thursday, December 8 at 7:00pm local time (5:30am PT/8:30am ET).

Field Hockey Canada media release


---

Fog — junior World Cup's biggest headache

Uthra Ganesan




LUCKNOW: For arguably the largest sporting event ever to be hosted in this city, Lucknow is going all out to make the men's junior World Cup a success. But there are concerns beyond control that have both the FIH and Hockey India working out desperate alternatives.

The new turf at the Mohd. Shahid Stadium looks pretty, replacing the erstwhile grass field that hosted impromptu football games till a few months ago and was serving as the practice venue, and a new building housing the changing rooms has come up. The Major Dhyanchand Stadium at the Guru Gobind Singh Sports College is the one hosting the matches. Even the roads leading up to and inside the stadia have been freshly re-laid and painted. It may all end up being engulfed in a dense fog, making play impossible.

The city has been seeing heavy fog for the last few days. It has messed up travel plans, forced rescheduling of flights and reduced active working hours possible to a few hours through the day. It cleared up briefly but was back on field in the evening and the International Hockey Federation admitted it was weighing its options. "The FIH and HI are talking and looking at what can be done if it happens. It is a very real scenario. Maybe the late games might be delayed or rescheduled if there is sudden onset of fog, the timings may be moved a bit — we are looking at all possible scenarios," FIH media representative Richard Stainthorpe admitted.

The latest matches are scheduled for 8.00 pm and fog is a very real possibility then. Defending champion Germany, with coach Valentine Altenburg in charge, is hoping to avoid it. "If it stays like this, it's ok. If it gets any thicker then we have a problem. Not only for the players, but also for the umpires, the TV umpire and also for those who will be watching it. So if we reach a point where it could get dangerous, then we need to look at alternatives. I am sure the officials are looking into it but it is a concern," Altenburg said.

His Australian counterpart Ben Bishop agreed. "FIH needs to make a decision on what's best for the players. Right now also the weather is close to being not ok. But we want to play the tournament so I am sure they will work something out," Bishop said after his team's practice match against Egypt. Similar was the reaction from the players across teams, who wondered if it was more dangerous playing in fog or losing grip on the ball and slipping repeatedly on the dewy turf.

With just one day to go before the tournament kicks off, officials are hoping the weather opens up.

The Hindu


---

Hockey colts have plenty at stake in World Cup: Oltmans

NEW DELHI: The Junior Hockey World Cup not only provides India a chance to end their 15-year-old title drought in the event, but also gives the colts an opportunity to enter the senior core group which will be reformed soon, said the senior side's chief coach Roelant Oltmans.

Oltmans, who is the chief coach of the senior Indian hockey team till 2020 Tokyo Olympics, however, asked the junior players to fully concentrate on the job at hand as their performances in the World Cup and next HIL will be taken into consideration while forming the new core group.

"I believe in quality and testing new players. I have told the junior players that a new core group will be formed after the 2017 HIL and everyone has a chance to get into it but that will depend on their performances in the World Cup and HIL," Oltmans, who is overseeing the preparations of the junior team alongside chief coach Harendra Singh, said.

"But I have also told them not to burden themselves thinking about the senior side now. Their main task at present is to play as a team in the World Cup," he said.

Regarded as a hard taskmaster, Oltmans feels the hosts are among the most balanced in the Junior World Cup to be played in Lucknow from December 8 to 18.

"We have a balanced team and that is our strength. We have more experience than others because of playing in HIL. We have performed well in the last two years and we also have key players in every line," the legendary Dutchman pointed out.

"We will play as a team and aim for consistency. We will be playing attacking hockey."

Having said that, Oltmans, however, refused to predict India's chances in the event, which according to him, will be full of "surprises" and "unpredictable".

"I know in India everyone wants to see the team win gold medal but this is not my style of working. Every team will come into the tournament expecting podium finish. But I always take one match at a time and my present target is our first game against Canada," he said.

"The interesting part about the Junior World Cup is that it is always full of surprises. If you look at the past, the tournament is very unpredictable."

Asked who would be the toughest opponents for India in the tournament, Oltmans said, "It is very difficult to say because most of the teams are on the same page. Australia, Germany, Argentina, Netherlands, England all will be out to prove a point."

India have been placed in Pool D alongside England, Canada and South Africa in the 16-team tournament. The hosts will open their campaign against Canada on the opening day on Thursday.

The only time India won the Junior World Cup was way back in 2001 in Hobart, Australia.

The Times of India


---

England all set for Junior World Cup



Jon Bleby gives the team talk to his England U21 side

England's U21s are all set for the opening match of their Junior World Cup campaign in Lucknow, India. The 16 best U21 teams on the planet are all assembled in India ready to go toe to toe in pursuit of glory.

England Head Coach Jon Bleby has named a strong squad to compete in the tournament which has England in the same pool as hosts India, Canada and South Africa.

The tournament begins on 8 December with the opening match between New Zealand and Japan. England's first fixture is against South Africa at 10am UK time on the same day. That is followed up with England's clash against the hosts two days later at 1330 UK time before Bleby's team round off their pool matches on 12 December against Canada at 0430 UK Time.

England, the European bronze medallists have named a strong side for Lucknow, featuring 14 of the athletes who came fourth at the recent Sultan of Johor Cup. Will Calnan and Jack Clee both scored three goals each at the tournament and will feature at the Junior world Cup. Jonty Griffiths, James Albery, Chris Proctor and James Gall, the captain, are competing in their second successive Junior World Cup, having all been part of the squad that finished 14th three years ago in New Delhi.



Will Calnan celebrates

England's pool stage rivals are not without their quality. India, the champions of Asia are considered as one of the favourites for the title in Lucknow. The team includes senior internationals Harmanpreet Singh and Mandeep Singh. With over 60 senior international appearances, 21-year-old striker Mandeep is the most experienced player of the squad, having represented his country at numerous major events including the Rabobank Hockey World Cup 2014 and the Hero Hockey Champions Trophy 2016.

Canada qualified despite a slow start at the Junior Pan-Am Championship on home soil. They lost their opener before winning four successive matches to seal a place in the competition final. They lost out to Argentina but they had done enough to secure their Junior World Cup ticket. Team captain Brandon Pereira and Kabir Aujla both scored four times for Canada on the way to their silver medal whilst 16-year-old Rowan Childs is the youngest player in the competition.

South Africa will compete in their fifth successive Junior World Cup. Ace striker Nqobile Ntuli, Tevin Kok, Charles Bowren and team captain Alex Stewart have all represented South Africa's senior team, experience which could prove vital in their Junior World Cup campaign.

England's Head Coach Bleby said:

"We are really excited and looking forward to the challenge of the Junior World Cup. As a group we will strive individually & collectively to learn as much from the experience as we possibly can and carefully taking one game at a time our goal is to win every game. The Junior World Cup is always an extremely tough tournament but I strongly believe we have selected a very skilful & hard working group who are good to go."

You can follow the tournament via the FIH Twitter, Facebook and Instagram using the hashtags #HJWC2016 and #RockTheJuniors.

All the tournament information is on the FIH website which you can visit here.

England Hockey Board Media release


---

Hockey New Zealand keeps one, loses one

By Dale Budge



New Zealand coach Mark Hager during the Black Sticks' hockey match against Korea.

Hockey New Zealand has kept one coach and lost another, with Colin Batch stepping down as men's coach on the same day Mark Hager re-signed as women's coach.

Batch would step down, effective immediately.

Hockey New Zealand high performance director Terry Evans said that being away from his family in Australia for eight years was the main reason for Batch returning home.

"Colin has developed an international programme that will lead to success in to the future, making the role of head coach of the Black Sticks men one that we know will be sought after by coaches locally and around the world."

Batch led the Black Sticks for the past four years, following the London 2012 Olympics.

Prior to that he was head coach of the Belgium men for two years, and was assistant coach of the Australian men for eight years. He also played 175 internationals for Australia.

Batch oversaw a major culture shift during his time as coach and achieved a silver medal finish at the 2014 World League final, fourth at the 2014 Glasgow Commonwealth Games and gold at the 2015 Sultan Azlan Shah Cup.

This year his side secured bronze medals at the Sultan Azlan Shah Cup and Six Nations in Valencia.

Hockey New Zealand will be recruiting a new head coach shortly.

In contrast, Hager has fended off approaches from other countries to sign a contract extension that will see him lead the side through to a third Olympic Games in 2020.

Hager first took over the reins of the women's side in 2009 and led them to back-to-back fourth placings at the previous two Olympic campaigns.

The Hockey Australia Hall of Fame inductee said it wasn't a difficult decision to extend his stay.

"My family is very happy in New Zealand," Hager said. "They love it here so we were very keen to stay.

"A lot of me sees so much unfinished business with the Olympics. To come fourth twice is pretty gut-wrenching so I would like an opportunity to rectify that and try and win a medal in four years' time."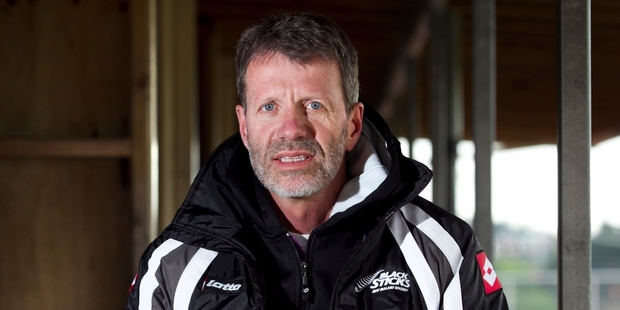 Colin Batch.

While the hurt of missing an Olympic medal is driving Hager to continue, there are some players who will step away from the international scene.

"I am still having a chat to players about next year and their commitment," Hager said. "I think we have a very good core group.

"At this stage there are five that I know about from our group of 25 that might not be back.

"Obviously Kayla Whitelock is one of those and Emily Naylor, who have retired.

"I think this group has some huge potential. We have got some really good youth coming through."

Evans said it was fantastic to secure the world-class coach, who has been in demand from other nations.

"We know Mark has fielded offers from other countries, so we're pleased to be able to confirm that he will lead the Black Sticks women through to Tokyo," he said.

Since taking over as coach Hager has progressed his side from a world ranking of 12th to their current spot at fifth.

He has guided the women to victory at the 2009 Champions Challenge, silver at the 2010 Commonwealth Games, bronze at the 2011 Champions Trophy, bronze at the Glasgow Commonwealth Games, runners-up at December's World League Final and, this year, gold medal finishes at the Hawke's Bay Cup and International Hockey Open in Darwin, along with the Olympic fourth placing.

The New Zealand Herald


---

HIL priority cost us dearly

Sudheendra Tripathi

MUMBAI: When a fancied team littered with a legion of stars is at the receiving end, tongues are bound to wag. The Indian Oil Corporation Limited (IOCL) outfit had a lot of questions but few answers after their shocking 3-1 defeat against Punjab National Bank in the semi-finals of the 51st edition of the Bombay Gold Cup hockey tournament being played at the Mumbai Hockey Association Limited's (MHAL) Churchgate facility on Tuesday.

IOCL, which boasted the likes of Olympians Prabhjot Singh, Devesh Chauhan, skipper Deepak Thakur, drag-flick specialist VR Raghunath and a few internationals, conceded three goals in the first half itself. It pretty much sealed the fate of the match.

IOCL did press the pedal after the change of ends but their gameplan of utilising Raghunath's expertise to their advantage backfired.

"Our plan was to press for short corners and hope that Raghu scores. But of the 10-odd short corners that we earned, only one could be successfully converted. When you have a player of Raghu's stature and ability, a low rate of conversion (short corners) is not acceptable," skipper Thakur told TOI after the match.

The former India star, also felt that some of the players didn't give their hundred percent in order to stay fit for the upcoming Hockey India League (HIL).

"They (Punjab National Bank) gave their best effort. That was sadly not the case with us. With the Hockey India League coming up, players tend to play safe and don't necessarily give their best. Probably that was the difference between the teams today," he observed.

Meanwhile, in a match played earlier in the afternoon, South Central Railway drubbed Comptroller and Audit General (CAG) 6-1. CAG lost skipper Nithin Thimmaiah to a red card for questioning an umpiring decision in the 12th minute of the match and had to play with ten men thereafter. The former international kept arguing with the umpire after receiving the green card which was followed by a yellow. The umpire was left with no other option but to expel Thimmaiah for dissent.

"I think it could have been overlooked," CAG coach Clarence Lobo said later.

RESULTS (semifinals): South Central Railway, Secunderabad 6 (Raju Pal 2nd, 10th, PR Ayappa 34th, 39th, 43rd, 61st) beat CAG 1(Chandan Singh 51st).Punjab National Bank (Gagandeetp Singh Jr 9th, 29th, Arjun Singh 31st) beat Indian Oil, Mumbai (VR Raghunath 41st).

The Times of India


---

Maybank yet to confirm participation in Malaysia Hockey League

by Aftar Singh

KUALA LUMPUR: Maybank have never missed a single edition of the Malaysia Hockey League (MHL) since the tournament's inception in 1985.

So, it has come as a surprise that the Tigers have yet to confirm their participation in the Premier Division, which begins on Jan 6, although the closing date for entries was last Friday.

Maybank, according to MHL competitions committee manager Brian Fernandez, have asked for an extension until Dec 15 to confirm their participation as the team are still awaiting the top management's approval of their hockey budget.

One team confirmed missing from this year's Premier Division are league champions Sapura, who have featured in the MHL since 2000.

Sapura had informed the Malaysia Hockey Confederation (MHC) of their decision last month.

So far, only six teams have confirmed participation. They are overall defending champions Tereng­ganu, Kuala Lumpur Hockey Club (KLHC), Tenaga Nasional, Universiti Kuala Lumpur (UniKL) and the two sides promoted from Division One – TNB-Thunderbolt, and KPT-Universiti Teknologi Malaysia (UTM).

Another team promoted from Division One, Tunku Mahkota Ismail Sports School (SSTMI), have also yet to confirm their participation in the top flight.

"SSTMI have requested that they be allowed to play in Division One. As a school-based team, they can't afford to hire foreign players," said Brian.

"They don't want to become the whipping boys in the Premier Division as it will tarnish the school's image."

The Star of Malaysia