All the news for Thursday 24 November 2016

Kookaburras win first game at IFOH

Hockeyroos defeated 1 - nil by India

Holly MacNeil




The International Festival of Hockey kicked off at Melbourne's State Netball and Hockey Centre today, with the Hockeyroos taking part in a three-game test against India, and the Kookburras in a four nations competition with India, Malaysia, and New Zealand. The Kookaburras came away with a 3 – 2 win over India, while the Hockeyroos were defeated by India 1 – nil.

The Hockeyroos took on India first, and quarter one saw both teams pressing without any luck converting goals. India were the first up on the board after Rani managed to score a penalty corner at the 21st minute of the match, leaving the Hockeyroos going into the half time break knowing they had some work to do.

The Hockeyroos came back on the attack, which resulted in some excellent hockey with Australia retaining possession for most of the third quarter. The Hockeyroos almost had a chance to level the field in the 40th minute after Laura Barden raced to a free ball and passed to Murphy Allendorf in the circle, but the shot on goal went just high of the net.

Ashlee Wells made a fantastic save when India tried to double their lead with two minutes to go in the quarter, and with only a minute to go the Hockeyroos had another chance to fight back with a penalty corner opportunity, but it was a great save by keeper Rajani Etimarpu that saw an end to the set play.

With 17 seconds to go the girls had one more chance, but they just couldn't make the shot and they went into the final quarter trailing 1 – nil. The final quarter saw much of the same however and the Hockeyroos couldn't pull it together going down to India in the opening match of the series.

Hockeyroos interim head coach Jason Duff said: "It was a really disappointing performance in the sense that we missed the start of the game. It was dis-jointed, we lacked composure and energy, and India were much more enterprising than we were.

"They shifted the ball well, and they penetrated well, not that they had a lot of opportunity in the first half, but the game was gone because we didn't move the ball well. They were first to the ball most of the time, and at this level if you let them get first to the ball then they'll beat you."

The Kookaburras were up next against the India men, with the first quarter a fast-paced match up and both teams fighting to dominate.

India were up for a penalty corner first in the second quarter, and it was a straight save by Tristan Clemons before India were awarded another chance. Clemons saved the second shot and India were awarded yet another chance. This time the shot went in thanks to Rupinder Pal Singh, mirroring the 21st minute goal from the India women's team earlier in the day.

In the 24th minute of play, Australia was up for a penalty corner and after an injection by Daniel Beale, Jeremy Hayward socked the ball into the top right corner of the net to level the score.

Thirty-six minutes into the game, and Hayward put the Kookaburras out in front with his second penalty corner goal of the match. Trent Mitton further extended the lead by flicking a goal in from a penalty corner deflection at the 43rd minute.

India were pressing in the final quarter to claw the game back, and their hard work paid off with Rupinder Pal Singh converting a second penalty corner with just seven minutes left in the game.

The Kookaburras held on for the remaining minutes of the match to take out their first game of the International Festival of Hockey.

Kookaburras interim head coach, Paul Gaudoin said: "It was nice to win today, the Indian team that we played are a very strong team so it was pleasing to come out with a win. Our penalty corner conversion was excellent, coming from the Olympics where it was poor, so that was fantastic. Our skill level was down a little bit but our heart and desire was there and I think that helped us get over the line."

Earlier in the day, the New Zealand Black Sticks and Malaysia tied at 1 all, with Malaysia taking an early lead thanks to a penalty corner from Shahril Saabah before Jared Panchea tied the score at the 58th minute courtesy of a field goal.

HOCKEYROOS 0 (0)
INDIA 1 (1)
Rani 21 (PC) 

KOOKABURRAS 3 (1)
Jeremy Hayward 24, 36 (PC, PC)
Trent Mitton 43 (PC)

INDIA 2 (1)
Rupinder Pal Singh 21, 53 (PC, PC) 

Full results from Day 1
Men
NZL 1 – 1 MAS
AUS 3 – 2 IND

Women
AUS 0 – 1 IND

International Festival of Hockey Fixtures
Thursday 24 November
India v Malaysia Men: 3pm AWST / 6pm AEDT
Kookaburras v New Zealand: 5pm AWST / 8pm AEDT

Friday 25 November
Hockeyroos v India: 4pm AWST / 7pm AEDT

Saturday 26 November
Kookaburras v Malaysia: 12pm AWST / 3pm AEDT
India v New Zealand Men: 2pm AWST / 5pm AEDT 

Sunday 27 November
FINALS SESSION
Hockeyroos v India: 11am AWST / 2pm AEDT
Men's 3rd v Men's 4th: 1pm AWST / 4pm AEDT
Men's 1st v Men's 2nd: 3.30pm AWST / 6.30pm AEDT

Hockeyroos' squad v India
Murphy Allendorf (Mount Gravatt, QLD) 4/0
Laura Barden (Kew, VIC) 19/4
Edwina Bone (Orange, NSW) *plays for ACT  125/2
Mathilda Carmichael (Willoughby, NSW) 29/1
Jacqui Day (Mountain Creek, QLD) 5/0
Kirstin Dwyer (Mackay, QLD) 118/2
Anna Flanagan (Canberra, ACT) 170/34
Gabrielle Nance (Kingscliff, NSW) *plays for SA 46/2
Georgia Nanscawen (Melbourne, VIC) 186/36
Kathryn Slattery (South Stirling, WA) 66/23
Ashlee Wells (Morwell, VIC) 81/0

Used Substitutes
Jocelyn Bartram 2/0 (Albury, NSW)
Tamsin Bunt 1/0 (Aylmerton, NSW)
Kalindi Commerford (Canberra, ACT) 4/1
Ashlea Fey (Sunshine Coast, QLD) 4/1
Jordyn Holzberger (Yamanto, QLD) 37/3

Unused Substitutes
Georgina Morgan (Armidale, NSW) 55/12
Brooke Peris (Darwin, NT) 104/14

Kookaburras squad v India
Chris Bausor (Perth, WA) 18/1
Daniel Beale (Brisbane, QLD) 91/16
Robert Bell (Brisbane, QLD) 4/0
Matthew Dawson (Killarney Valley, NSW) 57/8
Casey Hammond (Bundoora, VIC) 4/0
Aaron Kleinschmidt (Melbourne, VIC) 4/1
Tyler Lovell (Perth, WA) 72/0
Flynn Ogilvie (Wollongong, NSW) 38/12
Josh Pollard (Melbourne, VIC) 4/0
Matthew Willis (Tamworth, NSW) 11/1
Dylan Wotherspoon (Murwillumbah, NSW) 27/6

Used Substitutes
Tristan Clemons (Ferndale, WA) 29/0
Kieran Govers (Wollongong, NSW) 117/57
Jeremy Hayward (Darwin, NT) 64/21
Trent Mitton (Perth, WA) 98/37
Jake Whetton (Brisbane, QLD) 109/45
Tristan White (Wollongong, NSW) 82/6
Aran Zalewski (Margaret River, WA) 101/14

Hockey Australia media release


---

Indian men concede 2-3 defeat in opening game against Australia

s2h Team

Melbourne, Australia: India went down fighting against Australia in a tense 2-3 finish at the Four Nations Invitational Tournament.

The Indian side began positively against top-ranked Australia, showing positive intent and energy in the first quarter as they looked to better their record against their opponents. However, the first fifteen minutes ended with a 0-0 score line. Indian youngster Affan Yousuf's attacking approach almost paid dividends early on had it not been for a solid defense from the Kookaburras.

India managed to gain three successive penalty corners in the second quarter of the match. The team's bankable dragflicker, Rupinder Pal Singh missed out on the first two opportunities, but did not disappoint the third time around as his powerful and precise hit went past Australian goalkeeper Tristan Clemons.

India scored their first goal in the 21st minute to take the lead. However, the drama intensified as Jeremy Hayward scored the equaliser three minutes later, using his dragflicking skills to beat a diving Akash Chikte. At halftime, the game was beautifully poised at 1-1.

India had a tough time in the third quarter as the Australians scored two more goals to take the lead to 3-1. Hayward scored his second PC goal in the 36th minute and Trent Mitton scored his team's third off a difficult angle in the 43rd minute.

In the final quarter, Talwinder Singh lifted the spirits in the camp with a superb counter-attacking approach initially and then it was Akash Chikte's miraculous save of a powerful hit from Dylan Wotherspoon.

Rupinder Pal Singh brought India back in the game with a PC goal in the 53rd minute as India headed into the tense last minutes of the match. However, the Australians denied India any further chance to score an equaliser as the visitors conceded a 2-3 defeat.

The next match is scheduled to be played between India and Malaysia on 24 November 2016 at 12.30 IST.

Stick2Hockey.com


---

India lose thriller to Australia in four-nation hockey opener

India tried hard but lost narrowly to Australia.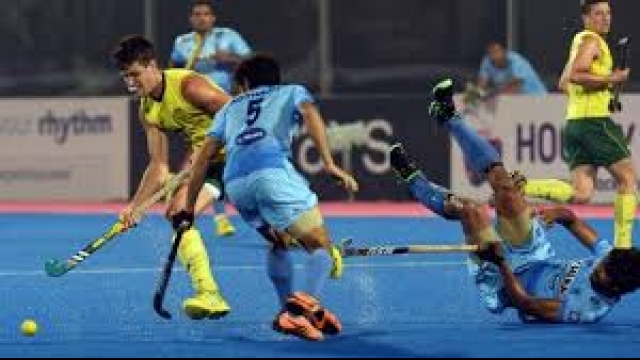 Rupinder Pal Singh's brace went in vain as Indian men's hockey team lost 2-3 to hosts Australia in a tense opening game of the four-nation Invitational Tournament, in Melbourne on Wednesday.

The Indians began positively against top-ranked Australia, showing positive intent and energy in the first quarter. However, the first 15 minutes ended in a stalemate. Indian youngster Affan Yousuf's attacking approach almost paid dividends early on had it not been for a solid defense from the Kookaburras. India, who had recently won the Asian Champions Trophy in Malaysia, managed to gain three successive penalty corners in the second quarter of the match.

After missing first two opportunities, Rupinder did not disappoint the third time as his powerful and precise dragflick went past Australian goalkeeper Tristan Clemons to give India a 1-0 lead in the 21st minute. But the lead was shortlived as as Jeremy Hayward scored the equaliser for Australia three minutes later, using his dragflicking skills to beat a diving Akash Chikte in front of the Indian goal.

At halftime, the game was beautifully poised at 1-1. India witnessed some times in the third quarter as the Australians scored two more goals to surge ahead 3-1.

Hayward scored his second penalty corner goal in the 36th minute and then Trent Mitton scored his team's third off a difficult angle in the 43rd minute. However, India did not give up without a fight as Talwinder Singh lifted the spirits in the camp with a superb counter-attacking approach only to be denied by the Australian defence. Chikte then came up with a miraculous save of a powerful hit from Dylan Wotherspoon to keep India in the hunt.

Rupinder brought India back into the game with another penalty corner conversion in the 53rd minute as the match witnessed an engrossing end. But the Australians did enough to deny India any further chance to score an equaliser to pocket the hard-fought win. India will next play Malaysia on Thursday.

DNA


---

No 1 Australia beat Asian champions India 3-2

NEW DELHI: World No 1 Australia rallied from an early goal conceded to beat Asian champions India 3-2 in the opening match of the men's Four Nations Invitational Tournament in Melbourne on Wednesday.

In an entertaining encounter, goals to Jeremy Haywood in the 24th and 36th minutes and Trent Mitton in the 43rd negated the brilliance of Rupinder Pal Singh (21', 53') and took the Kangaroos from 0-1 to a morale-boosting win over the team which last month was crowned winners of the Asian Champions Trophy.

It was a familiar struggle in the second half for India, whose downfall came when they were denied the ball and as the penalty corner opportunities faded, so too did the defensive frailties of a team missing talismanic captain and goalkeeper PR Sreejesh and senior strikers SV Sunil and Ramandeep Singh. Rupinder was the stand-out player, with his second goal in the dying stages of the match adding to a supreme performance from the drag-flick expert.

The first quarter was passive, with both teams adopting a relatively cautious approach. India closed in on goal on a few occasions but were denied by the Kangaroos' defenders, and a few moments of miscommunication - notably between Sardar Singh and Birendra Lakra - also added to the lack of goal-scoring opportunities. Players on both sides appeared at ease playing from wide of the goal and the few moments of brilliant stickwork were negated by clinical defence.

In one exciting passage of play, Rupinder fed the ball to his skipper VR Raghunath during the last two minutes of the first quarter, which saw youngster Affan Yousuf get close to the goal but the opportunity went begging.

India broke forward again in the 19th minute thanks to some superb movement from Talwinder Singh that drew a penalty corner, only for some brilliant work from Tristan Clemons while falling to his left to save a goal. The Australian goalkeeper then deflected two other hard-hit attempts at goal in the ensuing few seconds, but in the 21st minute Rupinder put India ahead 1-0 with lovely artistry.

India's jubilation was short-lived, however, as a fierce drag-flick from Haywood leveled the scores just moments later with five minutes left on the clock.

From 1-1 at the half-time mark, Australia went up 2-1 with Haywood scoring his second PC in the 36th minute. On this occasion it was a relatively easy set-up, and the absence of Sreejesh was felt as Akash Chikte was left with no answer to Haywood.

The Kangaroos continued to counter-attack and India's skills in midfield started to slack during this period, allowing the home team's forwards to apply pressure. In the 43rd minute, Mitton slammed in another PC goal and that left India with too much to do in the final quarter. Chikte produced a tremendous save with a little over eight minutes remaining, which along with Rupinder's strike in the 53rd minute ending up being the last real moments of brilliance for India.

The Kangaroos are the No 1 ranked hockey team in the world and this week beat New Zealand to lift Trans-Tasman Trophy. India are ranked sixth. The last time India met Australia on the hockey field was during the Champions Trophy in London in June, when the Kangaroos won 3-1.

New Zealand and Malaysia are the other teams in the Four-Nation Tournament. India play Malaysia on November 24 at 12:30pm IST and New Zealand on November 26 at 11:30am IST. The competition will be followed by a Test series between India and Australia.

The Times of India


---

India women beat Hockeyroos 1-0 in first hockey Test

NEW DELHI: The Indian women's hockey team, ranked 12th in the world, began their tour of Australia by beating the fourth-ranked Hockeyroos 1-0 in the first of three Test matches in Melbourne on Wednesday. The win was their first over Australia and set up by a second-quarter goal by captain Rani Rampal and consistent aggression in attack and defense ensured that the Australians were kept playing catch-up for the remainder of this engaging match.

A special mention is also reserved for India's goalkeeper Rajani Etimmarpu, whose smart footwork added to the Hockeyroos' frustration on a day that should rank highly for Indian women's hockey.

Neither side was able to score during the first quarter as the defenders on both ends were kept busy, but a penalty corner by Rani in the 21st minute gave India the lead. The Indian eves pushed the Hockeyroos hard down the front line and even when the hosts had possession it was the Indians who surged forward and kept engaging in defensive tackles to blind the Hockeyroos' attack.

"It was a really satisfying first half, I think we played well. It feels good to do well against higher ranked teams," Rani said during the break, and her excellent stick work helped ensure India maintained their supremacy from the first half.

The aggression was maintained across the third and fourth quarters too, but too many turnovers by the Hockeyroos helped India's cause. India's midfielders managed to keep getting Rani and Deepika Thakur into play and the skipper, in particular, attacked the corners. This sustained pressure meant that the Hockeyroos often struggled to break past India's defensive pack.

The latter half of the third quarter saw the Australians get tighter and more cohesive, but the deficit was still not overturned. Vandana Kataria came close to the goal at the end of the third quarter but missed from the left side, and then the Hockeyroos failed to use three PCs in the last 32 seconds.

The final quarter saw more botched execution from the Australians as India's defenders maintained impeccable cool. India had another opportunity to score with their second PC with just under five minutes remaining on the clock, but the Hockeyroos goalkeeper Ashlee Wells did well to stop Sonika's shot.

The last time the two countries had met was during the Rio Olympics, when Australia won 6-1. The teams resume their series on November 25, followed by the third and final Test on November 27.

India had earlier this month lifted the Women's Asian Champions Trophy with a 2-1 win over China. The Hockeyroos entered the tournament having beaten the Black Sticks women in the inaugural Trans-Tasman Trophy in Auckland last week.

The Times of India


---

Rani scores in 1-0 win over hosts



Rani converted a penalty corner in the 21st minute.

Melbourne: The Indian women's team stunned Australia 1-0 in the first game of their three-Test series. After a goalless quarter, India went ahead in the 21st minute, Rani converting a penalty corner.

Stunned by the goal, the hosts took some time to mount a fightback. After halftime, Australia came out on the offensive, retaining possession for most part of the third quarter. They almost levelled the score in the 40th minute after Laura Barden raced to a free ball and passed to Murphy Allendorf in the circle, but the shot on goal was a little high.

Australian goalkeeper Ashlee Wells made a fantastic save with two minutes to go in the quarter. In the final minute, the Hockeyroos had another chance with a penalty corner opportunity, but keeper Rajani E made a great save.

The final quarter saw more of the same but India held on to open the series with a win. "It was a really disappointing performance in the sense that we missed the start of the game. It was disjointed, we lacked composure and energy, and India were much more enterprising than we were," Jason Duff, Australia's head coach, said.

"They shifted the ball well, and they penetrated well; not that they had a lot of opportunity in the first half, but the game was gone because we didn't move the ball well. They were first to the ball most of the time, and at this level if you let them get first to the ball then they'll beat you."

The Tribune


---

Late equaliser saves Black Sticks men

By David Leggat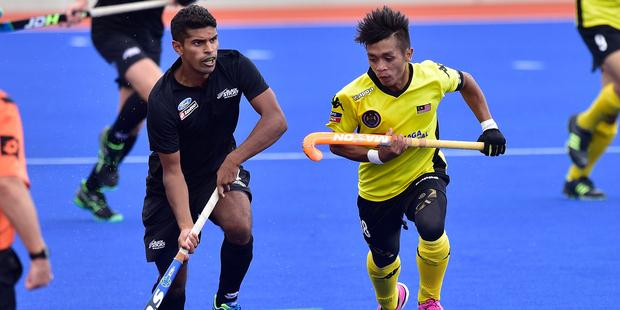 Jared Panchia playing against Malaysia earlier in the year. Photo / photosport.nz

New Zealand needed a late goal by Jared Panchia to escape with a 1-1 in their opening International Festival of Hockey match against Malaysia in Melbourne tonight.

The teams know each other pretty well. This was the seventh meeting between the teams this year.

New Zealand won two, drew one and lost one when Malaysia played a series of matches in Tauranga in March; they then shared two 3-3 draws at the Azlan Shah tournament in Malaysia a month later.

World No 8 New Zealand were left to rue a failure to take advantage of a wealth of possession and turn them into shots on target.

The Black Sticks ran up eight penalty corners but a combination of poor execution and some determined defensive work by Malaysia thwarted them.

Malaysia's first half goalkeeper Kumar Subramiam produced one superb save from a fierce Kane Russell drag flick before halftime but no matter the amount of pressure the Black Sticks were unable to cash in.

That came after Malaysia had unexpectedly taken the lead through a penalty corner of their own. Noted drag flicker Sharil Saabah produced a searing drive at the start of the third quarter which tore past goalkeeper Richard Joyce.

New Zealand left it late to draw level. Nifty stickwork got the ball into the Malaysian circle and Panchia was on hand to drive it in from close range.

New Zealand had a host of players returning to the squad who contested the inaugural Trans-Tasman Trophy in Auckland last week, which culminated in the first win over Australia in New Zealand since 1967.

It is a regrouping time for the Black Sticks after the disappointment of the Rio Olympics, when they were bundled out in the quarter-finals by a late flurry of goals by Germany.

They next play world No 1 Australia tomorrow followed by world No 6 India on Saturday night before Sunday's finals day.

One of the key points for coach Colin Batch will be seeing the progress in the next two matches on tonight's effort, which had plenty of hustle but precious little real quality in the attacking circle.

The New Zealand Herald


---

New Zealand hold Malaysia to a 1-1 draw in four nations hockey

by Aftar Singh

KUALA LUMPUR: Malaysia have failed to get the better of New Zealand for the third time this year.

The two teams drew 1-1 in the opening match of the International Festival of Hockey at the State Netball and Hockey Centre in Melbourne on Wednesday.

Malaysia and New Zealand had drawn 3-3 draw in the round-robin match of the Sultan Azlan Shah Cup in Ipoh in April. Then, in the playoff for the bronze medal, the teams again drew 3-3 in regulation time before the Kiwis won the penalty shootout 5-4.

World No. 8 New Zealand had eight penalty corners against Malaysia on Wednesday, but failed to convert any.

It was Malaysia who took the lead in the 37th minute when Mohd Shahril Saabah's powerful flick, off a penalty corner set piece, flew past goalkeeper Richard Joyce.

Just when it looked like Malaysia were heading for a rare win, the Kiwis struck through Jared Panchia's close-range effort in the 58th minute.

National coach Stephen van Huizen was happy with the draw.

"We got off to a slow start ... the players took time to settle down. The youngsters played well and would have learned a lot from the match," he said.

Three players – Syed Mohamad Shafiq Syed Cholan, Amirol Aideed and Muhammad Firdaus Omar – earned their first international caps against New Zealand.

In the other match in the four-team tournament, hosts Australia edged India 3-2.

Malaysia will face India (3pm Malaysian time) on Thursday while New Zealand will take on Australia (5pm).

Stephen expects another tough encounter against India, who won the Asian Champions Trophy in Kuantan last month.

The Star of Malaysia


---

Kiwis ready to roll at Junior World Cup




The Kiwis are ready to roll at the Women's Junior Hockey World Cup which runs from 24th November - 5th December in the Chilean capital city of Santiago.

Sixteen of the best young women's teams in the world will compete for the title at the vast multi-sport Club Deportivo Manquehue complex, which plays host to 10 days of high speed action featuring the next generation of global hockey stars.

With four teams fighting it out for two available quarter-final places in each of the four pools, every single match has meaning and one slip-up could prove costly.

The New Zealand Under 21 side is a young and talented group spearheaded by 20-year-old Auckland defender Maddison Dowe, who has played four tests for the Black Sticks.

Along with Dowe, a further three players are members of the New Zealand Development Squad including Stephanie Dickins, Tessa Jopp and Phoebe Steele.

New Zealand are looking to push deep into the tournament after battling Belgium, China and Spain in pool play.

The Men's Junior World Cup will be played in Lucknow, India from 8-18 December.

MATCH SCHEDULE (All in NZ time)

Friday 25th November
New Zealand vs Belgium at 4:00am

Saturday 26th November
New Zealand vs China at 8:00am

Monday 28th November
New Zealand vs Spain at 10am

Thursday 1st December
Quarter Finals

Saturday 3rd December
Semi Finals

Monday 5th December
Final

NEW ZEALAND UNDER 21 WOMEN
JUNIOR WORLD CUP – SANTIAGO, CHILE


| | | | |
| --- | --- | --- | --- |
| PLAYER NAME | REGION | POSITION | AGE |
| Tarryn DAVEY | Midlands | Defender | 20 |
| Frances DAVIES | Midlands | Defender | 19 |
| Stephanie DICKINS | North Harbour | Defender | 21 |
| Maddison DOWE | Auckland | Defender | 20 |
| Megan HULL | Midlands | Midfielder | 20 |
| Alia JAQUES | Midlands | Midfielder | 21 |
| Hattie JONES | North Harbour | Defender | 18 |
| Tessa JOPP | Southern | Midfielder | 21 |
| Tyler LENCH | Auckland | Midfielder | 19 |
| Maddi McLEAN | Southern | Defender | 20 |
| Kirsten NATION | Canterbury | Goalkeeper | 20 |
| Kayla REED | North Harbour | Striker | 17 |
| Deanna RITCHIE | Auckland | Striker | 20 |
| Brooke ROBERTS | North Harbour | Goalkeeper | 21 |
| Amy ROBINSON | Midlands | Striker | 20 |
| Phoebe STEELE | Canterbury | Striker | 20 |
| Catherine TINNING | Canterbury | Midfielder | 20 |
| Emily WIUM | Canterbury | Striker | 17 |
Hockey New Zealand Media release


---

International dreams come true earlier than expected for 16 year-old Rowan Childs

Shaheed Devji



Rowan Childs (centre) plays for Canada's Under-21 Junior World Cup training squad in an exhibition match vs West Vancouver Field Hockey Club in October 2016

When Canada's Under-21 Men's National Team qualified for the 2016 Junior World Cup, Rowan Childs was ecstatic.

Having recently turned sixteen and being a field hockey player himself, watching his peers qualify for Junior hockey's biggest tournament was inspiring.

"I was just watching them as a fan I guess," he says about Canada' team at the 2016 Junior Pan American Games, which were hosted in Toronto last May.

Canada finished second at the Junior Pan Ams, earning a berth in the upcoming Men's Junior World Cup in India. And after seeing his country have success, Childs set a goal to be a part of the excitement the next time around.

"It was just a dream to one day be a part of that and be a part of the next Pan Ams," he says.

After all, in four years time he would be 20 years old and in the prime of his junior career.

But little did he know, his international dreams would come true much sooner.

Shortly after the Pan Ams in Toronto, Childs played in the storied India Club tournament in Surrey, British Columbia, where he represented B.C.'s Under-18 team.

Each year, the India Club tournament is chock-full of Junior and Senior National Team players past and present. And always watching closely are the coaches from Canada's Men's National Program.

It was at that tournament where Childs – a relative unknown to that point – made his mark.



Rowan Childs are Men's National Team Carding Camp in October 2016

"I got the e-mail from (Under-21 Head Coach Inderpal Sehmbi)," he remembers. "Just getting me onto the JDS squad, to practice with them. And I guess things just took off from there."

In the coming months, Childs – who began playing hockey in Richmond after seeing his dad Bob and uncle Steve play when he was young – continued to impress.

And with no international experience to his name only months after being on the outside looking in, he cracked the roster for the 2016 Junior World Cup.

"I never thought this would be possible, coming to the Junior World Cup."

"I'm sure everyone on the squad had a shot," he says about the process. "Just seeing the competition and the drive to get there was a big help to me."

He credits his selection to his work ethic, which Childs says is the most important factor for success.

"I consider myself a competitor," he says when describing his style of play. "Just making sure I never give up. I'm always putting in 100% every single time."

It's the type of attitude and approach that played a bit part in his selection and will likely play a big part at the Junior World Cup in India this December.

Childs and team Canada opens the Junior World Cup against host India on December 8th at 7:00pm local time.

Help Canada's Under-21 along the road to the Junior World Cup. Local apparel outlet Nine O'Clock Gun is once again selling Red Caribou hats. $10 from every purchase goes directly to the team, to help offset costs. Buy two hats and get a 25% discount with the promo code juniorcaribou. Click here to buy.

Field Hockey Canada media release


---

FIH confirms Belfast, Northern Ireland as host of Hockey World League Round 2 men's event



Photo: discovernorthernireland.com

The International Hockey Federation (FIH) has confirmed that The Pavilion (NICSSA) in Stormont Estate in Belfast will host Ireland's Hockey World League Round 2 men's event between 11-19 March 2017.

Hosts Ireland will welcome men's national teams from France, Poland, Ukraine, Italy, Wales, Scotland and Austria. They will all be aiming to qualify for the Hockey World League Semi-Finals taking place later in the year.

This confirmation completes the line-up of hosts for the Hockey World League Round 2 events which will take place in six locations across the world between January and April 2017.

The venue in Belfast recently played host to the senior men's Irish hockey team as they faced Canada in a pre-Olympic test series, whilst it has also held Cricket Ireland One Day International tests in recent years.

Ireland is no stranger to hosting the Hockey World League having held another Round 2 event back in March 2015 in Dublin. There, their senior women were crowned winners of the event, with Canada coming runners up as both teams progressed to the Hockey World League Semi-Finals, Rio 2016 Olympic Games qualifiers, later that year.

The Hockey World League Round 2 will be played over three men's and three women's events, with eight teams assigned to each destination by the FIH Competitions Committee.

Another men's Round 2 event will take place in Dhaka, Bangladesh, where Canada, Oman, Egypt, hosts Bangladesh, China, Sri Lanka, Ghana and Fiji will be playing between 4-12 March.

The last men's Round 2 event takes place in Tacarigua in Trinidad and Tobago from 25 March until 2 April. There, Malaysia, Japan, Russia, hosts Trinidad and Tobago, USA, Barbados, Chile and Switzerland will take part.

Composed of four rounds (Round 1, 2, Semi-Finals and Finals) and played over two years, the Hockey World League shines a spotlight on the sport around the world. Even the smallest hockey-playing nations have the opportunity to write their own chapter in hockey's history books.

A lot is at stake for teams participating in these Hockey World League Round 2 events. Whilst vital FIH Hero World Ranking points will be awarded depending on final standings, eight teams per gender will qualify for the Hockey World League Semi-Finals. These will be the top two teams from each event plus the two highest placed teams in the FIH Hero World Rankings of the teams that finish third.

Taking place next June and July, the Semi-Finals offer teams the chance to qualify for the Hockey World League Finals later in the year, plus the ultimate prize of 2018 Hockey World Cup qualification.

Tickets for the first of those, the men's Hockey World League Semi-Final at London's Lee Valley Hockey and Tennis Centre (15-25 June) are on sale and can be purchased by clicking here.

FIH site


---

Surbiton preparing for Hampstead and Westminster test



Surbiton's David Goodfield in action against Hampstead and Westminster. Credit: Tim Reder.

With the mid-season break approaching, rivals Hampstead and Westminster host Surbiton in the Men's Hockey League Premier Division, with both sides keen to retain their place in the top four.

Currently third and fourth respectively, Surbiton and Hampstead & Westminster drew 2-2 when they met earlier in the season. But neither side will be willing to settle for a similar result this time.

"It's very important for us to finish the 2016 outdoor programme with a win, and particularly away from home" said Surbiton Team Manager Matt Jones. "We've started to come good over the last few weeks and demonstrated the capabilities in the squad.

"Ultimately it's a six-point game, but we're confident and we believe that we can win. We've shown great form despite having a few players out, but that is the benefit of having a 30-strong squad."

Beeston – who dropped from third to fifth after last weekend's loss to Holcombe – will be aiming to bounce back when they travel to strugglers Canterbury.

Second-placed Wimbledon could go top if they record a big win over hosts Loughborough Students. But they will need leaders Holcombe to lose to a Reading side who have just three wins so far.

Southgate head to Oxted in the Men's Conference East as they bid to keep hold of top spot, while Richmond – who moved up to second on the back of last weekend's win at Brighton – are also on the road, at Cambridge City.

Meanwhile, bottom of the table Indian Gymkhana face fellow strugglers Brighton and Hove at home in a match which could prove crucial to both their hopes of avoiding the drop later in the season.

Second-placed Team Bath Buccaneers are at home against third-placed University of Exeter in the Men's Conference West on Sunday. Both sides are desperate for points to keep pace with the leaders, unbeaten Cardiff and Met, who head to Isca in search of a ninth win in ten games.

Men's Conference North leaders University of Durham will be aiming to preserve their 100 per cent start to the season when they take on Doncaster on Saturday, while second-placed Olton and West Warwicks head to strugglers Cannock.

FIXTURES – Saturday, November 26

Men's Conference East
Teddington v West Herts 13:45

FIXTURES – Sunday, November 27

Men's Premier Division
Canterbury v Beeston 13:00
Loughborough Students v Wimbledon 14:00
Brooklands MU v East Grinstead 14:00
Hampstead and Westminster v Surbiton 14:00
Holcombe v Reading 14:00

Men's Conference East
Cambridge City v Richmond 12:30
Oxted v Southgate 12:45
Wapping v Sevenoaks 13:00
Indian Gymkhana v Brighton and Hove 13:30

Men's Conference North
Deeside Ramblers v Leek 13:30
Oxton v Sheffield Hallam 13:30
Univ of Durham v Doncaster 14:00
Preston v Bowdon 14:00
Cannock v Olton and West Warwicks 14:00

Men's Conference West
Isca v Cardiff and Met 12:30
Cheltenham v Univ of Bristol 12:30
Team Bath Buccaneers v Univ of Exeter 13:00
Chichester v Fareham 14:00
Old Georgians v Univ of Birmingham 14:00

England Hockey Board Media release


---

Top two face off in Investec Women's Premier Division



GB ace and new Wimbledon player, Crista Cullen. Credit: Frank Uijlenbroek.

As the teams are coming up to the mid-season break Holcombe have leaders Surbiton in their sights as the top two prepare for a crucial match in the Investec Women's Hockey League Premier Division at Sugden Road on Saturday.

The Kent side could go top with a two goal win over last season's champions, with whom they drew on the opening day of the season after snatching a goal in the last minute.

However Surbiton will of course be determined to prevent this and if they avoid defeat they will reach a magnificent milestone of 50 unbeaten regular league season matches, a record that stretches back over two and a half seasons to February 2014.

Elsewhere East Grinstead will be aiming to preserve their unbeaten record and keep pace with the top two as they go to bottom of the table Reading, while Clifton Robinsons will want to preserve their place in the top four as they go to Canterbury.

After climbing up to eighth with a win over Reading last weekend, Slough will want to maintain their winning form as they host Leicester. And the University of Birmingham – who have not won in their last four matches – head to Bowdon Hightown in a bid to break that record.

In the Investec Conference East, second-placed Wimbledon face leaders Sevenoaks this Saturday – and have boosted their squad with the addition of GB Olympic ace Crista Cullen.

Currently level on points and second only on goal difference, Wimbledon will be aiming to overtake their rivals with a win at Kings College School.

"We're delighted that Crista has decided to join us," said Wimbledon Director of Hockey Ben Marsden. "She lives in the area, and wants to have an impact and inspire people to play hockey. She's been down to training, and should be playing this weekend.

"Last season was very positive and we finished second. This year we started pre-season early in June, and have had several good new players come along.

"We felt this was the right time to set targets and try to win the league, so everything has come into place so far."

Promotion hopefuls Buckingham and Olton and West Warwickshire face each other in the Investec Conference West on Saturday. Either team may go top of the table, depending on how leaders Stourport fare against Bristol Firebrands.

Investec Conference North leaders Brooklands Poynton play host to Sutton Coldfield on Saturday, while Belper – the bottom placed team who held Brooklands at bay through the first half last week – entertain Wakefield.

FIXTURES – Saturday, November 26

Investec Women's Hockey League

Investec Premier Division
Slough v Leicester 13:00
Reading v East Grinstead 13:30
Bowdon Hightown v Univ of Birmingham 13:45
Surbiton v Holcombe 14:00
Canterbury v Clifton Robinsons 14:00

Investec Conference East
Cambridge City v Southgate 12:30
St Albans v Hampstead and Westminster 13:00
Chelmsford v Northampton Saints 14:00
Wimbledon v Sevenoaks 14:00
Harleston Magpies v West Herts 14:00

Investec Conference North
Brooklands Poynton v Sutton Coldfield 12:00
Beeston v Loughborough Students 12:00
Liverpool Sefton v Univ of Durham 12:30
Belper v Wakefield 13:30
Ben Rhydding v Timperley 13:30

Investec Conference West
Oxford Hawks v Isca 12:00
Buckingham v Olton and West Warwicks 12:00
Gloucester City v Swansea City 12:30
Exe v Trojans 13:00
Stourport v Bristol Firebrands 17:00

England Hockey Board Media release


---

Henning and Harte relishing RWK vs Kampong rematch




Both Rot-Weiss Köln and SV Kampong are looking forward with huge anticipation for their huge rematch next Easter in the EHL KO16 when they meet for the third time in the competition.

Kampong won 5-1 last year in the KO8 against the German champions but Rot-Weiss coach André Henning said that he relishes the chance to reverse that result.

"Playing against the defending champion is the best possible challenge and a great chance for revenge," Henning said. "Since I've been in Köln, we have never been beaten twice in a row by the same team and I think my team is smart enough to learn the lessons of the last duel."

For Kampong goalkeeper David Harte, he says the game is "going to be a cracker!"

He adds: "Of course it's a tough draw but equally so for both sides. We know the quality they have as German champions with such a blend of youth and experience. It's a match I know we are all really looking forward to!

"Last year's 5-1 victory in Amsterdam [against Rot Weiss] was probably one of our most complete team performances of our season. Negating their strengths and playing our game plan was crucial.

"Having played them in our first EHL campaign in Lille in 2013 also makes this tie a bit more special given the history between the two teams in this competition. We know it will be an incredibly high-quality match and, hopefully, one the crowd in Eindhoven will really enjoy!"

The Irish man was recently named on the shortlist for world goalkeeper of the year for a second time. Speaking about that honour, he said: "To be nominated again is a very special feeling on the back of what was a historic year for Hockey Ireland and the men's team playing in Rio.

"I am of course very proud and know the quality of the other four keepers nominated is so high. It's an honour to be nominated amongst such fellow keepers!"

Harte is on the list alongside Belgium's Vincent Vanasch, Argentina's Juan Vivaldi, India's PR Sreejesh and the Netherlands' Jaap Stockmann.

Euro Hockey League media release


---

Irish clubs content with EHL KO16 draw




Irish clubs Banbridge and Lisnagarvey were reasonably happy with their Euro Hockey League KO16 draws as they look to earn a maiden quarter-final berth in the elite competition for Ireland.

For Lisnagarvey, they will meet Spain's Atlètic Terrassa. It will be a fifth time playing in the same European competition, meeting in 1990, 1992, 1994 and 1998 in the old European Champions Cup and Cup Winners Cups.

Atlètic, the third-ranked Spanish side, reached the FINAL4 of the EHL last season but looked vulnerable in the group stages, struggling by Russian and Scottish clubs.

Crucially, Garvey avoided a potential date with Dutch, German and Belgian giants, something that Olympian Jonny Bell was happy with.

"There are no easy games but, looking at Pot 2, the draw could have been worse," he said. "It's exciting to play a club with such a distinguished history like Terrassa. We have met on the European stage on numerous occasions in the past which makes the fixture that bit more special and we have an opportunity to create our own little bit of history.

"It presents a great challenge for our young team and it's one we're definitely capable of overcoming. But there's a lot of hard work to be done before then."

Following their ROUND1 heroics at Havelock Park in October, Bann have been rewarded with a tie next Easter against French champions Racing Club de France.

Racing were the second lowest rated potential opponent and Banbridge coach Mark Tumilty said his side "can take confidence" from beating Saint Germain – who currently top the French league – in the EHL group stages. Neither side from this tie has reached the KO8 before.

"I am pleased with the draw as I am sure Racing are to when you look at the other teams we could have faced. It gives us an opportunity to progress to KO8.

"I feel they will pose a similar challenge to Saint Germain so we can take some confidence from having already beaten them in the group stages. It will be a very competitive game and both teams will feel they have the opportunity of progressing.

"I was hoping for a draw like this as it gives us a better opportunity to progress and the potential of a clash with one of the Belgian sides. It is always a great experience to play against the big guns."

Euro Hockey League media release


---

Irish U18 Boys squad

The following players have been selected for U18 trials based on their performances in the recent under 18 Interprovincial Tournament and in consultation with the interprovincial coaches.  A large number of players have been selected in this panel, with one eye on player development for the 2018 under 18 Europeans, as well as selecting a squad for the upcoming 6 Nations tournament in England next summer.  Irish Coach Gareth Borland went on to say

"This is an exciting mix of players to work with. There are 19 under 18 players, 5 of which are already working within the under 21 panel, while the remaining 17 players are still under 17. After the initial trial stage, we will select a training panel, who will work towards competing against the other top nations in Europe during the summer. The door will also be open for other players to come into the panel at a later stage, based on their performances as the season progresses"

The first two trial sessions will take place in Trinity Sports grounds, Santry, Dublin on 4th and 18th December.
| | | |
| --- | --- | --- |
| Player | Club | School |
| Luke Roleston ** (GK) | Banbridge | Banbridge Academyr |
| Joshua McCabe (GK) | Cookstown | Cookstown High Schoolr |
| Ben Wallace | Annadale | Royal & Priorr |
| Alexander Tinney ** | Raphoe | Royal & Priorr |
| Tom Robson | Annadale | Sullivan Upperr |
| Fergus Gibson | Annadale | Sullivan Upper |
| Matthew Crookshanks ** | Annadale | Sullivan Upper |
| Jacob Hermon | Lisnagarvey | Wallace High School |
| Matthew Milliken | Lisnagarvey | Friends School Lisburn |
| Harry Morris | Lisnagarvey | Sullivan Upper |
| Spencer Pinion | Instonians | South Eastern Regional College |
| Harry Dow | Mossley | Bangor Grammar School |
| Patrick Hunter | Lisnagarvey | Wallace High School |
| Craig Getty | Lisnagarvey | Wallace High School |
| David Lawless (GK) | Clontarf | Mt Temple Comprehensive |
| Nick Judge (GK) | Three Rock Rovers | St Andrews College |
| Alex Flynn | Three Rock Rovers | The High School |
| Guy Sarratt ** | Monkstown | St Andrews College |
| Matthew Walker | Three Rock Rovers | Wesley College |
| Luke Adams | Three Rock Rovers | Newpark Comprenhensive |
| Ben Walker ** | Three Rock Rovers | St Andrews College |
| Matteo Romoli | Monkstown | St Andrews College |
| Ewan Ramsay | Avoca | Newpark Comprenhensive |
| Alex O Regan | Three Rock Rovers | The High School |
| Alistair Empey | Three Rock Rovers | The High School |
| Harry Craig | Monkstown | St Andrews College |
| Ben O Grady | YMCA | Wesley College |
| Peter Lynch | Three Rock Rovers | The High School |
| Conor Beck (GK) | Limerick | Villiers |
| Callum Crowley | Bandon | Bandon Grammar |
| Mark Gallagher | Church of Ireland | Ashton |
| Ben Johnson | Waterford | Newtown School |
| Eoin Nyhan | Bandon | Bandon Grammar |
| Ross Smyth | Bandon | Bandon Grammar |
| Euan Stohers | Ashton | Ashton |
| Chris Gardner | Cannock |   |
Irish Hockey Association media release


---

Defending champs KL out of Under-14 hockey meet

by Aftar Singh and Alvin Oh



Terengganu's Faiznizam Rosly (right) in action during their MHC-1MAS-Milo-KPM National Under-14 hockey match against Singapore at the KL Hockey Stadium. - SHAHRIL ROSLI / The Star

KUALA LUMPUR: Girls' defending champions Kuala Lumpur have failed to make the second round of the MHC-1MAS-Milo-KPM National Under-14 hockey tournament.

The City girls went down 2-1 to Malacca in a Group A match at the KL Hockey Stadium on Wednesday.

While Malacca finished as Group A runners-up behind Perak and qualified for the second round, KL ended up last in the group with just one points from four matches.

In the second round, Malacca are in Group X with Johor and Penang while Group Y comprises Pahang, Singapore and Perak.

While their girls fumbled, the KL boys made sure they did not suffer a similar fate.

The six-time champions drew 0-0 with Perlis at the same venue to move into the second round by finishing runners-up in Group A behind Sabah.

KL coach Mohd Madzli Ikmar was disappointed with his players for missing several sitters.

"We wasted a number of penalty corners in the match. Perlis put up a good fight. We need to buck up in the second round as our mission is to qualify for the final," said Madzli.

Pahang's boys' team also reached the second round with a 2-2 draw against Penang at the Education Ministry Turf.

Pahang got their goals through Muhd Hazim Mohd Ahir (20th minute) and Muhd Syamin Naim Abdul Hamid (38th) while Muhd Aiman Hakimi Zaidi (fifth) and Muhamad Faris Harizan (46th) replied for Penang.

In the boys' second round, defending champions Sabah are in Group X with Pahang and Malacca while Group Y comprises KL, Perak and Johor.

The Star of Malaysia