All the news for Friday 25 November 2016

Day 1 provides action-packed opening to Women's Hockey Junior World Cup 2016



Netherlands got their title defence off to a winning start in Santiago Photo: FIH/World Sports Pics

The planet's best junior women's athletes rocked Santiago on the first day of competition at the Hockey Junior World Cup 2016, with 41 goals scored during six action-packed matches at the Estadio Manaquehue.

A large opening day crowd came out in force to cheer on the world's top junior women's teams beneath the Chilean sun and were not disappointed. During 420 minutes of hockey, Belgium, USA, Netherlands, Australia and England picked up wins.

Whilst Pool B begin their matches tomorrow, here's a summary of the day's action:

Pool A:
Netherlands began their title defence with a comfortable 10-2 win against Korea. Two goals for Frederique Matla and Pleun van der Plas helped their team on their way, with Soyun Moon and Seoyeong Kim scoring two consolation goals for Korea. Speaking afterwards, Netherlands captain Maartje Krekelaar said: "We played very well today. We passed a lot and produced a lot of beautiful combinations so it was a great game for us. We pressed very well, gained a lot of possession and were always attacking. That is the power within our team."

Zimbabwe's first appearance in a Hockey Junior World Cup since 2005 ended in a heavy defeat at the hands of an energetic and efficient USA team. Seven different scorers helped USA to their 10-0 win, including doubles for Erin Matson and Ashley Hoffman. Speaking after their victory, USA captain Julia Young reflected on the benefits that events like this give young athletes. She said: "We all come from different areas within the United States so being able to come together and play against competition like this – you have to be so much faster, more aware, it makes you an all-round better player."

Pool C:
This Pool saw the champions of Oceania and Africa go head to head as Australia took on South Africa. It was however Australia's 'Jillaroos' who took this encounter with a 7-0 win. Two from Sophie Taylor in addition to goals from Greta Hayes, Michaela Spano, Savannah Fitzpatrick, Kate Hanna and Grace Stewart contributed to a flawless opening game for Australia.

Later in the evening an almost capacity crowd enjoyed a Chilean band, traditional dancing and a helicopter fly past. That inspired the home team as they put up a strong fight against a determined England team. Esme Burge scored from a penalty corner after eighteen minutes to give England a 1-0 lead which they defiantly held for the remainder of the game to take the win.

Pool D:
The opening matches of Pool D provided some closely fought games suggesting this could be one of the toughest Pools to qualify from.

In the first match of the day China and Spain played out a hugely entertaining eight goal thriller which saw the match end in a 4-4 draw. China's Zixia Ou and Spain's Anna Gil both grabbed two goals each in what was arguably the most exciting match of the day, with Spain's Belen Iglesias scoring a crucial stoppage time equaliser.

New Zealand however were edged 2-1 by Belgium. The Kiwis started well and found themselves leading 1-0 after a seventh minute penalty corner was slotted home by Stephanie Dickins. But two quick fire field goals from Lien Hillewaert in the 26th and 29th minutes snatched the advantage for Belgium which they held on to for the remainder of the match. Speaking afterwards, New Zealand Head coach Sean Dancer said: "I am pleased with our girls' effort today, we showed real spirit to keep fighting in tough conditions but unfortunately we were unable to make more of some of our opportunities."

Tickets for the event, which is taking place from 24 November until 4 December, are on sale and can be purchased by clicking here. Those who cannot attend can watch the livestream of all games provided by the hosts by clicking here.

Fans can find scores, standings, photos, videos and more via the official event website on FIH.ch as well as through FIH Twitter, Facebook and Instagram using the hashtags #HJWC2016 and #RockTheJuniors.

RESULTS
Pool A: USA 10, Zimbabwe 0; Netherlands 10, Korea 2.
Pool C: Australia 7, South Africa 0; England 1, Chile 0.
Pool D: China 4, Spain 4; New Zealand 1, Belgium 2.

FIH site


---

Jillaroos win on day one of Junior World Cup

Defeat South Africa 7 - 0

Holly MacNeil




The Australian women's Junior World Cup team, the Jillaroos have delivered a crushing 7 – 0 defeat to South Africa on day one of the Junior World Cup in Santiago, Chile.

The side, captained by Rio Olympian Mariah Williams, delivered four goals within the first half courtesy of Kate Hanna, Savannah Fitzpatrick, Michaela Spano and Olympian Grace Stewart.

Hanna was the first to crack the scoreboard with a penalty corner only six minutes into the game. The next twenty minutes went past with a lot of pressing from the Jillaroos before they were rewarded by forcing a penalty corner which Savannah Fitzpatrick converted to a goal for the Aussies.

Michaela Spano added to the tally with a  field goal at the 28th minute, before Grace Stewart secured another penalty corner for the Jillaroos leaving the Australian's with a  huge 4 – nil lead going into the half time break.

In the second half, the Aussies came back just as determined and set about to extend their lead and secure the win. This time it was Great Hayes who went in for a field goal, along with Sophie Taylor who scored a double in penalty corners.

Jillaroos head coach Tim White said: "Today's match was a really pleasing start to the tournament. The tone was set early by our hard work across all lines and our ability to win balls in the press proved to be telling.

"It was pleasing to score some penalty corners but we'll look to improve our conversion rate when entering our attacking 25 for our next match against England."

The Jillaroos next take on England on Sunday November 27 at 1am AWST / 4am AEDT.

JILLAROOS 7 (4)
Kate Hanna 6 (PC)
Savannah Fitzpatrick 25 (PC)
Michaela Spano 28 (FG)
Grace Stewart 31 (PC)
Greta Hayes 38 (FG)
Sophie Taylor 49, 59 (PC, PC)

SOUTH AFRICA 0 (0)

Jillaroos Squad v South Africa
Name (Home town / suburb)
Madison Fitzpatrick (Cabarita, NSW)
Savannah Fitzpatrick (Cabarita, NSW)
Rebecca Greiner (Bundaberg, QLD)
Kate Hanna (Constitution Hill, NSW)
Greta Hayes Maroubra, NSW)
Kaitlin Nobbs (Newington, NSW)
Mikaela Patterson (Blackbutt, NSW)
Aleisha Power (Clackline, WA)
Grace Stewart (Gerrigong, NSW)
Michaela Spano (Toorak Gardens, SA)
Renee Taylor (Brisbane, QLD)
Sophie Taylor (Camberwell, VIC)
Mariah Williams (Parkes, NSW)

Used Substitutes
Kristina Bates (Port Melbourne, VIC)
Laura Gray (Goulburn, NSW)*ACTAS scholarship holder
Savannah Fitzpatrick (Cabarita, NSW)
Rene Hunter (Wentworth Point, NSW)
Ambrosia Malone (Molendinar, QLD)
Karri Somerville (Kensington, WA)
Renee Taylor (Brisbane, QLD)

Hockey Australia media release


---

U-21 USWNT Starts JWC Campaign Strong with a Win Over Zimbabwe




SANTIAGO, Chile - The U.S. U-21 Women's National Team started off its women's Hockey Junior World Cup campaign with a strong scoring performance over ZImbabwe. Seven different USA athletes scored, with three scoring twice, as Team USA won its first pool play match 10-0.

"You never know how you see yourself playing the first ten minutes of a big tournament," said Janneke Schopman, U-21 USWNT Head Coach. "We started off well, when we got that corner, and it went in, it gave us a lot of confidence. I think from that moment on we played really well and created a lot of opportunities."

Off the starting whistle, Team USA gained momentum and kept possession early. Being patient with passing, in the 5th minute Julianna Tornetta (Plymouth Meeting, Pa.) got a backhand shot off from the top of the circle that went just wide of the goal. Persistence continued as Team USA earned its first penalty corner in the 8th minute and Ashley Hoffman (Mohnton, Pa.) converted off a drag flick to make it USA 1, ZIM 0.

Small range shots continued for Team USA and a second penalty corner was earned in the 9th minute of play. Off a mis-insert, Hoffman got a hard shot off but Zimbabwe's defensive unit held strong to clear the ball. Play continued to be in USA's possession while they worked the ball up the field. Being poised in transferring fields to find space, play opened up on the right side where Amanda Magadan (Randolph, N.J.) found room in the circle and one-time swept the ball into the far left of the goal. This made the score USA 2, ZIM 0 in the 14th minute of play.

Four minutes later, USA grabbed a Zimbabwe foot inside the circle and earned its third penalty corner. Though the opportunity was missed, Team USA regained possession and swung the ball out and around the backfield. Working it into the circle, at close range Gab Major (Royersford, Pa.) tucked one behind Zimbabwe's goalkeeper to extend the lead. Another USA goal came just a minute later when Zimbabwe's goalkeepr was caught high and Erin Matson's (Chadds Ford, Pa.) attempt dribbled into the goal.

Opportunities continued to come for Team USA as Nicole Woods (Beverly, Mass.) added her name to the scoresheet in the 24th minute and Matson grabbed her second of the game in the 25th minute. Zimbabwe threatened forward and almost got inside its attacking circle but USA's defense lead by the communication of Kelsey Bing (Houston, Texas) limited the chance. A quick start for USA translated into instant offense and Matson dribbled in and grabbed her second of the game in the 27th minute.

At the 30th minute mark, USA earned its fourth penalty corner and Hoffman's drag flick attempt was read by Zimbabwe's left trail and cleared out of danger. With one minute left in the half, USA earned its fifth penalty corner that Hoffman scored to notch her second goal and give USA a 7-0 lead at the half.

Starting the second half, Zimbabwe got a spark after a misplayed ball off a USA penalty corner that lead to a quick counter attack down the field. USA defender Carrie Hanks (Niskayuna, N.Y.) stopped the play before it entered the circle. Being persistence, Zimbabwe regained possession and earned its first circle penetration testing USA's defense. Play transitioned to the other end of the field where in the 47th minute USA earned its seventh penalty corner. A hard shot from Laura Hurff (Newark, Del.) was saved by Zimbabwe's goalkeeper but Margaux Paolino (Villanova, Pa.) was on the end of the rebound to make it USA 8, ZIM 0.

Zimbabwe continued to work the ball forward and off a hard foul Hurff was given a green card in the 52nd minute. USA's offense kept threatening forward and from the right hand side of the pitch Woods ripped a backhand shot that sailed into the net in the 57th minute to boost the lead to 9-0.

Just a minute later, Zimbabwe worked the ball into its offensive circle and earned its first penalty corner of the match. Off the slip hit, Bing stood tall and made the initial save. For the remainder of the game possession was in favor of USA. Linnea Gonzales (Bel Air, Md.) scored the final goal of the match off a backhand shot that was deflected in by a Zimbabwe defender. Back-to-back Team USA penalty corners that were not converted on in the final two minutes ended the game with a final score of USA 10, ZIM 0.

"It difficult when you play a team like Zimbabwe who got 7 goals scored against them in the first half," said Schopman. "They were a bit less fearless in the second half and just went for it. We took a bit of a backstep in the first 5 minutes, and you see every team can become dangers especially if we don't play as a unit defensively. We picked it up well, started playing simple and how we wanted to play."

The U-21 USWNT is back in action tomorrow evening in its second pool match against The Netherlands at 6:00 p.m. EST. Click here to watch all games of the JWC. Follow Team USA throughout on its journey at the JWC by staying tuned to usafieldhockey.com. #SQUAD #HJWC2016 #RockTheJuniors

USFHA media release


---

NZ Under 21s edged in Junior World Cup opener



Photo: FIH/World Sport Pics

The New Zealand Under 21 Women have been edged 2-1 by Belgium in their first game at the Women's Junior World Cup in Chile.

The Kiwis started well and found themselves leading 1-0 after a seventh minute penalty corner was slotted home by Stephanie Dickins.

But two quick fire field goals from Lien Hillewaert in the 26th and 29th minutes snatched the advantage for Belgium at halftime.

In hot conditions, New Zealand played aggressively in the second half and creating some good opportunities in the attacking third but Belgium were able to hold on for the result.

Head coach Sean Dancer said despite the final result it was a very good effort from his side.

"I am pleased with our girls' effort today, we showed real spirit to keep fighting in tough conditions but unfortunately we were unable to make more of some of our opportunities," he said.

"We have a quick turn around with game two tomorrow against China. We are confident with our aggressive style we can give them headaches and are looking forward it."

The New Zealand Under 21 Women face China next up at the tournament at 8:00am tomorrow (NZ time).

Click here to watch all games live or on demand

Hockey New Zealand Media release


---

Golden girl Suzi celebrates 100 match milestone in Santiago



USA's Suzi Sutton with her FIH Golden Whistle in Santiago, Chile Photo: FIH/World Sports Pics

US Umpire Suzi Sutton was awarded the prestigious International Hockey Federation (FIH) Golden Whistle at the women's Hockey Junior World Cup 2016 in Santiago, Chile after officiating her 100th senior international hockey match earlier this year.

It was just six years ago when Suzi earned her badge as an FIH International Umpire. This follows a remarkable transformation from her youth when she openly admitted she wasn't the biggest fan of the sport.

In an interview a few seasons ago, Suzi said that her mother, a hockey coach in Pennsylvania, had to drag her to games and force her to watch. She said: "I used to hate it, [hockey] but then fell in love with it after I was forced to play one time!"

Such is Suzi's commitment to the game now that she resigned a job at Fed Ex, as she says: "in order to pursue all opportunities associated with umpiring hockey internationally… and I am enjoying the ride."

Among the major internationals that Suzi has umpired to date are the 2013 Pan-American Cup and the 2015 Pan-American Games, where she umpired the bronze medal match. Aside from the Hockey Junior World Cup, Suzi will also be officiating at the women's Hockey World League Semi-Finals in Johannesburg, South Africa in 2017.

Suzi is the 41st women's umpire to receive the FIH Golden Whistle and the third from USA, after Jun Kentwell and Amy Baxter. The FIH Golden Whistle was presented to Suzi after she umpired her first game – New Zealand v Belgium – at the Hockey Junior World Cup with colleague Liu Xiaoying of China.

Speaking about Suzi's achievements, Umpire manager at this event, New Zealand's Sarah Bennet, said: "This is well deserved. Suzi is always a bright, bubbly helpful person and is a pleasure to have as part of the team. She leads by example and is a popular member of the FIH umpiring family."

The FIH Golden Whistle is another example of the sport becoming more professional, a key component of the FIH's 10-year Hockey Revolution strategy. To read more about that, click here.

FIH site


---

Kookaburras defeat New Zealand on Day 2

Double goal for Kieran Govers

Holly MacNeil




The Kookaburras defeated the Black Sticks on day two of the International Festival of Hockey with a golden double from Kieran Govers and a goal from Aaron Kleinschmidt.

Six minutes into the game and New Zealand were a chance with a break away sprint down to their circle, however Australian goalkeeper Tyler Lovell managed to knock the ball away and within seconds it was down in the Australian circle.

Making the most of the opportunity Jake Whetton took a shot on goal, and the hit on a deflection was tapped in by returning Kookaburra Kieran Govers. Only a minute later and Govers worked his magic again, scoring his second field goal from a deflection off the post, giving the Kookaburras an early 2 – nil lead over the Black Sticks.

In the final minute of quarter one Australia went for it with a couple of quick passes leaving Aaron Kleinschmidt undefended at the right of the net and free to flick the ball in to goal past New Zealand keeper Richard Joyce.

The Black Sticks forced a penalty corner in the first minute of the second quarter in an attempt to fight back against the Kookaburras but Tyler Lovell and the Kookaburras were too quick for the Black Sticks and the ball was knocked out of danger.

With four minutes go in the third quarter the Black Sticks broke their drought with Kane Russell using a powerful drag flick to sink the ball into the New Zealand Goal.

Kookaburras interim head coach Paul Gaudoin said: "It was pleasing to get the win today. The Black Sticks started well but we fought back at the end of the first quarter and into the second. It was some fantastic hockey and quality play.

"We lost our way a little bit after half time, and maybe relaxed which let them back into the game. We need to make sure that against Malaysia we get 60 minutes of quality play, not perhaps 35 minutes."

Earlier in the evening India defeated Malaysia 4 – 2 in an action packed game that saw Rupinder Pal Singh score his third goal of the tournament, along with a double from Chandanda Thimmaiah and a single from Akashdeep Singh rounding out India's goals. Malaysia's goals came from Faizal Saari and Shahril Saabah.  

KOOKABURRAS 3 (3)
Kieran Govers 8, 9 (FG,FG)
Aaron Kleinschmidt 15 (FG)

NEW ZEALAND 1 (0)
Kane Russell 41 (PC) 

Full results from Day
IND 4 – 2 MAS
AUS 3 – 1 NZL

International Festival of Hockey Fixtures
Friday 25 November
Hockeyroos v India: 4pm AWST / 7pm AEDT

Saturday 26 November
Kookaburras v Malaysia: 12pm AWST / 3pm AEDT
India v New Zealand Men: 2pm AWST / 5pm AEDT 

Sunday 27 November
FINALS SESSION
Hockeyroos v India: 11am AWST / 2pm AEDT
Men's 3rd v Men's 4th: 1pm AWST / 4pm AEDT
Men's 1st v Men's 2nd: 3.30pm AWST / 6.30pm AEDT

Kookaburras squad v New Zealand
Scott Boyde (Brisbane, QLD) 4/0
Ben Craig (Lane Cove, NSW) 4/0
Matthew Dawson (Killarney Valley, NSW) 58/8
Kieran Govers (Wollongong, NSW) 118/57
Casey Hammond (Bundoora, VIC) 5/0
Jeremy Hayward (Darwin, NT) 65/21
Aaron Kleinschmidt (Melbourne, VIC) 5/1
Tyler Lovell (Perth, WA) 73/0
Jake Whetton (Brisbane, QLD) 110/45
Tristan White (Wollongong, NSW) 83/6
Aran Zalewski (Margaret River, WA) 102/14

Used Substitutes
Chris Bausor (Perth, WA) 19/1
Daniel Beale (Brisbane, QLD) 92/16
Flynn Ogilvie (Wollongong, NSW) 39/12
Josh Pollard (Melbourne, VIC) 5/0
Matthew Willis (Tamworth, NSW) 12/1
Dylan Wotherspoon (Murwillumbah, NSW) 28/6

Unused Substitutes
Tristan Clemons (Bunbury, WA) 29/0

Hockey Australia media release


---

Fast starting Kookaburras beat Black Sticks



Photo: Grant Treeby

The Black Sticks Men have been defeated 3-1 by hosts Australia at the International Festival of Hockey in Melbourne.

The Kookaburras powered to a three goal lead in the first quarter and while the Kiwis fought back hard they were unable to overcome the deficit.

Defender Kane Russell scored New Zealand's goal midway through the third quarter when he rocketed a penalty corner flick into the top of the net.

Head coach Colin Batch said it was a rough first quarter but overall his side played some quality hockey against the world number one ranked Kookaburras.

"If you look at the stats they had a lot of ball in that first quarter and we allowed them to score three goals. They certainly took their chances and we didn't so it was hard work from there," he said.

"I was very pleased with our second half and particularly in the final quarter I think we showed some real fight to come back from a miserable start.

"We were able to hurt them in some areas and Kane scored a superb goal. Our finishing and quality in fourth quarter was very good so we need to take that into our next game against India."

Australia had the Kiwis under early pressure and opened the scoring in the eighth minute with Dylan Wotherspoon getting a final touch on a pass into the circle.

Kieran Govers scored just one minute later after displaying some quick reflexes to collect a deflection off the post and send a shot in past goalkeeper Richard Joyce.

The Kookaburras pushed out to a three goal lead in the 15th minute when Aaron Kleinschmidt was left unmarked in the circle to smash a forehand shot into goal.

The Black Sticks played a much better second quarter and threatened to score their first goal from several penalty corners, but Australia's defence held firm.

New Zealand lifted the intensity after the break and Kane Russell lit up the scoreboard in the 41st minute, ripping a penalty corner drag flick into the roof of the net.

The fourth quarter saw the Black Sticks create some threatening phases of play but they were unable to cross the Australian goal line.

Tomorrow is a rest day before the Black Sticks do battle with India at 7:00pm on Saturday night (NZ time), with live coverage on SKY Sport.

BLACK STICKS 1: (Kane Russell)
KOOKABURRAS 3: (Dylan Wotherspoon, Kieran Govers, Aaron Kleinschmidt)
Halftime: Kookaburras 3-0

Hockey New Zealand Media release


---

First quarter blitz powers Australia to win over Black Sticks men in international quad series

Clay Wilson



Kane Russell scored the lone goal for the Black Sticks in their 3-1 loss to Australia in Melbourne. PHOTOSPORT

A first quarter blitz has powered Australia to a 3-1 victory over New Zealand on day two of the international men's hockey quad series in Melbourne.

Claiming revenge for a rare loss to their Kiwi rivals to complete the three-match trans-Tasman series in Auckland last week, the hosts scored all three of their goals in a frenetic five-minute period in the opening stanza of match.

The Black Sticks, who drew 1-1 with Malaysia to open the tournament, valiantly attempted to fight their way back over the remainder of what was an open and entertaining contest throughout.

But the world No 1 side scrambled well on defence and were ultimately too classy for the eighth-ranked visitors, a Kane Russell conversion at penalty corner time late in the third quarter the only reward New Zealand could muster from plenty of attacking endeavour.

The result means Australia are all but assured a place in Sunday's final, while the Kiwis face a must-win encounter against sixth-ranked India on Saturday (7.30pm NZ time) to be any chance of playing in that gold medal match.

New Zealand started confidently, creating a couple of half chances, but that soon disappeared as an equally eager Australian outfit very firmly stamped their authority on the contest.

The hosts took the lead in the eighth minute, Dylan Wotherspoon first on the board following slick build-up play from returning strike weapon Jake Whetton.

A cruel bounce back off the post for Kiwi keeper Richard Joyce afforded Whetton's counterpart Kieran Govers a simple finish just moments later and before a stunned Black Sticks side knew it they were trailing by three.

The looks of disbelief from the New Zealand defenders said it all as a pass drifted across from the back-line all the way to a wide open Aaron Kleinschmidt, who obliged by slamming a low shot past a sprawling Joyce.

The visitors were more settled in the second stanza, solidifying their defence and proving more threatening on attack, winning corners at either end of the quarter.

But neither set-piece brought the desired result and Australia were also unable to capitalise on a late corner of their own as the teams took the halftime break with score unchanged. 

The openness of the match continued in the third period, both teams keeping the respective defensive units on their toes with several circle penetrations.

Finally, with three minutes left in the quarter, the Black Sticks got a chance to stick, drag-flick exponent Russell stepping up and firing the visitors fourth corner of the night high past flailing Australian goalie Tyler Lovell.

New Zealand pressed increasingly hard as the fourth and final quarter wore on, the home side also happy to make use of the space as the match stretched right out along the turf.

Despite a number of potential opportunities at either end, though, more goals were not forthcoming, with the finishing touch eluding both teams as they tired in what had been a high-paced game from the opening whistle.

There was to be no miraculous fightback from the Black Sticks, Australia calmly surviving several more raids on their red zone in the closing stages to close out a deserved win.

Australia 3 (Dylan Wotherspoon 8, Kieran Govers 9, Aaron Kleinschmidt 12) New Zealand 1 (Kane Russell 43 (PC)). Q1: 3-0. Q2: 3-0. Q3: 3-1.

Stuff


---

Combative India flourish late against Malaysia to stay alive

By Sundeep Misra



The Indian hockey team celebrate their win. Image courtesy: Twitter

India's ability to slip into a higher gear helped as a late flourish from Nikkin Thimmaiah and Akashdeep Singh ensured that the Asian Champions beat Malaysia 4-2 and kept their hopes alive for a place in the final of the 4-Nations Festival of Hockey in Melbourne. While intensity was the reason that they remained dynamic in the fourth quarter, the earlier part of the match was scrappy. In the first three quarters, India looked combative only in patches.

Malaysia will be unhappy that they couldn't hold India in the last five minutes but they walked off the pitch knowing their two goals were gifts from an Indian defence, which a Japanese psychologist would probably define as 'Harakiri'. Off the pitch, back in the hotel, both VR Raghunath and Sarjit Singh should probably expect a mouthful from interim coach Roger Van Gent.

Nikkin Thimmaiah scored two goals (24th and 55th minute) with the other two coming off Rupinder Pal Singh (40th) and Akashdeep Singh (56th). Malaysia pulled back to level the match twice through Faizal Saari (39th) and Shahril Sabbah (47th).

The pace in the first five minutes of the match did point to the fact that India were eager to forget the defeat against Australia. They needed points as they sat at the bottom and only a win could keep them alive. On Wednesday against the Aussies, the Indians were lacking central skills in the second and third quarter and they tried to change that against Malaysia.

Thirty seconds into the match and Manpreet Singh could have scored but his reverse hit went over the post. Talwinder Singh, in his imitable style, swept into the Malaysian circle but the lovely, stinging cross wasn't received by a single Indian stick in time. Half way through the first quarter, Malaysia started picking up crosses and pegged India back for long periods. Akash Chikte, after an error-prone performance against Australia, on Thursday looked alert and in the 10th minute came off the line to brilliantly save a Ramadan Rosli shot.

The breakthrough for India came off a brilliant Sardar Singh move. Almost dispossessed at the half line, Sardar wrenched the ball back and sent a lovely through ball that tore open the Malaysian defence. Satbir Singh trapped it neatly and sent it to an overlapping Nikkin inside the Malaysian striking circle. What followed was a beautiful display of skill as Nikkin dragged the ball to the left, and seeing open space, cracked a shot that beat veteran Malaysian goalkeeper Kumar Subramiam. India should have ridden the momentum but they fell back, and unlike what one has seen in the recent past, kept losing balls in the midfield. Aamir Khan, inducted into the senior team, was more keen on showcasing his dribbling skills than using his lateral vision to pass to better-placed teammates. Eventually, the second quarter petered out with India hanging on to a 1-0 lead.

Both India and Malaysia changed their goalkeeper after half time. In place of Chikte came Abhinav Pandey and Malaysia's Kumar gave way to Othman Hafizuddin. Pandey made two good saves off extremely hard, angular shots from the top of the circle. But the good work went out of the window when Raghunath pushed a Malaysian forward from behind just outside the striking circle. It was a double whammy as the captain got a green card and India gave a penalty corner away for the first time in the match. Malaysia didn't lose the opportunity as Faizal Saari, one of the few forwards in the world with the ability to flick penalty corners, beat Pandey with a speedy flick. Tied at 1-1, India fought back and within a minute, Pardeep Mor let loose a shot down the right flank, that went straight to Sardar within handshaking distance of the Malaysian goalkeeper Othman. With no options in front, Othman sat on the ball as India earned their first penalty corner. Rupinder Pal Singh was on target to score his third goal of the tournament and give India a 2-1 lead. Taking the last tournament into account, this was Rupinder's 14th penalty corner goal.

Malaysia fought back and almost had the equalizer when Ramadan Rosli ran down the left flank, drew Pandey out and sent a high shot which looked like it was headed straight to goal. But Birendra Lakra was on the line to smother the shot and clear it. Only someone with hand-eye coordination like Lakra's could have achieved that. Two minutes left in the third quarter, India had their second penalty corner but Rupinder couldn't stop the ball cleanly.

India came all out in the fourth quarter as the Malaysian goalkeeper saved a wonderful reverse shot from Akashdeep and then Nikkin came close, his scoop beat the goalkeeper but sailed over the post. And then Satbir made what is considered a ridiculous error at this level. The umpire had already blown for an infringement and Satbir, instead of stepping back, hit the ball away. With Murray Grimes officiating, players don't take these liberties and he immediately gave a penalty corner to Malaysia. Saabah Shahril didn't look at a gift horse in the mouth as he flicked past Pandey to draw Malaysia level at 2-2. India pressed hard as the coach called Satbir off the ground. The Punjab Warriors player didn't come back on to the pitch.

With five minutes left in the last quarter, India pressed hard and Akashdeep stole a ball in the midfield off a Malaysian stick. He charged in and put through a beautiful ball for Nikkin who slid the ball past Othman to give India a 3-2 lead. Akashdeep could have gone alone, show-boating his skills, but being selfish is not a character of this team. With four minutes remaining, India rode the charge again from the midfield and Akashdeep this time saw space in front and beat the Malaysian goalkeeper with a reverse hit for India to lead 4-2. This was India's third consecutive tournament victory over Malaysia — earlier wins were 6-1 at the Azlan Shah and 2-1 at the Asian Champions Trophy.

Despite the win, Indian coach Roger Gent wasn't too happy a man. "Not happy with the first half," the Dutchman said, "But I am happy with the result. We needed to stay alive in the tournament and we have done that." After a rest day on Friday, India now play New Zealand on Saturday.

Firstpost


---

India overwhelms Malaysia 4-2 in Melbourne 4-Nation Cup




Nikkin Thimmaiah's brace and a goal apiece from Rupinder Pal Singh and Akashdeep Singh led India to a over-whelming 4-2 win in the Melbourne 4-Nation Cup.

After a barren first quarter, Sardar Singh setup through Satbir Singh for a fluent goal by Nikkin Thimmaiah from top edge of the circle. The sides changed with this Indian advantage. Nine minutes into the third quarter, Malaysia hit back with Faizal Saari converting a penalty corner. Shortly, India won themselves their first PC almost from the restart of which Rupinder Pal Singh made no mistake, to restore India's lead.

The teams went into the final break with India leading 2-1.

Malaysia had a flurry of PCs in the opening minutes of the final quarter. Shahril Saabah converted the second to draw them level, setting the stage for a superb finish.

The equaliser from Malaysia served as a blessing in disguise for India as they stepped up their game and started more assertive with their possession, with more penetrations into the Malaysian circle.

For their part, a lot of the play was patient, slow in the build-up but more precise. The dominance on the ball paid off in the 55th minute, Nikkin scoring his second of the game to restore India's lead.

India were now in the ascendancy. Within a minute Akashdeep Singh scored his first and team's fourth goal to ensure there would be no nervous moments at the end as India held on for a 4-2 victory.

Tomorrow is rest day

India will play New Zealand on 26 November 2016 at 11.30 am IST.

Indian Goal Scorers:
Nikkin Thimmaiah (24', 55'
Rupinder Pal Singh (40')
Akashdeep Singh (56')

Stick2Hockey.com


---

Nikkin Thimmaiah powers India with a brace.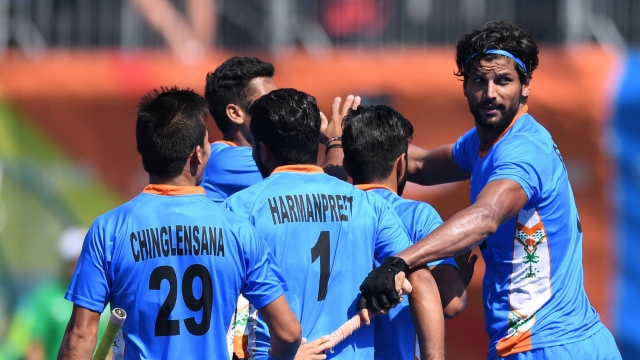 India beat Malaysia 4-2 in 4 Nations Invitational hockey tournament (AFP)

Nikkin Thimmaiah scored a brace as the Indian men's hockey team got the better of Malaysia 4-2 to register its first win in the round robin encounter of the 4 Nations Invitational tournament in Melbourne on Thursday.

In a closely-fought contest, India scored two goals in the final quarter of the match to earn their first points at the tournament. India got off to a dominating start in the opening periods of the game, pressing high and consistently effecting turnovers to keep Malaysia in their own half. However, despite the overwhelming possession, there weren't many clear chances created as Malaysia's deep defence held firm and the two teams went into the first break locked in a stalemate.

In the second quarter also the Indians dominated in the midfield but were unable to find a breakthrough in the final third. This lasted till the 24th minute of the match before Sardar Singh capitalised on a Malaysian mistake to launch an attack. His pass found Satbir Singh, who laid it off to Thimmaiah at the edge of the circle. Nikkin dummied the defender and cut into the circle, before unleashing a shot into the bottom corner to give India a 1-0 lead, which they held on to as the match went into halftime.

Nine minutes into the third quarter, Malaysia hit back with an equaliser with Faizal Saari converting a penalty corner. The parity didn't last long though, as India won their first PC almost from the restart. From the PC, Rupinder Pal Singh made no mistake and once again gave India the lead. The teams went into the final break with India leading 2-1.

Malaysia had a flurry of PCs in the opening minutes of the final quarter. Shahril Saabah converted the second to draw level again, setting the stage for an exciting finish.

The equaliser from Malaysia served as a blessing in disguise for India as they stepped up their game and started being more assertive with their possession, making more penetrations into the Malaysian circle. The dominance paid off in the 55th minute with Nikkin scoring his second goal of the game. India stepped up a gear and within a minute as Akashdeep Singh scored the fourth goal for India.

India will next play New Zealand on Saturday.

DNA


---

India beat Malaysia 4-2

NEW DELHI: The Indian men's hockey team got their first win of the Four Nations Invitational Tournament by beating 14th-ranked Malaysia 4-2 in Melbourne on Thursday. A day after losing to world No 1 Australia 2-3, VR Raghunath's team bounced back through goals to Nikkin Thimmaiah (21', 55'), Rupinder Pal Singh (40') and Akashdeep Singh (56') plus an improved display from goalkeeper Akash Chikte for the three quarters he was custodian.

India next play New Zealand on November 26 at 11:30am IST in what is a must-win game.

Much like Australia did on Wednesday, Malaysia worked their way back into the game after India dominated the first quarter but the difference for India today was that Rupinder found more support and was crucially able to quickly put the Asian champions back in the lead after Faizal Saari drew level in the 39th minute. The second crucial passage came in the last few minutes, when Thimmaiah and Akashdeep scored in succession to overturn a 2-2 deadlock into an irreversible 4-2 lead.

India, ranked sixth in the world, did most of the attacking in the early moments and proceeded to keep Malaysia largely in their own defensive half during the first quarter, with Sardar Singh and youngster Affan Yousuf producing some special play. Malaysia had one solid opportunity to score in the 11th minute but a brilliant save from goalkeeper Akash Chikte denied Ramadan Rosli from the right corner. That was the only real chance that India's defenders allowed their opponents in the first quarter, though Malaysia did mount more pressure than in the first few minutes.

In the 24th minute, just seconds after Birendra Lakra fed Affan a great chance from the left corner that wasn't capitalized on and resulted in a foul, Nikkin Thimmaiah slotted a fierce shot into the back of the net to give India the advantage.

Malaysia equalized midway through the third quarter, with Saari using their first penalty corner to slot in a superb goal, but less than a minute later an unstoppable PC from Rupinder made it 2-1. Credit for this goal also goes to Sardar, who fed a lovely pass to India's drag-flick expert. Behind the line, there was further excellence from Lakra who stopped a strong reverse flick from Rosli that beat Chikte.

India's familiar nerves came to the fore during the last 15 minutes, but thanks to strikes from Thimmaiah and Akashdeep Singh in the span of seconds the result was a positive one. Abhinav Pandey took over from Chikte as goalkeeper and just moments into the last quarter, was left exposed as Shahril Saabah broke through with a PC goal in the 47th minute. Then were fumbles from Akashdeep and Satbir Singh too, but some great team-work from Sardar and Thimmaiah ensured India went up 3-2 in the 55th, with the latter finishing excellently. Then it was Akashdeep's turn to strike, and his superb reverse hit made it 4-2.

The Times of India


---

New era for Black Sticks Women



Photo: www.photosport.nz

Black Sticks Women's head coach Mark Hager has named 12 debutantes for next month's test series against Malaysia in Taranaki.

The series will see the Kiwis play five tests against the Malaysians at the TET Multisports Centre in Stratford from 12-18 December.

Following on from last week's 2-1 series win against the Hockeyroos at the Ford Trans-Tasman Trophy, Hager will continue giving some of the country's top young talent international experience.

From the squad of 22 players, none have played more than 100 tests with striker Samantha Harrison the most experience with 96 caps while Kirsten Pearce is the sole representative from the Rio Olympic team.

It will be an enticing hit-out and progression for several talented young players who are competing at this week's Women's Junior World Cup in Chile.

Coach Hager said the time is right to continue the evolution of the Black Sticks group with the Tokyo Olympic Games looming in four years.

"The players selected for this series are with an eye to the future and maintaining competition for positions will continue to develop depth within our playing group," he said.

"Malaysia will be a good challenge for this group as they have shown excellent progress over 2016.

"To be able to provide an opportunity for 12 debutantes is exciting and builds on our philosophy post Rio of providing opportunity for the wider group."

Presale tickets from just $5 will go on sale early next week through www.hockeynz.co.nz

The series is proudly supported by the Taranaki Electricty Trust (TET).

BLACK STICKS WOMEN
Malaysia Series, Taranaki
 
| | | | | | |
| --- | --- | --- | --- | --- | --- |
| SHIRT # | PLAYER NAME | REGION | POSITION | AGE | CAPS |
| 15 | Jess ANDERSON | Canterbury | Midfielder/Striker | 18 | - |
| 14 | Michaela CURTIS | Central | Striker | 23 | 39 |
| 28 | Tarryn DAVEY | Midlands | Defender/Midfielder | 20 | - |
| 5 | Frances DAVIES | Midlands | Defender | 19 | - |
| 9 | Maddie DOWE | Auckland | Defender | 20 | 4 |
| 20 | Natasha FITZSIMONS | Midlands | Defender | 26 | 55 |
| 3 | Erin GOAD | North Harbour | Defender/Midfielder | 23 | 6 |
| 2 | Sam HARRISON | Auckland | Midfielder/Striker | 24 | 96 |
| 23 | Megan HULL | Midlands | Defender | 21 | - |
| 19 | Alia JAQUES | Midlands | Midfielder | 21 | - |
| 11 | Rachel McCANN | Canterbury | Striker | 22 | 32 |
| 30 | Pippa NORMAN | Central | Defender | 21 | - |
| 18 | Kirsten PEARCE | North Harbour | Striker | 24 | 64 |
| 1 | Felicity REIDY | Capital | Midfielder/Striker | 23 | 3 |
| 12 | Deanna RITCHIE | Auckland | Striker | 21 | - |
| 6 | Brooke ROBERTS | North Harbour | Goalkeeper | 20 | - |
| 32 | Amy ROBINSON | Midlands | Striker | 20 | - |
| 7 | Phoebe STEELE | Canterbury | Midfielder/Striker | 21 | - |
| 29 | Jenny STOREY | Canterbury | Defender | 24 | 12 |
| 22 | Kim TANNER | Midlands | Defender | 23 | 3 |
| 17 | Catherine TINNING | Canterbury | Striker | 21 | - |
| 21 | Ginny WILSON | Southern | Goalkeeper | 21 | - |

MATCH SCHEDULE

Monday 12th December
6:30pm - Black Sticks Women vs Malaysia

Tuesday 13th December
6:30pm - Black Sticks Women vs Malaysia

Thursday 15th December
6:30pm - Black Sticks Women vs Malaysia

Saturday 17th December
3:00pm - Black Sticks Women vs Malaysia

Sunday 18th December
1:00pm - Black Sticks Women vs Malaysia
Hockey New Zealand Media release


---

Namibia, SA square up for hockey battle

by Helge Schutz



Namibian captain Maggie Mengo (left) in action against Australia.

THE top two women's hockey teams in Africa will battle it out in Swakopmund this weekend when Namibia host South Africa in the five-match Investec Indoor Hockey Test series.

Namibia have steadily improved against their southern African neighbours in recent years and will be hoping to build on those performances on home soil.

In 2014 Namibia beat South Africa for the first time in a 4-3 thriller in Windhoek, but they lost the series 2-1 as SA qualified for the 2015 World Cup.

That victory was no fluke and in December last year, Namibia beat South Africa for the first time away at a Four Nations tournament in Durban. It was another thriller, with Namibia recovering from a 2-1 halftime deficit to win the match 3-2.

Namibia also beat the United States 3-2 to reach the final, but this time the South Africans gained revenge with a thorough 6-0 victory.

In August this year, the two sides once again met in an indoor series in Durban, with South Africa winning another close series. They won three tests to Namibia's one, with one match drawn, as Namibia once again showed that they had narrowed the gap on their powerful neighbours.

By then, Namibia reached their highest world ranking of 14th compared to South Africa's 11th although both nations have dropped down a place since then.

Now they square up again and Namibian coach Erwin Handura is determined to continue improving against South Africa.

"In our last series we improved with each game, but we have to improve our results. The last time we won one match and drew one, but we should also have won that one - we had two shots cleared off the line. I am pleased that we are creating chances, but we have to make use of them," he said.

The Namibian team has been training in Swakopmund for the past week and Handura said they are well prepared.

"I'd say we are better prepared than for the Durban series in August. The players are fitter and we have worked hard on our tactics. We arrived here on Sunday and have been training every day. On Tuesday we also played a match against a local men's team that we won," he said.

The series serves as preparation for next year's African World Cup qualifier, and Handura has named a very young Namibian squad with the eye on developing them for the future.

Most of the players are still under 23 years of age, with half of the team under 21.

It includes three school girls, with Dure Boshoff the youngest at 16 years, while Dunelle van Taak and Sunell Ludwig are both 18. Furthermore, four players will be making their international debuts, namely Ludwig, Boshoff, Zaan Marie Niemand and Lidia Simon.

The experienced players in the squad include captain Maggie Mengo, vice captain Jerrica Bartlett, Marcia Venter and Jocelle Deysel.

Despite his youthful side, Handura has faith in his team.

"We want to develop our younger players for the future, so this is a very good opportunity. Dure is only 16, but she has a good temperament, she's well conditioned and fast and she has good hockey skills," he said.

South Africa has also included some upcoming young players, as well as several experienced international players like Shelley Higgo, Jessica O' Connor, Cindy Hack and Kelly Madsen.

The Test series takes place at the Dome from Friday to Sunday. Two tests will be played Friday and Saturday, at 11h00 and 19h00 on each day, while the final test will be played at 09h00 on Sunday.

Handura called on Namibian fans to support their team and watch top class hockey.

"Come and enjoy some excellent hockey at the highest level. The top two teams in Africa are in action, so the speed and skill on display should be a treat for everyone," he said.

The Namibian


---

De Voogd and Mazzilli thrilled about Amsterdam KO16 showdown




Bob de Voogd and Agustin Mazzilli are looking forward to trying to repeat HC Oranje-Rood's recent Hoofdklasse win over AH&BC Amsterdam when the two clubs meet again in the EHL KO16 next Easter.

The duo will be hoping to delight their home crowd at Eindhoven and, speaking about the KO16 tie, de Voogd says it will be a huge moment for Oranje Rood in what is their first season since the amalgamation of Oranje Zwart and EMHC.

"It's going to be a great opener for us. We just played them recently and won 3-1," he said. "It was a tight game but I am looking forward to playing them again. There will be a big crowd for a Dutch team against another Dutch team in Eindhoven with us having the home advantage."

De Voogd has played in many big EHL games, reaching the final in 2014 before scoring the winning shoot-out to land the Alain Danet trophy in 2015. And he is hoping he can win another title this time around.

"It's a special feeling to host the EHL KO16. We lost a final at Oranje-Zwart a few years ago at home but then won it at Bloemendaal.

"To have it now at the new club of Oranje Rood is something special. It's really good for the club to get a big tournament like the EHL in the first year in existence, to play in front of our home crowd. I know for sure they will be there again in big numbers which is an amazing feeling."

Looking generally at the KO16 draw, Olympic gold medalist Mazzilli – who moved from Royal Leopold to Oranje Rood during the summer – said it is a series of matches packed with intrigue.

"Dragons facing Racing Club de Bruxelles was the final last year in Belgium. I know the teams really well and it is going to be a really nice game to watch. Kampong again [Rot-Weiss] Koln is another good one; Club Egara and Mannheimer – there's lots of them and perfect for a really crowded stadium to enjoy the games.

"The EHL is one of the most important tournaments in world hockey. There are lots of good players in it, coming from lots of different countries, playing the best of Holland, Germany, Spain.

"The television is a good quality and the players love to play in it. We will enjoy the games and try and make the best show for the audience but also to make sure we can win and I know we can do it."

Euro Hockey League media release


---

Dar Hockey Academy  scores comprehensive 6-2 victory over strong MBI

By Ijaz Chaudhry

Pakistan's Dar Hockey Academy (Under 18) in the third match of the Malaysian tour encountered the strongest opposition thus far in Majlis Bandaraya Ipoh's first string.

It was Men vs Boys.

MBI is the number one team of Perak state and ranks among the top 10 in Malaysia.

Players have won frequent national selections.

The flood lit match at Sultan Azlan Shah stadium in Ipoh saw MBI go ahead within two minutes. A long ball was received by a totally unmarked Akmal Tajuddin in the Dar HA circle who easily tapped it in.

Conceding the lead for the first time, Dar HA fought back and restored the parity within three minutes. Ali Aziz, inside the MBI circle, released the ball to Awais Arshad standing near the goal line. Awais' minus was pushed in the goal by Usman from a close range.

For the next 25 minutes, an interesting battle ensued between the two sides to surge ahead. Both raided the opposite circles and the respective custodians and defenders were tested. Dar HA had better opportunities including a couple of sitters.

It seemed the hooter would be blown at 1-1. But the last five minutes saw a flurry of goals. Off Dar HA's second penalty corner, Mubashar's seemingly weak angular push baffled everyone and found the left corner of the board.

It was soon 3-1 as a superb Ali Aziz long pass beat the entire defence and the MBI goal keeper Taib was alone, facing  opponents' two forwards. Awais Arshad unselfishly slipped the ball to Wasim Akram who had the easiest of the tasks.

The experienced MBI responded in no time. Some poor Dar HA defending let the ball travel to Sopian at an ideal position on the top of the circle. He found the net with a forceful hit.

Within seconds,  Dar HA again doubled the lead. A sweeping right side move involving four players was finished beautifully by Awais Arshad who beat the net minder with a reverse flick on the turn.

Half time 4-2

Pakistani boys mostly controlled the proceedings in the last 35 minutes and ran the MBI defence ragged.
Numerous chances were created through excellent moves but the finishing deserted them.

MBI did enter the opposition's striking circle a few times, without making any attempt.

Dar HA only managed to add to their tally in the last minutes. Awais Arshad robbed a defender deep inside the MBI territory and it was three vs one. Zulqarnain's first try was well saved by the goal keeper but he managed to flick the ball into the net from the rebound.

From the third PC, Asif scored through a flat angular push to make it a tennis score.

Scorers:
Dar HA: Usman, Mubashar, Waseem Akram, Awais Arshad, Zulqarnain & Asif
MBI: Akmal & Sopian

Fieldhockey.com


---

Dar Hockey Academy goes down 1-2 to National Sports School of Malaysia

By Ijaz Chaudhry

After winning the first three matches against strong oppositions on their Malaysian tour, the tournament time started for Pakistan's Dar Hockey Academy.

Originally, four teams were scheduled to play in the Raja Ashman Shah Hockey Academy Invitational tournament in Ipoh. Now it was a three side affair but changed into a double league followed by the final. Each side to play two 50 minute matches in a day.

Dar HA's first opponent at the Azlan Shah stadium were National Sports School of Malaysia,Johor.

One of two such schools in the country, NSS picks up promising hockey players of 12-13 years of age from all over the country. The boys stay full time in the school. They leave the NSS at the age of 19 after completing the school education.Team for today's tie included two current members of the Malaysian junior squad.

Match began with the two teams earnestly looking for early supremacy. Both wasted a penalty corner in the first five minutes. The struggle continued. Dar HA went ahead with the second PC in the 12th minute. A two touch variation was executed to perfection; Awais Arshad, the scorer.

Back and forth game continued but it remained 1-0 after the first half.

Same entertaining stuff was witnessed on resumption. Dar HA were unlucky not to score in the 4th minute. On a tun over, Asif's long through ball was taken by Ali Aziz whose cross was met by the diving Waseem Akran at full stretch but the ball ricocheted off the bar.

It also got heated and emotional towards the latter stages. Three Dar HA players got suspension one after another. The team's rhythm was affected and they had to pay for that.

NSS of Malaysia turned the match upside down with two goals in the last five minutes. First, a communication breakdown between the Dar academy's defenders let  Shakeel creating space for himself in the circle before pushing the ball over the goal line.

The winning goal was scored off a disputed PC with just 90 seconds left. However, it was a baffling manouvre on the set piece which left the Dar HA defenders guessing, and Arif Shafi's high flick earned his side a memorable come from behind victory.

SCORERS:
Dar HA: Awais Arshad
NSS of Malaysia: Shakeel & Arif Shafi

Fieldhockey.com


---

Dar HA downs Sukman Perak 3-0 in invitational tournament

By Ijaz Chaudhry

Stung by their first defeat of the Malaysian tour (after three victories) a few hours back, Pakistan's Dar Hockey Academy Under 18 faced another strong side in their second match of the Raja Ashman Shah Hockey Academy Invitational tournament in Ipoh.

Sukma Perak team is composed of the best under 21 talent from the entire Perak side.

Importantly, they had defeated National Sports School of Malaysia in their first match; the team that had won against Dar HA.

That loss proved to be a wake up call for the Dar HA, who were all over the Sukma Perak from the word go. In the floodlit Azlan Shah stadium, the Lahore based outfit completely dominated the first half with relentless pressure and found the target thrice.

Mubashar opened the account availing the first penalty corner in the 6th minute with a low flat push on the left corner of the goal. After wasting several opportunities, the lead was doubled in the 20th minute when after a left side move, Usman's delicate touch completely deceived the goal keeper.

It was Usman again who made it 3-0 in the last moments of the 25 minute half with a tomahawk from a difficult angle.

Sukma Perak who rarely entered the Pakistani circle in the first half appeared to be a different side when the second period commenced. They camped in the Dar HA 23 metre area for good about 10 minutes, creating chances including a penalty corner. Resolute defence, where Abid Bhatti was outstanding, kept them at bay.  Having weathered the storm, the Pakistani side regained composure and were again raiding the opponent's goal. But it was still 3-3 when the final hooter sounded.

After the first round of the double league, all the three teams have one win and one loss.

Scorers: Usman (2) & Muabashar

Fieldhockey.com


---

Irish U16 Boys Squad announced

Following the Interpros in Belfast last weekend, Irish Coach Niall Denham, has announced players for trials to be held on Sunday 4th December at the National Hockey Stadium, UCD.

Denham said " I am very excited to start the development of this group working towards our summers activities in 2017".
| | | |
| --- | --- | --- |
| Name | School | Club |
| Scott Dale (GK) | Banbridge Academy | Banbridge |
| Sam Hamill (GK) | Regent House | NICS |
| Sammy Clyde | Parkhall Integrated College | Antrim |
| Matthew Willis | Sullivan Upper | NICS |
| Sam Anderson | Friends School Lisburn | Lisnagarvey |
| Stephen Hamill | Bangor Grammar | Mossley |
| Jack McGall | Friends School Lisburn | Lisnagarvey |
| Hugo Henderson | Friends School Lisburn | Lisnagarvey |
| Oliver Kidd | Friends School Lisburn | Lisnagarvey |
| Jonathan Lynch | Wallace High | Lisnagarvey |
| Troy Chambers | Cookstown High | Cookstown |
| Stewart Wylie | Cookstown High | Cookstown |
| Matthew Campton | Methodist College | Lisnagarvey |
| Jack Oakman | RBAI | Instonians |
| Tiernan Murphy (GK) | Midlelton College | Midleton |
| Ronan Passmore (GK) | John The Baptist, Hospital | Limerick |
| Ian Balding | Newtown School | Kilkenny |
| Ethan McInerney | Newtown School | Waterford |
| Conor McCarmack | Midleton College | Midlelton |
| Ben Roberts | Bandon Grammar | Cork Harlequins |
| Ben McInerney | Newtown School | Waterford |
| Kevin O Dea | Ashton Comprenhensive | Cork Church of Ireland |
| Andrew Salter | Ashton Comprenhensive | Cork Church of Ireland |
| Ross Bailey | Midlelton College | Cork Harlequins |
| Jack o Meara | Ashton Comprenhensive | Cork Harlequins |
| Jake Raben Hurley |   | Hurley, Netherlands |
| Harry Lynch | The High School | Three Rock Rovers |
| Josh Greaney | Wesley College | Corinthian |
| Cian Murphy | St Andrews College | Pembroke Wanderers |
| Mark Duggan | Mount Temple | Clontarf |
| Craig Mackay | Wesley College | Corinthian |
| Scott Ruttle | Wesley College | Three Rock Rovers |
| David Murphy (GK) | Newpark | Avoca |
| Roan Kennedy (GK) | St Andrews College | Monkstown |
| Henry Ellis | Wesley College | Corinthian |
| James Maginnis | Kings Hospital | Pembroke Wanderers |
| Matthew Sweetnam | The Kings Hospital | Three Rock Rovers |
| Riley Marchant | St Andrews College | Monkstown |
Irish Hockey Association media release


---

Hockey Australia receives Australia-India Council Grant to support Hook in 2 Hockey

Holly MacNeil




Hockey Australia has received a grant funded by the Australia-India Council to support a Hookin2Hockey program in India which will be jointly undertaken by Hockey Australia and the Dabang Mumbai Hockey Club.

The grant will allow Hockey Australia to take its Hookin2Hockey program to India to run in conjunction with a Hockey India League Franchise in 2017. This is to further encourage the participation of children within the sport, and to provide the coaching expertise required to enable to the grant to leave a lasting legacy.

This new project aims to further strengthens the ties between Australia and India in a collaboration to grow the game and brand of hockey, a sport which is very important to both countries.

Hockey Australia Chief Executive Cam Vale said: "We are delighted to have received a grant thanks to the Australia-India Council to further continue the work we have been doing in taking Hookin2Hockey to India.

"We believe in gender equality participation in our Hookin2Hockey, and want the program to allow these boys and girls to learn the basic skills of hockey, a love for the sport, and the opportunity to make some new friends along the way.

"We look forward to working with the Dabang Mumbai Hockey Club to deliver the program alongside the 2017 Hockey India League."

The grant comes thanks to the Australia-India Council who each year awards grants to high-quality projects which bolster links between Australia and India by building and enhancing relationships across public policy, education, sport, and arts and culture.

Hockey Australia media release