All the news for Wednesday 23 November 2016

Black Sticks settle for draw with Malaysia



Photo: Grant Treeby

The Black Sticks Men have drawn 1-1 with Malaysia in their opening game at the International Festival of Hockey in Melbourne.

With the return of five players following last week's Ford Trans-Tasman Trophy, the Kiwis held plenty of possession but struggled to produce shots at goal.

Malaysia carried a one goal advantage for much of the second half after scoring in the 32nd minute before Jared Panchia grabbed the equaliser two minutes out from fulltime.

Head coach Colin Batch said it was frustrating not to come away with a result.

"We started the game very well and had lot of forward momentum in the first half. While we had some good opportunities, we didn't create any real goal shots," he said.

"Overall we created seven or eight penalty corners and that should have been enough to win the game.

"To our credit we got a late goal thanks to some good structure and passing which was pleasing but one of the things we need to get better at in those situations is being able to win the game."

The Black Sticks played an up tempo first quarter and looked threatening in the attacking circle, highlighted by several penalty corner attempts from Kane Russell which Malaysia defended well.

After a goalless first half, Malaysia snapped up the opportunity to open the scoring in the 32nd minute with Sharil Saabah delivering a stinging penalty corner drag flick.

New Zealand lifted following the goal and poured the pressure on with four penalty corners late in the third quarter, but were unable to convert.

With Malaysia headed for a win, Jared Panchia smashed home the equaliser from close range in the 58th minute after getting a perfect pass from Jacob Smith.

The Black Sticks are back in action against hosts Australia at 10:00pm tomorrow night (NZ time), with live coverage on SKY Sport.

BLACK STICKS 1: (Jared Panchia)
MALAYSIA 1: (Sharil Saabah)
Halftime: 0-0

Hockey New Zealand Media release


---

Late equaliser earns Black Sticks men draw with Malaysia to open quad series

Clay Wilson



Jared Panchia scored in the 59th minute to earn the Black Sticks a 1-1 draw with Malaysia in Melbourne. MARTY MELVILLE/PHOTOSPORT

A late Jared Panchia goal has saved the New Zealand men's hockey team from defeat to lower-ranked Malaysia to open the international quad series in Melbourne.

One of five experienced players returning to the squad after last week's trans-Tasman series in Auckland, Panchia swept home from close range in the 59th-minute to earn a 1-1 draw in what was an otherwise lack-lustre display from the world No 8 Kiwis against their 14th-ranked opponents.

After the Black Sticks had controlled much of the first half, Malaysia struck in the second minute of the third quarter through a superb penalty corner flick from Sharil Saabah.

With the score unchanged as fulltime loomed large, it looked as if the fit and fast Asian side, who drew 3-3 twice with New Zealand at the Sultan Azlan Shah Cup in April, were on their way to a rare win over Colin Batch's side.

But the Kiwi outfit pressed increasingly hard for an equaliser as the final quarter wound down and less than two minutes from time Panchia slammed the ball in to claim a share of the points.

The Black Sticks next match at the tournament pits them against world No 1 hosts Australia at 10pm (NZ time) on Thursday, before they face sixth-ranked India on Saturday to decide the places for Sunday's playoff matches.

New Zealand threatened early in the contest with Malaysia, helped by a strong high press, but were unable to create any shots from several circle penetrations as the defence scrambled effectively.

Malaysia eventually warmed into the contest also, although it wasn't until the last minute of the quarter either goalkeeper was required as Kumar Subramanian denied Kiwi drag-flicker Kane Russell three times from penalty corners.

The deadlock looked even less likely to be broken in the second stanza, with neither side able to muster so much as a shot on goal.

The Black Sticks were again largely in control, with Malaysia defending stoutly and relying on the odd counter, but were too often being let down by misdirected passes or mistraps in the attacking third and the match remained scoreless as the teams headed for the main break.

After defending so assuredly in the first half, Malaysia stunned the Kiwis to take the lead in just the second minute of the third quarter.

Pouncing on a New Zealand error from the restart, they immediately won their opening corner and when re-awarded a second Saabah stepped up and fired high past replacement keeper Richard Joyce.

Malaysia's confidence was visibly boosted by the goal and their most composed period of the match followed.

That quality remained most clearly evident in defence, the Black Sticks winning five corners in quick succession to close the quarter but unable to capitalise as gutsy tackling and continued inaccuracy thwarted their attempts to equalise.

Unsurprisingly with the Kiwis pushing forward in search of an elusive goal, the match opened up immediately in the final period, both sides finding access to the opposition circle easier.

It was the New Zealanders, though, who were the most desperate and after several failed forays into the Malaysian red zone they finally hit the target.

Slick work from Nick Ross and James Coughlan on the right baseline freed Jake Smith, whose subtle backpass found Panchia for the finish to save the Kiwi blushes.

New Zealand 1 (Jared Panchia 59) Malaysia 1 (Sharil Saabah 32 (PC)). Q1: 0-0. Q2: 0-0. Q3: 0-1.

Stuff


---

Kerikeri striker debuts for Black Sticks

Bayley Moor



Samantha Polovnikoff during her debut for the Black Sticks.

Kerikeri's Samantha Polovnikoff is on a high after making her Black Sticks debut.

The 18-year-old played the final quarter in the Trans Tasman Series decider against Australia on November 20.

"It was pretty amazing to be honest, it has been a little dream since I was six and started playing hockey. I'm still on a high."

She says it was extra special to have her parents there to see her debut.

After being thumped 6-0 in the first game of the three-match series, the Black Sticks fought back to win the next two games 2-0 and 3-2 respectively.

The striker was originally invited as an observer for the series, held in Auckland, which ran from November 17-20.

"We thought we were going to be travelling observers but then we got to wear uniform on the bench. The coach wanted to give us a bit of game time, it was so exciting."

While the team was missing a number of its most experienced players, Polovnikoff says the team environment was really encouraging.

"I learnt an immense amount, with a lot to take forward with me into the future. I was constantly watching them, how they play, and what structure they use. They were all very friendly as well."

This was not the former Kerikeri High School First Eleven player's first taste of international competition with experience gained as a member of the Junior Black Sticks and the Future Black Sticks.

During her first year of study for a Bachelor of Architecture at Auckland University, Polovnikoff was travelling north to Whangarei frequently to train with her Northland National Hockey League team. She was the team's highest scorer in the September national tournament.

Her advice for aspiring hockey players: "Don't expect anything to be a walk in the park, there will be ups and downs and when it gets tough just give yourself a reminder why you began in the first place and persevere through."

She hopes to take her hockey career as far as she can.

"It would be amazing to play in an Olympics, I'll see where it takes me."

For now though, she is moving back to Kerikeri for the summer where she will be working, keeping fit and relaxing.

Stuff


---

Hockey NZ keen on expanding trans-Tasman series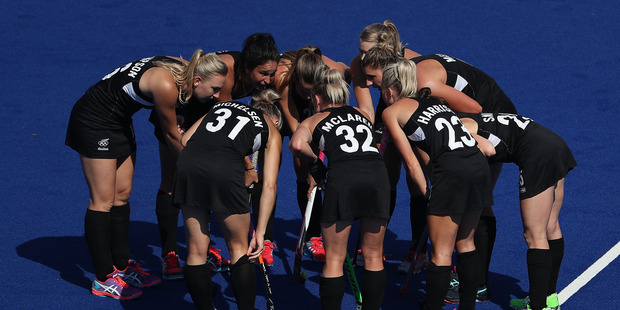 New Zealand huddles up during the Rio quarter final hockey game against Australia. Photo / Getty Images

Hockey New Zealand are welcoming the possibility of expanding the trans-Tasman trophy series.

The current series involves both the men's and women's sides with the possibility of adding age grade sides from under 18 to masters being weighed up for the future.

Hockey New Zealand High Performance Director Terry Evans says they have a strong relationship with Australia so it'd make sense to expand the tournament.

Evans says it'd be a great opportunity to compete against Australia in a unique format across all ages which would make for a significant tournament.

The Men's Black Sticks are currently in Melbourne for the upcoming Festival of Hockey which will feature one off tests against Australia, Malaysia and India.

Radio Sport


---

Hockey team in good warm-up performance

BY DANIEL NHAKANISO

THE Zimbabwe Under-21 women's hockey team boosted their confidence ahead of the start of the Women's Hockey Junior World Cup campaign in Santiago, Chile, after putting on a solid performance in their final warm-up match against heavyweights South Africa on Monday.

Zimbabwe, who make a return to the global tournament for the first time in 11 years, open their Pool A campaign with a tough match against the USA tomorrow.

In their final preparatory match, Zimbabwe put on a fighting display albeit in a losing cause, as they lost 2-0 to South Africa, which only eight months ago scored 10 goals past them during the continental qualifiers in March.

In a statement on their official Facebook page, the Hockey Association of Zimbabwe said the performance against South Africa would serve as a confidence booster for the Patricia Davies-coached side.

"What a great start to our Under-21s' journey in this Junior World Cup. Just played our first practice match against South Africa and what a fantastic match it was. We held SA 0-0 for the first half and it was only in the last few moments of the second half that they put in two goals," the statement read in part.

"The score did not reflect the nature of the game! The girls played their hearts out and this has been the best confidence boost for the team."

The warm-up game against the South Africans was Zimbabwe's first competitive fixture as a full-strength side since the continental qualifiers, as most of the players in the squad are based at universities and colleges in the US.

Zimbabwe will be eager to get their World Cup campaign off to a positive start against the USA ahead of equally tough Pool A matches against Korea and Netherlands on Friday and Sunday, respectively.

Pool B has Argentina, France, Germany and Japan, while hosts Chile, England, Australia and South Africa make up Pool C.

Team: Jordyn Clipstone, Lauren Dent, Carla van Oudtshoorn, Stephanie Campbell (captain), Kelly Diplock, Chelsea Dollar, Aimee-Beth Nativel, Megan Shaxson, Tyler Groenewald, Jessica Dollar, Simone Herbst, Sinead Cockcroft, Sophie MacDonald, Estelle Stambolie, Cheryl Dzapasi, Michelle Kabaira, Simone Machussen, Fariyah Omarshah, Mufaro Mazambani

Technical Team: Patricia Davies (coach), Tendayi Maredza (assistant coach), Jenna Palmer (physiotherapist), Colleen Nativel (team manager)

News Day


---

England set for Junior World Cup test in Chile



U21 women ready to depart for JWC2016

This week Craig Keegan's England U21 Women start their Junior World Cup campaign. The competition which starts on 24 November and runs until the final on 4 December pits the 16 best women's U21 teams in the world against each other.

England have been handed a tough assignment, as they have been drawn in Pool C and will open their campaign on 24 November against hosts, Chile. They then take on Australia on 26 November before their final pool match against South Africa on 28 November.

Keegan has named what he has described as a "young but talented" squad for the tournament. With nine players coming from the University of Birmingham there is a degree of familiarity in the group. The team will be led by Leicester defender Kathryn Lane who is the most experienced member of the group and will lead by example.

"I was captain at the warm up tournament in Valencia but I didn't know if I would continue till I got the call from Craig [Keegan]." said the captain. "We feel more excitement than pressure going into this competition. It would be amazing to go and emulate the GB girls in our tournament but it'll be tough."

Lane is excited about working with Keegan as Head Coach, insisting his experiences with the full squad will stand them in good stead in Chile:

"He brings his experiences and it really inspires the girls as it makes the gap between the seniors and us that little less distant as we are working with one of their coaches."

Lane, who did a Business and Spanish degree at Exeter, is expected not only to lead her side on the field with her defensive dominance and organisational skills but also off the field where her linguistic prowess will come in handy.

There is plenty of talent in the group with goalkeeper Katherine Sommerville a fine shot stopper who has blossomed in her spells at Bowdon Hightown and University of Birmingham. Goals will hopefully be plentiful with the Investec Women's Premier Division top scorer Erica Sanders in scintillating form whilst Megan Crowson topped the scorers' charts at the five nations in Spain.



Erica Sanders celebrates opening goal

Keegan's aims for the tournament are clear:

"We are aiming to teach the players what it takes to compete at international level and a tournament of this prestige and this quality is the perfect place to do that. We want to compete and we are aiming to get to the quarter finals. After that, who knows what might happen? It's a great chance to test the players and get them ready for what it might be like if they make it to senior international level."

England start their campaign against the hosts this Thursday against hosts Chile at 11pm UK time.

England Hockey Board Media release


---

Memories are made of this - two of the game's stalwarts reflect on their early playing days

Sarah Juggins, for PAHF



Manuela Urroz (Chile) and Michelle Vitesse (USA). Photo: Yan Huckendubler

With the start of the Women's Junior World Cup just a  few days away, we caught up with two athletes who have made hugely successful transitions from the junior international scene to the senior stage. Manuela Urroz is a striker for Chile and helped secure a place for her team in HWL Round 2 for an ever-improving Chile team, while Michelle Vitesse was one of the forwards who set the Olympics alight in Rio, when USA got off to a blistering start in the pool matches.

Both players are stalwarts in their senior teams and have experienced all the pressure and excitement that international hockey brings. Indeed, Manuela's hockey career has taken her far away from home as she now plays for the Belgium club team Royal Antwerp, but Michelle and Manuela both recognise that playing in junior international competitions was a great springboard and grounding for a career as a senior international.

That said, both women also point out that the step from junior to senior status is a huge one. For Michelle, the two teams are incomparable: "Personally, I have had a much different experience competing for Team USA (senior team). I have learned to appreciate my choice in lifestyle and am very grateful to be able to compete on the international stage with a team of incredibly powerful women.

"Choosing to be fully committed and to buy into the team-driven culture that we've created within USA Field Hockey is unlike anything I've ever been apart of and I cannot even describe to you the feeling it gives me."

For Manuela, her experiences of the junior team changed over time and her progression from junior to senior has been more gradual than Michelle's. "For the first Pan American Junior Cup I was barely 17 so everything was new for me. We had a great tournament beating Argentina for the first time in history and we reached the final. Although we lost the that game against USA, it was amazing to play a Pan American final. We worked hard for that.

"My second Pan American Junior Cup was in Guadalajara in 2012. This was very different as I was far more experienced. I became 21 during the tournament and had played more than 50 matches with the senior squad. I tried to share that experience with the younger players."

Both women also share the honour of being part of teams that have beaten the mighty Argentinians. Chile's moment, as Manuela referred to, came in the 2008 Pan American Junior Cup semi-final, when Chile beat Argentina 3-1 to book a place in the final against the USA. The score at full-time was 1-1 and then Chile hearts were broken when USA won in extra time. That year was the only time that Argentina had failed to win the Junior Pan American Cup.

Michelle has been part of the team that has broken the Argentinian hold on the Pan American Games on two successive occasions (2011 and 2015). On both occasions, the tournaments doubled as Olympic qualifiers and on both occasions USA went into the matches as the underdogs based on their world rankings.

With the Women's Junior World Cup taking place in Santiago, the young Chile side will have all the benefits of a vociferous home crowd. This is something Manuela sees as a real plus:  "I´ve been lucky to play two big tournaments at home: the World Cup Qualifier in 2010 in Santiago and Odesur 2014. It was exciting and very special to have my family and friends cheering for us."

Now a seasoned international, Manuela made her debut for the junior team at the 2008 Pan American Cup. The 17 year old took to the pitch against Trinidad and Tobago in a state of nerves and excitement, but she quickly settled into the match and scored the opening goal in a 5-0 rout against their Pan Am rivals.

It was just one year later that Manuela made her debut for the senior squad. This was against the much higher ranked South African team in the Champions Challenge I, a match that Chile lost 1-0. This was two months after Chile had contested the Junior World Cup in Boston – where they finished 12th out of 16 teams.

And four years later, at her second Junior Pan American Cup, Chile finished fourth. It wasn't the result the team wanted but there was a silver lining for Manuela as she finished top scorer.

She says that her experiences with the junior side gave her a great grounding for her senior career. "For my first senior matches I was really excited and open to learn about everything.

"I felt lucky to be sharing the pitch with players and a team that had been fighting together for years to achieve the same purpose. It wasn't difficult to become part of it as all the seniors helped a lot. The main difference between junior and senior level is that higher level of professionalism that the senior players and staff bring to the team." 

Chile come to the Junior World Cup with some serious levels of experience under their belts. Manuela singles out a few players she thinks will make a big impact for the home side: "I think Denise Krimerman will be the leader and a player to watch with her strong passes and great defensive play. Also, up front Josefa Salas and Kim Jacob have senior experience and are skilful in front of goal."

Michelle Vitesse's own memories of the Junior World Cup, in Boston 2009, are happy ones. "I remember the Junior World Cup as being a lively atmosphere. I was very proud to represent my country and further to be able to do so on American soil. Boston was a fantastic host city, and I was proud to be able to wear USA colours to compete."

Michelle has been a member of the national hockey set-up for so long she struggles to remember her debut, saying she "thinks it might have been a trip to Buenos Aires while I was in a senior or junior high school." She does remember her first major tournament as a junior international was the Junior World Cup: she had missed out on the Pan American Cup earlier that year through a knee injury.

Now, with more than 150 senior caps to her name, Michelle is an established member of the national side. She won her first senior cap in Valencia, Spain in 2011 – the first time she had played on a blue pitch. Since then, she has played in two Olympic Games – Rio and London – and the 2014 World Cup in the Hague, plus the Champions Challenge, Champions Trophy and the Pan American Games, where she was part of the team that beat Las Leonas in both the 2011 and 2015 final.

She reflects back over her career to date. "My standout match to date is probably the last international match I played in, against Germany in the quarter-final of the 2016 Olympics. I remember it because it was the hardest I've ever taken a loss in my entire life. On a more positive note, the entire 2016 Olympic Game experience was incredible and I appreciate every moment I get to wear the USA kit; it makes me tremendously proud."

One of the standout qualities that makes Michelle Vitesse such a force on the hockey field is her ability to just keep pushing her limits, this is a quality she took with her through the transition from junior player to senior: "I quickly learned that nothing will ever be given to you. I learned that in order to make an impact you have to fight and compete for every single second of each game. I learned that the game moves very fast, which means your brain has to think even quicker. I learned that confidence and belief in your own ability will take you a long way. I wouldn't say I was surprised, because I was expecting it to be very difficult - but nothing worth your time, comes easy."

And the double Olympian is generous in her praise of those coming up through the ranks. "I remember watching our U-21 USWNT compete in the last Junior World Cup and thinking that there were some exceptionally skilled individuals competing. I personally think the U-21 USWNT has some talented youngsters. I think the future looks bright for both the junior and senior players with talent such as that coming through the age groups."

The Women's Junior World Cup begins on 24 November when USA face Zimbabwe and Chile take on England.

Pan American Hockey Federation media release


---

Indian Junior World Cup squad announced

Shreedutta Chidananda



Harendra Singh, coach of the Indian Junior men's hockey team, giving some tips to players at the Sports Authority of India (SAI) South (Kengeri), in Bengaluru. 

With the emphasis on versatility, India on Friday announced an 18-member squad for the hockey Junior World Cup, which begins next month in Lucknow. "We have forwards who can play in midfield and midfielders who can play in defence," said Roelant Oltmans, Hockey India's high performance director, at the SAI here. "Sumit and Santa Singh can both play in defence. Simranjeet Singh, who is a forward, can play in midfield. You always need a 'plan B'."

It had not been easy to omit seven players from the core group of 25, admitted Harendra Singh, the coach. "We were looking for players who, in times of emergency, could perform different roles. This is where the others missed the bus. All seven were unlucky to miss out. Sport is very cruel," he said.

"We (the 25) have been together since April 2014; it's been a long and beautiful journey. We spoke to each of the seven personally. We told them why they missed out, and what the person who made it in their place had done right. Sometimes, when you're looking for the right team combination, even a good player ends up missing out."

In Harmanpreet Singh, Harjeet Singh, Mandeep Singh, and goalkeeper Vikas Dahiya, India has four players with experience of turning out for the Senior side. "Two of them have been to the Olympics. It definitely helps. They are used to playing under pressure," said Oltmans.

India will have Roger van Gent, the senior team's strategic coach, working alongside the Junior team's analyst at the tournament. Extra hands were a necessity because Junior sides were unpredictable by nature, the Dutchman felt. "Given the age of the players, the teams are not consistent," he said. "We played a Test series against England in September but a number of those key players are not eligible any more. So your analytical staff are very important. There are 44 matches. We need to know every detail about the opponents," he said.

India has won the Junior World Cup only once, back in 2001, but playing on home soil would not add any pressure, Harendra insisted. "It depends on how you take it. Enjoy the fact that you're playing in front of 30,000 people. But don't get swept away by their emotions and start playing for them. Then you lose focus and it becomes a disadvantage. That's where we come in as coaches."

India's Juniors gave a good account of themselves in the Australian Hockey League (fourth) and the Four Nations tournament in Valencia (winners), but Oltmans would not be drawn into making bold predictions. "In sport, you always want the highest possible result but there's not one guarantee," he said. "Not for us or for the other 15 teams."

The team: Harjeet Singh, Vikas Dahiya, Krishan Pathak, Dipsan Tirkey, Harmanpreet Singh, Varun Kumar, Vikramjit Singh, Gurinder Singh, Santa Singh, Nilakanta Sharma, Manpreet, Sumit, Parvinder Singh, Gurjant Singh, Armaan Qureshi, Mandeep Singh, Ajit Kumar Pandey, and Simranjeet Singh.

On stand-by: Hardik Singh and Sumit Kumar.

The Hindu


---

Significant World and European appointments for Scots Umpires and Officials in 2017

For our officials, 2016 was a really successful year peaking with both Sarah Wilson and Martin Madden representing Great Britain at the Olympics. Both performed exceptionally well and umpired the respective Bronze medal matches - an even greater achievement when you consider it was the first appearance at an Olympic Games for both of them. On the strength of these performances both have been included in the FIH Elite Road to Tokyo list, while David Sweetman is named in the Development Panel for Tokyo.

The focus now switches to 2017 and the significant number of appointments that Scottish Hockey officials has received for next year.

The highlights include Barbara Morgan's appointment as the Technical Delegate (TD) for the Rabo EuroHockey Championships 2017 in Amsterdam, the highest profile event in Europe, and Sarah Wilson, Martin Madden and Andy Mair have also all been appointed to this prestigious event.

Ged Curran, Aileen Ross and Jean Duncan have all been given international umpire manager appointments in America, South Africa and New Zealand respectively.

Martin Monaghan and Victoria Truesdale have both been promoted to TD level and Martin will take charge of his first tournament in 2017.

John Heron, Chair International Appointments Panel (IAP) & the West District Umpire Association (WDUA), said: "I'd like to reiterate these appointments are a huge honour for our officials to represent Scottish hockey, and they are deserving of recognition for their efforts at home and abroad. They do a huge amount of work behind the scenes to allow our elite hockey players to perform to their potential. If anyone would like more information regarding developing their umpire or technical skills, follow the links on the Scottish Hockey website."

Congratulations from Scottish Hockey to all the officials appointed for 2017.

Umpires

Sarah Wilson
Martin Madden
David Sweetman
Alex Walker
Fraser Bell
Ian Diamond
Lena McCrae
Claire Edwards
Neil McAlpine
Gavin Cruickshanks
Alex Fedenczuk

Officials

Barbara Morgan
Anne Wotherspoon
Iain McKay
Scott Baird
Martin Monaghan
Victoria Truesdale
Ged Curran
Aileen Ross
Jean Duncan
John Heron
Andy Mair
Colin Boubert
Terry Morgan

Scottish Hockey Union media release


---

Perak march into second round of Under-14 hockey tournament

by Aftar Singh



Perak captain Saiful Shahril (left) celebrates his goal against Sarawak in the MHC-1MAS-Milo-KPM National Under-14 hockey tournament. M AZHAR ARIF / The Star

KUALA LUMPUR: Perak have sealed their place in the second round after skipper Saiful Shahril Bahri netted a brace in their 2-1 win over Sarawak in A Group B match of the MHC-1MAS-Milo-KPM National Under-14 tournament.

His two penalty-corner goals – in the seventh and 15th minutes – at the Education Ministry Turf on Tuesday sent Perak to top the group with 10 points from three wins and a draw.

Sarawak reduced the deficit through a Ben Bradley James Rojes penalty corner in the 39th minute.

Perak coach Abdul Hadi Adam, while pleased with the result, was disappointed that Saiful suffered a right thumb injury during the game.

"Playing four matches in four days is tough, but I'm happy we did enough to beat Sarawak to stay unbeaten and seal a place in the second round," he said.

"I'm also worried as three of my key players suffered injuries in the match against Sarawak. I hope they can recover in time for the second round matches."

The other two injured players are Aman Shahnan Maznan and Ahmad Akmal Ahamdaib (both thigh injury).

Defending champions Sabah also sealed their place in the second round with a 100% record in Group A while Johor booked theirs after defeating Singapore 3-0 in a Group C match.

In the girls' competition, four teams – Johor, Singapore, Penang and Pahang – have qualified for the second round.

The Star of Malaysia


---

Dar Hockey Academy wins rain shortened match 2-0

By Ijaz Chaudhry

Malaysia is known for torrential rains all the year.

Ipoh on Tuesday saw heavy downpour for hours.

Pakistan's Dar HA's second match of the tour against SERATAS at the Azlan Shah hockey stadium had to be reduced to two halves of 20 minutes each.

Dar HA began aggressively and had an excellent chance in the 2nd minute but the attempt went wide.

SERATAS recovered well and for the next few minutes it was an evenly fought midfield battle.

Thereafter, the Dar HA dominated the proceedings. First goal arrived in the 12th minute. A right side move found the lanky Hammad Anjum, academy's recent discovery, in ideal position at the top of the circle. His flat angular hit found the far corner of the board.

After wasting two back to back chances, the goal, which had been coming for sometime. arrived.

A wonderful passing move was capped by Awais, who beautifully side stepped the goal keeper before slotting in.

The visitors continued to mesmerise SERATAS with captivating raids from both the flanks. Chances came and went. Some blocked by the defence and a lot more went off the target. It was almost dark when the game finished.

When all is said and done, today the Dar HA displayed excellent coordination and rhythm both in attack and defence.

Fieldhockey.com