All the news for Thursday 25 August 2016

Terengganu out for revenge against KLHC

by Aftar Singh




KUALA LUMPUR: Double champions Terengganu will be out for revenge against Kuala Lumpur Hockey Club (KLHC) in the quarter-finals of the Tan Sri P. Alagendra Knockout tournament.

The East coast team were beaten 2-1 by KLHC in the Charity Shield match at the Batu Buruk Hockey Stadium in Terengganu last Friday.

Terengganu coach Sarjit Singh said they are looking forward to the clash on Aug 30.

"We will avenge our defeat in the Charity Shield match. We don't want to lose to them twice at home," said the former national coach.

He added that his six foreigners are combining well with the local players.

"We have home ground advantage and I believe that my players would rise to the occasion," said Sarjit.

KLHC team manager Ahmad Anuar Sham Kamar said they are bracing for a torrid time in Terengganu.

"They will be going all out to beat us. It will be a different ball game playing in the knockout tournament," said Ahmad.

"It will be a close match but Terengganu have a slight advantage."

In the other match-ups, Sapura should have no problems making the semi-finals as they have an easy draw against Division One's ATM Airod while Universiti Kuala Lumpur (UniKL) face a tough encounter against Tenaga Nasional.

And the fourth match is the clash between two Division One teams – Politeknik and Tunku Mahkota Ismail Sports School.

The Star of Malaysia


---

Great Britain up to second in world rankings



Great Britain's women

Yesterday Great Britain's Olympic teams returned home from their exploits in Rio. Whilst they were in the air, the International Hockey Federation (FIH) were busy calculating the latest world rankings.

Upon landing, the Great Britain women were delighted with what they saw. They entered the Olympic Games down in seventh in the rankings, coincidentally the same place as the eventual winners of the men's competition, Argentina. Danny Kerry's team swept to an historic win at the Olympic Games which has propelled them to second in the world rankings, their highest ever position. Netherlands are still ranked first whilst Argentina drop to third.

On the men's side of things, similar to the women, Argentina's gold medal propels them to second place whilst Great Britain's fortunes in Rio mean the men drop to seventh.

The next update to the FIH Hero World Rankings will be published following the completion of the Hockey World League Round 1 events later this year. For a complete guide to the FIH Hero World Rankings, click here.

The FIH Hero World Rankings were updated following the completion of two wonderful weeks of world class hockey that was both thrilling and utterly unpredictable. Along with Argentina's success in the men's competition on Thursday (18 August), Great Britain's victory on Friday (19 August) means that both Olympic hockey gold medals have gone to first time winners.

England Hockey Board Media release


---

Rio Indians performance rated

s2h Team



The author is seen second from left in the front row.

Its not easy to observe each and every player in such a high voltage tournament as Olympics day in and day out, then come out with perspective and objective analysis of the event and also each one of the team members, and allot performance rating in numbers without favour or bias. This is the job this lovely hockey buff Pinder Singh Sagoo has undertaken to put our understanding of Rio fiasco in a proper way. It was a job he chose to do out of his passion for Indian hockey, typed whole on a mobile before whattapping to us. We s2h bow to his work ethics and love of Indian hockey. Sagoo and his London group was there in Rio for the entire duration.

OVERALL ASSESSMENT OF TEAM:

India started well with hopes of doing well, and even a podium finish. But sadly, the same old mistakes cost India and when the most important game mattered, sadly the team were not able to deliver the required work rate and mental strength.
4 / 10

It's very easy to blame coaches, managers, but when it matters it's the players who are responsible on the pitch, nobody else. Look at the finalists, they had the hunger, desire and will to win followed the plan set out by the coach and each player gave 150% to win, an important lesson for the players to look and learn from.

Past coaches can easily blame staff and officials, but when are players who weren't good enough to represent India going to get blamed?? And players picked on merit. The desire to a Olympic champion was lacking, we are just holding on to history when we used to be world hockey power house, the other teams have moved on and developed hockey into a new art, we are still playing catch up, this kind of mindset was clearly there in Rio for all to see.

PLAYER WISE PERFORMANCE RATING

1: PR SREEJESH: The much acclaimed Indian goalie was outstanding making key saves mostly, but conceded easy and soft goals when mattered. For a keeper of his ability he should be saving them.
6 / 10

2: KOTHAJIT SINGH: Played well over all, but gave up balls easily, he is simple mistakes prone in the circle giving away penalty corners.
4 / 10

3: V R RAGHUNATH: He put his best, but was not at his commanding best, picked cards every game which cost the team, scored a couple of goals, errors in keys areas.
5 / 10

4: RUPINDER SINGH: Performed ok, scored in a few games, not able to score in key moments, again committing simple errors in key areas.
5 / 10

5: HARMANPREET SINGH: Performed well, good for the future, a good learning experience, not able to display his penalty skills, not error free.
5 / 10

6: SURENDER KUMAR: Average show, tried to develop attack on the right flank, again one for the future.
5 / 10

7: MANPREET SINGH: Played pivotal role in the centre, not able to develop anything more than that what was expected of him, miss-hits, miss-pass common, lost possession to easy in the middle.
6 / 10




8: SARDAR SINGH: Played as a forward, worked endlessly for the team, lacked support form other forwards, seems he will be better at centre-half, that case would have helped team perform better.
5.5 / 10

9: DEVINDER WALMIKI: Started well but did not do any thing worthwhile, not given much chance either.
4 / 10

10: S V SUNIL: The forward started well, creating chances for others, but slowly faded as the tournament progressed, and was hopeless in the end.
5 / 10

11: DANISH MUJTABA: Controlled performance in the middle, helped the defence breaking down rival attacks many times.
5.5 / 10

12: AKASHDEEP SINGH: Scored a couple of goals, lacked the work rate as a forward, poor use of the final ball, lost the ball very easy in attack:
4.5 / 10

13: RAMANDEEP SINGH: Questionable selection, offered very little in the forward line apart from one spectacular goal, lacked the work rate required for a forward.
3 / 10

14: NIKKIN THIMMAIAH: A very questionable selection, seemed a school boy amongst men, never looked comfortable, always head down, lacked the ability to play at this higher level.
2 / 10

15: SK UTHAPPA: Again Questionable selection, errors in key areas of the game, poor decision making and poor basic hockey skills.
3 / 10

16: CHINGLENSANA: Performed OK, opening goal against Argentina was superb, worked for the team's cause always.
5.5 / 10

Stick2Hockey.com


---

Players feel they have missed a chance, says Roelant Oltmans

Rutvick Mehta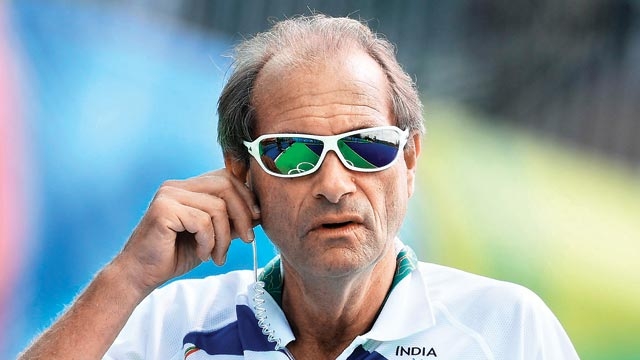 Indian men's hockey team's journey at the Olympics was about lots of promise and a below-par eighth finish. Looking back at the campaign as well as the future, head coach Roelant Oltmans tells Rutvick Mehta what the country needs to do to grow like Belgium and Argentina did.

Excerpts from an exclusive interview:

Except for a few games, India played some refreshing hockey at the Olympics, and ran into a quality Belgium outfit in the quarterfinals. How do you look back at the team's campaign?

Well, in a way I'm disappointed with the end result. But I'm pleased with the performances in most of the games. I think we played well, but in details, you could see that maybe we were lacking a little bit of experience. We were the youngest side on average age among all the teams. And you could see that, losing to Germany in the last few seconds of the game, not scoring against The Netherlands (India failed to convert five back-to-back penalty corners in the dying seconds) and not being able to beat Canada in a match in which we had so many chances. These are things that we have to learn to make the next step. But it took Belgium and Argentina 10 years to get there. They started their campaign 10 years ago, and now finally they have got there. So, it takes time.

Of course, we were very hopeful to come close to a medal after the good performances in the 2015 Hockey World League (bronze) and 2016 Champions Trophy (silver). And we showed again that we're very close to the top sides in the world. But if you're talking about performing consistently at that level, then yes, we were lacking there in experience. Sometimes at this level, you need a bit of luck. I think we freeze a bit in crucial moments of the game. So, those kinds of things we still have to work on in the upcoming years. But I'm sure that there's a lot of potential in this team, and they showed just that at this Olympics.

Were the players disappointed with the end result or happy with the overall performance?

Of course, all players were disappointed. Because they all felt — like how I did — that this Olympics was their big chance. Also because the top sides in the world — Australia, Germany, The Netherlands — showed that they were vulnerable. So that's what the players saw, and then they felt that they have missed a chance. You never know how it will be in four years' time. So yes, the players are disappointed about the result. But I told them to be proud of their performances, and what they tried in Rio. In a way, though, it's good that they are disappointed about the result. It's important for them to realise that they have things to learn from this experience, and that they have to work even harder and take their chances the moment they present themselves.

It seemed that the team was able to step up against the big sides like Germany and Holland, but somehow couldn't against a lower-ranked team like Canada. Why?

The strange thing is, if you look at the numbers, we created more chances against Canada than any other game. So, maybe from the outside, it looks like we were not able to dominate the game. But if you look at the statistics, we clearly dominated. The problem was that we were not able to finish properly. At the same time, it is also known that it's easier to play against teams who want to attack more themselves and give them a hard time than those who leave the initiative to you. So, it's a combination of things.

But I don't agree that we didn't play well against Canada. If you have 10 shots on goal as opposed to the opposition's three and you end up in a 2-2 draw, then I suppose we didn't finish well, but not that we didn't play well. Yes, that game did cost us in ending up at a better position at the Olympics. That is disappointing, and that's what I meant when I said that I'm disappointed with the overall result. But the way in which the team presented itself at the Olympics, and also at the positives we got from the previous tournaments, it really shows that we are on the right track. At this stage, though, we need to become more consistent to win against the top sides. In the end, it's really about that in the World Cups and the Olympics.

You spoke about not finishing well and conceding goals in the end. These issues continue to let the team down time and again. Why is it taking longer to iron out these flaws on a consistent basis?

It has to do with experience. It also has to do with the belief that it won't happen again. We were speaking to the Belgians the other day, who also had similar issues with their team for the last couple of years. This was the first tournament in which they didn't show it. So we spoke with them, and asked them if they did anything special to overcome it. They said, 'no, we didn't do anything special. It's just that at some point, the team felt that it will not happen again'. And that's more or less what it is, that you know that people are taking the right decisions.

In our case, sometimes we don't take the right decisions on certain occasions, especially when under pressure. We are not calm enough, we don't keep possession long enough, and although there is a clear briefing to the players to hold possession longer in certain circumstances, for one reason or another, they're not able to show it on the pitch as yet. And that's the only place where you have to show it. But that's where the experience factor kicks in, and I'm sure the boys are learning and improving. But, yes, it's not consistent enough.
The growth of countries like Belgium and Argentina to the top in world hockey has been steady over the years. What does India need to do to ensure the same kind of growth levels? What is it that these teams have been doing right that we need to emulate?

The most important thing to see with those teams is that they started quite young, and most of the players are the same even now. So, 10 years ago, all these boys would have already played together. And then there are a few players coming into the group.

If you take Argentina, for example, they always had a good group but they lacked a bit in penalty corners. And then (Gonzalo) Peillat came into the team as a youngster. He made the team stronger. You're now starting to see that with Belgium, where most of the players are playing together with each other for a long, long time. I know these boys since 2004, when they played for the Belgium U-16 team. And most of those guys are still there. So, that shows how long these teams are working together towards a goal, and that's one of the major lessons that we can learn. We need to give the confidence to the group that is playing right now. Of course, there will be changes in the future. But we need to keep together the core of this group, and work on their fine-tuning. Hopefully, they will have the same opportunity and results as these teams in the future.

Are you confident of that outcome? Can India become among the top three teams in the world, say, in 2020 or 2024?

This Olympics showed that every team in the world can beat each other at the moment. And we are already amongst that group of teams. And I really believe this team will become stronger. But you can't say that other teams like Australia, Germany and The Netherlands will not bounce back. So, that will be interesting to see how they react and how the other teams react. I think it will be a competitive field with many good teams, and we are one of them, no doubt about it. So yes, we will be able to win medals in the future. The first aim should be to work really hard to make that happen in the 2018 World Cup in India.

Are you hopeful of continuing as coach till then?

Well, I stay on as coach of India until January 1 (2017), that's for sure. That is when my contract is expiring. What will happen after that has not been discussed yet, so I cannot say anything about it.

Finally, were these Olympics a sign of changing times in world hockey? Surely, not many expected Argentina to win gold, or Australia, Germany and Holland crashing out early...

The interesting question now is that is this going to happen only once — like it happened at the Olympics — which was a surprise, of course. Or will this be the new trend for international hockey, and will there be more teams who can compete at a closer level to each other. To be honest, I sincerely hope it is the latter. Because if hockey starts becoming predictable, in a sense that we know already about the medal contenders before the tournament, that's not what you want. This tournament showed that there could have been many teams in there with a shot at a medal. That shows a great development in our sport.

DNA


---

For College Athlete-Turned Transplant Patient, Life's Still a Ball

Co-written by Teryn Brill, USA Field Hockey Senior Communications and Marketing Coordinator and Dana Farber




All summer, Dana Mendes woke up before the sun to get in the first of her two workouts of her college-conditioning packet. She always gave 100 percent and pushed herself endlessly to make sure she did what she had to do to be preseason ready.

Two days before she would hit the turf at Assumption College in Worcester, Mass. she had a friendly scrimmage, just upstate from her hometown of Merrimack, N.H. It should have been a physical test to see how hard she pushed herself during those summer workouts, but something wasn't right. Something was off. Playing felt labored. It was like her mind was going full-speed but her body was moving in slow motion. That's when everything changed.

August 15, 2015, just a day before she was due to report for preseason, Mendes' parents received a phone call from her doctor. She was diagnosed with Myelodysplastic Syndrome (MDS), a precancerous condition in which immature blood cells in the bone marrow do not mature to become healthy blood cells.

Frozen in thought, stifled by fear of the unknown, Mendes began letting her mind wander from treatments to college to hockey to everything in between. She first picked up a stick in 8th grade and grew to love it and knew she wanted to pursue the sport in college – so what do you do when your aspirations are halted?

"I realized that for whatever reason, I don't know why, something has to come out of this," said Mendes. "This is something that happened to me, its bad news, but I always try to think on the positive side. This is supposed to impact, inspire and motivate people."

The initial moment was surreal, but she turned to her faith and support to help keep the situation in a positive light. She dealt with similar circumstances when she was 3 years old when she was diagnosed with Aplastic Anemia, a deficiency of all three cellular components of blood because the bone marrow stem cells that form blood cells do not function normally. Faith was on her side then as her condition became dormant, and she was able to do things children her age were doing like school and sports.

Mendes now had to switch her mindset into a different preparation mode – not for preseason, but for treatment.

She received a life-saving stem cell transplant from her older sister in December 2015, and while recovery time for a transplant recipient can take nearly a year, this didn't put a damper on her desire to get back on the field. In a quarantined hospital room she patiently waited for her new immune system to gain strength, and once she was cleared for independence, she immediately had a stick in her hand. Though it was chasing a ball through the hallways of Dana-Farber/Boston Children's Cancer and Blood Disorders Center, it was a positive step and a reinforce for her not to give up.

Day in and day out, she had to find internal strength to motivate herself. Her main motivation was her family but closely followed was the thought that in a year or two she would be able to get back in the swing of things, get the education she wanted and the opportunity to play field hockey again. She kept a field hockey stick in her treatment room along with her college jersey hanging on the wall. Every morning she would wake up and look at that constant reminder of what she was working to get back to.

From the very beginning when her Merrimack High School and Assumption College coaches and teams found out about her diagnosis, they have been nothing but supportive, and have actually gone above and beyond.

"I would get text messages saying, 'We love you, Dana,'" said Mendes. "It gave me such a good feeling of support. Some people I haven't been able to connect with yet, they see me as family."

Before her transplant but too weak to play, her coaches listed her name on the Assumption roster and invited her to watch games on the sidelines with her teammates while wearing a uniform. The team also created and sold Pray for Dana/Fight 4 Dana bracelets to help defray her medical expenses for her family, held a "Dana Day" in her honor and held a bone marrow drive. Though she wasn't able to go through the same grit and grind that comes with being a college athlete, her role on the team, however not big on the field at that moment, was definitely impactful off. The constant support from her coaches and teammates made her ever more eager to work hard through the treatment to get back to playing the sport she loved.

As the treatment went on, her motivation grew strong but not without the daily struggles that affected her mentally, emotionally and physically.

"I had to watch everyone around me moving on with life, growing and learning," commented Mendes. "My teammates I was supposed to be a freshman with were doing everything I wanted to do while I was stuck in time."

Overwhelmed by the thought of waiting for her recovery to progress, she also slowly started to watch her body deteriorate. Full chemotherapy was intense and caused nausea, vomiting and extreme weight loss and made her question whether or not she was going to be ready for college.

As the recovery and treatment process continued on she kept searching for the positive throughout this second preparation phase and related her extra push mentality to, ironically, field hockey.

 "I have always gave 100 percent on the field and in practice," said Mendes. "Not giving up until that very last second with drive, determination and motivation. It is showing in my recovery. I am in this circumstance but I will not let it overcome me. No matter how tired I am. I still have the drive and motivation to do whatever necessary for a full recovery to help me get back to school and on the field. I am looking at the light at the end of the tunnel."

With the transplant and hardest part of her recovery in the past, she has now formulated a different routine back in her home without nurses. Though she is essentially settling into a new body with new marrow, things are still challenging as her appetite has changed and she still gets nausea. She has independently taken responsibility of her whole health, and this includes slowly getting back to the physical shape she was in before being diagnosed.

"I am at the place where I can slowly get back into a workout regimen," said Mendes. "I wear ankle weights around the house or outside when I work out. Small sets – 5 squats, 5 sit-ups, 5 mountain climbers."

As this new process is challenging to her, she has embraced it completely while she is dedicated to rebuilding some of the lost muscles by practicing all sports, not just field hockey, daily.

So what does it mean when the college preseason is just a few short months away?

"I should be ready to go by preseason in August," said Mendes. "It is unpredictable, and I am on restrictions from the doctors and in isolation."

Once the weather is nicer in New Hampshire, she will slowly ween off her medication, which will make her feel better.

"I will pray for healing to come sooner than expected," added Mendes. "This journey has taught me more about myself than I could ever imagine. I've learned that I am resilient, strong-willed and strong-minded. This eye-opening experience has given me a sense of purpose in my life, and has strengthened my faith and relationship with those around me tenfold."

"I want to encourage those going through the same challenges, or the challenges of life in general, to see that you have every right to expect greatness from yourself," continued Mendes. "Consider the circumstances you're in but don't let them overcome you. Learn to condition not only your body, but your mind to see the positive in everything, for there is always something to be grateful about. Your mess is your message.Your breaking point is your breakthrough. Your setback is a setup for the future. Once you learn this, you will know what it means to persevere, and have created the most powerful tool for your success: yourself."

USFHA media release