All the news for Friday 26 August 2016

Pak Juniors win second match of European Tour 4-1

Zeist, Netherlands: After a resounding 6-3 victory in their opening match of the European tour, Pakistan under 21 hockey team  had another big win, defeating Schaerweijde 4-1.

Sohail Riaz and Shan Irshad scored off penalty corner rebounds while the other two goals came through field attempts by Bilal Qadir and Dilber.

PHF Media release


---

UniKL: Giant-killers or bust

By Jugjet Singh



PIC: Arul Selvaraj

UNIVERSITI Kuala Lumpur (UniKL) have a chance to turn giant-killers, provided they upset Malaysia Hockey League (MHL) Premier Division leaders Friday.

Riding on two wins from last weekend, UniKL are hoping for another positive show against KLHC at the Kuala Lumpur Hockey Stadium.

UniKL edged Tenaga Nasional 1-0 in the League Sunday and on Tuesday beat Maybank, also 1-0, in the Tan Sri P. Alagendra knockout tournament.

Their only blemish so far is a 3-0 opening defeat to Sapura.

KLHC, on the other hand, got off to a rousing start by defeating double champions Terengganu Hockey Team 2-1 in their opening match before trashing Sapura 5-2.

Therefore UniKL are  bracing themselves for all possibilities, asKLHC look much stronger this year despite not having Razie Rahim and Nabil Fiqri.

"There is no doubt that KLHC are the favourites to win this match and getting even a point off them can be considered a victory of sorts," said UniKL coach Arul Selvaraj.

"We need to be tight at the back and pack the midfield as they have quality players that can capitalise on half a chance.

" And then there is also the penalty corners that we need to avoid conceding as KLHC are deadly in this area."

UniKL have been relying on good tactical play to overcome their more fancied opponents thus far.

"We need to focus on our game and not pay to much attention to any particular player in KLHC as realistically we have nothing to lose but everything to gain from this match."

FRIDAY: Premier Division -- Maybank v Sapura (Malacca, 6pm), UniKL v KLHC (KLHA, 6pm), Tenaga v Terengganu HT (KLHA, 8pm).

ALAGENDRA CUP -- Quarter-finals (Aug 30): Terengganu Hockey Team v Kuala Lumpur Hockey Club (Batu Buruk, 5.30pm)); Politeknik Malaysia v SSTMI (Taman Daya, 5.00pm)); Sapura Hockey Club v ATM Airod (KLHA, 8.00pm); Universiti Kuala Lumpur v Tenaga Nasional Berhad (KLHA Stadium, 6.00pm).

PREMIER DIVISION

        P  W  D  L  F  A  Pts
KLHC 2  2  0  0  7  3  6
THT 2  1  0  1  6  3  3
SAPURA 2  1  0  1  5  5  3
UNIKL 2  1  0  1  1  3  3
MAYBANK 2  1  0  1  5  8  3
TENAGA  2  0  0  2  3  5  0

Jugjet's World of Field Hockey


---

Meor tells KLHC mates to be wary of UniKL

by Aftar Singh




KUALA LUMPUR: Meor Mohamad Azuan has been a vital cog in the well-oiled Kuala Lumpur Hockey Club (KLHC) midfield machinery.

He has been calling the shots from midfield and led KLHC to two straight wins.

The Kuala Kangsar-born player scored a goal in the 2-1 Charity Shield win over double champions Terengganu last Friday.

Then, on Sunday, KLHC outplayed Sapura 5-2 to top the six-team Premier League standings in the Malaysia Hockey League (MHL).

Meor and his men will be up against Universiti Kuala Lumpur (UniKL) at the Kuala Lumpur Hockey Stadium on Friday and he's hoping to make it three wins out of three.

UniKL lost to Sapura 3-0 in the opening match but bounced back to edge former champions Tenaga Nasional 1-0.

UniKL are a team Meor knows very well, having played for them for four years – since 2012 – before joining KLHC this season.

And that's why he's cautioned his team-mates from taking UniKL for granted.

"UniKL have been playing well and surprised everyone by winning their last two matches after losing to Sapura," said the national player.

UniKL also edged Maybank 1-0 in the first round match of the Tan Sri P. Alagendra Knockout Trophy tournament on Tuesday to reach the quarter-finals.

Meor is also happy that he's been given the nod to play today after being hit and needing four stitches on his upper lip in the match against Sapura on Sunday.

"I've got the green light from the doctor to play against UniKL. My mission this year is to help KLHC win a title.

"We are in high spirits after two matches and we hope to maintain our good form and win every match," said Meor.

UniKL coach A. Arulselvaraj is in no doubt that KLHC will start as favourites today.

"Even getting a point off them can be considered a victory of sorts. We need to be tight in defence ... they have quality players who can hurt us if given half a chance," he said.

"They also have good penalty corner flickers ... so, we need to avoid conceding penalty corners as they can be deadly."

In another match today, Terengganu, who bounced back from the opening-day loss to outplay Maybank 5-1 on Sunday, will start as favourites against winless Tenaga Nasional.

Tenaga, parading an all-local line-up, have had a bad start – losing their first two matches to Maybank (4-3) and UniKL (1-0).

Terengganu coach Sarjit Singh, however, still expects a daunting task against Tenaga as he believes they will be all pumped up to stop the rot.

The Star of Malaysia


---

ABN AMRO Cup ushers in new Dutch season



Picture: Hannie Verhoeven

The ninth edition of the ABN AMRO Cup heralds the countdown to the new Dutch club season with the premier competition welcoming three new clubs: Qui Vive, Tilburg and Almere.

The first round of the ABN AMRO Cup will be played on Thursday, September 1 at Athena, Rosmalen, Klein Zwitzerland and Abcoude withthe final weekend on September 3 and 4 at HC Rotterdam with the Jan Hagendijk Trophy up for grabs.

Amsterdam are the defending champion, after winning the finals at Rotterdam last year and they start off their campaign at Athena against Pinoke and Hurley in the group stages.

EHL champions SV Kampong play at Abcoude, meeting Almere and Qui Vive; HGC, Bloemendaal and Rotterdam make up a high-quality Group 1 at KZ while Rosmalen hosts Den Bosch, Tilburg and Oranje-Rood.

The competition schedule on those days will be linked with a number of other activities such as coaching clinics and an ABN AMRO Test Center. There is a Meet & Greet and a press conference with the hockey ambassadors of ABN AMRO who have just returned from Rio.

Euro Hockey League media release


---

Dowds and Ward swap places at Banbridge



Picture: Adrian Boehm

EHL Round 1 hosts Banbridge will undergo something of a forward transformation for the new season as star striker Stevie Dowds moves to London but Dane Ward moves the other way to return to the club.

Dowds has been one of the key men for Bann in the past few seasons, incredibly scoring 60 goals in the 2014/15 season and he was part of the Irish team during their qualification campaign for the Rio Olympics.

And coach Mark Tumilty says that he will certainly miss his eye for goal. "Stevie is heading over to England with work and I understand why he's done it," said the coach in an interview with the Banbridge Leader. "He has been involved for nine years now and he has scored a lot of goals for us.

"His corners have been important to us and he has always been great to have in the changing room as well. It's a blow to lose him but we have to move on now."

Fellow forward Josh Moffett is also moving on but Ward – who Tumilty describes as a 20-goal a season man – returns from Surbiton in England while they have added Ireland Under-21 international Matthew Allister from Annadale to their ranks.

"Matty's a forward, which was why I was keen to get him in," said Tumilty. "He will give us something different. He has a lot of pace and he probably hasn't yet played at the standard he is capable of."

Euro Hockey League media release


---

Dragons add youth to their panel

KHC Dragons have confirmed the majority of their line-up for the new Belgian league season as they go in search of a third successive national crown.

They have seen four high-profile departures with Manu Stockbroekx moving to Bloemendaal, Shane O'Donoghue returning to Ireland after a successful two-year stint while Matthew Cobbaert and Louis Rombouts are studying for a year in Madrid where they will play with Club de Campo.

They will strengthen their panel primarily with youth, some of whom were previously developed in the club. Thibaud van der Putten returns to the club from Royal Leopold having previously played in the clubs underage setup.

Mathieu Rombouts – younger brother of Louis – gained experience last season with Victory in the first division while Timothy Luyten moves from Antwerp.

Dragons are also hopeful of adding an international player in the coming weeks but talks are currently ongoing. They have held on to their other top stars like Felix Denayer, Arthur van Doren, Thomas Briels and Florent van Aubel who all won silver medals at the Olympic Games last weekend.

Euro Hockey League media release


---

Weekend College Games: Season Opener Edition

USA Field Hockey highlights some of the top college games in Division I, II and III each week.

Division II and III games have not officially started yet, so this week we are only highlighting Division I.

FRIDAY, AUGUST 26

Catamount Classic
Central Michigan vs Vermont | 2 p.m. EST
2016 marks the second season for Central Michigan head coach Molly Pelowski. Picked 6th in the Mid-American Conference (MAC) the Chippewas return with a quartet of strong leaders in seniors Maude Stalars and Olivia Wagner, junior Alex Gonda and sophomore Kayla McClure. Coming off a 4-16 record in 2015, Vermont enters their season opener picked 4th in the America East Division poll. With a relatively young squad, having only two seniors, the Catamounts are looking to make strides this season.

Conference Cup
Temple vs. No. 2 Syracuse | 1 p.m. EST
Being played at St. Joseph's University in Philadelphia, Pa., the first match-up in the Conference Cup will see Temple face off against defending NCAA National Champions and ranked No. 2 in the National Field Hockey Coaches Association (NFHCA) Preseason Poll, Syracuse. The Owls will return to 2016 after losing a large senior class of 10 athletes. In her second year as head coach, Temple's Marybeth Freeman, sees this season as an opportunity and is excited what lies ahead. Following a historic 2015 campaign, the Orange enters the season in the highest preseason rank in program history. The squad will be lead by junior midfielder Laura Hurff, member of the U.S. U-21 Women's National Team, and defender Lies Lagerweij, who were both respectively selected to the All-ACC Preseason Team.

No. 6 Maryland vs. St. Joseph's | 4 p.m. EST
In the second game, defending Big Ten champions and current No. 6 NFHCA Preseason Poll ranked Maryland will take on tournament host St. Joseph's. The Terrapins are coming off an abrupt end to their 2015 campaign as they suffered a 3-1 loss to Princeton in the NCAA First Round play. The Hawks are looking to improve on their 9-9 record from 2015. In June they added former U.S. Women's National Team athlete Shannon Taylor to the staff as associate head coach. She graduated from Syracuse in 2008 and has spent three of the past four seasons as an assistant coach at Massachusetts, helping guide the Minutewomen to a pair of Atlantic 10 championships.

Wildcat Classic
No. 17 Boston University vs. No. 16 Northwestern | 2 p.m. EST
A competition that host two closely NFHCA Preseason Poll ranked teams starts off the 2016 Wildcat Classic. Two-time defending Patriot League champions, BU is looking to defend their crown this season after finishing 2015 with a record of 15-7. The Terriers have a tough schedule ahead as they will be competing against some top opponents this season. Northwestern is looking to make a statement in the Big Ten this year. They will be lead by seniors Isabel Flens and Dominique Masters as well as junior Elena Curley who all have been named to the Big Ten Field Hockey Players to Watch list for 2016.

University of Massachusetts vs. New Hampshire | 6 p.m. EST
UMass' Minutewomen were picked 2nd in the Atlantic-10 Conference Preseason Poll just behind Richmond. Under the new leadership of interim head coach Amy Robertson, program alumna, they will look to make their statement early in a well balanced schedule. With a strong nucleus in the backfield, midfield and front line under the director of 26th year head coach Robin Balducci, UMass has their sights set on 2016. Tabbed 3rd in the America East Division, the Wildcats are looking to improve on their 8-11 record from 2015.

No. 21 Maine vs Providence College | 1 p.m. EST
America East's Maine and Big East's Providence start their season facing off against each other. Coming into the 2016 season ranked No. 21 by the NFHCA, Maine finished the 2015 season with a 19-4 record, most wins in a season in school history. They made it to the 2015 America East Championship game but fell to Albany, 2-0. Picked 4th in the Big East Preseason Poll and under the leadership of head coach Diane Madl, in her 15th season, Providence will look to make a stamp early before conference play starts.

No. 20 Old Dominion University vs No. 18 Penn State University | 6 p.m. EST
Led by head coach Andrew Griffiths in his fourth season, ODU commences the season against Penn State in a match-up that  features two closely ranked NFHCA Preseason Poll teams. ODU's season ended last year falling in the Big East semifinals to eventual winner Connecticut. Ranked 2nd in the Big East Preseason Poll, the Monarchs hope to drive deep into the season with some key wins. With a veteran team, Penn State returns 10 starters from 2015 and adds six newcomers to the program. The Nittany Lions fell just short of advancing into the NCAA playoffs last year and are looking to make their mark early.

No. 19 James Madison University vs No. 13 Liberty | 6 p.m. EST
Picked to finish second in the Colonial Athletic Association (CAA) and No. 19 in the NFHCA Preseason Poll ranking, James Madison welcomes nine newcomers after finishing 14-6 and claiming the CAA regular-season title in 2015. After capturing NorPac conference titles and making NCAA Tournament appearances in both 2013 and 2014, Liberty finished 2015 with a 12-6 overall mark as an independent. This year, the Lady Flames will begin competing in the Big East Conference as an affiliate member. They enter the 2016 season ranked No. 13 by the NFHCA Preseason Poll.

SATURDAY, AUGUST 27

ACC/Big Ten Challenge
Iowa vs No. 7 Wake Forest | 11:30 a.m. EST
Now in its 15th season, the ACC/Big Ten Challenge has proven to be the premiere early-season field hockey tournament on the collegiate slate. All four participating schools have combined to win 39 conference titles and 21 national championships.

In the first game, Iowa will face Wake Forest. The Demon Deacons lead the overall series between the teams 9-7 but Iowa has won the last five match-ups, including a 2-1 victory last year in Ann Arbor, Mich. The Hawkeyes welcome back 14 players including Chandler Ackers, Natalie Cafone, Sophie Plasteras and Alexandra Pecora, in addition to five newcomers. Battling a strong ACC schedule, Wake Forest looks to redeem themselves this year as they were knocked out in the first rounds of both the ACC and NCAA tournament last season.

No. 10 Michigan vs No. 1 University of North Carolina | 2 p.m. EST
Having kicked off the season against each other in the 13 of the last 14 seasons, NFHCA Preseason Poll ranked No. 10 Michigan and No.1 UNC will battle it out in the second game of the ACC/Big Ten Challenge. The Wolverines split a pair of exhibition games last weekend but are looking to make a mark with the addition of seven newcomers this fall. Winning the Atlantic Coast Conference last year and being NCAA Runner-ups, the Tar Heels are looking to keep their reign going in 2016. They finished 2015 with a record of 21-3 having only lost to ACC opponents Syracuse twice and Wake Forest.

Catamount Classic
La Salle vs Central Michigan | 1 p.m. EST
In the second game of the Catamount Classic, La Salle will have their season opener against Central Michigan. La Salle field hockey went 9-9 last year, falling just short of postseason competition. Senior goalkeeper Rachel Hartman was voted to the Atlantic-10 Preseason All-Conference Team for the 2016 as the team was picked to finish 8th. Central Michigan will play their second game in two days when they meet The Explorers.

No. 14 Delaware vs Ohio State | 12 p.m. EST
Coming off of one of the most successful seasons in program history, Delaware received the highest-ever NFHCA Preseason Poll Ranking coming in at No. 14. The Blue Hens, who finished 2015 with their third straight CAA title, a trip to the NCAA Tournament and a No. 12 ranking, had previously never been slotted higher than No. 18 (2013) in the preseason standings. Coming off a 9-10 season Ohio State is looking to improve on an early Big Ten tournament knock out. The Buckeyes are led behind Big Ten Preseason honorees Maddy Humphrey, Liz Tamburro and Carolina Vergroesen.

SUNDAY, AUGUST 28

ACC/Big Ten Challenge
No. 10 Michigan vs No. 7 Wake Forest | 11:30 a.m. EST
The last meeting between these two teams happened last year in Chapel Hill, N.C. in the NCAA First Round. In a true ACC/Big Ten battle Michigan won the game 2-1, ending Wake Forest's season with a record of 13-6.

Catamount Classic
La Salle vs Vermont | 12 p.m. EST
These two teams have never crossed scheduled before in the history of both programs. La Salle field hockey went 9-9 last year, falling just short of postseason competition. Senior goalkeeper Rachel Hartman was voted to the Atlantic-10 Preseason All-Conference Team for the 2016 as the team was picked to finish 8th. Coming off a 4-16 record in 2015, Vermont enters their season opener picked 4th in the America East Division poll. With a relatively young squad, having only two seniors, the Catamounts are looking to make strides this season.

Conference Cup
No. 6 Maryland vs No. 2 Syracuse | 12 p.m. EST
The last time Maryland and Syracuse met was in the 2013 season when both programs were in the ACC. In a regular season match-up Maryland were victors in a 2-1 overtime win.

St. Joseph's vs Temple | 3 p.m. EST
These two Philadelphia, Pa. teams will sure have an inner city battle on their hands. The last time these two teams met, was in early September last season where Temple pulled out a 3-2 victory.

Wildcat Classic
Depending on the game outcomes from Friday, August 26, 2016, winners will play each other and losers will play each other.
Appalachian State vs Georgetown | 12 p.m. EST |
Despite a record of 4-13, the Mountaineers showed significant signs of improvement in 2015. In her second season as head coach for App State, Meghan Dawson already has her team off to a great start winning two of their three exhibition matches. Big news came for the program in June as they will join the Mid-American Conference for the 2017-18 year. The Hoyas of Georgetown enter the season looking to make a mark. After finishing 8-11 overall and 1-4 in the Big East Conference they hope that the leadership of Shannon Soares and five seniors helps propel them in the right direction.

Davidson vs Ball State | 1 p.m. EST
Looking to build on an 8-11 record in 2015, Davidson was picked 4th in the Atlantic-10 Preseason Poll. The Wildcats, led by 2015 A-10 Coach of the Year Ginny Turner, return a strong veteran contingency, welcoming back four seniors and seven juniors in addition to six sophomores. Davidson made its first-ever trip to the conference championship a year ago after finishing in a three-way tie for second place with Massachusetts and Saint Joseph's- all with 5-3 marks in league play. Under a new coaching staff of Cristy Longacre and Kelsey Smither, former Old Dominion teammates, Ball State is looking to improve to a winning record. The Cardinals will be returning three top players this season in Lexi Kavanaugh, team leading goal scorer, Merinda Morley, and goalkeeper Jordan Dues.

No. 4 Duke vs. No. 13 Liberty | 1 p.m. EST
Duke will begin its 2016 slate ranked No. 4 in the country in NFHCA Preseason Poll Rankings.The Blue Devils were also picked to finish fourth in the ACC by a preseason vote of the league's seven head coaches. A year after compiling a 14-7 ledger and reaching the NCAA semifinals for the second time in three seasons, head coach Pam Bustin's squad was one of four ACC teams to begin the fall ranked in the top five nationally. Liberty is 0-2 all-time against Duke, with the most recent defeat coming last season. Liberty and Duke met last year in late October where Duke came away with a 3-2 overtime win.

Rider vs Towson | 1 p.m. EST
With a 12-7 record in last season, Rider is looking to advance through the MAAC Championship and into postseason play. Currently picked 3rd in the MAAC Preseason Poll, the Broncs welcome in 11 newcomers to add to a very hardworking and committed group of 10 letter winners. The Tigers shined defensively in 2015, leading the CAA and ranking third nationally for defensive saves with 16. Looking to improve to a winning record, head coach Carly Campana has faith int he experienced upperclassmen and the strong newcomers who are dedicated to building onto the foundation that has been created.

USFHA media release


---

Interim UMass field hockey coach Amy Robertson excited for one season leading her alma mater

By MATT VAUTOUR



Interim UMass field hockey coach Amy Robertson, shown here coaching Indiana in 2013, will lead the Minutewomen for the first time Friday. Courtesy Indiana University

AMHERST — There are dorms covering the field where Amy Robertson last made a tangible contribution to UMass field hockey.

During her last year as an assistant coach, Robertson, who helped lead UMass to final fours as a player (1987) and an assistant coach (1992), the Minutewomen were still playing on the usually bumpy, occasionally muddy grass at Totman Field.

"I'd like to get a plaque and put it somewhere over there," Robertson said laughing, after Wednesday's practice at Gladchuk Field.

A lot has changed since Robertson, who'll be the Minutewomen's interim coach for the 2016 season, played (1984-87) and then worked as an assistant coach (1992-96) at UMass.

The Minutewomen have played under three head coaches and on two home fields since she left.

But field hockey remains one of the school's most successful programs, and, for her one year in charge, Robertson wants to do her part to keep it that way.

She left Amherst after the 1996 season to be an assistant at Wake Forest from 1997-99 before being hired to build a program from scratch at Indiana. She led the Hoosiers from 2000-2014 and advanced to two NCAA Tournaments, including a trip to the elite eight in 2005, while amassing a 134-141 record.

When Indiana let her go, Robertson was content to be done. She moved to Durham, North Carolina to run field hockey camps. Leading a program was in her past.

Or so she thought.

When Carla Tagliente, who led the Minutewomen to three NCAA Tournaments in four seasons, was hired at Princeton in late June, UMass had to scramble to have a coach in place for the season.

Athletic director Ryan Bamford said he'd consider either a permanent replacement or an interim one for the season depending on the candidate pool.

Robertson wasn't interested in either at first. But her alma mater, and especially the field hockey program, had always meant a lot to her even while she was with other schools.

"I told people I'm happily retired. I have no intention of going back to college coaching," she said. "But if I was going to do it, it would only be at UMass. Darrice (Griffin, associate athletic director) was very convincing. Ryan said 'make the decision that's best for you.' I couldn't say no."

After accepting, she finished her camps in North Carolina, found an apartment to rent in Amherst and moved north in time to start preseason. She hasn't had many free moments since.

"It was awesome. It was overwhelming. It was also really natural. A lot has changed, but a lot has really not changed," she said. "I've been back for some recruiting and for some other events, but to come back in this capacity and working with the athletic staff and coaches. Seeing familiar faces — Russ Yarworth, Ken O'Brien, Julie Lafreniere — is a neat feeling."

Through conversations she had with people at UMass and around college field hockey she heard good things about the squad she was inheriting and they've lived up to that billing.

"Everyone told me they was a special group with a lot of returning players," she said. "If it wasn't for the women on this team and the culture of this group I don't think I would enjoy it as much, but they're energy-givers and some really amazing people with great careers in front of them. It's a fun group to work with."

UMass will open its season Friday at the Wildcat Classic at New Hampshire. They'll play UNH at 6 p.m. and then either the winner (2 p.m.) or loser (11 a.m.) of the game between No. 17 Boston University and No. 16 Northwestern on Sunday.

Robertson said the 2016 Minutewomen will play a lot like the Tagliente-led teams of the past few years. She planned to tweak where necessary without overhauling.

"I don't want to change too much, except to take what they have and make it better," she said. "The players have a lot of ownership of this team. I'm just guiding it and helping it and trying to push them and challenge them to reach the success that they're after."

After finishing 12-9 last season with an A-10 title and a win in the first round of the NCAA Tournament. The Minutewomen were picked second in the Atlantic 10 preseason poll and have three preseason all-conference players in Izzie Delario, juniors Sarah Hawkshaw and Melanie Kreusch.

Robertson said no matter how the season goes, she won't be the coach in 2017. That puts her in a position a lot of coaches would envy. She knows this is her last season leading a team and can savor the experience.

"I'm not very egotistical so I'm not looking at this like it's Amy's swan song. It's extremely unique. But to come back in this situation just feels really natural," she said. "There's so much honor and pride to get to do what I'm doing right now."

The Daily Hampshire Gazette


---

Ford NHL set to open with a bang



Photo: www.photosport.nz

The 2016 Ford National Hockey League kicks into gear this Saturday with Auckland and North Harbour going head-to-head.

The Auckland and Harbour Women go up against each other at 1:00pm before Auckland and Harbour Men do battle at 3:00pm, with both games at Lloyd Elsmore Hockey Stadium.

All remaining Round 1 games take place on Saturday 3rd September at various venues around the country.

CLICK HERE for 2016 Ford NHL results, standings, stats and team lists

Hockey New Zealand Media release


---

Few Black Sticks will play in this year's National Hockey League



Charlotte Harrison won't play for Auckland in this year's national league. John Cowpland / www.photosport.nz

Don't expect to see a bunch of Black Sticks players running around when the National Hockey League gets underway in Auckland tomorrow.

Due to the Olympics, which saw the men's and women's Black Sticks bow out in the quarterfinals and semifinals respectively, players were given the choice whether or not they would play in this year's league.

The majority of them have opted for a break, while some have also taken up overseas contracts.



Men's defending champions Capital will have Black Sticks striker Stephen Jenness this year. VASILY FEDOSENKO

Only Auckland's and North Harbour's men's and women's teams are in action this weekend, while the other five teams will start their campaigns next weekend.



Hugo Inglis helped Southern finish second last year, but the team has pulled out of this year's league due to financial concerns. John Cowpland / www.photosport.nz

But North Harbour, which finished sixth in last year's league, will at least have Black Sticks striker James Coughlan available for their men's opener against Auckland on Saturday.

Coughlan was part of the Black Sticks Olympic team which conceded three goals in the final four and a half minutes and lost 3-2 to Germany in the quarterfinals.

He will add plenty of firepower up front for his team, which also includes national squad members George Muir and Cory Bennett.

Auckland won't have Rio Black Sticks Ryan Archibald, Simon Child, Arun Panchia or Devon Manchester, or national squad member Marcus Child, at their service this season, meaning an improvement from last year's third-placed finish will be a steep challenge.

Men's defending champions Capital, which beat the Southern Dogs on penalties in last year's final, only has one of their four Black Sticks -  striker Stephen Jenness - returning to play in the league.

The other teams have also been affected.

Midlands won't have midfielder Nic Woods, defender Bradley Shaw won't play for Canterbury, and Central will be without midfielder Shea McAleese and striker Nick Wilson.

However, Central will have 18-year-old midfielder Hayden Phillips, who led Central to the under-18 title a year ago and was part of the 16-strong Rio squad.

With Southern's withdrawal from this year's league, a decision believed to be due to financial difficulties, Black Sticks Hugo Inglis, Kane Russell and Blair Tarrant won't be seen.

They were instrumental in pushing the Dunedin-based team to within a penalty stroke of winning last year's title.

Northland striker Shay Neal, the team's sole Rio Black Stick, will not feature for last year's wooden-spoon side.

It's a similar story in the women's draw, with only two players from the 16-strong team that finished fourth in Rio listed to play in this year's league.

Midlands goalkeeper Sally Rutherford and Auckland defender Liz Thompson are set to play.

While Auckland will at least have Thompson at the back for their title defence, they will have to go without striker Charlotte Harrison when they play North Harbour on Saturday.

However, they have been bolstered by the inclusion of former Southern Storm player Polly Inglis, who also plays cricket for the Otago Sparks and is the sister of men's Black Stick Hugo Inglis,

With the Southern teams in the scrapheap for the year, both the men's and women's competitions are made up of seven teams, meaning there will be bye weeks.

The first two rounds will see teams play at various venues across the country, before action moves to Whangarei for a tournament week between September 10-17.

All finals will be played on September 17, with the men's decider set for 1pm and the women's at 3pm.

This weekend's games:

MEN: Auckland v North Harbour in Auckland, 1pm
Women: Auckland v North Harbour in Auckland, 3pm.

Stuff


---

Hawke's Bay help Black Sticks stay top of game



Photo: David Aliaga

Hawke's Bay is delighted to be the Principal Partner of the Black Sticks Men and Women and to offer support to the teams as they strive to be the best they can be and represent New Zealand on the world stage.

The province's support is made possible by the Hawke's Bay Sports Events and Education Consortium (HBSEEC) which is a philanthropic group of business and community leaders who have rallied together to provide financial support for the Black Sticks in 2016 continuing a relationship which originally began in 2011.

The partnership extends on Hawke's Bay's progression as one of the country's top hockey hubs at both community and international level, thanks in large part to the popular Hawke's Bay Festival of Hockey, which itself is organised by HBSEEC.

Hockey New Zealand CEO Ian Francis said it was fantastic to have the continued support of Hawke's Bay as principal partner of the Black Sticks.

"This is a unique sponsorship which is something very special for our players and the sport of hockey as a whole. To have so many passionate people behind the Black Sticks is amazing and really marks what we hope will be a long term partnership," he said.

"Hawke's Bay has staked its claim as a crucial hockey centre within the community highlighting strong growth in participation in the region and also on the international stage with the great success of the Festival of Hockey."

Bruce Mactaggart of HBSEEC commented: "The relationship between the Black Sticks and the Hawke's Bay community is a very special one and it's fantastic to see the incredible results these wonderful athletes achieve – we are all so very proud of them and thrilled to be able to support them in this way.

"I don't think most people quite understand the significant sacrifices these players make in order to represent their country at the highest level and for both teams to be continually ranked in the top 10 nations on earth from a nation with such a relatively small population, in a sport played in well over 100 countries is truly remarkable."

CLICK HERE to see the passionate businesses and schools behind the Black Sticks

Hockey New Zealand Media release


---

Our results satisfactory if not ideal: Oltmans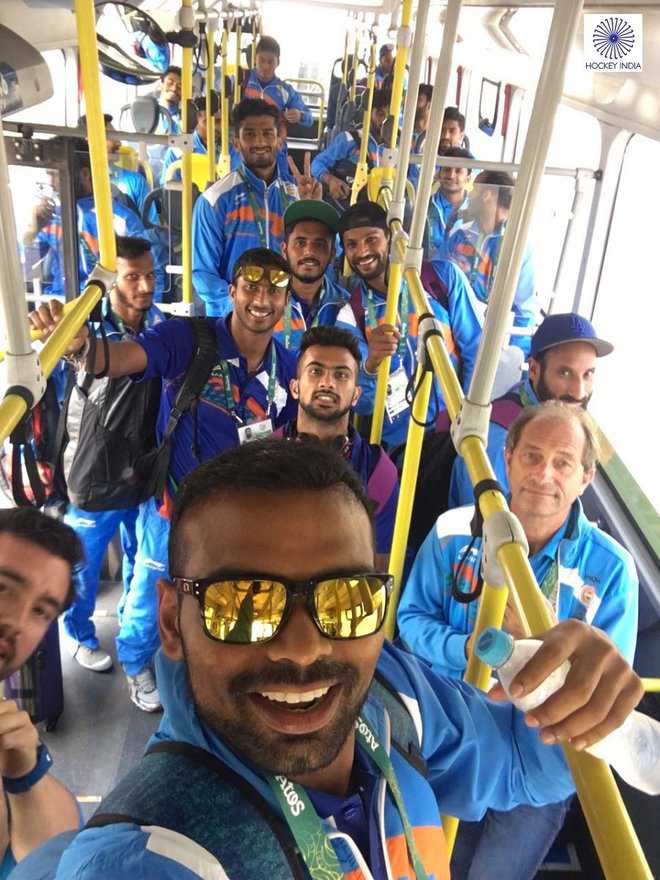 His wards might have failed to break the medal jinx at the just-concluded Rio Olympics but Indian men's hockey team coach Roelant Oltmans says their results in the quadrennial extravaganza were satisfactory if not ideal.

India finished fourth in group stage, having won two, drawn one and lost two matches. But India failed to go beyond the quarterfinals.

"The results were satisfactory if not ideal according to our preparations. But looking back we can see that in every game we pushed our opponents till the very end," Oltmans said after returning to India today.

"This is a team of high quality. Sometimes the results don't accurately display the performance. In this case, I think the team has learnt a lot. It deserves a short break, and then, very soon, it will be back to the grind," he added.

'Proud of the team'

Captain PR Sreejesh (in pic) feels the Rio Games have been an eye opener for each and every member of his side.

"For all of us, the Olympics has been a great eye opener and a huge life experience. As professionals we always dream of representing our country at the highest level and the Olympics is the highest. I'm proud of the team for the way we played," he said.

"Barring few moments, our performance was very good. Now we have to focus on correcting all the things we got wrong and believe in ourselves for the future."

The Tribune


---

We are disappointed, says Sreejesh


   
ON DEFENCE MODE: The Indian coach Roelant Oltmans (left) and captain P.R. Sreejesh feel that the results don't accurately display the performance of the team at the Olympics.

The Indian hockey teams may not have achieved results up to expectations but their performances at the Rio Olympics were not as disheartening as an eighth-place finish may indicate.

The women were always expected to struggle in their first ever Olympics while the men ran some of the top sides close before succumbing to pressure.

The teams returned in the early hours of Thursday and dispersed for their homes for a long overdue break. Men's captain P.R. Sreejesh, one of the key performers, admitted there was a lot of disappointment.

"It took a long time to get out of the disappointment and humiliation of 2012."

"We are more disappointed vis-a-vis the kind of efforts we had put in because, despite being short on experience, we ran some of the teams real close."

"We had put in a lot of effort in the past few years to not only get out of that but also improve our game, our team."

"Against teams like Germany and Holland, for example, we upped our game to match them," he said.

"We were the youngest team in terms of average age and the difference showed," he said, admitting that it was frustrating at times to keep saving opposition attacks without the team scoring any. Chief coach Roelant Oltmans was satisfied with the team on field — barring the draw against Canada in the last league match — but admitted it was a learning experience for everyone. "Looking back we can see that in every game we pushed our opponents hard. Sometimes the results don't accurately reflect the performance," Oltmans said.

Women's captain Sushila Chanu said though they couldn't win a game, they were not overawed by the occasion.

The women finished last but climbed one rung in rankings because of their appearance at Rio. "It was always a dream for us to represent India at the Olympics. Ours is a young team and we have already made a small mark on the world stage. Now we have to try and make it more visible," she said.

The Hindu


---

Team GB's victorious hockey stars: 'Our mantra was simple: Create history and inspire the future'

Harry Yorke



Left to right: Great Britain hockey players Hollie Webb, Alex Danson and Sophie Bray Credit: Andrew Crowley

Three British hockey champions - Hollie Webb, Alex Danson and Sophie Bray - tell Harry Yorke the inside story of how they won the gold medal that captivated the nation

Harry Yorke: The women's hockey squad has been back from Rio for a few days now – how do you feel about what you achieved by winning gold?

Alex Danson: It's been an incredible few weeks. when we got off the plane I don't really think it had sunk in yet. As we came into the arrivals lounge, you could hear the overhead speaker announcing the names of the new Olympic medallists. It was utterly surreal. Winning bronze at London 2012 was a truly special achievement, being surrounded by your friends and family, and we can be really proud of that. But to come to Rio and win a gold medal – in the manner we did, winning every game – it was a dream come true.

HY: This is your third Games, Alex. You have seen this team grow from finishing sixth in 2008 to win Olympic bronze, then Commonwealth silver and now this. What is it about this squad and, in particular, the past two years that have propelled you to where you are now?

AD: We have had this ethos around the squad and the players since Danny Kerry's return [as coach in 2014], a gold mentality, to approach every aspect of our preparation, our game, with the best possible mindset. Our mantra was simple: be the difference, create history and inspire the future. We felt if we could deliver on those things – being diligent in what we do and taking our role as hockey players to a new professional level – we could embed a winning culture.



Left to right: Sophie Bray, Hollie Webb and Alex Danson at the Telegraph office with Telegraph journalist Harry Yorke Credit: Andrew Crowley

Sophie Bray: The moment that stands out in many of our eyes was the half-time whistle in our first [group] game against Australia. We all ran off the pitch and as we passed the Australians, all of whom were walking, heads down, tired and bent over, I had goosebumps because we knew we could accomplish something special.

HY: How important was Danny Kerry's return to your success?

AD: There was a real resurgence in Danny on his return. He is a fantastic coach, the best tactician in the sport. His vision is complemented by a team filled with very intelligent players, so we were able to implement what he asked us to do. Danny also shared a passion and enthusiasm for the game with a bunch of women who are equally driven for success, so he always believed gold was possible this time around.

Hollie Webb: Danny's approach of looking at marginal gains – the theory of breaking down the building blocks of our game and looking at how we can improve every element – was crucial. 'Being the difference' for us was turning up 10 minutes early for training, never missing a gym session, committing to the programme and schedules. Looking at all of the details added up to making us the tightest, hard-working and tactically astute team that we could put together.

HY: Hollie, what was going through your head as you stepped up to take what proved to be the winning penalty in the shoot-out that decided the final?

HW: I wasn't nervous at all, which I know is very odd. Even when the others were taking theirs and Maddie was in goal, I believed in all the practice that we had done prior to the match so was pretty calm. We had done our homework on their keeper, so we knew what she would do and responded accordingly. We had beaten the Dutch two years running on penalties, so I knew we were capable. I knew what I was going to do. I just forgot the context of the moment and pretended I was at Bisham Abbey – our training ground.



Left to right: Sophie Bray, Hollie Webb and Alex Danson at the Telegraph office Credit: Andrew Crowley

HY: Over the last four years you've worked closely with a sports psychologist to help prepare mentally for the big occasion. How crucial was that?

SB: It has been an incredibly important aspect of our training, learning to overcome anxieties that can otherwise prevent you from playing to your best. It's the biggest factor in our sport, and to have that support as a team has been critical. At the Olympics, everyone is extremely talented and physically capable; the difference is your ability to rise above everyone else mentally.

HB: They work with us on both a group and individual basis, so it's been fundamental in helping us to shape harmony between the players, to create an environment we all can excel in. That's what set us apart.

HY: There have been suggestions that UK Sport's Lottery funding does not represent good value for money. What would you say to those who criticise the investment in our elite athletes?

AD: Without the UK National Lottery and our partnership with Investec, we couldn't have achieved what we accomplished in Rio. When I first represented Great Britain we had no funding, and we were all either working or studying full-time. We were up at five, we were training late, whereas now we are professional, we approach the sport with a different outlook. As kids, we never dreamt we could be full-time athletes – and you can't be without that level of support.



Hollie Webb celebrates scoring the winning penalty in the shootout against the Netherlands Credit: PA Wire

HW: These partnerships are integral to our success. They allow us to be the best athletes, and we won't win on the world stage unless we have the support to train full-time. I think the Olympics has given people around the country a huge sense of pride over what Team GB has accomplished in Rio, and sport is fundamental to inspiring young people and getting people to be active.

HY: How have your families coped since you won gold?

SB: Thankfully my parents and my brother were able to come to Rio, and to stand on top of the podium knowing your family were in the stadium watching was incredible. My grandma was at home watching us every night. She gave herself a cold staying up so late watching all the Games. She was at the airport when I touched down and to see her face in the arrivals lounge made it all worthwhile.

HW: Unfortunately my family weren't able to come to Rio, but my parents are just overwhelmed. My mum's phone hasn't stopped ringing, with people she hasn't heard from in years. It really gives you a glimpse at the support that has rallied behind us at the Games. I'm getting married next September, so my boyfriend and I are happy we made the decision to postpone until next summer. And now I have something else to look forward to.

HY: When London 2012 came along the idea was always to use it as a springboard for greater participation in sport. Do you think these Games will help in that effort?

AD: One of our aims was to inspire the future, and going forwards we must push to increase grass-roots participation in hockey and sport on a wider level. We want Britain to be a nation where hockey matters, where people pick up a stick, get down to the local club and get involved. In 2018 we are hosting the Hockey World Cup, so ensuring we can inspire as many people as possible will be key. PE in primary schools is also crucial. Kids need to be physically literate and to be given proper sports equipment from an early age.

SB: After winning, I got loads of messages from school friends saying thank-you for bringing them together again. That's the beauty of team sport, and something we should look to encourage where we can. It makes our sport worthwhile.

HW: Grass-roots participation must be the focus. We all took to the game in different ways, at different ages, so making sure that as many people are engaging with the game – at all ages – the more our sport will progress.

HY: Apart from winning Great Britain's first gold medal in women's hockey, what other defining memories will you bring home from Rio?

HW: The funny thing is that we never felt unsafe in Rio, despite the media reports. That partly was due to the fact we rarely ventured out because of our training commitments, but also because of the precautions taken by the BOA [British Olympic Association]. It was an incredible city.



Members of the women's gold medal winning hockey team pose after arriving home at Heathrow Airport on August 23, 2016 in London, England. Credit: Getty Images

AD: It was such a different Games from four years ago. London 2012 had such a heart to it, but then Rio, it's such an iconic place, it was so beautiful. The atmosphere was fantastic, although it wasn't always overflowing, we felt we had real support in every game. They were very different experiences. The pressure was less overbearing too. Whereas in London we were just massively relieved to have won a medal after 26 years of waiting, in Rio we were able to just focus on each game as it came.

HY: How did you cope surrounded by sports stars from across the world in the Olympic Village?

HW: At first it was surreal, walking past the likes of Usain Bolt and Sonny Bill Williams, often I would feel rather overwhelmed. But by the end you grew used to walking past Bradley Wiggins eating breakfast. You speak to these people and you realise that they're just normal like everybody else.

SB: It was great that in Team GB you just had everybody getting behind each other. Andy Murray was particularly encouraging, he was really enthusiastic and wanted to follow us and see how we were getting on.

HY: Returning home on a flight filled with medal-winning members of Team GB, did you get a sense of why Britain has achieved so much over the last four years at back-to-back Games?

AD: As we were drinking and enjoying ourselves, the defining moment came when we all stood up and sang the national anthem. It really encapsulates what makes Team GB so special, that sense of wanting to inspire your country, to do everyone at home proud. It was that sense of pride I'll remember, singing and celebrating with the rest of the team on the way home.

SB: I don't know where the 10 hours went really, although there were only a couple of hours of celebrating. The rest of it we spent sleeping. It had been a rather tiring week!

The Telegraph


---

Olympians to try out hockey for I Am Team GB in Glasgow




I Am Team GB will see medal winning Olympians come along to the National Hockey Centre in Glasgow on Saturday to give hockey a try.

The iconic legacy venue will welcome five Olympians to Glasgow. Fresh from Rio, swimming silver medallist Robbie Renwick, and fellow swimmer, double silver medal winning Duncan Scott will pick up sticks, as will silver medal winning rower Karen Bennett along with fellow rowers Double Sculls finalist John Collins, and silver medallist Polly Swan.

I Am Team GB will be held on 27 August at 12-5pm as part of the UK's biggest ever sports day where thousands of venues up and down the country will open their doors for free, encouraging the nation to get out and get active and the chance to meet their Olympic heroes.

At the National Hockey Centre, STV will be there along with bus providing a family face painter and the chance to win a collection of different I Am Team GB prizes.

Scottish Hockey is proud to fly the I Am Team GB flag in the Glasgow area. The iconic Glasgow National Hockey Centre will be offering you exclusive access to be part of I Am Team GB. Giving you access to an internationally renowned sports centre with top class facilities we want to invite you, your family and your friends to join us!

Not only will you have the opportunity to play and have a go on the incredible commonwealth legacy pitch, but you could also catch sight of the National Team in their final stages of training for the Men's World League in September. Sessions will be split into 3 areas, with youth (6 – 14 yrs), adult (14-40) and masters (40+).

No matter how old or young, experienced or beginner, Glasgow National Hockey Centre is opening its doors to you, your family and your friends to come and have a day of hockey and fun on 27 August.

Scottish Hockey Union media release


---

Coaches 4 Europe kick off Breda weekend!




The EHF's biggest Educational event of the year is finally here! This weekend in Push Hockey Club, EHF will have coaches, officials and umpires helping and learning at the Push Hockey Trophy, which brings youth teams from the Netherlands and Belgium for a weekend of competition. The Officials and Umpires (who will umpire the whole tournament) will kick off today, but the coaches got an early start, arriving yesterday, August 25th.

Beginning with lunch, the Coaches 4 Europe (C4E) will meet for 4 days to complete the FIH Academy Level 2 assessment, the first half of which was completed by this group earlier this year in Rome.

Right after lunch, the coaches went straight to work, with a Coaching the Goalkeeper session led by Grahame Mansell-Grace. Grahame leads Goalkeeper talent development in England as is a qualified Coach Educator.




This was followed by a session on Defensive Techniques led by Norbert Nederlof. Norbert heads up C4E for EHF and is Technical Director for Klein Zwitzerland HC as well as being a qualified Coach Educator.




Over 30 umpires and 30 officials are in Breda today to begin their respective courses. The officials will be guided through a basic judges' seminar, and will be rotating in and out of the tournament table, getting some hands on experience and some classroom style lectures.

The Umpires 4 Europe (U4E) is inaugurating its newest class in Breda, where they will umpire all the matches throughout the weekend. For the very first time, following the introduction of the Umpiring Pathway, the next batch of UDP applicants will also be in Breda, where they will 'audition' in front of the selection panel.

EuroHockey media release