All the news for Wednesday 24 August 2016
Pak Juniors Kick off European Tour with 6-3 Win

Groenekan, Netherlands: Pakistan under 21 hockey team defeated the Voordaan HC 6-3 in the opening match of their European tour.

Interestingly, six different players got on the scoring sheet for the visitors. Three goals were scored in the open play with as many coming through penalty corner conversions.

Scorers: Sohail Riaz, Shan Irshad and Dilber had field goals to their credit while Mubashar Ali, Abubakr and Hasan Anwar found the target via penalty corners.

PHF Media release


---

Big guns cruise in Alagendra hockey tourney

by S. Ramaguru




KUALA LUMPUR: It was plain sailing for the fancied teams in the opening round of the Tan Sri P. Alagendra Knockout Trophy as they eased into the quarter-finals.

Sapura overcame Division One's Nur Insafi 4-0 while another Premier Division team Tenaga Nasional overwhelmed the second-tier team UiTM-KPT 11-0.

Malaysian Junior Hockey League (MJHL) double champions SSTMI defeated their sports school counterparts Bukit Jalil 7-0.

At the Azlan Shah Stadium in Ipoh, the Ipoh City Council drew 3-3 with ATM Airod.

The army went through after winning the penalty shootout 4-3.

At the Taman Daya Hockey Stadium in Johor Baru, hosts Politeknik Malaysia defeated reigning Division One champions TNB Thunderbolt 3-2.

The Sapura-Nur Insafi tie was expected to be a close affair since the Penang side is the only Division One team with foreign players.

National trainee Joel van Huizen gave Sapura the lead in the 17th minute before Dangerous Lee (38th) increased their advantage through a field goal.

Faridzul Afiq Mohamed netted a brace in the 43rd and 52nd minutes.

For Tenaga the big win was unexpected. They were seeking a win to halt their two-game defeat in the Premier Division.

They narrowly lost to Maybank (4-3) and UniKL (2-1) in the opening two league matches.

Manager Adam Izamry Idrus said they needed a win to give the players a morale boost.

"They responded well and put aside the two defeats. Still we cannot read too much into the win as we were playing a team from the lower division."

Arif Sabron scored a hattrick while Amir Farid and Nik Mohamed Aiman scored a brace each.

The other scorers were Mohamed Hafizhuddin, Mohamed Ramadan Rosli, Mohamed Fariq Saadon and Syed Mohamed Shafiq.

The Star of Malaysia


---

KLHC manager preaches caution despite perfect start

by S. Ramaguru




KUALA LUMPUR: Former champions KL Hockey Club (KLHC) have started the Malaysia Hockey League (MHL) season with a bang.

But they are not jumping for joy.

KLHC defeated double champions Terengganu 2-1 away in the opening Premier Division match and then whipped Sapura 5-2 at home.

After two matches they head the table with maximum points.

But team manager Ahmad Annuar Sham Kamar is preaching caution to his players.

He explained that KLHA had been in similar positions in the last two years where they were leading almost to the tailend of the season.

"But one bad result turned our title hopes away from us and then we lost the last game to Terengganu which ended our title chance.

"So we cannot take anything for granted. Yes I'm happy with the performance and commitment of the players but there's still a long way to go.

"All it takes is one bad result to put you in trouble," he said.

The club did not have the best of preparations for the new season as they lost three influential national players.

Skipper and defender Mohamed Razie Rahim and midfielder Nabil Fiqri were ruled out of the tournament as they are undergoing a course with the Police.

Dedy Ariyadi picked up an injury and had to undergo surgery which ruled him out for the rest of the season.

KLHC had to bring in youngster Mohamed Nur Asyraf Ishak. They also have in their midst three Pakistanis, one Dutch, one Spaniard and a Korean as part of their foreign imports.

KLHC play UniKL and Tenaga Nasional this weekend and then wrap up the first half of the campaign against Maybank on Sept 4.

The Star of Malaysia


---

Hockey's latest FIH Hero World Rankings released following Rio 2016



Argentina have moved up to 2nd in the FIH Hero World Rankings Photo: FIH/Getty

Following the conclusion of the sensational men's and women's hockey events at the Rio 2016 Olympic Games, the International Hockey Federation (FIH) has released the latest FIH Hero World Rankings.

Olympic gold medallists Argentina (men) and Great Britain (women) both entered Rio 2016 sitting seventh in the rankings, but their stunning title successes has seen both climb rapidly up the table.

In the men's FIH Hero World Rankings, Australia's Kookaburras – who finished in sixth place in Rio – remain in first place, but newly crowned Olympic champions Argentina earned enough points to move up five places to second.

Argentina's Los Leones sit just ahead of fourth place finishers and now third ranked Netherlands, with Rio 2016 Olympic bronze medallists Germany moving down one place to fourth in the rankings.

Olympic silver medallists Belgium move up one place to fifth, with India being pushed down into sixth and England (Great Britain) down from fourth to seventh.

Spain's excellent performances at Rio 2016 saw them finish in fifth in the Olympic standings, enough to see them re-enter the top ten to sit ninth in the rankings.

Ireland's history making Olympic performances have also paid off, with a 10th place finish in Rio moving them up to 10th in the rankings table.

On the women's side of things, Great Britain's shoot-out victory over the Netherlands saw them claim gold and move up to second in the FIH Hero World Rankings (as England), just behind top ranked Netherlands, while Argentina drop down to third place after a seventh place finish in Rio.

Australia, New Zealand and USA all move down one place to fourth, fifth and sixth respectively, with Olympic bronze medallists Germany climbing two places from ninth to seventh.

Another climber is Spain, moving up from 14th to 11th thanks to their eighth place finish at the Olympic Games.

The next update to the FIH Hero World Rankings will be published following the completion of the Hockey World League Round 1 events later this year. For a complete guide to the FIH Hero World Rankings, click here.

The FIH Hero World Rankings were updated following the completion of two wonderful weeks of world class hockey that was both thrilling and utterly unpredictable.

Along with Argentina's success in the men's competition on Thursday (18 August), Great Britain's victory on Friday (19 August) means that both Olympic hockey gold medals have gone to first time winners.

FIH site


---

Indian men's hockey team slips one spot while women's outfit gains a place in latest rankings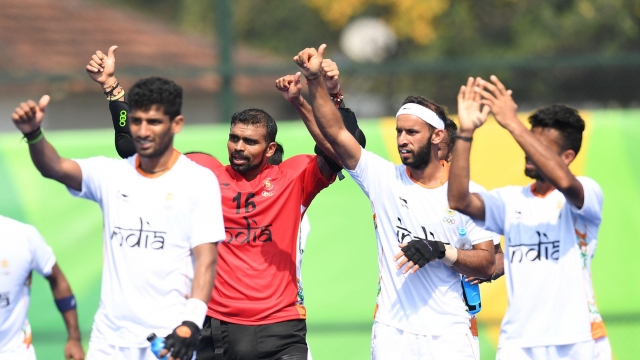 Indian hockey team (AFP)

Indian men's hockey team slipped one place to occupy sixth in the FIH rankings after their lackluster show in Rio Olympics while their female counterparts surprisingly gained one position to be at 12th in the latest charts released on Tuesday.

The Indian men's side crashed out of the Olympics in the quarterfinals by losing to eventual runners-up team Belgium 1-3 while the women's team failed to get past the group stage.

Roelant Oltman-coached side went into the Olympics as fifth in the rankings but two wins, two losses and a draw in the group stage and a defeat to Belgium in the last-eight stage saw them pushed down to sixth in the latest rankings.

Australia's Kookaburras -- who finished in sixth place in Rio -- remain in first place, but newly crowned Olympic champions Argentina earned enough points to move up five places to second.

Argentina's Los Leones sit just ahead of fourth place finishers and now third-ranked Netherlands, with Rio 2016 Olympic bronze medallists Germany moving down one place to fourth in the rankings.

Olympic silver medallists Belgium move up one place to fifth, with India being pushed down into sixth and England (Great Britain) down from fourth to seventh. Spain's excellent performances at Rio 2016 saw them finish in fifth in the Olympic standings, enough to see them re-enter the top 10 to sit ninth in the rankings.

Ireland's history-making Olympic performances have also paid off, with a 10th place finish in Rio moving them up to 10th in the rankings table.

On the women's side of things, Great Britain's shoot-out victory over the Netherlands saw them claim gold and move up to third in the FIH Hero World Rankings (as England), just behind top-ranked Netherlands and Argentina, who remain in second place despite a seventh place finish in Rio.

Australia, New Zealand and USA all move down one place to fourth, fifth and sixth respectively, with Olympic bronze medallists Germany climbing two places from ninth to seventh. Another climber is Spain, moving up from 14th to 11th thanks to their eighth place finish at the Olympic Games.

The next update to the FIH Hero World Rankings will be published following the completion of the Hockey World League Round 1 events later this year.

DNA


---

Helen Richardson-Walsh inspiring the nation



Helen Richardson Walsh celebrates

Team GB arrived back into the UK at lunchtime with hundreds of fans welcoming them home at Heathrow airport. Gold medalist Helen Richardson-Walsh was in shock over the reception the team got from the fans.

'Coming back to this is just is incredible. I can't actually quite comprehend what is happening right now.' Helen shares with us in disbelief.

'When we set out on this journey a few years ago we created our vision. Be the difference, create history and inspire the future. And from what I am seeing it looks like we are inspiring the future and that's just fantastic for the game. I have just been told by some guy that he has gone down to his local club and it was full! They can take any more players, it is just incredible!'

When creating the vision it went on for quite a while; 'It took a long time as we had to get it right and I think we have just done that.'

Her top tips to any kid that is inspired the games is to just go out and do it. 'If you want to get one of these (gold medal) then you are going to have to work really hard. Ultimately just start and enjoy it, make sure you have some fun. Even if you don't get to the elite level sport can improve your life, in so many ways.'

England Hockey Board Media release


---

Maddie Hinch reveals mid-air antics as Team GB's victorious women's hockey team returns from Rio 2016

By Nik Simon



Great Britain's hockey goalkeeper Maddie 'Mad Dog' Hinch shows off her gold medal

So successful was Team GB's golden fortnight in Rio that there were not enough first-class seats on the flight home for Maddie Hinch and her Olympic hockey heroes.

Touching down at Heathrow to the sound of clinking precious metal, the squad of 19 nursed hoarse voices after 11 hours of champagne-fuelled, sky-high jubilation.

They were flanked by the likes of Nicola Adams, Adam Peaty and Max Whitlock and given a fitting 'welcome home' at the packed-out arrivals area of Terminal Five.



Hinch and the rest of Team GB returned home on Tuesday with a record haul of medals

For goalkeeper Hinch, who kept out every one of Holland's penalties in Friday night's dramatic final shoot-out, it was the perfect finale to her Brazilian dream.

'Nobody usually recognises me because I'm the one who wears a helmet,' the 27-year-old told Sportsmail. 'We couldn't fit in first class because no one expected us to win gold.

'It didn't matter because we didn't sleep and we barely sat down. There will be a few sore heads once it calms down. Everyone knew where the hockey players were.

'It's just been the perfect script. Women's hockey had the nine o'clock prime time spot, delaying the BBC News… what more could we ask for? I hope this is just the start.'



There was not enough room in first-class for the whole of the women's hockey team



Great Britain defeated Holland on penalties to claim women's hockey gold in Rio

Known as Mad Dog because of her reckless bravery, Hinch steered Britain to their first ever women's hockey gold as Team GB eclipsed all expectations with a 67-medal haul.

Her masterplan was scribbled on the back of a water bottle and a notepad, defying the shoot-out hoodoo that has become synonymous with the England football team.

'If the FA want a few tips, I'm happy to help out,' she joked, before revealing some of her secrets. 'It's a slightly different kettle of fish to football but a lot of it is just the mental side of things.

'I'm not one for showboating but, at that moment, you need some bravado to show that you're up for it and make the opposition feel a little bit nervous about their shot.

'It involves hours and hours of homework. You learn each player's strength, because that's what they're likely to resort to under pressure. Some like hitting it on the backhand or some would take me on.'

Finding the information, however, is often the biggest problem in a sport not associated with mainstream broadcasting.

'It comes down to research and constantly staying up to date with what players are doing in tournaments all over the world,' she added. 'The Dutch are difficult because they don't end up in that situation very often, so I had to find stuff from club matches. You look at body positions as well.

'I write notes on my water bottle that I use during the game and then have a separate book for shootouts. I grabbed the book off our coach before it started and it's full of plans to counteract what I'm expecting. Sometimes it works, sometimes it doesn't, but I'll never come out with any regrets because I've done all I can.'



Maddie Hinch kept out all but one of Holland's penalties in the gold medal shoot-out



Team GB's women's hockey team celebrate after beating Holland in the final in Rio



Great Britain's women had never won a gold medal in hockey before Rio 2016

Having landed in a chartered British Airways Boeing 747, named 'victoRIOus' and complete with a gold nose, Hinch revealed the party of staff, coaches and athletes had belted out God Save the Queen.

Whitlock, who won an unprecedented two gymnastics golds, showed off his moves in mid-air and Peaty, who twice broke the 100metre breaststroke world record, was invited into the cockpit on flight BA2016.

But Hinch has barely a week before she is back in the air, with the unlikely star of the Rio leaving her hometown in Kent this month to join Dutch side Stichtse.

'Awkwardly for me, three of those Netherlands girls play at my new club in Holland,' she said. 'I need to pack up for the move but I don't know if they'll let me in the country! I'm hoping we'll all be friends!'



Team GB's hockey team celebrate their success with Adam Peaty and Alistair Brownlee



Maddie Hinch shows off her gold medal after returning from Brazil

Finishing second in the overall standing — ahead of China — Great Britain announced themselves as a sporting heavyweight and will be boosted by a 29 per cent funding increase ahead of Tokyo 2020.

And having overcome the world's No 1 side in the final Team GB's hockey stars are now plotting to back up their gold in four years.

'This is exactly what our sport needed,' said Hinch. 'We've been simmering along and doing quite nicely as a group, but we don't get the TV coverage we really need.

'We put a social media ban on throughout the tournament so we didn't know what was going on back home. It might have been a little bit intimidating if we'd known that nine million people were tuning in!

'That game was a great advert for women's hockey and the medal is just a bonus. That game had everything and I hope people will go out and pick up a stick. I'll have a week off now and then straight back into it… onwards and upwards to Tokyo.'

Daily Mail


---

Rio review: Expectations belied, but some progress made

Manuja Veerappa

The tweet from PR Sreejesh, captain of the Indian hockey team, after his side crashed out in the quarterfinals at Rio, was succinct. 'Rio over... Pain remains... Sorry for letting you down'.

The expectations from his team stemmed from stellar performances in tournaments in the run-up to the Games. But the moment the curtains fell on the team's campaign, following a 1-3 loss to Belgium in the quarters, the team came in for sharp criticism.

Regardless of the show in Rio, this Indian side has been a giant leap forward from teams of the past. The fitness levels have been high, camaraderie exceptional and skills set eye catching. Ranked No 5 in the world, India finished eighth among the 12 teams in fray. It was an improvement over their wooden spoon finish in London four years ago.

Here is a look at what went wrong and the way forward for the team.

Lack of bite in the forward line

Led by the fit and sharp SV Sunil, the forward line disappointed on many counts. On the flanks, Nikkin Thimmaiah, Ramandeep Singh, Akashdeep Singh and Sunil were impressive, but on many occasions they looked clueless inside the striking circle, failing to position themselves well or losing possession. The fluency in attack was missing at key junctures. In the six games in Rio, the team scored only three field goals.

Failure to soak up pressure

While the team looked physically fit, enthusiastic and spirited, the youngsters, who were playing on the big stage for the first time, succumbed to the pressure. Players like Kothajit Singh and Surender Kumar fumbled under pressure. The Indians picked up too many cards.

The way forward

Indian hockey appears to have moved along in the right direction in the last couple of years. It is important for Hockey India to keep the continuity going and not indulge in blame games and mindless sacking of players and coaching staff.

RESULTS

GROUP STAGE: India 3 (VR Raghunath 15, Rupinderpal Singh 26, 48) bt Ireland 2; Germany 2 bt India 1 (Rupinderpal Singh 22); Argentina 1 lost to India 2 (Chinglensana 7, Kothajit K 34); The Netherlands 2 bt India 1 (VR Raghunath 37). India 2 (Akashdeep Singh 32, 40) drew Canada 2;

QUARTERFINAL: Belgium 3 bt India 1 (Akashdeep Singh 14).

Hockey eves flatter to deceive

The sacking of skipper Ritu Rani in the eleventh hour did the team no favour. They went into the Games sans expectations, riding more on the euphoria of having made the cut for the first time in 36 years. Even then, some fight was expected out of Sushila Chanu and her team. But the team was found seriously wanting in spirit, speed and stamina. The team cannot complain of lack of match practice having travelled extensively over the past year. If they gained from the exposure tours, it didn't show. Having come away with one point from the draw against Japan, it is time to get down to brass tacks.

RESULTS

GROUP STAGE: Japan 2 drew India 2 (Rani 30, Lima Minz 39); India 0 lost to Great Britain 3; India 1 (Anuradha Thokchom 59) lost to Australia 6; USA 3 bt India 0; Argentina 5 bt India 0.

The Times of India


---

Women's hockey wrap: Aussie influence not restricted to our team

Lawrence West



The Australian team line up for the anthem before the Women's Pool B match between Australia and Japan on Day 8 of the Rio 2016 Olympic Games at the Olympic Hockey Centre on August 13, 2016 in Rio de Janeiro, Brazil. © 2016 Getty Images

Either way, an Australian was going to come out on the winning side in the women's Olympic hockey tournament.

On one side of the contest, Alyson Annan, a legend of the Australian women's hockey team, the country's highest ever female goal scorer (166) and twice an Olympic gold medallist (1996, 2000), is now in charge of the Netherlands.

On the other side, Craig Keegan, a Tasmanian who has lived in the UK for more than 20 years, is now serving as senior assistant coach to the Great Britain team.

In what became a wonderful advertisement for the sport, defending champions the Netherlands (world ranking of one) and GB (world ranked 7th) treated the global audience to a feast of goals in a thrilling 3-3 draw that saw the gold medal settled in GB's – and Keegan's favour - with a nail-biting shoot-out.

British goalkeeper Maddie Hinch proved yet again why she is considered one of the best in the game, denying the Dutch time and again in the shoot-out, which Hollie Webb ultimately sealed for the Brits. And with it, her country's first ever Olympic gold medal in women's hockey.

In a demonstration of just how competitive world hockey is, Great Britain's win meant that both the women's and men's gold medallists (Belgium) came into the tournament ranked a relatively lowly seventh.

Germany, ranked ninth, pulled off another surprise as they clinched the bronze medal with a 2-1 win over Australia's quarter-final conquerors, New Zealand. It meant a second consecutive Olympic bronze medal defeat for the Kiwis, who missed the medals by one place to GB at the London 2012 Olympic Games.

USA, who started the tournament with four wins from four, ultimately finished fifth – one place higher than Australia. It marked a strong improvement for the Americans who were bottom of the pile, 12th, in London.

Australia's sixth place finish, courtesy of a quarter-final defeat and finishing behind USA in the pool, was one lower than in London four years ago and will be seen as a disappointment for the World Cup silver medallists and reigning Commonwealth champions.

World number two Argentina, who arrived in Rio as the defending silver medallists, will also be disappointed with their tournament as they finished seventh in the first Olympic Games to be held on the South American continent.

Spain, who received their place in Rio when South Africa declined to send its team, finished eighth, ahead of the Asian trio of China (ninth), Japan (tenth) and Korea (11th).

India, whose women's team was appearing in the Olympics for the first time in 36 years and only the second time ever, finished 12th.

Keegan and Annan were not the only Australians with a strong interest in Friday's finale. In a coup for Australian officiating, experienced umpire-turned-video-umpire Lisa Roach and technical official Tammy Standley were both appointed to the gold medal match.

It took the number of Australian officials in the gold medal matches to four, following the appointments of Adam Kearns and Josh Burt to the men's gold medal game 24 hours earlier.

Women's hockey tournament, final standings 1. Great Britain (gold) 2. Netherlands (silver) 3. Germany (bronze) 4. New Zealand 5. USA 6. Australia 7. Argentina 8. Spain 9. China 10. Japan 11. Korea 12. India

Australian Olympic Committee media release


---

Dhyanchand award would have been much earlier, says Dungdung

Dhritiman Ray

RANCHI: Silvanus Dungdung was a content man on Tuesday afternoon as he pulled out his Olympic gold medal from the closet. His 36 year wait for government recognition has ended.

The 67-year-old member of the 1980 men's hockey team, which had won India's last team medal in an Olympic event at Moscow, spend the day meeting friends, giving interviews and shuttling between news studios. Yet there was a sense of anger and frustration still brewing in him.

"It should have been lot earlier," Dungdung said as he rose from chair at his cramped drawing room in Harmu, a day after his name was announced by the Narendra Modi government for this year's Dhyanchand Award - the highest award in sporting excellence sports given by the Union sports ministry.

The former right back, who had played his part in India's 4-3 win against Spain in what was the last Olympics of the grass era and was known among his mates as the 'iron gate', had complained in his closely knit circles for years for not being selected for Arjuna Award in the three decades following his retirement. "I am really honored that the government finally took note of my contribution towards my country," he said, flanked by neighbors in his two storey home that sits just 500 meters away from Indian cricketer Mahendra Singh Dhoni's palatial home 'Shaurya'.

Simdega born Dundung joined the Bihar regiment of the Indian Army in 1965 and rose to honorary captain before retirement. Besides the 1984 Olympics, he donned India shirt in several Test matches over a period of 10 years. Yet penury struck him around 2001 and the master craftsman even contemplated about selling his medal for cash. The indifference still haunts him, the family says. Dungdung went on to make a career in coaching in subsequent years.

The Times of India


---

Hockey world saddened by death of Etienne Glichitch



Etienne Glichitch (1925-2016) Photo: Fédération Française de Hockey

It is with great sadness that the International Hockey Federation learned of the death of Etienne Glichitch at the age of 90 years.

The Frenchman was the Honorary Secretary of the International Hockey Federation (FIH) from 1966 until 1984, when he became President, a post which he held until 1996.

Etienne's dynamic approach and dedicated commitment to the sport laid much of the groundwork for the FIH as it is known today.

Born in 1925, Etienne worked extensively in French hockey, where he set up several training courses, many of which he conducted personally. The success of these meant that these courses were also delivered internationally.

He was also a renowned official, his highlight umpiring at the 1960 Olympic Games in Rome, Italy.

He was later elected to the FIH Board in 1961, before being appointed as Director of the Tokyo Olympics in 1964.

International Olympic Committee President Juan Antonio Samaranch awarded him the Olympic Order for having participated in 10 editions of the Olympics.

He retired from hockey in 1996, with the exception of his duties with the Foundation for the Promotion and Development of Hockey, retaining the Presidency until 2005.

His services to the sport of hockey also saw and award named after him. The Etienne Glichitchrecognises an individual, Continental Federation or National Association who has developed hockey through innovative ideas and/or the professionalisation of their organisation.

Speaking of his death, FIH President Leandro Negre said: "As the head of FIH for 30 years, the actions of Etienne for the development of our sport are endless. He played an important role in building women's hockey and increasing access to our sport around the globe. He will be a huge loss to the hockey world and we would like to offer his family and close friends our deepest sympathy at this difficult time."

FIH site