All the news for Sunday 21 August 2016

Scotland held to a draw by Italy




Scotland men v Italy 2016 2 2Scotland and Italy played out a competitive 3-3 draw in the second of three games between the two as Scotland prepare for World League 1, held in Glasgow, in September.

The game followed a spectacular 5-0 win for Scotland on Thursday evening, but the hosts were met by a very different Italian side in this second encounter.



Before the games Nicky Parkes was presented with 50th cap for Scotland and his side looked positive from the push-back.

Italy were defending well early doors as Scotland zipped the ball around the D. The Scots were using flanks but found no way through the Italian rear-guard. That was until Scotland's Lee Morton opened the scoring after some excellent build-up play down the left. The ball was cut in for Morton who finished well to make it 1-0.

Instantly after his first, Morton bagged his, and Scotland's, second. A quick break from the restart found Morton with enough time and space to blast the ball past the goalkeeper to make it 2-0.

Italy began to creep into the game. First, Alan Forsyth stopped one on the line from a penalty corner. Then the Italians pulled one back through Felipe Ponce. Not long later and Italy levelled the score. Ganzalo Urzone tapped the ball home to make it 2-2 after a defensive lapse allowed the Italians in.

Early in the second half and a couple of great saves from Kenny Bain penalty corners denied Scotland the lead again. Instead it was the Italians who took the lead when Julien Dallons blasted home from a pen corner.

Scotland continued to have most of the ball but Italy managed to keep them at bay. A chance for Fraser Campbell saw him zip the ball over the bar.

Then with the clock ticking down Italy nearly put the game to bed when a quick break allowed Santiago Castano the chance to shoot at goal but his shot fizzed across the goal and just wide.

Kenny Bain made it 3-3 with ten mins to play. A quick move down the right saw the ball blasted into the D for Bain to pounce ahead of the defence to deflect the ball into the net.

The game ended a draw and the two will meet for the final time tomorrow at 13.30am at the National Hockey Centre in Glasgow.

Scottish Hockey Union media release


---

Hollie Webb: Hockey World Cup ruin laid ground for gold medal

Scorer of decisive penalty against Netherlands says fallout from England's poor 2014 performance spurred a revival at Team GB's Bisham Abbey training camp

Owen Gibson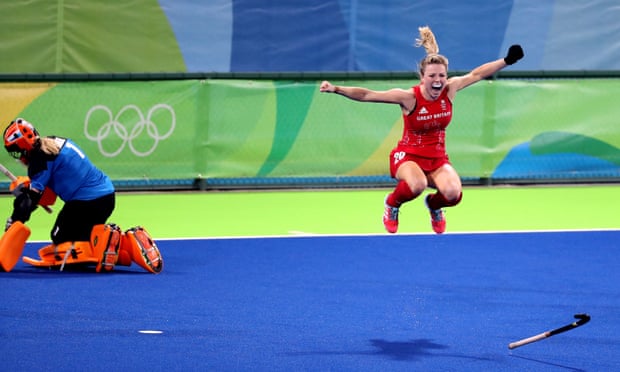 Great Britain's Hollie Webb celebrates scoring the winning goal in the penalty shootout during the gold medal match against the Netherlands at the Olympic Hockey Centre. Photograph: Owen Humphreys/PA

It was in a meeting room at Bisham Abbey, amid the ashes of a dismal 2014 World Cup campaign for the England team from which most of Great Britain's women's hockey side is drawn, that the foundations for a golden era were laid.

An 11th-placed finish at that tournament at The Hague proved the catalyst for the return of the inspirational coach Danny Kerry and the captain, Kate Richardson-Walsh, to come out of semi-retirement for one last crack at gold.

Two years later they were dancing in a Rio hotel to We Are The Champions having pulled off a dramatic shootout victory over the reigning champions, the Netherlands, in the Olympic final, following a tournament that featured eight straight wins.

"We sat round and people got things off their chest, things that were frustrating," recalls Hollie Webb, who scored the decisive penalty shuffle that sent her team-mates and upwards of nine million viewers watching back home into raptures.

"Looking back now it was horrific at the time but we learned from it and got to where we are now," she said.

Almost to a woman, all of those who celebrated wildly on the blue Deodoro pitch referenced both Kerry – a tactical "magician" according to Alex Danson – and their captain, Richardson-Walsh, as key factors in their success.

On the morning after the night before the defender Sam Quek said the newly retired captain, who will go off to play club hockey in Holland with her wife and GB team-mate, Helen Richardson-Walsh, was irreplaceable.

"Kate is a one-off. There will not be another leader like Kate. She is just an inspiration to everyone. Everything she does is so thorough. She is the most caring, thoughtful person in the world," she said. "But at the same time, if you put a little foot out of line or you need your socks pulling up, she'll be first to say so."

But the other theme that comes through is the bond created during the long hours of training at Bisham Abbey – where they installed an exact replica of the Rio pitch and endlessly drilled for every eventuality – as a development squad of 31.

"I can't describe the feeling. We are a group of 31 people that has been put together. We wouldn't necessarily be best friends outside hockey as we're all different personalities. We've all been put together and I think it's so special how we all work together and are so close because of it," said Webb.

"And we all compete against each other. I am competing against Sam for the same position and yet I want her to do well as well. I can think of hardly any other situations where you get that."

In the wake of victory Danson also tried to sum up the shared values that had been drummed into them in the long hours at Bisham Abbey .

"We set our stall out. We wanted to create history. We wanted to inspire the future and we wanted to be the difference. It's about having a team with a set of values, a vision, that you dare to put out there. We probably spent hours and hours of our programme back at Bisham in meetings, talking about how we want to be and what we want to deliver on. That's aside from the tactics, that's on top," she said.

""I believe more than anything that's what has won us the medal here. It's the 31 girls at home, it's every person who has ever put on a GB shirt and it's a magician who has put the tactics together."

For Webb there is a neat symmetry in the fact that she was inspired to play hockey as a nine-year-old watching Richardson-Walsh in the 2000 Olympics in Sydney and will now have the opportunity to capitalise on the huge boost in exposure offered the sport as a result of their prime-time victory.

"That's the thing I'm most excited about. It's not the medal we got last night, which is obviously incredible. If you look on social media, it's the people back home that have been inspired by us and by watching us," she said.

"We've had messages like: 'I am going to dig my old hockey stick and get back into it.' That is the most special thing for me. People are now noticing hockey. They've seen it on the TV and loved it and want to get involved with it. It's amazing."

As Britain's women thrived, however, Britain's men floundered, failing to progress from the group stage. Barry Middleton's side finished above only the hosts, Brazil, whom they beat 9-1 for their sole win from five games. Two draws and two defeats in their other matches meant Britain made an early exit from the tournament.

The Guardian


---

Maddie Hinch in dreamland as secrets of Great Britain hockey success revealed on her water bottle

Goalkeeping star helped stop Netherlands scoring a single penalty before being hailed by a host of watching sports stars

By ALEC SHILTON



The secrets to Maddie Hinch's success appeared to be revealed on her water bottle

GREAT BRITAIN hockey hero Maddie Hinch helped end years of hurt as her penalty shootout brilliance helped Team GB strike gold against the Netherlands.

And the secrets to her Olympic success appear to have been revealed by a picture of her WATER BOTTLE.



Maddie Hinch in action during GB's hockey success against the Ntherlands. Getty Images



Hinch performed wonders in the penalty shootout to help Team GB to gold. Darren Fletcher Photography



The moment Hinch's team-mates knew they had struck gold. Getty Images



Hinch is congratulated by her team-mates after helping them win a first hockey gold. AP:Associated Press

Goalkeeper Hinch just would not be beaten as Team GB triumphed 2-0 on pens after twice coming from behind to secure a 3-3 draw after 60 minutes of normal time.

And in doing so she helped Danny Kerry's side become the first female Brits to reach an Olympic final — and they matched the 1988 men's team by coming out victorious in a thriller.

Hinch said: "It hasn't sunk in it all. It feels like we're in a dream.

The Sun


---

Kerry's Thinking Thursday, Comebacks and a lasting Olympic legacy



GB on the top step of the podium on Friday evening. Pic: Koen Suyk/WSP   

Danny Kerry said it was the lure of getting back to doing what he loved that ultimately saw him return to the Great Britain coaching role, a decision that culminated in his team winning the women's Olympic gold for the first time.

Kerry coached the GB women from 2004 to 2012, aiding their rise to a bronze medal in London before moving on to be the Performance Director. However, after two years in that role, the opportunity to get back into coaching with the women's team came up once more after a tough World Cup performance, finishing 11th.

Speaking about his journey back into the fold, he said: "After 2012, I was pretty fried and pretty exhausted. I moved on to performance director; I didn't enjoy it.

"I spent a lot of time pushing paper around and wanted to get back to coaching. An opportunity came up and it took a big decision to do it; most people don't usually decide to take a step down the career ladder but I wanted to do what I enjoy and am passionate about.

"I want to do things that I love and think I am good at. That was my choice and it has worked out pretty well!"

He saw his side find a way to win against a Dutch side who he admits "battered" his side for three quarters, hanging tough in the face of an onslaught before picking off goals from their scarce attacks.

And Kerry believes that some of the mental resilience to pull a result like this out of the fire comes as part of the GB team's mental conditioning, primarily on "Thinking Thursdays".

"As soon as it went to shoot-out, I knew. In the last few games, Maddie [Hinch] didn't have to do a great deal but in the final, she showed her class.

"Holland battered us for the first three quarters but some days, it's like that and you find a way. We have a thing called 'Thinking Thursdays" where we talk about finding that way [to win]. It's two hours of physically and mentally hard preparation.

"It's working their way to the highest degree in terms of intensity in training but they have to win the game by doing certain [mental challenges at the end], thinking their way through when they are absolutely dead on their feet.

"We know there are certain games at the top end of the world where this is what it is about and today that is how it was. We had to defend and dig trenches and then we changed stuff in the last quarter and it paid off. We always talk about finding a way to win and that's what it was today."

He also hailed the influence of the squad's experienced players like Kate Richardson-Walsh, Helen Richardson-Walsh and Crista Cullen. All took time away from the game – either due to a personal break or injury – before coming back rejuvenated for the challenge.

"Eight of the group are multiple Olympians and we needed that experience. It will be the end for some of them. I remember watching Dame Kelly Holmes win gold in 2004 and that lady kept getting up and giving it more.

"That's the same with the likes of Kate, Helen and Crista. If you keep getting up, you get there in the end. You get knocked down, you keep getting back up on the horse. That's why they have gold medals around their necks.

"It was pivotal in the Commonwealth Games when I spoke to Kate and said 'Look, two more years of your life and I think we can turn things around'. She went away and had a think and came back.

"Some people have tough periods in their life. Some of the injuries and back surgery Helen has had; there is a real story here when you scratch the surface of what some of their players have been through, coming out the other side, it is a genuine and real story. They deserve everything they get."

Now, he hopes that English and GB hockey can capitalise on the success of the team and hopefully create a long-lasting legacy that will see hockey flourish further in the country.

"After London, some ridiculous percentage of new hockey players aged between 14 and 18 took up the game. There was a new young cohort of people playing our sport. I think England and Great Britain hockey work really hard to capture this.

"At the moment, we have HockeyFest which is giving people a facility to get involved in the sport. It's welcoming for all ages, all people of all walks of life. It really is the Hockey Family and I hope today helps push that along."

EuroHockey media release


---

Still early days in MHL despite upsets

by S. Ramaguru



Terengganu's Tengku Ahmad Tajuddin (right) fights for the ball with KLHC's Kevin Lim during the Malaysia Hockey League match at Batu Buruk hockey stadium on Friday. - ZABIDI TUSIN / The Star

KUALA LUMPUR: Stay calm. Don't read too much into the results of the opening ties of the Premier Division matches in the Malaysia Hockey League (MHL).

Three matches were played on Friday, with Kuala Lumpur Hockey Club (KLHC) posting the most impressive result – demolishing double champions Terengganu HC 2-1 in Kuala Terengganu.

The other two matches saw Maybank edging Tenaga Nasional 4-3 and Sapura beating Universiti Kuala Lumpur (UniKL) 2-0.

With each side having to play nine times – home and away – in the six-team Premier Division, there is still time for the opening-day losers to bounce back.

After all, Terengganu had done it twice already. They lost in 2014 and 2015 – both times to KLHC.

And guess what? They came back to win the double on both occasions!

That said, the three teams who lost on Friday – Terengganu, Tenaga and UniKL – must win their matches today or they will find themselves too far behind to challenge for the title.

Sunday's match-up sees Tenaga playing UniKL, Maybank facing Terengganu HC and KLHC meeting Sapura.

Tenaga team manager Adam Izamry Idrus knows that his team must get back to winning ways.

"It was a close match against Maybank. We can't afford a second defeat. We will have to fight harder and make sure we come away with full points against UniKL.

"Although these are still early days in the season, we know that if we trail too far back it will only pile unnecessary pressure on the players," explained Adam, who blamed his players' inexperience for the loss to Maybank.

KLHC coach Mohd Rashid Al Harun, meanwhile, is happy to have beaten Terengganu, saying "the early advantage will help us stay ahead of our opponents".

"The players will be buzzing with confidence when they play Sapura tomorrow.

"It's important that we keep ahead of our rivals ... building up an lead early in the season will be good for us," he said.

Sapura team manager Louis Gregory, though thrilled with their win over UniKL, believes that their best is yet to come.

In what could be an opening salvo at KLHC, who they will face today, he said: "We played very well against UniKL although we still do not have our two foreign players.

"Our Australian forward Oscar William Wookey and New Zealand midfielder Phillip Ross Burrows will only join us next week."

The Star of Malaysia


---

Rot Weiss Koln's brothers in arms

Rot-Weiss Koln's Mats Grambusch said winning Olympic bronze was made extra special by playing alongside his brother Tom as they helped Germany to third place last Thursday in Rio.

Reflecting on their tournament, Mats said: "To get an Olympic medal is probably one of the biggest things in the world, and getting a medal with your brother is indescribable. I don't know, I can't find words for it. I'm just so gifted that I'm able to play with him here. I'm just really proud of him."

He held his nerve in the crucial shoot-out to help his side prevail 4-3 in a shoot-out after normal time had ended 1-1.

He admitted he was "kind of" nervous."But to be honest, we've been training a lot, doing those penalties quite a lot and, obviously, it was a big pressure. It worked out. It's just luck."

Grambusch added that he will be taking a break from hockey for a short while, preferring to spend time on the beach in Majorca before returning to club training. Along with Tom, he was among six Rot Weiss players in the German panel.

Euro Hockey League media release