All the news for Saturday 20 August 2016

Great Britain wins gold in shootout, ends Netherlands Olympic reign

By Hayley Tafuro

In a shootout, Great Britain's Hollie Webb scored to secure her team's gold medal and end the Dutch dominance with a 2-0 win.

There is a new gold medalist in women's field hockey.

Great Britain claimed the gold medal after defeating the Netherlands 2-0 in a historic shootout win.

With time winding down and the pressure increasing, it was anybody's game with the score tied at three all.

Great Britain's Nicola White scored the game-tying goal on a rebound off of a penalty corner that would ultimately send the two teams into a shootout.

Maddie Hinch against Joyce Sombroek: Two of the best goalkeepers in the world, and the top two performers in this Olympic tournament.

Both teams were scoreless two shots in until Sombroek committed a penalty. Helen Richardson-Walsh got the do-over penalty stroke that put Great Britain ahead 1-0.

Hinch put Great Britain in the position to win it on the final shot, and her teammate Hollie Webb scored the dagger that would end the dominant reign of the Netherlands, which was looking for its third consecutive gold medal in Rio.

It was a back-and-forth battle between these two through and through.

After Hinch blocked a penalty stroke from Maartje Paumen in the opening minutes of the game, Great Britain took advantage.

They jumped to an early lead when Sophie Bray took the ball right into the circle for a shot, and Lily Owsley scored off of the rebound.

Immediately into the second quarter, Kitty Van Male chipped a shot past Hinch to even the score. Paumen then found redemption from the blocked penalty stroke when she converted on a penalty corner to give the Dutch a 2-1 lead.

However, Great Britain replied with a Crista Cullen goal. She tied it up at two goals each heading into halftime.

Keeping with the mercurial nature of the game, the Netherlands went back up again after Van Male received the pass on a penalty corner and put it right into the cage. White would tie the game and send it into shootout where Great Britain would make history, winning its first ever gold medal.

Great Britain took home bronze four years ago in London, and the team only had its eyes on gold in Rio, made evident by its undefeated tournament record.

The Netherlands were the heavy favorites heading into the Olympic tournament. The Dutch had not lost an Olympic game since 2004 in the final of the Athens Games. They will claim the silver medal, making it the country's eighth overall medal in women's field hockey.

NBC Olympics


---

Glorious gold for Great Britain at the Olympic Games



Hollie Webb scores the winner in the shootout

Great Britain's women made history with their first-ever Olympic gold medal after beating the Netherlands 2-0 on shootout. The teams had traded goals in a pulsating 3-3 draw but with the pressure on in the shootout Hollie Webb held her nerve to slot home the winner, sparking jubilant scenes for Danny Kerry's side and their passionate travelling army of fans.

In an action-packed match the Netherlands could have gone ahead in the seventh minute, as they were awarded a penalty stroke. The fearless Maddie Hinch stood firm and guessed right, repelling Maartje Paumen's shot with her gloves. Two minutes later the Dutch were made to rue that miss as Sophie Bray carved open the defence with some sublime individual skills. Although Joyce Sombroek saved the initial shot Lily Owsley pounced to slot home the opener. Paumen tried her luck from a penalty corner just before the break but the goalkeeper saved well from the Oranje skipper.         

The second quarter got off to the worst possible start for Danny Kerry's side. Kitty Van Male was set free by Lideweij Welten and produced a fine finish to level the scores. Hinch and the defence were under immense pressure but despite the scare of a Naomi Van As thunderbolt coming back off the bar they stood firm. Six minutes before the break, Paumen took an alternative route to goal and managed to beat Hinch with a low shot from a penalty corner. The lead lasted just moments. The passion and power of Danny Kerry's charges levelled the contest. Giselle Ansley's pass into the circle broke to Crista Cullen who slammed the ball past Sombroek for her 58th international goal.     

Caia Van Maasakker tested the Great Britain defence from two penalty corners but as before Danny Kerry's team defended like lions and kept Alyson Annan's side at bay. On 37 minutes the Oranje pressure finally paid off with a well worked set piece allowing Van Male to grab her second.  

The defence creaked under pressure but some courageous play by Laura Unsworth held the orange tide at bay.

The final quarter was charged with tension and drama and after some superb teamwork between the GB forwards, Danny Kerry's team forced their first penalty corner. The slip move found Unsworth whose pass was half blocked but Nicola White showed terrific awareness to pounce and slot home the equaliser. The determination of Kerry's side ensured there were no more goals and it was time for a shootout.       

The first two for each side were saved as Hinch and Sombroek showed why they are regarded as two of the best around. Laurien Leurink was denied by an incredible save from Hinch and then Bray was brought down by the goalkeeper on the next, resulting in a penalty stroke. Despite the noise from the Dutch fans Helen Richardson-Walsh showed nerves of steel to fire home. A further miss apiece for each side meant it was down to Webb to win it, which she duly did for the courageous Great Britain side.   

Danny Kerry, Great Britain Coach

"We know we're good at shootouts. We have some tough competitors and probably the best goalie in the world in shootouts. As soon as it went there I knew we would win."

"Today we had to defend, we had to dig trenches, but we changed things in the last quarter and it paid off.

"Eight of the group are multiple Olympians and we needed that experience today."

Maddie Hinch, Great Britain goalkeeper:

"That was a huge team effort. The Dutch are a fantastic side. We definitely back ourselves in the shootout. Goalkeeping has its highs and lows. You can be a villain, but you can also be a hero in the moment."

"It helped that the Dutch had a shootout in their semi-final, so that gave me a chance to see what they do, but I basically give myself a game plan for each player and I execute that and thankfully it worked. Thankfully the Dutch did what I thought they would do."

"3-3, what a great advert for hockey. That's what we want to do, showcase our sport and I'm so pleased it was a good game."

Nicola White, Great Britain forward said:

"This is what we dreamed of and now we've got it. No-one can ever take that away from us."

"We've now gone unbeaten through an Olympic tournament, which is unreal. It's the first time we've been to the final, so for us we're over the moon.

"We always knew it was going to be very close but physically we stuck to it. We really put the legwork in to try and get them on the counter and get up the pitch."

Great Britain 3 (2)
Lily Owsley 9 (FG)
Crista Cullen 26 (FG)
Nicola White 52 (PC)

Netherlands 3 (2)
Kitty Van Male 16, 37 (FG PC)
Maartje Paumen 24 (PC)

Great Britain win 2-0 on shootout

Great Britain Hockey media release


---

Hinch heroics as GB land maiden women's Olympic title



Great Britain celebrate a first ever women's Olympic Games victory. Pic: Frank Uijlenbroek/EHF

Maddie Hinch produced the heroics once more as Great Britain completed the perfect tournament, saving three times in a shoot-out to beat the Netherlands 2-0 after normal time had ended 3-3.

It ended the Dutch reign at the Olympics, denying them three in-a-row as GB claimed their first ever title in the competition, repeating their dramatic win over the Dutch from last August's Europeans.

For the most part, the Dutch had the vast majority of the play, winning eight corners to two and running up 17 shots to seven. But the most important statistic went against them as GB battled their way to a shoot-out and ultimately prevailed with Helen Richardson-Walsh scoring from a stroke and Hollie Webb sealing the deal in the fifth round.

The first half was played at an incredible tempo with chances and drama throughout. Just six minutes in, Maartje Paumen had the first major chance but saw her penalty stroke – designed to wrong-foot the goalkeeper – was denied by Maddie Hinch standing tall.

GB went in front when Sophie Bray's 3D skills saw her beat a number of defenders and while her shot was saved, Lily Owsley was able to pot the rebound from close range for 1-0.

Hinch was required to keep out a couple of further chances before the end of the first quarter before Kate Richardson-Walsh got a key touch to deny Naomi van As's stunning run and shot.

The Dutch were level early in the second quarter when Lidewij Welten nicked the ball on haflway and dropped the ball under her arm to Kitty van Male. She rounded Hinch before firing a backhand shot into the roof of the net.

Van As was proving near unplayable at times, clipping the sideboard with her next shot while a rising reverse of hers hit the cross-bar, too. The oranje notched up four penalty corners and, from the fourth, they went in front courtesy of an old-fashioned hit from Paumen that had too much pace for the post-woman.

But GB were efficient – scoring from their two shots in the first half – and were level by the big break when Owsley nicked possession in the circle and fed Crista Cullen who coolly slotted past Joyce Sombroek for 2-2.

The Dutch continued to pile forward in the third quarter, running up another four corners and six more shots with GB unable to register on either count. From the seventh Netherlands' corner, Caia van Maasakker disguised her pass to the injector van Male who redirected the ball into the goal.

But, for all their pressure, they were unable to advance their scoring. GB, meanwhile, earned their first corner with nine minutes to go thanks to Susannah Townsend's surge down the right which ended with a foul on Owsley.

Alex Danson's deflection was stopped on the line but another corner followed immediately. This time, the rebound fell to Nicola White who finished well from close range.

From there, neither side had any major chances of note as the Dutch held all the ball but found no way through the GB defences who protected their circle brilliantly, leading to the shoot-out.

It took three rounds until either goalkeeper was beaten with Joyce Sombroek and Hinch saving each. The key moment came when Sombroek took down Sophie Bray and Helen Richardson-Walsh stood up to score the ensuing stroke.

More saves followed before Margot van Geffen hit the post with her shot allowing Webb to step up and score, showing immense composure in a pressure situation to snatch the victory.

EuroHockey media release


---

Helen helps shoot GB to gold at fourth attempt



Great Britain celebrate their gold medal. Pic: Frank Uijlenbroek/EHF

Helen Richardson-Walsh showed an amazing ability to bounce back quickly as she scored one of the crucial shoot-out goals that ultimately saw GB win women's Olympic gold for the first time.

She missed her own shoot-out but was on hand to score from the penalty spot when Sophie Bray was felled. Despite the odd situation, she said that she felt confident stepping up for the stroke, one of just efforts scored in the shoot-out.

"Yeah, definitely. You know, shoot-outs are very different to a penalty stroke competition. People are going to miss. And also with Maddie Hinch as our goalkeeper, we know that she's going to save more than the average goalkeeper.

"People are going to miss, so I didn't let that bother me. I just knew that as soon as it was a stroke, I was really confident I was going to go up and slot it home.

"When I went up there, it was a really strange feeling. I actually felt like I was just back at Bisham [Abbey National Sports Centre] at our training base, and like Kate said, the more the boos came on, I was like, 'Yeah, come on. Bring it on'.

"I didn't get a clean connection. It kind of dribbled into the corner. But it went in, so I don't care."
For Richardson-Walsh – along with her wife Kate – it was a fourth shot at Olympic glory having previously competed in Sydney in 2000, Beijing in 2008, London in 2012 and now Rio.

"Seventeen years of many ups and downs, well most of them downs probably. Started very low, eighth in Sydney and, from that moment, myself and Kate just wanted to win a gold medal at an Olympic Games and become Olympic champion and it's not been easy.

"Until the London cycle, it was really a dream. The London cycle really turned everything around. It was something that actually could happen."

EuroHockey media release


---

Dutch pride in Olympic final performance



The Netherlands receiving their silver medals. Pic: Frank Uijlenbroek/EHF   

Naomi van As says that she is proud of her Dutch team's performances to finish in the silver medal despite coming up just short of gold for a third successive Olympic Games.

The Netherlands controlled much of the play during normal time but were not as efficient in front of goal compared to Great Britain who eventually prevailed in a shoot-out after normal time ended 3-3.

Speaking about the game, van As said: "Our field play was very good today but you have to make goals to win a game eventually.

"They had four or five chances but they scored three goals so they did that very well. We had a lot of chances and we didn't score.

"That is difficult but on the other side it also makes me very proud. If I look back at the way we played today on the pitch, we were very good.

"We are going to celebrate the medal because the thing is, you go for gold and then you win the silver and a lot of people forget to congratulate you. It's a silver medal at the Olympic Games!"

Eva de Goede was of a similar frame of mind when she reflected on her team's performance

"I'm just nothing but extremely proud of us. We played very well during the game. We played way better than them. We should have scored a few more goals. Shoot-outs, yeah, it's 50-50. They won; we lost so, yeah, it's a tough one to lose, but once again, I'm super-proud of the team.

"I had the feeling today that we were going to score more goals than just the three and that they weren't going to score three. But yeah, it happened.

"I think we kept on believing that we could score more. In the end, we didn't. Shame, we played so well; still proud. I can only be proud."

Dutch coach Alyson Annan-Thate, meanwhile, felt her side did "everything they needed to do" during normal time but could not find the goals.

"We dominated the whole game and we played as we should have and as we wanted to. Tactically, we were strong; technically we were strong. Physically and mentally, we were the better team and that makes this much more disappointing.

"We did everything that we needed to do and when you see your players play the way you've asked them to play, play the way they've been working to play.

"The passion that they played with. They were a unit; they were really a really strong team today and when you see that, all you can do is be proud. And I'm really proud of their performance today."

EuroHockey media release


---

GB women win historic hockey gold with shootout victory over Netherlands

Emma John at the Olympic Hockey Centre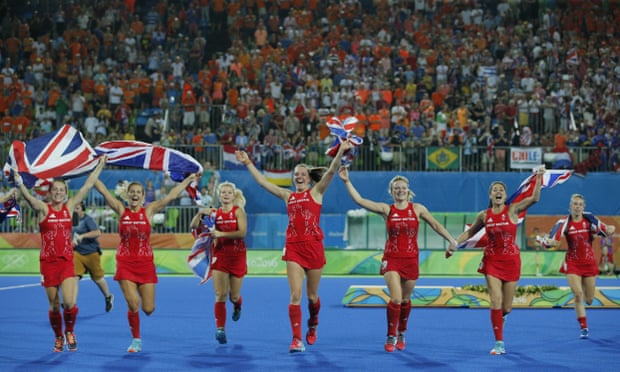 Great Britain players celebrate after Hollie Webb's decisive penalty. Photograph: Tom Jenkins for the Guardian

Kate and Helen Richardson-Walsh may want to reconsider their future. The couple are supposed to be moving to the Netherlands shortly. Having broken Dutch hearts, while securing Great Britain's first women's hockey gold medal with a shootout win, they might find the reception a bit frosty.

The Netherlands were considered the rulers of world hockey and GB's win came entirely against the run of play. The defending Olympic champions had dominated but a goal in the final 10 minutes from Britain's Nicola White levelled the scores at 3-3 and took it to penalty shuffles.

It was Hollie Webb, one of the youngest members of the team at 25, who scored the winning goal. "I watched it go into the net and then I can't remember anything else since then," she said. "We practise them so many times and I just tried to imagine I was training at Bisham Abbey. I knew what I was going to do against their keeper, so I just stared her in the eye."

The first four shuffles had gone begging before the Dutch keeper Joyce Sombroek was ruled to have deliberately fouled Sophie Bray, and Helen Richardson-Walsh stepped up to score from the consequent penalty stroke.

There were two more misses – including Margot van Geffen's shot hitting the post – before Webb stepped up to the 23-yard line to take Britain's first potshot at gold. The ball clanged into the back of the goal like Calamity Jane shooting a tin can off the head of a drunk.

It was a nerveless finish for a team who had said repeatedly throughout this tournament that nothing but gold would do. Eight of the players had been forced to settle for an Olympic bronze at London 2012 after a heartbreaking semi-final defeat. They included captain Kate Richardson-Walsh and her wife Helen, who came into this match with 657 caps between them.

They are the first married couple to win gold for Britain since Cyril and Dorothy Wright, who took the 7m sailing class in Antwerp in 1920. To be fair, there were so few yachts competing in that Games only one team went home without a medal. The Richardson-Walshes and the rest of the GB team have bossed this Olympics, defeating all eight sides they faced.

The main grandstand was full of Dutch fans. Some wore inflatable crowns while one man had a giant slice of Edam on his head. A tiny pocket of British fans sat right in the middle of the orange mass and made considerably more noise.

Britain scored first nine minutes into the game after Bray took on three Dutch players to shoot from the edge of the D and the rebound was tucked away by White. The Netherlands equalised immediately after the first break, when Lidewij Welten stole the ball in midfield. She and Kitty van Male stepped on the accelerator, catching Britain on the break and allowing Van Male to run around Maddie Hinch entirely unhindered. She finished with a flick into the top right corner.

For much of the match the Netherlands had set up camp in Britain's half so comfortably they may have considered lighting fires and sending a few players off for provisions. A penalty corner reached Maartje Pauman 10 minutes into the second quarter and the Dutch captain, who was looking for her third consecutive Olympic title, sent it skimming past Hinch's outstretched leg.

There were army tanks parked forbiddingly on the road leading to the arena. Hinch did much the same job protecting Britain's goal. A series of brilliant saves kept her team in the game from as early as the 12th minute when Sam Quek fouled Laurien Leurink and conceded a penalty stroke. Paumen's shot came high and straight at Hinch's head but she deflected it wide. There were plenty more where that came from, including a brilliant double save against Naomi van As.

A long ball that was deflected past a hapless Caia van Maasakker landed in prime scoring position for Crista Cullen who scored to keep Britain in the hunt. But after three penalty corners in as many minutes the Dutch went ahead again, Van Male scoring her second goal.

Going into the final quarter, the Dutch had won 10 penalty corners, their opponents none. Britain's first and second came with nine minutes to go, both ungainly scrambles in the goalmouth. Sombroek saved the first but the second drew her a foot further out of her ground, leaving a gap for White to slot home Alex Danson's rebound.

For Danny Kerry, Britain's coach, the gold medal had seemed almost preordained. "I know this will sound corny but some days you know you're going to win," he said, "and even though we didn't play very well in the first three quarters of the match I thought we were going to tough it out.

"We have probably the best goalie in the world when it comes to shootouts. As soon as it went there, I knew."

The Guardian


---

Britain dethrone the Netherlands to take gold

by Jack Stubbs




RIO DE JANEIRO (Reuters) - Britain beat defending champions the Netherlands on Friday to take home their first Olympic gold medal in women's hockey, winning 2-0 in a tense shootout following a hardfought 3-3 draw.

After topping the podium in Beijing and London, the Netherlands were hot favourites going into the Rio Games.

Despite winning every game to finish top of their group, however, the top-ranked Dutch team only scraped into the final after beating ninth-ranked Germany 4-3 in a shootout following a 1-1 draw.

Britain also finished the group stages with a perfect record and were gunning for gold in their first Olympic final having won bronze four years ago in London. Germany beat New Zealand 2-1 to take the bronze medal.

"We've done it," British midfielder Nicola White told reporters, brandishing her medal with a grin plastered across her face. "We've trained our arses off for so long, this is what we've dreamed of and now we've got it.

"We've now gone unbeaten through an Olympic tournament, which is unreal," she added. "We are just over the moon."

That the near sell-out crowd at the Olympic Hockey Centre, a venue which has struggled to fill seats during the Rio Games, were in for a show was clear from the pushback.

A boisterous British tackle and ensuing penalty flick gave Dutch captain Maartje Paumen an early chance to score, but her shot was batted aside by British keeper Maddie Hinch.

'SHAME IT'S SILVER'

Britain's Lily Owsley claimed the first score of the night, emerging victorious from a mad scramble in front of the Dutch goal to put her side 1-0 ahead.

A Dutch equaliser came courtesy of forward Kitty van Male who broke away for a one-on-one with the British keeper, skilfully drawing her aside and putting the ball into the top of the net with an audacious reverse stick sweep.

The Netherlands' second goal promptly followed with Paumen scoring off the last of three penalty corners in the space of four minutes. Seconds later, Britain's Crista Cullen picked up a cross in the opposition circle to level the scores at 2-2 going into the break.

The goals kept coming in the second half. Both teams netted one each after a series of penalty corners, leaving the score deadlocked at 3-3 on the final whistle and forcing a shootout to decide the match.

Of the 10 goals available, only two were scored. Britain's Helen Richardson-Walsh and Hollie Webb found the back of net to secure victory and their team's first Olympic gold medals.

"We played very well during the game. I think we played way better than them," said the Netherlands' Eva de Goede. "But shootouts are fifty-fifty. They won, we lost, it's tough."

"Shame it's silver," she added, gesturing to the medal which will join the two gold ones she already has at home. "We were really going for a third gold. But it didn't work out."

The Star of Malaysia


---

Field hockey players become first same-sex married couple to win gold

Martin Rogers



Helen Richardson-Walsh of Great Britain (R) and Black Sticks player Stacey Michelsen in action during the Rio Olympics Women's Semifinal match. ROB CARR/GETTY IMAGES

Helen and Kate Richardson-Walsh won a gold medal in women's field hockey for Great Britain on Friday night (local time).

Kate is the captain of her national team, which defeated the Netherlands in a nail-biting shootout following a 3-3 tie in regulation. Helen is her wife.

The Richardson-Walshes will not just take twin gold medals back to their home in Maidenhead, just outside London, they will also carry a slice of Olympic history with them. Actually, a bit more Olympic history.



Susie Townsend (L), Kate Richardson-Walsh (C) and Sam Quek (R) of Britain celebrate winning gold. VASILY FEDOSENKO/REUTERS

They were already the first same-sex married couple to compete at the same Olympics. Now they are the first medallists, and first gold medallists.

"It is really, really special," Kate Richardson-Walsh said. "To win an Olympic medal is special. To do it with your wife standing next to …we will cherish this for the rest of our lives."

Same-sex marriages became legalised in most of the United Kingdom in 2013 and Kate and Helen wed the same year, in a lively occasion to which all of their teammates were invited.

Kate, team captain since 2003, had her jaw smashed by a flailing stick early in the 2012 London tournament but had a swift operation, donned a face mask and skippered the team to bronze.

"I am so proud of the way she has come back," Helen said. "She deserves this so much."

There will surely be more same-sex married couples who compete at the same Games, either together or otherwise. Before long, it might be everyday enough to be barely worth mentioning. Let's hope so, but this was a fine way to start.

Great Britain reportedly has the highest number of openly gay athletes at the Rio Games, with eight out of a total of 44.

However, there are still elements of British society where there is resistance. For example, there are currently no openly gay players in the top levels of English soccer, the most popular game in the country.

The Richardson-Walshes did not set out to be trailblazers, but admitted they do hope their example lead to "many more" closeted athletes coming out.

For much of Friday night, it seemed like the pair might have to settle for silver. The Netherlands, ranked No.1 in the world, led 2-1 and 3-2 before being twice pegged out.

A thrilling shootout followed, in which Helen scored with a decisive penalty shot before the heroics of goalkeeper Maddie Hinch gave the Brits a cushion and Hollie Webb made the winning strike.

And so history was created.

USA Today


---

Stats Speak: Medalists Couple in Olympic Hockey

By B.G.Joshi (Sehore-Bhopal,India)

Kate and Helen Richardson Walsh is first Gold Medalists  Gay couple in Olympic Hockey .Following 7 couple (husband-wife) have won Olympic Hockey medals as detailed below:
Country

Wife

Husband

Player

Year

Venue

Medal

Player

Year

Venue

Medal

Great Britain

Kate  Richardson

2016

Rio

Gold

Helen

Richardson

2016

Rio

Gold

Australia

Angie

Skirving

2000

Sydney

Gold

Stephen Lambert

2004

Athens

Gold

Australia

Michelle Capes

1988

Seoul

Gold

Mark Hager

1996

Atlanta

Bronze

Australia

Lisa Powell

1996

Atlanta

Gold

Stuart Carruthers

1996

Atlanta

Bronze

Australia

Renita Farrell

1996

Atlanta

Gold

Bredan Garard

1996

Atlanta

Bronze

Germany

Louisa Walter

2004

Athens

Gold

Andreas Keller

1992

Barcelona

Gold

Netherlands

Ingrid Wolff

1988

Seoul

Bronze

Marc Benninga

1988

Seoul

Bronze
Note: Two legend women hockey players are partner since 2005. Netherlands Carole Thate won the Bronze in 1996 and 2000. In the same Olympic Games Alyson Annan won the Gold with Australia.

Fieldhockey.com


---

Kate Richardson-Walsh confirms her retirement



Kate Richardson-Walsh

After leading Great Britain to an historic Olympic Gold Medal in Rio, Kate Richardson-Walsh '100% confirmed her retirement from international hockey.

As she so eloquently put it, to bow out as captain of Great Britain while Olympic champions, and as captain of England while European Champions, there could be no better way to finish - at the very top of a sport she has dedicated her life to.

Kate made her international debut back in 1999 and has made 375 appearances for her country, captaining the side since 2003. She is the most capped female player in her country's history, surpassing Karen Brown's 355 mark in a series with Australia in 2016.

Rio was the Mancunian's fourth Olympics; she collected a bronze medal at London 2012 before gold in Brazil. Glasgow 2014 marked her fourth Commonwealth Games where she was also selected to be Team England's flag bearer for the closing ceremony.

Shortlisted for the FIH World Player of the Year Award in 2003, Kate was GB Hockey's Athlete of the Year in 2007 and has twice won the prestigious Hockey Writers' Player of the Year, in 2003 and 2007.

Perhaps the most famous moment apart from her Olympic bronze medal was when she lifted the EuroHockey Nations title on home soil in 2015 as England bested the Netherlands in a dramatic final.

Kate married teammate Helen Richardson in 2013 and both changed their last name to Richardson-Walsh. To cap a pretty impressive CV, Kate was awarded an MBE in the Queen's honours list at the end of 2014.

On behalf of the entire hockey family, we would like to send Kate our very best wishes for the future and express our gratitude to her.

At the end of an Olympic cycle there may well be more players who consider their next move forward, but one thing is for certain, they will forever remain legends of our sport.

Great Britain Hockey media release


---

Germany wins bronze defeating New Zealand 2-1

By Hayley Tafuro

Germany took home the women's field hockey bronze medal thanks to a third quarter surge that led to a 2-1 victory over New Zealand.

Before Germany's overpowering third quarter, the Black Sticks came out dictating the pace of the game.

By the end of the second quarter, New Zealand had taken six shots compared to one shot taken by Germany.

However, the tempo changed when Germany came back from halftime. With a newfound energy, Germany scored the first goal of the game when Charlotte Stapenhorst slid into the circle to tip a pass into the goal.

Almost immediately, Lisa Schutze added another German goal to suddenly put her team up two goals to nil on New Zealand.

New Zealand needed something at the end of the third quarter to get back into the game, and they got that chance when they earned a penalty corner as the whistle blew for the end of the quarter.

Olivia Merry knocked a shot in that flew off of a German defender's stick and into the goal. Germany took advantage of its video referral to challenge the shot, but ultimately it would be rejected. New Zealand was back in the game.

After struggling to convert on its opportunities for most of the quarter, the Black Sticks took out its goalkeeper in favor for an extra player on the field with just over four minutes left to play.

Desperate to avoid another shootout, Germany's defense, led by goalkeeper Kristina Reynolds, worked overtime to clear the ball away from New Zealand every chance they had. They held onto the ball as time expired from the clock, and that would secure its bronze medal finish.

NBC Olympics


---

Germany snatch bronze from Kiwis



Photo: www.photosport.nz

The New Zealand Women have finished fourth at the Rio Olympic Games after being defeated 2-1 by Germany in the bronze medal game.

New Zealand dominated the first half but were unable to put goals into the net, with Germany securing bronze thanks to two strikes in the third quarter.

Striker Olivia Merry put the Kiwis back into the game with a great goal at the end of the third quarter, but New Zealand couldn't find an equaliser in the final 15 minutes.

The fourth place finish in Rio is a painful reminder of London 2012 where they also missed out in the bronze medal match.

Head coach Mark Hager said it was excruciating to miss out again despite a strong performance.

"We created a lot of chances again today but didn't finish them. In tough, hard games we're not scoring enough goals and you have to give Germany a lot of credit but our execution wasn't good enough," he said.

"I can't fault the girls for their effort in trying to claw that game back, they gave it their all and were out on their feet.

"It's absolutely gut wrenching to lose a bronze medal game again. It's terrible and not from lack of trying or effort but it's hard to take knowing we threw it away."

Both sides fought out a goalless first half with New Zealand creating plenty of chances but unable to convert any into goals.

Germany opened the scoring against the run of play in the 33rd minute thanks to a breakaway which saw Charlotte Stapenhorst make the final touch on the far post.

Just three minutes later the Germans doubled their lead after Lisa Schutze capitalised on a defensive error and flicked over a diving Sally Rutherford.

New Zealand lit up the scoreboard right on three quarter time when Merry collected a deflected penalty corner shot and hit past the keeper on her reverse stick.

The Kiwis fought desperately to find a levelling goal in the fourth quarter, taking off Rutherford for an extra field player with 4:30 on the clock, but the German defence held strong.

In the women's gold medal match later today the Netherlands are looking to win their third straight Olympic title when they take on Great Britain.

New Zealand 1: (Olivia Merry)
Germany 2: (Charlotte Stapenhorst, Lisa Schutze)
Halftime: 0-0

Hockey New Zealand Media release


---

More heartbreak for women's hockey team

By David Leggat

New Zealand's inability to capitalise on a host of chances cost them dearly when they lost their women's hockey bronze medal match to Germany 2-1 in Rio today.

The result matches that of the London Olympics four years ago when New Zealand played poorly in the bronze decider and lost 3-1 to Britain. This time they had the opportunities against a determined German side but were unable to finish them off.

Two goals in three minutes in the third quarter from ninth-ranked Germany stunned the Black Sticks and although they got one back through Olivia Merry right on the hooter at the end of that period, it wasn't enough.

Players were in tears at the end of the match.

For some this will be their final chance to win an Olympic medal.

Captain Kayla Whitelock had to be consoled by coach Mark Hager after the final whistle.

She has had to put up with her share of bitter disappointment, at the 2010 and 2014 Commonwealth Games and the last Olympics. This is the end of the Olympics for one of the country's finest players.

"That's it for me," a tearful Whitelock said.

New Zealand, ranked fourth, will need to do some serious analysis after once more failing to deliver on the biggest stage.

"I can't fault the girls, they gave their all. It's gut-wrenching," New Zealand coach Mark Hager said.

"We just didn't finish our chances and they (Germany) got a couple of soft goals and that's what hurts the most."

Whitelock concurred.

"You don't score goals you can't win games."

New Zealand had more possession, more chances, more penalty corners but Germany, winning bronze for the first time to go with their gold and silver medals from 2004 and 1992 respectively, took their chances.

Charlotte Stapenhorst got the first after a cleverly worked move inside the New Zealand defensive circle, on hand to finish a cross from the left; and Lisa Schutze got the second after the defence failed to clear a bobbling ball and the German lifted the ball over two despairing attempted tackles.

Merry's goal, with some German assistance, came from a penalty corner shot which bounced back to her.

Goalkeeper Sally Rutherford was taken off for another outfield player five minutes and although they drove forward desperately,, Germany massed their defensive ranks and were good enough to hold on.

Gemma Flynn had a couple of great chances to score but couldn't finish them off; Anita McLaren drew a fine save from goalkeeper Kristina Reynolds from a penalty corner shot and Charlotte Harrison had a reverse stick drive blocked by Reynolds.

Germany's goals came after New Zealand had much the better of the second quarter. They had moved the ball about impressively at times, spreading it wide but New Zealand will reflect on another bitter Olympic experience.

"I am so gutted," midfielder Kelsey Smith, the youngest player in the squad, said.

"Especially for the girls who won't be back."

Germany had won their pool game, also 2-1, and overall this was their 11th win in 17 major tournament matches against the Black Sticks. It was the Germans' second win in four Olympic clashes since 2000.

In defender Nike Lourens, Germany had one of the best players on the park, with clever defending and astute distribution.

But New Zealand are left to once again lick their wounds.

Although it's no consolation their final placing matches their best at the Olympics.

The New Zealand Herald


---

Black Sticks women fall to Germany, miss out on bronze medal

Cathy Walshe



Like the bronze medal was just out of reach for the Black Sticks, so too was the ball for Kirsten Pearce. MATTHEW CHILDS/REUTERS

Black Sticks coach Mark Hager is not a man to pull any punches.

Not even with many of his players in tears, and his own eyes red-rimmed.

For the second successive Olympics, the New Zealand women's hockey had finished fourth but Hager wasn't about to make excuses.



Olivia Merry, who provided the shot that led to New Zealand's only goal, is chased by Germany's Lisa Schutze (left) and Franzisca Hauke. VASILY FEDOSENKO/REUTERS

The New Zealand women missed out on a maiden Olympic medal, beaten 2-1 by Germany in the play-off for the bronze medal at the Deodoro hockey stadium on Friday (Saturday NZ Time).

They amassed 16 shots on goal to Germany's five, and forced six penalty corners to one, but just couldn't finish off the chances they created.



Olivia Merry, who provided the shot that led to New Zealand's only goal, is chased by Germany's Lisa Schutze (left) and Franzisca Hauke. VASILY FEDOSENKO/REUTERS

Germany scored twice within four minutes in the third quarter, but the Kiwis hit back through Olivia Merry in a scramble following a penalty corner.

Four years ago in London, they'd lost 3-1 to Britain at the same stage.

Hager's disappointment didn't stop him giving a candid assessment of where things went wrong, particularly after New Zealand's 4-2 dismantling of Australia in the quarterfinals.

"We do it well when things are going well, but when it's tough and hard, that's probably a weakness of ours," he told NZ Newswire.

"We don't put the ball in the back of the net in the finals, in the big games - that's the disappointing thing."

At Deodoro Olympic Park, the Kiwis amassed 16 shots on goal to Germany's five, and forced six penalty corners to one.

It counted for little.

Germany scored twice within four minutes in the third quarter, but although the Kiwis hit back through Olivia Merry soon after, they couldn't find an equaliser.

The problem, Hager says, lies in finishing off chances.

"We had some really good opportunities, and enough corners but we were just not clinical enough up front again," he said.

"Under pressure, I think some of our players just panic on the ball when they should be a little bit calmer.

"You could say the Germans defended well, but I think it's a bit of both - they defended well, and we were not good enough in front of goal."

The problem wasn't inexperience, he added - youngster Kelsey Smith aside, New Zealand has a ton of international know-how to call on in the attacking third.

"You look at what's up front - Gemma Flynn, Charlotte Harrison - they've got a hell of a lot experience.

"They've been round long enough, they've been in these sort of situations before.

"They've got to learn to be better in those situations."

The Kiwis had started promisingly against Germany, forcing two first-quarter penalty corners in rapid succession.

The stalwart German defence stood firm, although it took a sharp save from keeper Kristina Reynolds to keep out Anita McLaren's second drag flick.

Scoreless at the first break, the Kiwis continued to pressure in the second quarter and spent much of the spell camped in their front third.

Gemma Flynn and Stacey Michelsen both stretched Reynolds, with Michelsen's last strike of the half brilliantly saved by 32-year-old keeper.

Three minutes into the third spell, having successfully defended yet another penalty corner, Germany caught the Black Sticks on the counterattack.

Charlotte Stapenhorst clinically finished the sweeping movement, then the world No 9-ranked Germans doubled their lead soon through Lisa Schutze.

The Black Sticks hit back with the last play of the third quarter when Merry's follow up to Petrea Webster's shot from a penalty corner finally found a way past Reynolds.

New Zealand has not won a medal in field hockey since the men's team won gold in Montreal in 1976. The men's team in Rio were denied a place in the semifinals by Germany, giving up a 2-0 lead with less than five minutes to play to lose 3-2 on a last-second shot.

NZ Newswire


---

Germany battle way to women's bronze



Germany celebrate Charlotte Stapenhorst's opening goal. Pic: Frank Uijlenbroek/EHF

Two goals in four second half minutes saw Germany snatch the women's Olympic bronze medal ahead of New Zealand in Deodoro as they made the most of their chances.

New Zealand had the majority of the play throughout but they could not break through their opponent's defences for whom Kristina Reynolds was in inspired form.

Indeed, in the first half alone, running up six shots to just one Julia Muller corner strike in the opening 30 minutes. But the Blacksticks found Kristina Reynolds in supreme form as she saved well from Gemma Flynn in a one-on-one situation while she also kept out Stacey Michelsen at point blank range.

And, having ridden their luck before the big break, Germany prospered after it. Charlotte Stapenhorst broke the deadlock when she got on the end of a brilliant move, sweeping home from close range.

Lisa Schutze then made it 2-0 in the 37th minute with a neat finish from close range, gathering the ball and flicking it up and over Sally Rutherford.

At the far end, Reynolds continued to impress, smothering Charlotte Harrison's backhand shot in one key moment. The goalkeeper was eventually beaten, though, on the 45 minute mark when a corner rebound fell to Olivia Merry and her shot made it just over the line via a series of ricochets.

And the Blacksticks continued to pile forward in the closing quarter but found every effort they had repelled by the German backline, scrambling and battling for every last ball to grab the bronze medal.

EuroHockey media release


---

The Altenburg's bronze family celebrations



The Altenburg family are celebrating two Olympic bronze medals. Pic: Frank Uijlenbroek/EHF

Lisa Altenburg says the German women's bronze medal is a "dream come true" as her side held off New Zealand 2-1 to claim their prize.

"It's unbelievable," she said. "We worked so hard and a few years ago no one would expect that we could win the bronze medal. This is overwhelming."

She returned to action for Germany after giving birth to her daughter, Sophie, in 2013 and so it was extra special to be reaching this high point after a number of years out of action.

"It was a tough time for me. I had many injuries as well after Sophie was born. I had a really hard time and without my family I wouldn't stand here. I am really happy to have her and my family here and we can celebrate this moment together."

She does not, however, think that she will continue on until Tokyo in 2020.

"No, I don't think so. Four more years, I don't think that can be a reality. I want to celebrate the moment and, in four weeks, I can make a decision. But at the moment I want to celebrate with the girls and be happy."

She will celebrate with her husband, Valentin, who coached the German men to a bronze medal, making for a special tournament for the family.

EuroHockey media release


---

Boon, Dohmen and Boccard reflect on silver



Picture: Koen Suyk

Tom Boon said his feelings were "in between joy and a lot of deception" in the wake of Belgium's Olympic final defeat to Argentina last night in Deodoro.

Looking back on the decider, he said: "We came for gold and we just missed it. It's a hard moment, but in a few days when I look back at what we achieved, it will be amazing and you're never going to take the silver medal off me now."

Captain John-John Dohmen was of a similar frame of mind: "I think we deserved the gold today. We had more opportunities. Our expectation was to win a medal, but today we could have done more; we are happy, but we want more."

Gauthier Boccard scored a superb goal to give the red lions a big chance of clawing back the results, making it 3-2. He told the Hockey Belgium website: "The final was played on the small details.They played well tactically.

"After opening the score, they quickly scored three goals and that really hurt us. Then we dominated the game. But we missed some opportunities that we would not usually miss.

"They had a whole stadium behind them even though I really thank all the Belgian fans who came to support us in Rio. But as you say so, this medal is beautiful.

"We had a good tournament by beating big teams. We really formed a united group and I think we can look forward to the international stage at the upcoming tournaments."

Euro Hockey League media release


---

Humans of Olympics: Meet Sergio Vigil, Argentina's 'serial winner' in hockey

Shrenik Avlani




The best thing about Olympics is you never know who you bump into. The people walking around you are more often than not unsuspectingly big stars in their sport.

A short man with a baggy cap, Sergio Vigil, was walking around the stands in the Olympic Park when Argentinians who spotted him dashed straight to him, hugged him, kissed him and requested him for selfies. The little man, though tired, smiled baring all his teeth and posed for pictures.

Turns out the man, after a long day of work as an expert for television, was looking for his son and wife who had the keys to the apartment. Turns out that the man in question is also a serial winner.

Under Sergio Vigil, the Argentinian women's team have won the World Cup in 2002, silver at 2000 Sydney Olympics, bronze at 2004 Athens Olympics, the 2001 Champions Trophy and the 1999 Pan American Games. He also coached the men's team from 2004 to 2008, apart from playing the hockey World Cups in Lahore and London for Argentina as a player.

Vigil has been to India several times and has many friends (connected with hockey of course) both to play and coach. He fondly remembers his trips to New Delhi, Mumbai and Chennai.

Firstpost


---

Five star Scots men beat Italy in Glasgow



Kenny Bain scored in Scotland's victory

Scotland men's preparation for World League 1, held in Glasgow in September, continued with an impressive 5-0 win over Italy at the National Hockey Centre in Glasgow.

Two goals from Nicky Parkes, two from Kenny Bain and a strike from Callum Duke, continued the men's fantastic goal scoring streak taking the tally to 22 goals scored in their last four games.

The Scots looked in the mood from the outset and took an early lead inside two minutes.

A good move down the left was finished off by Parkes from the top of the D when he smashed the ball low into the bottom left corner of the net. 1-0.

Two minutes later and Scotland doubled their lead. Another fleeting move down the left was finished off by Callum Duke, scrambling the ball over the line from close range. 2-0.

Scotland were looking powerful and quick giving the Italians the run-around. Cameron Fraser came close to adding a third but his shot was saved on the line. Then Kenny Bain came close but his shot was deflected wide. It came from yet another swift move down the left - Bain nipped in front of defender but the goalkeeper matched him.

Italy sorted their defence out as the half progressed and limited Scotland to play around the D. As half time approached Ed Greaves had a goal disallowed for Scotland but a third goal was not to be denied for long. From the penalty spot Bain stroked the ball high into the roof of the net to make it 3-0.




Scotland's hunger for goals continued into the second half as Luke Cranney looked to add his name to the scoresheet. A hard shot from Cranney fizzed over the bar from the edge of the D. Then came a disallowed goal for Greaves after the ball hit his foot before it hit the net.

A rare opening for the Italians came through some good play by Filipe Ponce, his 3D skills fashioned a glimmer of an opening but it was swept away under pressure by James Wong.

A fourth for Scotland soon came and it was Parkes who bagged his second when he blasted in from the middle of the D.

Cameron Fraser was denied again by a good save as Scotland went pressing for a fifth.

The fifth came with the last strike of the ball when Bain finished well from a penalty corner to give the Scots a comprehensive 5-0 victory.

Preparation for World League 1, held at the National Hockey Centre in Glasgow 6-11 September, continue as the Scots take on Italy for a second time on Saturday at 3pm in Glasgow.

Scottish Hockey Union media release


---

Terengganu's opening match misery continues with loss to KLHC

by Aftar Singh



KLHC's players and official pose for photograph after winning the Charity Shield at the Batu Buruk hockey stadium. – ZABIDI TUSIN/The Star.

KUALA LUMPUR: Terengganu have failed to break their opening-match jinx in the Premier Division of the Charity Shield for the third time.

The East coast team were edged 2-1 by Kuala Lumpur Hockey Club (KLHC) at the Batu Buruk Hockey Stadium in Terengganu on Friday.

KLHC, despite playing away, dominated the match from the start to score two goals in two minutes. They took the lead through Dutch import Jelte Van Gennip off a close range hit in the 14th minute.

KLHC kept up the pressure and added the second goal in the 16th minute off a defensive error.

Meor Mohd Hassan collected a loose ball in the semi circle and slammed it past goalkeeper Mohd Hafizuddin Othman to make it 2-0.

Two-time double champions Terengganu were a big letdown on their home ground as they failed to play to their true form.

They did, however, managed to reduce the deficit with a field goal by Nicolas Enrique Della in the 26th minute.

KLHC coach Harun Al-Rashid was delighted with the win.

"It's never easy playing in Terengganu ... my boys deserve all the praise for playing their hearts out. It's a good start for us in the league," said Harun.

Terengganu coach Sarjit Singh was obviously disappointed with his team for failing to end their Charity Shield jinx, despite having home ground advantage.

At the Tun Razak Stadium, Sapura began their Premier Division campaign with a 3-0 trouncing of Universiti Kuala Lumpur (UnikL).

Sapura opened the scoring in the third minute through Faridul Afiq Mohd. Ten minutes later, Izad Hakimi Jamaluddin doubled the score off a penalty corner. Mohd Azrul Hasbullah added the third in the 49th minute.

In the third Premier Division match of the day, Maybank edged Tenaga 4-3 at the Kuala Lumpur Hockey Stadium.

Hafifihafiz Hanafi scored a brace for Maybank in the 12th and 55th minutes while Firdaus Fauzi (15th) and Ignacio Santiago (41st) added one apiece.

Tenaga replied through Arif Sabron (11th), Muhd Husaini Mohd Husin (29th) and Azzami Adabi (40th).

The Star of Malaysia


---

Pakistan Hockey Federation wins Olympic Day award



Asia Hockey CEO Tayyab Ikram with IOC President Thomas Bach and FIH President Leandro Negre Photo: FIH/Getty

Pakistan called on its Olympic stars and national players to inspire the next generation of hockey players and the stars delivered on Olympic Day back on 23 June.

Their efforts not only provided inspiration, they also helped the Pakistan Hockey Federation (PHF) win the International Hockey Federation's (FIH) Olympic Day Activity Award.

As a result, Pakistan's National Association will receive funding from FIH to support development projects within their country over the coming months.

The award was initiated by FIH last spring and saw more than 40 nations answer the call.

The challenge was to come up with a programme of hockey activities that would really celebrate Olympic Day and all the ideals associated with the Olympic movement.

The Pakistan Hockey Federation (PHF) initiated a number of activities that brought hockey to more than 2,000 participants.

These included Hockey5s competitions at the National Hockey Stadium and the Hockey Stadium Johor Town, Lahore.

Several Olympic gold medallists turned up to support the project, much to the delight of the people taking part.

Members of both the men's and women's national teams were on hand, their presence creating a stir among the young hockey fans.

The events were real family occasions as the activities catered for all ages.

Officials from the Pakistan Olympic Association, the media and government officials (including the Minister for Sports Punjab) also turned out in force – a reminder of what a hockey-mad country Pakistan is.

The message was loud and clear - hockey is an activity that can be enjoyed by everyone regardless of background, and promotes a healthy lifestyle.

As well as the activities at the National Stadium, there were also summer camps and hockey competitions in Shahdrah town (Lahore), Shaikhupura city and in Sukkar District.

Probably one of the most heartening and positive initiatives introduced by the PHF as part of Olympic Day was the Hockey5s tournaments organised in two rehabilitation facilities (Wazirabad and Karachi) for patients suffering from drug addiction.

The tournament gave patients the chance to participate in a competitive scenario and perhaps to inspire them to lead a healthier, more active life.

IOC president Thomas Bach presented Tayyab Ikram, CEO of the Asian Hockey Federation and continental representative, with the award during half-time in the men's Olympic hockey gold medal match between Argentina and Belgium.

"On behalf of the Pakistan Hockey Federation, I want to say how proud I am that they have received this award. Pakistan is a nation that is fiercely passionate about its hockey heritage and they also recognise just how important it is to encourage and inspire their young people to get involved in healthy sporting activities. Through Olympic Day, we hope that we not only inspired the hockey stars of the future but also inspired a whole new generation of hockey players of all abilities."

Kelly Fairweather, FIH CEO, added: "The aim of Olympic Day is for the world to get active, learn about the Olympic Values and discover new sports. A huge number of our National Associations detailed their activity which proved incredibly inspiring, with many innovative projects undertaken. However, Pakistan's entry ticked the boxes in so many ways. They are to be congratulated for their vision and delivery of their Olympic Day activities."

For more information about the other nations supporting Olympic Day through hockey activities, click here.

This joined-up up global approach between FIH and its National Associations is yet another example of the hockey world working towards the aim of the 10-year Hockey Revolution strategy. This sets out a framework focused on making hockey a global game that inspires the next generation. For more information on the Hockey Revolution, click here.

FIH site