All the news for Friday 19 August 2016

Argentina tops Belgium, wins first ever field hockey gold medal

By Hayley Tafuro



AP Photo/Hussein Malla

Argentina took home the men's field hockey gold medal after winning against Belgium 4-2 in Rio.

Within the first three minutes of the match, Belgium's Tanguy Cosyns got his team an early lead after tipping in a long pass to the circle.

However, Argentina went on a three-goal scoring rampage to close out the first two quarters of play.

Team captain Pedro Ibarra got the equalizer on a deceptive behind-the-back penalty corner play. Before the end of the first quarter, Ignacio Ortiz converted his shot on goal. Gonzalo Peillat scored off of his signature drag flick to put Argentina up two goals heading into halftime.

Belgium seemed rattled after Argentina took the lead, but all they needed was an early goal to keep them in the game.

They got that with eight seconds left in the third quarter when Gauthier Boccard slammed his shot past Juan Vivaldi to cut the lead to just one goal with plenty of time left to play.

The two played each other hard down to the final minutes of the fourth quarter. With just under three minutes left, Belgium was forced to substitute its goalkeeper for an extra man on the field.

Argentina, however, sealed its fate when Agustin Mazzilli scored on an empty Belgium net with 16 seconds left, giving Belgium no chance to get back into the game.

Belgium has claimed the silver medal, which is the country's best performance since the 1920 Olympics where it took home bronze.

For Argentina, this historic performance in Rio puts men's field hockey on the map and etches its name into Olympic history.

NBC Olympics


---

Argentina beat Belgium to win first Olympic Games men's hockey gold medal



Agustin Mazzilli, left, and Manuel Brunet celebrate after scoring a late goal to clinch the gold medal for Argentina. (Photo: Getty Images/David Rogers)

Argentina won their first men's hockey Olympic gold medal after beating Belgium 4-2 in the Rio 2016 Olympic Games final at the Olympic Hockey Centre on Thursday.

Belgium took the lead after two minutes and 35 seconds when Tanguy Cosyns redirected a sublime pass from Loick Luypaert to beat Argentina goalkeeper Juan Vivaldi.

Argentina hit back towards the end of the quarter from a penalty corner, when tournament-leading scorer Gonzalo Peillat feigned to shoot but dished the ball for captain Pedro Ibarra to fire home and level the score at 1-1.



Lucas Rey and the Argentina men's hockey team celebrate their win over Belgium in the final to win the gold medal. (Photo: Getty Images/Clive Brunskill)

Argentina took the lead with 41 seconds remaining in the opening quarter when Ignacio Ortiz scored a field goal, before Peillat claimed his 11th goal of the tournament, this time opting to shoot from a penalty corner and powering the ball through Belgium's defence to give his side a 3-1 advantage.

Belgium were starved of scoring opportunities for most of the third, until Gauthier Boccard chipped and dribbled the ball through the attacking circle past three Argentina defenders, before smashing a half-volley into the bottom corner of the goal to send Belgium into the final break 3-2 down.

Unable to score an equaliser despite several chances in the final period, Belgium took goalkeeper Vincent Vana off the pitch to gain an extra outfield player with a little less than three minutes remaining. With 16 seconds until full-time, Agustin Mazzilli intercepted Luypaert's defensive cross, beat two defenders and calmly dribbled the ball into the open goal to give Argentina a 4-2 lead and confirm their maiden men's hockey gold medal.

The result is also Belgium's best finish in men's hockey at an Olympic Games, with third place at the Antwerp 1920 Olympic Games their previous best.

Germany win on penalties

Germany beat Netherlands 4-3 in a shoot-out to win the men's hockey bronze medal, after the world No.2 Netherlands and world No.3-ranked Germany were tied 1-1 at full-time at the Olympic Hockey Centre on Thursday.



Members of the German men's hockey team celebrate after scoring a goal in their shootout win over the Netherlands in the bronze medal match on Thursday. (Photo: Getty Images/Sean M. Haffey)

Germany goalkeeper Nicolas Jacobi stopped two Dutch players from scoring during the shoot-out, as every German player called upon was able to beat Netherlands' goalkeepers Jaap Stockmann.

Earlier, after an enterprising but scoreless first half from both teams, 18-year-old Jorrit Croon of the Netherlands broke the deadlock in the third quarter with some individual brilliance.

Croon received the ball a couple of metres outside the attacking circle, feinted one way, then spun the other past two German defenders before dribbling along the baseline, stick in one hand, and beating Jacobi through his legs from a tight angle.

Six minutes later, Germany levelled when Martin Haner shot through traffic after a probing run. Both goalkeepers made some impressive saves in the final quarter to send the game into the shoot-out.

Rio 2016 Official site


---

Germany takes bronze in shootout win over Netherlands

Germany men's field hockey has won another medal, topping the Netherlands in a 4-3 shootout win to earn the bronze.

By Hayley Tafuro

Germany knocked off the Netherlands in a 4-3 shootout victory to earn the men's field hockey bronze medal.

The rematch of the gold medal match from London was nothing short of dramatic.

This game stayed close through and through, beginning in the first two quarters of play. Both teams entered halftime scoreless, not having been able to make any of their scoring opportunities count.

The Dutch defense made some outstanding plays to prevent Germany from getting an early lead. Florian Fuchs beat the Netherlands goalkeeper Jacob Stockmann to get an open shot, but a Netherlands defender swooped in to block it.

The action got started in the third quarter when 17-year-old Jorrit Croon, the youngest player out there, put the Netherlands on the board.

Germany quickly answered when Martin Haner tied it up with about four minutes remaining in the third.

It all came down the fourth quarter of play.  Linus Butt had the opportunity to take the lead, but Stockmann came up with a huge save to keep the teams level.

Nicolas Jacobi also made some key saves as seconds remained on the clock, which ultimately sent the game into a shootout at a 1-1 score.

Ultimately, it would be Jacobi who would hold off the Netherlands in the shootout victory.

Germany, who came into the Olympic tournament in search of its third consecutive gold medal, lost that chance after a big win from Argentina.

However, they will still walk away from Rio with another spot on the podium and a bronze medal finish to add to the books.

NBC Olympics


---

Flawless German shoot-out lands men's bronze



Germany celebrating Mat Grambusch's equalising goal. Pic: Frank Uijlenbroek

Germany produced a perfect shoot-out performance to claim the men's Olympic bronze medal, scoring all four of their efforts while Nicolas Jacobi kept out two Dutch efforts to win it 4-2.

It came at the end of a titanic tussle in normal time with Jorrit Croon's third quarter goal cancelled out by Mats Grambusch in the 41st minute.

The first half ended scoreless, primarily thanks to Sander de Wijn's incredible save from Florian Fuchs. The German striker had rounded Jaap Stockmann but could not find a way passed the cover defence despite smashing at goal.

Moritz Fuerste and Tom Grambusch both had drag-flicks go off target while, at the other end, Jeroen Hertzberger and Mirco Pruyser had shots go narrowly off the mark.

Matthias Muller deflected another effort onto the bar to leave the scoreboard blank before the game burst into life in the second period.

Jorrit Croon produced an audacious turn on the right of the circle to send two defenders the wrong way, opening the space to attack the baseline from where he slipped the ball through Nicolas Jacobi for 1-0.

Martin Haner, though, created the equaliser when he powered into the circle, spotting a gap in the cover defence, before pushing for the corner. It was en route to the goal before Mats Grambusch made extra sure.

Both sides went close to taking the lead, Christopher Ruhr first for Germany but found Stockmann in good form to stop his shot. Mink van der Weerden then drew a brilliant stop on the line from Muller to a powerful drag-flick.

Fuerste saw another pair of drag-flicks charged down while Linus Butt somehow saw his shot from close range blocked by Jaap Stockmann when half the goal was open for him.

Billy Bakker almost inspired a winner for the Dutch with his turn and burn, setting up Rogier Hofman but Jacobi was equal to his shot at goal, meaning the tie was destined for the shoot-out.

EuroHockey media release


---

Herzbruch and Croon's mixed emotions



Timm Herzbruch added an Olympic bronze medal to his collection of medals. Pic: Frank Uijlenbroek/EHF

Just 13 months since the 2015 EuroHockey Youth Championships, Timm Herzbruch has added an Olympic bronze medal to his the gold he won in Santander.

Speaking about his meteoric rise from the youth ranks up to the top of the game, winning a European indoor championships into the bargain, the 18-year-old said he can scarcely believe how the last years has gone.

"I only came into the squad seven months ago so it's unbelievable to do this in my first Olympics and to get the bronze. I am so happy," he said.

"Last year, I didn't have any idea I would even be part of the A squad with 29 men and to be here now, it's just incredible."

Reflecting on the match itself, Herzbruch scored in the shoot-out and he felt that Germany were good value for the victory on the day.

"I think it was the best performance from us today in the tournament. At crunch time, we were on top and in the shoot-out and the whole game, we had more chances and were better in the defence."

On the flip side, Jorrit Croon – who turned 18 during the tournament – scored a superb individual goal for the Netherlands in what was his first senior international tournament, too but he ended up on the losing side after the shoot-out in the bronze medal match.

"I can't describe my feelings right now. It's so, so shit that we lost this one. We need to step up; we came here as a team and we need to leave as a team.

"I hope to be here at the Olympic Games again in four years again. I'm going to do my best the next four years to be a better Jorrit Croon and to win a medal for the Netherlands."

EuroHockey media release


---

Argentina Golden – Felicitaciones Los Leones, Bien Hecho!

By Jawwad Qamar

Argentina made history in Rio on Thursday by winning the first ever Olympic field hockey gold medal for a team from the Americas as they defeated Belgium 4-2 in a thrilling final.

Affectionately known as Los Leones (The Lions), the South Americans struck for three well-crafted goals in a 10 minute span after Tanguy Cosyns had put Belgium ahead in the 3rd minute by connecting on a long ball at the top of the circle and surprising Juan Vivaldi in goal for Argentina. Captain Pedro Ibarra equalized on his team's first penalty corner at the 12 minute mark when everyone was expecting the German destroyer, Gonzalo Peillat, to make the attempt, instead he made a behind the back pass to Ibarra. Ignacio Ortiz followed three minutes later, taking a right-inside feed from Lucas Vila for a 2-1 lead. It didn't take long for Peillat to get in the act as he made 3-1 with a low drag flick to the left for his tournament-leading 11th goal on Argentina's second penalty corner seven minutes into the second quarter.

After a few missed opportunities on both ends and display of good defense and tackling by the Argentineans for the next 23 minutes, Gauthier Boccard made things interesting on a brilliant show of stick work going through three defenders and beating Vivaldi to put Belgium back in the match 3-2 at the end of third quarter. The last quarter saw Belgium look for the equalizer in desperation but the Argentineans not budging. With less than three minutes remaining, Belgium pulled its goalkeeper out and it backfired. Argentina's Agustin Mazzilli intercepted a square pass clearance in Belgium's end, left behind two defenders and put the ball in the empty net much to the joy of his teammates and the large crowd of Argentinean fans as the celebrations began while the Belgians started collapsing in anguish.

An amazing and historic victory for the South Americans made even more remarkable due to the fact they had an ordinary pool round where after starting with a 3-3 tie against Netherland, they lost to India, let Germany tie them 4-4 with eight seconds left on the clock, and had to beat Ireland 3-2 with ten seconds left in the game to earn a place in the quarterfinals, where they beat Spain 2-1 on a late penalty stroke.

However, Carlos Retegui's Los Leones lived up to their name mauling the two-time defending champions Germany 5-2 and played the gold medal game despite two key players, Matias Paredes and Matias Rey, missing because of serious injuries. A great sign of a well-coached team where others filled in when needed.

Again, Felicitaciones Los Leones, Bien Hecho!!

Fieldhockey.com Exclusive


---

Argentina's golden Olympic moment



Argentina celebrate during their 4-2 win over Belgium. Pic: Frank Uijlenbroek   

Argentina's incredible penalty corner proficiency saw them build a big first half lead that they defended in amazing fashion to win their first ever men's Olympic gold medal with a 4-2 win over fellow first time finalists Belgium.

The Argentineans – spurred on by an immense crowd in the packed Deodoro stadium – came into the tie with two enforced changes with Mathias Paredes and Mathias Rey both missing out through injury with Lucas Masso and Isidoro Ibarra both coming in for their first game of the competition.

And it was Belgium who made the first incision just three minutes into the tie when Tanguy Cosyns got a brilliant first-time deflection to Loick Luypaert's powerful ball from 40 metres out, catching Juan Vivaldi unawares.

But Argentina were not drawn out of their tactical set-up, sitting half-court and then looking to counter attack at speed. It led to a number of openings with Agustin Mazzilli's high strike showing intent.

Manu Brunet – who plays his club hockey with Royal Daring in Belgium – won a corner with a mazy run down the left flank. All were expecting a Gonzalo Peillat drag-flick but, instead, Argentina played an audacious dummy behind his back and Pedro Ibarra had loads of space to flick home.

Under three minutes later, Ignacio Ortiz put Los Leones in front with a strong push from mid-circle, set up by Lucas Vila's touch inside his marker on the right edge of the circle.

Belgium replied in the second quarter, winning a pair of penalty corners but Luypaert saw his shot go wide while Tom Boon's effort was blocked down. Argentina, on the flip side, cannot miss from set-pieces at this stage and they went 3-1 up via Peillat who nailed his 11th goal of the campaign with a low drag from their second corner.

The third quarter proved slightly quieter as Argentina defended their 23m line well, leaving precious few gaps for Belgium to penetrate. They did, however, get one back with eight seconds to go before the end of this period, Simon Gougnard picking out Gauthier Boccard on the right if the circle.

He hopped the ball past two would-be tacklers and dodged away from another to give him a great shooting opportunity, smashing home from eight yards out.

They continued to push into the final quarter. They could not make their corner chances with two in the last six minutes going awry without a shot on target. Florent van Aubel also saw a great chance smothered by Vivaldi at point-blank range.

And the game was sealed with 16 seconds to go when Agustin Mazzilli robbed the ball from a loose clearance, running the ball into an open goal for 4-2 and the gold medal.

EuroHockey media release


---

Corners key for McLeod but Belgium in great shape for future



Belgium with their silver medals. Pic: Frank Uijlenbroek/EHF

Belgian coach Shane MacLeod said penalty corners were a key difference as Argentina claimed the Olympic gold medal ahead of his side this evening in Deodoro.

The Belgians were unable to convert from their set-pieces while Argentina ended with two from two – one each from Pedro Ibarra and Gonzalo Peillat – to give them a big half-time lead from which they could never close the gap.

"It was quite an even game all in all. The corners became too much of a feature and Argentina did well on their attacking ones and we didn't do so well in that area.

"With Peillat, it's always dangerous and it was disappointing we didn't do a bit better."

McLeod came into the head coach job in the wake of the European championships last August and saw his side produce a sterling set of performances in his first tournament in charge, topping the group with four wins from five outings.

Speaking about the quick lead-in to the Olympics for him, he said: "It's hard to describe the impact but I have had a lot of fun.

"I have enjoyed working with this group; you only get a true understanding of the potential of the players when you work with them. With our guys, I have known some of them since they were kids and had quite a good connection which has helped.

"They can trust me and know how I am going to be honest with them on how they play and what we want to do. That's probably the biggest attribute and we created a winning culture that works hard for results which has been my major driver."

And he believes the side can use this experience to make another big impact in Tokyo in 2020.

"It's the third youngest side [in terms of average age in Rio] and the next generation that sits below this is very talented. You'll see some excellent young players in the Junior World Cup in December who will come through.

"We haven't got any of the Under-21s here so all of them will be on show and I think Tokyo certainly has to be a similar type of result and something that we will work towards."

EuroHockey media release


---

Argentina hold off Belgium to take men's hockey gold
   
RIO DE JANEIRO: Argentina beat Belgium 4-2 to claim the Olympic title on Thursday and win their country's first Games medal in men's hockey, edging a close-fought match between two teams few expected to make the final.

Long playing in the shadow of a much-celebrated women's team, Argentina's men will leave Rio with their first Olympic hockey medal.

Belgium's sliver was their best finish at the Games in 96 years. They last took home bronze in Antwerp in 1920.

Both teams had beaten the odds in Rio to make their first Olympic final. Belgium eliminated world number two the Netherlands 3-1 on Tuesday, hours before Argentina routed defending champions Germany 5-2.

The Germans were reduced to scrapping it out for third place against the Dutch ahead of the final, with twice gold medallists Germany claiming the bronze after winning a penalty shootout 4-3 following a tense 1-1 draw at full time.

Belgium's potent attacking game was evident from the start, building on a strong performance in the group stages where they racked up 21 goals, more than any other team in the tournament.

With less than two minutes gone, Tanguy Cosyns deflected a strike from the top of circle to claim an early lead for the men in red. But the Argentine Lions roared back, scoring from two penalty corners and netting a third before halftime.

As storm clouds gathered, the intensity waned after the break, with neither team able to land a shot before Belgium's Gauthier Boccard put the ball into the bottom-left corner.

Belgium failed to score from two successive penalty corners deep in the fourth quarter. On the back foot, they swapped their goalkeeper for an extra man to chase a last-minute equaliser which never came.

With eight seconds left on the clock, an interception allowed Argentina's Agustin Mazzilli to seal the win in style, walking the ball into an open Belgium goal.

At a tournament which has struggled to fill seats in Rio and had its place on the Olympic programme questioned by Games organisers, the gold medal showdown drew a sell-out and boisterous crowd at the Olympic Hockey Centre.

Argentine supporters lined the stands in blue and white, erupting in song as the final whistle blew and stripping off their shirts to cheer their victorious countrymen.

The Times of India


---

Argentina wins their first ever hockey gold medal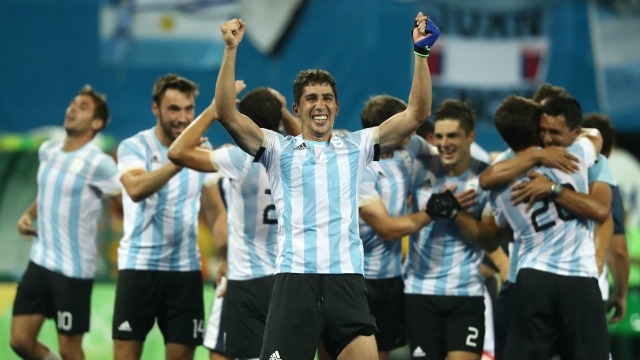 The title also allowed the South Americans to match their best gold haul at a Games of three which was last achieved in 1948. (Getty Images)

Argentina won their first Olympic men's hockey gold with a 4-2 victory over Belgium thanks to a 10-minute goal blitz in the first half.

The title also allowed the South Americans to match their best gold haul at a Games of three which was last achieved in 1948. "It's like touching the sky with your hands, so I feel so happy," said Gonzalo Peillat, who scored one of the goals to take his tally for the Games to 11.

"We won the tournament and it was the first time in the history of Argentina. It's my dream. When I started playing hockey I always was thinking about this dream and now it came true." Belgium, also playing in their first final, had taken the lead after just three minutes through Tanguy Cosyns.

But the South Americans hit back with Pedro Ibarra, Ignacio Ortiz and Peillat scoring in quick succession in the first quarter. Gauthier Boccard hit a sensational second for Belgium when he dribbled the ball past three defenders before finding the corner of the goal.

But Augustin Mazzilli guaranteed the gold when he was allowed to tap into an empty net. "I think maybe it's going to help a lot in men's hockey in Argentina," said Mazzilli. "The women's team did everything really, really good the whole time (they won four gold medals).

"So we need now to increase our level in hockey in men's so I hope everyone is watching this and we can play with more payers in Argentina." In an interesting twist, the Argentine squad featured the grandson of Belgian cycling legend Eddie Merckx although Luca Masso played just six minutes of the final.

Belgium's New Zealander coach Shane McLeod said his team made too many errors at crucial times. "I think later on we'll reflect a bit more and be very proud of what we've done but you always wanna win that last game and we just did too many things wrong today," he said.

"It's a pity. That's sport." The result was still Belgium's best finish in men's hockey at an Olympics, with third place at the Antwerp Games in 1920 their previous best. Earlier, two-time defending champions Germany beat the Netherlands in a shootout for bronze after they finished level at 1-1 at the end of normal time.

The bronze was particularly pleasing for Mats Grambusch who was playing alongside his brother Tom. "To get an Olympic medal is probably one of the biggest things in the world, and getting a medal with your brother is indescribable," said Mats.

DNA


---

Nervous Paredes praises "unbelievable" victory



Argentina on the winners podium. Pic: Frank Uijlenbroek/EHF

Matias Paredes was reduced to the role of nervous onlooker but saw his Argentina side produce a performance of a lifetime to beat Belgium 4-2 in the men's Olympic final.

Along with Matias Rey, he was forced to sit out the final due to injury with Luca Masso and Isidoro Ibarra coming into the side for the gold medal showdown.

For Paredes, he said it was a tough situation to be in but he always had faith his team could do the business on the biggest stage.

"Really nervous; it's difficult to be outside the pitch but I always believe in this team and we fight every game and succeeded. We trained a lot and had a really hard preparation and now we have the gold medal.

"Of course, I was sad when I found out I couldn't play the final but I had confidence in the team. I knew we had two good substitutes who were going to run and fight to do their best for the team. I am happy to be a member of this team!"

As for whether the emotions have fully sunk in, he added that it may take a while before he fully realises the impact the achievement has on him and his team.

"We need time… hours, days, weeks… to wake up. We dreamed this many times. In the last Olympics, we finished tenth but now, we are first. Unbelievable!"

EuroHockey media release


---

Peillat and Mazzilli touch the sky

Gonzalo Peillat described winning Olympic gold as "like touching the sky with your hands" as he played a huge role in Argentina's ultimate success against Belgium in Deodoro.

The star corner striker (pictured scoring) scored his 11th goal of the the tournament in the 4-2 final win while Argentina scored five of their last six corners – between the semi-final and final – with Peillat on the mark four times to power them through the latter stages of the competition.

And the new Mannheimer signing was over the moon with the outcome after a superb campaign.

"It was the first time in the history of Argentina and it's my dream. When I started playing hockey I always was thinking about this dream and now it came true."

New Oranje-Rood signing Agustin Mazzilli, meanwhile, said of the medal – Argentina's first of any kind at the Olympics: "It's really, really heavy and it's heavy because it's a gold medal and for Argentina it was really, really important!

"I think maybe it's going to help a lot in men's hockey in Argentina. The women's team have done everything really, really good the whole time.

"So we need now to increase our level in hockey in men's so I hope everyone is watching this and we can grow the men's game in Argentina."

Mazzilli - who like Peillat will play in the EHL this season - scored into an open goal to copper-fasten the win with 16 seconds to go, a perfect moment to capture the title.

"It's the goal everyone dreams of; to score like this, to make it 4-2 and finish the game like this. That's why I sat down in the goal and watched everything, I had the stadium and my teammates around so that's huge."

Euro Hockey League media release


---

Women's field hockey medal match previews

The Netherlands will look for its third consecutive gold medal in Rio against Great Britain. Germany and New Zealand will face off for bronze

By Hayley Tafuro

Gold Medal Match

The matchup between the Netherlands and Great Britain will be one for the ages.

Both teams have had a dominant run to the gold medal match. The Netherlands only tied once to New Zealand. Nobody else had challenged them until Germany in the semifinals, who took the team to a sudden death shootout.

The Netherlands showed they have what it takes to remain calm under immense pressure, and that was the only match thus far in the tournament that had gone to a penalty shootout. They have this experience under their belt, ready to chase a third consecutive gold medal.

Great Britain on the other hand has already been guaranteed a better finish than the London Games. They have gone through this tournament undefeated, and hope to stay on top with a gold medal to their names.

While the Netherlands entered the tournament as the favorites, and still are likely to win the gold, it is hard to deny that this Great Britain team could come in with the upset.

However, Team GB suffered a couple of injuries in its match with New Zealand. While they are an all-around solid team, having a full roster will be key going up against the defending two-time gold medalists.

Bronze Medal Match

New Zealand and Germany will face off in hopes that one of them will make it to the podium on Friday.

Germany knows what it's like to be a medal contender, but New Zealand will be looking for its first-ever Olympic medal in women's field hockey.

Both of these teams tied the No. 1 Netherlands 1-1 when they competed, however Germany suffered the loss thanks to the penalty shootout.

These teams are aggressive and have players who can light up on offense at any point. The key will be to get ahead in the game early.

Germany is the Olympic medal match veteran of the two, but New Zealand will be coming out hungry to get its shot at ending the Rio Olympics on the podium.

NBC Olympics


---

Stats Speak: Know the finalist (women) - Netherlands versus Great Britain

By B.G.Joshi (Sehore-Bhopal, India)
| | | |
| --- | --- | --- |
| Particulars | Netherlands | Great Britain |
| Nickname | Oranje | Brits |
| World Ranking | 1 | 7 |
| Appearances (includes Rio) | 9 | 7 |
| Best Finish | 3 Gold(1984,2008,2012) | 2 Bronze (1992,2012) |
| Matches Played in OG | 58 | 44 |
| Matches Won in OG | 39 | 22 |
| Most Capped Player(Intl. Caps) | Maartje Paumen-233 | Kate Richardson Walsh-368 |
| Prolific Scorer(Intl. Goals) | Maartje Paumen-194  | Alex Danson-94 |
Head to head In Olympics (Played-6, NED wins-5, drew-1)
| | | | | |
| --- | --- | --- | --- | --- |
| Year | Venue | Match | Score | Result |
| 1988 | Seoul | Pool | 5-1 | NED Wins |
| 1988 | Seoul | Bronze Medal | 3-1 | NED Wins |
| 1992 | Barcelona | Pool | 2-1 | NED Wins |
| 1996 | Atlanta | League | 1-1 | Drawn |
| 1996 | Atlanta | Bronze Medal | 0-0,tb 4-3 | NED wins in tie breaker |
| 2012 | London | Pool | 2-1 | NED Wins |
| 2016 | Rio | Gold Medal | ? | ? |
Fieldhockey.com
---

Black Sticks going for 16th Kiwi medal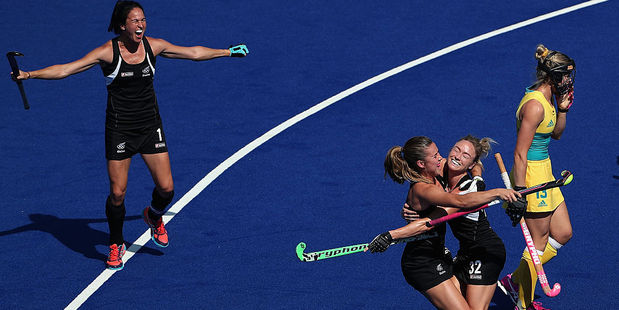 Anita McLaren of New Zealand celebrates with teammates after scoring a first half goal against Australia. Photo / Getty

The women's Black Sticks are hoping to make it sweet 16 overnight.

They face Germany in the bronze medal match at 3am knowing victory will add a 16th medal to New Zealand's Rio haul.

The Kiwis surged past the previous best of 13 today with five medals in around 12 hours, the joint record for a single day of Olympic action.

The Black Sticks will need a fast change in fortunes after being outclassed by Great Britain 3-0 in the semifinal.

Coach Mark Hager has laid down a challenge to his side: Remember how to play as a team.

Hager said that was something they forgot against Britain. He was bemused by their performance, particularly given their 4-2 dismantling of Australia in the quarter-finals two days earlier.

"I think the players thought they could just do it themselves, rather than playing as a unit," he said.

"I think that's the most gut-wrenching thing - we just didn't play as a team."

The result was even more disheartening given it was Britain who denied the Kiwis a bronze medal at the London Olympics four years ago.

"The girls have got to understand, there's still a bronze medal on the line," Hager said. "We can sulk and cry and whatever, and go away like we did four years ago with nothing. Or we can come out and play how we know we can play, and that's as a team."

Black Sticks skipper Kayla Whitelock, playing in her fourth Olympics, believes her team can put the disappointing result behind them. She says the world No.3 Germans will provide a tough test, still smarting from their 4-3 penalty shootout semifinal loss to the Netherlands.

"It's going to be hard, but there's two teams that have got to get up for it," she told NZ Newswire.

"If we work hard, and run really hard, and chase, and do all the things we had been doing, then we can really come home with something."

Whitelock said the eighth-ranked New Zealanders will have to rediscover the connections that went missing under pressure against Britain.

"Whether it was because we weren't leading for each other, or we just weren't giving the ball early enough. That's what we've done against all the other teams we were beating convincingly."

The New Zealand Herald


---

Australian hockey legend Jamie Dwyer bids adieu

BRISBANE: Australian hockey icon Jamie Dwyer on Thursday penned an emotional message after his 16-year-long trophy-laden illustrious career ended with the loss against the Netherlands in the Rio Olympic Games.

The World Player of the Year in 2011, 2010, 2009, 2007 and 2004 was the leading figure in Australia's title-winning sides at the 2004 Olympic Games and the 2010 and 2014 World Cups.

However, the prolific forward's dreams of ending his career with another Olympic gold medal fell short as Australia were blanked 0-4 by the Netherlands in the quarter-finals on Sunday.

"It didn't go to plan at this Olympics but it was still great to be a part of another Olympic games. I'd like to thank my sponsors, family and friends, and a huge thanks to my fans all around the world," the 37-year-old wrote on Facebook.

"I've really enjoyed playing for my country for 16 years, I've travelled to some amazing places, played hockey with and against some brilliant players and had the most amazing time ever," he added.

"I'll miss wearing the green and gold and I'll miss competing at the highest level that's for sure. I hope you all enjoyed my journey."

Making his debut in 2001, Dwyer went on to play 365 games and scored 242 goals.

Dwyer also got two Olympic bronze medals at the 2008 and 2012 Games, apart from two silver medals from the 2002 and 2006 FIH World Cups.

He was controversially excluded from the squad after the 2014 World Cup but he bounced back to be part of the Olympic squad.

He will continue to play in the cash-rich Hockey India League (HIL), where he turns up for Uttar Pradesh Wizards.

The Times of India


---

Fuerste signs off on immaculate German career

Moritz Fuerste signed off on an immaculate international hockey career this afternoon with an Olympic bronze medal to go with the golds won in Beijing and London.

The German captain confirmed on Facebook on the morning of this match that it would be his final appearance for the national team after 291 games and 11 years.

Reflecting on the win over the Netherlands today, he said: "I'm relieved and happy and sad and I think I have every emotion together that exists.

"First of all, because I just won an Olympic bronze medal. Second of all, it was the last game of my career. I'm just standing here with my daughter and it's just overwhelming."

He was fifth in line to take a shoot-out but was not required as his UHC club mate Nico Jacobi crucially kept out a Dutch effort in the fourth round to secure the victory.

Speaking about his part in the shoot-out, he was delighted not to be called upon, saying his thoughts were: "Please don't let me be the last one to take a shot.

"I was so nervous. I did this 100 times, maybe 1,000 times, and most of the time I feel quite confident, but I was just thinking, 'Please Nicolas, just save it. Don't let me go there.'"

Looking back on his career in his Facebook post, meanwhile, he said: "I love hockey, I love the sport and I have and will always do everything for the sport. I have had many setbacks in my career and experiences in life and every single one of them is worth something and has helped me to learn.

"I've been able to celebrate many successes and every single one of them has its own story. I would like to thank all those who shaped my path, accompanied me, criticized me, made me better, to me and have inspired me."

As to whether he remains playing at club level with UHC, he did not confirm either way his status for the upcoming season in the post-match press conference but did say he will enjoy more battles with the likes of Tobias Hauke over the next 50 years, whether it be on the hockey field or the golf course or wherever.

Euro Hockey League media release


---

World's top officials ready for hockey's Rio 2016 finale



Hockey's officials in Rio are ready for the grand finale Photo: FIH/Getty

With the Rio 2016 Olympic Games hockey events coming to a conclusion tomorrow, two of the world's top female umpires Rio 2016 is Fanneke Alkemade's first Olympics and it is one that the focused Dutch woman is enjoying immensely.

"I am so proud of us all [the umpires]. This is such a great experience because every umpire here is of the highest standard. This gives you huge confidence on the pitch – if you have total confidence in your fellow umpire, then it makes it easier for you to perform well."

That confidence is enhanced by the very structured approach that this elite team of officials takes towards the task at hand. "The preparation, both mental and physical, is done in the months leading up to the event," explains Alkemade. "By the time we arrived here, we were as ready as we can ever be."

The umpires arrived in Rio on the Tuesday before the competition started and every day was taken up by briefings and discussions.

One key area of focus was to minimise the time taken from video referral to decision. "Wearing microphones has meant that the video umpire hears the question as the player asks it, in the past the umpire on the pitch has had to listen to the question and then relay it up to the video umpire. This change has made it a much slicker process."

Michelle Joubert is a veteran of Olympic Games. She is also one of the most experienced umpires on the circuit, with more than 100 international matches under her belt. Rio, she says, has a very unique atmosphere.

"Compared to previous Games we are experiencing the local culture to a far greater extent. And, with all the officials from all around the world staying together, well this is what the Games is all about, bringing people, nations and cultures together through sport."

Alkemade agrees: "On the pitch, I am representing the multi-cultural team of umpires. Sure, I am also proud to be representing the Netherlands, and the Dutch press and public are very supportive, but when I am umpiring, I represent the team of umpires."

All the umpires attended the Opening Ceremony, and despite her many years of experience, Joubert was still blown away by the occasion: "The Opening Ceremony carried such a beautiful message and the atmosphere around the venues is amazing. This is a place where healthy competition is really being celebrated."

The South African joined Alkemade in paying tribute to the quality of umpiring on display. "We have all worked really hard over the past few months, there are some very talented young umpires showing real potential here. That is helped by the fact we are a great team both on and off the field. The umpire managers have worked incredibly hard to get us to this level."

Joubert will take to the field to umpire the gold medal game between Great Britain and Netherlands.

FIH site


---

Gold lining for Aussie officials

Lawrence West



Australian hockey officials. Josh Burt is back right.

HOCKEY: It might not count towards Australia's medal tally but there will be Australian representation in hockey's gold medal match after all.

While the Australian hockey teams bowed out of their respective competitions at the quarter final stage, Australia will be represented amongst the officials on finals day at Deodoro.

Melbourne-based Josh Burt is one of those officials normally locked out of the big games when the Australian teams are playing but for Thursday's men's gold medal match (6am AEST, Friday) he will take his seat on the tech bench as a judge.

"As you can imagine, it's a huge honour and something I am extremely grateful of receiving," said Burt.

"The standard of hockey has been awesome.

"So far, I've already been appointed to 12 matches including the semi-final between Belgium and the Netherlands."

Australian umpire Murray Grime was another that had the honour of officiating in that semi-final.

Burt has been involved in hockey since he was a child and has played, coached, officiated, worked in hockey, and has even managed the men's Australian team.

"Like most boys growing up I wanted to be an Olympian but I was never the fastest or most skilled," he admits.

"No I'm not an Olympic athlete, coach, assistant coach, manager, doctor, physio or umpire but I can proudly say that I am a technical official in the biggest sporting event in the world, the Olympic Games."

Another of Australia's leading officials is umpire Melissa Trivic, who has umpired five matches in Rio, including the quarter-final contest between Great Britain and Spain, and the massive European derby between the Netherlands and Germany.

"It was the first time I've umpired this derby," says Trivic, from Perth.

"The enormity of the match at an Olympic Games hit me in the fourth quarter when I looked up at the stands and saw the crowd," she explains.

It's not all been work, work, work, however. The Australian officials took the chance to enjoy a rest day that saw them get little rest as they made it to as many events as possible, adding to their incredible Olympic experience.

"I spent the day with an access all areas card," said Trivic.

"I watched athletics, basketball, water polo, handball and track cycling. I saw Usain Bolt run his 200m heat and met Cathy Freeman and Patrick Johnson."

Burt, too, did the tour, managing to squeeze in 11 sports including swimming, synchronised swimming, tennis, fencing, judo and golf. His VIP schmoozing included Chef de Mission Kitty Chiller, Venus and Serena Williams, Cathy Freeman, Anna Meares, actor Matthew McConaughey and Minister for Foreign Affairs Julie Bishop.

In all, Australia has 10 officials across the men's and women's hockey tournaments. Congratulations to all ten on their Olympic Games.

Australia's Olympic hockey officials: Joshua Burt (men's panel of judges), Murray Grime (men's panel of umpires), Adam Kearns (men's panel of umpires), Tim Pullman (men's panel of umpires), Ken Read (appeals jury), Lisa Roach (women's video umpire), Kylie Seymour (women's panel of umpires), Tammy Standley (women's panel of judges), Melissa Trivic (women's panel of umpires) and Minka Woolley (umpire manager).

Australian Olympic Committee media release


---

Martin Madden and Sarah Wilson to umpire bronze medal matches



Martin Madden and Sarah Wilson

Scottish Hockey umpires Martin Madden and Sarah Wilson have both been appointed to bronze medal matches at the Rio Olympics.

Sarah Wilson will umpire the match between Germany and New Zealand while Martin Madden will umpire the contest between Netherlands and Germany.

It is a tremendous achievement for our umpires, both taking part in the Olympics for the first time in their umpiring careers.

This is the third consecutive Olympics where a Scot has umpired a medal match, showing that Martin Madden and Sarah Wilson are both upholding the exceptional standard set by Scottish umpires in international hockey.

Already this tournament Sarah Wilson has umpired Argentina v India; India v Australia; Netherlands v Korea; China v Germany; and Australia v New Zealand.

Martin Madden had the honour of umpiring the opening game of the Olympics, Argentina v Netherlands, and has also umpired Spain v Argentina; Netherlands v India; Germany v Ireland; Germany v India; and Netherlands v Germany.

Earlier in the tournament Martin Madden became the 39th man to receive a FIH Golden Whistle for umpiring 100 senior international matches with Netherlands v India being his 100th match umpiring senior internationals.

Sarah Wilson said: "I'm so proud to be appointed to the Bronze medal match of the Rio Olympic Games between Germany and New Zealand."

Martin Madden will umpire the men's bronze medal match today at 4pm, and Sarah Wilson will umpire the women's bronze medal match tomorrow at 4pm.

Scottish Hockey Union media release


---

European and UDP umpires at the Olympic Finals



Laurine Delforge (BEL)

Following last week's spotlight on UDP at the Olympics Games in Rio, EHF is delighted to find that UDP's own Laurine Delforge (BEL) has been appointed to umpire the final gold medal match of this Olympics, alongside South Africa's Michelle Joubert. The final will see Great Britain take on the Netherlands, who are pursuing their third consecutive Olympic gold. On finding out about her appointment, following a great performance at her very first Olympics, Laurine tweeted: "Crying tears of joy. Can't believe I'm appointed to the FINAL of the #Olympics." The final will take place this evening at 22:00 CET.

Sarah Wilson (SCO), also a UDP family member has been appointed to the Bronze medal match between Germany and New Zealand. Sarah will umpire this match alongside Argentina's Irene Presenqui. The Bronze medal match will take place today at 17:00 CET.



Sara Wilson (SCO)

On the men's side, Germany's Christian Blasch umpired the final match up between Belgium and Argentina, alongside South Africa's John Wright. This is Christian's fourth Olympic Games. The bronze medal match saw Germany meet the Netherlands and emerge victorious, with Spain's Marcelo Serveto and Great Britain's Martin Madden umpiring.

As the hockey ends at these Olympic Games, the European Hockey Federation would like to congratulate Laurine and Sarah on this wonderful and well-deserved achievement but also congratulate and thank all the European Officials at these games!

Edna Rutten (NED), Sylvie Petitjean (FRA), Christian Deckenbrock (GER) and Bjorn Isberg (SWE) – Assistant Technical Delegates.

Antonio Aguilera (ESP) – Judge

Henrik Ehlers (DEN) – Umpires Manager

Carol Metchette (IRL) and Andy Mair (GBR) – Video Umpires

Fanneke Alkemade (NED), Laurine Delforge (BEL), Elena Eskina (RUS), Michelle Meister (GER), Sarah Wilson (GBR), Christian Blasch (GER), Marcin Grochal (POL), Martin Madden (GBR), Marcelo Servetto (ESP), Nathan Stagno (GBR), Coen Van Bunge (NED) and Paco Vazquez (ESP) – Umpires.

EuroHockey media release


---

Great Britain are looking to secure their first hockey gold since the Seoul Games.

So, whatever happened to the heroes of 1988?



The Team GB squad that beat Germany 3-1 in the final at the 1988 Seoul Olympics
 
Team GB's women's hockey side face Holland in Friday's Olympic final against Holland. If Britain succeed they will match the famous men who beat Germany 3-1 in the final at the 1988 Seoul Olympics to claim gold.

Here, Sportsmail asks what happened to hockey heroes of 1988?

1 IAN TAYLOR

AGE: 61

THEN: Teacher and veteran goalkeeper who carried flag in Seoul.

NOW: Chief executive of SkillsActive, a council for sport and active leisure.

2 RUSSELL GARCIA

AGE: 46

THEN: Britain's youngest Olympic gold medal winner, aged 18.

NOW: Coach of Der Club an der Alster in Holland.



Jon Potter (right) drives forward with possession during the 1988 Olympic final in Seoul

3 JON POTTER

AGE: 52

THEN: Calming defender who was ever-present in Seoul.

NOW:  Chief marketing officer at The Boston Beer Company.

4 VERYAN PAPPIN (arm at the back!)

AGE: 58

THEN: Scottish reserve keeper was brought on in the last minute of the final to earn his gold.

NOW: Associate partner at Nautica Environmental Associates in the UAE.

5 STEPHEN MARTIN

AGE: 57

THEN: Northern Irishman was brought on late in final.

NOW: Chief executive of Olympic Council of Ireland. Deputy chef de mission for Ireland at Rio 2016.

6 IMRAN SHERWANI

AGE: 54

THEN: Dynamic winger who scored twice in the final.

NOW: Director of hockey at Denstone College, Staffordshire.

7 MARTYN GRIMLEY

AGE: 53

THEN: Put his career as a teacher on the back burner to play in midfield in South Korea.

NOW: Owner of Warriner & Co financial services.



Imran Sherwani bagged a brace in the final as Team GB defeated West Germany 3-1

8 JIMMY KIRKWOOD

AGE: 54

THEN: Substitute forward.

NOW: Business acquisition manager at Danske Bank.

9 KULBIR BHAURA

AGE: 60

THEN: Only game he didn't play in Seoul was against his native India.

NOW: European distributor for Gryphon Hockey. Still plays for Indian Gymkhana over 60s.

10 DAVID FAULKNER

AGE: 52

THEN: Blond full back won that year's hockey writers' award.

NOW: Director of sport at Millfield School.

11 PAUL BARBER

AGE: 61

THEN: Vice-captain scored five goals in Seoul.

NOW: Regional director of Rydon Construction.



Kulbir Bhaura missed only one game during the 1988 campaign, against his native India

12 RICHARD LEMAN

AGE: 57 THEN: Also won bronze in '84.

NOW: President of GB Hockey.

13 RICHARD DODDS

AGE: 57

THEN: Inspirational captain of the team from midfield.

NOW: Consultant in knee surgery and paediatric orthopaedics.

14 SEAN KERLY

AGE: 56

THEN: Scored in the final and grabbed a hat-trick in the semis.

NOW: Runs marketing agency in Kent.



Britain's Sean Kerly scored in the final and grabbed a hat-trick in the semis

15 STEVE BATCHELOR

AGE: 55

THEN: Three-time Olympian.

NOW: Housemaster at Cranleigh School and runs sporting academy.

16 ROBERT CLIFT

AGE: 54

THEN: Worked in a bank — and in midfield.

NOW: Lead coach of Junior Academy Centre at Hertfordshire Hockey.

Daily Mail


---

Women's junior cycle off to fast start with Development Camp in Vancouver

Shaheed Devji




With a renewed purpose, Canada's Women's National Program has officially kicked off its next four-year cycle with a Junior Development Camp in Vancouver this week.

Having been recently named to a refreshed Junior Development Squad following the completion of the 2016 Under-16 and Under-18 National Championships, the women gather in Vancouver beginning the journey with has an intended destination of the 2020 Junior World Cup.

For some of the athletes, like defender Hannah Eborall, the two-week camp in Vancouver represents a new beginning, after she and her fellow Under-21 teammates missed out on 2016 Junior World Cup qualification earlier this year with a fourth place finish at the Junior Women's Pan American Championship this past April.

"When we were in Trinidad it really opened my eyes to the level intensity and the level of game that all the other countries were playing," says the native of Beamsville, Ontario. "It kind of made me realize that I need to step up my game that much more."

Excited to improve and knowing that the highest level of hockey she can play in this country is with the National Team, Eborall has made the decision to move to Vancouver this fall to attend the University of British Columbia (UBC), which is home to the defending CIS women's field hockey champion Thunderbirds, and is where Canada's National Program is based.

As one of the older members of the Junior squad, the new cycle provides Eborall an opportunity to push to the Senior level, like many of her teammates have over the last year.

"Hopefully I'm getting close," Eborall says. "With some more training this fall, I'll get used to that higher level."

For others, like Vancouver Izzy's Fraser, the goal is squarely on helping Canada qualify for the next Junior World Cup.

Fraser is one of the younger members of the Junior Development Squad and was not a part of the Junior Pan American Championship team earlier this year.

But the 16 year-old, who plays her club hockey with the Vancouver Hawks, knows who to deal with disappointment, having had to overcome obstacles in other sports.

"You can do anything at any height," she says.

Fraser says that is the lesson she learned from the disappointment of being dropped from soccer teams because of her height.

And it is that disappointment that led her to focus on field hockey and now into her second year on Canada's Junior Development Squad, which she lists as one of her proudest sporting accomplishments.

"I love playing with the girls, they always make you better," she says. "They push you to be your best because it's such a high level here."

For Fraser, Eborall, and the rest of their Junior women's teammates, the Development Camp is just the beginning of bigger and better things while wearing the red and white.

Field Hockey Canada media release


---

Sarjit hopes Terengganu will end opening-game jinx

by Aftar Singh

KUALA LUMPUR: Terengganu are gunning for a third straight double – league and overall titles – when the Premier Division of the Malaysia Hockey League (MHL) begins on Friday.

But that's for the long haul.

For now, all they want is to end their opening-game jinx against the Kuala Lumpur Hockey Club (KLHC) when the two teams meet in the Charity Shield match at the Batu Buruk Hockey Stadium in Kuala Terengganu today.

Terengganu have lost to KLHC in both the curtain-raisers over the last two years – 2-1 in 2014 and 6-2 last year. And both times at the National Hockey Stadium in Bukit Jalil.

No wonder coach Sarjit Singh, who guided Terengganu to the double both times, is hoping that his team will be third time lucky against KLHC.

"We respect KLHC ... they've won the double more than any other teams in the league – five times. But I hope we can win this time as we have home ground advantage," said the former national coach.

Terengganu, who made their league debut in 2012, will be powered by six foreign players – South Koreans Jang Jong-hyun, Kim Jung-hoo and Kim Ki-hoon; Argentinians Pablo Javier Trevisan and Nicolas Enrique Della Torre; and Pakistani Muhammad Irfan.

The East coast team will be led by forward Faizal Saari, who was the top scorer in the MHL for the last two years.

He netted 16 goals in 2014 and 17 last year.

Faizal is also one of the four penalty corner specialists in the team. The others are Jong-hyun, Enrique Della and Irfan.

Terengganu skipper Shahrun Nabil Abdullah, who under went surgery in June for torn meniscus on his left knee, is doubtful for Friday's match.

KLHC coach Muhd Harun Al-Rashid admitted that it won't be an easy playing Terengganu in their own backyard.

"Our three Pakistani players only arrived yesterday (on Wednesday). Two days of training is not enough for us to put up a strong challenge against a solid team like Terengganu," said the Singapore coach.

The three Pakistanis are Ali Shan, Muhd Umar Bhutta and Abdul Haseem Khan. KLHC also have South Korean Nam Hyun-woo, Dutchman Jelte van Gennip and Spaniard Pedro Lopez Alsonso.

The other four teams in the Premier Division are Tenaga Nasional, Sapura, Maybank and Universiti Kuala Lumpur (UniKL).

The Star of Malaysia


---

Alleged embezzlement: PHA seeks 10-year ban on ex-PHF secretary

By Nabil Tahir

KARACHI: Punjab Hockey Association (PHA) has asked Pakistan Hockey Federation (PHF) to enforce Pakistan Olympic Association's (POA) 10-year ban on former Olympian Rana Mujahid and relieve him from all his duties with immediate effect.

PHA's decision, as per Secretary PHA Lt Col(R) Muhammad Asif Naz Khokhar, came after the POA accused Mujahid of misusing the funds granted by Pakistan Sports Board (PSB) and several other governing bodies for the betterment of hockey during his tenure as secretary PHF.

Upon receiving PHA's request, the PHF decided to form an inquiry committee instead of obliging straightaway. "We have received their letter and recommendations but we cannot take any immediate action until all things are in clear view of the PHF," secretary PHF Shahbaz Ahmed Senior told The Express Tribune.

"This blame game has happened before so we cannot simply rely on recommendations as allegations could be wrong," he said adding that the committee will study the issue before giving their recommendations to the PHF president.

"I and PHF president Brigadier (retd) Khalid Sajjad Khokhar are in Islamabad to discuss hockey matters with the Pakistan Sports Board. Once we go back to Lahore we will form a three-member committee, which will then analyse the report given by POA and PHA," said Shahabaz when asked when the said committee will be formed. "Discarding of the allegations levelled against Mujahid and imposing the 10-year ban are both possibilities at this moment."

The Express Tribune