All the news for Monday 22 August 2016

Scotland men score eight against Italy as World League approaches



Dan Coultas scores against Italy

Scotland men finished their three-game series against Italy with an excellent 8-2 victory at the National Hockey Centre in Glasgow. It was the final game of the team's preparation for World League 1, held in Glasgow on 6-11 September.

The Scots got off to a great start when Alan Forsyth gave his team the lead from the penalty spot. His powerful strike to the bottom left corner was unstoppable.

Scotland were pressing as well as they did in the first encounter of the series; closing the Italians down at their own D. The pressure was soon rewarded by a second goal through Hamish Imrie. He rolled the ball past the goalkeeper to make it 2-0.

There was great intensity about Scotland's performance. A quite superb goal by Hamish Imrie gave Scotland a 3-0 lead. Imrie flicked the ball from tight angle into far post.

Scotland looked like they could score at will. Kenny Bain made a great interception and ran up the pitch to create an opportunity for Lee Morton but the ball escaped him. Then Bain smashed in Scotland's fourth to make it 4-0.

Italy pulled one back from a penalty corner to make it Scotland 4 Italy 1 - Julien Dallons the scorer. The Italians were at it again on the cusp of half time when they scored from their second penalty corner of the game. This time Santiago Castano produced the finish.



Scotland v Italy

Scotland began the second half with a goal. Imrie scored his third and Scotland's fifth when he won the ball, ran in from left, and buried it low to make it 5-2.

The goals kept coming for the Scots when Alan Forsyth made it 6-2. Duncan Riddell was then denied by a fantastic diving save.

Italy were always dangerous from penalty corners and goalkeeper Sean Hadfield had to make a solid save from an Italian penalty corner as they battled back into the game.

Scotland's dominance, however, was never in question. Dan Coultas scored from a penalty corner to make it 7-2 to Scotland, then Bain scored to make it 8-2 on full time.

It was an excellent performance by the Scots with World League 1 on the near horizon.

To come along and support Scotland at World League 1, click HERE for ticket information.

Scottish Hockey Union media release


---

Terengganu HC bounce back to crush bankers in MHL

by S. Ramaguru



THC's Mohd Fitri Saaril (right) dribbles past Maybank's defender B.Namasivayam during their MHL match at Batu Buruk hockey stadium. ZABIDI TUSIN/The Star.

KUALA LUMPUR: Defending double champions Terengganu HC have bounced back from their opening-day loss to thump Maybank 5-1 in their second Premier Division match in the Malaysia Hockey League (MHL).

Terengganu, who lost 2-1 to Kuala Lumpur Hockey Club (KLHC) on Friday, were always in control against Maybank at the Kuala Terengganu Hockey Sta­dium on Sunday.

But they did need a wake-up call, though, as it was Maybank who scored first through a Norhafifihafiz Hanafi field goal in the 14th minute.

It took the east coast side 14 minutes to come up with the equaliser – through a Tengku Ahmad Tajuddin field goal in the 28th minute.

Terengganu then turned on the style to score four goals in the third and fourth quarters.

Goals from Jivan Mohan (41st minute), South Korean import Jang Jong-hyun (47th, 52nd) and Muhamad Amirul Mirza Rozi (56th) did the trick.

Terengganu will move their base to KL on Monday as their next two matches are against KL-based teams.

Over the weekend, they will play Tenaga Nasional and Sapura before returning to Kuala Terengganu for the  tie against UniKL.

Former champions KLHC notched their second straight win as they whipped Sapura 5-2 at the KL Hockey Stadium.

KLHC got their goals thtough Mohamed Umar Bhutta (2nd minute), Ahmad Kazamirul Nasruddin (7th minute), Mohd Symim Mohd Yusof (20th) Mohd Noor Faeez Ibrahim (22nd) and Mohd Rashid Baharom (53rd).

Sapura replied through Mohamad Izad Hakimi Jamaluddin (19th) and Mohd Zulhairi Hashim (43rd).

The Star of Malaysia


---

Rio shake up heralds changing of the guard

By Jack Stubbs

RIO DE JANEIRO - A changing of the guard is underway in world hockey after the Rio Olympics were dominated by teams few had expected to make the podium.

Both the men's and women's gold medals were taken home by teams outside the world top five while defending champions Germany and the Netherlands failed to secure their third consecutive Olympic crowns.

Britain's triumph over the top-ranked Dutch team on Friday earned them their first Olympic gold medal in women's hockey after they took bronze at London 2012.

The men's gold-medal showdown was fought out between seventh-ranked Argentina and sixth-ranked Belgium a day earlier, with the teams having beaten hockey heavyweights the Netherlands and Germany respectively on their way to the final.

Long playing in the shadow of a much-celebrated women's team, Argentina's men leave Rio with gold, their first Olympic hockey medal. Belgium's silver was their first hockey medal at the Games in 96 years, since they won bronze in Antwerp in 1920.

"One year ago nobody would bet on us and now we are here," said Belgian captain John-John Dohmen.

A competition filled with upsets and tense matches was good news for hockey chiefs who were out to prove they deserved their place in Rio under the watchful eye of the International Olympic Committee (IOC).

Despite ticket sales of 630,000 making it the third biggest-selling event at the 2012 Games, hockey narrowly avoided being dropped from the Olympic roster in 2013 over concerns that organisers were not doing enough to engage new fans.

"In the past, you know, it was always the same names," said Leandro Negre, president of the International Hockey Federation. "(It) is a fantastic example that we have to open the doors to everyone."

Yahoo Sports


---

Kate Richardson-Walsh: 'To win an Olympic medal with your wife next to you is so special'

Owen Gibson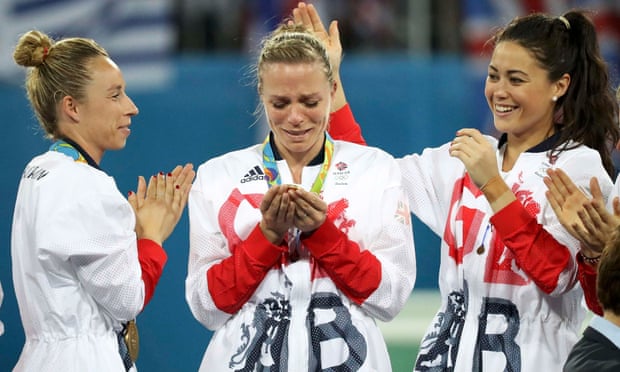 Kate Richardson-Walsh, flanked by Susie Townsend, left, and Sam Quek, right, contemplates her gold medal. Photograph: Vasily Fedosenko/Reuters

Great Britain women's hockey captain, Kate Richardson-Walsh, said she never doubted her wife and team-mate Helen would score a crucial penalty stroke that helped seal a historic gold medal win over the reigning champions, the Netherlands.

With a gold medal round her neck following a shootout victory after a dramatic 3-3 draw, Kate Richardson-Walsh confirmed she would retire from international hockey after 13 years as captain and two years after nearly quitting the sport. "I retire as Olympic champion, so it's a good way to go out," she said.

Maddie Hinch, the Team GB goalkeeper, was the big hero of the night, repelling wave after wave of Dutch attacks, saving a penalty stroke during normal time and again keeping the reigning champions at bay during the climactic shootout.

"I can go years and years back through tournaments and find out what each player did and narrow it down to one plan for each player. So I looked at that and thought I'm going to do that," she said.

"I think it gives us confidence that it's not over until it's over. This tournament's had some unbelievable comebacks. Even if we're down to the last minute we'll still keep fighting and we believe in our chances at the other end. What a great advert for the hockey."

Helen Richardson-Walsh, who scored a penalty stroke after a foul during the shootout, sealed victory along with Hollie Webb, whose winning goal during the shuffles sparked delirium among the squad.

"It is really special. To win an Olympic medal is special, to win an Olympic medal with your wife standing next to you, taking the penalty in the pressure moments is so special. We will cherish this for the rest of our lives," said Kate Richardson-Walsh.

"I honestly felt the more the crowd booed, the more Helen was going to score. I know how that inspires her, the passion of wanting to prove others wrong and deliver."

Helen Richardson-Walsh, who said she would also probably retire from international hockey, said she had targeted Olympic gold through a rollercoaster career.

"We've had 17 years of many ups and downs. We started very low, at eighth in Sydney and from that moment we just wanted to win an Olympic medal," she said. "It's not been easy and it just shows that if you put your mind to it and dedicate your life to something you can make it happen."

The head coach, Danny Kerry, said the team had targeted Olympic gold two years ago, when he convinced a core of senior England players to stay on after the disappointment of losing in the semi-finals of the Commonwealth Games.

"Surreal is probably the best word. Some days you know you're going to win. Even though we didn't play very well in the first three-quarters, I thought: 'Yes, we're making hard work of it but we're toughing it out,'" said Kerry.

"Today I just knew we would come away with a win. In the last quarter we changed our system of play. It worked."

Alex Danson, who scored twice in the semi-final as part of a run of eight straight wins that led to gold, paid tribute to their coach.

"Danny is the best tactician in the whole world. But he also has an understanding that the best teams come from the best culture and the best culture comes from the most together team," she said.

"The team that believes in what we're trying to do and the team that, when the chips are down, you look one another in the eye and you never look down. You promise one another that you'll do your job."

The Guardian


---

NZ Futures to play in Australian League

New Zealand Futures Men's and Women's teams will compete in this year's Australian Hockey League (AHL) at the Perth Hockey Stadium from September 29 – October 9.

The Kiwi development teams will battle alongside teams from each Australian State and Territory as well as other invitational teams from India and Malaysia.

Both teams will be made up of players identified through national domestic competitions, and will include athletes from the Junior and Future Black Sticks squads.

Hockey New Zealand High Performance Director Terry Evans said the opportunity strengthens ties within the international hockey community and gives players more top level hockey experience.

"Competing in Australia's premier domestic hockey competition alongside international teams from India and Malaysia and Australia's best domestic teams provides a unique opportunity for New Zealand's developing athletes and coaches against quality opponents," Evans said.

"This also signals the start of a strategic relationship involving all four countries with a view towards growing exposure of the sport, and improving the opportunities for each country's national teams.

"Hockey New Zealand and Hockey Australia are working together to develop a number of mutually beneficial programmes and to develop a strategic relationship that supports hockey in both countries and the broader region."

This is the first year the premier Australian domestic league will host the men's and women's competition alongside each other at the same venue.

WOMEN'S AHL TEAMS

1. Northern Territory
2. South Australia
3. Western Australia
4. ACT
5. Victoria
6. Queensland
7. NSW
8. Tasmania
9. NZ Futures
10. Malaysian Tigress

MEN'S AHL TEAM

1. Northern Territory
2. South Australia
3. Western Australia
4. ACT
5. Victoria
6. Queensland
7. NSW
8. Tasmania
9. NZ Futures
10. India Junior Men
11. Malaysian Tigers
12. Malaysian Blues