All the news for Sunday 14 August 2016
Women's field hockey pool play: Final day

By Hayley Tafuro




Recapping the final day of women's field hockey pool play action in Rio.

China Ousted From Quarterfinal

New Zealand topped China 3-0 in the final match of all of pool play, shutting out China from qualifying to the quarterfinal round.

Three different New Zealand players scored in the win. Olivia Merry got it started, but two goals in the third quarter from Gemma Flynn and Anita McLaren put it out of sight for China.

Despite getting the opportunities, China could not convert on its penalty corners to bring the game any closer than three goals.

The Black Sticks finished in second place in the Pool A standings.

Australia Takes Third In Pool

Australia defeated Japan 2-0 in its last game of pool play to secure third place in Pool B.

The game got off to a slow start, but a goal from Mariah Williams put Australia on the board in the second quarter.

The rest of it stayed close with Japan still in it until Emily Smith put it away for the Hockeyroos with just over five minutes remaining in play.

Japan officially will not qualify for the quarterfinal round after finishing fifth place in the Pool B standings.

Spain Holds Onto Hope

Spain held off an attempted South Korea comeback to win by a score of 3-2.

Spain looked like they might have been in trouble once Enubi Cheon scored for South Korea. Cheon laid out to swing at the ball, which deflected right off of the goal post into the goal.

Once the third quarter hit, Spain got it going. They scored two goals in the second quarter to take the one-goal lead on South Korea. In the fourth, they started to pull away, after a penalty corner goal from Gloria Comerma.

South Korea still had enough in them to get a penalty corner score to cut Spain's lead to one goal, but the defense held strong for the remainder of the game to keep Spain's qualification hopes alive.

In order for Spain to qualify to the quarterfinal round, China will have to lose against New Zealand.

Netherlands On Top

The Netherlands head to the quarterfinals in the top spot after defeateing Germany 2-0.

Slowly but surely, the Dutch put this one out of reach for Germany. Zan De Waard got her team on the board minutes into the first quarter when she converted on a wide open shot.

Kitty Van Male put the Dutch up two goals after hitting a shot directly off of a teammate's pass up and into the cage.

Both teams will qualify for the quarterfinal round of play.

Argentina Advances With Shutout Win

Argentina didn't just survive and advance, they dominated en route to a quarterfinal appearance with a 5-0 win over India.

Las Leonas had a shaky start in pool play but continued to fight for a top spot in the standings.

This game started out scoreless, but Argentina went off for five goals in the second quarter, two of them coming from Martina Cavallero.

They held off India in the third and fourth quarters behind backup goalkeeper Maria Mutio who came up with some big saves during her time in the cage.

Argentina currently is in third place in Pool B while India dropped to last, but the final standings will depend on the rest of the games played today.

NBC Olympics


---
It's a knock-out for GB, NL, Germany and Spain in women's Olympic competition



Alex Danson celebrates her winning goal. Pic: Frank Uijlenbroek/EHF

Four women's teams from Europe have joined their a quartet of men's teams in the knock-out stages as GB, the Netherlands, Germany and Spain will contest the quarter-finals.

Great Britain topped Pool B as they came from a goal down to beat USA, keeping their perfect record in tact while ending the Americans run of wins.

Michelle Vittese's cracking finish from the top of the circle opened the scoring but Sophie Bray got the Brits back on terms with eight minutes to go with a close range touch after a clever corner was returned to the injector.

Alex Danson then won the game when she gambled on everyone missing Sam Quek's long pass and she got the slightest of touches into the goal.

Speaking about the win, Kate Richardson-Walsh said: "Winning dirty. I think that was a hard-fought battle and we had to really show some resilience.

"We had a lot of possession but we just weren't quite getting chances. We had a lot of corners and we just had to turn those into goals and we had to wait and wait and wait until later into the game."

GB are the last remaining side with side with a perfect record in the competition going into the knock-out stages.

They will meet surprise package Spain. Adrian Lock's team gave themselves a chance of advancing when they came from a goal down to beat Korea 3-2 with Maria Lopez de Eguilaz making an important save in the last minute to secure the result. Goals from Begona Garcia, Lola Riera and Gloria Comerma helped them on their way.

It was their second successive win and meant that if New Zealand could beat China, they would be through to the last eight. The Kiwis did them that favour with a comfortable 3-0 success that left them in second place in the group with China dropping to fifth. Germany, despite their loss, ended up in third place and will face the USA in their quarter-final on Monday.

Argentina secured their passage into the quarter-finals with a 5-0 win over India. Martina Cavallero scored twice to help them finish in fourth place in Pool B.

They will play the Netherlands in a mouth-watering tie. The Dutch were 2-0 winners over Germany with Xan de Waard and Kitty van Male on the mark to copper-fasten their place at the top of their group.

Australia were 2-0 winners against Japan to finish in third place in Pool B. Mariah Williams broke the deadlock in the first half before Emily Smith completed the win with six minutes to go. Their reward is a date with their Trans-Tasman rivals New Zealand.

EuroHockey media release


---

Annan-Thate's Dutch show more potential



The Netherlands celebrate Xan de Waard's goal. Pic: Frank Uijlenbroek/WSP

Netherlands coach Alyson Annan-Thate says her side "showed a little bit more potential" as they beat Germany 2-0 in their final game in Pool A to top the table with four wins and one draw in the women's competition.

The win, courtesy of goals from Xan de Waard and Kitty van Male, came hot on the heels of a 1-1 draw with New Zealand when the Blacksticks caught the Dutch with a late equaliser.

Speaking about the win, Annan-Thate said: "Today was better. We showed a little bit more potential. We were driven, we were effective, we were in control.

"In the scoring phase we could have scored a few more, I think, but I'm pretty happy with the game."

She added that it was important for her side to put in good performances rather than pushing for the top spot in the group.

"It's not so much about winning or losing in this phase, I think it's more about what you are putting out on the field. I think yesterday against New Zealand we under-performed.

"I think we didn't work as hard as we should have. I don't think we played as a team and I think that's more essential than the points. New Zealand could have won the game so we had a big lesson yesterday."

Her team had a meaningful post-match huddle and Annan-Thate told her team they need to move up a further level.

"I was saying that it wasn't good enough and I think we need to realise that we've lost a bit of focus. When you start a tournament, you're very focused because it's the first game and you're excited and there's a lot of nerves about it.

"We just lost the focus and I think we got together yesterday and we talked about that and the focus is back, hopefully."

EuroHockey Media release


---

Maria's heart bouncing over Spain win



Maria Lopez de Eguilaz made a number of great saves to secure a 3-2 win. Pic: Koen Suyk/WSP    

Spain's women produced back-to-back wins to give themselves a real fighting chance of reaching the quarter-finals, holding off Korea 3-2 following a burst of three goals in eight minutes.

Korea's Eunbi Cheon had opened the scoring but Begona Garcia's effort in the 39th minute started a brilliant run of scoring, followed up by Lola Riera's deflected drag-flick and a Gloria Comerma goal.

Bomi Kim pulled one back and there were some nervous moments but goalkeeper Maria Lopez de Eguilaz said she is well used to such heart-stopping moments.

"For me, it was easy [to make the final save] because of the team I have behind me and I can do anything with them. It was a really crazy last minute and my heart was bouncing but I trusted everyone in our work.

"I am a person who uses their heart a lot and in Spain, this is something we do. When things don't go the way we want, we still fight. This is what it takes."

Her side now sit on six points at the end of the group stages thanks to two wins to close the group. They now must hope New Zealand beat China to allow them to advance.

"We think we could have done better in the early games but it is better late than never. Everybody left everything on the pitch."

EuroHockey media release


---

Great Britain's perfect run continues with USA victory



Alex Danson netted the winner against USA. Credit FRANK UIJLENBROEK

Great Britain's superb run of form at the Olympic Games continued with a fifth win from five games, seeing off the USA 2-1. Goals from Sophie Bray and Alex Danson overturned Michelle Vittesse's opener and secured top spot in the pool for Danny Kerry's team.   

The two sides had met three times previously at an Olympic Games with two draws and a 1-0 win for GB and this match proved to be equally tight. The USA started fast and went close via a backhand shot from Katie Bam which flashed narrowly wide and then Melissa Gonzalez was kept out by some sharp work by Maddie Hinch. Susannah Townsend and Lily Owsley threatened the USA defence with some marauding runs in what was a physical first 15 minutes. Danny Kerry's side won their first penalty corner after good play by Helen Richardson-Walsh. Crista Cullen, making her 100th GB appearance, stepped up but Jackie Briggs somehow turned her shot over the bar. Briggs soon took centre stage, gloving away another Cullen penalty corner as the sides went in at the break all square.     

At the start of the second period; Bray showed terrific skills to break into the circle and shoot but again, Briggs got a glove on the ball and turned it over the bar. The USA goalkeeper denied Danson with a good block with her feet and despite the lion's share of the possession and chances falling to Great Britain it remained 0-0 at half time.    

Into the third quarter it remained one-way traffic. Briggs showed her class once more to save from Nicola White and it was starting to look like it might be one of those nights for Danny Kerry's side. In the 39th minute, somewhat against the run of play, the USA got their noses in front. Vittesse seized on a loose ball, broke into the circle and found the bottom corner with a lovely finish.

Great Britain showed they are made of stern stuff and despite the setback, with seven minutes remaining in the final quarter they equalised with a lovely penalty corner goal. Giselle Ansley played the ball into Hannah Macleod who on her 150th international appearance slid the ball across goal where Bray was waiting to guide it home. Three minutes later it was 2-1. Sam Quek played a raking pass into the circle to Danson at the far post. The striker steered the ball in for her third goal of the tournament. GB ended the match with nine players after two late yellow cards to Georgie Twigg and Townsend and with time running out the Stars and Stripes had one last chance from a penalty corner. Lauren Crandall took the shot but Hinch made the save and Cullen completed the clearance ensuring GB took the win and top spot in the group.     

Great Britain's next match is the quarter final on 15 August live on BBC Sport, time and opponent to be confirmed

Kate Richardson-Walsh, Great Britain captain:

"If you'd offered us top spot at the start of the week I'd have bitten your hand off. The momentum we've created is good. All the sides are excellent in this tournament so I'm really proud of what we've done so far."

"We had a lot of possession and chances but we had to turn those into goals. We had to wait to get on the board but it came in the end. In all the games we've shown a bit of difference in what we can do. We've been goals up, goals down, played with ten and played with nine. We're showing we can do all kinds of hockey; now we want to play at our best.  In order to succeed, we need to listen to the tactics. Danny Kerry our coach is a fantastic tactician. If we do what he asks of us we'll be fine."

"We had to show resilience tonight. USA are full of positive energy and resilience so we had to feed off that. Momentum plays a big part. The Dutch, Argentina and Australia always do it well. They keep building the performances at tournaments and that's what we're doing here."

"Our first goal was to reach the quarter final. We'll have a meeting tomorrow by which time we'll know who we're playing. We'll debrief and learn lessons from the pool stages. We'll watch lots of video ahead to the next match and make sure we're prepared."

Great Britain 2 (0)
Sophie Bray 53 (PC)
Alex Danson 56 (FG)

USA 1 (0)
Michelle Vittesse 39 (FG)

Great Britain Hockey media release


---

USA loses top spot to Great Britain 2-1 in a tough first Olympic loss and will face Germany in the Quarter final

By Jawwad Qamar

After tentatively played scoreless two quarters thanks mainly to their goalkeeper Jackie Briggs, Michelle Vittese struck for USA connecting on a long ball from captain Lauren Crandall for a 1-0 surprise lead in the 39th minute. Briggs was simply outstanding thwarting numerous Great Britain shots including a few from close range.

However, the Brits were not to be denied as Sophie Bray levelled score in the 53rd minute on a penalty corner variation that gave Briggs no chance for any heroics. Three minutes later Alex Danson and Great Britain took advantage of USA being down a player as Vittese was out on a yellow card, deflecting a ball from outside the circle to give the Britain a come from behind lead that stood even though they themselves were shorthanded two players in the dying minutes thanks to yellow cards to Georgie Twiggs and Susannah Townsend.

It was a disappointing loss for USA in the last pool match especially after they had taken a lead despite the forwards with the likes of Katie Bam and Kathleen Sharkey unable to perform with their usual flare.

"We played some nice hockey throughout the week and it's good to qualify for the next phase," said Craig Parnham, USA Coach, after the match. "Tonight was a little bit disappointing. We didn't really get going in the first half and in the second half when the game started to flow we received a few cards which interrupted our rhythm. Overall we're in a good place, and are ready for the next game whoever it might be against."

The second place finish in pool play means that USA will take on Germany in their quarterfinal match on Monday – not an easy task, while Great Britain face Spain.

Fieldhockey.com Exclusive


---

Key Moments in a Closely Contended Olympic Games Match Give Great Britain an Edge over USWNT




DEODORO, Brazil - The U.S. Olympic Women's Field Hockey Team faced off against Great Britain in the fifth and final match of preliminary play. With both teams competing for the top placement in Pool B, the hockey titans developed a dramatic duel until the bitter end. Eager and reenergized after a scoreless first half, Team USA found the back of the cage in the third quarter. Despite tremendous effort by the red, white and blue in the fourth, Great Britain got the equalizer and go-ahead goal late in the match to edge out USA 2-1.

"In many ways this wasn't a bad game for us to have," said Craig Parnham, USWNT Head Coach. "It resets us a bit and we can make sure we learn from some of the items that happened tonight. I'd rather have this kind of turnout happen now than in the quarterfinal. We'll go back, review and look at the work we need to get done."  

Play started off tight as both team's shared control in the middle of the field. A chance came for Team USA in the 3rd minute when Katie Bam (Blue Bell, Pa.) sent a threatening backhand across the goalmouth without a result. Great Britain took possession the other way and got their first circle penetration but USA's solid defense denied the opportunity. Moments later, the ball was with Melissa Gonzalez (Mohegan Lake, N.Y.) inside the attacking circle and a scramble of shots came without a result. A Great Britain attacker charged forward into space with a daring run but Julia Reinprecht (Perkasie, Pa.) met the play to swipe the ball away.

In the 11th minute Great Britain secured their first penalty corner of the game. On the drag flick shot, USA's goalkeeper Jackie Briggs (Robesonia, Pa.) made a standing glove save to send the ball over the crossbar. Great Britain maintained possession for a few minutes before Sam Quek earned a green card off a hard stick foul in the 14th minute. Though a player down, Great Britain took the ball into the circle and earned a penalty corner from a foot foul. Briggs came up big again making a glove save off a low drag flick to keep the game scoreless in the first quarter.

Great Britain came out with speed in the second quarter as they took it into the attacking end within seconds and ripped off a shot that Briggs saved. Team GB tallied their third penalty corner in the 17th minute but the initial shot was denied by flier Kelsey Kolojejchick (Larksville, Pa.). A moment later, another penalty corner was given to Great Britain but USA asked for a video referral on the call. After review, the shot was deemed dangerous resulting in USA keeping their referral and no penalty corner given.

Determined to generate offense, USA took momentum up field but was halted by Nicola White with a hard foul who earned a green card at the 20th minute mark. Great Britain didn't dwell on the disadvantage and worked into their attacking circle with quick passing and got off a low backhand shot. The attempt was saved by Briggs' foot and cleared by her stick to a USA defender. A diving Lily Owsley looked to regain possession but earned a green card on the play in the 23th minute. Just a minute later Bam received a green card resulting in an on-field 9v9 situation. As play progressed, USA's Caitlin Van Sickle (Wilmington, Del.) sent a ball to Michelle Vittese (Cherry Hill, N.J.) who weaved her way through Great Britain defenders but was unable to find the finishing pass. Great Britain transitioned down field looking to strike but time expired to keep it locked at 0-0 at halftime.

To start off the third quarter, Great Britain swung the ball from sideline to sideline looking to find an open forward channel. USA's Kat Sharkey (Moosic, Pa.) sat patiently and snagged the ball off a Great Britain stick deep in the defensive 25 and took off with tremendous speed down field. Sharkey sent the ball to Bam who worked it into the left corner of the field and launched a backhand cross that went up into a Great Britain player. Great Britain immediately took possession the other way and let off a flurry of shots that were absorbed by Briggs and Lauren Crandall (Doylestown, Pa.).

At the other end of the pitch, Sharkey found room and ripped a low angle reverse shot that was saved by Great Britain's Maddie Hinch. Determined and with continued pressure, Vittese muscled her way through Great Britain's defenders to the top of the circle where she drove a low ball into the right corner of the cage to make it USA 1, Great Britain 0. Team USA wasted no time post goal as Bam sent a ball from outside the circle into Jill Witmer (Lancaster, Pa.) who got a touch on it that went wide. Following the play, J. Reinprecht made a clean tackle to stop the play but hit the ball away after the whistle and earned a 5-minute yellow card. Being a player down, Team USA continued to look forward to find space as Witmer sent a cross to Michelle Kasold (Chapel Hill, N.C.) who laid out on the field in a diving attempt to redirect it toward cage. The third quarter concluded with a score of USA 1, Great Britain 0.

"We played some nice hockey throughout the week and it's good to qualify for the next phase," said Parnham. "Tonight was a little bit disappointing. We didn't really get going in the first half and in the second half when the game started to flow we received a few cards which interrupted our rhythm. Overall we're in a good place, and are ready for the next game whoever it might be against."

With the start of the fourth quarter, Great Britain took play into their attacking circle but had a hard time maneuvering through as USA's defenders came up to make the block. Moments later at the other end, a lifted ball from the baseline was sent to Witmer who was unable to finish. Just after Gonzalez sent a ball into the circle where Katie Reinprecht (Perkasie, Pa.) tried to deflect it but the attempt was saved by Great Britain's goalkeeper Hinch. Showing aggressive nature, Vittese went forward with speed but was given a 5-minute yellow card off a push in the 49th minute. Team USA continued to withstand Great Britain's forward threats but grabbed a penalty corner in the 53rd minute. Off the corner, the ball was sent down to the inserter who placed it across the goalmouth where it was redirected by Giselle Ansley into the cage to tie the match at USA 1, Great Britain 1.

Still with a player up advantage, Great Britain wasted no time to work the ball forward. A long pass from outside the circle connected with Alex Danson's low stick and redirect it into the goal to give Great Britain a 2-1 advantage.

"We didn't set our cover as early as we wanted and they took a quick free hit," said Fee. "These are items we need to sharpen going into the next phase which is what counts."

USA continued to fight with tremendous determination as they worked the ball into their attacking circle. At the 57th minute Great Britain's Georgie Twigg was given a 5-minute yellow card for not being 5 yards from the play. This fueled USA's persistent attack as Vittese earned a penalty corner in the 58th minute. Off the chance, Rachel Dawson's (Berlin, N.J.) drag flicked earned another penalty corner. The second attempt was a sweep saved by Great Britain's Hinch and generated a quick counter attack the other way. With Susannah Townsend given a 5-minute yellow card in the remaining 50 seconds, Team USA was up two players but were unable to find the equalizer. The final score stood at USA 1, Great Britain 2.

Next, the USWNT will compete again on Monday, August 15 at 11:30 a.m. EST in quarterfinals.

USFHA media release


---

Great Britain tops U.S. 2-1, clinches top seed

By Hayley Tafuro

Great Britain came back with two goals to beat the United States 2-1 and clinch the top seed in women's field hockey Pool B.

A physical battle between two undefeated teams ended in favor of Great Britain when they beat the United States 2-1 to clinch the top seed in Pool B.

Great Britain trailed by one goal in the third quarter after Michelle Vittese wound up for the long shot that flew past goalkeeper Maddie Hinch to put Team USA ahead.

Great Britain surged back late in the fourth quarter to put two goals past Jackie Briggs, who had been saving shots left and right for the U.S. all game long.

On Great Britain's fifth penalty corner, the team passed up the shot on the insert, which ultimately found its way to Sophie Bray for the tip-in. Shortly after, Alex Danson deflected a pass from outside the circle to give her team the lead with four minutes remaining in play.

This would be the first time that Team USA had ever trailed in Rio. They had a chance to tie it up on a penalty corner, but Hinch came up with a huge stop that prevented the tie.

Great Britain, the defending bronze medalists, edged the United States out of first, who needed a win or a tie to stay in the top spot.

However, for Team USA, finishing second in the pool is an accomplishment that nobody would have expected after its performance in London four years ago. But for anybody who predicted they couldn't do it, the more they believed that they could. They head into the quarterfinal round with a 4-1 record.

NBC Olympics


---

Aussie women through to Quarters!

Defeat Japan 2 - nil

Holly MacNeil




The Australian women have defeated Japan 2 – nil in their last pool match of Rio 2016 to progress through to the quarter finals, with Mariah Williams and Emily Smith the goal scorers of the match.

The Aussies had a fantastic start with an opportunity on a penalty corner, followed by goalkeeper Rachael Lynch coming out of the net to save a potential Japanese goal by working 1 on 1 against Japan.

Mariah Williams scored the first goal for Australia, after a fantastic intercept from Emily Smith who passed the ball to Williams in the circle who shot it low into the corner of the net to score her first Olympic goal.

Along with Mariah Williams' goal, a talking point on Twitter was Edwina Bone who packed the wrong bodysuit to take to the Olympic park today, and had to have her number taped onto the spare suit by Australian physio, Erin Smyth.

http://www.hockey.org.au/Portals/2/Images/B-Peris_100-Games.jpg

Brooke Peris playing her 100th International for Australia forced a penalty corner by guiding the ball into a Japanese player's foot. It saw a triple chance on penalty corner, but Georgie Morgan and Jodie Kenny were denied the conversions by Japanese goalkeeper, Sakiyo Asano.

Japanese player Ayaka Nishimura was stretchered off after after being hit in the face by a stick on the follow through of an Aussie penalty corner. On the second attempt Australia were again denied with Georgie Morgan's flick hitting the cross bar, and Asano again denying the Aussies on the third attempt.

With five minutes to go in the game, Georgie Parker sent a hard, fast tomahawk through the circle to Emily Smith who was just outside of the net, and fired it into goal leaving Australia with a 2 – nil lead.

Australia nailed the victory, placing third in their pool and will play off against New Zealand in the quarter finals.

The full quarter final schedule is as follows:

Monday 15 August
New Zealand v Australia (11:00pm AEST / 9pm AWST)
USA v Germany (1:30am AEST, Tuesday, 11.30pm AWST Monday)

Tuesday 16 August
Great Britain v Spain (7:00am AEST / 5am AWST)
Netherlands v Argentina (9:30am AEST / 7.30am AWST)

AUSTRALIA 2 (1)
Mariah Williams (FG) 17
Emily Smith (FG) 55

JAPAN 0 (0)

Australia squad v JPN
Madonna Blyth (Brisbane, QLD) 341/70
Jane Claxton (Adelaide, SA) 107/10
Jodie Kenny (Wamuran, QLD) 185/100
Rachael Lynch (Warrandyte, VIC) 155/0
Karri McMahon (Berri, SA) 109/9
Georgina Morgan (Armidale, NSW) 51/10
Georgie Parker (Berri, SA), 107/33
Brooke Peris (Darwin, NT) 100/13
Casey Sablowski (Albion Park, NSW) 257/44
Kathryn Slattery (South Stirling, WA) 61/19
Emily Smith (Crookwell, NSW) 162/65
   
Used Substitute
Edwina Bone (Evatt, ACT) 120/2
Kirsten Dwyer (Mackay, QLD) 113/2
Gabrielle Nance (Kingscliff, SA) 41/2
Grace Stewart (Gerringong, NSW) 27/10
Mariah Williams (Parkes, NSW) 55/7

Hockey Australia media release


---

Women cruise past China in final pool game



Olivia Merry and Anita Maclaren both scored. Photo: www.photosport.nz

The New Zealand Women have set up a quarter final against trans-Tasman rivals Australia following a 3-0 win over China in their final pool match at the Rio Olympic Games.

The Kiwis were in control throughout the match against a desperate China side which needed to win to avoid elimination.

Striker Olivia Merry opened the scoring for New Zealand while Gemma Flynn and Anita McLaren added further goals in the second half to seal the win.

The result sees the women complete the preliminary phase with three wins, one draw and one loss to finish second in Pool A on 10 points.

New Zealand now go up against the Hockeyroos, who finished third in Pool B, in the women's quarter finals on Tuesday (NZ time). The full schedule will be confirmed later today.

Head coach Mark Hager said it was pleasing to finish the pool stage on a positive note.

"I thought we were pretty good, it was one of those games which we didn't have to win and that can be a tough scenario," Hager said.

"I thought we stuck at our game plan really well, once we got a lead they had to come out and that spread the field.

"Looking ahead we know Australia will be a tough contest. It will come down to the wire and they will be hard to beat as they always are."

Striker Olivia Merry helped the Kiwis take a 1-0 lead in the 21st minute after a putting a diving finish on a great run and pass from Charlotte Harrison.

New Zealand came out strongly in the second half and went on a hot streak in the final five minutes of the third quarter.

Gemma Flynn doubled her side's lead in the 40th minute after getting a deft touch on a strong crash ball into the circle from captain Kayla Whitelock.

Just one minute later the Kiwis scored again when Anita McLaren connected with a monster forehand shot from the top of the circle which beat the goalkeeper's left foot.

The Kiwis remained strong in their defence to shut out China as they desperately fought to try and muster a miracle comeback.

With a day off for the Women ahead of their quarter final, the New Zealand Men are set for a huge quarter final clash of their own against Germany at 11:30am tomorrow (NZ time), with live coverage on SKY Rio Pop-Up 5.

New Zealand 3: (Olivia Merry, Gemma Flynn, Anita McLaren)
China 0
Halftime: New Zealand 1-0

Hockey New Zealand Media release


---

Women to battle rivals Australia in quarters



Photo: FIH/Getty

The New Zealand Women have been confirmed to meet trans-Tasman rivals Australia in the quarter finals at the Rio Olympic Games.

Following the completion of the pool phase, the women's quarter final line-up has been scheduled.

As in the men's competition, the two highest ranked teams in the women's game will meet in the quarter final stage as Pool A winners the Netherlands face Argentina, who finished fourth in Pool B.

Pool B winners Great Britain will take on Pool A's fourth-place finisher Spain in the last eight, while USA, who finished second in Pool B, face a meeting with a Germany team that finished third in the Pool A standings.

The quarter finals will also feature an Oceania derby match, with Pool A runners-up New Zealand going head to head with Pool B's third placed team Australia.

The women's quarter final matches all take place on Tuesday 16th August (NZ time), with New Zealand playing Australia at 1:00am, live on SKY Sport 3 before USA and Germany take to the field at 3:30am.

The Great Britain versus Spain match will start at 9:00am, with Netherlands taking on Argentina at 11:30am.

Complete information about the hockey competitions at the Rio 2016 Olympic Games can be found on the official website: www.rio2016.com/en/hockey

Women's Quarter Final Match Schedule
16 August, 2016 (All in NZ time)

1:00am – New Zealand (2nd Pool A) v Australia (3rd Pool B)
3:30am – USA (2nd Pool B) v Germany (3rd Pool A)
9:00am – Great Britain 1st Pool B) v Spain (4th Pool A)
11:30am – Netherlands (1st Pool A) v Argentina (4th Pool B)

Hockey New Zealand Media release


---

Black Sticks women to play Australia in quarter-final

By David Leggat

New Zealand have drawn, of all the possible options, old rivals Australia in their women's hockey quarter-final at the Rio Olympics.

Their 3-0 win over China today assures the fourth-ranked women's Black Sticks of second place, and with the world No 3 Aussies possibly disappointed at their pool form, third in their group, the transtasman rivals are set to go at it again on Tuesday morning (NZT).

Goals by Olivia Merry after 21 minutes, then two in two minutes from Gemma Flynn and Anita McLaren just before the end of the third quarter, made the game safe against a Chinese team who had to win to make the last eight.

"The way we went about the process," was what pleased coach Mark Hager.

"We started really well, moved the ball well, and they had to win so they had to come at us. I thought the girls handled it pretty well."

Hager scotched the idea that gold is in the Black Sticks sights this early in proceedings.

"It's game by game. Now we have Australia in the quarter-finals, we know each other well and it will be a hard game.

"All quarters are, so it doesn't matter who you play, either them, the US or Great Britain. But I'm pretty pleased with the girls. They've done well so far, hopefully we have a good rest day tomorrow."

New Zealand know the Australians very well, and vice versa. There's not much between the teams but Hager issued a warning today.

"They're a good side, they press very hard, have a good corner set piece and good goalscorers up front. We're under no illusions," he said.

"If we come out and play to how we believe we can then we're a good chance. If we're off our game by five or 10 percent we're in trouble."

The New Zealand Herald


---

Black Sticks' families cheer on their girls from home



Anita McLaren (formerly Anita Punt) sporting her green stick and green shoes in the Black Sticks clash against Argentina.
LAWRENCE SMITH / FAIRFAX NZ

Adele and Nicholaas Punt smile at their daughter and Black Stick, Anita Mclaren from a photograph in her room at Rio.

"So even though we're not at the (Olympic) games, we are with her," Adele said.

The photo arrived in the mail along with a good luck note, a New Zealand flag, which has travelled the world with the hockey star and an orange tulip - her father is Dutch.

Opting to stay home instead of make the journey to Brazil, the Punts are used to waking up early to watch their girl play in the 2016 Olympics.

Adele said the harsh 2am alarm on Saturday morning was nothing compared to the joy in seeing the girls draw to the Netherlands, who were ranked number one in the world.

"To watch Kayla to put that ball in the back of the net was just amazing," she said.

"It would have been good to have beaten them, but it will be even better to beat them in the finals for the Gold."

They were watching Sunday's h8ighly anticipated game with China, the last pool game before the quarter finals on Tuesday.

Adele said she had high hopes for the girls.  

"If they play like they did against Korea, they've got a good chance. If they play like they did against the Dutch, they've got a good chance. If they play as a team, they can beat anybody."

Despite of this, Adele still does her bit to send give her daughter good luck.

"I always contact her before her games, no matter where she is in the world to say good luck, go hard, relax and enjoy."

She even scouted out a green envelope - like a four-leaf clover - to send to her daughter who 'has to have everything green'.

"That's why you'll see her with a green stick, she tried to get new balance to give her green shoes, and she has a green hockey bag."

Stuff


---

India eves lose 0-5 to Arg in final encounter

s2h team




India eves lose 0-5 to Argentina in final hockey encounter at the Rio Olympics

13 August 2016: India lost to Argentina 0-5 in their last group game at the Olympic Women's hockey tournament in Rio on Saturday. This was Indian eves' fourth consecutive loss and are out of the Rio Olympics.

The first quarter ended up being low on goal side action as India played a deep defensive line to thwart Argentina. They kept probing though. Savita's first save was off a Carla Rebecchi shot in the fifth minute and then she was in the thick of it again, denying Maria Granatto and Maria Campoy to take India into the break with the scoreline 0-0.

In the second quarter, they rallied of a series of PCs — six in the opening minute, as Savita pulled off save after save, the Indian defence charging and holding firm denying their opponents the breakthrough. The opener finally came in the 16th minute via Martina Cavallero. India had a chance almost immediately, Lilima Minz from their first PC drawing a save from Belen Succi in Argentina's goal.

From there on the Argentines took the game by the scruff of the neck, with a flurry of goals, from Granatto (23'), Rebecchi (26'), Agustina Albertarrio (27') before Cavallero scored her second (29'). They went into half time leading 5-0.

India had a succession of PCs at the end of the quarter, and Rani's attempt off the second was blocked away by Argentina. India, despite being down were playing adventurous hockey, and a minute later, Poonam Rani brought out a save from Argentina's substitute goalkeeper Maria Mutio. A minute later it was Namita Toppo with an attempt, and then Anuradha Thokchom with a diving deflection, Mutio pulling off a double save. There were initial doubts about the save though, India referring to see if it had crossed the line. A lack of a good view for the video umpire would mean the on field umpire's decision would stay. India would keep their referral though. Despite the scoreline, India would go into the final break knowing they had grabbed a bit of momentum in the final minutes of the quarter.

That momentum carried through to the final quarter, India dominant in the opening exchanges. Soon enough Mutio was the busier goalkeeper, pulling off saves from Deepika and Vandana Katariya. India had a PC soon after, but Rani's PC was blocked by the Argentine chargers. Against the run of play, Argentina pressed forward, and almost had their sixth, denied by some superb last ditch defending by Deep Grace Ekka.

India pressed on in the closing stages, by now looking for a consolation. Argentina held out though to end up as 5-0 winners.

Speaking after the game, Chief Coach Neil Hawgood said, "We played very strong and good hockey for the majority of the match and fashioned chances too. But a brief spell where we seemed to switch off cost us heavily in the second quarter. It's a great experience for the team, the entire Olympics and shows how far we have come and also have to go. The experience will inspire more presence at big tournaments and good performances out of them."

Indian women performance: Matches played 5, Won 0, Draw 1, Lost 4, Goals For 3, Goals against 20

Stick2Hockey.com


---
Indian women disappoint with NO SHOW

s2h Team

Lucky to have opening encounter against Japan and getting noticed nationwide, Indian women flopped thereafter creating short-lived euphoria, and made NO SHOW at Rio.

After five matches, India finished at bottom of the table.

With four defeats, all one-sided, India added just a goal to its tally after bracing a brace over Japan while conceding over all 19.

To add salt to the wound, Argentina, which ran poor form at Rio, got a breather scoring five goals in the space of 13 minutes to hand over 5-0 humiliation and then bought out time.

India met known continental rival Asian counterparts Japan in the opener. It was an equal encounter which was not so subsequently at Rio.




Despite trailing by two goals, goals apiece from Rani Ramphal and Lilima Minz India finished the day even, which created expectation, which was not there.

Every other team United States, Great Britain, Australia, and yesterday Argentina posted easy victories over India.

Foreign import Neil Hawgood has nothing to offer in counter-strategy or motivation.

Not long back, Great Britain, States, Australia, South Korea were on even keel with India. India beat England and New Zealand at the Manchester Commonwealth Games, and then at Melbourne.

However, even very recent history did not hold where it matter.

Mere fact that qualification to Rio, though historic, doesn't provide any logic for down the hill 'no show' for the girls, who got excellent preparations since qualified six months ago.

The team doesn't have a drag flicker, known forwards were deployed at midfield and at back without proper replenishment upfront. Solo runs, poor clearance, and unforced errors are galore.

The way its defence conceded own goals, at least twice, is thoroughly unprofessional. Defenders go to stop crosses from flank, only to see it gets deflected into the cage! Poor basics.

Indian women's decline started in the last decade. Qualification to Olympics, whose domain India lost by breadth of hair thrice earlier, was a godsend to salve its sagging morale but the girls did not grab the opportunity.

Stick2Hockey.com


---

India lose 0-5 to Argentina, campaign over in women's hockey

RIO DE JANEIRO: The Indian women's hockey team suffered a humiliating 0-5 loss against higher-ranked Argentina in their final Pool B fixture to end their campaign at the Rio Olympics here on Saturday.

Martina Cavallero (16th minute, 29th), Maria Granatto (23rd), Carla Rebecchi (26th) and Agustina Albertarrio (27th) scored for Argentina, while India drew a blank to slump to their fourth successive loss in the Rio Games at the Olympic hockey centre here.

With this loss, India finished their six-team Pool B campaign on a disappointing note after returning to women's Olympic hockey since their 1980 appearance.

The Indian eves were beaten comprehensively by Australia (1-6), Great Britain (0-3) and USA (0-3) in the last three matches. They had drawn their opening match against Japan 2-2.

Up against the London Games silver medallists, India cut a sorry figure as Argentina made a mockery of their defence, pumping in as many as five goals in the second quarter itself to dash any hope of a miracle early in the match.

Argentina held the possession for most part of the first quarter but India did well to keep them at bay before they earned a PC at the last minute of the first quarter. But Savita pulled off a spectacular save as a goalless Q1 came to an end.

But all the hard work evaporated in the second quarter when Argentina drew the first blood in the 16th minute after earning a penalty corner.

It was Carla Rebecchi who took the strike and even though Savita saved it, Martina Cavallero hit through her legs on the rebound to help Argentina take the lead.

Maria Granatto then doubled the lead with a field goal in the 23rd minute.

Three minutes later, skipper Carla Rebecchi converted another Penalty Corner to make it 3-0 for her team.

Agustina Albertarrio then made it 4-0 in the 27th minute after her reverse hit from outside the 'D' found the back of the net after getting deflected from the stick of an Indian defender near the goalpost.

Two minutes later, Cavallero scored her second goal of the match as she found the back of the net after being feed by Merino Delfina. Argentina ended the second quarter 5-0.

India played better in the third quarter but failed to reduce the margin despite getting a few chances. In the 40th minute, India earned a penalty corner but failed to make it count. Then Poonam Rani's strike was saved by the goalkeeper.

One minute before the end of the third quarter, India almost had scored their first goal when a diving Anuradha Thokchom tried to send the ball inside the post amidst the goal-mouth melee but their video referral was disallowed.

In the fourth quarter, Vandana and Deepika made inroads in the rival D but failed to convert the chances. Rani too could not convert a penalty corner to go down meekly in the end.

The Times of India

---

We have fast hands but not fast feet: Hawgood

RIO DE JANEIRO: "Bitterly disappointed" with the Indian women's hockey team's ouster from the Olympics medal contention, coach Neil Hawgood said the side lacks players who are quick on their feet.

Indian eves were beaten 0-5 by Argentina -- their third defeat in a row. The Indians logged just one point by virtue of their draw against Japan in the opening match, during their historic Games participation for the first time since Moscow 1980.

"We have fast hands but not necessarily fast feet. And that's a change that people have to embrace. You could have the world's best, most talented, most skillful player but if they can't run, the game has already gone past that," Hawgood said.

"But the style of player has to change and we have to accept that everyone has 5ft 9in (1.75m), 5ft 10in (1.78m), 5ft 11in (1.80m) fast athletes. We don't have those fast athletes.

"It's served its purpose up until now, but can we change these people? Or do we have to find something new? They're the things that have to happen over the next two years before you push on to the next Olympics."

On how he hopes India will respond to the team's performance, the coach said: "I hope they respond really well. I walk away from it bitterly disappointed but there are times when you say, 'Well you girls can play'. And I hope the country appreciated that."

Asked to sum up India's performance at their first Olympic Games since the Moscow 1980 Olympic Games, Hawgood said, "I think there are stages when we can compete and then there are stages when we don't compete.

"If you haven't done something for 36 years and you get thrown in the cauldron, I'm not sure what you actually expect. I was hoping we could get the result."

"I think whoever takes it (the coaching role, which he hopes to keep) has got to understand that there has to be a total change of direction, and thought about it.

"This was a group put together and conceived to try and get to an Olympics. In the end that goal was achieved. We had a chance today to make a quarterfinal and we didn't realise that goal and that's disappointing," the coach said.

Indian player Poonam Rani said the team understood the immense pressure of competing in the Olympics.

"Now we know what the pressure of Olympics is and what is required. Now we can go back to India and work on our mistakes that we made here.

"It starts again for four years, for 2020 (the Tokyo 2020 Olympic Games). We know our Olympics is finished now and it's really upsetting because it is four years of hard work and we just gave them (Argentina) the simplest of five goals. I think we can compete with them."

The Times of India

---
Men's field hockey quarterfinal preview

By Hayley Tafuro

Taking a look at the matchups of the men's field hockey quarterfinal round in Rio.

The top teams of pool play are ready to battle in single-elimination style in pursuit of a medal in Rio. Some teams had more turbulent times than others but prevailed in the end to get another shot at advancing in the tournament. Here are the matchup's of Sunday's quarterfinal games.

Spain vs. Argentina

Spain propelled itself to a hot start in pool play, winning its first three matches. The team had its struggles against a dominant Belgium and ended pool play tying Great Britain, who did not qualify for the quarterfinal round.

Argentina on the other hand had a rollercoaster run, ending with it being on the cusp of qualification. One of the team's most impressive feats of the tournament was scoring four goals to tie Germany, the two-time defending gold medalist. Argentina held of Ireland to qualify, and they will look to have another big game against Spain led by the team's premier scorer Gonzalo Peillat.

Belgium vs. India

India has shown that they are a team on the rise, determined to bring a medal back to the country. However, they will have one of the toughest matchups of the quarterfinals playing Belgium, who has been playing outstanding hockey.

Despite a loss to New Zealand in the last game of pool play, Belgium had clinched the top spot in the standings. They led the entire men's tournament with most goals scored in an individual game, racking up 12 against Brazil. Tanguy Cosyns has had the biggest impact on Belgium's offense, and the team will look to him to continue his scoring ways heading into the matchup with India.

Netherlands vs. Australia

Australia, the gold medal favorites, had the most surprising run in the tournament. After earning its first win, the Kookaburras took an upset loss to Spain. Then Belgium came through and gave the team its second shocking loss, leaving people wondering if they could live up to the pre-Olympics hype.

The team fought back strong, and its last win against Brazil where they scored nine goals proved just how well its offense can work.

Taking on the Netherlands is no easy task. They have been led by the attacks of Mink Van der Weerden and Seve Van Ass. Australia will need to figure out how to capitalize on its penalty corners when given the chace, something that the Netherlands has done quite well throughout the tournament.

Germany vs. New Zealand

The two-time defending gold medalist finished at the top of Pool B as expected from its play, despite coming into the tournament ranked No. 3 behind the Netherlands.

However, New Zealand knows what it takes to beat a top seed. The Black Sticks finished off the tournament taking down Belgium by two goals. If New Zealand shows up to play, they can be a very dangerous team, especially when they play through team captain Simon Child. They will have to want it more than Germany wants the three-peat.

NBC Olympics
---

Can India do it?

K. Arumugam

Before the Indian men's hockey team left the shores for Rio mission, the minimum (un)stated objective was to finish third in the pool, certainly not fourth, in order to avoid world number one team Australia in the first knock-out.

India thus relied on the first ever Olympic Quarters format to set its target higher.

The objective in physical terms was not achieved. With a draw in the last pool engagement, India could finish only fourth.

However, India avoided encountering Australia in the first knock out.

In absolute terms, India achieved its minimum target of avoiding Australia in the quarters. It hardly matters whether it was accomplished by design or default.

This is a matter of anybody's conjecture.

Now, the stark reality is that Australia is not Number One where it counts.

That's why now it must hurt India of not keeping up its third position that would have put them against lesser evil than Belgium in the hurdle for reaching the semis.

India did not reach Olympic semis on synthetic turf, and for that matter, since 1972.




And, every time it was in the semis it returned with an Olympic medal.

Now these spells of history has no place now as the likes of Ireland, Belgium hardly dreamt of Olympic entry in those days, not to speak of endearing medal hope.

The fact now is Belgium is the best wholesome, comprehensive team in Rio with right balance in every layer.

Belgium is the most consistent team. Its attacks are measured and methodical in moving the scoreboard. Belgium ball crashed the net in every two shots at goal, an envious record here. (see the graphics)

India so far depended on penalty corners to score. But Belgium the other way, field manoeuvres proved tobe its forte.

That almost 12 of its 16 players figure in the scorer's list, speak volume about the team's mesmerizing ability to generate field goals.

As its players are amassing goals this way, Belgium perhaps did not find it worthwhile to open its penalty corner arsenal. Penalty corners is the potential minefield for Belgium unexplored and untested. In the last five matches, Belgium has just got a token goal through penalty corners, one out of 17!

Penalty corner domain is going to be the USP of Belgium now on. Its forward line is well tested and proved. If in case Indian defence -- which did reasonably well against Germany, Netherlands and Argentina – again stand up and count against its fordwardline, Belgium will revert to its hidden forte.

Its here form of our goalie PR Sreejesh will count. He is at his benchmark level now, but not raising it to Olympic level like David Carter, David Harte not to speak of Jaap Stockmanns.

Indian defence, all said and done, is doing it best. They bear the brunt of failing frontline as well. Its mostly V Raghunath who makes penalty corners, or Harmanpreet Singh more than Sardars and Sunils, for instance. Only field goal that stood for India till the last game was against a defender, Kothajit Singh.

At the same time, the best goal stopping was also enacted by the same defender descending on the scene from nowhere to deny Mathew Guest a logical conclusion in his clever solo 36 hours ago.

Likes of Kothajit Singh epitomize how India is playing total hockey at its best.

While keeping every positive strength India showcased so far, ball possession, rotation, creation and conversion (7 out of 27) of penalty corners, pugnacity, dashing thrusts should continue irrespective of occasion and reputation of rival.




Penalty corner defence, handling body play without getting the wrath of umpires, contentment on taking leads will be key for India.

But getting card equally scares the rival too, they fall in safety mode, giving advantage to offending side!

Belgium is a regular in the semis of top FIH events unlike India.

They are mature enough to handle themselves but it is obvious they face more (Olympic ) pressure than India.

India is underdog in the quarters even if it would face any other team than what it is now.

India's pressure is from public, not from their own standing in the contemporary scene.

India need to forget Friday night where its Asian kind of hockey (forwards hitting side nets, on goalie, carried themselves inside circle etc) returned to haunt.

However, the defence splitting long push by Raghu with which Ramandeep Singh deflected the ball into the Canadian cage, much Like Ruhr Christopher's off Florian Fuchs' against us, should inspire confidence in the Indian team.

Indian team measured up to top teams like Germany and The Netherlands, and came out with colours against Argentina, bucking the trend.

Our stick-wielders at Rio are fitter side. Not a run of the mill combination. Carefully nurtured, professionally pushed up.

There is no way Spain, New Zealand or Australia would have asserted less in the quarters than Belgium would. For India its quarterfinal. Who is their rival there should count but not weigh down.

Any team in the Olympics, especially in the quarters, will not be a push over, capable of turning the table on past reputation, present ranking.

Why can't it be India's turn now.

Stick2Hockey.com


---

India eyes Olympic semifinal berth after 36 years

Going by world rankings, there is hardly anything to differentiate between the two teams as India are placed fifth while Belgium is just one rung below.



Indian men's hockey players celebrate a goal against Canada in a group encounter at the Rio Olympics on Friday.   

A win away from scripting their best-ever showing in Olympics after 36 years, Indian men's hockey team would look to cut down on silly errors and raise their game by leaps and bounds to upstage a formidable Belgium in the quarterfinal of the Rio Games on Sunday.

India had already achieved a feat by qualifying for the knock-out stage of Olympics after a long hiatus and, come Sunday, the PR Sreejesh-led side would like to go one step further in their quest for an elusive Olympic medal.

India qualified for the last eight round after finishing fourth in Pool B with two wins, two losses and a draw, accumulating seven points in the process.

India won against Ireland (3-2) and Argentina (2-1) but lost two close encounters against reigning Olympic champions Germany (1-2) and silver medallist Netherlands (1-2) before they were held to a 2-2 draw by minnows Canada in their last preliminary encounter.

Belgium, on the other hand, topped Pool A with four wins out of five games. The Red Lions' only loss came against New Zealand (1-3) in their final group match on Friday.

Going by world rankings, there is hardly anything to differentiate between the two teams as India are placed fifth while Belgium is just one rung below at sixth position in FIH chart.

But in the Games so far, Belgium are on red hot form and have stunned strong gold medal contenders and world champions Australia in the pool stages.

The Red Lions also won against Spain, Great Britain and minnows Brazil and their only blemish came against New Zealand.

India, on the other hand, has blown hot and cold. Even though they showed sparks in their first four matches, what cost them dear were silly mistakes committed in the late stages of those encounters.

Against Germany the Indians conceded a goal just three seconds from the final hooter to lose the match, while against Netherlands too the backline conceded a penalty corner in the final minutes of the fourth quarter and the Dutch were quick to pounce on the opportunity.

Despite the losses, India's spirited performances against the top teams were praised by all and sundry till the very last game against Canada, where they looked lacklustre.

India started as hands down favourites against world no.15 Canada but the eight-time Olympic champions dished out a nervy display to split points, a match from where they needed full points to secure third position in Pool B.

Against Canada too the Indians were guilty of committing silly errors towards the end. Leading 2-1, India were dominating the proceedings but Nikkin Thimmaiah committed an unnecessary foul outside the circle in the last 10 minutes of the game.

It not only resulted in his suspension for five minutes but also led to his team giving away another short corner to the Canadians from which they scored the equaliser.

If India are to beat in-form Belgium tomorrow, they will have to do away with such transgressions as the Red Lions will be looking for similar opportunities to pounce on their rivals.

Another worrying factor for India's chief coach Roelant Oltmans going into tomorrow's match is the dip in form of his drag-flickers. Even though the drag-flick duo of Rupinder Pal Singh and VR Raghunath have scored three goals each in the Games so far, they had missed numerous chances and came short when the team needed them the most.

For instance trailing 1-2, India earned as many as five successive penalty corners in the final seconds of the match against Netherlands, but the drag-flick experts failed to rise to the occasion.

The forwardline too needs to pull up their socks, while the defence, led by Sreejesh, so far has played well but they need to raise their game to the highest level if they want to stop the marauding Belgium forwards.

India will also look to settle scores against Belgium, against whom they lost 1-2 in their last meeting in the Hero World League Final at Raipur last year.

A win tomorrow will be a redemption for the past masters of the game as it will secure India's place in the semifinals of the Olympics for the first time since 1980 Moscow Games, where the bagged their last of the eight gold medals.

Belgium too would be hungry for success at the mecca of sports. Belgium's only medal-winning performance in the Olympic Games came way back in 1920 when they won a bronze.

As a team, Belgium has risen in the ranks over the past decade and are rated as one of the most feared teams in world hockey for their attacking style of play.

Belgium is an experienced side, with the majority of the squad having surpassed the 100 International appearances mark including treble centurions John-John Dohmen and Jerome Truyens as well as double centurions Cedric Charlier, Thomas Briels, Felix Denayer and ace striker Tom Boon.

Despite Friday's disappointment, India captain Sreejesh sounded confident ahead of Sunday's encounter.

"The team is 100 per cent ready both mentally and physically for the Belgium attack. The team is confident and very excited to play the quarterfinals. The way we have performed has given the team motivation and self-belief to win. We need to give our 100 per cent on that day (Sunday) and that's what we aim to do," he said.

"We can't say that they are ranked below us so they are an easy side to beat. Going by statistics, Belgium has won four matches in their pool and has lost only one. So it is a tough team to beat but I think it's all about how we cope with pressure on that day and that will be the key," he added.

But India also have an injury scare ahead of Sunday's match after star striker SV Sunil was stretchered off the pitch yesterday following a collision with signboards.

Sreejesh, however, said Sunil — who sustained a wrist injury — will be fit to play on Sunday.

"He is getting better. He had some pain in his wrist and there was some inflammation soon after the fall. But the scan did not show anything which means he is fit to play Sunday's quarterfinal," he said.

Meanwhile, in the other quarterfinals of men's hockey, Netherlands will face Australia, Spain will play Argentina and Germany will be up against New Zealand.

The Hindu


---

Red Devils stand in India's way

Men in Blue take on Belgium, who have lost only one match so far, for a place in the semifinals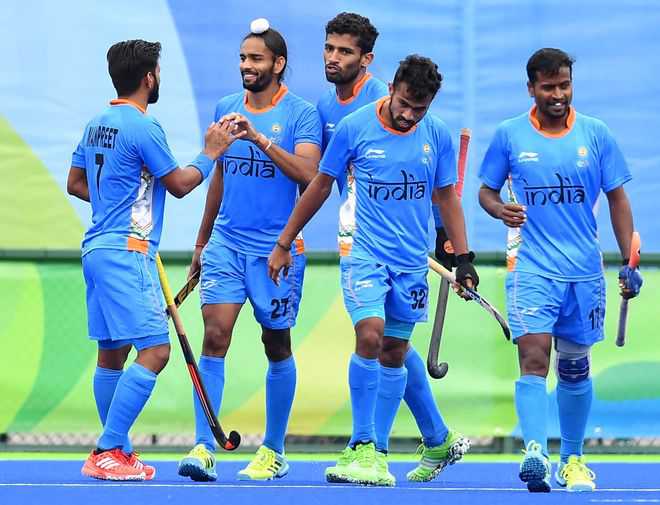 India's Akashdeep Singh (2nd L) celebrates scoring a goal with his teammates during their match against Canada. AFP

Rohit Mahajan

So, it's Belgium ahead for India in the hockey quarterfinals. Their draw against Canada, and Argentina's win over Ireland, left India in the fourth position in Group B. Belgium, Red Devils of hockey, spell trouble for India, and tomorrow India would have to do something extraordinary to get past them.

There were six teams in the group, and the top four qualified for the quarterfinals — only two weakest teams were eliminated. They were Ireland and Canada. But of the four teams that went through to the quarterfinals, India finished with the worst record.

Before the first game, captain PR Sreejesh had stressed that India were aiming high in the group stage. "You would want to play a weaker team in the quarterfinal, a team that has finished low in the other group," Sreejesh had said. But India finished last in their group, and play the scariest team of Group A — a team that has put into shade Australia and Spain, and contributed to the knockout of Great Britain.

Belgium beat Great Britain 2-1, Brazil 12-0, Australia 1-0, Spain 3-1 before, startlingly, losing 1-3 to New Zealand.

Late goals

India were held by the weakest team of the group yesterday, and that sent Roelant Oltmans, the coach, into a fit of anger.

India finished the group stage with only two wins in five games; the wins came over Ireland and Argentina, the defeats came against Germany and the Netherlands. All the games were close — the two defeats by the margin of one goal, the two wins by the same margin. The draw with Canada ensured India's fourth-place finish. No wonder Oltmans was hopping mad after that game yesterday.

In both the defeats, India conceded late goals — in the last minute against Germany, and five minutes before the end against Netherlands.

Red Devils

Belgium isn't a team that India like. At the 2012 Olympics, Belgium had thumped India 3-0; at this year's Champions Trophy in London, the margin was smaller but the result was the same — a defeat, 1-2 this time. In the World League Final last December, Belgium beat India 1-0; in the 2014 World Cup in the Netherlands, Belgium won 3-2.

The gap between India and Belgium in terms of rankings is wafer-thin — India, in fact, are higher, No. 5 against Belgium's No. 6. Belgium haven't got India's Olympics pedigree, having won only one medal, a bronze at the 1920 Games. But their hockey programme has become very strong in the last few years, and they're a very tough opponent to face in the quarters.

If, however, before the tournament started, India had been given the choice of facing Australia or Belgium in the knockouts, India would definitely have preferred Belgium.

Belgium have an experienced team — the duo of John-John Dohmen and Jerome Truyens have over 200 international caps; Cedric Charlier, Thomas Briels, Felix Denayer and deadly marksman Tom Boon have over 200.

"We cannot say that since they're ranked below us, they are an easy side to beat," Sreejesh said. "Going by statistics, Belgium have won four matches in their pool and have lost only one. It is a tough team to beat but I think it's all about how we cope with the pressure on that day and that will be the key point."

The group stage results show the margins are tiny; Belgium have beaten India only by tiny margins in the recent past. India look forward to returning the compliment — a win, tiny or giant, will put India in the Olympics semifinals for the first time since 1980. India hopes.

The Tribune

---

Belgium in India's way as Sreejesh's men eye semis spot

RIO DE JANEIRO: The Indian hockey team has been unpredictable here, swinging from the sublime to the ridiculous. But now they are in the knockout stage and have a shot at the semi-finals, which could take them closer to a medal.

After the poor game against Canada, India qualified fourth from their group and will take on Belgium in the quarters on Sunday, a day before Independence Day. The Europeans are the favourites but at this level, anything is possible. On the eve of their match, the Indian captain P Sreejesh and coach Roelant Oltmans exuded confidence of putting up a spirited show.

Sunil fit to play

India got a scare when forward SV Sunil crashed into the advertisement board and was stretchered off the field with a wrist injury in the match against Canada. It looked serious but the team management allayed fears and declared him fit to play on Saturday morning. "He is getting better. He had some pain in his wrist. But the scan did not show anything which means he is fit to play the quarterfinals," Sreejesh said.

The Times of India


---

Beating Belgium difficult, but not impossible

Chander Shekhar Luthra

The only thing that goes against India is that Belgium have not lost to India in recent memory. India lost by just one goal to the European country in the World Hockey League and the Champions Trophy recently.

Forget what happened in the group hockey matches over the last eight days or so. Forget how India messed up chances of finishing third in Group B after drawing with minnows Canada and lost a chance to play a lesser-fancied Spain for a place in the last four.

Just remember, Sunday could well turn out to be the day, which a country of over 130 crores has been waiting for the last 36 years. A win against Group A toppers Belgium might be difficult but not impossible. A look at the world rankings shows India are placed at No. 5, one above Belgium.

The only thing that goes against India is that Belgium have not lost to India in recent memory. India lost by just one goal to the European country in the World Hockey League and the Champions Trophy recently. And this should be reason enough for the Indians to go all out this time.

Belgium, on the other hand, have risen in the ranks over the past decade and are feared for their attacking style. But they will have butterflies in their tummies as their only medal-winning performance -- bronze – in the Olympic Games was way back in 1920.

Belgium have an experienced side as a majority of their players — John-John Dohmen, Jerome Truyens, Cedric Charlier, Thomas Briels, Felix Denayer and ace striker Tom Boon — have played more than 200 international matches before Rio.

"Belgium can be a tough team to beat but it's all about how we cope up with pressure on match day," said Indian skipper and ace goalkeeper PR Sreejesh after the Canada game on Friday.

Belgium looked unstoppable in group outings, scoring 21 goals in five games. They defeated favourites Australia, in-form Spain and Great Britain to claim the top spot.

In comparison, India could only score nine goals in five outings. And, therefore, for Roelant Oltmans' team, an outing against Belgium could well be the toughest so far.

Oltmans said Team India becomes complacent after scoring goals. "You should not get over-excited after scoring a goal. You should just stick to your structure," said the chief coach.

On of their prospects in the quarterfinal, he added: "A quarterfinal is always strong. There's no doubt about it. We played Belgium a couple of times in the near past. And both times, we lost by one goal. It should be an exciting match."

The good news for the Indians before the key game is that star half-back SV Sunil, who sustained an injury during game against Canada, is likely to be fit for the all-important game on Sunday.

DNA


---

'Men's squad devastated after Rio exit'



Great Britain's men

Chief Executive of Great Britain Hockey Sally Munday admitted the men's team and staff were left devastated after exiting Rio 2016.

Great Britain drew 1-1 with Spain in their final match, but the outcome of the game was rendered irrelevant as New Zealand defeated Belgium 3-1 to progress at our expense.
 
Speaking in Rio, Sally commented, "Having been around the group since the end of the match, there is absolute devastation among both the players and management.
 
"They work so hard, I see them all the time at Bisham Abbey, how hard they work and the life choices they make to be the best they can be. This isn't down to lack of preparation or lack of effort, this is a group of committed athletes who came here wanting to fulfil their Olympic dream and get on the medal podium, but it hasn't happened for them. Sometimes it is just not meant to be.
 
"I thought the guys played well tonight, they brought their hockey to the Spanish team but they couldn't put it in the back of the net, it was as simple as that. There were plenty of chances but it didn't fall for us.
 
"Our tournament got off to a shaky start against Belgium, and in tournament hockey you need momentum. They have played some good hockey but over five games they haven't done enough to make the quarter finals and that's massively disappointing for both them and us, we share the same emotions.
 
"The preparation has been excellent, they came here in good shape and everything has been positive. We couldn't have asked for more effort, the reality is the top eight teams in the world are so close now and as we've seen in this tournament the margins are narrow. But we needed to start better, there's simply no getting away from that fact.
 
"Now everyone will want to get back home and reflect on it, the players and management need time to do that and there's absolute devastation in the dressing room. We'll return to the UK, have some quiet reflection and then we look to the next cycle."

Great Britain Hockey media release


---

How the Anglo-Indian community created two No 1 hockey teams

Anvar Alikhan

Community set the foundations for the game here. And it was their post-Independence exodus to Australia that built up the sport in that ex-colony

Every four years, a billion-plus Indians pray that our hockey team should win a medal at the Olympics, as it has done eleven times before. This year the Indian team does, indeed, stand a chance. But, let's face it, India's 'Golden Age' of hockey is long gone.

That Golden Age was between 1928 and 1956. Some pundits, however, would narrow it down to the period 1928-1936, when India, in its first three Olympics, annihilated all opposition, with the incredible goal ratio of 97:3, thus acquiring the reputation of being "magicians with hockey sticks". It's an era we automatically associate with the legendary Dhyan Chand. But it's strange that many of us know nothing about the large number of Anglo-Indian hockey stars without whom it wouldn't have happened.

A quick glance at the numbers says it all: At the 1928 Olympics, eight of the Indian XI were Anglo-Indians; at the 1932 Olympics seven of the Indian XI were Anglo-Indians; at the 1936 Olympics six of the Indian XI were Anglo-Indians. But, as Frank Anthony, an Anglo-Indian leader of the time remarked, the hockey talent of this little community ran so deep that it could have perhaps produced six times those numbers of world-class players.

Hockey maestros like Carlyle Tapsell, Broome Penniger, Richard Allen, Dickie Carr, Leslie Hammond, the Goodsir-Cullen brothers and Joe Galibardy — now long-forgotten — all played a key role in India's dominance of the game. If Dhyan Chand was "the world's greatest centre forward", Broome Penniger was the world's greatest centre-half and Richard Allen was the world's greatest goal-keeper (allowing only two goals through all the Olympic games of 1928, 1932 and 1936, an amazing record). The other Anglo-Indian stars were not far behind in their prowess, combining a high degree of artistry with a robust aggressiveness.

So what was the reason for this domination of hockey by the Anglo-Indians — who, after all, accounted for only about 0.1% of India's population at the time?

The answer lies in the fact that the game came to India with the British army in the 1880s. While the officers played cricket and polo, the ordinary British soldier preferred the rugged game of hockey. The soldiers first played between themselves, and then they began to play with teams raised from local organisations, like the railways, police and port authorities — all of which employed significant numbers of Anglo-Indians. Soon, hockey was embraced by the Anglo-Indian community as an embodiment of masculine virtue, and it became an integral part of the Anglo-Indian culture: every family pushed their sons to excel at the game.

It started in Bengal and by 1895 Kolkata had a number of great Anglo-Indian hockey teams, who battled each other in the newly instituted Beighton Cup Tournament: legendary teams like Calcutta Naval Reserve, Calcutta Rangers, Bengal-Nagpur Railways and Calcutta Customs. In time, leading teams from Mumbai, Lahore, Jhansi and other parts of India joined the fray. Thus, by the time India was officially admitted to the Olympic Games in 1928, there was such an abundance of hockey-playing talent in the country that choosing only 15 players for the contingent posed a problem. Interestingly, Britain, who'd been the hockey champions in the two previous Olympics, quietly withdrew their team at that point — presumably to avoid humiliation from their colonial subjects. They would stay away from Olympic hockey until the end of the Raj.

Meanwhile, Anglo-Indian players played a decisive role in India's Olympic hockey triumphs in 1928, 1932 and 1936. And if World War II hadn't intervened, they would have, doubtless, continued to do so in 1940 and 1944, as well. But after 1947 there was an exodus of Anglo-Indians, and this, obviously, affected Indian hockey significantly. The Indian contingent for the 1948 Olympics in London still included seven Anglo-Indians (it would have been eight, but Joe Galibardy, that brilliant left-half, had to drop out for personal reasons). But by 1952, there were only two Anglo-Indians left in the Indian contingent.

India's loss proved, however, to be Australia's gain. The Anglo-Indian diaspora settled mainly in Western Australia, and created a powerful hockey culture in the state. Soon the Western Australia team began to dominate Australian hockey. And that was the beginning of Australia's emergence as a world hockey power — driven by Anglo-Indian coaches and players, like Trevor Vanderputt, Fred Browne, Merv Adams, Dickie Carr, the five remarkable Pearce brothers, Kevin Carton and Paul Gaudoin. In the 1956 Melbourne Olympics, when India played against Australia, there were five Anglo-Indians on the field — four of them on the Australian side, and only one on the Indian side. And in the 1960 Rome Olympics when India played against Australia, the rival captains in that closely-fought match, Leslie Claudius and Kevin Carton, were both, ironically, Anglo-Indians. Meanwhile, another great Anglo-Indian player, Rex Norris, was masterminding the emergence of the Netherlands as another major world hockey power.

Leslie Claudius, arguably the greatest of the Anglo-Indian players, saw India through to the end of its Golden Age, which culminated in its defeat to Pakistan in the 1960 Olympics. When he died in Kolkata in 2012, largely forgotten, it was the end of an era. In the Rio Olympics, the top-ranked teams are (in ascending order) India, Britain, Germany and the Netherlands. The No 1 ranked team, however, is Australia. There's probably a moral in this story, somewhere.

The Times of India


---

Indian Hockey: Is the sport finally charting a phoenix-like rise in the country?

Austin Coutinho

Has Indian hockey finally turned the corner?

Celebrating the odd international victory or calling it a turnaround would perhaps be too premature. But on the looks of it, there certainly seems to be an attitudinal change coming about at all levels in hockey — players, officials and the association. India's standing at the Rio Games will therefore be a signboard.

What's more, Indian followers of sport 'are loving' it!

Roelant Oltmans, India's High Performance Director (HPD) for a few years and the present coach, agrees that hockey in the country is changing for the better. He believes that in the next few years, the Indian hockey team will return to its habit of winning major tournaments.

For the uninitiated, India were the undisputed kings of field hockey for over four decades, beginning with the 1928 Olympic Games at Amsterdam. The magical skills of legends like Dhyan Chand, Balbir Singh Sr, Claudius, Udham Singh and many others were just too good for lesser mortals to decipher.

The 1960s saw the coming into prominence of the Pakistanis, who played the same brand of hockey as the Indians did. The latter still managed to edge them out in the finals at Tokyo, after losing at Rome. India's final flourish was its World Cup win in 1975, as other countries like New Zealand, Australia, The Netherlands, Germany, Spain and Britain caught up with the teams from the sub-continent.



Illustration © Austin Coutinho. All rights reserved.

India were masters on grass. And grass, as Ivan Lendl often said, was 'meant for cows!' International Hockey Federation (FIH), the world body got working in the penultimate decade of the twentieth century to introduce changes which made the game faster and more robust. Artificial turf replaced grass and dribbling and body-feints made way for long and hard passes. The off-side rule was then tossed into the dust bin. The stronger, fitter and more agile European players dominated the game as India, and to a lesser extent, Pakistan faded away into oblivion.

India did win a consolation gold at the Moscow Games though, with most of the top teams playing hooky. Not being able to adapt to the new surfaces and new rules, the journey thereon was one-way — downhill! Indian hockey reached its lowest ebb in 2008, when they failed to qualify for the Games at Beijing; first time since they made their debut at the Olympics. And London, four years later, was no better as they ignominiously brought up the rear.

Modern hockey isn't even remotely related to the game of traditional field hockey that the Indians were used to. At best, it could be called a distant cousin of a sport that made India a dominant force in the world. And it is evolving by the day.

FIH has been on the ball, introducing rapid changes in the game to make it faster and safer. Technology has been brought in to reduce human error — though it has its own limitations. The pitches are now faster and bouncier. The paying spectator gets better value for money, as all out efforts are being made to involve him in the excitement that the game creates.

Wooden sticks are passé. They are now bulkier and are made from carbon and aramid. Protective equipment, right from the goalkeeper's paddings to the mouth guards that players wear — along with gloves and protective masks for short corners, has made the game safer for players.

Moreover, the probing runs of old, with skillful players weaving their way into the striking circle are now part of history. Holding onto the ball for more than a few seconds in the modern game is a deadly sin. An attack broken up at one end can easily mean a goal at the other end at the blink of an eyelid. That's how fast the game has now become.

Traditionalists may scoff at the self-pass or the taking of aerial routes for long passes and clearances. But that's the way the cookie crumbles. Players now need to develop 3D skills to lift, bounce and chop passes in order to eliminate the opponent and to change the direction of the ball in flight. Front and reverse stick hits are taken across the field. Moreover, you hardly see the ball being stopped dead at any stage of the game. The aim is to keep the ball moving and the game flowing.

Indian hockey remained in denial mode through the first few years of the new millennium. There were stories of regionalism and groupism that led to the country's downfall in hockey. Some blamed it on corruption at the association level; others said that the world hockey body had conspired to keep the sub-continental teams out. But what was more appalling was the lack of will to accept the changes happening in the game. It was therefore natural that the country's 'national game' was not represented at the Beijing Games.

In the fitness of things changes took place at the association level. Hockey India came into being and top players were involved in the decision making process. India went in for foreign coaches. They were all persons of high merit. Ric Charlesworth, Jose Brasa, Michael Nobbs and Terry Walsh came and went, finally passing on the baton to Roelant Oltmans. He was, at that time, HPD of Indian hockey for a couple of years.

Each of the foreign coaches had their contribution to make. Some of them weren't used to the country's bureaucratic ways and others didn't like the players' inflexible attitudes. But they made an impact on Indian hockey in their own ways.

Oltmans was different and had the advantage of observing Indian hockey objectively as HPD. He knew the players well, especially their culture and their backgrounds. He was aware of their shortcomings, and most of all, he had the patronage of Hockey India.

The new coach worked relentlessly on the players' fitness. He knew that if India had to be a world force in hockey again, their players would have to match the speed, agility, power and strength of the opponents. He worked on their skills, especially getting them used to set plays and set movements. Short-corners and restarts were simulated a thousand times over. What's more, Oltmans was able to convince the players to give up their traditional methods and adopt modern techniques and playing styles.

He has also worked on the players' mental toughness. A new self-belief is distinctly visible in the team. And it is improving with every outing. Video-analysis and a thorough study of the strengths and weaknesses of top teams have helped form match-to-match strategies.

"Indian players are skillful," says Oltmans. He believes that once the players are fitter, and can match the speed and agility of the players from Australia and the continent, what will hold them in good stead is their superior skill.

India has made a comeback of sorts in the Asiad, the Champions Trophy and the World Hockey League in recent times. The team has shown the willingness to match the European teams' robustness and speed in the initial matches at the Rio Games. After being a goal down to The Netherlands, in the league, playing without a goalkeeper and attacking with eleven players, in the last five minutes, to look for an equalizer was refreshing. That they did not find the elusive goal despite five short-corner attempts – a heart stopper – is beside the point. What mattered was the attitudinal change.

Indian hockey is in the recovery stage. Therefore, it is necessary that somebody like Roelant Oltmans should be there to nurse and mentor it to good health, and prosperity, in the coming years.

Austin Coutinho is a former fast bowler turned coach. He is also a caricaturist and has authored several books including The Games, Goal, The Devil's Pack, besides writing for several newspapers and websites.

Firstpost


---

Scotland men do the double over Czech Rep



Alan Forsyth

Scotland completed the double over the Czech Republic with a comfortable 3-1 in the second test match in Prague, part of the build-up for the World League next month.

The Scots were one ahead at the interval, Nicky Parkes sent a free hit into the circle from the left and a diving Cammie Fraser deflected the ball past the Czech goalkeeper.

The Scots should have been further ahead at the interval but the combination of poor composure in the circle and a series of saves by the home goalkeeper kept it down to a single strike.

The Scots doubled their tally early in the second half, at a penalty corner Kenny Bain launched a vicious flick into the roof of the net past the goalkeeper`s outstretched stick.

Alan Forsyth was the catalyst in the third goal, the Surbiton striker created the move down the left, then dribbled along the base line and finished the move with a spectacular shot into the roof of the net.

The Scots created further chances to increase their lead, the best fell to Nick Samra whose shot cannoned off the bar, but there was no addition to the tally. 

The Czechs scored a scrappy goal near the end but it proved little more than a consolation.

Scotland coach Derek Forsyth said:  "Although a harder game, the Czechs played better today, I`m pleased with the result on the back of yesterday`s 7-1 win.

"They posed us some problems today but I thought we handled them well."

Scottish Hockey Union media release
---

Amira Sailors drub JKUAT lasses in hockey league at City Park

Forward Susan Oketch was the star for Chase Bank-sponsored side grabbing a hat-trick.

By BRIAN YONGA



Amira Sailors' Yvonne Madovo (left) and Sheila Chebet celebrate a goal during their Kenya Hockey Union women Premier League match against Jomo Kenyatta University at City Park Stadium on August 13, 2016. PHOTO | MARTIN MUKANGU |  NATION MEDIA GROUP

Debutants Amira Sailors on Saturday went top of the Kenya Hockey Union (KHU) Women's Premier League table after an 8-0 drubbing of Jomo Kenyatta University of Agriculture and Technology (JKUAT) at the City Park Stadium, Nairobi.

Forward Susan Oketch was the star for Chase Bank-sponsored side grabbing a hat-trick while fellow striker Leah Omwandho bagged a brace. Pauline Ochieng, Yvonne Madovo and Harriet Omondi scored a goal apiece in the emphatic victory.

The result left the newcomers top of the standings with seven points after three matches, one more than Sliders who are now in second place.

Champions Telkom Orange can go top of the log if they beat USIU Spartans Sunday morning.

Sailors' coach Linnet Onyango was impressed by her team's performance warning that her charges had yet to hit top gear.

"We controlled the match from the onset and I was impressed by my forwards who were clinical in their finishing. We continue to improve with each encounter," Onyango told Sunday Nation Sport.

It was JKUAT's second successive loss after last weekend's 2-0 defeat to Kenyatta University Titans.

Oketch was on target two minutes into play firing past JKUAT goalkeeper Vivian Chemtai after being set by Lorraine Nondi.

The early goal shocked the Juja-based students who resorted to playing defensively allowing Sailors to come at them.

Their strategy did not work for long as they conceded a penalty corner that Ochieng successfully converted to give Sailors a 2-0 advantage after only 13 minutes.

Sailors continued to press as with Nondi pulling the strings in midfield as the students struggled to contain their opponents' pace. Seven minutes later, Oketch was at it again scoring her second of the match with another pinpoint finish and completed her hat-trick in the 24th minute.

Three minutes later, Omwandho sounded the board after finishing off a penalty corner to give the bankers a 5-0 lead before the half hour mark. Madovo put her name on the score sheet in the 34th minute to give her side a 6-0 advantage at halftime.

On resumption, the students continued to sit back and rarely attacked their opponents half. Omwandho and Omindi broke their defence in the 55th and 65th minutes respectively as they completed short corners to put the score beyond doubt.

Daily Nation


---

JKUAT students bear brunt of Sailors in Women Hockey League

By Elizabeth Mburugu



SPORTS: Hockey- Amira Sailors vs JKUAT Amira Sailors Jedidah Zawadi with the ball(l) and Jomo Kenyatta University of Agriculture and Technology Victorian Chep fight for the ball when they played Women Premier at City Park yesterday, on 13/08/2016. Sailors scored 8-0. PHOTO; JENIPHER WACHIE

Debutants Amira Sailors were on a rampage as they whitewashed Jomo Kenyatta University of Agriculture and Technology 8-0 in a Kenya Hockey Union Women's League match at City Park Stadium yesterday.

Susan Oketch was the lead scorer for the Chase Bank-sponsored side with a hat-trick while Leah Omwandho bagged a brace. Pauline Ochieng, Yvonne Madovo and Harriet Omondi scored one goal each.

Sailors' coach Linnet Onyango said that they have improved because they take lessons from every encounter. "It has been and it is still a learning process for us. After every match we critically analyse our performance considering both the positives and negatives with an aim to correct them. I'm delighted that this far our strategy is working."

Oketch announced Sailors' intended win two minutes into play by sending the ball home past JKUAT goalkeeper Vivian Chemtai. The early goal shocked the Juja-based students who resorted to playing defensively.

Their strategy did not work for long as they conceded a penalty corner that Ochieng converted to give Sailors a 2-0 advantage in the 13th minute. JKUAT struggled to keep pace and avoid conceding more goals. However, seven minutes later Oketch was at it again scoring her second of the match and sealed her hat-trick four minutes later.

Sailors' players' desire for more goals was evident as they launched one attack after the other at the hapless students' goal and it took only three minutes for Omwandho to convert a penalty corner and give the bankers a 5-0 lead before the half hour mark. Madovo put her name on the score sheet in the 34th minute to give her side a 6-0 advantage at halftime.

On resumption the students tried to thwart Sailors efforts but Omwandho and Omondi converted short corners.

The Standard Online


---

MHC name competition after former great

by S. Ramaguru

KUALA LUMPUR: The Malaysian Hockey Confederation's (MHC) new knockout competition will be known as the Tan Sri P. Alagendra Knockout Trophy and it will begin on Aug 23.

The six Premier Division teams and eight Division One sides of the Malaysia Hockey League will take part in the competition, which offers RM70,000 to the champions and RM30,000 to the runners-up.

MHC president Datuk Seri Subahan Kamal also said that the trophy for the Women's League overall title will be named after the late Vivian Soars.

He added that the executive board unanimously supported the decision to name the two tournaments after the two icons in recognition of their immense contributions to Malaysian hockey.

"Tan Sri Alagendra has for so long been the pillar of strength in the development of hockey in our country ... both as a player and administrator. The same can be said of the late Vivian Soars, as she was actively involved as player, coach and administrator from the 1940s," said Subahan on Saturday.

"There is no question in our minds that their efforts in hockey should be remembered and cherished."

The competitions committee also held the draw for the knockout matches after the launch of the tournament.

THe Terengganu HC and Kuala Lumpur Hockey Club (KLHC) have been given a bye into the second round.

MHC competitions committee chairman George Koshy said that there will still be an open draw for the second round.

"They are not seeded, just given a bye. Six teams from the first round will join them in the next round," said George.

"Each round will have an open draw."

The Star of Malaysia


---

Hockey to deliver four golds in 2017 SEA Games

KUALA LUMPUR: The Malaysian Hockey Confederation (MHC) have promised to deliver all four hockey gold medals at stake in next year's SEA Games, which will be held here.

MHC president Datuk Seri Subahan Kamal made this commitment after the annual general meeting on Saturday.

The four golds are from the men and women's field and indoor events.

"We (The MHC) promise that we will deliver all four medal at stake – field and indoor for the men and women – at the SEA Games next year," vowed Subahan.

"We have set up a task force to ensure that we have well-prepared teams so that we can keep our promise."

The task force will be headed by MHC technical director Terry Walsh.

"Terry will draw up the programme and decide on who takes charge of the teams for the SEA Games. We have to start work immediately ... I want the task force to ensure that every possible step is taken to ensure we are winners in 2017," said Subahan.

The Star of Malaysia