All the news for Monday 15 August 2016

Views from the pitch: Men's field hockey quarterfinal

By Hayley Tafuro



AP Photo/Dario Lopez-Mills

Live recaps of every match from the men's field hockey quarterfinal round in Rio.

Germany Hands New Zealand Devastating 3-2 Loss

It was the final second of the game when Florian Fuchs dove into the circle in a desperate attempt to avoid a shootout with New Zealand.

The 24-year-old made the shot.

In a game where they trailed until the very end of the fourth quarter, two-time defending gold medalist Germany came back to beat New Zealand 3-2 and earn a trip to the semifinal round.

Fuchs' heroic efforts came after team captain Moritz Furste led Germany in the fourth quarter with two penalty corner goals to tie up the game.

This all came after the Black Sticks had built up their two-goal lead.

New Zealand's pregame message in the huddle was, "Let's take it to them," and they did just that, coming out with a Hugo Inglis goal early in the second quarter to take a 1-0 lead.

Germany came out of halftime pushing with a greater pace and getting off more shot opportunities than the Black Sticks, but they still couldn't get things going in the third quarter.

The Black Sticks increased the lead to two in the fourth quarter when Shea McAleese scored on a penalty corner attempt, putting the semifinals closer in the team's sight.

Or so they thought.

Germany was not ready to accept defeat. They earned a penalty corner attempt and Furste sent one flying into the New Zealand goal, cutting the lead to one.

With the surge of momentum, Germany drew corner after corner until finally converting with just over a minute remaining in the game.

The Germans gave it every last effort until the very last second of the game, and Fuchs came up with the goal that crushed New Zealand's medal hopes and sealed Germany's chances at a three-peat.

Germany will play Argentina in the semifinal on Tuesday.

Netherlands Dominates Australia 4-0

Australia came into the Olympic tournament not only as medal contenders, but also as the No. 1 ranked team and the predicted gold medal winners.

The Netherlands just thwarted those predictions.

In a dominant 3-0 win, the Dutch paved its way to the semifinals and finished Australia's Olympic run.

It took less than a minute for the Netherlands to score which would end up being indicative to how the rest of the game would play out.

Billy Bakker was the guy making it all happen for the Dutch in the first half. He scored the first goal and assisted Bob De Voogd on the second, giving the team an early 2-0 lead.

Australia was desperate to get something going, but Valentin Verga would continue the momentum for the Dutch when he darted into the circle to tip a pass high into the cage for the team's third goal.

Then came the lethal drack flicker Mink Van der Weerden. He gave the Dutch a four-goal lead on his eighth penalty corner goal of the Olympic tournament, sealing the advancement if it hadn't been done so already.

This forced Australia to take out its goalkeeper in favor for an extra man on the field, but the effort would fall short. The overpowering start from the Dutch would be too much for the Kookaburras to come back from.

With the win, the Netherlands will move on for a showdown with Belgium on Tuesday.

Belgium Tops India 3-1 Led by Dockier

After a dominating second half of play, Belgium ran away with a 3-1 win over India to move on to the semifinal round.

Sebastien Dockier was the difference in this contest, scoring two goals in the third quarter.

India knew that if they wanted a chance at beating this strong Belgium team, they would have to find a way to get up on them early on.

They got that chance when Akashdeep Singh made something out of nothing when his teammate fired a hopeful pass into the circle. Singh made a last-second adjustment to his stick, which proved to be the perfect position to tip the ball into the cage.

Belgium went into halftime scoreless, but came out with a game plan that got them three goals.

Dockier pushed and prodded until he got a foot into the circle where he ripped one into India's goal. As time expired, Dockier got the tipped goal to give Belgium the lead.

Tom Boon made an impact after suffering from some injuries in pool play. He started the second half and scored in the fourth quarter to put this one out of India's reach.

India took out its goalkeeper in hopes for an advantage on offense, but Belgium tactically brought the ball into the corner to run time off of the clock and maintain the two-goal lead.

Belgium will move on to play the winner of the Netherlands vs. Australia on Tuesday.

Argentina Deals Spain Dramatic 2-1 Loss

Argentina handed Spain a heartbreaking 2-1 loss in the quarterfinal round after scoring in the final two minutes of play.

A controversial incident on an Argentina penalty corner went in favor of Los Leones. They were awarded a penalty stroke, and Juan Gilardi stepped up to deliver his first goal of the Olympic tournament that sent his team to the semifinal round.

As time expired in the first quarter, penalty corner specialist Gonzalo Peillat put Argentina up 1-0. Spain, dealing with an injury on the defensive end, fought back after a dismal start and came out of halftime energized.

Earning corner after corner, they finally executed when drag flick expert Pau Quemada delivered the equalizer with just under four minutes left in the game.

What looked like a sure path to a penalty shootout all changed with a minute and a half left when the ball was controversially blocked by a Spain defender.

Enter Gilardi, whose heroic goal stunned Spain and kept Argentina's medal hopes alive.

Argentina will move on to play the winner of Germany vs. New Zealand on Tuesday.

NBC Olympics


---

Netherlands crush Australia, Germany win epic against New Zealand in field hockey

Gold-medal favorite Australia will not medal in Olympic men's field hockey for the first time in 28 years after losing to the Netherlands.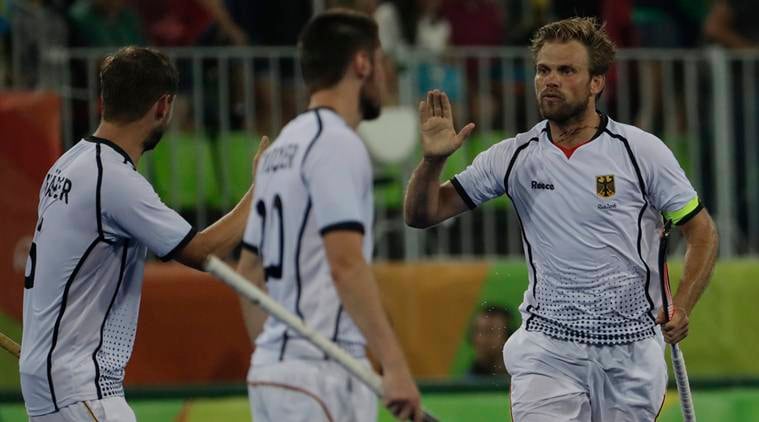 Germany scored twice in the last 41 seconds to beat New Zealand 3-2 and stay on track for a third successive Olympic gold medal. (Source: AP)

Gold-medal favorite Australia will not medal in Olympic men's field hockey for the first time in 28 years after losing to the Netherlands 4-0 in the quarterfinals on Sunday. And Germany scored twice in the last 41 seconds to beat New Zealand 3-2 and stay on track for a third successive Olympic gold medal.

"We never give up. You have to beat us, and you have to constantly beat us," Germany midfielder Moritz Furste said. "As long as there are seconds on the clock we will keep playing. We showed that again today, and we will do that a couple more times."

Meanwhile, Argentina and Belgium were breathing rarefied air when they reached the medal rounds. It's Argentina's first time in the semifinals in 11 Olympics, and Belgium last played for a medal in 1928.

The semifinals on Tuesday see the Netherlands play Belgium, and Germany face Argentina.

The Kookaburras were the most feared team in the field, and not just for taking the Champions Trophy and Sultan Azlan Shah Cup this year. But the No. 2-ranked Dutch were out for payback for being crushed 6-1 in the final of their home World Cup in 2014, and redemption began after just 49 seconds in Rio de Janeiro.

Billy Bakker's reverse hit in an unchecked run across the circle caught the Australian defense too narrow, and set the tone.

Bakker turned provider just before halftime when he stepped and leaped over three sticks up the middle to find Bob de Voogd, who swept in near the left post.

After halftime, Valentin Verga perfectly met Jeroen Hertzberger's cross for 3-0, then Mink van der Weerden, whose 11-match Olympic scoring streak ended on Friday, started a new streak, capping the Netherlands' biggest win over Australia in a major event in 14 years.

"On everything we had an answer today. That's the biggest compliment we can get as a team," Netherlands captain Robert van der Horst said. "We didn't have one time a feeling they would score a goal or we concede one."

The end came for Australia's streak of six straight medals at Olympics that began at the 1992 Barcelona Games. It was also the end of the line for greats Jamie Dwyer and Mark Knowles, the last active 2004 gold medalists.

"It's a performance that we will be bitterly disappointed (about)," Knowles said. "Splattering, spluttering, we couldn't get any really flow (in the competition), and today we just played against an amazing Dutch team. Take nothing away, that was exceptional hockey to be on the other end of."

New Zealand had never beaten Germany in a major event, but opened the scoring through Hugo Inglis' brilliant solo score, New Zealand's only goal-shot of the first half. The Black Sticks survived some hairy moments to make it 2-0 against the run of play 12 minutes from time through Shea McAleese off a penalty corner.

But Germany was re-energized when Furste put a penalty corner shot through the goalkeeper's legs with 4 1/2 minutes left, and hit in a second with 41 seconds to go. The Germans erupted like they'd won, and a shootout was on the cards.

But New Zealand tried to work a penalty corner, and Germany counter-attacked. Timur Oruz carried down the right wing and threaded a pass between five Kiwis. Florian Fuchs dived to connect with the middle of his stick and score as the clock went 0:00.

"That was the best New Zealand performance I've ever seen," Furste said. "The moment when it counted we were unbelievably lucky."

There was also late drama as Argentina defeated Spain 2-1 on a Juan Gilardi penalty stroke just 87 seconds from fulltime.

Gonzalo Peillat's penalty corner shot had been saved by the stick of Spain's Miguel Delas in the goalmouth. Argentina's Lucas Vila was first to push back the rebound, which Delas deliberately stopped with his right foot. The video evidence was clear, and Gilardi's stroke easily beat goalkeeper Francisco Cortes.

"(The match) was hard, because the whole season of this team came down to one minute," Gilardi said. "(Cortes) tried to talk, tried to get me to not be focused on the stroke. I was sure where I was going to put the ball."

Belgium beat India 3-1, coming from behind. India led into the second half, but Belgium's dominance paid off with a Sebastien Dockier double and Tom Boon's cool solo goal to ensure they can still win a first medal since a bronze on Olympic debut at their 1920 home Olympics.

The women's quarterfinals on Monday are, in order: New Zealand vs. Australia; United States vs. Germany; Britain vs. Spain; and Netherlands vs. Argentina.

Indian Express


---

Dutch masterclass ends world champions hopes



Valentin Verga celebrates making it 3-0. Picture: Frank Uijlenbroek/EHF

The Netherlands produced one of the performances of the tournament to date to smash World Cup champions Australia 4-0 in the men's Olympic quarter-final, a side who beat them 6-1 in that 2014 final.

It means the Dutch march on to the semi-finals to face Belgium while the Kookaburras miss out on the top four for the first time since 1980.

Billy Bakker got the Dutch off to a dream start, scoring inside 50 seconds when he picked up on Mink van der Weerden's strong interception. The midfielder switched onto his reverse and slammed past Andrew Charter.

Australia responded in kind with Glenn Turner going close twice, the second time drawing a brilliant save from Jaap Stockmann at close quarters. Jacob Whetton was also buzzing with a series of sharp attacks but it was the Dutch who struck again.

Bob de Voogd had already tested Charter with a vicious reverse shot before he swept home for 2-0, profiting from more brilliance from Bakker, weaving through three tackles in the circle.

Valentin Verga made it 3-0 early in the second half following a ripper of a move, Rogier Hofman picking out Jeroen Hertzberger's run moving away from goal. With the space created, he hit an early cross which Verga met first time – a great team goal.

Mink van der Weerden dragged home the fourth goal from a penalty corner passed Charter's left boot with 11 minutes to go, effectively ending the contest.

EuroHockey media release


---

Dockier-inspired Red Lions end 96-year wait



Sebastian Dockier celebrates making it 1-1. Pic: Frank Uijlenbroek/EHF

Belgium will contest their first Olympic final four place since 1920 in Antwerp as they came from a goal behind to beat India to win 3-1 in their quarter-final in Deodoro.

Akashdeep Singh had given the Indians a half-time lead when he got the faintest of touches to a crash ball into the circle.

But Sebastian Dockier snatched up a chance early in the second half to tie things up. Dockier got another with 28 seconds remaining in the third quarter before Tom Boon – in just his second game of the tournament – struck a peach of a shot from the top of the circle for 3-1.

India removed their goalkeeper PR Sreejesh with 10 minutes to go but they were not able to break through the Belgian's defences.

Dockier, though, does not want to end the competition without a medal, saying afterwards about his part in the victory: "It feels great but it is credit for the team. I am glad to finish the chances but it was a present for the whole team.

"We are really excited for the final four; at the moment, we haven't won anything and we still have one or two tough games but we can do it."

In the first game of the day, Spain bowed out of the competition following a 2-1 defeat to Argentina, a result that puts the South American side through to their first ever semi-final.

Juan Gilardi's penalty stroke won the game very late in the game after Gonzalo Peillat and Pau Quemada had exchanged penalty corner goals to set up a tense finish.

But another Peillat drag-flick led to another shot which was deemed to have hit a foot on the line and Gilardi held his nerve to score the winning goal.

For Real Club de Polo's Manel Terraza, it was a hugely frustrating way to end their campaign.

"It's really sad for us. We believed we could achieve our dream in this tournament and today I think we were the better team, we performed better than them, but they won."

EuroHockey media release


---

Dockier double marks historic Red Lion moment

Sebastian Dockier's third quarter double helped Belgium reach the final four of the Olympic Games for the first time since 1920 as they saw off India 3-1.

Back then, only four teams took part in the competition in Antwerp and so this is another historic breakthrough for the Red Lions.

Dockier, though, does not want to end the competition without a medal, saying afterwards about his part in the victory: "It feels great but it is credit for the team. I am glad to finish the chances but it was a present for the whole team.

"We are really excited for the final four; at the moment, we haven't won anything and we still have one or two tough games but we can do it."

India had taken a half-time lead via Akashdeep Singh but Dockier's pair of goals swapped the lead by the end of the third quarter.

"We had some difficulties in the first half to score goals but the second half, we were physically and structurally better than India and had the luck to score three goals.

"If our structure is good, we can beat everybody. We did that today and will keep doing that. After half-time, the only change we made was that our strikers needed to move a bit more and we did that and got the goals."

Simon Gougnard added that the side are serious contenders: "We did well in the pool but that counts for nothing for this stage. So we are really proud of ourselves and looking forward to playing in the semi-finals.

"We have shown we are pretty fit and determined and shown that we are serious contenders. We spoke in the group about making history for Belgium. We have a lot of people behind us and it is an amazing feeling."

Euro Hockey League media release


---

Heartbreak as Aussie men out of medal running

Netherlands defeat Aus 4 - nil

Holly MacNeil




Australia have been knocked out at the quarter final stages of Rio 2016, going out to World #2 the Netherlands 4 – nil and ending their consecutive Olympic medal streak.

The Netherlands took the early lead, scoring in the first minute of play, with Billy Bakker sneaking one in past Goalkeeper Andrew Charter with a tomahawk from the top of the circle going low into goal.

Glenn Turner broke away for a run to goal, but without anyone to pass to the shot on goal went high. With 20 seconds to go before quarter time, Jamie Dwyer and Matt Gohdes both went for a shot on goal but goalkeeper Jacob Stockmann defended beautifully.

Going into the second quarter, the Aussies were looking to apply pressure to equalise the match however, Bob de Voogd denied the Aussies the chance with a sneaky one from low on the baseline sailing right into goal past Charter.

The Aussies looked to bring it back to level again through a penalty corner with only 7 seconds to go in the first half, but the trap was all over the place and the boys went into half time trailing by two.

Three minutes into the third, and it was another one for the Netherlands, with Valentin Verga getting a shot in on a deflection, taking Andrew Charter to the floor in the process.

With 15 minutes to go the Australians were chasing.

The Netherlands extended their lead with 11 minutes to go with Mink van der Weerden making it impossible for the Aussies to come back. The Dutch defender managing to get a penalty corner in to net through a gap between Andrew Charter and Tim Deavin.

The Aussies were determined to give it everything, replacing goalkeeper Andrew Charter with an 11th on field player to give them as much of a chance as possible. Unfortunately the Netherlands were the better team on the day, and Australia's run of medals at six consecutive Olympics was over.

AUSTRALIA 0 (0)

NETHERLANDS 4 (2)
Billy Bakker (FG) 1
Bob de Voogd (FG) 28
Valentin Verga (FG) 33
Mink van der Weerden (PC) 49

Athlete (Hometown)
Australian Men v Netherlands Start List
Andrew Charter (GK) (Canberra, ACT) 120/0
Chris Ciriello (Melbourne, VIC) 194/115
Tim Deavin (Launceston, TAS) 138/6
Jamie Dwyer (Rockhampton, QLD) 365/243
Blake Govers (Wollongong, NSW) 38/28
Fergus Kavanagh (Geraldton, WA) 231/15
Mark Knowles (Rockhampton, QLD) 291/24
Eddie Ockenden (Hobart, TAS) 284/65
Simon Orchard (Maitland, NSW) 209/56
Jake Whetton (Brisbane, QLD) 108/44
Aran Zalewski (Margaret River, WA) 97/12

Used Substitute
Daniel Beale (Brisbane, QLD) 87/15
Matthew Dawson (Central Coast, NSW) 53/8
Matt Gohdes (Rockhampton, QLD) 159/53
Matthew Swann (Mackay, QLD) 146/6
Glenn Turner (Goulburn, NSW) 136/96

Hockey Australia media release


---

Four-star Dutch dismiss Kookaburras

Rob van der Horst says the Netherlands produced their strongest hockey to date to dismiss the reigning World Cup champions Australia with something to spare in the third quarter-final at the Olympic Games.

Speaking about the success, the Oranje-Rood player said: "We played well against the Argies but fell back. Today, for 50 minutes, I think it was all Dutch and didn't once think they would score a goal. They pressed us hard in the second quarter but we had an answer for that.

"We were very disappointed after our loss against Germany. We knew we needed to start this game pretty hard and get at them and we did, scoring in the first minute.

"The third goal came in the same kind of situation, scoring quickly in the third quarter so we are really happy to reach the semi-final."

The victory bore similarities in reverse from the 2014 World Cup final in which the Kookaburras breezed passed the Dutch 6-1. This time around, the game was 1-0 inside 50 seconds and 2-0 at half-time thanks to the inspiration of Billy Bakker.

A beautiful team goal from Valentin Verga and a drag-flick from Mink van der Weerden completed the rout.

Van der Horst, though, said that the nature of the 2014 final did not have any impact on this fixture.

"That's the past and we can't control that. It's on the present and the present is that we had a very good game plan that our staff had prepared for us for a massive game.

"We were able to follow their calls through the game because Australia were changing their tactics. For every change, we had an answer. And that's the biggest complement we can get as a team."

Next up, Belgium in the semi-final: "Every game is a big challenge now and we are here for more than winning a quarter-final. We'll prepare well for that game and see what happens."

Euro Hockey League media release


---

Netherlands routs Australia in men's field hockey quarters at Rio 2016 Olympics

The Australians had medaled in six consecutive Olympics, claiming gold in 2004 and bronze in 2008 and 2012.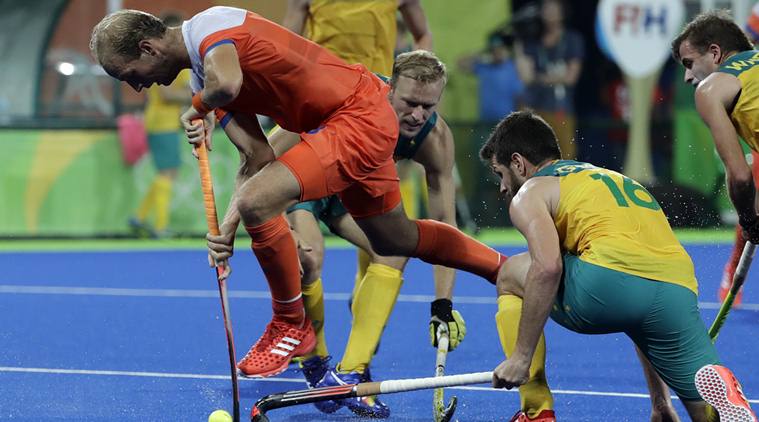 After Billy Bakker's early goal, Australia dominated possession in the second period, but the Netherlands consistently made good defensive plays in the circle. (Source: AP)

The Netherlands doesn't get humiliated often in men's field hockey. When it happens, the Dutch don't forget. Armed with memories from a blowout loss to Australia in the World Cup Final in 2014, the Netherlands took control from the start of their Olympic quarterfinal match. Billy Bakker scored 49 seconds into the match to set the tone in a 4-0 victory on Sunday.

"The energy we had _ maybe for some guys, the way we lost the World Cup Final was in the back of their heads," Dutch player Bob de Voogd said, referring to the 6-1 loss. "The energy we had, the desire to go to the semifinal, was really big today."

Australia coach Graham Reid knew what was happening right away.

"That game was probably two years in the making," Reid said. "That World Cup _ there was a fair few of those boys who were out there tonight who had that deep-seated want for revenge."

The quarterfinal matched the world's top two teams, something the second-ranked Dutch didn't expect so early. But top-ranked Australia slipped and finished third in its pool.

"It was pretty surprising," Dutch player Sander Baart said. "I think Australia didn't show their best hockey in the Pool A, and that's why we faced them in the quarterfinals right now, because we played quite all right in our pool."

The Australians had medaled in six consecutive Olympics, claiming gold in 2004 and bronze in 2008 and 2012.

"It's a disappointing thing to go out in the quarterfinals," Reid said. "You get those opportunities once every four years, and all the things we've done over the past four years have put us in a position where you feel as though everything is in the right place."

The Dutch advanced to play Belgium in the semifinals on Tuesday. Belgium defeated India 3-1 earlier in the day.

After Bakker's early goal, Australia dominated possession in the second period, but the Netherlands consistently made good defensive plays in the circle. The Dutch then added to their lead when de Voogd knocked one in late in the second.

Valentin Verga scored for the Dutch early in the third period, and Mink van der Weerden added another goal early in the fourth.

"It feels pretty strong," de Voogd said. "The control we had in the game there _ the focus. We stayed together the whole time. We prepared so good for this game, we know what our plan was and we executed what we had to do."

Goalie Jaap Stockmann registered the shutout for the Netherlands. Now, the Dutch can focus on neighboring Belgium, a nation they play often.

"We know that they are a really good team," De Voogd said. "They showed it right from the start in the tournament. They're playing really good hockey."

Indian Express


---

Germany produce comeback for the ages



Moritz Fuerste celebrates his equaliser with 41 seconds remaining. Pic: Frank Uijlenbroek

Germany produced one of the comebacks for the ages, coming from 2-0 down with less than five minutes to go to beat New Zealand 3-2 in the fourth quarter-final on a special night of Olympic hockey.

Indeed, they trailed as late as 41 seconds full time before Moritz Fuerste slung in a drag-flick and Florian Fuchs tipped a Timur Oruz cross with just 0.6 seconds left on the stadium clock.

The kiwis had not won against Germany since 2009 in any sort of fixture while they had not won any of their last 13 game in elite level competitions since 1998.

Indeed, New Zealand had not initially qualified for the competition but got in when South Africa's Olympic committee turned down their ticket, making this journey all the more remarkable.

But just when they looked to be ending those streaks, Germany did what Germany do best.

In a quiet first half, the Blacksticks took the lead with a bolt from the blue. Simon Child set in motion a sweeping move that eventually found Hugo Inglis at the head of the D.

He still had lots to do but he managed to weave in between two tackles before, off the floor, chipping the ball over the out-rushing Nicolas Jacobi.

Germany pushed on in the second half, penning New Zealand in their own 23m area for long periods. Timur Oruz won a corner that led to a triple block from the Kiwis, Martin Haner eventually seeing his shot kicked off the sideline by goalkeeper Devon Manchester.

Linus Butt and Florian Fuchs both miscued from the same great chance, the former clearing the bar as New Zealand rode their luck at times.

And, even with Simon Child in the sin-bin, the Blacksticks extended their lead when Inglis did brilliantly running the channels, winning a corner when all on his own. From the set-piece, the ball was dragged to the right post where Shea McAleese guided the ball in for 2-0.

Manchester made a series of good saves in the final quarter before Moritz Fuerste gave Germany a lifeline with four and a half minutes remaining.

They had further corner chances and, after Manchester saved a couple, Fuerste equalised with 41 seconds left. A shoot-out beckoned but Germany summoned yet another attack, Tobias Hauke battling to free Timur Oruz and he arrowed a brilliant cross which Fuchs touched home.

It means the Germans play Argentina in the semi-finals on Tuesday following one of the most incredible moments in Olympic hockey history.

EuroHockey media release


---

Germany knock NZ Men out of Rio Olympics



Photo: www.photosport.nz

Germany have delivered a heart-breaking 3-2 come from behind win over the New Zealand Men in the quarter finals at the Rio Olympic Games.

A courageous effort had the Kiwis looking destined to reach their first ever Olympic semi-final holding a 2-0 lead as time ticked down in the fourth quarter.

But the two-time reigning Olympic champions Germany mounted an unbelievable comeback and scored three goals in the final four minutes of the game.

The result sees Germany maintain their undefeated record at the tournament as they progress to a semi-final against Argentina. The Netherlands go up against Belgium in the other men's semi-final.

Head coach Colin Batch said it was a disappointing finish to what had been a great game from New Zealand.

"We came into this game with a lot of confidence and played really well up until the final six minutes, which is hugely disappointing," he said.

"We knew the Germans were going to fight back, they have won the last two Olympic gold medals and have the ability to score right at the death.

"I think we are good enough to be in the semis so to be knocked out like that is hard to take. We surprised a few people here in Rio and finally got it together as a team so it's hard to be cut short.

"The guys are hugely disappointed, mostly because we played such a good game and deserved our lead. To finish like that is a bitter pill and something that will hurt for a long time."

New Zealand opened the scoring in the 17th minute when Simon Child went on a run and linked up with Hugo Inglis, who jinked his way into the circle and slipped the ball over the diving goalkeeper.

Veteran defender Shea McAleese doubled the lead in the 48th minute when he got a great deflection on a penalty corner set piece.

Germany lifted the intensity after the McAleese goal and put immense pressure on the New Zealand defensive line, in particular goalkeeper Devon Manchester.

Moritz Furste put the Germans on the board four minutes from fulltime with a well-worked penalty corner flick, before levelling the score at 2-2 three minutes later with another drag flick.

Germany dealt a cruel blow when Florian Fuchs scored the winning field goal with just one second remaining on the clock.

Meanwhile, the New Zealand Women go up against Australia in the quarter finals at 1:00am tomorrow morning, with live coverage on SKY Sport 3.

New Zealand 2: (Hugo Inglis, Shea McAleese)
Germany 3: (Moritz Furste 2, Florian Fuchs)
Halftime: New Zealand 1-0

Hockey New Zealand Media release


---

NZ hockey's most heartbreaking loss

By David Leggat

It will take a long time for New Zealand to get over their shattering defeat against Germany at the Rio Olympic men's hockey tournament today.

Losses come in different shapes. Would New Zealand's quarter-final loss to the world No 3 Germans - winners of the last two Olympic golds, and who have fashioned a formidable record against New Zealand - have been easier to stomach had it been, say, a 5-0 beating?

Or even a routine 2-0 loss? Instead, it came about through the most dramatic imaginable circumstances which left the Black Sticks devastated.

The bare facts, eighth-ranked New Zealand 2-0 up until the last six minutes, only to lose 3-2, paint the outlines of a gripping conclusion which had to be seen to be believed.

New Zealand lost it at the death, the winner from Florian Fuchs coming with a blink over one second left in the match.

They had a highly winnable semifinal against world No 7 Argentina beckoning, their reward for a terrific display of heart and skill.

Instead it turned to porridge, Germany once more proving that they are indefatigable in fighting a losing cause and still in the frame for a third successful title.

New Zealand will agonise how it all went wrong. There were several points to consider.

Being down to 10 men, with Nick Wilson carded for the final two minutes, didn't help.

New Zealand had got where they were by playing skilful hockey.

A fine second quarter goal by striker Hugo Inglis, followed by a deftly deflected shot into the German net by Shea McAleese at a penalty corner with 11 minutes left, seemed to have had Germany on the mat.

But hockey, unlike, say rugby, can change in seconds. It can take half a minute to get a rugby ball moved from deep on defence to an attacking chance at the other end. In hockey make that six seconds.

So when Germany launched their final desperate attack, culminating in Florian Fuchs nudging the ball into New Zealand's net in the last second, they knew it was doable.

New Zealand, who had two chances to cut out that final cross from the right, had given away too much ball in the final quarter.

They were relying on holding out Germany where their success had come from playing hockey, occupying Germany with defensive work, rather than allowing them to launch wave upon wave of attacks at a goal defended stoutly by Black Sticks and their goalkeeper Devon Manchester, who made a string of brilliant saves.

Germany had surrendered their goalkeeper, playing 11 outfield players in those final minutes. New Zealand had to keep them conscious of conceding a third goal.

They did not play savvy hockey against an unrelenting and classy opponent when they needed to, which is not to say they hadn't put an immense effort in.

Twice German captain Moritz Furste scored from penalty corners, the second in the final minute to set up the barely credible conclusion.

''You can't take the four or five minutes at the end back but I'd certainly love to, if you could," New Zealand captain Simon Child said.

''We played so well for such a long part of the game and then just got down to the last four or five minutes and the Germans showed why they're the two-time Olympic champs. They make every second count."

Furste thought his time in a German shirt was up.

''That was the best New Zealand performance I've ever seen. They played their best hockey and the moment when it counted we were unbelievably lucky today and that's it," he said.

It was a stirring contest and best to remember New Zealand only got into the tournament through a South African withdrawal. They were never outclassed in the competition, and finished up playing to their world ranking.

''I'm really proud of the guys' efforts over the last two games. We probably didn't quite reach our peak. We were a little bit inconsistent still," Child said.

''But I can't fault the effort - there (were) a lot of tired guys out on that pitch and we took the Olympic champs right down to the wire and (were) probably one moment away from being in the semifinals ourselves."

New Zealand's women play Australia, worlds No 4 v 3, in their quarter-final early tomorrow.

The New Zealand Herald


---

Heartbreak for Blacks Sticks as Germany pull off miracle comeback



Hugo Inglis scored his third goal of the tournament for New Zealand. JOHN COWPLAND/PHOTOSPORT

The NZ Black Sticks men gave up a 2-0 lead in the last quarter to fall to the Germans in the quarterfinals.

The Black Sticks men's Olympic dream has ended in heartbreaking fashion after Germany scored twice in the final minute to pull off a miraculous comeback in their quarterfinal clash.

Leading 2-0 with four minutes to go, New Zealand seemed set to record a monumental upset against the two-time defending champions after goals to Hugo Inglis and Shea McAleese.

The Kiwis built their performance on a superb defensive effort but they collapsed when it mattered most, as the Germans came back from the dead with consecutive goals penalty-corner strikes by Moritz Furste before Florian Fuchs scored in the final second to snatch a 3-2 victory.

It was a heartbreaking ending for the Black Sticks, who had displayed stoic defence to thwart the world No 3 until Furste finally found a way through with less than five minutes left after they had replaced their goalkeeper with an outfield player in a bid to find a way back into the match.

"You can't take the four or five minutes at the end back but I'd certainly love to, if you could," said a devastated Black Sticks skipper Simon Child.

"We played so well for such a long part of the game and then just got down to the last four or five minutes and the Germans showed why they're the two-time Olympic champs. They make every second count."

Furste said he thought he was playing his final match for Germany before the late rally.

"That was the best New Zealand performance I've ever seen. They played their best hockey and the moment when it counted we were unbelievably lucky today and that's it," he said.

World No 3 Germany play Argentina next, with Belgium up against the Netherlands in the other semifinal after the Dutch thrashed reigning world champions Australia 4-0.

But for New Zealand it was a case of what could have been after coming within touching distance of challenging for their first Olympic medal since the 1976 team famously won gold in Montreal.

Coach Colin Batch said they had planned for the late German onslaught, but admitted they were powerless to stop it.

"We knew it was coming, Germany has won the last Olympic Games and they have that ability to perform to the death," Batch told Sky Sports.

"It's about wanting the ball and possessing the ball and being confident about it and we spoke about that during the game.

"The guys are really hugely disappointed because we played such a good game and we deserved our lead," he added.

"So to finish like that at the end is a bitter pill for them and it will hurt for a long time."

The last time the Black Sticks played Germany they suffered a humiliating 6-1 defeat in June, but it was clear from the outset on Monday that New Zealand were on their game defensively.

Despite being starved of possession in the opening quarter, they comfortably kept the Germans at bay, who struggled to create any clear-cut scoring opportunities.

If Germany didn't realise they were in for a fight at that point, the message was well and truly hammered home three minutes into the second period as Inglis fired the Kiwis in front against the run of play.

It was a superb goal from the striker, who received the ball after an impressive counter attack before wriggling past two defenders and flicking it into the back of the net for his third goal of the tournament.

The goal ignited the Black Sticks' attack and they finished the half with their tails up as possession evened out, with their long passes in particular keeping the German defence on the backfoot.

With their Olympic crown hanging in the balance, Germany were always going to come out swinging.

It was testament to New Zealand's defence that Germany had to wait until the 36th-minute for their first genuine attacking chance when they were awarded a penalty corner.

And despite several shots on goal, the Black Sticks survived courtesy of some desperate goalkeeping by Devon Manchester.

The final quarter didn't begin well for New Zealand when captain Simon Child was shown a greed card.

However, they responded in perfect fashion as Inglis won a penalty corner, which was expertly deflected in by Shea McAleese to all but send them into the semis.

Or so it seemed.

Germany laid siege to the Black Sticks' goal as they tried desperately to get back into the match but they couldn't find a way through the defence.

Then with four minutes minutes to go Furste gave his side hope with his first goal to set up a frantic finish.

Just to make life more difficult, Nick Wilson was sin-binned for the last two minutes for wasting time.

That proved crucial as with 48 seconds left on the clock, Germany were awarded another penalty corner and Furste again delivered to level the scores.

The game seemed destined for extra-time but the Germans had other ideas, breaking clear with the seconds ticking down with Florian Fuchs latching on to a cross to send New Zealand crashing out in the most dramatic of circumstances.

The focus now switches to the Black Sticks women's team, who play Australia in the quarterfinals on Tuesday at 1am (NZ time).

For the men, though, it will be some time before they get over this result.

NZ 2 (Hugo Inglis, Shea McAleese) Germany 3 (Moritz Furste 2, Florian Fuchs). Q1: 0-0. Q2: 1-0. Q3: 1-0.

Stuff


---

Former Black Sticks captain Selwyn Maister labels New Zealand's Olympic exit against Germany 'beyond belief'



Black Sticks captain Simon Child reflects after his team's 3-2 loss to Germany. VASILY FEDOSENKO

The NZ Black Sticks men gave up a 2-0 lead in the last quarter to fall to the Germans in the quarterfinals.

Former Black Sticks captain Selwyn Maister has labelled New Zealand's 3-2 Olympic quarterfinal loss to Germany as "beyond belief".

Maister, who was part of the 1976 team that won gold in Montreal, watched the game at his Christchurch home and couldn't believe what he was seeing as the Black Sticks capitulated in Rio by conceding three goals in the final four and a half minutes.

"With four and a half minutes to go and you're leading 2-0, you don't think it's possible to lose from there. How they managed to do that is beyond belief, really,"Maister said.

"It's just heartbreaking. Conceding a goal right on the whistle is just not on.

"We had some heartbreaking times in our era, but that's one of the worst, I think."



Selwyn Maister. Hannah Peters

The Black Sticks were on track to move on to the semfinals and possibly add to the solitary Olympic hockey medal won 40 years ago, after Hugo Inglis and Shea McAleese put the Kiwis 2-0 up.

However, Moritz Furste banged in two goals via penalty corners - the first with 4min 34sec left and the second with 43sec left - to knot the game up.

Then, as the clock ran dead, Florian Fuchs turned the ball into the back of the net from a cross to send the Kiwis packing.

"They fell away badly at the back. You really shouldn't lose from that position," Maister said.

"I know they had been under pressure for a lot of the game, but their defence had been holding up really well - good structurally, good technically. Then, I think psychologically once the Germans got that penalty corner to go 2-1 up, it seemed to me we were badly affected and we just seemed to be unable to hold the ball at all."

Maister said the New Zealanders were guilty of coughing up too much possession, which put them on the back foot, when they should have been looking to hold on to the ball themselves.

"When the other team has the ball, you're defending. The best way to defend is to get hold of the ball and then you can attack. We didn't have enough ball. Every time we got hold of it we gave it back to them too easily."

The Black Sticks weren't helped by the fact Nick Wilson was sin-binned for the last two minutes for wasting time, a call Maister called "harsh".

But the former centre half refused to call the team he captained in 1973 and 1974 chokers.

"I don't use that word," he said.

The late collapse evoke memories of the Sydney 2000 Olympics, when he was assistant coach of the women's Black Sticks.

With a spot in the medal rounds on the line, the Black Sticks needed to beat Spain to advance. However, they conceded a goal with 10 seconds left and had to settle for a draw, and went on to finish sixth.

"That's the other one that still lives with me as a coach, but this was pretty bad," Maister said. "[Coach] Colin Batch and the boys will be devastated. They will look back at the last four minutes with huge regret of what they should have done."

But the 70-year-old said Germany, who he predicts will go on to win gold, deserved plenty of credit for their ability to come back from death's door.

"They did play extraordinary well. They put enormous pressure on us, just huge urgency, held the ball, passed it round. So every time we got it, they had about three players on our players and we coughed it up again."

Stuff


---

Rio QF: Dockier docks India at its own fort

s2h Team



Pic Courtesy:All India Radio News

Red Lions Belgians thrashed India 3-1 in the Quarterfinal displaying a delightful rhythmic hockey after half time that saw all three goals to dash the hopes of historic heavy weight India in Rio.

Agile forward Sebastian Dockier's brace of goals in the third quarter gave struggling Belgium lead after Akashdeep Singh caught them unawares with a thrilling deflection of long push by Manpreet Singh at the closing stage of first quarter (1-0).

Surging from left, Dockier dashed in and hit a strong forehand four minutes into third quarter that hit covering Indian goalie Sreejesh chest on and bounced on to the gap between him and the right post to safe heaven (1-1). Shortly after strong going V Raghunath got a mandatory looking green card, and the team was playing man less Sebastian Dockier struck again from the midfield.

In the 49th minute, Tom Boom, who returned to play after missing three matches on account of injury, added another athletic goal with a strong forehand that crashed into the cage to the right of goalie PR Sreejesh.

Thus, the pool topper Belgium which beat India six times out of last eight meets, did not give any forward movement for sinking Indian ship, and docked it at fort for another four years.

From the start, Belgians called Red Lions showed their intention of playing to their strength, that of attacking and scoring from field manoeuvres.

Indian warded of many attacks and at just seconds left for the first quarters, stunned the Lions.

Manpreet Pushed stong from near midfield, Akashdeep showing back to the gk in the D just applied his stick to see the ball hitting goalie's stopper and then bounce to the roof (0-1). This goal came much against the run of play.

In the second quarter, Indian goalie presented some perfect stops and saw India inching towards right direction.

But Dockier's surge and the forehand from top of D put paid to the Indian aspirations.

Sustained Belgium pressured got them three penalty corners, but being their Achilles heels, they let it go

First was charged out by speeding Raghunath.

Sree can take pride in thwarting other two.

As time ticked away, just ten minutes left, coach Roelant Oltmans took the biggest risk. Pulled out Sreejesh and gave the yellow shirt to Raghunath.

This obviously gave India an additional teeth in attack.

However, India came only once capable of scoring.

One of the strikes seen struck but umpires called null and void.

Over all, India did not have in it to take on the team of Belgium's calibre.

Belgium was the deserving winner.

Stick2Hockey.com


---

Another quarter-final exit for India, but plenty of positives to take away

Sundeep Misra



India's hockey players at the end of the defeat against Belgium. AP

It's for a reason that knock-out matches are considered "mind games". And that is exactly why India lost to Belgium on Sunday at the Rio Olympics 2016 hockey quarter-final. India had the lead and believed it might break Belgium. But the Belgians aren't considered the most improved side in world hockey for nothing; they played professional hockey, and used space, patience and a structure that kept pushing India back.

Akashdeep's deflected opening goal gave India hope, but it also brought into focus Belgium's resilience. They broke India down quarter by quarter to record a 3-1 victory and secure a semi-final spot for the first time since 1928. Sebastien Dockier, one of Belgium's superior ball players, decided this was the day he should show off his skills and he constantly slipped past Indian defenders, scoring twice in the 33rd and 44th minute before Tom Boon, having fought back from injury, dealt the death blow with a wonderful angular strike in the 49th minute.

Belgium opened the attacks from the moment the ball rolled. There was a period when India did enjoy territorial parity, with attacks coming in from both midfields, but the sharpness was always with Belgium. Dockier almost came close to scoring, but his tap went off Sreejesh's pads and ballooned out. If India was losing possession, Belgium, held tight, rotating the ball till they found the opening.

India's goal came against the run of play. Manpreet Singh saw a gap in the Belgium striking circle and his hard hit zipped across, with Akashdeep doing enough to put stick to ball and sending it past Belgian goalkeeper Vanasch, who was surprised by the speed. Only 36 seconds were left in the first quarter and India played it out safely.

It was a position India preferred. Instead of chasing the other team, they had Belgium looking for the equaliser. Akashdeep had another chance in the second quarter, when his reverse hit from the top of the circle flashed across Vanasch, missing the post by inches. India was looking for a goal on the counter-attack.

At the other end, Belgian captain John Dohmen missed a shot that beat Sreejesh and glanced by the post. India was holding shape. The defence, though under tremendous pressure, held on with Rupinder Pal, Harmanpreet and Surender trying to tackle the Belgians outside the striking circle. For the first time in the tournament, India didn't have any card till the half time break; Belgium, one of the more disciplined teams at the Olympics, had already picked a green.

At the start of the third quarter, one had a feeling that something would give. Belgium, without panicking, built attacks, rotating till they found a gap which they felt was worth going for a goal. Patience was key for Belgium. They could have rushed in with the Indian defence tackling them well and building a counter-attack. An offensive structure was taking on the defensive one and for the fans, it became an absorbing battle.

Sreejesh was key to India's hopes as he had already brought out two saves. Thomas Briels broke through in the third quarter, but Sreejesh charged out and cleared with his pads. India was soaking up the pressure, but errors were creeping in. It was almost impossible for any team to keep up the defensive posture without any breathing space.

But when Dockier found space in the middle of the striking circle, he outsmarted two Indian defenders and shot towards the Indian goal. The ball bounced awkwardly and went off the outstretched pads of Sreejesh. The equaliser was in for Belgium, their patience was paying off.

Sreejesh soon brought out another save to deny Dockier. He also saved a penalty corner flick. But it was getting tough for India, the pressure was just too high. Another cross from the left flank saw Dockier slipping in his stick to see the ball deflected past Sreejesh's pads again. It was 2-1, and unless India did something different, the match and the momentum were already with Belgium.

At the end of the third quarter, Belgium was like a boxer pummeling an opponent who was back pedalling. India needed belief that they could break Belgium down. But for some reason, they were half-hearted in their attacks. The halves were not moving up and the forwards were just too less in number to crack the Belgian defence. Belgium was marvelously clinical. They had established a rhythm and they circled around in dizzying patterns.

After Sreejesh had saved the third penalty corner, an error in the Indian midfield saw Tom Boon with the ball and trying to muscle past Surender. The Indian defender, instead of hustling him away to the corner of the circle, tried tackling him. Boon slipped the ball through and cracked an angular shot that beat Sreejesh on the right post. At 3-1, it seemed like it was over for India.

With 10 minutes remaining, it was time to gamble. Coach Roelant Oltmans decided to take off Sreejesh and put in an extra player. Raghunath, who had a great match, wore the yellow shirt, and for the 10-odd minutes, he attacked and defended with vigour. One could argue with the decision that India with a penalty corner battery that had done well in the tournament should have attacked with a packed midfield earlier in the third quarter, but it was visible that Belgium dominated every aspect of the game.

For Belgium, the turning point was from the third quarter, where they held and waited for their opportunities. It's amazing to watch Belgium so sure about their technique and ball play. For India, it is bitter frustration and the same old questions. They would also look back at the 2-2 draw with Canada with a lot of regret.

Watching Argentina beat Spain won't help matters either. But an honest assessment is that India held its own with some of the big teams like Germany and Holland. This is a side that apart from a couple of players can remain a committed bunch till the 2020 Tokyo Olympics. In reaching the quarter-finals and playing the way they did in the group games, they have for sure given a sneak preview of the talent at their display. It's time for Hockey India to do a Belgium.

Firstpost


---

Belgium dashes India's dream

Belgium scripted history as it progressed to the semifinals of the Olympics after a gap of 96 years.



END OF THE ROAD: A lacklustre performance against Belgium meant that the Indians returned a dejected lot. Photo: AP

A lacklustre India squandered a one-goal advantage to go down 3-1 to Belgium in the quarterfinals and crashed out of the men's hockey competition here on Sunday.

Eight-time gold medallist India, thus, blew away a great opportunity to create history after a hiatus of 36 years to climb the medal podium.

Belgium, on the other hand, scripted history as it progressed to the semifinals of the Olympics after a gap of 96 years.

Having topped Pool A, Belgium was the favourite to win the encounter and it played like a champion dominating the proceedings for most part of the game barring a few minutes in the second quarter after India took the lead late in the first quarter.

India, on the other hand, looked completely out of sorts as it played catch-up hockey.

Earlier in the day, Argentina defeated Spain 2-1 to book its place in the semifinals.

The results:

Quarterfinals: Belgium 3 (Sebastien Dockier 34, 45; Tom Boon 50) bt India 1 (Akashdeep Singh 15).

Argentina 2 (Gonzalo Peillat 15, Juan Gilardi 59) bt Spain 1 (56).

The Hindu


---

The quarterfinal loss has hit us hard: Sreejesh



India were up 1-0 by Akashdeep Singh's goal inside first quarter. Getty Images

"I think we disappointed our country but still I think we players need to work really hard and perform well in the next coming tournaments."

Indian hockey team's captain P.R. Sreejesh has apologised for letting the nation down after his team's 1-3 loss to Belgium in the quarterfinals at the Rio Olympics here.

"Unfortunately we are touching the moon, but still we couldn't reach there, we have fallen from there. It's hitting really hard because the expectation was very high on us back home," Sreejesh said after the loss yesterday.

"I think we disappointed our country but still I think we players need to work really hard and perform well in the next coming tournaments."

India were up 1-0 by Akashdeep Singh's goal inside first quarter but the Sreejesh's men conceded thrice in the second half to hand Belgium their first Olympics semifinal since Antwerp 1920.

Stephan Dockier's double in the third quarter and Tom Boon sealed the win in the 50th minute.

The Indian goalkeeper Sreejesh was brilliant and saved a penalty corner to maintain India's lead in the first half. "It's very difficult, especially, for me as a goalkeeper, I feel like saves never count because it's all about the scoring, the goal-line."

Asked about captaining India at the coveted Olympics, he said: "I never dreamt about this, leading the team anywhere. But still it's a great honour and a great responsibility for me.

"In hockey, captaincy isn't the most important but it's all about outside of the field, how you are coordinating with the players, how you are bringing them together, getting their potential out."

India coach Roelant Oltmans too was a disappointed man and said they should have won the match.

"Of course I'm disappointed and not only about losing the quarterfinal, because you can win matches, you can lose. I'm disappointed about the kind of game that we played today. I have to give all the credit to Belgium who forced us to play like this. I have to look into my players, why they didn't perform in the way that we had planned," he said.

The eight-time former Olympic champions India still had a decent run at the Rio 2016 by making the quarters. "We are getting closer and closer (to the top of world hockey) but the next step still needs to be made. That's what has been proven in today's game," the Dutchman said.

The Hindu


---

India lacked experience, quality to beat Belgium: Oltmans

RIO DE JANEIRO: India's men's hockey team chief coach Roelant Oltmans conceded that Belgium played with much more quality and experience and deserved to progress to the semi-finals here on Sunday.

Striker Sebastian Dockeier struck twice in Belgium's 3-1 triumph over India on Sunday putting paid to the latter's hopes of making it to the semi-finals after a long gap of 36 years.

India, who last won an Olympic medal -- a gold -- at the 1980 Moscow Games, faced an aggressive Belgium side that scored thrice after conceding a goal against the run of play in the 15th minute.

Akashdeep Singh deflected from a close angle but Belgium hit back as Dockier equalised in the 34th minute.

Dockier gave Belgium the lead in the 45th minute and Tom Boon scored a field goal in the 50th minute to make it 3-1 -- the scoreline that remained till the end.

It was a game that saw Belgium pressed higher from the push-back, pappering Indian goalkeeper P.R. Sreejesh, who even though delivered a stunning show but it was not enough.

"The energy level of Belgium was very high. We didn't bring in the quality that we brought in London (at the Champions Trophy in June). For the boys there's was a lot of stress and pressure. Belgium took away the initiative and they deserved to win," Oltmans told reporters.

"You have to see where we come from. We have the youngest team in the competition and for most of them this is their first kind of experience. You do need experience to win this level of game."

Belgium are an experienced side, with the majority of the squad having surpassed the 100 international appearances mark including treble centurions John-John Dohmen and Jerome Truyens as well as double centurions Cedric Charlier, Thomas Briels, Felix Denayer and ace striker Tom Boon.

Reacting to the game, Oltmans felt that his side failed to create goal-scoring chances in the second half of the game as Belgum put enormous pressure.

"We played with full pressure, but full pressure, I always say, is a kind of bluff. There are always gaps. Later in the game, we tried to put full pressure and even took out the goalkeeper," the Dutchman said.

"We tried to close the gaps and tried a number of attacks, but in the third quarter we hardly saw any attacks at all. That's where we have been lacking," he added.

"After taking out the goalkeeper in the end, we didn't concede a goal but neither did we get goal scoring opportunities. We had only one or two opportunities and a break from the corner, but we didn't succeed."

Captain Sreejesh also admitted that the team lacked the energy needed to win a crunch quarter-final.

"We needed to show more team unity and energy after the first goal. We need to improve that and we need to see these matches as do or die matches," he said.

"The game can change till the last moment in hockey, so it's more important till the end how we concentrate and try to get a lead. In the second half they took away the initiative and they got enough penalty corners. We could have put more pressure and availed more chances, but our energy was not up to the mark," the ace goalkeeper added.

"When it comes to quarter finals, it's a do or die match and that's where we need to improve. We are happy that the team could reach the quarter finals, but the team we have had the potential of going higher. It's bad for us and I am disappointed."

The Times of India


---

Terraza and Quemada frustrated by Spain exit

Spain bowed out of the men's Olympic Games this morning following a 2-1 defeat to Argentina, a result that puts the South American side through to their first ever semi-final.

Juan Gilardi's penalty stroke won the game very late in the game after Gonzalo Peillat and Pau Quemada had exchanged penalty corner goals to set up a tense finish.

But another Peillat drag-flick led to another shot which was deemed to have hit a foot on the line and Gilardi held his nerve to score the winning goal.

For Real Club de Polo's Manel Terraza, it was a hugely frustrating way to end their campaign.

"It's really sad for us. We believed we could achieve our dream in this tournament and today I think we were the better team, we performed better than them, but they won.

"In the end, we had a couple of mistakes and then the last umpiring decision (awarding the penalty stroke), that for me was not correct. That affects too much the outcome of the game and puts us out of the tournament."

New Club Egara signing Pau Quemada agreed, saying: "I would say that we deserved a little bit more. Most of the people who had been watching the game would agree.

"The small details are making a big difference and that's why they go through to the semi-finals."

Euro Hockey League media release


---

Women's field hockey quarterfinal preview

By Hayley Tafuro




Previewing all of the matchups in Monday's women's field hockey quarterfinal rounds.

New Zealand vs. Australia

New Zealand is coming off of a win over China and a thrilling tie with the top-seeded Netherlands. The Black Sticks finished in second place in Pool A while Australia is coming in from a third-place finish in Pool B. The Hockeyroos took two hard losses in pool play from the United States and Great Britain, but picked up three key wins along the way.

Both teams have shown that they can be prolific scorers when given the right opportunity, and their rosters are balanced. This one will be a very evenly matched contest, with both teams needing to capitalize on penalty corners and shot opportunities when given the chance.

United States vs. Germany

The United States have been dominant this entire tournament. They are coming off of a hard loss to Great Britain, but will use that to fuel them heading into the quarterfinals.

Germany had some tough runs in pool play that included a loss to Spain and a tie with China. They will look to scorers like Lisa Altenberg who have been consistent all tournament to make a run at a streaking Team USA.

Great Britain vs. Spain

Great Britain has the edge over Spain, who just qualified after China lost in its last game of pool play. Team GB is playing some of its best hockey. They are aggressive and hungry for a win after taking home bronze in London.

Spain on the other hand will not let its chance at a medal match go to waste. Despite having a rocky path to the quarterfinal, they earned their spot and will have to rise to the level of play that this Great Britain team has established throughout this tournament.

Netherlands vs. Argentina

Argentina bounced back from a slow start and proved why they are the No. 2 ranked team in the world. They will have a match with the No. 1 Netherlands, who have had hardly been tested this tournament until the draw with New Zealand.

The Netherlands are looking for a three-peat, but Argentina is hungry for gold this time around. The battle between the forces of Maartje Paumen and Maria Barrionuevo will certainly make for one of the most exciting matchups of the quarterfinal.

NBC Olympics


---

U.S. field hockey in position to make history

By Luke DeCock



Team USA players celebrate a score during the women's field hockey match against Great Britain on Saturday in Rio de Janeiro. MANAN VATSYAYANA AFP/Getty Images

In the four years since finishing last out of 12 teams in London, the U.S. field hockey team has changed coasts and coaches, fields and philosophies, all of it leading to this.

After the group stage of the Olympics, the United States is in its best position to earn a medal in the sport since a bronze in 1984. Were it not for a 2-1 loss to Great Britain on Saturday – in a game the Americans led 1-0 with eight minutes to go – the United States would have won the group.

"Over the week we've been very good," U.S. coach Craig Parnham said. "A huge amount of positives to come out of the week. (The loss) is not the worst thing that can happen. We can learn some lessons from this, regroup and reset before we go into the quarterfinals."

There was more than just pride on the line; a win over Great Britain would have put the Americans on the opposite side of the quarterfinal bracket from 2008 and 2012 gold medalist Netherlands. That matchup now looms in the semifinals, if the United States can bounce back from Saturday night's disappointment, but the mere fact the field hockey team is in this position is remarkable.

There's a lot of credit to go around: to the coach, Parnham, an Englishman who added a Dutch technical coach, a sports scientist and an almost corporate organizational style; to the national federation, which moved the team's full-time training base from California to the sport's spiritual heartland in Lancaster, Pa.; to the players who accepted their failure in London and embraced the challenge of doing better.

What we're really good at is process orientation.

U.S. field hockey captain Lauren Crandall, who played at Wake Forest

The result has been a team capable of going head-to-head with any of the world's powers on any given night while embracing a focus so defined they sound less like athletes and more like management consultants.

"What we're really good at is process orientation," said captain Lauren Crandall, who played at Wake Forest.

You don't hear that from the swimmers. You hear that from MBA students gunning for jobs at McKinsey.

There's no question this very narrow-minded – in a good way – approach has brought them success. They talk about treating every practice like it's the Olympics, about not looking ahead, about one game at a time. It doesn't make for great conversation, but it makes for great hockey.

The core of the team, half the 16-player roster, is a group of former North Carolina, Wake Forest and Duke players, almost all of them imports from Pennsylvania with the notable exception of Chapel Hill's Michelle Kasold. Five of them played for Karen Shelton at UNC, who was part of that 1984 bronze-medal team. That's the weight of history that is upon them now.

The United States upset Argentina and Australia, took care of business against India and Japan and was in position to put away Great Britain as well Saturday. Outplayed in a scoreless first half, the United States scored in the third quarter when Michelle Vittese broke through the middle, skipped past a helpless defender and fired a low shot past the British goalie.

That probably should have been enough the way the United States has played defensively in Rio, but the British ended up with the win.

"I'm proud," Vittese said. "There were things that we could have done better. There always are. There are some lessons, and I'm glad it happened now."

If the format were the same as 2012, when four teams advanced out of the group stage to the semifinals, the United States would be one win away from a medal. Instead, they face a tough game against 2004 gold-medalist Germany in the quarters and, with a win, either Netherlands or Argentina in the semis, the two pre-tournament favorites.

The group stage was a success. The important part begins now for the United States. Four years after ignominy, history beckons.

The News and Observer


---

Kate Richardson-Walsh: Finding a way to win



Kate Richardson-Walsh

Great Britain's 2-1 win over the USA on Saturday night meant Danny Kerry's side have won five games from five in the pool stages of the Olympic Games. From both outside and inside the group the achievement is an impressive one. The momentum the team is building is very important in tournament hockey.

"If you'd offered us top spot at the start of the week I'd have bitten your hand off." says Captain Kate Richardson-Walsh. "The momentum we've created is good. All the sides are excellent in this tournament so I'm really proud of what we've done so far."

Great Britain are the only team in Rio with a perfect record and have achieved this by scoring 12 goals and conceding just four. Despite this dominance of their pool, they have not had things their own way:

"In all the games we've shown a bit of difference in what we can do." says the captain. "We've been goals up, goals down, played with ten and played with nine. We're showing we can do all kinds of hockey now we want to play at our best."

That resilience and adaptability that Richardson-Walsh alludes to appears on the face of it; to come easily to the group, however it is no accident. Coach Danny Kerry is meticulous in everything he does and has laid the foundations for such skills over a long period of time at the team's Bisham Abbey Headquarters. The coach's now legendary "Thinking Thursdays" at training have ensured the Great Britain team are prepared for any scenario the game might throw at them. The sessions ensure they are adept at solving these problems on the pitch but also that they can, no matter what, "find a way to win." The skipper explains:

"There are a lot of players who have been in difficult situations before so we are able to call on that. But also, every training session we work on dealing with different pressures and that has really paid off. We do a lot of scenario based work where we have to figure it out for ourselves, so when we are under pressure as we were in patches of the USA game; we all know what we are doing." she adds "In order to succeed, we need to listen to the tactics. Danny Kerry our coach is a fantastic tactician and he's fantastic at getting his message across to us. If we do what he asks of us we'll be fine. So far, that's what happened."

Great Britain now take on Spain in the quarter final. The match is live on BBC Sport from 10pm on Monday 15 August 2016. Whatever the Redsticks throw at them, Danny Kerry's side will be ready.

Great Britain Hockey media release


---

Scotland men round off Prague trip with 7-1 win



Hamish Imrie

Scotland completed the treble over higher ranked Czech Republic with a superb 7-1 victory in the final test match in Prague.

With the Scots in the final build-up phase for the World League round one next month, three convincing wins in three days must be a source of encouragement for coach Derek Forsyth.   The Scots were also on lethal scoring form in Prague with 17 goals and Alan Forsyth, Kenny Bain, Cammie Fraser and youngster Hamish Imrie were the main contributors.

It was Imrie who opened Scotland`s account, he broke into the circle from the right only to see his initial shot blocked by the goalkeeper, but the former Grange forward dived to latch on to the rebound and fired the ball into the roof of the net.

Imrie was on hand to double both his and Scotland`s tally, again he made his move down the right but this time he launched a reverse stick shot directly into the Czech net.

The scoring continued unabated with Kenny Bain making it three from a penalty corner shot that found the top left hand corner of the net.    Just on the interval there was a carbon copy set piece strike, this time it emanated from the stick of Dan Coultas for a half-time 4-0 lead.

The second half provided no respite for the home side, Fraser picked up a pass from Patrick Christie and sent a slap shot past the helpless Czech goalkeeper for the fifth.

The Czechs managed to pull one back when a penalty corner shot beat Steven McIlvarney, the Grove Menzieshill under-21 goalkeeper who was making his senior debut in Prague.

Undaunted the Scots again opened up the Czech defence leaving Fraser to fire another slap shot into the top right hand corner of the net.

The finale of the rout came when the Scots moved the ball from the left to the right, the resulting shot by Forsyth was blocked by the goalkeeper only for Christie to follow up to sink the rebound.

"It`s pleasing that we are still getting good results with nine changes and so many new players coming into the squad in the last year," said Scotland coach Derek Forsyth.

"We`re also scoring a lot of goals from a spread of players, today we had five different scorers."

CZECH REPUBLIC    1   SCOTLAND 7

Scottish Hockey Union media release


---

Pargat's stick therapy: Hockey high, nasha bye

A conversation with his father made him realize the gravity of drug problem in Punjab & he decided to fight for the amlis' lives with the hockey stick

IP Singh

In 2004 when former Indian hockey captain Pargat Singh, one of India's best full backs and the only player in the world who captained his country twice in Olympics, had come home to his village -Mithapur -he made a startling discovery. During a casual chat with his father Gurdev Singh, Pargat found out that several young boys in their village had turned amlis (addicts).

"Though we all knew that the (drug) problem existed in Punjab, but it was that conversation with my father which came as a shocker. I realized the problem was far bigger as my father started taking names of villagers whose young boys had turned towards nasha. This shook me up from inside and I decided to face the dark reality staring at my village," Pargat recalls.

The same evening he called some village youths and asked them to gather kids between the ages of 12 to 14. "There were around 40 kids and the next morning we started cleaning the stadium, which had by then become a haven for drug users. We started coming across syringes, and when this cleaning operation ended we had two bags full of syringes," says Pargat.

"I then requested a prominent farmer of our village to send tractors and level the stadium. Within two days our stadium was ready," adds the fiery man, who was serving as a special secretary in Punjab government's department of sports in 2004.

In 2016, it's evident that Pargat's endeavour has brought results. During the recent Champions Trophy, where India bagged a silver medal, Mithapur had three players in the national squad. One player from the village also finds a place the Indian junior hockey team.

"Drugs were a big problem in our village. Gradually, after our fervent efforts, the youth has re turned to hockey and other sports," Pargat remarks with a glint in his eye.

The change didn't happen in Mithapur alone, but also in neighbouring village Sansarpur - which was once called the nursery of Indian hockey. During the 1968 Mexico Olympics, 7 hockey players - five in the Indian team and two in Kenyan national team - from the village were part of the Games.

But by the nineties, Sansarpur had lost its glory. "From 1990 to 2004, Sansarpur didn't have a single player in the Indian national team," Pargat says with a sense of dismay.

Sansarpur and another neighbouring village Kukkar Pind were next in Pargat's agenda. He systematically earmarked the villages, which were once known to produce hockey players in a bunch, where the drug problem had to be addressed. Both Sansarpur and Kukkar Pind now have their own six-a-side astro turfs.

After his appointment as director sports by the Punjab government in 2005, Pargat started working at micro as well as macro level. In fact, his functioning as director sports matched his style of play. During his playing days, Pargat - who was a defender would often join the forward line and score goals. He used to do that when the team was lagging behind.

As a government officer, he once again led from the front and started reversing the losses. He got eight full size and 25 six-a-side astro turfs laid during his term. "I simply revived the pockets in Punjab where hockey was played in the past and where the craze still existed, albeit at a subtle level," he said.

The result was there for everyone to see. Till recently (starting of 2016), there were 18 players from Punjab in the national senior and junior hockey teams. In the upcoming Rio Olympics, the Indian team has five players from Punjab.

"I got advisors, all former sportspersons, who were enthusiastic to work for the revival of hockey and sports in general in the state. Their mandate was to focus on expansion of the sport, equipments and diet of a budding player. We ensured that everything remained fair, including selection processes (adds with a chuckle), and soon we started getting results," reflects Pargat.

Former chief election commissioner of India Dr M S Gill, who was also the Union sports minister between 2009 and 2011, had once asked Pargat how he managed to get 25 six-a-side astro turfs in Punjab and from where did he get so much funding.

Pargat replied, "I made shorts out of a worn out trouser." This answer left Dr Gill stunned and sought an explanation. Par gat went on to add, "I got four small turfs made out of one big turf, which were old and needed replacement. All this cost me just Rs 30 lakhs." Pargat's wit and street-smart attitude left Dr Gill enamoured and he tried to implement the idea in other hockey pockets of the country.

4 goals in 6 minutes:

During the 1985 Champions Trophy match between India and Germany at Perth, Australia, India was down 1-5 at one point of time. Then a teenaged Pargat Singh came to the forward line from the defensive half and scored four goals in the last six minutes. The result was a draw.

Paucity of goalkeepers:

Pargat says there was a paucity of goalkeepers before he took up the director's post in the sports department. "A goalies kit would cost Rs 12,000. As most hockey players were from lower middle class or poor families, it was difficult for them to purchase equipment. So the department bought 200 kits and distributed them among the players," he said.

Have Always been a rebel:

Pargat Singh openly criticized the functioning of former Punjab director general of police K P S Gill, who headed the now-defunct Indian Hockey Federation (IHF) for nearly two decades. He was particularly vocal after Gill appointed a swimming coach as assistant manager and a thrower as selector of the Indian hockey team. Pargat also confronted Suresh Kalmadi, the former president of Indian Olympic Association (IOA), several times. "I wonder why they didn't utilize my capabilities as a tried and tested sports administrator at the national level, in IOA or the IHF. It was a matter of state than any personal grudge. May be, I was too outspoken for them," quips Pargat with a smile.

Taking a leaf out of others:

As he was framing the sports policy for Punjab he studied blueprints of other countries like China, Germany, Australia and United States. "Though they had some differences but crux of every policy was the three tier model - quantity, quality and then super quality. The most remarkable example was set by China which emerged as the largest medal winner in 2008. China engaged 4.5 lakh coaches and each would train 200 students, which meant nine crore students playing. From nine crore, nine lakh were selected and then nine thousand for chosen for special coaching. China also started giving marks for sports and gradually things improved. They also diverted the health budget to sports. As a result, the general health of people improved by promoting sports. In fact, the average height of Chinese people increased by 2.5 inches," Pargat stated.

`70% youth aren't addicts':

Drugs is a major problem in Punjab. Pargat does acknowledge the fact, but he feels the reality is in the middle of exaggeration and denial. "Well, let me tell you the reality is somewhere in the middle of exaggeration and denial. It's (drug problem) there in Punjab and one can't deny it, but it is also wrong to say that 70% of Punjab youth are amlis (addicts)," states Pargat. Why is the youth then getting attracted to drugs?

"There are several reasons for it. The biggest is the lack of hardship. The youth these days get everything on a platter. So they have become easy going. They shirk gruelling training schedules. What I find missing in most of them is determination and tenacity," Pargat says. And how to solve the problem? "By getting the youth back to sports is a way to tackle the mess. That will channelize their energy," asserts Pargat.

The Times of India