All the news for Saturday 13 August 2016

Women's field hockey: Recapping day seven

By Hayley Tafuro

Recapping everything you need to know about the matchups of day seven's field hockey pool play action.

A Last-Minute Comeback

New Zealand came back to tie the Netherlands 1-1 by a last minute effort from Kayla Whitelock.

Whitelock received a pass from her teammate inside the circle. She effortlessly controlled the bounce and ripped the ball past Joyce Sombroek. Although the Dutch called on a review for danger, the umpires ruled the goal was good.

Somrboek had been unstoppable for the Dutch all game long, hustling to make every save. Whitelock caught her off guard with a minute left in play.

Dutch team captain Maartje Paumen had the only score for her team late in the second quarter. She capitalized by doing what she does best on penalty corners, the lethal drag flick.

The Netherlands still remains at the top spot in Pool A, but New Zealand just passed Germany for the second slot with the goal differential.

An Agonizing Draw

South Korea and China ended their match in a 0-0 draw.

China was hoping to increase its chances of moving up a spot in the standings while South Korea was seeking its first win to stay alive in the tournament.

Frustration filed the faces of coaches and players as shot after shot went off the mark.

Both teams got chances, but nothing would go their way. The closest shot came from China, which initially looked good until it ricocheted right off of the goal post.

The two will finish out pool play on Saturday. China is currently in the fourth spot and South Korea has remained in last but now without a chance to qualify to the quarterfinal round.

NBC Olympics


---

Men's field hockey day seven

By Hayley Tafuro



AP Photo/Hussein Malla

All the men's matches from day seven of field hockey pool play.

Australia Dominates To Finish Pool Play

Australia dominated Brazil 9-0 in the last game of men's pool play.

The Kookaburras never once lost control of the game. They went up 6-0 on Brazil before the second quarter was over behind a hat trick from Glenn Turner. The defense did not allow Brazil one shot opportunity up to that point.

Jamie Dwyer also found his rhythm early on. He scored the first two goals of the contest barely two minutes apart from each other. Blake Govers scored two goals as well in the win.

Australia dominated on penalty corner opportunities, receiving 14 chances. The Kookaburras converted on five of those attempts.

Brazil only scored one goal throughout the whole tournament and will not qualify to the quarterfinal round, while Australia finishes Pool A in third place.

Argentina Holds Off Ireland to Qualify

Argentina held off Ireland to win 3-2 and seal its qualification for the quarterfinal round of the tournament.

Gonzalo Peillat scored two goals off of penalty corners for Argentina, who cut Ireland's run in Rio short.

Argentina maintained a 2-1 lead until Shane O'Donoghue converted on a tricky penalty corner play. With plenty of game left to go up, Peillat took advantage and gave Argentina the 3-2 lead with minutes left in the game.

Ireland, who hadn't qualified for the Games in over a century, finished in fifth place while Argentina maintained its fourth place spot.

New Zealand Picks Up Must-Win

In a must-win game, New Zealand got it done topping Belgium by a score of 3-1.

It was pretty much all New Zealand this game, which was surprising considering the dominant run that Belgium has gone on so far in this tournament.

A perfectly executed penalty corner put the Black Sticks on the board after the shot was faked and the ball was swiveled around to Simon Child.

Later New Zealand took a 2-0 lead after James Coughlan saw an open Nick Wilson who slammed it into the cage. Hugo Inglis added the third goal, which pretty much put it out of reach for Belgium.

Belgium had one goal in them, a reverse-stick chip from Florent Van Aubel.

While the Black Sticks got the win that they needed, Belgium still finished in the top spot of Pool A thanks to the goal differential over Spain.

Great Britain On The Cusp

Spain and Great Britain's match ended in a 1-1 tie, making Great Britain's chances at qualification to the next round dependent on the rest of the matches.

Team GB needed a win to bump them up in the standings, but only got one point for the draw. If New Zealand loses to Belgium, then they will get the chance to qualify to the next round of the tournament.

Spain took an early lead on Great Britain after a goal from David Alegre, but Sam Ward came back to tie it right up with under a minute left in the second quarter.

From there, both teams fought hard to get something working for them to take the lead, but couldn't find any opportunities. Team GB thought it had something when Ashley Jackson bounced the ball right past Francisco Cortes in goal, but the goal would be nullified.

Germany Finishes First in Pool B

Germany prevailed over a strong Netherlands team, defeating them 2-1 to clinch the top spot in Pool B.

Florian Fuchs opened up scoring for the Germans, and Mats Grambusch piled it on after scoring off of a deflection.

The Netherlands attempted to stage a comeback when Seve Van Ass scored to cut the lead to one goal. Germany's defense held of all further attempts from the Netherlands, even quelling the force of Mink Van der Weerden, who has been dominant during penalty corner opportunities this tournament.

The Dutch will finish second in the pool, and both teams will qualify for the quarterfinal round.

Tupper's Efforts Fall Short

After a comeback led by Scott Tupper's two goals, Canada and India ended their match tied 2-2.

A physical game that stayed even for the first half of play turned to India's favor in the third quarter when Akashdeep Singh scored on a penalty corner.

Tupper had an answer for that when he found success on a corner shortly after.

The back and forth continued as India scored on a deflection that went high into the cage. Tupper swooped in again to save his team from being down a point and scored his second penalty corner goal.

With seconds remaining, Canada had control of the ball. Unfortunately they couldn't capitalize on the chance for the win, which doused its hopes to move on to the quarterfinal round.

NBC Olympics


---

Whitelock cracks code to Sombroek's defence



New Zealand celebrate Kayla Whitelock's equalising goal. Pic: Frank Uijlenbroek/EHF

The Netherlands remain on course for top spot in the women's Olympic Pool A but they were left frustrated by New Zealand who grabbed a 1-1 draw today in the fourth game of their respective campaigns.

The goal came from Kayla Whitelock with a minute remaining. Reflecting on her stirke, she said: "I don't think Joyce [Sombroek] has let in too many goals at an Olympic Games so it's always good to get one past any team, let alone the number one team in the world.

"I think we can still have a bit more composure in that attacking circle and execute a bit better. It will come and hopefully it comes at the right time."

For the Netherlands' Lidewij Welten, it was tough to take the concession of the late goal after what they felt was a decent performance in the early stages.

"We really don't like to draw because we were playing actually better, especially the first half. It was really not necessary to conceed.

"In the end, they were pressing us and we just kept playing backwards and backwards. We should stand up and keep playing the game we played in the first half.

"I think we need to keep in our head that we need to keep playing hockey and not be chickens, actually."

Also today, Spain's hopes of reaching the knock-out stages were given a big boost as Korea and China drew 0-0. It means that if Spain can beat Korea on Saturday and China don't win against New Zealand, then a quarter-final place could be theirs.

EuroHockey media release


---

Pennsylvania talent fuels unbeaten US women's field hockey



Many of the key players on the Team USA women's field hockey roster have Pennsylvania roots.

RIO DE JANEIRO — Take a glance at the Olympic roster for the United States women's field hockey team, and you'll notice a recurring theme — 12 of the 25 players on the undefeated squad are from Pennsylvania.

The state's success in the sport goes back decades. Beth Anders, the leading overall women's scorer at the 1984 Olympics, is from Norristown. Ten of the 16 players on that bronze-medal winning team were from Pennsylvania.

The Americans now seek their first medal since that run in Los Angeles. They play Britain on Saturday to determine which team will win Pool B. After that, they'll play in the quarterfinals.

If the United States returns to the podium, the Keystone State will have played a major role. The top American standouts at this year's games — forward Katie Bam (Blue Bell) and goalie Jackie Briggs (Robesonia) — are from there.

"To a large degree, it's self-fulfilling," USA field hockey executive director Simon Hoskins said. "The elite players become elite coaches in that area, and they help develop the next generation of athletes. It's been a virtuous cycle of ever-improving hockey, and now we're at this level that — we can compete with anyone. We're world-beaters right now, which is great to see."

Other players on the roster from Pennsylvania are Ali Campbell (Gilbertsville), Lauren Crandall (Doylestown), Katelyn Falgowski (Landenberg), Kelsey Kolojejchick (Larksville), Alyssa Manley (Lititz), sisters Julia and Katie Reinprecht (Perkasie), Paige Selenski (Shavertown), Kathleen Sharkey (Moosic) and Jill Witmer (Lancaster). All are from the eastern third of the state.

Pennsylvania's success prompted the national program to move its headquarters to Lancaster in 2013. U.S. coach Craig Parnham said the training site was moved from Chula Vista, California, so the players could train together and build camaraderie while being close to family and friends. The facility, about a 90-minute drive from Philadelphia, is appropriately named the "Home of Hockey."

Pennsylvania has the infrastructure to help young players develop — Bam said she had a stick in her hands when she was 3 and began playing at 7. The Pennsylvania group grew up in the culture, which has only become stronger as it has blossomed together.

"I think the competition when you're growing up breeds it," Falgowski said. "I think always playing at a high level against good competition — a lot of us grew up playing against each other. I think 10, 20 years of doing that together really raises the bar, and the competitive spirit within us really wants to challenge each other and play as best we can."

Pennsylvania is so heavily represented at the games, in part, because the sport hasn't caught on to the same degree beyond the east coast. None of the players on the team are from a state that doesn't border the Atlantic Ocean.

That could change in the future. Hoskins said USA Field Hockey has grown from a 15,000-member organization to 25,000 in the past five years, with most of the growth in places such as Chicago, St. Louis and Houston and parts of California and Colorado.

"Our mission is to serve our members, grow the game and compete internationally," he said. "By succeeding internationally, by performing in the Olympic Games, by exposing our beautiful sport to more people across America, we would love it to grow, and make it a great way to inspire young female and male athletes to play our game."

NBC Olympics


---

Expected teams in the quarters except Great Britain

s2h Team




The final day of pool matches at Rio razzmatazz turned out to be as exciting as it was in the opening day. Every expected team, barring Great Britain, made it to the quarters. The fate of New Zealand and Great Britain in pool of Ireland and Argentina hung in balance after each team played out their four matches quota.

The London bronze medallist Great Britain needed a win over Spain to escape relegation, but it did not happen.

Ward Sam cancelled out 8th minute strike of David Alegre to level in the 15th minutes, but later Great Britain could not break the Spanish wall.

Great Britain dominated the show, with eight clear strikes at goal, and earning four penalty corners to add to their arsenal. Spain blunted everything.

The draw gave a new lease of life to New Zealand. Facing undisputed leaders of Rio, Belgium, Simon Child, Nick Wison and Hugo Inglis gave 3-0 lead before conceding a late consolation goal. For the team languishing at the fifth position, New Zealand need to encash the fortune that smiles on them.

Another team from British Isles, Ireland was not positioned the same way as that of New Zealand. But it could not do an encore to comfort them to the quarters' slot.

Ireland, prided itself as the potential upset team, needed an outright win over struggling but pugnacious Argentina.

The Pan American Champions had other idea. India presented them early in the day a god send opportunity: a possible third place in the Pool. Had India defeated Canada as was widely believed, even with a win Argentina would have found only at fourth slot in its pool.

Carlos Retui's Argentina grabbed the chances with both hands. It was a match of do or die. The loser will miss out the knock-out with bonus waiting for Argentina.

Till 50th minute, Ireland was in lead (2-1) which it obtained 23 minutes before.

Shane O'Donoghue injected fresh life into Irish challenge. But alas it lasted barely 46 seconds.

Gonzalo Peillat, who struck earlier too, came out with a peach of a thunder to silence the Irish once for all.

Thus, Argentina third in Pool B.

In the same pool, Germany and Holland decided who is better than the other. Reigning champions retained top slot with a laborious 2-1 victory.

Spain in the other pool is a surprise pack. It lost only to formidable Belgium and then the vital draw that forced out ambitious British from the knock out.

Facing Brazil Australia did the rest in the last of Rio pool matches, and found them third in the pool ahead of New Zealand and below Spain.

QUARTER FINAL LINE UP

Argentina Vs Spain
Belgium Vs India
Australia Vs Netherlands
New Zealand Vs Germany

Stick2Hockey.com


---

Black Sticks teams both book quarterfinal berths with clutch displays



Kiwi skipper Simon Child is congratulated by team-mates after scoring the opening goal of their final pool match at the Olympic Games. REUTERS/VASILY FEDOSENKO

Black Sticks women's captain Kayla Whitelock powers a shot home from the top of the goal-circle to draw level with the Netherlands.

Confidence is high for the Black Sticks men as an Olympic Games quarterfinal against the two-time defending champions awaits.

Needing a draw to advance, New Zealand completed pool A with a stunning 3-1 win over highly-rated Belgium in Rio on Friday (Saturday NZ time) to join their female counterparts in the last eight.

The result booked a clash against world No 3 Germany, who finished top of pool B, on Monday for a place in the semifinals.

While the eighth-ranked Kiwis know the size of the task to keep their medal dream alive, coach Colin Batch's assessment of their display against Belgium indicated they will not be daunted.



Black Sticks women's captain Kayla Whitelock makes a tackle during her team's draw with the Netherlands in Rio. SEAN HAFFEY/GETTY IMAGES

"It's one of our best ever performances under that sort of pressure," he said.

"The players were responsible for a large part of the planning coming into this game so it was pleasing that everyone was onboard, focussed and had belief in what we were going to achieve."

The Black Sticks displayed no lack of that in the first half, absorbing plenty of pressure from the world No 6 side and remaining composed in deep defence to keep the contest scoreless.



Black Sticks player Petrea Webster grimaces after being hit by the ball from a Netherlands penalty corner. SEAN HAFFEY/GETTY IMAGES

That determination was rewarded in the second spell when, less than 60 seconds after the restart, Simon Child belted home at penalty corner time to give his side the lead.

The captain's goal paved the way for Nick Wilson to double the advantage six minutes later and midway through the final quarter Hugo Inglis sealed victory.

Coming when they needed it most, the impressive performance capped a memorable day at the Olympic Hockey Centre after the Kiwi women scored a brilliant late goal to draw 1-1 with world No 1 the Netherlands.



The New Zealand men celebrate winning a penalty corner against Belgium. VASILY FEDOSENKO

The Dutch looked set to claim their fourth straight win at the tournament after captain Maartje Paumen had converted a penalty corner late in the first half.

But, with just 68 seconds left, captain Kayla Whitelock crunched a bouncing ball past outstretched Dutch goalkeeper Joyce Sombrek to ensure the Black Sticks progressed with a match to spare.

The strike also means victory in their last group match against sixth-ranked China on Sunday morning (11.30am NZ time) would likely set-up a clash with trans-Tasman rivals Australia for a place in the last four.

New Zealand coach Mark Hager was happy to secure a point, but disappointed not to win after a strong second half and Whitelock said they were focussed on what lay ahead.

"It's going to be tough no matter who we play in the quarters," the 251-test veteran said.

"But that's something we embrace and look forward to."

BLACK STICKS RESULTS

Women: New Zealand 1 (Kayla Whitelock 59) Netherlands 1 (Maartje Paumen 28 (PC)). Q1: 0-0. Q2: 0-1. Q3: 0-1.

Men: New Zealand 3 (Simon Child 31 (PC), Nick Wilson 37, Hugo Inglis 52) Belgium 1 (Florent van Aubel 58). Q1: 0-0. Q2: 0-0. Q3: 2-0.

Stuff


---

Aussie's through to Quarter Finals

Men defeat Brazil 9 - nil

Holly MacNeil




Australia dominated in their final pool match against Brazil today, defeating the home nation 9 – nil. Glenn Turner showed skills, completing a hat-trick, Jamie Dwyer and Blake Govers both had doubles, with Matt Gohdes and Matt Dawson both scoring to round out the final score.

Jamie Dwyer started the game by scored two easy field goals in two minutes, tapping them in past the Brazilian defence and goalkeeper; making this the fourth Olympics he has scored in for the Australian Men's Hockey team.

Jake Whetton passed to Matt Gohdes just outside the circle, who carried it over the line and shot a low tomahawk from the inside left of the circle taking Australia's lead to 3 – 0.

Glenn Turner finally found the goal he'd been searching for all tournament, after a triple chance on penalty corner for the Aussies. Turner scored his second of the match shortly after with a diving deflection from Matt Gohdes' penalty corner.

Only minutes later, and it was a hat trick for Turner, after a spinning pass from Blake Govers left Turner to tap the ball over the line and into the net. Turner's hat trick took a total of 6mins 53 to complete.

Matt Dawson scored his first goal of the games, and 8th international goal, with a powerful drag flick sailing straight into the net past the goalkeeper. Blake Govers followed up with his first Olympic goal with 40 seconds to go in the third quarter, extending Australia's lead to 8 – nil with a penalty corner goal.

With two minutes to go in the game, Blake Govers scored his second of the match from a penalty corner rebound following a save from Chris Ciriello - absolutely confirming the win for the Aussies.

The win today means that the Aussies have finished third in their pool and will face the Netherlands in the quarter finals. This game will see the World number one, face World number two – resulting in one of the top two teams in the world missing out on the medal rounds later in the week.

The Australia v Netherlands quarter final will take place at 5am AWST / 6.30am ACST / 7am AEST.

AUSTRALIA 9 (6)
Jamie Dwyer (FG, FG) 6, 8
Matt Gohdes (FG) 10
Glenn Turner (PC, PC, FG) 19, 23, 26
Matt Dawson (PC) 34
Blake Govers (PC, PC) 45, 58

BRAZIL 0 (0)

Athlete (Hometown)
Australian Men v Brazil Start List
Andrew Charter (GK) (Canberra, ACT) 119/0
Chris Ciriello (Melbourne, VIC) 193/115
Tim Deavin (Launceston, TAS) 137/6
Jamie Dwyer (Rockhampton, QLD) 364/243
Blake Govers (Wollongong, NSW) 37/28
Fergus Kavanagh (Geraldton, WA) 230/15
Mark Knowles (Rockhampton, QLD) 290/24
Eddie Ockenden (Hobart, TAS) 283/65
Simon Orchard (Maitland, NSW) 208/56
Jake Whetton (Brisbane, QLD) 107/44
Aran Zalewski (Margaret River, WA) 96/12

Used Substitute
Daniel Beale (Brisbane, QLD) 86/15
Matthew Dawson (Central Coast, NSW) 52/8
Matt Gohdes (Rockhampton, QLD) 158/53
Matthew Swann (Mackay, QLD) 146/6
Glenn Turner (Goulburn, NSW) 135/96

Hockey Australia media release


---

Australia's Kookaburras will meet Holland in knockout quarterfinal

Jon Ralph



The Kookaburras made light work of Brazil. Photo: AP Photo/Hussein Malla

AUSTRALIA'S Kookaburras will take on London silver medallists Holland in their knockout quarterfinal on Monday morning (AEST) after a pool round that almost never went to plan.

The world's most dominant side had to work for every victory, finishing third in their pool with three wins and a pair of 1-0 losses.

Finally against Brazil last night Australia was able to coast to victory against easy beat Brazil in a 9-0 win that included a Glenn Turner hat-trick.

With the host nation conceding 48 goals for the entire tournament it was a morale booster but nothing more.

The win means they will be matched up against one of the most consistent Olympic performers of all time in dangerous Holland.

The Netherlands have won two gold and two silver medals in men's hockey since 1996 and loom as a major threat.

If Australia had shown their form of the past three years — they have won every major tournament since their 2012 Olympics loss — their quarter-final could have been a walk in the park.

Finishing first in their pool would have seen them take on India, which won only two of five pool games in Rio.

But they can be thankful there are quarterfinals at all after a change to the format for 2016.

Under the London format that saw teams go to straight semi-finals the Kookaburras would have been eliminated from the medal rounds already.

Holland are the world no. 2 behind Australia and narrowly failed to beat Germany — winner of the past two Olympic gold medals — in a 2-1 defeat in their pool round.

Australia's effortless win over world no. 30 Brazil at least gave Australia a chance to finetune their attacking arsenal.

Five-time world player of the year Jamie Dwyer scored his first two goals of the tournament, a clever flick from a tight angle then a back-stick push into an open goal.

And Australia's penalty corner battery started to fire from repeated chances, with Glenn Turner tuning up with a hat trick that included two from set plays.

Blake Govers and Matt Dawson also slotted penalty corner goals in the rout, with Govers finishing with the match's final two goals.

Herald Sun


---

Jacobi's corner defence holds off Mink

Nicolas Jacobi says adaptations in Germany's penalty corner defence helped them to stifle the challenge of Mink van der Weerden in today's Olympic match with the Netherlands.

Germany won 2-1 to top Pool B thanks to goals from Florian Fuchs and Mats Grambusch which cancelled out an effort from Seve van Ass.

Jacobi said it was not overly important to win the tie as both teams were always safely through to the knock-out stages but said the performance was an improvement from recent games.

"It shows that we're strong but it wasn't the most important to finish first in the group because what happens in the quarterfinal, no one knows.

"In the last few games, there were some things missing and we were not happy. We got too many goals against us and were not defending as a team. We really tried to make it better this game. Now we are first, OK, even better. But this was not the main point for us."

On the change in defensive corner routine, his side kept out five Dutch efforts from the set piece: "We changed our corner defence over the last month to make it harder for good players like Mink van der Weerden to stop the penalty corners. It works quite good so we feel really confident in our corner defence."

For van der Weerden, he says that the side have progressed with each game "except for the first quarter today".

It was the first time in 11 matches that he has not scored in the Olympic Games. On that record, he added: "It's been good fun. A few times I've been able to help the team and that's most important and these goals, I really enjoyed them."

Euro Hockey League media release


---

Germany beats Netherlands 2-1 in men's field hockey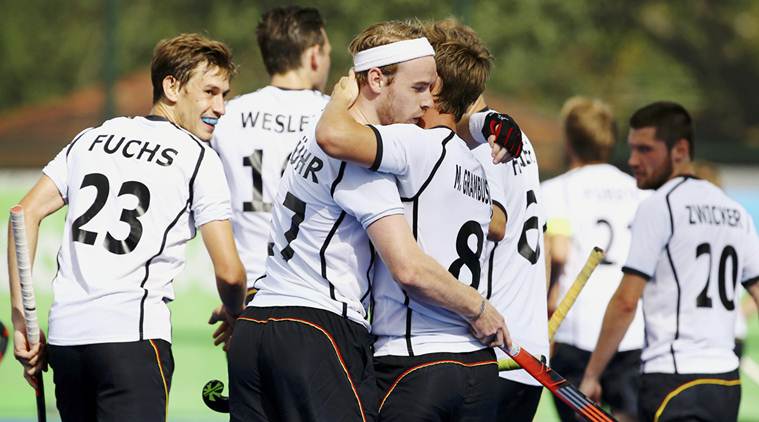 Hockey - Men's Pool B Germany v Netherlands Germany goes into the quarterfinals with four straight wins after opening with a draw against Argentina.

Olympic champion Germany held on to beat the Netherlands 2-1 Friday in their 200th meeting to top their pool in men's field hockey at the Rio de Janeiro Games.

Germany led 2-0 soon after halftime thanks to nice touches in front of goal, but the Dutch cut the margin just before the fourth quarter.

German forward Christopher Ruhr was yellow-carded with three minutes to go, and his teammates barely saved two more penalty corners and a shot. Netherlands defender Mink van der Weerden, leading the competition with seven goals, had all four of his corners saved.

Germany goes into the quarterfinals with four straight wins after opening with a draw against Argentina. The European champion Dutch lost their unbeaten record and finished second in Pool B.

India is third after conceding a 2-2 draw with Canada, but could yet be overtaken by Argentina, which plays Ireland later Friday among the last men's pool matches. Also on the schedule were: Britain vs. Spain; Belgium vs. New Zealand; and Australia vs. Brazil.

In the women's field, New Zealand denied the defending champion Netherlands a fourth straight win when it snatched a late 1-1 draw, and China eliminated South Korea from quarterfinal contention with a 0-0 draw.

The Germans got away early when Tom Grambusch's cross-field pass was deflected in by Florian Fuchs. Mats Grambusch also showed a nice touch with the bottom of his stick to angle in Ruhr's pin-point pass. When Niklas Wellen was yellow-carded, Seve van Ass scored for the Netherlands. A cross was cut enough by Jeroen Hertzberger that the goalie missed it but Van Ass didn't.

Germany hung on in its quest to become the first men's team in 60 years to win three straight golds.

India, a night after losing to the Netherlands, couldn't shake off Canada in their draw, the first point Canada took off India in Olympic competition since the 1964 Tokyo Games. Each Indian goal was quickly responded to by the winless Canadians with penalty corner scores.

India pulled its goalkeeper with less than three minutes left for an extra attacker, but couldn't score and was vulnerable to being replaced for third in the pool by Argentina.

In the women's Pool A, the Dutch remained unbeaten but New Zealand was right behind them in the standings, ahead of Germany on goal difference. The Netherlands, seeking an unprecedented third straight gold medal, will play Germany on Saturday for potentially the winner of the pool and a supposedly easier route to the semifinals.

With 68 seconds to go, Brooke Neal's pass up the middle wasn't controlled by the Dutch defense, and New Zealand captain Kayla Whitelock spun and whacked a volley which glanced in off the underside of Netherlands goalkeeper Joyce Sombroek's stick.

The Dutch were stunned and annoyed to concede so late, but New Zealand rallied in the second half after allowing a penalty corner goal just before halftime to Netherlands captain Maartje Paumen. Paumen's shot to the stick side of goalie Sally Rutherford went in off the post.

"We need to keep in our head to keep playing hockey and not be chickens," Netherlands midfielder Lidewij Welten said.

Sombroek appeared to be unpassable but enjoyed some luck. Anita McLaren's penalty corner shot hit the post.

The reaction of China coach Cho Myung Jun summed up the match against South Korea, as he gritted his teeth and flailed around after every missed chance. And the Chinese had lots of chances.

In the fourth quarter alone, they blew three consecutive penalty corners, and bumbled another pair. Forward Zhang Xiaoxue had the best chance of the match, clear in front and hitting the post with six minutes to go.

China, holding the fourth and final quarterfinal spot in Pool A, moved two points ahead of Spain. In the last women's pool round on Saturday, the Spanish, who have a horrible goal differential, must beat the winless South Koreans to heap pressure on China to beat New Zealand to make the quarterfinals, instead.

Indian Express


---

Great Britain draw with Spain not enough for quarter final place



Nick Catlin in action against Spain

Great Britain's Olympic campaign came to an end after a 1-1 draw with Spain in Rio. Sam Ward's first half strike cancelled out a ninth minute goal by David Alegre but despite Great Britain throwing everything at the Redsticks, Bobby Crutchley's side were left hoping for a favour from Belgium against New Zealand in order to progress. With the Blacksticks running out 3-1 winners over the already qualified Belgians; Great Britain's draw was not enough and the team will not compete in the quarter finals.  

Great Britain started with plenty of purpose but it was Spain who created the first opportunity with Roc Oliva drawing a fine save from George Pinner. Mark Gleghorne looked the most likely to get Great Britain on the board in the early going, the No14 showing good determination to manufacture a chance which was well saved by Francisco Cortes. Gleghorne tested the Spain No1 again with a good deflection but was left frustrated by the Redsticks' stopper. On nine minutes Great Britain fell behind. Spain broke away down the right, switched the ball into the circle where Alegre calmly lifted into the net to make it 1-0. The lead remained intact until the stroke of quarter time when Mikey Hoare's long pass found a sliding Ward whose touch took the ball in to make to 1-1.

Crutchley's team thought they had the lead early in the second quarter. Ashley Jackson's penalty corner deflected off Andres Mir and into the net. Spain asked for a referral and the goal was disallowed by the video umpire. Undeterred GB continued to press for another goal. Simon Mantell took up a good position in the circle and got a shot in but once again Cortes denied him and it stayed 1-1 at the half way point.  

Early in the third quarter Great Britain lost Harry Martin. A stick in the face resulted in the No9 having six stitches before returning to the fray. A slick move involving Jackson, Iain Lewers and Ian Sloan resulted in the latter bringing the best out of Cortes once more. Mantell stung the goalkeeper's palms and from the rebound Nick Catlin was felled resulting in a penalty corner. From the set piece Jackson picked out Middleton whose touch just eluded Lewers at the far post with the goal gaping.   

Spain rarely threatened but at the start of the final quarter they won their first penalty corner. Pau Quemada fired the shot in but George Pinner got down in a flash to glove it away. Great Britain were laying siege to the Spain goal in search of the all important winner. Catlin shot on the turn but it clipped a defender's stick and dropped just over the bar. Cortes made another good save from a Jackson penalty corner but despite a barrage of late pressure Great Britain were unable to find a way through and a draw was the result. This meant Great Britain were left needing a favour from Belgium against New Zealand, however with the latter's win, Great Britain's Olympic campaign is now all over. 

Barry Middleton, Great Britain Captain:

"It went sort of to plan in terms of the performance. We moved the ball well, worked them hard and created chances but things didn't quite fall for us and we didn't have the luck. The corner we scored wasn't given and it didn't go for us. Sometimes those things go for you and sometimes they don't. You have to keep getting in the positions and the luck brings itself. Afterwards we needed some luck from somewhere else."

"The Belgium game; at this stage we can't explain what happened.  If you look at the games after that we've played better but the first game put us on the back foot. Results had to come and we shouldn't be relying on other teams. We were perhaps a bit panicky against New Zealand but that's how tournaments go."

"Scoring goals is the hardest thing and we put a lot of work into that aspect of our game but it comes down to executing those skills when it matters. Spain have a good defence and goalkeeper they beat Australia 1-0 so it shows what they can do. We were there but we didn't take the chances. Sometimes that's how sport goes."

Spain 1 (1)
David Alegre 9 (FG)

Great Britain 1 (1)
Sam Ward 15 (FG)

Great Britain Hockey media release


---

Men confirmed to meet Germany in quarters



Photo: FIH/Getty

Following their stunning win over Belgium, the New Zealand Men are set to meet Germany in the Rio 2016 Olympic Games quarter finals.

After seven days of thrilling, high quality hockey action, International Hockey Federation (FIH) confirmed the schedule for the men's quarter finals.

Despite their loss to the Kiwis, Belgium finished as winners of Pool A and will face Asian champions India, who finished fourth in Pool B in the knock-out phase.

Pool B winners and reigning Olympic champions Germany will take on Pool A's fourth-ranked team New Zealand, whose amazing victory over Belgium secured them a place ahead of Great Britain.

A second place finish in Pool A has earned Spain a last eight meeting with Pan American champions Argentina, who finished third in the Pool B standings thanks to a narrow 3-2 win over Ireland to deny their opponents a place in the knock-out stages.

Reigning world champions Australia face European champions the Netherlands, which will see the two top ranked teams in world hockey go head-to-head in a re-match of the 2014 World Cup final.

The quarter final matches will all take place on Monday 15th August (NZ time), with Spain playing Argentina at 1:00am before Belgium and India take to the field at 3:30am.

The Netherlands versus Australia match will start at 9:00am, with New Zealand taking on Germany at 11:30am, with live coverage on SKY Rio Pop-Up 5.

Complete information about the hockey competitions at the Rio 2016 Olympic Games can be found on the official website: www.rio2016.com/en/hockey

Quarter Finals Match Schedule (All in New Zealand time)
Monday 15th August, 2016

1:00am – Spain (2nd Pool A) v Argentina (3rd Pool B)
3:30am –Belgium (1st Pool A) v India (4th Pool B)
9:00am –Netherlands (2nd Pool B) v Australia (3rd Pool A)
11:30am – Germany (1st Pool B) v New Zealand (4th Pool A)

Hockey New Zealand Media release


---

Canada finishes strong, tying fifth ranked India in final game in Rio

Shaheed Devji



Canada's Scott Tupper celebrates one of his two goals against India at the Rio 2016 Olympics Games at the Olympic Hockey Centre in Rio de Janeiro on August, 12 2016. (Photo by MANAN VATSYAYANA/AFP/Getty Images)

Canada's men's field hockey team put together its best performance of the 2016 Olympic Games in its final match, tying India – the world's fifth ranked team – 2-2 Friday in Brazil.

Canadian captain Scott Tupper scored two goals for the second straight game to lead Canada to the draw to close out its participation in the Rio 2016 Games.

The goals, which were a part of a four-goal second half, were Tupper's fourth and fifth of the competition, putting him second in tournament scoring after Friday's match.

With Canada unable to advance to the quarterfinal round, Friday's game against India was purely for pride.

The Canadians were disappointed not to have picked up points in their first four games and were looking to finish the Olympics on a high note.

And while India controlled possession for long periods to start the match, they were unable to break through a Canadian defence which seemed intent on having its best showing of the Games.

India was able to make its way towards the Canadian goal in the 9th minute, but keeper David Carter easily handled a backhand shot. He then made a confident save on Chandana Thimmaiah in the 13th minute to keep the game scoreless.

The Canadians had a handful of chances to convert in the first quarter, the best of which came in the 14th minute when veteran forward Matthew Guest made his way behind the Indian defence and in alone on goalkeeper Sreejesh Parattu. Guest dribbled in tight and then went to his backhand for the shot, which just went wide.

The game was scoreless through the fist quarter and both teams had equally dangerous opportunities to take the lead in the second.

In the 25th minute, Tupper found Mark Pearson in the Indian circle, where – much like Guest – he made a quick move in close and tried to beat Parattu, but a combination of the Indian keeper and his defenders kept the ball out.

Then, in the 27th minute on an Indian corner, Rupinder Pal Singh fired a high and hard drag flick towards the top corner of the net but Tupper knocked it out of the air and away from goal to keep the game tied nil-nil after the first half.

The number of scoring chances on both ends was an indicator of what was to come in the second half.

India picked up another corner early in the 3rd quarter and while David Carter made the save on the first opportunity, Akashdeep Singh put the rebound in for the first goal of the game.

But the Canadians responded immediately. Off the restart, Sukhi Panesar went into the Indian end and forced a ball into an Indian body to earn a Canadian corner.

That's when Tupper scored his first of the game on a low drag flick that went through Parattu to tie the game just 45 seconds after India took the lead.

Canada thought it had jumped ahead three minutes later, when a well-built play from the Canadians ended up with the ball in the Indian goal. But the goal was overturned as the ball went in off a Canadian body.

Before the quarter was out, India took advantage of a lapse in the Canadian defence as a long ball was played in to Ramandeep Singh at the side of the Canadian goal, where he was open and deflected it by Carter.

But once again, Canada pushed back immediately.

The Canadians controlled possession to start the fourth quarter and a strong play from Adam Froese, who knocked a ball out of the air and quickly let go of a shot from the top of the circle which hit an Indian body, earning a penalty corner in the 51st minute.

Canada went to Tupper again, who put a shot on goal looking for a rebound, but no Canadian could pick it up the second opportunity.

But Canada kept the pressure on and Froese earned another corner after beating Thimmaiah on a quick move to the outside, forcing him to take the Canadian defender down.

Thimmaiah was given a yellow card and Canada was given a corner.

This time, Tupper put a perfectly placed flick to the right of the Indian keeper for his second of the game and tie things up at two.

India pulled its goalie late in the game, looking for the outright win to improve its placing heading into the quarterfinals, but could not beat Carter, who made a miraculous diving save in the 59th minute on a sharp redirect.

Canada went back the other went towards the empty net, but ran out of time before it was able to get in the circle and attempt a shot.

The game ended in the 2-2 draw, with Canada picking up its first points of the competition against a team ranked ten spots higher in the World Rankings.

The Canadians will likely finish 11th with the Brazilians – the lone team beneath them in the standing – faced with a tough task in their final game, taking on World No. 1 Australia later on Friday.

Field Hockey Canada media release


---

Listless India drew Canada and lose momentum

s2h Team

Considered an inform team, India was winning hearts ever since ball was rolled on Rio Turn notwithstanding they won or lost. The steam of confidence got a setback today when the Sardar Singh led outfit, despite showing aggressive mindset, missed opportunities to draw Canada 2-2.

India needed a win to remain unchallenged in its third rung in the points table in its pool so that to avoid pool topper in the crossover quarterfinal.

Now, India's status as to its position in the table will hinge on the outcome Argentina - Ireland match. If Argentina wins it will add three points to its present five and pip India for its third spot. If Ireland wins, it will have dream entry into the quarters, and India will retain its present third position.

Its difficult to read the mind of Indian coach Rolent Oltmans at this time. He did not put his trumps upfront, but allowed all the known forwards to their act of scoring, giving full chance to go for field attack.

However, the forwards failed to score enough to emerge winners.

When Akashdeep Singh struck off a feed from Sardar Singh two minutes before half time, Indian fans had a relief.

But Canada, which was returning every attack with fiercer reply, got a penalty corner of which Scott Tupper sounded the board.

Just within 36 seconds after Akashdeep act.

The same give and take took place in the next session too.

Second half was India's in terms of early attack.

Ten minutes into lemon time, India posted most astonishing goal of its Rio campaign.

Defender V Raghunath pushed a ball well from his own 25y area, which reached Ramandeep Singh in a lightening speed. The forward who was facing the goalie turned, sat almost before putting his stick in perfect angle to deflect the ball into the roof (2-1).

Thereafter, both sides played as if its their last game, with missing out goal bearing moves aplenty.

The Pan Americans came back into the game, with good mesmerising surges from Googan of course, got another penalty corner, after a freehit into D hit the right foot of Harmanpreet in the circle. Scott Tupper made his brace, like he did against Ireland the other day, through immaculate conversion of penalty corner (2-2) in the 52nd minute.

India even played without goalie in the last four minutes, giving Raghu the yellow shirt. It did not yield any dividends. Yellow card to Nikkin Thimmaiah, who fell on a forward, too spoilt Indian spirit. India played with a player less in the last ten minutes' spell.

India survived many tense moments and settled for the draw with which the players themselves would not be happy.

Stick2Hockey.com


---

Lacklustre India held by Canada in men's hockey

Alok Sinha

RIO DE JANEIRO: "It's time to use your brains. You would not be where you are if you use this," Roelant Oltmans said, tapping his head with his finger. Again and again. The Indian coach was livid.

The coach had hit the nail on the head as he barked furiously at his bunch of 16 as they listened with their heads down, aware that they had made a hash of a match. This kind of display doesn't put you in medal contention. It dismisses you to the footnotes, like India have been in recent times. Oltmans knows that well.

All the talk about India staging a strong challenge will be put on hold now. Friday's match against Canada was a rude jolt. The 2-2 draw made one thing your way past a team clear - you don't bulldoze your way past a team like Canada, you beat them with tactics, with smart play. The Indian team has been playing at a different level. That level was invisible on Friday.

It was not about domination. It was about intent, about clinical finish and about preparing for the knockout stage. The Indians were caught napping and will now have a sleepless night. As Oltmans said, the game was lost in the head. This draw was as good as a loss. The Indians started well, dominated and had almost 65% ball possession in the first quarter. Canada were circumspect and wary. A goal should have set the tone, but nothing happened.

Second quarter was a bit more even but it was a matter of just one goal. Or was it? The third quarter got India its third PC and the first goal. Harmanpreet flicked it low, goalkeeper saved and Akshdeep hit the deflection home. That was in the 32nd minute.

But Canada equalised soon after from their first penalty corner. The chastened Indians hit back in the 40th minute, scoring a pleasing field goal, as Ramandeep connected a long pass from near the half line into the net. Quarter 4 should have been about been about consolidation but Tupper again converted a PC to make it 2-2. Then India's card bogey returned. This time it was Walmiki who copped a yellow with nine minutes to the hooter.

His unnecessary diving tackle had put the team in a spot of bother. With just three minutes to go, Oltmans pulled out goalkeeper Sreejesh - like in the last match the Dutch - and crossed his fingers. The Indians attacked, the Canadian goalkeeper saved three in a row. And that was it.

With seven points in their group, India will now wait for their opponents.

The Times of India


---

Canada strike late, hold India to 2-2 draw

A nervy India squandered a one-goal advantage as they allowed Canada to stage a fightback with a late strike and earn a 2-2 draw in their final hockey pool game here today. India struck through Akashdeep Singh and Ramandeep Singh in the 33rd and 41st minutes, respectively, while Scott Tupper scored in the 33rd and then in the 52nd, both times converting the penalty corners.

India, who have already qualified for the last eight, thus ended the group phase with two wins, two losses and a draw, accumulating seven points in the process. Going by the form and world rankings, India were the overwhelming favourites against Canada and they started on a bright note.

The Indians created numerous scoring chances but failed to get past the stout Canadian defence, led by their goalkeeper David Carter, who made three wonderful saves to deny the PR Sreejesh-led side. Canada, on the other hand, played deep in their own half and depended mainly on counter attacks. The Indians had lucky escapes on at least two occasions when the Canadians pressed hard from the counters.

The Tribune


---

India men's hockey team finish group stage with uncertainty, injury to SV Sunil

India had a nervy finish to their group stage match as they drew 2-2 with lower ranked Canada.

by Shivani Naik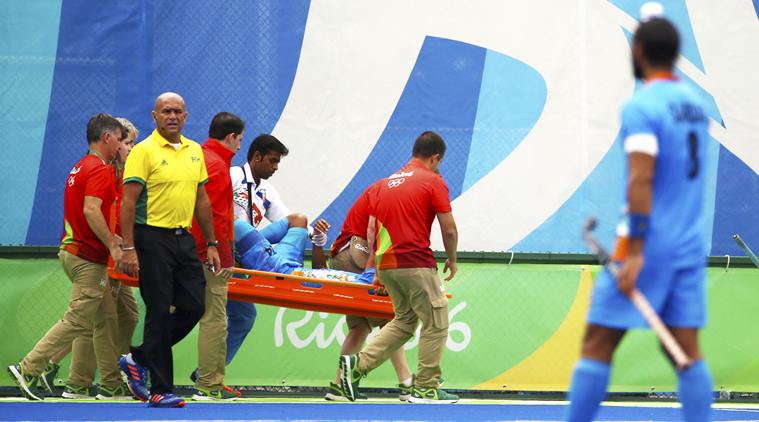 India's SV Sunil was stretchered off after he hit the advertisement boards. (Source: Reuters)

It might prove to be the biggest setback of this Olympics, stalling India's momentum. Ironically, SV Sunil was down wincing in pain because he couldn't arrest his run and went and crashed into the side boards injuring his wrist, as India finished in a downer – a 2-2 draw to Canada before they line up for their quarterfinals.

India's speedy winger from the right is central to its plans, and coach Oltmans said, "It's too early to say. He needs to have a scan. He fell into the board and injured his wrists."

If Argentina win their match later in the day, then India will play Belgium. If Argentina lose, or even draw, then India play Spain. With their failure to beat Canada, India ensured they left their fate in the hands of another team – funnily the one team they'd surprisingly beaten giving them points that could've pushed them higher than fourth had they managed to beat Canada.

Two Argentine juggling artists stood outside the stadium entertaining spectators who'd trooped in for hockey, basketball in the same arena. The possibilities for India were akin to that whir of the pins tossed in the air, with their future hinging on teams as varied as Brazil, Australia, Spain and Great Britain.

"I'm sure we will finish fourth and face Belgium," Oltmans said, however.

How did the high flying team from two days ago wind up here?

The wins against Ireland and Argentina, the promising showing against Germany and the minute margin against Netherlands meant India weren't branded utter goners like London.

While the forwards Ramandeep and Akashdeep got into the swing of things, scoring hasn't been the easiest for India's men upfront. Missing sitters they have struggled to get those field goals which are essential bread and butter for their existence.

Against Holland, India won five penalty corners in the end – and attempted five different variations, down 1-2. Sometimes, basics fetch goals, and that option wasn't considered – perhaps experimentation was the intention. But when goal keepers are taken off, it makes little sense for six men to dawdle at half line, and clearing the ball timely ought to be a priority not an almighty rudimentary struggle.

Against Canada too while the offense didn't strike a rhythm early, the defense too allowed a couple in, with Sreejesh having an off day. Yes, that can happen. And

India ought to be prepared for balls that gush in under his armpits and he's slow to stop the flow.

Energy levels were low, India conceded from penalty corners and some poor goals – which could be a result of three back to back matches on successive days. "We got opportunities and could not convert them. But getting a place in the quarters was more important," PR Sreejesh recalibrated his expectations.

The second quarter had been littered with chances, squandered by Indians. "That was the quarter we should have made the difference in my point of view. We took the advantage but could not make it happen. We conceded penalty corner and a goal again. These kind of lessons, they have it shown and they understand it now. Not for the first time in history. It should not happen. You should not get over excited after scoring a goal. You should just stick to your structure," Oltmans added.

India have played Belgium a couple of times in the near past – World Hockey League and the Champions Trophy. "Both times we lost by one goal difference. All strong sides. Let's see what we can manage here," the coach added, pretty displeased with the last league outing.

Oltmans reiterated the need to score more goals in the second and third quarters. "If we did that we would have been ahead. We kept Canada alive and gave the opportunity to draw, that's something we have to learn."

He also spoke of boosting his forward line up, adding, "They are really in a good shape. It will be an exciting match."

Indian Express


---

Coach Roelant Oltmans not pleased with India's performance against Canada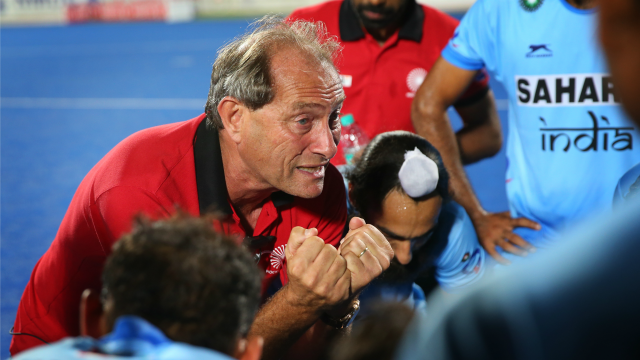 Canada, ranked 15th in the world, rallied twice to earn a draw as the fifth ranked India finished the group phase with seven points from five matches. (Getty Images)

India's hockey coach Roelant Oltmans expressed his displeasure following the team's sloppy performance in the 2-2 draw against Canada at the Rio Olympics in Rio de Janeiro.

Canada, ranked 15th in the world, rallied twice to earn a draw as the fifth ranked India finished the group phase with seven points from five matches. The Dutchman was clearly not happy with the way India conceded two goals in 19 minutes with Scott Tupper scoring back to back penalty corners.

"I'm not pleased with today's performance. We should have scored more goals in the second and third quarters. If we did that we would have been ahead. We kept Canada alive and gave the opportunity to draw, that's something we have to learn," Oltmans said after their match at Pitch 1 of Olympic Hockey Centre in Deodoro.

"The energy level dipped especially in the second quarter where so many chances to score goals were missed. That was the quarter we should have made the difference in my point of view." India struck through Akashdeep Singh and Ramandeep Singh in the 33rd and 41st minutes respectively, while Tupper scored in the 33rd to help Canada draw level 1-1 and then in the 52nd minute, both times converting the penalty corners, to share honours.

Oltmans said, "We took the advantage but could not make it happen. We conceded penalty corner and a goal again. They should have been aware of such situations." Oltmans said the team became complacent and over excited after scoring two goals.

"You should not get over excited after scoring a goal. You should just stick to your structure." On their quarterfinal prospects, the coach said: "A quarterfinal is always a strong game. There's no doubt about it. We played Belgium a couple of times in the near past."

World Hockey League (0-1 in December) and the Champions Trophy (1-2 in June this year). "Both times we lost by one goal difference. All are strong sides. Let's see what we can manage here. It will be an exciting match." India's regular captain PR Sreejesh said they would have to pull up their socks before the big match.

"The energy level was a bit low, we conceded from penalty corners and some poor goals. We got opportunities and could not convert them."

DNA


---

Doubts over SV Sunil's participation in hockey quarters

RIO DE JANERIO: Uncertainty hovered over Indian team's halfback SV Sunil's participation in the quarterfinals after he sustained an injury during its last men's hockey Pool B game against Canada at the Rio Olympics here today.

India were dealt a big blow when Sunil was stretchered off the pitch after he suffered an injury by crashing against the sign boards while pressing for an attack during the match against Canada.

Roelant Oltmans, who is the team's high performance director and head coach, could not give a definitive answer when asked about the extent of Sunil's injury.

"I don't know. It's too early to say. He needs to have a scan. He fell into the board and injured his writs," Dutchman Oltmans said.

Skipper PR Sreejesh though sounded optimistic.

"What I saw it seemed okay to me and he can play in the next match," Sreejesh, who also mans India's goal, said.

India squandered a one-goal advantage as they allowed Canada to stage a fightback with a late strike and earn a 2-2 draw.

Talking about the two yellow cards, Oltmans said: "The first one was for pushing with the stick on the back of the defender. I'm not sure about that and the other one was for elbowing... I will have to see the replays."

On the strategy to play without Sreejesh to bolster the forward, he said: "When we were in Spain we played last four minutes without the goalkeeper. The players are used to it. So far we have created a lot of opportunities in the matches we have played. Don't worry about penalty corners, every match we've been able to convert them."

Sreejesh said it is an usual strategy that the teams apply when they are trailing.

"It's no surprise. It's normal strategy. When we are trailing, we have to build pressure so as to negate the numerical disadvantage. We have to wait for them to make a mistake and score a goal. Last four minutes, we got five PCs," said Sreejesh.

On the missed penalty corners, Sreejesh said: "That's the difference between the win and loss. We should have converted in the dying moments. We still have one more match in the league round. We will concentrate on improving.

"We got opportunities. We could control the game even when we're down to nine players. But unfortunately we could not convert for a 2-2 draw."

Manpreet Singh, who stood in as the captain, said, "We did very well. We had two cards but despite that we did well. Overall, we put up a good show."

He insisted that the team would have to work on its penalty corner conversion, something that has been an issue so far.

"We could not succeed, it's hard luck. We will work on the video session. Our focus is now on Canada tomorrow. We are taking one match at a time," said Manpreet.

The Times of India


---

Incredible Green Machine Olympic Journey Comes To An End




Ireland's Rio road came to a heart-breaking conclusion in Deodoro as Argentina eventually won a huge battle of wills with Gonzalo Peillat's 51st minute drag-flick proving the defining moment.

Needing a win to progress to the quarter-final in their first Olympic Games since 1908, Shane O'Donoghue's equaliser with 10 minutes left raised serious hopes of an incredible victory against the world number seven side.

But, within 46 seconds, Argentina won another penalty corner and Peillat fired home his sixth goal of the competition to crush Irish hopes.

Reflecting on the tournament, coach Craig Fulton said it was a memorable experience to be part of this team that went above and beyond at each turn, making history and reaching the pinnacle of the sport.

"The dream of winning a medal, playing in a quarter-final is alive in every minute you play here. There's something really big behind it.," he said afterwards.

"That's what this tournament does; it's like nothing else and you can't explain it to anyone or what it is going to be like. The players have to go through it.

"Once the players leave this environment and reflect back on where they were and what was at stake, they will realise how big this was and that is a good thing. Hopefully, we will have this group back and fighting for Tokyo."




In a tough opening to the game, Ireland fell behind in the seventh minute when Juan Saladino pounced on a rebound after an initial David Harte save. The goalkeeper was to make a wealth of great contributions in the first half, snuffing out a series of chances to keep Ireland in the game.

Argentina were using a high press and squeezing the Irish defence, forcing mistakes but the Saladino strike was their only reward of the first half.

By contrast, the green machine were efficient in their attack and they got level when Eugene Magee's shot ended up on a foot. From the ensuing penalty corner, Shane O'Donoghue's effort was charged down but the corner was reset allowing John Jermyn to fling home his 92nd international goal.

Peillat, though, did not allow parity to last long and he picked out the bottom corner in the 27th minute to restore his side's lead.

Argentina continued to press in the third quarter but found Harte in rude health once again, smothering an Agustin Mazzilli strike in one particularly memorable moment. Mazzilli also hit the post but Ireland steadied the platform and Chris Cargo's driving run earned a corner from which O'Donoghue was to equalise with a clever move that deceived Juan Vivaldi.




It could have set the base for a famous final 10 minutes but Argentina were the ones to hold their nerve. A corner came within a minute, Peillat delivered and Ireland's challenge was over.

Fulton, though, can reflect on a week in which his side did the country proud. They pushed three sides in the world's top seven to a single goal while they also recorded a first Olympic win since 1908.

"It's just bigger than anything and you also want it to be bigger than anything. It's the pinnacle of our sport," he said.

"I just hope we have raised the profile of Irish hockey, especially in Ireland, because this team has sacrificed a lot to get to this point and to perform at this level. And it is a big stage to perform on. The guys have done Ireland proud."




Ireland 2 (J Jermyn, S O'Donoghue)
Argentina 3 (G Peillat 2, J Saladino)

Ireland: D Harte, J Jackson, R Gormley, M Watt, C Cargo, J Jermyn, S O'Donoghue, M Darling, K Good, P Gleghorne, C Harte
Subs: J Bell, A Sothern, E Magee, P Caruth, K Shimmins
 
Argentina: J Vivaldi, G Peillat, J Gilardi, P Ibarra, F Callioni, L Vila, I Ortiz, M Brunet, L Rossi, M Rey, M Paredes
Subs: L Rey, J Menini, J Lopez, J Saladino, A Mazzilli
 
Umpires: S Taylor, P Vazquez

Irish Hockey Association media release


---

Kerry: Why we're not satisfied yet



GB women's team

Women's head coach Danny Kerry is rightly pleased to make it through to the quarter finals with four wins out of four - but the team are certainly not satisfied just by making the last eight.

Kerry's side earned a 2-0 win over Japan in their most recent match, and while he was not completely happy with the performance, maintaining the 100% record was important.

He said after the match, "I don't think any of us would be satisfied with the performance, one or two players had to play well. Laura Unsworth played well, played a mature game and Hollie Webb also in a screen line, Maddie also made some important saves but I don't think anyone will be happy with the team performance.

"However, we've kept a clean sheet, won the game and not played that well. So looking at the big picture, we've won four group games, we're definitely in the top two in the pool so if you'd offered us that we'd have taken it every day. Today we had to create our own energy and tempo but we didn't do that."

Asked if he had been keeping an eye on developments in the other pool, he said, "The honest answer, we deliberately haven't looked at other results. The players learned their lesson in a tournament a few years back not to tune in to other teams. As a staff we will now because we're definitely in the top two so we can predict a little bit more. We're in a good position that we can scout knowing a bit better, but we feel we can match anyone, like we did against Argentina and Australia."

We now face USA on Saturday evening in a game that will decide who wins the group, and Danny commented, "USA play a high tempo game, I look forward to those exciting games."

The game takes place at 10pm Saturday UK time, and is due to be live on BBC4 as well as online.

Great Britain Hockey media release


---

Bhopal turf led to poor hockey show at Rio: Francis

Ramendra Singh

Bhopal: The Indian women hockey team's poor performance in the ongoing Rio Olympics is because they were denied "proper practice" due to lack of facilities in Bhopal, alleged a letter by Goa deputy chief minister Francis D'Souza to the Prime Minister's Office (PMO).

The letter dated August 10, 2016 also alleged corruption in the laying of the blue hockey turf at Sports Authority of India (SAI) centre, Bhopal.

D'Souza wrote the letter in defence of the then regional director of SAI Bhopal, Roque Dias (who hails from Goa). Dias was transferred when he tried to expose the wrongdoings involved in the laying of the 3.5 crore blue turf.

"Due to anomalies in the preparation and installation of the turf, the Indian women hockey team refused to practise on the turf," stated the letter written by D'Souza.

The blue turf was specially laid for practice by the Indian women hockey team before they started their campaign at the Rio Olympics.

In his letter addressed to principal secretary to Prime Minister Narendra Modi, Nripendra Mishra, deputy chief minister of Goa wrote that Dias, during his stint as regional director at the Central Regional Centre of SAI in Bhopal, had installed CCTV cameras at the SAI Bhopal hockey stadium, which detected that no bituminous layer was present while preparing the hockey astro turf.

On finding the lapses in the laying of the turf, Dias refused to release payment to the firm responsible for completing the turf work. Soon after, the letter alleged, Dias was transferred.

Notably, the technical committee, Project Management Group (PMG), had submitted an adverse report on the turf to the SAI head office in New Delhi on April 16 this year. The committee included noted hockey player and Arjuna Award-winner Olympian Jalaluddin Rizvi and other senior coaches. "There were serious flaws in the hockey turf and it was not possible for the Indian women hockey team to practise on such a turf," Rizvi told TOI.

On April 18, 2016, Dias had received a warning letter for raising objections over the turf and was then served a transfer order. He was asked to join SAI promotional schemes, monitoring and evaluations (SPSMEC) in New Delhi.

"I wrote the letter as I felt strongly that injustice was done to Roque Dias," D'Souza said.

The Times of India


---

Sikh contribution to Rio Olympics

by Dil Bahra



Canada's Jagdish Singh Gill (far left)  and India's Akashdeep Singh (Right, No 27) in action during India v Canada match at Rio Olympics. Photo: Yan Huckendubler

Eight Sikhs representing two Nations played in the India V Canada Pool B match at the Olympic Hockey Centre at Rio 2016 Olympic Games today.  Akashdeep Singh; Harmanpreet Singh; Manpreet Singh; Ramandeep Singh; Rupinder Singh and Sardar Singh representing  India  and Jagdish Singh Gill and Sukhpal Singh Panesar reprenting Canada.

Both India's goals were scored by Sikhs – Akashdeep Singh and Ramandeep Singh.

This was, however, a far cry from the Munich 1972 Olympic Games where in the pool match between India and Kenya on 2nd September 1972 there were 15 Sikh players on the field at the same time -  10 for Kenya and 5 for India.  Both the teams were captained by Sikhs, Harmik Singh captaining India and Avtar Singh Sohal captaining Kenya. India won that match 3 - 2, all five goals being scored by Sikhs -  Mukhbain Singh scoring two and one for Harmik Singh for India and Davinder Singh Deegan scored two for Kenya.

At Munich Olympics there were 30 Sikh players playing hockey representing India, Kenya, Uganda and Malaysia.



Sikh Supporters at Rio. Avtar Sohal is 2nd from left, 2nd row from bottom

Interestingly, Avtar Singh Sohal, Kenya's Captain at Munich Games, is among the spectators at Rio.

144 Sikhs have played at Olympic Games since 1928 representing nine countries – Canada; Great Britain; Hong Kong; India; Kenya; Malaysia; Singapore; Tanzania and Uganda.

Sikhs have scored 259 goals at Olympic Games.

Sikhs in Hockey


---

Sensational seven for Scotland men



Kenny Bain Scotland

Scotland men's preparation for World League in Glasgow next month received a boost with a fantastic high-scoring victory over Czech Republic in Prague.

Despite Scotland being placed four places behind the Czech Republic in the world rankings, Derek Forsyth's squad earned a sensational 7-1 victory in the first test match of three.

Hamish Imrie, a former Grange striker now with Dutch side Schaerweijde, opened the scoring by converting an Alan Forsyth shot into the net at the back post.

Cammie Fraser quickly doubled the tally with a solo effort, the Grange captain made progress up the left, broke through into the circle and smashed the ball into the roof of the net.

The third goal emanated from penetrating attacking play by Forsyth and the Surbiton striker laid the ball on for Kenny Bain to fire home. Just on the interval the Czechs pulled one back from a penalty corner.

Early in the second half Scotland scored a fourth when Bain broke through the Czech lines and Forsyth finished off the move.

A Russell Anderson solo effort brought about the fifth, the Cannock player won the ball on the half way line, waltzed past four defenders, rounded the goalkeeper, then calmly slotted the ball home.

The Bain and Forsyth combination provided the closing strikes, the former squeezed the ball past the goalkeeper following good work by Callum Duke and finally the latter slipped the ball home after Bain had drawn the goalkeeper.

Head Coach Derek Forsyth said:

"I'm pleased with the result and the team played very well. There were spells in the game where we could have controlled it better but we still created lots of chances. The Czech goalkeeper made some great saves."

CZECH REPUBLIC  1 SCOTLAND 7

Scottish Hockey Union media release


---

Sohail's five goals send SSGC to semi-finals

KARACHI: Rana Sohail's five goals guided SSGC into the semi-finals of the Pakistan Cup 9-a-Side Hockey Tournament as PIA, NBP and Wapda also booked their berths in the last-four at the Abdul Sattar Edhi Hockey Stadium in Karachi on Thursday night.

SSGC thumped Pakistan Customs 7-2 as Tofeeq scored the opening goal in the seventh minute to take the lead, which was levelled by Customs' Hasnain Hussain in the next minute. Salman Razzaq of Customs then struck in the next minute to give Customs a 2-1 lead, which was soon equalised in the 11th minute by SSGC's Sohail to end the first half 2-2.

Sohail then struck in the 23rd and 27th minutes, while Razzaq scored in the 31st minute with Sohail completing his quintet of goals eight minutes later to hand SSGC a big win.

In another group match, PIA beat Pakistan Hockey Federation Development Squad (PDS) Whites 4-1 as Muhammad Zubair scored a hat-trick and Haseem Khan found the net once. PDS Whites' lone goal came off the stick of Fayyaz Yaqoob.

Meanwhile, NBP defeated PDS Colors 2-1 with Arsalan Qadir finding the back of the net in the 22nd minute, followed by Ilyas' goal three minutes later for PDS Colors. Shan Irshad scored NBP's winner seven minutes later. In the last match of the day, Wapda downed PAF 4-0.

The semi-finals will be played today, with PIA facing SSGC and NBP taking on Wapda to book one of the two spots in the final.

The Express Tribune


---

Risja hold former Olympians 0-0 in exhibition match




ISLAMABAD - Rawalpindi Islamabad Sports Journalists Association (RISJA) managed to hold star-studied Olympians 0-0 in an exhibition hockey match played at Naseer Bunda Hockey Stadium late Thursday night.

Olympians were led by former world cup winning captain and Secretary Pakistan Hockey Federation Shahbaz Senior, while they had Rahat Khan, Farhat Khan and other great international players in their ranks, while Risja was led by its President Mohsin Ali, while Patron Shakeel Awan, acting chairman Nasir Aslam Raja, Shahryar Khan, Afzal Javed, secretary Shakir Abbasi, Nasir Abbas Naqvi and others also represented Risja.

Olympians XI kept the pressure on Risja and its defence but goalkeeper Zahid Awan played outstandingly to deny Olympians from scoring even a single goal.
The match was played for 20 minutes with 10 minutes each half.

Olympians thrice hit the goal bar but Zahid despite being hit on the head twice and received head injury, prevented Olympians from scoring goal.

Risja also had two penalty corners and a golden opportunity of taking lead in the dying moments of the match, when Afzal Javed combined with Shakir made a brilliant move, but poor finishing denied them from scoring highly unlikely goal.

Reham Khan was the chief guest on the occasion, while PHF President Brig (R) Khalid Sajjad Khokhar, Women Wing Secretary Tanzeela Aamir and others were also present on the occasion.

At the end Reham was introduced with both teams players.

The PHF not only gifted hockey sticks to Risja but also had wonderful souvenirs for every Risja member.

Brig Khalid and Shahbaz Senior lauded Risja efforts for promoting soft image of the country through their writings and shows and said, the match was a meagre effort to bring close sports journalists community and PHF and ensure smooth working relationship.
 

Reham Khan said it was great to watch sports journalists running after the ball rather than usually after stories.

She termed it a great occasion and said she would love to part of the sports journalists community and promised to represent Risja in next event.

The Nation


---

SAHA PHL fixtures released – The teams go head to head!

With just a few weeks to go until the start of the innovative South African Hockey Association Premier Hockey League, the anticipation is building for this hockey revolution.

Taking place at the Randburg Astro in Johannesburg, the PHL runs over four weekends from 3 September to 25 September 2016, every Saturday and Sunday from 08:00 to 18:00.

The first PHL fixture list has been released, so get ready to watch the teams go head to head to be crowned the first ever South African PHL Champions.




SAHA Premier Hockey League


---

Peter Whitfield Dawson Turner 1938 - 2016

Laying the foundations for great Hockey umpires

A tribute by Steve Japan and Bob Gagel

Sadly, the passing of another fantastic hockey person has gone virtually unnoticed by the hockey fraternity.

Dr Peter Turner passed away in May of this year leaving behind a legacy of a selfless and massive contribution to the game of hockey, especially in Southern Africa.

After a very successful all-round school career at the famous Jeppe High School for Boys in Johannesburg, Peter attended the University of the Witwatersrand where he graduated as a dentist.

After a stint in London, where he married Penny he returned to South Africa in 1967 where he continued to practice as a dentist whilst Penny and he raised their 4 children.  He later branched out and enjoyed a very successful career developing hospitals.

But it was his role as a hockey umpire, coach, umpires' manager and administrator where he made a profound contribution to South Africa's growth as a hockey nation.

He was able to impart his knowledge and experience as an international umpire to aspirant umpires and together with many of his friends including Bobby Gagel, Fred Zackey and Dave Metter – laid the foundations for South African hockey umpires rising to the top of world hockey.

Many of the world's mightiest hockey nations marvel at the fact that we have produced umpires of the calibre of John Wright, Gary Simmonds, Marelize de Klerk and Michelle Joubert to name but a few of those who have graced the local and international scene.

When it comes to umpiring and officiating, South African hockey "punches well above its weight" and that's due to the foundations laid by the likes of Peter Turner.

As an umpires coach and manager Peter's excellent inter-personal skills and humour benefitted so many of our young umpires whilst setting the very highest standards.  I can recall the All Africa Games in Zimbabwe in 1995 where these incredible skills benefitted a crop of Africa's finest umpiring prospects.

Peter served on the SA Hockey Executive for a number of years where he held the "Umpiring" portfolio which he handled with vision, wisdom and aplomb.
We will always cherish our time serving hockey with this wonderful, self-effacing man.

A generation of hockey umpires may never quite know the work Peter put in to set the sound foundations for their glittering careers.

Peter – rest in peace, friend – you epitomised all that is great in hockey and what volunteerism is all about!

FIeldhockey.com