All the news for Wednesday 7 October 2015

Men: Venezuela already settled in the semifinals of the Pan Am Challenge

Venezuela beat Uruguay 3-0, while Peru defeated Ecuador 11-0. Tomorrow, host Peru will play against Venezuela and the winner of Pool B will be defined.

Patrick Espejo

Tomorrow, host Peru will play against Venezuela and the winner of Pool B will be defined.

This is a double victory for Venezuela, as this morning 3-0 win against Uruguay left them as the unique leader of Pool B and secured their spot in the semifinals of the Pan Am Challenge, carried out in Chiclayo, Peru. The tournament will finish with the great final on Sunday.

Venezuela earned their victory with players Cristian Vargas, Andy Adrian and Robert Escobar, who took advantage of the open spaces left by the Uruguayan defense, especially during the first quarter of the match, where they were able to score.

The Uruguayans could not find the formula to reach the attacking circle, and when they did, the rival sticks were there to avoid any conquest. Unlike what happened two days ago against Peru (where they could equalize although they were behind), this time the "Charruas" (Uruguayans) failed to generate spaces for the attacks of Gabriel López and Juan Manuel Canessa.

 "We were quite diligent, we man marked in all sectors of the pitch, that's the team brand. This is what made us score. Now we have to face Peru, to define whether we become second or first", explained Vargas, who is the scorer of the tournament with nine goals.

At the end of the match, Canessa, said that a huge effort was put into the match but it was not enough. "Now, we'll wait until the result of the match played by Venezuela and Peru, see how many goals are scored there, and know if we still can cruise to the podium, which is our goal."

PERU SCORED EARLY

In the first match of the sports day, at the Campo San José in Chiclayo, Peru did not find any complications and earned an agreeable 11-0 victory over Ecuador, where their captain Fabrizio Corno, was applauded as he scored five of the goals for his team.

Encouraged by a group of fans, who came early to the venue, Peru pressed Ecuador on the ropes. Besides Corno, Sebastián Dennison, Antonio Piazza, Rodrigo Díaz, Christopher Rangel, Vicenzo de Martis and Rodrigo Vera sealed the victory, the first one of the tournament. Peru obtained 4 points and they settled in the second place.

 "Winning was very important. Our performance was good. Tomorrow we'll close this phase against Venezuela and we would like to finish it well, that's, winning," said Rodrigo Díaz after the match. For Miguel Moreno, Ecuadorian defense, the match gave them knowledge. "We are still in the process of building our team, each match is a lesson to learn, and this one hasn't been an exception. We hope to carry on improving to be able to have a solid team", he said.

POOL B WILL CLOSE TOMORROW

Tomorrow, Wednesday, Pool B will close with two key matches. Uruguay will meet Ecuador at 9 AM., while two hours later Peru and Venezuela will play. Peru in the event of a draw or a victory, qualifies for the semifinals. If Peru were defeated, and with an Uruguayan win, the teams will be ranked according to their goal difference to define the team going into the semifinals.

The Pan Am Challenge started on October 3rd, and takes place at the Peruvian Hockey Federation pitch, Colegio San José in Chiclayo, 765 km north of Lima.

Pan American Hockey Federation media release


---

Women: Panama thrashed Peru and is one step from the final

Host Peru finished with a comprehensive win over Panama and they now lead the Pan American Challenge

Patrick Espejo

Ximenas Ardiles's last cry was definite. Peru decompressed the pressure of playing at home and with the number of goals converted by the team in the match against Panama they climbed to the first place of the women competition of the Pan American Challenge, held in Chiclayo, Peru. This 7-0 victory leaves them unbeaten and with undeniable chances to cruise to the final.

In the single match of the day of the women competition, Peru kept Panama on the ropes throughout the match, but the anxiety of scoring led them to many failed shots to the net, defended by Daryell Castro.

Panamá blocked the attacks from the left executed by Malen Mocaggata and Candela Devoto, key players of the Peruvian team of the first two matches, when playing against Puerto Rico (3-0), and tying Brazil (1-1). This prevented the score to increase.

Candela Méndez was one of the scorers of the Peruvian team with two goals, together with Valeria León. "The most important thing was winning today, and staying in the tournament, struggling to play the final and to qualify for the Pan American Cup" said Méndez when interviewed at the end of the match. Besides Méndez and León, Marianella Alvarez (penalty stroke), Yurandi Quino and Ximena Ardiles also scored.

BRAZIL vs BARBADOS TOMORROW

The expectation rests in the outcome of the match tomorrow, since 1 PM, played by Brazil and Barbados. Both rivals will duel in a match that will define the spot in the final. Barbados is in the second place with 6 points, while Brazil is third with 4 points. Peru will be in the stands as they have their rest day. They will know the result after the match, and with that, they will face Barbados on Thursday.

At 3 PM, Puerto Rico and Panama will seek their first win of the tournament.

Pan American Hockey Federation media release


---

Men: Guyana joins Brazil in the semifinals on Friday

Guyana tied Brazil 2-2, becoming second of Pool A and earning a spot in the semifinals.

Patrick Espejo

In the other match for the key, Puerto Rico defeated Panama 12-0.

Guyana's team practise their pregame chant, join their sticks and entrust themselves to a good match. This ritual gave good results this evening, as they were on the verge of surprising at the Pan Am Challenge, in the match against Brazil, although the 2-2 draw was almost as good as having won.

This parity allows Guyana to qualify for the semifinals of the tournament, together with Brazil, so on Friday they will meet, in a cross-over with the first two of the other key, to determine which team will cruise to the great final on Friday.

Brazil did not play a good match. Perhaps, because they were surprised by a yellow team which ran in all sectors of the pitch, and covered them out. They were stricken in the 12th minute when Aroydy Branford managed to overcome the resistance of goalkeeper Rodrigo Faustino. When the match resumed after halftime, Brazil came to correct their mistakes and turned the scoreboard over in just two minutes with goals from Stephane Vehrle-Smith and Lucas Paixão. Branford again, in minute 51', sealed the final parity.

 "The match with Brazil resulted in a tie, a team that qualified for the Olympic Games next year. Of course, we're happy. Our first purpose has been accomplished, now we'll go for more", said Guyana's scorer Aroydy Brandford.

Lucas Paixão knows their presentation was incomplete. "We failed executing and didn't play well. The temperature, the pitch, the string of matches, we felt heavier today", he said.

PUERTO RICO SCORED

Puerto Rico completed the pool phase with a 12-0 win over Panama, result that did not satisfied the Panamanian team, especially after the outcome of the match played by Guyana and Brazil, they did not have any chances to cruise to the semifinals, no matter the number of goals.

Gilberto Montserrate executed 5 of the 12 goals of his team, overcoming Manuel Colón. Ottus Feliciano, Kenneth Rodríguez and Joseph Agosto added in the scoreboard.

The final qualification of pool A left Brazil in the first place with 7 points, Guyana second with 5 points, Puerto Rico third with 4 points, and Panama with 0 points. Brazil and Guyana have a spot in the semifinals. Puerto Rico and Panama will play in the round for the 5th to 8th place.

Pan American Hockey Federation media release


---

Double win for Black Sticks in Nelson



Nick Haig celebrates his goal in tonight's game against India. www.photosport.co.nz

The Black Sticks have bagged two wins tonight in Nelson with the Women storming to a 4-1 victory to take the series lead and the Men taking out the first game 2-0 against India.

It is the third day of play in the 2015 South Island Tour and it's been a successful start from the Kiwi teams with three wins from four games.

In tonight's women's match, the Black Sticks Women were first to score when Sophie Cocks picked up the ball on the baseline and passed to Gemma Flynn who fired it to the back of the net to give the Kiwis a 1-0 lead in the 10th minute.

Natasha Fitzsimons added to it ten minutes later thanks to a penalty corner drag-flick which went high over the keeper into the net.

The team talk at half time worked for Argentina's Martina Cavallero who got the visitors on the scoreboard, but the Black Sticks held their composure, continuing to play an attacking and exciting style of hockey against the World No. 3 side and it paid off.

Canterbury's Rachel McCann scored with six minutes on the clock and then Flynn took the game beyond doubt, scoring a double, to make it 4-1 in the final minute.

"I think our first quarter and the last quarter were really good, I think there were a few patches when we panicked in defence, we have a young and inexperienced defensive line up so hopefully we learn from that and on Friday we are even better," said head coach Mark Hager.

Captain Anita Punt was all smiles after the game – getting a win from her first international on her home ground in front of a large crowd on a night where conditions couldn't have been more perfect.

In the men's game, it was a big occasion for Steve Edwards who was playing his 200th international.

"Really cool for Stevie to bring up 200, really well deserved. He's a bit of a magician on the field!" said Canterbury's Nick Haig.

It was end to end hockey in the first half, and Haig was the first to score with a penalty corner drag-flick that ricocheted off the keeper's pad and went into the net.

"It was a good win, I think it's coming together really well. The guys haven't been together for a while – so for the first hit out I think it was a good performance," said Haig.

Auckland's Jared Panchia scored the second goal of the night, a great piece of play that finished when he received a pass from Ryan Archibald and slotted it home.

The Black Sticks Women and Argentina now travel to Christchurch where they face each other for the final time at 6pm on Friday at Marist Park.

The Black Sticks Men face India again in Nelson at 7pm tomorrow and then play twice in Christchurch (9th and 11th October).

Click here for more information on the 2015 South Island Tour and to purchase tickets.

WOMEN'S RESULTS
Full time: 4-1 (NZ win)
Half time: 2-0 (NZ lead)
NZ goal scorers: Gemma Flynn x2, Natasha Fitzsimons, Rachel McCann
Argentina goal scorers: Martina Cavallero

MEN'S RESULTS
Full time: 2-0 (NZ win)
Half time: 2-0 (NZ lead)
NZ goal scorers: Nick Haig, Jared Panchia

Hockey New Zealand Media release


---

Black Sticks women thump Argentina 4-1 in hockey test in Nelson

Wayne Martin



Gemma Flynn, who scored two of the Black Sticks' four goals in their win over Argentina in a hockey test at Nelson on Tuesday. CHRIS SYMES/PHOTOSPORT

The Black Sticks men's and women's hockey teams turned it on for their Nelson fan base after both recorded wins in an international double-header at Saxton Turf on Tuesday.

The Black Sticks men beat India 2-0 in the first match of their four-test series while the women will head to Christchurch with an unbeatable series lead after a decisive 4-1 win in their third hockey international against Argentina.

The two teams arrived in Nelson with their four-test series locked at 1-1, Argentina having opened the series in Blenheim on Saturday with a 2-1 win before the Black Sticks levelled the series on Sunday with a 3-2 win.



Kane Russell shows desperation in a tangle with an Indian player during the Black Sticks' win in Nelson on Tuesday. CHRIS SYMES/PHOTOSPORT

It was certainly a satisfying way for Nelson-born captain Anita Punt to celebrate her first test in front of her home crowd.

"We've never actually beaten Argentina twice in a row, so that's a first for us and we always like achieving firsts," Punt said.

"To come away with the win is really good and a 4-1 win is very convincing as well. There's still so much we can improve on...so it's exciting going forward.

"It's awesome to play at home, it's where I grew up, it's where it all started [for me] pretty much, so to come back here is such an honour. To get the win is more than I could ask for."

Tuesday's international began with the Black Sticks applying much of the early pressure, striker Gemma Flynn finally rewarding the Black Sticks for their efforts with the game's opening goal. Flynn converted from a goalmouth scramble for a 1-0 first quarter lead.

The Black Sticks doubled their lead when Natasha Fitzsimons converted from the game's first penalty corner. Argentina received their first real scoring opportunity when they were awarded their first penalty corner after a period of sustained attack. But the Black Sticks' defence was equal to the challenge as they took their 2-0 lead into the halftime break.

It didn't take long for Argentina to respond after the restart when Martina Cavallero scored from a third-minute penalty corner to reduce the deficit to 2-1. The pressured Black Sticks were forced to defend a further two penalty corners as they headed into the final quarter. But two late goals to Rachel McCann and Flynn finally made the game safe for the Black Sticks. 

The final test of the series will be played at Christchurch's Marist Park on Friday.

The Black Sticks men also scored early against India in the night's main fixture, Nick Haig converting a second penalty corner attempt after just four minutes for a 1-0 lead.

While India always looked threatening on the counter-attack, the Black Sticks eventually increased their lead when striker Jared Panchia capitalised on some clever baseline work to help put them ahead 2-0 at the break.

The Black Sticks spent much of the third quarter on attack, without reward. They also dominated the final quarter, but again, India's defence was impenetrable.

It was the ideal way for North Harbour striker Steve Edwards to celebrate his 200th international, with coach Colin Batch also satisfied with the team's first outing in about three months.

"It's a start for us. We're playing against a team that's difficult to manage, they do come at us quick and I think we saw that tonight," Batch said.

"I'm quite pleased with what we achieved tonight, but we know that we're rusty in some areas and we need to improve and keep playing well."

He was certainly pleased with the defensive effort.

"All of the defenders tackled well and by and large we tackled outside the circle and only gave away the one penalty corner so that's a good sign that our defence is working well, particularly against such a strong attack."

The second test of the series is again in Nelson on Wednesday, with the final two tests to be played in Christchurch on Friday and Sunday.

Black Sticks Men 2 (Nick Haig, Jared Panchia) India 0. HT: 2-0.

Black Sticks Women 4 (Gemma Flynn 2, Natasha Fitzsimons, Rachel McCann) Argentina 1 (Martina Cavallero) HT: 2-0.

Stuff


---

Black Sticks impress with dual wins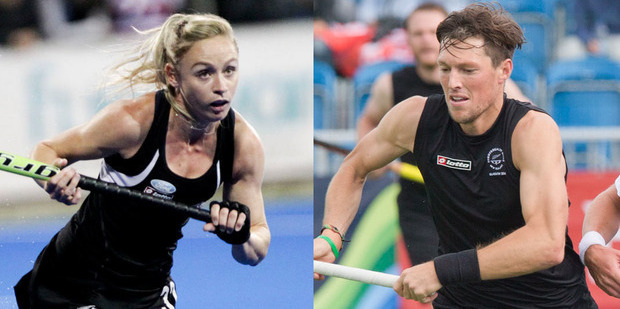 The Black Sticks both picked up impressive wins this afternoon. Photo / File

The New Zealand men's and women's hockey teams both had wins tonight on their tours of the South Island.

The Black Sticks women, ranked fourth, beat world No 3 Argentina 4-1 in Nelson to take a 2-1 lead in the four-match series.

Gemma Flynn bagged a double, opening the scoring early before capping off the win in the final moments.

Natasha Fitzsimons added a goal from a penalty corner and Rachel McCann also got on the scoresheet in the impressive victory.

The Black Sticks men followed it up with a 2-0 win over India, with Nick Haig putting the hosts in front after six minutes, and Jared Panchia double their advantage just before halftime.

The men play India again in Nelson tomorrow and the women play Argentina in Christchurch on Friday.

The New Zealand Herald


---

India's run ends with a 2-0 loss to big boys



After conceding a goal in the 5th minute of the match, India missed many chances. courtesy: Hockey New Zealand

New Delhi: The usual problems returned to haunt Roelant Oltmans as India again conceded an early goal and wasted many scoring opportunities to go down 2-0 to New Zealand in their opening match in the four-Test series in Nelson on Tuesday.

After two convincing wins over New Zealand A, India coach Oltmans had said that the team scoring field goals in their wins was a "good sign".

But not only did the team miss many chances today, it conceded a goal in the first five minutes. The hosts got a penalty corner in the 5th minute and Nick Haig's drag-flick ricocheted off the goalkeeper's pad and went into the net.

India intensified the attack but the possession amounted to nothing as New Zealand defended well. 

Ramandeep Singh failed to capitalise on an Akashdeep Singh pass in the circle.

In the 27th minute, Auckland's Jared Panchia scored the second goal, a great piece of play that finished when he received a pass from Ryan Archibald before slotting it home.

Despite repeated attacks, India were disappointing in the opposition third, failing to break a solid Kiwi defence.

The best opportunity came to Birendra Lakra, but his effort was saved by the Kiwi goalkeeper.

"It was a good win, I think it's coming together really well. The guys haven't been together for a while so I think it was a good performance," said Haig.

New Zealand's Steve Edwards made his 200th international appearance.

The second match will be played in Nelson on Wednesday. The match, to start at 11.30 IST, will be streamed live at www.hockeynz.co.nz.

The Tribune


---

Indian hockey team lose opener 0 2 to New Zealand

India had beaten New Zealand A 3-1 and 2-1 in the two practice games in Auckland on October 2 and 3 but that did not help.

The experience gained by winning two practice matches against New Zealand A did not help the Indian hockey team as the visitors lost the opener of the four-match bilateral Test series 0-2 to the Black Sticks here on Tuesday.

India had beaten New Zealand A 3-1 and 2-1 in the two practice games in Auckland on October 2 and 3 but that did not help the Asian team as the Sardar Singh-led side tamely went down to the hosts.

The game started with good pace as spectators witnessed both teams getting into their business side of the field whenever they got the opportunities. But it was New Zealand's early goal which helped them take the edge in the contest.

The Black Sticks went ahead in the fifth minute when they were awarded a penalty corner. Nick Haig was bang on target, flicking the ball past India's custodian P.R. Sreejesh in the top right corner of the goal.

India intensified the attack when Nikkin Thimmaih, from the right flank, pushed the ball inside the opponent's D but a vigilant New Zealand defence denied the visitors any chance of scoring.

India held possession at the start of the second quarter and kept attacking the New Zealand semi-circle from the right flank. Akashdeep Singh pushed the ball to Ramandeep Singh who failed to capitalise on the pass.

New Zealand counter-attacked in the 27th minute when Jared Panchia scored through a field effort, taking the score to 2-0 going into halftime.

The third and fourth quarters saw both teams trying to add to the scorecard but the defences of both proved stronger in thwarting the attempts.

In the third quarter forward Thimmaiah had a great chance inside the D but the Kiwis held him back and India were yet again denied a goal.

This was immediately followed by Birendra Lakra trying to cash in on another opportunity but was denied once again.

The next match between the two sides will be played here on Wednesday.

The Hindu


---

Changes for Oceania Cup

Clemons replaces Charter, Fiji women withdraw from tournament



Keeper Tristan Clemons will take injured Andrew Charter's place in the Oceania Cup

The Kookaburras have been forced to make a change to the squad announced for the forthcoming Oceania Cup in New Zealand.

ACT goalkeeper Andrew Charter has been ruled out with a hamstring injury. He will be replaced by Western Australian Tristan Clemons. Clemons, from Bunbury, was part of Tasmania's bronze-medal winning team at the Australian Hockey League last week, playing as an inter-state import.

Clemons most recently played for the Kookaburras at the Sultan Azlan Shah Cup in April where Australia's men won the silver medal after going down in a grand final shoot-out to New Zealand following a 2-2 draw. He was also part of the Australia 'A' squad that played against Pakistan and Korea in Hobart in May.

In the women's Oceania Cup, there has been a change to the fixtures following the withdrawal of Fiji from the competition. As a result the Hockeyroos' campaign will now begin a day later and their showpiece clash with New Zealand Black Sticks has been moved to Saturday 24 October.

Hockeyroos' Oceania Cup Fixtures
22 October: Hockeyroos v Samoa (11:30 AEDT)
24 October: Hockeyroos v New Zealand (12:00 AEDT)
25 October: Medal Matches – Gold Medal (11:45 AEDT) / Bronze Medal (07:15 AEDT)

Revised Kookaburras Squad for Oceania Cup
21-25 October 2015
Joshua Beltz (Hobart, TAS)
Joel Carroll (Darwin, NT)
Chris Ciriello (Melbourne, VIC)
Tristan Clemons (Bunbury, WA)
Tom Craig (Lane Cove, NSW)
Matthew Dawson (Central Coast, NSW)
Tim Deavin (Launceston, TAS)
Jamie Dwyer (Rockhampton, QLD)
Matt Gohdes (Rockhampton, QLD)
Blake Govers (Wollongong, NSW)
Fergus Kavanagh (Geraldton, WA)
Mark Knowles (Rockhampton, QLD)
Tyler Lovell (Perth, WA)
Trent Mitton (Perth, WA)
Eddie Ockenden (Hobart, TAS)
Flynn Ogilvie (Wollongong, NSW)
Glenn Turner (Goulburn, NSW)
Aran Zalewski (Margaret River, WA)

Kookaburras' Oceania Cup Fixtures
21 October: Kookaburras v Samoa (09:30 AEDT)
22 October: Kookaburras v New Zealand (17:30 AEDT)
24 October: Kookaburras v Fiji (08:00 AEDT)
25 October: Medal Matches – Gold Medal (14:00 AEDT) / Bronze Medal (09:30 AEDT)

Hockey Australia media release


---

Oceania Cup draw change means big weekend



Photo: www.photosport.co.nz

Oceania Hockey Federation has announced a change of draw for the 2015 Oceania Cup being held in Stratford from 21-25 October.

The revised draw means an improved weekend for spectators with the Black Sticks Women now facing Australia at 2pm on Saturday 24 October ahead of the finals on Sunday 25 October. 

"To have the women play a trans-Tasman game is always a drawcard – and for this to now be on a Saturday when we have some fantastic live entertainment scheduled, is good news," said Hockey New Zealand chief executive Malcolm Harris.

The change was brought about due to Fiji Women withdrawing from the tournament.

"It's really unfortunate to have Fiji Women out of the tournament and it's always tricky managing the change of schedule so close to the start of the event, but we believe in this case there is a real silver lining to what has eventuated," said Harris.

Fiji will be replaced by a New Zealand Invitational Women's team and will face Samoa on Saturday 24 October and play again on finals day on Sunday 25 October. 

Due to the Black Sticks Women's game being rescheduled, there will now be a VIP ticket on offer for Saturday 24 October which includes a two course buffet meal, two complimentary drinks, priority stadium access, reserved premium seating and indoor viewing if preferred. There are still VIP tickets available for Thursday 22 October. 

The Oceania Cup is an Olympic Qualifying event for the Black Sticks Men who need to topple World No. 1 Australia and win the tournament to book a spot at the 2016 Rio Olympic Games.

The Black Sticks Women have already qualified for Rio and will be giving it everything with valuable ranking points on the line.

CLICK HERE for more information and to buy tickets for the 2015 Oceania Cup

Ticketholders who have purchased a ticket for Wednesday 21 October can exchange their ticket for either Thursday 22 October or Saturday 24 October. Similarly, ticketholders that have purchased a ticket for Thursday 22 October can exchange their ticket for either Wednesday 21 October or Saturday 24 October.

To exchange your ticket please email This email address is being protected from spambots. You need JavaScript enabled to view it. or call 0800 484 2538 Monday to Friday 9-5pm.

For any other queries regarding the change of schedule, please email This email address is being protected from spambots. You need JavaScript enabled to view it.

2015 OCEANIA CUP DRAW

Wednesday 21 October, 2015
11.30am, Australia Men v Fiji
1.30pm, Samoa Women v Black Sticks Women
3.30pm, Samoa Men v Black Sticks Men

Thursday 22 October, 2015
1.30pm, Australia Women v Samoa
3.30pm, Fiji Men v Samoa
5.30pm, Black Sticks Men v Australia 

Saturday 24 October, 2015   
8.00am, NZ Invitational Women vs Samoa
10.00am, Australia Men v Samoa   
11.15am, Entertainment: Ash & Aidan
12.00pm, Black Sticks Men vs Fiji
1.20pm, Entertainment: Brendan Chase
2.00pm, Black Sticks Women v Australia
3.15- 5pm, Entertainment: Lady Killers

FINALS DAY - Sunday 25 October, 2015
9.15am, 3 v 4 Play-off (Women)
11.30am, 3 v 4 Play-off (Men)
1.45pm, 1 v 2 Final (Women)
4.00pm, 1 v 2 Final (Men)

Hockey New Zealand Media release


---

Sultan of Johor Cup: Junior hockey team to depart for Malaysia



The youngsters, who had been in Rawalpindi for the training camp, will now reassemble in Lahore on Wednesday to leave for Malaysia. PHOTO COURTESY: PHF

KARACHI: With an aim to finish in the top three, Pakistan's junior hockey team will leave for Malaysia on Wednesday to participate in the Sultan of Johor Junior Hockey Tournament in Johor Bahru, Malaysia from October 11-18.

According to chief coach Tahir Zaman, the players attended a two-month training camp and are ready to face off against top-ranked teams.

"We are aiming to end our campaign in good stead, but our main motive is to gain experience for the upcoming Junior Asia Cup," Zaman told The Express Tribune.

The youngsters, who had been in Rawalpindi for the training camp, will now reassemble in Lahore on Wednesday to leave for Malaysia.

Assistant coach Irfan Senior said the team has been absent from the international circuit since last year, necessitating all-out rigorous practice sessions over two months. "We have worked really hard and I believe this tournament will help them boost their skills for the big matches," he said. "We have also worked on their basic skills and have trained them individually, which will surely bear results in Malaysia."

The team will open its campaign against arch-rivals India on October 11 before taking on Australia the following day. Thereafter, the youngsters will face Argentina on October 14, England on October 15 and hosts Malaysia on October 17.

Once the Sultan of Johor Cup ends, Pakistan will stay back to prepare for the Junior Asia Cup which will also be held in Malaysia the following month.

Meanwhile, three players out of the departing 21 will return before the Asian event begins.

The Express Tribune


---

EHL week: HTHC's Hauke on his club's EHL dream

"Everything was so quick," Tobias Hauke says, looking back on Harvestehuder THC's victory in the Euro Hockey League in 2013/14.

In one of the fairytale stories of the EHL, the debutants were dark horses amid a well-stacked top of the KO16 draw in Eindhoven.

It opened with an immense tussle against fellow German outfit Uhlenhorst Mülheim 1-0, before running up wins over Club de Campo and Racing Club Bruxelles before eventually upsetting Oranje Zwart on their home patch in a thrilling shoot-out.

Hauke – the 2013 World Player of the Year – was pivotal to that success, a dynamo at the base of midfield, setting their attacks in motion while protecting the defence in an awesome display, not that he remembers the exact details.

"It was our first year in the EHL and we were really proud just to in it. We trained really hard for the first round in Barcelona and get qualified for the KO16 in Eindhoven.

"From there, it was only six short days and no time to think about what happened! The final in Eindhoven against OZ was unbelievable."

And he is now hoping to set the wheels in motion of another title assault from his home patch at HTHC, an event that he says will provide a great moment in his club's history.

"We are really happy to host such a big tournament at our home ground; our club members have worked really hard to make this tournament the very best and we are looking forward to welcoming the other top teams from all over Europe."

He adds that the Hamburg public are known for their love of the game and says that it should make for a "really special atmosphere" for all the matches.

On the pitch, his focus is singularly on winning Pool B ahead of Scotland's Grange and Austria's HC Wien.

A lot of faces have changed since 2014 with English trio Brendan Creed, George Farrant and David Goodfield joining the ranks this year while Felix Mathes is another strong arrival from Nürnburg.

Hauke says that they can make an impact: "They are really good players and bring new qualities to our team. They are young and getting better and better every day but we still have a lot of things we can improve."

Meshing the new players with the established stars like Hauke, Michael Körper and Tobias Walter has been their aim in the early weeks of the German league season.

And, if they can make it through Round 1, they will be looking to make another big impact on the competition when the knock-out stages come around.

It is one of a series of intriguing story lines in Hamburg this weekend where 12 of Europe's top teams will battle it out for one of the four tickets to next Easter's KO16.

Euro Hockey League media release


---

Stagno hoping EG gelling at the right time




East Grinstead coach Karl Stagno is hoping his side is gelling at the right time after they recorded their first win of the season last Sunday in the English Premier Division.

During the summer, his panel underwent a major overhaul with Ashley Jackson (Holcombe), Mark Gleghorne (Beeston), Andy Bull (Pinoke) and Mark Pearn among the big names moving on.

Amid the changes, the side fell to three successive losses to start their league season against Holcombe, Wimbledon and Beeston. But they bounced back with a gutsy 4-3 win over Reading last weekend, beating a side that previously had a perfect record in the league to show that they are learning to form a new unit and enter the EHL in a positive frame of mind.

"We have lost some big players and personalities within the group," Stagno told the EHL website. "We have managed to replace them with a number of good players.

"As a consequence the team and the squad is very new, young and untested. Therefore we need time to bed in and learn about each other and how best to play together."

Among the newcomers to make an impact is Adam Seccull, an Australian who arrived at the club via Tilburg in the Netherlands last season. Last Sunday's tie was his second with the club and saw him fire home two penalty corners including the winning goal late on.

Dominic Bowden and German player Jannis Schwebs have also been added to a panel that features English stars David Condon and Chris Griffiths.

And Stagno says that creating a team system where they can show their flair is a key task for EG this season.

"Both David and Chris are very talented and above all else very exciting players. I am certain they will grace the EHL with their skills.

"Nonetheless, we are looking to develop a squad mentality and its important we don't rely on them but spread the load around the team. The team is able to do this and I am certain therefore that David and Chris will then be able to play with freedom."

For Hamburg this week, they likes of Ross and Niall Stott – vastly experienced in this competition after a spell with UHC Hamburg – and Joe Naughalty bring a good volume of international know-how with Scotland and Wales.

Rob Schilling – formerly of Surbiton – goalkeeper Patrick Smith, Simon Faulkner and Tim Deakin make for a panel with ambition that will line out in a group with Spain's Club Egara and Irish champions Monkstown.

"Definitely, it is a very finely poised group. Egara and Monkstown both have the potential to top the group with two contrasting styles of play! It should be a very exciting group," Stagno concluded.

Euro Hockey League media release


---

Egara 9-0 winners over Taburiente

Club Egara produced a huge 9-0 win on day two of the Spanish Honor Division against Taburiente to build-up to the EHL in impressive fashion.

They did so thanks to a hat trick from Xavi Aguilar while there were also goals from Pep Romeu, Guillem Fustagueras and Claudi Quera. It adds to an opening day draw against Complutense, leaving them in a share of third place behind leaders Real Club de Polo and Atletic Terrassa.

Carlos Garcia Cuenca's Polo were 3-0 winners over FC Junior with David Alegre, Alex Casasayas and Manu Bordas on the mark.

For Atletic Terrassa, they won a lively game over RS Tenis in Santander 6-3. Jordi Carrera, Marc Salles, Quim Malgosa and Roc Oliva were all on the mark on a couple of occasions.

Club de Campo won at San Sebastian while Pozuelo drew 1-1 with Complutense.

Euro Hockey League media release


---

Six-A-Side University Tournament Proves a Success




Last Wednesday saw a new high tempo, attacking tournament take place in Nottingham.

This small-sided hockey project, which is funded by Sport England and delivered in partnership with BUCS, did not fail to live up to expectations.




From the BUCS Premiership A tier of hockey, the likes of Nottingham, Nottingham Trent, Durham, Loughborough, Birmingham, Oxford Brookes and Sheffield Hallam all took part.

With six people to a team on the pitch and 'scoring zones' 15m from the baseline of the pitch and running across the full width of the pitch, goals were there to be scored. Furthermore, penalty corners were replaced by power corners, which gave the attacking team five on two scenarios.

As a result there were plenty of spectacular skills, great finishes and busy goalkeepers, with 311 goals scored across the day. At one stage in proceedings, a goal was being scored every 31 seconds.




In the women's competition, Birmingham B came out victorious, beating Durham A, 2-1 in the final. They impressed throughout winning all five of their group matches.

University of Birmingham Captain, Harriet Mitchell, was very pleased to win the difficult final of the first ever competition and very much enjoyed the fast paced hockey.

She said: "It was a really tough game, the toughest of the day. Durham had some really good chances. Anna Baker scored an amazing goal but I think we held them off well.

It's a great feeling to win the first small-sided university tournament.

It was a really fun day. It's fast flowing and the power corners are really good."




On the men's side of the draw, Nottingham Trent A won the tournament, beating Loughborough B, 2-1 in the final. However, they did not have it all their own way. They lost their first match to Birmingham A, 3-1 and finished second in their group. They also were taken to a penalty shootout in the semi-final against Durham A after a 2-2 draw.

England Hockey Board Media release