All the news for Tuesday 6 October 2015

Men: Brazil secured their spot in the semifinals of the Pan Am Challenge

Brazil earned a second victory in the tournament, defeating Puerto Rico 5-1, and is now the lone leader of Pool A.

Patrick Espejo

Brazil is among the four top teams of the Pan Am Challenge, after beating Puerto Rico 5-1, in the second sports day of Pool A of the Pan Am Challenge, and became the leader of the pool.

Guyana earned their first victory of the tournament ending 14-0 against Panama, and securing a second place so far.

For Brazil, the match was tough, as they faced a team with enormous resistance. The Brazilians were able to break them due to their highly efficient penalty corners.  The match was definded with two goals by Stephane Vehrle-Smith, and one goal by Lucas Paixao, Patrick and Yuri Van der Heijden each. Puerto Rico's Xavier Torres scored once. 

Vehrle-Smith knows Brazil can do much better. "We were not able to play as we wanted because the pressure was high. Nevertheless, winning is important, and our purpose is winning this tournament", he said.

 "This has been a unique experience for us. We feel we played well, at some point of the match we played as equals, and I think, the result does not reflect our good performance today", said Torres.

MORE GOALS

Guyana earned their first victory of the Pan Am Challenge. It was a match where Guyana could display all the strategies rehearsed for the occasion. Aroydy Brandford, scored 4 goals from the 14 goals of her team. Other scorers were Mark Sargeant, Jamarj Assanah, Robert France, Orlando Semple (two goals each), and Shane Samuels and Carl Xavier with one goal each.

TOMORROW THE POOL WILL BE DEFINED

With Brazil already in the semifinals, tomorrow the second team will be unveiled. Guyana, second, will be their next rival, at midday. Puerto Rico, earned 1 point after tying with Guyana, and they will have to defeat Panama (the match starts at 2 PM), to be able to cruise to the semifinals.

Tomorrow the second day of Pool B will take place. Peru will open the sports day playing against Ecuador at 8 AM., and later Venezuela and Uruguay will meet at 10 AM.

Pan American Hockey Federation media release


---

Women: Barbados surprises and now tops the competition

Barbados beat Puerto Rico 5-0. The team, harvested the second victory of the competition at the Pan Am Challenge

Patrick Espejo

Barbados beat Puerto Rico 5-0.The team, harvested the second victory of the competition at the Pan Am Challenge, and earned 6 points, while Brazil and Peru each have 4 points.

Barbados scored 5-0 against Puerto Rico, and not only earned the second victory of the competition but also became the lone team topping the tournament in the women competition, due to their two victories at the tournament organized by PAHF. The competition will carry on until Sunday at Campo San José.

In a single match of the day, Barbados played a good teamwork game, reaching their attacking circle several times from both sides of the pitch, and taking advantage of the mistakes of their rivals. These facts led to the goals by Patrina Brathwaite (2), Jada Prescod, Keisha Jordan y Tammisha Small (1 each) earning their victory.

 "It's very rewarding to finish a match like this; we could play as it was planned. We know we're in the right path. The day after tomorrow we'll play with Brazil, and we know it's a very tough rival, but we're confident we will battle the match," said Brathwaite.

Brazil and Peru share the second position in the competition with 4 points each, as a result of one victory and 1 tie. None of the teams played today.

Tomorrow Peru will meet Panama, in the favorite match of the day, featured at 4 PM.

Host Peru hopes to add a new victory, eventually cruising to the first place, and secure a spot in the final on Sunday

Pan American Hockey Federation media release


---

Punt excited but nervous ahead of clash with Argentina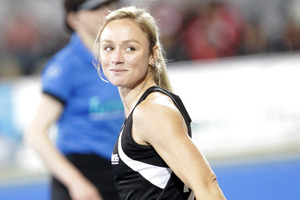 Anita Punt. Photo / Hawke's Bay Today

After 211 tests for the Black Sticks, it's not often firsts come about for captain Anita Punt.

But today the zippy midfielder will get the opportunity to tick off a very big one - play a test in her home town of Nelson. The Black Sticks take on the world No3 Argentina side in the third test of the South Island tour, before the final test in Christchurch on Friday.

Punt said she is "excited but nervous" to get the opportunity to play a test back where it all began for her.

"It's pretty cool to be back home," she said. "I'm really excited to have my friends and family out there to watch me, but I'm a bit nervous as well."

The two sides head into the match with one win apiece, after the Black Sticks levelled the series on Saturday with a 3-2 win, courtesy of a late goal to Olivia Merry. It followed a 2-1 loss in the opening test. Despite achieving a better outcome on Saturday, Punt said the team still aren't happy with several aspects of their performance.

"We haven't been playing our best hockey, so to still get the win when we weren't at the top of our game is great," she said.

"We had better patches, I guess. But we still weren't happy with our consistency in some areas, so hopefully we will come out even better again in this next game."

A bit of rustiness was to be expected from the Black Sticks, who are playing in their first tests since their fourth-place finish at the World League semifinals in Belgium. For this campaign, Black Sticks coach Mark Hager has recalled several veterans, including defender Emily Naylor and striker Charlotte Harrison, and Punt said the team have taken a bit longer than hoped to click into gear.

"We've only been back playing as a group since Monday, so our structure and discipline isn't as sharp as it should be."

Meanwhile, Argentina have brought more of a development team to New Zealand, with several new caps in the side, but Punt said some of the young talent coming through are just as dangerous as their experienced stars.

"They're a fast counter-attacking team, much like we are, so it's very fast and exciting hockey when we come up against one another."

Today's match will be streamed live and exclusively on nzherald.co.nz from 5pm, before the Black Sticks men play their opening test against India at 7pm.

The New Zealand Herald


---

Black Sticks women thump Argentina 4-1 in hockey test in Nelson

WAYNE MARTIN



Gemma Flynn, who scored two goals for the Black Sticks in their 4-1 win over Argentina in Nelson on Tuesday. Francois Nel

The Black Sticks women will head to Christchurch with an unbeatable series lead after a 4-1 win in their third hockey international at Nelson's Saxton Turf on Tuesday.

The two teams arrived in Nelson with their four-test series locked at 1-1, Argentina having opened the series in Blenheim on Saturday with a 2-1 win before the Black Sticks levelled the series on Sunday with a 3-2 win.

Tuesday's international began with the Black Sticks applying much of the early pressure and although Argentina's defence successfully defused a shot by captain and home-town favourite Anita Punt after six minutes, striker Gemma Flynn finally rewarded the Black Sticks for their efforts three minutes later with the game's opening goal. Flynn converted from a goalmouth scramble for a 1-0 first quarter lead.

The Black Sticks doubled their lead with a Natasha Fitzsimons drag-flick from the game's first penalty corner. Argentina received their first real scoring opportunity when they were awarded their first penalty corner after a period of sustained attack. But the Black Sticks' defence was equal to the challenge as they took their 2-0 lead into the halftime break.

It didn't long for Argentina to respond after the restart when Martina Cavallero scored from a third-minute penalty corner to reduce the deficit to 2-1. The pressured Black Sticks were forced to defend a further two penalty corners as they headed into the final quarter.

But two late goals to Rachel McCann and Flynn finally made the game safe for the Black Sticks , 

The final test of the series will be played at Christchurch's Marist Park on Friday.

Black Sticks 4 (Gemma Flynn 2, Natasha Fitzsimons, Rachel McCann) Argentina 1 (Martina Cavallero) HT: 2-0.

Stuff


---

Confident India set for New Zealand clash

NEW DELHI: Having registered convincing wins in warm-up games against the A team, the Indian men's hockey outfit will be high on confidence as it prepares to take on New Zealand at Nelson on Tuesday.

The last time they played each other was in the Hero Hockey World League Final 2014 and it was the Black Sticks who came out triumphant.

While New Zealand will have the edge in terms of playing in front of their home crowd, India, with two wins in their kitty, will be upbeat and will aim to continue their form in the upcoming clashes.

The Indian team has already proved it is hungry to win and understand the value of an early goal. With this in mind the team will hope that it manages to sneak in the opponents' D early and get the scorecard ticking.

With S K Uthappa, Akashdeep Singh, S V Sunil leading the charge it will not be a surprise if they yet again pull off a victory.

Speaking about the game, chief coach and high performance director Roelant Oltmans said, "The last two matches were good learning for us and in a way has got us familiar to the conditions here.

"What is working in our favour is the field goals and which in a way showcases the team's ability to break the defence chain to enter the opponents' D and even our coordination during those few seconds.

This is a good sign and I hope we continue this. Also from here we will aim to get more penalty corners and convert them."

The Times of India


---

Stats Speak: Indian-Kiwis in International Hockey

By B.G.Joshi (Sehore-Bhopal, India)

Year 1926 was the first when an Indian Hockey team travelled abroad. It was to New Zealand.

In 1935 Indians again played on Kiwi soil. The Maoris who claimed to have migrated from Indian subcontinent to the antipodes 1000 years ago had presented Indian team a carved shield, which served as the trophy for the national championship in India till partition in 1947; undivided Punjab won the trophy and was kept in Lahore.

National Championship was played without trophy for three years -in 1948, 49 and 50. The Hindu (national newspaper) presented a new trophy- the Rangaswamy Cup- in memory of their Sports Editor during the 1951 national hockey championship held in Chennai (then Madras). Hockey India have started new trophy since 2010.

Coming back to India-New Zealand stats in International Hockey:
*It is 137th test series of India, 99th on abroad, 11th against New Zealand.
*Against New Zealand India have won 7, drew 1 and lost 2 series.
*Of a total 84 matches played between India and New Zealand; India have won 45; whereas New Zealand have won 23; remaining 16 were drawn.
*Biggest win of India is 8-2 in Wellington test in Oct 1964, whereas biggest win of New Zealand is 7-3 in Ipoh Azlan Shah Cup in May 2011.
*Surprisingly New Zealand have had upper hand in last 10 matches winning 6,similarly in the 21st century Kiwis have won 14 ,lost 10,drew 8 versus India in 32 matches .

Fieldhockey.com


---

Black Sticks men to face Australian team without several key names at Oceania Cup



Experienced Kookaburras midfielder Simon Orchard, right, is not part of the Australian squad to travel to New Zealand for this month's Oceania Cup. GETTY IMAGES

The Australian men's hockey team have left out several experienced players and named five under the age of 22 for this month's Oceania Cup in Stratford.

Seven players who were part of the Kookaburras squad which won the World League Semifinal tournament in Belgium in July did not feature when the 18-man squad to travel to New Zealand was named on Monday.

Barring a major upset from Fiji or Samoa, the world No 7-ranked Black Sticks men's team will need to beat top ranked reigning world champions Australia in the Oceania Cup final on October 25 to avoid missing out on the last spot for next year's Rio Olympic Games.

Among the Australian players who won't play at the tournament are the vastly experienced trio of midfielder Simon Orchard (178 caps) and defenders Kiel Brown (168) and Matt Swann (122). Dangerous strike duo Kieran Govers (108) and Jake Whetton (97) , who have 97 international goals between them, were also not included.

Strikers Glenn Turner and Tom Craig and defender Joel Carroll return to the squad after missing the World League Semifinals with injury, while young Tasmanian striker Josh Beltz is the only uncapped player to feature.

Hockey Australia was quick to hit out last month against rising speculation from Europe they would send a weak squad to the Oceania Cup to make it easier for their trans-Tasman neighbours to qualify for Rio.

Its chief executive Cameron Vale labelled the claims "disgraceful" and "ridiculous" and said it was not unusual for them to include fringe players in their squads outside of major tournaments as a way of continually building depth.

Assistant coach Paul Gaudoin, who will take charge of the Kookaburras in head coach Graham Reid's absence, reiterated that in naming his squad.

"This is a strong squad ... we're giving [some younger players] an opportunity to step up and push for selection for a major championships," he said.

"If we don't give them these opportunities now it's hard to know how they'll cope with something like the Olympic Games.

"It's no different to what we would normally do outside of a World Cup or Olympic Games. We're still developing as a group and building for sustained success."

Black Sticks coach Colin Batch also rubbished the tanking claims at the time and said they would still face a very tough test, with the fringe Australian players having huge incentive to perform well at the Oceania Cup.

Australian women's coach Adam Commens said he had named his "strongest team on form at the moment" for the tournament, including 14 of the 18-player squad that finished third at the World League Semifinals in July.

Both the Hockeyroos and the Black Sticks women are qualified for Rio, but valuable world ranking points are up for grabs in Stratford.

Oceania Cup fixture list

Men:

Wednesday, October 21: 11.30am, Australia vs Fiji; 3.30pm, NZ vs Samoa.
Thursday, October 22: 3.30pm, Fiji vs Samoa; 5.30pm, NZ vs Australia.
Saturday, October 24: 10am, Australia vs Samoa; 12pm, NZ vs Fiji.
Sunday, October 25 (Finals): 11.30am, third-place playoff; 4pm, final

Women:

Wednesday, October 21: 1.30pm, Samoa vs NZ.
Thursday, October 22: 1.30pm, Australia vs Samoa.
Saturday, October 24: 8am, NZ Invitational vs Samoa; 2pm, NZ vs Australia.
Sunday, October 25 (Finals): 9.15am, third-place playoff; 1.45pm, final.

Stuff


---

EHL week: four days to go!




The countdown is on with just four days to go until EHL Round 1 in Hamburg with the atmosphere quickly rising and tickets selling quickly for the world's premier club competition.

To make sure you are NOT disappointed at the venue box office and to save money, we recommend that you purchase your tickets online.

Round 1 takes place THIS WEEK 9–11 October in the home of Harvestehuder THC in Hamburg, Germany with 12 of Europe's best clubs battling it out over three days of action for the four tickets to the KO16.

Online prices are €13,00 per day or €30,00 for a Passe-partout for adults while children's tickets are €10 per day. Passe-partouts can be purchased online only.

A reminder of the brilliant schedule of games is as follows:

Friday 9 October

10.15h, Pool C: Dinamo Elektrostal (RUS) vs SG Amsicora ASD (ITA)
12.30h, Pool D: Monkstown HC (IRL) vs East Grinstead HC (ENG)
14.45h, Pool A: Saint Germain HC (FRA) vs KS Pomorzanin Torun (POL)
17.00h, Pool B: Harvestehuder THC (GER) vs Grange HC (SCO)

Saturday 10 October

10.15h, Pool C: Royal Leopold (BEL) vs SG Amsicora ASD (ITA)
12.30h, Pool D: Club Egara (ESP) vs East Grinstead HC (ENG)
14.45h, Pool A: AH&BC Amsterdam (NED) vs KS Pomorzanin Torun (POL)
17.00h, Pool B: HC Wien (AUT) vs Grange HC (SCO)

Sunday 11 October

09.30h, Pool C: Royal Leopold (BEL) vs Dinamo Elektrostal (RUS)
11.45h, Pool D: Club Egara (ESP) vs Monkstown HC (IRL)
14.00h, Pool A: AH&BC Amsterdam (NED) vs Saint Germain (FRA)
16.15h, Pool B: Harvestehuder THC (GER) vs HC Wien HC (AUT)

Euro Hockey League media release


---

Leo back to winning ways ahead of Round 1

Royal Leopold got back to winning ways in the Belgian Audi Hockey League when they fought off the challenge of La Gantoise 4-1 to move up a share of third place.

After a couple of tough matches, John Bessell's side bounced back with a fine performance with Arthur Verdussen and Gabi Dabanch making it 2-0. Antoine Kina pulled one back for the Ghent side but further goals from Verdussen and Max Plennevaux closed out a strong win. It was a strong showing for the club ahead of their EHL battles next weekend in Hamburg.

Dragons continue to lead the way in Belgium with a 15th successive win, spanning this season and last, with an emphatic 5-1 win over KHC Leuven. Shane O'Donoghue scored twice with Florent van Aubel netting a hat trick.

Elsewhere, Herakles pulled off the result of the weekend when they inflicted the first defeat of the season on the Waterloo Ducks, Amaury Keusters and Jeremy Schuermans second half goals doing the damage in a 2-0 result.

Racing Club de Bruxelles made it three wins from four games with a narrow 3-2 success against Antwerp. Anthony Versluys was again the hero with his eighth goal of the season two minutes from the end settling the tie.

Royal Daring were 3-1 winners over Beerschot when they came from a goal down – scored by Irish man Brian Doherty – with Tanguy and Geoffroy Cosyns on the mark along with Austrian star Alexander Bele.

Braxgata beat Pingouin 2-0 thanks to Christophe Adriaaensen and Jerome Dekeyser goals.

Euro Hockey League media release


---

Kampong win Hoofdklasse topper over OZ

Kampong won the Hoofdklasse topper against Oranje Zwart 4-3 in Eindhoven to close the gap on their title rivals. The reigning champions were always behind in the tie despite a big late comeback as Kampong raced into an early lead via Rutger Marres.

Constantijn Jonker and Quirijn Caspers extended the advantage out to 3-0 with 13 minutes remaining but their nerves were set on edge when Mink van der Weerden and Benjamin Stanzl pulled two goals back for OZ.

It set up a thrilling final five minutes with Philip Meulenbroek restoring the two-goal gap only for Rob Reckers to make it 3-4 with still three minutes to go.

Rotterdram drew 1-1 with Bloemendaal with Simon Egerton and Thierry Brinkman exchanging goals to leave the sides in sixth and eighth place, respectively.

OZ remain top of the division as a result of Amsterdam's 4-4 draw with Schaerweijde. Micro Pruyser rescued that point with the last goal of eight in a thrilling goal feast.

Alistair McLennan and Justin Reid-Ross exchanged corner goals before an amazing spell of four goals in four minutes before half-time, pushed the score along to 3-3 – Robert Tigges and Kenny Bain for Amsterdam, Thijn Knetemann and Leon Hemminga for Schaerweijde.

Dominic Aarts then put the host club ahead only for Pruyser to nick the equaliser with four minutes remaining.

Hurley's good run came to an end with a 5-3 loss to HGC to drop out of the top three in the table. They had led 3-1 courtesy of Stijn Jolie, Thom Hayward and Luuk van Duren but four goals from Gonzalo Peillat turned the tide.

Pinoké got their first win of the campaign with a 3-0 success over Voordaan while Den Bosch saw off SCHC 2-1.

Euro Hockey League media release


---

Racing hold steady at head of French league



Picture: Gregory Redding

Racing Club de France continued their perfect start to the French elite division as they managed to get the better of CA Montrouge.

Fielding their full strength squad for the first time this season, Racing were stung by early injuries to Celestin Duchesne and David Bernstein due to hamstring injuries.

Despite these setbacks, they controlled much of the tie against a young but disciplined Montrouge team. Simon Martin-Brisac opened the score after good work on the left from Dylan Dominik.

Before half-time, Christopher Peters-Deutz scored from a short-corner for a 2-0 half-time lead. Racing held on to that lead thanks to a couple of strong saves from Corentin Saunier from corners to make it four wins from four and retain their five point lead over the chasing pack.

Lyon moved into second place on goal difference after a thrilling 7-4 win over Lille with six different scorers – Baumgarten, Pin, Cellier, Semenol and Rivolta all on the mark with Thomas Chalumeau scoring twice. It was 3-3 at half-time before the ever-improving Lyon held a greater structure in the second half to race clear.

St Germain's last game before the EHL in Hamburg was a tricky affair but they took a 1-0 win from Le Touquet in a game of few chances. The Parisian side were without the injured playmaker Francois Goyet and defensive Samson brothers Gregoire and Guillaume.

Paris Jean Bouin moved up to fourth with their first win of the season, beating Wattignies 3-2 with Francois Etienne Santenac, Matthieu Regniez and Irishman Ali Haughton – who previously played in the EHL with Three Rock Rovers – scoring the goals.

Euro Hockey League media release


---

Alan Forsyth strikes third hat-trick to close in on GB call-up

By Graham Wilson



Alan Forsyth is in contention to be named in GB's squad for next month's World League final. GETTY

ALAN FORSYTH celebrated his call-up to the Great Britain central programme by striking his third hat-trick of the season as Surbiton moved two points clear at the top of the England League premier division with a 6-2 win over Canterbury.

Forsyth, 23, has scored 11 goals in four matches and is now in contention for Bobby Crutchley's GB squad bound for next month's World League final in India.

He, however, is keeping his feet firmly fixed on the ground and said: "It's great for me. I need to keep doing what I am doing. If it happens, it happens. I'm in the squad and the World League is just a few weeks away. You never know how sport goes with injuries and the like but you can never say never.

"I will carry on being positive. I need to keep doing the right things. Of course it's nice to get on the scoresheet. I have come off the back of a good summer playing for a very good Scotland squad, and this has made me more determined."

Forsyth is a part-time hockey coach at St Johns School in Leatherhead and he said of his new full-time commitment at Bisham: "Getting on the pitch more will help. I have never been in a full-time environment before and we will see how it works.

"I will be playing more than twice a week now which will help me physically and mentally and playing with guys like Barry Middleton and Ashley Jackson will make me a better player. To have this intensity and quality is a great opportunity. It takes time getting used to. It's my first week of full training at Bisham so we will see how it all goes."



Simon Mantell made his return for Reading after nearly a year out. GETTY

Of his club form Forsyth added: "The way Surbiton play creates a lot of chances for me. I'm just the guy in the right place at the right time to get the ball into the back of the net.

"Our main thing is working on performance and grinding out results to get into the play-offs. The performance in the past play-offs hasn't been there. I don't think of Europe, maybe I will once we get close to getting into the play-offs."

Ben Arnold and Andy Bull have dropped out of Crutchley's programme to play in Holland and the Rio Olympics must be very much in mind for the Scottish international.

Holcombe could have taken top spot but were held 1-1 by Beeston while Ali Brogdon scored two in champions Wimbledon's 4-2 win over Cannock. Hampstead and Westminster beat Brooklands Manchester University 3-1.

East Grinstead's Adam Seccull scored a controversial last-minute penalty corner winner in a seven-goal thriller over Reading to give the Sussex side their first win of the season and a much-needed boost for their European League venture starting in Hamburg on Friday.



Helen Richardson-Walsh made her return for Reading following success with England. GETTY

GB international Simon Mantell made his comeback to the Reading side after nearly a year out with concussion. He said: "It has been a long 362 days on the sidelines. I loved being back. I am on reduced pitch time at the moment.

"I played 20 minutes and though this result was disappointing I am hoping to have a positive impact on Reading for the rest of the season.

"It has been steady, slow progress but I am pretty much there now. It's about getting my touch and hockey back up to level. The World League in India is the aim. It is within my capabilities, I just have to work hard physically for the next few weeks."

Reading coach Andy Watts said: "That was our first defeat. It was very frustrating. We fought back well from two down and looked set for a point but unfortunately an umpire's decision cost us and that was the difference in the end.

"They took the goal well but it should not have been a corner in the first place.

"It didn't help that we played 14 minutes with 10 men. East Grinstead didn't have a card, we had four. We made it hard work for ourselves. We are looking to bounce back against Holcombe at home next Sunday. That will be a good challenge for us."



Rachel Mack scores for Leicester. ANDY SMITH

Helen Richardson-Walsh made her return for Reading for the first time following her European gold medal success with England but could not halt the club's slump in the women's Investec League as East Grinstead rocked them with two goals in two minutes.

The club have suffered an exodus of players to Holcombe, Emily Maguire being the latest signing by the Kent club, but they showed a big improvement with GB captain Kate Richardson-Walsh still out with a back injury but coaching from the side.

They twice took the lead through Elen Barnes and Elizabeth Hunt but eventually lost 3-2 with Joanna Davis converting a penalty stroke in the 41st minute straight after Zoe Burrell's equaliser. 

Hannah Martin and Holly Hunt hit the target in the first half to keep University of Birmingham at the top of the table after a 2-1 victory against Holcombe. Champions Surbiton edged out Canterbury 4-3.

Nothing is coming easy for Leicester and Clifton. Leicester stormed to three goals up against the Bristol visitors through Lizzy Honarmand, Liz George and Rachel Mack before Jessica Bloom and Claire Thomas hit back before the break.

Els Mansell levelled for Clifton early in the second half before Holly Payne struck a 4-3 winner for Leicester in the 54th minute.

A 30th-minute goal by Sally Walton gave Bowdon Hightown their first win of the season leaving Buckingham trailing 1-0.

Daily Express


---

The Goal Machines



Surbitons Jenna Woolven celebrates scoring in the cup final

There's no denying that goals and good goalscorers are a precious commodity in hockey. Having someone who will find the net for you on a regular basis is the difference between success and failure.

The opening weeks of the domestic season have featured plenty of goals and have given a few players the chance to show their value to their teams as ace goal scorers. We thought we'd take a look at four of the early pace setters in the scorers' charts in both the Premier Divisions.

Holly Hunt, University of Birmingham.
The 18-year-old made the move from Bowdon Hightown to the University of Birmingham this summer and has wasted no time in making her mark for her new team. The reigning Hockey Writers' Club Young Player of the Year has scored four in four this campaign.

Having learnt her trade at Hightown under the tutelage of one of the best, Tina Cullen, Hunt's athleticism, pace and awareness have caught the eye of the national selectors who have fast-tracked her into the Under 21 set up.

"She is competitive beyond her years. Her pace and awareness as well as her perception of space are all very impressive for a player of her age." said England U21 coach Craig Keegan.

"She has a great understanding of how to play the game. Ability is one thing but it is her game intelligence and how she recognises what to do in certain situations that makes her one to watch out for." he added.

Playing alongside a number of her junior international teammates at club level has surely benefitted Hunt. Her understanding with Hannah Martin, Emily Defroand and full international Lily Owsley means Birmingham have a very pacy, very dangerous front line. Teams will be all too aware of that, but they have so far struggled to stop it.

Jenna Woolven, Surbiton:
The Surbiton striker scored goals during her time at Reading and University of Birmingham and has continued that trend at Sugden Road. Three goals in the three games she has played this season mean that Woolven is a force to be reckoned with leading the line for her club.

"She has so much flair and gets shots off you don't expect her to." says teammate and England star Georgie Twigg.

"She's scored for us in the playoffs and in cup finals and seems to pop up with crucial goals in crucial games. When she turns it on she is a terrific player. We have some great forwards including her and it all adds the strength of the team."

With Surbiton sure to face some crucial games this season, Woolven's knack of scoring at the right time may prove to be priceless.

Alan Forsyth, Surbiton.
Sugden Road is blessed with goalscoring talent in the men's ranks, too. Scotland star Alan Forsyth has been in ruthless form in front of goal this season, plundering 11 goals in the first four games of the season. That's half of Surbiton's tally so far, fact fans. He has been added to the Great Britain Central Programme this past week and celebrated the only way he knows how, by bagging a hat-trick at the weekend in a 6-2 win over Canterbury. 18 league goals last season, 17 the year before that, and 11 already this time out, Forsyth is a man who gives defences nightmares.




Sam Ward, Holcombe.
The colour of the kit and the club name may have changed, but Ward's ability to find the net remains undiminished. Having broken into the England squad for the 2014 Champions Trophy, where he scored twice on debut against Australia, the former Beeston man has gone from strength to strength. He bagged 17 goals in ten league games last year and has eight in four already this year. Ward has many strings to his bow: Penalty corners, bullet strikes from the top of the circle and of course the ones where he dives in where it hurts with no regard for his own safety. He scores all kinds of goals and has done for years. To put it into perspective, in 58 domestic games, since 2009-10, Ward has scored 88 times. There aren't many who can live with that ratio.

England Hockey Board Media release


---

Wren beaver gives Malvern winning start

Nigel Simon

Jovan Wren, the son of former national hockey duo, Cecile and Nicholas Wren stole the spotlight on the opening day of the T&T Hockey Board National Indoor Championships Boys Under-19 Division at the Woodbrook Youth Facility, on Saturday.

 Wren scored a beaver-trick (5th, 15th, 23rd and 29th minutes) to lead Courts Malvern to a resounding 7-0 hammering of Petrotrin. This after Jacques Poon-Lewis (first) and Jeshajah Drayton (3rd) had given them a 2-0 lead while Daniel Byer also netted in the 25th.

 Malvern ended the day second on goal-difference from Fatima in Pool A with both teams on four points, after they battled to a 2-2 draw with the latter twice coming from behind.

For Malvern, Poon-Lewis found the back of the net in the first minute and Drayton, in the 11th, but each time, Fatima responded with Jordan Vieira scoring both goals, in the third and 26th minutes.

Earlier, Fatima blew away Shape 8-1 with Vieira (20th & 25th) and Scott Pichery (23rd & 30th) scoring second-half doubles.

Shape kept in contention for a top two finish and semifinal spot with a 5-0 trouncing of Petrotrin thanks to a hat trick from Sheldon De Lisle and two from Ghardel Elcock.

Checkers through to Girls final

Rasa-Keli Thomas and Zhara Bruce were instrumental as Harvard Checkers won its first three matches of four to secure a spot in the Girls Under-19 Division final of the T&T Hockey Board National Indoor Championship at the Woodbrook Youth Facility, Hamilton-Holder Street, Woodbrook on Saturday.

Thomas scored twice in wins over Petrotrin (4-0) and Paragon (2-1) while Bruce and then added a hat trick in a 3-0 demolition of  Petrotrin. With one round-robin match left to complete its schedule, Checkers lead the three-team table with maximum nine points, six more than Paragon which has two matches left.

Daniel treble leads Dames past Oilmen

National forward Shaquille Daniel scored a hat trick to lead Notre Dame to an entertaining 5-4 win over Petrotrin in their Men's Open Division clash, the lone Open match on the opening day.

However, early it looked as though the Oilmen would ran away with a lopsided win after Evan Farrell (seventh) and Solomon Eccles (tenth & 17th) handed their team a 3-0 lead before Daniel netted on the stroke of half-time for the Dames to trail 1-3.

Two minutes after the restart, Wayne Legerton extended Petrotrin's lead to 4-1, but the Dames then turned the match on its head with four unanswered goals.

Results

​Saturday

Men's Open Division

Notre Dame 5 (Shaquille Daniel 20th, 35th, 36th, Ishmael Campbell 28th, Dillon Tam Wing 36th) vs Petrotrin 4 (Solomon Eccles 10th, 17th, Evan Farrell 7th, Wayne Legerton 22nd)

Under-19 Girls

Harvard Checkers 4 (Rasa-Keli Thomas 6th, 10th, #51 – 27th minutes, #48 – 27th) vs Petrotrin 0

Paragon 3 (Mariah Boucaud 6th, Therese Sobers 14th, Naomi Sampson 18th) vs Petrotrin 1 (Annaliah Stewart 21st)

Harvard Checkers 2 (Rasa-Keli Thomas 1st, 23rd ) vs Paragon 1 (Naomi Sampson 17th)

Harvard Checkers 3 (Zhara Bruce 14th, 18th, 30th) vs Petrotrin 0

Under-19 Boys - Pool A

Malvern 7 (Jovan Wren 5th, 15th, 23rd, 29th, Jacques Poon-Lewis 1st, Jeshajah Drayton 3rd, Daniel Byer 25th) vs Petrotrin 0

Fatima 8 (Jordan Vieira 20th, 25th, Scott Pichery 23rd, 30th, Che Modeste 2nd, Craig Rahim 10th, Dylan Francis 26th, Kenny Braithwaite 27th) vs Shape 1 (Sheldon De Lisle 22nd)

Shape 5 (Sheldon De Lisle 4th, 25th, 26th, Ghardel Elcock 25th, 26th) vs Petrotrin 0

Fatima 2 (Jordan Vieira 3rd, 26th) vs Malvern 2 (Jacques Poon-Lewis 1st, Jeshajah Drayton 11th)

Pool B

Paragon 7 (David Coker 12th, 14th, Jabari Perez 14th, Nehemiah Julien 25th, Tariq Singh 28th, Isaiah Scott 28th, Esan Babb 30th) vs Raiders 0

QPCC 4 (Marcus Pascal 4th, 28th, Gervais Dos Santos 15th, Zachary Clarke 16th  ) vs Notre Dame 3 (Joshua Olton 9th, 19th, Justin Beharry 14th)

Paragon 8 (Isaiah Scott 1st, 17th, Esan Babb 5th, 6th, David Coker 9th, Jabari Perez 13th, Tariq Singh 19th,  #26 – 23rd)  vs  Notre Dame 2 (Jeshurun Drayton 3rd, Joshua Olton 22nd)

QPCC 8 (Marcus Pascal 15th, 20th, 24th, 26th, 28th, Jarryon Paul 14th, 29th, 30th) vs Raiders 1 (Mickel Nurse 3rd)

The Trinidad Guardian


---

Legendary Shahbaz determined to revive hockey in his new role

Ijaz Chaudhry




Pakistan hockey is going through its worst ever phase and for quite some time now. National team failed to qualify for the World Cup (for the first time) in 2014 and would also not figure at the 2016 Olympics; another dubious first.

Akhtar Rasool and Rana Mujahid, the president and secretary general of the PHF respectively, were still reluctant to step down. It took action from country's highest office that the duo finally relinquished their posts.

Now, there is a new set up with Brig (r) Khalid Khokhar as the president and the legendary forward Shahbaz Ahmed as the secretary general.

Shahbaz Ahmed, who played for Pakistan from 1986-2002, is universally acknowledged as one of the all-time greats of hockey. Given sobriquets such as Maradona of hockey and Man with Electric Heels, he was easily the best forward of the world during his peak years, 1989-95; won more 'Man of Tournament' awards than any other player. Rather, it used to be a surprise if the award went to someone else.

But the challenge ahead appears to be the toughest of his life.
Sitting in his office at the PHF Headquarters in the National Hockey Stadium, the new secretary general delved into his plans and ambitions to resurrect Pakistan hockey.

 "Indeed, these are the worst times for our hockey. The problems are manifold. We are out of reckoning at the world stage. Coming to the other end, the pool of players has greatly shrunk with very little hockey at grass roots and that too only in a few pockets. Almost no activity in educational institutions and many departments have closed their hockey teams. Then of course is the matter of finances."

Giving his game plan, Shahbaz elaborates,

"We have to start from the available resources. Presently, two strong bastions of young talent are Gojra (district Toba Tek Singh) and Lahore's Dar hockey academy. The first mentioned is easily the biggest hockey nursery in the country for last quarter of century now. While Dar HA, very ably run by Olympic gold medallist Taueer Dar and recruiting players from different parts of the country, has emerged as a reservoir of polished talent in a very short time. I want to strengthen them further. Beyond, we should concentrate on places where hockey structure is in place, and with little patronage boys could be groomed. For instance, one such place is Abbotabad: Already a lot of activity is there. Given little attention, players should come out.  Peshawar could be another centre.

It is painful to see that Karachi is no longer a big hockey nursery. Pakistan's biggest city has given so many greats in the past. With the law and order improving there, one should be hopeful for a revival. I also desire to see the former nurseries such as Bannu, Silakot, Sheikhupura, to name a few, flourish again. However, it would primarily depend upon the efforts put up by the people managing the local district hockey".

"I want to convey the message that wherever there is some genuine effort, the PHF would supplement it. We will also try to prepare a competitive environment with tournaments between these already existing centres. There is no substitute for competition if you want to produce quality players".

"Moving up, there should be more hockey activity in educational institutions. For this, the revival of sports seats in colleges is essential. I intend contact the concerned government ministries and departments in this regard. This is important for another reason as well. As per my experience, educated players are always better equipped for international hockey especially in this modern era where diverse strategies have to be adopted not only for various oppositions but even during the different phases of the same match. Plus the role of gadgetry such as computers has enhanced"  

"It is very essential to revive departmental teams. Unfortunately many departments have closed their hockey teams. They provide employment to the players; a great incentive not only for the players but also the parents who used to encourage their wards to take up hockey. Yes, the previous set ups also tried in this respect and even got the verbal approval from the highest office of the land but it came to nothing. I am confident to prevail upon the government. It wont be a big issue to recruit a handful of players every year when dozens get through political connections." 

Reportedly, the PHF is in the worst ever financial straits. Perhaps for the first time in the history, the players were not even paid daily allowances.

"In my opinion, it is due to the erosion of credibility. Remember, Pakistan's participation in last year's Champion Trophy was in doubt due to the non-availability of funds. Some private sponsors, primarily the Omar Associates, came forward to finance the tour. However, on becoming aware of the way the affairs of the PHF were being managed, these private sponsors immediately pulled out, despite the fact that the green shirts had reached the final of the Champions Trophy after a gap of 16 years

Things have come to such an extent that even the government became reluctant to release the allocated funds.

We need to restore the confidence of donors: Money is spent properly. People are patriotic and they feel for hockey. Already, there are positive signs. You will be surprised to know that the talks are on with quite a few business houses including some mega corporations.

As I mentioned earlier, it is down to credibility. "

Why was Shahbaz away from the affairs of the national hockey during all these years which saw the national game hit the rock bottom?

"I have consented to take this seat because I am confident that given proper environment, I could deliver notwithstanding the present state of our hockey. In Brigadier Khokhar, there is a person who is capable as well as a good team leader. I had offers and opportunities to get some office in the PHF under previous set ups but refused since I knew I couldn't work with the people at the helm. Though, it was really painful from the sidelines to see Pakistan hockey's continuous decline all these years. "

 With so many challenges, do you feel pressurised?

"Indeed there are challenges galore but I am used to pressure. During a large portion of my playing career, being the star player, there were great expectations from me to deliver something special in almost every match; often, in front of large crowds. It wasn't only in the international arena. I played in the Dutch league for four years, and also spent a season each in the German and Bangladeshi leagues.  In all the three leagues, I was informed by my club officials, "we have record crowds because spectators want to see your magic". 

"That said, this is a different ball game at the PHF.  As the secretary, I face so many varied problems confronting our hockey. Nevertheless, I firmly believe that within a year you would see a definite improvement in various spheres of Pakistan hockey".

It implies that the nation has to wait and see.

"All the above plans definitely require some time. The immediate priority is the forthcoming Junior Asia Cup, this November. Pakistan has to finish among the top four to qualify for the 2016 Junior World Cup. We are fully concentrating on that. The Asia Cup is preceded by Sultan of Johor tournament also in Malaysia. Six strong teams in Australia, England, Argentina, India, Malaysia and Pakistan would be there. This would provide good preparation for the Asia Cup. Sultan of Johor tournament runs from October 11-18. While the Junior Asia Cup starts on November 14. The boys will continue to stay in Malaysia after the first event and would only return to Pakistan after the conclusion of the Asia Cup. This is designed to give them ample time to acclimatize. They will also be playing practice matches at the Asia Cup venue during this intervening period. All this would mean that by the time the junior Asia Cup commences, Malaysia would be the 'home away from home' for the Pakistani colts."

In his distinguished playing career, Shahbaz's electrifying runs and razor sharp incisive passes overcame the meanest of defences. And he is determined to overcome all the hurdles facing Pakistan hockey.

His international debut came in 1986. That year, he had the ignominy to be a member of the Pakistan team which finished 11th in the World Cup, Pakistan's worst ever international performance till then; they had never failed to reach the semifinal of either World Cup or Olympics. A few weeks before, they had also surrendered the Asian Games title after keeping it in their grasp since 1970. In 1988, the defending champions ended 5th at the Seoul Olympics- also their lowest position.

Shahbaz played a stellar role in the renaissance. Pakistan climbed to 2nd at the next 1990 World Cup where he was declared the Player of Tournament (was also the vice-captain). Again played a pivotal role in Pakistan regaining the Asian Games title in 1990, captained the team in the final. At the 1992 Olympics, under his captaincy, Pakistan were able to reach the podium again, winning the bronze medal. Many regarded them unlucky to lose the semifinal against Germany after dominating most of the game.

Then at the 1994 World Cup, the phenomenal forward had his finest hour. Shahbaz lifted the coveted trophy for Pakistan and was also the universal choice for the Player of Tournament.
One hopes, as the secretary general of the PHF, he succeeds in getting Pakistan hockey out of the abyss and back to the glory days, the way he managed with his stick in the first half of the 90s.

Ijaz Chaudhry writes on hockey & other sports. For more about him and his work, visit: www.sportscorrespondent.info

Fieldhockey.com


---

Men's Masters Australian teams

Australian teams selected in Over 35, 40 and 45 age groups




Following the conclusion of the younger age group tournaments at the men's Masters Australian Championships in Cairns the Australian national Masters teams in those age groups - Over 35, 40 and 45 - have been selected.

The Australian teams for the Over 50, 55, 60, 65, 70 and 75 age groups will be selected on Saturday 10 October after those Championships conclude.

Australian Over 35s
Coach: Troy WILLIAMSON (Mentone, VIC)
Manager: Samantha BRAY (Macarthur Square, SA)
Captain: Dean DAWSON (Giralang, ACT)
VC: Scott WHITAKER (East Bundaberg, QLD)
Todd BLACKSTOCK (Wheelers Hill, VIC)
Daniel BRENNAN (Box Hill North, VIC)
Adam BYRNE (Warrick,QLD)
Brett FUNNELL (Crace, ACT)
Lannon HARLEY (Rivett, ACT)
Drew HAROLD (Maryborough QLD)
Matthew HOTCHKIS (Curtin, ACT)
Alex JONES (Manly, NSW)
Matthew LOBSEY (Grafton, NSW)
Ian McGREGOR (Hornsby, NSW)
Jason MULDER (Croydon Hills, VIC)
Mathew SELBY (Devonport, TAS)
Philip TAYLOR (Kawungon, QLD)
Graeme THOMPSON (Parkes, NSW)
Michael TWEEDIE (Bateua Bay, NSW)
Mathew WHITBREAD (Peakhurst, VIC)

Australian Over 40s
Coach: Geoff HORSLEY (Leeming, WA)
Manager: Russell RIECK (Subiaco, WA)
Captain: Nigel TOUSSAINT (Moonee Ponds, VIC)
VC: Andrew MAY (Runcorn, QLD)
VC: Brian SIVA (Dalkeith, WA)
Steve DOWNEY (Hampton, NSW)
Scott HAMILTON (Ballina , NSW)
Matt HOPE (Kambah, ACT)
Michael ILLINGWORTH (Greenwood, WA)
Chris McCARTHY (Taralaga, ACT)
Brad MATHERS (Carina, QLD)
Danny MAYFIELD (Mackay, QLD)
Mathew  REGAN (City Beach, WA)
Scott REID (Proserpine, QLD)
Troy ROSSITER (Wuttulla, NSW)
Matt RILEY (Palm Beach, QLD)
Justin SHEPHERD (Mackay, QLD)
Glen STOLK (Bolwarra Heights, NSW)
Dean TYLER (Forrest Lodge, NSW)
Garry WELSMAN (Doncaster, NSW)

Australian Over 45s
Coach: Alan SHEEHY (Mingarra, QLD)
Manager: Robert THOMPSON (Artarmon, NSW)
Captain: Steve CARTER (MacGregor, SA)
VC: Paul ARMITAGE (Hilton, WA)
David BROWN (Lismore, NSW)
Alan COLTHART (Carlisle, WA)
Wayne GRIMES (Burns Beach, WA)
Nicholas HILL (MacLeod, VIC)
David HURST (Ashby, WA)
Peter KEEBLE (Runaway Bay, QLD)
Dean LOMAX (Bunbury, WA)
Darryn MARJORAM (Orange, NSW)
Stewart McDONALD (West Leederville, WA)
Andrew NEWTON (Blakehurst, NSW)
Leon PHILLIPS (Merewether, NSW)
Andrew SANDERS (Sorrento, WA)
Damian SMITH (New Town, TAS)
Grant SMITH (Ballina, NSW)
David TILKER (Croydon, VIC)
Dean WIGHTMAN (Bundaberg, QLD)

Hockey Australia media release


---

Nike Women Presents: Field Hockey Star Anna Flanagan



Anna Flanagan in the Nike Tech Fleece Cape

Eight years ago, at the age of 15, Australian field hockey player Anna Flanagan was at a crossroads. She had reached national levels in track and field, tennis and field hockey, but the increasing degree of competition required her to focus on one sport.

"I felt like I could do it all, but when I took a step back and evaluated my career, I knew I was cheating myself," says Flanagan. "To excel meant I had to pick one sport and that was a huge mental hurdle."

Field hockey won out – in part due to family influence. Her father was her youth coach and her mother and sister also played. Additionally, Flanagan relished the sport's sense of community; she viewed her teammates and coaches as mentors.

Her Rise

Flanagan's commitment to hockey was quickly rewarded. At 17, she played her debut game on the Australia national field hockey team – the Hockeyroos – and by 21 she was named the sport's World Young Player of the Year.




The spotlight forced Flanagan to view stress as motivation. "I feel pressure before every game, but we treat every game as an opportunity to improve," she says. "Whether it's a club or international game, thinking about that opportunity relieves some of the stress."

But if Flanagan sees game time as a learning occasion, she considers training the place to become the very best athlete she can be. "I need to know that I've done everything I can in training to feel confident to try to score the first goal and to win the game," she explains.

Practice also provides Flanagan with a chance to tap into her greater athletic background. "We do a lot of fitness and speed work as part of our training. The skills I learned in track and field have been so beneficial, especially for my running."

Her Strategy




Flanagan offsets this relentless athletic schedule by making downtime a priority.

"It's important to have balance in life, because our training environment is so intense. Whether it be studying, working or hanging out with friends, you need that rest time. If I'm not competing, I need other outlets to get my mind off hockey so I can be ready the next time I'm on the field."

Taking advantage of Perth's white sand beaches, Flanagan names her favorite off-duty activities as getting outdoors and spending time with friends and family. Additionally, she is pursuing a career in sports journalism.

"I perform better with a clear mind. I bring a lot of my personality on to the field, so the happier I am off the field, the calmer I am on the field. I need time with friends and family, doing things I love to clear my mind and allow me to focus on my game."

Get To Know Anna Flanagan

Favorite post-training snack: I love trail mix full of cashews, walnuts and almonds.
Pre-game rituals: I listen to music before every game and I always wear a yellow ribbon in my hair.
The best advice you've ever received: Nothing good comes easy; you only get out what you put in.
Favorite off-duty Nike essential: My Nike Air Force 1 sneakers.
Sporting idol: Roger Federer. He's such an inspirational athlete and the ultimate professional.

Nike News


---

Athletic Council upholds ban of Rye field hockey boys

Nancy Haggerty



From left, Rye's Phile Govaert and his sister Fusine, take part in field hockey practice at Rye High School Aug. 20, 2015. (Photo: File photo by Frank Becerra Jr./The Journal News)

The Section 1 Athletic Council has sided with Section 1's eligibility committee, ruling Monday that two boys may not play for the Rye High School varsity field hockey team.

The boys, senior Sean Walsh and freshman Phile Govaert, were judged to be superior to female field hockey players based on a physical fitness test that required them in part to run a mile and do push-ups and sit-ups.

The council also concluded the boys would displace girls from the team, something coach Emily Townsend Prince said was untrue.

"I think it is presumptuous and short sighted to think boys would give us or any field hockey team an unfair advantage," Emily Townsend Prince said. "I have played against boys at this level and they are not better than girls at this age. It is not a given that having a boy on your team is an advantage. Plus, this is not our goal or purpose in pursuing this. It's a matter of right and wrong and we believe they should have the right to play field hockey."

Efforts to reach the school district's attorney, Emily J. Lucas of the Harrison law firm Ingerman Smith LLP and interim athletic director Rod Mergardt failed, so it is unclear whether Rye plans to drop the matter or take its case to the New York State Public High School Athletic Council, which oversees all public school sports.

Walsh's mother, Claire, and Govaert's sister, Fusine, who was Section 1's leading scorer last year, both called Monday night for further appeal.

Walsh said a letter the family received from the Section 1 Athletic Council the council was "unpersuaded" by the district's argument Walsh's participation would not create a "hazardous condition."

"He isn't a big, strong guy," she said of her 145-pound son, who scored three goals on varsity last year.

She dismissed the notion he was superior to his teammates, in part noting he sat on the bench last year during the overtimes in Rye's sectional final game.

Fusine Govaert questioned how the two could be judged physically superior. She noted the girls on their team had not taken the physical fitness test.

"I'm really hoping they do not let this go," she said of her school district. "They should just have an equal right to play. The things I've heard and read, I just think it's really, really unfair. They're saying boys are superior just because they look at statistics."

The brother and sister trained together last spring so that Phile, who played on the junior varsity last year, could score high enough to be considered eligible for consideration to play again, his family has said.

He has said he doubts he would pass the test today.

The 114-pounder was tested as a 13-year-old last spring, with his results measured against other 13-year-olds. He has since turned 14.

"They said (last spring) if he didn't pass fitness test he wouldn't be able to pay at all," his sister said. "We have 12 seniors. Most are 17 or 18. He is never going to be stronger than us. It's unfair. They've never seen him play or practice. If they'd seen one game or practice they'd know he is the least strong. We run by him. We dribble by him. Skill-wise he is not the best of the team. I don't think they can base its decision on pure statistics."

But the ruling also refers to Govaert's play last year on the junior varsity, where he scored nine goals. It refers to his school acknowledging Govaert, who like his older sister, spent his early childhood playing field hockey in their native Netherlands, was better than other JV players.

"The panel is unpersuaded by the RCSD argument that his participation would not create an unfair advantage solely because he is of comparable size to other members of the team and his competition," Monday's ruling says in part.

"He has experience. They're taking that experience in a girl and rejecting in a boy," Claire Walsh countered, alluding to the fact Fusine Govaert scored 37 goals for Rye's varsity last year.

Section 1 executive director Jennifer Simmons represented the eligibility committee at the hearing last week before the Executive Council.

In part, she argued that Govaert "far exceeded 85 percent norms" for girls his age on the physical fitness test.

The panel concluded that, in part based on his performance on the JV level, he would be "far superior" to most varsity players.

The ruling came as no surprise to Govaerts, who earlier questioned whether one Section 1 committee would ever overrule another Section 1 committee.

"Phile is 14 years old (since August 12)," Govaert's mother, Maryse Govaert, said. "He was tested as a 13-year-old. Phile plays with 16-17-year-old girls. What physical advantage can he possibly have?"

"I'm not sure why the section is saying no, " Fusine Govaert added. " I'm not sure who's behind this. I am almost going to make assumptions that there are other people behind this from other teams. The section hasn't seen them play. They can't just make assumptions about how good or bad they are. I just think it's the biggest nonsense they can't play. They should just be treated equally, be able to play and able to have fun. It's all just a game."

LoHud.com