All the news for Thursday 8 October 2015

Men: Venezuela and Uruguay join Brazil and Guyana in the semifinals

Venezuela won Peru 5-1 and allowed Uruguay to finish second in Pool B

Patrick Espejo

Venezuela won Peru 5-1 and allowed Uruguay, who defeated Ecuador 22-1, to finish second in Pool B, determined by their goal difference with host Peru.

Both teams, at the bench of the "Llaneros" (Venezuelans) and the Uruguayans in the locker room, celebrated Venezuela's 5-1 win over Peru. This victory led Venezuela and Uruguay to the semifinals of the Pan American Challenge, joining Brazil and Guyana in the struggle to earn a spot in the great final of the tournament, held in Chiclayo, north of Lima.

Thus, Venezuela will face Guyana, second place of Pool A, and Uruguay will play with Brazil. Both winners will meet on Sunday October 11th in the great final at 3:45 PM (local time).

Today, Venezuela did their job in the morning against Peru. They came to the pitch holding the steadiness shown since the beginning of the tournament, with great tactical discipline, reflected in the dominance of the scoreboard, facing a team feeling pressured  pursuing  a draw that could have given them the chance for the round of medals.

Yordano Castro opened the scoreboard for the Venezuelans in the first minute of the match. Peru equalized at the end of the first quarter with Fernando López, who pushed the ball to the net.  Since that moment, the Venezuelan attack was lethal. Andy Adrián took advantage of the open spaces left by Peru, who was focused pressuring on attack, converting three goals in minute 29, 32 and 60, while Cristian Vargas scored in minute 52.

 "We knew that winning was enough to be in the final. We're upset for not being able to cruise to the semifinals because of goal difference, but this is what the game is about. Anyway, we still have two matches to play, and we aim to do well and win to finish in the highest possible position in the tournament," said Sebastián Dennison, Peruvian forward.

Peru will face Panama on Friday. With a victory, they will play with the winner of the match played by Puerto Rico and Ecuador, to decide the fourth and fifth place.

URUGUAY THRASHED ECUADOR

Earlier, Uruguay scored the biggest win of the tournament defeating Ecuador 22-1. The Ecuadorians opened the scoreboard with Harold Soria in minute 2. Since that moment, the match developed on one side of the pitch, with Uruguay completely focused in attack, knowing that the goal difference was the key, especially after Peru's 11-0 victory over Ecuador the day before.

Ignacio Costas scored five goals, Alexis López, Lucas Cantaro y Federico Iglesias scored three goals each, Agustín Rivero, Gabriel López two each, while the rest were scored by Matías Vasquez, Juan Manuel Canessa, Joaquín Rodríguez and Diego Romano.

Uruguay finished the qualification phase with 4 points like Peru, but with a goal difference of +18 goals, 11 goals more than the Peruvians.

SEMIFINALS ON FRIDAY

The matches for Friday were defined in the morning today. To define places from 5th to 8th, the matches are scheduled: 8:30 Puerto Rico vs Ecuador and 10:45 Peru vs Panama.

Pan American Hockey federation media release


---

Women: Barbados and Peru will define the finalists

Brazil and Barbados draw in a great match, but they delayed the definition of the gold medal for tomorrow, with Barbados against Peru

Patrick Espejo

Brazil and Barbados met in a great match. One draw and a goal delayed the definition of the gold medal until tomorrow, with Barbados against Peru.

Just four minutes before the end of the match, Keisha Jordan ran on attack and was able to score, and tied Brazil. This parity (1-1) enabled Barbados, now with 7 points like Peru, to top the women competition of the Pan American Challenge. Today, Peru was on their rest day. Barbados will play against Peru tomorrow and this match will define the great final of the tournament held in Chiclayo, north of Lima, Peru on Sunday. 

This 1-1 draw led Brazil to the third place, but with the best chances to reach the final, as tomorrow they will meet Puerto Rico, a team that earned their first 4-0 victory against Panama today.

The Brazilians opened the scoreboard in the minute 18 with Alexia Carvalho. It was a slow speed match. Most of the action took place in the midfield, with few plays in the attacking circle, but allowed both goalkeepers Andrea Gomes Bernardes from Brazil, and Sheena Nicholls from Barbados to stand out.

Brazil led the match with the initial goal, but by the end of the match with Barbados pressuring on attack, Jordan finally achieved the parity.

PERU MUST WIN

The results of the matches of today, force Peru to defeat Barbados tomorrow, to have a chance to fight for the gold medal. Any other result will exclude the hosts from the final. This match is scheduled at 3 PM, at the official pitch in Colegio San José. Two hours before this match, Puerto Rico and Brazil will meet.

Puerto Rico defeated Panama, with goals by Abbey Torres, Isamarie Ramos and Josefina Delgado (two goals).

Pan American Hockey federation media release


---

All set for the Coaching Course

Under the Pan Am Challenge setting, a Coaching Course will be dictated tomorrow

M. Josefina Chavez Diaz

Under the Pan Am Challenge setting, celebrated in Chiclayo and organized by PAHF together with the Peruvian Hockey Federation, a Coaching Course will be dictated.

The Course will be carried out on the 8th, 9th and 10th of October, during the development of the Pan American Challenge, held at the emblematic Colegio San José in Chiclayo. There will be a dissertation given by the renowned Argentinean Coach, Ernesto Lucero.

Lucero, former coach of different clubs of Rosario, Argentina, from Valverde, Italy, is the actual Coach of the NEA Region of the Confederación Argentina de Hockey (Argentinean Hockey Confederation), PAHF International Coach and Educator of the FIH Academy, will facilitate the course, where more than 30 coaches and physical educator teachers from the Northern Peru will assist.

The course will be dictated in three full-days, with theoretical and practical lessons expecting that all trainers will promote the sport in the region, taking advantage of the legacy of the last Bolivarian Games, which resulted in a synthetic pitch, the only one in Peru, for the benefit of hockey development.

Pan American Hockey federation media release


---

India secure win against Black Sticks Men



Black Sticks Nick Wilson (left) and Matt Rees-Gibbs in action in tonight's game. Photo: Photosport

It's all squared up in the Black Sticks Men's series against India following a 1-3 loss in Nelson this evening.

The Kiwis won 2-0 yesterday, but India's defence held the Kiwis out tonight, levelling the series ahead of their final two games in Christchurch this weekend.

"We started poorly, we had the edge in game one but they had that edge in game two," said head coach Colin Batch.

"We did improve as the game went on but the Indian goalkeeper denied us. A lot of good opportunities were created, but we need to finish them off. We created more opportunities tonight than we did last night which is a good sign, but we still need to be more thorough in our overall game," said Batch.

India was first to score through Ramandeep Singh who picked up a rebound from goalkeeper Devon Manchester and at close range knocked it home at the end of the first quarter.

Throughout the first half the Black Sticks Men had their chances to score from field goals and penalty corners, but goalkeeper Sreejesh Parattu was superb and was well supported by the Indian defenders.

In the second half, the Kiwis relentless attacking efforts paid off when Kane Russell scored from a cracking penalty corner drag-flick in the 45th minute just before the hooter.

India converted their chances seven minutes later when Lalit Upadhyay scored a nice field goal to give the visitors the lead.

With little time left on the clock, the Black Sticks made the call to remove Manchester and add an extra field player.

New Zealand held possession and once again looked threatening up front, but when the ball fell to India the Kiwis were scrambling in defence and Thimmaiah Chananda closed out the game with a goal in the final minute.

Both teams now go to Christchurch where they face each other on Friday night and Sunday afternoon. The Black Sticks Women will take on Argentina in their final game of the series on Friday night.

MEN'S RESULTS
Full time: 1-3 (India win)
Half time: 0-1 (India led)
NZ goal scorers: Kane Russell
India goal scorers: Ramandeep Singh, Lalit Upadhyay and Thimmaiah Chananda

Hockey New Zealand Media release


---

India beat New Zealand 3-1 to equalize the Series

New Delhi: After losing the opening match of the series, the Indian team came back strongly to beat New Zealand 3-1, during the second game of the 4-match test series in New Zealand. Unlike the previous match India lifted their tempo throughout the game and displayed attacking hockey which helped them score three goals over the hosts. With this win, India has now equalized the four match series 1-1, with two games left in the ongoing New Zealand Series.

India went on the attack right from the start and which helped build the initial pressure over the hosts. The opening minutes saw Chinglensana Singh attack from the right flank as he entered the D of the opponents, but the alert New Zealand defence thwarted the attempt to score. Keeping constant pressure, India earned a penalty corner in the 10th minute but unfortunately for the visiting team the ball was hit wide of the post.

The 13th minute saw Birendra Lakra play a cross ball to Ramandeep Singh who opened the account for India on a rebound giving his team the 1-0 lead. The goal proved to the sole one scored in the session and the first quarter finished with India leading 1-0 over New Zealand.

India continued their attacking game in the second quarter. Right into the session, Dharamvir Singh's brilliant move got the New Zealand defence on the backfoot but was blocked by an observant New Zealand goalkeeper. New Zealand in turn heavily capitalised themselves on counter attack but they could not break the strong defence of the Indians.

In the 23rd minute New Zealand were awarded with a penalty corner and they saw their chance to equalise. But Sreejesh with his brilliant save denied the Black Sticks their opening goal. With no goals scored in the entire session, India still lead the game at 1-0 at the end of first half.

In the third quarter the spectators witnessed an exciting game of hockey from both the sides. Right into the quarter, an unmarked Gurjinder Singh had a great chance to double the lead in the 33th minute but he deflected the ball wide of the post. New Zealand immediately counter attacked and won a penalty corner in the 35th minute but Indian goalkeeper Sreejesh stood tall and cleared the danger yet again, leaving the hosts frustrated.

New Zealand kept on pressing for goals and came back on equalising terms just before the session ended. Kane Russell in the 45th minute scored the equaliser for New Zealand as another penalty corner to the hosts was converted brilliantly, resulting in the third quarter tied at 1-1.

With the last quarter being the decision maker for the game, both the teams were aware that a goal from here will help them take the win. Both sides tried taking an early lead and saw New Zealand's Simon Child penetrating the Indian circle from the left side, but an organized Indian defence held firm and did not allow them to go one up.

Team India intensified the attack on the Kiwis and their effort paid off in the 52nd minute when Manpreet Singh's accurate pass to Lalit Updhyay helped India take the lead as the later calmly finished to take the scorecard to a 2-1 lead. Last minute of the match, where India had the game already in their favour saw Nikkin Thimmaiah score the third goal to seal the match at 3-1.

India will take on New Zealand in the third match of the Series on 9th October at Christchurch. All games during the series will be LIVE streamed on www.hockeynz.co.nz.

Stick2Hockey.com


---

Feisty India bounce back to level Test series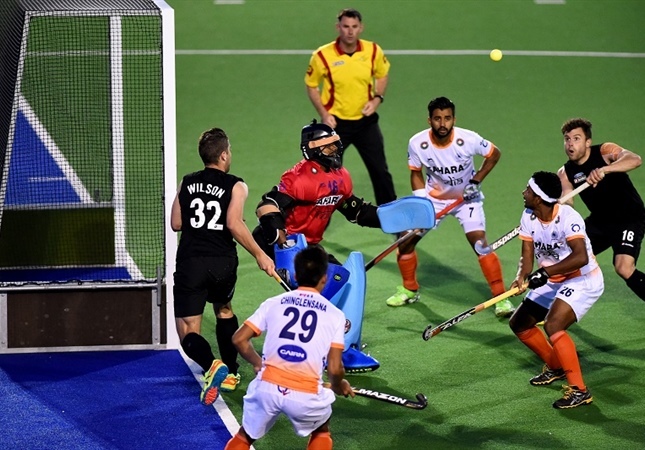 India opened their account in the 13th minute through Ramandeep Singh. courtesy: New Zealand Hockey

New Delhi: The Indian men's hockey team bounced back strongly to defeat New Zealand 3-1 in the second Test and level the four-match series 1-1 in Nelson today.

Unlike in the opener, which they lost 2-0, the Indians lifted their game by leaps and bounds and displayed attacking hockey from the onset.

India went on the attack right from the start and earned a penalty corner in the 10th minute but the effort was wide of the post.

India opened their account in the 13th minute through Ramandeep Singh, who scored off a rebound after a save from goalkeeper Devon Manchester. India continued their attacking game in the second quarter but Dharamvir Singh's brilliant try was blocked by an alert Manchester.

Throughout the first half, the hosts had their chances to score, but goalkeeper PR Sreejesh was superb and was well supported by the Indian defenders.

"We started poorly, we had the edge in the last game but they had that edge today," said New Zealand coach Colin Batch. "We did improve as the game went on but the Indian goalkeeper denied us."

In the 23rd minute, New Zealand were awarded a penalty corner but Sreejesh made a brilliant save to deny the Black Sticks.

Right at the start of the third quarter, an unmarked Gurjinder Singh had a great chance to double India's lead but his deflection was wide of the post.

New Zealand immediately counter-attacked and won a penalty corner in the 35th minute but Sreejesh again stood tall, leaving the hosts frustrated.

New Zealand kept up the pressure and managed to equalise just before the end of the third quarter through Kane Russell, who scored from a cracking penalty corner drag-flick in the 45th minute.

India intensified their attack and their efforts paid off in the 52nd minute when Manpreet Singh's accurate pass found Lalit Upadhyay, whose calm finish gave the visitors a 2-1 lead.

With little time left on the clock, the Black Sticks made the call to remove Manchester and add an extra field player.

New Zealand held possession and once again looked threatening up-front, but when the ball fell to India, Nikkin Thimmaiah closed out the game with a goal in the final minute.

India will now face New Zealand in the third Test match in Christchurch on October 9.

The Tribune


---

Blacks Sticks lose as India level hockey international series



Kane Russell, the Black Sticks' solitary goalscorer in their loss to India in Nelson on Wednesday. Chris Symes/Photosport

India have levelled their four-test series after scoring a decisive 3-1 win over New Zealand's Black Sticks in their second men's hockey international at Nelson's Saxton Turf on Wednesday.

The Black Sticks had headed into the test on the back of a 2-0 win in Tuesday's series-opener. But a confident Indian team, buoyed by some excellent defence, were too good for the Blacks Sticks and the two camps now head to Christchurch with the series locked at 1-1.

New Zealand coach Colin Batch had mixed emotions after the loss.

"I think we didn't play as well as last night, but what I said to the players was, we actually created a lot more chances tonight," Batch said.

"Their goalkeeper [Sreejesh Parattu] made a number of good saves, so we sort of improved that area and created more PCs [penalty corners] and that's a credit to the guys. But there was a general feeling that we weren't as much at the international level as we were last night."

Batch agreed that India had clearly raised their intensity from Tuesday's loss.

"They lifted their level, which you'd assume [they'd do]. Tonight was their fourth game [after two previous wins over New Zealand A] so thay had two warm up games that they probably weren't satisfied with and came out and certainly jumped ahead from last night's performance.

"That's what happens in international hockey, you do often play on consecutive nights and you've got to be up for it each time, and I don't think we were tonight and that's disappointing."

Batch said that the players clearly needed to improve their finishing.

"It's good that we created those chances, but we've got to finish them. We don't want to [just] be the best defensive team around, we actually want to go out and create enough chances to win. We're doing that - we need to finish."
Ad Feedback

While a revitalised India made a spirited start, New Zealand produced the first genuine scoring opportunity when Matt Rees-Gibbs had a shot deflected over the goal in just the third minute.

India were quick to respond, Gurjinder Singh pushing a shot wide from an 11th minute penalty corner before Ramandeep Singh finally opened India's account for the series when he scored two minutes later for a 1-0 first quarter lead.

Chinglensana Kangujam accentuated India's heightened resolve when he had a shot blocked by Black Sticks' keeper Devon Manchester. Another long-range attempt by Satbir Singh soon afterwards, which narrowly missed the left post, highlighted the mounting pressure on the Black Sticks' defence.

Two consecutive penalty corners, both unsuccessful, finally offered the home team an opportunity to level up. But with New Zealand's attack starting to gain more traction late in the half, India's defence remained solid as they took their 1-0 advantage into the halftime break.

Daramvir Singh hammered another attempt wide in the opening minute of the second half before two consecutive penalty corners, again both unsuccessful, had New Zealand applying pressure. Some excellent defence by Indian goalie Sreejesh Parattu continued to keep New Zealand scoreless.

Kane Russell, fresh from a green card infringement, finally made the breakthrough with a clean strike from a penalty corner to send the teams to the third quarter break locked at 1-1. But India regained their lead when Lalit Upadhyay struck with eight minutes remaining.

New Zealand replaced their goalie with a field player for the final few minutes to try to force the equaliser, Upadhyay taking full advantage to score India's third goal with time virtually up.

The final two tests of the series will be played in Christchurch on Friday and Sunday.

India 3 (Ramandeep Singh, Lalit Upadhyay 2) New Zealand 1 (Kane Russell)  HT: 1-0.

Stuff


---

Black Sticks double-header a sell-out!




Tickets are sold out for tomorrow night's double-header Black Sticks test in Christchurch.

There have been 1,600 tickets purchased to watch the Black Sticks Women face Argentina and the Black Sticks Men take on India at Marist Park at St Bede's College.

There are still tickets available for the Black Sticks vs India game at 1pm on Sunday – the final game of the 2015 South Island Tour. Tickets are available for this game at both www.dashtickets.co.nz and at the gate on the day. 

Canterbury Hockey chief executive Rod Templeton said he is thrilled that there is so much interest and it's reflective of the strong hockey community in the region.

"It's great to have the Black Sticks Men and Women as well as two highly ranked teams in India and Argentina playing here in the city – it's a fantastic way to profile the sport and allow not only Black Sticks fans, but those new to the sport to watch world-class hockey," said Templeton.

"To host such major international events has taken creativity and support from Hockey New Zealand, Canterbury Hockey and St Bede's College – and we are looking forward to the tests getting underway."

The Black Sticks Women take on Argentina at 6pm in their final game of the series and with a 2-1 lead so far, they will be looking to finish with a win.

The Men's series is currently drawn 1-1 and there's a lot to play for tomorrow night (8pm start) with the winner taking an unassailable lead ahead of the final game on Sunday at 1pm.

All the games are live-streamed here - www.hockeynz.co.nz/video

Hockey New Zealand Media release


---

Merry brings up 100 hockey caps to a sell out crowd in Christchurch



Olivia Merry (L) will receive her 100th cap for the Black Sticks in front of a capacity crowd as New Zealand take on Argentina in Christchurch on Friday. PHOTOSPORT

Canterbury striker Olivia Merry will receive her 100th Black Sticks cap in front of a sold-out home crowd as New Zealand look to seal the series against Argentina on Friday.

The 23-year-old missed out in the team's opening loss to the Lionesses in Blenheim last week, but ,consequently, her 100th appearance for New Zealand will be in front of the people she grew up playing hockey with.

"It's something you never really strive towards, getting more caps," said Merry.

"You strive towards becoming a better player and then and hopefully it ends up that way. I'm pretty excited and it's going to be awesome to do it in front of some family and friends."

Merry, who works for Canterbury Hockey, believed she had been very fortunate in the way she began her international career and the last few tours have seen her become more secure in the Blacks Sticks strikeforce.

"I guess over the last eight months it's been the same group of girls and since the [National Hockey League] we've had a few more added.

"There's been a lot more importance on how, lots of emphasis placed on how important it is to not only score penalty corner goals but field goals too, so we've been doing lots of attacking circle work and it's been paying off."

Competition is fierce for a place in the Black Sticks team, and Merry said it was never really possible to feel you had a strong grip on your place in the team.

"There's lot's of people knocking on your door, so actually it's awesome for your own performance because you're constantly pushing yourself to strive to be a better player.

About 1400 hockey fans will head to Christchurch's Marist Park hoping for a memorable clash between Argentina and New Zealand.
Ad Feedback

Merry expected their opponents to come out firing, ranked third in the world, it's not often they succumb to two consecutive losses, let alone three.

Head coach Mark Hager shared that view and felt the key part of his side becoming a force on the international stage was having belief in what they were trying to achieve and backing themselves in tough situations.

Emphasis on attacking play would remain the focus, and an opportunity to go up against a physical team like Argentina was a great opportunity to test themselves as the squad builds up to the Rio Olympics in August 2016.

"Argentina are very good at pushing you in the attacking circle," said Merry.

"So I guess we've actually in our training had more emphasis on being super cool and actually being the ones to push each other in training to get better in the long run."

Merry hoped as she added to her 100 caps she would become a more prolific force in the attacking circle as well as working on her defensive skills and all around game to help move the team forward.

Rebuilding after the London Olympics has been a long process, but one that seems to be paying dividends just in time for Rio.

"I guess we established over the last three years, and particularly the last eight months, we've almost got there on a few occasions.

"Just getting to the semi-finals and then you've got to practise winning them and unfortunately we haven't quite done that yet, but you've got to play in them to do that."

Once the final whistle has been blown in Christchurch, the focus shifts to the next tournament and notching up more wins to keep that confidence high for 2016.

Stuff


---

Green Machine to Face Argentina in 3 Match Dublin Series




Following on from Eurohockey Championships bronze medal success the Green Machine are continuing their preparation on the Road to Rio as they take on Argentina in a 3 match series in Dublin this October. Argentina are ranked 6th in the world and are the current Pan Am champions, as well as World Cup bronze medallists. The series will be the first time the men's squad will have played a test match on home soil since winning the bronze medal in London and offers hockey fans the chance to see the highest standard international hockey.

The Green Machine will learn their Olympic fate by October 25th and will secure that all important ticket to Rio if Australia win the Oceania Championships.  Argentina will prove stiff competition for the Green Machine who will be looking to maintain an impressive level of consistency against higher ranked opposition. Speaking about the upcoming series, Coach Ned Fulton said "We are looking forward to playing Argentina in a 3 match series next week. It comes at just the right time as the new EY Hockey League has started and we start training again as a National squad. We will be using a bigger squad of players so plenty of opportunity for all to compete for places in the training squad. Argentina will be really tough opposition and we look forward to challenging ourselves once again against another top 6 team in world hockey".

Match Information

October 14th at 7:30pm National Hockey Stadium, UCD
October 16th at 7:45pm at Pembroke Wanderers Hockey Club
October 17th at 6pm at Pembroke Wanderers Hockey Club

Squad



Irish Hockey Association media release


---

Junior men's team departs for Johor Cup

NEW DELHI: Defending champions the Indian men junior team departed on Tuesday night to participate in the 5th Sultan of Johor Cup, which is scheduled from October 11to 18th in Johor Bahru, Malaysia. After a month long preparation camp, the colts are upbeat to face challenges in the tournament to retain the title for the third consecutive time.

Apart from the host Malaysia, the junior team will face stiff challenge from Australia, Great Britain, Pakistan and Argentina. All set to play their first match against arch-rival Pakistan, the team looked upbeat and confident before they departed for the much awaited tournament.

Speaking ahead of the departure coach, Harendra Singh said, "We know that we are the defending champions of this tournament but in this edition, we will start fresh and with new ideas. What happened in the last edition is history now and we have to perform better than other teams. Every game is important for us and we have been preparing ourselves team by team."

When asked whom do you think will be the toughest opponent, Singh replied, "All the participating teams are competitive, but Australia and Great Britain are quite tougher than others. We need to play an attacking game against these two teams to yield positive results. Team is confident and well-prepared. We will give our best in this tournament."

Speaking on the tournament captain Harjeet Singh added, "We have been working hard for this tournament in the recently concluded preparation camp. The camp was productive and helped us to overcome our weaknesses in few areas. The tournament will be exciting as there are some good teams are participating. We are ready for our first match against Pakistan and we don't have any pressure to play against the Asian team. We will go match-by-match and tackle each team differently. Our aim is to gain maximum out of each match. If everything goes well as per our plan, then we will surely bring the trophy home for the third time."

India will face Pakistan in their first match of the 5th Sultan of Johor Cup on 11th October 2015.

The Times of India


---

EHL week: where to watch all the action!

The ninth edition of the Euro Hockey League is just a couple of days away and promises to be yet another thrilling installment of the world's premier club competition.

For those who can't make it to the festival in Hamburg over the course of this weekend, the tournament is as accessible as ever with live streams of each game available on the EHL website as well as the EHL and FIH Youtube channels.

Viewers in Germany can watch matches live on Sport1.de through their online players with their battle with Grange on Friday viewable here and their game against HC Wien on Sunday here.


We will also have "almost live" video clips of all the goals posted to our EHL Facebook and Twitter feeds throughout the 12 games so you never have to miss a key moment!

We also want to hear from you! Be sure to get in contact with us with all your thoughts on the weekend's action via Facebook, Twitter and Instagram for the fans in the stadium!

- Streaming

Available via three outlets
1) www.ehlhockey.tv
2) the EHL Youtube channel
3) the FIH Youtube channel

- Instant Updates

Goal updates, interviews and highlight reels will be posted via the EHL Facebook and Twitter outlets

- Twitter

Official hashtags: #EHL and #EHLHamburg

Official EHL twitter handle: @ehlhockeytv

- Instagram

Tag us using #EHLHockey - this will instantly filter through to our Facebook page!

- Facebook

Find us at "Euro Hockey League"

- Tickets

To experience the world's premier club competition live, tickets can still be bought online here and will also be available at the gate!

Euro Hockey League media release


---

Monkstown in EHL action this weekend




This weekend see's Monkstown travel to Germany to compete in the Euro Hockey League as Ireland's representative. The Dublin club will face East Grinstead from England and Club Egara from Spain, both teams who have featured in the EHL several times. However Monkstown, now under the leadership of Jonny Caren, have plenty of talent in their ranks. Several members of the bronze medal winning Green Machine are key members of the squad along with a large expanded panel of both experienced and young players.

David Fitzgerland, Monkstown goalkeeper, is confident that his side have learnt from their European endeavours last year "Our debut season did not give us the results we were looking for but the experience will really stand to us. We started slowly last year in the first game and it cost us. You have to be ready to go from the first minute in the EHL and we are well prepared to do this."

Find Monkstown's fixtures below and the EHL tournament site here.

Monkstown vs East Grinstead - October 9th 12:30 (CET), Hamburg, Germany
Club Egara vs Monkstown- October 11th 11:45 (CET), Hamburg, Germany

Irish Hockey Association media release


---

Confident Fitzgerald looking to build Irish momentum




Monkstown goalkeeper David Fitzgerald says his club side are looking to build on the recent momentum for the sport in Ireland and make a few waves in the Euro Hockey League this weekend in Hamburg.

The south Dublin club are taking on two established sides in the continental competition in the form Spain's Club Egara and English runners-up East Grinstead.

But Fitzgerald says they see the group as "tough but one where we see opportunity", saying: "Club Egara have a long history of success in the competition dating back to the very first EHL and will have some familiar faces from the Spanish national team.

"East Grinstead have been English champions and have advanced to the knockout stages of the EHL on numerous occasions over the last few years. We are excited by what we expect to be two hard fought games and our goal is to advance to the knockout stages."

The confidence comes from Ireland's recent run to bronze at the European Championships. Four of the Irish panel – Fitzgerald, Peter Caruth, Jonny Bruton and Kyle Good – are part of the Town panel for this campaign.

Last year was Monkstown's first shot at the elite level having won the second tier of European club competition a season earlier.

Fitzgerald says last October in Barcelona was a major learning curve as they succumbed to Racing Club de France and Belgium's Royal Daring.

"Our debut season did not give us the results we were looking for but the experience will really stand to us. We started slowly last year in the first game and it cost us. You have to be ready to go from the first minute in the EHL and we are well prepared to do this."

And, with more top level games under the belt of a greater number of Irish players, the fear factor of playing so-called higher ranked nations is dissipating.

"Irish hockey is on a real high at the moment with winning the bronze medal at the Europeans and the results of the last 14 months as a whole.

"There were some special moments during those 14 months and beating England in London in front of a capacity crowd was definitely one of them. Monkstown have a large number of players who have been involved in the Irish squad during this period and we hope we can take this experience and momentum into the EHL."

They enter the competition with new coach Jonny Caren in charge after three years under Graham Shaw. So far, he has overseen two league wins in the new EY Hockey League in Ireland, beating Railway Union 2-1 and Lisnagarvey 5-2.

And Fitzgerald is enjoying his influence on the panel thus far:

"He is a top class coach and has been able to bring a new element to the team both tactically and physically in the short time he has been with us.

"We had great success under Graham Shaw in the last three years and Jonny will be building on the really strong platform that Graham has left.

"Jonny has a great talent for developing youth players and we have some exciting young players in Monkstown such as Guy Sarratt and Sam Hyland to name a few that have joined the first team from the Under-16s and the club are looking forward to seeing players such as these develop under Jonny."

Euro Hockey League media release


---

EuroHockeyLeague return presents tough test for Grange



Grange goalkeeper Sean Hadfield, pictured in action against Bromac Kelburne, is looking forward to the EHL this weekend. Photo Credit: Duncan Gray

Grange Hockey Club return to the EuroHockeyLeague (EHL) for the first time in three seasons when Round 1 of the continent's premier club competition gets underway in Hamburg, Germany this weekend (9-11 October).

The capital outfit, led by Head Coach Colin Clarke, have been handed a challenging draw in Pool B, facing 2013-14 EHL champions and hosts Harvestehuder THC, and Austrian side HC Wien.

With only the first placed team from each of the four qualifying pools progressing to the KO16, the competition has never been tougher.

Grange's previous participation in the EHL came in the 2012/13 edition and proved to be a real learning curve, losing 13-0 to Dutch side Rotterdam and 8-0 to Berliner of Germany in Barcelona. They also failed to get out of the group stage in the 2007/08 competition.

Speaking on the EHL website, Grange goalkeeper and Scotland U21 international Sean Hadfield said, "We are looking forward to the challenge of playing the ex-EHL champions, Harvestehuder.

"For the majority of our team, it will be their first time playing at the EHL so it will be an incredible experience playing the hosts in front of a home crowd.

"Our game against HC Wein is the game we are really targeting to try and get a positive result and hopefully notch Grange hockey club's first win at the EHL!"

The Stags' first encounter on Friday (16.00 BST) is a clash with hosts Harvestehuder. THC. The Germans made their EHL debut in 2013/14, stunning the hockey world with dramatic tournament win, beating Netherlands' Oranje Zwart on a penalty shoot-out to claim a maiden title at the first time of asking.

Nevertheless, the Hamburg-based outfit found defending their European crown a test too far last season, losing out to Belgium's KHC Dragons in the KO16 round.

There is little doubt that they start as clear favourites to win the pool, particularly with a team littered with talent, including Germany's double Olympic Gold Medallist and 2010 International Hockey Federation Young Player of the Year Tobi Hauke. Austrian international Michael Korper is deadly from penalty corners too.

On Saturday, HC Wien will be Grange's second opponents. The Austrian national champions are making their debut season in the EHL and therefore this tie between the two sides is likely to be more keenly contested and evenly matched.

Like Grange, Wien qualified for the EHL on the back of a national play-off final win, defeating SV Arminen to register their first national success in over two decades.

Players to watch include Poland's Michal Siejkowski, Michal Zdrojewski, Sebastian Wladysiak and Lukasz Staniczek, while Tobias Handel-Mazzetti captains the team.

Both matches will be screened live by the EHL. Please visit the EHL website for the full schedule and more information.

Scottish Hockey Union media release


---

Teams Announcement for the 2016 FIH Masters World Cup

COLORADO SPRINGS, Colo. - USA Field Hockey is proud to announce the four Masters National Teams to represent the United States at the 2016 FIH Masters World Cup. The biennial tournament is being held at the National Hockey Centre in Canberra, Australia from March 28 to April 10, with over 60 national teams expected to compete in age categories from Over-35 to Over-55. Team USA is sending two Women's Masters National Teams at Over-40 and Over-45, while the Men's Masters National Teams will compete in the Over-40 and Over-50 age categories. The teams will be aiming to build on their strong performances at the previous Masters World Cup, including a 5th place finish for the Over-50 Men.

As with previous events, selection was extremely competitive with four trials held on both the East and West Coasts. Performance at the trials was evaluated, with an alternative video, interview and reference assessment available for those unable to attend any of the trials. For four male athletes - Phil Danaher, Peter Jones, Warren Prestwich and Ian Wagge - it will be their third appearance for the United States at an FIH Masters World Cup.

Congratulations to the following athletes on their selection to represent Team USA at next year's FIH Masters World Cup.

Women's Over-40
Toni Arner (Red Hill, Pa.), Ana Berra (Doral, Fla.), Sylvia Days (Buenos Aires, Argentina), Heidi Dell'Oso (Wilmington, Del.), Beth Denmead (Netcong, N.J.), Anne Dillman (Lancaster, Pa.), Melissa Emery (Big Sky, Mont.), Megan Fraser (Baltimore, Md.), Karina Greco (Cordoba, Argentina), Nancy Houghton (Wallingford, Vt.), Kari Johns (Darien, Conn.), Margaret Kelly (Needham, Mass.), Florencia Manero (Key Biscayne, Fla.), Jen Rowe (Drexel Hill, Pa.), Kyle Shellaway (Gilbertsville, Pa.), Kim Tolbert (Severn, Md.), Patti Webb (Monkton, Md.), Amber Wittell (Stroudsburg, Pa.)

Women's Over-45
Diane Angstadt (Middletown, Pa.), Deb Atkins (Quarryville, Pa.), Christine Couteau (San Jose, Calif.), Lisa Cropper (Franklin, Mass.), Meri Dembrow (Royal Oak, Mich.), Sophie Desmond (Paris, France), Barbara Doran (New York, N.Y.), Susan Elliott (Downingtown, Pa.), Michelle Finegan (Doylestown, Pa.), Nicky Hitchens (Wilmington, Del.), Anne Keating (New York, N.Y.), Maria Keesling (Downingtown, Pa.), Linda Kreiser (Middletown, Pa.), Georganne Nattress (Norwalk, Conn.), Janet Powers (Towson, Md.), Barb Wachowiak (Hamburg, N.Y.), Denise Zelenak (Wilmington, Del.)

Men's Over-40
Federico Baudini (Miami, Fla.), Charles Carney (Berlin, Germany), Sajid Chaudhary (Irvine, Calif.), Justin Elliott (Phoenix, Ariz.), Jeremy Gajkowski (Phoenixville, Pa.), Tommy Hoang (Thousand Oaks, Calif.), Shamsher Johal (Phoenix, Ariz.), Ahyodha Kishna (Rocky River, Ohio), Paul Lewis (Colorado Springs, Colo.), John McGraw (Mechanicsburg, Pa.), Rajpal Sandhu (Mountain House, Calif.), Amanmeet Sandhu (Modesto, Calif.), Alan Scally (Thousand Oaks, Calif.), Charanjit Singh (Keller, Texas), Sumarjit Singh (Gilbert, Ariz.), Otto Steffers (Newark, Del.), Vernon Vassou (Arlington, Va.), Walter Velasquez (Olney, Md.)

Men's Over-50
Phil Danaher (Tatamy, Pa.), Joost Douwes (Stanwood, Wash.), Jonathon Drucker (Coral Gables, Fla.),  Clement D'Souza (Powell, Ohio), Fernando Diez de Onate (Key Biscayne, Fla.), Simon Gray (Bainbridge Island, Wash.), Rob Groot (Potomac Falls, Va.), Peter Jones (Stamford, Conn.), Brijinder (Bob) Khosla (Phoenix, Ariz.), Jeff Lancaster (Buderim, Australia), Muzammal Malik (Westminster, Md.), Manuel Morales (Miami, Fla.), Steven Pany (Schnecksville, Pa.), Greg Pereira (Fulton, Md.), Warren Prestwich (Carney, Md.), Alexander Rooks (Belmont, Mass.), Ian Wagge (Scottsdale, Ariz.), Don Warner (Henrico, Va.)

USFHA media release


---

All star Welsh line up for inaugural International Athlete Ambassador programme

Hockey Wales is proud to appoint Natasha Marke-Jones, David Kettle and Jo Westwood to its first ever International Athlete Ambassadors Programme. The news comes as part of Hockey Wales' #Hocktober campaign, which promotes participation and inclusive in hockey throughout the month of October.

The decorated trio have nearly 150 caps for Wales between them and are already role models for many people within the sport. However with their new ambassador status, they will be promoting the game across Wales and hope to inspire and motivate people involved at all levels of hockey.

Goalkeeper David Kettle, 27, made his debut for Wales in 2009 and currently plays for Surbiton in the Premier Division of the Men's Hockey League, as well as managing his role as the Assistant Vice President of Barclays.

David, who is also known by his team mates as Dragon, said: "I'm very excited to be part of the programme, because having ambassadors for the sport can only help raise the profile of the game in Wales. I'm looking forward to going to meet players at clubs and hopefully together we can help inspire some future Welsh Internationals."

Both Jo Westwood and Natasha Marke-Jones, 22 and 24 respectively, play for Swansea City in the Investec Hockey League (Conference West) and each made their debut for Wales in 2012, Natasha now with 38 caps and Jo with 49.

Bridgend born forward Natasha also holds down a full time job in Marketing and Communications for social enterprise Vi-ability, a non-profit organisation that works to transforms individuals, communities and sports clubs. She said:

"I think it's so important to inspire and motivate others in hockey. Some young people may not have the opportunities to play at school, so it's now our job to step us as players to break down the barriers people face when taking part.

"I think the International Ambassador Programme is a positive step for Hockey Wales. We rarely have a chance to compete on the world stage, so having this platform to promote the sport in Wales and inspire others is crucial to growing the game."

Defender Jo is originally from Cardiff and as well as her playing career, she works as an Activity Coordinator for Vale of Glamorgan Council whilst completing a Masters in Sports Coaching. She also coaches Medics Ladies' Hockey Club, at the Hockey Wales South West 360 Hockey Centre and Cardiff & Vale U14 Girls. Jo said:

"As a coach and an athlete this role provides me with the opportunity to be able to pass on my experiences to up and coming juniors. You learn a lot by playing at a senior level, things that some people might take for granted, but I'm really excited to be in a position to help motivate those aspiring to play for Wales."

The appointment of International Athlete Ambassadors, led by Hockey Wales' Head of Growing the Game Debra Barker, is the first of its kind by the organisation.

"International athletes play a huge part in inspiring the next generation of stars so we are delighted to have players of their calibre on board. Not only are they fantastic players on the pitch, off the pitch they are all successful professionally in their own respective areas.

"It says a huge amount about their work ethic and dedication to hockey. I believe everyone in the sport, player or otherwise, will be inspired by what they do and their commitment to growing the game."

The trio begin their role as Hockey Wales' International Ambassadors with a Twitter Q&A taking place this Friday, 9th October, at 13:00. They will be taking over the Twitter account to answer hard-hitting hockey questions from members of the hockey community.

The Wales International Squads primary focus this season will be the World League, details of which will be announced once confirmed by the FIH later this year. International fixtures will take place from spring in the lead up to World League at the end of the year.

For more information on Wales National Squads, please visit www.hockeywales.org.uk/perform/national-squads.

For further information on Hocktober visit www.hockeywales.org.uk/Hocktober.

Hockey Wales media release


---

Ellen Hoog: Hockey's pinup girl ready to shine at Rio Olympics

By Matthew Knight and Leila Hussain, CNN

As the star of the Dutch women's field hockey side, the 29-year-old has enjoyed a near perfect career.


---

Sports Management graduates score with FIH Hockey Academy




It is Autumn, a time when students brush off their books and sharpen their mental focus for the start of a new academic year. As new participants prepare to begin the Postgraduate Certificate in Sport Management, two alumni and one current student, whose careers have taken them to the top level of sports administration, have given a ringing endorsement to the FIH Hockey Academy/World Academy of Sport course.

The course, run in conjunction with Royal Holloway, University of London, is part of the programme of activities delivered by the FIH Hockey Academy through the World Academy of Sport, which aims to raise standards at the very top level of management within sport.

Participants on the course range from International Federation Chief Executive Officers to professional athletes considering a move into management. However, no matter what the participants background, the overarching aim of the qualification is to produce world-class, inspirational sports leaders, capable of effective networking, strategic thinking and shaping the economic, social and competitive sports environment.

David Ruiz, of the Peruvian Hockey Federation, who recently graduated from the course, said: "One of the most important aspects of the programme was strategic planning of an organisation. This allows development of a long-term perspective instead of operating only based on short-term needs. Many sports organisations only cover short-term needs and so strategic planning becomes a concept without content."

The course is delivered via a series of residential workshops, which are scheduled to fit around a busy working life.

One man who has a very busy life is Jamie Hooper, a recent graduate of the course and Equality and Diversity Programme Manager for the Amateur Swimming Association (ASA) in the UK. Hooper is also a hockey coach and an aspiring FIH umpire. Before moving to the aquatic organisation, Hooper was Business Support Officer for Hockey Wales.

"This qualification will certainly help me progress my career both in hockey and swimming," said Hooper. "I intend to put it to use straight away by working on a project with the European Hockey Federation. There are also many skills that I will be able to action straight away with the ASA."

The course covers a range of topics, all geared towards helping sports leaders run and manage their sports organisations more effectively. Finance and accounting; operations management; marketing and brand building; management of high performance programmes and legacy of major events are just some of the modules that make up the course.

The Postgraduate Certificate in Sport Management is one of a number of management education programmes available to national association leaders and managers across the globe to empower them to develop their people, pathways and governance structures.

Malcolm Harris, the Chief Executive Officer for Hockey New Zealand is another recent graduate of the course. He said: "The Postgraduate Certificate in Sport Management conducted by the World Academy of Sport provided a comprehensive background across all the major areas of sports management. Utilising experienced sports practitioners, the course content gave a balance between theoretical learning and practical insights.

"Case studies supported the learning with real-life examples, which allowed participants to question and evaluate prior practice. The programme forces the participant to challenge their thinking, recognising the competitive pressures in modern day sport, and how to apply the learning to their particular circumstances and opportunities. It comes well recommended."

For more information about the course, contact Sport Coordinator Andre Oliveira via This email address is being protected from spambots. You need JavaScript enabled to view it.

FIH site