All the news for Friday 3 July 2015

Oceania rivalry resumes as Oranje and Korea contest top spot

Saturday's final four promise epic battle between Oceania's neighbours




Netherlands women recorded an emphatic victory over Australia, while Korea battled through a gruelling encounter with New Zealand to set the scene for a battle royale in the final of the FINTRO Hockey World League Semi-Final on Saturday.

Today's results mean that the Netherlands join Great Britain, China, Germany and Korea as teams qualified for the Rio 2016 Olympic Games. Australia have also joined the quartet whether they defeat New Zealand or not in the 3-4 play-off.

New Zealand's Black Sticks however must defeat their Oceania rivals to qualify for Rio. This is all down to world ranking. World number three ranked Argentina, who finished fourth in Valencia, will take the next available spot should world no. 4 team New Zealand also finish fourth, but Australia's ranking of second in the world would give the Hockeyroos automatic qualification should they lose to New Zealand.

New Zealand v Korea 1-1 (2-4 after shoot-out)

Tough, resilient and determined to make the most of this opportunity to qualify for both the end of year Hockey World League Final and the Rio 2016 Olympics, both Korea and New Zealand set out their stalls early.

As has been their recent luck though, New Zealand were unable to cope with the demands of a shoot-out situation and saw Korea take the match 4-2 on shoot-out after the game finished 1-1 in regular time.

A typically speedy and skilful run by Anita Punt was the first challenge posed by the Black Sticks to 'keeper Jang Soo Ji, but at the other end, Park Mihyun was creating her own waves among the New Zealand defence.

Park Seunga came close with a reverse stick shot that tested Sally Rutherford's athleticism in the New Zealand goal, and as the half continued, both sides came tantalisingly close to opening the scoring.

The first breakthrough came when New Zealand conceded a penalty stroke following a sharp penalty corner routine. Park Mihyun needed no second invitation to step up and put her side ahead, her powerful and well-placed stroke sending Rutherford the wrong way.

Gemma Flynn showed tenacity and great reactions when she equalised just seconds later. The midfielder picked up the ball and bustled through the defence, before shooting from an unbalanced position. The rebound fell to her and sheer determination saw her flick the ball home.

The second half was a game of cat and mouse, with both teams defending with heart and soul. At times the effort levels were brutal and, while the New Zealand physicality is well-known, they were matched pace for pace and tackle by tackle by their Asian rivals and almost inevitably, the game went to shoot-out.

Recent shoot-out contests have not gone New Zealand's way, and this occasion was no different. Korea scored their first two and this gave them a cushion to secure the win, with Kim Darae scoring the winning goal.

A jubilant head coach, Han Jin Soo praised his team's pace and skill and said that since qualifying for Rio via the Asian Games, his team had grown in confidence. "We have been getting experience through a series of test matches against China and Japan and we also played in the Hawkes Bay tournament in New Zealand. Everything we do, the Hockey World League Final included, is gearing up for Rio."

NED v AUS 5-1 (2-0)

A masterclass in passing, innovation and sheer delight in performing on the world stage was handed out by the world's number one team to the side seeking, and failing on this occasion, to end Dutch domination of international hockey.

The 5-1 win by the Netherlands over Australia in this FINTRO Hockey World League Semi-Final was hallmark attacking hockey. Perhaps the fifth goal – a Willemijn Bos rocket into the top of the goal from the edge of the circle – best summed up the chutzpah demonstrated by this team.

The result has set up a tantalising clash between Korea and Netherlands, while Australia will face New Zealand in an Oceanic battle royale.

"We are enjoying playing together and we want to express to world how we want to play at this level – with skill, passing and joy," said goalscorer Bos.

"We needed to put our chances away," said a rueful Blyth after the game. "Once the Netherlands got a lead we were in the impossible position of chasing the game."

The deadlock was broken by a goal from Carlien Dirkse van den Heuval. She got on the end of a shot and deflected it past goalkeeper Rachael Lynch. Maartje Paumen doubled the lead when she scored with a diving deflected shot.

Two penalty corners gave hope of an Australian revival of fortunes but Jodie Kenny's first shot struck a Dutch defender, while her second ferocious shot flew just wide. The Netherlands stepped up through the gears again.

A poacher's goal was snapped up by Ginella Zerbo, as she stepped in front of the Australian defence to deflect the ball high past Rachael Lynch in the Australian goal. The lead was reduced when Kathryn Slattery managed to score an opportunistic goal, flicking it over Joyce Sombroek's head.

The last quarter saw the Dutch shift up yet another gear. Lidewij Welton picked up the ball in the centre of the pitch and ran it into the circle. Her shot left Lynch stranded and the subsequent celebrations demonstrated just how much this Dutch team were enjoying the occasion.

The fifth and final goal was a belter from Bos. She explains it as a 'mistake', saying that the ball was running away from her and she just lunged at it. "It is only my second international goal and I was so happy to score it."

India v Italy 1-1 (0-1)(5-4 after shoot-out)

Italian hearts were broken as they lost this match in the cruellest of fashions – sudden death after a neck-and-neck shoot-out contest. The result means India take on Japan for 5/6th place and Italy will face Belgium, who lost to Japan, also after a shoot-out.

It took sudden death to separate Italy and India in the FINTRO Hockey World League Semi-Finals opening match, although it was India who should have won the game in regulation time, according to India Director of High Performance Roel Oltmans.

It was Italy who took the lead through Elisabetta Pacella, after a fantastic ball from Dalia Mirabella found its way past the India defence and left the forward with just the goalkeeper Savita to beat. Rani Rani equalised for India shortly after half-time but a late chance to win the match in regulation time was squandered by Navjot Kaur as she missed a cross that beat the entire Italian defence.

In shoot-out, the scores were at 4-4 after the first round, then India's Savita saved and Rani Rani was able to outwit Chirico to take the India team into a 5/6th encounter with either Japan.

Belgium v Japan 1-1 (1-0)(3-4 shoot-out)

The second match was an evenly-contested affair between two teams that defended strongly but were then unable to turn possession into goal-scoring opportunities.

The first breakthrough came for Japan. Mie Nakashima and Yuri Nagai spearheaded a Japanese counter in the second quarter, their pressure winning the first penalty corner of the game. Shihori Oikawa (18') made the most of the opportunity, sweeping the ball into the Belgium goal.

Stephanie de Groof provided the Red Panther's response on 22 minutes, again a sweep shot from a penalty corner, which flew past Sakiyo Asano into the Japanese goal.

The second half continued in much the same vein, with both teams enjoying periods of pressure but no-one able to make the decisive breakthrough. Post and goalkeeper were called into action as Japan ramped up the pressure in the final quarter, Aisling d'Hooghe was at her athletic best and made vital saves to keep the score at 1-1.

A dramatic shoot-out ensued with Akiko Kato the heroine of the Cherry Blossom team as she scored the decisive goal. Her winning goal followed a disallowed penalty stroke, two referrals and some exciting goal mouth action as both keepers strove to keep their opponent's out.

"You just have to back yourself," she said after the game. "Of course I was nervous but it is something we have practised. It should never have got to that, we created a lot of chances in the game and should have put them away.

The result means that Belgium will play Italy in the 7-8 play-off while Japan take on Asian rivals India to decide who finishes fifth or sixth.

FIH site


---

Netherlands, South Korea women set up title contest in HWL

ANTWERP (Belgium): World champions Netherlands outplayed Australia 5-1 to set up a title clash with South Korea on Saturday in the women's Hockey World League Semifinals at the KHC Dragons Stadium here.

Asian Games champions South Korea prevailed 4-2 in the shootout over New Zealand after their semifinal was tied 1-1 in regulation period.

Both goals came in open field action in the first half with Park Mi-hyun giving the Koreans the initial lead and Gemma Flynn equalizing for the Black Sticks.

New Zealand, who topped Pool B with an all-won record, will again play Australia in the bronze medal match tomorrow.

The Dutch girls gave world No. 2 Australia a masterclass on strategic hockey after some initial resistance, which was broken by Carlien Dirkse van den Heuvel in penalty corner action in the 14th minute.

A minute later, Dutch captain Maartje Paumen deflected a shot past Australian goalkeeper Rachael Lynch.

Australia forced two penalty corners, but Jodie Kenny could not reproduce her scoring spree of the preliminary round matches.

At the other end, Ginella Zerbo got into goal-scoring act in the 20th minute with a high deflection past the custodian.

Australia, silver medalists at the 2014 World Cup behind Netherlands, pulled one goal back through an opportunistic strike by Kathryn Slattery in the 30th minute.

Lidewij Welten gave the Australian goalkeeper no chance with a firm shot in the 45th minute and Willemijn Bos shot home from top of the circle in the 53rd to round off the scoring.

The Times of India


---

Dutch defeat for 'Roos

Hockeyroos to play New Zealand for bronze medal in Antwerp



Jodie Kenny is the Women's Tournament's top goal scorer on 10 goals

The Hockeyroos will contest the bronze medal match against Oceania rivals New Zealand at the World League in Antwerp after going down 5-1 to the reigning world and Olympic champions, the Netherlands, in their semi-final encounter.

A critical six minute period either side of the quarter-time break made the difference in the clash between the teams ranked number one and two in the world as Australia conceded three goals in quick succession.

Kathryn Slattery's goal a minute before half time gave the Hockeyroos renewed hope and was reward for an improving performance but Lidewij Welten's goal at the end of the third period put the result beyond doubt.

Willemijn Bos netted a fifth late on as the Netherlands broke clear to seal their place in Saturday's final and claim one of the three automatic qualification places at the Rio 2016 Olympic Games.

Irrespective of their eventual finishing position – third place or fourth – Australia's women will also qualify for the Olympic Games as a result of fellow finalists Korea having already qualified for Rio as winners of the 2014 Asian Games.

Hockeyroos coach Adam Commens said afterwards, "I think it's really pleasing to attain our goal [of Olympic qualification]. What's disappointing about this match is we've worked hard to close the gap between us and the Netherlands and I think we saw today we still have some work to do. I think we can certainly play better than what we showed.

"I spoke to the team about how important it is to execute our game plan. There are a number of things we attempted to do. I thought we did some of it very well and others not as well as we could have.

"When you're playing against the world number one team you give them opportunities to score if you don't execute your game plan and they took those opportunities well."

Acknowledging the impact of losing three goals in quick succession, Commens admitted, "It's very costly. It changes the mindset of the team. I thought when we got to 3-1 they'd worked at a really good consistent block of hockey and they were working really quite well.

"We needed to try to get the next goal to put a bit of scoreboard pressure on but unfortunately just before three-quarter time we turned the ball over in the middle of the pitch and they were able to score again. It was always going to be tough from there."

Commens was clear, however, that the longer term vision of success at the Olympic Games remains the overriding priority.

He added, "What this game does is give us numerous things to go back and work on. Our main objective is the Olympic Games in Rio and what we see here is a number of things that we can improve on and work hard on over these coming months."

The Hockeyroos found themselves on the back foot early on as the reigning World League gold medallists pressed them from the off.

Carlien Dirkse van den Heuvel opened the scoring with a diving deflection into the roof of the net a minute before quarter time and 60 seconds later Maartje Paumen's flick struck its target with the aid of a cruel deflection to send the Hockeyroos in two goals down.

Following the re-start, Australia's women won a brace of penalty corners with Mariah Williams going close as she attempted to divert Jodie Kenny's low flick on target. At the other end, Ginella Zerbo's near post run and deflection made it 3-0 as she reached a cross from the left, diverting it beyond Rachael Lynch in goal.

The Australian women worked their way back into the match as the second period continued and Emily Smith stung the pads of Joyce Sombroek in the Dutch goal before Slattery pounced to make it 3-1. The West Australian reacted quickest after Sombroek had saved Georgie Parker's reverse stick shot, diverting the ball back beyond the Netherlands goalkeeper in mid-air.

Birthday girl Lynch kept Ellen Hoog's shot out midway through the third period but just before three-quarter time Lidewij Welten pounced as Australia lost possession in the midfield. The Dutchwoman's bursting run into the Australian circle was completed with a rasping low shot into the far corner for 4-1.

Late on, Willemijn Bos concluded proceedings with a slapped shot that looped into the goal.

Australia will now face the loser of the second semi-final, New Zealand, at 23:30 AEST on Saturday as they target a bronze medal finish in Antwerp. The Black Sticks women drew 1-1 with Korea but lost on a shoot-out, going down 4-2.

Australia's men, the Kookaburras, will have a late start to their semi-final encounter with Great Britain on Friday night with the match scheduled for 9pm local time (5:00am AEST, Saturday).
                                                                                                                            
Hockey World League
Antwerp, Belgium

Semi-Final

HOCKEYROOS: 1 (1)
Kathryn Slattery 30 (FG)

NETHERLANDS: 5 (3)
Carlien Dirkse van den Heuvel 14 (PC)
Maartje Paumen 15 (PC)
Ginella Zerbo 20 (FG)
Lidewij Welten 45 (FG)
Willemijn Bos 53 (FG)

Hockeyroos squad v Netherlands
Name (Hometown/State) Caps/Goals
Started       
Madonna Blyth (Brisbane, QLD) 307/67
Kirstin Dwyer (Mackay, QLD) 79/2
Anna Flanagan (Canberra, ACT) 149/34
Jodie Kenny (Wamuran, QLD) 143/88
Rachael Lynch (Warrandyte, VIC) 124/0
Karri McMahon (Berri, SA) 69/7
Georgie Parker (Berri, SA) 82/25
Casey Sablowski (South Coast, NSW) 227/44
Kathryn Slattery (South Stirling, WA) 21/6
Emily Smith (Crookwell, NSW) 123/49
Mariah Williams (Parkes, NSW) 20/2
                                                                                                                                    
Used Substitutes
Teneal Attard (Mackay, QLD) 212/10
Edwina Bone (Evatt, ACT) 77/2
Jane Claxton (Adelaide, SA) 66/5
Georgia Nanscawen (Melbourne, VIC) 161/31
Ashleigh Nelson (Wagin, WA) 181/63
Brooke Peris (Darwin, NT) 59/9
               
Unused Substitutes
Ashlee Wells (Morwell, VIC) 51/0

Semi-Final & Classification Fixtures & Results
9th/10th: France 1-5 Poland
5th-8th: India 1-1 Italy (IND wins 5-4 on shoot-out)
5th-8th: Belgium 1-1 Japan (JPN wins 4-3 on shoot-out)
Semi 1: Netherlands 5-1 Australia
Semi 2: Korea 1-1 New Zealand (KOR wins 4-2 on shoot-out)
                                                                                                             
Match Schedule - Hockeyroos' Fixtures
4 July – 15:30 CEST / 23:30 AEST - Bronze Medal: Hockeyroos v New Zealand

Hockey Australia media release


---

Black Sticks to play for bronze medal



Gemma Flynn scored New Zealand's regulation time goal. Photo courtesy Kiwi Hockey

The Black Sticks will play off for the bronze medal after a heart breaking 2-4 shoot-out loss to Korea at the FIH World League Semi-Final in Antwerp.

With the score locked up at 1-1 for the entire second half, neither side could find a decisive goal in regulation time. Korea went on to convert four of five shoot-out attempts while the Kiwis missed two of four.

The Black Sticks now go up against Australia in the third place playoff at 1:30am on Sunday (NZ time), with live coverage on SKY Sport.

New Zealand need to win the game to earn automatic qualification for the 2016 Rio Olympics, while they have already earned a place at the FIH World League Final in Rosario, Argentina from 5-13 December thanks to their top four placing.

Head coach Mark Hager said it was disappointing not to be able to capitalise on the amount of possession they had.

"We had plenty of opportunities to win the game but weren't thorough enough in the circle and attacking third. They defended with lots of numbers and were desperate and we couldn't finish them off," he said.

"We didn't play as well as we have been and our basics let us down on a couple of occasions.

"It's so disappointing to lose in this way but at the end of the day we weren't good enough."

The Black Sticks opened aggressively and played an up tempo attacking style that had the Koreans on their heels in the first five minutes.

New Zealand earned a penalty corner midway through the period but Anita Punt's flick was well defended by the Korean runner.

Korea lifted in the second quarter and opened the scoring when Park Mihyun converted a stroke following a penalty corner infringement five minutes out from halftime.

The Kiwis responded immediately with Gemma Flynn scrapping for a loose ball in the circle and beating the keeper on the second attempt.

Neither side could find a deciding goal throughout the remainder of the game, and as time wound down the winner was destined to be found by shoot-out.

Earlier in the day the Netherlands progressed to the final with a crushing 5-1 win over Australia, relegating the Hockeyroos to the bronze playoff.

BLACK STICKS 1: (Gemma Flynn)
KOREA 1: (Park Mihyun)
Halftime: 1-1
Fulltime: 1-1

Korea won shoot-out 4-2
BLACK STICKS 2: (Ella Gunson, Sam Charlton)
KOREA 4: (Park Mihyun, Park Eunjung, Park Seunga, Kim Darae)

Hockey New Zealand Media release


---

Black Sticks lose to Korea in Belgium



Stacey Michelsen and the rest of the Black Sticks will play Australia for bronze in Belgium after a shootout loss to Korea. Getty Images

The Women's Black Sticks have lost to South Korea in the Semi Finals of the Hockey World League in Belgium.

The Black Sticks women will play off for the bronze medal after a heart-breaking 2-4 shootout loss to South Korea at the FIH World League Semifinal in Antwerp.

With the score locked up at 1-1 for the entire second half, neither side could find the decisive goal in regulation time. Gemma Flynn scored New Zealand's goal, while Park Mihyun found the back of the net for Korea.

The Black Sticks will go up against Australia in the playoff for third place at 1:30am on Sunday (NZ time).

The Black Sticks have already earned a place at the FIH World League Final in Rosario, Argentina from 5-13 December thanks to their top four placing.

Stuff


---

Indian women inches closer to Rio Olympics

s2h Team



Rani Ramphal, the age-less wonder girl of Indian Hockey

Though missed out to outscore in the regulation time, despite outplaying their rivals in all departments of the game, Indian women came out in colours in the ensued shoot out 5-4 to win the crucial 5-8th classification match against Italy today at Antwerp in the Hockey World League Semifinal. The score stood 1-1 at the regulation time, Rani Ramphal doing the equalizing job.

India will now play for the 5th position. If India can win the 5th place match, it would surely ensure its entry into the Rio Olympics. Because, a couple of nations in the semifinal line up here in Antwerp, like Australia, are expected to win their continental championship which will lead to next placed teams to fly Rio.

Rani Ramphal, the age-less wonder girl, equalized in the third quarter 1-1 and then scored both her quota in the first and second set of shoot outs.

Once Rani Ramphal gave the lead in the second set of shoot out, goalie Savita Punia came out timely, and cleared the rival striker for the team's celebration.

With this duo's heroism, India made it to the 5-6th position contest. Earlier in the regulation time, Indian girls outplayed their European rival in terms of ball possession, circle entry, shot at goal, number of penalty corners etc, but missed out on goal scoring.

Further, its two players got yellow cards in the crucial fourth quarter, but the Indian girls did not allow Italy any elbow room.

It was in fact the Italians scored in the first, but in the third quarter a sloppy clearance from a defender on the edge of Indian circle miscued the ball, which Rani Ramphal, like a hawk, bounced on, and in the one to one with charging goalie, struck with peach of a scoop that hit the other side net.

Stick2Hockey.com


---

Indian hockey eves beat Italy, keep Olympic dreams alive

ANTWERP: India kept their Olympic qualification dreams alive by beating lower-ranked Italy in the shoot-out in a classification match of the women's Hockey World League Semifinals at the KHC Dragons Stadium, on Thursday.

The Indian hockey eves, ranked 13 in the world, prevailed 5-4 over world rank 16 Italy in the shoot-out of the first play-off match for the fifth to eighth positions, after both the teams were locked at 1-1 at the end of the regulation 60 minutes.

India failed to capitalise on numerous opportunities during the regulation time. The ensuing shoot-out also failed to break the deadlock as both the teams scored four times each from their five shots and the contest went to sudden-death.

Taking the first try in sudden-death, Rani Rampal shot on target before goalkeeper Savita brought off a fine save against Giuliana Ruggieri to spark celebrations in the Indian camp.

Rani Rampal had earlier scored the equaliser for India in the 33rd minute after Italy opened the scoring against the run of play in the ninth minute of the contest.

In the shoot-out, experienced striker Vandana Katariya muffed her attempt while Navjot Kaur, Anuradha Thokchom, Rani Rampal and Deepika scored for India. For Italy, Valentina Braconi, Marcela Casale, Guiliana Ruggieri and Chiara Tiddi shot on target but Dalila Mirabella was denied by the Indian custodian.

The victory takes India into the play-off for the fifth and sixth spot on Saturday, where they will face the winner of the another classification contest between hosts Belgium and Japan.

Three Olympic spots are on offer in this tournament, but even some teams not advancing to the semifinals are likely to qualify as five continental champions might have already books a ticket to Rio de Janeiro.

India's only previous appearance in the women's hockey tournament of the Olympics was in 1980.

India were the dominant side from the beginning against Italy, but failed to make it count. Repeated circle penetrations were of no use as the strikers could not produce a goal-bearing shot in the often crowded circle.

Occasionally the crosses could not be trapped in the goalmouth with the defenders beaten.

The story of missed chances began in the third minute itself when Katariya's reverse shot from the top of the circle was padded away by the Italia goalkeeper as others failed to get a stick to the ball.

Continuing to build pressure, India were thwarted again in the sixth minute when the Italians held on in a goalmouth scrimmage. At this stage, 10 Indian players were in the rival territory.

Italy opened the scoring against the run of play in the ninth minute, catching the Indian defence off-guard with a quick switchover. Two unmarked Italian players were standing next to goalkeeper Savita when she blocked a long-range shot into the circle and the rebound was swept into the board by Elisabetta Pacella.

Despite Italy taking the lead, the Indians continued to dominate but their circle penetrations were not rewarded with a goal.

India muffed a 29th minute penalty corner as the ball could not be stopped and Italy went into halftime leading 1-0.

India equalised three minutes into the second half when Rani Rampal picked up a ball that Italian captain Tiddi failed to connect. Rani capitalised on the opening by moving to the right to get away from another defender and beat goalkeeper Martina Chirico with a deft shot into the board.

Then the Italian goalkeeper made a good diving save to her right on India's second penalty corner in the 37th minute.

At the other end, Italy's lone penalty corner of the match did not pose any threat as Namita Toppo rushed out to block the drive in the 45th minute.

Rani Rampal could have scored the match-winner for India on two occasions in the last quarter of the encounter, but she failed to have a shy in the crowded circle.

The Times of India


---

Indian women one win away from presenting Olympic credentials

ANTWERP (Belgium): Indian women go into Saturday's hockey encounter with Japan in the World League Semifinals with the focus on enhancing their claim for Olympic qualification after a gap of 36 years.

India are eager to cover most angles in the qualification race by winning this playoff for the fifth position against Japan which they reckon should get them into the Olympic Games for the first time since Moscow in 1980.

"We want to cover all angles when the countdown to Olympic qualification comes to teams that have not made the top four grade at the two World League Semifinals," said Indian coach Mathias Ahrens, who wants his wards to be hungrier in converting goal-scoring opportunities.

Three spots each are on offer at both the World League Semifinal competitions - here at Antwerp and in the just-concluded event at Valencia.

With five continental event champions being allowed another route, there are likely to be several dual qualifications. In turn, that can open up Olympic spots for nations which do not make the top four of the two World League Semifinals.

Germany, Great Britain and China have secured the three Olympic berths from the World League Semifinals in Valencia. World Cup silver medalists Argentina missed the initial cut when they lost the bronze medal match and finished fourth, but with South Korea advancing to the final at Antwerp, the Argentines could get a qualifying spot soon.

The United States, who finished fifth in Valencia, also have a chance to earn direct qualification from the Pan American Games before the countdown starts among lower-ranked teams of the World League Semifinals.

Three teams here at Antwerp will secure their Rio de Janeiro tickets, but South Korea have already earned an Olympic slot by winning the Asian Games gold medal.

An African champion could be the only one not to have featured among the top four teams at these two World League Semifinals, opening up more places, even if Olympic hosts Brazil are given a leeway to make the grade.

Both in the men and women's events, Brazil have been allowed a leeway of making the Olympics if they can achieve the fifth place in the Pan American Games. In the women's event, Brazil are only a reserve team in case there are any withdrawals from the Pan American Games that start in Canada in two weeks.

Effectively, this means that even a loss to Japan could take the Indian eves to Rio de Janeiro, because the sixth-paced team in the other World League Semifinals is Spain. Spain's No. 15 position in world rankings is two places behind India, but the wait could be pensive.

When the choice is made between two teams in similar position at different hockey events, the world ranking of the two nations is taken into consideration.

"We should not lose focus of the fifth place finish here. For that to happen, we must sort out the shortcoming in scoring more goals," said Ahrens after India clinched a nail-biting 1-0 sudden death victory over Italy in the first playoff.

Going into the playoff for the fifth place, India are drawing confidence from their victory over Japan in the bronze medal game of the 2014 Asian Games in Incheon last October.

India yesterday muffed scoring plenty of scoring chances before the issue was settled in sudden death. The game was tied 1-1 in regulation period and the shootout saw both teams scoring four goals each.

Japan too came through their first playoff, against hosts Belgium, through a 4-2 victory in the shootout, the feature of which were the number of referrals by either team. The Japan-Belgium match was also 1-1 level at the end of regulation period.

"Both teams are familiar with the style and strengths of each other," said Ahrens, who only joined the Indian team as coach in May.

"Scoring goals is not a new topic in this sport. We are doing everything except score goals. I am pleased at the manner in which the girls held their own.

"Against Italy, we should have scored more often after dominating the match throughout. It became very tense in the end and I'm glad that the girls kept their nerves. They could also have done with a bit more patience inside the rival circle."

"In our sport, you relax to score the goals. With the sort of dominance we had, the issue should not have gone to the shootout," he said.

The Times of India


---

Impatience nearly cost us the match: Rani Rampal

ANTWERP: Rani Rampal played a key role in Indian eves' win over Italy in a play-off match of the Hockey World League Semifinals to keep their Rio Olympic dreams alive, but the ace striker feels they could have paid a heavy price for their impatience.

India defeated lower-ranked Italy 5-4 in the shoot-out after both the teams were level at 1-1 at the end of regulation 60 minutes.

And Rani, who scored India's equaliser in the second half before taking two successful attempts in the shoot-out, said they wasted chances galore and should have sealed the match in regulation time.

"We should have won the match in regulation period itself, but it seems we got impatient inside the rival circle," said Rani, who scored India's equaliser after they had conceded a goal to Italy against the run of play.

"Our impatience could have proved very costly, but we're glad to keep alive the dream of qualifying for the 2016 Olympic Games," she added.

The match was tied 1-1 after 60 minutes of regulation period. The shootout failed to break the deadlock as both teams scored four times each and the issue was decided in the first attempt during the sudden-death that followed.

Rani also scored in the shoot-out and was then asked to take the first Indian attempt in the sudden-death.

Rani again duly converted her attempt, but the shot landed on target with less than half a second left. No other Indian try was required as goalkeeper Savita brought off a save against Giuliana Ruggieri.

Rani said India should have scored more often in regulation period, which they dominated all along.

"We should have scored more goals," says Rani, who played the match after getting three stitches over her eye after getting injured in the last game against World champions The Netherlands on Tuesday.

Rani herself had several more scoring chances in the last quarter of the match, but failed to have a good crack in the crowded scoring zone.

The victory in the first play-off has taken India into the contest for the fifth and sixth positions.

If India manages to clinch the fifth spot, it would give them a good chance of qualifying for the Olympic Games for the first time since their only appearance at Moscow in 1980.

India's opponent in the next match will be the winner of the play-off between hosts Belgium and Japan.

Three Olympic spots are on offer in this tournament, but even some teams not advancing to the semifinals are likely to qualify as some of the five continental champions have already booked their tickets to Rio de Janeiro.

Rani also said the coaching staff made the team practice shoot-outs for the entire training session yesterday.

"We practiced shoot-outs yesterday, and that seems to have come handy," she said.

Rani was a member of the Indian team that lost the final of an Olympic qualifying tournament to South Africa in 2012 in New Delhi.

The Times of India


---

Rio: Here we come!



Ashley Jackson and David Ames celebrate at full time against Pakistan

With their tense quarter final win over Pakistan yesterday afternoon Great Britain had taken a giant step towards securing their qualification for the Olympics in Rio. However, just hours later that giant step turned into a reality after India's win over Malaysia.

Six places for Rio are up for grabs from the two Hockey World League semi finals, i.e. the top three in each competition. However, as Continental Champions qualify directly for the Olympics, if these teams also finish in the top three in the HWL semi finals then additional places for the next highest ranked teams from the HWL become available.

As India have already qualified for the Rio 2016 Olympic Games by virtue of winning the 2014 Asian Games, a top three finish for them in Antwerp would create an Olympic opening for the highest ranked of the fourth place finishers from the two HWL Semi-Final events held in Argentina and Belgium.

With Canada, ranked 15th, finishing fourth in the World League in Argentina that means Great Britain, ranked fifth are guaranteed their place at the Rio Olympics even if they finish fourth in Belgium.

This fantastic news comes just eleven days after Great Britain's women booked their place in the Rio Olympics with a stunning seven wins from seven in their World League semi-final ensuring both Danny Kerry's and Bobby Crutchley's sides will represent Team GB in Rio 2016.

Great Britain Hockey media release


---

Indian men eager to tame attacking Belgians in semifinal clash

ANTWERP (Belgium): India will face one of their toughest tests in defence when they square off against the marauding Belgians in what promises to be a robust semifinal clash of the FIH Hockey World League Semifinals here on Friday.

The encounter will test the ability of India's defence to guard against the Belgian strikers, who have tasted enormous success in the past couple of years to boost their world ranking to No. 4 -- the highest in their hockey history.

Ranked No. 9 in the world, India faces a formidable side that has enjoyed a slight edge in their recent encounters since the 2011 Champions Challenge final in Johannesburg.

The Belgian players have, in fact, made giant strides in international hockey.

Starting with the victory in the Champions Challenge that earned Belgium their maiden entry in the elite Champions Trophy, the Red Lions have emerged victorious in their fixtures against India in the 2012 Olympic Games and the 2014 World Cup.

India have managed to overcome the Belgian challenge in successive Champions Trophy encounters in Melbourne and Bhubaneswar.

"Playing Belgium suits our game. Belgium play a structured game and we're ready for this contest," said India coach Paul van Ass, bracing to take on the higher-ranked Belgium.

Van Ass said his team usually found Asian teams to be tougher rivals. It was evident on Wednesday when India were made to work hard for the 3-2 victory by the nippy Malaysian rivals.

It was only two late penalty corner goals from youngster Jasjit Singh that turned the tide in India's favour in the contest played in soaring heat.

"I thought I was playing an afternoon game during the Indian summer," said captain Sardar Singh, pleased to have earned a place in the World League Finals that India will host later this year.

Belgium too had to overcome rising temperature in the quarterfinals on Wednesday, managing to hold off a late resurgence from France to clinch a 5-4 victory.

Belgium, served well by their star player Tom Boon and captain John-John Dohmen, were down to nine players in the last minute when they held back a late French challenge to prevail in the highest scoring quarterfinal encounter here.

Van Ass said he was happy that the Indian team was going to play in the showpiece World League Finals as a matter of right, and not just qualify as hosts.

"We'll be going to the World League Finals as a right, and that's a big positive for me. This is the first real big tournament we are playing heading into the 2016 Olympics," said van Ass.

Van Ass recently took up the assignment as India's chief coach and the only earlier tournament the Indians played under him was the Azlan Shah Cup in Ipoh two months ago, where the team finished third.

In the other semifinal, World champions Australia will take on Great Britain.

Three 2016 Olympic qualification spots are on offer here, but all semifinalists have now secured their tickets to Rio de Janeiro as India have already earned their qualification by virtue of winning the Asian Games gold medal in Incheon last year.

On Wednesday, Jasjit converted late penalty corners with rasping drag-flicks into the net, eliciting praise from coach van Ass, who had backed him as a long-term investment requiring more experience of international hockey.

Jasjit's goals helped relieve the pressure mounting on the team due to their lackluster show on penalty corners in the absence of ace drag-flickers VR Raghunath and Rupinder Pal Singh.

"We now have some alternative options. I like drag flicks, but we have to be fairly more creative," van Ass said.

The Times of India


---

Jasjit's success brings hockey village Sansarpur back in focus

ANTWERP (Belgium): Young player Jasjit Singh Kular's fine show in the ongoing World League Semifinals has brought a village on the outskirts of Punjab's Jalandhar city back into the focus of the hockey fraternity.

Jasjit hails from a small village Sansarpur, on the fringe of Jalandhar city that used to be the hub of Indian hockey in its heydays.

Known as the hockey village among the sports buffs, Sansarpur was a tiny hamlet that provided a number of Olympic medal winners when hockey was a craze and India were the prima donnas of the international game.

Coming from a village synonymous with Indian hockey, the sport was an obvious childhood passion for Jasjit, but it was not until he got into college after turning 18 that he seriously pursued the game.

"I was a late starter and did not get serious about playing hockey until I got into college," says Jasjit.

"For one whose village is Sansarpur, the passion for hockey was always there. I used to play as a child, but ours is a family of doctors and the focus was scientific education," said Jasjit, who scored two goals in the 3-2 win over Malaysia that placed India in the last-four round.

"It was as a student of Jalandhar's Khalsa College that I got into hockey seriously," he says.

The late-starter bloomed pretty quickly, making the national team in less than five years after playing his first competitive game. Jasjit made his international debut as a half-back during the 2014 World Cup at The Hague against Belgium.

At the World Cup, within the limited time he was fielded, Jasjit even got his name on the score-sheet against Malaysia in open field play.

His big chance to make a mark came when India's new coach Paul van Ass picked him as a drag-flicker and he got the opportunity to be the main penalty corner shooter in the absence of injured V R Raghunath and Rupinder Pal Singh.

Jagjit justified the faith with the two late goals from rising drag-flicks that went into the net and ensured India's victory. These two goals, says Jasjit, were his first from drag-flicks in international hockey.

The success of this 24-year-old player has brought the spotlight back on Sansarpur, which has so far produced 14 Olympians - nine for India, four who went on to represent Kenya and one for Canada.

In 1968, seven players hailing for the village, featured in the Mexico Olympic Games. Five of these did duty for India and two others representing Kenya.

The five in the Indian team were Ajitpal Singh, Jagjit Singh, Balbir Singh (Services), Balbir Singh (Punjab) and Tarsem Singh. Hardev Singh and and Jagjit Singh featured in the Kenyan squad.

Until Jasjit came along, no player from Sansarpur had featured in an Indian squad for a decade. As this young player asserts, the supply of hockey talent from Sansarpur to the Indian squad is not finished.

The Times of India


---

Stats Speak: Jasjit Singh Kular is 16 th player of his Kular community

By B.G.Joshi

Sehore-Bhopal, India: Jasjit Singh Kular converted two penalty corners in goals and paves the way for Indian victory by 3-2 goals against fighting Malaysia. Now India is in semifinals and will lock horns against hosts Belgium on July 3. It was the 75th (platinum jubilee) victory over Malaysia in 108 matches.

Jasjit Singh Kular is 16 th player of his Kular community, who have played at least one FIH tournaments (Olympics -OG/ World Cup-WC/Champions Trophy-CT). Kular is Jat-Sikh community belongs to tiny village Sansarpur (synonyms–The  World) near Jalandhar-Punjab. All Kulars are from one family. Following 16 Kulars have played in FIH tourneys:

For India (10)
Gurmit Singh(OG-1932)
Udham Singh (OG -1952,56,60,64)
Gurdev Singh(OG-1956)
Darshan Singh(OG-1964)
Jagjit Singh Jagga(OG-1964,68)
Balbir Singh-Punjab Police(OG-1964,68)
Balbir Singh-Services(OG-1968)
Tarsem Singh(OG-1968)
Ajitpal Singh(OG-1968,72,76; WC-1971,73,75;CT-1980)
Jasjit Singh(WC-2014).Jasjit played in last year in World Cup, he scored  goals from drag flicks yesterday only in the absence of VR Raghunath and Rupinderpal Singh.

For Kenya (3)
Hardev Singh (OG-1956, 60)
Jasjit Singh Jaggi(OG 1968,72; WC-1971,73)
Harvinder Singh(OG-1984).

For Canada (2)
Mohinderpal Singh(WC-1978)
Bindi Singh(OG-2000, 08; WC-1998)

For Great Britain (1)
Iqbal Singh- Icky(CT-1980).

Fieldhockey.com


---

Pakistan must win next two matches or forget Rio Games

Anwar Zuberi

KARACHI: After suffering a 2-1 humiliaton at the hands of Great Britain in the quarter-final of the Hockey World League Semi-final at Antwerp on Wednesday, Pakistan plays Ireland in the classification match for the 5th-8th position on Friday.

According to information available here, Malaysia is slated to face France in another match for the 5th-8th position.

The winners of both the matches will be up against each other for the 5th-6th positions while the losers will fight for the 7th-8th spots on Sunday, the concluding day of the event.

The quartet comprising world champions Australia, world number five Great Britain, Asian champions India and European championship runners-up Belgium have already stormed into the last four.

Australia takes on Great Britain while India meets Belgium in the two semi-finals to be played on Friday.

Thursday was a rest day in the competition.

Once considered as a force to be reckoned with in field hockey, Pakistan are now required to win their next two fixtures in order to qualify for the 2016 Rio Olympics.

It is pertinent to mention that despite winning back-to-back silver medals in the Asian Games and Champions Trophy, Pakistan has been ranked 10th in the world, one rank below India.

Former Olympians have been quite critical of the team's display in Antwerp and are keeping their fingers crossed about the fate of the greenshirts at the HWL event.

Dawn


---

Beng: We'll be back.

by Jugjet Singh

JASJIT Singh scored his first and second international drag flick goals of his career, and it had to be against Malaysia in the quarter-finals of the World League Semifinals in Antwerp, Belgium.

Both the Jasjit penalty corner drag flicks were actually floaters, meaning with medium power. And like feathers in the wind, both the balls looked like they floated zig-zag, and in slow motion, past the postmen and also goalkeeper Roslan Jamaluddin.

Malaysia were, until that floating moment, leading 2-1 and about 12 minutes away from playing in the Rio de Janeiro Olympics.

India are a diluted side here as both their penalty corner flickers VR Raghunath and Rupinder Pal Singh are on the crock list, but still made it to the semi-finals on sheer grit.

Having already qualified for the Olympics by virtue of winning the Asian Games gold, India still had more fire in their belly than the Malaysian players.

After the match, skipper Razie Rahim said they were caught off guard, as they did not know that Jasjit could also drag flick.

Drag flick? Jasjit was just as shocked after attempts went in: "It was amazing. It was my first (and second) drag-flick goal in international hockey so it was amazing."

The two attempts from Jasjit were so amazing, that Malaysian defenders could do nothing but watch with awe as the balls floated in.

Manager Stephen Van Huizen explained that it was a bitter pill to swallow, but one we have to accept fast.

"It was a missed opportunity but we have to keep moving forward. Every team in the 5th to 8th play-off will be mentally and emotionally affected, and the team that recovers the fastest will have the added advantage", said Stephen.

Beng Hai was more Terminator like: "We will be back back. We have played well in the tournament so far, but will need to translate our performance into results."

Jugjet's World of Field Hockey


---

The many IFS that come in now

by Jugjet Singh

MALAYSIA failed to take the easy path, and now the 'ifs' come into the picture as they play France in the 5th-8th placing match in the World League Semifinals in Antwerp, today (Friday).

And France won't be easy, as they took hosts Belgium on a long ride before bowing out 4-5 in the semi-finals on Wednesday.

But if Malaysia beat France and then beat either Pakistan or Ireland, the other 5th-8th playoff teams, they can book their Rio de Janeiro flight tickets before returning home to Malaysia.

This is because four more ifs imerge for coach Tai Beng Hai and his men, provided then win the last two matches here.

The first if is for India to finish top-three in Belgium, and it opens the doors for first reserve Canada who finished fourth in the WL Semifinals in Argentina.

And the second if is for Australia to beat New Zealand and become the Oceania Cup champions, and this will open the door to the fifth team in Argentina which is Spain, because Spain is ranked 11th and higher than Malaysia.

And then the third if is for Argentina or Canada to win the Pan American and this will take the fifth team in Belgium to the Olympics, assuming Malaysia end fifth in Antwerp.

Even the sixth spot is valuable, as Germany, Netherlands, Britain, Belgium might just end up as European champions and open another slot but it will then go to New Zealand who are the highest ranked sixth placed team in Argentina.

And the seventh is also capable of playing in the Olympics, because hosts Brazil must finish among the top six in the Pan Amrican, if not they will not be eligible -- aqnd this is an International Hockey Federation challenge to the hosts.

And finally, the eight spot is also an Olympic contender, because South Africa Olympic Council are not happy their hockey team did not qualify for the World League Semifinals, and told them even if they finish as champions in the African Cup, they cant go.

There, the many ifs that are available for Malaysia to reach the Olympics, provided they don't start by blowing up against France Friday.

Jugjet's World of Field Hockey


---

Malaysia hoping to get lucky for Rio Olympic spot

by S. Ramaguru

ANTWERP: A missed opportunity.

That's how national hockey team manager Stephen van Huizen described Malaysia's 3-2 loss to India in the quarter-final of the World Hockey League Semi-Finals here on Wednesday.

The defeat denied Malaysia the chance for an automatic qualification to the Rio de Janeiro Olympics next year. Malaysia will now play in the 5th-8th placing playoff with the hope that a fifth placing could still see them sneaking in.

"It was a missed opportunity ... but we'll move forward. Every team in the 5th to 8th placing playoff will be mentally and emotionally affected. The team who recover the fastest will hold the advantage," he said.

"It (Rio qualification) was in our hands. There were some things that didn't work out so well. But we cannot fault the players for their performance," said Stephen.

"Every player tried hard but we couldn't sustain it. Against India, we lost the game in the last quarter.

"We have to get back on our feet and prepare for France ... and try our best to win it."

France lost 5-4 to hosts Belgium in the last quarter-final match on Wednesday.

The winner of the France-Malaysia match will play the winners of the Pakistan-Ireland game.

National coach Tai Beng Hai also agreed that they need to regroup and put Wednesday's setback behind them.

"We have to bounce back. We've played well so far, but we need to translate our performance into results. There are still two very important games to play, starting with France," he said.

Former Malaysian Hockey Confederation (MHC) president Tengku Abdullah Sultan Ahmad Shah, who was at the stadium to watch the game against India, also lamented on the lost chance.

"It was close ... the players could've done it. They were good in the first three quarters ... but they failed to keep it going," Tengku Abdullah, who is also the Asian Hockey Federation (AHF) president.

"I want them to focus on the remaining games and go for it. They are playing well ... all of them did their best.

"But sometimes that isn't enough. You have to up your game considerably."

The Star of Malaysia


---

Malaysia hockey team needs some soul searching after India loss

by S. Ramaguru




ANTWERP: Malaysia's Olympic hockey qualifying campaign that promised so much has ended with a whimper.

Malaysia lost 3-2 to India in the quarter-finals of the World Hockey League Semi-Finals at the KHC Dragons Stadium here on Wednesday – and thus ending their chance of an automatic berth to the Rio de Janeiro Olympics next year.

Yes, Malaysia can still beat France on Friday and finish fifth – and stay in the fray as one of the reserves for a place in Rio.

But, the truth is, that they should have beaten India and wrap up the Olympic berth on Wednesday.

Leading 2-1 at half time, Malaysia were looking good for a place in the semi-finals.

Alas, the same old malaise struck Malaysia again in the last quarter as they conceded two penalty corners, which rookie flicker Jasjit Singh Kullar converted with aplomb.

Skipper Mohd Razie Rahim admitted that they knew nothing about Jasjit's penalty corner prowess.

"We usually study the opposing penalty corner flickers and see how they execute their moves ... but we had nothing on Jasjit," he said.

"That is no excuse for our loss though ... we simply failed to control the game and were guilty for conceding the two penalty corners.

"The players tried very hard and I don't think we can fault their determination.

"We were found wanting in the last quarter and we failed to keep up the tempo. We need to review our performance and bounce back."

There are a few weaknesses that the team needs to look into. Among them are the players' lack of fitness, inability to stay focused for the full 60 minutes and making the same mistakes.

The midfielders – Mohd Shahrun Nabil, Faiz Helmi, Mohd Marhan Jalil, Nabil Fiqri Mohd Nor – also failed to keep possession and that heaped a lot of pressure on the defence.

In goal Roslan Jamaluddin did a good job in the absence of S. Kumar.

Tactically, Malaysia need to spend a little more time studying their opponents' game.

India did not play their usual game this time. They are playing a more European style under new coach Paul van Ass.

They attack and defend in numbers.

They chased every ball and harassed the Malaysians at every turn. They didn't give any room for the Malaysians to plan their attacks.

India's assistant coach Jude Felix described it as "a 10-on-10 style".

"We're still learning and the players are slowly adapting to the new style. The players are learning to take on different roles and play as a unit. It's still in its early stages," said Jude.

While other teams, including Ireland and France, have evolved and improved, there's nothing new in the Malaysian game.

Malaysia definitely have the talents. All the coaches who have seen the Malaysians in action agree with that.

So what's missing, then?

Well, that's for the Malaysian Hockey Confederation (MHC) to find the answer.

The Star of Malaysia


---

Kenya's path to Rio Games cleared by SA

By BRIAN YONGA



Tracy Karanja trains with the national women's hockey team at City Park Stadium on February 7, 2015 ahead of the World League Two series in Uruguay. PHOTO | MARTIN MUKANGU |   NATION MEDIA GROUP

The national men's and women's hockey team's chances of making it to next year's Olympic Games have been increased in the absence of African champions South Africa in the continental qualifiers in Egypt in October.

The winners of the event in Egypt will represent the continent at the Rio Games. The South African teams have been eliminated from the World League qualifying series and according to reports in the Citizen, a leading newspaper in South Africa, the country's Sports Confederation and Olympic Committee has ruled out qualification through continental qualifiers.

The two Kenyan teams were also eliminated in the World League series with the women's team reaching the second round where they finished last in the event held in Uruguay back in February.

NO CELEBRATIONS YET

The men's team failed to get past the first round after losing 2-1 to Egypt in a closely fought final. Women's coach Jos Openda said the absence of South Africa at the continental event leaves his team with a huge chance of making it to their first ever Olympic Games but warned against early celebrations.

"We still have to ensure we are well prepared for the event before we start thinking of the Olympics. South Africa's absence means that the other teams all have an equal chance of making it and we therefore need to be prepared," Openda said.

The teams are however yet to report to camp with players opting to stay away due to unpaid allowances from previous international assignments. The men's team has qualified for the Olympics four times with their last appearance in 1988 in Seoul, South Korea.

Openda urged the Kenya Hockey Union (KHU) to ensure the preparations for the continental event are not disrupted. With the absence of South Africa, Kenya's main threat at the event will come from hosts Egypt as well as Ghana.

Daily Nation

Quick correction here. If South Africa win the Africa Cup then no nation will represent Africa in the Olympic Games as SASCOC have already said they will not sent SA as African Qualifiers only. The vacated place will go to the highest ranked of the HWL placed teams and not the team that comes second in Africa. If South Africa do not go to the Africa Cup they will be commiting Hockey suicide as they will lose 500 ranking points which will not be recoverable as their subsequent ranking will drop them out of the Champions Challenge tournaments and leave them having to go through Round 1, 2 & 3 of the HWL to qualify for any major tournament - something they will not be able to afford financially.


---

Semi-final time at SA Varsities hockey tournament

JONATHAN COOK at UKZN Greenfields Turf



Dario Lourenco of Tuks in possession as UJ captain Gareth Heyns challenges during UJ's 2-1 win on day three of the University Sport South Africa Hockey Week at UKZN Greenfields Turf in Pietermaritzburg Wednesday.

A day of hotly contested A Section men's and women's action at the 2015 University Sport South Africa (USSA) hockey week in Pietermaritzburg Wednesday decided who will contest Thursday's semi-finals at the UKZN Greenfields Turf off Golf Road in Scottsville.

The semi-finals feature Maties men versus Madibaz at 12.40pm and Tuks men versus Kovsies at 4.20pm with the women's last four clashes between Maties and Pukke at 2.30pm and UJ versus Kovsies at 6.10pm.

The A Section women's final is at 4.20pm Friday at UKZN with the men's final at 6.10pm.

A further 29 university teams are crossing swords in the men's and women's B and C Sections at the AB Jackson, Maritzburg College and Epworth.

A SECTION RESULTS
Men: UJ 2 Tuks 1; Madibaz 9 Wits 1; Kovsies 3 Ikeys 1; Maties 5 UKZN 0
Women: Maties 5 Varsity College 0; UJ 4 Tuks 0; Kovsies 1 Madibaz 0; Pukke 2 Ikeys 1
THURSDAY PLAYOFFS
Men – at UKZN: (5/8) UJ vs Wits (9am); (1st semi-final) Maties vs Madibaz (12.40pm); (2nd semi-final) Tuks vs Kovsies (4.20pm)
Men – at AB Jackson: (5/8) UKZN vs Ikeys (8.30am)
Women - at UKZN: (5/8) Varsity College vs Madibaz (10.20am); (1st semi-final) Maties vs Pukke (2.30pm); (2nd semi-final) UJ vs Kovsies (6.10pm)
Women – at AB Jackson: (5/8) Tuks vs Ikeys (10.50am)

SA Hockey Association media release


---

Magnificent Malgraff inspires massive Madibaz upset

JONATHAN COOK at UKZN Greenfields Turf



Dalan Phillips of Madibaz in possession as Maties captain Dylan Swanepoel comes across during the semi-finals at UKZN Thursday. Madibaz upset Maties 4-2.

As anticipated, Thursday's elite A Section semi-finals of the 2015 University Sport South Africa (USSA) hockey week at UKZN in Pietermaritzburg delivered fiercely contested encounters and the highlight was Nelson Mandela Metropolitan University's Madibaz men of Port Elizabeth upstaging the fancied Maties of Stellenbosch.

Striker Ignatius Malgraff was the match-winner with a superb hat-trick including one stunning solo goal in particular in the Madibaz' upset 4-2 victory. Although this will be Mazibaz' third final in four years, very few gave them a hope of beating the star-studded Maties line-up.

In the second semi-final, the University of Pretoria's hugely impressive Tuks men completed as clinical a destruction you are ever likely to see in demolishing the hardworking University of Free State's Kovsies men 8-0.

The first women's semi-final saw defending champs Maties comfortable 3-0 victors over the spirited Puk ladies of North West University in Potchefstroom. The second semi-final featuring 2015 Varsity Cup winners University of Johannesburg and runners-up in that competition, the Kovsies ladies, went the way of the UJ ladies 2-0.

Friday's A Section women's final between defending champs Maties and 2015 Varsity Cup champions UJ is at 4.20pm at the festive UKZN Greenfields Turf with the men's final between Tuks and Madibaz at 6.10pm at the same festive venue.

In the UJ/Kovsies women's semi-final, UJ forward Lilian du Plessis broke the deadlock in the 41st minute with a penalty corner. The decisive plays came in the dying minutes when UJ cleared a Kovsies PC away from their goalline before captain Kaila Flemming fired a square pass for Du Plessis to smash into the backboard from the edge of the strike zone.

The men's semi-final between Tuks and Kovsies saw a unique outcome where all eight goals in the 8-0 whitewash went the way of Maritzburg College Old Boys. Seven of the eight came from sizzling penalty corner drag-flicks by Tim Guise-Brown (4) and Grant Glutz (3) with Tim Halle slotting the lone field goal.

The courageous Madibaz defence was let off the hook somewhat in their semi-final against the Maties men when the Stellenbosch lads wasted a hatful of PCs - and they are unlikely to get away with that against the lethal Tuks set-piece in Friday's final.

However, the Tuks defence will also have to be on their guard, as the Madibaz strategy of launching counter-attacks at lightning speed off turnover ball was Maties' undoing.

A SECTION RESULTS
Men (playoffs positions 5/8) UKZN 3 Ikeys 2; UJ 3 Wits 0. (1st semi-final) Maties 2 Madibaz 4; (2nd semi-final) Tuks 8 Kovsies 0
Women (playoffs positions 5/8) Varsity College 0 Madibaz 2; (5/8) Tuks 4 Ikeys 0; (1st semi-final) Maties 3 Pukke 0; (2nd semi-final) UJ 2 Kovsies 0
FRIDAY CLASSIFICATION MATCHES
Men: (7/8) Ikeys vs Wits (AB Jackson 8.30am); (5/6) UKZN vs UJ (UKZN 9am); (3/4) Maties vs Kovsies (UKZN 12.40pm); (Final) Tuks vs Madibaz (UKZN 6.10pm)
Women: (7/8) Ikeys vs Varsity College (AB Jackson 10.20am); (5/6) Madibaz vs Tuks (UKZN 10.50am); (3/4) Pukke vs Kovsies (UKZN 2.30pm); (Final) Maties vs UJ (UKZN 4.20pm)

SA Hockey Association media release


---

Govia gives Parkites lead in Trinity

Nigel Simon

Raphael Govia scored a second-half double as Queen's Park held off Carib 3-1 to go top of the T&T Hockey Board Men's Trinity Division standings at the National Hockey Centre, Tacarigua, on Monday night. Prior to the match flick off, the Parkites were handed some great news by the local board as they were awarded a 3-0 default victory over Police after the latter showed up for an encounter on Thursday last with only five men.

The news seem to have a positive affect on the Parkites with Ryan Daniel firing in the go-ahead item against Carib to lead 1-0 at the half-time whistle. Govia then doubled his team's lead but Dane Francis got Carib back into the match when he found the back of the net. Carib's joy was short-lived though as Govia slammed  home his second of the match to starve off any hopes of his opponents clawing their way back into the match.

The win lifted Queen's Park to 19 points from their eight matches, four more than Courts Malvern, which has only one match left and six ahead of Paradise which has two to play and is the only team that can deny the Parkites the tile. However, Paradise must take full points from both encounters against lowly Shape and Carib and also improve its goal-difference of plu-seven to overhaul Queen's Park, plus-16 tally.

On Wednesday, Shape used goals from John Hernandez (45th) and Roshane Hamilton (53rd) to beat Fatima 2-0, also in the Men's Trinity Division. Last night, (Thursday), Shandy Carib Magnolias, fourth on the Women's Championship Division table faced Ventures from 8pm in a must-win match.

Magnolias has 17 points from ten matches and two left to play while defending champion Paragon leads with 22 points and two matches left as well, two more than Harvard Checkers which meets Ventures in its final match on Saturday, the same as Georgetown Cricket Club, which has completed its 12-match schedule.

Today, two matches are on scheduled in the Men's Championship Division with Paragon facing Queen's Park from 6.30pm followed by Fatima against newly crowned champions Petrotrin. With two matches left to play, the Oilmen have an unassailable 31 points from 12 matches, nine more than both QPCC and Paragon which have one match left to play while last year's winner, Notre Dame is next with 21 points from 11 matches.

Tomorrow (Saturday), four matches will take place with Notre Dame against Magnolias (3.30pm); Courts Malvern versus Paragon (5pm) and Ventures facing Harvard Checkers (6.30pm) all in the Women's Championship Division followed by Paradise and Fatima in the Men's Championship Division at 8pm.

Standings

Men's Championship
Teams    P    W    D    L    F    A    Pts
Petrotrin    12    10    1    1    44    16    31
QPCC    13    6    4    3    31    22    22
Paragon    13    7    1    5    33    30    22
Notre Dame    11    6    3    2    29    17    21
D/Force    12    2    6    4    24    26    12
Malvern    12    2    4    6    18    24    10
Fatima    11    2    3    6    16    30    9
Paradise    12    2    0    10    20    54    6

Women's Championship
Paragon    10    6    4    0    30    7    22
Harvard Checkers    11    6    4    1    12    6    20
GCC    12    6    2    4    22    20    20
SC Magnolias    10    5    2    3    24    11    17
Notre Dame    9    3    1    5    13    18    10
Malvern    8    2    2    4    15    16    8
Ventures    8    0    0    8    1    29    0
 
Trinity Men
QPCC    8    6    1    1    24    8    19
Malvern    7    5    0    2    11    6    15
Notre Dame    8    4    1    3    24    13    13
Paradise    6    4    1    1    18    11    13
Paragon    6    3    0    3    4    10    9
Carib    6    2    0    4    7    11    6
Shape    6    3    0    3    9    9    9
Fatima    7    1    1    5    6    17    4
Police    6    0    0    6    2    19    0

Trinity Women
Magnolias    6    6    0    0    33    2    18
Checkers    5    3    1    1    23    9    10
Paragon    5    3    1    1    11    10    10
Malvern    3    1    0    2    10    8    3
Police    5    2    0    3    7    14    6
Paradise    4    0    0    4    1    12    0
Raiders    4    0    0    4    0    30    0

Under-19 Boys
Malvern    7    7    0    0    54    2    21
QPCC    7    6    0    1    37    6    18
Fatima    6    3    1    1    13    12    11
Paragon    8    3    2    3    16    11    11
Petrotrin    7    2    1    4    7    43    7
Shape    5    2    1    2    12    11    7
Paradise    5    1    1    3    8    14    4
Notre Dame    8    1    0    7    9    38    3

The Trinidad Guardian


---

Title defence begins for strong New Zealand Midlands under-18 hockey women

A title defence is on the cards for the Midlands under-18 women's hockey team heading to the national tournament on Saturday.

Defending champions Midlands boast a strong, deep squad for the tournament, with New Zealand wider junior World Cup squad members Alex Lukin and Acacia Kelsen in the mix.

Coach Nyree Hanna said the team is in a good space heading into the tournament, which starts on Sunday and finishes next Saturday.

"You have to go into any tournament believing you can win it, and certainly with goals set high and with a really strong mind set," Hanna said.

"We are pleased with where we have got to."

One of the biggest focuses for the team has been fitness, and Hanna said her team is easily fit enough to win matches at this level.

She said the pool matches will be tough, with North Harbour, Central and Northland standing between Midlands and progress to the big matches at the end of the week.

"We haven't played Northland in the build-up, but we played both Central and North Harbour so we know a bit about them which does help.

"I don't think at the under-18 regional level there are ever any easy games, and games can go either way. At this age group they are still developing, so there is still a bit of an unknown."

Lukin, one of the stars of the Midlands team, said the highlight of her hockey career to date was last year's tournament victory for the under-18 side, and hopes they can go back-to-back.

"We're all really excited to play and hopefully we can do what we did last year," the 17-year-old said.

"Playing for Midlands is amazing. It's the atmosphere of playing for Midlands that I like the most. It's such a professional group of girls and coaches."

Hanna is confident that there will be strong "orange-clad" support for both Midlands sides on the North Shore, with the men's team seeded second after losing to Canterbury in last year's final.

"Certainly being quite close to home, there will be some parents that will make the trip up the motorway on a daily basis. Seeing the ground full of orange is huge for us."

Hanna expects Lukin to be the player to watch in the Midlands team, given her ability to control a game in the middle of the park.

AT A GLANCE:

Midlands under-18 women: Jesse Brant, Hazel Burroughs, Siennah Cowles, Julia Ebert, Abby Furmage, Acacia Kelsen, Kelsey Lewis, Alex Lukin, Annie McNaughtan, Chloe Nesbitt, Jess Nicholson, Tori Robinson, Olivia Scotland, Zoe Summers, Lorrin Tiedt, Anzel Viljoen, Yazzmine Woodhouse, Deborah Yung.

Midlands under-18 men: Zane Anderson, Reuben Andrews, Wade Bennett, Jonathan Bloor, Jonny Brough, Tehiraka Chase, Aakaash Chimanlal, Denym Clarke, Garrick du Tiot, Alexander Hasselman-Black, Declan Keaney, Ethan Martin, Paraone Muru, Tim Neild, James Puchner, Daniel Sarikaya, Daniel Scanlon, Maks Wyndham-Smith.

Stuff


---

National junior hockey in doldrums

U21 team to miss seven-nation tournament in Holland due to lack of funds.

By Nabil Tahir

KARACHI: There seems to be no light at the end of the tunnel for Pakistan hockey, as the fortunes of the national game suffered yet another blow when it was revealed that the federation had pulled the U21 team out of the Seven-Nation Volvo International U21 Men's Hockey tournament due to lack of funds.

The Pakistan U21 team was scheduled to participate in the seven-nation tournament and face arch-rivals India in the opening match on July 18 at Amsterdam, Holland according to the schedule released by the Koninklijke Nederlandse Hockey Bond (KNHB) in May.

In the latest schedule released by the KNBH, the junior Greenshirts are no longer part of the tournament and now the hosts are unable to invite any other team on such a short notice, so only Netherlands, India, England, Belgium, New Zealand and Germany will feature in the event.

The junior team last participated in an international event in 2014 at the Sultan of Johor Cup in Malaysia under head coach Manzoorul Hassan, where the team finished second-last out of six teams.

Surprisingly, the Pakistan Hockey Federation had not bothered to inform the head coach about the tournament. "I am unaware about any development in junior hockey since the Sultan of Johor Cup in 2014," Hassan told The Express Tribune. "They haven't contacted me about any tournament — all decisions are their own."

The same junior team that has to take part in the Junior World Cup next year in India has had no training since their last international tour, while this tournament was a chance for the youngsters to gain international exposure for the preparation for the mega event in New Delhi.

The Express Tribune


---

Auditors' objections over accounts not serious, claims PHF

LAHORE: The special audit of the Pakistan Hockey Federation (PHF) accounts for the 2008-2013 period has been completed and Dawn learnt that some five objections, though not of serious nature, were raised during the process.

The auditors went back to Islamabad with three files of the audited accounts.

The audit was conducted on the instructions of Prime Minister Nawaz Sharif, who is also the PHF patron-in-chief.

According to the federation, a total grant of Rs770 million was received from the federal government during the PPP tenure (2008-2013).

The auditors, the PHF officials say, raised some objections over the procedures, adopted in maintaining the accounts.

However, the officials claim, the same procedure (of maintaining accounts) is being followed which was adopted at the time of PHF formation way back in the late 1940s.

"But the objections are not of serious nature as was the hue and cry raised by some ex-Olympians in the past, indicating that there is looting going on in the PHF," an official said.

"There was no objection or query raised by the auditors before the PHF about an amount of Rs200 million missing in the record. Therefore, all such news reports [about this] published in the media are false and it is just an attempt to malign the federation," the same official insisted.

It may be mentioned that some former Olympians, who later joined the PHF, had levelled allegations of malpractices within the PHF during the tenure of former president Qasim Zia (2008-2013).

It is interesting to recall that the then PPP federal government showed significant generosity towards the game of hockey, despite the fact that stalwarts like Islahuddin Siddiqui, Shahnaz Sheikh, Ayaz Mahmood and many others had been criticising the federation for the alleged misuse of funds given by the government.

The prime minister, it is important to mention here, since 2013 has stopped the PHF annual grant, unless the previous PHF accounts are audited.

It may be cited that the PHF, which in recent times has been solely depending on government's grant to run its affairs, has been facing acute financial crisis during the last couple of years. Sadly, this crisis has even affected the national team's participation in several premier international tournaments.

Except for Punjab Chief Minister Shahbaz Sharif, who has given the PHF a grant of Rs100 million during the last two years, unfortunately no other source came forward with a big heart to help out the PHF in order to help save the fast declining game of hockey in Pakistan.

Dawn


---

Indian hockey ex-skipper to return honour to UT

Rajpal Singh says Administration has done little for players who brought glory to it

Akash Ghai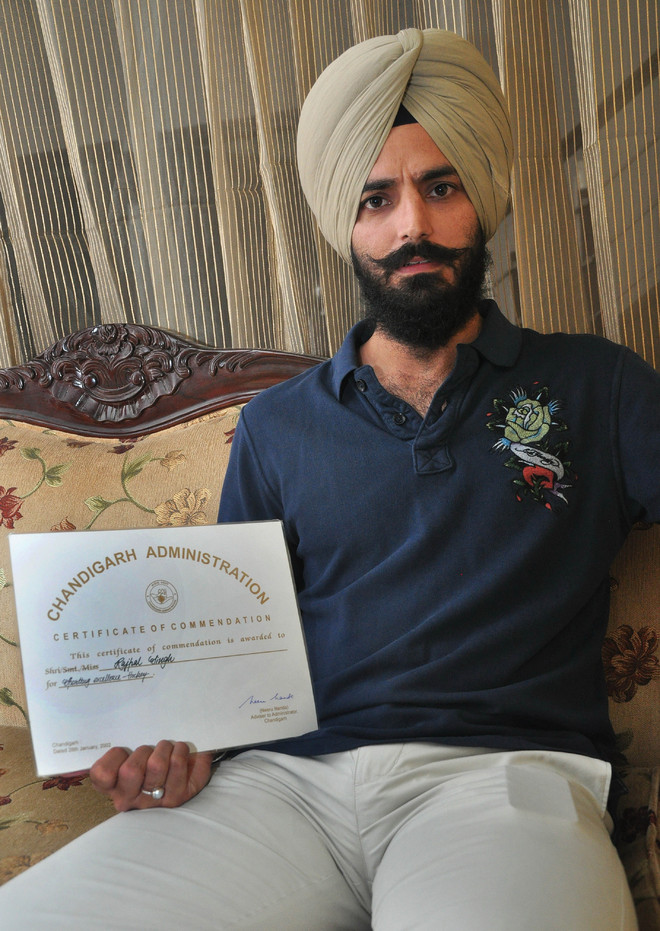 Former Indian hockey skipper Rajpal Singh shows the commendation certificate at his residence in Mohali on Thursday. Tribune photo: Parvesh Chauhan

Mohali - Much to the embarrassment of the Chandigarh Administration, Arjuna Awardee Rajpal Singh, India's former hockey skipper, is set to give back his state award (commendation certificate) to the Administration on National Sports Day next month.

Confirming the development, the former ace forward said he was miffed with the "indifferent attitude" of the Administration towards the players who had brought glory to the city at the national and international level.

Rajpal said he had made up his mind to give back the state award, which was bestowed on him at the Republic Day function in 2002 for his achievements in hockey, to the Chandigarh Administration on National Sports Day.

Citing reasons, the miffed sportsperson said the Administration had done little for the players who had brought glory to the city at the national and international level.

"I had represented the city in various national tourneys. I had also led the country in top-class hockey tournaments. What did I get in return from the Administration? Just a commendation certificate and a cash reward of Rs 1 lakh," said Rajpal Singh, who is currently a Deputy Superintendent of Police in the Punjab Police.

Rajpal said due to the "indifferent attitude" of the sports authorities in Chandigarh towards top players, he was forced to shift base to Punjab three years ago. "See the difference; the Punjab government not only gave me a number of cash rewards, but also a job in the Punjab Police," said Rajpal while showing gratitude to the Punjab Government.

Rajpal was part of the Indian team which won the silver in the Commonwealth Games, 2010, the bronze in the Asian Games, 2010, and the gold in the Asian Champions Trophy in 2011. He had led the national team in 2009.

The Tribune