All the news for Thursday 2 July 2015

Kookaburras, GB, Red Lions & India reach semis




Men's quarter-finals day at the FINTRO Hockey World League Semi-Finals was a thriller in scorching temperatures, with Australia, Great Britain, India and Belgium all seal their places in the semi-finals in Antwerp.

They overcame the respective challenges of Ireland, Pakistan, Malaysia and France to reach the final four and book their tickets to the prestigious Hockey World League Finals, that will be played in India at the end of the year. The top three finishers at the event will also be guaranteed tickets to the Rio 2016 Olympic Games.

The men's semi-finals will take place on Friday 3rd July, with reigning world champions Australia facing Great Britain while host nation Belgium will go head-to-head with India. 

India's achievement of reaching the competition semi-finals has determined the complete eight-team line-up for the end of year showpiece Hockey World League Final. India are hosting that event and will be joined by Australia, Great Britain and Belgium from the HWL Semi-Final in Antwerp was well as Germany, Argentina, Netherlands and Canada, who took the top four places at the recent Argentina HWL Semi-Final in Buenos Aires.

As they have already qualified for the Rio 2016 Olympic Games by virtue of winning the 2014 Asian Games, a top three finish for India in Antwerp will create an Olympic opening for the highest ranked of the fourth place finishers from two HWL Semi-Final events held in Argentina and Belgium. If India finish fourth, then only the top three from each competition will be confirmed for the Olympic Games at this stage.

Men's semi-final day will take place on Friday 3rd July. The match scheduling and times will be confirmed at 1100 (CEST) on Thursday 2nd July.

More information on the day's matches can be found below.

Quarter-finals

Australia 4-1 Ireland
Reigning world champions Australia were given a real test by Ireland's Green Machine before eventually running out winners in the quarter-final phase in Antwerp.

Goals from Matt Gohdes, Jamie Dwyer, Simon Orchard and a sixth of the tournament for 18-year-old Blake Govers moved the Kookaburras to within one victory of guaranteeing a place in both the end-of-year showpiece Hockey World League Final and the Rio 2016 Olympic Games.

"We are very happy to beat Ireland as we knew they wouldn't be easy, they drew against GB only lost in the last seconds to Belgium" said Kookaburras' talisman Jamie Dwyer after the game. "They are a tough team, mentally and physically. Even though it was 35 or 36 degrees out there in the middle of the pitch, which was probably an advantage for us, we knew that they were going to give it a go and not die wondering, typical of the Irish spirit."

Regarding the possibly competing in his fourth Olympic Games, Dwyer said: "It would be pretty awesome thats for sure, but there's a long way to go. At 36 years of age, it's not getting any easier but I'm feeling pretty good, running around okay and injury free at the moment as well as scoring a few goals, which is always nice."

Great Britain 2-1 Pakistan
Great Britain battled to a 2-1 quarter-final win over Pakistan's Greenshirts to book their place in the final four in Antwerp.

A stunning backhand strike from Chris Griffiths coupled with Alastair Brogdon's poachers' effort proved to be enough for victory despite a late reply from Umar Bhutta, edging Great Britain one step closer to achieving qualification for the Hockey World League Final and the Rio 2016 Olympic Games.

"We made it tough in the end, i think first half we were really good, felt in control and if we had got another goal ahead it would have been hopefully by a few more", said Great Britain delighted GB captain Barry Middleton. "Obviously when you are only 2-0 up and playing a team like Pakistan, who commit players forward, they are going to make it tough but I thought we defended really well."

Pakistan captain Muhammad Imran said: "I think we put all of our efforts into it but we were unlucky we didn't score with our chances, but we have other games and it is important that we try to finish fifth."

India 3-2 Malaysia
India were the winners of the third quarter-final of the day, with two ripping penalty corner efforts from Jasjit Singh Kular helping his side fight back from 2-1 down to defeat Malaysia 3-2 at the FINTRO Hockey World League Semi-Finals in Antwerp. The result puts India into the competition semi-finals, where they will face the winner of this evening's match between Belgium and France.

India took an early lead in the contest when Satbir Singh tapped home from close range after some patient work from the ever-impressive Akashdeep Singh. However, the Malaysians hit back with two penalty corners either side of the quarter-time break, with Razie Rahim and Shahril Saabah both finding a way past Indian shot-stopper P.R. Sreejesh with excellent drag-flicks. However, a brilliant double from Jasjit Singh Kular swung the match back in India's favour to seal a place in the competition final four.

Speaking after the game, double goal-scorer Jasjit Singh Kular said: "It was amazing. It was my first drag-flick goal in international hockey so it was amazing. Malaysia played really well, they are a really fit side and it was a tough game. We are really pumped up for the semi-final."

Belgium 5-4 France
A blistering tempo and athletic heroics were the signature characteristics of this quarter final encounter between two European rivals, fourth-ranked Belgium and 18th-ranked France.

Despite moments of Gallic magic, it was the experience and consistency of the Belgium team that paid out in the end, as they ran out 5-4 winners thanks to goals from Florent van Aubel, Sebastien Dockier, Emmanuel Stockbroekx, John-John Dohmen and Tom Boon all on target. The entertaining match did not reflect the 14 place difference between the teams.

Martin Genestet, who scored two goals for France, including one with help from both his brothers, said: "Today I am thinking about the disappointment of the team, not my two goals. Now I will help keep the younger players focused for our next game against Malaysia. But we must take heart, we played very well today."

Captain of Belgium and one of the goal scorers, John-John Dohmen said: "We are so excited to have won in front of our home crowd. But they (France) made it difficult for us. They came back again and again. It was tough mentally."

FIH site


---

Kookaburras reach semis

4-1 win over Ireland seals progress to World League semi final on Friday



Simon Orchard controls an aerial ball

The Kookaburras marched into the semi-final of the Hockey World League after overcoming a dogged and physical Ireland 4-1 in an absorbing quarter-final in Antwerp.

Goals from Queensland cousins Matt Gohdes and Jamie Dwyer and New South Wales duo Simon Orchard and Blake Govers guided the Australian men to victory as the mercury hit 41 degrees in the sun.

Kookaburras coach Graham Reid admitted afterwards, "It wasn't a pretty win but sometimes that's what it is in international hockey.

"There are lots of obstacles put in your way and for us to come out with a win was a positive for us but [there is] lots to look at.

"With Ireland you're never quite sure with what you're going to get. We don't play them very much. We tried to prepare the boys as much as we could for that.

"I thought we started pretty well. We knew that they would frustrate us because they're a very dogged team. They defend very well, they have lots of people behind the ball.

"In that first quarter it was good. We didn't necessarily expect to score. You're going to make opportunities and hopefully you can. In the third quarter we threw the ball away a lot when we needed to keep it.

"We would have preferred a bit more structure in our attack. That's probably one of things we'll be looking at."

Speaking about Eddie Ockenden, who at the age of just 28 was playing in his 250th match for Australia, Reid said, "It's fantastic to be so young and achieve that milestone. I know we don't talk too much about those milestones because that's the Australian way but for someone like him I think it's a fantastic achievement and I'm sure that he'll play many more."

Gohdes and Dwyer put the Kookaburras in the driving seat with goals in the second and third quarters but Australia didn't have it all their own way as Ireland defended in numbers, content to hit back on the counter attack.

Gohdes did well to control a rebounding penalty corner before lashing home under Irish goalkeeper Davey Harte while Dwyer applied a superb deflection after Eddie Ockenden's intricate skill at the top of the circle set him up.

Between the goals, with the Kookaburras leading 1-0, Ireland came close to an equaliser on the break when Alan Sothern latched onto an aerial pass and lobbed Australian goalkeeper Andrew Charter but the ball dropped wide.

A superb piece of individual composure from Simon Orchard made it 3-0 as the Maitland midfielder controlled Kieran Govers' long range aerial pass into the circle, applying the critical touch to score as he was felled.

Blake Govers rounded off the Australian goals with a trademark precision penalty corner, the tenth of young career, before Shane O'Donoghue bagged a late consolation with a set piece deflection.

Speaking afterwards, Eddie Ockenden said of making his 250th appearance for his country, "It's a lot of games. It feels like it's gone pretty quickly.

"I'm pretty pleased to get it over with. It was a bit of a nervy game to worry about a milestone so it's good that we made it through to the semi-finals. To get to the top four was what we wanted."

Defining some of the highlights of his career to date, the Tasmanian midfielder said, "My first game, my first tour – it was a bit of a whirlwind, something I never expected. Obviously, going to two Olympics, winning two World Cups and the other 240-odd games were awesome as well. I've loved every minute of it so far."

The Kookaburras will face the winner of the quarter-final between Great Britain and Pakistan in the semi-final on Friday evening in Belgium (Saturday morning in Australia).
                                                                                                                
Hockey World League
Antwerp, Belgium

Quarter-Final

KOOKABURRAS: 4 (1)
Matt Gohdes 22 (PC)
Jamie Dwyer 45 (FG)
Simon Orchard 55 (FG)
Blake Govers 55 (PC)

IRELAND: 1 (0)
Shane O'Donoghue 57 (PC)

Kookaburras squad v Ireland
Name (Hometown/State) Caps/Goals
Started       
Andrew Charter (Canberra, ACT) 96/0
Chris Ciriello (Melbourne, VIC) 168/109
Tim Deavin (Launceston, TAS) 111/5
Jamie Dwyer (Rockhampton, QLD) 339/222
Kieran Govers (Wollongong, NSW) 106/56
Fergus Kavanagh (Geraldton, WA) 204/14
Mark Knowles (Rockhampton, QLD) 263/22
Simon Orchard (Maitland, NSW) 176/54
Jake Whetton (Brisbane, QLD) 95/40
Tristan White (Wollongong, NSW) 61/3    
Aran Zalewski (Margaret River, WA) 64/6                         
                                                                                                                            
Used Substitutes
Daniel Beale (Brisbane, QLD) 62/11
Kiel Brown (Toowoomba, QLD) 166/6
Matt Gohdes (Rockhampton, QLD) 129/39
Blake Govers (Wollongong, NSW) 11/10
Tyler Lovell (Perth, WA) 48/0
Matthew Swann (Mackay, QLD) 120/6
Eddie Ockenden (Hobart, TAS) 250/62
                                                                                                           
Match Schedule - Kookaburras 
3 July - 18:00 CET or 20:30 CET (Belgium) / 02:00 or 04:30 AEST (Friday) - Semi Final v Great Britain
5 July - TBC - Medal Matches / Classification         

Hockey Australia media release


---

Aussies set to qualify for Rio

Fourth place finishes in Antwerp will be enough to qualify for Olympic Games




The Hockeyroos and Kookaburras will both qualify for the 2016 Olympic Games via the Hockey World League this week, irrespective of whether they finish in the top three or in fourth place.

Olympic qualification is guaranteed for the top three finishers but not for teams finishing fourth.

The International Hockey Federation will only confirm all the teams qualifying for the Olympic Games at the conclusion of the tournament. However, results over the past 48 hours have conspired to create scenarios whereby even if Australia's teams finish fourth they will still secure Olympic qualification.

Kookaburras

The Kookaburras, the Australian men's hockey team, will qualify for the Rio 2016 Olympic Games irrespective of where they finish in the top four of the Hockey World League (HWL) this week after they reached the semi-finals and India overcame Malaysia 3-2.
    
The Kookaburras will face Great Britain in the semi-final in Antwerp on Friday after both teams came through their quarter-final encounters on Wednesday.
    
India's result guarantees the three other semi-finalists - Australia, Belgium and Great Britain - will all qualify for Rio.
    
As they have already qualified for the Rio 2016 Olympic Games by virtue of winning the 2014 Asian Games, a top three finish for India in Antwerp will create an Olympic opening for the highest ranked of the fourth place finishers from two HWL Semi-Final events held in Buenos Aires and Antwerp.
    
Continental championship winners such as India, who also qualify through the World League, 'hand back' their World League qualification place with it rolled down to the next best non-qualifier, the best fourth placed team from the two World League competitions.
    
As Australia, Belgium and Great Britain are all ranked higher than Canada, who finished fourth in Buenos Aires, that place would go to whichever of those teams were to finish fourth in Antwerp.
    
If India finishes fourth, then only the top three from each competition will be confirmed for the Olympic Games at this stage. In Antwerp, that would mean Australia, Belgium and Great Britain secure the three automatic qualification places.
 
All four semi-finalists have also qualified for the World League Finals in India at the end of the year, to be joined by Germany, the Netherlands, Argentina and Canada.
    
In Wednesday's quarter finals, the Kookaburras overcame Ireland 4-1 on Antwerp's hottest day for more than 60 years while Great Britain saw off Pakistan, winning 2-1.
    
The other semi-final will pit India against Belgium after the hosts overcame France 5-4.
    
Australia and Great Britain met as recently as the middle of June in two World League warm-up matches. While Great Britain won the first contest 3-1 in London, the Kookaburras fought back in the second to win 6-1 at Bisham Abbey two days later.

Hockeyroos

By virtue of the same process, the Hockeyroos will also qualify for the Rio 2016 Olympic Games this week, even if they finish in fourth place and miss out on one of the guaranteed Olympic spots given to the top three finishers.
    
With 2014 women's Asian Games champions Korea in the semi-finals and already qualified for the Olympic Games, the same scenario applies to Australia's women as to the Kookaburras.
    
Should the Hockeyroos finish in the top three, they will automatically qualify for Rio.
    
Should they finish fourth they will inherit the qualification spot won by Korea, who would take up their Olympic place as Asian champions and have their World League qualification place 'rolled down' to the next highest ranked non-qualifier from the HWL Semi-Final tournaments in Antwerp and Valencia.

As the number two team in the FIH world rankings, the Hockeyroos would be the highest ranked non-qualifier, ahead of Argentina who finished fourth in Valencia and are ranked third in the world.

>> Download the FIH's Rio 2016 qualification route infographic (women)
    
In Thursday's semi-finals, Australia's women will face the world number one, the Netherlands (02:00am AEST, Friday).

The Dutch are the reigning Olympic champions, World Cup gold medallists and defending World League winners. The Hockeyroos – Commonwealth Games gold medallists - were runners-up to the Dutch at the 2014 World Cup and the 2013 World League Final.
     
Their last two encounters came a year ago at the 2014 World Cup when the Netherlands won both matches – a pool phase meeting and the grand final – 2-0.

Statistics ahead of semi-finals

Hockeyroos' results so far:
9-0 win v Poland (Pool B)
2-0 win v Belgium (Pool B)
0-2 loss v New Zealand (Pool B)
4-2 win v India (Pool B)
2-0 win v Italy (QF)

Netherlands results so far:
11-0 win v France (Pool A)
2-1 win v Korea (Pool A)
4-0 win v Japan (Pool A)
9-0 win v Italy (Pool A)
7-0 win v India (QF)

Kookaburras' results so far:
10-0 win v France (Pool A)
6-1 win v Pakistan (Pool A)
4-0 win v Poland (Pool A)
6-2 win v India (Pool A)
4-1 win v Ireland (QF)

Great Britain's results so far:
2-2 draw v Belgium (Pool B)
2-2 draw v Ireland (Pool B)
8-1 win v China (Pool B)
3-1 win v Malaysia (Pool B)
2-1 win v Pakistan (QF)
      
Women's semi-final and classification match draw
Matches take place on Thursday 2 July (Belgian time)
5th-8th: 13:00 CEST / 21:00 AEST - India v Italy
5th-8th: 15:30 CEST / 23:30 AEST - Belgium v Japan
Semi 1: 18:00 CEST / 02:00 AEST (Fri) - Netherlands v Australia
Semi 2: 20:30 CEST / 04:30 AEST (Fri) - Korea v New Zealand

Men's semi-final and classification match draw
Matches take place on Friday 3 July (Belgian time)
The match scheduling and times will be confirmed by the FIH at 11:00 (CEST) on Thursday 2nd July.

Hockey Australia media release


---

Ireland lose 4-1 to Australia




It was always going to be a mighty task to defeat the world number 1 Australia but the Green Machine put in a dogged performance in the 32 degree heat in Antwerp. The game finished up at 4-1 to the Kookaburas, meaning Ireland will head into the 5th-8th place playoffs on Friday with a 5th place finish likely to earn them a spot at the Olympics.

It was the Aussie's who got on the scoresheet first in the 22nd minute but it would take them another 23 minutes before they could add to their tally. The low score in the first 3 quarters is a testament to the composure and commitment of Ireland's defence. Davey Harte was called into action to make several athletic saves but the men in green remained patient and held their structure.

The main chance of the game for Ireland fell to Alan Sothern after a pin perfect aerial ball from Shane O'Donoghue. Sothern received the ball at the top of the circle but credit the Australian GK, Charter, for his speed and agility to guide the shot wide. The Australians scored 3 goals in the space of 10 minutes and Shane O'Donoghue's drag flick meant the match finished 4-1.

After the match, coach Craig Fulton expressed mixed emotions at the final result "I'm incredibly proud of the performance today, at the same time we're all very disappointed because we believed we could get a result. We won 4 corners at crucial times and we played well to get those but we weren't clinical enough. That said, it was a fantastic effort on everyone's part in the heat today against the world number 1's. We look forward to the next game and finishing as high as we possibly can in this tournament".

Ireland's next match will be on Friday against Pakistan, time to be confirmed.

Hockey World League Antwerp

Ireland 1 (O'Donoghue) vs 4 Australia

Team: Harte, Jackson, Bell, Gormley, Watt, Cargo, Caruth, O'Donoghue, Darling, Good, Gleghorne.

Subs: Sothern, Dowds, Magee, Shimmins, Carlisle, Fitzgerald, Harte

Irish Hockey Association media release


---

Australia checks into semis, and Olympics

By Jugjet Singh

WORLD No 1 Australia frolicked in scorching heat to become the first team to qualify for the semi-finals of the World League in Antwerp, when they edged Ireland 4-1 at the KHC Dragons Stadium.

And the Aussies also virtually checked into the 2016 Rio de Janeiro Olympics, as the top three are assured, while the fourth team will also qualify via double qualifications.

It was a windy and 32 degree Celsius day, and officially the first day of summer in Belgium, and the Irish wilted under the sun.

However, it was not before Ireland defended gallantly and Australia could only open scoring in the 22nd minute, when Mat Gohdes beautifully trapped a penalty corner rebound, and hit a cricket shot back into the goalmouth.

At the half-time interview, both Ireland and Australian coaches Craig Fulton and Graham Reid respectively said their players must be patience in the second half.

Australia were more patience, and worked themselves up the ladder with three more beautiful goals to deny a fighting Irish their moment in the sun.

Jamie Dwyer (45th), Simon Orchard (55th) and Blake Govers (55th) wrapped up the match for Australia, while the Irish consolation was scored by Shane O'Donoghue (57th).

Dwyer, 36 years old, will be playing in his fourth Olympics, after winning gold with Australia in 2004 Athens, and two bronze medals in 2008 Beijing, and 2012 London. He has also played in four World Cups since 2002 in Kuala Lumpur.

"We have qualified have we,? asked Dwyer who scored the second goal to easy some pressure.

"It wasn't easy as it was about 36 degrees on the pitch, and credit to Ireland who made it tough for us. Yes, it would be my fourth Olympics. We have achieved the first stage, now to go up higher in this tournament (winning gold)," said the 5' 7" Australian terror.

In the semi-finals, Australia will meet either Britain or Pakistan, who play in their other quarter-finals.

Jugjet's World of Field Hockey


---

Aussies and Brits virtually through to Rio Olympics

by S. Ramaguru



Jamie Dwyer of Australia celebrates after scoring against India in the World Hockey League Semi-Finals in Belgium on Sunday. - FIH

ANTWERP: Australia have virtually sealed their place in next year's Rio de Janeiro Olympics.

The world champions sizzled in the 36°C heat to defeat Ireland 4-1 in the first quarter-final match of the World Hockey League Semi-Finals at the KHC Dragons Stadium in Brasschaat on Wednesday.

Australia will take on Britain in the semi-final on Friday.

Britain beat Pakistan 2-1 in the other quarter-final.

Ireland gave it a real go against Australia in the early stages but they just couldn't sustain the pace, despite holding the favourites at bay in the first quarter.

The world No. 14, however, crumbled in the 22nd minute when Matt Ghodes opened the scoring for Australia through a direct penalty corner flick.

The Aussies had to wait till the 45th minute to double the score, this time by veteran Jamie Dwyer.

Two quick goals in two minutes by Simon Orchard (55th) and Blake Govers (56th) killed off any hopes Ireland had of a fightback.

The Irish did get a consolation goal through Shane O'Donoghue in the 57th minute.

Dwyer, 36, was happy to see his team through to yet another Olympics.

"It's great to be here and help the team make the cut. At 36 years of age, this is a major achievement. I plan to play as long as I can," he said.

Dwyer has played in three Olympics and four World Cups thus far.

So, Rio will be a milestone as he is set to become the only player to have featured in four Olympics and four World Cups.

The top three teams from this tournament will be assured of places in next year's Olympics while the fourth-placed team could still sneak in.

This leaves Pakistan in danger of missing out of the Olympics for the first time ever. They also failed to make the cut to the World Cup last year for the first time.

The Brits were in total control of their match against Pakistan.

They romped to a 2-0 lead in the first quarter through a Chris Griffiths field attempt in the fourth minute and Alastair Brogdon's direct penalty corner flick five minutes later.

Pakistan got their goal in the 48th minute through Mohamed Umar Bhutta. But despite the late revival they fell short.

Pakistan has one final hope to qualify - that is to try and finish in fifth place to be one of the first reserves.

The Star of Malaysia


---

Kookaburras beat Ireland in Hockey World League to advance to semi-finals, Hockeyroos also through

The Kookaburras have overcome a scrappy Ireland to march into the semi-finals of the Hockey World League in Antwerp, Belgium.

Australia prevailed 4-1 in an absorbing quarter-final played in sweltering conditions on Thursday (AEST), on the back of goals to Matt Gohdes, Jamie Dwyer, Simon Orchard and the tournament's leading goalscorer Blake Govers.

"It wasn't a pretty win but sometimes that's what it is in international hockey," Kookaburras coach Graham Reid said.

"There are lots of obstacles put in your way and for us to come out with a win was a positive for us but (there is) lots to look at.

"With Ireland you're never quite sure with what you're going to get.

"We knew that they would frustrate us because they're a very dogged team. They defend very well, they have lots of people behind the ball."

The Kookaburras will on Friday face Great Britain, who beat Pakistan 2-1 in their quarter-final.

Meanwhile, the Hockeyroos meet arch-rivals and world world number one Netherlands on Friday (2am AEST) buoyed by Korea's qualification for the semis, which means a loss to the Dutch will still see them through to Rio.

Korea already qualified for Rio by virtue of being crowned the 2014 women's Asian Games champions, which frees up one spot in the semis.

ABC Sport


---

Ireland exit World Hockey League with defeat to Australia in quarter-finals

Ireland 1-4 Australia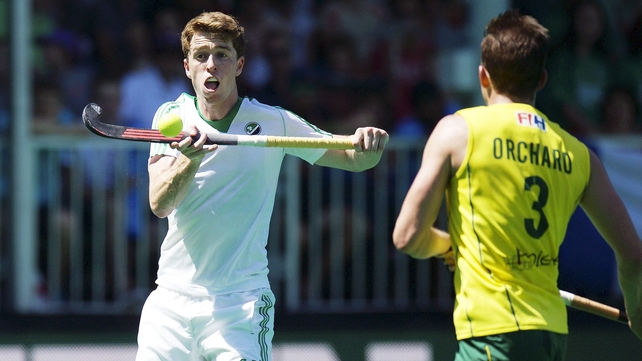 Ireland's Stephen Dowds in action against Australia

World champions Australia have beaten Ireland 4-1 in the World Hockey League quarter-finals in Antwerp.

Goals from Matt Gohdes, Jamie Dwyer, Simon Orchard and Blake Govers did the damage for the Kookaburras before Shane O'Donoghue pulled one back for Ireland.

The Aussies go on to contest a semi-final, while Ireland will play in the 5th-8th place-offs on Friday.

It was always going to be a mighty task to defeat the world's No. 1 side Australia but the Green Machine put in a dogged performance in the 32 degree heat in Antwerp.

Ireland will head into the 5th-8th place play-offs with a fifth-place finish likely to earn them a spot at the Rio 2016 Olympics if other results go their way in the continental championships to be played later in the year.

It was the Aussies who got on the scoresheet first in the 22nd minute, but it would take them another 23 minutes before they could add to their tally.

The low score in the first three quarters was a testament to the composure and commitment of Ireland's defence. Davey Harte made several athletic saves but the men in green remained patient and held their shape.

Ireland's main chance in the early stages fell to Alan Sothern after a pin-perfect aerial pass from O'Donoghue. Sothern received the ball at the top of the circle but Australian goalkeeper Andrew Charter impressed to guide the shot wide.

The Australians scored three goals in the space of ten minutes before O'Donoghue's drag flick meant the match finished 4-1.

After the game, Ireland head coach Craig Fulton expressed mixed emotions at the final result, saying: "I'm incredibly proud of the performance today, at the same time we're all very disappointed because we believed we could get a result.

"We won four corners at crucial times and we played well to get those but we weren't clinical enough.

"That said, it was a fantastic effort on everyone's part in the heat today against the world number ones.

"We look forward to the next game and finishing as high as we possibly can in this tournament."

Ireland's next match will be on Friday against Pakistan, who were beaten by GBR 2-1.

Team: Harte, Jackson, Bell, Gormley, Watt, Cargo, Caruth, O'Donoghue, Darling, Good, Gleghorne.

Substitutes: Sothern, Dowds, Magee, Shimmins, Carlisle, Fitzgerald, Harte

RTE


---

Great Britain one step closer to Rio



Chris Griffiths and Mikey Hoare celebrate

First half strikes from Chris Griffiths and Alastair Brogdon were enough to seal Great Britain's place in the semi-finals after a hard fought 2-1 win over Pakistan. Griffiths' spectacular goal in the fourth minute ensured the perfect start before Brogdon's third of the tournament doubled the lead five minutes later. Although Muhammad Umar Bhutta pulled one back to ensure a nervous final 12 minutes, Bobby Crutchley's side held off the late challenge to set up a semi-final clash with Australia.

In an eventful opening quarter, Great Britain took the lead with a stunning goal from East Grinstead's Chris Griffiths. Iain Lewers played the ball into the circle, picking out the No25. The angle seemed to be against him but he rifled a blistering shot in off the cross bar giving the goalkeeper no chance. It was 2-0 just five minutes later. Again Lewers played the pass into the circle, this time finding Ashley Jackson. His upright backhand across the goal set up Brogdon who applied the finish at the far post for his third of the tournament.

Pakistan forced their first penalty corner in the closing stages of the quarter but despite a neat move Muhammad Irfan's flick went wide of the target. Great Britain also won their first penalty corner inside the final two minutes but Mark Gleghorne's flick was charged down by the runner and it stayed 2-0 at quarter time.

Bobby Crutchley's side had another penalty corner in the opening moments of the second quarter. The move broke down and Pakistan counterattacked. The ball found its way to Ali Shan but his backhand strike flew over the bar. Sheikh Shahnaz's side forced another penalty corner but the danger was snuffed out by Dan Fox charging out bravely to block the shot ensuring it stayed 2-0 at the half time break.

Inside the opening moments of the second half Imran Butt was called into action to clear a cross from Nick Catlin with Griffiths closing in and then at the other end George Pinner was called upon for the first time in the match to clear a long pass into the circle as Pakistan tried to build their way back into the contest. It was a scrappy third quarter as temperatures soared and the teams grappled for control of the game. There were no more chances and it remained 2-0 going into the final quarter.

With 12 minutes remaining, Pakistan clawed one back. The ball found its way to the baseline and was cut back to Muhammad Umar Bhutta whose first effort was saved well by Pinner. The No8 forced the rebound in to halve the deficit and give his side hope.

Henry Weir was shown a late yellow card for a foul, putting Great Britain down to ten men for five of the remaining ten minutes of the match. Pakistan almost took advantage moments later. Muhammad Waqas found himself in space on the right side of the circle but Pinner stood strong to see off the No7's shot as GB came under immense pressure. David Condon and Sam Ward linked brilliantly down the left side on the counterattack as they hunted a third goal to seal it, but Ward sliding in couldn't quite get the touch on the cross. Despite a number of passes into the circle late on Great Britain's defence stood strong to see the game out to reach the semi-finals.

Quotes – Great Britain Captain Barry Middleton

"We made it tough in the end. I thought we played very well first half, we were in control and probably could've scored a couple more. When you're only 2-0 up against a team like Pakistan who commit a lot of people forward it always looks close but we defended very well. I know they put a lot of balls into the circle but we felt quite comfortable. We were pretty calm at the back."

Great Britain Head Coach – Bobby Crutchley

"It was job done really. I'm pleased we got through. There were a lot of key performances in the team and we showed we can work hard when the games get tight.

We started well and dominated early but the conditions meant we couldn't keep up the intensity and didn't take the game away from them which made it tight. Having said that they didn't create a lot of chances and I felt we were the better side. Without doubt the conditions played a part, but even in the second half we created the better chances. A good start was important but we did well even though they came back strongly.

We'll prepare well for Australia. It'll be a tough game but we're looking forward to it. We played them a couple of times recently and had a win and a loss. We showed we're capable of beating them and we'll be hoping to do it again."

Great Britain 2 (2)
Chris Griffiths 4 (FG)
Alastair Brogdon 9 (FG)

Pakistan 1 (0)
Muhammad Umar Bhutta 48 (FG)

Great Britain Hockey media release


---

Great Britain hockey stars set for Rio Olympics after victory over Pakistan

By Mike Haymonds



Alastair Brogdan (centre) celebrates after scoring the winning goal against Pakistan. FRANK UIJLENBROEK

GOALS from Chris Griffiths and Alastair Brogdon put Great Britain men on the road to Rio with a 2-1 victory over Pakistan at the quarter-final stage of the Fintro World League in Antwerp.

GB meet world champions Australia in Friday's semi-final, knowing that they can be confident of qualifying for next year's Olympics whatever happens in their last two games.GB coach Bobby Crutchley said: "We are in Rio. There is no way we can fail to go, with the way the continental championships have gone."

GB took a two-goal lead in the opening nine minutes before totally dominating the opening quarter. East Grinstead's Griffiths hit a screamer from a tight angle into the far corner in the fourth minute before Wimbledon's Brogdon deflected home an Ashleigh Jackson reverse stick shot five minutes later.Pakistan made more impact from the second quarter, coming closest when Shahrun Abdullah fired a reverse shot over the bar, while Sam Ward was off target in the same period.



Chris Griffiths (right) scored the opening goal of the game to set GB on their way. FRANK UIJLENBROEK

Muhammad Umar Bhutta struck in the 49th minute, converting the rebound from his own shot saved by GB keeper George Pinner.The intense heat of 38 degrees at pitch level took its toll in the latter stages as both sides flagged. But a Brogdon breakaway was halted by a timely tackle and a David Condon reverse cross just eluded Ward. Crutchley described the match as " the worst game in the four-year Olympic cycle because so much is resting on it.



Ashley Jackson (left) was elated when the final whistle went. FRANK UIJLENBROEK

"If you go to the Olympics you are trying to win all you can. There is so much at stake here that you can lose that chance."I am glad we got a good start. The rest of the game we played okay but we struggled in the heat."We dominated but they did not create a lot. We didn't kill the game off though so we were a bit on edge towards the end."The lads are saying that Chris' goal was a good cross. It's great that we have a lot of talented youngsters and it's brilliant for him."

The Daily Express


---

Great Britain men secure Rio Olympics passage after tight Pakistan win

By Patrick Rowley, Brasschaat
       


On song: Alastair Brogdon gave GB a two-goal cushion Photo: WORLDSPORTPICS.COM

Great Britain 2 Pakistan 1

Chris Griffiths' sublime opener sets tone for Olympic qualification and semi-final clash with world champions Australia in Antwerp, Belgium

Great Britain men celebrated joining the women's side at the Rio Olympics next year by defeating Pakistan 2-1 in the quarter finals of the World League semi-final here in the Antwerp suburbs.

Britain did not just have to overcome their once great opponents but temperatures to which Pakistan were much more accustomed. It was 38 degrees at the start of the game and rising.

Though only the top three are guaranteed a place at Rio at this tournament, the four semi-finalists can all be sure of their places.

In Friday's semi-finals, Britain will play Australia who beat Ireland 4-1. But Ireland will aim for fifth place, knowing that might qualify them for Rio.




Bobby Crutchley, the GB coach, had no doubt. He said: "We are in Rio. No way that we are not in after making the semi-finals."

Britain really beat Pakistan in the first nine minutes. They were ahead within four as Chris Griffiths, just on the field as Britain's first substitute, seized a half chance to rifle the ball into the top far corner of the Pakistan goal. Griffith, one of the team's newcomers, had pulled down an astute overhead pass from star defender Iain Lewers.

Five minutes later Lewers had a hand in Britain's second goal. His pass gave Ashley Jackson the chance to shoot and Alastair Brogdon, with his fourth of the tournament, was on hand to deflect the ball into goal.

Britain remained very much in control but it became more and more evident that the heat was taking its toll. The freedom of movement and inter-change diminished. Options to the player with the ball became fewer.

The Pakistan defence played very well but their unimaginative attack posed few problems until the last quarter when they were lifted by a goal 12 minutes from time.

GB's defence was for once stretched and allowed Umar Bhutta a free shot which goalkeeper George Pinner could only parry and Bhutta popped in the rebound.

Pakistan did have a further chance which Pinner saved, while at the other end GB went close with David Condon nearly setting up Sam Ward.

The semi-final will be much-anticipated. Britain had a rare win (3-1) and a loss (1-6) against their arch rivals in England recently.

But Crutchley said that while qualifying for Rio had always been the first priority, his team is "here to win the event. We are at the right level now to compete with the best teams in the world".

In the first quarter final Australia had a far from comfortable 4-1 win over Ireland who must finish fifth or win the European title later this year to have any chance of Olympic qualification.

GB team: G Pinner; A Dixon, I Lewers, M Hoare, D Fox; A Jackson, D Ames, B Middleton; M Gleghorne, D Condon, N Catlin. Subs: C Griffiths, S Ward, H Weir, H Martin, A Brogdon, T Whiteman.

The Telegraph


---

Britain shatter Pakistan hopes of reaching HWL semifinals with 2-1 victory

Greenshirts now play Ireland in classification match for 5th-8th positions g Australia take on Britain in semis g India beat Malaysia 3-2 to qualify for last four stage

By Muhammad Ali




ANTWERP: Pakistan hopes of qualifying for the semifinals of the Hockey World League (HWL), an Olympic Qualification round for the Rio de Janeiro Olympics 2016, were shattered by Britain with a 2-1 victory in the quarterfinal at KHC Dragons Stadium here on Wednesday. Pakistan, who missed their first opportunity to qualify for the 2016 Olympics after losing the Incheon Asian Games final to India last year, needed to finish in the top three at the HWL to be guaranteed a spot in Rio de Janeiro. But their defeat has left them with a very slim chance of getting a ticket to Brazil. Pakistan will now play Ireland in the 5-8 classification positions match, with a fifth place finish providing the best possible chance of reaching Rio after the conclusion of the Continental Championships later this year. Pakistan had finished third in Pool A. They had a solitary 2-1 win in first game against Poland, two 2-2 draws against archrivals India and France and faced a 6-1 humiliating defeat against Australia.

Britain now take on Australia in the semifinal who reached the last-four stage after defeating Ireland 4-1 in the first quarterfinal. In the third quarterfinal, India outplayed Malaysia 3-2 to book their berth for the semifinals. The win against Pakistan has put Britain one step closer to achieving qualification for the showpiece Hockey World League Final and the Rio 2016 Olympic Games. Pakistan head coach Shahnaz Sheikh told Daily Times it was unfortunate the greenshirts were not able to win the match. "Many scoring chances were missed. We put all of our efforts into it but we were unlucky we didn't score with our chances. But we have other games and it is important that we try to finish fifth." Shahnaz was optimistic that Pakistan would be able to win the fifth spot to qualify for the Rio Olympics.

Britain took the lead when brilliant Chris Griffiths smashed home a thunderous backhand strike in off the crossbar from a seemingly impossible angle. Later Ashley Jackson provided the perfect cross for Alastair Brogdon to double the lead before the end of the first quarter. Pakistan rallied hard and created numerous chances, with Ali Shah firing over the crossbar in the second quarter but had to wait until the fourth quarter to get themselves back into the game. Umar Bhutta was the scorer, finishing at the second attempt to set up a frenetic ending to a high-paced encounter. Muhammad Waqas came closest to grabbing an equaliser, but Britain shot-stopper George Pinner stood strong to deny the strike from the right and seal a crucial win for his country. "We made it tough in the end, I think first half we were really good, felt in control and if we had got another goal ahead it would have been hopefully by a few more", said delighted Britain captain Barry Middleton. "Obviously when you are only 2-0 up and playing a team like Pakistan, who commit players forward, they are going to make it tough but I thought we defended really well."

India score 3-2 win against Malaysia: Riding on two goals from drag flicker Jasjit Singh and PR Sreejesh's terrific form under the bar, India edged a spirited Malaysian side 3-2 to book a place in the semi-final. India came from behind scoring two goals in the final quarter after Malaysia had taken lead in the second quarter. A win would have assured a place for Malaysia in the Rio Olympics and they played an attacking brand of hockey that had the Indian defence at sixes and sevens. Razie Rahim and Shahril Saabah were the scorers for Malaysia.

Australia down Ireland 4-1: World champions Australia were given a real test by Ireland before eventually emerging winners in the first quarterfinal. Goals from Matt Gohdes, Jamie Dwyer, Simon Orchard and Blake Govers moved the Kookaburras to within one victory of guaranteeing a place in both the end-of-year showpiece Hockey World League Final and the Rio 2016 Olympic Games.

Poland-China classification match: Earlier in the classification match for 9-10 spots, Poland came out on top after defeating China 4-2. Bartosz Zywiczka opened the account for Poland with a fierce strike. But China stunned their rivals through goals from Guo Xiaoping and Du Chen. Mateusz Hulboj restored parity ahead of half time. Poland took the game by the scruff of the neck with two goals in the third quarter from Karol Majchrzak and Tomasz Wachowiak to earn 9th place in HWL.

The Daily Times


---

Great Britain shatters Pakistan's Olympic hopes



Pakista are virtually out of the 2016 Rio Olympics - Photo courtesy FIH

Pakistan's hopes of qualifying for the 2016 Rio Olympic Games were hit hard after Great Britain handed them a 2-1 defeat in the quarter-final of the Hockey World League (HWL) in Antwerp, Belgium, on Wednesday.

Pakistan, who missed their first opportunity to qualify for the Olympics after losing the Asian Games final to India last year, needed to finish in the top three at the HWL to be guaranteed a spot in Rio. But their defeat has left them with a very slim chance of getting a ticket to Brazil.

Mohammad Imran's Greenshirts started the crucial game in tentative fashion and were under the cosh straight away after conceding a goal in the 4th minute. Chris Griffith was the man who got Great Britain off the mark through a super finish after cutting in from the left.

Pakistan created some fine moves in response but their failure to finish in front of goal meant there was no immediate equaliser.

Alastair Brogdon then turned in a cross in the 9th minute to give GB a 2-0 lead and it wasn't until the 48th minute that Pakistan pulled a goal back through Umer Bhutta. But it was too late by then to stage a comeback and the one time 'kings of hockey' now face the prospect of missing out on the Olympics after also failing to qualify for the World Cup for the time in the game's history last year.

Pakistan will now play Ireland in the 5-8 place classification matches and with Australia and India already through to the Olympics, there maybe a possibility of them sneaking into contention after the conclusion of the Continental Championships later this year.

A 5th place finish would provide them the best possible chance of reaching Rio.

Pakistan captain Mohammad Imran said: "I think we put all of our efforts into it but we were unlucky we didn't score with our chances, but we have other games and it is important that we try to finish fifth."

Dawn


---

Junaid, Mansoor say poor techniques, lack of gameplan led to loss

Mohammad Yaqoob | Kashif Abbasi



Pakistan have not landed a major title since 1994 - Photo courtesy FIH

LAHORE/ISLAMABAD: Former Olym­pian and ex-national coach Khawaja Junaid while criticising Pakistan's embarrassing 1-2 loss to Great Britain in the crucial quarter-final at the Hockey World League (HWL) on Wednesday, blamed the poor display by players as well as failed strategy from the team coaches for the defeat.

"We could not make any solid move against Great Britain, our attacking combination remained unimpressive as the forwards mostly stayed in defensive mode," said Junaid while talking to Dawn.

Criticising the tour management for team's poor show, Junaid said he could not understand the strategy devised by Shahnaz Sheikh that Pakistan employed in the England game.

"Pakistan should have been switching off the game from the right to left flank to tire the English players who are not used to playing under the scorching heat," Junaid noted.

"In such an important match, Great Britain took an early 2-0 lead and that made all the difference. They also succeeded in forcing Pakistan to play according to their game plan.

"Now Pakistan have to finish the tournament at the fifth place to have some chance of making the Rio Olympics. It will create problems for Pakistan and it is a very tricky position," Junaid said.

If Mohammad Imran-led team fail to make Rio, it would be the first time ever that Pakistan will suffer from such ignominy.

It would be yet another crash for three-time former Olympic champions Pakistan who haven't landed any major title since 1994 when they had clinched the World Cup in Sydney and the Champions Trophy in Lahore.

It was only last year that Pakistan, once a force to reckon with in world hockey, failed to qualify for the World Cup due to poor ranking.

Another ex-Olympian Mansoor Ahmed said that poor techniques by national players led to the loss.

"Today's hockey is all about techniques and calculation, but I'm not seeing any such thing in our team," he said and added that goalkeeper Imran Butt could block both the goals scored by Britain if he had applied the right technique.

He pointed out that Pakistan played its real game only in the fourth quarter when it was too late. "I don't know why our teams always take late start, we are used to play slow games in the beginning, which cost us heavily," he said.

Mansoor said that national team's goalkeeper Imran Butt was coached by a club level goalkeeper Abu Zahr who has no experience of international hockey.

"Our goalkeeper holds no [proper] technique to stop goals… today's both the goals could have been easily stopped," he said. "Britain players kept over 60 per cent possession of the ball. Momentum of their game was very high particularly in the first quarter during which they managed to score two early goals," he said.

Mansoor backed talented strikers Arslan Qadir and Haseem Khan to be part of the playing eleven.

"I don't know why both these players, despite their brilliant performance in the Champions Trophy, could not make into the qualification round," he questioned and emphasised that there is a need of complete overhauling to bring the lost glory back.

"Last year, bad policies deprived the national team of participating in the World Cup...and now, we are making calculations whether we would qualify for the Olympic Games."

He said that the federation should pay special focus on improving players' fitness and pulling them out of psychological pressure.

"Due to a number of defeats in last three to four years, our players are under tremendous psychological pressure," he said. To a query, the former Olympian reckoned the players were not provided due chance of training.

"What happened at the Naseer Bunda Stadium was for everyone to see. First, the PHF wrapped up the camp due to financial issues and bad condition of Astro Turf, which according to the PHF injured eight players. However, after wasting several weeks, they restarted the camp at the same place," he said.

"Both the PHF and government are responsible for the sorry state of hockey," he concluded.

Dawn


---

Malaysia blows first Olympic ticket

By Jugjet Singh

MALAYSIA blew their first Olympics ticket when they lost 3-2 to India, but still have another chance to make the trip to Rio de Janeiro next year.

After a 3-2 defeat in the hands of India in the quarter-finals, Malaysia must now play for the fifth spot as which is still worth its weight in gold.

Double qualifications in continental championships is bound to happen, and now Malaysia must give their best for the fifth spot in the remaining two matches.

India scored in the third minute off Satbir Singh and Jasjit Singh scored two more off penalty corners in the 48th and 56th to hand India the semi-finals ticket.

However, with India having already qualified for the Olympics by becoming the Asian Games champions, there is bound to be a double qualification and that's why the fifth spot is important now.

The Malaysian goals were scored by Razie Rahim (15th) and Shahril Saabah (23rd).

Meanwhile, World No 1 Australia frolicked in scorching heat to edge Ireland 4-1, while Britain beat Pakistan 2-1 in their other quarter-finals.

Australia will play Britain in the semi-finals, but they have virtually checked into the 2016 Rio de Janeiro Olympics, as the top three are assured, while the fourth team will also qualify via double qualifications.

Matt Gohdes (22nd) opened scoring and at the half-time interview, both Ireland and Australian coaches Craig Fulton and Graham Reid respectively said their players must be patience in the second half.

Australia were more patience, and worked themselves up the ladder with three more beautiful goals to deny a fighting Irish their moment in the sun.

Jamie Dwyer (45th), Simon Orchard (55th) and Blake Govers (55th) wrapped up the match for Australia, while the Irish consolation was scored by Shane O'Donoghue (57th).

The Britain goals were scored by Chris Griffiths (fourth) and Alastair Brogdon (ninth) while the Pakistan goal was scored by Umar Bhutta (48th).

New Straits Times


---

Malaysia's Olympic dream in tatters after loss to India

by S. Ramaguru



Malaysia's Faiz Jali is dejected after losing to India in the quarter-final of the World Hockey League Semi-Finals in Belgium on Wednesday. - FIH

ANTWERP: Malaysia's Olympic dream was dealt a bitter blow when they lost to India in the quarter-finals of the World Hockey League Semi-Finals at the KHC Dragons Stadium.

Poor defending in the last quarter put paid to Malaysia's hopes of victory on Wednesday despite holding a 2-1 lead.

The Malaysians only have themselves to blame. They played well in the first three quarters but failed to stem a late fight back from the Indians - who already qualify for Rio as Asian champions.

Now it depends on how the Malaysians regain their composure in the remaining two matches to try and salvage the tournament. Malaysia could still qualify if they secure fifth placing in the classifications matches.

It didn't take long for the Indians to take the lead. A quick counter attack saw them getting into the D and Satbir Singh scored from close range in the third minute.

Malaysia had a penalty corner in the fifth minute but the Indians were fast enough to get it out of their danger zone.

But the second penalty corner in the 15th minute was well executed with Mohamed Razie Rahim scoring. And in the 23rd minute Mohamed Shahril Saabah added Malaysia's second, also with a penalty corner goal.

But poor defending in the 48th minute saw India equalise through their sixth penalty corner taken by Jasjit Singh Kullar.

In the 55th minute, Jasjit was again on target from the team's eighth penalty corner.

Malaysia also had a penalty corner in the last minute, but it came to naught.

"We held the game well in the early stages of the match and even up to the third quarter. But mistakes in the last quarter proved fatal," said Malaysia's team manager Stephen van Huizen.

"The players gave their best and we cannot ask for more. We did what was planned but the soft defending and giving away the penalty corners late in the match worked against us.

"Now it is a question of how high we can finish in the classification matches. There is a slim hope but that will depend on how the team regain their composure."

Jasjit said that he was surprised to score the goals as he was not their main penalty corner flicker.

"It was a tough match and I was given the task of taking the penalty corner as Rupinder Singh was injured. I am glad to have scored. They proved to be important goals," he added.

India will take on hosts Belgium - who defeated France 5-4 - for a spot in the final.

The Star of Malaysia


---

India survives Malaysian scare

s2h Team

HWL SFs: India survives Malaysian scare and in the Semis India survived many a Malaysian scares but still scrapped through to take its appointed semifinal slot, thanks to a twin strikes by Sansarpur's Jasjit Kular.

India took the lead early on, but complacency set in. Akashdeep Singh set up Satbir for the second minute goal, and then let the field for their rivals.

Malaysia came back strongly, as Indian defence proved porous. Two goals off two successive penalty corners put Malaysian on a commanding position. Razie Rahim and lanky Shahril found the net, showing the Achilles heel's of otherwise dependable Indian goalie Sreejesh.

India goalie, who was tentative, played a big role later for the ultimate win.

At half time Malaysia led India 2-1.

Third quarter proved which way the match will go, as India dominated the proceedings though ended without adding any goal in their kitty.

Winger Ramandeep missed out a pass from fighting Gurbaj.

Ever green Gurbaj Singh created many an opportunity, one was the beauty of a placing the ball on the foot of a Malaysian defender, which gave India the much needed Penalty Corner.

Jasjit utilized it (2-2).

In the last minute, Malaysian mounted couple of dangerous moves, one was one to one situation with goalie, where Sree emerged glorious with a strong kicking. However, India could not prevent Malaysia getting their last of Penalty Corner with just 38 seconds left in the clock. India went for referral, but lost. However, But Indian defence saw it off to make it to the semifinal.

Stick2Hockey.com


---

Jasjit's brace fires India to the semis

NEW DELHI: Riding on two goals from drag flicker Jasjit Singh and PR Sreejesh's terrific form under the bar, India edged a spirited Malaysian side 3-2 to book a place in the semi-final of the Hockey World League Semi-Final 2015 at Antwerp, Belgium on Wednesday.

India will face Belgium in the semifinal on July 3, after latter beat France by 5-4 in the fourth quarterfinal. In other semifinal, Australia will take on Great Britain.

India came from behind scoring two goals in the final quarter after Malaysia had taken lead in the second quarter. A win today would have assured a place for Malaysia in the Rio Olympics and they played an attacking brand of hockey that had the Indian defence at sixes and sevens.

After India took an early lead courtesy Satbir Singh's strike in the 3rd minute of the game, Malaysia came back well converting their first penalty corner at the stroke of first quarter. Razie Rahim was the goal scorer and Malaysia took the lead with another penalty corner conversion, this time by Shahril Saabah.

While Indian defence lacked discipline, the attackers did well to penetrate the Malaysian defence repeatedly but were denied again and again. Indian goalkeeper PR Sreejesh was in terrific form and denied Malaysian two certain goals. In the fourth quarter, Indians up the ante and their persistent attacks led to silly mistakes from the Malaysian side.

After missing their first two PCs, India converted via Jasjit Singh, drafted in to team for his drag flicking prowess. A perfect injection from Sradar Singh gave Jasjit ample time to find an open space and he slotted the ball high past the Malaysian goal keeper Roslan Jamaluddin. Jasjit then fired the winning goal with four minutes remaining on the clock to the top of the net to seal the game for India 3-2.

The Times of India


---

Jasjit's penalty corner goals justify coach Van Ass faith

ANTWERP (Belgium): Two late penalty corner conversions by Jasjit Singh helped India prevail 3-2 over Malaysia in the quarterfinal encounter of the Hockey World League Semifinals here on Wednesday, but also justified new coach Paul van Ass's plan to provide exposure to young players.

Coach Van Ass, who recently took up the assignment as India's national coach, wanted to test out alternate penalty corner shooters ahead of the Olympics, just in case both ace flickers VR Raghunath and Rupinder Pal Singh were not available at crucial junctures.

"We now have some alternative, I am very happy for Jasjit who works hard in the field," said Van Ass. "The good thing is to have penalty corner options."

"We were not looking good in penalty corners until this game, but things clicked today," said Van Ass.

Jasjit, who made his debut as a half-back during last year's World Cup at The Hague, was picked as the second drag-flicker for this tournament.

Raghunath was to be the first-choice penalty flicker here in Antwerp, backed by Jasjit, while Rupinder was to be rested.

After the team was chosen, Raghunath got injured during the preparatory camp and Rupinder came into the squad.

Rupinder got injured in a warm-up game here in Antwerp and did not feature in any game during the preliminary round.

In the quarterfinal match against Malaysia, Rupinder was fielded for very short periods and the penalty corners were not being effective until Jasjit came into the frame and converted India's fourth penalty corner in the 48th minute that brought India back to 2-2 parity.

Seven minutes later, Jasjit scored again with another rasping drag-flick in what was India's match winner in the quarterfinal encounter.

India had earlier opened the scoring through Satbir Singh in the third minute, only for Malaysia to get into the driver's seat with two penalty corner conversions by captain Razie Rahim (15th minute) and Shahril Saabah (23rd).

"These are my first two drag-flick goals in international hockey," said Jasjit, whose first goal in internationals also came against Malaysia in open field action during last year's World Cup.

The Times of India


---

Indian men make it to semis

Jasjit Singh unleashes two drag-flicks in the last quarter to help India beat Malaysia 3-2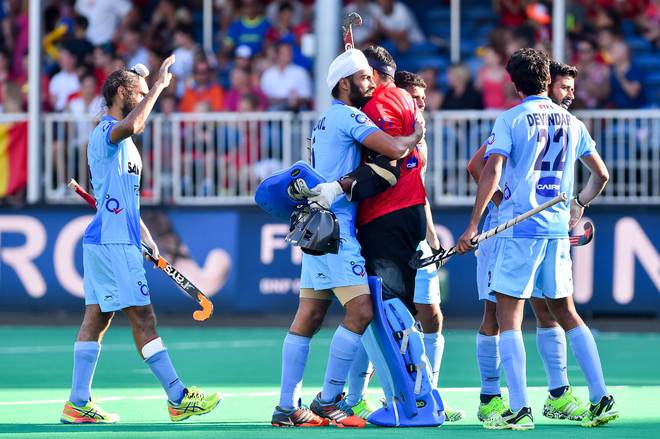 The Indian players celebrate after winning the quarterfinal against Malaysia on Wednesday. AFP

Antwerp (Belgium - Jasjit Singh sent two rasping penalty-corner drag-flicks into the net as India edged past Malaysia 3-2 to move into the semifinals of the Hockey World League Semifinals here today.

India were lifted by the two successive penalty-corner conversions by Jasjit in the 48th and 55th minutes to avenge their loss to the Malaysians by a similar margin in the Azlan Shah Cup two months ago.

These were the first two drag-flick goals scored by Jasjit in international hockey and they could not have come at a better time for Sardar Singh's team.

India took the initial lead through a field goal by Satbir Singh in the third minute. Akashdeep Singh did the spadework for the goal by darting into the circle from the right flank, sent in a crisp cross, and Satbir swept the ball into the net.

But Malaysia shot back through two penalty-corner conversions by captain Razie Rahim (15th minute) and Shahril Saabah (23rd) to seize the advantage. Falling back to defend their territory, Malaysia denied the Indian strikers time and space. That, however, didn't matter in the end with Jasjit scoring sounding the board twice to give India the much-needed victory.

The fast-paced encounter was played in temperatures crossing 40 degrees Celsius. India now await the winner of the quarterfinal between hosts Belgium and France.

Earlier, Great Britain defeated Pakistan 2-1 in the quarterfinals to set up a meeting with World champions Australia, who outplayed Ireland 4-1 to enter the semifinals.

All quarterfinal winners secured a spot in the World League Finals, to be played in India later this year, and also boosted their prospects of earning one of the three Olympic qualification spots available at this tournament. India have already qualified for the 2016 Olympics by virtue of winning the Asian Games gold medal at Incheon last year.

The Tribune


---

Jasjit Singh Kular: At 26 a star is born

K. Arumugam




"Don't you feel the pressure to play your first tournament in World Cup? I asked Jasjit around 12 months ago. The smiling assassin has only one answer: "Because I did not play any other tournament, I will be natural, and play my game. This is what I also believe the scene is going to be"

His words turned prophesy when he used him natural game to his country a great win over Malaysia

When he was selected for the last World Cup, Jasjit was looked upon with awe. Because, inter alia, he was 24 years, and he did not play any junior international

It was a silent break through.

When he was sidelined after the Hague World Cup, it was further thought he is nothing but 'One Tournament Wonder'.

But the graceful Sardar from Sansarpur -- a region that produced n number of internationals in the 60s and 70s -- proved such mundane thinking wrong.

At Antwerp in Belgium, where the HWL SFs is going on, he has carved a niche for himself.

The 26-year old emerged India's 'Crisis Manager' and turned our off day into a joyous occasion.

India hardly played well against Malaysia in the quarterfinal on Wednesday, forwards' shots going the way petrol prizes in India would: hither and thither.

Against Malaysia, even the return of Rupinder Pal Singh did not help. He was in woods with a penalty corner he took.

Jasjit, a Business Management degree holder, rose heads and shoulders above the rest at the business end of the HWL SFs.

Despite being a midfielder, filled in the defence vacuum created by the absence of VR Raghunath and Rupinder Pal.

Then when needed, that too after Malaysians took a goal lead and survived with that almost 30 minutes, Jasjit converted both the penalty corners that India got. Each one was a beauty, manifestation of precision and prowess.

The first one reached the right top corner, the second one left top of roof

The delightful drags doused the Malaysian fire

As India consumed Malaysia in that glorious fourth quarter, Indian hockey has produced another shining start. IF the early phase of Antwerp belonged to Walmiki brothers, the second phase certainly belong to our Sansarpur clan.

The below is what I wrote when he was selected for World Cup last year.

At 24, international debut for Sansarpurian Jasjit He has not come through the hard-grind of Academies. He in a way represents amateur-kind of players, who don't compromise studies for the sake of hockey. Yet, in a short span of taking of up hockey, knocked the doors of Indian team. And makes his international debut not in a run-of-of the mill stuff, but in the mother of all battles, the world cup.

Here you have Punjab's puttar Jasjit Singh, who is a kind of Viren Rasquinha as he is doing Masters in Business Administration nowadays.

The 24-year old has been included in the Indian team bound for The Hague. Perhaps after Cedric Pereira, now settled in Perth, Australia, a player is making his international debut in a world cup. Cedric was a surprise choice for the first world cup held in Barcelona.

"He trained well, we all felt he can be a good choice", asserts smiling Roelant Oltmans, who first tested him in the Hockey India League early this year. Jasjit Singh was part of the medal winning team 2014.

"The coach, selection committee are all unanimous of his choice, its unfortunate he had suffered a minor injury before the Europe Tour, and missed it", elaborates Oltamans.

Jasjit was on the other day had to face the same question from the media at the Holiday Inn where the world cup team was announced, amidst the galaxy of 1975 World Cup goldies. The question was: Don't you feel the pressure to play your first tournament in World Cup?

The smiling assassin has only one answer: "My coaches say differently. Because I did not play any other tournament, I will be natural, and play my game. This is what I also believe the scene is going to be"

Its not often one come across in India a player making international debut at the age of 24 – considering his colleague in The Hague team Mandeep Singh is six years junior to him, and has already been in the international circuit for well over two years – but Jasjit Singh, who was picked up among the 90-odd probables after the Pune Senior Nationals when Michael Knobbs was at the helm of affairs, could not make any headway further than continue to play for his college team Khalsa in Jalandhar, but his days could not be denied for long.

With a strong midfield where captain Sardar Singh is well anchored, the think tank seemed to have taken a risk of sort in picking up the new face.

It's a reward for Jasjit, who hardly had any stints in any hard-grind academies, where in fact the academics is the first casualty due to heavy work load, who had only practiced on the Jalandhar Surjit Hockey Academy turfs on Sundays.

"My mother used to take me to the Turf on Sundays because the Academy will have holiday, we can get to play on Turf".

Jasjit, who joined Indian Railways a couple of years ago, and posted in Jalandhar, relished any position in the midfield, and it gives elbow room for coaches insofar as his utility value is concerned.

Tailpiece: Jasjit is a Kular, a clan which produced n-number of internationals in the 50s and 60s, which included Ajit Pal Singh and Udham Singh, a four-time Olympian. Yes, he is a Sansarpurian.

Stick2Hockey.com


---

India ready for Italy test

s2h team

New Delhi - Having played a test series against Italy last year, Indian girls have plenty of experience to put out Italian fire tomorrow when they met for the 5-8th position play at Antwerp.

A favourable result here will position India for the best ever finish in a recent FIH tournament, that is 5th.

However, Italians wont be a push over.

India met Italy last year during the Italy Test Series 2014 where India lost the series.

Indian girls need to use the lessons learnt there gainfully to realize their ambition reaching top five, best option available now after losing the quarters yesterday.

Captain Ritu Rani said:"The tournament has been very competitive for us so far but there were a lot of positives that came out. From our last clash against Netherlands, we realised that we need to work on our defence chain as well as giving away the penalty corners and maintain the ball possession to pounce on the opportunities. We aim to win this match which will help us to conclude the tournament with a better position for the team."

Expecting a good performance with the team in the tomorrow's clash, Chief Coach Mathias Ahrens said, "The girls fought really well in the last two quarters of the match against Netherlands. This is a classification match and we have to win it to place ourselves better in the tournament. The girls are in good form which will help them to tackle the opponent strongly. Tomorrow will be a crucial game for us and the team will be putting in all efforts to play a good hockey and win the match."

India will face Italy in the classification match for the 5th/8th position in the FINTRO Hockey World League Semi-Final 2015 at 16:30 IST on the 2nd July 2015. The matches will be telecast LIVE on Star Sports 1.

Stick2Hockey.com


---

Women take on Italy for best spot outside semis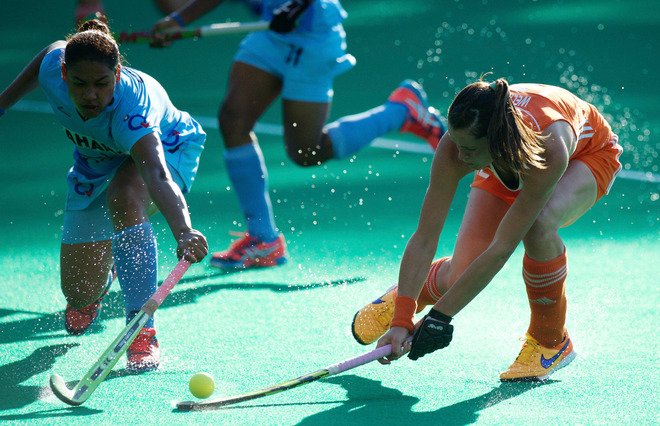 The Indian women team lost 7-0 to The Netherlands in their quarterfinals on Tuesday. — File

Antwerp (Belgium) - A day after being thrashed 7-0 by top-ranked The Netherlands, India are still nurturing the Olympic qualification dream as they brace for a play-off fixture against lowly Italy in the women's Hockey World League Semifinals here on Thursday.

For the Rio Olympics dream to sustain, India will have to come out victorious in tomorrow's 5-8 position classification match against Italy, who showed their mettle in the quarterfinal encounter with Australia.

With the Olympic qualification berths likely to filter beyond the semifinalists, India are eager to put up an improved show in the play-offs for the fifth to eight spots.

Reigniting the players' self-belief would be the prime task for the team management following the 7-0 loss to reigning World and Olympic champions The Netherlands, who were a street ahead of the Indians in quality.

The Indian girls would be looking to plug gaps in their defence as they go into the game against the fast-improving Italian team, placed three spots behind India's No. 13 world ranking.

Italy are no mean opponents and the Indian girls realised this when they lost a five-Test series in December. Italy won two Tests, India won one and two others ended in draws.

"Italy would be the opposition you look for such a game," said Indian women's hockey team chief coach Mathias Ahrens, hoping his wards would be able to turn the tide after losing to Australia and The Netherlands.

"The qualifying dream is still alive. The girls wanted so much going into the contest against The Netherlands. It may not have been realistic, but I do understand that," said Ahrens.

The Tribune


---

Hockey World League: 4 things to know

By V Krishnaswamy



The tactics paid off as the Belgians, with an Olympic berth within their grasp, panicked and a poor clearance allowed the seasoned Cheon Eunbi to sweep home a winner with 25 seconds to go.

Do-or-die works here

With just two minutes and 21 seconds on the clock and the score standing at 2-1 in favour of hosts Belgium, the Koreans threw caution to the winds and got their goalkeeper to come off and added a player to go with a 11-player attack and try for the equaliser.

The tactics paid off as the Belgians, with an Olympic berth within their grasp, panicked and a poor clearance allowed the seasoned Cheon Eunbi to sweep home a winner with 25 seconds to go. As the penalty shoot-out loomed ahead, the Koreans brought back goalkeeper, Soo Ji Jang, who saved the first three penalty attempts, while her colleagues scored first three to win the match.

But not so here

But such tactics don't always work. Two days before Belgium were felled by Korea's tactics, Ireland tried the same against Belgian men with the score 1-1 and less than three minutes to go. For the Irish, a win would have saved them a clash with World No. 1 Australia and they would instead have played India. With 25 seconds on the clock Belgian captain, John-John Dohmen raced clear and scored into an empty net after Ireland had removed exceptional go ..

Great club culture

KHC Dragons' club in Braaschaat, Antwerp, has an atmosphere that exudes hockey all around. The club has earned the reputation as one of Europe's most feared teams. The Dragons have almost 4,000 members from under-10 (eight is the minimum age) to seniors over 65 with competitions for all besides a programme that initiates tiny-tots into the game.

So, the whole family can enjoy hockey and take part in club's activities. For the kids, the first five workouts are free to see if hockey is for you - you can go on if you like it and Dragons ensures sports insurance, sticks and balls and sometimes kit, too.

In 2011-12, they won the bronze medal at European Club League beating a fancied HC Rotterdam and then in 2012-13, they reached the final which they lost to the famous HC Bloemendaal.

Cherry blossom to 'Chak De'

Each team has a moniker of sorts for themselves. The hosts, Belgium call their men's team, Red Lions and the women are called Red Panthers. The Kiwis are called 'Black Sticks' and the Irish are called 'Green Machine'.

The Japanese women call themselves 'Cherry Blossoms' and the French men are named 'Les Bleus'. Chinese carry a catch-phrase, 'One team, One family, One dream'. And, now guess what the organisers call the Indian teams. Chak de India.

The Economic Times


---

Behind the scenes - Getting Canada men in the right place to perform

Sarah Juggins



Sandra Millward, Josh Ferguson and Celia Plottel (Canada staff)

Food, fitness, and a little bit of TLC ("Tender Loving Care"). Sandra Millward, Josh Ferguson and Celia Plottel have important roles to play when it comes to athletes performing at their peak. All three are part of the back room team supporting the Canada men's hockey squad in its two forthcoming tournaments and their own performances are as important for the team's success as any other member of the squad.

For Sandra Millward, a holistic nutritionist, this is new ground. The Canadian team has never travelled with a nutritionist before, and this is Millward's first time on the road with the squad, as it travels first to Buenos Aires for the Hockey World League Semi-Finals, before returning to Toronto for the Pan American Games.

"I am excited and honored to be the newest person involved as a support member to the Canadian Men's National Field Hockey team," says Millward, who is a Registered Orthomolecular Health Practitioner, with a growing experience base in sports nutrition.

"My role with this team is to prepare a balanced, nutritious, optimal eating plan while they are competing in Argentina," says Millward, who is keen to get her message across about the fragile but important balance between nutrition and athletic performance.

"Good nutrition is a foundation for all bodies but in the competitive arena the needs are more demanding. Therefore, it is crucial to have the right balance of nutrient dense foods to enhance performance, speed up recovery time and to prevent injuries."

When it comes to tournament time, the athlete's nutritional demands change, says Millward. During competition time, the athletes require more calories, provided in a speedy and efficient way. A one-year food plan is more about recovery and repair and places the emphasis on protein and its utilization.

Millward explains further: "Protein provides amino acids to rebuild muscle and tissue as well as for ATP production (energy source). Although protein is still used during competition time for recovery, as time draws closer to the competition, we would increase the number of carbohydrates – mixing simple carbs before and during competition with complex carbs for recovery time. Competition time requires more calories providing fast and efficient energy rather than the slower digesting complex carbs that will use extra energy to digest."

So what can the athletes expect from their meals while on the road? "I am conscious of not implementing too many new foods this close to their competition time," says Millward.  "I will be keeping their fare clean with high nutrient value, simple, and hopefully tasty. The only challenges we face are specific food allergies and sourcing good quality foods in a foreign country. The only 'bespoken' food is chocolate milk as the recovery drink, but I am willing to be open to dairy if it works."

When in Argentina, Millward is anticipating a glut of local foods to combine with her own recipes. "I look forward to using beautiful local foods such as quinoa, cacao, lean grass fed beef, and poultry. There will also be an abundance of anti-inflammatory herbs such as turmeric, curcumin and ginger. The main focus here is when to optimally eat protein and when to optimally eat the carbs. Must have's for 'grab and go' foods are bars, gel packs, and low glycemic fruit. I will be bringing my Vitamix to make smoothies with super foods and approved proteins."

Canada men's team have adopted a long-term strategy for preparing the athletes. As Millward explains, good nutrition takes time to make an impact. "Long term support of nutritional planning is important to build healthy, strong, and energy-efficient bodies. My focus is the nutritional demands on the team, however, I also believe the 'psychology' of support can be as powerful as the food itself. To have a nutritionist  prepare your food, do local food research with the integrity for your absolute health needs in a foreign country, (travelling and time zone changes can be stressful) having healthy food available to you at all times, are all part of making the day to day difference, which allows them to focus on their own game."

While Sandra is looking after the players' nutritional demands, Josh Ferguson is busy putting their muscles, bones and cartilages back together.

As team physiotherapist, Josh is involved in three areas of physiotherapy: injury prevention, injury management and performance maximization. As he explains: "Come tournament time the lines blur between these categories."

On game day, be it in Buenos Aires or Toronto, Josh's work is likely to follow the same pattern. Some light team activity in the morning, followed by massage, stretching and taping for those who need it pre-game.

During the game, he will monitor the athletes' performances from a physical perspective looking for signs of injury. After the match, it's all about recovery, firstly a sustained cool down, then the dreaded ice baths, followed by nutrition and rehydration.

Later that same day, Josh will be busy assessing injuries – both new and old – and treating them accordingly. These sessions are scheduled around team meetings and meal-times.

Away from tournament times, the players tend to be seen by their own physiotherapists and, says Josh, the treatment will be very different. "Players can be managed through regular training times in various ways if they are injured: time off to rest, decreased sessions per week, lighter sessions, and alternate training options – typically you have time on your side. At tournament time it is a completely different story. The player needs to be able to compete at 100 per cent so there is very little room for 'nursing' players through injuries. A decision needs to be made if an athlete can compete or not and we explore every treatment option."

The main injuries suffered by hockey players at elite level are load-based hip injuries, although lower back sprains and strains and hamstring strains also rate quite highly. All three of these, says Josh, are related to the unique hitting and running styles typical of a hockey player.

Josh says that the problems are mainly caused by biomechanics issues, particularly relating to strength and technique. "At international level there is a fine line between doing enough to be the best and doing too much and finding yourself with overuse injuries. Our athletes are screened and monitored regularly to detect these changes early and respond to them accordingly. For the most part core stability, adequate range of motion, strength and correct technique will keep you out of trouble."

When it comes to working with the team at major tournaments, Josh can barely suppress his enthusiasm. "I love what I do, and the players respond well, but it can be a challenge. A major tournament will usually involve seven games in ten days. My goal is to have 18 athletes ready to perform at 100 per cent every day."

The third person interviewed as part of our look behind the scenes is team manager Celia Plottel. She explains her role: "I am responsible for all off-the-field logistics of the team. I am in charge of accommodation, meals, drinks, getting the equipment to the field, uniforms, transportation and liaising with the local and FIH tournament organizers."

Celia has a long history of hockey involvement. She played club hockey for Vancouver Hawks and then moved into coaching and club administration, while still continuing to play.  She retired in 2011, only to take on her biggest challenge to date just two weeks later – as manager of the Men's National Domestic Team. She has remained involved at the national level ever since.

When it comes to managing at a tournament, Celia's challenge is to make sure that all the players are at the right place at the right time. "The players follow a daily itinerary that is created and sent to them prior to arrival.  Any daily changes are posted on my door and sent via the athlete's phones. This is not really a challenge because the players take responsibility for being on time and helping out when needed. But when it comes to keeping the players off the pitch until their sub is off, now that is a problem, they are often so determined to get on the pitch that the rules are sometimes just ignored.

Being manager can be a thankless task. When things go well, the manager remains unnoticed, when things go wrong the manager gets the blame, but it is obvious that Celia was born to be a manager. "I have always had a good experience with the local hosts. I enjoy getting to know countries and cities through the eyes of our hosts," she says.

"Most of all, I enjoy being part of the player's dreams and goals. Field Hockey in Canada is not a recognized sport and sometimes all the players' hard work does not get noticed. I have a lot of admiration for the players who put their lives on hold, follow their dream and give up so much. Any little bit I can do to organize their off-field duties, I hope will allow them to succeed on the field."

Pan American Hockey Federation media release


---

Fun day as hockey slams 'phobia

Phumzile Malotana



Siyabulela Simetu, Thami and Lungile Tsolekile celebrate a goal against WP Cricket Club on Saturday. PHOTOS: Phumzile Malotana

It was goals galore when Langa Hockey Club hosted a hockey tournament against xenophobia festival on Saturday.

In a highly entertaining match, it was gratifying to see Langa Men score against pace setting Western Province CC who won the game 6-4.

Top Langa exports Thami Tsolekile and Siya Simetu also graced the games and showed why they are held in high esteem.

" We were also playing our part as hockey players to show support in the fight against xenophobia.

'We are all brothers and sisters from one continent." said Lunga Tsolekile of Langa Hockey Club.

He said the attacks that happened earlier in the year were wrong. Invitees included Khayelitsha Hockey Club, Mandalay Hockey Club and Amy Biel Hockey Club.

"It was fun for everyone in attendance," concluded Tsolekile

News24


---

The player who holds the longest unbroken World Record in the history of Olympics - Is Balbir Singh Senior, a living Legend from India!

by Sushbir, Balbir's daughter




Balbir Singh Senior, Triple Gold Olympian- 1948 London, 1952 Helsinki & 1956 Melbourne, takes great pride in being a member of the FIRST three Indian Olympic Hockey Teams that brought home Gold Medals for independent India.

It was During 1952 Helsinki Olympics that Balbir Singh Senior created history by scoring 5of 6 goals against Holland, a new World Record in Olympics Hockey Finals. This record stands unbroken even after 63 years and is the longest unbroken world record in the Olympics!

An interesting fact about Balbir Singh Senior is that he has believed all his life only in Karma & in this case it has been his contribution towards Hockey, his first love. He did his duty with complete dedication and that helped him achieve unbelievable heights at World level. But his basic trait of humility & down to earth attitude prevents him from talking about his very own, unparalleled achievements. Maybe, this is one of the basic reasons that in spite of being the greatest Hockey player in over a hundred years of international hockey (as judged by international Olympic committee Historians) Balbir Singh Senior's name remains largely unknown in India, since today's world seems to need propaganda for awareness.



Dil Bahra (l) presenting Balbir Singh Senior with his Guiness World Record certificate

But there are still Hockey Fans around the World who feel for the game passionately and understand the facts. One such person is Dil Bahra from Great Britain, himself one of the most eminent hockey historians at the World level who made it possible for Balbir's World Record to be recognised & included in the Guinness Book of World records! Fans like Dil Bahra will never let the world sleep over the achievements of the greatest!

If you too fall in Dil's category and the achievements matter to you more than stories, then please appreciate and share the post !!

Balbir Singh Senior's Facebook page


---

Kate Dillon Retires After World League 3




Following the completion of World League 3 in Valencia, Kate Dillon has made the decision to retire from International hockey after amassing 55 caps for Ireland. She describes her time in the green jersey as "an absolute pleasure and an honour to play with every member of the team over the last two years".

Kate was called into the Green Army by Darren Smith who she was quick to acknowledge as playing an instrumental role in her international career "I want to thank Darren Smith and all the coaching staff for believing in me and giving me the chance to play in an Irish jersey when I was 28. I am so grateful to have had the opportunity to represent my country in a sport I absolutely adore. I think what has been achieved under Darren's reign is one that will change Irish hockey for the future".

Kate also paid tribute to her international team mates, "life-time friends who are the most strong willed, determined characters I have ever met and all their talent is incredible.  I will miss the girls a lot but will be their number one supporter".

Kate isn't stepping away from hockey entirely and will continue to play club hockey for Railway Union while balancing her career as owner of the Wooden Spoon Café in Blackrock. "I want to thank my parents and brother Steve for always supporting and encouraging me and looking after The Wooden spoon so well when I have been away".

Irish women's coach Graham Shaw said "I think the fact that Kate made her debut at 28 is a testament to the type of person she is. Kate reads the game incredibly well, is an outstanding competitor and has had a huge impact on the Green Army in her two years with the squad.  There are many qualities that I admire in Kate, but the one that stands out is that she will always put the teams' interests ahead of her own. Kate's personality and desire to achieve is infectious and she will be sorely missed within the group".

Kate concluded "The experience of playing in an Irish jersey will stay with me for the rest of my life and I honestly believe has made me a stronger person. Representing my country has been an absolute honour and privilege, and I am so proud to have been part of such a talented team".

Hockey Ireland wish Kate the best of luck in the upcoming season with Railway Union and all her future endeavours.

Irish Hockey Association media release


---

New Zealand's defending U18 champions set for big week




The 2014 National Under-18 Regional champions - Midlands Women and Canterbury Men – say they are ready to defend their title.

The eight representative men's and women's teams will compete for their respective titles from this Sunday (5 July) through till finals day on Saturday (11 July) at North Harbour Hockey.

"You have to go into any tournament believing you can win it, and certainly with goals set high and with a really strong mind set. We are pleased with where we have got to," said Midlands coach Nyree Hanna.

Canterbury Men's co-coach Matt Walcott agrees, saying there is definitely a hunger and belief from his side that they can once again return home with the trophy.

"A lot of players from the Canterbury-B team have come through this year and have stepped up their performance. We have been working with them for the last ten weeks, we are just looking forward to getting up to North Harbour and defending that title!" said Walcott.

Walcott has coached alongside Josh Kumbaroff for the last three years. The pair went to Fairley Boys High School and returned to coach a school team back in 2010 and really enjoyed it. For the last three years they have co-coached the men's Under-18 Canterbury team.

Kumbaroff was one of 12 coaches from around the country that was invited to attend Hockey New Zealand's Aspiring Coaching Course earlier this year. The course aims to develop up and coming regional coaches.

Walcott said one of the key focuses this year has been improving the fitness level of their players.

The results are starting to show thanks to Todd Andrews, from High Performance Sport New Zealand, who has given athletes some guidance around strength and conditioning.

"As well as improving the team's fitness, the other focus has been trying to play together as a team. With only seven returning players, there were quite a lot of new faces this year, and so it was important for us to have everyone working together," said Walcott.

Captain Lawrence Darling is likely to be a key weapon for the red and blacks in the centre half position.  Also, Junior Black Stick Hugh Hendrickson is a welcome addition to the side in defence, having moved down from Capital. They will miss the talents of striker Sam Lane, who was called into the Future Black Sticks Tour to the Netherlands this month.

Further North in Midlands, Hanna also has had her players focussed on fitness.

"At the end of 2014 we had them on fitness programmes, we have to have fit players to win at this level," she said.

Hanna says it's hard to pick which games will be the tough ones in their Pool (North Harbour, Central, Northland).

"We haven't played Northland in the build-up, but we played both Central and North Harbour so we know a bit about them which does help. I don't think at the Under-18 Regional level there are ever any easy games, and games can go either way. At this age group they are still developing, so there is still a bit of an unknown."




Hanna is confident that there will be strong 'orange-clad' support for both Midlands sides.

"Certainly being quite close to home, there will be some parents that will make the trip up the motorway on a daily basis. Seeing the ground full of orange is huge for us!"

For those that aren't as familiar with the team, Hanna suggests spectators keep an eye on midfielder Alexandra Lukin who is described as an 'on-field marshal' when it comes to game time.

Results will be posted on hockeynz.co.nz with extra content posted on www.facebook.com/nzblacksticks.

Hockey New Zealand will also be using Snapchat throughout this tournament to profile players and the teams – search 'blacksticks'.

CLICK HERE to view the draw for both the National Under-18 Regional and Association Tournaments.

Hockey New Zealand Media release