All the news for Thursday 1 July 2015

Shoot-out heartbreak for Belgium's Red Panthers




Australia, New Zealand, Netherlands and Korea sealed their places in the final four on a baking hot, drama-filled women's quarter-final day at the FINTRO Hockey World League Semi-Finals in Antwerp.

They overcame the respective challenges of Italy, Japan, India and host nation Belgium to reach the final four and book their tickets to the prestigious end of year Hockey World League Finals that will be played in Argentina. They will be joined in that event by Great Britain, China, Germany and Argentina, who all achieved qualification by securing top four finishes at the recent Hockey World League Semi-Final event in Valencia.

The game of the day was undoubtedly Korea versus Belgium, with the Red Panthers being just seconds away from a place in the competition semi-finals before the Asian Games Gold medallists broke Belgian hearts with a late equaliser followed by a dramatic shoot-out win.

The women's semi-finals will take place on Thursday 2nd July, with Australia facing a mouth-watering clash against the Netherlands while Korea will go head-to-head with New Zealand. More details on today matches can be found below, with the match schedule for the quarter-finals available by clicking here.

Quarter-finals

Australia 2-0 Italy
Australia have taken one step closer to securing a place in the Rio 2016 Olympic Games by defeating Italy in the opening quarter-final of the day in Antwerp.

The Aussies dominated possession and circle penetrations but were guilty of wasting numerous chances in front of goal. However, their penalty corner aces were firing on all cylinders, with Jodie Kenny and Anna Flanagan both finding the goal with powerful drag-flick efforts. Kenny's strike was her tenth goal of the competition, with Flanagan doing her confidence the world of good with a sensational effort that sailed a fraction under the cross-bar to bag her first goal of the event.

"It was difficult and we are happy to come away with a win but they made it very hard for us in the circle", said goal-scorer Anna Flanagan. "We were getting in there a lot but they really made it tough for us. We try to take it one game at a time, but we know what is at stake here. We are here to win it but we are going to need to be a bit more clinical in the circle if we are going to win the next game."

New Zealand 5-1 Japan
New Zealand's Black Sticks claimed a fifth successive victory in Antwerp, battling through searing temperatures to record a 5-1 quarter-final win against Japan's Cherry Blossoms.

Goals from Petrea Webster, Sophie Cocks, Anita Punt, Kirsten Pearce and Gemma Flynn took New Zealand within one win of landing a place at the Rio 2016 Olympic Games, something that they will be certain of if they win either their semi-final or, failing that, the third-place play-off game. Japan will now compete in the 5-8 classification places.

"It was a really good game for us and a really good lead up into the semis", said Black Sticks goal-scorer Kirsten Pearce after the match. "To be honest, I think we came out firing in the second half and we really wanted to win it. We really want to beat the best teams and put our best efforts into achieving that."

Netherlands 7-0 India
World number 1 the Netherlands have set up a mouthwatering final four clash with world number 2 Australia courtesy of a comprehensive 7-0 quarter-final victory over India.

The reigning World, Olympic and HWL champions were in imperious form against India's Eves, who battled hard but found it tough going against the Pool A winners. Caia van Maasakker stepped out of Maartje Paumen's shadow to score a hat-trick of penalty corner drag-flicks for her side, with Lidewij Welten (2) and Gisela Zerbo also finding the target after Naomi van As opened the match scoring in the very first minute.

"We are very happy with this win as we worked hard and played hard, so I think it is a good result", said triple scorer Caia van Maasakker in the post match interview. "We were very focussed and kept playing together so it we did pretty good. It was nice to score a hat-trick - I got the chance today and I scored, so that was cool of course."

Korea 2-2 Belgium (3-0 SO)
Host nation Belgium suffered an agonising shoot-out defeat in their quarter-final meeting with Korea, who scored a last minute equaliser before breaking Belgian hearts in a dramatic final match of the day.

An early penalty stroke from Park Mihyun gave Korea a lead that they held up until the third quarter before goals from Louise Versavel and Manon Simons put Belgium within touching distance of a place in the final four. However, a long pass from defence picked out Park Mihyun, who caused havoc in the Belgian circle before Cheon Eunbi slammed home with just 35 seconds remaining. It proved to be a killer blow for Belgium, who went from ecstasy to despair in a matter of minutes as Korea's Jang Soo Ji gave a masterclass in goalkeeping to keep a clean-sheet in the shoot-out to send her team through to the HWL Finals.

"We made a little fault, but it can happen, that is sport", said a disappointed Stephanie de Groof after the game. "We knew that the match is only finished after the last second and maybe we were already too early in Rio, so for now it is a disappointment. We have two days to rest and focus on our next game because we still have a ticket to win."

De Groof's final sentence was telling, as although her team have missed the chance to qualify for the HWL Final, a fifth or sixth place finish here in Antwerp would keep alive their chances of achieving Olympic qualification after the completion of the Continental Championships.

FIH site


---

New Zealand, Australia advance to women's semifinal of HWL

ANTWERP (Belgium): New Zealand hammered Japan 5-1, while Australia eked out a fighting 2-0 win over Italy to enter the last four round of the women's Hockey World League Semi-Final at the KHC Dragons Stadium on Tuesday.

Contrary to the final result, it was Japan who scored an early goal in the fourth minute through Akiko Kato.

New Zealand equalised within a minute through a open play strike by Petrea Webster.

The Black Sticks raised the tempo of the contest in the second half as Sophie Cocks, Kisten Pearce and Gemma Flynn scored in open play and captain Anita Punt converted a penalty corner to ensure their place in the semifinals.

In the last four stage, New Zealand will take on the winner of the quarterfinal between hosts Asian Games champions South Korea and Belgium, to be played later this evening.

Meanwhile in the first quarterfinal of the day, World Cup silver medalists Australia, who lost their preliminary match to New Zealand, were made to work hard by lowly-ranked Italy.

Both Australian goals came through penalty corner conversions by Jodie Kenny (21st minute) and Anna Flanagan (40th).

Australia now await the winner of the quarterfinals between World Cup and Olympic champions The Netherlands and India, to be played later on Tuesday.

Three top teams from this World League Semi-Final will qualify for the 2016 Rio Olympic Games.

South Korea have already secured their place in the 2016 Olympics by virtue of winning the Asian Games gold medal.

The Times of India


---

Women's SF draw

AUS, NED, NZL and KOR to play for Olympic qualification




Australia, Netherlands, New Zealand Black Sticks and Korea are now one step closer to securing 2016 Rio Olympic qualification after finishing atop of their opponents in the World League Quarter Finals.

Australia – world number two - will face up against the Netherlands - world number one - in the first Semi Final draw at the World League on Thursday evening. Australia will be looking to redeem themselves after last facing the Netherlands at the 2014 World Cup in The Hague, where Australia went down to them in a nail-biting final.

Korea will also go head-to-head with the New Zealand Black Sticks during the second Semi Final clash. The four teams will be fighting it out for three guaranteed tickets to the Rio 2016 Olympic Games.

Australia's Semi Final match against the Netherlands will be live on Fox Sports from 2am AEST / 12am AWST in Australia. The Playoffs and second Semi Final will be available to watch live via Starsports.com.

Please note the playoffs between India, Italy, Belgium and Japan will take place prior to the Semi Finals commencing.

World League 5-8 Playoffs Fixture
Thursday 2 July
Local time/AEST/AWST – Fixture
13:00 / 21:00 / 18:00 - India v Italy – W 5-8 Playoff
15:30 / 23:30 / 21:30 Belgium v Japan – W 5-8 Playoff

World League Semi Final Fixture
Thursday 2 July
Local time/AEST/AWST – Fixture
18:00 / 02:00 +1 / 00:00 +1 - Australia v Netherlands - W Semi Final
20:30 / 04:30 +1 / 02:30 +1 - Korea v New Zealand - W Semi Final

+1 indicates the following day in Australia

Hockey Australia media release


---

Hockeyroos reach semis

Australian women to play for medals and Olympic berth



Anna Flanagan fires in a Penalty Corner

The Hockeyroos will be guaranteed qualification to the 2016 Olympic Games if they win just one of their remaining two matches at the Hockey World League after a 2-0 win over Italy in the quarter-finals.

In all likelihood the top four finish already secured as a result of their progress to the semi-finals will be enough to reach Rio 2016 once the count-back system kicks in following the conclusion of the continental championships later in the year.

Penalty corner goals either side of half time from Jodie Kenny and Anna Flanagan put the Hockeyroos through to Thursday's semi-final and a guaranteed shot at the medals in Antwerp.

There they will meet the winner of the match between the Netherlands - the world number one, World Cup gold medallists and Olympic champions - and India, ranked 13th. The quarter final clash between those two takes place at 02:00am AEST, Wednesday.
Commenting on the likelihood of his side securing their Olympic berth, Hockeyroos coach Adam Commens said, "We achieved our objective and while it's not official that we've qualified for the Olympic Games I can't see any of the top four missing out."

Commens was pleased with how his side has progressed through the tournament so far but cautioned that the opportunities missed in this encounter could prove costly on another day.

He said, "I think we have progressed nicely through the tournament, it's just about executing in the attacking circle.

"I thought we stuck to the game plan really well, created a lot of opportunities. I do think we need to capitalise on those opportunities and finish much better. It's something that we've worked very hard on in the lead up to the tournament.

"We've been doing it well in training and right now we're not executing in matches and that's an area that our players on the end [of chances] need to do. It's as simple as that.

"If we do happen to play India, which is less likely, we know them. And the Netherlands is a team we know well. We'll need to be more efficient in the attacking circle if we're to get a result against them."

Having enjoyed the best of the opening spell the Hockeyroos broke through in the 20th minute when Jodie Kenny's penalty corner spun off the stick of a defender and over the goal line for 1-0. It was the Queensland flicker's tenth goal of the tournament and took her to the top of the goal scoring charts.

Australia's women were grateful to goalkeeper Rachael Lynch, who twice made telling saves at close range as Italy pressed hard to get back into the match, before Anna Flanagan provided the breathing space with a second goal.

With Kenny taking a well-earned rest, Flanagan stepped up to clinically execute a flick high into the top left corner for 2-0 and her first goal of the tournament.

The Hockeyroos enjoyed a host of excellent opportunities to extend the margin of victory late on as they broke through the Italian back time and time again but failed to convert when through on goal.

The best of the chances fell to Georgie Parker and Kathryn Slattery; Parker hit the post from an acute angle and Slattery was unable to redirect the ball on target after Ashleigh Nelson's pass to the back post.
 
The Hockeyroos' semi-final against either the Netherlands or India will take place at 18:00 or 20:30 CET on Thursday (02:00 AEST or 04:30 AEST on Thursday).
                                                                        
Casey Sablowski returned for the Hockeyroos having sat out Saturday's match against India.
                                                                                                     
Hockey World League
Antwerp, Belgium

Quarter Final

HOCKEYROOS: 2 (1)
Jodie Kenny 21 (PC)
Anna Flanagan 40 (PC)

ITALY: 0 (0)
-

Hockeyroos squad v Italy
Name (Hometown/State) Caps/Goals
Started       
Madonna Blyth (Brisbane, QLD) 306/67
Kirstin Dwyer (Mackay, QLD) 78/2
Anna Flanagan (Canberra, ACT) 148/34
Jodie Kenny (Wamuran, QLD) 142/88
Rachael Lynch (Warrandyte, VIC) 123/0
Karri McMahon (Berri, SA) 68/7
Georgia Nanscawen (Melbourne, VIC) 160/31
Georgie Parker (Berri, SA) 81/25
Casey Sablowski (South Coast, NSW) 226/44
Kathryn Slattery (South Stirling, WA) 20/5
Mariah Williams (Parkes, NSW) 19/2

Used Substitutes
Teneal Attard (Mackay, QLD) 211/10
Edwina Bone (Evatt, ACT) 76/2
Jane Claxton (Adelaide, SA) 65/5
Ashleigh Nelson (Wagin, WA) 180/63
Brooke Peris (Darwin, NT) 58/9
Emily Smith (Crookwell, NSW) 122/49
 
Unused Substitutes
Ashlee Wells (Morwell, VIC) 51/0
 
Quarter Final Fixtures - Tuesday 30 June (in Belgium)
13:00 CET / 21:00 AEST (Tues)
Australia 2-0 Italy
15:30 CET / 23:30 AEST (Tues)
New Zealand 5-1 Japan
18:00 CET / 02:00 AEST (Wed)
Netherlands v India
20:30 CET / 04:30 AEST (Wed)
Korea v Belgium
                                                                                                      
Match Schedule - Hockeyroos' Fixtures
2 July – 18:00 or 20:30 CET (Wednesday) / 02:00 or 04:30 AEST (Thursday) - Semi Final v Netherlands OR India
4 July – TBC - Medal Matches    

Hockey Australia media release


---

Black Sticks Women blaze into semi-finals



Gemma Flynn and Rachel McCann celebrate a goal. Photo courtesy Kiwi Hockey

The Black Sticks Women will play for a medal and a shot at Olympic qualification following a thrilling 5-1 over Japan in the quarters at the FIH World League Semi-Final in Antwerp.

New Zealand are now through to the semi-finals where they will meet Korea at 6.30am on Friday (NZ time), with live coverage on SKY Sport.

If the Black Sticks win their next game they will earn automatic qualification for the 2016 Rio Olympics, while the top four placing also earns them a spot to compete at the World League Final in Rosario, Argentina from 5-13 December.

With the game delicately poised and locked up at 1-1 at halftime, New Zealand overpowered Japan in the second half and the flood gates opened.

Head coach Mark Hager said Japan caught them off-guard in the first quarter but it was pleasing to come back and wear them down.

"The Japanese surprised us the way they came out, they were very aggressive and played a fast tempo and we were a bit shell shocked," he said.

"It was pleasing that at 1-0 down we didn't panic, we kept striving along and changed our tactics as the game went on which worked for us.

"We knew if we scored goals the game would open up. Luckily for us that happened and girls like Michelsen and Punt were able to run freely in the midfield."

Japan came out running against the Black Sticks and were quickly creating chances on attack, taking the lead inside five minutes when Akiko Kato pounced on a loose ball in the circle.

The Black Sticks responded immediately though, with a good passage of play ending with Petrea Webster knocking home a rebound.

Both sides had their chances throughout the second quarter but went into halftime locked up at one goal apiece.

The Black Sticks lifted the intensity after break and took their first lead of the game in the 34th minute with Sophie Cocks putting the finishing touch on a superb baseline run and flick back by Gemma Flynn.

Eight minutes later the Kiwis pushed the buffer out to two goals with Anita Punt rocketing a penalty corner drag flick into the roof of the net.

Kirsten Pearce put the game beyond doubt midway through the fourth quarter with a brilliant run into space and then lobbed over the keeper before Gemma Flynn knocked another one home from close range for her side's fifth goal.

BLACK STICKS 5: (Petrea Webster, Sophie Cocks, Anita Punt, Kirsten Pearce, Gemma Flynn)
JAPAN 1: (Akiko Kato)
Halftime: 1-1

Hockey New Zealand Media release


---

Black Sticks Women blaze into semi-finals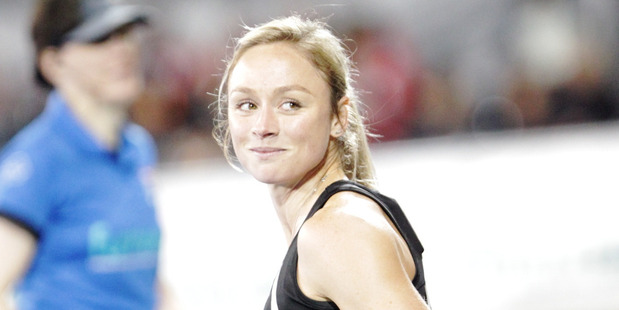 Anita Punt. Photo / Paul Taylor.

The Black Sticks Women will play for a medal and a shot at Olympic qualification following a thrilling 5-1 over Japan in the quarters at the FIH World League Semi-Final in Antwerp.

New Zealand are now through to the semi-finals where they will meet either Belgium or Korea at 6.30am on Friday 3 June (NZ time), with live coverage on SKY Sport.

If the Black Sticks win their next game they will earn automatic qualification for the 2016 Rio Olympics, while the top four placing also earns them a spot to compete at the World League Final in Rosario, Argentina from 5-13 December.

With the game delicately poised and locked up at 1-1 at halftime, New Zealand overpowered Japan in the second half and the flood gates opened.

Head coach Mark Hager said Japan caught them off-guard in the first quarter but it was pleasing to come back and wear them down.

"The Japanese surprised us the way they came out, they were very aggressive and played a fast tempo and we were a bit shell shocked," he said.

"It was pleasing that at 1-0 down we didn't panic, we kept striving along and changed our tactics as the game went on which worked for us.

"We knew if we scored goals the game would open up. Luckily for us that happened and girls like Michelsen and Punt were able to run freely in the midfield."

Japan came out running against the Black Sticks and were quickly creating chances on attack, taking the lead inside five minutes when Akiko Kato pounced on a loose ball in the circle.

The Black Sticks responded immediately though, with a good passage of play ending with Petrea Webster knocking home a rebound.

Both sides had their chances throughout the second quarter but went into halftime locked up at one goal apiece.

The Black Sticks lifted the intensity after break and took their first lead of the game in the 34th minute with Sophie Cocks putting the finishing touch on a superb baseline run and flick back by Gemma Flynn.

Eight minutes later the Kiwis pushed the buffer out to two goals with Anita Punt rocketing a penalty corner drag flick into the roof of the net.

Kirsten Pearce put the game beyond doubt midway through the fourth quarter with a brilliant run into space and then lobbed over the keeper before Gemma Flynn knocked another one home from close range for her side's fifth goal.

The New Zealand Herald


---

Black Sticks women likely qualified for Rio Olympics after reaching last four in Belgium



Striker Petrea Webster scored the equaliser for NZ in their convincing quarterfinal win over Japan at the World League Semifinals in Belgium. Dirk Markgraf

The Black Sticks women look to have sealed their spot at the Rio Olympics after thumping Japan 5-1 in their quarterfinal at the FIH World League Semifinal tournament in Belgium.

With the top three teams from the event booking their spot at next year's Games and New Zealand's semifinal opponent Korea believed to have already qualified for Rio by winning last year's Asian Games, the Kiwis appear to have secured their place alongside other semifinalists Australia and the Netherlands.

Black Sticks head coach Mark Hager said they had been told Korea's victory at the Asian Games meant his side would be at Rio, but added they were still waiting for offficial confirmation from the International Hockey Federation.

What is confirmed is New Zealand's place at the World League Final in Argentina from December 5-13, with the top four teams at this tournament qualifying for that event.

In Belgium, New Zealand will meet world No 9 Korea in the second semifinal at 6.30am on Friday (NZ time). Australia and the Netherlands play at 4am.

In Tuesday's game in Antwerp against Japan (NZT Wednesday), the match was delicately poised at halftime with the teams locked at 1-1, before the flood gates opened in the second half as the world No 4 side overpowered their 10th-ranked opposition.

Hager said Japan caught them off-guard in the first quarter, but felt his side came back strongly and wore their opposition down.

"The Japanese surprised us the way they came out, they were very aggressive and played a fast tempo and we were a bit shell shocked," Hager said.

"It was pleasing that at 1-0 down we didn't panic, we kept striving along and changed our tactics as the game went on which worked for us.

"We knew if we scored goals the game would open up. Luckily for us that happened and girls like Stacey Michelsen and Anita Punt were able to run freely in the midfield."

Japan bolted out of the blocks and were quickly creating chances on attack, taking the lead inside five minutes when Akiko Kato pounced on a loose ball in the circle. It was the first goal the Black Sticks have conceded at the tournament having gone into the knockout stages with a 21-0 goal record.

The Black Sticks responded immediately to Japan's strike with a good passage of play ending with Petrea Webster knocking home a rebound.

Both sides had their chances throughout the second quarter but went into halftime locked up at one goal apiece.

New Zealand lifted the intensity after the break and took their first lead of the game in the 34th minute with Sophie Cocks putting the finishing touch on a superb baseline run and flick back by Gemma Flynn.

Eight minutes later the Kiwis pushed the buffer out to two goals when Anita Punt rocketed a penalty corner drag flick into the roof of the net.

Kirsten Pearce put the game beyond doubt midway through the fourth quarter with a brilliant run into space and lob over the Japanese keeper before Flynn knocked another one home from close range for her side's fifth goal.

New Zealand 5 (Petrea Webster, Sophie Cocks, Anita Punt, Kirsten Pearce, Gemma Flynn) Japan 1 (Akiko Kato). Halftime: 1-1.

Stuff


---

Indian eves lose 0-7 against Netherlands

s2h team

Playing the quarter final match at the FINTRO Hockey World League Semi-Final 2015 (Women) in Antwerp, India lost the game 0-7 against Netherlands today. Irrespective of the loss what came put positively for the Indian team were the brilliant saves by Goalkeeper Savita who ensured that Netherlands did not score easily.

Netherlands going on the attack in the very first minute, Naomi van As was successful in scoring the first goal leaving the Indian eves stunned. Trailing the game 0-1 India were seen on the attack in the 4th minute and Vandana Katariya taking a shot at the goal was saved by the Netherlands goalie. In the 8th minute Netherlands got the first penalty corner of the game in their name and Willemijn Bos taking the flick hit the ball hard towards the nets and Lidewij Welten standing right near the goal post deflected the ball taking the score to 2-0. 12th minute and Netherlands had another chance at the penalty corner but was saved by Namita Toppo as she ran out to clear the danger.

Right into the second quarter, Netherlands had another penalty corner in their name and was slapped by Caia van Maasakker towards the goal and going on to register the third goal for her team. Not wasting time, Netherlands was yet again in the D of India and a good pass to Ginella Zerbo was hit by her into the goal box in the 18th minute and with this goal the score read 4-0. Continuing their attack Netherlands through another penalty corner opportunity scored their fifth goal in the 26th minute, coming from the stick of Caia van Maasakker. Same minute, Netherlands had one more penalty corner in their name but this time Savita goalie made a brilliant save and clearing the danger. With this the half time scores stood at 5-0 in favor of Netherlands.

With sides changed, India increasing their tempo of attack looking for the opportunity to score but were unsuccessful in finding the nets. Four minutes into the third quarter, Netherlands taking a shot at another penalty corner was yet again brilliantly saved by Savita. Six minutes into the third session, India got the first penalty corner in their name and a chance to open their scorecard but they missed on the opportunity. Next minute Netherlands with another penalty corner chance, was saved yet again by Savita. India counter attacked immediately and were seen taking a shot at another penalty corner but was hit directly at the opponents goalkeeper who averted the danger for her team. With no goals scored in the session the third quarter scores were 5-0 with Netherlands leading.

In the 48th minute Lidewij Welten entered the D from the left flank and was tackled by the Indian goalie but she still managed deflect the ball into the nets, taking the sore to 6-0. Five minutes later, Netherlands with a penalty corner in their name was converted successfully by Xan de Waard as she did no mistake in finding the nets for her team. The two goals by Netherlands helped the team to register a 7-0 win over India.

Stick2Hockey.com


---

Indian eves swept aside by world champions Netherlands in HWL

ANTWERP: Indian eves crashed out in the quarterfinal of the Hockey World League Semifinals after they were drubbed 0-7 by world champions Netherlands at the KHC Dragons Stadium today.

Swept away by the early onslaught in the quarterfinal contest, the Indian women's hockey team's defence wilted under the pace set by the Dutch girls, for whom Caia van Maasakker converted three penalty corners and Lidewij Walten scored twice.

India, ranked No 13 in the world, were no challenge for World Cup and Olympic title holders Netherlands, whose goal was threatened only twice through two penalty corners that India forced in the second half. In the semifinal encounter, The Netherlands will take on Australia, silver medalists at the World Cup last year, who prevailed 2-0 over minnows Italy in the quarterfinals.

India will face Italy in the fifth to eight classification spots. The Dutch goal rampage began in the opening minute when Naomi van As dribbled along the goal-line from the right and beat Indian custodian Savita with a deft scoop.

India managed to break into the rival circle in the fourth minute, when Vandana Katariya shot diagonally into the goalkeeper, before the Dutch scored again in the ninth minute from their first penalty corner. Willemijn Bos's drive was deflected in by Walten.

The Dutch were denied a goal on their second penalty corner in the last minute of the first quarter before Van Maasakker scored the first of her goals, with a low drag-flick into the right corner of the board in the 16th minute.

The Times of India


---

Rio dream still alive as Indian eves face Italy in play-offs

ANTWERP (Belgium): A day after being thrashed 0-7 by top-ranked The Netherlands, India are still nurturing the Olympic qualification dream as they brace for a play-off fixture against lowly Italy in the women's Hockey World League Semifinals, here on Thursday.

For the Rio Olympic dream to sustain, India will have to come out victorious in Thursday's 5-8 position classification match against Italy, who showed their mettle in the quarterfinal encounter with Australia.

With the Olympic qualification berths likely to filter beyond the semifinalists, India are eager to put up an improved show in the play-offs for the fifth to eight spots.

Reigniting the players' self-belief would be the prime task for the team management following the 0-7 loss to reigning World and Olympic champions The Netherlands, who were a street ahead of the Indians in quality.

The Indian girls would be looking to plug gaps in their defence as they go into the game against the fast-improving Italian team, placed three spots behind India's No. 13 world ranking.

The Italians will be inspired by their show against World Cup silver medalists Australia. Only two penalty corner conversions, one in each half, separated Australia from minnows Italy.

Italy are no mean opponents and the Indian girls realised this when they lost a five-Test series in December. Italy won two Tests, India won one and two others ended in draws.

"Italy would be the opposition you look for such a game," said Indian women's hockey team chief coach Mathias Ahrens, hoping his wards would be able to turn the tide after being at the receiving end in successive matches against Australia and The Netherlands.

"But the Italians are a very good side and their ability has been on view at this tournament," said Ahrens.

"The qualifying dream is still alive. The girls wanted so much going into the contest against The Netherlands. It may not have been realistic, but I do understand that from the girls' perspective," said Ahrens.

"There is always a lot at stake for the Indian players."

Ahrens feels the Indian eves built pressure upon themselves when they fail to play their game of making quick switches through short passes.

"Whenever the Indian players have hung on to the ball, they have erred," he said.

"Against Italy, we must not lose the ball in our own territory as that has been building additional pressure on us," the coach said.

"We have a lot of strengths, but mental toughness is not one of those," said Ahrens.

"The Dutch girls were a different class of opposition, but we were also at the receiving end of too many penalty corners being awarded against us without much cause."

The Indian team management was also concerned about the injury sustained by key striker Rani Rampal against The Netherlands on Tuesday. She has got three stitches above her right eye, but is expected to turn out against Italy.

The injury that caused her to leave the field midway in the second session was from a Dutch player's stick, but the rival player did not even get a card for the rough tackle.

The window for Olympic qualification remained wide open after Belgium blew away their chance of entering the semifinals on Tuesday night.

Belgium's defenders erred to concede an equaliser to South Korea 35 seconds from the hooter in the quarterfinal, which ended 2-2 at the end of regulation period.

In the ensuing penalty shootout, South Korea broke Belgians hearts by winning 3-0.

"It was just a little fault that proved costly," said Belgian ace Stephanie de Groof.

"Maybe, we were in Roi too early despite knowing that the game ends only after the last second. It is a massive disappointment, but we need to focus on the next match as we still have an Olympic ticket to win," she said.

South Korea have already qualified for the Olympic Games by virtue of clinching the Asian Games gold medal.

The Koreans may have done India a big favour with their last minute equaliser, but the Indian eves need to strike winning form to make the Olympic grade for the first time since their only appearance at Moscow in 1980.

The Times of India


---

Mercurial Pakistan stand in Great Britain men's way
   
By Rod Gilmour, Antwerp



Finding form: Great Britain men head into last eight as an unbeaten side  Photo: FRANK UIJLENBROEK / WORLDSPORTPICS.COM

Pakistan have already suffered one Olympic qualification defeat and Great Britain are ready to shut out a second opportunity in Antwerp on Wednesday

Sam Ward, the Great Britain forward, admits there is "a lot riding on it", but the outcome will likely depend on which Pakistan team turns up when the two sides meet in their Olympic qualifying knock-out match on Wednesday afternoon.

A win would put Bobby Crutchley's side – unbeaten in the pool stages – one match away from automatic qualification for the Rio 2016 Olympics.

The last time a Great Britain side lost to Pakistan came at the 2004 Olympics in Athens. But Crutchley has already admitted that another victory against a once powerful force in world hockey is in the balance given Pakistan's "up and down" nature.

Pakistan have yet to win in Antwerp, following 2-2 draws against Poland and rivals India. They were then put to the sword against Australia, going down 6-1 to the world champions.



Sam Ward, right, has had successful start to GB career

However, their big match temperament shouldn't be doubted. Having experienced the disappointment of an Asian Games final defeat to India – who qualified for Rio following their shoot out win – they atoned for the loss by exacting revenge in a riveting Champions Trophy semi-final win in December.

"Pakistan are a dangerous side who we will not be taking lightly," said Ward, Great Britain's top scorer, with three goals.

"They are very skilful and quick on the counter and have a number of good penalty corner takers. They will be a threat especially from those set pieces.

"We're feeling good going into the game - obviously it's a huge match with a lot riding on it, but we're hoping for a good result and to move on towards Olympic qualification."

In all, Great Britain are unbeaten in their last six matches against Pakistan.

Meanwhile, in other quarter-final ties, Australia face Ireland, hosts Belgium take on France, while India play Malaysia.

The top three are guaranteed a Rio berth, though a top four finish should suffice once the count back starts following the culmination of the other continental tournaments featuring lesser-ranked nations.

The Telegraph


---

Pakistan take on the mighty Britons in quarter-final clash

By Nabil Tahir



Pakistan must at least reach the semi-finals if they are to finish in the top three and qualify for Rio Olympics. PHOTO: AFP
KARACHI:

The business end of the tournament is now upon Pakistan as they take on world number five Great Britain in their all-important quarter-final clash in Antwerp in a bid to qualify for the Rio Olympics 2016.

Pakistan, who can give any side a run for their money on their day, have struggled so far in Belgium, with the win in their opening match against Poland being their only victory so far. That 2-1 triumph was followed by a 6-1 thumping at the hands of Australia and then two draws against India (2-2) and France (2-2).

Britain, on the other hand, come into the tie with two wins and two draws as they finished second in their group.

The men in green have struggled to carve open defences from open play and have had to rely on set pieces for their goals. Four of their seven goals in the tournament have come from penalty corners, meaning they are one of the deadliest teams from penalty corners. But they have only scored two goals from open play, with the seventh coming from a penalty stroke by skipper Muhammad Imran — who also missed a penalty stroke against France.

It seems that Pakistan know where their strengths lie. "We have been practicing on putting more variations in our penalty corners as we don't want to miss any corner," Imran told The Express Tribune. "In the past two days we have worked on converting using different variations along with countering our opponent's strongpoints in order to improve our defence."

The way in which the side conceded two needless goals against 18th-ranked France was a point of concern, especially considering the team's lack of firepower to make up for it. "When we attack on turnovers, we have the tendency to be caught off-guard in defence," said head coach Shahnaz Sheikh, under whom the team won silver medals at the 2014 Asian Games and the Champions Trophy. "Our defence struggled to block close-range hits, which is a result of poor coordination. We have worked on that too and will hopefully see better defending from the side."

However, Sheikh ruled out sacrificing attack in order to shore up the defence, saying that the men in green will continue to play enterprising hockey. "We will still play attacking hockey and score as many goals as we can," said Sheikh, before implying that the team just needs tweaking rather than wholesale changes.

Sheikh was quick to praise the players, saying they were fast learners and have already adopted the strategies and lessons he asked them to before their quarter-final clash. "The players have been given lessons and have adopted really fast throughout the tournament," he said. "Britain are among the top five in the world, so we cannot be complacent."

The head coach also said that Pakistan are just concentrating on the task at hand, rather than thinking ahead of finishing in the top three of the tournament, which will see them qualify for the 2016 Olympics.

The Express Tribune


---

Spirited Pakistan face an uphill task against Britain in HWL quarterfinal today

Australia clash with Ireland, India meet Malaysia, Belgium take on France

By Muhammad Ali

ANTWERP: Spirited Pakistan face an uphill task when they clash with strong Britain in the quarterfinal of the Hockey World League at KHC Dragons Stadium here on Wednesday (today). Following the completion of the pool phase on Sunday, the line-up for the cross-over quarterfinal matches was confirmed. The top five finishers in the event will not only seal a place at the end of year Hockey World League Final in India but also qualify for the 2016 Rio Olympic Games in Brazil. Australia finished top of Pool A, and now face a quarterfinal clash against Ireland, Pool B's fourth placed team. Pool B's top team Belgium are set to meet France in the last eight stage. The fourth quarterfinal will see India doing battle with Malaysia. Of these quarterfinalist teams, only India do not have anything to worry about as they have already qualified for next year's Olympics by virtue of being the Asian champions.

The ongoing HWL presents Pakistan their last opportunity to clinch an Olympic spot. Pakistan are facing another crisis of sorts. The once most-powerful nation in hockey are in danger of missing the Olympics for the first time since they made their debut in 1948. Britain are much stronger team than Pakistan and it's a do-or-die mission for the 10th-ranked Asian team. Britain are in prolific goal scoring form as they have scored 15 goals in their four pool games while six were scored against them. Britain finished their pool games unbeaten, with two wins and two draws, in second place behind hosts Belgium. On the other hand, the greenshirts could score only seven goals while 11 were scored against them in the pool matches.

Last year Pakistan failed to make the cut for the World Cup for the first time in their history. Skipper Mohammad Imran told Daily Times Tuesday they can't afford to miss the boat to next year's Rio de Janeiro Olympics. "We have a tough task. I would say that all the four quarter-final matches are tough and you cannot predict the outcome. "Britain play a typical European game where they have speed and do not give up until the end. We know what to expect and we just have to get ready for it. The match is there for the taking and we must finish it," he said.

Pakistan only recorded one win to finish third in Group A with five points. They kicked off their campaign with a 3-1 win over Poland and then lost 6-1 to Australia. Pakistan then drew with India (2-2) and France (2-2). Imran admitted Pakistan were troubled by poor finishing in all the four matches. "We created a lot of goal-scoring chances, but just could not finish off the moves. We have worked during the two-day break to look at our movements and mistakes," said Imran, who has contributed three of the seven goals scored by Pakistan here.

Pakistan were not able to qualify for the Rio Olympics after they finished second in the last Asian Games in Incheon, South Korea in 2014. Pakistan lost the final to India on penalty shoot-out 2-4 are now taking part in the tough Olympic Qualifiers. Pakistan have played at every Olympics since their first appearance in 1948. Pakistan had failed to feature among the 12 teams for the 2014 World Cup, an event that they have won more times than any other country. Behind India's eight gold medals and Germany's four titles, including one by West Germany, Pakistan are the most successful team in Olympic history. Pakistan have won three gold medals out of their six appearances in the title contest at the Olympics, but are now facing a stiff challenge to qualify for the 2016 Summer Games. At the last Olympic Games in London in 2012, they finished seventh.

The Daily Times


---

Great Britain hoping Pakistan don't turn on the magic




Pakistan's bid to qualify for the 2016 Rio Olympic Games enters its climax today as the Greenshirts take on a solid Great Britain side in the Hockey World League (HWL) quarter-final in Antwerp, Belgium.

Pakistan, who missed their first opportunity to qualify for the Games after losing the Asian Games final to India last year, will have to play out of their skins to overcome Barry Middleton's Great Britain team who have all the momentum they need coming into the crunch match. A top three finish in the tournament would guarantee the team a spot at the Olympics.

Mohammad Imran's Greenshirts have just one victory against a lowly Poland side from four games at the (HWL). They were sloppy in their draws against India and France while Australia handed them a 6-1 drubbing.

But their 'up and down nature' has managed to cause a few headaches in the Great Britain ranks who are hoping the 'lethal Pakistan' doesn't show up in the knockout game.

"Pakistan are a dangerous side who we will not be taking lightly," said Great Britain forward Sam Ward.

"They are very skillful and quick on the counter and have a number of good penalty corner takers. They will be a threat especially from those set pieces."

Waqas Sharif's moment of magic almost comes good

Ward said prospects of Rio 2016 would motivate his side to conjure up some wizardry of their own against Pakistan.

"We're feeling good going into the game. Obviously it's a huge match with a lot riding on it, but we're hoping for a good result and to move on towards Olympic qualification."

Pakistan captain Mohammad Imran fires one into the net

Pakistan coach Shahnaz Sheikh has vowed to keep Great Britain, who the Greenshirts last beat at the 2004 Athens Games, on their toes in what he termed a 'do-or-die battle'.

"We will still play attacking hockey and score as many goals as we can," Sheikh said.

"Britain are among the top five in the world, so we cannot be complacent."

Dawn


---

India seek to sort out defensive woes against Malaysia

ANTWERP (Belgium): Soundly thrashed by Australia in their last match, India would look to sort out their defensive woes when they take on Malaysia in their quarterfinal match of the Hockey World League Semifinals on Wednesday.

The Indian defenders, who let in six goals against world champions Australia in their last group match, will be again tested by the nippy Malaysians on Wednesday as the knockout competition begins at the KHC Dragons Stadium.

Going into Wednesday's quarterfinal encounter against Asian Games champions India, the Malaysians would draw confidence from their 3-2 victory in the last fixture between the two teams at the Azlan Shah Cup two months ago.

While India are looking to make this a fruitful sojourn for the young players being fielded here, Malaysia are expected to throw everything into tomorrow's contest as it could secure them qualification for the Olympic Games.

India's passage to the 2016 Olympics is secure after winning the Asian Games gold medal at Incheon last year, allowing them the luxury of providing exposure to several young players, but they would be eager to finish on the podium ahead of hosting the World League Finals in December.

India coach Paul van Ass is rankled by the way his wards were hustled by Australia in the last preliminary league match, in which India suffered a 2-6 drubbing.

"The way we played against Australia can be very damaging," said coach van Ass, whose team is hampered by the absence of seasoned penalty-corner drag-flicker Rupinder Pal Singh, who got injured during practice matches here.

Rupinder has not played any role in the tournament so far, but was seen training with the team during their last two matches.

Indian captain Sardar Singh said Malaysia, who had arrived here after winning SEA Games gold medal in Singapore, were a competitive team and not easy to get past.

"Malaysia are a tough side, we need to be at our best to be able to match them. We must capitalise on the chances that we get," said Sardar, aware that Malaysia's nippy strikers could pose a threat to India's defence.

Sardar conceded that his team has been giving away soft penalty corners to their opponents while Rupinder's absence has impacted on their own penalty corner conversion.

"We've been giving away easy penalty corners, which can hurt us. Bumpy balls are also the feature of this pitch. One needs to keep that in mind, or else you can be caught on the wrong foot," he said.

"We're missing Rupinder Pal Singh both in converting the penalty corners and in defending those against us," said captain Sardar, even as the team management is cautious not to aggravate the injury by fielding Rupinder too soon.

Unlike this tournament, where injuries have also reduced the strength of the Indian teams, it was a much stronger Indian outfit that was beaten by Malaysia on their home turf at Ipoh in April.

Undaunted by India's status as the reigning Asian Games champions, Malaysia have promised to raise the tempo as they view tomorrow's match as their chance to qualify for the 2016 Olympics in Rio de Janeiro.

Three spots from each of the World League Semifinals are on offer for the Olympic Games, but even some positions outside the semifinals have a realistic chance of making it to the 2016 Olympics.

Multiple qualification routes that allocate five spots to continental tournaments can lead to dual qualification by some countries. That could allow even teams placed fifth or sixth in the World League Semifinals from making it to the Olympics.

Former Olympic and world champions Pakistan are also confronted with a tough quarterfinal fixture against Great Britain. Both are eager to seal spots in the Olympic lineup.

For Pakistan, this tournament is their last chance of qualifying for the Olympics. Coach Shahnaz Sheikh said his players will throw everything into the quarterfinal.

"This one victory can take us to the Olympics," said Shahnaz, whose wards lost the Asian Games final to India in penalty shoot-out.

Three-time Olympic gold medalists, Pakistan have played at every Olympics since their first appearance in 1948. Pakistan had failed to feature among the 12 teams for the 2014 World Cup, an event that they have won more times than any other country.

In other quarterfinals, World Cup holders Australia take on Ireland, while hosts Belgium are drawn against France.

The Times of India


---

When pace of game is high, we have no say: Paul Van Ass

Rutvick Mehta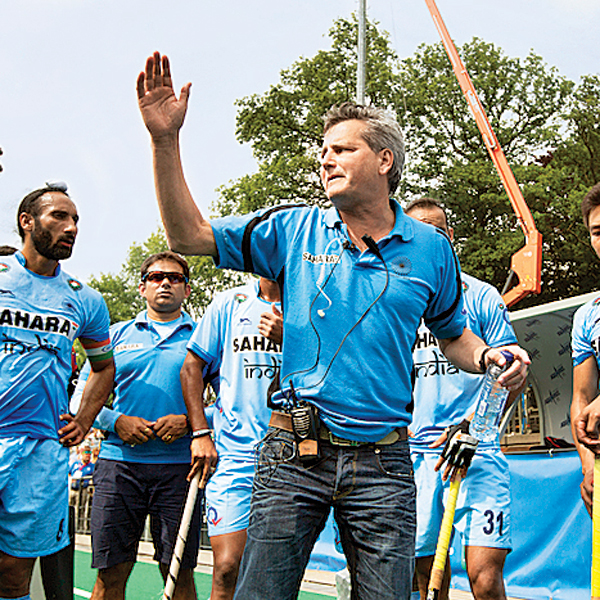 India head coach Paul Van Ass is happy with the way his team has shaped up so far at the World Hockey League Semifinals in Belgium. The Dutchman, however, tells Rutvick Mehta that the boys have to learn to increase their speed. Excerpts from an interview...

Two wins against lower-ranked teams, a draw against Pakistan and a thumping loss to Australia — how do you assess the team's performance so far?
I do think we did well. In the game against Australia, the pace of the game was still too high for us. But the big picture is that we did well. We are looking forward to the next match against Malaysia.

Talking of that game on Wednesday, will we still see you experimenting in terms of strategy and combination?
Yes, we will continue doing what we did. The level of our game, of course, should be higher. Also, the pace of the game should be a lot quicker. If we do both, I think we have a big chance of making it far.

You spoke of learning valuable lessons from these four games. Could you list them?
We have to learn to speed up the game. We tend to give ourselves too much time in passing and lead-in. We have to improve the speed of those things. So quicker lead-in, quicker decisions, the ball speed has to go up. That was a big lesson we learnt from the Australia match. The pace of the game is so high that we then have no say in the game. And that's not good.

You also spoke about nerves playing a part in the game against Australia. We tend to play well against them in smaller tournaments or bilateral series. But when it comes to the big tournaments, they usually outplay us. Does that come down to the mindset?
Yes. It's always the difference between practice matches and wins in series. That's nice. But Australia are especially strong when it comes to hiking. They wanted to be No. 1 in the pool. So, in the big tournaments, the big matches, they just raise their level. We should be aware of that. It shows that we have to raise the level of our game to really get a chance in big tournaments.

Two of our players committed unnecessary fouls in the game against Pakistan. Does the discipline aspect worry you?
Yes, the cards are not good. Fouls are not good. Pakistan also got a card with the hit against Yuvraj Walmiki. So it was from both sides. But it's not good. It's never good. Not from them, and especially not from us. And yes, I discussed it here with the players.

How do you see the new strategy of 10-on-10 shaping up?
We did have good practice matches before we started the tournament. I'm happy that we have had eight matches with that strategy so far. Also, if you see here, when the ball speed is up, when the pressure is higher, it is not quite still the players' natural reaction. Which is normal, of course. So we have to get far more international matches to get that good rhythm. But so far, what we have tried feels good and feels strong. But it is absolutely vital that we improve from here on. Again, Australia are a team that has been together for a long time, and we've just started this. So we need to have a bit more time. Not just time, but especially international matches to improve ourselves.

You've tried new things in this tournament, like playing Manpreet Singh as a drag-flicker. Do you risk tinkering with the core of the players by doing that?
No. It's just that Jasjit (Singh) and Manpreet can flick as well. Our best drag-flickers are still (VR) Raghunath and Rupinderpal (Singh). But Raghunath isn't here because of injury, and then we took Rupinderpal who also got injured in a practice match. Such things can happen. We will solve it in a few days. But until today, he cannot play. So that was a setback.

Does that show that we are lacking in penalty-corner specialists?
Well, it's always nice to have more of them. That's a luxurious position. But I think we already have a luxurious position in that we have Raghunath and Rupinderpal on a high international level. This (injury to them) gives the others an opportunity at least to get some experience. You never know if they will improve.

How much have the young guys — the likes of Devinder Walmiki and Jasjit Singh — impressed you?
Yes, it's good. They bring new energy. They are good players. But when it comes to the big matches, their lack of experience shows. But there's no doubt that they have shown here that they are talented enough, big enough to be in the team. They can add something special to the team as well. But it's also important for them that they play more international matches.

DNA


---

Malaysia v India: One final push for Olympic ticket

by S. Ramaguru



Malaysia's Faizal Saari (left) in action against Ireland in the World Hockey League Semi-Finals in Belgium. - FIH

ANTWERP: They have been far from convincing.

Yet, Malaysia have made the last eight of the World Hockey League Semi-Finals.

They face familiar foes India in a quarter-final match on Wednesday knowing that a spot in the Rio de Janeiro Olympics awaits.

The top three teams from this tournament will be assured of a place in next year's Olympics while the fourth-placed team could still sneak in.

Although Malaysia lost their last two group matches to Belgium and Britain, national coach Tai Beng Hai believes his team can bounce back if they can put in a herculean effort against India.

"It's in our own hands (to win the match). We knew that making the quarter-finals was the key ... and we've done it," he said after a morning training session at the Royal Herakles Hockey Club on Tuesday.

"Now India are the ones we have to beat. We are familiar with each other's game, so there's no reason not to be optimistic.

"At this stage, we just have to lift our game with one supreme effort ... and go all out."

Malaysia are injury-free and goalkeeper Roslan Jamaluddin has done well since replacing S. Kumar, who had to return home following the death of his son before the tournament began.

But if there's one area of concern, then it has to be the backline.

The defenders are not clearing the rebounds fast enough, and this has resulted in Malaysia conceding four of nine goals in the group matches.

The backline of Mohd Razie Rahim, Baljit Singh, Azlan Misron and Mohd Shukri Mutalib will have to cut down on their mistakes and tighten up against India.

"All the players know what this match means... it all boils down to whether we can play to our true form, not make mistakes and take our chances," said Beng Hai.

Forward Faizal Saari, with one goal thus far, has also issued a clarion call to his team-mates.

"I'm good to play. The quarter-final match has been our main target. Now, we're just 60 minutes away from making the top four – and achieving our dream," said Faizal, who needed stitches to his forehead after being injured in the match against Britain on Sunday.

"I hope I can score against India and help Malaysia qualify for the semi-finals."

The Star of Malaysia


---

No charity from India in clash with Malaysia

by S. Ramaguru



India players celebrate after beating Poland in the World Hockey League Semi-Finals in Belgium. - AFP

ANTWERP: Forget about Asian solidarity.

Malaysia won't get any favours from India in the quarter-finals of the World Hockey League Semi-Finals here on Wednesday – despite India having qualified for next year's Rio de Janeiro Olympics as Asian Games champions.

India's Dutch coach Paul van Ass said as much: "there's no reason for us to take it easy so that another Asian team can make the cut for the Rio Olympics".

"If Malaysia want to win, then they have to do it themselves ... and beat us," he said.

"There are some who think that we'll let another Asian team qualify for the Olympics. Well, they are wrong!" The last time these two teams met, Malaysia won 3-2 in the Sultan Azlan Shah Cup tournament in Ipoh in April.

And the India team here is weakened compared to the one who took part in Ipoh.

Their penalty corner flicker, Rupinder Singh, is down with a calf strain and did not play in their last two matches. He is a doubtful starter.

India also had to leave two key players – S.V. Sunil and R. Raghunath – at home because of injuries.

In Antwerp, they haven't exactly set the tournament on fire. In the group stages, they beat France 3-2 and Poland 3-0. They then drew 2-2 with Pakistan before losing 6-2 to world champions Australia in their last Group A match.

Van Ass, who took charge of the team in March, admitted that India are still a work in progress.

"Our objective is long term ... with the Olympics in mind. The team is coming together well… but I feel there's still some way to go.

"This tournament has been a good learning experience ... it has given some of the younger players a chance to gain valuable experience."

The Star of Malaysia

---

Stats speak: will it be silver jubilee wins for India?

By B.G.Joshi

Sehore-Bhopal, India: Today at 9:30pm (IST) Indian men will lock horns against mighty Malaysians in 3rd quarter final of HWL.

So far both team have played 107 matches, India wins 74 and Malaysia 15.

In Guangzhou Asian Games (2010) Malaysians beats confident Indians in semifinals as India defence committed silly mistakes.

In Antwerp Malaysia played well, they were in the match versus Britain till Captain Razie Rahim got the yellow card.

India must play with cool mind and grab the chances comes in the way to register golden jubilee (75th) win versus Malaysia.

For India-Malaysia complete stats please visit www.bharatiyahockey.org

Fieldhockey.com


---

Emma Smyth Calls Time on her International Career




Emma Smyth has decided to call time on her international career after 6 years at the heart of the Green Army midfield. Smyth made her debut against England in 2009 and went on to amass 140 caps.

Showing her gratitude and admiration for the coaching staff she has worked with throughout her international career, Smyth said "I'd like to say a big thank you to Gene Muller who gave me my first cap against England in 2009, which was such an honor and a privilege. I will never forget the great influence you had on my hockey career. Also a big thank you to Darren, Graham, Arlene and all the staff over the last few years. You are all truly fantastic individuals that work incredibly well as a team."

Emma also acknowledged all the people off-the-pitch who played a role in her success "Thank you so much to my family, friends and work colleagues who have supported me through the years. I can honestly say I wouldn't have been able to achieve any of it without you"

Smyth, an ever present in the Green Army line-up, paid tribute to her teammates "I've had such an amazing 6 years with these bunch of girls, made some lifelong friendships and memories. We've experienced a lot of highs and lows throughout but I couldn't have asked for a better group of people to do it with. I will remember all our unbelievable moments and be proud to say I represented my country for so many years. I strongly believe this team will be successful in years to come and I know one day I'll be cheering you on in the Olympics."

Despite the "roller-coaster" of the past few weeks, Emma has a bank full of fond memories of her time in a green jersey.  "One of my fondest memories was when I received my 100th cap in the Champions Challenge in Glasgow 2014, we played South Africa and beat them 2-1 to get to the final. We had so many supporters dancing around in the stand like we'd gotten to the World cup final, it was a very proud day to wear an Irish shirt".

All at Hockey Ireland would like to thank Emma for her commitment and contribution to Irish hockey, and wish her every success in the future.

Irish Hockey Association media release


---

Maties men bounce back with crucial win

JONATHAN COOK at UKZN Greenfields Turf



University of Johannesburg's Clinton Panther (right)  and Matt de Sousa of Maties contest the ball during Maties' 2-0 win at AB Jackson Greenfields Turf Tuesday.

The toughest men's A Section group at the 2015 University Sport South Africa (USSA) hockey week is in Pool A, where defending champs University of Johannesburg (UJ), University of Stellenbosch (Maties) and University of Pretoria (Tuks) are slugging it out for two berths in Thursday's semi-finals.

Tuks consolidated their superb 5-3 win over Maties on Monday with a comprehensive 5-0 defeat of hosts University of KZN Tuesday to all but cement a spot in Thursday's semi-finals. Maties bounced back from Monday's defeat to outlast UJ 2-0 at the AB Jackson Greenfields Turf Tuesday. 

Wednesday sees the final round of Pool matches and the state of play has Tuks on top of Pool A with a full-house six log points from their two matches and a very good goal difference of plus seven. Tuks play UJ at 10.40am on the UKZN turf Wednesday in what is shaping up as a must-win for the Johannesburg lads if they are to keep their dream of a fourth consecutive USSA title alive.

Maties men should have the beating of UKZN in Wednesday's 5.20pm late game and they will know what they need to do in terms of goal difference - should UJ manage to beat Tuks in the morning.

Men's A Section Pool B is also a three-horse race. University of Cape Town (Ikeys) are on four log points with Nelson Mandela Metropolitan University (Madibaz) and University of Free State (Kovsies) both on three points.

The Ikeys versus Kovsies clash at 2pm Wednesday on the UKZN turf will be a key fixture, as it appears likely that Madibaz will have the better of fourth-placed Wits in the 12.20pm match.

However, the top three teams in Pool A look to have the edge over their counterparts in Pool B and the speculation is that both of the finalists will emerge from Pool A after Thursday's semi-finals.

In women's Pool A, 2015 Varsity Cup winners UJ all but guaranteed a berth in the semi-finals with a match to spare when they beat Varsity College 13-1. UJ sit on a full-house six log points after two matches with a healthy goal difference of plus 13. Defending USSA women's champs Maties did their hopes a power of good when they beat the Tuks ladies 3-1 in Tuesday's late game.

Tuks now have a massive game against UJ at 11.30am on the AB Jackson Greenfields Turf Wednesday. Maties should have the beating of Varsity College in the 10am match, so Tuks will know exactly what is needed if they are to reach the semi-finals, but on paper it looks like nothing less than a win will suffice. 

In Pool B, North West University Potchefstroom (Pukke) are on a maximum six log points and with their last match against bottom-placed Ikeys at 3.40pm Wednesday at UKZN, are virtually certain of a place in the last four.

The crunch clash in this Pool Wednesday is that between Kovsies and Madibaz at 9am at UKZN. Both are on three log points with the exact same goal difference, which essentially makes this fixture a quarter-final.

A further 29 university teams are doing battles in the men's and women's B and C Sections at the AB Jackson, Maritzburg College and Epworth.

Thursday's semi-finals – all at UKZN Greenfields Turf off Golf Road in Scottsville - feature the men at 12.40pm and 4.20pm with the women's last four clashes at 2.30pm and 6.10pm.

The A Section women's final is at 4.20pm Friday at UKZN with the men's final at 6.10pm.

A SECTION RESULTS
Men: Ikeys 2 Madibaz 1; Maties 2 UJ 0; Kovsies 3 Wits 1; Tuks 5 UKZN 0
Women: UJ 13 Varsity College 1; Pukke 2 Madibaz 1; Kovsies 3 Ikeys 1; Maties 3 Tuks 1
WEDNESDAY FIXTURES
Men – at UKZN: UJ vs Tuks (10.40am); Madibaz vs Wits (12.20pm);  Kovsies vs Ikeys (2pm); UKZN vs Maties (5.20pm)
Women - at UKZN: Kovsies vs Madibaz (9am); Pukke vs Ikeys (3.40pm)
Women – at AB Jackson: Maties vs Varsity College (10am); UJ vs Tuks (11.30am)

Fieldhockey.com


---

USA Field Hockey Partners with Positive Coaching Alliance

Courtesy of Positive Coaching Alliance

COLORADO SPRINGS, Colo. -  USA Field Hockey has become Positive Coaching Alliance's (PCA) latest National Partner, paving the way for PCA to impact many of the national governing body's 26,000 plus members.

The partnership entails PCA presenting a Double-Goal Coach® workshop at the USA Field Hockey convention and Triple-Impact Competition ® workshops for the organization's Junior National Teams. PCA and USA Field Hockey will collaborate on creating content for PCADevZone.org – PCA's website of free resources for youth and high school sports coaches, parents, administrators and student-athletes – and will cross-promote on each other's social media channels. PCA also will deliver e-newsletters and other educational resources to the USA Field Hockey members, contribute educational content to USA Field Hockey's newsletters, and provide discounted pricing on live workshops for USA Field Hockey member clubs.

"We are thrilled to be working with Positive Coaching Alliance as we look to offer more educational resources to our membership," said Kyle Boyer, USA Field Hockey National Development Director. "The way PCA's work with coaches, parents and payers through workshops and online courses has benefited a number of sports' cultures has helped create more positive experiences for youth, keeping them 'in the game'. Continuing to grow field hockey, we are focused on education for all constituents involved, and this partnership is another step in that direction."

Added PCA National Director of Business Development Jason Sacks: "We look forward to helping USA Field Hockey deliver a positive, character-building youth sports experience. The sport is in our DNA, as our Chief Impact Officer, Tina Syer, was an Academic All-America for the Stanford University field hockey team and an Olympic Development Program coach. We are grateful to USA Field Hockey for the opportunity to reach and impact the communities they serve."

USFHA media release