All the news for Monday 8 June 2015

The top eight teams are confirmed in Buenos Aires




Spain, Korea and Japan join the Netherlands, New Zealand, Germany, Argentina and Canada in the quarter-finals at the Argentina Hockey World League Semi-Final in Buenos Aires.

Argentina are back on top of pool B. The Leones defeated the Olympic champions Germany in an entertaining match with 4-3 thanks to a late goal from FIH rising star Gonzalo Peillat. Spain beat Austria 4-1 to secure a top four position in the pool. Earlier, Nick Haig's last-minute goal had secured his Blacksticks a 1-1 draw against the pool A leaders from the Netherlands with Egypt missing out on the knock-stage after a 7-3 loss to Korea.

Match 13: Egypt v Korea 2-7 (2-2)

Egypt, who lost their first three matches in Buenos Aires, were fighting hard to avoid another defeat but their effort has not paid off. The Egyptians kept the match open for quite some time, but Korea eventually sealed the 7-2 victory in the last quarter.

Captain Amr Elhady opened the scoring on 8 minutes but the advantage was short-lived. Korea recovered quickly and equalised in the same minute through a penalty corner goal from Nam Hyunwoo before turning the score around with a beautiful field goal from Jang Jonghyun (13'). Egypt struck back through Mohamed Essam (26') before halftime to level the contest at 2-2 at the break.

Hamad Atef (34') put Egypt ahead 3-2 but Korea responded 10 minutes later when Nam (44') scored from a penalty stroke. However, the Koreans saved their best performance for the last quarter, adding more goals through Lee Namyong (46'), Lee Jung Jun (50'), Kang Moonkyu (57') and You Hyosik (58') - the 7-3 win demonstrating their superiority.

Match 14: New Zealand v Netherlands 1-1 (0-1)

Nick Haig's last-minute strike secured New Zealand a thrilling 1-1 against the Netherlands. As the match finished tied, both teams remain unbeaten at the Argentina Hockey Champions Trophy in Buenos Aires with the Dutchmen leading the pool because of the better goal difference.

The first half of action in Buenos Aires didn't see many scoring opportunities for either side. However, the current Olympic and World Cup Silver medallists were first on the scoreboard when Jeroen Hertberger (21') netted following a beautiful pass from Robbert Kemperman.

New Zealand worked hard to come back and the effort paid off when they won their first penalty corner with two minutes remaining. Nick Haig (60') took responsibility and scored. The Black Sticks were close to adding another goal but a second penalty corner taken by Nick Hayward went wide. 

Match 15: Austria v Spain 1-4 (1-3)

Spain have qualified for the quarter-finals of the Argentina Hockey World League in Buenos Aires after beating Austria 4-1 in a key encounter. The world's number 22 finished bottom of pool B having lost all four matches. Austria will now play off in Thursday's 9th/10th classification match against Egypt.

The match started with high intensity and both teams enjoying possession. Spain won an early penalty corner which was superbly converted by Pau Quemada (6') after the ball was deflected from the post. Andres Mir (17') doubled the lead at the beginning of the second quarter before the Austrians pulled one back through a penalty corner goal from Dominic Uher (26').

Xavi Lleonart (29') added another penalty corner goal just before halftime to secure a convincing 3-1 lead at the break. In the third quarter Quemada (43') increased the Red Stick's lead to 4-1. Austria fought hard in the last quarter but could not bridge the gap.

Match 16: Argentina v Germany 4-3 (2-2)

Argentina maintained their unbeaten streak on home soil at the Argentina Hockey World League Semi-Final in Buenos Aires. The Leones defeated the Olympic champions Germany in an entertaining match with 4-3 thanks to a late goal from FIH rising star Gonzalo Peillat. Argentina are now back on top of pool B.

The Leones were on fire in the first quarter scoring on 8 and 13 minutes. Pedro Ibarra put Argentina ahead with a penalty corner goal before Juan Gilardi doubled the lead with a penalty stroke goal. The Olympic champions leveled the score to 2-2 before halftime thanks to goals from Florian Fuchs (21') and Christopher Zeller (24'). Zeller received a superb flick from Martin Häner and started a solo run to score a beautiful equaliser.

Play got hectic towards the end with both sides looking for the winner in the sold-out CeNARD stadium. Peillat put his Leones ahead 3-2 when he converted a penalty corner on 53 minutes. However, it took Germany just one minute to strike back through a penalty corner goal from Tobias Hauke (54'). The game-winning goal arrived with two minutes remaining. Argentina won another penalty corner which was fired home by Peillat to secure the 4-3 win.

@FIH_Hockey
#HWL2015 #RoadToRio

FIH site


---

The Top Four are confirmed in Pool A




Korea and Japan join the Netherlands and New Zealand in the quarter-finals at the Argentina Hockey World League Semi-Final in Buenos Aires. Nick Haig's last-minute goal secured his Blacksticks a 1-1 draw against the pool B leaders from the Netherlands.

Earlier, Egypt had missed out on the knock-stage after a 7-3 loss to Korea. The world's number 20 finished bottom of pool A and will now play off in Thursday's 9th/10th classification match.

Match 13: Egypt v Korea 2-7 (2-2)

Egypt, who lost their first three matches in Buenos Aires, were fighting hard to avoid another defeat but their effort has not paid off. The Egyptians kept the match open for quite some time, but Korea eventually sealed the 7-2 victory in the last quarter.

Captain Amr Elhady opened the scoring on 8 minutes but the advantage was short-lived. Korea recovered quickly and equalised in the same minute through a penalty corner goal from Nam Hyunwoo. Korea then turned the score around with a beautiful field goal from Jang Jonghyun (13').

Egypt struck back through Mohamed Essam (26') before halftime to level the contest at 2-2 at the break. Hamad Atef (34') put Egypt ahead 3-2 but Korea responded 10 minutes later when Nam (44') scored from a penalty stroke to level the score to 3-3.

However, the Koreans saved their best performance for the last quarter, adding more goals through Lee Namyong (46'), Lee Jung Jun (50'), Kang Moonkyu (57') and You Hyosik (58') - the 7-3 win demonstrating their superiority.

Thoughts on the match

Mostafa Mansour (EGY)

"We have improved throughout this tournament. We are coming from World League 2 and qualified for the Semi-Finals after beating South Africa. Here in Buenos Aires, we are playing the best teams in the world and we can learn a lot from it. We have played our best match against the Netherlands so far. Missing out on the quarter-finals is ok for us, now we want to finish 9th."

Nam Hyunwoo (KOR)

"The last quarter is always our best, we got warmed up then. But this is something we need to work on. It is our goal to finish second in the pool."

Match 14: New Zealand v Netherlands 1-1 (0-1)

Nick Haig's last-minute strike secured New Zealand a thrilling 1-1 against the Netherlands. As the match finished tied, both teams remain unbeaten at the Argentina Hockey Champions Trophy in Buenos Aires with the Dutchmen leading the pool because of the better goal difference.

The last time both teams met was in the pool stage of the Rabobank Hockey World Cup in 2014 when the match also finished tied at 1-1.

The first half of action in Buenos Aires didn't see many scoring opportunities for either side. However, the current Olympic and World Cup Silver medallists were first on the scoreboard when Jeroen Hertberger (21') netted following a beautiful pass from Robbert Kemperman.

New Zealand worked hard to come back and the effort paid off when they won their first penalty corner with two minutes remaining. Nick Haig (60') took responsibility and scored. The Black Sticks were close to adding another goal but a second penalty corner taken by Nick Hayward went wide.

Thoughts on the match

Nick Haig (NZL)

"The first half was a bit disappointing because we missed some opportunities up front. We built pressure in the second half and finally scored this goal. The last penalty corner was very well saved by the Dutch. It's unfortunate that we didn't score more than one goal but in the end we are happy with the draw."

Jereon Hertzberger (NED)

"At least this was a draw. To be honest, we wouldn't have deserved a win at all. We didn't play well, New Zealand's goal was a matter of time. We need to find a way to improve because this is not the way we will qualify here. It is a bit disappointing but nothing is lost. It's better to have this game now than in the quarter-finals."

FIH site


---

Los Leones are back on top of pool B – Spain grab their first win




Argentina maintained their unbeaten streak on home soil at the Argentina Hockey World League Semi-Final in Buenos Aires.

Argentina maintained their unbeaten streak on home soil at the Argentina Hockey World League Semi-Final in Buenos Aires. The Leones defeated the Olympic champions Germany in an entertaining match with 4-3 thanks to a late goal from FIH rising star Gonzalo Peillat. Argentina are now back on top of pool B.

Earlier, Spain have qualified for the quarter-finals of the Argentina Hockey World League in Buenos Aires after beating Austria 4-1 in a key encounter. The world's number 22 finished bottom of pool B having lost all four matches. Austria will now play off in Thursday's 9th/10th classification match against Egypt.

Match 15: Austria v Spain 1-4 (1-3)

This game was a key encounter towards the quarter-final qualification as both teams were still waiting for their first points in this competition. The match started with high intensity and both teams enjoying possession. Spain won an early penalty corner which was superbly converted by Pau Quemada (6') after the ball was deflected from the post. 

Andres Mir (17') doubled the lead at the beginning of the second quarter before the Austrians pulled one back through a penalty corner goal from Dominic Uher (26'). This was the first goal in this competition for the world's number 22.

Xavi Lleonart (29') added another penalty corner goal just before halftime to secure a convincing 3-1 lead at the break.
In the third quarter Quemada (43') increased the Red Stick's lead to 4-1. Austria fought hard in the last quarter but could not bridge the gap.

Thoughts on the match

Dominic Uher (AUT)
"It was not our plan to lose all match. The match against Spain was a final for us. It wasn't good that Spain scored early. We managed back to get in the game but as soon as we scored Spain struck back. We won't give up and of course we want to beat Egypt in the 9th place playoff."

Xavi Lleonart (ESP)
"Well, this win was very important because it brought us into the quarter-finals. In two days we play Argentina and it is our goal to put ourselves in the best position possible in pool B." 

Match 16: Argentina v Germany 4-3 (2-2)

The Leones were on fire in the first quarter scoring on 8 and 13 minutes. Pedro Ibarra put Argentina ahead with a penalty corner goal before Juan Gilardi doubled the lead with a penalty stroke goal.

The stroke was awarded after the ball had hit Moritz Fürste at the facemask when he was defending a penalty corner. Luckily, the German star recovered quickly and was able to return to the field a few minutes later.

The Olympic champions leveled the score to 2-2 before halftime thanks to goals from Florian Fuchs (21') and Christopher Zeller (24'). Zeller received a superb flick from Martin Häner and started a solo run to score a beautiful equaliser.

Play got hectic towards the end with both sides looking for the winner in the sold-out CeNARD stadium. Peillat put his Leones ahead 3-2 when he converted a penalty corner on 53 minutes. However, it took Germany just one minute to strike back through a penalty corner goal from Tobias Hauke (54').

The game-winning goal arrived with two minutes remaining. Argentina won another penalty corner which was fired home by Peillat to secure the 4-3 win.

Thoughts on the match

Manuel Vivaldi (ARG)
"We pressed really hard today and scored which is good. Germany are one of the best teams in the world. We need to keep our feet one the ground although we have beaten them today."

Moritz Fürste (GER)
"I'm well, the mask protected me. The loss today is a good wake-up call, we are unhappy with the way we played. We learnt a lot for our match against Canada."

FIH site


---

Black Sticks Men draw Dutch nail-biter



Nick Haig celebrates with Shea McAleese and Andy Hayward after scoring the equaliser. Credit: Hernán Pablo Barrios

The Black Sticks Men have drawn 1-1 with World No.2 The Netherlands after an outstanding second half performance at the FIH World League Semi-Final in Buenos Aires.

A last minute penalty corner goal from Nick Haig was a deserving reward for the Black Sticks who had completely dominated the Dutch in the second half.

Speaking after the game, Haig believes there is room for improvement ahead of their next game against Korea (9am, Wednesday, NZ time) but was thrilled to have scored the equaliser today.

"It was nice to get the opportunity to tie it up, it's a pretty cool feeling. I think we deserved that goal, it was a real team effort in the second half," said Haig, aged 28, from Canterbury.

"It was definitely our best performance so far, better than our Egypt and Japan game. We don't fear the Dutch, we were hoping we could have the win but we are happy with the draw."

"We have had players playing over in Holland for a number of years – we know the players well and their style – we are physical and athletic and we know we can match them. The message from Colin [Batch] at half time was to keep our share of possession and be more clinical on attack."

In the first quarter, the Dutch held the majority of possession and goalkeeper Devon Manchester made some great saves to keep the Black Sticks in the game.

In the 20th minute, the tournament's top ranked side broke the deadlock when Jeroen Hertzberger received a superb pass and with space in the circle, he hit it on the angle passed a diving Manchester and into the bottom corner of the goal.

After the half time break, the Black Sticks stepped up the intensity, pressing high and putting the Dutch defence under real pressure. Throughout the third quarter the Black Sticks had more circle penetrations than the Dutch but just couldn't find the connections in the circle to knock it home.

New Zealand continued their momentum in the final quarter, they had two thirds of possession and persistently mounted attack after attack to try to find the equaliser.

As the clock counted down, New Zealand desperately tried to find an opening and it came with 50 seconds remaining when they were awarded a penalty corner and under pressure, Haig flicked it to the back of the net.

With just seconds left to play, the Black Sticks called for a video referral which was upheld and they were awarded a second penalty corner. This was their opportunity to win the game and take another three points, but this time an Andy Hayward drag flick was well saved and the game ended in a draw.

Today's result now mean New Zealand and the Dutch sit at the top of their pool on seven points, followed by Korea on six points, Japan on three points and Egypt on nil. The Black Sticks will face Korea in their final pool game at 9am on Wednesday (NZ time) before progressing to a must win quarter-final game on Friday 12 June.

The top three finishers from the tournament automatically qualify for the 2016 Rio Olympics, with the top four progressing to the World League Final in India (28 Nov – 6 Dec, 2015).

All games are LIVE and replayed on SKY Sport

RESULTS
Full time: 1-1
Half time: 0-1 (Dutch lead)
Black Sticks goal scorers: Nick Haig
Dutch goal scorers: Jeroen Hertzberger

Hockey New Zealand Media release


---

Black Sticks book quarter-final spot

By David Leggat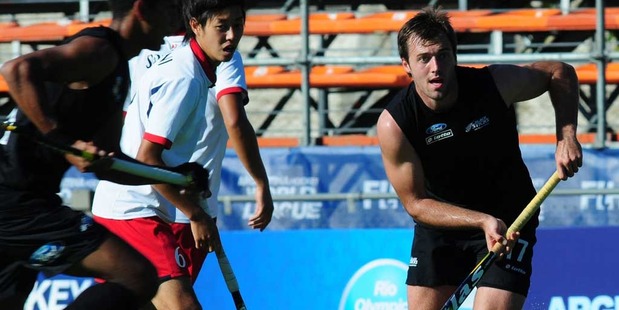 New Zealand are through to the next round in Buenos Aires. Photo / Hernán Pablo Barrios.

New Zealand produced a rousing, committed second half display to earn a 1-1 draw with the Netherlands at the world league semifinal tournament in Buenos Aires today.

The world No 2 Dutch had the lead by halftime and were worth it, but the Black Sticks scrapped hard, had the better attacking statistics in the second spell and got their reward with 45 seconds left through a penalty corner shot from Nick Haig.

It keeps New Zealand unbeaten at the tournament, which offers three Olympic qualifying spots for Rio next year, after wins over Egypt and Japan.

They are level on top of pool A on seven points with the Dutch with their final pool game against Korea to come.

The Dutch showed sharp attacking skills in the first half but New Zealand's defence worked hard to keep them in check. Hugo Inglis and Stephen Jenness both had difficult chances, Inglis unable to reach a Blair Tarrant cross with the goal begging.

The Dutch went ahead early in the second quarter when Rob Kamperman's through ball eluded final defender Blair Tarrant, and Jeroen Hertzberger went around goalkeeper Devon Manchester to expertly score with a reverse shot.

New Zealand stepped up in the second spell, had more circle penetrations and shots on goal than the Dutch, who seemed to lose their rhythm.

Hilton was unsighted when the impressive Arun Panchia's drive across from the right eluded two defenders, and could not react in time to a fine chance.

It was a game of no penalty corners until right at the death when Tarrant won a chance with an incisive run along the goal line from the left.

Haig stepped up and drilled the ball low and hard past goalkeeper Pirmin Blaak's right hand.

There was even a late opportunity for the Black Sticks to win the match when they were awarded a contentious second penalty corner with 10s left. However Andy Hayward's drive was deflected high over the goal.

"I think we got what we deserved, considering all the effort the boys put in in the second half," Haig said after the match.

"We were a little disappointing in the first half, we weren't so clinical up front but we put a lot of pressure on in the second half and created good attacking opportunities."
Hertzberger acknowledged the result was a fair one.

"New Zealand is a good team and showed that today. They kept on going and if we are honest they deserved it. But it's very disappointing for us."

The New Zealand Herald


---

Black Sticks strike late to earn vital draw with Netherlands in the FIH World League

A dramatic last minute goal has earned the New Zealand Black Sticks men's hockey team a 1-1 draw against the Netherlands in the semifinal leg of the FIH World League.

Nick Haig blasted a penalty corner home to complete a dominant second half and share the competition points against the world No 2 team in Buenos Aires, Argentina.

After encouraging wins against Egypt and Japan at this crucial tournament, New Zealand lifted their performance levels against the Dutch.

They now share the lead at the top of their pool with the Netherlands on seven points, followed by Korea on six.

The Black Sticks face Korea in their final pool game at 9am on Wednesday (NZ time) before progressing to a must win quarterfinal game on Friday.

The stakes are high with the top three finishers from the tournament automatically qualifying for the 2016 Rio Olympics, with the top four progressing to the World League Final in India in November.

Haig believes there is room for improvement ahead of their game against Korea, but was thrilled to have scored the equaliser against the Dutch.

"It was nice to get the opportunity to tie it up, it's a pretty cool feeling. I think we deserved that goal, it was a real team effort in the second half," the 28-year-old from Canterbury said.

"It was definitely our best performance so far, better than our Egypt and Japan game. We don't fear the Dutch, we were hoping we could have the win but we are happy with the draw.

"We have had players playing over in Holland for a number of years – we know the players well and their style. We are physical and athletic and we know we can match them. The message from Colin [Batch] at half time was to keep our share of possession and be more clinical on attack."

In the first quarter, the Dutch held the majority of possession and goalkeeper Devon Manchester made some great saves to keep the Black Sticks in the game.

In the 20th minute, the tournament's top-ranked side broke the deadlock when Jeroen Hertzberger received a superb pass and with space in the circle he hit it on the angle passed a diving Manchester and into the bottom corner of the goal.

The Black Sticks stepped up the intensity in the third quarter, pressing high and putting the Dutch defence under real pressure.

New Zealand continued their momentum in the final quarter. They had two thirds of possession and persistently mounted attacks to try to find the equaliser.

The chance finally came with 50 seconds remaining when they were awarded a penalty corner and under pressure, Haig flicked it to the back of the net.

With just seconds left to play, the Black Sticks called for a video referral which was upheld and they were awarded a second penalty corner. But Andy Hayward's drag flick was well saved and the game ended in a draw.

Stuff


---

Quemada inspires Spain to WL3 quarter-finals



Picture: Frank Uijlenbroek/FIH

Spain broke their tournament duck to snatch a quarter-final place at the World League semi-final this evening at the expense of Austria who miss out on advancing.

They won 4-1 to bounce back from a pair of initial lossesl, falling to Canada and Germany in their opening games. Pau Quemada's drag-flick and an Andres Mir deflected effort gave Spain a 2-0 lead against the Austrians before Dominic Uher got one back.

Xavi Lleonart, though, made it 3-1 at half-time with a clever rebound before Quemada thumped home the winner.

It meant they completed the list of quarter-final qualifiers and will be in next Thursday's knock-out line-up with Canada, Argentina and Germany from Pool B.

From Pool A, Egypt were eliminated as they lost 7-3 to Korea despite having led 3-2 at one stage. The Netherlands were caught at the death by New Zealand, losing their 100pc record with a 1-1 draw.

Jeroen Hertzberger's excellent finish from a narrow angle – following an amazing long pass from Robbert Kemperman – had given the Dutch the lead but Nick Haig capped a fine second half performance from the Blacksticks for the tie.

They are both into the quarter-finals along with Japan.

Euro Hockey League media release


---

HWL Semi-Finals in Valencia. Meet the teams battling it out



Helen Richardson-Walsh returns for Great Britain

Just 48 hours until the first of the Women's Semi-Finals get underway. Who will get off to a flying start?

The first of the Women's Hockey World League Semi-Finals is just 48 hours away from bursting into life in Valencia, so here we meet the teams who will be contesting Pool A.

The importance of these Semi-Final events is unquestionable. The top three teams are guaranteed places at both the showcase end-of-year Hockey World League Final and the 2016 Rio Olympics. And, depending upon results in both Semi-Final events – Valencia and Antwerp – the fourth-placed teams may also have a strong chance of qualifying for one or both of these prestigious events.

Pool A contains some teams that know each other very well through recent competitions. With a FIH world ranking of three, Argentina is the top-seed in Valencia, and the team that has dominated the world hockey stage for more than a decade will be hoping to make its mark in Valencia.

Winners of five of the past six Champions Trophies; silver medallists in London 2012 and bronze medallists at the 2014 World Cup, Las Leones will be seeking to continue their role as one of the powerhouses of international hockey. Elder stateswomen of the side Delfina Merino, Carla Rebecchi and drag-flicking defender Noel Barrionuevo will be certain to dominate the stage, while young players such as FIH Rising Star 2014, Florencia Habif will be hoping to step into the shoes of recently-retired superstar Luciana Aymar as the new face of Las Leonas.

China come into the tournament with a world ranking of seven and a few points to prove. The team will have been disappointed to not already have sealed its place at Rio 2016, losing out in the Asian Games to Korea.

The past few years has been a time of transition for the Chinese team, following its silver medal win at the Beijing 2008 Olympic Games. While Xu Xiaoxu and Ma Wei bring experience to the side, most of the team is under 23, but the signs are there that the China team is beginning to gel and results must start to follow. Wang Mengyu is one of the new generation of China players who can lift this team from mid-table finishes to contesting the podium places – she is a solid defender who also has an eye for the goal at penalty corners.

If China is out to prove a point, so is the team lying one ranking point behind them. Eighth in the world is not where Great Britain want to be, and this event will see the team, led by Kate Richardson-Walsh, move towards qualifying for the Olympics and the HWL Final, as well as climbing back up the rankings.

Richardson-Walsh is joined by fellow veteran of the team Helen Richardson-Walsh – who is back from a long-term injury – and with players such as the mercurial Alex Danson, midfield Dynamo Georgie Twigg and rising star Lily Owsley all on sharp form, Great Britain will want to make their mark on this tournament.

The fourth team in Pool A is host nation and 15th-ranked team Spain. The team's glory days were in the 1990s when it brought home gold in the Barcelona Olympics. Even rival coaches are saying that Spain is currently performing well above its ranking, and the team is seen as a big threat in Valencia.

The Redsticks are currently coached by Adrian Lock, and while the Englishman says he is targeting Tokyo 2020 with this young team, there is enough talent in the squad for a trip to Argentina for the Hockey World League Final in December and a place at Rio 2016 to be very much on the cards.

Key players for the team will be midfielder Georgina Oliva and team captain Rocio Ybarra.

Canada makes up the Pool A quintet, but anyone who thinks the team ranked 20 in the world is here to make up the numbers, must think again. The team qualified via the Hockey World League Round Two event, disposing of higher-ranked teams on the way.

The North Americans finished second to Ireland, just losing out in the shoot-out, but the experience and confidence gained during that event will have lifted the Canada team's expectations. Thea Culley, the 29-year-old striker and goalkeeper Kaitlyn Williams will be two players who could make a big impact upon this tournament, and even upset the world order.

The opening matches in Pool A on Wednesday 10 June, see China take on Canada and Great Britain face Spain, while Argentina opens its account against Canada on Thursday 11 June.

@FIH_Hockey
#HWL2015 #RoadToRio

FIH site


---

King to add spark at World League Semi-Final




Auckland midfielder Julia King is excited about the opportunity to come back into the Black Sticks Women's side for the upcoming World League Semi-Final in Belgium.

The 22-year-old is part of a strong New Zealand squad targeting a top three finish at the tournament, which runs from 20 June - 5 July, which would guarantee an automatic berth at the 2016 Rio Olympic Games.

King has played 77 tests for New Zealand as is fresh from a successful season with English club team Surbiton, winning the Investec Women's Hockey League and coming away with the Most Valuable Player award in the final.

"It was a great experience for me over there with exposure to a very different environment and playing with and against other players," she said.

"I'm really exciting about getting over to World League with the girls, it's a very important tournament for us and we're confident we can do well."

New Zealand is joined in Pool B at the tournament by Australia, Belgium, India and Poland while Pool A consists of Netherlands, Korea, Japan, Italy and Azerbaijan.

The World League format sees New Zealand play four pool games ahead of a crucial sudden-death quarter final against a Pool A opponent.

The Black Sticks play two warm-up tests against Netherlands before going up against relative unknowns Poland at 8:00pm on Saturday 20 June (NZ time), with coverage live on SKY Sport.

Hockey New Zealand Media release


---

Ramandeep: Coach Paul is a futuristic person

s2h team

As Indian men's hockey team get ready to depart for FIH World Hockey League Semifinals in Belgium, midfield mainstay Ramandeep Singh feels the new coach Paul Van Ass has created a positive and competitive scenario in the squad. Which Resulted with players been on their toes and not taking their place for granted. The Indian side is about to face France in their WSL semis opener on 20th of June.

Ramandeep who has been regular Indian team from past two years has all the praise for the new India coach Paul Van Ass.

"Paul is working on the team keeping the all important RIO Olympics. He is using the immediate tournaments to understand and work on the team accordingly in the next one year. He is very futuristic in his approach and this is creating a very positive and competitive scenario within all of us" Ramandeep Said.

With the team eyeing for a podium finish at the 2016 RIO Olympics, is taking every tournament from here as a learning ground to understand itself as a team and how do they deliver under pressure.

Ramandeep feels the Indian side had a decent outing in last few tournaments. As they bagged bronze, defeating giants Australia by a big margin in the Azlan Shah Cup. While they won the home series against Japanese side 3-0. Which has grown new positivity in the squad.

"I am witnessing a new energy in the team in the recent past. We now look at challenges in a different manner, challenges we feel we can overcome easily. This I will credit to our recent performance plus the new skills we are inculcating in our game. These days we are working on our finishing once we enter the opponents D. The aim is to put the ball across the goal line and for which we are working on many variations between ourselves. The idea is, we should react immediately without wasting time". he added.

Stick2Hockey.com


---

World Hockey League squad to be named Monday

By S. Ramaguru



Malaysia's two most experienced goalkeepers S. Kumar (right) and Roslan Jamaluddin at the World Cup in Holland last year. - Filepic

KUALA LUMPUR: Monday is the day the Malaysian Hockey Confederation (MHC) will unveil their final 18 players for the World Hockey League Semi-Finals in Belgium from June 20-July 5.

There are 25 players in the training squad, but three are unlikely to make the final squad. Injured Mohamed Ramadan Rosli and Mohamed Hafiz Zainol are expected to be dropped with third choice goalkeeper Mohamed Hafizuddin Othman. The remaining two experienced keepers, S. Kumar and Roslan Jamaluddin, should get the nod.

National coach Tai Beng Hai has to drop only four players, but he admitted that it would be a tough decision.

"We can only take 18 players. Ramadan and Hafiz are still not 100% fit. So, I don't think they will feature in the final selection. We have three goalkeepers and naturally one will be dropped. The other 22 players are all very much in the running to make the final squad," said Beng Hai.

Forward Faizal Saari, who has had a troubled time over the past few months, is likely to get the nod. His attitude has improved and he is also a lot fitter now.

And there is a good chance that three youngsters from the Project 2016 team will make the cut. They are Meor Mohamed Azuan, Mohamed Haziq Shamsul and Mohamed Sharil Saabah.

Malaysia will leave for Europe on June 14 to play in three friendlies as part of their run-up to the tournament.

They will go to Holland for two matches against the Dutch Under-21 side. They will also play the Brazil team who are based in Holland.

"We are not playing the top sides. These friendlies are to prepare the players to the playing and weather conditions in Europe," said Beng Hai.

Malaysia are in Group B with host Belgium, Britain, Ireland and China. Group A comprises Australia, India, Pakistan, Poland and France.

Only the top three teams will qualify for the next year's Rio de Janeiro Olympics.

Malaysia last competed in the Olympics in 2000 in Sydney.

The Star of Malaysia


---

Malaysian women whip Thailand 4-0 for second consecutive victory

SINGAPORE: The national women's hockey squad had no problem outplaying Thailand 4-0 in the preliminary round of the 28th SEA Games hockey competition at the Sengkuang Hockey Stadium, here, today.

The squad under coach Mohammed Nasihin Nubli Ibrahim however, faced stiff competition from Thailand early in the match before Noor Hasliza Md Ali scored a field goal in the 32nd minute. Three minutes later, Wan Norfaeizah Md Saiuti added the second goal through another field goal to take a 2-0 first half lead.

In the second half, Rabiatul Adawiyah Mohamed scored a brace in the 38th and 40th minutes through penalty corner strikes.

The national squad who beat Singapore 7-0 in their opening match yesterday, will complete their preliminary round fixtures against Indonesia on Tuesday.

Nasihin said his team needed to improve their tactical skills and increase confidence in their matches. "Today's match was find but there are weakness in terms of tactics. We will play against Indonesia and need to win although some of the key players need to be rested," he said.

Raja Norsharina Raja Shabuddin and Norbaini Hashim are not expected to be fielded against Indonesia.

New Straits Times


---

Ireland 2-3 Belgium (Men)




Ireland played the final match of their warm up series against Belgium on Sunday afternoon, ideal preparation against top class opposition as World League 3 in Antwerp approaches.

Similar to the first test on Saturday, the Belgians got off to the ideal start and won a PC in the opening 4 minutes. The sweep was saved by Harte and the Irish defence dealt with the rebound, clearing the danger. Harte was called into action 3 minutes later and drawn from his goal by Florent van Aubel who scored the games opening goal. 1-0 Belgium. The first quarter remained at 1-0 after another PC effort by the Belgians was stopped on the line.

The Green Machine won their first PC in the opening minutes of the 2nd quarter and it was yesterday's goal scorer, Shane O'Donoghue, who again converted for Ireland and drew the sides level at 1-1. There were few chances for either side throughout the rest of the quarter but 2 minutes till half time saw Belgium win their 3rd PC and Felix Denayer gave the home team the lead. 2-1 to Belgium.

Ireland got off to a great start in the second half when Shane O'Donoghue again stepped up to convert another PC. 2-2. The tempo of the game didn't let up and 5 minutes later Amaury Keusters swept a reverse stick shot into goal to give Belgium the lead once more. 3-2. With 2 minutes left in the 3rd quarter the Belgians won their 4th PC but the Irish defense was quick off their line to deflect the shot away from goal. The final action of the quarter saw Belgium win another PC. Boon's drag flick was expertly stopped by Harte to keep the score at 3-2 to Belgium.

Ireland's Michael Watt earned a yellow card in the 51st minute and Belgium immediately looked to use their numbers advantage. They won their 6th PC but Cosyns Tanguy's effort was superbly saved, keeping the score at 3-2 to Belgium. The game came to a close with a chance a piece for either side but neither were converted. Final score 3-2 to Belgium.

Ireland open their WL3 campaign against Great Britain in Antwerp on June 23rd. The senior women's squad begin their WL3 campaign this coming Wednesday, June 10th, against South Africa.

BELGIUM 3 (van Aubel, Denayer, Keusters)
IRELAND 2 (O'Donoghue)

IRELAND: D. Harte (capt) , P, Gleghorne, R. Gormley, C. Harte, K. Shimmins, S O Donoghue, M Darling, M Watt, E Magee, M Robson, J Bruton,

Rolling subs: J. Bell,A. Sothern, S Dowds, P Caruth, D Carlisle, D Fitzgerald(GK), K Good.

Did not play J Jackson, C Cargo

Irish Hockey Association media release


---

Scotland U21 Women experience narrow loss against Wales



Scotland's Heather Lang gets on the scoresheet for the home side. Photo Credit: Duncan Gray

A Scotland Development / U21 Women squad were unfortunate to lose by a single goal in a 2-1 loss against Wales at the Glasgow National Hockey Centre today.

The Scots took a second half lead courtesy of Heather Lang's strike but the visitors hit back with goals from Leah Wilkinson and Phoebe Richards.

The home side started strongly after a surging run from Emma McGregor led to a penalty corner but the Welsh defence were quick to seize on the subsequent set-play blocking the resulting attempt on goal.

Two minutes later, Wales were awarded their first penalty corner opportunity but Scotland goalkeeper Jayne McLaughlin denied Jo Westwood's low drive with a strong save low to her right.

Welsh striker Phoebe Richards was afforded space to get a shot in on goal in the 12th minute, but her attempt skewed wide of the right hand post.

Towards the end of the first quarter another Scottish penalty corner opportunity led to Fiona Bruce dispatching a powerful shot on target but Rose Thomas in the Wales' goal thwarted the attempt with a good block.



Heather Howie makes in-roads into the Welsh defence during today's international. Photo Credit: Duncan Gray

Richards was again threatening the home defence with strong advance into the circle early in the second quarter, but McLaughlin remained resilient in her defensive duties to deny the subsequent shot reaching the back of the net.

Shortly before half-time, excellent wing-play from Jessica Ross led to her cross finding Waverley Miller unmarked in the circle, but alas for the Scots, her attempt fizzed wide of the post and the two sides still level at 0-0.

Nevertheless, the deadlock was finally broken in the minute before half-time, Heather Lang collecting the ball on the left of the circle and delivering a composed reverse stick shot past Thomas to give Scotland a 1-0 lead.

The away side responded strongly after the interval, winning a penalty corner in the 32nd minute. However, Westwood's shot was easily mopped up by the Scottish defence.

Claire Hill almost doubled her side's lead two minutes later, her shot cannoning off the corner of the post and crossbar to the frustration of the Scots.

With back luck still fresh in Scottish minds, Wales delivered a sucker-punch in the 37th minute when Westwood's penalty corner was neatly deflected by Leah Wilkinson past McLaughlin to put the Welsh back on level terms.

Scotland were awarded a penalty corner late in the third quarter but Bruce's effort was deflected over the bar much to the relief of the Wales' defence, before Kat Budd brought the best out of McLaughlin again with a fine save to deny a penalty corner effort.



Leah Wilkinson puts Wales back on level terms. Photo Credit: Duncan Gray

McLaughlin rose to the occasion once again in the 51st minute, again frustrating Westwood at a short corner set-piece but the Western Wildcats 'keeper could do nothing to stop Richards claiming the winning goal three minutes from full-time, finishing unchallenged at the back post to give Wales a 2-1 win.

Scottish Hockey Union media release


---

Scotland U16 squads produce the goods against Wales

Scotland's U16 youth internationals can be pleased with their weekend's work after both Boys and Girls squads recorded impressive results against their Welsh counterparts in Wrexham.

Scotland U16 Boys eased to a 3-1 victory against Wales in Saturday's contest. Ewen Mackie gave the Scots the lead from a deflection at a penalty corner and Cameron Golden doubled his side's lead with an excellent goal from open play after picking the ball up in his own half.

Despite Wales pulling one back, Struan Walker made sure of the win six minutes from time with a powerful drive low to the left of the goal.

In the second match today, the Scots produced a fantastic performance to record a 6-0 win, with Cameron Golden scoring five goals in a fantastic display and one from David Nairn.

Scotland U16 Girls ran out 2-1 winners yesterday afternoon with Maddie Cleat and Lexi Sabatelli netting for the Scots in a narrow success.

Sabatelli was again on target in today's match, grabbing a double in a 5-0 win. Two goals from Hanna McKie and one from Lorna McKenzie sealed a comprehensive result.

Scottish Hockey Union media release


---

City Police defeat Eagle to enter VHA Senior Division League final

Suhas Nayse

NAGPUR: Amit Yesur scored two quick goals as City Police defeated Eagle Sporting Club 3-1 to set up the summit clash with Dhyanchand Academy in the Baidyanath Senior Division Hockey League at the VHA ground on Sunday.

The exciting semifinal clash witnessed a defensive approach from both the teams as all the four goals were scored in the last period. The policemen, after taking time to settle into their groove, started aggressively in the last period. Their attacking play paid dividends in the fourth minute of the final quarter. Making most of a goal mouth melee, Yesur drew the first blood for the cops in the 49th minute. Four minutes later, Yesur was again in the thick of things and doubled the lead for City Police. In the 55th minute, in-form striker Rahul Kalambe sounded the board utilizing a penalty corner to stretch the lead further to 3-0.

For Eagle Sporting Club, a consolation goal came from the stick of Mohit Kathothe in the 58th minute as the policemen defended their citadel well to register a comfortable 3-1 victory.

On Monday, Eagle Sporting Club will play the third place game against South East Central Railway at 4 pm.

The Times of India


---

Railways will continue to encourage hockey: Suresh Prabhu

RANCHI: Lauding sports persons bringing laurels for the department, railway minister Suresh Prabhu on Sunday said hockey would continue to get encouragement from the department.

"We'll focus on hockey as traditionally hockey brought laurels for the Railways," Prabhu said, adding even the department won medals in Tennis recently.

Felicitating Olympians Sylvanus Dungdung and Manohar Topno for their contribution to the hockey, Prabhu said even the department had won a Tennis tournament recently.

Prabhu was here to inaugurate the Rs 8.65 crore Astroturf ground at Railway stadium, Hatia.

The Times of India